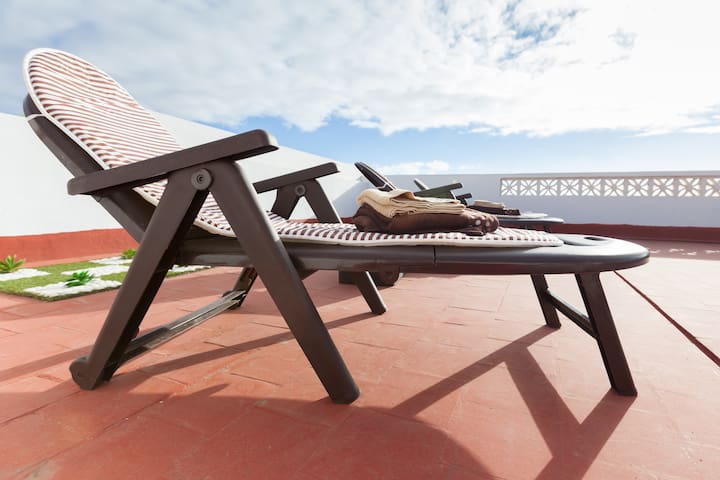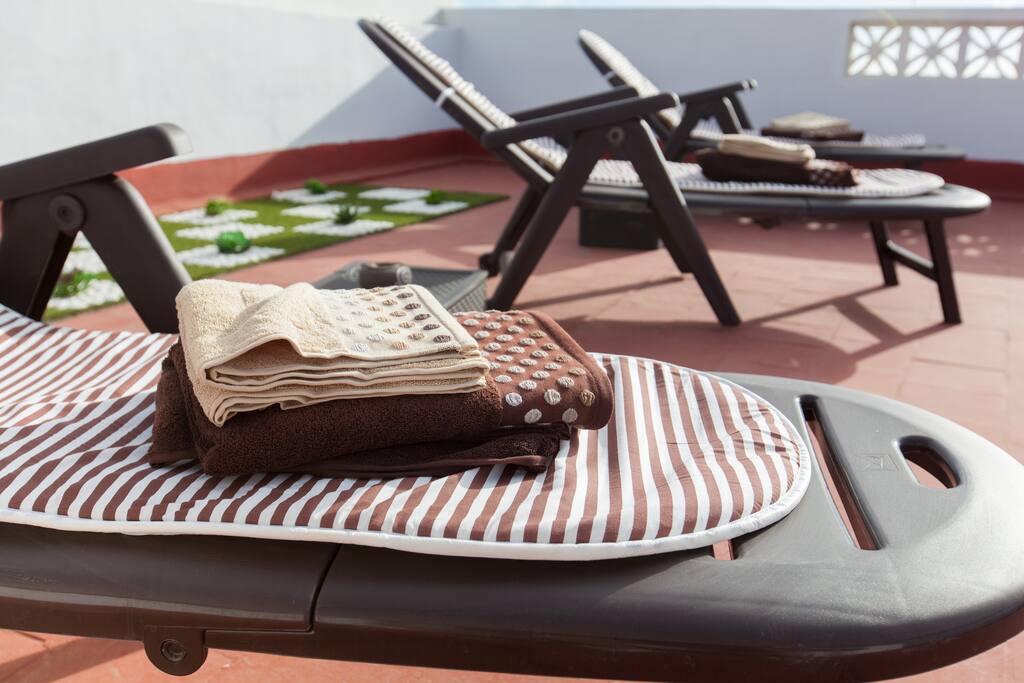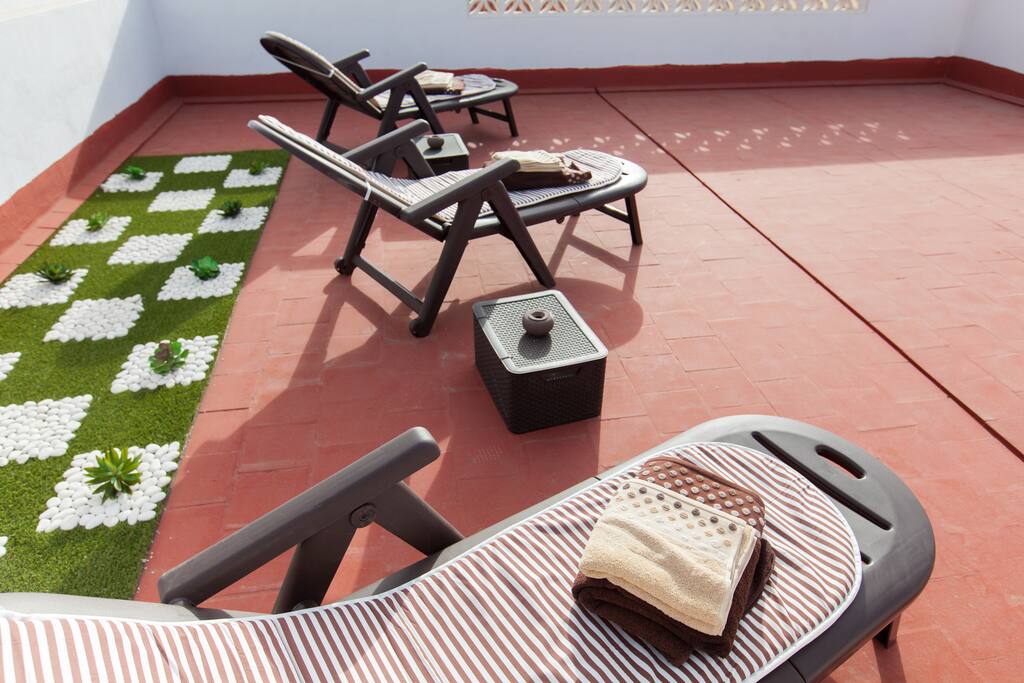 Your Exclusive HAVEN in TENERIFE A-(PHONE NUMBER HIDDEN)
Den perfekta startpunkten för din semester på Teneriffa, med enkel tillgång till hela ön. Takvåning med exklusiv terrass att koppla av i sin rocker och exklusiva soldäck där du njuter av till den sista strålen av solsken, i absolut integritet. Beläget i en lugn urbanisering utan parkering problem i samma gata. Inskriptionsnummer i det allmänna turistregistret: A-(PHONE NUMBER HIDDEN)
The perfect start point of your holidays in Tenerife, with easy access to the whole island. Penthouse with exclusive terrace to relax in its rocker and exclusive sundeck where enjoy until the last ray of sunshine, in absolute privacy. Located in a quiet Urbanization WITHOUT PARKING PROBLEMS IN THE SAME STREET.
Inscription number in General Touristic Register : A-(PHONE NUMBER HIDDEN)
Utrymmet
Din exklusiva Teneriffa hamn är den perfekta utgångspunkten för din semester på Teneriffa, eftersom det bara är i anslutning till ön 2 med huvudvägen, med snabb och enkel tillgång till hela ön, till Norr, söder och centrum. Det är bara 7 km (8 minuter) till början av de intressanta punkterna i centrala Santa Cruz. Det är vid 8,4 km (11 minuter) till San Cristóbal de La Laguna. Det är 10,5 Km (12 minuter) från TENERIFE NORTH AIRPORT Los Rodeos och 56 Km (35 minuter) från TENERIFE SOUTH AIRPORT Reina Sofia. Penthouse är dekorerad med ljusa färger (röd, gul och orange) inspirerad av lava färger som en gång utstrålade från Teide och idag är märkbara i de varma solnedgångarna. Kombinerat med svart / grått inspirerat av ön vulkaniska ursprung samt vit / beige hav av moln. Väggar målade med sand påminnelse till den berömda sanden Teide. I att dekorera en blygsam utställning av objekt integreras traditionella hantverk. Penthouse på 100 m2, består av ett sovrum med dubbelsäng och stor garderob. Vardagsrummet med balkong och en schäslongssoffa, med lätt öppet system (klickhugg), konvertibelt i två sängar. Köket integrerat i vardagsrummet är fullt utrustat med möbler och alla typer av små apparater. Ett badrum med dusch och tvättmaskin. En bred EXCLUSIVE TERRACE 30m2 med en ROCKER att koppla av efter en hektisk dag med trädgårdsmöbler, bord och fåtöljer, där du kan njuta av en öppen måltid och även med en BARBECUE. En PRIVATE SUNDECK 70m2, med hängmattor och trädgårdsdusch, som nås via en spiraltrappa från där du kan se havet från urbanisationsdoften och på en klar dag, grannöarna Gran Canaria och nattstjärnan stirrar och målar i en Molnfri förorening. På bara 7 km (8 minuter) till början av de intressanta punkterna Santa Cruz de Tenerife, huvudstaden på ön, liksom den grupp som bildas av AUDITORIO, PARQUE MARITIMO, PALMETUM och RECINTO FERIAL. AUDITORIO DE TENERIFE ADÁN MARTÍN (Auditorium) designad av arkitekten Santiago Calatrava, är en skulpturell byggnad stark inverkan. Beläget i en anlagd miljö som erbjuder oöverträffad utsikt, erbjuder besökare möjligheten att njuta av ett bra arbete med arkitektur med annan natur, som havet och bergskedjan utgör de gamla Anagabergen. Schematiskt består byggnaden av successiva plattformar med stor krökt utprovning av volymen av Symphony Hall, som alla är insvept i den fantastiska cantilevered vingen, som hängdes upp ca 50 meter hög, ger en känsla av rörelse och flexibilitet som om det var ett animerat varelse . Publikens moderna profil ledde honom att betraktas som en av de mest anmärkningsvärda landmärkenna i staden Santa Cruz och ön Teneriffa. Det är den modernaste byggnaden på Kanarieöarna och en turistattraktion på Teneriffa. Bara förutom auditoriet hittar du PARQUE MARÍTIMO DE SANTA CRUZ: Maritima parken Santa Cruz de Tenerife, designad av konstnären från Lanzarote César Manrique, har blivit en symbol för huvudstaden, som en del av stadens landskap. Den har 22.000 kvadratmeter, med saltvattenpooler, solarium, restauranger och affärer, aktiviteter, badrum, omklädningsrum och trädgårdsområde. Allt detta, i den ojämförliga estetiken utformad av Manrique, där naturliga element kommer fram till framträdande och integrerar det kanariska landskapets identifierande egenskaper i varje hörn av denna park. Den vulkaniska klippan, saltvattnet i vårt hav, våra palmer och blommor och skulpturer i kontinuerlig rörelse med våra vindar. Så maritima Park, skönhet, avkoppling och underhållning, med kanarisk identitet. Det finns också en liten svart sandstrand. Höger bredvid Parque Marítimo, är det nyöppnade PALMETUM av Santa Cruz, som är en botanisk trädgård på 12 hektar, specialiserat på palmfamiljen. Det är ett unikt projekt i världen, som har blivit en soptipp i ett utrymme för fritids- och botanikskultur med sin spektakulära vegetation, resultatet av samarbeten med många institutioner över hela världen. Palmetum-trädgården är det enda berget på kusten av Santa Cruz de Tenerife. Det har rikliga synpunkter, med fantastisk utsikt över havet, staden och bergen i Anaga. I sin trädgård växer den bästa samlingen av palmer i Europa, med palmer i hela världen, exemplar av strömmar, sjöar och vattenfall. Framför Parque Marítimo, ligger RECINTO FERIAL (Convention Center) Platsen har en stor yta (ca 40 000 kvadratmeter) och är värd för mässor, konferenser, utställningar och evenemang året runt nationellt och internationellt. Det viktigaste är valet av Carnival Queen och övriga deltagare i detta parti av internationellt turistiskt intresse. Från den här zonen (Auditorium-Parque Marítimo-Palmetum-Recinto Ferial) kan du komma till TURISTISKA BUS med cirka 11 hållplatser, så du kan ta en tur på huvudpunkterna i huvudstaden i Teneriffa, som en promenad i turistbussen från Santa Cruz de Teneriffa är definitivt det roligaste sättet att utforska staden. "CitySightseeing" har två våningar med 360 grader från sitt 4 meter höga och flerspråkiga ljudsystem på 8 olika språk. Bussen täcker några av de mest emblematiska monumenten och byggnaderna i staden, stoppar på strategiska platser som Spaniens torg, Stationbussar, Embark Cruise, Cuartel de Almeida, El Corte Ingles, Marknad eller Vår Fru av Afrika, samt kulturområden Såsom Auditorio de Tenerife "Adán Martín", eller museer och traditionella steg som Rambla de Santa Cruz, Plaza Pedro Schwartz, rådet eller Parque García Sanabria. Vid 9 km (11 minuter) till PLAZA DE ESPAÑA (Spaniens torg) Hjärtat av staden. Vilket är den största torget och Kanarieöarna. Torget, som upptar ett område på 5.026 m2, domineras av monumentet till det fallna tornformade korset med ett lusthus på toppen. Platsen ser en central sjö av havsvatten, med en inbyggd gejsare. Hela stället tänds av en uppsättning armaturer unik design bestående av formade bitar släppa tre storlekar som hålls av kablar mellan flera poler. Nära spanska torget är PLAZA DE LA CANDELARIA (Candelaria-torget), som har ett daterat artonhundratal som avbildar triumfen av Candelaria, fyra meter monument som är skulpterad av Pasquale Bocciardo Carrara marmorobelisk. Den består av bilden av Virginius Candelaria och Child plus fyra menceyes runt en pyramidaxel. På Plaza de la Candelaria leder Castle Street, (CALLE CASTILLO) den största shoppinggatan Santa Cruz de Tenerife. Att gå upp på Calle del Castillo, på höjden av Mango och HM-butikerna (vänstra hörnet) och BBVA Bank (höger), om du svänger till höger finns det ett litet torg med en CHICHARRO-skulptur, en fisk som symboliserar människorna i Santa Cruz, varför de kallas "chicharreros" de som bor i huvudstaden på ön, även om detta adjektiv också används för att referera till alla Teneriffa. Det som idag är en symbol för stolthet för människorna i Santa Cruz föddes som en del av boende i den välmående staden La Laguna för att hänvisa de boende i Santa Cruz, när det var en ödmjuk fiskeby som bara föddes med dessa fiskar " Chicharros eller jureles ". Några steg från Chicharro-skulpturen, är PLAZA DEL PRINCIPE (Prince Square) men hans fulla namn är Plaza del Príncipe de Asturias, som dateras från 1857 och det hänvisades till sedan Prince of Asturias, Alfonso XII. Mer än en kvadrat är en trädgård med rikliga indiska laureller, från Kuba, som nås av en liten trappa, flankerad av två statyer från Genove som symboliserar vår och sommar. Det inkluderar musiktemplet, järnfontén, skulpturen till en talare och hans hörapparater och den nyligen installerade skulpturen till ära av Enrique Gonzalez Bethencourt, en av de viktigaste och älskade personligheterna på karnevalen på Teneriffa, som dog 2010 Och som anses vara far till Kanarieöarnas karnevalsgitarr. Vid 9,1 km (12 minuter) till GARCIA SANABRIA PARK, som är den största stadsparken på Kanarieöarna. Beläget i en av dess ingångar är blomsterklockan, flankerad av två trappor, kännetecknad av att den permanent pryds med färska blommor. Kommunalparken "Garcia Sanabria" är en äkta botanisk trädgård där växter med stigar, fontäner, arbors och skulpturala grupper, som gör det till "lungorna i Santa Cruz", kombineras. I Parque García Sanabria. 9,3 km (13 minuter) från PLAZA 25 JULIO (25 JULI SQUARE), populärt kallad PLAZA DE LOS PATOS (DUCKS SQUARE), är skyldig till Gesta den 25 juli 1797, den dag då staden avvisade attacken när Admiral Nelson försökte ockupera ön. Denna torg har ett område på 1330 kvadratmeter, byggdes mellan 1913 och 1917 och ligger i avenyn med samma namn Avenue Twenty Five July (Avenida 25 de Julio). Har en källa som är en kopia av grodornas fontän som finns i Maria Luisa Park i Sevilla. Denna källa har en gås och en sköldpadda i mitten och omkring åtta grodor. Också i denna torg kan vi hitta ett antal banker där reklam reproduceras under andra och tredje decennier av det tjugonde århundradet som motsvarar kommersiella företag som bidrog till byggandet av torget. En 13 minuter från MUSEUM NATURE och MAN, ett museum som har den största befintliga samlingen på Guanche-kulturen och har också ett av system för bevarande och visning av mumifierade mänskliga rester högst i världen. Hans internationella berömmelse beror främst på den formidabla samlingen av Guanche mumier och
Your Exclusive Tenerife Haven is the perfect start point of your holidays in Tenerife because it's just at the join of the 2 main motorway of the island, with quick and easy access to the whole island, to the
North, the South and city center.
It's only at 7 km (8 minutes) to the begining of the interesting points of the city center of Santa Cruz. It's at 8,4 Km (11 minutes) to San Cristóbal de La Laguna.
It's 10,5 Km (12 minutes ) from TENERIFE NORTH AIRPORT Los Rodeos and at 56 Km (35 minutes) from TENERIFE SOUTH AIRPORT Reina Sofia.
The Penthouse is decorated with bright colours (red, yellow and orange) inspired by the lava colours that once emanated from Teide and today are perceptible in the warm sunsets. Combined with black / gray inspired by the volcanic origin of the island , as well as white / beige sea of clouds. Walls painted with sand reminder to the famous sands of Teide . In decorating a modest display of items integrates traditional crafts..
The Penthouse of 100 m2, consists of one bedroom with double bed and large wardrobe.
The living room with a balcony and with a chaise lounge sofa, with easy open system (click-clack), convertible into two beds.
The kitchen Integrated in the living room is fully equipped with furniture and all types of small appliances.
A bathroom with shower and a washing machine.
A wide EXCLUSIVE TERRACE 30m2 with a ROCKER to relax after a busy day, with garden furniture, table and armchairs, where enjoy an openair meal and also with a BARBECUE.
A PRIVATE SUNDECK 70m2, with hammocks and garden shower, which is accessed by a spiral staircase from where you can see the sea from the rooftop of urbanization and on a clear day , the neighboring island of Gran Canaria and night star gazing and moon in a cloudless pollution.
At only 7 Km (8 minutes) to the beginning of the interesting points of Santa Cruz de Tenerife, the capital of the island, like is the group formed by AUDITORIO, PARQUE MARITIMO, PALMETUM and RECINTO FERIAL.
AUDITORIO DE TENERIFE ADÁN MARTÍN (Auditorium) designed by architect Santiago Calatrava , is a sculptural building strong impact. Set in a landscaped setting unmatched offers visitors the opportunity to enjoy a great work of architecture with other nature , as the sea and the mountain range forming the ancient Anaga Mountains. Schematically, the building consists of successive platforms of large curved projecting the volume of the Symphony Hall , all wrapped in the stunning cantilevered wing , which was suspended about 50 meters high, provides a sense of motion and flexibility , as if it were an animate being . The modern profile of the audience led him to be considered one of the most remarkable landmarks of the city of Santa Cruz and the island of Tenerife. It is the most modern building in the Canary Islands and a tourist attraction in Tenerife.
Just besides the Auditorium you can find PARQUE MARÍTIMO DE SANTA CRUZ: The maritime Park of Santa Cruz de Tenerife, designed by the artist from Lanzarote César Manrique, has become a symbol of the capital, as part of the landscape of the city. It has 22,000 square meters, with saltwater pools, solarium, restaurants and shops, activities, bathrooms, locker rooms and gardens area. All this, in the incomparable aesthetics designed by Manrique, where natural elements come to prominence, integrating the identifying features of the Canarian landscape in every corner of this park. The volcanic rock, the salt water of our sea, our Palm trees and flowers, and sculptures in continuous motion with our winds. So the maritime Park, beauty, relaxation and entertainment, with Canarian identity. There is also a small black sand beach.
Right next to the Parque Marítimo, is the newly opened PALMETUM of Santa Cruz, which is a botanical garden of 12 hectares, specializing in the palm family.
It is a unique project in the world, which has become a garbage dump in a space for leisure and botany culture, with its spectacular vegetation, the result of collaborations with many institutions worldwide.
The Palmetum garden is the only mountain on the coast of the city of Santa Cruz de Tenerife.
It has abundant viewpoints, with splendid views of the sea, the city and the mountains of Anaga.
In its garden grows the best collection of palms in Europe, with specimens of palm trees around the world, alongside streams, lakes and waterfalls.
In front of Parque Marítimo, is located the RECINTO FERIAL (Convention Center) The site has a large surface (about 40,000 square meters) and hosts year-round fairs, conferences, exhibitions and events nationally and internationally. The most important is the Election of Carnival Queen and the rest of participants in this Party of International Touristic Interest.
From this zone (Auditorium-Parque Marítimo-Palmetum-Recinto Ferial) you can access to the TURISTIC BUS with about 11 stops, so you can take a tour of the main points of the capital of Tenerife , as a walk in the tourist bus from Santa Cruz de Tenerife is definitely the most fun way to explore the city.
The ' CitySightseeing ' has two floors allowing a 360 º from its 4 meters high and multilingual audio system in 8 different languages. The bus covers some of the most emblematic monuments and buildings of the city , stopping at strategic locations such as Spain Square , Station buses, Embark Cruise , Cuartel de Almeida , El Corte Ingles, Market or Our Lady of Africa , as well as cultural areas such as the Auditorio de Tenerife " Adán Martín ' , or museums and traditional step as the Rambla de Santa Cruz , Plaza Pedro Schwartz , the council or the Parque García Sanabria.
At 9 km (11 minutes ) to the PLAZA DE ESPAÑA (Spain Square) The heart of the city. Which is the largest city square and the Canary Islands . The square, which occupies an area of 5,026 m2 is dominated by the Monument to the Fallen tower shaped cross with a gazebo on top . The place looks a central lake of seawater, with a built geyser. The whole place is lit by a set of luminaires unique design consisting of shaped pieces drop three sizes held by cables between several poles . Near the Spain Square is the PLAZA DE LA CANDELARIA (Candelaria Square) which features a dated eighteenth century depicting the Triumph of the Candelaria , four meter monument sculpted by Pasquale Bocciardo Carrara marble obelisk. It consists of the image of the Virgine of Candelaria and Child plus four menceyes around of a pyramid shaft. In the Plaza de la Candelaria leads Castle Street , (CALLE CASTILLO) the main shopping street of Santa Cruz de Tenerife.
Going up the Calle del Castillo, at the height of the Mango and HM stores (left corner) and BBVA Bank (right corner) , if you turn to the right there is a small square with a CHICHARRO sculpture, a fish symbolizing the people of Santa Cruz, which is why they are called "chicharreros" those who live in the capital of the island, although this adjective is also used to refer to all the people of Tenerife. What today is a symbol of pride for the people of Santa Cruz was born pejoratively used by the residents of the prosperous city of La Laguna to refer the residents of Santa Cruz, when it was a humble fishing village that feds only with these fish, "chicharros or jureles".
A few steps from Chicharro Sculpture, is PLAZA DEL PRINCIPE (Prince Square) but his full name is Plaza del Príncipe de Asturias, which dates from 1857 and it was referred to back then Prince of Asturias, Alfonso XII. More than a square is a garden with abundant Indian laurels, from Cuba, which is accessed by a small staircase, flanked by two statues from Genove, symbolizing Spring and Summer. It includes the Temple of Music, the iron Fountain, the sculpture of a speaker and his hearers, and the recent installed sculpture in honor of Enrique Gonzalez Bethencourt, one of the most important and beloved personalities of the Carnival of Tenerife, who died in 2010 and who is considered the father of the Canary Carnival street musicians.
At 9,1 Km (12 minutes ) to the GARCIA SANABRIA PARK , which is the largest urban park in the Canary Islands. Located in one of its inputs is the flower clock , flanked by two staircases, characterized by being permanently adorned with fresh flowers. The Municipal Park " Garcia Sanabria" is a veritable botanical garden where plants with paths, fountains, arbors and sculptural groups , making it the "lungs of Santa Cruz " are combined. In the Parque García Sanabria.
9.3 Km (13 minutes ) from PLAZA 25 JULIO (25TH JULY SQUARE), popularly known as PLAZA DE LOS PATOS (DUCKS SQUARE), owes its name to the Gesta of July 25, 1797, the date on which the city rejected the attack when Admiral Nelson tried to occupy the island.
This square has an area of 1,330 square meters, was built between 1913 and 1917 and is located in the avenue of the same name, Avenue Twenty Five July (Avenida 25 de Julio).
Have a source that is a replica of the Fountain of the Frogs found in the Maria Luisa Park in Seville. This source has a goose and a turtle in the center and around eight frogs.
Also in this square we can find a number of banks in which advertisements are reproduced in the second and third decades of the twentieth century that correspond to commercial firms that contributed to the construction of the plaza.
A 13 minutes from the MUSEUM of NATURE and MAN, a museum that has the largest existing collection on the Guanche culture and also has one of the systems of conservation and display of mummified human remains highest in the world. His international fame is mainly due to its formidable collection of Guanche mummies and the quality of preservation of the same .
.
15/20 minutes by car to BEACH TERESITAS, which is the most well-known beach town of Santa Cruz beach. It lies at a distance of 7 km. the city center . Dotted with palm trees , is about a mile walk of golden sand , and is protected from currents and waves by a breakwater , making it ideal for children. It offers all kinds of facilities and a large number of services (restaurants and cafes ) . An excellent option to visit the area is to combine a nice swim in the sea with a tasty meal in San Andrés . In this fishing village nearby with restaurants and eating houses , ideal to enjoy a tasty menu of fish or seafood prepared with traditional Canarian way and accompanied with potatoes and mojo irreplaceable .
To the north of the island :
A 14 minutes from San Cristobal de LA LAGUNA, declared a World Heritage Site by UNESCO for its exemplary path with a historic colonial town of great value. The streets of La Laguna are planted not only important monuments and historic buildings, houses some of the most important religious monuments of the island , including the Cathedral, and many stately homes of the seventeenth and eighteenth centuries. but is also an important business center , where you can buy souvenirs of your visit to the island , fashion, Tenerife wines , Canarian craftwork and typical gastronomic products. City of important university tradition , also offers animation and special conditions in its countless pubs . Also in local tourist offices can book guided tours that will free you to discover the charms of this city .
A 18 minutesb from LA ESPERANZA, where it is one of the stops on the climb to Teide , as is the viewpoint of Ortuño, from which you can admire the first panoramic Teide National Park , along the coast northwest of the island , including afforestation of Santa Ursula, La Victoria, Valle de la Orotava, Puerto de la Cruz, Isla Baja and sometimes La Palma in the sea, or the sea of clouds . It is a stone gazebo located after nineteen kilometer , about 1600 meters above hundreds of acres of pine forests , with a monument to the engineer who takes his name , Don Francisco Ortuño Medina , who was CEO of mountains . The place is a haven for those who come to the city with a spectacular light , fresh air , pine trees , views and silence enveloping all .
A 26 minutes from PUEBLO CHICO, theme park of 20,000 square meters which have been made beautiful and exact miniature recreations of the best in architecture and landscapes of the Canary Islands . Wrapped magic atmosphere , sounds , animations, etc. are added. , Which makes it become a wonderful experience for all visitors .
A 27 minutes from LA OROTAVA, a historic villa that is spread over a beautiful valley of banana plantations . Its historic center has been declared a national monument of historical interest . Some of the highlights of the Old Town buildings and monuments include the parish of Our Lady of Conception and Casas de los Balcones , jewel of island architecture. The Plaza del Ayuntamiento is constructed annually on the feast of Corpus Christi a monumental rug natural sands from the Teide National Park and its streets are upholstered with carpets of flower petals .
A 28 minutes from PUERTO DE LA CRUZ, a city with a centuries-old tradition in tourism . Where in addition to a beautiful promenade , you can admire Lake Martianez assembly seawater pools , designed by Canarian architect Cesar Manrique. In the town of Puerto de La Cruz also ranks the famous LORO PARQUE, the "must de Canarias" , which is a theme park that offers visitors a new concept zoo with many attractions and the largest collection of parrots in the world. It also incorporates , in its 120,000 square meters, a show of dolphins, whales and sea lions , one of the largest aquariums in Europe , a cave of bats, an orchid and penguinarium 200 fish in the natural habitat of these birds be played South Pole.
A 47 minutes ICOD DE LOS VINOS, where you can admire a fine collection of traditional architecture and the famous " Drago Millennium " (although its age is estimated at about 800 years ) is one of the most important natural , cultural and historical symbols Canaries.
The dragon tree (Dracaena Draco Canariensis ) , considered the most ancient of the archipelago, is 17 meters high and has a base of about 20 meters in circumference.
To the south of the island :
Within 15 minutes of CANDELARIA, where the Basilica of Our Lady of Candelaria , declared of cultural interest is located , is one of the main temples of the archipelago, it is where the image of the patron saint of the Canary Islands , as well as being the first Marian shrine in the Canaries. At the foot of the Basilica is the Plaza de la Patrona de Canarias at highlighting the majestic bronze figures representing the nine Menceyes ( Guanche kings ) who ruled the island at the time of the conquest . You can also enjoy the originality of a volcanic sand beach , a kilometer long and 24 meters wide, although it is advisable to be very choppy swim near the shore .
A 22 minutes GÜÍMAR, a town located in the Pyramids of Guimar Ethnographic Park , which has the status of Cultural Interest . There are five buildings in the form of stepped pyramids astronomically ordered by the summer and winter solstices . The Pyramids of Guimar historically fall in the nineteenth century, when the economic exploitation of cochineal in the Canary Islands , a parasite of the prickly pear Prickly pear or a dye which appreciated at that time extracted insect that had not yet been introduced synthetic dyes . The exploitation of cochineal was very profitable. Both were prepared for that many operating farms , so far, had remained sterile due to the poor quality of the land, usually formed by volcanic rocks. Stones taken in cleaning these farms were stored as forming pyramidal structures of Guimaras .
A 37 minutes from MÉDANO BEACH , famous for being one of the largest of the island of Tenerife, has a beautiful golden sand , very calm , clear , shallow waters a . All this makes this a perfect beach Medano beach to go with family . It is also very good for practicing windsurfing and other water sports thanks to its constant winds , there was annually held on this beach the World Kite Championship .
A 42 minutes from SIAM PARK, set in the stunning Asian kingdom of Siam , become one of the best water parks in the world and holds five world records waterpark : The world's largest dragon statue , Mayor elevation within the lazy river (up to 8 meters) . the world's largest artificial wave ( about 3 meters ) . Increased diversity in slides. The world's largest outside Asia Thai building.
Next to Siam Park is also the AQUALAND COSTA ADEJE, a waterpark which is the only one that allows you to interact with your dolphin " Dolphin Encounter" program.
A 44 minutes from the CASTILLO DE SAN MIGUEL, a medieval castle where you can enjoy a medieval banquet as a tournament of knights, allowing you to enter the magical world of the knights of the Round Table.
A 47 minutes from the LAS VISTAS BEACH which is one of the most extensive and lively beaches of southern Tenerife. It has the most complete services and its fine golden sand from the surrounding seabed. Located between the resorts of Los Cristianos and Las Americas, calm water for swimming and best thanks to the breakwater that protects against waves and currents. This beach is accessible along a boardwalk full of activity and is the longest pedestrian street in Europe without barriers . A source of modern design that drives skyward ocean water is the most unique element of The View.
Gästers åtkomst
UTRUSTNING och / eller gratis tjänster 1) Gratis WIFI. HIGH SPEED INTERNET 2) SMART TV med internet, med möjlighet att visa kanaler på andra språk, om du vet att den fungerar. 3) oberoende tillträde till vinden. 4) Exklusiv användning av terrassen med gungning. 5) Exklusiv användning av solarium med hängmattor och trädgårdsdusch. 6) Exklusiv användning av BBQ. 7) Fullt utrustat kök med diskmedel och köksredskap: - Kaffekapsel, filter och italienska. - Vattenkokare - Sandwich maker, brödrost och juicepress - Blender - Grillar och friterare - Mikrovågsugn - Bänkskivugn 8) Tvättning, torkning, strykbräda och strykjärn 9) Hårtork 10) Om du reser med barn: spjälsäng, bassäng med motsvarande underkläder och barnstol finns utan extra kostnad. 11) Duschhanddukar och sängkläder ingår i priset, men utan att fylla på dem. 12) Duschgel och schampo ingår i priset, men utan att fylla på dem. 13) Handtvål, toalettpapper, diskmedel, pappershanddukar, soptäck, ingår i priset, men ingen ersättning därav. 14) för shoppingväska, kylväska för dina utflykter. Coolare kork för att hålla dina drycker svalt i solariumet. 15) Kartor och broschyrer och / eller turistreklam gratis tillgängliga. 16) Spel gratis ombord på begäran tillgänglig. Om du gillar schack hittar du våra schack nyfikna kanariska symboliska figurer. 17) Mini Wii tillgänglig på begäran, utan kostnad. 18) Stående fläkt 19) Bärbar värmare enligt beställning 20) Utskriftservice € 0,50 per sida 21) Torktumlare, som förmodligen aldrig behöver det, men om det delar och kostar € 1,50 22) Väga lugagge
EQUIPMENT and/or free services
1) Free WIFI. HIGH SPEED INTERNET
2) SMART TV with internet, with ability to view channels in other languages, if you know it works.
3) independent access to the attic.
4) Exclusive use of the terrace with rocking.
5) Exclusive use of the solarium with hammocks and garden shower.
6) Exclusive use of BBQ.
7) Fully equipped kitchen with dishes and utensils:
- Coffee capsule, filter and Italian.
- Kettle
- Sandwich maker, toaster and juicer
- Blender
- Griddle and fryer
- Microwave
- Countertop Oven
8) Washing, drying, ironing board and iron
9) Hairdryer
10) If traveling with children: crib, bassinet with corresponding lingerie and high chair available at no extra cost.
11) Shower towels and bedding included in the price, but without replenishing them.
12) Shower gel and shampoo included in the price, but without replenishing them.
13) Hand soap, toilet paper, dish soap, paper towels, garbage bag, are included in the price, but no replacement thereof.
14) for shopping bag, cooler bag for your excursions. Cooler cork to keep your drinks cool in the solarium.
15) Maps and brochures and / or tourism advertising available for free.
16) Games free board on request available. If you like chess, you will find our chess curious canary symbolic figures.
17) Mini Wii available on request, free of charge.
18) Standing Fan
19) Portable Heater by order
20) Print Service € 0.50 per page
21) Dryer, who probably will never need it, but if it is sharing and cost € 1.50
22) Weigh lugagge
Umgänge med gäster
- Med fördelen av att vara tillgängliga ägare för eventuella händelser som kan uppstå, eftersom vi bor i bottenvåningen i huset och njuta av den kanariska gästfriheten på första hand. - Nyckelkollektion görs personligen när som helst när ankomsten är. - Samspelet med gästerna beror på vad de behöver och meddelar oss, liksom kompatibilitet med personliga skyldigheter. Vi har haft gäster som föredrar fullständig integritet och vi har inte sett, eller har kommunicerat nästan hela vistelsen, även om de bor på nedre våningen. Gäster, som vi inte har sett under sin vistelse, men med vilka vi har kommunicerat på andra sätt. Gäster som har sett nästan varje dag och har diskuterat de besök som har gjorts på Teneriffa. Gäster med vilka vi har delat en måltid. Vi har även haft gäster som vi har åtföljt i alla besök på ön.
- With the advantage of being available the Owners for any eventuality that may arise , because we live in the bottom floor of the house and enjoy the Canarian hospitality firsthand.
- Key collection is made in person at any time the arrival is.
- The interaction with guests depends on what they require and let us know, as well as compatibility with personal obligations.
We have had guests who prefer complete privacy and we have not seen, nor have communicated virtually the entire stay, although living on the lower floor. Guests, who we have not seen during their stay, but with whom we have communicated by other ways. Guests who have seen practically every day and have been discussing the visits that have been doing in Tenerife; guests with whom we have shared some meal. We have even had guests who we have accompanied in any visit to the island.

Annat att notera
Inskriptionsnummer i Registro General Turístico: A-(PHONE NUMBER HIDDEN)
Inscription number in Registro General Turístico: A-(PHONE NUMBER HIDDEN)
---
Detta boende har bekvämligheter nödvändiga för affärsresor.
---
---
Gemensamma utrymmen
2 bäddsoffor
---
Passar inte sällskapsdjur
Inga partyn eller tillställningar
Incheckning när som helst efter 15:00.
Självständig incheckning med doorman
1) Please don´t smoke inside, there is enough space outside for smoking: on the terrace, on the balcony and on the sundeck.
2) Please leave the apartment in the same conditions you found it.
3) Please parties are not allowed
---
Maria was a great host! When we arrived she had put fresh flowers on the stair up to our apartment and inside we were greeted with champagne. Our bed was covered in rose-leaf, and the jacuzzi on the roof terrace was warm so me and my girlfriend could just jump right in after a long day traveling. Maria was very helpful and gladly answered any questions we had, even helped us order food to the apartment when the store was closed. The apartment was exactly as the pictures showed, with a great roof terrace. There is really only one negative thing about this place and it's the area the apartment is in. There is no beach close by and there is nothing to see around the apartment. I strongly recommend having a car if you stay here.
---
El apartamento es ideal si lo que buscas es conocer la auténtica Tenerife, y no sólo su ambiente turístico. Se ubica en un barrio períferico donde no tendrás ninguna dificultad para conocer gente de la Isla. Todos son muy amables. La primera, María José! Es una persona excepcional, que desde el primer día nos recibió con una amabilidad inusual que se ha mantenido durante toda nuestra estancia. Por lo demás, el apartamento es ideal para dos o tres personas. Cuenta con todas las comodidades y muchos extras. Si vuelvo a Tenerife, volveré a contactar con María José.
---
Maria Jose's place was absolutely outstanding! It was immaculately clean and every little detail was thought of in advance! Maria was really helpful and welcoming. Both of the 2 picturesque terraces were really thoughtfully furnished, and even included a BBQ and view of the ocean! The apartment is located in a very convenient area of Tenerife to travel around with a car. Parking at Maria's place was easy too. Overall, I'd highly recommend a stay in Maria Jose's fantastic place! Thank you Maria! : )
---
The accommodation was very clean and pretty. There is a very beautiful terrace which we could enjoy BBQ and have relax time. Maria is very nice and gives us information for Tenerife. It was near to go to city center, supermarket and beach by car. If you rent a car, it's the best place to stay and have relax time in Tenerife !
---
Me encanta viajar, de ahí que mi lema es tratar al huésped cómo me gustaría que me trataran a mí.. Llevo el Turismo en la sangre: por haber nacido y vivido siempre en una isla cuya fuente principal de ingresos es el Turismo, por haber crecido y pasado mi adolescencia siempre ro…
Språk:
English, Español
Utforska andra alternativ i och runt Santa Cruz de Tenerife
Fler platser att bo på i Santa Cruz de Tenerife: