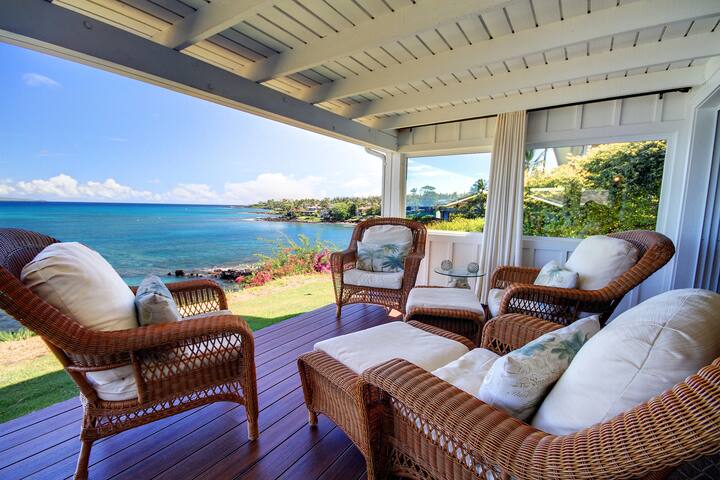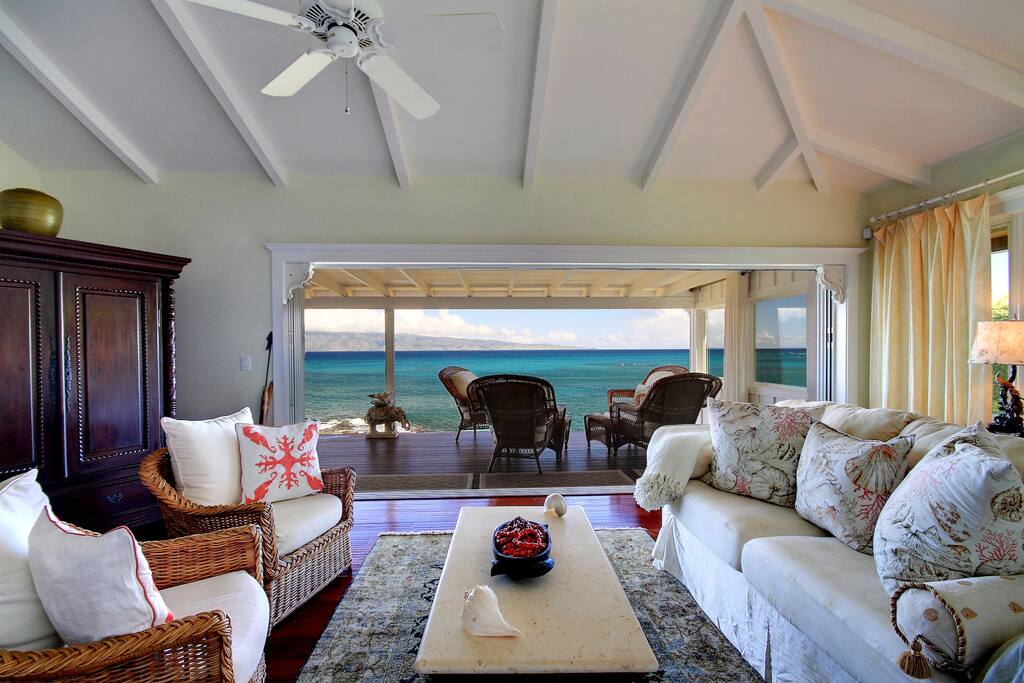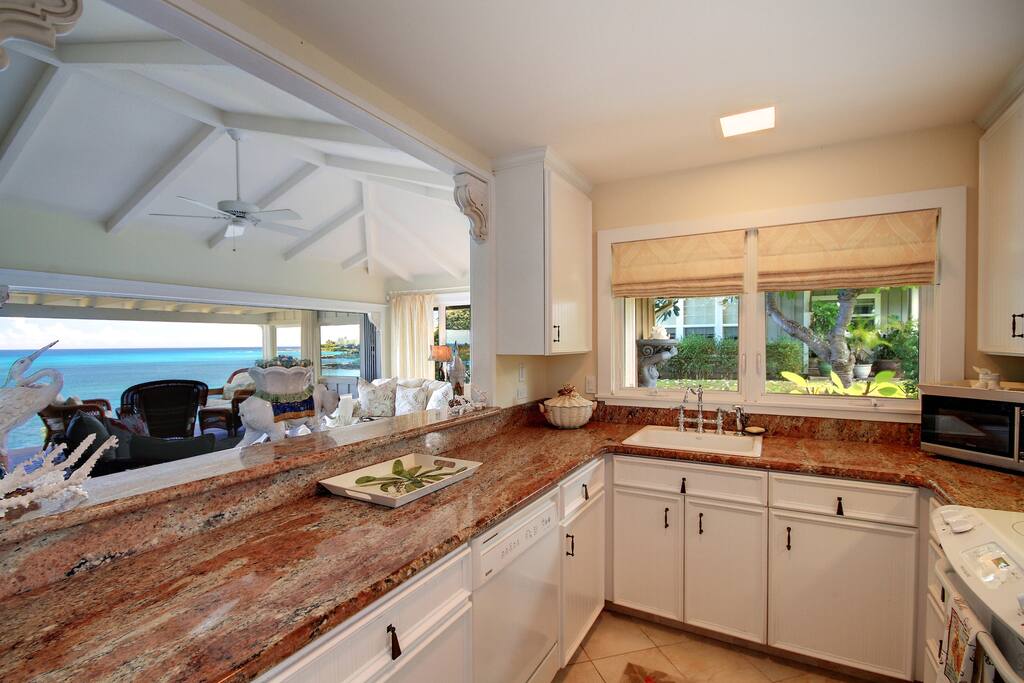 (7 NIGHT MINIMUM STAY REQUIREMENT. LONGER DURING WINTER HOLIDAYS)
Welcome to Paradise. If you are wanting the typical "tourist experience" this home is not for you. Looking for adventurous spirits that would like to see what quintessential Old Hawaiian living is all about. This charming oceanfront cottage will become your home away from home.
**Repeat guests will receive 10% off return stays on most dates. Please inquire for details!
Utrymmet
(7 NIGHT MINIMUM STAY REQUIREMENT. LONGER DURING WINTER HOLIDAYS)
Welcome to Paradise. If you are wanting the typical "tourist experience" this home is not for you.  Looking for adventurous spirits that would like to see what quintessential Old Hawaiian living is all about.  This charming oceanfront cottage will become your home away from home.  This is a unique 3-bedroom oceanfront Vacation Home in a exclusive gated community with spectacular panoramic views of the Pacific and the outer island. Situated near Alealoa Bay, this elegant home provides the perfect backdrop for enjoying true Hawaiian living. 
Lush tropical landscaping encompasses this 16-acre estate, providing the perfect opportunity to stroll through mature mango trees while breathing in the intoxicating scents of tropical flowers. 
This charming Home can easily accommodate up to six guests. Relax out on the back lanai with a drink in hand and marvel at the beauty of whales, dolphins and turtles dancing against the back drop of Molokai and Lanai. Fall in love with this gem feel the outside world disappear.  You won't want to leave!
**Repeat guests will receive 10% off return stays on most dates.  Please inquire for details!
Annat att notera
(HAWAII STATE TAX WILL BE ADDED TO THE DAY RATE and sent to you in a special offer. Incorporated in the cleaning fee is our $50 reservation fee and $49 vacation rental damage protection fee. A 3.5% processing fee will apply. All resort fees are not included in this rental charge.)
Gratis parkering inkluderad
Säkerhetsdeposition 13088 kr
Kommunicera alltid genom Airbnb
För att skydda din betalning bör du aldrig föra över pengar eller kommunicera utanför Airbnbs webbplats eller app.
Sovrum 3
1 enkelsäng (queen)
Incheckning när som helst efter 15:00.
- ALAELOA Residential Condominium HOUSE RULES FOR OWNERS, GUESTS & RENTERS Revised November 2006 These rules are issued and enforceable under authority contained in the Declaration of Covenants, Conditions, Restrictions, and Bylaws of the Association of Apartment Owners of Alaeloa Condominium Project and in the property lease, documents which are recorded in Hawaii's Bureau of Conveyances. For specific, detailed information, attention is directed to these documents and to the minutes of the Alaeloa Board of Directors meetings. Compliance with House Rules is mandatory for owners, guests, & renters. Violations should be reported promptly to the Manager for corrective action. Recommended changes in House Rules should be submitted by owners in writing to the Board of Directors. Manager: Unit #8 The Manager is the operating executive and secretary to the Board of Directors who define his duties and to whom he is responsible. ** Indicates where policies, procedures guidelines &/or forms exist & must be procured from the Manager and filled out accordingly. UNITS: 1)Use: Houses may be used for residential purposes only and for no other purpose. 2) Maintenance: Maintenance of individual residences is the responsibility of the owners. The Manager will make periodic inspections during owners' absences. Emergency repairs may be made by the Manager and billed to the owners. If external appearance of residences is not maintained adequately, the Board may have the work performed and billed to the owner. 3)Alterations: ** No external alterations or additions to any residence may be performed without prior written consent of the Board. Alterations include, but not limited to, the addition of awnings, air conditioners, doors, windows, outside lighting, color change of paint or stain. 4)Sale or Rent: Sales and Rent for more than 30 days must be done in accordance with the CC&R's/Bylaws. Owners are responsible for the conduct and deportment of their guests and renters. It is likewise the responsibility of all owners to instruct guests and renters in the observance of all the House Rules. Owners shall notify the Manager of the prospective arrival of all guests and renters prior to their arrival. This notice is to include the names of each guest or renter authorized to occupy the residence and the number of such occupants. All occupants, including owners, guests and renters shall notify the Manager of their departure prior to the date thereof. RENTERS: Rental Agreements ** must be in writing including the length of the rental (which must exceed 30 days) and the renters agreement to obey the House Rules. Owners are responsible for all arrangements concerning rentals and may employ rental agents. Owners must: 1) Furnish the Manager with the Rental Agreement Form, 2) Notify the Manager of renter's arrival & departure times, 3) Furnish renters with a copy of these House Rules. The Manager may not act as a rental agent, collector, etc. He can assist owners with inquiries and show units to prospective renters. The Manager is prepared to advise and assist renters as practical. EXEMPTIONS FOR HANDICAPPED PERSONS: Notwithstanding anything to the contrary contained in these House Rules, handicapped occupants shall be permitted to: -make reasonable modifications to their units [as indicated under Alterations] &/or the common elements, at their expense, if such modifications are necessary to enable them to use and enjoy their units &/or the common elements, as the case may be; and - be allowed reasonable exemptions from these House Rules, when necessary, to enable them to use and enjoy their units &/or the common elements, provided that any handicapped occupant desiring to make such modifications or desiring such an exemption shall so request in writing. That request shall set forth with specificity, and in detail, the nature of the request and the reason that the requesting party needs to make such modification or to be granted such an exemption. The Board of Directors shall not unreasonably withhold or delay its consent to such request, and any such request shall be deemed to be granted if not denied in writing within fortyfive (45) days of the Board's receipt thereof. NUISANCES: No conduct, activity, or noise, etc which transgresses the rights, comfort or convenience of others will be permitted. Quite hours are from 10 PM to 8 AM FIRE PROTECTION: - Please be cognizant & preventive! Owners should keep a fire extinguisher in their unit. Owners should keep their smoke detectors functioning. Oily wastes and other hazardous materials should not be stored in units. Lighted cigars &/or cigarettes should not be thrown into the foliage or on the grounds. PETS: Dogs, cats and other household pets may be kept in residences providing they do not create unreasonable nuisance for other owners, in which case they must be removed upon three (3) days notice from the Board. Outside of units, animals must be leashed or otherwise restrained, except that cats may run free during daylight hours. Notwithstanding the forgoing, if a certified guide dog, signal dog or other animal depended upon by a handicapped owner to enable him to use and enjoy his residence &/or the common elements causes a nuisance or creates an unreasonable disturbance, the owner thereof will be given a reasonable opportunity to rectify the problem by measures which fall short of ejectment of the animal from the property. Ejectment of the animal will be required only if the Board of Directors reasonable determines that less drastic alternatives have been unsuccessful. If such an animal is ejected, it will nonetheless be allowed to remain at the property for a reasonable period of time while the owner thereof finds a suitable replacement animal, provided that the problem is controlled to a sufficient degree that its continued presence during the interim period does not constitute an unreasonable imposition upon other homeowners. COMMON ELEMENTS: 1) Definition: All land and improvements within the condominium exclusive of individual units. 2)Use: The common elements, with special reference to the swimming pool, beach pavilion and other recreational areas are provided exclusively for the use of the homeowners, guests and renters. Guest privileges are NOT to be extended to employees of owners or renters, but only for individuals in residence. Nothing may be stored, built or posted upon common elements without prior written approval of the Board. 3) Maintenance: The Maintenance crew is under the supervision of the Manager and deficiencies should be reported to him. Homeowners are not to give work instructions to the crew; however preferences as to pruning and trimming around units may be discussed with the crew supervisor together with the Manager. 4) Damage: Damage to common elements shall be surveyed by the Manager and the cost of repair or replacement may be assessed by the Board against the persons responsible. APPEARANCE OF GROUNDS: No unsightliness within public view is permitted, including laundry on lines or railing; litter; trash, including animal excreta; bottles, ladders, boxes or other items stored in carports, lanais, etc. LANDSCAPING: No alteration or addition to the landscaping or planting may be done without written approval ** of the Board with the exception that owners may plant shrubs, etc, not exceeding three (3) feet in height within ten (10) feet of their own units. CARS & PARKING: Maximum speed limit within Alaeloa is 15 miles per hour. Pedestrians have the right-of-way at all times. Pedestrians are requested to carry flashlights at night. Cars must be parked completely off roadway in carports, driveways or guest parking areas. Parking on grass or so as to protrude onto roadway is absolutely prohibited to prevent damage to grass and sprinkler system. Owners are asked to ensure that contractors, employees, servicemen, etc., obey this rule while working on or in their units. Overnight parking is available in the area at the base of the service road on the North side, in addition to the two designated guest parking areas. No vehicles or other devices of any nature whatsoever shall be permitted to be ridden by any person on the premises of Alaeloa; provided, however, that licensed motor vehicles and bicycles shall be permitted upon the driveways and roads for purposes of ingress and egress to and from the residences, and provided, further, that vehicles or devices relied upon by handicapped persons for purposes of mobility shall be exempted from this restriction. WEAPONS: No air rifles, rifles, bows and arrows or other lethal weapons may be carried or fired on the property. Only pocket knives are permitted to be carried, except for those used by duly authorized gardeners in the maintenance of the premises. POOL AREA: Guests Pool Hours are 9:30 am to 10pm Owners shall be responsible for insuring that all renters and guests are aware of all pool safety rules and understand the need for compliance with those rules. Owners shall be responsible for limiting the activities of their guests in and around the pool so that everyone may enjoy the pool and the pool area. Non-swimmers using the pool, must be accompanied by a competent swimmer. Alaeloa Pool Rules: Showers shall be taken before entrance. Sand shall be washed off before entry. Rafts or other large objects are not allowed, only inflatable objects less than 12 inches in diameter (Larger objects permitted on the beach.) Entry with food is discouraged. Entry is prohibited to anyone with an illness, disease, or condition generally accepted by the medical community as being communicable through casual contact. Pets, breakable objects and dangerous articles are not allowed on pool deck. BOATS: Swimmers, at all times, have right-of-way over boats. No power boats may be kept at Alaeloa or brought onto the beach. Other boats, not greater than 16 feet, may be kept in designated boat racks and launched from the beach. PAVILION PARTIES: Owners must act as hosts for group use of the Pavilion. Owners must obtain forms ** & releases ** and pay a deposit to the Manager. Parties involving the use of the Pavilion must be scheduled in advance with the Manager. ** Owners must make adequate arrangements for guest parking, hiring of parking attendants, if necessary, and immediate clean-up. A responsible resident must be continuously present at all parties. Amplified music is not allowed in the Pavilion area unless the party involves all Alaeloa residents. Glass bottles, glassware, pottery and other breakables are forbidden in the pool-pavilion area except within the food preparation area when supervised by a responsible resident. Outside that area only paper and non-breakables may be used. GENERAL SERVICES: MAIL: Mail boxes are located near office at Unit #8. A second small group of mailboxes are located by the north entrance. Mail will be placed in regulation rural boxes by postman. TRASH: Trash should be stored in large plastic containers with fitted plastic tops and kept, at all times, in concealed trash container spaces. Trash is normally collected on Tuesdays and Fridays.
- TERMS AND CONDITIONS Please review the Terms & Conditions of your Vacation Property carefully before you begin your vacation. Any monies received by Elite Pacific Properties, LLC, the "Agent", for occupancy of Vacation Property, indicates the acceptance of the terms of our Terms & Conditions in full. It is the responsibility of all guests and members of their party to be familiar with all policies pertaining to the rental. 1. RENTER REQUIREMENTS For legal and accounting purposes, the person placing the reservation must be the same as the credit/debit card holder. This person is considered to be the Guest. All other persons occupying the rental are considered to be the Guest's invitees, and all discussion regarding reservation, cancelation, and damage policies will be discussed with the Guest, not the Guest's invitees. The Guest must be an adult over the age of 21. 2. CREDIT CARD AUTHORIZATION FORM Elite Pacific Properties LLC requires a credit card on file for every reservation. Guest will be required to complete a credit card authorization form prior to gaining access to the property. The Guest will incur a 3.5% credit card surcharge fee for any amount Elite Pacific Properties LLC will charge to this credit card. 3. DAMAGE POLICY Every reservation requires either (1) a Damage Protection Policy ("Vacation Rental Damage Plan") OR (2) a $(PHONE NUMBER HIDDEN) refundable security deposit, depending on the property. The "Vacation Rental Damage Plan" covers unintentional damages to the rental unit interior that occur during your stay, provided they are disclosed to management prior to check out. The policy will pay a maximum benefit depending on the plan purchased: -$3000 in coverage for Vacation Rental Damage Insurance ($49) -$5000 in coverage for Vacation Rental Damage Insurance ($89) A few of our high end rentals require a Damage Protection Policy AND a Refundable Security Deposit. Any damages that exceed the maximum benefit will be charged to the credit card on file. If you damage the real or personal property assigned to your rental accommodation during the trip, the Insurer will reimburse the lesser of the cost of repairs or replacement of the property, up to the maximum benefit. Certain terms and conditions apply. Full details of the Vacation Rental Damage coverage are contained in the Description of Coverage or Insurance Policy (URL HIDDEN) The Vacation Rental Damage can be purchased up to, and including, check in time. By submitting payment for this plan, you authorize and request CSA Travel Protection and Insurance Services to pay directly Elite Pacific Properties any amount payable under the terms and conditions of the Vacation Rental Damage plan. Please contact Elite Pacific Properties directly if you do not wish to participate in this plan or assignment and instead wish to pay the refundable security deposit. If a security deposit has been collected for the reservation, no portion may be applied to additional rental time or fees or other charges accrued by the Guest/ Invitees. The entire deposit will be refunded if (1) no damage was done to the property other than reasonable wear and tear (2) all keys are accounted for (3) no items were missing (4) all doors and windows were closed and secured upon departure (5) all check out procedures were followed (6) all Terms & Conditions were followed (7) no miscellaneous charges were incurred, e.g., unpaid rental fees, guests or pets, additional cleaning fees, or other charges. As a condition to the rental of all Vacation Properties, Elite Pacific Properties reserves the right to charge the Guest's credit card for any and all uncovered Guest/Invitee caused losses and damages sustained to the Vacation Property throughout the duration of their period of occupancy. In the event of any uncovered Guest/Invitee-caused loss or damage to the Vacation Property, including, but not limited to, undue cleaning, eviction, service calls, service charges, fines/assessments, repairs or replacements, plus all applicable taxes, Elite Pacific Properties is hereby granted the right to charge the Guest's credit card. An itemized statement outlining all associated costs will be sent via regular or electronic mail to the address submitted by the Guest at such time as the reservation was booked. By confirming their reservation, the Guest hereby agrees to pay for all such charges, as defined above and on the proceeding pages. 4. POWER/ WEATHER RELATED CANCELATION Elite Pacific Properties does NOT issue refunds due to acts of nature such as: weather, road conditions, hurricanes, power outages etc, but CSA Travel Protection Insurance does provide some protection against these instances. If the property is uninhabitable due to such circumstances and you did not purchase insurance, reservations can be rescheduled for future dates within one year of the reservation date. 5. CONSTRUCTION Elite Pacific Properties is not responsible for any construction noise beyond the Property limits. 6. CLEANING For any reservation of more than 14 days, a mandatory midstay cleaning may be required at a rate of $(INQUIRE). Additional cleaning is available on request at a rate of $30 per maid/hour (rate subject to change.) Please provide 48 hours notice if you would like any additional cleaning during your stay. 7. PROPERTY CONDITION A Property Condition Form must be completed and returned to Agent within 24 hours of arrival, wherein any existing damages or deficiencies must be reported. At check-out, Guest must leave the property in tidy condition, similar to that at move in. Cleaning crews will handle all major cleaning of linens, towels, kitchens, floors and bathrooms. However, excessive cleaning will be billed at $30/hour and will be charged to the Guest. 8. OCCUPANCY Occupancy is restricted to the number of people listed at the time of booking. Guest acknowledges that they will personally occupy the Property for the entire length of stay and will not sublet. Tenant shall not use the Property for any illegal or unlawful purpose, nor shall the Property be used in a fashion that disturbs or offends the neighbors. If the number of occupants changes, Guest must immediately notify Agent and additional charges may apply. No special events, including but not limited to weddings, parties, and receptions, will not be allowed without the express written permission of Agent. 9. REPAIR AND SERVICE CALLS Agent and owner do not guarantee against mechanical or electrical failure of air conditioning, fans, lights, televisions, VCRs, DVDs, or other equipment. Guest agrees to report any inoperative items to Agent promptly, and Agent agrees to make every effort to have maintenance done quickly and efficiently. Should a repair person conclude that equipment is in working order, or that failure was due to the actions of the Guest, then the charge for the service call will be billed to Guest and Guest agrees to pay the charge. No refund or rent deduction will be made due to failure of such equipment. 10. RIGHT TO ENTER If necessary, Owner or Agent or their designated vendors may enter the property in order to inspect or make necessary or requested repairs. Owner or Agent will give Guest at least 24 hours minimum notice before entering the Property, and will only enter during reasonable hours except in the case of emergency. Regular vendors to the property including, pool, yard, and cleaning services shall be allowed to enter at normally scheduled times. 11. INDEMNITY/DISPUTES/JURISDICTION Guest agrees to indemnify, defend and hold harmless Owner and Agent from all claims, disputes, litigation, judgments, costs and attorney fees resulting from loss, damage, or injury to Guest and guests or their personal property. Owner and agent are not responsible for lost, stolen, or misplaced items. Guest is also aware of the inherent risks to person and property while occupying residences near the ocean or that have pool/Jacuzzi features. Any and all claims, controversies or disputes arising out of or relating to this contract/agreement, or the breach thereof, which remain unresolved after direct negotiations between the parties, shall first be submitted to confidential Mediation in accordance with the Rules, Procedures, and Protocols for Mediation of Disputes of Dispute Prevention & Resolution, Inc., then in effect. If any issues, claims or disputes remain unresolved after mediation concludes, the parties agree to submit any such issues to binding arbitration before one arbitrator in accordance with the Rules, Procedures, and Protocols for Arbitration of Disputes of Dispute Prevention & Resolution, Inc., then in effect. The parties further agree that the award of the arbitrator is binding upon the parties and that judgment upon the award rendered may be entered in any court of competent jurisdiction. This agreement shall be governed by and construed in accordance with the laws of the State of Hawaii. All disputes or claims pertaining to the Agreement shall be adjudicated in the State of Hawaii, County of Honolulu. LAND USE ORDINANCE COMPLIANCE In accordance with City and County of Honolulu Land Use Ordinance section 21-10.1, this property is provided to you, exclusively, for a period of 30 days or greater. You are electing to occupy this property for the exact days outlined in the booking details, above. By law, the property cannot be rented to or occupied by other tenants during any portion of the 30-day term. If you should choose to occupy the property for additional nights within the 30-day rental term, a full payment of any additional charges must be made prior to such occupancy. Elite Pacific Properties will designate and or change the actual dates of the 30-day or longer Rental Period prior to the Start Occupancy Date. Guest understands and agrees that the Rental Charges are determined based on Guest's planned Arrival and Departure dates; and that Owner and Agent incur significant costs based on the number of days that Guest actually occupies and uses the Property. Guest further understands and agrees that in the event that they occupy the Property for more days than specified, based on the Arrival Date and Departure Date, that Guest will pay an additional Property Usage Charge, plus state and county General Excise and Transient Accommodation Taxes thereon; and Guest authorizes Agent to charge their credit card on file for the full amount of that Property Usage Charge (if any), plus taxes, plus a Credit Card Processing Fee of 3.5%. ELECTRICITY CHARGES: Guest's rental charges are based on normal electricity usage. We recommend that you turn off air conditioning when gone, and that you ensure all doors and windows are shut if the air conditioning is on. In the event that Guest's usage results in unusually high electricity charges, Guest agrees to pay for the additional charges beyond those deemed normal for the Property. A 3.5% Payment Processing Fee will be added to this charge. The maximum electricity charge included with this rental is $DIFFERENT FOR EVERY PROPERTY
Kortaste bokningsbara vistelse för detta boende varierar.
Elite Pacific Properties is the leading luxury real estate brokerage and vacation rental firm in Hawaii, with over 100 agents statewide offering everything from luxury residential property sales to multi-unit projects/developer sales, to luxury vacation rentals. Elite Pacific Properties was founded in 2005 and is the only luxury real estate firm with staffed offices on each of Oahu, Maui, Kauai, and the Big Island.

Elite Pacific Properties is a member of Who's Who In Luxury Real Estate, an exclusive organization of the top luxury brokers in the world; has been named to Inc. Magazine's prestigious national "Inc. 5000" list for both 2013 and 2014; and been ranked by Pacific Business News as the 9th fastest growing company in Hawaii on its 2014 Fastest 50 list.

Our Vacation Rental Division reflects our high standards of excellence. With over 70 professionally managed luxury homes available for vacation rentals throughout Hawaii, we are committed to making sure that our vacation clients experience the very best in quality, delivery and outstanding service.

Active Member of:
- (VRMA) Vacation Rental Managers Association
- (NAR) National Association of Realtors
- (HAR) Hawaii Association of Realtors
- (HBR) Honolulu Board of Realtors
Språk:
English
Svarsfrekvens:
100%
Svarstid:
inom ett par timmar
Utforska andra alternativ i och runt Lahaina
Fler platser att bo på i Lahaina: