28 Uthyrningar av lägenheter
Chite ist ein kleines Dorf in dem von Orangen- und Olivenhainen Lecrin Tal, einen großen See. Es ist nur wenige Gehminuten von Geschäften und Dienstleistungen und 5 Minuten mit dem Auto auf die Autobahn A44, die Sie nach Norden nach Granada und im Süden an den Costa tropischen Strände in Salobrena, die beide nur 25 Minuten dauert. Die Alpujarran Dörfer und die Berge der Sierra Nevada für Spaziergänge / Skifahren sind leicht zu erreichen, auch Flughafen Granada [40 min] und Malaga [1 Std 20 min], Almeria Flughafen [1 Std 30 min].
Die 3 Haupträume von The Garden Flat öffnen sich direkt auf beide eine überdachte Terrasse und / oder den Garten. Sie werden durch einen Pelletofen mit Radiatoren beheizt. Es ist warm im Winter, aber im Sommer kühl. Es ist ein ruhiger Raum mit einem Teich in der überdachten Terrasse und Blick in den Garten von allen Zimmern. Die Wohnung für 5 Personen sehr komfortabel. Beide Schlafzimmer verfügen über ein eigenes Badezimmer. Schlafzimmer 2, die Blue Room, hat ein Einzelbett neben einem Doppelbett und eigenem Duschbad. Schlafzimmer 1, das Rote Zimmer verfügt über ein größeres Doppelbett und ein geräumiges Badezimmer mit Badewanne und Bidet [das Einzelbett kann in diesen Raum bewegt werden, wenn notwendig] Die Küche zur Selbstversorgung ausgestattet ist und Sie können drinnen oder draußen speisen. Der Indoor-Wohnbereich verfügt über einen DVD-Player und TV-Bildschirm mit Internet-Anschluss. genügend Parkplätze gibt es direkt neben dem Haus.
Die Häuser der Lecrin Tal sind vor allem weiß lackiert. Jedes Dorf hat seine eigene Kirche, eine Bar und Fiesta und alle sind in der Nähe Beznar See, ein großes Reservoir. Es gibt Aussicht auf die Berge in jeder Richtung mit Schnee auf den hohen Gipfeln der Sierra Nevada für 9 Monate des Jahres. Die Mauren gebaut Bewässerungskanäle über tausend Jahre Vorteil der konstanten Wasserversorgung zu übernehmen. Natürlich hat sie neben jeder kleinen Straße ständig nach oben datiert gewesen, aber man kann Wasser zum Einsturz bewässern der Orangen- und Zitronenhaine sehen. Die Bäume sind grün das ganze Jahr und von Weihnachten bis Juni sie Früchte tragen. Frühling hat den zusätzlichen Vorteil des berauschenden Duftes aus den Blüten. Sich über die Zitrusbäume bis werden Riese verdrehten ursprünglich gepflanzt Oliven etwas Schatten zu geben. In Granada ist Provinz Tapas kostenlos mit Getränken [nicht mit Kaffee]. Talara und Niguelas haben beide ausgezeichnete Tapas-Bars. gibt es in der Nähe zu guten Restaurants. Wir möchten La Tasca und La Lolina in Niguelas, Los Naranjos in Melegis und El Puente etwas außerhalb Durcal. Es gibt einen Mercadona Supermarkt am Durcal Ausfahrt von der Autobahn und viele sehr guten lokalen Geschäften in Talara und Durcal. Am Mittwoch gibt es einen Markt in Durcal.
What an incredible place to stay. A wonderful warm welcome by Hilary and Grahame who are very knowledgeable about the local area. The apartment is spacious clean fully furnished with beautiful access to garden and access to the Orange groves. Quiet and relaxing with mountain views. Lots of walking in area and tapas restaurants in local area. An excellent recommendation. A gem in the Andalusian countryside.
Steve
2017-04-08T00:00:00Z
Le logement de Lecrin était tout simplement parfait : confortable, bien équipé, calme et bien situé (au croisement de Grenade, des Alpujaras et de la côte)...Le jardin est un petit bijou. Hilary et son mari ont été très accueillant : nous étions avec un bébé de 2 ans et ils nous avaient mis à disposition des jouets et un lit bébé sans que nous leur demandions. Ils nous ont donné de très bons conseils pour nos escapades touristiques. 100 % recommandable
Lise
2017-03-18T00:00:00Z
Typ av rum
Eget hus/egen lgh
---
Typ av boende
Lägenhet
---
Plats för
5
---
Sovrum
Lecrín, Andalucía, Spanien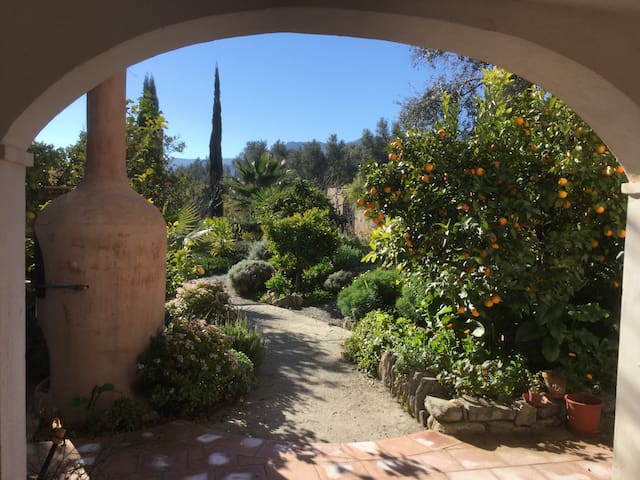 Casa del Jardin overlooks the pool and gardens of Casa Tia Maria, Acequias, a charming village twixt Granada, las Sierras and the Sea. An attractive place for you to enjoy life in our lovely Valley, with pool, WiFi, & walk some enchanting paths
Casa del jardin is a two bedroomed apartment overlooking the pool and gardens of Casa Tia Maria. The entrance is from the pool patio via the large balcony and double wooden doors to enter. Entering the house there is an open plan living room, kitchen and dining area. The kitchen is equipped with gas stove, oven, fridge, microwave and plenty of work surface and cupboards. The electric hot water heater is in the kitchen and the washing up area overlooks the pool patio. In the living room area there are two sofas, a music centre, and pine table and chairs. Winter heating is provided by an excellent Hergom cast iron woodburner. There are two bedrooms and large bathroom, the master bedroom has a king-size double bed, wardrobe and chest of drawers, and the twin bedded room has a balcony overlooking the pool patio. Finally, there is a large garden and pool. Unlike many in the area, this is a reasonable size garden and pool (5 mt by 9 mt) where you can eat alfresco or just lie in the peace and quiet of the afternoon, if you want to get away from it all. The house is well furnished generally. with garden furniture on the terrace and outside in the patio. WiFi internet is also available.
Acequias is a charming village set mid way between Granada and the Costa Tropical on the west-facing slopes of the Valley of Lecrin. Cerro Grande and El Zahor, the hills overlooking Acequias and neighbouring Niguelas can be seen from the garden, and the walk to Niguelas is one of several which can be made from the house; straight out of the front door you leave the village and within five minutes you will be in glorious countryside. Niguelas is larger village with an attractive range of bars, restaurants and cultural events, including music. Last year we saw a Japanese classical guitar maestro there! The agriculture of the area is mixed with olive and almond groves, and various other trees such as oranges, lemons, pomegranate, carob, plum and cherry. Rising above this lush irrigated countryside you have the mountains and foothills of the Sierra Nevada. The scenery is simply amazing.
buenos anfitriónes. linda casa bien ubicado. recomiendo
Sofia
2016-11-13T00:00:00Z
Nous avons été bien accueilli par Tim , le mari d'Arantxa , qui a été disponible tout au long du séjour . Le logement typique est très agréable et spacieux . Nous avons bien profité de la terrasse et de la piscine . Acéquias est un village tranquille et calme mais proche d'un supermarché (5 minutes en voiture) , de la plage de Salobrena (30 minutes) et de Grenade (20 min).Le site correspond aux amateurs de randonnée et de course à pied . Nous étions proche de Niguelas ( 5mn), charmant village pourvu de bar et de restaurant qui nous a permis de déguster quelques tapas .
Julie
2016-07-11T00:00:00Z
Tim greeted us like we had met before which is as lovely. He showed us around and later told us some places to climb and a little about the area etc The apartment was very spacious with a washing machine and kitchen utensils/items for cooking. There were lots of books to read and a lovely balcony overlooking the pool. Parking can be hit and miss but it's street parking rather than on the property so nothing to do with them really, although tim offered is a space right in from of the gates while it was free. The location was great for us as not a far drive to go climbing and there are walks in the area. Thank you for a lovely stay
Niki
2016-10-04T00:00:00Z
Arantxa and Tim are wonderful hosts English speaking with a good knowledge of the area. If you are looking for a place to stay in a quiet village this is it. A short walk takes you to the neighbouring village through a beautiful landscape where there are small bars and shops. Here you can relax and soak in the old world atmosphere. If you need to go further a field Granada is a short bus trip away 30min. Or there is an excellent taxi service Tim can hook you up with, five star driver. Water is good from the tap to drink. Good water pressure. Log fire if it gets cold. The swimming pool is well maintained and clean. No unsightly things around anywhere everything works, simple honest no frills. Highly recommended
francis
2016-09-20T00:00:00Z
Le logement se situe dans un charmant petit village tout en hauteur. La résidence est calme est très bien conçue. L'intimité de chaque famille locataire est respecté. Le logement est fonctionnel et bien aménagé. La piscine est spacieuse et très bien entretenue. Notre hôte Tim s'est montré très chaleureux et accueillant.
Fabien
2016-08-13T00:00:00Z
Typ av rum
Eget hus/egen lgh
---
Typ av boende
Lägenhet
---
Plats för
4
---
Sovrum
Acequias, Andalucía, Spanien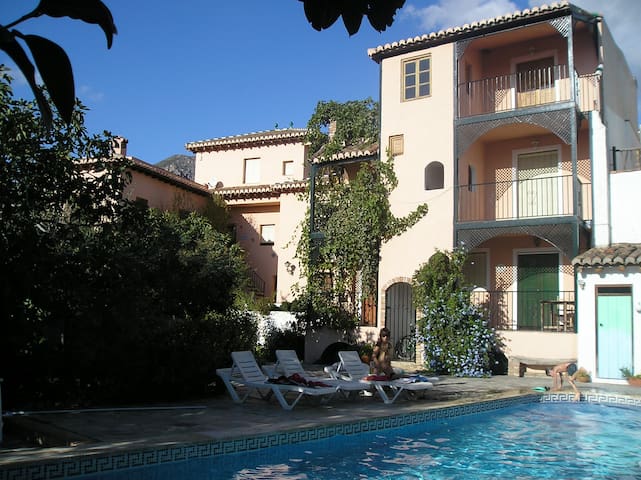 Es un apartamento muy practico para ir de turismo en granada tanto capital como rural
(URL HIDDEN)
Typ av rum
Eget hus/egen lgh
---
Typ av boende
Lägenhet
---
Plats för
5
---
Sovrum
Nigüelas, Andalucía, Spanien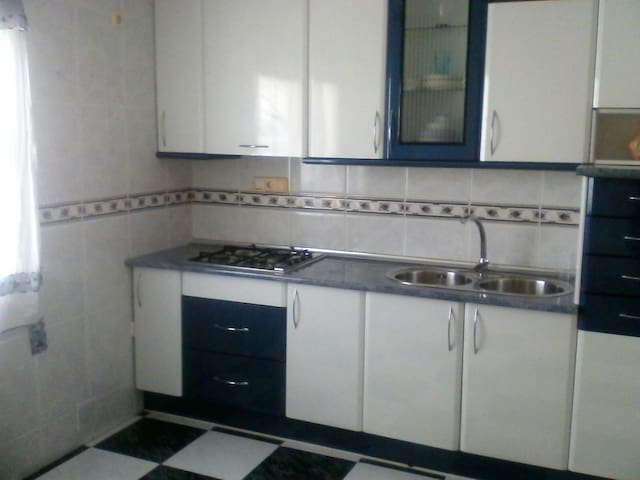 We stayed in Sharon and Mark's self-catering apartment, which was ideal for two. It's situated just off the Granada-Motril motorway, which is convenient if you want to tour around the region (we did). There was a log burner and a portable gas fire to keep us warm in the evenings. Very well equipped shower room and kitchen with new fittings/appliances. Great welcome and we really enjoyed our stay.
Dominique
2017-02-25T00:00:00Z
The location is great. Close to hiking trails and in a nice and somewhat isolated neighbourhood. Restaurants are accessible at a (long) walking distance. The views from the apartment are beautiful, but since it is close to the highway, the noise of the cars is noticeable.
Carles
2016-08-22T00:00:00Z
Typ av rum
Eget hus/egen lgh
---
Typ av boende
Lägenhet
---
Plats för
4
---
Sovrum
Lecrín, Andalusien, Spanien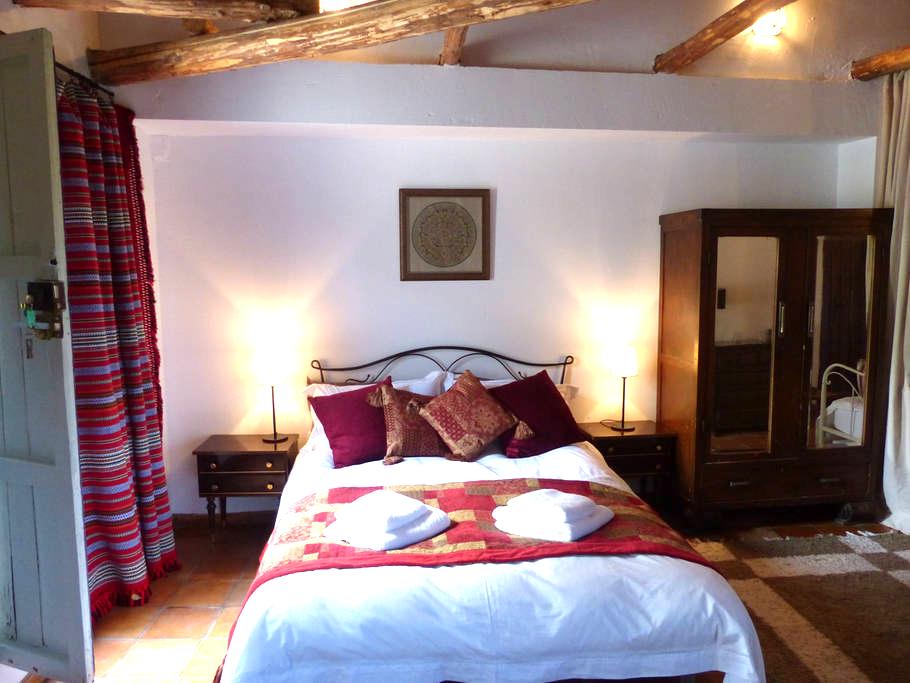 A fully-furnished and equipped apartment for 4 people,Warm and cozy, views to Sierra Nevada, Garden and swimming-pool, and the church tower in the background. From the terrace we can relax hearing the sound of birds and water.
is a fully-furnished and equipped apartment for 4 people,Warm and cozy, views to Sierra Nevada, Garden and swimming-pool, and the church tower in the background. From the terrace we can relax hearing the sound of birds and water. The Apartment has: central heating, 1 double room with a double bed (1.50 metre), cot available, all drapery included (sheets, blankets, towels) 1 double room with twin beds available. full bathroom with hydro-massaging bath and hair dryer. kitchen with mixer, toaster, microwave, fridge, washing machine. living room with fireplace, TV, DVD player/card reader. Broad balcony with it s furniture, offering nice views and plenty of sunlight. Shared swimming pool. wonderful views of Sierra Nevada.
Quiet Neighborhood, because The house is located at the back of The Church. In summer all The neighbors at night sit in the street together to chat and be fresh. There is Baker, Shops, Supermarket, Market, pharmacy. And Bars to taste our typical tapas
Queta es muy amable y buena anfitriona. tiene un fantástico huerto y ofrece un estupendo desayuno casero y de sus productos que es estupendo probar. Su casa es muy acogedora, cuidada y con buen gusto. tiene un patio estupendo y una fantástica piscina. estuvimos solo un par de dias pero su casa es un sitio acojedor para pasar unas vacaciones, tranquilo y en familia.
maria jesus
2016-08-02T00:00:00Z
Queta fue muy amable y atenta con todas nuestra peticiones, entre ellas un bizcocho de cumpleaños que estaba buenísimo. El desayuno que prepara está muy bueno, sobre todo la pasta para untar de berenjena y el tomate de su huerto. La casa es muy bonita y el jardín maravilloso. Fuimos con un niño y le encantó poder ver a los animales en el corral. Un lugar muy agradable y recomendable.
Nadia
2016-09-05T00:00:00Z
Nous avons passé un formidable séjour chez Queta. Queta est une hôte parfaite: discrète, efficace, disponible, merveilleuse cuisinière. Queta nous a préparé un très bon repas et un délicieux petit déjeuner avec les produits de son jardin. La maison est très agréable et très bien située dans un joli village proche de Grenade et des Alpujarras. Le jardin est très agréable et nous avons bien profité de la piscine. Nous garderons un très beau souvenir de notre séjour et nous conseillons vivement cet appartement, idéal pour une famille avec deux enfants. Merci beaucoup, Queta.
nicolas
2015-07-29T00:00:00Z
Typ av rum
Eget hus/egen lgh
---
Typ av boende
Lägenhet
---
Plats för
4
---
Sovrum
Nigüelas, Andalusien, Spanien
El apartamento esta bien situado, a la entrada del pueblo, fácil aparcamiento y bien comunicado con la autovía. Todo estaba nuevo como en las fotos.
Isabel
2016-12-30T00:00:00Z
Buena ubicación, Todo acordé al anuncio,el piso muy limpio y ordenado
Adm
2017-01-05T00:00:00Z
Muy amable y cordial, estupendo apartamento y agradable.
Patricia
2017-02-19T00:00:00Z
Typ av rum
Eget hus/egen lgh
---
Typ av boende
Lägenhet
---
Plats för
4
---
Sovrum
Dúrcal, Andalucía, Spanien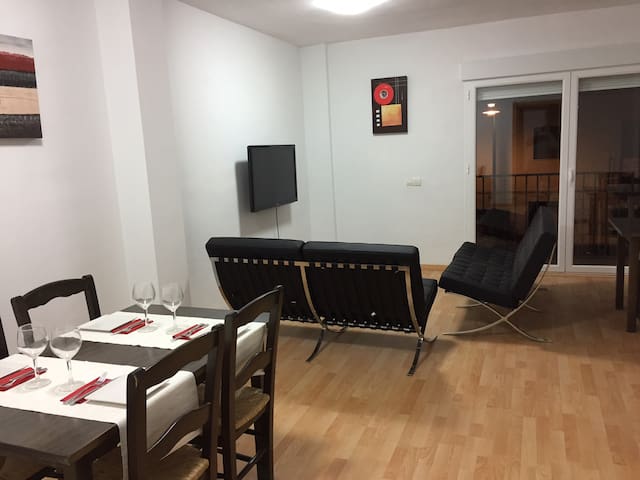 A beautiful apartment in an old Andalucian house in the scenic Lecrin Valley, with 3 double bedrooms for up to 7 people. There's a large rooftop terrace with BBQ for the guests use. We offer very good rates for monthly stays - ask for more details. We are registered with the Andalucian Tourist Board (No: VTAR/GR/00885)
Ideally situated in the beautiful Lecrin Valley, 20 minutes from Granada with it's stunning Alhambra Palace and numerous tapas bars. The Costa Tropical with a range of beaches is also 20 minutes away and, in Winter we are only 50 minutes away from the ski resort in the Sierra Nevada. Perfect for birdwatching, walking, cycling and tours of the Alpujarras
The Area: - Granada is 20 minutes away by car, with plenty of relatively cheap, safe, parking. - The coast is 20 minutes in the other direction, with a range of beaches, from large with bars/restaurants on the beach (chiringuito's), to small secluded coves with crystal clear water. - The start of the Sierra Nevada National Park is 5 minutes walk from the house and we live in a valley full of orange, lemon, almond, walnut, avocado and pomegranate trees. - The Alpujarras area with its famous "white villages" is a 30 minute drive away, through winding mountain roads, deep gorges and the remains of Moorish castles. There are some laminated maps in the apartment to help you plan a day out, or of course you are more than welcome to ask us about any ideas you may have.
We had a wonderful 6 days in the lovely apartment (including brilliant roof terrace) of Rob and Maureen. Two lovely people who are genuine in their care for their guests and property. The location is super: 25 minutes to Granada (Alhambra), the coastal town of Salobrena and the Alpujarras. A big supermarket is just 2 minutes away. We definitely will be back to explore this region more in detail. Thanks for the hospitality. Hilde and Dirk
Dirk
2016-04-06T00:00:00Z
Rob and Lorraine were the perfect hosts! They provided us with all the information that we needed to plan our stay in the valley of Lecrín. Casa Jazmin is the place you need to go if you are looking to spend some quiet and relaxing days in Andalusia. The apartment is beautiful with wonderful views of the mountains from the terrace. The facilities of the apartment are well maintained and it has everything that you need for your stay ( plates, cutlery, pans, etc.) It took us only 30 minutes with the bus to get to Granada and it´s the same distance to get to the coast. ( Check the Bus schedule on (URL HIDDEN) ) We are looking forward to come back to Casa Jazmin.
Alvaro
2015-04-08T00:00:00Z
Rob fue muy amable en todo momento. La casa es muy bonita. Volveremos.
Do
2016-05-03T00:00:00Z
We loved our stay st Casa Jasmine. Rob and Lorraine were very helpful and we enjoyed sharing tapas with them at the local venues. The area is just as shown in the description, a quaint village where most things were available. Even firewood and oranges fresh from the trees. Hillside walks were amazing and the almond trees in blossom were beautiful. Definitely a recommended place to stay. We were there for a month in January.
Geri
2016-02-01T00:00:00Z
This was our first AirBnB experience and up till now still the best. Everything is just as described and the facilities were more than adequate. Our hosts were helpful and very welcoming. It is a pretty short drive to Granada and to the Sierra Nevada. Looking at the map before arriving I was worrying about noise from the highway but I didn't notice a thing (didn't see it or hear it). The terrace was fantastic - peaceful, great view and a perfect place to start the day with breakfast. The town (or the apartment) didn't at all feel like a tourist destination - seemed authentic to me. Highly recommended.
Steve
2015-08-30T00:00:00Z
Lorraine and Rob were truly amazing hosts and were so friendly and helpful that we feel obliged to write a positive review :) The lovingly furnished appartment is surprinsingly big, very cozy and we directly felt home. Also the kitchen is very well equipped. We have arrived quite late so that Lorraine was so kind to provide us with bread, butter and a bottle of red wine. We were really happy about that. The appartment also has binder with heaps heaps of helpful information about the surroundings. We also found the little village very nice and its perfectly located between the coast and Granada. We can only highly recommend this place and would be glad to stay there again!
Jana
2016-04-18T00:00:00Z
I have stayed in several homes through AirBnB, and overall, my experience has always been a good one, as most hosts aim to provide a welcoming space for their guests. But, every now and then, you come across a host that has thought through everything to make your stay a successful one. This is the case with Rob and Lorraine. From my first enquiry, their communication was always fast and helpful - from directions on how to get to the house, to information on what to do in the surrounding area. I had booked a four day break with my teenage/adult son, and as we would be arriving pretty late in the evening, Rob and Lorraine thoughtfully offered to purchase some basic groceries for us so that we had something to eat on arrival. After travelling for most of the day, I cannot tell you how great it was to find a stocked fridge on arrival! The house itself is delightful - a home from home. Two fantastic double bedrooms (they also have a self-contained studio on the upper level of the house!) both with balconies and amazing views of the mountains. The kitchen was extremely well stocked with everything you could ever need to prepare a meal should you wish to cook. The whole apartment works beautifully - you can sit and eat at the dining table, relax on the leather sofas, retire to your room and relax on the comfortable bed and admire the views from your window. Or, you can go upstairs and eat breakfast on the roof terrace, with its many plants and sweet smells; or as we did, just chill out with a bottle of wine and soak up the atmosphere. Lovely white bed linen, towels and floor standing fans (a life saver in the Spanish heat!) made for nights of complete rest and sound sleep. My son is of the CGI generation where anything (at least on screen!) is possible, so its quite hard to impress him - and he was impressed! The house was more than I could have hoped for; instantly welcoming and cosy, and a great space in which to spend some quality time with my son, but also a great place to hole up with your significant other and be, oh so romantic! Which is why I will be returning with my husband next year! Rob and Lorraine were the perfect hosts - they have got the balance just right, of hotel meets staying in a good friend's lovely apartment. They were there on hand should you need anything, (they have an apartment downstairs) but out of sight should you just wish for complete seclusion and solitude . Every morning I woke up there was something new to notice about the apartment which is decorated with well-placed ornaments and artwork, cushions, books etc. I also loved that they had a very well-stocked ceiling to floor cabinet of glassware, cups, and white bowls, plates, and various tableware. It encouraged me to...
shirley
2015-07-07T00:00:00Z
Both Robin & Loraine were excellent hosts and a very lovely couple and couldn't do enough for us to make sure we had a lovely stay. They also introduced us to some of their friends we were also invited out with them to a couple of Quiz nights .they were very helpful with local knowledge. The apartment was very well equipped with everything you would need for a comfortable stay. We were arriving on a bank holiday and Robin very kindly asked if we would like him to get a few provisions for us as the shops would be closed which he did and we were very grateful of. We felt the Lecrin valley was a very beautiful place with lots to do and the views were both dramatic and romantic with lots of walking routes both easy and harder if you wanted. All in all we had a fabulous time and we would throughly recommend a visit here.
Stephen
2015-11-27T00:00:00Z
Typ av rum
Eget hus/egen lgh
---
Typ av boende
Lägenhet
---
Plats för
7
---
Sovrum
Lecrín, Andalucía, Spanien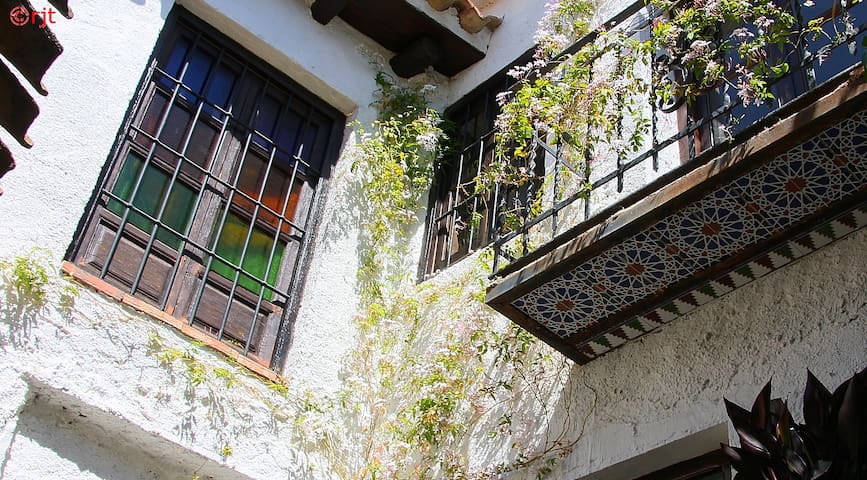 La Casa de Almócita é um apartamento rural que está em um novo edifício. Ele está situado no coração de Lecrin Valley, em um ambiente rural perto de Granada, Sierra Nevada ea costa tropical.
O apartamento está localizado no centro de Durcal, 15 minutos de Granada, a 30 minutos da praia ea 45 minutos da estação de esqui de Sierra Nevada, e também tem grande acesso a A-44 auto-estrada.
Os hóspedes podem desfrutar de uma variedade de actividades ao ar livre que o ambiente de Lecrin Vale oferece, como trekking, ciclismo, pomares ecológicos, horas de equitação, canoagem e escalada, bem como o turismo do vinho.
The host canceled this reservation the day before arrival. This is an automated posting.
소희
2016-10-30T00:00:00Z
I stayed at this location for a month and took advantage of the huge discount. I chose to stay outside of Granada to save money while I work from my computer. Then I'd go into Granada on the weekends. This little town is really peaceful. Very very quiet. And the apartment is very clean and new with everything you need to feel comfortable. Tons of channels on the TV showcasing movies in English. The only issues I had were the slow internet and that the town shuts down fairly early.
Noel
2016-05-17T00:00:00Z
Typ av rum
Eget hus/egen lgh
---
Typ av boende
Lägenhet
---
Plats för
3
---
Sovrum
Dúrcal, Andalucía, Spanien
Ładne mieszkanie w Lecrin Dolina, do 20 minut Granady i wybrzeża, zewnętrzne, jasne, wygodne, bez problemu parkowania i sklepów i barów. sennderismo idealne do pieszych i relaksujący weekend.
Fin de semana estupendo. La casa tal y como se describe en el anuncio: muy acogedora, limpia y ordenada (aunque hacía un poco de frío) Stella muy atenta y amable, nos dejó una botellita de vino de bienvenida y nos ofreció todo lo que fuera necesario. El barrio es muy tranquilo y está en el centro de la ciudad. La verdad es que hemos acertado con la elección.
Noelia
2016-03-01T00:00:00Z
Typ av rum
Eget hus/egen lgh
---
Typ av boende
Lägenhet
---
Plats för
4
---
Sovrum
Dúrcal, Andalucía, Spanien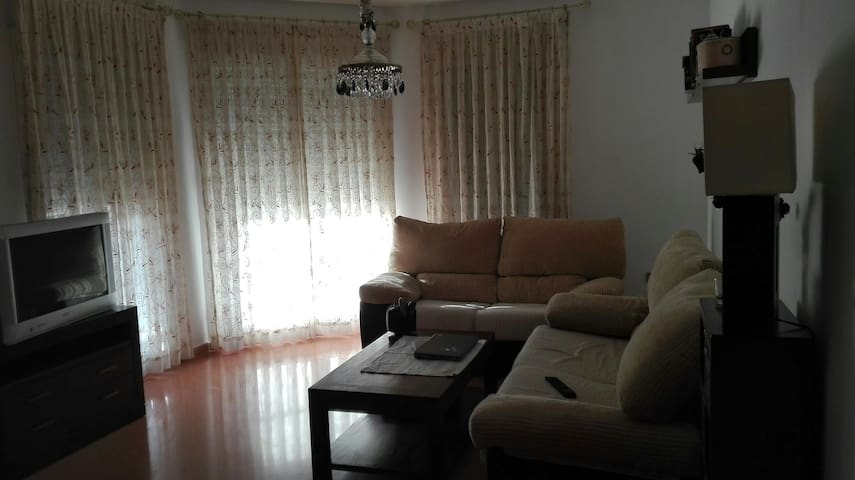 Floor ideal for sightseeing, is located in the center of town with maximum distances of the most interesting sites: - 25 minutes from Granada - 25 minutes from the beach (Costa Tropical) - 45 minutes from Sierra Nevada-45 minutes from the Alpujarras. It is located in the heart of the Lecrin Valley, near the A44 motorway. The apartment has on the back of a large free public parking. And it is a 2-minute walk from the town center, where you can find cafes, restaurants, banks, markets, supermarkets, public transport, etc. It has 3 fully furnished bedrooms, a lounge, a bathroom, kitchen, laundry room and a wardrobe in the hallway. The area is ideal for hiking and walks with many routes both mountains, rivers, horseback riding, canoeing, hiking picturesque car, mountain, etc.
Typ av rum
Eget hus/egen lgh
---
Typ av boende
Lägenhet
---
Plats för
4
---
Sovrum
Dúrcal, Andalusien, Spanien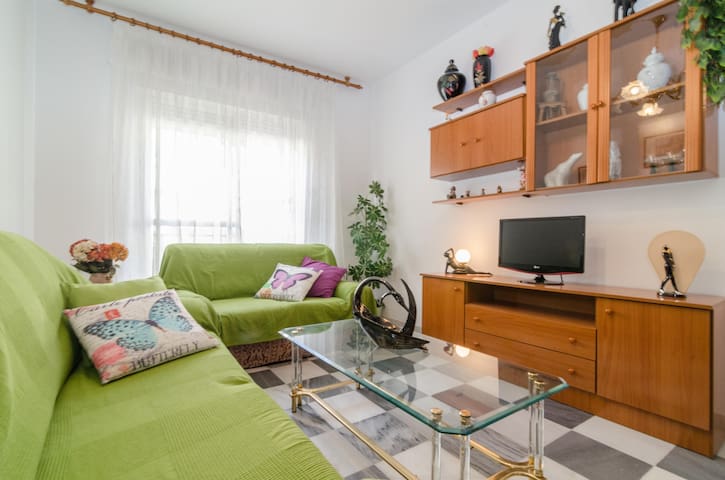 Ideal to accommodate a family during holiday periods. Equipped with free WiFi, heating / AC, kitchen and bathroom and everything you need for your stay. We have a wonderful bakery-cafe (where reception is).
We are in the main street of Dúrcal, capital of Valle de Lecrín. It is strategically located to design a vacation since we are halfway between Granada and the tropical coast (at 20 and 30 minutes respectively). We are also just a few kilometers from the entrance of Las Alpujarras, well known for its beauty and charm.
We were really pleased with our stay. The apartment was spacious and comfortable. Checking in and out was quick and easy. Being December it was cold in the apartment, but the electrical heaters in each bedroom warmed them up nicely. The big bonus for us was the café just downstairs which serves great cakes! Dúrcal is a very pleasant town just 30 minutes from both Granada and the coast and is a great base from which to explore the area. I am sure we will be back soon.
Graham
2016-12-19T00:00:00Z
Typ av rum
Eget hus/egen lgh
---
Typ av boende
Lägenhet
---
Plats för
4
---
Sovrum
Dúrcal, Andalucía, Spanien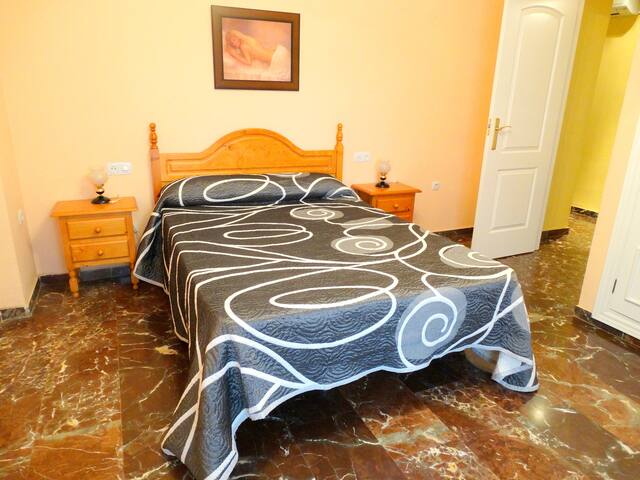 Apartamento con un dormitorio ideal para parejas. Con encanto, acogedor. Bellas vistas. Tranquilo. Piscina. wifi gratuito. Buena y rápida comunicación, sin problemas de parking. Cerca de Granada capital, Costa Tropical, Alpujarra y Sierra Nevada.
Lugar ideal para descansar por su tranquilidad y para hacer pequeñas fiestas, comidas con barbacoas, relajarse mirando sus bellos espacios entre montañas y valles fértiles.
El pueblo vecino está a 200 metros y sus gentes son amables y típicas del profundo sur andaluz.
Die Wohnung liegt in einem recht abgeschiedenen Ort und ist ganz nett. Es handelt sich um eine Wohnung in einer Wohnanlage mit mehreren Wohnungen. Ein Schwimmbad und Grillmöglichkeiten sind vorhanden. Im Ort selbst gibt es nicht viel zu sehen oder zu machen. Die Gegend eignet sich mehr zum Wandern oder Radfahren. Es gibt im Ort ein Restaurant, dass ganz in Ordnung ist. Granda ist ca. 25 Kilometer entfernt.
Axel
2016-10-31T00:00:00Z
Typ av rum
Eget hus/egen lgh
---
Typ av boende
Lägenhet
---
Plats för
2
---
Sovrum
Grenada, Andalucia, Spanien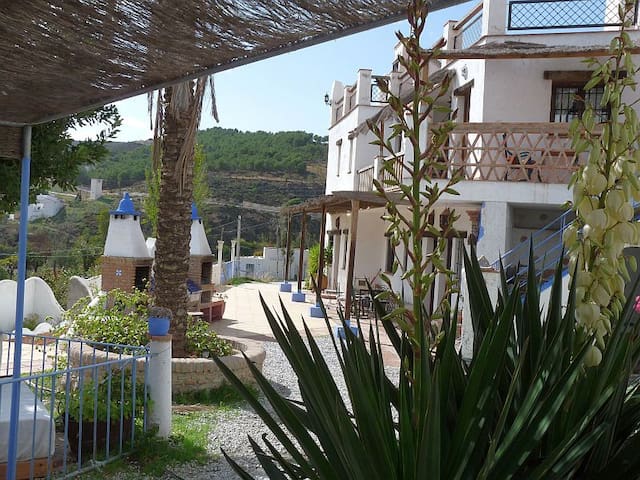 Ideal eine Familie während der Ferien willkommen zu heissen. Ausgestattet mit kostenfreiem WLAN, Heizung / Klimaanlage, Küche und Bad und alles, was Sie für Ihren Aufenthalt benötigen. Wir haben eine wunderbare Bäckerei-Café (wo der Empfang ist).
Wir sind in der Hauptstraße von Durcal, der Hauptstadt des Valle de Lecrín. Es liegt strategisch günstig, einen Urlaub zu entwerfen gelegen, da wir auf halbem Weg zwischen Granada und der tropischen Küste (bei 20 bzw. 30 Minuten) sind. Wir sind auch nur wenige Kilometer vom Eingang des Las Alpujarras, bekannt für seine Schönheit und Charme bekannt.
The host canceled this reservation 3 days before arrival. This is an automated posting.
Juan
2017-04-10T00:00:00Z
Typ av rum
Eget hus/egen lgh
---
Typ av boende
Lägenhet
---
Plats för
4
---
Sovrum
Dúrcal, Andalucía, Spanien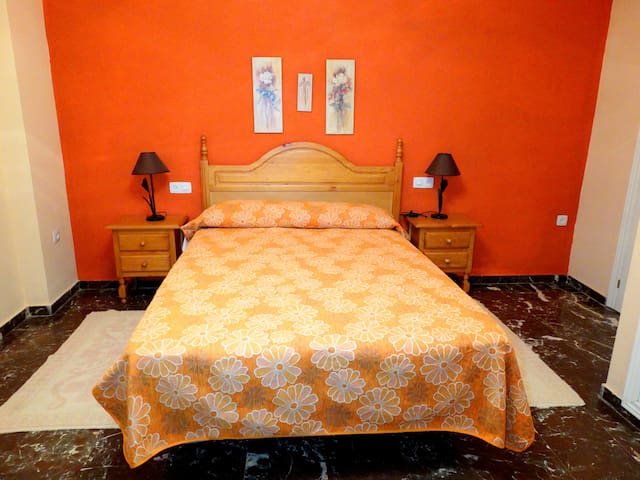 Apartamento con un dormitorio ideal para parejas. Con encanto, acogedor. Bellas vistas. Tranquilo. Piscina. wifi gratuito. Buena y rápida comunicación, sin problemas de parking. Cerca de Granada capital, Costa Tropical, Alpujarra y Sierra Nevada.
Lugar ideal para descansar por su tranquilidad y para hacer pequeñas fiestas, comidas con barbacoas, relajarse mirando sus bellos espacios entre montañas y valles fértiles.
El pueblo vecino está a 200 metros y sus gentes son amables y típicas del profundo sur andaluz.
Endroit très tranquille près de la nature Très bon accueil de la part de Antoinio
Michel
2016-05-06T00:00:00Z
Antonio's place is as advertised. The apartment is very simple but contains everything that a couple needs. The scenery is unmatched. The valley town of Conchar is a small scenic town and remains very quiet at all hours. The hiking was amazing and, despite a language barrier, Antonio could not have been more accommodating. We had a wonderful time during our stay. There are a few recommendations that I would offer to stay at Antonio's.... the isolation of Conchar requires you to have a car as the nearest grocery is in neighboring town of Durcal. Speaking Spanish is really a must in the small town as most everyone speaks exclusively Spanish. The restaurant ( there is only one) in town was nice, reasonably priced, and the people were very nice, however, my travel companion did get a pretty severe case of food poisoning so just take care to ensure that all food is cooked adequately. I would also warn not to depend on the wifi as it was not really available during our stay. Overall, I would certainly recommend a stay at Antonio's. The warmer months will offer less wind and better weather but our stay was good even in March.
Patrick
2017-03-25T00:00:00Z
Fenomenal estancia en casa de Antonio nos encantó todo las vistas la piscina el pueblo su perro...en fin un lugar maravilloso como granada misma seguramente repitamos un abrazo!!
Adrian
2016-07-01T00:00:00Z
Ha sido una semana genial, el apartamento disponía de todo lo necesario, siempre estaba fresquito (ya que fuera hacía un calor de muerte), había piscina y también está relativamente cercano a la playa. Lo más sorprendente fue que Antonio consiguiera que un grupo tan heterogéneo como el que había en la serie de apartamentos que alquila se uniese en una noche de guitarra flamenca-jamón-limonada inolvidable. Estoy deseando volver, esta vez en Otoño para hacer alguna de esas rutas de montaña que tanto prometen. ¡MUCHAS GRACIAS!
Teresa
2014-08-09T00:00:00Z
Sweetiest Guy Every!!! If you don't mind being about 40-50 min bus ride from town and nestled away in an amazingly beautiful valley. Then this is the place for you!!!! A space of serenity and beauty away from all the worries in the world. Awesome apt. very clean and arabesque. If you like Hikes Antonio will take you on one. You do need a car here. Or arrange for a taxi to take you to and from the bus station which is only 5 minutes away form this place. From there you have a 40-50 min ride into the heart of granada. If you rent a car you would be able to get there in 30 min.
Heba
2015-09-22T00:00:00Z
Eigenaar had op voorhand gecommuniceerd dat op de dag van onze aankomst een feestje was op de locatie. We konden op zijn kosten in een nabij gelegen hotel gaan slapen. We zijn in het appartement gebleven, er was wel feestgedruis tot 2 h 15. Eigenaar is heel vriendelijk en je kunt hem alles vragen. Spreekt ook een woordje frans want zijn engels is wat minder. Hadden wel weinig handdoeken maar kregen er onmiddellijk meer nadat we hem er om vroegen. Jammer dat er geen wijnglazen zijn. Wijn uit een gewoon glas lukt ook maar... Vervelend dat er veel vliegen zijn maar daar kan Antonio niets aan doen. Heerlijk rustig verblijf met mooi uitzicht. Je kan er mooie wandelingen doen. Aanrader is deze naar de waterval, een beetje klimmen.
Patrick
2016-10-11T00:00:00Z
Antonio AND his apartment are fantastic. Antonio was great, he literally lives on the premises so he's always available to you, but he doesn't expect you to hang out with him, although we shared a beer upon arrival! The apartment itself is situated in this adorable little town with a stunning view of the mountains literally in your front yard. The apartment was clean and cozy, very lovely and romantic. There's tons of parking available, and this adorable little restaurant right down the street that serves breakfast and dinner and beer! It's super quite and serene, it's absolutely beautiful. The apartment is decorated with Moroccan fixtures and I can't stress enough how cute it is. It's actually not a far drive from Granada, and the drive is quite nice, so you can go visit the Alhambra easily if you'd like. It's great if you want to get away, but remember to bring cash with you because the little restaurant/bar up the road doesn't take card! Definitely will be back to visit Antonio!
Sara
2016-04-26T00:00:00Z
La casa de Antonio es perfecta psra relajarse y con unas vistas maravillosas, Antonio un anfitrion muy atento, para repetir
Francisco Jose
2016-10-05T00:00:00Z
Typ av rum
Eget hus/egen lgh
---
Typ av boende
Lägenhet
---
Plats för
2
---
Sovrum
Grenada, Andalusien, Spanien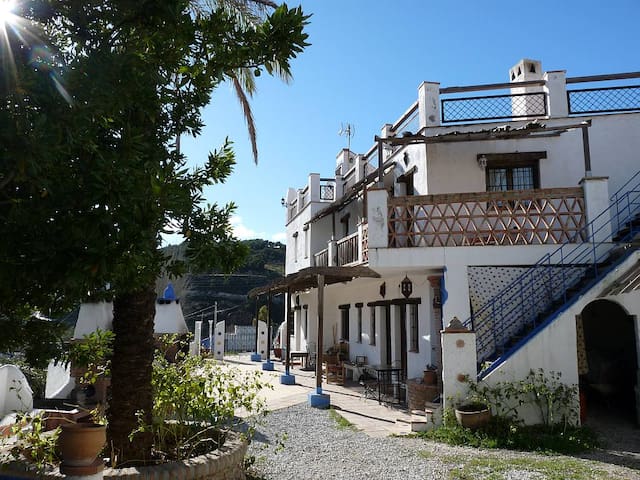 Terrasses d'oliviers et d'agrumes face à la Sierra Nevada : vues grandioses et havre de paix Situation privilégiée à 20' de Grenade, plages de la Côte Tropicale et villages blancs de l'Alpujarra Appt confortable, convivial, bien équipé avec piscine
1 chambre avec 1 lit 2 places + 1 canapé-lit confortable dans séjour. 1.5 salles de bains. Équipement cuisine complet. Barbecue. Terrasse privative. Piscine avec vaste solarium, transats et paillotes, au milieu des oliviers. Libre cueillette des agrumes pour vos jus de fruits.
Un environnement de sierras arides contrastant avec les terrasses irriguées, taillées à flanc de montagne, couvertes d'oliviers, d'agrumes ou d'amandiers. Micro climat plutôt tempéré du fait de l'altitude (600m) et du régime de brise marine qui tempère les chaleurs de l'été.
Acabamos de volver de un fin de semana estupendo. La casa es preciosa, muy cómoda, está muy limpia y provista de todo. Rodeada de árboles frutales, puedes desayunar zumo de naranja con sólo asomarte a la puerta. Tiene barbacoa y piscina (en verano). Las vistas son espectaculares. La situación también es muy buena para conocer La Alpujarra. A 15 minutos en coche de Lanjarón, a unos 45 minutos de Pampaneira, y como a una hora de Trévelez. No pudimos conocer en persona a Anne Marie, pero en su lugar nos recibió Juan, que nos enseñó el pueblo y dónde estaban el supermercado (compramos una carne buenísima para hacer en la barbacoa con leña), la panadería, etc. Fue muy amable y atento. Por la tarde tuvimos un pequeño problema con internet y no tardó ni cinco minutos en venir a solucionarlo. La señal wifi no llega muy bien y en la televisión no hay muchos canales en español. Aún así, y como lo que buscábamos era desconectar, hemos estado muy a gusto y repetiremos sin duda en cuanto podamos. Muy recomendable si os gusta la tranquilidad, el campo y también si queréis visitar la Alpujarra (imprescindible coche).
Rocio
2015-12-07T00:00:00Z
Anne-Marie's home in the hills is breathtaking and Jean-Marie met us on arrival and made us very welcome. The beautiful gardens surrounding the house are a highlight and the pool with hammock overlooking the hills is the perfect escape. The town is very small with one bar and shop so if you are looking for a quiet place to relax this is it. It was a lovely place to stay. We highly recommend it.
Clare
2016-09-26T00:00:00Z
The host canceled this reservation 3 days before arrival. This is an automated posting.
José
2016-03-20T00:00:00Z
Heel mooi en schoon appartement met prachtig uitzicht en veel privacy. De kinderen vonden het erg leuk om zelf citroenen te mogen plukken.
Lydia
2016-05-10T00:00:00Z
Het is een prachtig huis op een mooi domein van citrus- en olijfbomen. Het is rustig gelegen en niet zo ver van het dorp, je hebt uitzicht op de vallei en het meer. We hebben er graag verbleven en zouden er ook wel willen wonen. Anne-Marie en Daniel hebben ons vriendelijk ontvangen en we kregen goede tips over lekkere restaurants, voor het vlot binnenrijden in Granada, over wat te bezoeken enz... Het appartement is heel netjes en smaakvol ingericht. We hadden nog veel langer willen blijven en hopen nog eens terug te komen.
Ingrid
2016-09-04T00:00:00Z
Wir waren glücklich, genau diese Unterkunft gebucht zu haben, den dieses Haus war genau das, was wir uns gewünscht haben. Die 10 wunderschönen Tagen, zwischen der Natur und Bergen,die wir dort verbracht haben, haben wir sehr genossen. Die Gastgeber sind sehr freundlich und herzlich! Sie haben das Haus liebevoll eingerichtet und wir hatten alles im Haushalt was wir brauchten. Sogar selbs gepressten Orangensaft aus eigenem Garten. Traumhaft. Das Haus liegt sehr günstig sowohl zur Granada, zum Strand als auch zum Malaga. Sehr zum Empfehlen.
Yana
2016-01-02T00:00:00Z
The host was very proactive and quick in sorting out someone to welcome us (as the host was away during these days) and direct us to the place and show us around, a very friendly girl! The place was amazing as we had the whole place to ourselves, great swimming pool with amazing views. The local town is very nice and has a bar and a local shop with good local products. Good location for exploring Sierra Nevada, Granada and the southern coast. Would definitely recommend this for a relaxing and quiet holiday!
Anna
2016-06-09T00:00:00Z
Typ av rum
Eget hus/egen lgh
---
Typ av boende
Lägenhet
---
Plats för
2
---
Sovrum
Pinos del Valle, Andalucía, Spanien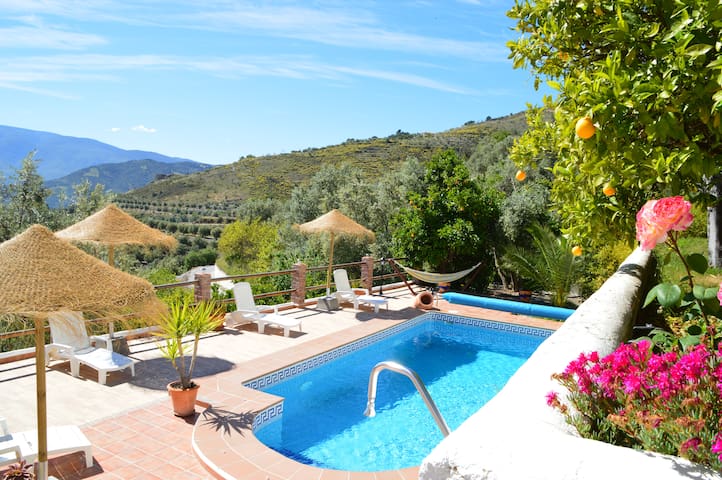 Apartamento para 2-3 personas. Estufa de leña, piscina compartida, zona de barbacoa, lavadora y WiFi. Zona rural rodeada de almendros, olivos y naranjos. Se aceptan mascotas. A 30 minutos de Granada y 90 de Málaga y Cabo de Gata. Cerca del Balneario.
(NOTA IMPORTANTE: ESTE APARTAMENTO RURAL Y LA CASA RURAL ESTÁN MUY PRÓXIMOS UNO DEL OTRO Y PERTENECEN AL MISMO PROPIETARIO - SU ALQUILER ES INDEPENDIENTE, PERO TIENEN ZONAS COMUNES) La Alpujarra es una zona privilegiada situada entre Sierra Nevada y el mar y resulta un lugar propicio para el reposo. Su bella vegetación tanto de montaña como subtropical le confiere un paisaje muy particular. Esta tierra fue habitada por los árabes y es rica en tradición. Tenga presente que este apartamento y la casa rural comparten la piscina siendo así ideal el alquiler de ambos por dos parejas amigas. En este entorno se encuentra el Cortijo La Era, donde está ubicado este apartamento de estilo andalusí, en el parque natural de Lanjarón. Lanjarón es famoso por su balneario, visitado por aristócratas, poetas y toreros desde 1770. Desde el apartamento se llega andando en sólo 15 minutos al balneario donde se ofrecen tratamientos de hidroterapia y aguas mineromedicinales. Junto al cortijo La Era se encuentra el apartamento rodeado de bancales de olivos, almendros y naranjos desde donde se pueden disfrutar amplias vistas a la sierra y al mar. Al apartamento se llega en unos 7 minutos por un carril hormigonado desde Lanjarón.
We stayed at Eduardo's place for a week and it was just perfect! the cabin is beautiful, very natural and yet cozy and well equiped. The location was also perfect, in nature, but still has good access to the road.. Eduardo and his family were very very nice and made us feel at home. And the pool.. well, what can we say? we will have to come back! Thank you for a wonderful vacation!
Lotem
2016-08-23T00:00:00Z
La communication avec Eduardo a été facile et efficace dès la réservation. Le studio est dans un endroit au calme, facile d'accès grâce au plan que Eduardo nous a envoyé et ce malgré sa situation dans la montagne. Dans le logement il y a tout ce qu'il faut et nous étions très bien accueillis par la femme d'Eduardo, Rakhi, à notre arrivée. Les lieux sont conformes à l'annonce et aux photos. La région autour de Lanjarón est magnifique avec de belles sorties et randonnées à faire dans la Alpujarra a une trentaine de minutes de route. Merci Eduardo et Rakhi!
Andy
2017-03-04T00:00:00Z
Perfect place to stay for an introduction to Las Alpujarras. Ideal apartment and lovely hosts. Highly recommended. Thanks for a lovely refreshing stay.
Daniel
2017-04-06T00:00:00Z
Una casa encantadora en un paraje idílico, Dani y Soma nos recibieron con mucha alegría.
Alberto
2016-06-01T00:00:00Z
Eduardo was very helpful getting our booking organised and gave us very clear directions for arrival. Both he and his wife gave us lots of good advice on places to visit and were always available for questions. The grounds and location are very pretty and the apartment comfortable and well equipped. I just wish we had come earlier in the season so as to enjoy the pool more. Thanks for a lovely stay and all your help.
Alison
2016-09-24T00:00:00Z
Typ av rum
Eget hus/egen lgh
---
Typ av boende
Lägenhet
---
Plats för
3
---
Sovrum
Lanjarón, Andalucía, Spanien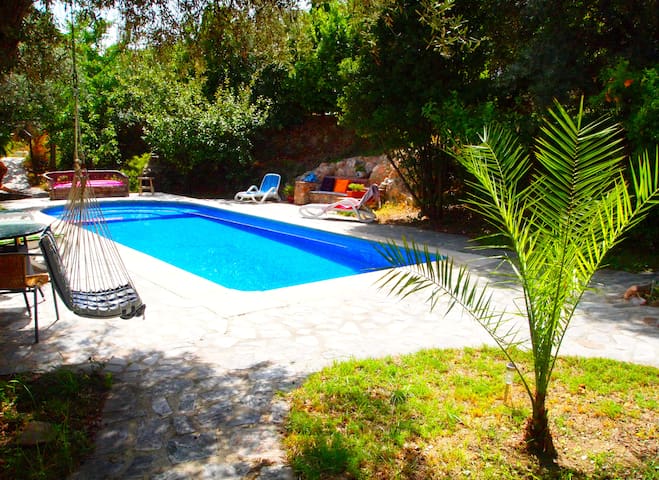 We have a 2 Bedroom self-contained apartment set in a delightful terraced garden above the spa town of Lanjaron. It makes a great base for hill walking, skiing and mountain biking in the Sierra Nevada. The town of Lanjaron has many activities for visitors, including honey and water museums. We have an organic garden with pool that you can enjoy at leisure, pick your own salads or you can attend one of our courses in bread & cheese-making, herbal workshops and more at a discounted rate.
Our self-contained apartment has one double bedroom and one twin bedroom. We also have an extra single bed that can be put into the twin room and a travel cot. The bedrooms have extra blankets and pillows if needed. The kitchen diner has a gas cooker with oven, sink and fridge and all necessary kitchen utensils, pans etc There is a wood burning stove, for which we will supply wood for your visit. There is a plentiful supply of books and games, as well as some garden games for the summer months. The pool is small and secluded, but it is not secure if you have small children. All children must be supervised when using the pool.
We are ideally based for a number of activities such as hill walking for which we can supply local self-guided trails or organise a days hill walking for you. Lanjaron has a number of activities throughout the summer months, including fiestas, open air cinema, music, concerts. The Alpujarra are know for their white villages, where you can buy local artisan products such as leather goods, rugs, ceramics and chocolate
This place is one of the most spectacular homes I've ever stayed in. Unbelievable views across the mountains and we were even able to see Morocco across the Med! If you want compete relaxation and love the fresh mountain air this place is for you. It is serenity personified, will 100% come back!
Aaron
2017-03-30T00:00:00Z
Typ av rum
Eget hus/egen lgh
---
Typ av boende
Lägenhet
---
Plats för
4
---
Sovrum
Lanjarón, Andalucía, Spanien