Newly renovated apartment in one end of our farmhouse. The apartment is one large room with 4 beds, bright and inviting decorated with respect for old details. Suitable for couples or families with small children. Possibility of using outdoor areas.
The apartment is renovated and furnished with respect for old materials and details. Moreover, we have emphasized that this must be nice to be for everyone, so the decor is simple and there are the things you need.
Mycket trevligt och mysigt boende. Kan varmt rekommenderas. Mycket gästvänliga. Trevligt att ha tillgång till härlig trädgård och möjlighet att låna grill. Ytterligare bonus var att man kunde köpa honung och ägg av familjen.
Caroline
2016-07-24T00:00:00Z
Just back from a blissful week on Mette and Kurt's idyllic farm. The accommodation is cosy, spacious and light and comes with breathtaking views over the adjacent wheat field - beautiful from sunrise to sunset. I was actively encouraged to use the vegetable garden, the orchard, eggs straight from the barn, the fire pit - I could even just take their gorgeous Labrador Sille for walks - she was so willing and easy-going. (Whatever you use, - food, eggs etc - you can make a voluntary contribution - based on what you think it is worth :) There was plenty to use at this time of year so it is worthwhile if you are lucky to be there at the right time. I was there for four days on my own and then joined by two friends over the weekend (we all comfortably fit into the space). At all times, the hosts were warm, relaxed and accommodating. The property is perfect - chickens and geese, free roaming hens, countless swallows darting across the courtyard, horses and sheep...and endless distractions from nature with plenty of different spaces to wander through or just sit and enjoy - including a sanctuary-like swinging bed under the giant walnut tree in the back garden where you can just read or sleep the day away. Also, there is easy access to the local cycle path which makes for great walking/running too. For those without a car, there are buses that drive past the farm and you can just flag one down, just make sure you check the schedules carefully as they are not frequent. The drivers will also drop you off in front of the farm if you ask them. Mette was kind enough to pick me up from the airport when I arrived. It is only about 5 minutes drive to the airport - you could take the bus or order a taxi. Can't recommend this place enough if you want to stay somewhere peaceful and happy. This is a happy farm filled with happy people and happy animals - what more do you need? Also, make sure you try some of the smoked mackerel from the local smokehouse ((URL HIDDEN) is amazing. A bottle of wine or champagne in the evening by the campfire is the way to go! My thanks again to Mette and Kurt for sharing their wonderful home so openly and warmly. Definitely coming back!
Marlene
2016-08-23T00:00:00Z
Meget fin lejlighed. Charmerende og flot. Central placering på øen.
Rico
2016-06-20T00:00:00Z
Von Anfang an haben wir uns sehr wohl und wie zu hause gefühlt. Mette und Kurt sind sehr herzlich und unkompliziert, offen für Fragen aller Art und hilfsbereit. Der Raum ist großzügig, hell und total gemütlich eingerichtet. Auch bei schlechterem Wetter haben wir uns gerne dort aufgehalten. Auch der Garten ist wunderschön . Uns fällt einfach nichts negatives ein und wir kommen sehr gerne wieder. From the beginning wie felt like home. Mette and Kurt are warm and uncomplicated, open for all our questions and helpful. The room ist big, bright and cosy. Even when the weather was cold we stayed there gladly. Also the garden is beautyfull. So we really like to come again !!!
Sabine
2016-05-21T00:00:00Z
Mette was very welcoming and showed us around her farm. We got to use fresh produce for a small fee as well. The room is spacious with a nice kitchenette. We arrived early morning on the ferry and had no problem getting into the apartment.
Madava D.
2016-10-22T00:00:00Z
Wir haben diese Unterkunft absolut geliebt. Wir waren zu dritt mit zweieinhalbjährigem Kind Anfang August für eine Woche da und haben es sehr genossen. Der Raum ist hell, groß, sauber, freundlich und sehr geschmackvoll eingerichtet. Es gab sogar reichlich Spielzeug für unsere Tochter. Wir durften uns jeden Morgen frische Eier von den Hühnern holen, die Pferde streicheln, im Garten grillen, Kartoffeln und Rote Bete ernten und Gänse und Schafe bewundern. Gleich um die Ecke in Arnager ist ein netter Strand und eine gute Fischräucherei. Mette und Kurt sind wunderbare Gastgeber und jederzeit hilfreich und nett. Wir waren sehr traurig als die Woche rum war und hoffen, bald wiederkommen zu können.
Corinna
2016-08-07T00:00:00Z
Vi havde nogle virkelig dejlige dage på gården hos Mette og Kurt, som er utroligt søde, gæstfri og hjælpsomme værter. Meget fint indrettet og lys lejlighed med udsigt til gårdspladsen, haven og dyrene på marken. Vi nød de friske grøntsager og frugt til morgenmaden hver morgen. Vi vil bestemt gerne komme igen!
Helene
2016-08-15T00:00:00Z
Helt igennem et fantastisk sted at bo, også med en lille pige på 4 år. Mette og Kurt er hjertevarme og imødekommende mennesker, der fik os til at føle os som hjemme. Omgivelserne er superdejlige, og vil varmt anbefale dette til alle andre der måtte begive sig til Bornholm. Mange hilsner Oliva og Kjeld
Kjeld
2016-07-31T00:00:00Z
Typ av rum
Eget hus/egen lgh
---
Typ av boende
Lägenhet
---
Plats för
4
---
Sovrum
Rønne, Danmark
När det regnar på cykelturen.Fin liten stuga i äpple trädgård med internet, kylskåp och två kogeplader.Tørt och godt.Helårsisoleret.Adgang för bad och toalett. (50 m) Liten terrass där man kan sitta och äta.
Stugan är tillgänglig och inte delas med andra
Vi har nya kyrkan, som är en av Bornholms fyra rundkyrkor, ligger en km härifrån.
The farm is really beautiful and Ellen was a welcoming host. I stayed in a room in the farm buildings above the kitchen/bathroom. Everything was comfortable and the kitchen has everything you need. Ellen gave me some good ground coffee to make with the little French press pot. The shower is in the main house. I really enjoyed my stay!
Judy
2016-09-14T00:00:00Z
Ellen has a very very lovely place. The house in which I stayed was cute, clean, comfortable and most of all, super affordable. I highly recommend it if you come on Bornholm. -Benjamin
Benjamin
2016-03-27T00:00:00Z
The stay was just great, they helped us in all we needed. We are so thankfull to them. We only stayed 2 days and felt it wasn't enough. Very recomended. See you next year!! Thank you so much for everything!! :)
Yasmin
2016-08-16T00:00:00Z
Ellen's place is huge and she's a really a dedicated host. She let me in the cottage instead of the cabin and it was such a treat. I couldn't dream better. I loved the place. As I have no car, she offered to pick me up at the ferry and her daughter who is lovely brought me back. She also offered me to use a bike and to pick me up at night after a full day riding in bike because there were no lights. She showed me the highlights and brought me to the groceries so I could make my shopping when I arrived. She made my stay in Ronne unforgetable! Everything there can be accessed by bikes with pathlane or by bus + bike that is that I did for my 2 days there. I wish I could have stayed longer at Ellen's because she's a wonderful host and the farm is amazing.
Julie
2016-04-06T00:00:00Z
Ellen was a thoughtful host, very quick to respond to my questions re: travel and happy to lend a bike.
nichole
2016-07-18T00:00:00Z
Thank (URL HIDDEN) Ellen & co for your very engaged welcome and hospitality. The farm is beautiful! The hut is cozy and homey. Really well equipped with fridge and cooking facilities. Would definitely stay again :-)
Katrin
2016-06-13T00:00:00Z
Beautiful place and extremely nice hosts. I'll hopefully be comming back.
Vagn
2016-08-12T00:00:00Z
Dejlig hytte og en super vært! ☺
Susannah
2016-05-24T00:00:00Z
Typ av rum
Eget rum
---
Typ av boende
Stuga
---
Plats för
1
---
Sovrum
Rønne, Danmark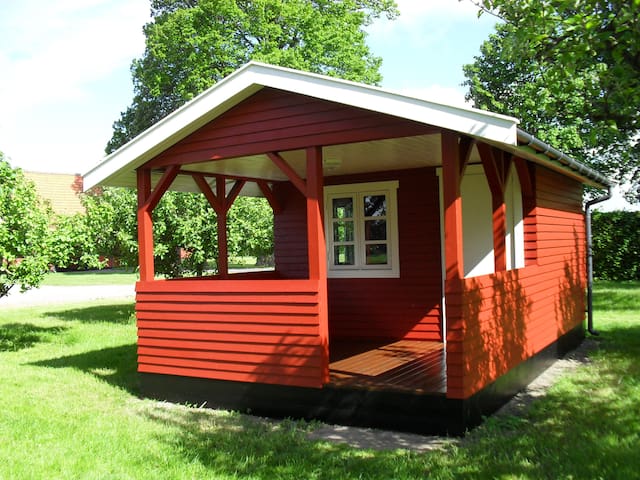 Härlig stuga ligger i skogen, nära sandstrand på sydkusten. Söker efter en plats för weekend'hygge "eller lite längre få bort? Kolla inte vidare! Stugan passar par eller en familj med två barn; Du kan även ta med din fyrbenta vän (fråga om du vill ta mer än en hund). Stugan är ca 1 km från militära skäl att Raghammer, så att buller kan höras under militärövning. Annars är det mycket tyst med några hus i området. Huset är välskött. Läs mer nedan.
Fantastiskt erbjudande av säsongen (före den 1 juni och efter 15 september): Frukost startpaket, kaffe / te hela din vistelse. Sängar består och handdukar för gäster, har du bokat för. Tvål och schampo. Toalettpapper. Hushållspapper och rengöringsmedel. El och ved. Huset är välskött och har en nyligen renoverade duschrum och kök. Jag använder huset själv av säsongen, som mitt arbete hemifrån utrymme. Under säsongen, finns stugan genom ett fritidshus byrå, Bornholmtours. Du kanske vill kontrollera deras hemsida för bra erbjudanden, bland annat färjeöverfarter (leta efter föremål 1601). Återstående veckorna finns här på denna sida. Stugan är välutrustade och du kommer att ha tillgång till höghastighets fiber bredbands och satellit-TV med en DVD-slot (några engelska kanaler, annars många danska och tyska kanaler). Den braskamin bidrar till "hygge'-känsla och du kommer under kalla dagar även kunna överföra en del av värmen i kök och duschrum, som komplement till elvärme i dessa rum.
Stugan ligger nära en vacker sandstrand på södra kusten av ön. Ett område som inbjuder långa promenader. Huset ligger i en 2500 kvm stor trädbevuxen mark, med stora träd, buskar och gräs. En del av gräset klipps under sommaren, men det mesta hålls som det är. Som redan antytts fritidshus ligger cirka en kilometer från Raghammer militära skytte grunder och buller kan höras under militärövning. Annars är det ett mycket lugnt område med några andra hus i närheten av stugan.
Ann's house was perfect for a relaxing weekend in the quiet, wintry countryside of Bornholm. The house was well-equipped with all the necessities of living, literally a home away from home. The kitchen was particularly cosy, with french windows overlooking the grounds. Very pretty looking out in the morning! Ann was communicative prior to our trip, providing many details. She was very kind and accomodating in meeting us late at night when we arrived, and letting us stay until our ferry departure in the afternoon. We appreciated the hospitality very much.
Charmaine
2017-01-15T00:00:00Z
I spent a week at Ann's lovely cottage, during what was a combination of vacation from work and serious study time. Both the house and the location were perfect for that, providing a quiet environment for studying and ample opportunities to recharge in the beautiful surroundings. The beach is a 3-5 minute walk away, a small forest area is even closer. To add to all of this, Ann is a gracious and very helpful host :) I would absolutely stay here again.
André
2017-03-18T00:00:00Z
Ann har et rigtig hyggeligt sommerhus. Ikke stort men tilpas og tip top i orden. Huset ligger dejligt ugeneret med ca. 400 meter til stranden. Ann er super serviceminded. Vi havde en rigtig god kommunikation under hele forløbet. Hun mødte os i sommerhuset hvor der var tændt op i brændeovnen, så vi ikke skulle starte vores ophold med et koldt hus. Alt i alt en rigtig god oplevelse. Kommer meget gerne igen!
Peer
2016-12-29T00:00:00Z
Ann sommerhus er en lille perle på Sydbornholm ikke langt fra kysten. Huset har det hele, både hygge og atmosfære. Og så får man en fantastisk velkomst, når Ann byder velkommen til sommerhuset. Kan stærkt anbefales.
bent
2017-04-07T00:00:00Z
Meget hyggeligt og funktionelt sommerhus, hurtig svartid, imødekommende og fleksibel vært. Stort naturgrund og tæt på standen. Vi havde en skøn miniferie og vender gerne tilbage.
Thea
2017-02-19T00:00:00Z
Fint lille sommerhus, vel udstyret og nøjagtig beskrivelse. Værtinden Ann var meget nem at komme i kontakt med og meget hjælpsom.
Tanja
2017-03-12T00:00:00Z
Anns bolig er et lille hyggeligt sommerhus, der ligger i midt i naturen tæt på vandet, dejligt privat. Det er ikke et nyt og smart hus, men der er alt hvad man skal bruge. Ann er en god vært, der havde redt op til os, sat babyseng op, tændt el-radiatorene (så der ikke var iskoldt, da vi ankom til midnat i december måned), gjort klar i brændovenen til optænding, tændt lidt lys, leveret en god morgenmadspakke, og skrev en sms for at høre om alt var okay. Vi synes vi har fået meget for vores penge, og er fuldt ud tilfredse.
Cathrine
2016-12-12T00:00:00Z
Dejligt sted, god betjening og modtagelse, gode muligheder for gåture på stranden.
Camilla
2017-03-26T00:00:00Z
Typ av rum
Eget hus/egen lgh
---
Typ av boende
Stuga
---
Plats för
5
---
Sovrum
Aakirkeby, Danmark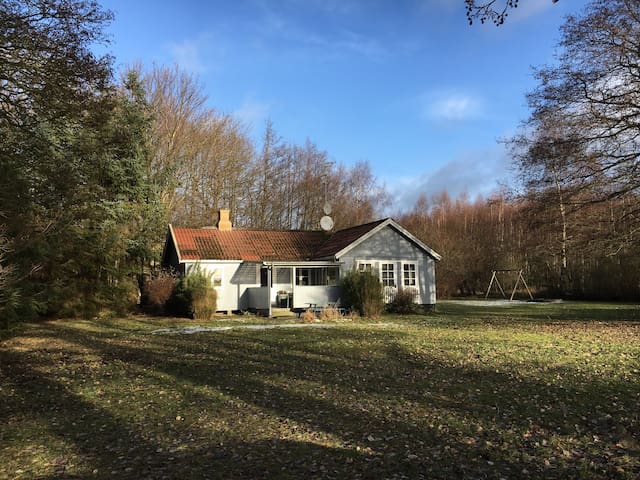 Min plats är i mitten av denna vackra ö 5 min från stor skog här är lugn, vacker och centralt
Mimis sted ligger tilbagetrukket fra landevejen omkranset af majsmarker. En ro sænker sig med det samme, når man træder ind på gårdspladsen, hvor man bliver mødt af en smilende Mimi, der byder velkommen med rummelighed og ikke mindst gode råd til at få det bedste ud af øen. Ønskes det, serverer Mimi en formidabel morgenmad, hvor der er kredset for de økologiske og ofte lokale råvarer - det kan anbefales at give sig selv denne luksus! Hos Mimi vil man sjældent finde sig selv helt alene, da man enten kan hilse og snakke med hunden, katten, Mimi selv eller alle de andre sjæle, som passerer Mimi's med hver deres ferie- eller arbejdsærinder. Generelt er et besøg hos Mimi præget af ro, menneskeliv og rummelighed - en oplevelse i sig selv. Et godt råd til fremtidige besøgende: Cykler kan lejes fra Aakirkeby, og de bliver leveret til døren og afhentet igen for en mindre sum udover lejepris (ca. 100 kr.). Da Mimi's ligger et stykke fra Gudhjem (7-8 km) er cykel eller bil et must. :)
Marie
2016-07-23T00:00:00Z
Rent og charmerende værelse!! Hyggelig landsidyl!! Man føler sig meget velkommen!!
Lisa
2015-07-31T00:00:00Z
Vi oplevede Mimis bnb, som en idyllisk lille enklave i slutningen af juli. Bnb'et har en skøn frodig have og ligger mellem markerne lidt uden for Østerlars - her hviler en særlig ro. Værelset levede op til forventningerne. Mimi er en venlig og imødekommende værtinde. Det bevidner hendes opdaterede viden om lokalområdet blandt andet. Mimis passion for gastronomi bliver jeg også nødt til at nævne her. Den var nemlig både tydelig i hendes anbefalinger og den hjemmegjorte velsmagende og æstetisk anrettet morgenmad, som vi nød den sidste dag på bnb'et. Alt i alt en god oplevelse.
Dina
2016-07-31T00:00:00Z
Mimis sted ligger på den hyggeligste og mest idylliske gård med udsigt til marker og masser af himmel. Mimi er den skønneste vært, der på trods af at vores rejseomstændigheder var lidt kaotiske, fik os til at føle os hjemme. Hun var endda så sød at hente os i Gudhjem i regnvejr og al vores bagage. Vi vil helt sikkert vende tilbage!
Sabina Louise
2016-07-08T00:00:00Z
Nous avons étés très bien accueillis, cela faisait longtemps que nous n'avions pas retrouvés une ambiance aussi chaleureuse avec un accueil très attentionné. La maison se situe en pleine nature, pas de bruit de circulation, la literie est très confortable et la salle de bain très spacieuse. Les voyageurs à vélo sont très bien accueillis. Merci Mimi, pour toutes les petites attentions et les conseils précieux pour notre séjours. Nous garderons un excellent souvenir de notre passage.
Tina
2015-07-30T00:00:00Z
Typ av rum
Eget rum
---
Typ av boende
Bed & Breakfast
---
Plats för
2
---
Sovrum
Gudhjem, Danmark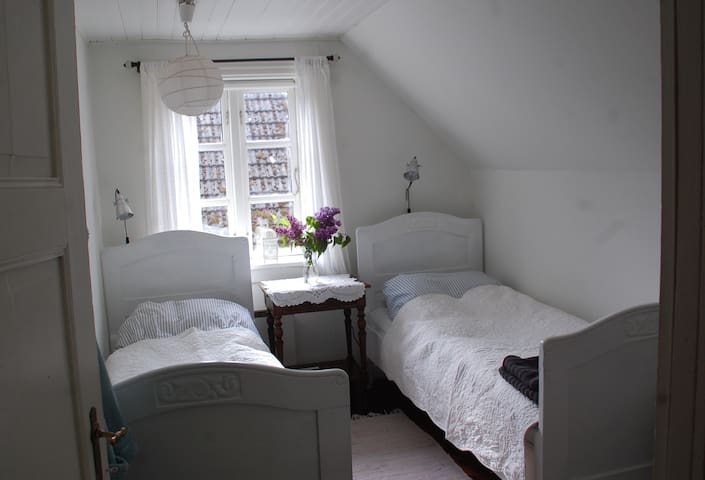 Liten mysig lägenhet om 60m2, öppen och lugnt läge och en privat trädgård. Ca 2,5 km till Dueodde och 3 km till golfbanan. Perfekt för 2 personer
Typ av rum
Eget hus/egen lgh
---
Typ av boende
Gästhus
---
Plats för
2
---
Sovrum
Nexø, Danmark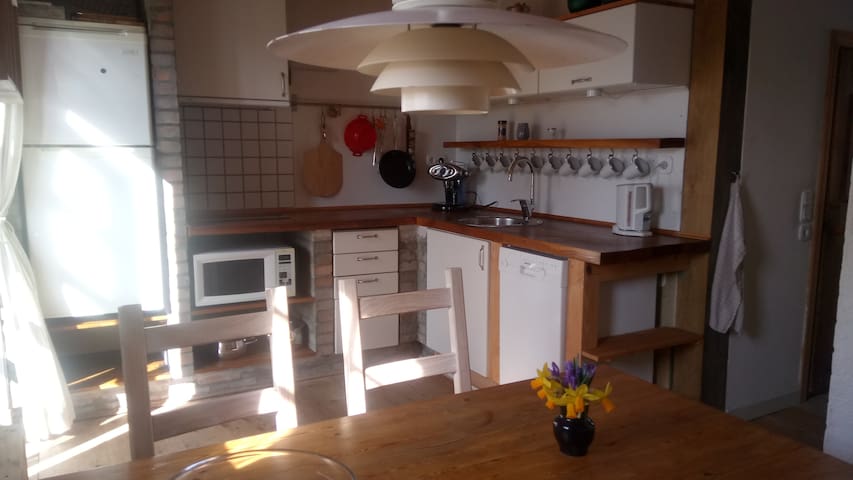 The cottage is an annex located in the garden of a beach front villa in Ronne. Perfect for vacations on the beautiful and trendy island Bornholm. You will enjoy striking views of the Baltic Sea from the garden. There is a direct beach access - simply walk down the stairs at the end of the garden (pebble beach). The annex is new and contains one room with queen size bed (140x200 cm) and a small kitchen. Bathroom with toilet and shower. It is possible to borrow an airbed and infant's bed.
Stället var väldigt fint och fräscht och låg väldigt centralt, strax utanför Rönne centrum. När vi anlände var Thomas och hans familj bortresta så vi träffade honom aldrig, men han hade arrangerat att hans pappa tog emot oss för överlämning av nycklar etc. När vi lite senare upptäckte att dörrhandtaget var trasigt så var Thomas snabb att skicka sin pappa på att åtgärda detta och hans mamma skickade med en ask solmogna hallon från sin trädgård. Väldigt omtänksamt. Fin trädgård med utsikt över havet. Det stod i annonsen att det var en privat strand vilket inte riktigt stämmer då det inte går att bada just där, men vi kunde från trädgården njuta av fantastisk utsikt och solnedgång, och det var väldigt nära till stranden, bara 10 minuters cykelväg bort. Stranden var dessutom nästan öde, så det kändes väldigt lyxigt. Vi rekommenderar Thomas boende varmt till andra.
Jessica
2016-07-09T00:00:00Z
Thomas var en mycket trevlig värd. Han var avslappnad och förde en öppen dialog med oss. Trädgården är helt underbar och sträcker sig hel vägen ner till vattnet.
Lina
2016-07-25T00:00:00Z
Vi følte os meget velkomne og godt taget imod hos Thomas og hans familie. Det var i særdeleshed skønt, at vi lånte både babyseng, stol og nyt spændende legetøj, som gjorde det meget nemmere at rejse med vores lille dreng. Tak for det!
Maria, Jonas & Eske
2016-09-19T00:00:00Z
Det lille gæstehus/anneks er helt nyt, fint og dejligt privat. Thomas og hans kone var nogle gode værter og tog godt imod os. De lod os låne nogle ekstra badehåndklæder, så vi kunne tage på den nærliggende strand og var meget fleksible med hensyn til check ud, hvilket var rigtigt skønt. Alt i alt en rigtigt dejlig oplevelse i fredlige og smukke omgivelser. Udsigten for enden af deres have er helt fantastisk - billederne yder det slet ikke retfærdighed!
Jennie
2016-08-29T00:00:00Z
This is a sweet little private cottage that was recently renovated. The garden is lovely and the view is just beautiful. Thomas was away, so we communicated with his wife, who is so kind and helpful. We spent quite a bit of time chatting with her and learning about the area and their lives. This is a great place to stay that I highly recommend.
Brie
2016-07-24T00:00:00Z
Perfekt location, og rigtig god modtagelse ved ankomst. Kunne ikke have bedt om mere. Hyggeligt hus som havde det hele. Skønt med el-kedel, køleskab og strygejern. Fantastisk med strand og skov lige i nærheden, så der var mulighed for en dukkert og løbetur. Kommer helt sikkert igen en anden gang.
Patrick
2016-07-05T00:00:00Z
x
Anna
2016-08-18T00:00:00Z
Skönt sted, rent, hyggelig gård og fredeligt :-)
Anita
2016-08-08T00:00:00Z
Typ av rum
Eget hus/egen lgh
---
Typ av boende
Gästhus
---
Plats för
3
---
Sovrum
Rønne, Danmark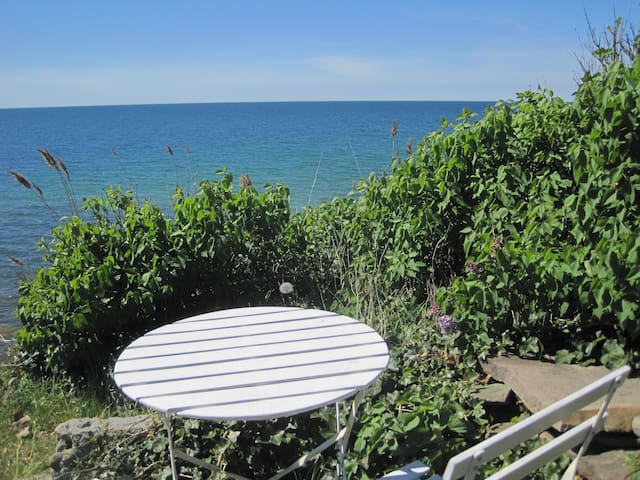 My cottage is available while on holiday in the Dales! Lovely location, sunny on 3000m2 plot, on the island's best sandy beach, undisturbed can not see neighbors, small country houses. Scenic area, biking / fishing opportunities. Peace and quiet with lots of birds / deer and rabbits. The house and guest house offers beds for 4 people
Lovely initially neighborhood not home area, nice neighbors nearest 200 meters away, super beach, very child friendly. Good cycling paths around. Michelin restaurant 500m. Shopping 2km. Vegetable Stalls / organic eggs 300m.
Ett bra, prisvärt boende med fin naturtomt och flera uteplatser. Mysigt inredd stuga med litet, enkelt kök (två gasplattor, ingen ugn) samt en liten gäststuga. Bra utgångspunkt för att upptäcka fantastiska Bornholm. Vi är jättenöjda!
Kajsa
2016-08-06T00:00:00Z
Alt var som det sku være og som vi var blevet lovet. Et rigtig hyggeligt gammeldags sommerhus i skoven og en skøn have:)
Mette
2016-08-10T00:00:00Z
Karin was an amazing host, she very was quick and responsive to messages and met us on arrival. Karin is super friendly and interesting to talk to. She instantly made us feel at home and shared experiences and knowledge of the island. The cabin was exactly as described, very cosy and unique. I was lovely to have the log burning fire going every-night. Thoroughly Recommend!
rick
2016-09-09T00:00:00Z
We had an amazing holiday at Karins house, including a warming fire in the oven in the living room, sunset above the fields, lovely beach nearby and especially a really lovely welcome by Karin! Everything was absolutely uncomplicated and we recommend everybody to stay at this wonderful and original danish house surrounded by relaxing nature.. For us (with 3-year-old child) ist was perfect too have this big adventurous garden and the extra garden house with place to sleep in. We would love to come back soon!! Fabian, Lin & Janne
Lin
2016-08-19T00:00:00Z
Typ av rum
Eget hus/egen lgh
---
Typ av boende
Hus
---
Plats för
4
---
Sovrum
Aakirkeby, Huvudstadsregionen, Danmark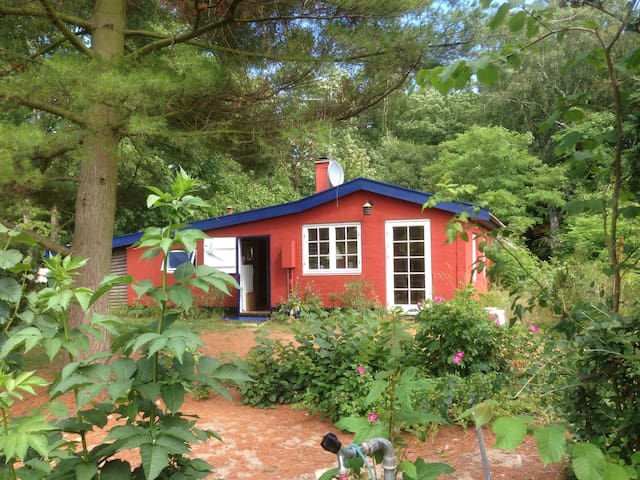 På Stavehøl du kommer att leva i 1/2 av en 150 år gammal Bornholm bondgård i 2 hektar ängar och skogar. Njut av en hemlig gömställe nära stranden, Gudhjem och Østerlars kyrka. Priset ingår alla skatter, gratis WiFi, sängkläder, handdukar och slutstädning.
OM DU GILLAR STAVEHØL men denna platta är redan bokad, Läs våra fullständiga profil eller kopiera länken nedan för att hitta våra andra förteckningar: https://www.airbnb.co.uk/s?host_id=26755338 Om du letar efter en äkta Bornholm bondgård erfarenhet i massor av vackra grönområden, då är detta platsen för dig. Vi erbjuder denna rustika studio som bekvämt sover två personer, men kan också rymma en familj med ett litet barn. Det finns ett stort öppet kök (fullt utrustat) och vardagsrum med en mysig soffa och bekväm dubbelsäng. Den har en härlig vedspis som verkligen värmer upp utrymmet snabbt. Ved och tändved från våra egna skogar ingår i priset. Det är en helt ny uppvärmd badrum med dusch, och en extra liten badrum som också innehåller en tvättmaskin. Studion har också gratis hög hastighet trådlöst internet. Vi välkomnar familjer med barn och är glada att ge en hög stol och barnsängar. I trädgården finns en lekstuga och sandlåda.
Vi finns i utan tvekan ett av de vackraste hörnen av Bornholm, bara 100 meter från Stavehøl vattenfall i den steniga Kobbeå dalen. Trädgården gränsar till en säker och skyddad cykel sätt förbinder den ikoniska rundkyrka på Østerlars (1 km från huset) med Melsted sandstrand och den pittoreska fiskebyn Gudhjem (båda cirka 15 minuter med cykel).
Es war einfach wunderbar. Wir hatten einen Ort gesucht, wo wir ganz für uns sind und diesen haben wir mit diesem Fleckchen gefunden. Die kleine Wohnung war super sauber und schön hergerichtet. Der Kamin brannte, als wir ankamen. Und Phil war sehr herzlich.
Laura
2016-10-22T00:00:00Z
Our stay at Katrin & Phil's house was a wonderful moment! The apartment is both authentic and modern, with all the comfort you need for everyday life and also to live peacefully as a real Bornholm islander. The location of the farm is a privileged one, a vert quiet area near beautiful forest roads, the lovely town of Gudjhem, and also the beach not so far. Our meeting with Phil and Katrin was very interesting and they are very helping if you need anything. If we go back, this place will surely be the one we will choose again.
Jean-Francois
2015-08-29T00:00:00Z
We had a great stay in your wonderful atelier! Thank you
Emil Magnus
2016-11-06T00:00:00Z
Phil and Katrin gave us the best and warm (literally with the fire burning as we arrived) welcome. Picked us up at the busstation, helped us with the best way to get there and around, arranged bikes for us... we could only stay for a couple of days, but the surrounding and the place made us wish we could have stayed longer. The place has everything you need. Thank you Phil and Katrin
Bibi
2015-09-08T00:00:00Z
We had a truly wonderful time while staying in Phil and Katrin's charming farmhouse. The house has a great authentic atmosphere, lovely barn windows, a fireplace etc. It worked very well for two adults and a child. The surroundings are gorgeous, the best Bornholm can offer. We will be back very soon.
Frederik
2015-08-04T00:00:00Z
Very nice cabin close to the woods. Perfect if you want to relax – even when it's getting colder. There is an oven which makes the apartment even more cozy. Thanks for having us, Viktoria + Jonas
Viktoria
2016-10-03T00:00:00Z
We had a great time at this lovely cosy and rural spot. You will not meet a kinder, more helpful host than Phil. Recommended.
Chris
2016-09-25T00:00:00Z
Phil und Katrin haben uns sehr herzlich empfangen. Der erste Eindruck von der Unterkunft war umwerfend, noch besser als auf den Bildern. Das Appartement war sehr sauber und mit viel Liebe eingerichtet. Ihr Haus ist in einer ruhigen gehend umgeben von Wald und einem schönen Bach- perfekt zum entspannen. Dem Bach entlang gewandert gelangt man direkt zum Meer. Vielen Dank nochmal euch zwei für die schönen Tage Wir würden gerne nochmal vorbei kommen.
amaya
2016-05-27T00:00:00Z
Typ av rum
Eget hus/egen lgh
---
Typ av boende
Lägenhet
---
Plats för
2
---
Sovrum
Gudhjem, Danmark
My home puts close to spectacular views, Balka beach (800 meters}, Dueodde beach and swimming pool (6 km), Nexo center (3 km) Snogebæk port rent (3 km), Boss bicycle rental (100 meters), bus stop (100 meters) , Restaurant Molen (3 km). You will love my home because of charm, comfort, tranquility and beautiful surroundings, own garden, newly renovated .. my home is good for couples and sole adventurers.
Wonderful location, welcoming host, comfortable bed and equipped kitchen; just lack of sheets for the bed (or we just didn't find them) and towels :) very recommended though.
Giacomo
2017-03-26T00:00:00Z
Super dejligt sted
Lasse
2017-02-18T00:00:00Z
En fin lille og velfungerende bolig med 12 minutters gang til Balka strand. Her er alt hvad man behøver. Værten tog godt imod. Og der var ovenikøbet friske blomster
Elise
2017-02-21T00:00:00Z
A great place, and communication with Claus was great, so it was super easy to sort out. Really recommend!!!
Hannah
2017-01-22T00:00:00Z
The host canceled this reservation 85 days before arrival. This is an automated posting.
Vinni
2017-04-08T00:00:00Z
Vi brugte Claus' bolig til den årlige fisketur på Bornholm. Vi var tre personer og alt fungerede fint i boligen.
Bo
2017-01-29T00:00:00Z
Claus ringede før vi landede for at spørge om vi var ankommet og om der var noget der ikke var ok. Vi havde glemt håndklæder selv - men Claus sørgede for at vi kunne låne. Alt virkede rent og indbydende
Jens Otto
2016-10-02T00:00:00Z
A friend and I went to Bornholm for a winter weekend, and Claus's house was a great base to explore from. It's a very hygge place, and close to the beach and the amenities of Nexø.
Liam
2016-12-02T00:00:00Z
Typ av rum
Eget hus/egen lgh
---
Typ av boende
Gästhus
---
Plats för
4
---
Sovrum
Nexø, Danmark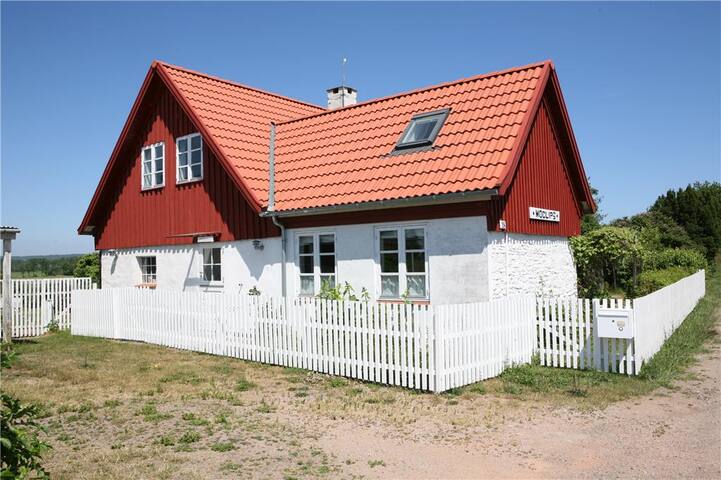 Separat annex hyra. Bilagan är utrustad med kök / all rum, badrum och loft (sovrum). Bilagan är idealisk för två, men kan användas av 4, eftersom det finns en bäddsoffa i alla rum. Bilagan ligger ca 500 meter från Balka stranden.
Sehr unproblematische Schlüsselübergabe, sehr gemütliches Häuschen für 2-3 personen, Wunderbarer großer Garten, nicht weit zum besten Strand
Jan
2016-08-04T00:00:00Z
Hyggeligt! Bornholm ist eh schön- und bei Christian war alles toll.
Andreas
2016-08-29T00:00:00Z
To be honest, we didn't know what to expect from that holliday beacuse it was our first airbnbstay, first time we travelled as family. But in the end there was really not one negative thing to mention and we had such a relaxing and nice holliday :) Katja and Christian are very friendly and always helped us in any concern. From their hospitality to the local beer in the fridge, everything made us feel like home from the start. If you decide to rent the Annex you don't have to search for the first attraction to go because its right in front of your door - the garden of Katja and Christian offers you a beautiful view for the sunset and if you like sport you should take a run at the balka beach in the morning. The Annex it self is as cosy as it looks in the pictures - lovely furnished and allthough it is quite small (which makes it even cosier), there was nothing we missed for everyday life. Finally we want to thank you one more time and we can definitly recommend your annex to everybody who wants to explore Bornholm or just searches for a place in the nature to relax :) Alex, Nathalie and Joshua
Alex
2016-09-16T00:00:00Z
Everything was great, very calm and friendly atmosphere.
David
2016-07-14T00:00:00Z
The hosts were most friendly, welcoming, and easygoing. The place is situated beautifully, surrounded by trees and clearings, just 5 minutes walking to the nicest beach we have been to on the island. The place is close to the main road, yet extremely quiet. It is equipped very good, having all the tools you can think of. The beds are comfortable, AC is working, and the bathroom is okay. I highly recommend!
Jacek
2016-08-13T00:00:00Z
We had a great stay at Christian! The house is exactly like it looks on the pictures and perfectly equipped. Quiete surroundings, 500m to the next beach, and only a 20minute bike ride to one of Europe's most beautiful beaches (Dueodde) - a perfect place for some relaxing days. Christian and his family are very friendly and helpful. We would always come back!! :-)
Anne
2016-06-09T00:00:00Z
My boyfriend and I were staying at Christian and Katja's annex for 5 nights. Bornholm is a beautiful island and the weather was great, but all of this would have not been complete without such a great accommodation. Christian and Katja were really flexible about when we could arrive, and throughout the whole stay they were really helpful and hospitable. The annex is located next to their house but you still have plenty of privacy. The space is in total about 40m2 but you have everything you need in there, it's perfect for a couple. You even have quite a big part of the garden just for yourself. The location is very peaceful, you don't hear cars etc and you are at the ocean/beach in just 5min by bike. You do need either a car or a bike to get to the next supermarket and explore the surroundings. The bed is comfortable and the kitchen was very well equipped. I can strongly recommend to stay at Christian and Katja's place, we would always come back! Thanks for the hospitality!
Ingrid
2016-09-04T00:00:00Z
We had a great vacation at Christian's place! The annex is exactly as described, very cozy, clean and has a very nice garden. I would highly recommend staying there!
Szymon
2016-08-21T00:00:00Z
Typ av rum
Eget hus/egen lgh
---
Typ av boende
Hus
---
Plats för
3
---
Sovrum
Nexø, Danmark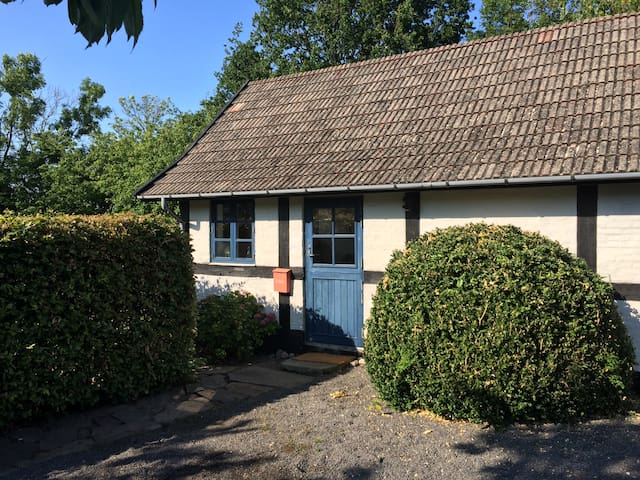 Simple charming, cosy summer shed. Surrounded by active countryside made up from reclaimed materials. ONLY OLD FASHIONED EARTH TOILET. NO SHOWER. WATER ONLY FROM OUTSIDE TAP. Bed, Bedding, fridge, small kitchen, wood burning stove. 3,5 km to andy beach. 1 km to supermarked. Bus connection nr.5 from Rønne to nearby village Pederske.
Stugan är den perfekta tillflyktsorten om man vill komma bort från civilisationen ett par dagar! Lagom spartanskt med de viktigaste bekvämligheterna och en välkomnande charm. Jag kände mig som hemma så fort jag klev in genom dörren. Gott om eget utrymme och nära till butik, bageri och hav. Dröm!
Jonna
2016-08-26T00:00:00Z
Dette er den skønneste lille primitive hytte med lokum udendørs og vand der skal hentes i spande. Vi badede udenfor under vandstrålen fra the kanden! Vi elskede det! Man skal have lyst til det helt primitive og tænke det som luksus udgaven af et telt. Vi var der med to små børn og Tine var sød at ligge ekstra madresser. Der er ca et kvarters gang til bussen. Kan klart anbefales!
Mejse
2016-07-16T00:00:00Z
this was the longest stay over We had on our trip in Denmark (5 nights there) and it was really great ! some could find it " spartiate" but it's no surprise since that's in the ad! we didn't need much so We really loved it: chickens, ducks, even kittys freely around, you can managed your own "shower" outside, your own fire if cold inside, you can Cook ( little Shop in Perdersker and bakery), easy ( when you finally understand it) to take buses and Tine was too Nice to even let us use the bikes! We had a great time !
Laureen
2016-08-21T00:00:00Z
A wonderful and cozy little shed/summer home! If you don't mind "roughing it" a little bit, then this is a great base from which to explore Bornholm. A touch far from the major towns, but nothing a rental bike won't fix. Tine was very helpful with directions around the island and help with the accommodations.
Alex
2016-07-10T00:00:00Z
Tine was the perfect host: she gave us our space when we wanted space and she was extremely helpful when we needed assistance. She lent us bikes to get around Bornholm and even sent us off with a bike pump just in case. We came home one evening to a basket full of white currants, freshly picked. If you're looking for a private getaway, I would highly recommend staying with Tine!
Maya
2016-07-13T00:00:00Z
A lovely shed, friendly and helpful hosts. As stated in the description, this is basic accommodation. The shed is a converted tractor garage, made from recycled parts. It is a cosy and romantic little room with a small garden in front and a view of the open fields. The bed is a nice double. The hosts, Tine Mette and her husband Tim live in the adjacent small old farm house. They are easy to get a hold of, but respect your privacy. A basic composting toilet is provided and reportedly a nice public flushing toilet can be found within 500 meters. A small village with a supermarket and a café is also close by. Understand that will be staying in an active farming area. Depending on the time the neighbors might be fertilizing their fields or there might be a fair amount of flies if the grazing cows are close by. In all, a very nice, very basic and very cosy shed. Good value for the price.
Andreas
2016-07-21T00:00:00Z
Fantastic shack, super shaby-chic, warm welcoming host, magical place. Very rudimentary (earth toilet, water from a pale) but what it lacks in mod cons in more than makes up for with rustic charm. Won't be to everybody's taste but if like us basic and authentic is your thing it's bliss. As our 2 year old daughter said "we love your garage, it's awesome"
Leo
2016-07-02T00:00:00Z
It was a really lovely little shed with cosy charm. For someone who search a quite and private place with nothing more comfort is still right here. Everything was to our satisfaction and we absolutely enjoyed the four days. The distance to the major towns are perfect destinations for a bike-trip. But a supermarket is right in the near, just 5 minutes with bike, and we did not hesitate at Sunday. It was a great time and in future we would never miss a stay there at a next Bornholm trip.
Michelle
2016-08-31T00:00:00Z
Typ av rum
Eget hus/egen lgh
---
Typ av boende
Lägenhet
---
Plats för
2
---
Sovrum
Aakirkeby, Danmark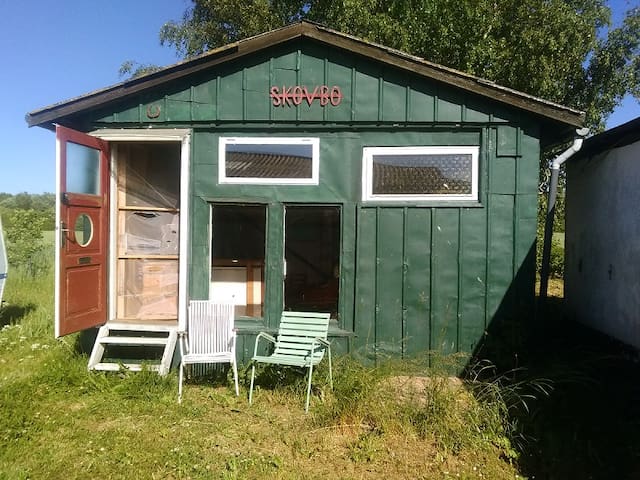 Här får du en liten lägenhet (25 m2) nästan smørhullet av Rønne. Det är gångavstånd till affärer, restauranger, kyrka, pub, museum, kollektivtrafik etc. Här är några 15 min. promenad till stranden och skogen .. Du kommer att älska mitt hem på grund av charm och udda vinklar det och här är så trevlig. Mitt boende är bra för par och affärsresenärer. Men det är en mycket brant trappa så att lägenheten är inte för de svaga ;-) Du kan hyra sängkläder och handdukar .....
Skønt lille sted!
ulrikka
2017-04-09T00:00:00Z
We had a really nice stay in jans apartment! It's tiny, but ther's everything you need! Jan is very friendly and takes care of his guests!
Sibylle
2016-10-03T00:00:00Z
Vi ankom senere end check in med færgen om aftenen. Det var intet problem, fik hurtigt svar når jeg stillede spørgsmål. Boligen er hyggelig og helt unik, der er alt hvad man skal bruge. Nåede kun og tale med Jette, super venlig og imødekommende. Vil på det varmeste anbefale denne bolig til andre. Kommer helt sikkert selv igen
Rasmus
2016-10-21T00:00:00Z
Rigtig fint og centralt. God og hurtig kommunikation. Kan i den grad anbefales!
fie
2017-03-25T00:00:00Z
hyggelig lille lejlighed i det historiske centrum af rønne. perfekt vært.
jan henrik
2016-10-11T00:00:00Z
Fin lille lejlighed centralt i Rønne. Pænt istandsat, dejlig med eget lille køkken. Venlige værter, som lod os overtage lejlighed lidt tidligere, da vores færge kom ind. Kan klart anbefales :)
Rikke
2016-12-28T00:00:00Z
Typ av rum
Eget hus/egen lgh
---
Typ av boende
Lägenhet
---
Plats för
2
---
Sovrum
Rønne, Danmark
Rolig, naturskønt og tilbagetrukket ejendom. Der er ca 100 meter til dejlig sandstrand. Gode cykelmuligheder og ca 8 km til Rønne og 3 km til lufthavnen. Der er golfbane, rundkirke og flere seværdigheder inden for en radius af 5-8 km. Vi har et par cykler der kan benyttes og stor have der kan benyttes efter aftale. Vi har 2 dobbeltværelser og et enkeltværelse så har i brug for mere end et værelse, så book gennem vores andre opslag
En oprindelig meget gammel ejendom (1752), men med en genopført hovedbygning i starten af sidste århundrede. Gæsteafdelingen ligger i det bageste af huset med adgang fra en brostensbelagt gårdsplads til en hall hvorfra der er videre adgang til stuen, hvor morgenmaden vil blive anrettet, og til enkeltværelset. En trappe fører til 1. sal hvor de to dobbeltværelser er beliggende med en repos hvor det er muligt at lave en kop kaffe eller te og sidde og nyde den. Der er en stor have som er fælles for de beboere der bor i huset og som selvfølgelig kan benyttes efter aftale.
The host canceled this reservation 89 days before arrival. This is an automated posting.
Kathrine
2017-03-19T00:00:00Z
Typ av rum
Eget rum
---
Typ av boende
Hus
---
Plats för
2
---
Sovrum
Aakirkeby, Danmark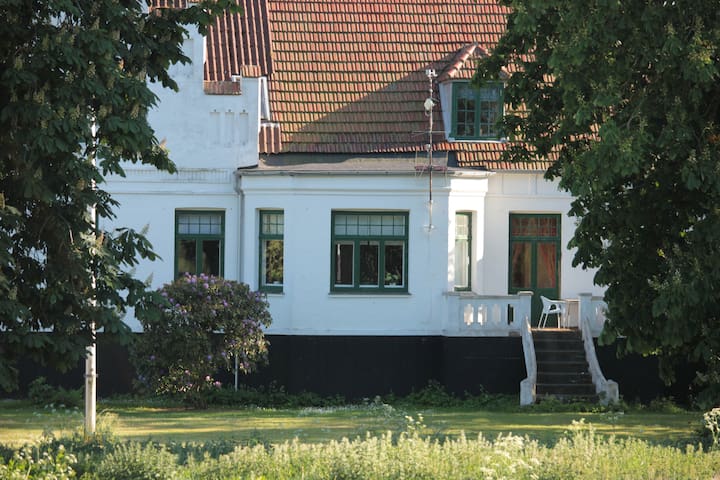 Super sea views. Room 10 meters from the coast. Newly renovated house with a beautiful garden. By game reserve with countless bird species. Walking distance from Balka Beach and close to shopping. Good bus and bike path. Parking for bike and car.
The house is located 10 meters from the Baltic Sea with spectacular sea views from the guest room, dining room, tvstue, conservatory and garden. Countless birds, especially swans are part of the scenery. In the nearby woods can spot deer and rabbits. The nature reserve stretches from the house to the white sands of Balka Beach about 2 km away. For Balka you can come by bus, bicycle route and the coastal path. Nexo offers great restaurants, beautiful old houses, local atmosphere and direct ferry to Poland, good shopping. Local buses stop by the house and allows easy access to Østbornholms sights. Popular tourist towns like Svaneke and Snogebæk is respectively 9.5 and 2.5 km from the house.
Næsten overalt i huset er der havudsigt. Landskabet omkring huset er varieret og smukt. Fra køkkenet udsigt til skov. 400 m til Netto. Flere supermarkeder og forretninger i Nexø centrum.
Värden var vänlig och hjälpsam, boendet stämde väl med beskrivningen i fina omgivningar. Stort plus för flexibel in- och utcheckning!
Sara
2016-07-17T00:00:00Z
Ett enastående boende med fantastisk utsikt på denne lækre og smukke ø. Vår fornøjelse var dejlig og vi blev väl omhändertagna av våra värdar. Så goa mennesker som öppnade sitt hem med stor värdighet. Tusind tak! Hjärtligt tack!
Maria
2016-07-08T00:00:00Z
Vi var mycket nöjda med ett hjälpsamt och vänligt värdskap. Bilderna stämde bra in och motsvarade våra förväntningar. Fantastisk utsikt från rummets egna balkong med morgonsol! ️Tack för att vi fick bo hos er.
Anna
2016-07-25T00:00:00Z
Fantastisk udsigt! Vi følte os godt taget imod=)
Terese
2016-07-10T00:00:00Z
Rigtig fint. Som beskrevet! Flinke værter. Fantastisk udsigt.
liv
2016-07-15T00:00:00Z
My stay in the home of Stig and his partner was fantastic. I arrived with the last flight from Kopenhagen around midnight but that was no problem and they welcomed me very warmly. A nice couple, very helpful. The room is nice and clean, there is a cupboard, a desk and the little balcony (with a breath taking view) where you can enjoy your breakfast (you can use the fridge and kitchen). The small bath room outside the room is also very clean and nice. Absolutely recommended! I stayed here 5 nights and I wish I could stay much longer.
Michèle
2016-09-12T00:00:00Z
Stig og Restie har et virkelig smukt, æstetisk og hyggeligt hjem! De er meget venlige, imødekomne og fleksible, og de fik mig til at føle mig meget velkommen. Værelset var som beskrevet, med fantastisk udsigt OG den skønneste seng - og der er adgang til alt andet i og udenfor huset. Der er kyst- og cykelsti mod bl.a. Balka Strand og Snogebæk lige udenfor huset. Og busstoppested (!) Ikke langt derfra er der også kyststi fra Halleklipperne mod nord, igen med den mest fantastiske natur. Nexø centrum er også lige om hjørnet. Alt i alt en voldsomt godgørende oplevelse, som jeg gerne vil gentage!
Ina A.
2016-08-06T00:00:00Z
Sting is living in a very charming house with a beautiful and calm view on the sea. The apartment is very pleasant and Stig was very available.
jean_michel
2016-08-02T00:00:00Z
Typ av rum
Eget rum
---
Typ av boende
Hus
---
Plats för
2
---
Sovrum
Nexø, Huvudstadsregionen, Danmark
Nice wooden house with 132 m2 of living space. Free WIFI 50/50 mb. Large living room combined with kitchen. Kitchen with refrigerator / freezer, induction hob, oven, dishwasher. There are indoor sauna and whirlpool (spa bath). Large outdoor Jacuzzi for 6 people.
It is possible to move the beds in the rooms, so they can be furnished with double beds or 2 single beds in each room. There is also a cot / crib and a highchair. On TV you can see the German and Danish channels (incl. TV2, TV2News and TV2 Charlie). There is DVD player. There is underfloor heating in the living room, kitchen and bathrooms and radiators on the 3 rooms. (Electric). There are also pump air to air and wood stove. The lovely outdoor whirlpool / standspa is for 6 people. On the terrace's covered part will also find the outdoor fireplace. There are garden furniture and sun loungers. For children there is a sandbox with toys and a swing set. The house is 300 meters from the sandy beach and a little port. Here you can often buy fresh fish directly from fishermen. (At noon). The harbor is also a good smokehouse with a cozy restaurant and a small mini golf course.
The house is located just outside a small forest, where you can go down to a river with a beautiful old watermill and locks. (300 meters) The cozy harbor and lovely sandy beach is obviously a place we enjoy very much to go down to. (300 meters). It's about. 3 km to the small village Pedersker which has a small supermarket (Daglibrugsen) and a very talented baker. It's about. 3 km. to the golf course and about 20km. ferry.
Henrik was a fantastic host. He even arranged transport to the airport for us. Great communication, great spot, we will definitely try to be back!
Bert
2016-08-30T00:00:00Z
We (a family of 4) stayed in Henrik's beautiful beach house in October 2016. The place is absolutely amazing and exceeded our already high expectations. Everything was perfect and Henrik was a very gracious host - giving us updates on what was happening on the Island during our stay. Communication was very easy and everything was prepared for our arrival. We will most definitely be revisiting this spectacular house in the summertime to allow us to also make full use of the beach situated close by. We can highly recommend this house to everyone who wishes to go on a holiday to Bornholm
Lene
2016-10-22T00:00:00Z
Har netop forladt huset med et kæmpe smil på læben. Huset var udstyret med alt vi skulle bruge og mere til. Gode planløsninger og kvalitet kendetegner huset. I løbet af dagen kiggede kaniner, rådyr, harer og fugle forbi i en lind strøm. Henrik, husets ejer, var en perfekt vært, der gjorde det let for os at opleve dejlige Bornholm. 10 Store stjerner ;-)
Søren
2016-04-30T00:00:00Z
Dejligt weekend retreat. Pænt og hyggeligt Flink vært
Niels
2017-02-19T00:00:00Z
Great location and beautiful summerhouse. Really enjoyed our time. Hendrik is a great host/guide. We defiantly want to come back again!
Tessa
2016-05-09T00:00:00Z
Typ av rum
Eget hus/egen lgh
---
Typ av boende
Stuga
---
Plats för
6
---
Sovrum
Aakirkeby, Danmark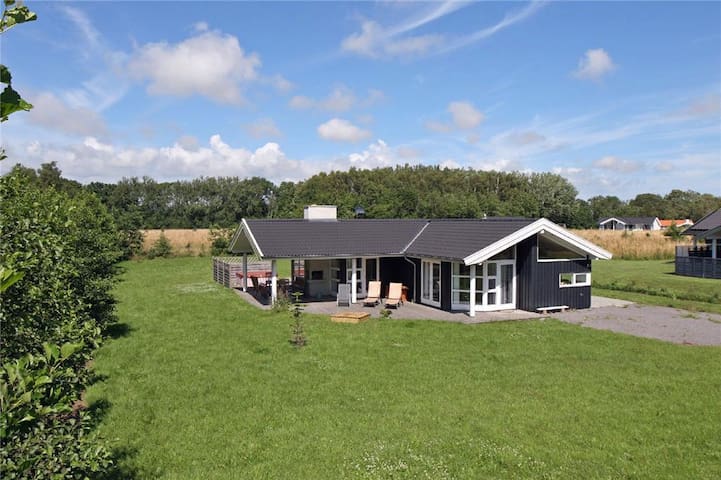 Skønt restaureret bondehus på 125 m2 med plads til 6 personer udlejes i det naturskønne sydbornholm. Kæmpestor naturgrund, cykler, kajakker, grill mv.. Standen er bornholms mest børnevenlige sandstrand, huset er lyst, venligt og med masser af plads.
Vores hus er fra 1784, i to etager og med en blanding af smukke gamle møbler og moderne komfort.
Naturskønt område, tæt på Raghammer Odde, masser af rådyr, fasaner, harer og fugle. Køer og får på marken.
We stayed one week in this cozy and beautiful house with it's nostalgic charme. On the one hand the idyllic atmosphere from the past centuries was well conserved and on the other hand Charlotte and her family did a very well job, when it comes to modernizing and combining the old flair with the needs from a guest perspective. Charlotte was so kind to prepare towels and linens for us and we felt all the time very warm welcome. The sandy beach is close to the house, maybe up to one thousand meters towalk, and we enjoyed Bornholm by bike and public busses, which you can stop where you need them and leave where you want by just telling the driver. From us, Charlotte and her house get our absolute recommendation and we would probably like to return in the future.
Arne
2016-07-10T00:00:00Z
Et helt utrolig charmerende sted. Fredfyldt i smukke omgivelser. Huset indeholder det, der er brug for. Meget søde værter der har været hjælpsomme med oplysninger m.m.m. Vi vil meget gerne komme igen - et sted lige i vores smag. Bedste hilsner Gutte og familie.
Gutte
2016-06-22T00:00:00Z
Wir hatten eine wunderschöne Zeit auf Bornholm, insbesondere aber in diesem wunderbaren, persönlich und liebvoll eingerichteten Haus. Charlotte und ihr Ehemann Anders sind wundervolle Gastgeber, auch wenn wir sie nicht persönlich kennenlernen konnte. Aber unser Kontakt war sehr herzlich, Beide reagierten prompt und zuverlässig auf unsere Anliegen. Das Haus befindet sich auf einem großen Anwesen, ist herrlich ruhig und hat alles, was man braucht. So ist eine Entspannung perfekt möglich. Das Meer ist in wenigen Minuten erreichbar, langer Strand, Dünen und nur wenige Menschen. Alles Nötige ist in der Nähe. Das Haus ist schon alt, und besitzt deshalb einen ganz besonderen Charme. Die Einrichtung so liebevoll. Man möchte fast gar nicht mehr weg, sozusagen ein Geheimtipp. Alles was man zum Kochen und Wohlfühlen braucht ist da. Auch Fahrräder für einen kurzen Trip zum Strand, Kajaks. Gartenmöbel um sich draußen wohlig aufzuhalten, alles perfekt. So können wir uns nur bedanken. Für das Vertrauen, in dieser persönlichen Atmosphäre zur Ruhe zu kommen. Kaum etwas ist zu hören, die kleine Straße vor dem Haus ist kaum befahren. Ernten konnten wir Johannisbeeren und Stachelbeeren, üppig im großen Garten, hinter der die Kühe weiden. Wer also Ruhe und Entspannung sucht, ist dort richtig. Schade nur, dass wir diese herrlichen Gastgeber nicht persönlich kennenlernen konnten. Aber wie gesagt, schon der Kontakt per Mail kann man nur als herzlich und warm bezeichnen. Gerne kommen wir wieder.
Thomas
2015-08-26T00:00:00Z
Wir hatten einen wunderbaren, entspannten Urlaub in einer bemerkenswert schönen Unterkunft. Rinder hinterm Haus, Hasen, Kannichen und Fasanen sah man fast aus jedem Fenster friedlich grasen. Es hat uns an nichts gefehlt.
Sabine
2016-09-02T00:00:00Z
Typ av rum
Eget hus/egen lgh
---
Typ av boende
Stuga
---
Plats för
6
---
Sovrum
Aakirkeby, Danmark
Fantastiska nya bakre byggnad med egen trädgård och uteplats. Några hundra meter från stranden och gångavstånd till centrum. Det finns gott om plats för 2 personer, men med möjlighet att ta emot två extra (extra avgift på 100kr / pers).
Särskilt bakre byggnad med egen trädgård, terrass och liten trädgård. Det finns direkt tillgång till en liten väg med bilplats. Huset är gamla med charmiga mysigt vardagsrum. Det finns braskamin, bäddsoffa och matbord med angränsande kök där du kan laga mat på en gasspis. En kyl / frys och olika köksapparater. I rummet finns stor dubbelsäng och garderob.
En minuts promenad från huset är Galløkken, ett stort skyddat naturområde med skogar och ängar. Stort område för promenader och inte minst en härlig strand för hela familjen. Det tar bara 5-6 minuter att gå till stranden. I mitten av Rønne är drygt en kilometer bort och därmed också inom gångavstånd. Är du på cykeln starta cykelvägen i öster intill min entré.
Tog emot oss i sin trädgård och visade oss vårt boende och egna parkeringsplats. Lämnade info och brochyrer om Bornholm och tillika info om boendet beläget i ett villaområde ca 1,5 km från Stora Torv i Rönne. Mycket charmig stad.
Annika
2016-05-28T00:00:00Z
Gitte är en otroligt gästvänlig och omtänksam värdinna. Varje morgon fick vi nybakat bröd till frukost. Huset är jättemysigt med air conditioner, TV och bra sängar. I köket finns ett jättecool brödrost :) Vi rekommenderar verkligen att bo hos Gitte. Vi trivdes verkligen hos henne och kommer gärna igen när vi besöker Bornholm. Gitte is an incredibly friendly and caring hostess. Every morning we got freshly baked bread for breakfast. The house is very cozy with air conditioner, TV and good beds. The kitchen has a really cool toaster :) We highly recommend staying with Gitte. We really enjoyed our stay at Gitte's and will definitely stay with her again while visiting Bornholm.
Anne-Louise
2015-07-11T00:00:00Z
Mycket trevligt boende med närhet till bad samt promenadavstånd till Rønne centrum. Varje morgon bjöds det på god frukost som vi åt i det trevliga uterummet. Bilparkering fanns alldeles intill den egna ingången. Vår 9-månaders bebis stortrivdes så boendet är barnvänligt. Gitte är mycket trevlig och tillmötesgående, en fantastisk värd helt enkelt. Vi kan verkligen rekommendera detta boende!
Stefan
2015-07-18T00:00:00Z
Hemtrevligt litet hus med skön bred säng, enkelt men trevligt kök och därtill ett skönt uterum med vinrankor i taket. I uterummet fick vi en bricka med riklig frukost.
Ester
2015-07-28T00:00:00Z
Bei Brigitte war es wirklich sehr gemütlich. Das Haus ist geräumig und gut eingerichtet. Zum Strand sind es nur 5 Minuten, zur zentralen Busstation in die Stadt zu Fuß ca. 20 Minuten. Birgitte spricht gut deutsch und ich habe mich mit ihr sehr gut unterhalten. Ihre selbst gebackenen Frühstücksbrätchen sind köstlich. Auf der Insel Bornholm gibt es viel zu entdecken.
Karin
2015-09-27T00:00:00Z
Vi blev afhentet af Birgitte i Rønne lufthavn da flyet var forsinket og der ikke var nogen bus på det tidspunkt. Fornemt! Vi blev anbefalet at spise frokost på Radissons terrasse 10 minutters gang derfra og det var perfekt at sidde i solen og skue ud over vandet. Huset er hyggeligt og fint udstyret til en uges ferie og beliggenheden er også fin med 15 minutters gang til centrum. Morgenmaden var virkelig lækker.
Gunvor
2015-09-11T00:00:00Z
Cozy place. The apartment has everything you need. Delicious breakfast w. homemade buns and a friendly host. Park and beach across the road. Town nearby.
Jacob
2016-05-14T00:00:00Z
Rigtig fint lille hus. Jeg var afsted ifb. Med studie, men kunne helt sikkert godt finde på at vende tilbage på ferie. God service ift. Værten og at der blev sørget for, at vi blev hentet i lufthavnen.
Pauline
2016-09-06T00:00:00Z
Typ av rum
Eget hus/egen lgh
---
Typ av boende
Hus
---
Plats för
3
---
Sovrum
Rønne, Danmark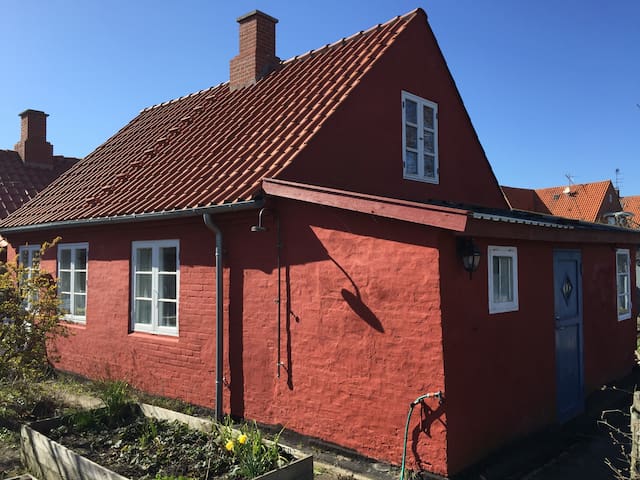 Campingv. is located in the most beautiful scenery 10 meters from Egeby Stubmølle and close to the best beaches in Denmark. You will love my home because nature, outdoor area with its own barbecue garden furniture opportunity to use the bonfire. Simple but nice campv. good explorer and couples and children tent can be advertised as having the courage amount. It is a big caravan with beautiful views beautiful beach approximately 7km from house. Sea view from the site. Set up by wood (Almindingen) 5 min. Brunch can be ordered in weekend.Rygning outside!
Most beautiful location right next to Egeby Stubmølle. I live in Møllevang which is next door to the mill
Close to the water, the commons is next door and when I located right on the island there are close to Nexø, Dueodde, Baltic Mark and Svaneke
I had a great time staying with Camilla!! She is a wonderful host, very heartwarming and caring. (As it gets dark at night, she even came to pick me up at the closest bus stop...that was sweet and touching! :)) The place she has is absolutely stunning surrounded by nature. The camping van is cozy and easy to relax.
yuka
2016-09-11T00:00:00Z
Typ av rum
Eget hus/egen lgh
---
Typ av boende
Husbil/husvagn
---
Plats för
2
---
Sovrum
Aakirkeby, Huvudstadsregionen, Danmark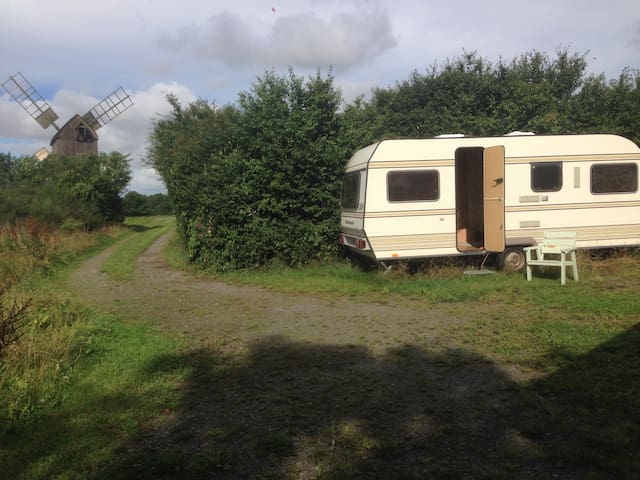 1

–

18

av

300+ Boenden att hyra
Ange datum för att se full prissättning. Ytterligare avgifter tillkommer. Skatter kan tillkomma.