2 Uthyrningar av lägenheter
She is nice.
Eunsun
2016-09-05T00:00:00Z
Loved this little place! Perfect for our two little kids and complete with a view of the lake. We do hope to come back soon for another weekend escape from the city.
Lesley
2015-02-09T00:00:00Z
WARNING DO NOT BOOK HERE. They didn't leave us any towels and when we went to look for some in the closet they were short handed on towels. The shower floor was disgustingly dirty, cob webs on top of shower. Heat doesn't work, try sent a guy to "fix it" after two texts and two hours went by, it was "fixed" for 5 mins then it shut off again, the pilot light and Valve were broken so it didn't stand a chance. We were really cold at night since we had no heat. The cabinets were full of trash. I never actually met the person renting this place out and when I texted him telling him "I'll text you when I'm 5 mins away" he replied with "not necessary" I found that to be rude. I don't believe this is worth the 150 I payed for. They asked me for 39 extra dollars upon arrival for a "cleaning fee" the place wasn't even clean to begin with.
Michelle
2016-01-09T00:00:00Z
Cozy place with everything you need conveniently around you, and the towns people are extremely welcoming!
James
2015-12-20T00:00:00Z
1. Wrong address listed. 2. Called for 10 minutes straight with no answer. 3. We had to walk around and ask the local establishments to find out where we were supposed to go, if they even knew. 4. One of the main reasons for my buddy and I staying here was because there was supposed to be wifi and I had an assignment which I could not complete because of 2 reasons, first we were told that they changed the password for the wifi and then they forgot it and then later at night we asked again and got told it was down. 4. There was a weird smell in the rooms. 5. No breakfast included as it was advertised. 6. Advertised as an entire home but it's located on top of a bar and convenience store. 7. We were also not compensated for the lack of wifi after paying a single night $39 fee. To sum it up, the place was not what was expected and for the price it most definitely was not worth it because we could've spent the same amount had we known there was a $39 one night fee and we could have been closer to both mountains. On a side note, if you're planing on going snowboarding or skiing at either Snow Summit or Bear Mtn just know it's about a 30-50 min drive half way up the mountain.
Henrique
2015-12-06T00:00:00Z
Great place for small groups. Location above a general store was a bit of a surprise but not problematic whatsoever. We enjoyed privacy and quiet during or stay. Very clean and spacious when we arrived and the host was very prompt in replying to our needs. Cabin located a bit down the mountain so not really a good place if your plans are to go back and forth up to big bear lake.
Phillip
2015-12-22T00:00:00Z
The place was right above a bar where we get to meet the locals (they have good brunch). Downstairs is also a market which was very convenient if we need anything. It was right across from the lake so we can take a stroll. The host was helpful and easy going. We had a great time.
Bidan
2016-06-20T00:00:00Z
The hosts were super nice and friendly. Despite the first night being a little stressful they were very nice. They helped us a ton the rest of the trip and we enjoyed our stay.
Jenifer
2016-01-03T00:00:00Z
Typ av rum
Eget hus/egen lgh
---
Typ av boende
Lägenhet
---
Plats för
6
---
Sovrum
Green Valley Lake, Kalifornien, USA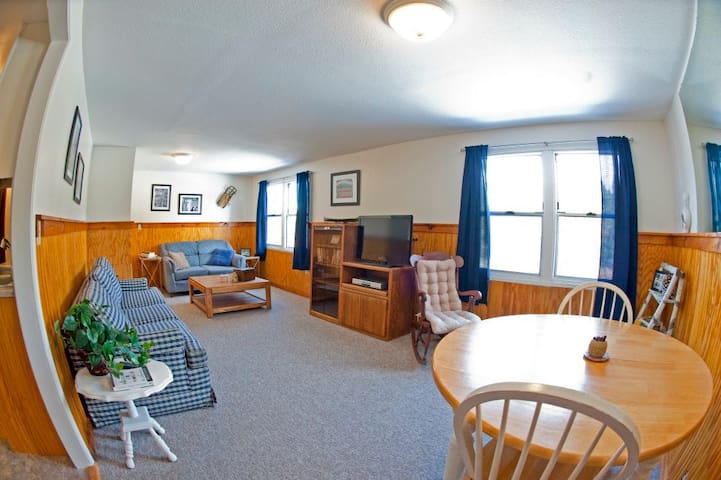 The space was spacious yet cozy, with a view of the lake. The general store is conveniently located downstairs, so you can get food or anything you forgot. I believe the owners are also the owners and operators of the store and are very friendly and helpful and can give you lots of great local knowledge. We stayed here with 4 kids, and found that there was plenty of room for everyone, and all enjoyed it very much. We'll be back again for sure!
Vincent
2014-12-30T00:00:00Z
We came in around evening time and the hosts were very welcoming. There was a $32 tax that we had to pay upon our arrival for our weekend trip. The place was nice and cozy, and it was nice that there were plates and cups in the kitchen. We were a little disappointed that the DVD player didn't work because we rented a movie in the general store downstairs believing that the DVD player worked. If it's broken, it really should be taken out. However, there was cable TV so we still had something to watch. The place is located above a tavern but it closes around 10pm so there weren't any noise problems when it was bedtime. All in all, it was a great trip.
Irene
2016-01-17T00:00:00Z
My second time here. Great for a one night stay in the mountains.
FRANK
2016-01-10T00:00:00Z
Everyone was so nice at the front desk. The place was great for 4 of us and the location was great to go to Arrowhead and Big Bear. The lake is such a gorgeous view and nice trail for a morning hike!!
Mallory
2015-01-19T00:00:00Z
When I arrived 2 hours after the check-in time the room was not ready. The place was a bit dirty and it was obvious that they were not prepared for any guests. Later in the day we find that the bathroom didn't have any backup toilet paper roll and had to drive miles to find a gas station that was open to purchase more toilet paper. The staff was very friendly and they seemed like good people but I don't think the price was worth the experience of going through all that.
Chris
2015-05-25T00:00:00Z
Great staff and stay! Very much like the pictures. Just a little creeped out by the secluded area and a broken chain lock on the door.
Samantha
2016-01-18T00:00:00Z
We arrived at the place three hours after the scheduled check-in time. Krystal and Jess were so great and awesome. They came in and opened up the place for us. Overall, the place is very clean. The beds are very comfy. The area is very nice and quiet. My friends and I had a great experience staying at the Welcome Inn.
V. Dear
2013-12-26T00:00:00Z
They made me feel like family here! Great people that would give the shirt off their back. The band was amazing, the food even better. This was an adventure leaving me wanting to come back for more.
Jonathan
2016-09-06T00:00:00Z
Typ av rum
Eget hus/egen lgh
---
Typ av boende
Lägenhet
---
Plats för
6
---
Sovrum
Green Valley Lake, Kalifornien, USA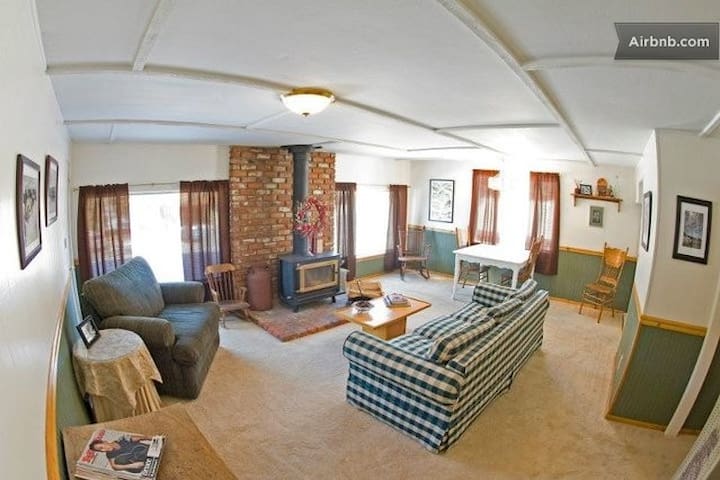 Running Springs - Airbnb
:
I genomsnitt

4

av

5

stjärnor från

53

gästomdömen
1

–

2

av

2 Uthyrningar av lägenheter
Ange datum för att se full prissättning. Ytterligare avgifter tillkommer. Skatter kan tillkomma.