Lovely furnished studio approx 34 sqm, bathroom with shower and kitchen. Separate entrance, parking in the carport. The apartment is very quiet in the immediate vicinity of Freiburg (3KM) Public transport around 280 m
Our first Airbnb experience started with a very warm, much appreciated welcome from our hosts. They were at all times approachable and extremely helpful. Since we know Freiburg very well getting around was easy for us, mainly by using our car to the nearest tram station, Vauban, and heading into town by tram. The apartment is as described by previous guests and the surrounding country side is inviting you to energising walks in the woods and hills close by; nature at its best right on your doorstep! Can thoroughly recommend this accommodation. Thank you Angelika and Rolf.
Christa
2016-04-28T00:00:00Z
Nuestros anfitriones fueron muy amables, la casita es muy bonita, acogedora, limpia y organizada, la cocina completamente equipada y funcional, y el baño también :) nuestra estadía fue muy cómoda y relajada, pudimos hacer hikes en los alrededores, y despertar con el sonido de las vacas! Fue muy relajante, que era exactamente lo que queríamos. La conexión a Freiburg fue mas fácil de lo que pensamos, hay un bus que te lleva y trae cada 20 minutos o media hora (no recuerdo exactamente). También hay un restaurante a 5 minutos caminando con comida muy rica y buena atención.
Heliana
2016-03-30T00:00:00Z
Direkt bei unserer Ankunft wurden wir herzlich von Angelika und Rolf empfangen. Wir fühlten uns sofort wohl und es fehlte uns an nichts! Die Wohnung liegt in einer ruhigen und schönen Gegend, so dass einem die Lust auf einen Spaziergang direkt packt. Wir können diese Wohnung wirklich jedem empfehlen und werden mit Sicherheit demnächst selbst wieder zu Gast dort sein. :)
Lisa
2016-08-17T00:00:00Z
Rolf und Angelika haben mich herzlich empfangen. Sie sind sehr gastfeundschaftlich. Die Wohnung ist wie beschrieben und vor allem prima gelegen. Ich habe alle Orte in Freiburg in nur wenigen Fahrminuten mit dem Auto erreichen können. Ich komme sehr gerne mal wieder wenn ich in der Nähe bin.
Silvia
2016-04-11T00:00:00Z
Wir sind sehr zufrieden mit unserem Aufenthalt. Wir wurden sehr herzlich empfangen und sogar beraten, wie wir ein Studentenzimmer für meinen Sohn finden könnten. Die kleine Wohnung ist super süß eingerichtet und hat alles, was man braucht. Da wir zum ersten Mal bei einem Airbnb gebucht haben, war ich sehr positiv überrascht, dass sogar Kaffee, Zucker, Öl usw. vorhanden war. Der kleine Garten lädt zur Entspannung ein. Direkt hinter dem Haus findet man Wanderwege, die in den Wald oder in die Natur führen. Der Schauinsland ist 15 Min mit dem Auto entfernt, Freiburgs Zentrum auch. Wir hätten keine bessere Unterkunft finden können, als bei Rolf und Angelika, und wir sagen vielen Dank! und auf Wiedersehen, da wir sicherlich wieder kommen werden :-) Nous avons été accueilli par des gens plus que sympathiques, toujours prêts à aider. L'appartement est adorable et possède tout ce dont on peut avoir besoin. À 2 min de la maison, partent plusieurs chemins pour faire de jolies randonnés dans la foret ou dans la nature. Le Schausinsland est à 15 min en voiture, (à faire absolument) le centre de Fribourg aussi. Nous n'aurions pas pu trouver mieux que cet appartement chez Rolf et Angelika :-) Un grand merci et à bientôt!
céline
2016-10-16T00:00:00Z
Wir wurden herzlich empfangen und die gesamte Kommunikation war wirklich einfach. Die Wohnung ist wie auf den Bildern ordentlich und schön eingerichtet, mit Blick auf den Wald. Ein bequemes Bett, eine gut eingerichtete Küche und ein geräumiges Bad und alles was man sich sonst für einen gelungenen Urlaub wünscht. Vielen Dank und wir kommen sehr gerne wieder.
Ann-Kristin
2016-02-09T00:00:00Z
Alles super, sehr nett und zum Wohlfühlen. Gerne wieder.
Andrea
2017-03-27T00:00:00Z
Die Lage ist toll am Waldrand und die Ausstattung ist prima, alles da was man auch für einen längeren Aufenthalt benötigt. Die Gastgeber sind immer ansprechbar und hilfsbereit gewesen und haben mir auch das eine oder andere extra geboten. Ich habe den Aufenthalt genossen und werde wieder hierher kommen. Sehr empfehlenswert.
Kristina
2017-02-21T00:00:00Z
Typ av rum
Eget rum
---
Typ av boende
Hus
---
Plats för
2
---
Sovrum
Au, Baden-Württemberg, Tyskland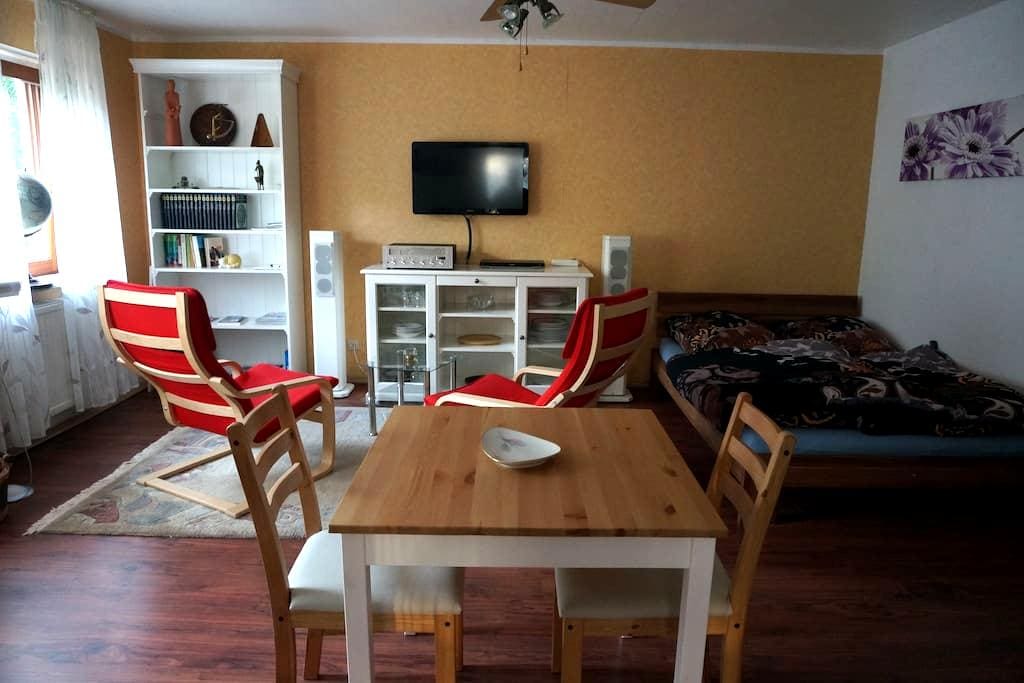 We offer a generous, light-filled rooms with private shower and access to terrace / garden. The house is situated in a quiet residential area with no through traffic, only 4 stops from the main station. Close to Fair and Clinic.
Lichtdurchflutetes, furnished 20sqm rooms with parquet for two or three guests. Sometimes there's two windows and a patio door to the garden. A private, small bathroom with shower and toilet is one of them. All rooms are equipped with underfloor heating. The house was completely renovated recently - everything is new. Bed linen and towels are provided. The accommodation Light-filled room, furnished 20 sqm with parquet for two or three persons. There are two windows and a door to the terrace and garden. You will have a private, small bathroom with shower and toilet. All rooms are equipped with underfloor heating. Recently the house was completely Call renovated - everything is new. Towels and bed linen are provided.
Shops and restaurants can be found a few meters walk as Edeka and Penny, pizza, pizzeria, bakeries and banks. The beautiful marine park with beer garden and restaurant, large lawns for relaxing, kicking, slacklining and pedal boating is achieved close and on foot in 5 minutes. Joggers can! As walkers come! Can at nearby Dreisam shore at their expense. The Freiburg Messe Exhibition Centre and the University Hospital are within walking distance in about 15 minutes. Trams run regularly. The neighborhood Shops and restaurants will be found only a few meters walk as for example Edeka and Penny. a diner, a pizzeria, bakeries and banks. The beautiful Seapark with beer garden and restaurant, large lawns for relaxing, kicking, slacklining and pedal boating will be reached in 5 minutes walking. Joggers and walkers have wonderful facilities to do Their sports in the Seapark and nearby the small river Dreisam. The Freiburg Exhibition Centre and the University Hospital are nearby walking distance about 15 minutes. Trams run Regularly.
Eine sehr schöne, saubere Unterkunft. Alles sehr liebevoll hergerichtet (sogar eine kleine Begrünßungs Weinflasche). Sehr ruhig und angenehm. Es hätte nicht schöner sein können.
Julia
2016-09-30T00:00:00Z
Wenn ich 6 Sterne vergeben könnte, würde ich das ohne Zögern machen! Caro und Isa waren die perfekten Gastgeberinnen, sehr herzlich und sympathisch. Die Wohnung ist ideal für Gäste eingerichtet, mit extra-Stellplatz in der Küche, einem privaten Bad und einem grossen Garten. Man fühlt sich wie in Ferien im Grünen und ist doch in 5 Minuten in der Stadt. Als ich leider krank wurde, haben mir die beiden direkt angeboten, in ihrem privaten Zimmer zu bleiben, bis es mir besser ginge und ich wurde mit Tee und Medikamenten versorgt - vielen Dank!!! Wir kommen jederzeit gerne wieder!
Meike
2016-05-16T00:00:00Z
La maison de carolina est tres agréable . La chambre donne sur un joli petit (URL HIDDEN) l accueil de Carolina est au top. Tout pour nous rendre le séjour le meilleur possible . Je regrette de ne pas avoir pu rester plus longtemps.
Karine
2016-07-28T00:00:00Z
Already being fast responsive beforehand and very helpful and informative, Carolin, ISA and Conny gave us a warm welcome and tour when we arrived. They prepared the kitchen very well for the guests and we enjoyed complimentary tea and coffee to warm up after the cold outdoors :) The room was great, spacious and well equipped and we enjoyed a good nights sleep. My mom joined us rather last minute and our hosts made arrangements to accommodate her too. We really appreciated that! Thanks for hosting our family of two adults and two kids plus grandma, we had a great stay!
Anna
2016-12-19T00:00:00Z
Wunderschöne, offene Atmosphäre.
Simon
2017-01-25T00:00:00Z
When we arrived, she told us "we want you to feel like home" and this is what we exactly felt ! We had a very great room, and private bathroom and a terrace for the breakfast ! The tram for the city center is at 3 minutes of walk ! We had a great night, this was the second time we use airbnb and we were very glad, thank you all for everything ! With a parking for our car, we could park it all night and all day ! Hope we'll meet again !
Bastien
2016-07-07T00:00:00Z
Conny und Isa haben uns sehr herzlich begrüßt, das Zimmer (mit eigener Terrasse !) und das Bad im Souterrain sind super. Wir hatten das Gefühl im Urlaub zu sein, nach einer stressigen Anreise genau das Richtige für uns. Besonders toll fanden wir, dass wir uns Fahrräder ausleihen konnten, denn in einer Stadt wie Freiburg ist, zumindest für uns, eine andere Art der Fortbewegung kaum denkbar. Die Gastgeberinnen sind wunderbar unkompliziert und die klare Kennzeichnung in dem Haus ist sehr hilfreich. Bisher mit Abstand die beste Unterkunft, die wir hatten!
Angelika
2016-07-27T00:00:00Z
Carolina è stata perfetta così come Isa. Grande accoglienza. Luoghi precisi e puliti. Host discreto e non invadenti. La location è meglio di quanto mi aspettavo: vicino al Seepark, tram e a solo 4 fermate dal centro città. Insomma consiglio a tutti la meta e questo posto come punti di appoggio. 5 stelle piene :)
Michele
2016-11-02T00:00:00Z
Typ av rum
Eget rum
---
Typ av boende
Hus
---
Plats för
2
---
Sovrum
Freiburg im Breisgau, Baden-Württemberg, Tyskland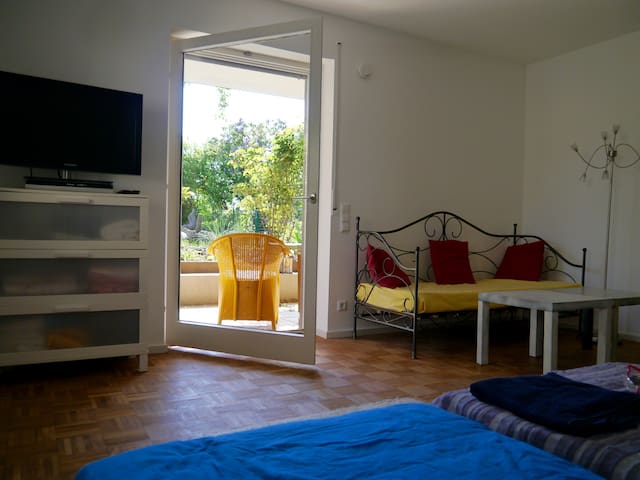 Informationen folgen in Kürze!
Hannelore and her husband was friendly, quick with her responses to questions, the apartment is clean, the house location is good . Recommended !
Islam
2016-10-14T00:00:00Z
Die Unterkunft bei Hannelore ist wirklich sehr zu empfehlen. Sehr sauber und ruhig. Bäcker in der Nähe und ansonsten ist alles Nötige für's Frühstück zur Verfügung gestellt. Hannelore und ihr Mann sind sehr freundlich und unser Baby bekam sogar ein kleines Abschiedsgeschenk als Erinnerung an Freiburg.
Sylvain
2017-02-16T00:00:00Z
The pictures give a very good impression of what you're going to get. It's a cute apartment in the attic of a family home, with a balcony where you can enjoy a nice view. The Seepark is close by, ideal for strolls outside of the city craziness. The hosts were very accommodating and flexible and provided water and coffee on arrival. The apartment has everything you need, except for a microwave maybe. It was a bit unfortunate that there was no washer and dryer as it was announced in the amenities, they told us that those are only available when staying longer than a week, which didn't say so in the description. But we found another solution and the hosts were apologetic about it, so it was no big deal. The apartment itself was very clean. I would definitely stay there again!
Christian
2017-01-08T00:00:00Z
Hannelores und Harrys Unterkunft in Freiburg ist auf den Fotos sehr gut dargestellt. Wir sind sehr freundlich empfangen worden und anschließend wurden uns Einzelheiten in der Wohnung erklärt. Die Wohnung ist sehr sauber und mit Blick für nette Dtails eingerichtet. Wir haben uns über frisches Obst und Wasser gefreut. Außerdem stand im Kühlschrank Marmelade und Joghurt für uns bereit. Neben der Senseo Kaffeemaschine standen Pads zu unserer Verwendung bereit, die wir auch gern benutzt haben. Sehr gut gefiel uns der wirklich große Balkon, der mit netten Gartenmöbeln möbliert war. Bei herrlichem Sommerwetter sehr entspannend. Hannelore und Harry haben wir als zuvorkommende Gastgeber und kommunikative Menschen kennengelernt. Wir haben die Unterkunft bereits Freunden empfohlen und sind sicher nicht nur einmal ihre Gäste gewesen. Danke für alles! Herzliche Grüße aus dem Münsterland Lothar und Gisela
Gisela
2016-08-22T00:00:00Z
The place is exactly as described, the owners are super friendly (they even picked me up from the station!), there was some food and water in the fridge and tea and coffee. Totally recommend it and I would definitely come back!!!
Viola
2017-01-25T00:00:00Z
We had a great time in Freiburg and very much enjoyed our stay with Hannelore and Harold. Both were very friendly and went the extra mile to ensure we have a good time in Freiburg. The apartment has everything you need and we especially enjoyed the big terrace. The neighbourhood is quiet but has everything you need. We left the car and used the bus to get into the centre, this took only 15min and is very convenient. We would definitely recommend this apartment. Vielen Dank für die schönen Tage bei Euch. Wir haben uns wirklich wohl gefühlt und kommen gerne wieder. Besonderen Dank an Harold für die Fahrt zur Talstation. 5 Sterne!
Anne
2015-08-07T00:00:00Z
Very cosy place, small kitchen has everything you need. Big terrace with garden view is a great place for breakfast (depending on weather conditions). Hosts are very friendly, made us a nice welcome dinner and provided a bycicle for free.
Konstantin
2015-04-30T00:00:00Z
Was staying here the second time. As always felt very welcome and the apartment was in perfect shape. Great spot
P
2016-05-20T00:00:00Z
Typ av rum
Eget hus/egen lgh
---
Typ av boende
Hus
---
Plats för
2
---
Sovrum
Freiburg im Breisgau, Baden-Württemberg, Tyskland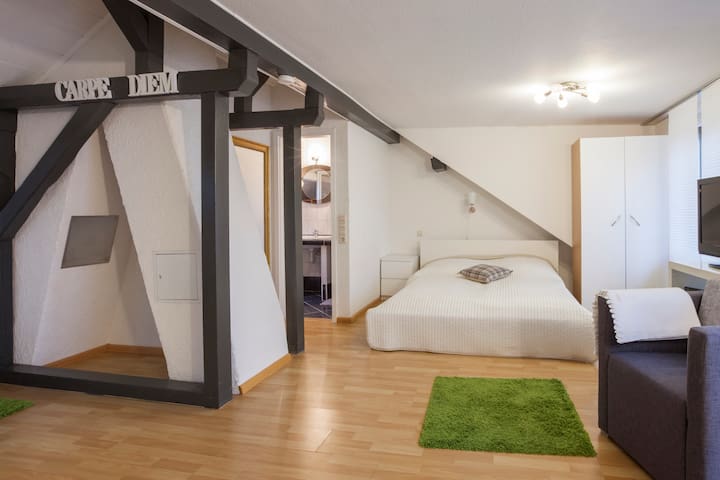 Wir bieten Ihnen in unserem gepflegten Einfamilienhaus ein sehr lichtdurchflutetes und modernes 2-Zimmer Apartment. Die 50-55 m² große Wohnung ist sehr geschmackvoll eingerichtet, hat ein separates Schlafzimmer und einen großen offenen, hochwertig ausgestatteten Küchenbereich mit Ess- und Wohnzimmer. Es gibt einen gemütlichen Balkon mit Abendsonne. Der Seepark und die Haltestelle Paduaalle der Straßenbahnlinie 1 sind nicht weit entfernt, ebenso der Bäcker und andere Einkaufsmöglichkeiten.
Sie können das W-Lan über einen Gästezugang (kostenlos) benutzen. In dem Apartment gibt es Informationen über die Region, Wanderkarten, Stadtplan etc.
Das Apartment liegt im Freiburger Stadtteil Lehen. Sie erreichen die Innenstadt mit der Straßenbahn in weniger als einer viertel Stunde. Der Seepark ist nur wenige hundert Meter entfernt. Ganz in der Nähe befindet sich der Mundenhof, Freiburgs kleiner Zoo.
Meine Eltern haben bei Janine einige schöne Feiertage verbracht und sind sehr zufrieden - die Wohnung ist hell, sauber und gemütlich. In der Küche gibt es alles Mögliche zum Kochen - Geschirr, Besteck, Küchengeräte und eine Spülmaschine! Die Gegend ist schön und ruhig, eine Straßenbahnhaltestelle ist 3 Min entfernt, Einkaufsmöglichkeiten sowie der schöne Freiburger Seepark sind auch in der Nähe. Nochmal vielen Dank und gerne wieder :)
Natalia
2016-01-05T00:00:00Z
Janine place is super lovely and she is helpful if anything goes wrong or needs follow ups for sure..
Marjan
2016-09-30T00:00:00Z
Sehr schöne, grosse, saubere und helle Wohnung! Ruhig gelegen und mit allem ausgestattet was man braucht. Janine ist sehr freundlich und flexibel!
Jenny
2017-02-05T00:00:00Z
Eine wunderschöne moderne Wohnung in einer sehr ruhigen Lage.
Priscila
2016-12-18T00:00:00Z
This is a great apartment 10 minutes from city centre and Hbf by tram and right at a bus stop for trips to the countryside. Beautiful Seepark and hillside walks are at your door. The apartment is immaculately designed and decorated with fabulous kitchen and bathroom. Janine is friendly and very helpful and even offered to drive us to the Hbf when we had a 7 am train. (Of course we didn't let her do it. The tram comes every 10 min and only takes 10 min to Hbf)
Allan
2017-01-18T00:00:00Z
What a great experience! We had a great stay in a very spacious apartment. Recently refurbished, so everything was clean and up-to-date, with a modern kitchen and a HUGE shower. The apartment was in a quiet neighborhood, so we usually had breakfast on the balcony terrace. There is a bakery literally around the corner, excellent restaurants within walking distance and a big supermarket a 10-minute drive away for those who prefer cooking. Janine is a very kind host, who gave us some great tips for places we could visit. The only thing that wasn't working yet during our stay was the wi-fi connection, but that should be fixed by now. And besides, you're on vacation, don't spend all your time online! We would definitely stay there again.
Wilke
2015-09-05T00:00:00Z
One of the best places ever!!! Very calm neighborhood, beautiful apartment ,clean, well equipped and the owners are very nice and comfortable :) Very recommended!
Kevork
2015-09-01T00:00:00Z
Like I told Janine, the pictures don't do the this amazing place justice. Clean, tidy, spacious and extremely well presented, it's far better than any hotel room. One of the best rooms I stayed in since using airbnb. Definitely recommend it to anyone that is going to visit the area/
Karim
2017-01-23T00:00:00Z
Typ av rum
Eget hus/egen lgh
---
Typ av boende
Hus
---
Plats för
2
---
Sovrum
Freiburg, Baden-Württemberg, Tyskland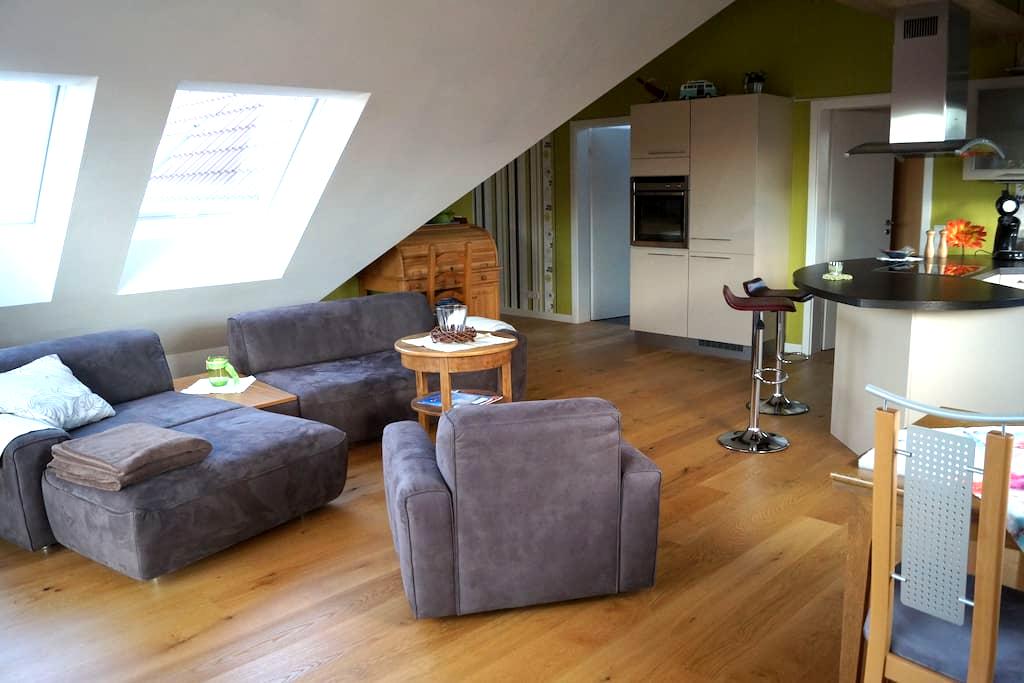 Gemütliches helles Zimmer mit einem großen Bett 1,40x2,00m mit schöner Aussicht auf Freiburg in einer neu renovierten Doppelhaushälfte in ruhigem Wohngebiet sehr nah an Freiburg. Sehr gute kostenlose Parkmöglichkeiten in der Straße, Haltestellen der öffentlichen Verkehrsmitteln Freiburgs sind in der Nähe vorhanden.
with english version Das Zimmer ist sehr geplegt und gemütlich eingerichtet. Es ist mit einem großen 1,40x2,00 m Bett, einem Kleiderschrank, einer Kommode und einem Schreibtisch ausgestattet. Ihr habt eine tolle Aussicht auf Freiburg und den Lorettoberg. Das Zimmer ist 16 qm groß. Bettwäsche, Handtücher, Haartrockner, Wasserkocher, verschiedene Teesorten und WLAN stehen Euch zur Verfügung ebenso steht eine Flasche gesprudeltes Trinkwasser bereit. Die Unterkunft liegt stadt- und naturnah, die Stadtgrenze ist nur 1km, das Zentrum von Freiburg 4km entfernt. Ihr seid dem Stadtzentrum daher näher als in manchen Freiburger Stadtteilen. In der Natur seid Ihr in kurzer Zeit. The room is 16 square meter big, is very cozy and it has following facilities: A bed, a bed table, a wardrobe, a commode. Bed linen, towels, hairdryer and Wifi are provided as well. From the room you have a wonderful view of Freiburg.
Naturnahe Lage am Rande des Schönbergs in ruhigem Wohngebeit. In 5-10 min. zu Fuß befindet sich die Ortsmitte Merzhausen mit verschiedenen Geschäfte für den täglichen Bedarf. Die Innenstadt Freiburg ist leicht mit dem Auto oder mit den öffentlichen Verkehrsmitteln zu erreichen. Der Schwarzwald ebenso auch Frankreich und die Schweiz sind nicht weit. Eine Vielzahl unserer Lieblingsorte findet Ihr in unserem Reiseführer. Den Gästen stehen ausführliche Reiseführer über Freiburg und der Regio auf Anfrage zur Verfügung. The house itself is located in a quiet and lovely residential area near the 'Schönberg'. There are several grocery shops in town those can be reached by foot within five minutes. The city center of Freiburg is about 15-20 minutes away and is easy to get to. The black forest as well as France and Switzerland are not far away (approximately an hour).
Wir haben uns für die eine Nacht sehr gut aufgehoben gefühlt. Karin war sehr nett und das Zimmer sauber. LG jackie und Kai
Kai
2016-08-22T00:00:00Z
Bei Karin ist es wirklich schön, wenn man privat gut unterkommen möchte. Die Zimmer sind sehr heimelig und hübsch ausgestattet.
Gotho
2016-10-16T00:00:00Z
Die Unterkunft hat genau der Beschreibung entsprochen. Ein echt super-Preis-Leistungsverhältnis ! Karin ist eine sehr aufmerksame, freundliche und erfahrene Gastgeberin. Ich konnte mich sehr wohl fühlen und empfehle sie gerne weiter.
Gabrielle
2016-02-01T00:00:00Z
Karin ist sehr nett. Sie hat mich viel geholfen. Diese Zimmer ist wirklich sehr gut!
Runjia
2016-03-06T00:00:00Z
숙소는 프라이부르크 중앙역에서 트램, 버스 타고 약 20분 정도면 갑니다! 구글맵으로 찾아가시면 어렵지 않을 거에요. 딱 숙소에 도착했을 때 친절하게 맞아주셨고 편히 쉴 수 있도록 대해주셨어요. 설명도 좋았으며 궁금한 점은 언제든 물어보라고 하셨습니다.
수은
2016-06-16T00:00:00Z
Karin was always really nice and helpful, the room is really cosy with an amazing view on the forest. It is located in a village surrounding Freiburg, it can be hard to get there in public transports at night but during the day it's fine. The neighbourhood is really charming, you can walk around and easily start a small hike in the forest from there. Not being able to cook can be a bit restricting during long stays but otherwise it's fine.
Eleanor
2016-10-01T00:00:00Z
Die Beschreibung entsprach dem, was ich vorfand. Das Zimmer ist komplett ausgestattet, Wlan funktioniert perfekt. Sehr ruhige Umgebung, freundliche Vermieterin, die sehr hilfsbereit war. Sehr gute Nähe zu Freiburg und der schönen Umgebung. - Empfehlenswert!
Gabrielle
2015-10-04T00:00:00Z
Wie in der Beschreibung hübsches, ruhiges Zimmer mit tollem Blick bei einer sehr freundlichen und engagierten Gastgeberin, die einem den Aufenthalt so angenehm wie möglich gestaltet. Kann es nur empfehlen!
Meike
2015-12-20T00:00:00Z
Typ av rum
Eget rum
---
Typ av boende
Hus
---
Plats för
1
---
Sovrum
Merzhausen, Baden-Württemberg, Tyskland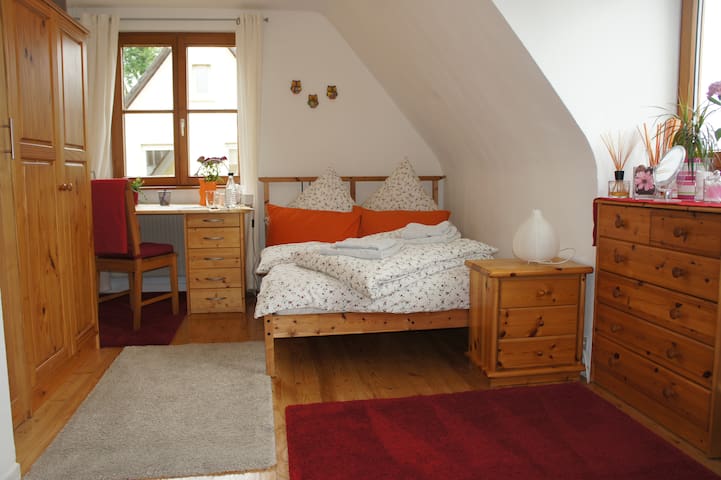 2-storey apartment (30 square meters) in DG (some stairs) of a 2-Fam.hauses, newly renovated, quiet, urban and close to nature, the best panoramic location of Freiburg, on a slope, with Black Forest views, effective u. Quiet-running air conditioning , 5 min. by car to the old town, about 10 square meters Gartenterr, free. 2 bikes, WiFi, bed linen (relative), bath, hand and kitchen towels.
The apartment at the Sonnhalde is natural location at one of the attractive scenic roads of Freiburg, 1.8 km (5 min. By car) from the Old Town (Cathedral Square). This modern and bright apartment is located on the top floor (some stairs) of a semi-detached house in a quiet location on the hillside overlooking the Black Forest. The use of a 10 sqm garden terrace (southeast facing) is possible. They may also be used by guests of the apartment on the ground. The terrace is a part of a small court, and is next to the entrance of the house. Here smoking is allowed. The nearest bus station (direct bus to the city center and the main train station) is 300 meters from the apartment. There, in the center of Herdern, also all shops for daily needs, such. As are a grocery store, bakery, butcher, pharmacy, bank, hairdressers, cafes and restaurants etc. On the small square in the immediate vicinity of the church square (Cath. Church St. Urban) will be held on Tuesdays and Fridays, a weekly market. Opposite the apartment begin walking and hiking trails in the Black Forest, for example, to Rosskopf, the Zähringer Burg, the Castle Hill, to St. Ottilien etc. Two bicycles can be provided upon request free of charge. The two-story, 30 square meter apartment has a living - room with a kitchen and a couch into a double bed (1.32 x 1.92) can be pulled out. On the same level is the bathroom with tub / shower, toilet, sink, hair dryer and a pullout clothesline. The bath has a natural lighting (skylights). The apartment is newly renovated and fully equipped with oiled beech and oak parquet floor and a newly built, very effective and quiet-running air conditioning system with indoor and outdoor units. A portion of the space extends up to about 4.0 meters in the roof Spitz. A gallery (about 10 square meters floor area, max. Height 1.50 m) serves as a sleeping area for 2 people. The bed (1,80 x 2,00 m) has 2 separate mattresses and bed frames. Access to the mezzanine is via a space-saving staircase. The kitchen is equipped with a refrigerator (with freezer), a ceramic hob with 4 rings, oven with grill, a cooker hood, a sink, toaster, kettle, coffee maker and a complete equipment for 4 persons. An iron and ironing board and an initial supply of spices, vinegar, oil, tea, coffee, detergents, soap, shampoo, facial tissues, toilet paper, etc. is available. Flat screen TV with Blu-Ray DVD player, CD player / radio, smoke detectors, telephone, and free Internet access (WLAN). At the Sonnhalde there is ample parking for your car. Included in the price bed linen is (beds not made), bath, hand and kitchen towels and a bathroom mat. This property is combined with the housing: "Sonnhalde * Mini-Apartment * small garden * Best Location" Which is also set to Airbnb. Both apartments are self-contained and have a common entrance.
Saubere Unterkunft mit vielen Annehmlichkeiten, unkomplizierte An- und Abreise
Anka
2016-09-11T00:00:00Z
Es war eine sehr schöne und saubere Wohnung. Man hat alles im Haus um sich wohlzufühlen. Auch liegen in der Wohnung nützliche Tipps bezüglich der Stadt Freiburg. Alles in allem sehr zu empfehlen :-)
Alex
2016-10-05T00:00:00Z
Eine perfekte Unterkunft. Alles hat wie abgesprochen geklappt. Die Gastgeberin hat uns sehr freundlich mit vielen Informationen zur Umgebung/Restaurants etc. empfangen. Die kleine Wohnung ist wirklich ein Traum. Abends hat man von dort oben eine fabelhafte Sicht über Freiburg. Es ist alles vorhanden, was für einen (Kurz-)Urlaub benötigt wird. Eine Bushaltestelle liegt in der Nähe. Allerdings lohnt auch der Weg zu Fuß in die City (ca. 30 Minuten, langsames gehen). Man kommt am alten Friedhof vorbei und streift den Stadtgarten - und hat damit gleich zwei Sehenswürdigkeiten abgearbeitet. Wir wären gerne noch länger geblieben.
Michael
2016-04-11T00:00:00Z
Eine kleine schöne Wohnung, perfekt für ein Wochenende oder ein paar Tage im schönen Freiburg.
Sebastian
2016-09-09T00:00:00Z
Great communication from the host, Stefan (Angela's husband) had excellent English and pointed us to some good places to eat. He was flexible and welcoming with our arrival and explained everything in the flat very clearly. The flat itself was modern, clean and nicely styled - with a good feel to it. The neighbourhood was lovely, it felt safe and picturesque with interesting architecture.
Deborah
2016-07-24T00:00:00Z
Wir hatten super schöne Tage bei Angela. Sie ist eine unglaublich liebenswerte Gastgeberin und war jederzeit sehr zuvorkommend!! Die Wohnung ist sehr schön und hat wirklich alles, was man benötigt!!!! Wir kommen gerne wieder, haben uns sehr wohl gefühlt :)
Julia
2016-03-17T00:00:00Z
Schöne kleine Unterkunft in einem ruhigen Teil Freiburgs direkt am Bergrand mit Kochmöglichkeit. Angela war sehr nett und flexibel. Gerne wieder!
David
2016-12-18T00:00:00Z
Wir haben uns sofort heimisch gefühlt. Eine herzliche Begrüßung mit einem umfassenden Informationspaket zu Freiburg und Umgebung. Aktuelle und brauchbare Restauranttipps rundeten den Aufenthalt ab. Eine kleine Unterkunft die aber umso großartiger ist. Der erste und der letzte Eindruck - hier könnten wir sofort einziehen. Die Lage im idylischen Stadtteil Herdern oberhalb von der Stadt ist traumhaft. Vielen Dank auch für die "Berliner". Wir können Angelas Studio von ganzem Herzen empfehlen.
holger
2016-01-02T00:00:00Z
Typ av rum
Eget hus/egen lgh
---
Typ av boende
Hus
---
Plats för
2
---
Sovrum
Freiburg im Breisgau, Baden-Württemberg, Tyskland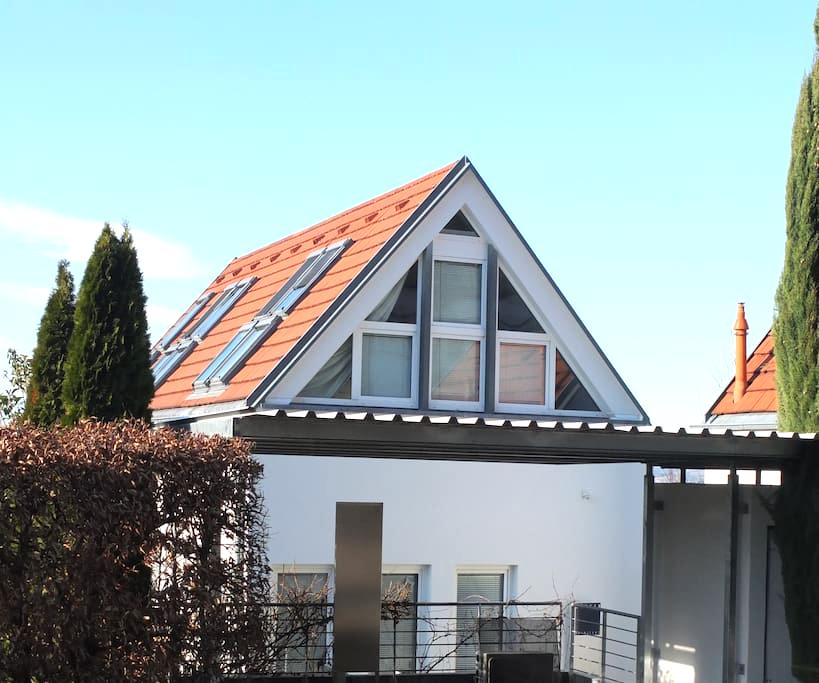 Helles, großes Zimmer Es gibt ein Palettenbett, Schrank, Sessel, Wlan und Parkmöglichkeit. Auf Wunsch: Küchen- u. Terassenmitnutzung. Zur Straßenbahnhaltestelle: 2 Min.In die Stadt:10 min Gerne servieren wir ein reichhaltiges Frühstück.
Ihr trefft auf eine kommunikative, offene Familie und könnt Euch willkommen fühlen.
Freiburg ist einfach einzigartig und wenn Ihr Tipps für Restaurants oder andere schöne Lokalitäten braucht, lasst es uns wissen.
Excellent experience..irene is very kind and helpful, I recommend this host
Salvo
2016-04-05T00:00:00Z
The host canceled this reservation 2 days before arrival. This is an automated posting.
Dankó
2015-05-21T00:00:00Z
Hause and room are really nice, bright and colourful. The general atmosphere makes you feel like at home. I stayed at Irene's place for almost two weeks and time went by too fast. It is a bit far from the city centre, but I enjoyed walking 40 minutes during sunny days, otherwise public transports are just 2 minutes walk from home and in 10 minutes you get into town.
Erika
2016-04-15T00:00:00Z
Irene was very welcoming and hospitable! The room was a very cozy loft which was very clean. The fridge was really handy, and everything was comfortable. The family dog is a big softie! The location is a bit out of the city centre but very easily accessible, with the tram stop less than a 2 minute walk. We couldn't have felt more welcome, lovely time!
Lisa
2015-09-01T00:00:00Z
Wir wurden sehr herzlich willkommen (mit Schoko, Sekt und Bier!). Das DG-Zimmer ist sehr schön und privat, mit eigenem Bad. Das W-lan funktioniert gut und die Küchennutzung ist auf Wunsch auch problemlos möglich. Die Lage ist gut, ruhig und nur ca. 2 Minuten zur Straßenbahn und dann ca. 10 Min in die Stadt. Parken ist auch kein Problem! Alle Absprachen haben supergut geklappt, Irene ist eine tolle Gastgeberin und wir können die Unterkunft sehr empfehlen.
Rowan
2015-07-11T00:00:00Z
Irene was a very nice host. The room was very clean and spacious. The fridge in our room came in very handy. The location was awesome just outside the tram station and very easy to get into the city. Highly recommended and affordable:)
Maryke
2015-12-22T00:00:00Z
Obwohl wir erst abends anreisten war dies kein Problem. Die Unterkunft war verkehrsgünstig und für unsere Unternehmungen vor Ort ideal gelegen.
ian
2015-10-22T00:00:00Z
Muy buen alojamiento. Cuarto y baño espaciosos, limpios y muy bien equipados. Ubicado a una calle de la parada del tranvia. El primer día Irene nos recogio en la central de buses. Facil y rápida comunicación con Irene. Definitivamente lo volveria a tomar y a recomendar.
Santiago
2015-07-15T00:00:00Z
Typ av rum
Eget rum
---
Typ av boende
Hus
---
Plats för
2
---
Sovrum
Freiburg im Breisgau, Baden-Württemberg, Tyskland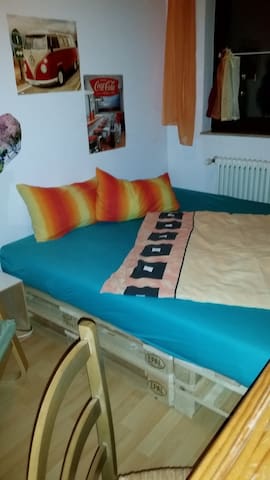 My place is close to public transport, 20 min from city center, 8 min walk to Littenweiler train station, pädagogische Hochschule or a 15 min ride to the Musikhochschule. Shops, cafés and bakery are in walking distance. It's a very charming and quiet place, cozy and welcoming. We speak German, English and Dutch and can give you all information to find your way around. My place is good for couples, solo adventurers, business travelers, and families (with one kid, extra matras possible).
See for yourself
Lovely and quiet, closed to the forest ( walking distance ) and closed to the city center. Necessary shops are in the neighborhood.
Ulrike is the most wonderful and sweet host. It was pleasant to talk with her and she made sure that we had everything we might need. The place itself is warm, comfortable and pleasant. Very unlike "cold" hotel rooms, you arrive and immediately feel at home. Neighborhood it's quiet and safe, you don't even have to close the door! Best place we've been to yet. Owners spell excellent English and German, so communication is never an issue. We had our very own bathroom and room. Definitely recommend and hope I'll meet the hostess again sometime in the future.
Kirill
2016-10-09T00:00:00Z
Wir hatten einen schönen unkomplizierten Aufenthalt bei Ulrike. Der Empfang war herzlich und sie hat für uns den angekündigten Regen vertrieben. Vielen Dank und liebe Grüße aus Hamburg. Friedel
Friedel
2016-09-20T00:00:00Z
Rike is the nicest host I ever make. She called her friends, train station and bus station to get the information of the most incredible beautiful hiking trail in Black Forest for us. That was totally unexpected and touching. Her room is cozy and quiet. I could hear the singing of nature at night there. Highly recommended place to stay.
Kit
2016-10-07T00:00:00Z
Ulri war sehr freundlich, hilfsbereit und so coooool!! She is amazing !!! Das Zimmer ist schön, und sehr angenehm!! You have your own Bathroom. Die Lage ist wunderschön, grün und sehr ruhig. Alles ist perfekt!! Es war eine tolle Erfahrung und ich würde gern noch einmal bei Ulri wohnen. Vielen Dank für alles Ulri :)
Sonia
2016-10-30T00:00:00Z
It was a very nice stay. She is a very good host. Everything is there as promised and the place was really nice and clean. I enjoyed staying there. She speaks English pretty well and it is very helpful for me. Also, she replies to the messages immediately. She is very kind and friendly. You also have a public transport until midnight. I would recommend this room for anyone who would like to have a peaceful stay.
Josep
2016-10-21T00:00:00Z
Rike ist eine sehr nette und freundliche Gastgeberin, flexibel und immer hilfsbereit. Die Unterkunft war schön und gemütlich, entspricht völlig der Beschreibung. Ruhige Lage, schöne Umgebung, Zentrum mit öffentlichem Verkehr in 20 Minuten erreichbar. Sehr empfehlenswert!
Marta
2017-02-04T00:00:00Z
Ruhige aber verkehrsgünstige Lage, Bushaltestelle in der unmittelbaren Nahe, Zentrum in 20 Minuten erreichbar. Alles schön und sauber, Zimmer sehr gemütlich und bequem. Ulrike ist super nett und freundlich und immer hilfsbereit. Alles super :)
Attilane
2016-11-30T00:00:00Z
Sehr nette, hilfsbereite Gastgeberin. Unterkunft entspricht in allen Punkten der Beschreibung. Sehr zu empfehlen.
Anne
2017-01-27T00:00:00Z
Typ av rum
Eget rum
---
Typ av boende
Hus
---
Plats för
2
---
Sovrum
Freiburg im Breisgau, Baden-Württemberg, Tyskland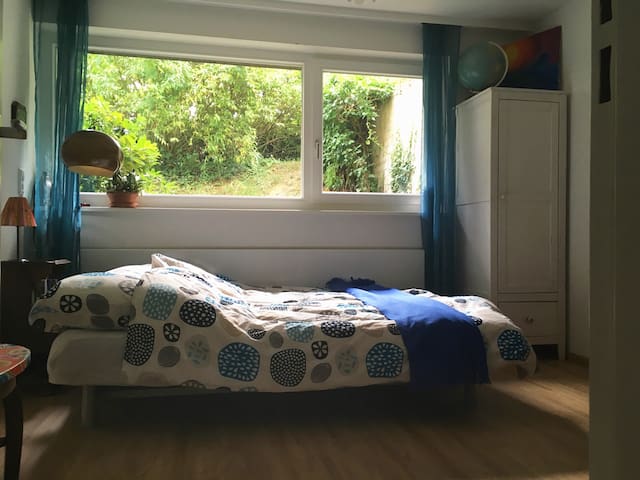 The house in Vauban is distinguished by its beautiful location close to downtown Freiburg. The neighborhood is quiet, car-free and ecologically. Access to public transportation, 10 minutes to downtown. Lounge, kitchenette, terrace, garden
Mattis was very friendly and attentive host. The apartment is well located in Vauban-Eco neighborhood, very interesting to know and also direct to the old city centre with the tram or by bike.
thibaut
2015-08-09T00:00:00Z
Tolle Unterkunft, sehr gemütlich. Wir haben uns sehr wohlgefühlt.
Megan
2016-08-16T00:00:00Z
Mattis was very friendly and polite. His house , surrounded by nature, is very quiet and clean , just five minutes away is the bus stop to the center. if I go back to Freiburg I hope to receive the same welcome
Diego
2015-08-12T00:00:00Z
Warmes Willkommen, eine Flasche Wasser auf dem Tisch, das Zimmer war so wie im Internet beschrieben. Das Auto konnten wir gratis in der Nähe parken. Wir haben uns sehr wohl gefühlt und den Aufenthalt genossen. Jederzeit wieder!!
Claudia
2015-08-24T00:00:00Z
Me and my boyfriend stayed by Mattis only one night and it was a pleasure. He is a very friendly and responsible host. He provided us info about transport, timetable and showed all the house. The room is perfect: big bed with linen and towels, cute balcony and place for clothes. We also got a bottle of mineral water, when we arrived) the bathroom is very cozy and big. we also wanted to visit Keidel Bad and Mattis picked us up in the evening) the location of the house is good, about 5-7 stations by tram (about 7-10 min).highly recommend!
Anastasiya
2015-08-23T00:00:00Z
Perfect! Mattis welcomed us very friendly and the bedroom in the house was large and clean. The bed was good too. The house is in the center of Vauban, well placed to walk in this area or take the tramway to the city center.
Benjamin
2015-08-10T00:00:00Z
Mattis hat alles unkompliziert geregelt. Er war sehr freundlich und zuvorkommend und konnte uns bei jeder Frage helfen. Das Zimmer und das Bad waren sehr sauber und das Zimmer dazu noch sehr gemütlich. Das Miteinander der Gäste und das Haus allgemein haben uns sehr gefallen. Wenn wir wieder einmal in Freiburg sind, versuchen wir wieder bei Mattis unterzukommen. Friederike &Martin
Martin
2015-08-20T00:00:00Z
It's really cool and warm place.Matis made sure we were comfortable and got the details we would need.
Yash
2016-08-15T00:00:00Z
Typ av rum
Eget rum
---
Typ av boende
Hus
---
Plats för
2
---
Sovrum
Freiburg, Baden-Württemberg, Tyskland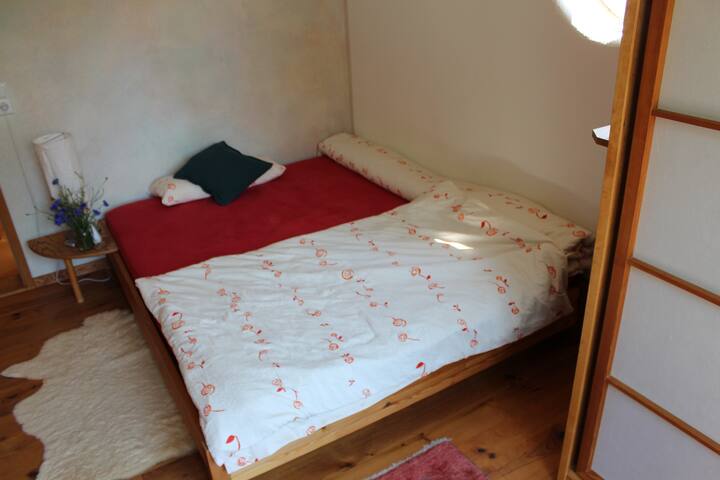 for individuals with large bathroom on the ground floor next to my family house, a few minutes walk to the city center in the beautiful district Wiehre. Supermarket and tram stop just around the corner. Absolutely quiet as rear house location.
The room is in the back of my cottage and has a window and a patio door leading permanent ventilation, little courtyard in a covered and well-lit and open windows. Depending on weather conditions and time of day the room can be a bit dark by this superstructure, but it is in the summer by the tiled courtyard cool and cozy in winter warm. Please read the comments of my previous guests carefully! They describe the situation better than I can.
In close proximity is very idyllic a church square with a toddler playground and many sunbeds. 300 meters is a public swimming pool and family Germany single Damenbad :-) In 500 m of the forest begins with many hiking and biking trails right up to Schauinsland (1284m). Who does not want to run the altitude can take the cable car. City maps and detailed city guides in German and English will be provided - in the hope of gentle handling and return for the next guests .....
Angelika hat mich herzlich empfangen, das Zimmer ist schön und sehr gemütlich. Eine Flasche Wasser stand bereit und ebenso Teller und Besteck für die eigene Versorgung. Das machte die Ankunft sehr angenehm. Das Badezimmer ist sehr geräumig und ich komme gern wieder.
Franziska
2016-11-04T00:00:00Z
Ich habe mich sehr wohl gefühlt.Sehr ruhig, sauber und gepflegt. Angelika konnte mich leider nicht selber empfangen aber Ihre Freundin hat mir alles gezeigt.Das Bad ist schön sauber. Leider nur mit Badewanne. In der Nachbarschaft ist ein Edeka-Markt ein paar Meter weiter eine Bäckerei. Straßenbahn ums Eck. Direkt gegenüber ist der Annaplatz mit der Kirche. Habe die Tage die Mittagssonne genossen stehen viele Bänke zum verweilen.Einfach herrlich. Angelika kam dann Mittwoch sehr herzlich wie eine gute Freundin die man schon ewig kennt. Würde jederzeit wieder bei Angelika übernachten. Danke für den tollen Aufenthalt in Freiburg. Ursula
Ursula
2016-10-08T00:00:00Z
Die Lage ist 1a, Gastgeberin ist total nett, Unterkunft wie beschrieben. Leider durfte ich den schönen freundlichen Hund nicht mitnehmen :-) :-) :-)
Heike
2017-03-05T00:00:00Z
Angelika ist eine sehr nette Gastgeberin. Sie hat mir gute Tips für den Abend gegeben und es war angenehm unkompliziert. Das Zimmer liegt in einem sehr schönen Viertel nah an der Innenstadt und mit prima Wegen ins Grüne.
Andrea
2016-04-18T00:00:00Z
The apartment is located extremely close to public transportation and the city center. As a whole, it is great value, clean, and convenient.
Conor
2016-12-04T00:00:00Z
I had a really great stay with Angelika, she is a great host, and the accommodation was pleasant and very central. Highly recommended!
Daniel
2016-12-09T00:00:00Z
Kleines, aber gut ausgestattetes Zimmer in der Wiehre, direkt bei der Straßenbahnhaltestelle, Laden und Restaurants um die Ecke und zu Fuß ist man in zehn Minuten in der Innenstadt. Der Sternwald und der Schwarzwald liegen auf der anderen Ecke. Idealer kann man in Freiburg nicht wohnen. Fenster sind im überdachten Innenhof, der zum Zimmer gehört, allerdings sind sie sehr hoch oben. Rausschauen geht also nicht, dafür ist das Zimmer absolut ruhig, weil im Hinterhof gelegen. Ein eigenes Bad ist nebenan. Angelika ist eine nette und aufmerksame Gastgeberin, die es an nichts fehlen lässt. Für Einzelreisende ein ideales Zimmer, vor allem im Sommer, weil kühl.
Hans Peter
2016-09-26T00:00:00Z
Angelika provided a clean and quiet lodging experience with minimal distractions. I was not totally on vacation and had a lot of remote work to do before travelling to another destination. Her location is quite close to creative institutions and the town center, as well as walking paths that were nice to explore during the beautiful spring days. The HBF station is quite close as well, and was easy to get to on my departure day. There is a private (not directly attached to the room i stayed in) bathroom that was clean and tidy in every way possible. Angelika is a fine host that gave me all I needed from the outset and left me to my own devices. I'm not a fussy traveler and did not require use of cooking facilities or a travel guide throughout my stay. As my first Airbnb experience it felt ideal in every way. Thank you!
Alexander
2017-03-28T00:00:00Z
Typ av rum
Eget rum
---
Typ av boende
Hus
---
Plats för
1
---
Sovrum
Freiburg im Breisgau, Baden-Württemberg, Tyskland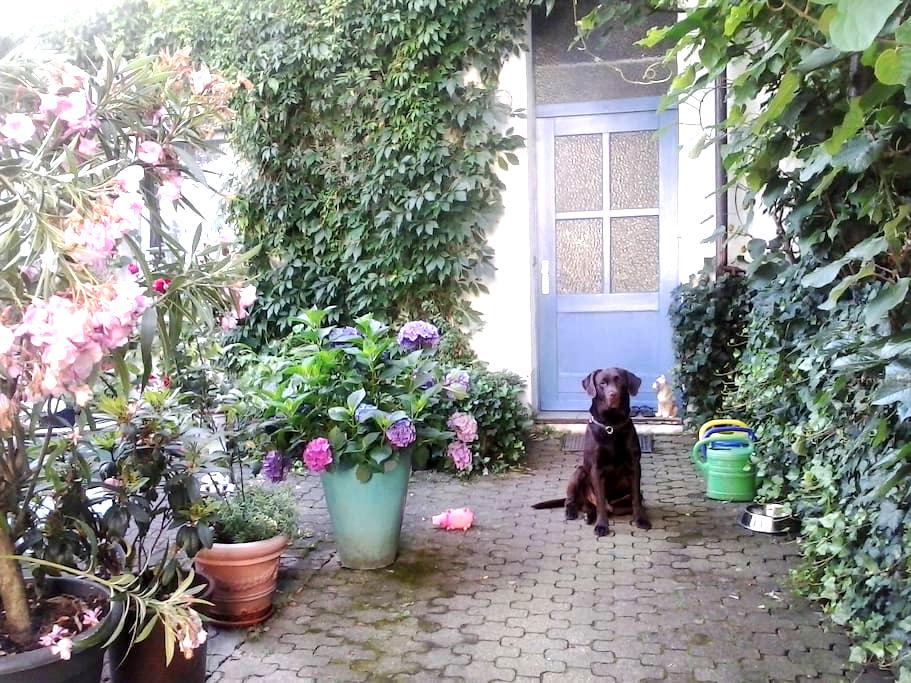 Innenstadtnah, grüne Umgebung (Dreisam, Sternwald, Schlossberg), ruhiges, vielseitiges und angenehmes Stadtviertel, KOSTENFREIES PARKEN, unmittelbarer Anschluß an Straßenbahn Gäste-Fahrrad gratis! Freundliche Gastgeberin
3-Zimmer-Nichtraucher-Wohnung in bevorzugter Wohnlage in einem der schönsten und beliebtesten Wohnviertel Freiburgs mit direktem Anschluss (50 m) an Straßenbahn in Richtung Stadtmitte und Bahnhof (Linie 1) sowie auch in Gegenrichtung Schwarzwald - und einem Einkaufszentrum direkt gegenüber. (REWE-Öffnungszeiten bis Mitternacht!) KOSTENFREIES PARKEN in allen Straßen der Umgebung. 7 Minuten mit Fahrrad und Straßenbahn in Innenstadt, 15 Minuten zu Fuss entlang der Dreisam in die Stadtmitte. Apropos Fahrrad: ich stelle gerne ein - nicht mehr allzu neues- Fahrrad, auf dessen pflegliche Behandlung ich dennoch Wert lege ;-), für meine Gäste zur Verfügung. Geschäfte und Gaststätten direkt um die Ecke; das Flüsschen Dreisam befindet sich in unmittelbarer Nähe. Schöne Spaziermöglichkeiten, z.B. entlang der Dreisam, und direkte Waldnähe. 1 Zimmer (16qm) zu vermieten: Ikea-Schlafcouch Beddinge (Liegefläche 1.40 m breit), mit GUTER Matratze zum Ausziehen. Ein großer Kleiderschrank ist ebenfalls vorhanden sowie ein Schreibtisch am Fenster. Das Zimmer ist geräumig, hell und einladend. Nutzung einer meiner beiden Balkone im Sommer möglich! WLAN-Anschluß; Fernseher im Zimmer mit Satellitenanschluss! Ich bin viel unterwegs, daher keine Angst vor Beengung ;-). Gemeinsame Nutzung von Bad (und evtl. Küche). Mein Kühlschrank ist für euch offen! Kaffee und Tee sowie auch ein kleines Frühstück, das aber (aus Zeitgründen) teilweise selbst zubereitet werden muss, stelle ich gerne bereit. Handtücher und Bettwäsche werden gerne von mir gestellt. Ich freue mich auf viele Anfragen von Euch!
Ich wohne in dem beliebten und zentralen Stadtteil OBERWIEHRE/OBERAU, das unmittelbar an den Uferwegen der Dreisam liegt, aber auch der nahe Sternwald und der Schlossberg (alles ideal für Jogger und Spaziergänger) sind schnell erreichbar, ein größeres Einkaufszentrum ZO liegt direkt gegenüber meiner Straße, Gastronomien sind um die Ecke und viel Grün existiert rundum. Meine Straße ist kurz und ist eine Einbahnstraße, Parkmöglichkeiten sind kostenfrei (!) vorhanden. Straßenbahnlinie 1 in Innenstadt und Richtung Littenweiler direkt am Straßenanfang.
Der Aufenthalt war super! Die Wohnung ist total gemütlich und man fühlt sich sehr willkommen. Daniela war sehr lieb und unkompliziert und ihre Katzen sind total herzig :) Vielen Dank, liebe Daniela!
Livia
2014-12-23T00:00:00Z
Habe mich bei Daniela sehr wohlgefühlt und kann ihr Zimmer uneingeschränkt empfehlen. Sie hat mir sogar ihr altes Fahrrad ausgeliehen, was mir sehr weitergeholfen hat!
Joerg
2013-09-19T00:00:00Z
Daniela was fantastic. Very warm and friendly. She was incredibly patient with my German (thank you, Daniela!). The space was quite large; great desk and comfy bed--even a TV! Highly recommended!
Greg
2013-09-22T00:00:00Z
Man fühlt sich wohl bei Daniela, die eine ganz nette Gastgeberin ist. Auch die Katzen sind sehr lieb. Der Weg zur Stadtmitte (den Fluss entlang) mit dem Fahrrad fand ich sehr schön .
Anne-France
2016-04-29T00:00:00Z
Es war alles mehr als prima :-) Sehr angenehmer Kontakt, kommunikativ, unkompliziert, freundlich, zuvorkommend. Die Organisation (Ankunft, Schlüssel, etc.) waren ebenfalls super. Also, kurzum, alles was man sich als Gast so wünschen kann :-)
Marc
2016-07-09T00:00:00Z
Daniela was wonderful! Her apartment is adorable (and so are her cats). The location is great- right by the train station- and Daniela also lent me a bike, which made getting around Freiburg a breeze!
Kati
2015-08-11T00:00:00Z
Bei Daniela kann man sich nur wohl fühlen (: Ihre Freundlichkeit und ihr gemütliches zu Hause waren für mich sehr besonders und machten meinen Aufenthalt außergewöhnlich schön! Ihr Frühstück ist lecker und gesund und ihre Miezen sind sehr freundlich (;
Corinna
2015-10-21T00:00:00Z
ich habe mich sehr wohl gefühlt bei Daniela. Der Aufenthalt gestaltete sich unkompliziert und freundlich, auch die Lage war für mich perfekt. Danke und von mir aus gerne wieder!
Georg
2015-03-22T00:00:00Z
Typ av rum
Eget rum
---
Typ av boende
Hus
---
Plats för
1
---
Sovrum
Freiburg, Baden-Württemberg, Tyskland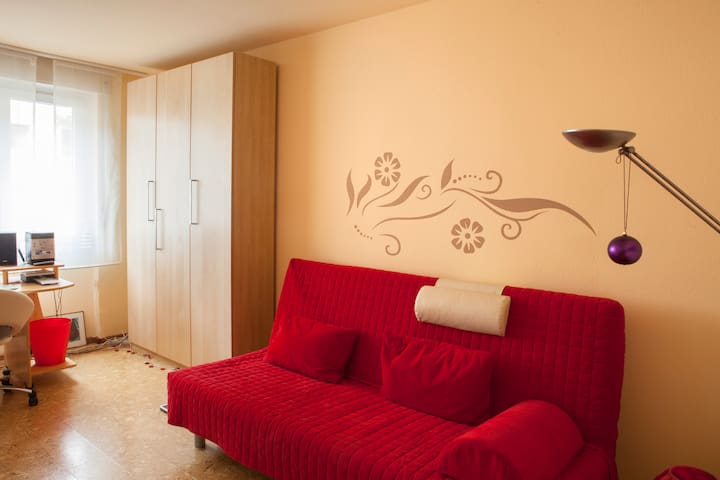 I vemiete a large, bright guest rooms (19sqm). It is located on the 1st floor of a renovated 60's house overlooking the garden and Schoenberg. The house is located in a beautiful, quiet location in the Freiburg-St District. Georgen
I vemiete a large, bright guest rooms (19sqm). It is located on the 1st floor of a renovated 60's house overlooking the garden and Schoenberg. The house is located in a beautiful, quiet location in the Freiburg-St District. Georgen close to Vauban-grounds. The guest room is equipped with a 140 x 200cm double bed, a dresser, a large closet, a large desk, chair and shelf. Altogether there are three rooms on the 1st floor (two rooms and a private) and a bathroom that is shared. Downstairs is my painting studio with offices and a modern kitchen (coffee maker, kettle, stove, refrigerator, toaster, etc. may be used and coffee, tea, spices, oil, etc. There is also). During the day working in the studio spaces and each guest is welcome to look over. About the studio spaces leads to the garden with large terrace. Sheets and towels are available and can be borrowed. There is a collection of information material to Freiburg and its region, as well as a folder with many tips for activities, for going out, shopping, hiking, etc. Books for browsing are abundant. Washer and dryer and drying room in the basement and can be used for 3 euros. Parking in front and around the house there. Wifi is available and may be used when you sign a user agreement. For a rental fee of 3 euros I make bicycles available. all costs (electricity, water, heating, garbage, Wifi are included in the rental. Breakfast and other food are not included (self-sufficiency). Pets There are no in-house. Very important: It is a Non smoking house! A large, bright guest room on the first floor of a renovated 50 year old house with a view of the garden and of Schoenberg. The house is located in a beautiful, quiet part of Freiburg-St. Georgen not far from the Vauban grounds. The room contains a 140x200 cm bed, storage for clothes, a desk and chair. The room is one of three rooms (one private and two guest) Which share a bathroom. On the main floor are the owner's studio and office, and a modern kitchen Including coffee maker, kettle, stove, fridge, toaster, etc. Coffee and tea are provided. During the day guests are welcome to observe the artist at work in the studio. Brochures are available Describing trips, sights, shopping and hiking within the city and its surrounding areas. A washing machine and dryer are in the basement and may be used for 3 euros. Parking is available in the vicinity of the house. Wifi is available and may be Accessed on signing a usage contract. A Bicycle may be rented for 3 euros. Electricity, water, heat, garbage disposal, Wifi are included in the rent. Breakfast and groceries are not included.
Supermarket and restaurants are within walking distance in 20 minutes in the Vauban area. In a few minutes walk to the Schönberg, which invites for walking, jogging, biking, exploring. From Jesuitenschloss you have a wonderful view over Freiburg and the Oberrheinebene. Interesting is also the Vauban area. It is our flagship project with Niedrigenerige- and passive houses, solar settlement, CHP, car-free zones, and more. A supermarket and restaurants are a 20 minute walk. Schoenberg is a few minutes walk. There one can walk, jog, and bike. The Jesuitenschloss offers a magnificent view of Freiburg and Oberheinsdorf level. The Vauban terrain is our proud example of environmentally conscious, energy-saving building and automobile-free living.
Alles vorbereitet, freundlich, ruhig, viel Platz. Trotz weiterbildung die ich in Freiburg machte war der Aufenthalt sehr erholsam!!
Samuel
2016-11-06T00:00:00Z
Es ist eine sehr ruhige, heimelige Unterkunft, alle Angaben haben gestimmt und wir hatten einen schönen Austausch - alles wunderbar !
Brigitte
2016-09-25T00:00:00Z
Ulrike ist eine umgängliche und freundliche Gastgeberin, Zimmer und Wohnung sind sehr gepflegt. Waschen, Trocknen und Bügeln kein Problem. Die Wohngegend ist ruhig, Parkplätze kein Problem. Preis Leistung gehen absolut in Ordnung. Gerne wieder.
Robert
2017-01-16T00:00:00Z
Der Aufenthalt bei Ulrike war äusserst angenehm. Ruhig, geräumig, sauber, schöne Atmosphäre. Ulrike war sehr freundlich und offen im Kontakt. Ich kann die Unterkunft rundum weiterempfehlen und freue mich auf ein nächstes mal.
Marianne
2016-12-04T00:00:00Z
Ulrike war eine sehr nett Gastgeberin, sie hat alles gezeigt und hat auch Tipps gegeben was man alles anschauen kann, und wie man am besten in die Stadt kommt. Das Zimmer war groß und sehr schön eingerichtet. Die Küche durfte ich auch mit benutzen was sehr nett war. Komme gerne wieder.
Dominika
2016-05-26T00:00:00Z
Ein schönes, ruhiges und helles Zimmer in toller Wohnungsathmosphäre. Ulrike hat viel Infomaterial zu Freiburg und Umgebung bereitliegen - auch mit etwas außergewöhnlicheren Tipps. Das konnte ich aus Zeitgründen während meines Aufenthaltes zwar nicht alles lesen - dafür konnte man mit Ulrike prima frühstücken und sich dort zu allem ausgiebig austauschen. Danke und gerne wieder !
Kathrin
2016-01-30T00:00:00Z
Der Aufenthalt bei Ulrike war super. Sie ist sehr freundlich, hilfsbereit, antwortet bei Nachrichten direkt und gibt gute Tipps. Ihre Wohnung ist sehr sauber, sodass man sich sofort wohl fühlt. Alles in allem kann ich die Unterkunft sehr empfehlen.
Maren
2015-12-26T00:00:00Z
Ich bin "Wiederkommerin". Schon zum 2. Mal habe ich bei Ulrike übernachtet, weil ich mich bei ihr und in Ihrem Haus wohlfühle. Angenehme Atmosphäre... hell, ruhig, sauber, freundlich... Gerne wieder!
Marita
2016-11-27T00:00:00Z
Typ av rum
Eget rum
---
Typ av boende
Hus
---
Plats för
1
---
Sovrum
Freiburg im Breisgau, Baden-Württemberg, Tyskland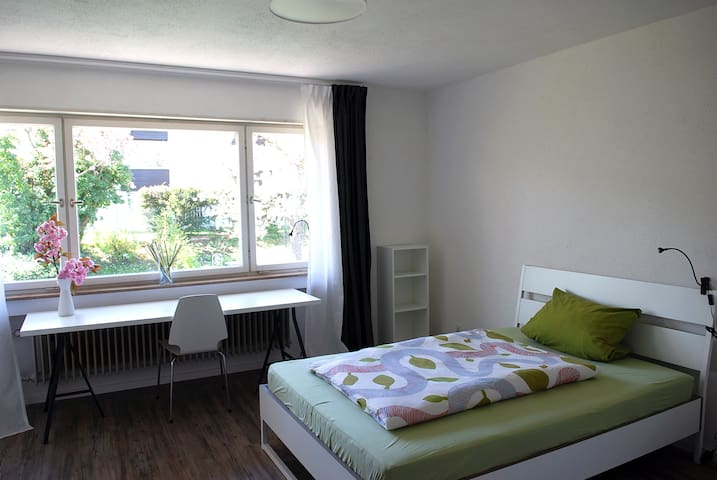 My house is near public transport, the city center, parks and arts and culture. You'll love my guest for light, comfortable bed, kitchen, cozy atmosphere and high ceilings. Pets - cats and dogs-mostly not at home. My accommodation is good for solo adventurer and Business Travellers.
Manuela was very nice and helpful. It felt just like home! The room is big for a single person, a perfectly fit for a couple. The surroundings are nice and quiet, with everything (restaurants, tank station, etc...). Connexion with the city center is very easy through bus (15 minutes) or biking.
Olivier & Estelle
2017-03-31T00:00:00Z
Typ av rum
Eget rum
---
Typ av boende
Hus
---
Plats för
1
---
Sovrum
Freiburg im Breisgau, Baden-Württemberg, Tyskland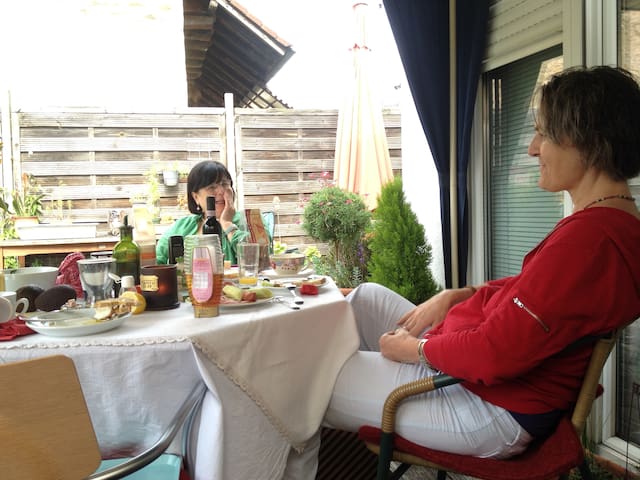 Helles, ruhiges, kleines Zimmer, ca 14 qm, EG mit ausziehbarer Schlafcouch, kleinem Schrank und Schreibtisch, WLAN. Eigenes Bad, Dusche, WC, eigener Sitzplatz im Garten. Cosy little room with own bathroom and own place in the garden for relaxing. Your bed will be a sofa turned into a double bed. Nice walking or jogging at the nearby Schönberg. Yoga can be organised. I am looking forward to meeting nice, respectful and communicative people.
Residential area, quiet and safe
Typ av rum
Eget rum
---
Typ av boende
Hus
---
Plats för
1
---
Sovrum
Freiburg im Breisgau, Baden-Württemberg, Tyskland
Schöne Ferienwohnung im Herzen der Universitätsstadt Freiburg mit der romantischen Altstadt und der berühmten Kathedrale.
Im Stadtteil Freiburg-Wiehre bei der Schwabentorbrücke, 5 Gehminuten entlang der Dreisam zur Altstadt, liegt unsere völlig neu ausgestattete Ferienwohnung. Das Appartement mit kostenloser TG im Haus und Lift liegt im 1. OG und hat 32 qm: ein gemütlich eingerichtetes Wohn-/Schlafzimmer mit Doppelbett 160 x 200 cm und französischem Balkon, Küche mit neuer Küchenzeile und Fenster, Bad mit Dusche und grossem Fenster und kleine Diele mit Fenster.
There was apple juice and water in the fridge ready for you when you arrived. Other people living in the same unit block were helpful and friendly. There was washing facilities. Location was fantastic, you could walk into the city easy. Restaurants, supermarkets, bakeries, speciality shops, coffee shops etc. all within walking distance. Comfortable beds, everything you needed was in the apartment. Lots of space and very clean. A wonderful stay.
Michael
2014-08-07T00:00:00Z
Wir haben alles so vorgefunden, wie beschrieben. Die Kommunikation mit Matthias klappte bestens; und obwohl er nicht selber da war, wurden wir von der Hausmeisterin herzlich empfangen.
Damaris
2016-12-04T00:00:00Z
Le séjour s'est très bien déroulé. L'accueil et la restitution des clés se sont fait simplement. Le logement est conforme au descriptif et la place de parking est bien pratique. La communication avec Matthias était sympathique et efficace. Nous recommandons ce logement.
Guillaume
2017-04-01T00:00:00Z
The host canceled this reservation 14 days before arrival. This is an automated posting.
Micha
2017-03-22T00:00:00Z
Excellent communication by Matthias ,speaks English well. We were late by a couple of hours yet all taken care of. He was not around but care takers & interpreter helped to the fullest. Place close to Altstadt ,within walking distance. I recommend this place.
Amish
2017-03-19T00:00:00Z
Schöne Wohnnung, wir waren sehr zufrieden, gerne wieder. Schöne Gruße. Fam. Karger
Jiri
2016-02-10T00:00:00Z
My boyfriend and I had a lovely stay at this little place right outside city center in Freiburg. Less than a 5 minute walk to the city center, near the Ganter Brewery, and tons of shops and food nearby. Very clean, with a fully loaded kitchen, wifi, and maps/flyers of nearby attractions! I would recommend to someone needing a place to stay in Freiburg, Germany!
Tiffany
2013-12-01T00:00:00Z
Super Unterkunft für unsere paar Tage in Freiburg! Die Wohnung ist genau wie beschrieben und ideal an die Innenstadt angebunden, mit Bahn oder zu Fuß. Auch wer zwischendurch das Auto braucht, weiß eine Tiefgarage in dieser Lage sehr zu schätzen. Die Straßen vor und hinter dem Haus geben ein bisschen Stadtgefühl, was uns jetzt nicht weiter gestört hat. Sahnehäubchen ist die exzellente Betreuung durch das Hausmeisterehepaar in der Nachbarschaft, samt ausgearbeitetem Routenplan für die Heimreise!
Rüdiger
2014-11-10T00:00:00Z
Typ av rum
Eget hus/egen lgh
---
Typ av boende
Hus
---
Plats för
2
---
Sovrum
Freiburg, Baden-Württemberg, Tyskland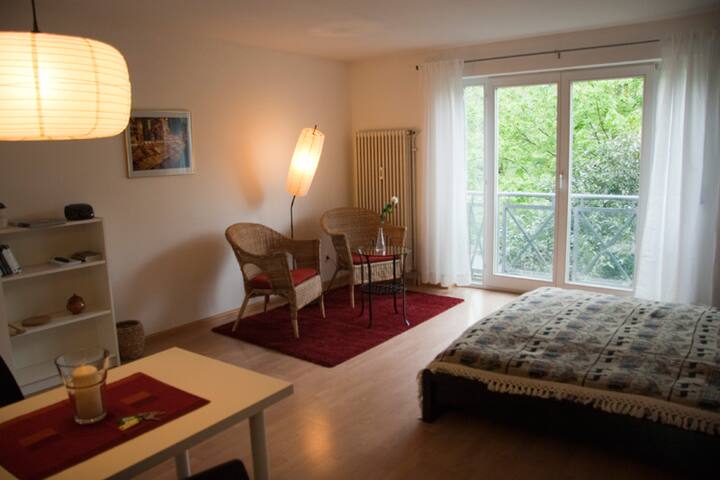 We live in the ecological district of Vauban, a beautiful, very green and quiet residence in Freiburg. The room is located in 2.OG. Opposite is the bathroom with shower and toilet. The accommodation is ideal for solo and business travelers, but also for couples. In 3 MIn. one is on the tram and in 15 minutes with this in downtown and in 17 minutes at the station. Within walking distance you will find shopping, restaurants, pharmacy, ice cream shop and you can quickly be in the open for walking
In the city and yet in the countryside. Rapid recovery with a walk in the forest, at the stream or in the vineyards.
We have a quiet and very friendly neighborhood.
offene, herzliche und völlig unkomplizierte Gastgeber, herzlichen Dank für die gute Zeit
Julia
2016-07-10T00:00:00Z
Sehr sehr sehr sehr nett und hilfreich!
Maxime
2017-02-12T00:00:00Z
Super Verkehrsanbindung, sehr ruhig gelegen, man ist schnell in der Natur. Habe mich zu 100% wohlgefühlt. Ich kann Euch also nur danken und Euch weiterempfehlen :) Alles Liebe
Felix
2017-01-26T00:00:00Z
Petra and Frank were fantastic hosts, very nice and willing to help. House and room are exectly how they look on pictures, very lovely, clean, quiet and relaxing! We enjoyed staying there very much and I would highly recommend it to everyone!
tena
2016-11-27T00:00:00Z
Hat alles super gepasst! Wirklich total nette Gastgeberin mit Petra!
Tim
2016-11-13T00:00:00Z
Удобное расположение. 3 минуты до трамвайной остановки и 15 минут на трамвае до вокзала. Комната просторная и уютная. Очень чисто) Собака очень классная) Впечатление положительное. Отдельная благодарность за кофе! :) Great location (3 mins to tram stop and 15 mins to train station/city center). The room is spacious and cozy, and very clean. Dog is very nice. I enjoyed my staying there. :) Thanks for the coffee!
Julia
2016-12-11T00:00:00Z
I had a wonderful stay at Petra and Frank's. The room was clean and quiet and lovely. Petra was very friendly, nice, and responsive in communicating. Everything was great!
Albert
2016-10-14T00:00:00Z
Die Unterkunft war sehr schön und Petra ist eine sehr angenehme und hilfsbereite Gastgeberin, die uns mit vielen Tipps und hilfreichen Ideen sehr geholfen hat! Wir wurden sehr herzlich empfangen, die Unterkunft ist schön im Grünen gelegen und man ist in gut 10 Minuten mit der Tram in der Altstadt.
Stefan
2016-10-23T00:00:00Z
Typ av rum
Eget rum
---
Typ av boende
Hus
---
Plats för
2
---
Sovrum
Freiburg im Breisgau, Baden-Württemberg, Tyskland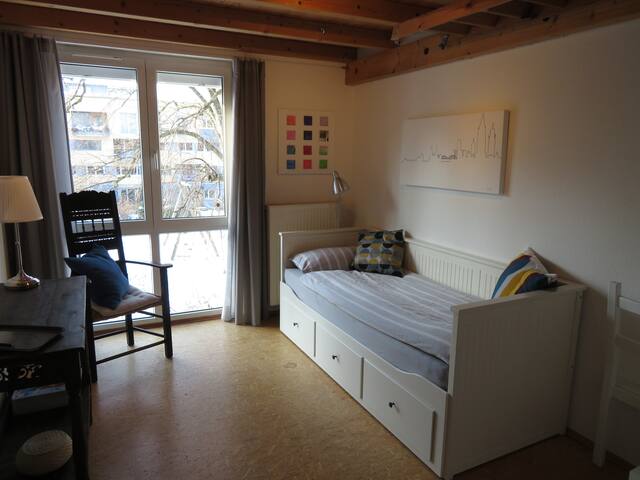 In quiet living area very close to the center of Freiburg. the room is lokatet in the Souterrain, nice athmosphere in summer. (central heating in winter) The entry is seperate with own key and it has owm bathroom. Free car parking included.
Located in Herdern, only 15 minutes walking distance to the center of Freiburg.
Restaurants: Restaurant Eichhalde, Stadtstraße (PHONE NUMBER HIDDEN) Freiburg - Herdern Restaurant Aguila, Sautierstraße (PHONE NUMBER HIDDEN) Freiburg im Breisgau
Wir waren nur zwei Nächte in der Unterkunft, da wir auf unserer Reise nach Italien einem Zwischenstopp in Freiburg machen wollten. Die Unterkunft ist zentral gelegen, zu Fuß sind es nur wenige Minuten bis in die Innenstadt. Die Unterkunft selber ist in einer ruhigen Wohngegend. Bäcker und Supermärkte sind auch in der Nähe.
Anja
2016-06-21T00:00:00Z
Nice friendly people and a clean room. The room is sure worth its value.
Erik
2015-10-03T00:00:00Z
Stefan was a very kind and generous host. He even invited me to have a glass of prosecco on my arrival and lent me a tablet to use for a while. I loved the location in a beautiful old neighborhood about a 15 minute walk from the Muensterplatz. I felt very safe walking back from the city by myself at 10 or 11 o'clock at night. The room and bathroom were spacious and well-functioning. There was even a full-size washer and dryer to use at my convenience, a huge bonus since I was on an extended trip. The rooms are in a basement, with a separate entrance, so I only saw my hosts when necessary. It is a fairly utilitarian space, without a sitting room or garden to relax in, but as I liked to be out and about all day, that was fine for me. Though I missed my morning wake-up coffee, I really enjoyed the Baeckerei on Karlstrasse near the Leopoldring for excellent Kaffee and belegtes Broetchen on my way into town. Freiburg is a wonderful city to visit and I enjoyed my stay very much.
Ann
2015-10-13T00:00:00Z
Preiswerte, saubere Unterkunft in sehr ruhiger Lage mit netten Details und freundlichen Vermietern. Innenstadt ist schnell - auch zu Fuß - zu erreichen.
Sigrid
2016-11-06T00:00:00Z
Stefan fue muy agradable con nosotros enseñándonos el alojamiento a nuestra llegada así como facilitándonos un mapa y sugerencias de Friburgo. Estuvo muy atento para que nuestra estancia fuera genial pero dándonos total intimidad e independencia. Todo el alojamiento estaba muy limpio. El anuncio es tal cuál lo indica y aunque el mobiliario de la habitación es algo antiguo, la cama es increíblemente cómoda!
Alicia
2015-09-04T00:00:00Z
Great host and location would recommend to any guest!
Kirsty&Steve
2015-12-15T00:00:00Z
Our stay here was very enjoyable and I would recommend this to anyone visiting the area. We were made to feel very welcome right from the start of our stay and it was great to have a chance to meet our host and ask more questions about the area. The room and bathroom were very spacious, private, quiet and had everything we needed, just as advertised, and I would consider it great value for money. The flat is perfectly located with great access on foot to some wonderful trails in the black forrest, local parks and the city centre.
Claire
2016-09-03T00:00:00Z
Stefan était très cordial et nous a donné de bons conseils sur la région. Merci encore.
Marie-Hélène
2015-07-25T00:00:00Z
Typ av rum
Eget rum
---
Typ av boende
Hus
---
Plats för
2
---
Sovrum
Freiburg im Breisgau, Baden-Württemberg, Tyskland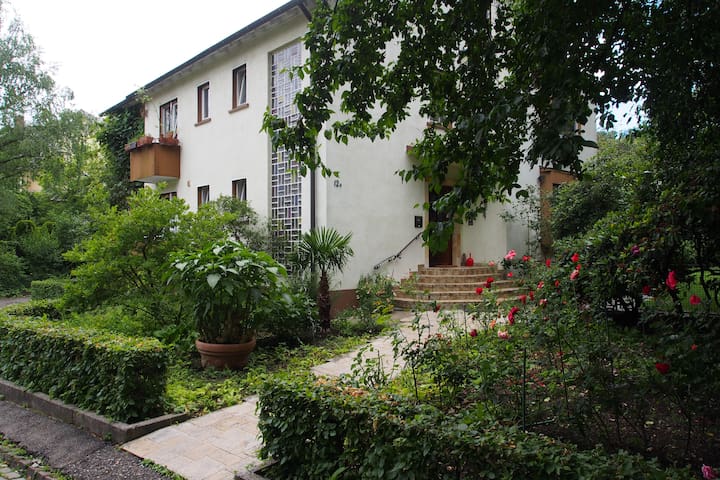 Well à Wiehre - Erhol you in our new, freshly renovated area in the Wiehre - stylish rooms, sometimes simple Japanese, sometimes delightfully French. With modern kitchen, cozy lounge and a relaxing bath with whirlpool. Our lodging is family friendly, very quiet, bright and sunny, and very conveniently located. Walking bakers, butchers, pubs and the city center are easily accessible. The Black Forest begins right outside the front door.
Well à Wiehre - Erhol you in our new, freshly renovated area in the Wiehre - stylish rooms, sometimes simple Japanese, sometimes delightfully French. With modern kitchen, cozy lounge with fireplace and a wellness bath with whirlpool. Feel the deep relaxation of our singing bowls and let touch you from the intuitive power of horses on a walk through the Black Forest. Our lodging is very quiet, bright and sunny, with wonderful view over the rooftops of Wiehre - still located very conveniently and.
The Wiehre invites cozy with a Wiehre market, the Community Cinema, the Sternwald starts right at your door - and for even more wellness is the Spa forest very close.
Gute und zutreffende Beschreibung der Unterkunft. Sehr freundliche und nette Gastgeber. Wir haben uns sehr wohl gefühlt und würden jederzeit wiederkommen.
Heinrich
2016-07-04T00:00:00Z
it was amazing! the place is located very close to the train station... no noise... it's beautiful. better than the pics. clean... almost everything has been thought of. also Sandra is very communicative. had a great time staying here. highly recommended!
Hasan
2016-09-16T00:00:00Z
Sandra's apartment is great! It is very light, clean and comes with a great view of the black forest. I especially loved the Japanese tatami mat in one of the bedrooms. The location is also great and very convenient. It's a pleasant 20 minute walk into the city centre (but there are also trams and buses) and Schauinsland is just 5 minutes away by car. We really enjoyed our stay in Sandra's house and I can only recommend it !!
Annett
2016-06-18T00:00:00Z
Geschmackvolle, ruhige Wohnung. Sehr freundliche und liebenswerte Gastgeberin. Rundum zu empfehlen.
Anne
2016-11-05T00:00:00Z
Sandra hat dafür gesorgt dass wir freundlich empfangen wurden und alles Erforderliche geklärt werden konnte. Die Wohnung ist wunderschön, licht und hell und gepflegt. In der Nachbarschaft gibt es fabelhafte Restaurants. Wir können die Wohnung und die Gastgeberin ohne Einschränkung empfehlen.
Cornelie
2016-10-03T00:00:00Z
Eine wunderschöne Wohnung, geschmackvoll eingerichtet und in einer tollen Umgebung. Wir haben uns sehr willkommen gefühlt und uns sofort zu Hause gefühlt. Wann können wir einziehen?
Alexander
2016-09-25T00:00:00Z
Die Wohnung hat uns extrem gut gefallen: Sauber, neu und geschmackvoll eingerichtet, wir würden sofort einziehen … Sehr freundlicher und pünktlicher Empfang durch unsere "Gastgeberin". Die veröffentlichten Fotos sind Realität, u.a. schöne Wohnküche. Sehr ruhige Wohngegend, kleine Einkaufsmöglichkeiten (Bäckerei, Obst und Gemüse, Metzgerei) in 2 Minuten Entfernung, Altstadt in 12-15 Minuten per Fuß erreichbar.
Michael
2016-05-30T00:00:00Z
Very friendly and caring hosts. Nice spacy and apartment with lots of light and great location. 4th floor and no elevator which is normal for this type of house. Hosts prepared even champagne and chocolates next to the beds. Highly recommended and also we will come back
Heiner
2016-08-23T00:00:00Z
Typ av rum
Eget hus/egen lgh
---
Typ av boende
Hus
---
Plats för
4
---
Sovrum
Freiburg im Breisgau, Baden-Württemberg, Tyskland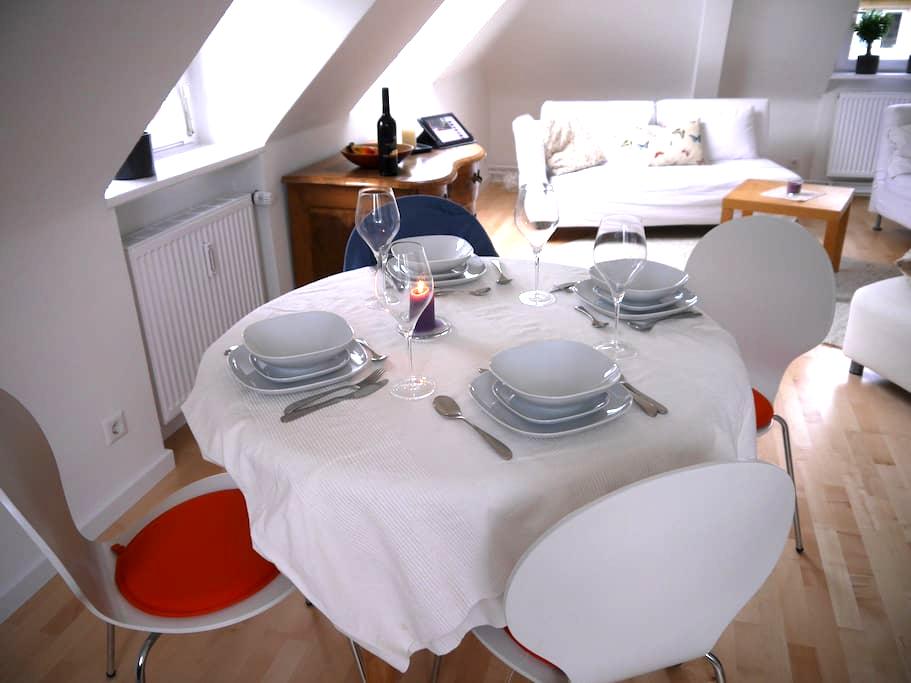 1

–

18

av

152 Uthyrningar av hem
Ange datum för att se full prissättning. Ytterligare avgifter tillkommer. Skatter kan tillkomma.