Flanqué par des terres agricoles et une nature exquise, la maison bénéficie d'une situation rurale sur une route de campagne très calme, avec un accès facile à des commerces dans le village voisin de La Fouillade à 4 km.
. Entièrement restauré à partir d'une ferme en ruine, Le Puech de Canabral a été méticuleusement restaurée à son ancienne gloire comme une maison traditionnelle en pierre de grand caractère et un air résolument cosy. La propriété à un parking privé et des marches en granit mènent directement dans le premier étage où les murs de pierres apparentes et poutres en bois conservent autant de caractéristiques d'origine que possible. Une cheminée en pierre entoure le poêle à bois où le four à pain de la ferme se trouvait autrefois. Divers coins, recoins et la maçonnerie environnante avec des carreaux de sol de couleur marron accentuent l'utilisation judicieuse des matériaux de récupération. A l'étage, le décor est tout aussi attrayant avec des couleurs pastel et un parquet qui complètent le tableau avec les poutres apparentes dans les combles. Ingénieusement sculptés dans la roche deux des trois lits au rez de chaussée dans la chambre triple ont un attrait particulier pour les familles avec de jeunes enfants. La maison se dresse majestueusement sur un affleurement de granit. La terrasse surélevée au bord de la piscine offre encore un autre endroit merveilleux pour admirer les paysages bucoliques que entoure la propriété.
. De nombreux commerces, dont un bureau de poste, boulangerie et un supermarché se trouvent à la Fouillade (4km). Najac (8km), dominé par son château du 13ème siècle, est un lieu enchanteur où les maisons à pans de bois se dispersent dans un réseau de rues étroites. Son marché nocturne (tous les mercredi-soir en juillet et août) avec son ambiance unique et enchanteur attire vacanciers et locaux, qui se mélangent autour des tables sur la place du village!
Nous avons décidé de passer nos vacances cette année dans l'Aveyron et chez Cornelis que nous avons trouvé le bonheur! Aucune mauvaise surprise au regard de l'annonce. La maison est très bien équipée (cuisine, lave vaisselle, WIFI, ....), la piscine est comme sur la photo :-) La localisation de la maison permet de se ressourcer dans un calme total. Pas de voisinage. Aucun danger pour les enfants qui ont pu profiter de la piscine bien sûr mais aussi du terrain, de la table de ping-pong, ... Cornelis a su être disponible sans être intrusif et nous a fait partager sa passion des plantes. Aux alentours, Najac offre pas mal d'activités sur sa base de loisir (accrobranche, canoé, ...). Le marché nocturne du mercredi permet de profiter des mets locaux, je recommande! le village de Cordes sur Ciel est à visiter et le marché de Villefranche est sympa. Pour les amateurs la ferme de J.Carles offre un bon moment authentique et gastronomique chez un Personnage! Bref nous avons passé 2 très bonnes semaines! Le seul bémol: lors de forte chaleur il est difficile de dormir dans les 2 chambres à l'étage. Les chambres au rez de chaussée sont plus fraîches.
Vincent
2016-07-31T00:00:00Z
Nous avons passé une semaine reposante et dépaysante au milieu des campagnes. Le calme restera le maître-mot avec tout le confort nécessaire pour passer une bonne semaine entre amis. Les photos sont conformes et la piscine a été un véritable plus! La région est également très belle à visiter avec quelques marchés très agréables. Nous retiendrons celui de Najac. Cornelis et sa femme nous ont accueilli avec un verre de rosé et une pâtisserie locale. Merci à eux pour leur disponibilité et leurs réponses attentives. Seul petit bémol: par grande chaleur, les chambres à l'étage sont très chaudes. Celles du "sous-sol" sont beaucoup plus fraiches. Y retourner l'année prochaine? Avec grand plaisir! :-)
Julie
2016-08-07T00:00:00Z
Accueil très chaleureux de Cornelis et son épouse. Très jolie maison rénovée avec goût. Endroit très calme et très belle région. A refaire. Merci Cornelis et Muriel
Eric
2016-09-09T00:00:00Z
Typ av rum
Eget hus/egen lgh
---
Typ av boende
Hus
---
Plats för
9
---
Sovrum
Saint-André-de-Najac, Midi-Pyrénées, Frankrike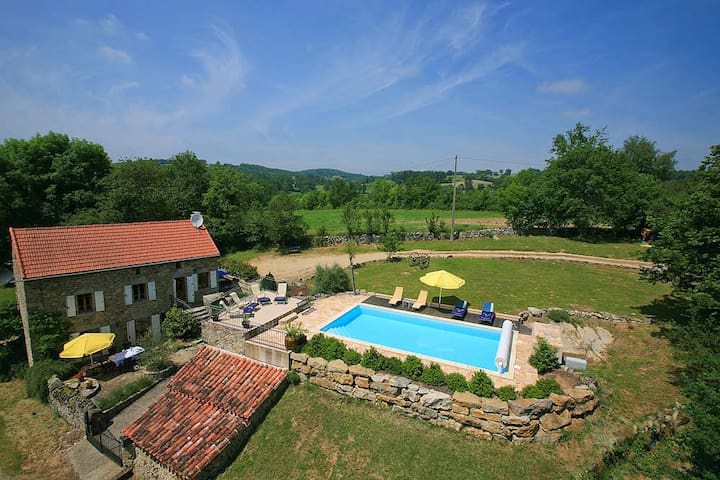 As we come from the city, we love our house in the totally relaxed surroundings in the country side of the Aveyron. Although the house is from the 15th century, it has all the (modern) comfort you need. The spacious house is suited for a family holiday. And of course we can not get enough of the view from the terrace. It's picture perfect!
Luxurious house in Southern France, Aveyron, between Cahors and Toulouse. The house is build in the 15th century and has a fantastic view over the valley with the river Viaur. Totally renovated, stylish and colorful decorated, living with fireplace, 3 bedrooms for max 8 pers., large bathroom with bathtub, shower, large living kitchen fully equipped. Comfortable by the B&O stereo (iPod-ready), B&O TV's, DVD players, washer, dryer, dishwasher, 2 fridges, 1 freezer, bread baking machine. And of course: WIFI. The house has a terrace with a view over the valley and a spacious garden. During the Summer, usually all activities are in the kitchen and outside on the furnished terrace or patio. The house is situated in a typical French hameau (hamlet) Lasbinals which exists out of 3 premises. The house is located at a dead end road, so you can enjoy the quietness of the countryside. You can walk down to the river for a private swim and the surroundings offer bike tours (we have 2 available), walking, canoeing, fishing, climbing etc. The area is famous for it's culinary dishes, like confit de canard, duck liver, sausages, local cheese. Visit the farmers markets in the neighbourhood. On 20 min distance of the Gaillac AOC wine region, where you can do wine tastings and buy wine at the producers (Domaines). At a 10min drive there is the main village where you'll find a good bakery, a supermarket, cheese maker, an ATM, postoffice and other stores. You will need a car for your transportation.
Weekly farmers market in Villefranche-de-Rouergue, birthplace of Toulouse Lautrec in the red city Albi, wine tastings in the Gaillac, Sunday farmers market at St. Antonin-de-Noble-Val, the Castles in medieval cities Najac and Cordes-sur-Ciel, Mountain Bike Tours, canoeing. Go to the local websites to check the agendas for festivals. During the Summer there are so many festivities! cordessurciel villefranchederouergue
This house really has an spectacular View! The surroundings are beautiful. I stayed here with my family and we had an excellent time. The owner, Siang-Lan, provided us with a lot of interesting information about the area (chateaus, supermarkets, swimming locations, markets etc..). In the house books, kitchen equipment etc is available in abundance. The house is clean and has an big kitchen with a long kitchen table were you can comfortably enjoy diner with 10 persons. Siang-Lan was a great host and answered messages always really quick. I really can recommend this place!
Tristan
2012-07-29T00:00:00Z
Well, we loved Siang-Lan's place so much we came back for a whole month. Just as beautiful in the Autumn and we hope to return again one day.
Ruthie
2012-10-19T00:00:00Z
Tha Siang-Lan house is a like a sweet confortable cocoon in a beautiful country, a perfect place to spend relaxing holidays with family and/or friends. Everybody talks about the view, but no picture could explain the sunrise just in the axe of the river. When we arrived the house was very clean, bedrooms so spacious, and the kitchen is fantastic to cook; I have the feeling that the hosts like good food and good wines, like us ! There is a lot of things to do surrounding : sport in the rivers, villages (Najac @15mn), markets... Albi city is at 50min driving, and so beautiful, don't miss the Toulouse Lautrec Museum. Siang Lan was also a perfect host, and so it was a real pleasure to live in her house. We will keep this adress as one of the best we know !!
Léna
2012-08-12T00:00:00Z
We had a lovely week at lasbinals, felt like paradise. The house was very comfortable and had everything we needed. The patio and garden was stunning, with the most amazing view. We brought food and wine from the markets and dined outside every night. The river is about a 10 minute walk down the hill and is very secluded and a perfect swimming spot, we had it to ourselves each time we went. Lasbinals is perfect for a very relaxing and chilled out time with family and friends. But if you want to be more active, there is plenty to do in the surrounding area. We visited a few villages and markets, and spent an afternoon kayaking down the river. Would definately come back and recommend it to family and friends.
Francesca
2012-07-15T00:00:00Z
We had a wonderful time in Lasbinals. The house was great, the view was amazing, the fog in the morning in the valley was wonderful, the river was beautiful. Very well equiped kitchen, good regional ingredients and all the herbs you need in the garden. Nice villages to visit on a short distance. We had a great holiday with our 2 and 4 year old sun!
Sandy
2014-08-24T00:00:00Z
Un petit coin de paradis... C'est la 1e chose qui me vient à l'esprit après cette semaine à Lasbinals. En arrivant, c'est d'abord l'extraordinaire paysage dans lequel on baigne depuis la terrasse qui vous saisit. Ensuite, le charme discret de cette jolie maison aux volets bleus. Quel endroit magnifique ! Nous avons adoré ce lieu magique perdu dans un océan vert, au cœur d'une région que nous ne connaissions pas mais qui nous a complètement séduits. Le confort de la maison était très bon (en particulier la literie). Certains aménagements pourraient sembler rustiques à certains mais pour nous, ça faisait partie du charme de la maison (salle de bain, acoustique). Un autre grand plus : chaque fois qu'on a eu besoin de quelque chose, on l'a trouvé dans la maison qui est donc très bien équipée. Bref, nous avons adoré !
Marilène
2016-08-14T00:00:00Z
La maison est décrite comme luxueuse ce qui n'est pas le cas. C'est une jolie maison rustique mais les photos sont particulièrement flatteuses!! Nous n'avons pas eu de connexion Internet durant toute la durée de notre séjour et personne n'a été capable de régler le problème. Malheureusement nous avions besoin d'Internet pour des raisons professionnelles ce qui nous a sérieusement compliqué la vie. De plus au niveau téléphonique il n'y a quasiment pas de réseau ce qui n'a pas facilité les choses. Il n'est pas précisé dans le descriptif que même si la maison est isolée elle est quand même accolée à une autre maison habitée en permanence. Cela n'a pas été un problème mais mériterait quand même d'être mentionné pour ceux qui recherchent à être vraiment isolés! Dernier point: la literie (matelas et oreillers) est dans un état de propreté des plus douteux avec des taches et sans aucune protection
laure
2014-07-20T00:00:00Z
Siang-Lan's house was lovely, an old farmhouse in a stunning setting, with views from the lounge chairs on the back terrace. The hike down to the river to swim is well worth it, and walks along the country road with our kids. Aveyron has plenty of beautiful old towns to visit within 20-40 minute drives, and summer markets to buy fresh fruit and vegetables that you can grill on the back porch. Previous reviews mention trouble with the internet, but it has been upgraded, so it worked seamlessly for us. The inside of the house is retains the character of the original stone building but is renovated tastefully with plenty of room and a large beautiful kitchen and modern bathroom. One thing to note is that you absolutely need a car -- it is 10-15 minutes drive to the nearest store.
Nick
2015-08-02T00:00:00Z
Typ av rum
Eget hus/egen lgh
---
Typ av boende
Hus
---
Plats för
8
---
Sovrum
Bor-et-Bar, Midi-Pyrénées, Frankrike
Chambre spacieuse,confortable, fraîche l'été, donnant sur terrasse fleurie, au rez de chaussée d'un ancien corps de ferme typique de la région, accès privé. Petit déjeuner bio avec produits faits maison. Accès WIFI. Deux (ou 3) personnes.
Niché entre des pâturages vallonnés et des châtaigneraies ancestrales, bien loin des bruits de la ville, Ginestous, un corps de ferme datant de 1664 a été soigneusement restauré avec le souci de préserver son caractére tout en lui donnant un confort moderne et naturel. Le temps d'un week-end en chambre d'hôte ou d'un séjour dans le gîte écologique, vos hôtes Rick et Lisou vous invitent à laisser votre voiture sur le parking pour aller explorer la nature sauvage de la Vallée du Viaur. Un circuit VTT- FCC labélisé passe devant Ginestous et les sentiers de randonnées y abondent. Envie d'une petite baignade? Plongez dans la rivière Viaur «voie de l'or» comme l'appelaient les Romains. Apportez un pique-nique et vous y passerez une journée bien «au vert». Et pour les plus aventureux, le rocher d'escalade du Gorp vous propose une Via Ferrata sur les berges du Viaur. Quant à vos hôtes, ils se feront un plaisir de vous faire partager (en français ou en anglais) leur joie de vivre dans cet environnement serein et authentique. Juillet et Août 2 nuits minimum.
Un endroit serein, calme, en pleine campagne avec des petits villages parsemés dans les champs environnants. A La Fouillade (8kms) on trouve tous les commerces.
We had a brilliant night at Lisou & Rick's property. Lisou was very welcoming and hospitable with excellent English. The bedroom and bathroom were also excellent and we will definitely be returning and will recommend to friends and family! Merci beaucoup!
Stephen
2015-07-31T00:00:00Z
Typ av rum
Eget rum
---
Typ av boende
Hus
---
Plats för
2
---
Sovrum
Bor-et-Bar, Midi-Pyrénées, Frankrike
Near Villefranche de Rouergue, Najac, Gaillac, Albi, Conques, Rodez, St Antonin Noble Val, Cordes ... Swimming Viaur and Aveyron. Canoe fishing ropes riding mini golf golf climbing via ferrata mountain biking, farmers markets. Independent house 3 stars, 2 to 4 people. Ecological restoration in the countryside not overlooked. Private garden, terrace, parking. kitchen WIFI TV, baby equipment, barbecue, garden furniture. Perfect for couples, families, solo and animals.
Françoise est une hôte agréable, disponible et attentionnée. Elle sait se montrer à l'écoute des besoins de ses visiteurs. Nous avons passé un très bons séjour en famille et recommandons ce gîte dans un cadre reposant.
MAEL
2016-08-20T00:00:00Z
Le gite de Francoise est tres confortable et conforme a la description, il est facile a trouver grace au flechage mis en place depuis le village (a 1 km) et l'accueil est des plus sympathiques. les sites les plus proches sont Najac, Cordes sur Ciel et Sauveterre de Rouergue, il faut avoir un vehicule. Un sejour impeccable en cette arriere saison ou on peut visiter sans le stress et les foules de l'ete.
Jean-Yves
2016-10-23T00:00:00Z
Typ av rum
Eget hus/egen lgh
---
Typ av boende
Hus
---
Plats för
4
---
Sovrum
Lunac, Languedoc-Roussillon Midi-Pyrénées, Frankrike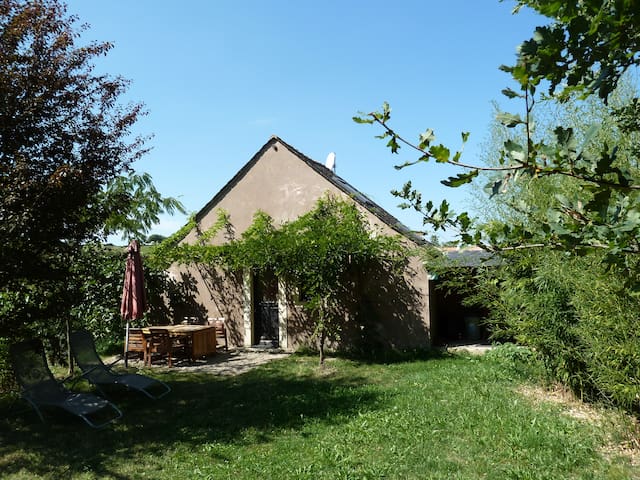 Gite Marguerite is set in the heart of the Aveyron and has recently been renovated to provide a high standard of accommodation and is conveniently situated to explore the cultural and historic delights of this beautiful region. Ideal for families, couples or those simply wanting to get away and relax.
You have private use of the whole cottage, with accommodation all on one level. The comfortable living room has a corner sofa that can convert into a double sofa-bed. There is a TV, with UK and French channels. In front of the large living room window is the dining area with seating for five. The kitchen is fully equipped and includes a dishwasher, washing machine, fridge/freezer, gas hob/oven, micro-wave and coffee machine. There is a new bathroom with underfloor heating and a large shower. The first bedroom has a king-size bed and the second bedroom has twin beds. All bed linen and towels are provided. A travel cot, high chair and baby bath can be provided on request. Outside there is a balcony where you can sit and take in the views of the rolling hills and absorb the natural beauty and tranquility. There is also a large private garden for your use. Car parking is directly outside. It is just a short 5 minute walk into the pretty village of Lunac where you will find an excellent boulangerie for the daily croissants. The nearest supermarket is just 10 minutes drive away for all your other provisions. We are also incredibly lucky to be just a 15 minute drive away from Najac, a village named as a 'Les Plus Beaux Village de France', with its magnificent medieval chateau, restaurants and many tourist events throughout the year. Slightly further, are three stunning towns including the hilltop town of Cordes-sur-Ciel (30 minutes), which was voted Frances favourite town in 2014. It has amazing views, lovely restaurants and artisan shops for browsing. Then there is the picture postcard town of Saint Antonin Noble Val, next to river Aveyron, with a lively Sunday market. It has been the location for a number of films, such as The Hundred Foot Journey. The large town of Villefranche-de-Rouergue (20 minutes), a 'Bastide Royale', hosts the unmissable Thursday market, one of the largest in France, it is bursting with local produce and has a wonderful atmosphere. Should you be looking for some adrenaline fuelled activities during your stay then we can provide details of what is on offer in the local area including horse-riding, mountain biking, rock climbing, kayaking or 'go ape' style tree climbing - a 15 minute drive away. There are also plenty of spots to swim in the river close by, a must do activity on a hot summers day. There are some delightful circular walks from the front door that take in the beauty of this totally unspoilt area. There is also excellent road cycling with the Tour de France passing nearby in 2016. Secure bicycle storage can be provided at the gite on request. Also highly recommended is wine tasting in the nearby vineyard area of Gaillac or there are the delightful local evening food markets, with live music, that make for a truly memorable holiday. Lots of information is provided to help you make the most of your stay at Gite Marguerite. We look forward to welcoming you.
Lunac is a beautiful ancient village originally founded over 2,000 years ago by the Romans and today is home to over 500 permanent residents growing during holiday periods with visitors from all over the world. Its charm is that it remains very much a working village and has a Mairie, bakers, bar and hairdressers. A number of fetes take place within the village and the surrounding area during the year.
Typ av rum
Eget hus/egen lgh
---
Typ av boende
Hus
---
Plats för
5
---
Sovrum
Lunac, Occitanie, Frankrike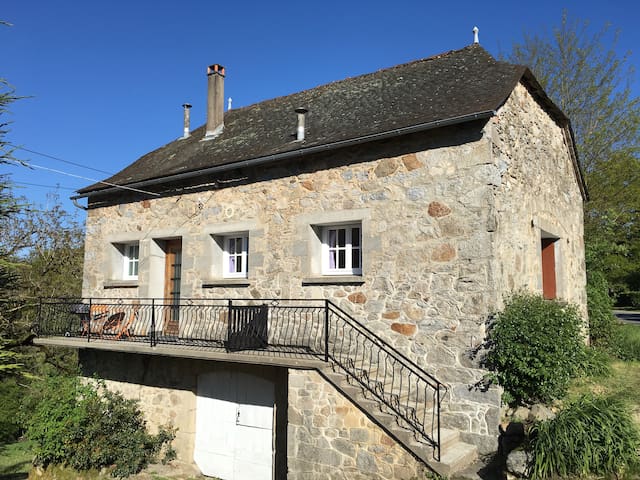 maison typique de pierres et lauzes (construction 1787).Intérieur moderne, lumineux, fonctionnel (entièrement rénovée 2010-2015) sur 3 niveaux.Vue à 360° sur beau paysage vallonné, aucun vis à vis, couchers de soleil dans le grand jardin à couper le souffle. Charme, calme de la maison.
cette maison est située au milieu d'un paysage vallonné époustouflant. le style minimaliste et fonctionnel permet de se détendre dans une ambiance très calme et ensoleillée au printemps et en été.A 9km le très joli village de Najac (classé), son château, son marché.. A 2km le village de Saint André de Najac et son pub anglais très cool pour profiter des soirées estivales.. balades, baignades, culture, gastronomie.. la région a tout pour plaire. accueil sur place pour la remise des clefs Le cadre fantastique une voiture est nécessaire accueil sur place pour la remise des clefs Le cadre fantastique une voiture est nécessaire
Garlatieres est le nom du lieu-dit sur la commune de saint André de Najac. c'est un endroit légèrement en hauteur donnant une vue sur l'ensemble du paysage.
Tiphaine était présente à l'arrivée et nous a très bien présenté sa très charmante maison qui correspond tout à fait à la description présentée. Elle se situe dans une belle région rurale à découvrir. Nous avons déjà loué plusieurs gîtes et celui-ci restera dans le top 5!
Helga
2016-07-26T00:00:00Z
Tiphaine nous a très bien accueillis dans sa maison récemment rénovée. La maison est très agréable, à la campagne avec des commerces à quelques kilomètres. L'été, l'intérieur reste frais et on peut profiter du jardin jusque tard dans la soirée ! Nous avons apprécié de prendre l'apéro dehors en musique.
etienne
2015-08-01T00:00:00Z
The host canceled this reservation 55 days before arrival. This is an automated posting.
marion
2016-12-17T00:00:00Z
Nous avons passé un très agréable séjour en famille chez Tiphaine. Sa maison est très agréable et très calme. La région est magnifique, plein de visites extraordinaires à faire. Nous recommandons cet endroit!
sidonie
2016-08-14T00:00:00Z
Typ av rum
Eget hus/egen lgh
---
Typ av boende
Hus
---
Plats för
4
---
Sovrum
Saint André de Najac, Midi-Pyrénées, Frankrike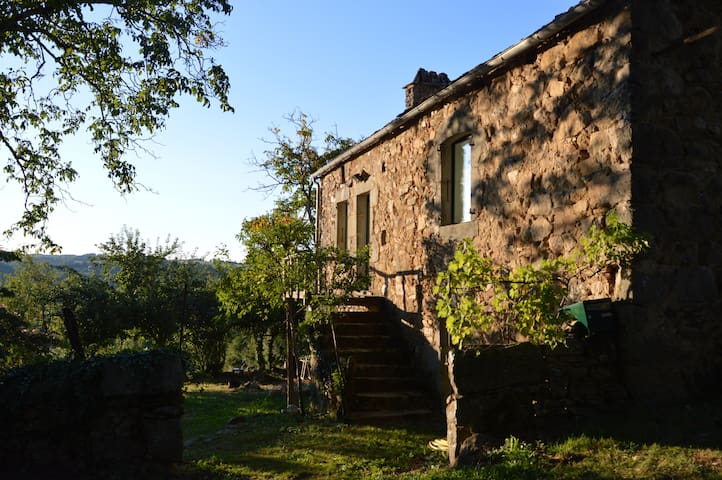 La Peyriere is one of the most beautiful examples of a French farmhouse you could possibly find, located right in the heart of the Aveyron. Situated in the hills near the town of La Fouillade, it provides the perfect escape from everyday life, yet it's within 30 minutes drive of 3 stunning towns, 2 recently voted the most beautiful in the whole of France.
A very typical example of local architecture with a beautiful 'fish scale' slate tile roof. Renovated to a very high standard and impeccably maintained ever since. The sunset over the pool and kitchen is to die for!
Nestled in the hills 5 minutes from Lunac, a village with Boulangarie, and 10 minutes from La Fouillade, which has a major supermarket. We're incredibly lucky to be just 15 minutes away from Najac, a village named as a 'Beaux Village de France'. Slightly further afield we are 30 minutes drive away form 3 stunning towns... Saint Antonin Noble Val, with a stunning Sunday market and voted the most beautiful town in France in 2015. Then to the South East, Cordes sur Ciel, a hilltop town with lovely restaurants and shops, voted the most beautiful town in France a few years earlier! To the North is Villefranche de Rouergue, another stunning town with a cracking Thursday market.
Pur moment de détente! Une jolie petite maison nichée au creux d'un vallon bucolique, parfait pour se ressourcer en famille, faire des ballades, découvrir la région, les villages médiévaux, goûter aux bons produits du terroirs, lire au coin du feu, se reposer dans une literie de qualité et rêver aux nombreuses nouvelles aventures qui nous attendent en 2017. Accueil chaleureux de la part de Pierre et Huguette qui nous ont généreusement inviter à visiter leur élevage d'aubracs et de limousines! Que du bonheur pour nous et les enfants ;) Merci merci merci!
Isabel
2017-01-01T00:00:00Z
Typ av rum
Eget hus/egen lgh
---
Typ av boende
Hus
---
Plats för
8
---
Sovrum
La Fouillade, Languedoc-Roussillon Midi-Pyrénées, Frankrike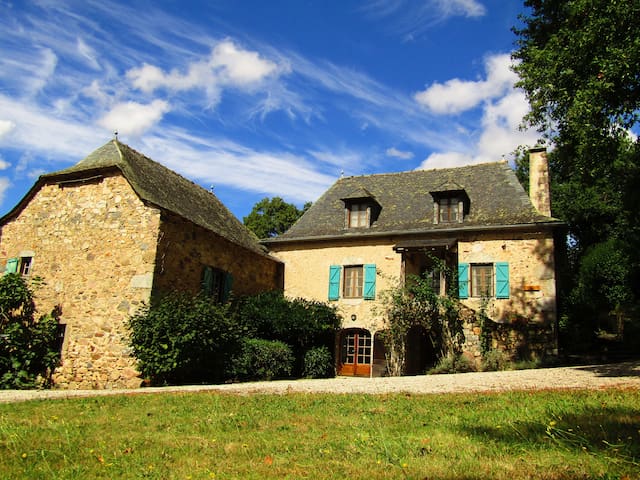 un superbe cadre boisé, 7000m² de nature, des grottes celtiques?, un lieu magique en pleine nature pour vous dépayser, vous ressourcer... terrasse en balcon, cheminée, sauna ...proche rivière, site escalade, pêche, canoë,superbes villages, bastides
Un cadre boisé exceptionnel dans une vallée sauvage de l'Aveyron à la frontière du Tarn et du Tarn et Garonne Vous y apprécierez le silence, la nature encore riche et sauvage (faune, flore) . La maison elle-même est plébiscitée par nos hôte passés, c'est notre maison secondaire, elle est agréable, bien équipée, joliment décorée tout en restant rustique. 7000m2 de terrain en partie boisé !
la maison est à environ 2 km d'un très joli hameau, 3 km du village très typique aussi, et 10km d'un village avec tous les commerces souhaités Balades nombreuses , baignade possible à partir de la maisonà environ 2à-30 mn à pied; autrs lieux de baaignade variés; site d'escalade et via ferrata proches. Superbes villages de caractères dans les environs, par exemple Najac, Belcastel, Cordes-sur-ciel, Sauveterre de rouergue, Penne-du-tarn, etc !
c'est une maison "coconing" où on se sent chez soi, elle est chaleureuse et baignée de soleil, le salon-séjour est très agréable. On se sent seul au monde, c'est idéal pour se reposer, se réconcilier avec la nature. Même à distance Claire est dispo et prévenante. On reviendra.
Sabine
2016-11-01T00:00:00Z
Logement conforme aux photos, tout a été pensé pour le bien être de tous. Sentiment de dépaysement garanti grâce à une nature omniprésente !
Celine
2014-11-01T00:00:00Z
The host canceled this reservation 208 days before arrival. This is an automated posting.
emmanuel
2016-01-19T00:00:00Z
Court séjour très agréable dans la maison de Robin des Bois dont l'environnement est vraiment magique. Réveil au sein d'une jolie clairière, avec une petite brume bien poétique... Claire très réactive et agréable au téléphone, maison bien entretenue. Cependant, pas de WIFI (mais sincèrement, qui a besoin de Wifi en jouant à Robin des Bois ?). Nous reviendrons !
Florence
2014-07-03T00:00:00Z
Magnifique lieu, hôte parfait ! Je conseille clairement le calme de la maison de Robin des Bois.
Bastien
2015-12-06T00:00:00Z
Nous avons très bien été accueillis par Clair, même à distance ! La maison est super, bien qu'un peu froide en hiver... Cette région est très belle. Je vous recommande vivement cet endroit de repos et de balade.
Leïla
2016-02-27T00:00:00Z
Maison correspondant au descriptif : calme, en pleine nature, sauna et cheminée pour se réchauffer après une balade en forêt à côté de la maison et après avoir ramassé des châtaignes... bien équipée. La personne qui nous a accueillis a été très sympathique et compréhensive. Un weekend reposant au coeur de la nature. Superbe!
Amelie
2014-11-11T00:00:00Z
Un vrai petit coin de nature, perdu au milieu des bois . Le calme et la sėrénité y reignent en maître. Le confort est là, le tout dans un cadre rustique . L'accueil est chaleureux et bienveillant. Nous reviendrons . PS : la mise à disposition de quelques outils,nous aurait permis de faire un peu d'entretien du jardin.
cedric
2016-04-23T00:00:00Z
Typ av rum
Eget hus/egen lgh
---
Typ av boende
Hus
---
Plats för
8
---
Sovrum
Bor-et-Bar, Midi-Pyrénées, Frankrike
Gîte indépendant avec jardin et cour fermé. Cuisine équipée, lave-linge, séjour avec un clic-clac, 3 chambres à l'étage, salle d'eau et wc séparés. Garage sous hangar. Animaux non acceptés. Situé au calme, à 4 km de tous commerces.
Gîte indépendant avec grand jardin et cour fermé, situé à 50 m d'une boulangerie bio.
Typ av rum
Eget hus/egen lgh
---
Typ av boende
Hus
---
Plats för
6
---
Sovrum
La Fouillade, Languedoc-Roussillon Midi-Pyrénées, Frankrike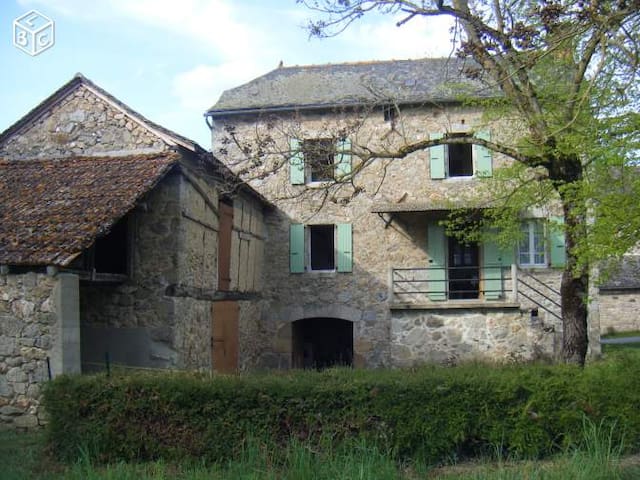 Loft lumineux en duplex, poutres apparentes, spacieux, confortable et accueillant. Cuisine moderne complètement équipée. Terrasse ensoleillée, privative avec vue sur prairies verdoyantes où il fait bon dîner ou lire. Salon avec multiples rangements, WIFI gratuite.
Gîte de charme situé dans un corps de ferme en pleine campagne! Entièrement restauré avec matériaux éco-performants. Niché entre des pâturages vallonnés et des châtaigneraies , loin de la ville, calme et serein à proximité de 9 des plus beaux villages de France.
Nous habitons en pleine nature, dans un cadre vallonné, vert et très fleuri. Il y a plusieurs villages aux alentours où on peut s'approvisionner sans problème. Bor et Bar est une petite commune pittoresque où les sentiers de randonnées et de VTT abondent.
Lisou et Rick sont des personnes chaleureuses et accueillantes. Il sont su, par leur travail et leur goût de l authenticité, faire du gite de Ginestous un petit coin de paradis. Merci à eux.
daniel
2016-08-20T00:00:00Z
Tres bien, logement grand confort, hotes agreables.
Eric
2016-08-14T00:00:00Z
We spent a very relaxed week at Ginestous , which suited our needs perfectly. The house is very comfortable and well eqipped ,and is set in beautiful country surroundings ,but with easy car access to the rest of Aveyron. Lisou and Rick were friendly and charming hosts and were there when we needed them. If you are looking for a peaceful getaway ,this is the place to be.
Michael
2016-09-20T00:00:00Z
Typ av rum
Eget hus/egen lgh
---
Typ av boende
Hus
---
Plats för
2
---
Sovrum
Bor-et-Bar, Midi-Pyrénées, Frankrike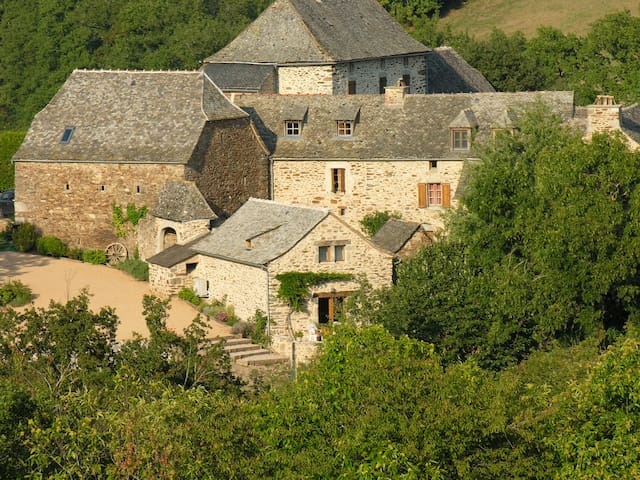 Os Figueiros is the perfect place for a relaxed and rustic gathering. Cosy beds, home grown produce, hammocks a plenty, incredible star-gazing and a river for swimming nearby. Everything you need to enjoy the good life!
Os Figueiros is a lovingly restored bastide farmhouse located in the tiny hamlet of Canezac, in the midi-pyrenees region of South West France. On arrival in our courtyard you are immediately transported into a beautiful, rustic world, far away from modern life. Our rooms are furnished in a country-style with wooden floors, antique furniture, cosy beds and full bookshelves. Step out of your room on to the rose and vine-strewn balcony and look out over our ancient courtyard where you can feast on local and homegrown produce around our farmhouse table, or take a picnic into the gardens. Afterwards have a swing in a hammock under the fig trees.
A walker's paradise, you can access Le Grand Rondonee (the French network of footpaths) just a 15 minute walk from our door, and we are moments from forests, fields and valleys where you can roam free in nature. We are close to the river, with beautiful swimming spots and its grassy banks for cooling off (if you're feeling daring take one of our canoes down with you.) You'll find many attractive villages and towns nearby with traditional markets, restaurants and cafes. The nearest big town to us is Albi; a world heritage site and home to the Toulouse Lautrec museum and the ancient cathedral. We are very happy to help with planning walks, outings and where to eat out when you visit.
We really enjoyed our too-brief stay in David's lovely old house. It is a wonderful building, full of age and character, and the courtyard is just as nice as the pictures show. Yes, it's a little dusty and cobwebby around the edges, but somehow that just adds to its charm. Our room was spacious and comfortable, and we could quite easily have stayed for much longer if work hadn't called us on our way. We asked David about dinner when we booked, and he suggested that we contribute a dish and a bottle or two of wine towards the group meal that was planned for that night. He had a few friends staying, so we all did just that and had a very convivial evening eating and chatting (and drinking wine!) around the big table in the courtyard. Breakfast was a plentiful help yourself deal, as was tea and coffee at any time. There's a huge kitchen that you can use to cook for yourself whenever you like. We found it really hard to drag ourselves away - it's one of those out-of-time kind of places where it is easy to relax. We couldn't connect to the wifi to get connected whilst we were there, but it didn't matter for such a brief stay. If you want somewhere laid back, relaxed and full of character, this is the place to stay - we'd love to re-visit someday.
Sarah
2014-09-20T00:00:00Z
Nous avons passe un fantastique week-end. Le gite a enormement de charme, David auper accueillant et la region magnifique. J'espere qu'on reviendra... Celine
New
2015-07-16T00:00:00Z
Typ av rum
Eget hus/egen lgh
---
Typ av boende
Hus
---
Plats för
16
---
Sovrum
Montirat, Midi-Pyrénées, Frankrike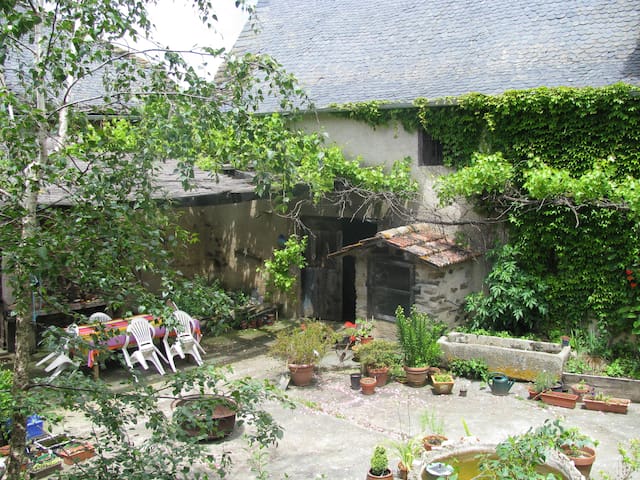 1845 Traditional French Home. Four bedrooms, three bathrooms, large cozy sitting room with huge sofas, wood burner, french doors to raised veranda overlooking the two acre parkland garden. Very large well- equipped kitchen with dining for ten. We take bookings of 2 days in the low season.
Very comfy house with four large bedrooms. One huge bedrom which can accommodate five children and still has space to play. Very well equipped kitchen with plenty of pots, pans, plates mugs etc for ten guests. Great gym and two acre parkland garden with play area
The Aveyron is a beautiful unspoilt area of France. There are lots of historic villages within easy reach. Gaillac and Marcillac offer vineyards. The Millau Viaduct is a great day out. There are Caves and lots of outdoor activities. Star gazing is fantastic as the nights are very dark.
Typ av rum
Eget hus/egen lgh
---
Typ av boende
Hus
---
Plats för
10
---
Sovrum
La Fouillade, Midi-Pyrénées, Frankrike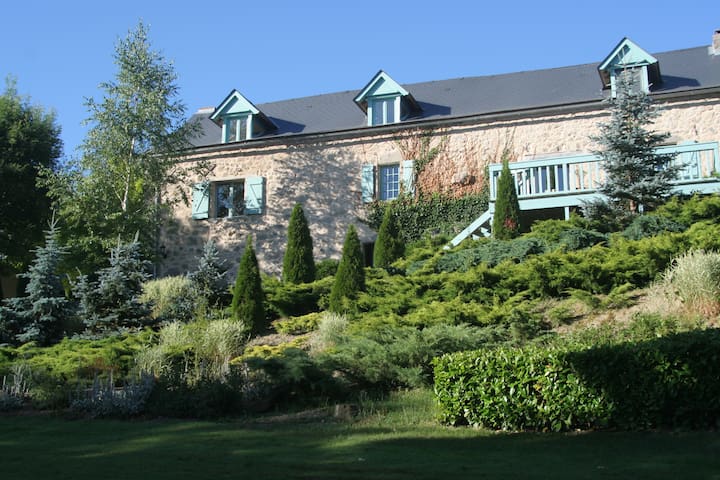 Charmante maison de pierre au cœur de la vallée paisible du Viaur, bien située pour découvrir le patrimoine historique de la région, une nature encore préservée, le terroir et la gastronomie... Un accueil chaleureux vous guidera pour votre séjour.
Disponibilité : Weekend possible seulement aux mois d'avril mai juin septembre octobre novembre En haute saison (juillet août) une semaine minimum En hivers une semaine minimum (cause chauffage) Confort : Logement 3 épis gîtes de France Espace extérieur de 2000 m² non clos Option ménage et draps sur demande Equipement bébé Transat barbecue parasol Garage Commerces à 8km Activités : Baignade non surveillée à 50m Randonnée au départ de la maison Marchés de producteur Site d'escalade et Via ferrata à 1km Canoë, équitation, VTT... dans les environs A visiter à proximité : Najac, Villefranche de Rouergue, Albi, Cordes sur Ciel, Saint Antonin Noble Val...
Typ av rum
Eget hus/egen lgh
---
Typ av boende
Hus
---
Plats för
5
---
Sovrum
Bor-et-Bar, Frankrike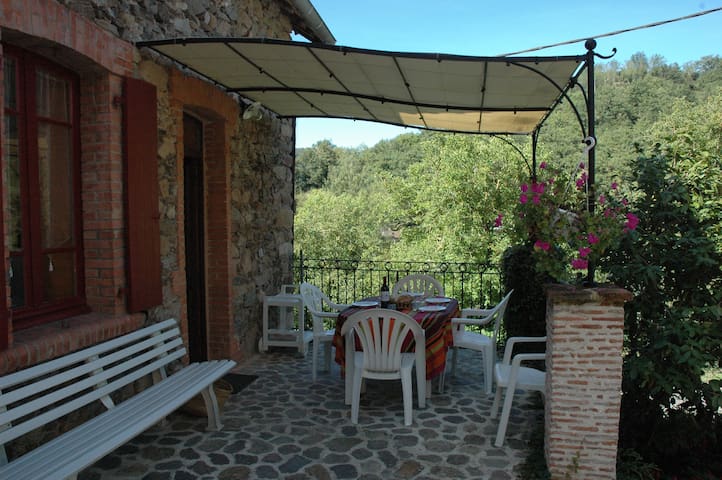 We have renovated this traditional stone house to offer you exceptional style, peace and comfort for your holiday in this magical part of southern France. Our huge peaceful garden has three terraces with magnificent views high over the Viaur valley. The kitchen has exposed stone walls and oak beams as well as all modern appliances. and three large double bedrooms all have private en-suite bathrooms and comfortable beds with luxury mattress toppers. A wood-burner makes for cosy evenings on sofa.
The house is at the edge of a lovely, friendly village, with several cafes and a dangerously good boulangerie. The beautiful historic village of Najac is only a few minutes away, and the medieval masterpiece of Cordes Sur Ciel is a short, scenic drive. The countryside around us is stunningly beautiful, with richly-wooded slopes, dramatic river gorges and wild swimming in the Viaur river in summer. We love to guide people to the hidden places and suggest which of our many local medieval villages to visit.
We are surrounded by fascinating historical sites - from the medieval masterpieces of Najac and Cordes sur Ciel, Figeac and Conques, St Cirque Lapopie and Albi to the 25,000 year-old cave paintings of Pech Merle.
Typ av rum
Eget hus/egen lgh
---
Typ av boende
Hus
---
Plats för
6
---
Sovrum
La Fouillade, Occitanie, Frankrike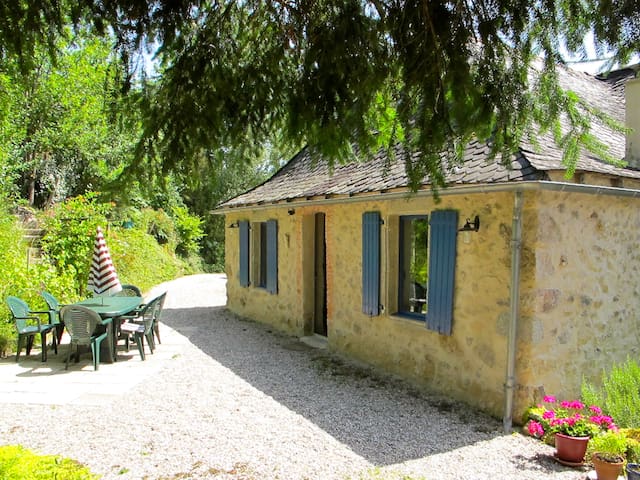 Stéphanie and Lionel welcome you to this renovated cottage surrounded by fields of sunflowers and hills of Segala Tarn. We decorate and develop thinking about your well being and comfort to spend pleasant moments with family and friends around the pool, a barbecue, a game of petanque or a festive meal on large terrace. side visit Albi, Cordes, Najac etc .. sporting side there's something for everyone So we expect you !!!
exclusive access to the heated pool (from 01/04 to 01/11 depending on weather) and lake for fishing from 01/04 to 15/07
Typ av rum
Eget hus/egen lgh
---
Typ av boende
Hus
---
Plats för
13
---
Sovrum
Montirat, Midi-Pyrénées, Frankrike
A step away from Najac and Albi, the farmhouse has all the modern amenities for 8 persons. Large spacious rooms, ideal for 2 families or for a family with kids. Very quiet and comfortable. A marvelous retreat, with terrace and pool on the sunny side.
Typ av rum
Eget hus/egen lgh
---
Typ av boende
Hus
---
Plats för
8
---
Sovrum
Lunac, Midi-Pyrénées, Frankrike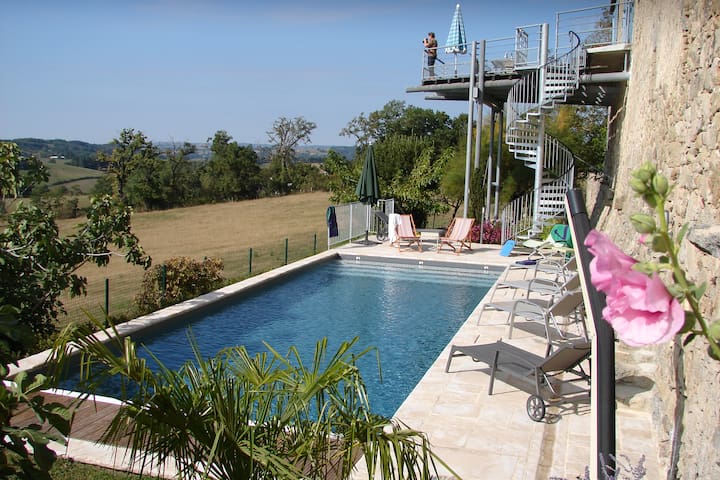 La Jouanade Chalet is a one-bedroom luxury boutique hideaway situated in the grounds of a 200 year old stone farmhouse called La Jouanade. The property is set amongst beautiful countryside with unspoilt 360 degree views. The bedroom leads directly onto a secluded raised 'treehouse' style deck, with a kitchen and lounge downstairs. Guests have access to a large saltwater swimming pool as well as the grounds of the main house. Ideal for couples, however a cot and high-chair is also available.
Upstairs double bedroom with ensuite shower room, shabby chic bedroom leads on to a raised 'treehouse' style decking area. Stylish shower room includes large walk in shower and bespoke upcycled sewing machine sink. Raised decking area with sail-sunshade, table and chairs, BBQ, romantic lighting - ideal for sunset drinks and bbq dining. Downstairs openplan kitchen/lounge. Well appointed kitchen with: sink, electric cooker and hob, washing machine, fridge/freezer and wine fridge. Lounge area has UK freesat on a 36 inch TV, DVD player with selection of DVDs, 2 seater sofa and footstool, small dining table, free Wifi internet, Hifi with MP3 player attachments, Wii games console, selection of books. Outdoor games such as giant jenga and croquet available on request, plus 2 mountain bikes.
La Jouanade is located in the north of the Tarn region, about 1hr30 mins drive from Toulouse airport. The region is well known for its unspoilt and stunning landscape with wooded valleys and rivers. The area is ideal for cyclists and walkers. There are plenty of beautiful bastide towns and charming fortified villages nearby such as Najac, Cordes sur ciel, St Antonin Noble Val, all a short drive away. For wine lovers the Gaillac wine region is about 30 mins away, where you can stop at the numerous vineyards and taste their delicious wines.
Typ av rum
Eget hus/egen lgh
---
Typ av boende
Hus
---
Plats för
2
---
Sovrum
Montirat, Occitanie, Frankrike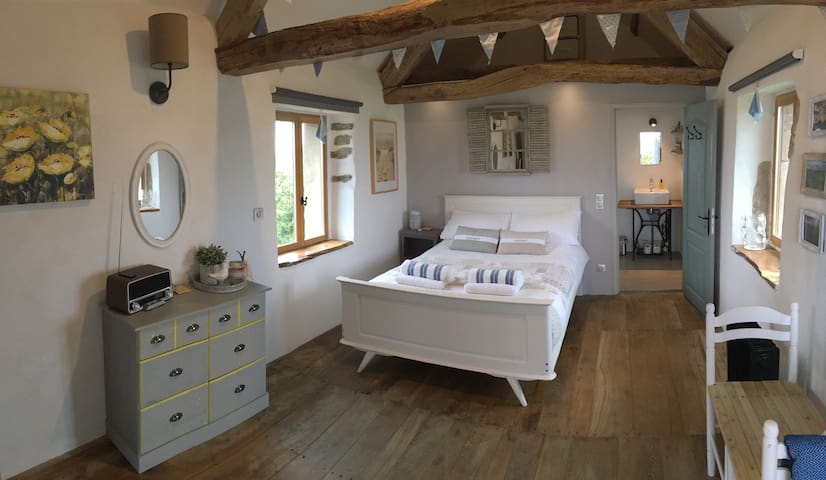 My accommodation is close to Najac, 3 km from the village. It is a wing of the buildings surrounding the courtyard of an old farm. An entrance of the house overlooks the courtyard. On the other side, the windows face an unfenced park. On a surface of 150m2 of living space, the house has been totally renovated and classified 3 ears "Gîtes de France".
Typ av rum
Eget hus/egen lgh
---
Typ av boende
Hus
---
Plats för
8
---
Sovrum
Najac, Occitanie, Frankrike
1

–

18

av

61 Uthyrningar av hem
Ange datum för att se full prissättning. Ytterligare avgifter tillkommer. Skatter kan tillkomma.