This is a large home on the Delaware river. The home has 4 bedrooms but could convert two other rooms as bedrooms. A large riverview porch and back patio for relaxing. Historic Bristol Borough is located 20 miles north of Philadelphia. You could rent one room or the entire house. Price listed is per room/night
The location is great for the Papal visit. There is a RC Church 2 blocks from the house. SEPTA Train passes are included in the price and the train station is a 5 minute ride away. Visits to other areas: Jersey Shore, New York and Washington DC are all day trips.
Bristol Borough is a small historic town founded in 1681. The home is on a tree lined street along the Delaware river. Bristol is a beautiful walking town with restaurants, shopping, library, church and parks within a leisurely walk or short drive away. Street parking is abundant.
Typ av rum
Eget hus/egen lgh
---
Typ av boende
Hus
---
Plats för
10
---
Sovrum
Bristol, Pennsylvania, USA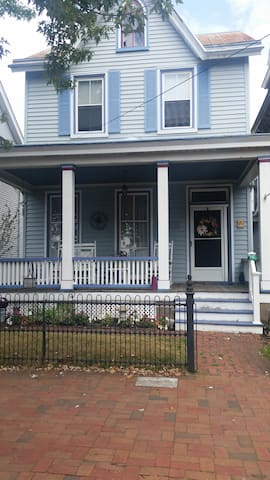 No it's not too good to be true, this listing is brand new and just for you! Great value in this home, don't miss out on this impressive space! Excellent bang for your buck 2700 sq ft! Beautiful single level of this house with a lovely open yard space. Way better than staying in a hotel, super family friendly. 3 bedrooms plus a fourth room used as an office/storage space. Two original bathrooms with great character. Great dining room and living room plus an eat in kitchen.
You get everything you see in the pictures! The entire level of this house is yours with your own private front door entrance! Additional space in the the HUGE basement that has a bar, fireplace and rec space for a lot of family fun! Free on street parking. Theres a lot of space here and the location is very private so its good for business or fun. Many local restaurants, bars and wineries. Central to all big cities in the area. self check in available.
Awesome historic area central to all the big cities. Close to a lot of things to do but easy commute to more populated areas! Private dead end street with very little traffic. There are restaurants and bars all over! Just search on your phone and you'll find plenty of things to do and see in the nearby areas. Wineries, go carts, shopping, jump houses and clubs are littered down route 130. Space is abundant in this home. Plenty of room for family and or business inside and outside the home. The house is on a residential block and the dead end street leading up to it has a couple of small businesses on it; a family owned car repair shop and a small packaging company. Completely unnoticeable when on the property.
Typ av rum
Eget rum
---
Typ av boende
Hus
---
Plats för
8
---
Sovrum
Burlington, New Jersey, USA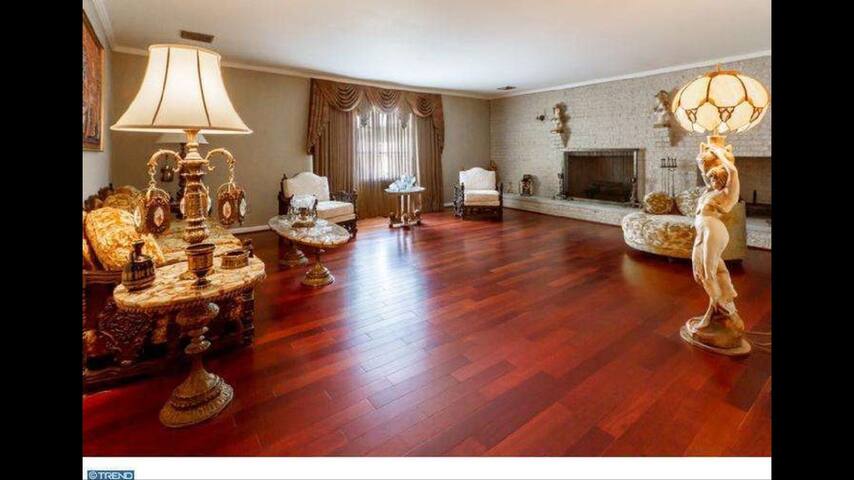 Offers an absolutely amazing view of the River. If you desire tranquility, peace & serenity -away from the hustle and bustle of the city... You've found it. Not suitable for pets, sorry . Events may be allowed per *3 day notification & contract signing, while staying at Riverbank Estate. * Other~ Pre-planned Events with notable contract. Smoking allowed **Outdoors Only** Come celebrate your Intimate Affairs: Wedding Engagement Announcement, Wedding proposals, Small Wedding Party, Pregnancy Announcement, 'Gender Reveal' Event, Baby Shower, Sweet Sixteen "On The River", Catching up with college buddies ?.. Surprise them with a stay at Riverbank Estate. Just 30 minutes from Philly.
Beautiful Spacious Common areas: double living room with two fireplaces. Spacious dining room. Wrap around porch overlooking the Delaware River. Beautiful, Quiet and Serene... Also available for intimate affairs.
I LOVE that my neighborhood is quiet and serene. Perfect for anyone who just need to relax or escape for a while.
Typ av rum
Eget hus/egen lgh
---
Typ av boende
Hus
---
Plats för
4
---
Sovrum
Beverly, New Jersey, USA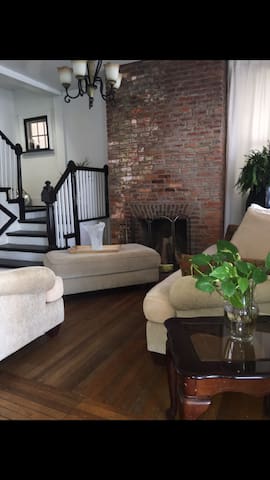 Spend the night in my extremely clean apartment my wife and I provide you with our living room and the kitchen. NO BED, just a hypoallergenic comfy leather couch for you to sleep on, (new)bedding provided.
Comfy leather couch in a very clean apartment. Enjoy our scrupulously clean new black leather couch. It is firm (not too firm)and sits in front of A 60 inch plasma screen television. You have Wi-Fi and great security, if you don't mind staying on the couch you can save some money and be left alone.
20 minutes from Philadelphia, five minutes from I-95, various 24 hour amenities (Walmart, Wawa and Walgreens) within 2 miles.
Typ av rum
Delat rum
---
Typ av boende
Lägenhet
---
Plats för
1
---
Sovrum
Bristol, Pennsylvania, USA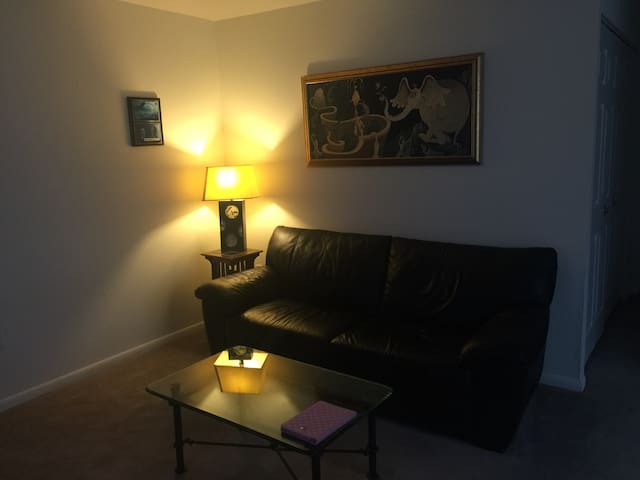 This is a yard at the top of a hill, in historical Newportville, Bucks County. There is no bathroom or shower; no shelter, platform, or tent provided. A true primitive campsite, adjacent to the Neshaminy creek. Pull up, and park right at your site.
A beautiful flat grassy clearing, surrounded by trees, at the top of hill. Opportunities to view wildlife are abundant, most nights you can listen to crickets and owls till you pass out. Peace and quiet, and solitude are available just 10 mins outside of Philadelphia city limits. Directly across from Neshaminy Creek, we provide no creek access, but are a 3 minute walk from a local fishing spot with large boulders for sun bathing.
Is very quiet, except the fire house when there is a fire. Very close (walking distance) to two different bar/restaurants.
The property struck me as a serene retreat apart from the world and its travels, perfect for revitalizing and refreshing into the next day or for longer. The hosts were friendly and attentive to my needs, and had really extended themselves to secure my feeling of welcome, and were also respectful of the peace that I had sought in solitude with the nature there, as well as having offered many local options for exploring the area further...Thanks Juliana...!
Eric Jon
2017-03-07T00:00:00Z
This campsite was exactly what I needed for the night and Juliana and her boyfriend, Tony were more than helpful and friendly. The area is gorgeous and worth exploring if you have time!
Brad
2016-08-18T00:00:00Z
It is an open grassy space for a tent. Exactly what we needed for an economical place to spend the night.
Ryan
2016-09-02T00:00:00Z
What a great property and a great host. Highly recommended and would definitely return.
brackin
2016-07-04T00:00:00Z
Even tho we cancelled our trip last min Julie was understanding and look forward to working with her soon.
Jason
2016-09-05T00:00:00Z
Juliana and her father were very nice and friendly. The camping space provided was attractive and peaceful. We had a great time, thank you Juliana!
Shane
2016-11-02T00:00:00Z
Juliana and her man Robert are some of the most hospitable hosts we have met in our cross country road trip. Juliana contacted me right away after I booked it. She met up with us when we got to the place and made sure we have everything we needed.
Emma
2016-09-18T00:00:00Z
Typ av rum
Eget hus/egen lgh
---
Typ av boende
Annat
---
Plats för
6
---
Sovrum
Levittown, Pennsylvania, USA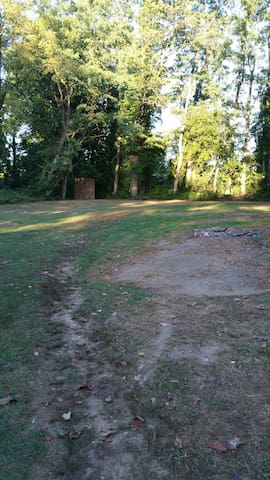 Enjoy living in a beautiful apartment home in a terrific location The property is located right off of 295 in Burlington Township. It is also just minutes away from the NJ Turnpike Exit 5. Owner pays heat, water, sewage, and trash.
Typ av rum
Eget hus/egen lgh
---
Typ av boende
Lägenhet
---
Plats för
1
---
Sovrum
Burlington, New Jersey, USA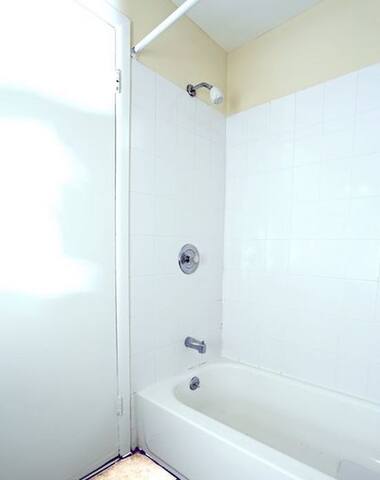 My home is located 20 minutes from center city Phila. and 2 miles from the local train station. You will have a private room in my 4 bedrooms 2 full bath house in quiet safe neighborhood. Close to Neshaminy Valley Mall, Restaurants and Parx Casino . **Street Parking**Free Wi-FI*
Quiet safe area with access to Philadelphia
Safe clean and great for walking
Jason was a personable and considerate host. He was very accommodating, always asking if there was anything I needed. During a spell of hot weather, he moved a window air conditioner from his bedroom to the room I was in. He had it going in 5 minutes. The room is exactly as you see it, with a private bathroom down a short hall. Just be aware that the house is undergoing remodeling on the main floor, so keep that in your expectations. I would go back here the next time I am in the area [in fact, I did, after a brief jaunt into upstate NY]
Ron
2014-05-24T00:00:00Z
My film crew and I utilized Jason's house as the main location for our movie and I must say that Jason was such an accommodating and understanding host. There are many things that film crews can bring: noise, large groups of people, equipment, clutter...etc! Jason was very patient with our team and kind to everyone. The house is clean and comfy and the neighborhood is quiet. A great place to stay!
Grace
2014-06-09T00:00:00Z
The private room in a classic post-war house was just enough space for me and Jason was very easy-going.
Mike
2014-03-04T00:00:00Z
Jason's place is easy to find in a nice location. It was exactly what I needed. A place to rest after a couple long days of work. Good sized room and bed and clean bathroom Jason was very nice and great overall communication.
Kurt
2017-04-09T00:00:00Z
1.Jason was a pleasure to chat with when I arrived. I only met him the once during my four night stay. 2.The listing indicates "My home is located 20 minutes from center city Phila. and 2 miles from the local train station." The transit station to Philadelphia (SEPTA) was 5 miles away. City Center, Philadelphia is 40 minutes away. 3.The listing indicated "House Rules: no smoking, pets and no shoes. Quiet time from 10pm to 7am" The host wore shoes in the house and said it was fine if I did too. The house and neighborhood was quiet at night. 4.The room was dark and not very cheery, even with the ceiling light on. Jason supplied me with a small reading light. The floor lamp shown in the photo was not in the room. 5.There was nowhere to place a suitcase other than floor. The 3-draw cabinet shown in the photo was not in the room. 6.There was not a lock on the bedroom door. 7.Carpet had not been vacuumed and the bed sheets were old and 'tired'.
Guy
2014-11-05T00:00:00Z
Jason was a great host, he was very friendly and made sure I had a comfortable stay. He would always ask me if I needed anything. It was very easy to reach out to him and he responded quickly. The place was good, I had my private space and I had a vey comfortable stay. I recommend staying at Jason's place.
Bhuva
2016-06-26T00:00:00Z
I stayed at Jason's place for the month of July. Jason was an amazing host. A very affable guy, he made sure that my stay was comfortable. He was also more than willing to help with the groceries.The room was neat and furnished well with a tv (with cable connection) and an AC which was very useful given the extreme humidity during the summer. The house is in an idyllic town of PA and it made for a welcome stay. There are gym, restaurants and cheap grocery stores at walking distance. Would definitely recommend this place to anyone who's considering for a temporary stay in PA.
Rahul
2016-08-01T00:00:00Z
The host canceled this reservation 12 days before arrival. This is an automated posting.
Jeff
2016-09-27T00:00:00Z
Typ av rum
Eget rum
---
Typ av boende
Hus
---
Plats för
1
---
Sovrum
Levittown, Pennsylvania, USA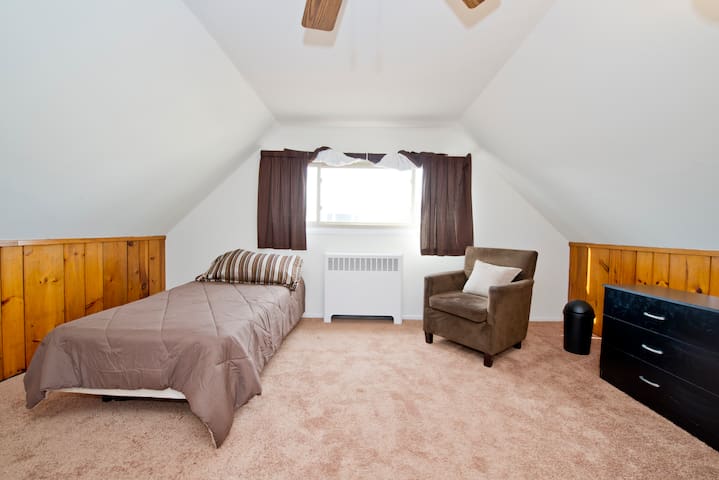 My house might be described as shabby chic. It is comfortable and welcoming. The only thing I do NOT have is a television. But I have hundreds of books for your entertainment, WiFi, and Netflix. There is plenty of street parking. Dogs are welcome as long as they are house trained. And I am a yoga instructor so free yoga for all!
This is a 2-story home with the bedrooms and bathroom on the second floor. There is always room in the refrigerator and freezer for your food. All kitchen appliances can be used by guests.
Burlington City has historic charm and a small town feel. You can walk anywhere, but the big attraction is the riverfront. People use the river for fishing, boating, walking, running, sports, picnicking, etc. There are casual dining restaurants on High Street (3 blocks away), a fine dining restaurant, a microbrewery, and some shops. There's always something happening in the area as well!
Typ av rum
Eget rum
---
Typ av boende
Hus
---
Plats för
2
---
Sovrum
Burlington, New Jersey, USA
Our cozy 2 bedroom town home is located in the beautiful historic district of Burlington, NJ, less than 18 miles to center city Philadelphia and about an hour to New York City. A short two block walk along shady tree lined sidewalks gets you to the light rail "River Line" that whisks you to the high speed PATCO rail line directly to center city Philadelphia or north to NJ Transit trains with service to New York City! We welcome flexible check-ins and check-outs!
This town home is on a shady tree lined, brick sidewalk street one half a block from the Delaware river. The neighborhood is definitely historic, Benjamin Franklin once had a printing press at the end of our street! The home has stained trim, hard wood floors and the original hand-sawn beams in the kitchen. The smaller bedroom with queen bed is on the second floor, and the whole top third floor is a bedroom with a king size bed. The bathroom (full one) is on the second floor and has a shower and a claw foot tub for soaking. The kitchen is fully equipped with: gas stove, dishwasher, referigerator, microwave, coffee maker and full utensils as well as dishes and silverware.
The City of Burlington, New Jersey is a treasure trove of American history, where William Penn's Quakers founded West Jersey in 1677. Our historic district runs along the Delaware river where our extensive promenade runs from Curtin's Marina all the way to Burlington-Bristol bridge. Come see the Revell House, Isaac Collins house, the oldest library in New Jersey, and the General Ulysses S. Grant House.
Dear Martin and Angelica, thank you very much for everything. We had to great time in Burlington. Everything was clean and comfortable. It was easy to travel to Philadelphia by train and we had great burgers at Geraghty's Pub....
Birgit
2016-10-12T00:00:00Z
This was one of the best Airbnb stays we've ever had! Great location. Great house. The pictures and description are accurate and the house had everything you could possibly need. I really can't think of a single negative thing to say! Not even nit-picking. Staying at a hotel instead of this place would be insane!
Corey
2016-10-31T00:00:00Z
Charming neighborhood located near the water. Our kids were able to walk to the park! The house was wonderful- just perfect for us! We loved it and would recommend it to others! Could not have been happier with our stay. Marty was so kind and great at communicating arrangements.
Stacy
2015-10-11T00:00:00Z
This corner townhouse was the best AirBNB location I have experienced across the US. This literally felt like staying with friends. The entire home was fully stocked -- no need for the usual drugstore run for toothpaste, soap, or paper products. The fridge included lots of goodies not usually available with AirBNB. The towels were not the typical hotel throwaway fare. And the home had a very welcoming feel, with great beds and temperature control for every bedroom. Proximity to the river and the quaint town of Burlington were extra pluses. The host was very attentive and easy to work with. This home has my highest recommendation. Thanks!
Tim
2015-12-20T00:00:00Z
Martin and Angelica's home was amazing to say the least ! We felt at home once we walked in. Everything from the kitchen to the bedrooms to the laundry were all fabulous. Their backyard is an adorable slice of paradise. Martin was responsive to any and all questions during our entire stay. I would highly recommend the place and plan to visit again!
Dee
2016-09-05T00:00:00Z
I stayed at Martin and Angelica's beautiful place for 2 months during a relocation and found the house to be clean, safe and cozy with every amenity needed to make it a real home away from home. The location is fantastic; walking distance from shops, pubs and restaurants in historic Burlington and one block from the riverfront. It's also just a hop away from the NJ and PA turnpikes, and Interstates 95 and 295, making it quick and easy to get into center city Philadelphia, all the Philly suburbs in PA and NJ, Trenton, the Poconos and much more. Martin was very responsive and accommodating of my changing needs in terms of length of stay. I would highly recommend Martin and Angelica's place and would stay here again myself in a heartbeat.
Susan
2017-03-07T00:00:00Z
Martin and Angelica's home was immaculate. The beds were comfortable, and the towels thick and soft. The kitchen had everything we needed. They were available to answer a question late at night. Would definitely stay there again.
Susan
2016-12-29T00:00:00Z
This was a great find! Super convenient, clean, and quaint. Lovely colonial feel - but modern. Check-in was easy and hosts were responsive - even over the holidays. Thanks again!
Deborah
2017-01-01T00:00:00Z
Typ av rum
Eget hus/egen lgh
---
Typ av boende
Radhus
---
Plats för
4
---
Sovrum
Burlington, New Jersey, USA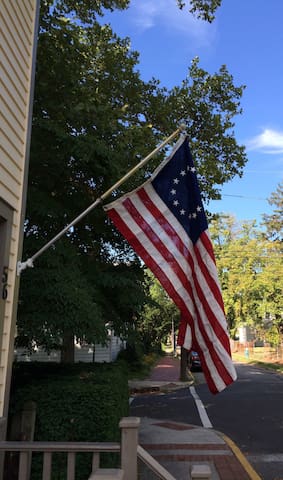 My place is close to Sesame place amusement park Oxford Valley Mall Philadelphia Mills Mall Sahara water park Great adventure amusement park Dorney park amusement McGuire Air Force Base Chinatown/Center City in Philadelphia . My place is good for couples, solo adventurers, business travelers, and families (with kids).
Typ av rum
Eget rum
---
Typ av boende
Hus
---
Plats för
4
---
Sovrum
Levittown, Pennsylvania, USA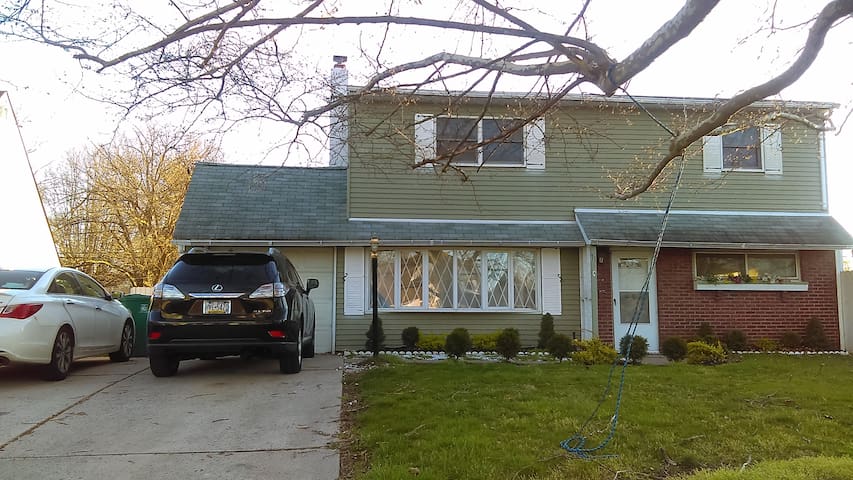 Enjoy a private room with a queen-sized memory foam bed in my 3 BR home! Cable, Internet, in-ground pool w waterfall (in season), hot tub (year round), hardwood floors, fireplace, driveway, washer/dryer, deck, private fenced-in yard! 30 mins to Philly, 20 mins to New Hope and 1.5 hours to NYC.
Spacious bedroom with eclectic decor in my 3 BR home. Plenty of storage, your own bath w toilet, sink and shower. I also occasionally board dogs for travelers so there may be a dog (or up to 3) present in common areas. They will not have access to your quarters.
Great, safe residential neighborhood in the suburbs of Philly in one of the best school districts (Pennsbury) in Pennsylvania.
Kira made me feel completely at home! My puppy and I stayed with her for 6 weeks, and she welcomed us with open arms. She was very positive and communicated well, understanding when accidents happened. She even gave me a tour around the town and helped guide me to an auto shop when my car had trouble. The neighborhood was friendly and I felt very safe there. Just being in her home felt like a vacation because it is nicely decorated and the backyard is amazing! I loved staying here.
Courtney
2016-08-14T00:00:00Z
Kira welcomed us as her best friends. Her place is nice and well organised. Unfortunately we didn't have enough time to enjoy the tub and/or pool. Arriving early in the evening we had a few glasses of wine with Kira before we made it to an Italian resto. Her advise was spot on. Good Italian food nearby. Our one night stay was a perfect start of our roadtrip to New England.
Ton
2016-05-29T00:00:00Z
Kira was very friendly and helpful throughout the process. Room was very nicely done. She even went out of the way to get me another Blanket since it was a cold day when I got there. She took the time to explain everything to me and made me feel like I'm at home. Sheets and Pillows etc., were very comfortable. I didn't pay attention that there is no WiFi so that's something to keep in mind when booking. It wasn't an issue since there was good cell coverage so I used my hot spot. The shower in the attached bath wasn't working that day but she made me welcome by letting me use the shower in the hallway. I was disappointed because the attached bathroom looked very stylish. Overall a very positive experience.
Faisal
2016-02-27T00:00:00Z
Kira was welcoming right from the get go. From making sure we found the house to the walk through to letting us know what places we could go out to and enjoy locally. The home and room is just as good as the pictures and she couldn't have been more accomodating and mindful of what we would need ahead of time.
Garrett
2016-08-22T00:00:00Z
Second time at Kira's. It continues to be a pleasure to room and board at her place. this is the first time I've actually returned to the same place to stay. I highly recommend.
Garrett
2016-09-11T00:00:00Z
Kira was very welcoming and had all the necessary amentities. The private room has a private bathroom as well. She was very nice and flexible with check-in and check-out times. This place is perfect for dog lovers as well. She has a dog-sitting service so if you have a dog she does that too. Fairless Hills is a nice quaint neighborhood. I'm definitely going to use Kira's Airbnb again in the future.
Leonard
2015-12-21T00:00:00Z
Kira was a wonderful host. Her home was lovely and decorated in the coolest way. She was really welcoming and great to talk with. She has a beautiful backyard w an awesome jacuzzi, which was fabulous after a long day of hiking. The bed in the room she is renting was super comfortable too. She made us feel so welcome - when we arrived, there were scented candles burning and she even offered us snacks. Absolutely wonderful host - would DEF stay with her again and absolutely recommend her place
Julianna
2016-03-14T00:00:00Z
Kira, such an amazing hostess, great location.
Robbie
2016-08-17T00:00:00Z
Typ av rum
Eget rum
---
Typ av boende
Hus
---
Plats för
2
---
Sovrum
Fairless Hills, Pennsylvania, USA
My home is located 20 minutes from center city Phila. and 3 miles from the local train station. You will have a private room in my 4 bedrooms 2 full bath house in quiet safe neighborhood. Close to Neshaminy Valley Mall, Restaurants and Parx Casino . **Street Parking**Free Wi-FI*
Quiet safe neighborhood in the suburbs of Philadelphia.
Typ av rum
Eget rum
---
Typ av boende
Hus
---
Plats för
1
---
Sovrum
Levittown, Pennsylvania, USA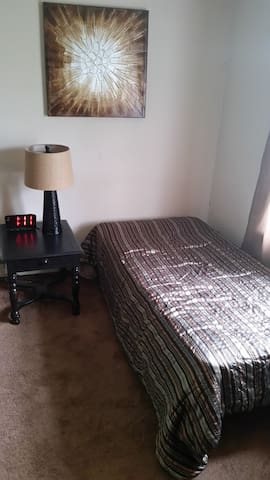 Our home is located in a quite Delaware River neighborhood in NJ within an easy bus or train commute to Center City Philadelphia. Enjoy a restful sleep in a comfortable queen bed (sleeps 2) . Also a convertible sofa sleeps 2
A clean bedroom with a comfortable queen bed. Easy access to a full bath will be provided to you in our split level home. You can relax in our living room, enjoy your morning coffee and a light continental breakfast in our kitchen, or walk across the street and stroll along the banks of the Delaware River sipping your coffee.
Our home is located near the Delaware River, in a quite, mature neighborhood. A local sailing club, The Red Dragon, is located just 2 blocks away. The Red Dragon dates back to the late 19th Century and is located on the Shipman Mansion property. Three miles north is the 350 year old Burlington City with its 40 historic buildings including a former residences President Ulysses S. Grant, Author James Fenimore Cooper, and Captain James Lawrence known for his "Don't Give Up the Ship" quote! If time permits, we suggest you visit some of the historic sites in Historic Burlington City just 3 miles away.
Typ av rum
Eget rum
---
Typ av boende
Hus
---
Plats för
4
---
Sovrum
Burlington, New Jersey, USA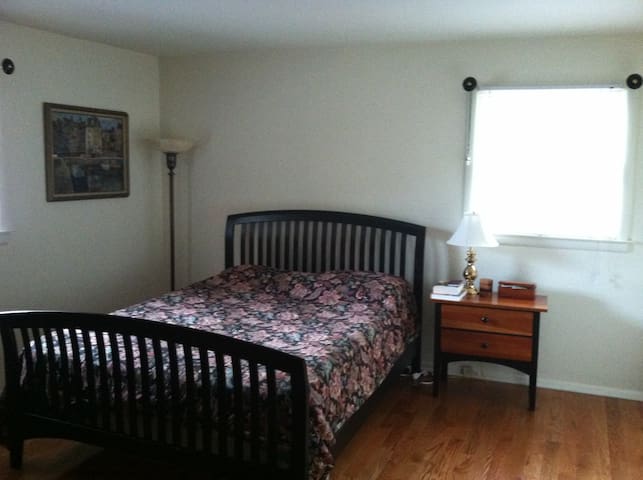 This huge 5th generation family farm welcomes guests with a historic tour of the barn and 300 yr old house, and offers 30+ acres of woods, pastures, natural springs, and nature to explore. We offer primitive campsites.
We are a semi-working 5th generation farm with 30+ acres of forrest, pastures, and natural springs. We offer campsites. Located within walking distance of bars, main street, and Historic Hulmevile, Lower Bucks County.
Historical BUCKS COUNTY has a feel like no other place.
Beautiful grounds and friendly host. Although we had to move from the original house to another off site- it was still enjoyable. She gave us some fresh lovely veg from the vegetable patch. Thanks!
freya
2016-08-01T00:00:00Z
Juliana is very communicative and responsive regarding our stay. Fred, the owner of the property greeted us upon arrival to ensure we have everything needed. Altogether, they showed great hospitality during our stay.
Shujing
2016-10-30T00:00:00Z
Typ av rum
Eget hus/egen lgh
---
Typ av boende
Tält
---
Plats för
6
---
Sovrum
Hulmeville, Pennsylvania, USA
My place is close to art and culture, great views, restaurants and dining, family-friendly activities, the beach( you can or I can, get there!) . You'll love my place because of the coziness, the views and the peace & quiet after a long and lovely day in the city or on the beach.. My place is good for couples, solo adventurers, and business travelers.
Beautiful ranch house located in a healthy 1/4 mile sidewalk distance from Philadelphia line to Center City and direct connection line to NYC (about 1 hour to Manhattan) with lanes to Jersey Shore either via train or bus or car.
Typ av rum
Eget rum
---
Typ av boende
Hus
---
Plats för
3
---
Sovrum
Levittown, Pennsylvania, USA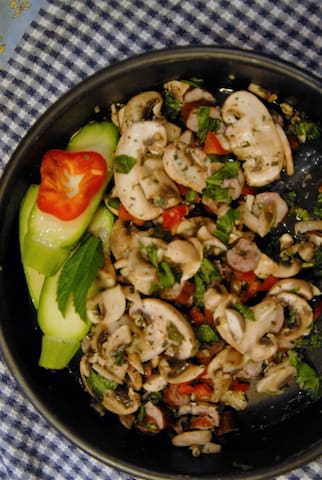 Our charming home was built in 1787. It is walking distance to the local pub and convenient to I95 and Turnpike. You will have a private Queen bedroom with adjacent private bath. Additional loft w/air mattress available. Breakfast items included.
3 Saturday Papal Train Passes from our local train station (2 miles from house, or bus service available) are included in the price of this listing! The charming country guest room has hardwood floors and a very comfortable Queen sized bed. A full private guest bathroom is just a step outside of the bedroom and a third floor loft with air mattress is available for guests that need more space. (Also see entire house listing if you are in need of more space). At the end of our street is a fun German pub with an outdoor beer garden. We also have bus service nearby and are very convenient to I-95, the PA Turnpike, Sesame Place, and loads of other Bucks County activities!
Our neighborhood is historic, quaint, and quiet. We are walking distance from two neighborhood pubs.
Typ av rum
Eget rum
---
Typ av boende
Hus
---
Plats för
4
---
Sovrum
Levittown, Pennsylvania, USA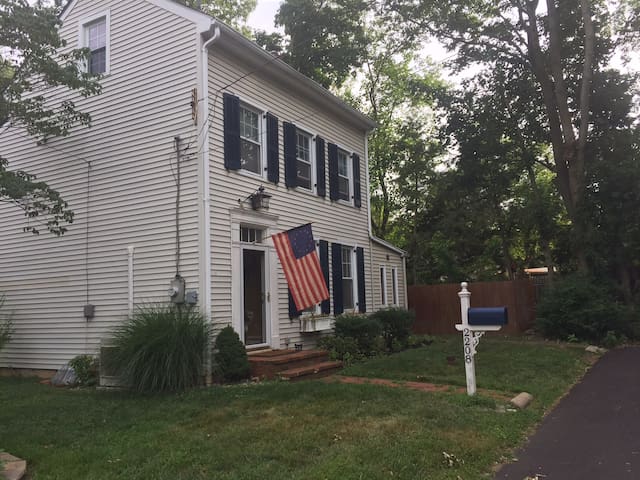 Need home for PAPAL Visit? Space won't be a problem is this 4 bedroom colonial with 2.5 baths make mornings easy. This is a large home with huge lot in desirable Mill Creek Farms. New Kitchen and baths. Very clean home.
Single Family Home is available for the PAPAL visit.
This home is close to public transportation, Septa Bus line stop is within 100 feet. Close to shopping and Malls.
Typ av rum
Eget hus/egen lgh
---
Typ av boende
Hus
---
Plats för
6
---
Sovrum
Bensalem, Pennsylvania, USA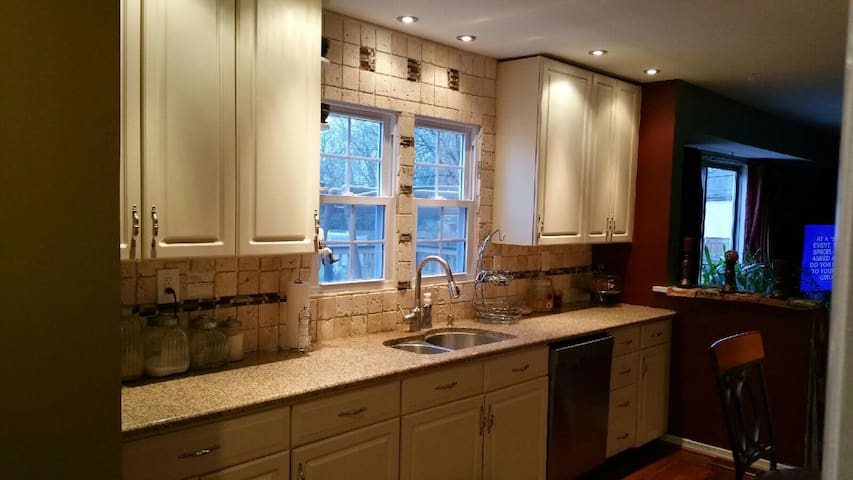 Our home is comfortable with space to spread out, get work done, see the sites or go shopping. 3bd, 2.5 bath, full kitchen with porch, backyard, and close to 95 & train. We also need a minimum of 24 hours notice.
Quiet, safe neighborhood tucked in away from busy roads.
Typ av rum
Eget hus/egen lgh
---
Typ av boende
Hus
---
Plats för
4
---
Sovrum
Bensalem, Pennsylvania, USA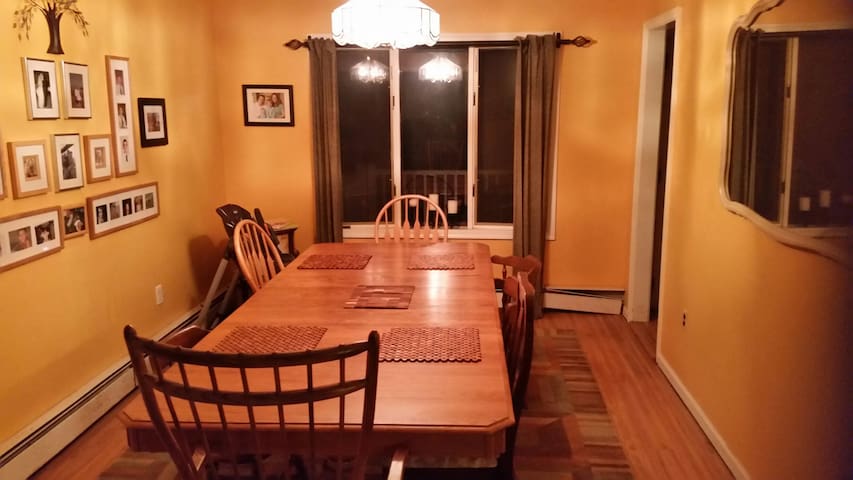 Ange datum för att se full prissättning. Ytterligare avgifter tillkommer. Skatter kan tillkomma.