Wonderful home on a canal with private island for picnics, campfires or just enjoying nature in the back yard. Direct Gulf of Mexico access, 30 ft dock. This 3 bedrooms, 2 full bath home features 10 ft ceilings,and screened in lanai. Master bath has soaking tub, dual sinks and separate shower. Bring your own boat and dock it in the back. Community pool and spa, boat ramps and docks and more. Close to dining and shops, minutes from Fort Myers Beach!
The house will is in a quiet neighborhood but close access to all amenities. It is only 7 minutes to Fort Myers Downtown and only 25 mins to Fort Myers Beach and Sanibel Island. The back yard is facing South where the sunshine keeps shining almost all year round. The place is unique for its private island where you can have sunbaths, camfire and enjoy nature!
Typ av rum
Eget hus/egen lgh
---
Typ av boende
Hus
---
Plats för
6
---
Sovrum
North Fort Myers, Florida, USA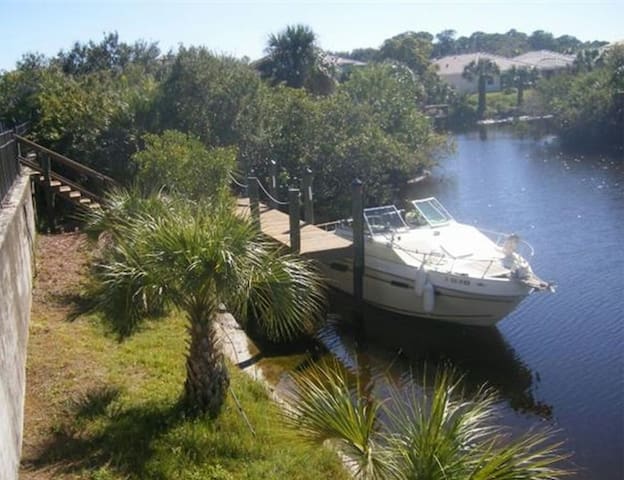 Lovely views of canal, near the Caloosahatchee river. Quiet neighborhood in breezy sailing community. Close to all the beauty of Southwest Florida. Ample parking. Check in times can be flexible if needed. 5 mins. from I-75. Total remodel in 2015!
*Please don't hesitate to finalize reserving the rental suite, my response time varies from immediate to 30 minutes. If my calendar is open your reservation will go smoothly :) Room is set up as a private space with private full bath, small refrigerator/freezer, and microwave however guests are welcome to also access the main kitchen and dining area as needed. Features comfortable king size bed, travertine tile and new carpeting. Ample closet space with direct access to pool and canal dock to take in the breeze and view. Entire home completely renovated and modernized with new appliances, granite countertops and cabinets. Very nice and well maintained residence!
The home is located in Fort Myers Shores and is nestled amongst a plethora of beautiful sailboats. Fish, turtles, and gators on occasion can be seen from the dock. Neighbors are quiet, courteous and respectful of this serene setting. Guests should perceive their visit as a tranquil place to get a good night's rest after taking in their local excursions or business commitments.
Adam was a great host and has a stellar room ! Five star stay in a beautiful environment !
Nigel
2016-07-13T00:00:00Z
The suite is great! The bed is very comfortable , the view very nice! The communication with Adam was really easy and the informations very clear! We had a very good stay overthere!
Elsa
2017-01-30T00:00:00Z
This was my first time using Airbnb and I am so pleased with the whole experience!! Booking was so simple and Adam was great!!! He provided me with lots of info and places to visit while I was here!!
Carrie
2016-08-03T00:00:00Z
Ich war für eine Nacht dort und es war sauber, gemütlich und geräumig! Die Aussicht auf das Wasser war super. Ich komme gerne wieder! :) Thank you Adam
Alina
2016-11-16T00:00:00Z
Adam was a great host! If you're looking for a place that is safe, clean AND affordable...this is your place!
Rachel
2016-06-21T00:00:00Z
Great place... location convenient, big comfortable bed. I slept 9 hours!
Hawk
2017-01-10T00:00:00Z
This was our first time using AirBNB, we were very happy with Adam and his accommodations, part of the reason I selected Adam was that he had a motorcycle and so do we. Adam made time to take us on an exciting ride and showed us Downtown. We are looking forward to meeting up with Adam again. The accommodations were clean and more than adequate. Large room with its own private bathroom. Thanks for the chocolates in the morning Adam, it was a very nice touch... Regards Dax and Vanya Vegan Riders
Dax
2016-05-12T00:00:00Z
Adam is a really nice host, the neighborhood is really quiet and the house clean. The room is very private, you can really rest at night because of the silence! We had a great time, thanks Adam!!!
María Dolores
2016-12-09T00:00:00Z
Typ av rum
Eget rum
---
Typ av boende
Hus
---
Plats för
2
---
Sovrum
Fort Myers, Florida, USA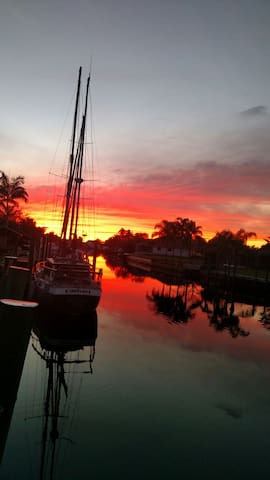 Unik och lugn sjö stuga med pool och brygga och en kanadensisk robust roddbåt ingår! Inte nöja sig med bara en pool eller kanal när du besöker Florida - ta tag i detta unika Lake Side hem med direkt Västra beskåda solnedgångar - dess en lycksalig vattenlevande upplevelse! Lakeside hem med utsikt direkt solnedgången kommer inte ofta! Njut idealiskt läge för att utforska South West Florida stränder och öar. Stugan är rymlig med matplats, vardagsrum och allrum och stora poolen Lanai. Snabbt trådlöst internet.
Fredlig och avkopplande unikt läge vid sjön på Big Lake Manitoba, Florida. Lakeside plats med några poolen grannar står inför erbjuder mycket mer integritet än ett hem på en typisk smal kanal. Alla bekvämligheter i ett hem med Florida väder och temperaturer. Lugnt bostadsområde med pool ser väst med storslagen utsikt över solnedgången över sjön. Vi tar inte betalt en städavgift eller förvänta sig extra för elanvändning så många platser ofta gör! Dessutom är vår avbokningsregler satt till flexibel, den minst restriktiva. Vi tror att om du vill avbryta du förmodligen har en mycket bra anledning. Vårt mål är enkelt - att hjälpa dig att ha den mest minnesvärd semester möjligt med minsta krångel och för dig att uppleva magin i sjön Sunset Palms Cottage! Om du är en omdömesgilla resenärer som tycker om platser som överträffar dina förväntningar sedan Sunset Palms Cottage är sannolikt att vara en plats värd din allvarligt övervägande. Njut ~ Tyvärr finns ingen husdjur / rök eller högljudda bullriga sammankomster. Sunset Palms Stugan ligger i ett lugnt och ganska dolt bostadsområde.
Området är ett mycket lugnt bostadsområde från liv och rörelse. Förvånande nog är det ganska nära till området i Cape Coral - Del Prado Blvd och Pine Island Road med många butiker, restauranger och aktiviteter inklusive en Super Store Walmart, Super Store Target, TJ Max, Ross, Publix supermarket, Mels Diner, Fishtail Grill, Olive Garden, Outback Steakhouse, Mexico Lindo, Perkins, Denny, Chili s Grill & Bar, Salvatores Pizza, Carrabbas Italian Grill, Thai Nawa Cuisine, Chens China Bistro, Bubbas Roadhouse & Saloon och många andra restauranger för många att lista!
The stay was awesome! About a 30 min drive from the beaches 15mins from water park 5 mins from grocery shopping Awesome view and cozy home
Zoe
2017-03-20T00:00:00Z
We were very pleased with our stay at the Sunset Palms Cottage. The place was very clean with a well stocked kitchen and very private. It has a beautiful pool overlooking a large lake. The westerly direction allows for beautiful sunsets. John, the owner, was a pleasure to work with. He always arrived within a few minutes if we had a question or needed something. He was very responsive, helpful and friendly. We truly enjoyed our nine day visit and highly recommend Sunset Palms Cottage for your vacation.
vanessa
2016-10-28T00:00:00Z
The pool was fabulous! The sunset over the lake is spectacular! The home is large enough for a big family or three couples. There is a lot to do in the Cape Coral and the beach is just about 20 minutes away. Very clean and our host had a nicely stocked kitchen, so we did not have to buy the extras you sometimes have to buy.
Vicki
2017-04-06T00:00:00Z
This home is extremely comfortable and easy to feel at home in. The entry into the home gives a view of the pool blending into the lake as in an infinity pool. It is just lovely. The sunsets on the lake, however, are even lovelier. The colors and sunlight reflecting on the lake are beautiful and serene. The home is well equipped and a pleasure in which to vacation. The host is available, gracious and eager to provide any comfort and assistance needed.
Cathleen
2017-03-19T00:00:00Z
Spacious living space, perfect view from the pool, great host!
Liz
2017-01-08T00:00:00Z
loved the sunsets across the lake ,the pool for the grandson ,and the lanai over the pool to keep the bugs out
philip
2017-03-28T00:00:00Z
You will fall in love when you open the front door and see the view of the pool and the lake beyond it. It gets even better at sunset. The house is clean, spacious, comfortable and well landscaped so that it is very private. John was an extraordinary host, providing a well-stocked kitchen and available when we had questions.
John
2017-02-01T00:00:00Z
The place was great with a huge pool! The view over the lake was amazing and so was the sunsets. John is a great helpful host and was very easy to deal with and I can recommend to stay here. We were a family of four with two small kids and we all enjoyed it!
Roger
2017-04-03T00:00:00Z
Typ av rum
Eget hus/egen lgh
---
Typ av boende
Hus
---
Plats för
6
---
Sovrum
Cape Coral, Florida, USA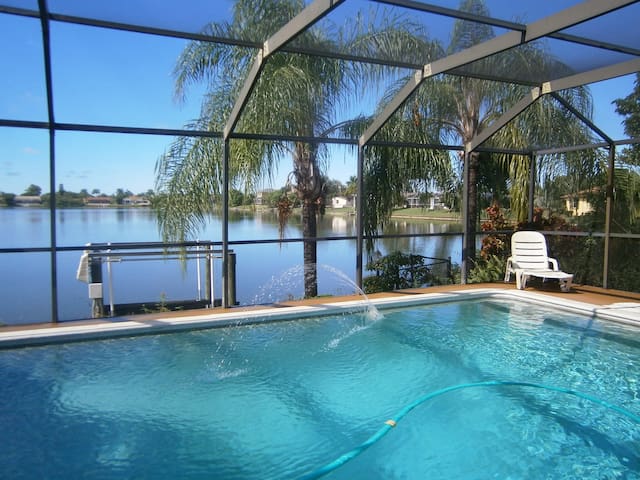 Min plats är nära till centrum, parker, restauranger och restauranger, konst och kultur, stränder, sjukhus, biograf, klädbutiker. Du kommer att älska min plats på grund av platsen och atmosfären. Min plats är bra för par, solo äventyrare, affärsresenärer, familjer (med barn), och fyrbenta vänner (husdjur).
Huset är uppdelat i två privata vingar. Din vinge kommer att vara helt privat för dig under din vistelse med din egen privat post. Hyresvärden kommer att uppehålla sig i den andra flygeln.
Being a tenant at Neryberry's place, was amazing. I highly recommend this location to all. Nery is an amazing, beautiful, outgoing, high spirited and inviting individual that places your needs first. In her cozy home, she made everything easy for my transition from Arizona to Florida. My family of 4 with 2 pets were in the best of comfort due Nery's hospitality. During our month's stay, she made modifications to her home to support our comfort as well as help us monetarily. She was always available and responded in a timely manner with any and all request. I was more than satisfied with my choice to stay at Neryberry's place and as I stated before I highly recommend it to all.
Yvonne
2016-11-28T00:00:00Z
A beautiful home and a gracious host made for a very nice time. Her attention to detail was very impressive. Everything was great. Try out Noble Comfort!
Brian
2017-04-01T00:00:00Z
Our host Neryberry was gracious and went above and beyond to welcome us and make sure we had everything we needed She and her place had great energy! Would highly recommend this place and would stay here again!
Sue
2016-12-29T00:00:00Z
We (4 people) stayed for two nights and Neryberry made us a very comfortable home. She was always available for any kind of help. She was even willing to give us a lift to the next store. We can definitely recommend the place because it has everything you need for staying there (cleanliness, cozy and lots of facilities).
Jorit
2016-12-10T00:00:00Z
If you are looking for a nice upscale place to stay for a weekend or even longer, this is a great choice. The host was very friendly and respectful of our privacy. It was a pleasure to meet her on the last day of our stay. The bed is an enormous queen size, there is TV/cable in the bedroom, full size drawers, HUGE walk-in closet, garden tub, dual sinks, separate shower and private toilet. The patio was relaxing to sit and drink the teas that were provided. Neryberry even went above and beyond, leaving a welcome gift and bottled waters in the fridge. There was a living room / dining room with a huge dining table. But, we never got a chance to use it in our short stay. Highly recommended. We will be back!
Mike
2016-12-18T00:00:00Z
Fancy house, clean towels, and comfortable beds. NeryBerry was nice and showed us around the house. Would recommend it for a friend.
Saad
2017-01-07T00:00:00Z
Thanks for a great stay.
Krista
2017-01-27T00:00:00Z
Nery is an excellent hostess. There are no words to describe how amazing her house is. Conveniently located, extremely comfortable, and absolutely gorgeous. She also goes above and beyond to make sure you have the best stay. I highly recommend staying at the Noble Comfort. It's simply excellent. Thank you Nery!
Isadora
2017-01-02T00:00:00Z
Typ av rum
Eget hus/egen lgh
---
Typ av boende
Hus
---
Plats för
4
---
Sovrum
Cape Coral, Florida, USA
Colorful 2 bedroom 2 bath beach style house. Stroll down to the Cape Coral Yacht Club to enjoy the sunsets and all the amenities.
Our visit in Cape Coral was perfect. The house was just what we needed, great location and super close to the beach. I would recommend this house to anyone. Owner was always available if we needed anything. Can't wait to go back
Kirie
2017-04-02T00:00:00Z
Amazing location. Would definitely stay here again.
Timothy
2017-04-04T00:00:00Z
Typ av rum
Eget hus/egen lgh
---
Typ av boende
Hus
---
Plats för
4
---
Sovrum
Cape Coral, Florida, USA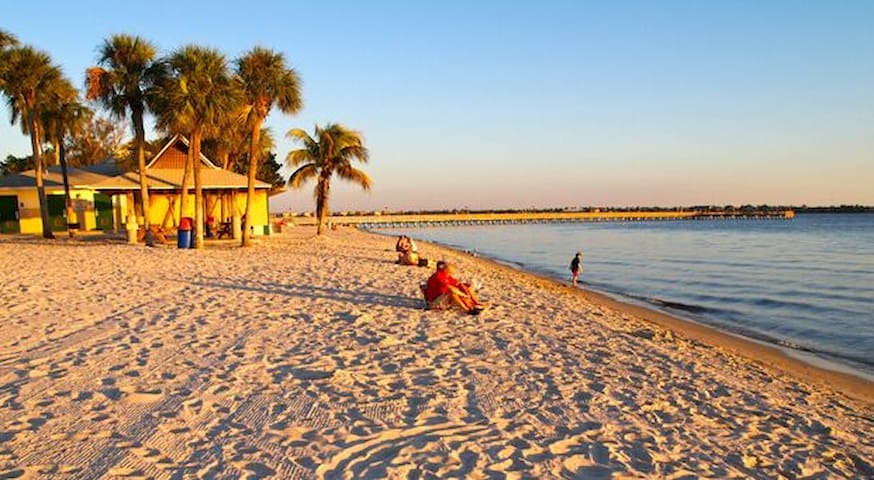 Debating in between the comfort of a nice hotel and the thrill of more authentic accommodation? You have just found the best of both worlds in this cozy home near to so many hot spots of Southwest Florida! Let me allow you to have a relaxing yet full of adventure vacation where you will live stories that you would love to tell!! The house has everything you need such as towels, linens, kitchen supplies, grill, cooler, beach chairs etc. In the house you'll find a guest book with restaurant suggestion as well as direction to beautiful beaches to visit!!
Typ av rum
Eget hus/egen lgh
---
Typ av boende
Hus
---
Plats för
5
---
Sovrum
Cape Coral, Florida, USA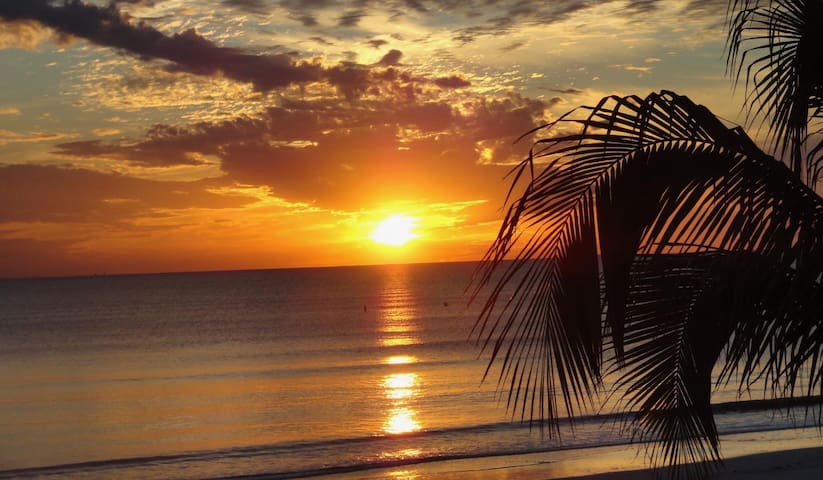 Fully equipped quiet and modern home where up to 6 people can enjoy a comfortable stay in sunny Southwest Florida. Covered, heated pool with child section and water fountain. Large Florida room with patio table and sofa.
Rent och snyggt hus med en mycket trevlig uteplats och pool. Värden var trevlig och svarade snabbt på våra förfrågningar.
Pär
2016-10-27T00:00:00Z
We rented the Fountain House for the month of Feb. 2017. I would recommended this rental, it has a well furnished kitchen, and all the linens you could need. The owners checked on us several times, and were available to answer any questions that came up. It is just as the pictures show. We really enjoyed the heated pool, we used it every day. We were very happy with our stay in the fountain house.
jane
2017-03-04T00:00:00Z
This was our first experience with AIRBNB and we were given an excellent introduction by our friend Bruno. He was immediately welcoming, friendly in his emails and text messages, very responsive to the few requests. Bruno's home was perfect for our needs, good little neighborhood very close to our closing out Mum's home. We used the pool a few times and was in very good condition, clean and an at home atmosphere. We would recommend Bruno and his home to all.
Colin
2016-06-11T00:00:00Z
sehr angeneme vermieter. das haus ist super und der pool sensationell. uns hat es sehr gut gefallen. danke
Hugo
2016-10-18T00:00:00Z
The host were Awesome always kept in contact and Making sure our needs were met. House was amazing and exactly as listed
Ethan
2016-07-16T00:00:00Z
This house worked out great for us. The location is away from all the chaos but still close to everything we needed/wanted to do. The place is very nice, clean and really well equipped. The hosts were always easy to contact and very accommodating. We would definitely come here again next year.
Rick & Eveli
2016-11-13T00:00:00Z
Typ av rum
Eget hus/egen lgh
---
Typ av boende
Hus
---
Plats för
6
---
Sovrum
Lehigh Acres, Florida, USA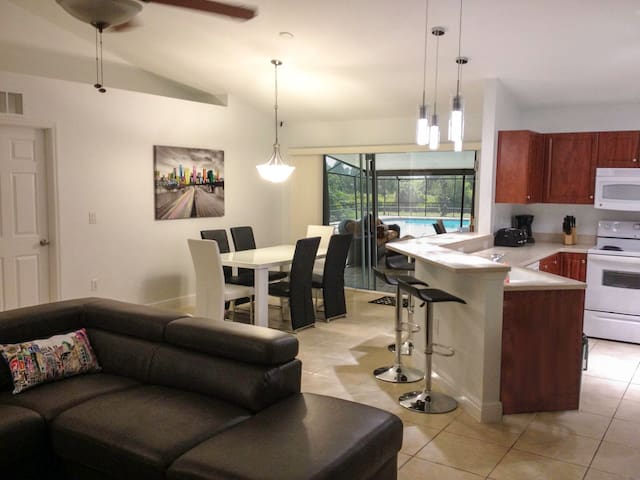 Location, Location! This vacation home is just a short walk from the Yacht Club beach, fishing pier and the Boat House Tiki Bar & Grill. With a formal dining room, family room, kitchen with breakfast bar, 3 bedrooms and 2 bathrooms there is plenty of living area. The spacious master bedroom has a private bath. From the lanai it overlooks the canal. The house comes with a lot of toys: kayaks and sailing/rowing dingy which can be launched of the dock in backyard, bikes, fishing poles, and more!
The house is furnished with new appliances.
Quiet neighborhood with waterfront access.
Typ av rum
Eget hus/egen lgh
---
Typ av boende
Hus
---
Plats för
4
---
Sovrum
Cape Coral, Florida, USA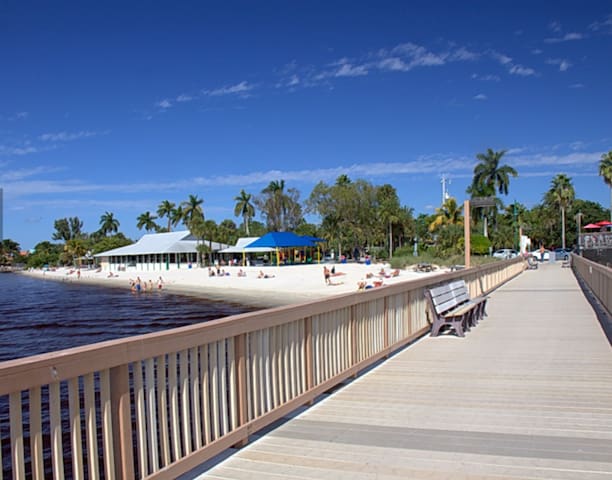 A great home base for travellers visiting Fort Myers and the sunny southwest Florida area. We are located outside of the city in a quiet and friendly neighborhood about 20 minutes from the airport. We also provide full access to kitchen and laundry, common living area and a large Florida room. Our place is good for couples, solo adventurers, and families (with kids).
Short driving distance to local Fort Myers attractions and beaches. Day trip driving distance (approx. 2 hours or less) to attractions in Naples, Everglade City, Tampa and Miami,
It's like staying at a treasured family member's house- you feel appreciated. Albert and Carolyn are warm, considerate and kind.
Steve
2017-03-07T00:00:00Z
Albert and Caroline were so generous to open their home up to us. We felt so at home and felt like we made friends for life. They are amazing hosts. Gracious, kind, respectful, and in turn make great conversation. The location was perfect for us and our trip. The neighborhood and area felt safe, and the neighbors are friendly as well. Beautiful home!
Anna
2017-01-18T00:00:00Z
Albert and Carolyn are wonderful, friendly, kind hosts. Their home was clean, comfortable, and they welcomed us warmly. We had a bathroom to ourselves and a comfortable bed. We stayed one night on our road trip, and Albert and Carolyn gave us helpful advice for a route to drive and things to do in the Everglades the following day. A great Airbnb experience; highly recommended. You'll feel at home.
Chris
2017-03-22T00:00:00Z
You will enjoy every minute
Andrea
2017-02-17T00:00:00Z
We totally loved staying with Albert and Carolyn, they have a nice, comfortable home and they are charming and we felt spoiled with their attention to details.
Jorge & Orlando
2017-02-27T00:00:00Z
We have such a wonderful time at Albert's place. We really feel like home. Very comfortable and relaxing. Thank you very much Albert and Carolyn.
Kha
2017-01-24T00:00:00Z
Albert and Carolyn were wonderful hosts, very helpful and personable. They have a real gift of hospitality. It was a great first experience with airbnb!
sharon
2017-02-09T00:00:00Z
Albert's place was fine. My friend and I ended up having to leave last minute, but for the time we were there, the place was very clean, and easy to find. Albert and his wife are very friendly hosts.
Ryley
2017-01-13T00:00:00Z
Typ av rum
Eget rum
---
Typ av boende
Hus
---
Plats för
4
---
Sovrum
Fort Myers, Florida, USA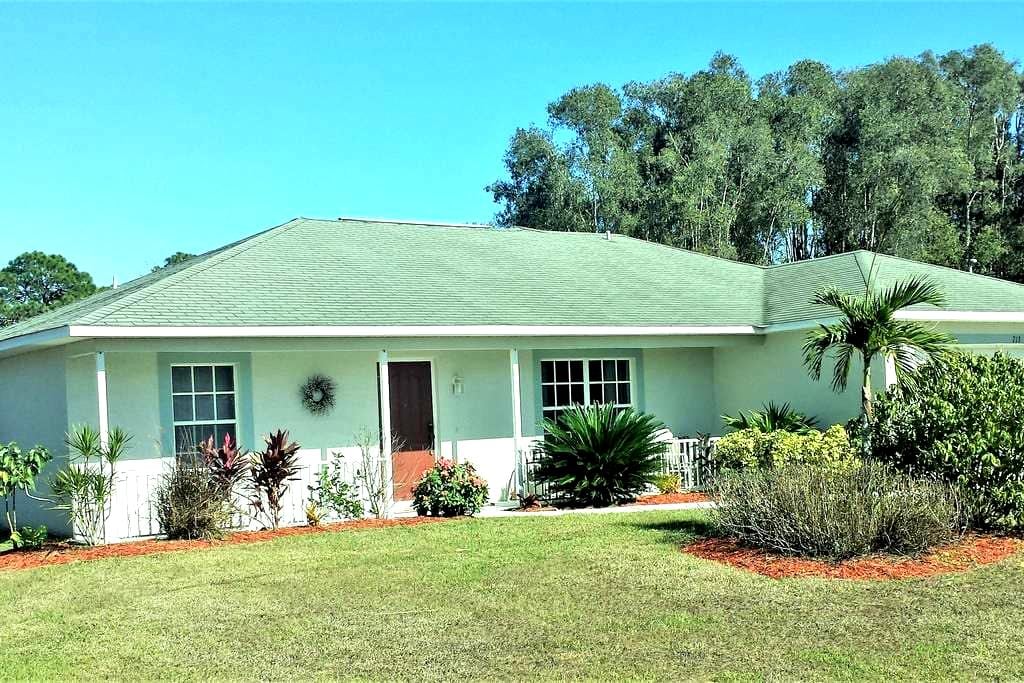 Vacation Paradise Retreat, Tranquility möter lyx Kom och njut av en lantlig miljö och rida hästar i din trädgård, titta stjärnor bredvid eldstaden, rida ATV och fyrhjulingar på stigar, fiske, segling eller grill & bada i poolen och utanför jacuzzi. Mycket rymliga hem knappt 5,000sf under luft ett tunnland mycket.
Den top-of-the-line kockens kök är klädd med premium finish och fixturer inklusive anpassade skåp, granit och professionell kvalitet apparater, inklusive gasspis med en grill och utrustad med 3 ugnar. Fransk stil dörrar i vardagsrummet visa upp utsikten medan öppna upp hem till ännu mer ljus och luft. Spiller ut till imponerande däck till poolen där ett fullt utrustat utekök, soldäck, bubbelpool och tillgång till badrum med dusch väntar. En bakgård med klätterställning för barnen kommer att hålla dem extra upptagen. Den inhägnad på gården och kennel är bra för ditt husdjur att spela in också. Kvällarna är bra för natten simning camping och glöm inte smores vid eldstaden. Hemmet har ett allrum en formell vardagsrum en formell matsal och ett loft stil studie. Den övre våningen gäst bad har en mycket bekväm stort badkar och stående dusch. De läckra trädbevuxna utsikt från fönstren håller dig ansluten till naturen och mycket inspirerad. Den gudomliga befälhavaren svit presen fack tak, massiva fönster, en terrass utrustad med massagebänk med utsikt över inställningen poolen och grönskande landet, och en rik eget badrum med badkar och bubbel spa separerar också alla glas dusch. Den lägre nivån finns en stor gillestugan med biljardbord och professionell biograf. En mycket bekväm och praktisk sovrum ligger på lägre nivå också, perfekt för äldre och dubbeldörrar gör det rullstol. Flera aktiviteter kommer att hålla dig anrikas i lantlig miljö fiske på sjöar och kanaler, besöka Horse Ranch 5 minuter möter hästarna och rida genom spår eller gå natt ridning under stjärnorna. Parkera din båt eller RV under bilen porten eller docka på ett företag glida 15 minuter vid floden med Gulf tillgång. Winery, Farmer Markets, tennisbanor och Golf Country Club lätt 15 minuter bort. Fitness Center med inomhusklättring och styrketräning Finns 1 september 2016
Vintillverkare båt Docks stormarknader Golfbana Country Club Strand 30 min Fort Myers 40 min Bonita Beach 50 min Neapel 30 min Fort Myers Airport Nattliv 40 min Mercato
This is a super nice luxury home with a huge amount of room. Michelle was a very attentive host responding quickly to questions and requests. We rented the house while working in the area so our time to relax around the pool was limited but we very much enjoyed the pool, hot tub, game room and home theater when we got the chance. We need a house like this on all of our projects!
Mark
2016-03-11T00:00:00Z
We had a great time, everything was perfect. Juan (Michelle husband) was very nice and always prompt to help. I definitely recommend the place.
Fred
2016-11-14T00:00:00Z
This is not luxury and paradise as advertised. We couldn't reach the host for a couple days before check-in. I had to contact airbnb for them to get a hold of the host. Twelve hours before I was to leave for Florida, I was trying desperately to find alternate accommodations for 10 people during spring break until airbnb was able to have the host contact me. It was a sign of things to come. The house was indeed in a quiet, wooded setting within a moderate drive to groceries, airport, and beaches. The number of bedrooms and bathrooms was accurate. The rest of the description went downhill from there for accuracy. We were told we couldn't use the pool/hot tub for 24 hours after check-in because they had to treat the pool. There were lightbulbs out throughout the home and pool area. The stove and oven didn't work right. The fridges weren't cold enough. Not an issue I suppose if you don't plan on cooking while you're there. The theater room didn't work - it was dusty, the recliners were all broken in one way or another, and the tv/DVD didn't work. There is only one useable tv in the whole house that is hooked up to satellite. There was no tv in the pool area as shown on the picture. The pool was not easily controlled, so we had to keep bothering the host's husband to come fix it. There was a patio umbrella that had an attempted repair with zip ties (cable ties). The wireless internet worked great, but they list a network and password in the ad that is not right. There is a small, cheap grill that works ok, but the old broken grills and chairs are lying up against the fence near it that made it look like a little junk yard. There is an outdoor obstacle course type thing right next to the house, but we didn't use it. The ad said there was an indoor home gym put in last fall that wasn't there anywhere. The beds were either squishy foam with no support or hard as a rock. There were smelly, wet clothes left in the wash machine. There was a window boarded up in an upstairs bathroom. The water smelled and there was no water pressure (I realize sometimes you can't easily change that). This was a once beautiful home that has not been kept up on.
Molly
2017-03-15T00:00:00Z
Very peaceful and relaxing stay! The house was so large, it really did not feel like there were 14 of us there. There were several options to gather in throughout the house. We enjoyed the theater room, pool table, and pool the most. With the house being located outside of town, we were able to see so many stars at night on the screened in pool area. Very relaxing! Our hosts, Michelle and Juan, were very responsive and helpful with any questions.
Charis
2016-05-31T00:00:00Z
We loved the large beautiful, well decorated, very clean house. We stayed a week with a large family group and were able to use all of the amenities.The family enjoyed having some quality family time without the heat and exhaustion of the theme parks. The saltwater pool was amazing, no burning eyes from chlorine . Your skin felt great even after being in pool for hours. Being able to heat the hot tub or pool was a added bonus. The kids enjoyed doing s'mores with the fire pit. The shell world nature center was great, up close encounters with animals, low priced especially with groupon, and it's only about 36 minutes away from home. Bowmans beach on Sanibel is awesome, we found tons of great shells, even conch shells, that is a little over an hour away. Most of the time we enjoyed the relaxing pool and house. There is a grill with propane provided , we made great use of. We cooked most of our meals in the beautiful kitchen, there is a large refrigerator to accommodate large groups. They brought us a coffee machine to use. They were some pool toys and towels there to use, we brought lots also. The theater room was awesome after getting the hang of how to use it, the surround sound makes you feel like you are in a real movie theater, bring your blu ray movies or there is a nearby store with redbox. There is a publix within 15 minutes and a walmart. The house is a quiet country setting surrounding by lots of trees and canals nearby. There was even a puzzle to do , we had a great time as a family figuring it out, it was a pretty difficult one. The house was spacious enough to also spread out and have seperate quiet time when needed. The pool table was also endless hours of entertainment for the adults and kids alike. I wish there was a house like this at all the popular vacation spots. There was some WiFi issued but it worked out, more time for kids to play with each other instead of on internet. We would love to go back one day and stay again!
karrie
2016-06-19T00:00:00Z
Michelle and Juan welcomed us at the house to explain access codes and the features of this spacious and beautiful home. They were gracious hosts who worked to ensure that our stay was as enjoyable and hassle-free. Michelle was very responsive to any questions or requests, usually responding in just minutes from us sending her a message! The property was just as described on Airbnb! A beautiful luxury home in a tranquil setting, but you are only a short drive from entertainment and beaches of Ft. Myers and Bonita Springs. The home theater and other electronics throughout the house are state-of-the-art, but we spent most of our time outdoors in the wonderful pool and spa/hot tub. We also put the high-end chef's kitchen to good use! We had nine people in our party and there was plenty of space to accommodate us all, very comfortably! We highly recommend that you book your stay ASAP!
Kelly
2016-04-02T00:00:00Z
This is a great space for groups who want to be together and stay in one place - lots to do in one location and ample entertainment and sleeping areas. The pool area is beautiful and comfortable, the theater room is impressive, and the kids enjoyed the pool table. It was a great space for a family gathering. It's in a nice suburban area - so plan on a bit of a drive to beaches, area activities and restaurants.
Lynn
2017-01-01T00:00:00Z
Great place for a big family to stay in!
Leslie
2017-01-22T00:00:00Z
Typ av rum
Eget hus/egen lgh
---
Typ av boende
Hus
---
Plats för
16
---
Sovrum
Lehigh Acres, Florida, USA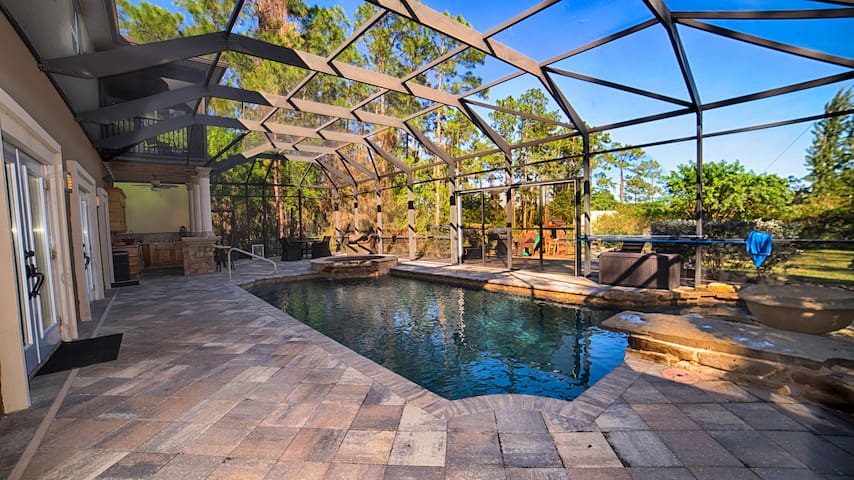 3 bedrooms / 2 bathrooms, living / dining area with TV and cable TV, CD and DVD player, wireless internet, full kitchen, pool area with solar heating and screen, outdoor barbecue facilities, sun beds, beach equipment, equipment for children ( toys, travel cot, two high chairs), books, DVDs and board games, spacious garage, air conditioning, ceiling fans, linens, towels, etc., washer and dryer, etc ... villa-Joella. (URL HIDDEN) (URL HIDDEN) / watch? v = N_QuVYN5kCY
Öppningserbjudande !!! Vi köpte denna vackra drömhus nyligen och kommer nu att föra den till den senaste enhetens status och göra några ändringar. Därför är huset endast tillgänglig från 16/06/2017 att hyra. men bilderna ger redan en ganska bra inblick i vår vackra villa Joella ... Eftersom vi själva har tre små barn, kommer detta att vara en mycket familjevänlig hem. Men vill vi påpeka att vi kommer att ha pool ingen säkerhetsstängslet. Därför är poolområdet för små barn mindre lämpliga. Annars kommer det men saknar utrustning för barn i något - såsom barnstolar, resesängar och leksaker ... villa-Joella. (URL HIDDEN) (URL HIDDEN) / watch? v = N_QuVYN5kCY
Typ av rum
Eget hus/egen lgh
---
Typ av boende
Hus
---
Plats för
6
---
Sovrum
Cape Coral, Florida, USA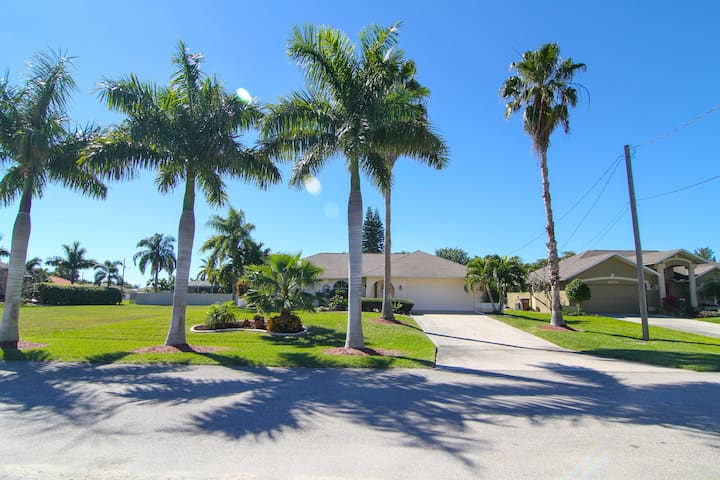 Mor-i-lag Suite för optimal avskildhet och avkoppling. Vacker, privat, gated community, med sjöutsikt. Gästen svit är utrustad med ett pentry, bar, privat badrum, och helt ny drottning säng, byrå, night stand, och 55 "Smart TV. Kom och gå och känna att du har din egen privata hem som sitter precis utanför den huvudsakliga ingång. Stor skärmad gård Lanai för att slappa eller njuta av en utomhus måltid. Bekväm till stränder, shopping, restauranger, underhållning, I-75, RSW flygplats, FGCU.
We spent a very enjoyable three weeks in Jamie's Cozy Guest Suite. The Suite was modern, clean, comfortable and nicely decorated. Jamie was a wonderful hostess and made us fell welcome in here home.
Robert
2017-01-25T00:00:00Z
We had a great stay at Jamie's place. Her home is beautiful and things were as promised. We didn't have to travel far to do anything, it's a great location. She's a wonderful hostess and makes you feel welcome. We will definitely book again should we decide to revisit Fort Myers.
Carrie
2017-03-31T00:00:00Z
Jamie is hard working, funny and a joy to be around. She made sure our stay was a great one!
PAUL
2017-03-17T00:00:00Z
Great host, lovely home. You can't go wrong here!
Cindy
2017-01-03T00:00:00Z
Jamie is a great host. The house is beautiful and in a great location. The bed is super comfy and the sheets are really nice. It was very clean and comfortable all the way around and Jamie couldn't have been more accommodating. Highly recommend it. ❤️
Deja
2017-03-25T00:00:00Z
Jamie was the perfect host during a Christmas stay! Upon arrival, I was welcomed by Christmas treats and gifts and an impeccable room that was exactly as described on the listing. Everything was extremely clean and the bed was extra comfy. Jamie was so attentive during my stay and I could not have asked for more. I am already planning on returning to Jamie's place for my next Christmas in Fort Myers!
Molly
2016-12-27T00:00:00Z
Such an amazing stay! Quiet, safe area. Walking distance to restaurants, and a cheap uber to Ft.Myers Beach area. Jamie was a great host, she was flexible with our check-in and super easy to reach. She made us feel at home right away, and went above and beyond to make sure everything we needed was taken care of. The space was clean, comfortable, and very stylish. Jamie had a couple friends who also were in the area and made us feel like we were back at home hanging out with friends. Jamie also created a guide book with personal recommendations for food, shopping, fun, etc. Would highly recommend and can't wait to come back!
Katelyn
2017-03-26T00:00:00Z
Wow, what an amazing stay with Jamie. A superbly appointed mother in law sweet in an incredible home and safe neighborhood. So grateful for Jamie's hospitality and ensuring an enjoyable stay in Fort Myers area. Awesome place, you'll be glad you booked here!
Rikki
2016-07-31T00:00:00Z
Typ av rum
Eget hus/egen lgh
---
Typ av boende
Hus
---
Plats för
2
---
Sovrum
Fort Myers, Florida, USA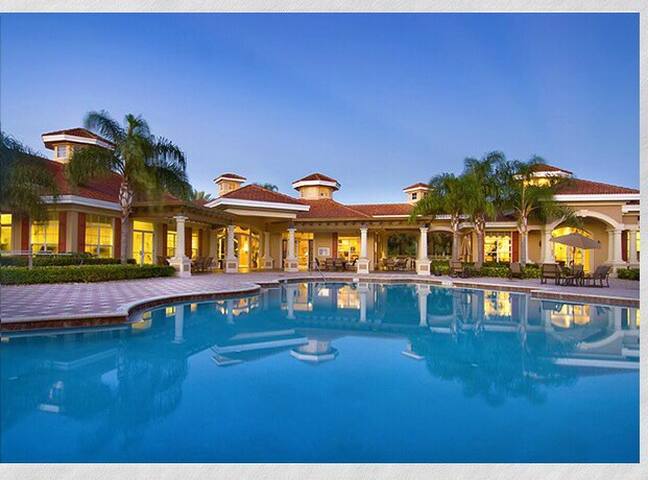 My place is 30 miles from the beach, near nightlife, restaurants and dining, family-friendly activities, and public transport. You'll love my place because of the comfy bed, the coziness, and the views. My place is good for couples, solo adventurers, business travelers, families (with kids), and furry friends (pets).
Awesome, awesome, awesome spot to stay. I went for a week of spring training baseball and knowing where I was going to stay every night was quite helpful. It's in a nice quiet area and the house is very well kept, and Ashley is extremely nice and a good communicator. I highly recommend staying here if you're doing anything remotely close to Fort Myers.
Troy
2017-03-21T00:00:00Z
Typ av rum
Eget rum
---
Typ av boende
Hus
---
Plats för
2
---
Sovrum
Lehigh Acres, Florida, USA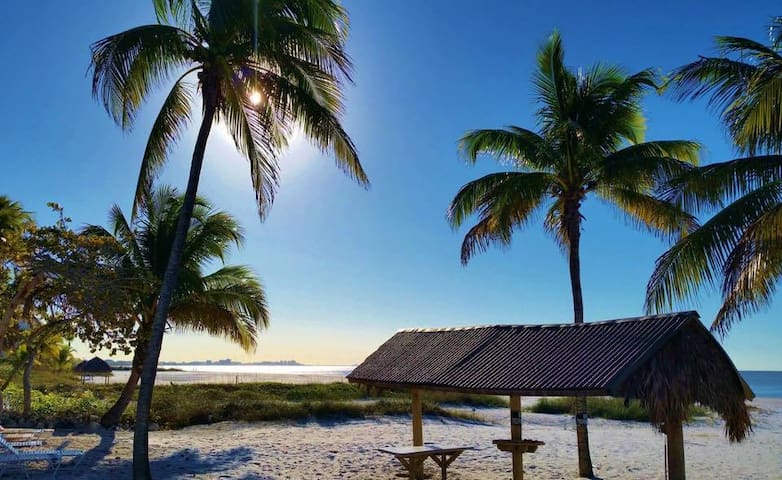 Très belle maison avec piscine et spa chauffée, recouverte d'un moustiquaire, très privée. Tout meublé, tout équipé, 3 chambres, 2 s. de bain, 45 minutes plus belles plages de la Floride. 3 terrain de golf à l'intérieure de 15 min, supermarché 5 min, Walmart et restaurants 15 min. Vous ne serez pas déçu!
Very Private, no neighbors
Thank you, Andre, for a comfortable home and hospitable welcome! New Year's surprise was the massage chair for us, which we used as a family. this is what we needed after working days. The house has everything you need, the owner came out to communicate in a timely manner. Pool has a temperature that the owner could not change. for our family and for the winter in Florida, it was cold. so we waited until the water warms to a comfortable temperature, and bathed only from 12 to 5 pm. overall we had a wonderful vacation! Recommended for large family or company!
Jane
2017-01-02T00:00:00Z
Typ av rum
Eget hus/egen lgh
---
Typ av boende
Hus
---
Plats för
8
---
Sovrum
Lehigh Acres, Florida, USA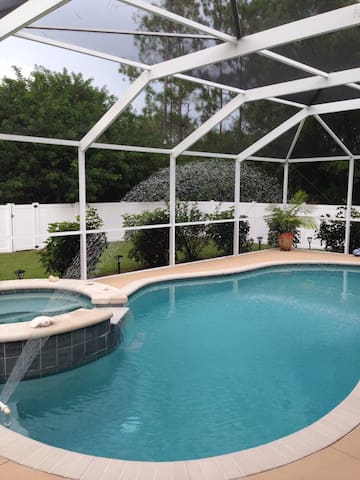 Detta lyxiga, 2800 kvadratfot, är hem 3 år gammal med 3 sovrum, fyra och en halv bad. Varje rum har sin egen bad och det finns ett badrum för poolen. Poolen är uppvärmd och avskärmade in med ett spa. Hemmet ligger i en gated community med många bekvämligheter: Stor uppvärmd pool, gym, stor BBQ grillar, och golf. Denna gemenskap är vänlig, med aktiva Walker, Löpare, cyklar och golfbilar.
Detta hem ligger nära den Mexikanska golfen och är ca 20 minuter från Fort Myers Beach. 10 minuter från centrala Fort Myers. 45 minuter från Neapel. 2 timmar från Tampa Bay och Fort Lauderdale. 2 och en halv timme från Miami, Orlando och West Palm Beach.
我们全家非常喜欢当地的气候和环境以及房东的热情和贴心服务。感觉非常好!我们还会再去。
Pin
2017-02-23T00:00:00Z
.
Jeff
2017-03-25T00:00:00Z
Had a great stay in Willie's beautiful home. I was gone a lot to a workshop I attended, but when I was there in the evenings the home was quiet and spotless. I highly recommend this BnB. Oh, it may be corrected on the airbnb site by now but there is NO shared bedroom. There are three separate bedrooms with one bed in each. Great for a family!....
Carolyn
2017-02-27T00:00:00Z
Pictures do not do this place justice; it was gorgeous and the stay was excellent! Willie was super nice and helpful. He was a great host and you hardly saw him but always there if you needed anything questions answered. This house is BEAUTIFUL, and the location is a secure, gated, beautiful community! I felt safe, and it made us feel like home away from home. Superb experience!!!
julie
2017-03-18T00:00:00Z
This home is a beautiful, new residence in an upscale, gated subdivision. The security gates are staffed by real people most of the time. My girlfriend and I stayed eight nights and enjoyed the quiet, serene, safe neighborhood. It is a convenient location about 15 minutes from Fort Myers International Airport. There are common areas shared with Willie, the host. Willie said his goal was to be "invisible" and he achieved that. We felt like we were alone most of the time. He was available by text if we had questions about anything. We prepared breakfast and, sometimes, lunch in the fully equipped kitchen and relaxed by the pool. I would recommend this listing to anyone going to the Fort Myers area. We will certainly try to stay there again when we go.
Gary
2017-02-13T00:00:00Z
Beautiful house with all of the amenities. Could not have been more pleased with the stay.
chuck
2017-01-27T00:00:00Z
Willie was a very hospitable host, very friendly and provided plenty of privacy. The home was more beautiful than expected, the photos do it no justice. Willie went out of his way to make sure everything you could need in a home setting was provided and presented nicely. I would strongly recommend staying here for your next trip
Aaron
2017-03-05T00:00:00Z
Willie was a gracious host, ensuring our stay was comfortable and enjoyable. House was beautiful, clean and offered all the amenities. We mostly we there for the evenings, however could have taken advantage of the many amenities this home has to offer. The home was located just off the main path which was very quiet yet the location was very close to everything you need. Would 100% stay there again if still offer rooms.
Daniel
2017-02-18T00:00:00Z
Typ av rum
Delat rum
---
Typ av boende
Hus
---
Plats för
6
---
Sovrum
Fort Myers, Florida, USA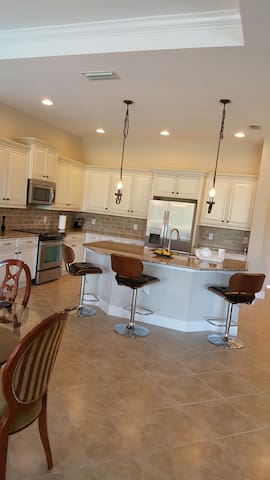 For Women ONLY! Age 21 and older required. Escape your Northern winter in this picturesque Southwest Florida vacation land. Nestled between the Gulf Coast towns of Naples and Sarasota, North Fort Myers is an easy drive to Sanibel Island, Captiva, Ding Darling Wildlife Refuge, Manatee Park Pine a island and the Florida Everglades. Art galleries, gift shops and restaurants abound, as well as beaches, discount outlets, sailing, fishing and other water sports. Snowbird's Paradise is a 2 bedroom, 2 bath home in a gated community. This charming space is tastefully decorated in relaxing, pastel, beach-inspired decor. You will have a living room, dining room, laundry and kitchen as well as to optional access to our bicycles and beach gear (umbrellas, kites, cooler, towels, etc.) This home is in a unique lesbian/women's community built in the late 1980's. The clubhouse has a swimming pool, jacuzzi, gym, billiards room, tv room, library and dance hall. There is also an active art space with shared studio time as well as structured workshops. Numerous athletic activities available on property including bicycling, kayaking, pickle ball, tennis, kayaking, bocce, kick ball, and pick-up games as needed. Cards, board games and bingo also available along with dance classes, band, choir and more!
Typ av rum
Eget rum
---
Typ av boende
Hus
---
Plats för
6
---
Sovrum
North Fort Myers, Florida, USA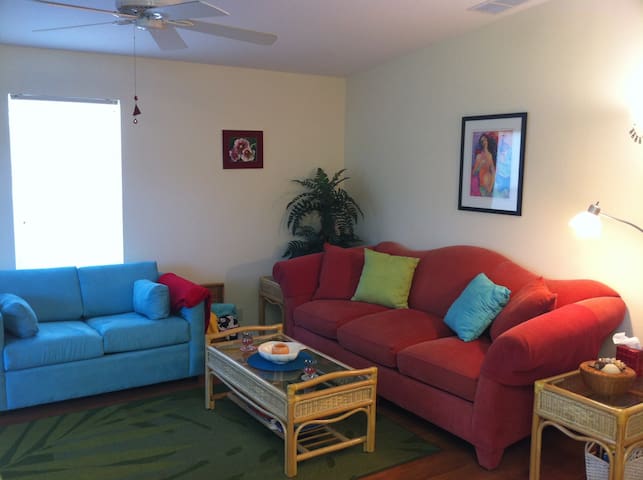 Sunshine, seashells, and relaxation? Yes, please. Our cottage by the sea is just steps away from the Caloosahatchee River and conveniently located near SW Florida's stunning beaches, downtown, and more.
Welcome to The Sunshine & Seashell Cottage, our charming and bohemian ode to the beauty of southwest Florida. With hand-made artistic touches reflecting our natural landscape, the cottage is just steps away from the world famous sunsets of the Caloosahatchee River and ten to fifteen miles from the gulf shore waves of Sanibel, Captiva, and Fort Myers Beach. Nestled under the giant canopy of a Royal Poinciana and surrounded by tropical vegetation, The Sunshine & Seashell Cottage is our little piece of paradise. The cottage is 270 sq feet and has an open studio set-up with a private, in-cottage bathroom and shower. It is located in the back property of the host's main house and includes: •A parking space and private entrance •Private outdoor deck with seating for two and a hammock swing •Queen size bed. •Hand-made mosaic headboard featuring local and sustainably harvested seashells, seeds, driftwood, and sea glass. •Flat screen television with Apple TV (complementary access to Netflix, Hulu, and other available channels) •Free wifi •A kitchenette with a coffee maker (with complementary coffee, hot chocolate, chai, and teas), small refrigerator, and microwave (no stove-top or oven due to the cottage's size) •Dinnerware and silverware set •Private bathroom in cottage with shower •Towels (including beach towels) & linens •Two yoga mats •An iron, hairdryer, and additional toiletries in case of need •Access to mangoes and starfruit when trees are in bloom •A welcome book containing our local favorites and recommendations •100 steps to the Caloosahatchee River, where you may see dolphin and manatees dance by. •Centrally located-10 minutes to Downtown Fort Myers and 10 to 15 miles from Sanibel, Captiva, and Fort Myers Beach.
Following a drive down the historic and Royal Palm-lined McGregor Boulevard, prepare to catch a stunning riverside sunset as you turn into our residential community. Once upon a time, this particular area was full of gladiolus fields; the ripe, riverside soil now blooms subtropical vegetation and fruit trees. The cottage is just minutes from the fascinating Edison and Ford winter homes, ten minutes from the downtown life of Fort Myers, and only ten to fifteen miles from our beautiful island beaches.
Noelle was such a great host! Easy and great communication! The cottage is simply perfect with everything you need, even a welcome gift basket, so thoughtful. Although our stay was very short we will definitely be come back again and highly recommend this adorable little piece of paradise. Thank you again for making this weekend awesome!!!
Alex
2016-04-11T00:00:00Z
We loved our stay! The location was perfect for Sanibel/Captiva. Noelle was a great host and made it a great trip for our anniversary, she even put flowers and a card for us in the room! The cottage has everything, and we would definitely love to come back!
Kelly
2016-10-25T00:00:00Z
Noelle was just awsome! Tolles, sauberes Cottage, herzlicher Empfang und fürsorgliche Umsorgung durch Noelle. Ihr Wesen und Ihre Art spiegelt sich in ihrem mit Liebe dekorierten Cottage wieder. Sie stellte Wasser, Kaffee!!, Snacks und Strandtücher zur Verfügung. Es fehlte uns an nichts! Auch das Bett war sehr bequem und nicht zu weich. Der Strand von Fort Myers wie auch Downtown sind mit dem Auto problemlos zu erreichen.
Jannine
2016-05-11T00:00:00Z
It was our first Airbnb experience and it was just awesome!!! Noelle was adorable as was her cottage in the back. She was available for help and recommendations from the very get-go and all the way through the end of our stay. We felt very welcome and enjoyed our stay at her cottage very much. The cottage is absolutely beautiful, clean, lovely arranged, with "many pretty colors" ;-) and well-equipped with anything you might need during a stay. Noelle… Thank you so much for everything. It's such a pleasure to meet you and your husband! We will certainly come back if we will be in Fort Myers again!
Lena
2016-01-15T00:00:00Z
Great place to stay, exactly as advertised. Welcoming host, providing lots of little extras. The wall plugin with USB ports was especially helpful. Looking forward to getting back.
Ben
2016-01-05T00:00:00Z
What more to say ? Just perfect! Do not hesitate. This is THE place to stay in Fort Myers.
Vincent
2016-11-18T00:00:00Z
Nicole made us feel very welcome upon arrival. The cottage was clean and adorably decorated. A welcome basket, water, coffee and fruit was a gracious touch. The deck was a great place to enjoy a cup of morning coffee. If ever in the Ft Myers area again, we would stay again.
Carol
2016-02-06T00:00:00Z
I have used Airbnb quite a few times in the past year and Noelle is without a doubt one of the best hosts I have had . She gave detailed instructions for reaching her place and then showed us the cottage and explained everything. The cottage itself is very comfortable and cozy and the decoration definitely has a lot of character and charm. The house is located in a safe and quiet neighborhood and its an ideal spot for anyone visiting Sanibel/Fort Myers. I would highly recommend this place and would surely stay here if I ever visit Sanibel again.
Subhankar
2015-11-27T00:00:00Z
Typ av rum
Eget hus/egen lgh
---
Typ av boende
Hus
---
Plats för
2
---
Sovrum
Fort Myers, Florida, USA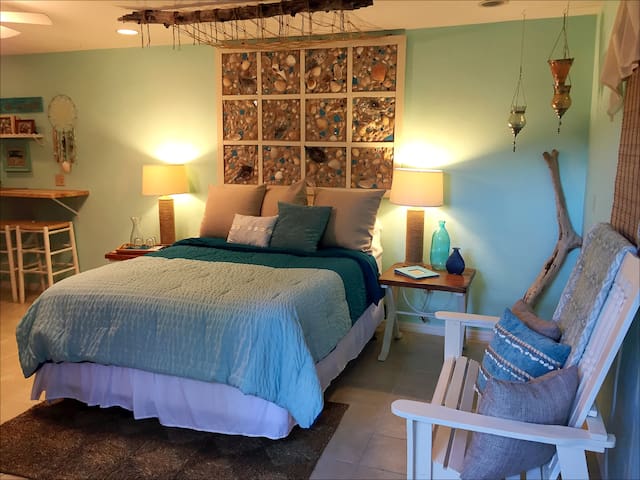 Denna vackra villa ligger i en helt kvarter Cape Coral. Partiet ligger precis vid vattnet där du kan njuta av den vackra utsikten över kanalen. Den Lanai har en härlig pool och en rymlig middag området inuti en mysig Florida rum. Villan erbjuder totalt tre sovrum, två badrum, vardagsrum och matplats och ett fullt utrustat kök. Det stora sovrummet är utrustat med en king size säng och en walk in closet. Befälhavaren Badrummet har en dusch och dubbla handfat. Det andra sovrummet har också en king size-säng och det tredje sovrummet har två enkelsängar. Den andra och tredje sovrummet dela den andra badrummet. Villan erbjuder gratis internetuppkoppling och WiFi om du vill använda din egen dator, pad eller smartphone. I vardagsrummet har gott om plats för underhållande en stor familj. En av sofforna kan vikas ut till en dubbelsäng. Köket är fullt utrustat med full storlek kylskåp, spis, ugn, mikrovågsugn, diskmaskin och ismaskin, allt du behöver för en perfekt semester. Utanför finns en gas BBQ-grill. Båten på bilderna är inte heller att hyra. Kom och njut av denna vackra fritidshus. Elförbrukningen debiteras ditt kreditkort på $ 0,14 / kWh efter utcheckning.
jättefint hus vi bodde 2 familjer perfekt ,lugnt område trevliga grannar jätte nöjd med allt
Johan
2015-12-27T00:00:00Z
We had a great time at Fredrik's place. It was in a nice location, easy to get around the area. The only thing we couldn't get to work was one of the showers, but there were 2 bathrooms so we just shared the master bath shower. Overall great stay in Cape Coral! We would rent again.
Tyna
2014-04-11T00:00:00Z
Typ av rum
Eget hus/egen lgh
---
Typ av boende
Hus
---
Plats för
8
---
Sovrum
Cape Coral, Florida, USA