Lovely and comfy room in the historic center of Igualada, near the city center but in a quiet and peaceful street. From the window you can see a little hill and wheat fields. The room is for 1 or 2 guests. Come here, relax and enjoy!
A quiet room in a bright apartment. Coffee and tea included!
This apartment is located right in the city center but in a peaceful zone.
Necessitavem un pis per la meva parella i jo per estar tranquils el cap de setmana, l'Irene es va adaptar a les nostres necessitats molt facil i rapidament. Molt bona comunicacio, i coordialitat. Te un pos perfecte per l'experiencia AirBnB
Marc
2015-07-19T00:00:00Z
El pis de l'Irena és molt acollidor i agradable, a més està situat en el bell centre d'Igualada. Tot i això, és tranquil i fresc. Ella s'ha adaptat molt als nostres horaris i ens ha fet sentir com a casa. Molt recomanable!
Pau
2016-07-22T00:00:00Z
Estuvimos muy cómodos en todo momento. Mucha facilidad en entrada y salida de l habitación. La anfitriona super atenta!
Vane
2016-08-29T00:00:00Z
La casa es ideal, mejor incluso que en las fotos. Irene es un cielo. Repetiré 100%.
Lucía
2016-08-18T00:00:00Z
Irene es una anfitriona perfecta,es muy simpática,y siempre recibe con una sonrisa
Jesus
2016-09-11T00:00:00Z
Irene es supermaja, muy atenta y detallista. La decoración de la casa me encanta y las vistas son una pasada. Estuvo muy pendiente de mí en todo momento y me hizo sentir como si estuviera en mi casa.
Mon
2016-08-04T00:00:00Z
My girlfriend and I stayed for one night only at Irene's. But our stay was perfect. Irene's place is very nice, cozy and well furnished. Irene was very nice and sweet. The location was perfect for us because we came to igualada only to attend a wedding, lucky for us, Irene's place was right next to the church. So for what we were looking for, I have nothing negative to say.
Adrien
2016-10-09T00:00:00Z
My boyfriend and I stayed 3 nights in Irenes apartment. We were very warmly welcomed by Irene and we had a very nice stay in here apartment.
Mettemarie
2016-07-18T00:00:00Z
Typ av rum
Eget rum
---
Typ av boende
Hus
---
Plats för
2
---
Sovrum
Igualada, Catalunya, Spanien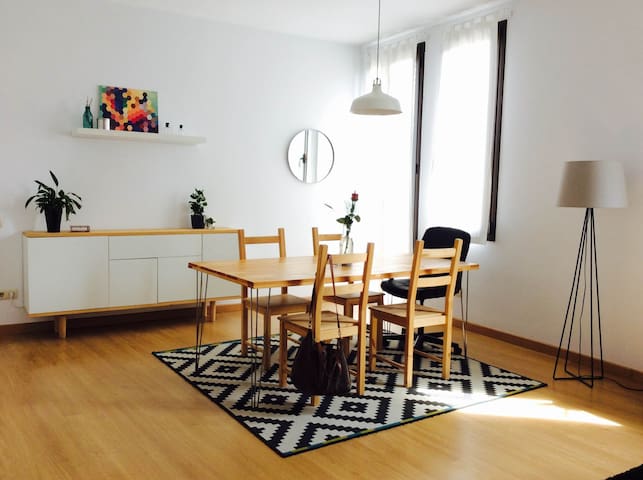 Esta habitacion esta en Barcelona no en Vilanova del Cami, una habitacion es amplia para dos personas, con balcon y muy soleada, la otra habitacion es individual, pequeña e interior, se puede arreglar el precio, esta bien situada, en zona muy tranquila y bien comunicada.
la zona es muy tranquila, el piso es viejo, y parece mas de un pueblo que de ciudad, el barrio es bien comunicado y con todo lo necesario para ir de compras.
si paseais por el barrio os parecera como si estuvierais en cualquier pueblo de catalunya.
Typ av rum
Eget rum
---
Typ av boende
Hus
---
Plats för
2
---
Sovrum
Barcelona, Catalunya, Spanien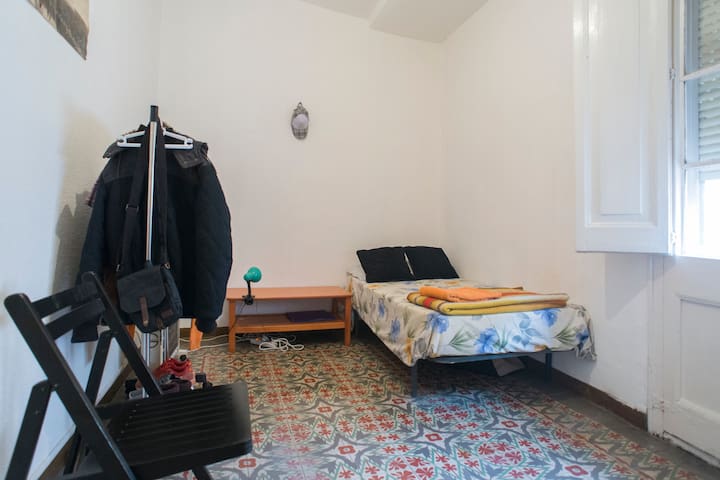 Bo i ett privat rum (dubbelsäng) med stor balkong + fantastisk utsikt till den magiska berget Montserrat (i byn El Bruc) Vårt hus har ett fullt utrustat kök, mysig spis, stor terrass och på bara 5 minuters promenad du är i skogen (naturliga pa
Vårt hus är ubicated i den trevliga lilla byn El Bruc, har vi alla nödvändiga bekvämligheter runt- bageri 2walking minuter, en liten, men mycket bra utrustade stormarknad (de har ekologiska produkter till bra priser) bara en minut till fots, 5 barer (1 av dem har en fin trädgård) och 4 restauranger vardera bara några minuter ... det är tyst men samtidigt du kan hitta en hel del omgivande, det finns en konstnärlig plats med engelsktalande personer ligger i samma by och massor av intressanta människor som passerar, också en hel del klättring kultur
Wow, what to say. Alina and Jaume made me a part of their home and their family for one month. It was an experience I shall never forget. The simplest way to express my feelings is that, as someone who travels frequently, this was the penultimate experience I could have hoped for in sharing someone's home. I've made friends I will cherish the rest of this life and likely many more. Blessings.
Jonah Constantine
2015-05-01T00:00:00Z
We did not meet Alina, but Jaume and Joan were super helpful and nice people. They made us feel very welcome. We could use the kitchen and had our own small terrace. The location is great, with the access to Montserrat just behind the house. The flat has everything one needs to feel comfortable.
Kadri
2016-04-11T00:00:00Z
El Bruc ist ein sehr ruhiges und unscheinbares Dörfchen. Ein guter Ausgangspunkt für Wanderungen. Wer aber Abends dann was zu Essen haben möchte muss sich auf Couscous (sehr fein) oder Tapas beschränken oder selber kochen. Das Zimmer hat eine eigene Terrasse mit Blick auf Montserrats Gebirge. Es ist jedoch sehr klein und nicht wirklich für 2 Personen gemacht ( wenn dann für Pärchen.) Joumen (?) – war so nett und hat uns noch einen Matratze gegeben, so dass ich draußen schlafen konnte. Das Haus ist ein gastfreundliches offenes Haus mit guter Energie aber leider auch nicht wirklich sauber. Aber wir haben dann beschlossen, dass es besser ist nette Gastgeber zu haben. Aber zur Verteidigung Alina war nicht da und Joume musste viel arbeiten…. :-) Für junge Leute und Paare kann ich die Unterkunft weiterempfehlen. Danke auch nochmal für die guten Tipps zum Wandern und die Rosen zum Abschied :-)
inge
2016-05-30T00:00:00Z
Alina was wonderful. She was very welcoming, when I entered her house it was like visiting old friends. Her house was clean and the bed was quite comfortable. I look forward to one day staying with her again.
Adri
2014-11-19T00:00:00Z
Dear Alina and Jaume, Your home is fantastic! In the middle of the beautiful little village El Bruc right beside the mountain, with the most beautiful surroundings, it provides a wonderful relaxed atmosphere. The house has everything: kitchen, garden, great room, great bathroom etc. The private terrace is so great. We enjoyed the view and the silence so much! It is the perfect place to stay and the lively and musical people in the house add to the happy environment. Thank you for letting us stay and we will definitely be back some time.
Malin
2016-07-27T00:00:00Z
Only met Jaume once during my stay when I got the key from him in the city center of Barcelona, but he was extremely helpful. Gave me a bus schedule and drew a map telling me how to get to the house. Room was very comfortable and the balcony has an amazing view. His housemate was very knowledgeable of all the trails on Monterrat and invited me to come with him on hikes (unfortunately I couldn't due to my work). Would definitely recommend them for a quick or long stay outside of Barcelona
Derek
2016-02-24T00:00:00Z
Nice view of the room and great people. A great place for climbing.
DAVID
2016-05-02T00:00:00Z
Alina was a very welcoming and sweet host, and this is a beautiful house in a lovely and calm town. We especially liked the terrace and seeing the view of the mountains every morning. Thanks Alina!
molly
2016-07-14T00:00:00Z
Typ av rum
Eget rum
---
Typ av boende
Hus
---
Plats för
2
---
Sovrum
El Bruc, Katalonien, Spanien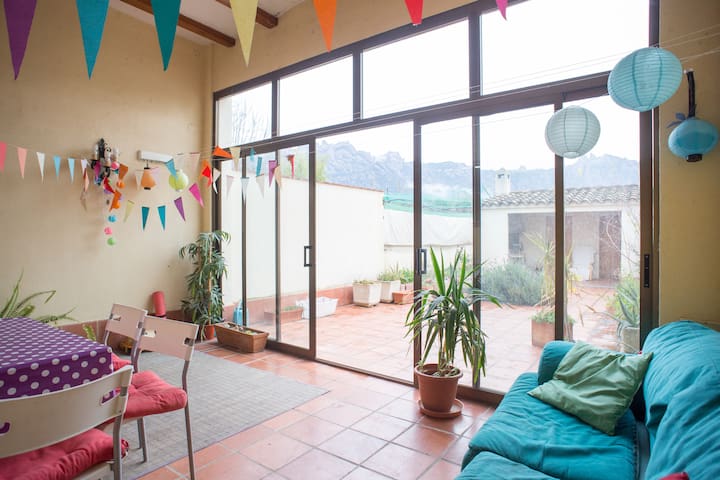 Family house completely surrounded by forest and garden. Next to Montserrat, 45 minutes from Barcelona, Sitges, Penedés, Tarragona. Quiet village, ideal for hiking and mountain biking. Modern and bright house.
Our home is a house with a spacious daytime integrated living room, dining room, kitchen and a loft with study, all open to the garden and the surrounding forest. We have a very large porch on the north side, very shady and overlooking the forest and mountains. The bedrooms part has three bedrooms and two bathrooms.
We live in a small village, very quiet, surrounded by fields and forest. The old part is very pretty, with a castle and church of the XI century, as well as sports center with tennis courts and paddel. The village has several bars, restaurants and cafes as well as food shops. It is noteworthy that in summer, we have a beautiful municipal swimming pool, in the middle of a beautiful wooded meadow next to the castle of Claramunt.
A truly great place to stay. A bit like a villa. Plenty space, even for six persons. Nice terraces, at the backsite of the house, and in front of the house. Also a spacious garden. Great view over the hills. Ideal situated for a daytrip to Barcelona, Sitges. Near to Montserrat, with possibilities for a walk.
klaas
2016-08-12T00:00:00Z
Très belle maison moderne et fonctionnelle, conforme au descriptif. On se sent tout de suite chez soi. La pièce de vie est très spacieuse et bien agencée. Les deux terrasses ombragées sont agréables à toute heure de la journée. Il ne manque que le hamac! Malgré son absence, Gustavo pouvait être contacté à tout moment.
Anne
2016-08-20T00:00:00Z
Nos ha encantado! La casa es preciosa,acogedora...el lugar es maravilloso y lo hemos pasado genial!!!
Paco
2016-12-11T00:00:00Z
petit séjour de trois jours dans une maison correspondant en tout points à notre attente.
Christophe
2016-11-01T00:00:00Z
Typ av rum
Eget hus/egen lgh
---
Typ av boende
Hus
---
Plats för
7
---
Sovrum
La Torre de Claramunt, Catalunya, Spanien
Stay in a nice habit.con double bed in our home village on foot of the mountain of Montserrat. The house is a typical Catalan house recently renovated with everything needed to be -terrace taste, fireplace, barbecue, sofas, ... :)
We live in a typical Catalan two-storey house on the sunny side of the magic mountain of Montserrat, in the village of El Bruc. We all benificios offered by the town (2 bakeries to 3 and 5 min, 2min supermarket, several bars and restaurants, ...) but also is the forest with his silence only 5 min walk. You can reach easily and climb the mountain in about 15-20min walk too. The entrance of Barcelona is just 35min approx. thanks to the good connection via the A2. if you do not have a car no problem as none at all Public transport is reached easily and comfortably. (Every 30 minutes leaves a bus des Diagonal and leaves you in the same street where our street, about 7min.
We are the two town but El Bruc we love for its two sides-the movement of people and nature so close.
Alina and her family are absolutely lovely. Very kind and generous with their home. You feel very welcome. El Bruc is stunning! And I have a feeling it is much less touristy than Montserrat, which we enjoyed. You can do some great hikes from their house and if you climb, even better! Many thanks Alina!!
Megan and Nicholas
2017-02-26T00:00:00Z
My husband and I thoroughly enjoyed our stay at Alina's place. The whole family is beyond words welcoming. Jaume took my husband out climbing because I was sick for a few days and Alina gave me some supplements and good company while getting better. The location is IDEAL for outdoor activists especially climbers. There are many trails and easy access to the mountains just right behind the backyard. There is a bakery and grocery store steps from the house. The neighborhood is friendly. The house is clean and accessible. It was a bit loud inside with the echos if the door slammed but that's just how the houses were built. We didn't stay in the room with the view and balcony but we had access to the entire house including kitchen and the backyard and that's really mostly where we stayed when we weren't outside. El Bruch is beautiful. Alina and her family are naturally great people who accommodate to your needs and are pretty laidback. We had a fun time getting to know the family and staying at their beautiful home. There really aren't enough people in the world like them. Can't wait to be back
Katrina
2017-03-12T00:00:00Z
Alina and her family are such a wonderful host who i have ever met. They tried their best to help us for travel plan just like information centre. I strongly recommend you to stay in her house! It was amazing and thankful experience!! Thank you so much :)
Yona
2016-12-29T00:00:00Z
Alina n'étant pas là, c'est Jaume qui nous a accueilli et nous à donné plein d'info utiles pour notre séjour (resto/rando). Nous avions la maison pour nous tout seul ce qui était très appréciable. La vue de la terrasse est exceptionnelle. Et la nuit on n'entend pas un bruit ! Merci encore.
Alexandre
2016-09-19T00:00:00Z
The stay was very nice. Jaume and Alina were very hospital and told us where to go and what we should see in the neighborhood (for example a beautiful hiking tour). We definitely recommend the place to others who want to have a few relaxed days out of Barcelona.
Madelon
2017-04-01T00:00:00Z
Very friendly hosts. Great hospitality. Very clean as well. Recommended!
Willem
2017-01-08T00:00:00Z
I loved every minute of my time at Alina's home! The house is located in a super-sweet little village minutes from gorgeous hiking trails in the Montserray mountains, with a wonderful bakery and grocery store less than a minutes walk from their front door. My bed was incredibly comfortable- I slept very well! And my room had a gorgeous balcony overlooking the mountains! But best of all was Alina's family: I felt like I was visiting beloved friends. They told me where to find the best hikes, shared their wine with me, invited me into their dinner with friends, and I was. Fortunate enough to receive a beautiful acupuncture treatment from Jaume! I left their home filled up with their generous love and care! Thank you!
Rachael
2016-09-15T00:00:00Z
We arrived and were immediately welcomed and showed to our room that has an amazing view! Our hosts were super friendly and welcoming. The neighborhood was cute and groceries were so cheap! We came here to climb and hiked out to the mountain each day and cooked lovely dinners at home. We even got to use fresh tomatoes from the garden! We had a wonderful time here.
Olivia
2015-08-03T00:00:00Z
Typ av rum
Eget rum
---
Typ av boende
Hus
---
Plats för
2
---
Sovrum
El Bruc, Catalunya, Spanien
1

–

5

av

5 Uthyrningar av hem
Ange datum för att se full prissättning. Ytterligare avgifter tillkommer. Skatter kan tillkomma.