Apartamento independiente de 26m con baño, cocina y jardín del que puedes disfrutar. Alternativa rural muy cerquita de la ciudad. A 1 minuto de la parada del bus que te lleva a Triana y al centro de Sevilla en 15 minutos, puedes llegar también en 10 minutos si vas en coche. Cerca tienes supermercados, restaurantes, burguer y bares con buenas tapas. La familia, madre con dos hijas, que vivimos en la planta alta de la casa, estaremos encantadas de orientaros y ayudaros en lo que necesitéis.
Typ av rum
Eget rum
---
Typ av boende
Egen ingång
---
Plats för
2
---
Sovrum
Castilleja de la Cuesta, Andalucía, Spanien
La casa tiene tres habitaciones dos dormitorios y una de juego. Está decorada con muebles modernos, suelo de tarima flotante. Lo que alquilo es un dormitorio con cama d matrimonio para dos personas . El precio que viene es por persona.
Natalia es una anfitriona perfecta que te hace sentir como en casa desde el primer momento. La casa está muy céntrica y todo lo encontré tal y como lo vi en la reserva. Muchas gracias Natalia por todo !! Lo recomiendo al 100%
Mery
2016-06-14T00:00:00Z
Typ av rum
Eget rum
---
Typ av boende
Annat
---
Plats för
2
---
Sovrum
Castilleja de la Cuesta, Andalucía, Spanien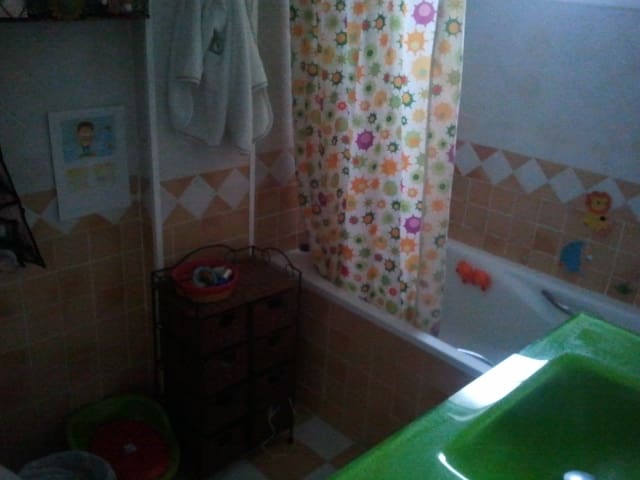 Privatzimmer: ruhig und hell sein. Sie können auch kostenlose Parkplätze und zwei alte Fahrräder (man kann Fotos in der Anzeige sehen) genießen. Die Fahrräder sind alt, aber sind getrennt und kostenlos. Einige Gäste lieben und andere nicht. Wenn Sie moderne Fahrräder nur 5 Minuten bevorzugen, können Sie die Miete. Einfacher Zugang vom Flughafen, dem Bahnhof und Bus (Optionen Lesen Sie auf der Registerkarte Standort zu gelangen).
Hallo! Vor kurzem haben wir begonnen, ein Haus auf diesem Boden sein kann, zu bauen, wenn Sie möchten, auch bei Ihnen während Ihres Aufenthalts in Sevilla. In zentraler Lage in einer der böhmischen Gegenden der Hauptstadt, um alle als "La Alameda de Hercules" bekannt. Wir leben in der Mitte, in dem Gebiet, bekannt als Alameda de Hercules, die am besten zu essen, zu trinken, gehen und mit den Menschen in Sevilla leben teilen. Nach 15 bis 20 Minuten zu Fuß (und Fahrrad weniger) ist der monumentale Bereich (Kathedrale, Alcazar de Sevilla ...) mit (SENSITIVE INHALT HIDDEN) Karten sehen kann. Im historischen Viertel nach einem besseren Stadt nicht essen, weil es teuer und schlecht ist, vorbereitet nur für Touristen. Einfacher Zugang vom Flughafen, dem Bahnhof und Bus, wie wir in der Nähe (3 Minuten) zu einer Arterie Haupt sind, Straße TORNEO (Haltestelle alle Buslinien, die die Stadt durchqueren). Lesen Sie Optionen auf der Registerkarte Standort zu gelangen. Doch unsere Wohnung sehr ruhig ist, kann man ohne Lärm entspannen. Die Zimmer sind dein, unser und ein dritter. Alle Zimmer sind geräumig und wird ein Vergnügen sein, um sie zu genießen wie in Ihrem Haus fühlen. Kochen ist nicht erlaubt, sollten Sie um Erlaubnis bitten. Es hat auch eine Garage (Parkplätze in der Umgebung schwer) und kann die Stadt auf zwei alte Fahrräder erkunden vintange für Sie vorbereitet (können die Bilder in der Anzeige zu sehen). Es ist wichtig, die Fahrräder in Orten der Stadt für sie bereit zu binden. Nie lassen sie zwischen ihnen allein gebunden oder nicht auf dem Rücken sein wird. Die Fahrräder sind alt, aber sind getrennt und kostenlos. Einige Gäste lieben und andere nicht. Wenn Sie moderne Fahrräder nur 5 Minuten bevorzugen, können Sie die Miete. Sehen Sie irgendwelche Zweifel glücklich zu helfen. Wir verbrachten viel Zeit weg von zu Hause, aber antwortete schnell über die App Airbnb. Wir sind ein junges Paar, das wir Radfahren lieben, um unsere Nachbarschaft zu Fuß zu seinen Attraktionen wie der Market Street Feria genießen: Tapas gehen und genießen, wann immer wir können. Es ist einfach, unsere Heimat mit anderen Paaren zu teilen. Und wir sind auf dem Handy immer verfügbar. Hier hoffen wir, Rose und Antonio. Machen Sie keinen Lärm in den öffentlichen Bereichen des Gebäudes zu machen. Tragen Sie keine Fersen nach 22.00 Uhr. Schließen Sie die Tür mit Schlüsseln. Verlassen Fahrt verlassen Sie die Fenster geschlossen und Fensterläden nach unten (zumindest auf halber Höhe) Wenn Sie die Fahrräder benutzen müssen die Regeln des Gebäudes respektieren: immer sie in den Aufzug zu senken und beide verlassen eingeben müssen die beiden Haupttüren des Gebäudes öffnen und schließen Sie sie dann. Rauchen verboten. Keine laute Musik. Die Waschmaschine, wenn Sie das Programm 7 (ökologische, schnelle und 30 °) verwenden verwenden sollten. Geschirrspüler: Alles, was Sie tun, ist Last zu ihm haben, legen Sie die Seife Quadrat (Kasten unter der Spüle) und starten. Stellen Sie sicher, dass die Trocknungs Einstellung auf Eco eingestellt ist. Elektrizität in Spanien ist sehr teuer, bitte verantwortlich Gebrauch machen. Wenn Sie verlassen Lampen und Geräte auszuschalten. Auch für die Umwelt. Wasser: Bitte versuchen Sie es weniger Wasser Während Duschen zu benutzen, Zähneputzen und Waschen Artikel, während in meiner Wohnung zu bleiben. Insgesamt ist die Wassernutzung der höchste Nutzen und ich bitte meine Gäste nicht Wasser laufen zu lassen, wenn nicht erforderlich. Wir sind uns bewusst, die Umwelt in unserem Haus. Lassen Sie uns einen verantwortungsvollen Umgang zu machen. Bitte unsere Pflanzen Wasser brauchen, würde es alle zwei Tage groß sein. Start ist leicht mit den öffentlichen Verkehrsmitteln vom Flughafen, dem Bahnhof und dem Busbahnhof nur bis 22.00 Uhr, dann sollte es mit dem Taxi. Nächstes Krankenhaus: Hospital Universitario Virgen Macarena (zu Fuß 15 Minuten)
Eines der einzigartigen Nachbarschaften in Sevilla, die vor ein Erwachen etwa zehn Jahren und hat sich zu einem Muss, wenn Sie in die Stadt kommen. Frühstück in einer der Bars; ein Bier in Bars und Tavernen zu ihren Pfarr hören; Straße und lokale Kunst; gute Musik; neue Einkaufsstraßen in den trendigsten Handwerker; sein Licht und orange ist etwas, das diesen neuen Stadtteil macht, gebildet hauptsächlich von Menschen aus anderen Stadtteilen, wir alle jeden Tag in unserer Nachbarschaft machen wollen.
My stay at Rosemary's room was super. Rosemary is a very good host who will do everything to make your stay in Sevilla as good as possible. The room is located at 3 minutes walking of the place Herculles where there are a lot of bars and restaurants. In the package there is also a bike so it was easy to discover Sevilla. Rosemary also give me a card with all the good restaurants, bars and places to visit. If you go to Sevilla just go to Rosemary, you will not regret it. :-)
Koen
2014-05-12T00:00:00Z
Rosemary reageert heel snel op vragen en is heel attent en behulpzaam! Appartement ligt op een leuke locatie. Haar tips waren heel waardevol en handig! Kortom een echte aanrader!
Wilma
2015-05-23T00:00:00Z
We had a great stay at Rosemary's apartment. It was very clean and conveniently located (a bit outside of the more touristy area). Rosemary provides a packet of recommended places (restaurants, bars, cafes) that was very helpful. The bed was comfortable and the room is spacious and nicely decorated. Good communication. Highly recommend!
Rebekah
2017-02-08T00:00:00Z
Perfect cosy room in a very nice and calm neighborhood of Sevilla. Rosemary and her mother were amazing hosts and helped us in everything we needed. They even got bikes (really a plus in the experience of wandering around the city) for guests. Would definitely love to come back
Mariu
2015-03-31T00:00:00Z
It was a short but really nice time in Sevilla thanks to Rosa. The flat and the room are really nice, the host very friendly, and the bikes make you feel a unique experience to discover the city. Highly recommended;)
Elisa
2015-02-11T00:00:00Z
Un bon accueil et une chambre spacieuse et confortable. Rosemary et Antonio sont tellement discret qu'on ne devine même pas leur présence. Très arrangeants et sympathiques, tous les deux.
cynthia
2015-09-05T00:00:00Z
wonderful room in a great location. Rosemary was helpful and her flat felt very comfortable. The bikes were super fun and we appreciated her recommendation. I would highly recommend her place!
Lisa
2016-10-10T00:00:00Z
This was overall an amazing stay! The place is overall extremely clean and spacious with Rosemary being extremely helpful and kind! She even went out of her way to book us a fantastic flamenco show! The bikes made it extremely easy to cycle around Seville and explore. I would definitely book again to stay here! Thank you for a wonderful trip! xx
Stephanie
2016-09-16T00:00:00Z
Typ av rum
Eget rum
---
Typ av boende
Lägenhet
---
Plats för
2
---
Sovrum
Sevilla, Andalucía, Spanien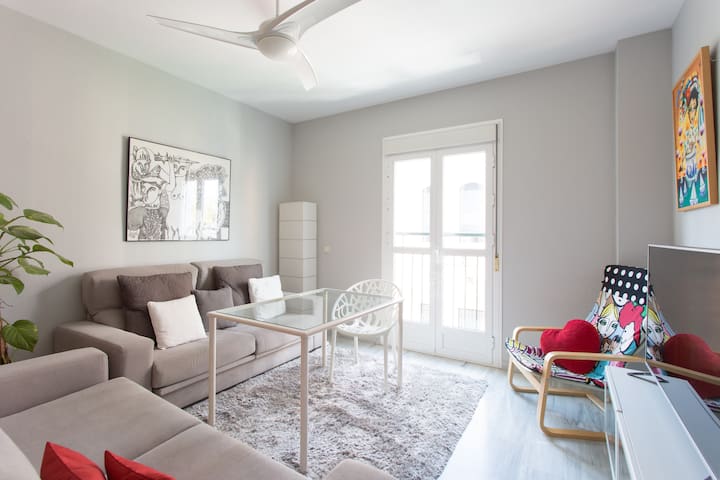 The apartment with parking is excellently located in the historic center and is ideal and comfortable place to visit on foot all the sights of Sevilla. In a very quiet and bright patio it is perfect for enjoying the plazas, museums, shops and restaurants in the city while resting in a calm and quiet place.
It is ideal for exploring Seville on foot comfortably, next to the Plaza de la Gavidia, you'll be in the historical center to enjoy the terraces, gardens and squares of Sevilla, museums and shops.
The center of Seville is very dynamic and cheerful, churches, restaurants, museums and shops.
Typ av rum
Eget hus/egen lgh
---
Typ av boende
Lägenhet
---
Plats för
2
---
Sovrum
Sevilla, Andalucía, Spanien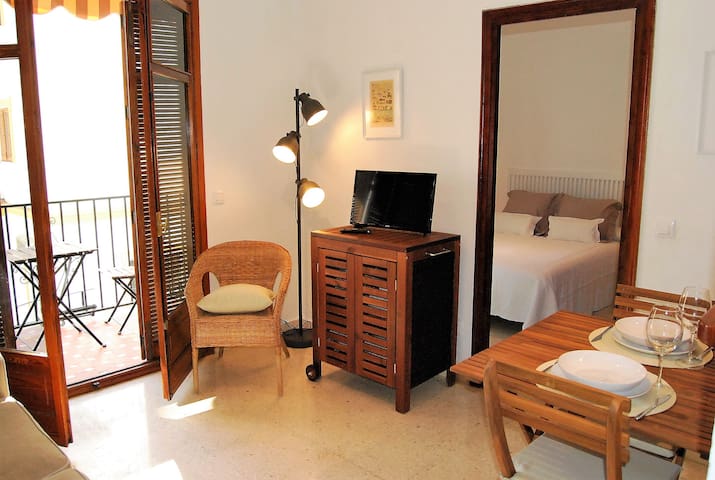 Llogo habitació en barri tranquil, cèntric i ben comunicat. A 18 min. estació Sta. Justa i 20 del centre caminant. Amb wifi. Pis lluminós i tranquil. Ideal per als amants dels gossos.
Volem que senti que l'habitació és un lloc privat, còmode i tranquil per a vostè en el qual gaudir d'una mica de descans. Amb això en ment, tenim un llit doble que es dobla en un divan (un tipus de sofà), i li proporcionarà amb llençols nets, tovalloles i un parell de sabatilles perquè se senti encara més a casa! Hi ha espai per posar la teva roba i un escriptori. L'habitació és lluminosa i tranquil·la i és prou gran per a dues persones a romandre còmodament. La higiene és important per a nosaltres pel que sempre es troba la sala neta. Si es queda amb nosaltres durant un període prolongat, proporcionarem llençols i tovalloles cada setmana.
Macarena és possiblement el barri menys turístic i més autèntic a Sevilla. El barri té un toc casolà, i es pot trobar la major quantitat de botigues, restaurants i bars com sigui necessari. També hi ha gimnasos, parcs i jardins a prop, i si vol anar al centre de Sevilla Només seran uns 15 minuts caminant.
Inmaculada e Inés fueron excelentes anfitrionas. Realmente nos sentimos como en casa. Siempre se preocuparon de nosotros y nos dieron los mejores consejos para conocer la usas a fondo. Realmente muy amables y de buena voluntad recomendable 100%
Rodrigo
2016-06-14T00:00:00Z
Inma and Ines were very kind and made us feel comfortable in their home. There is a cool bar on the corner of their street that has live music some nights, and it's a short walk to the center of town. I highly recommend staying with them and their two incredibly adorable small dogs. Thanks again xo
Jessica
2016-05-22T00:00:00Z
Inmaculada was a gracious and extremely kind host during our short stay here. She was always ready to help and even helped us to order food from a local diner on the first day. The place is a short walk to the center where most of the attractions are. The pictures do not do the place justice. Everything was very clean and the room comfortably fit 2 guys.
Isaac
2016-09-23T00:00:00Z
非常非常棒的房东,两位为我们提供了很多旅游的信息,而且很热心的帮助我们订票推荐餐厅。 房间装饰的书卷气极浓,干净,整洁。房东两人是历史研究学者,我爱和她们聊天,她们真的非常迷人。 坐落于市中心不远,我认为一切都很方便,这是一次完美的住房体验。 Magnifique.les propriétaires sont gentilles.elles nous aident (URL HIDDEN) maison est décorée avec beacoup de goût et propre. C'est pas loin de centre ville.
诗意
2016-04-22T00:00:00Z
Inmaculada was a wonderful host- very friendly and kind. The flat was clean, the doggies were adorable, and we had everything we needed. It was perhaps a bit of a walk from the centre, but aside from that we had an absolutely fantastic stay. I would stay again!
Farrah
2015-04-02T00:00:00Z
Auch wenn die Ankunft etwas chaotisch war, haben wir uns doch recht wohlgefühlt in Inmaculadas Wohnung. Wir konnten sie selbst leider nicht kennenlernen, aber der Kontakt vorab war sehr zuverlässig und sehr nett. Außerdem hat sie uns Flyer und Pläne für Sevilla dagelassen. Ihre Nachbarin war dann so freundlich uns in die Wohnung zu lassen und alles für uns vorzubereiten. Die Wohnung ist sehr gut gelegen, da man sowohl mit den Bussen als auch zu Fuß schnell im Zentrum ist und Supermärkte auch in der Nähe sind. Wir hatten wahrscheinlich einen Vorteil dadurch, dass wir alleine in der Wohnung waren, denn leider scheint man keine wirkliche Privatsphäre in dem Zimmer zu haben, da man nur eine Schiebetür hat. Generell ist die Wohnung leider recht laut, da man die Nachbarskinder im Nebenzimmer auch spät abends noch toben hört und auch die restlichen Nachbarn durch den Innenhof hört. Mit Ohropax und nach einem anstrengenden und erlebnisreichen Tag In Sevilla kann man aber darüber hinwegsehen. Mit der Parkplatzsuche hatten wir Glück, generell scheint das aber schwierig zu sein. Für den Preis und mit einigen Abstrichen können wir die Wohnung also durchaus empfehlen.
Philipp
2015-04-08T00:00:00Z
Buenas anfitrionas
Carlos
2017-03-04T00:00:00Z
Good location close to the center. Immaculada and her friend were very friendly! Everything fine!!!
gabriela
2016-05-17T00:00:00Z
Typ av rum
Eget rum
---
Typ av boende
Lägenhet
---
Plats för
2
---
Sovrum
Sevilla, Andalucía, Spanien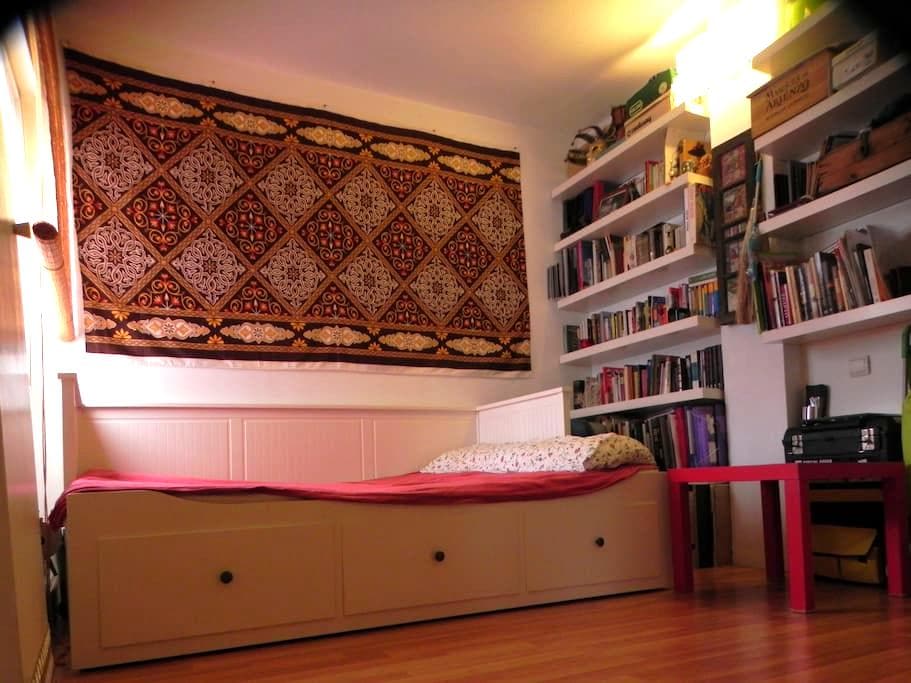 quiet room with all amenities. In the heart of Triana. Perfect location a few meters from the bus stop, trade, food market, flamenco, tapas bars, Plaza del Altozano, Calle Betis. Very near cathedral and reaches
Our apartment has all the amenities you might need. This consists of a very large living room and kitchen. The bedroom has a 90 bed, a bedside table, a shelf and a closet where you can put your things. It is a very bright room with everything needed for personal rest.
Space is an ideal place. It is the heart of Triana and just 10 minutes from downtown Seville. It is a quiet but full of life with its many neighborhood tapas bars, shops, supermarkets ... It is located just 5 minutes from the river bank where the street Betis is; an area where there from flamenco shows, bars of quiet drinks to the latest music.
Laura is a great host. She waited for me to arrive when I was delayed and invited me out to join her and another airbnb guest. The room is a bit tiny but it's not a big issue. The neighbourhood is safe and it's fairly close to the main attractions in Sevilla. I'd stay here again !
Leon
2015-12-10T00:00:00Z
yes,it is a good room
CHANGZE
2016-10-16T00:00:00Z
I had a nice stay and can recommend the place also to others. Unfortunately I did not have almost any time to spend with the hosts but they did do everything to accommodate my needs.
Kristi
2016-11-24T00:00:00Z
La casa è in posizione molto comoda, vicino ad autobus e taxi e al ponte di Triana. Consiglio di alloggiare in questo quartiere per godere anche di questo angolo di città. Nonostante un impegno improvviso, Laura ha fatto in modo che il suo fidanzato Javi mi facesse fare il check-in in tempo per non lasciarmi sotto la pioggia battente. Javi è stato molto gentile e disponibile, mi ha consigliato dove mangiare e cosa visitare. Purtroppo l'accoglienza di Laura non è stata abbastanza calorosa. La casa ha due stanze per gli ospiti (più quella di Laura e Javi) e un solo bagno (che io ho comunque sempre trovato libero)
Valeria
2016-12-05T00:00:00Z
Le habitación es tal cual el anuncio, Laura es una chica muy amable, la ubicación del piso es excelente, tienes cerca supermercados, bares, parada de autobus y bicis. Limpio y con lo necsraio para tener una estancia agradable. Estuve a gusto
Thelma
2015-12-25T00:00:00Z
Had quite an adventure before coming to Sevilla, but Laura's hospitality allowed me to leave it behind and enjoy the city! The neighbourhood is ideal and near everything you could need, and great quality/price ratio.
Ève
2015-05-23T00:00:00Z
Laura fue muy amable desde el primer momento, resolvió todas mis dudas y me ayudó en todo lo posible, la comunicación ha sido muy buena.
Sara
2015-10-02T00:00:00Z
숙소는 트리아나쪽이고 대성당까지는 걸어서 20분정도 걸립니다 방에 에어컨은 없지만 선풍기가 있습니다. 호스트가 친절했습니다. Laura is kind and she gave me anything I need. The room is small but good. No A.C but there is a large fan. you can go to cathedral by walking for 15~20min.
Hyojin
2016-07-16T00:00:00Z
Typ av rum
Eget rum
---
Typ av boende
Lägenhet
---
Plats för
1
---
Sovrum
Sevilla, Andalucía, Spanien
Sie gehen in der Mitte der Stadt, 2 minut zu de catedral und besuchen Sie die Stadt zu Fuß alle können bleiben das Haus ist sehr schön ruhig ein ruhiger
PRIVATE ZIMMER Zimmer Nice private und komfortable Zimmer in einem sonnigen Platz in Sevilla angeboten. Es ist das Zentrum der Stadt ganz in der Nähe von "La Giralda" und der Kathedrale. Das Haus ist voll von Utilities (TV, Internet ...). Handtücher und Bettwäsche enthalten. Bad, Küche, Waschmaschine ... Mein Haus liegt im Zentrum von Sevilla localted. Es besteht keine Notwendigkeit jeglicher Art von Transport innerhalb der Stadt als zu Fuß Sie in 5 Minuten viel Spaß Orte als "Tapas" Bars, Flamenco und toros Veranstaltungen erreichen, Fußballspiele ... Ich würde jedem helfen, die nach vorne schaut, um die Stadt mit Besuch. Ich spreche Spanisch und Englisch, und ich bin ein sehr kontaktfreudig, aufgeschlossen und freundlich. Ich versuche, meine Gäste so viel komfortabel wie möglich sein und die Stadt zu genießen, während eine gute soziale Erfahrung mit ihnen. Ich mag die Erfahrung bei Airbnb adn neue Leute aus der ganzen Welt.
The host canceled this reservation 2 days before arrival. This is an automated posting.
Ana María
2016-12-02T00:00:00Z
Juan and his daughter great hosts and great people! We had a very short stay in Sevilla, but this adorable place made our stay much more meaningful and comfortable. The apartment is super clean and has everything you need. Most of all, Juan is a very flexible person who will always try to make the situation as comfortable as possible for his guests. He is always kind, considerate and making you feel at home. Thank you so much for everything, Juan!
Jessica
2015-02-09T00:00:00Z
Juan's place was fantastic. The apartment is located in a very central part of Sevilla. Juan was very friendly and helpful with suggestions for sight seeing etc. Make sure you take up his Flamenco recommendation. Thanks again Juan!
Kathryn
2014-08-10T00:00:00Z
We intended to drive from Lisbon and arrive by 3pm. Everything went wrong. Wifi in our rental car stopped working so we had to use a paper map. Road construction and a missed exit resulted in a 3 hour detour. Then, the directions to the location were not great for someone driving (we had no idea what we had gotten into!) Juan of course could not wait indefinitely but could not reach us because our phones were not working either. Upon arrival and finally getting into the apartment we were pleased to find it clean, comfortable and conveniently located. Juan was helpful in spite of our being so late!
Kendra
2016-03-04T00:00:00Z
This apartment has an excellent location for seeing Old Sevilla. Juan gave me directions for finding good flamenco and took me to a great coffee shop Sunday morning. I wish he had been there to greet me when I arrived. The room was smaller than I expected and was partially used for storage. The bathroom needed some repairs also. The fact that the location was great saved the day for me.
Lois
2015-03-04T00:00:00Z
Very friendly host family who made sure my stay was comfortable. They lent me a phone charger for example. I enjoyed the stay and felt at home.
Frank
2013-10-01T00:00:00Z
We had a fantastic stay with Juan in Seville. He was very helpful and his advice really helped us to make the most of our visit. He gave us great recommendations for local tapas bars, right down to particular good dishes for each of the bars! Thank you for taking us to the bar with the BEST deep fried marinated anchovies :) His place is clean, tidy and with fantastic location. Highly recommended and would absolutely come back to stay with him again in the future.
June
2012-04-22T00:00:00Z
Ottima l'accoglienza e la disponibilità di Juan durante tutto il soggiorno. La casa era esattamente come descritta dal sito, ubicata in una zona fantastica accanto al suggestivo Barrio di Santa Cruz. Juan è un uomo affascinante e carismatico, ti fa sentire davvero a casa. Grazie Juan!
sonia
2014-07-07T00:00:00Z
Typ av rum
Eget rum
---
Typ av boende
Lägenhet
---
Plats för
2
---
Sovrum
Sevilla, Andalucía, Spanien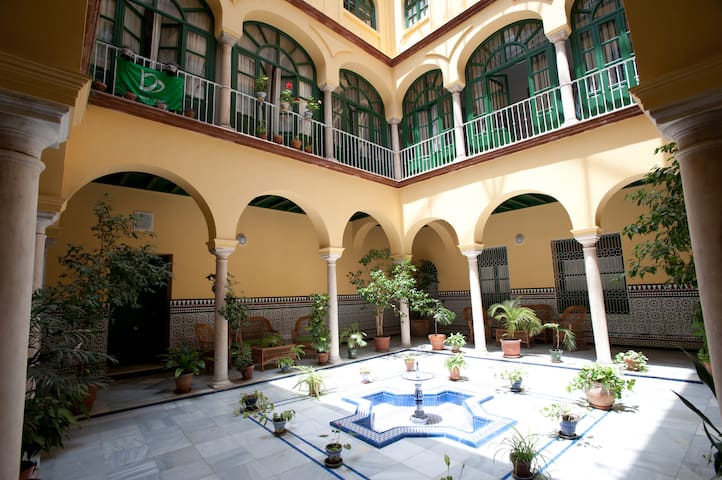 Schön renoviertes Haus im historischen Zentrum der Stadt. Es verfügt über alle Annehmlichkeiten sie einen fantastischen Aufenthalt zu machen und Sie mit allen Informationen und Ratschläge, die Sie brauchen, um zu helfen. Unendlichkeit der Sehenswürdigkeiten für die ganze Öffentlichkeit.
Das Haus liegt in einer sehr charmanten Sevillian Innenhof. Es wurde komplett renoviert und alle Möbel, Matratzen, Geräte, Geschirr und Zimmer sind neu. Wir freuen uns sehr über unser Haus und wir wollen es mit Ihnen zu teilen, zur gleichen Zeit, dass wir Ihnen helfen, die magischen Orte zu entdecken, die Sevilla hat, sowie seine Gastronomie und seine Traditionen. Diese Gegend ist San Julian genannt und ist voller Leben mit seinen Bars, Tapas, Coffee-Shops, Konzerte. In den 90er Jahren hatte die Nachbarschaft eine Veränderung auf allen Ebenen und wurden alle alten Haus rehabilitiert und begann von Künstlern und Bohemiens von Sevilla belegt werden, aus einem Slum ist eine Nachbarschaft, in vielen sozialen Klassen leben und wo jeder weiß, everybody.Proximity zu Altstadt macht diese Gegend eine der attraktivsten für diejenigen, die die Stadt und wissen, das Wesen und die Sitten Menschen Sevilla erkunden wollen. In dieser Umgebung werden viele Bars, wo Menschen zusammen ein Bier zu trinken und Kontakte zu knüpfen Bereiche in der Nachbarschaft zu betonen -Feria Straße: die Hauptstraße dieser Gegend ist, da ist voll von Menschen, viele Geschäfte, Bars, chinesischen Läden, Fast Food, gibt es ein Lebensmittelmarkt, wo man Obst, Fleisch und Fisch von der (versteckten Website) kaufen kann die Rück Teil gibt es eine Bar, wo Sie das Frühstück oder ein Bier mit gebratenen Fisch haben können .Sie für die "Bar des Marktes" zu fragen -Antiquies Markt (nur am Donnerstag) ist ein Markt, auf der Feria Straße platziert, wo Antiquitäten, Bücher und viele neugierige Objekte zu verkaufen Restaurants und Tapas-Bars: -Calatrava Straße: Diese Straße hat viele Bars von Anfang an (ab Barqueta-Brücke) bis zum Ende (Alameda de Hercules) Viele Bars haben freie Platzwahl in der Open-Air-.i empfehlen Sie immer die Bars zu wählen, wo es mehr Menschen sind -Casa Paco (Alameda de Hercules) viele "Tapas" guten Preis-und Außenbereich in der Mitte der Alameda de Hercules -Contenedor (Sanluis Straße): sehr cool Restaurant mit künstlerischen Dekoration und gutes Essen und guten Wein. Der Preis ist etwas höher als der andere -La Azotea (Jesus del Gran Poder Straße): ausgezeichnetes Restaurant mit einer sehr guten Küche und wine.The einzige Sache ist, dass der Ort sehr schwierig ist, einen freien Tisch, weil seine kleine zu finden Frühstück: -La Cacharreria (Regina Straße): Bar sehr klein, aber sehr schön mit einem besonderen Frühstück mit Toast, Säften und Obst und befindet sich in der Calle Regina, attraktive Fußgängerzone -Cafe Hercules (Peris Mencheta Straße) -Café Piola (Alameda de Hércules) -Alameda De Hercules: viele Bars ein Frühstück im Freien zu Wenn Sie kommen mit dem Bus ist die Bushaltestelle ca. 5 Minuten zu der Wohnung zu Fuß Wenn Sie mit dem Auto kommen, werde ich Ihnen eine Karte mit den Bereichen senden eine sichere und kostenlose Parkplätze zu bekommen
Der Bezirk von San Julián in der Stadt Sevilla (Spanien), ist Teil des Bezirks historischen Stadtzentrum. Es mischt modernen Blöcke von bis zu 7 Etagen mit traditionellen Häusern mit einem oder zwei Etagen. Das Zentrum ist die Plaza de San Julián, wo die Gemeinde befindet. Es hat den gleichen Namen wie der Nachbarschaft und im Inneren ist das Bild von San Julián. Die großen Feste der Nachbarschaft sind im Monat September mit dem vela de la Hiniesta zu Beginn des Monats und mit den Festivals zu Ehren der Jungfrau des Rosenkranzes am Ende des gleichen Monats gefeiert. Zu Weihnachten wird die königliche paje durch die Straßen der Nachbarschaft paradierten und im Mai die traditionellen Mai Kreuzungen in San Julián Platz installiert sind und auf der Plaza del Pelícano.
Miguel was a fantastic host. A friendly, great guy who made me feel very welcome in his lovely, modern, immaculately clean apartment. He was very organised, knowledgeable and helpful which meant I gained the most from Seville in my short stay. I would love to return to Seville and stay with Miguel again.
Yvonne
2017-03-22T00:00:00Z
It was such an incredible experience at Miguel's home. He is very good host and his place is just amazing. Our flight was delayed for one hour, so he picked us up and dropped us in front of his apartment. The pictures well reflect the reality, his home is clean, very comfortable and all the facilities are brand new, so it is very enjoyable to live, as all is impeccable. The location is outstanding; lots of shops, touristic places nearby and good transport connections. So his home is located in the heart of the city. Miguel, as an excellent host, also showed us suggesting routes to follow and we really took his recommendations as he spotted the best places to go. We highly recommend Miguel's home for future guests, not only because his place is amazing, but also because he treated us as in a special and careful way.
Jose
2016-11-18T00:00:00Z
Mi experiencia en la casa de Miguel ha sido muy positiva. La casa es tal y como se ve en las fotos, totalmente nueva y no le faltaba un detalle, la verdad es que la tienen muy bonita. La habitación es muy espaciosa y limpia, con vistas al patio sevillano que hay a la entrada, pero muy silenciosa, por lo que pude descansar después de una larga jornada de trabajo. El baño es amplio y estaba reluciente. En la habitación tenía toallas, gel, champú y secador, por lo que no eché nada en falta. A mi llegada me ofrecieron café y unos dulces que me supieron a gloria, ya que no había podido comer nada durante el día. Recibí todas las indicaciones para llegar a la casa y fue todo muy sencillo. Miguel y Anna son encantadores, si tengo la posibilidad de volver a Sevilla estoy seguro de que será a su casa. Muchas gracias por la hospitalidad y el trato, os recomiendo 100%.
Plácido
2016-11-17T00:00:00Z
I enjoyed my stay at Miguel's place. It is a very nice apartment, all new. My room looked out to a lovely court yard. The communication with Miguel was outstanding. He was always prompt to any inquiry. When I arrived he was ready for me with a city map and an information sheet with highlights of interesting things to see and do in Sevilla. I highly recommend it.
Juan
2017-04-06T00:00:00Z
Estancia perfecta. Miguel se ha preocupado mucho por que disfrutáramos, haciendo de guía y recomendándonos planes. Además, la casa estaba muy limpia. Especial mención a la cama: Colchón y almohadas muy cómodas
Denis
2016-12-30T00:00:00Z
Miguel ha sido un anfitrión estupendo, muy pendiente de mis necesidades y muy amable. La casa está muy bien, céntrica, cómoda y muy limpia.
Raquel
2016-11-27T00:00:00Z
Bonita habitación, muy bien equipada y cerquita del centro a unos 15 min. Genial trato de Miguel y su familia, éxplendidos guias turisticos y gastronómicos. Muy buena experiencia, seguro que repetimos!
Anthea
2017-01-15T00:00:00Z
I really enjoyed my time in Sevilla with Miguel. He is a very good host and knows his places. The house is super clean and the room was really comfortable. Everything was very new.
Jens
2017-01-30T00:00:00Z
Typ av rum
Eget rum
---
Typ av boende
Lyxvåning
---
Plats för
2
---
Sovrum
Sevilla, Andalucía, Spanien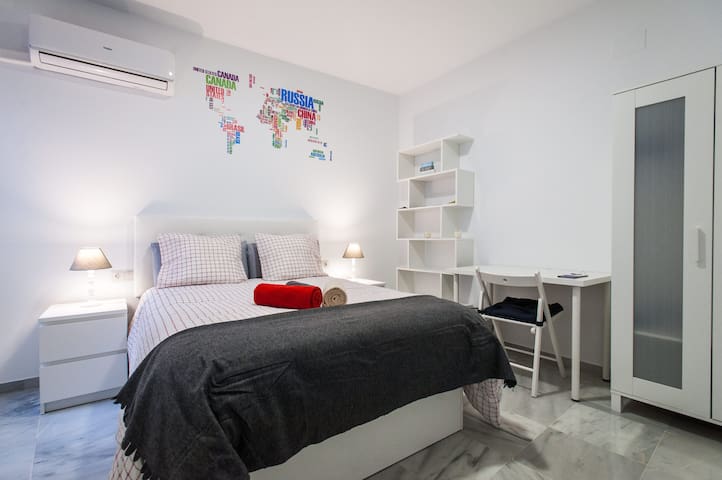 Spousta soukromí a klidu v této prostorné místnosti bez aut prostředí, vysoké stropy a velká okna 3 Alameda oblasti. 10 minut chůze od hlavní turistické oblasti, chodit po náměstí Alameda, největší pěší náměstí v centru města, plné stromů, restaurací, obchodů, supermarketů, autobus, veřejných kol, taxíků, divadla, bary a ... Klimatizace / topení , Bydlím sám, v dolní části domu, takže jsme velmi nezávislá, máte dokonce svůj vlastní obývací pokoj, se podívat na půdorysu!
Bydlím sám. Naše pokoje nemůže být dále, jsou po stranách půdorysu, takže jsme velmi nezávislá, máte dokonce svůj vlastní obývací pokoj, se podívat na půdorysu!
Byt se nachází v centru města, v těsné blízkosti hlavní turistické oblasti. Je to vedle Alameda Hercules náměstí de, což je obrovské náměstí bez aut, velmi pěkné chodit na cestě k hlavní turistické oblasti. Tento velký čtverec s mnoha stromů je plná obchodů, příjemných restaurací, barů, supermarkety, autobusy, taxi a kola veřejné služby.
Paco's place was exactly as described. It's clean, central, close to clubs and bars, within walkable distance of the major attractions and very nicely furnished. Paco also included many personal touches (such as champagne in the room, a personal fridge, a coat hanger and our very own kettle to make tea with - did we mention that he also provides free tea?). Paco himself was amiable and communicative and it is easy to see how he attained his superhost status. We had a really enjoyable stay and we highly recommend a few (or many) nights in paco's place if you're in Seville. たのしかったですよ!Paco, ありがとうございました Era un placer alojar con Paco en su piso buen ubicado- está muy cerca a todo los sitios importantes pero está en un barrio muy tranquilo. Además Paco es un chico muy amable y un fuente de información sobre su ciudad. o dudaré en volver la próxima vez que estoy en Sevilla!
james
2017-04-03T00:00:00Z
Todo positivo! No podiamos eligir sitio mejor. La habitacion es muy bonita, limpia y moderna. El piso es muy centrico, 10 minudos de la catedral. Paco es super disponible y hace de todo pare que te sientas a tu casa. 100% recomendado!! :)
Martina
2016-03-21T00:00:00Z
Appartment very clean and Paco is a very good host! The apartment is conformed to the pictures. We recommend!
Gianmarco
2016-11-21T00:00:00Z
We had a lovely time at Paco's. He's been very accommodating and proactive in sending us information about the city and our arrival. The district is lively and avoids the crowded touristic places. The only minus was the bed, it was a bit too small for two persons (who are not a couple) and a bit hard on the back but otherwise I totally recommend Paco's place.
Saskia
2016-12-09T00:00:00Z
Paco è stato un ottimo anfitrione! La camera è pulita e molto luminosa, l'appartamento è situato a due passi da Alameda, un grande viale pedonale su cui si affacciano molti bei locali dove mangiare o bere. Lo consiglio!
Francesca
2016-03-25T00:00:00Z
Esta habitación es genial, amplia, y tranquila por la noche. Yo con mi novio llevábamos 7 días ,también hay la bar, la restaurante muy cerca de esta calle , Paco es un chico muy simpático y siempre limpia la casa, el (URL HIDDEN) perro nunca ladra ... tenemos muy buena experiencia en Sevilla!!
jiahui
2016-12-05T00:00:00Z
Casa pulita e accessoriata, buona rete del Wi-Fi, in più è in una zona piena di locali per bere e mangiare qualche tapas. Paco è molto gentile e attento, come il farti trovare in camera la mappa di Siviglia, un itinerario di dove e come girare la città .
Elena
2016-11-19T00:00:00Z
The appartment is situated in a really nice area of Sevilla. It is near a square with lots of restaurants and bars which are visited by many Sevillians. From there it is easy to walk to the main attractions, like the palace. The appartment itself is quiet, and has enough space for leaving your stuff. It is very comfortable and has many windows for fresh air. Paco is a friendly host who is helpful in letting you know (even before you arrive) about what is interesting to visit. He also has some really good tips about where to eat and where to go for a good flamenco show. His dog is lovely and just keeps quiet when you are around. I would definitely recommend a staying here.
Sandra
2016-10-29T00:00:00Z
Typ av rum
Eget rum
---
Typ av boende
Lägenhet
---
Plats för
2
---
Sovrum
Sevilla, Andalucía, Spanien
Our attic, in the singular district of San Bernardo, with terrace and luxury kitchen, has two bedrooms and a genuinely urban touch. With parking included, can accommodate up to 4 people meeting on a quiet street 5 minutes walk from Barrio de Santa Cruz.
Location: Located in the typical and unique Barrio de San Bernardo, it is a 5-minute walk from the Barrio de Santa Cruz The penthouse itself: with spacious, comfortable and bright living room with two bedrooms and a terrace of 50 m with wonderful views. In the price parking space it is included in the building which is accessed via the parallel street: Parson Street Jose Alvarez Allende
The typical Barrio de San Bernardo is a very pleasant living residential, quiet and safe area. Nestled between the tourist center of the city and the commercial and residential area of Nervion also allows you to enjoy its extensive area of gardens: the Buhaira.
We didn't meet Isabel but her mother met us and showed us the house and garage clearly, she is nice lady. Location is fairly good. Carpark was locating on backside on provided address (thru (SENSITIVE CONTENTS HIDDEN) map), it is quite narrow on entrance, be careful! But perfect travel with car which you will finally experience the city on foot. House is clean and enough space for 4. good stay! We had good contact with Isabel and she is nice!
Yuen Wai ( Joey)
2016-02-09T00:00:00Z
Isa è stata impeccabile simpatica e si è presa cura di noi lasciandoci tutto l'occorrente x una vera colazione all'italiana dolci marmellate e caffè. Ci ha consigliato ottimi posto dove bere e mangiare. Consiglio questo posto unica pecca niente tavolo x mangiare solo quello che vedete in foto basso in salone ma noi sostavamo solo 1 notte e cmq avremmo mangiato fuori.
Suana
2016-08-29T00:00:00Z
Isabel es muy agradable,nos sentimos como en casa, súper atenta. La casa esta muy bien situada, es un lugar tranquilo, con parquin y todo el equipamiento necesario para habitar en ella.
Manuela
2015-12-27T00:00:00Z
Amazing host, the beat airbnb i've been!!!! Isabel is super sweet!!!!
Anna
2016-08-02T00:00:00Z
Un lugar es hermoso. Isabel fue sumamente amable y muy flexible, siempre super atenta a que la pasaramos de lo mejor. Súper recomendada
Karla
2016-10-26T00:00:00Z
Excellent host Isabel provided everything we needed, with information about good places to eat and to go out. The flat is very clean, equipped with a lot of taste, and good located. Good breakfast and wine provided by the host. We would go there again and are happy to recommend it for families or small groups.
Sanja
2016-09-04T00:00:00Z
L'appartement est bien situé et spacieux. La terrasse est très grande et la cuisine bien équipée. Isabel avait mis à notre disposition des provisions pour notre séjour. Une attention très sympathique et rare. Nous avons tout visité à pieds. Nous recommandons ce logement sans hésiter. Le plus: la place de parking indispensable en andalousie
Yohan
2016-08-14T00:00:00Z
The appartement matches exactly the description at the Airbnb website. The car could be parked in the underground garage. The communication with Isabel is easy by email, phone or (SENSITIVE CONTENTS HIDDEN). As we were early the key transfer was without any problem. The house was clean and the beds were made. All ingredients for the breakfast were available. The sunterrace is amazing and also the view. All major attractions are easily to reach by foot.
Theo
2016-11-04T00:00:00Z
Typ av rum
Eget hus/egen lgh
---
Typ av boende
Lägenhet
---
Plats för
4
---
Sovrum
Sevilla, AL, Spanien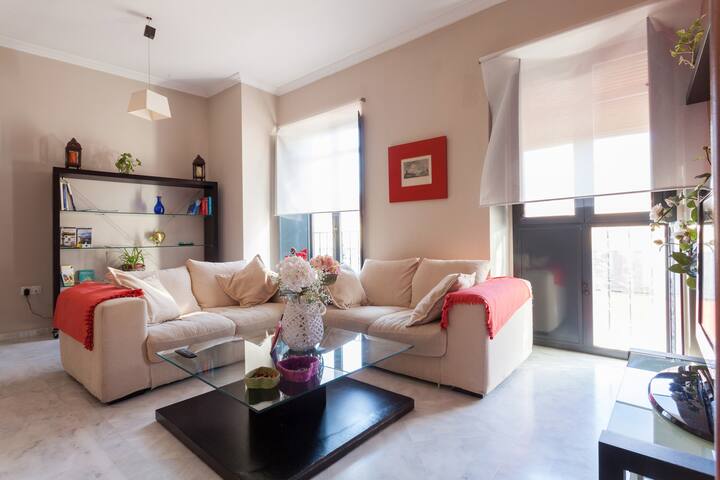 Erstaunlich Platz im historischen Zentrum von Sevilla. Ganz in der Nähe zu den berühmten Sehenswürdigkeiten und Hauptstraßen in Sevilla. Das Haus ist komplett neu, extrem Pflege und ist der perfekte Ort, wenn Sie ein ordentlich, sauber und vorsichtige Person sind. Perfekt für Paare. Die Lage ist perfekt Sevilla und gehen überall zu Fuß aber neben der Straße zu besuchen, wo das Haus ist zu lokalisieren ist völlig ruhig in der Nacht zu schlafen. Wenn Sie kommen, eine Partei zu haben, ist nicht der richtige Ort.
Die einzigartige Vitalität von Sevilla wird deutlich, wenn in der Nachbarschaft San Lorenzo Kreuzung, einem kleinen Dorf, das Teil der umgebenden Stadt. Wie Sie durch die Gässchen und der Umgebung spazieren Sie durch Sie über lokale Händler kommen werde, die Kirche von El Gran Poder, das Sevilla Museum der Schönen Künste, dem Torre del Infante Don Fadrique und sie alle weg nach oben, die Kirche San Lorenzo. Du wirst nie allein in San Lorenzo fühlen. Die Hektik des Gebietes hat Gustavo Adolfo Becquer, Manuel Font de Anta, Manolo Caracol und unsere lieben Verstorbenen Freund und Fotograf ATIN Aya Hause. Neben dem süßen Duft der Orangenblüte, lockt die lokale Essenz Besucher zum Bummeln und sowohl entspannte Unterhaltung und Besinnung zu genießen. Jeden Tag beginnen wir den Morgen mit dem Duft von frisch gebackenem Brot, Blumen und den Klängen unserer Nachbarn wollen die Welt einen guten Morgen. Unsere Gäste durch die Persönlichkeit des Ortes beeinflusst werden, wie sie in unseren Wohnungen, eine Bar oder ein Restaurant zu sitzen.
Friendly and flexible, he gave us tips relay restaurants and places. Jorge is an excellent host!
Alessandro
2017-02-07T00:00:00Z
Perfecto todo
Juliaa
2017-02-18T00:00:00Z
L'appartement est tout simplement magnifique, les meubles et la décorations rendent le séjour encore plus chaleureux. L'emplacement est parfait, à 5 minutes du centre ville et des monuments, nous n'avons pas eu besoin de prendre le bus, nous marchions et le quartier est vivant, à l'image de la ville entière. L'hôte fut aux petits soins avec nous, Jorge a tout fait pour rendre notre visite la plus chaleureuse et vivante en nous conseillant même les meilleurs tapas ! Vraiment nickel rien à redire je recommande sans hésiter.
Miryam
2017-02-15T00:00:00Z
This place was so beautiful, photo's don't do it justice. It was in a great location and was very clean with all the amenities necessary. Jorge was also a great host, very friendly and even gave us a list of great local spots.
Daisy
2017-02-10T00:00:00Z
Fantastico lugar en todos los sentidos y famtastico los propietarios y vecinos....un acierto maravilloso.
verónica
2017-01-22T00:00:00Z
Excelente apartamento, muy completo y bien ubicado. Estuve algo más de un mes en el apartamento de Jorge y la experiencia fue más que buena. El lugar es muy limpio, amplio, seguro y con todas las comodidades. Está ubicado en la zona de la Alameda de Hércules, lugar con muchos restaurantes y un ambiente agradable, además se encuentra a diez minutos del centro de la ciudad, así que si estás de turismo es el lugar ideal. Jorge es muy amable y siempre está dispuesto a colaborar en lo que necesites.
Luis Alejandro
2017-03-26T00:00:00Z
This apartment exceeded our expectations! It was even better than online, well-equipped with lovely furnishings, and everything you needed. Very centrally situated, and only a few yards from the city sightseeing (red)bus stop on Hercules Plaza. Flat was spotlessly clean & shining like a new pin. Two lovely bedrooms, both well furnished and perfect for two couples or a family of four. Nice hot shower, and good, new-looking hot water boiler. Was dying to try out the fancy robotic vacuum cleaner, but couldn't figure out the technology...well, we are in our sixties!! Overall a lovely flat to relax in if you get tired of sightseeing - there are fantastic sights all over this city. We got lost regularly, so make sure you have a decent map or good offline access to (SENSITIVE CONTENTS HIDDEN) maps or similar. Jorge was a great host, was there to welcome us on arrival, kept in touch throughout our 3 days, and sent us several great recommendations for good authentic Sevillian eateries. Our favourite was Patio San Eloy, a beautifully tiled bar restaurant, where we had a huge plate of 7 different tapas for about €13. Good service and lovely surroundings, although I'll bet it's packed in the evenings. Ask Jorge's advice on what to try, like the 'orange wine', really a sweet sherry - I loved it! Jorge's apartment is the nicest one we have stayed at. You'll not be disappointed!
Sheena
2017-02-02T00:00:00Z
Un piso muy cómodo para pasar unos días en Sevilla, céntrico y cerca tanto de restaurantes como de zonas para visitar. Limpio y ordenado, con muchos detalles. El dueño muy pendiente en todo momento de que estuviéramos bien.
Elena
2017-02-08T00:00:00Z
Typ av rum
Eget hus/egen lgh
---
Typ av boende
Lägenhet
---
Plats för
4
---
Sovrum
Sevilla, Andalucía, Spanien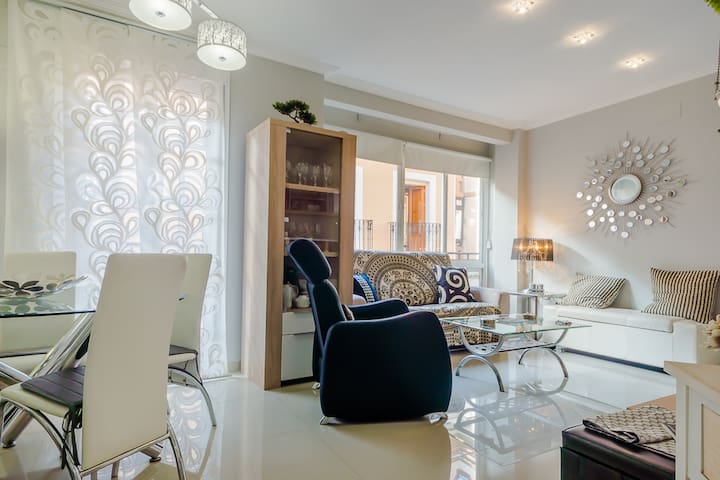 Single room in the center of Seville. Private terrace, air-conditioned lounge, kitchen, toilet, bathroom. perfect location: everything you need within a few minutes walk! // Single room in old town. Beautiful private terrace, equipped kitchen, air-conditioned living room. Just a few minutes by walk from the Cathedral and the main monuments!
nice and bright apartment, with good atmosphere. Very quiet street. Private terrace where you can eat, read a book, smoking, resting, chatting, sunbathing ... Nice and bright apartment with a chilling atmosphere. Very quiet street! Private terrace you can relax Where, enjoy a meal, a book, a cigarette, have a sun bath ...
The apartment is in the historic center of Seville, next to the Piazza San Marco, one of the streets of greater historical significance as it was the main street of Islamic Seville. In the vicinity are charming places: churches, plazas, craft shops, bars ... It is the district center with more atmosphere and cultural activities center, a few minutes walk from the main monuments. I will detail everything that you can not miss when you come. // The flat is located in the stunning old town of Seville, next to Piazza San Marco, one of the MOST Important historically due to the fact places esta That street was the main street of the Islamic Seville. Around the house there are some lovely spots you can not miss: churches, squares, handicraft shops, restaurants of Andalusian food ... This is a historic neighborhood with a great atmosphere: tapas, culture, Local lifestyle ... and just a few minutes away from the main touristic monuments. We will tell you in detail everything on your arrival! ;-)
Mercedes y Julián fueron muy amables, me indicaron y asesoraron para todos los lugares, mostrandome mapas y fotos para que me ubicara en la ciudad. Son muy receptivos y atentos, buenísimos anfitriones
Antonella
2016-08-16T00:00:00Z
Es un apartamento sencillo y sin pretensiones pero con todas las comodidades necesarias y ofrecidas. Mercedes y Julián son una pareja joven, amable y deseosa de ayudar en cualquier cosa. Desde el principio Mercedes me dio un mapa y muchas sugerencias útiles, sobre todo de lugares excelentes para comer y tapear por poco dinero. Me sentí como en casa y entre amigos.
Roberto
2016-11-17T00:00:00Z
I'm really happy about the communication with Mercedes and Julián. I didn't get to meet Mercedes during my stay but she was very responsive and even gave recommendations on what to do before check-in time as I arrived early into Sevilla. Julián welcomed me into their home and I was very impressed on how much recommendations he gave me on what to do and to eat in Sevilla. I felt very welcomed into the city. The room itself is spacious enough and is very comfortable. It's decorated beautifully so it's nice to the eyes too. Hot shower and toilets are working too. The neighbourhood is in the old city of Sevilla. It's very near to a main shopping street, 10 minutes walk. And it's less than 20 minutes walk to the main attractions of Sevilla (Catedral, Alcazar, Plaza de Espana, etc.), with lots to see on your way there. Overall, it was a nice stay at Mercedes and Julián!
Wei Sheng
2016-09-26T00:00:00Z
Unos anfitriones excelentes, atentos a todo y muy agradables.
José
2016-08-22T00:00:00Z
Mercedes y Julian son una pareja encantadora y me hicieron sentir como si estuviese en mi casa, el piso estaba muy limpio y ordenado y es tal cual aparece en las fotos, bueno más bonito. Volveré a repetir con ellos cuando vuelva a Sevilla ya que son personas extraordinarias.
inma
2016-08-12T00:00:00Z
I loved staying here! Mercedes and Julian are super friendly and helpfull host who always greet you with a big smile. Very cosy house! The location is great! About a 15 min walk to the hussle and bussle of Sevilla. Great stay if you're out to Discovery the city for a day!
Guy
2017-02-02T00:00:00Z
Awesome house and hosts! It has a nice shower, comfortable bed, and cool atmosphere. The house is beautiful and Mercedes and Julian were very nice and welcoming. Definitely would recommend to my friends and family!
Madeline
2017-04-02T00:00:00Z
Thanks for a great stay.
George
2016-11-12T00:00:00Z
Typ av rum
Eget rum
---
Typ av boende
Lägenhet
---
Plats för
1
---
Sovrum
Sevilla, Andalucía, Spanien
Elegant and spacious apartment located in the heart of the old town, between Lucerne and the Incarnation. 82 square meters of floor. Is part of a typical Sevillian S. XIX renovated combining old and modern elements. Its excellent location make it accessible and very near any tourist activity in the city center. ideal accommodation for couples. In the living room it has two additional twin beds.
It is a spacious apartment on the first floor without elevator of a typical Seville house recently renovated. Fusing traditional features such as high ceilings, doors and balconies with other more modern and functional as furniture or equipment in kitchen and bathroom nature. It consists of a small hall, kitchen, bathroom, bedroom and a spacious living room with 3 balconies to the street Sales and Ferre. Also, the apartment enjoys interior light as both distributor and kitchen have a window to the inner courtyard of the building. Ideal accommodation for 2 people looking amplitude stay and comfort and a quiet space to be very quiet. Exterior windows have double glazing so the street noise is minimal. The apartment has air conditioning and heating in the bedroom and living room. Also, we offer our customers free cots. Superb location for enjoying the Easter of Seville. Every day of the week brotherhoods run the balconies of the apartment.
The apartment is located in the neighborhood of Alfalfa, one of the most traditional neighborhoods of the old town. It has all kinds of services nearby (pharmacy, supermarket, press, etc) as well as a wide range of cuisine in tapas bars and restaurants. Terraces and bars very close also drinks. You can walk to all the sights and attractions of downtown, such as mushrooms or Seville Cathedral.
Amalia is an excellent host who made a great effort to make me feel at home! The flat is spacious, light, clean and well equipped. I would recommend anyone to stay as it really is in the heart of Seville rather than in the tourist areas. Right by La Setta and easy walking distance from the main attractions. A fantastic experience!
JENNYFER
2016-07-07T00:00:00Z
I stayed with my partner at Amalia's apartment in June 2016 and had a fantastic time! The apartment is just beautiful - large, high ceilings, lots of light, nice decor, comfortable bed, etc. It was a wonderful place to return to after wandering around the City. The apartment is centrally located and we could easily walk to all the sights, but did not feel as we were in the middle of the tourist district - instead we felt like we were in a neighborhood with wonderful restaurants and bars just far enough away from the tourists to be of high quality and reasonable price. Finally, Amalia was an excellent host and made us feel very welcome. She has created a nice map of sights and recommendations that we used extensively. Meeting up with her was easy. She helped us find parking and answered a few questions she had. Overall, I would highly recommend this rental.
Catherine
2016-06-06T00:00:00Z
Amalia ha sido una anfitriona excelente, en todo momento ha estado pendiente de si nos faltaba algo, o si estaba todo correcto. Además, le agradecemos que nos haya guardado las maletas por la tarde, tras el check-out, ya que nuestro vuelo salía por la noche. El apartamento es tal y como se describe en el anuncio, en una zona muy tranquila, pero a la vez, céntrica, no se tarda más de 10 minutos andando, por ejemplo, a la catedral, o menos de 5 minutos, a las famosas "setas".
Josu
2016-09-16T00:00:00Z
Excellent AirBnB stay. Completely as listed: spacious, roomy, very clean. Bedroom, kitchen and bath are very nice and the living room is roomy with day bed for another guests. Easy walks to all the central sights of Seville. Amalia is a great host, very helpful. For instance she called a taxi for us when we were leaving. Highly recommended for a stay in beautiful Seville.
Bob
2016-12-17T00:00:00Z
Accueil attentionné par le mari d'Amalia. Appartement répondant à la description, proche des sites à visiter et à 5 mn d'un parking.
Yannick
2016-11-04T00:00:00Z
¡Nos encantó el piso! Amalia fue una perfecta anfitriona, llegamos a una hora un poquito más tarde de lo que indicaba la recepción y no tuvo problemas en esperarnos. El piso es tal y como se muestra en las fotografías, muy bonito, amplio, moderno y luminoso. Además, Amalia tuvo algunos detalles con nosotros. Recomiendo encarecidamente este piso además, por su perfecta ubicación. Si volvemos a Sevilla no dudaré en hospedarme aquí.
Yolanda
2016-11-01T00:00:00Z
This place is perfect for any length of visit to Seville. Everything was first class from the beautiful apartment, location and the welcome we received.
sarah
2016-10-09T00:00:00Z
Amalia was a great host! The apartment is beautiful- newly renovated, very spacious and the perfect location in the heart of Seville. Would highly recommend this place for a luxurious stay at an extremely affordable price.
alexa
2016-10-27T00:00:00Z
Typ av rum
Eget hus/egen lgh
---
Typ av boende
Lägenhet
---
Plats för
2
---
Sovrum
Sevilla, Andalucía, Spanien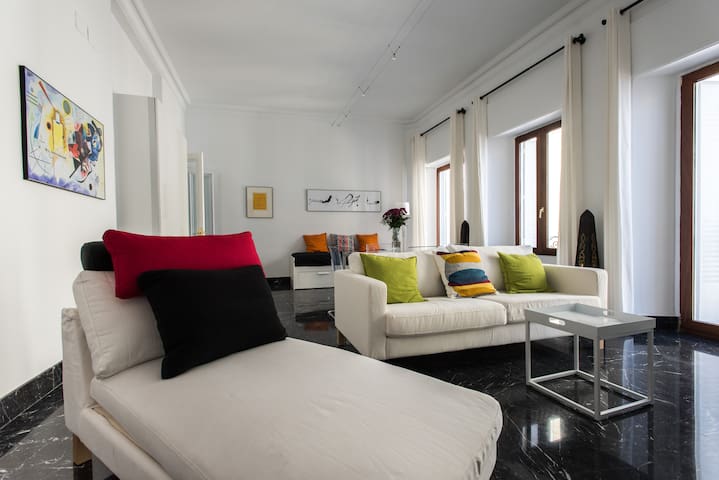 Una habitación doble cama está esperando en el núcleo de Sevilla, además de toda la buena voluntad que le ayude con todo lo relacionado con esta maravillosa ciudad. Es mi deber hacer que se caiga en el amor con el Sevilla.
El piso está situado junto a "Las Setas", que es una nueva construcción que se ha convertido en uno de los principales lugares de interés de Sevilla. El barrio es bastante seguro y lleno de vida para disfrutar. Bares, cafeterías, clubes están esperando. Ciertamente, la parte animada parte de la ciudad, a verlo !!!
Very nice and spacious room right in the centre of Seville. Mehdy is a great and knowledgeable host, we enjoyed our stay very much.
Robert
2016-09-12T00:00:00Z
We arrived in the afternoon. Pictures as shown in Airbnb. Big room with wifi. Amazing position nearby the main attractions. We had few tips from Mendy where to hang around! Defenitely value for the money. Recommended.
Francesca
2016-09-22T00:00:00Z
Mehdy was a phenomenal host! We were able to drop our bags before check in, and come back once the room was ready. He was welcoming, super friendly and someone you just want to hangout with. He sat us down with a map of Sevilla and showed us everywhere we should go- big tourist spots, bars, tapas, you name it. we LOVED Seville! He welcomed us joining on his free walking tour of the City, which was wonderful. The location is perfect. Walk-able to anywhere you would want to go/see. The room was clean and comfortable.
Rachel
2016-07-13T00:00:00Z
Staying at Mehdy's apartment was probably our best Airbnb experience yet. Like other guests have said here, there is an international and young atmosphere in his apartment that really made us feel welcome. He and his housemates are both very helpful and interesting to talk to. The house in itself is a simple apartment with a good location. Would recommend!
Luca
2016-04-01T00:00:00Z
Excellent accueil de Mehdy qui nous a donné plein de bons conseils pour visiter Séville et manger de bons tapas dans des coins sympas ! ;) L'appartement est très bien placé pour tout faire à pieds. Et l'impeccable français de Mehdy est très apprécié quand on ne parle pas l'espagnol ;)
eloise
2016-07-13T00:00:00Z
Mehdy nous a très bien reçu. L'appartement est sympa, très bien placé. C'est un hôte de très bon conseil. Son colocataire Filippo, qui nous a reçu, est également très sympathique. Nous avons pu cuisiner et échanger avec les autres colocataires. Un rapport qualité prix imbattable à seville, merci Mehdy!!
Alexandre
2015-08-13T00:00:00Z
Mehdy is a supernice guy, we truly enjoyed our stay at his flat and can only recommend it! The bed was also very comfortable :-)
Sophia
2016-03-23T00:00:00Z
Mehdi made everything to let me and the other hosts enjoy the stay as much as possibile. In a minute we were already like a group of friendship, and ready to go out! Mehdi took us around in the neighborood arranging a nice tour with lot of interesting information (even historical!) that not everyone knows. Don't miss a stay at Mehdi to have all these and surely much more!
Elisa
2016-08-13T00:00:00Z
Typ av rum
Eget rum
---
Typ av boende
Lägenhet
---
Plats för
2
---
Sovrum
Sevilla, Andalucía, Spanien
El alojamiento La recherche d'un endroit frais pour rester à Séville? Vous devez cocher cette maison fraîche situé en plein coeur de la ville! Cette spacieuse maison est idéale si vous voulez vivre
Il est une grande maison à plusieurs étages situé dans le centre historique de Séville, entouré par les attractions touristiques, des boutiques et des restaurants. Quelques minutes sont les gares et les bus. Il est situé dans une rue piétonne et très calme car pas de voitures. Les rues de Séville sont étroites pour maintenir la fraîcheur à l'intérieur, car il fait beaucoup de chaleur dans la ville en été. Pour ce faire, vous disposez d'un ventilateur dans la chambre.
This was a one of the nice stay! Apartment in very center and its very clean and nice! I enjoyed to stay there. In Hedyeh's apartment i has all comfort!!! It is not expensive and give you more chance to discover Seville very good! Also she is very very nice host! I recomended to stay in Hedyeh's apartment!
Levan
2016-06-05T00:00:00Z
Muy buen piso cerca de plaza mayor , muy tranquilo , wi fi muy rapido
Alessio
2016-11-28T00:00:00Z
En la casa todo es nuevo y muy limpio. La habitación bastante grande y luminosa. Todo perfecto!
Julia
2016-12-03T00:00:00Z
La casa è molto bella...stanzetta riservata a due passi dal parasole...quando tornerò a siviglia spero di poter alloggiare nuovamente qua!!!!!
francesca
2016-10-24T00:00:00Z
Un bell'appartamento, grande, ben fornito, in zona centrale ma tranquilla. Perfetto per fare turismo ma anche per soggiorni di lavoro. Un bonito apartamento, amplio, bien provisto, en una zona céntrica pero tranquila. Perfecto para el turismo, sino también para viajes de negocios.
Tiziana
2017-03-26T00:00:00Z
Clean and cozy apartment. Very nice and friendly host. I recommend everybody to stay at Hedyeh's apartment!
Andrii
2016-06-08T00:00:00Z
It was good experience in Seville. Hedyeh is a nice host. She gave me some information in the city. It takes about 20 min on foot from bus terminal. This house is in the central city, you can walk everywhere easily.
Ayano
2016-11-25T00:00:00Z
Notre séjour chez Hedyeh fut très bref. .. mais elle a été très accueillante. La chambre est idéalement située dans un quartier très animé de Séville. La chambre est propre et très calme. Il ya un joli patio.
Elsa
2016-04-24T00:00:00Z
Typ av rum
Eget rum
---
Typ av boende
Hus
---
Plats för
1
---
Sovrum
Sevilla, Andalucía, Spanien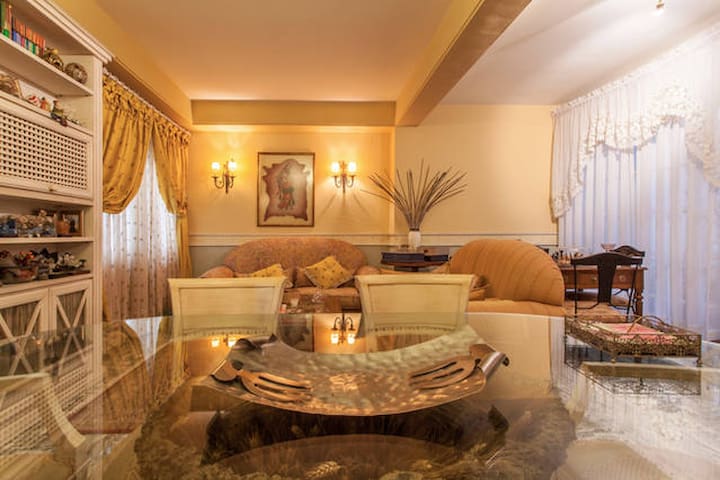 Available a single room in the historic center of Seville!
The house has a kitchen, 1 bathroom, communal lounge and a fantastic rooftop overlooking the Giralda! Very good location 5 minutes walk from the cathedral! There are also around supermarkets, ATM, bars and nightlife. If you come for Easter the location is perfect since all the processions pass 2 minutes from the house!
Typ av rum
Eget rum
---
Typ av boende
Gästsvit
---
Plats för
1
---
Sovrum
Sevilla, Andalucía, Spanien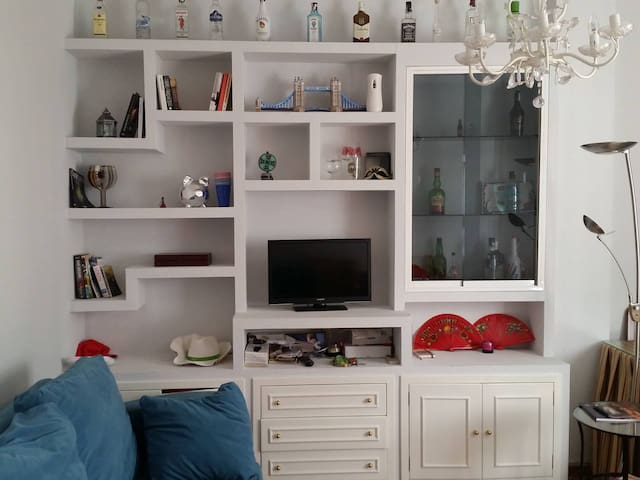 Rymlig privat enkelrum för en person som ligger i den centrala historiska zonen Triana. Idealiskt beläget 10 minuter från centrum med promenad. Nära till alla bekvämligheter, inklusive busshållplatser, apotek, restauranger.
Marinas boende rekomenderas
george
2017-04-01T00:00:00Z
La estancia en el piso de Marina estuvo superagradable. El piso está en una zona muy buena y tiene todo lo necesario para estar a gusto. Marina y su madre son muy simpáticas y de óptima conversación, fue un verdadero placer conocerlas.
Guido
2016-10-27T00:00:00Z
L'accoglienza della sua bambina è ottima e in ogni caso c'è la nonna, ma Marina spesso è fuori per lavoro. Mi sono trovata molto bene per la pulizia degli ambienti e la disponibilità degli spazi comuni che comunque sono quelli di una famiglia e vanno condivisi. E' un po' decentrata rispetto al centro che però si può raggiungere facilmente a piedi.
Roberta
2016-10-20T00:00:00Z
Todo fue muy bién, la casa está ubicada bastante cerca del centro y además, alrededor de la casa hay todo lo necesario - tiendas, parada del autobús, farmacia y etc. Recomiendo este piso a todos!
Yar
2016-10-02T00:00:00Z
Marina is super nice she even borrowed me an umbrella. Great hospitality. Comfortable stay at her place. Totally recommended!
María
2016-11-27T00:00:00Z
He pasado una noche en la habitacion de Marina y todo ha sido genial. Me gusto mucho la posicion del piso porque es menos que 20 min andando desde la estacion de autobuses y es en Triana, un barrio muy vivo de Sevilla. La comunicacion con Marina ha sido excelente y todo ha sido perfecto. Marina es una buena anfitriona y muy disponible y por eso recomendo su piso.
Romeo
2017-04-02T00:00:00Z
Good location Great value for a night stay Lovely company of host's mum
Michaela
2016-12-10T00:00:00Z
Marina ha sido muy atenta y no se molestó con un cambio que le planteé a última hora, todo lo contrario, fué muy agradable. Pese a tener un precio muy económico el piso está bien situado, las habitaciones son comfortables, con camas en las que se descansa bien y un cuarto de baño amplio. Es un alojamiento muy recomendable.
Ignacio
2016-10-04T00:00:00Z
Typ av rum
Eget rum
---
Typ av boende
Lägenhet
---
Plats för
1
---
Sovrum
Sevilla, Andalucía, Spanien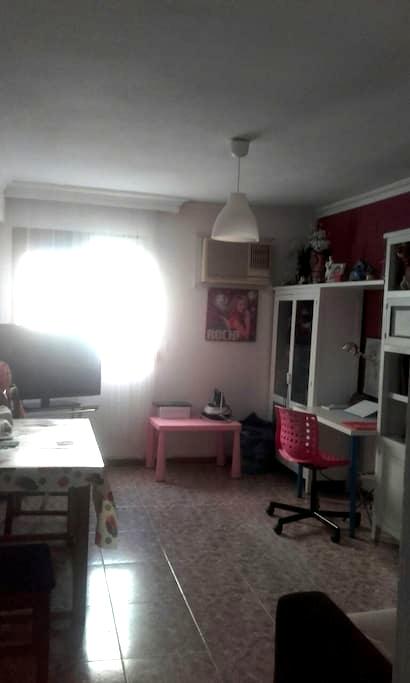 Room in the center of Seville, within walking distance of Mercado de La Encarnación, known as "Mushrooms", five minutes from downtown and the Barrio Santa Cruz, ten minutes from the Alameda de Hercules. You can move around the historic center walking or cycling.
The room was recently renovated, has heating and ceiling fan. While it has a large window is not very bright, if you want sun you can develop your activities in the room. The bathroom is shared with another guest (if any).
La habitación es tal cual se presenta en las fotografías. Me sentí muy cómodo. Walter es muy agradable y atento. Está ubicado en un lugar excepcional si se visita la ciudad. Se puede ir y volver cómodamente en bus desde la estación de tren. La Catedral, la Alameda y las calles comerciales del centro están a diez minutos o menos.
José Luis
2016-09-20T00:00:00Z
Buena honda!!! Buen lugar y todo es como dice. Walter tiene dos que necesitas para un buena visita! Mi cuarto era muy fresco y limpio! Muchas gracias!
Terra
2016-10-20T00:00:00Z
Une très belle expérience, même si, comme décrit dans l'annonce, la chambre est un peu sombre. Mais on s'y sent bien, car arrangée avec beaucoup de goût, et les communs sont très spacieux et agréables...un rapport qualité/prix exceptionnel. En plus, petit déjeuner de base disponible! Enfin, tout ça dans un chouette quartier, bien situé
Francoise
2016-09-16T00:00:00Z
Walter's apartment was very large and roomy. Not only that, but he was also a very welcoming and great host. The apartment and the room were very clean, and he was very accommodating. The location of the apartment was very central and was walking distance from most points of interest in Seville. He is also very familiar with the city and can give several recommendations. The room comes with a fan and even in the middle of the heat wave, the room was cool enough to be comfortable. El apartamento de Walter es muy grande y tiene bastante espacio. Él es un hospedador muy agradable y amable. El apartamento y la habitación están bien hacinados y él fue muy acomodadizo. Esta habitación muy bien situada y está a buena distancia de todos los puntos de interés. Él es residente Sevilla y también conoce la ciudad muy bien y está listo para dar buenas recomendaciones. Me quede durante una ola de calor insoportable pero el cuarto se mantiene muy fresco con el abanico.
Irvin
2016-09-08T00:00:00Z
It's an amazing experience that I've chosen ur house!! I enjoyed so much those days I've been there at Sevilla with u guys :) I'll go back to find you if I come back to the city the next time! Gracias :)
Xinran
2016-08-26T00:00:00Z
Apartamento muy cómodo y bonito! :) Y Walter es una persona muy buena, muchas gracias! :)
Anda
2016-09-11T00:00:00Z
Habe mich wohl gefühlt, gerne wieder! :o)
Viviane
2016-09-27T00:00:00Z
Walter is a great host. Friendly and communicative. The apartment's location is fantastic. The room i stayed in looked exactly as advertised; very clean; very convenient. Overall a great experience! Highly recommend it!
Álvaro
2016-11-05T00:00:00Z
Typ av rum
Eget rum
---
Typ av boende
Lägenhet
---
Plats för
1
---
Sovrum
Sevilla, Andalucía, Spanien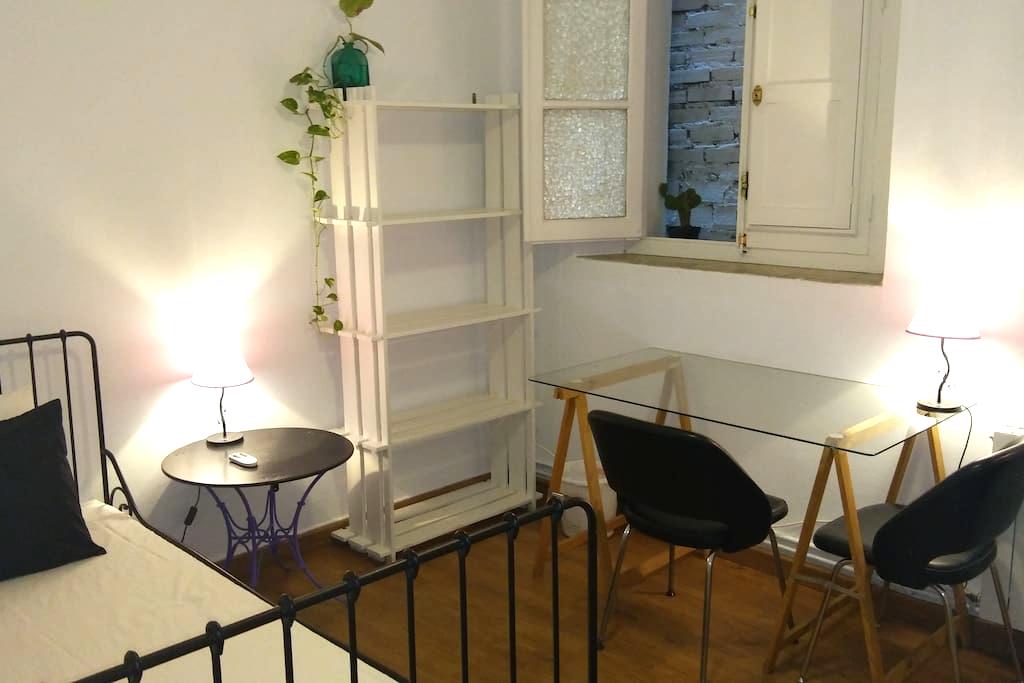 1

–

18

av

300+ Boenden att hyra
Ange datum för att se full prissättning. Ytterligare avgifter tillkommer. Skatter kan tillkomma.