A beautifully restored 3-story cottage combines quaintness and character with fully modern amenities. Drenched in sun, facing the village centre, cosy and fantastic to unwind in. A pretty meadow bordering the Charente river completes the experience.
The whole cottage is available to you. Down a short lane, the meadow is also for your use.
Nous avons adoré séjourner chez Angela. Le cottage est vraiment charmant avec son côté atypique très plaisant. Angela nous a très bien accueilli. Nous recommandons ce logement.
Romain
2016-08-15T00:00:00Z
What a lovely place! The cottage was beautiful and immaculate. The location was nice - not isolated, as I imagined it would be from the photos, but in the village, which I liked, with a small tabac/bar a few short yards away. We were there during a particularly wet and chilly February week but the cottage was lovely and warm during day and night. Angela is a great host too: she was there to greet us on arrival, despite us arriving later than intended, and adds nice personal touches such as a ready-to-go wood fire, a selection of teas and coffees, soaps and hand washes, making the whole place more like a 5-star hotel than any gite we've rented before. Highly recommended!
Emma
2017-03-03T00:00:00Z
Angela nous a accueilli tres chaleureusement. Angela a été tres souriante, disponible et attentive à la qualité de notre séjour. Tout s est tres bien passé pour nous.
Christelle
2016-08-11T00:00:00Z
Typ av rum
Eget hus/egen lgh
---
Typ av boende
Hus
---
Plats för
3
---
Sovrum
Chéronnac, Aquitaine Limousin Poitou-Charentes, Frankrike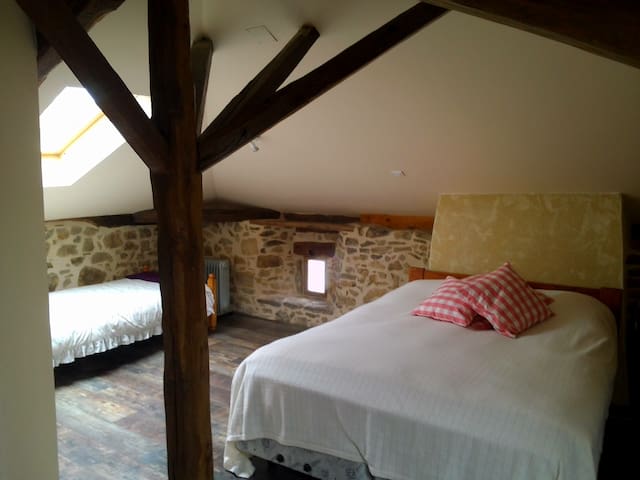 Set in the heart of a typical French village, our cottage L'Hirondelle offers character, convenience and comfort.
Fully renovated, the cottage currently provides two double bedrooms, comfortably furnished lounge, fully equipped kitchen, modern bathroom, heaters and wood burning stove. We provide linen, towels, fans, electric blankets, firewood, washing machine, dishwasher, barbecue, satellite television, internet access, stereo – everything you need for an unforgettable vacation. Safe parking is right outside the front door.
Vayres is a charming village located in the heart of the Limousin/Perigord national park, bordering the regions of the Charente and the Dordogne. Situated 2 hours drive north east of Bordeaux, 45mins from Limoges; and less than 2 hours from Perigueux, Poiters and Angouloume, the village of Vayres is easily accessible. By road, it is a pleasant four hour drive from Paris, using the A20 to Limoges. Vayres is situated on the D675, about 5kms south of Rochechouart. The area is often referred to as La France profonde – "deep France" – reflecting a slower, gentler way of life and an escape from the stresses of the city. Your holiday at L'Hirondelle will allow you to experience the unspoiled traditional lifestyle and culture of French provincial towns, and of French village life. You will feel far from anywhere, but have the convenience of shops, post office and restaurant/bar a few minutes walk away. The region is rich with lush chestnut forests, rolling hills, quaint villages and thriving market towns, as well as numerous stunning lakes and rivers, many of which are suitable for sunbathing and swimming, water-sports, and fishing. You are also within only a few kilometres of other larger towns with more cafes, restaurants, supermarkets and farmers' markets. You will find it hard to tear yourself away at the end of your holiday. It is a perfect place to relax or base for exploring the many nearby places of interest Restaurants and cafes are plentiful in the surrounding towns and villages, providing everything from pizzas and kebabs to Michelin star quality. In summer, spend a pleasant evening at the lake-side cafes at Vidiex or St Mathieu, or typical Limousin fare in La Rochefoucauld. In summer don't miss the Tuesday night markets at St Mathieu for great music and communal barbecue with the locals. Should you wish to cook at home, the nearby supermarkets at St Junien, Rochechouart, and St Mathieu, as well as daily markets in one or other of the local villages will provide all you will need at very reasonable prices. We recommend also Vayres' own boulangerie for excellent breads, cakes and pastries. Your morning baguette and croissants are a two minute walk away!The Limousin/Dordogne area is known for its natural beauty and well preserved medieval villages. There are several marked walking trails around Vayres suitable for beginners as well as for the more experienced. Cycling is also popular with locals and visitors alike. There are lovely swimming lakes at Rochechouart, St Mattieu, Lavaud and Videix. They each have life-guards, cafes, and sandy swimming beaches, all within a short distance from the cottage. Within an hour's radius there are also several large cities, many chateaux and historical places of interest including the famous Lascaux caves, with its remarkable prehistoric paintings. Fishing, canoeing and windsurfing are also available at many of the lakes and rivers, as well as an international golf course and horse riding facilities nearby. For history enthusiasts, Vayres is close to former Roman settlements at Chassenon and Periguex (museums in both locations), historic meteor crater (visit the charming local museum at l'espace meteorite in Rochechouart), or the route of Richard the Lionheart which is dotted with numerous chateaux open to visit. The area is rich in medieval history, with many walled towns and fortified villages to explore, such as the incomparable Sarlat en Canada and pilgrimage town of Rocamadour. You may also find the ruined village of Oradour sur Glane, or the Resistance memorial at Chasseneuil-sur-Bonnieure, of interest. The closest large city is Limoges (45 mins) which is the capital of the Haute Vienne. The ceramics museum in Limoges is also well worth a visit. The former butcher's quarter of Limoges has stunning half timbered medieval buildings. Be sure to visit the covered market for high quality local produce, and the flea market (marche de puces) near the Cathedral on Sundays. Potiers, Angeloume and Periguex are all within an hour's drive, and offer many points of interest, shopping and leisure activities. The pretty towns of Confolens and Brantome are easily accessible and a perfect venue for a pleasant lunch and stroll through the narrow winding streets of the shopping precincts The location gives you the best of both worlds - complete tranquility and beautiful countryside, but all the convenience of the local towns, shops and activities. With plenty to see and do, there is something for everyone here. You won't run out of ideas. In fact, you may not want to leave!
The host canceled this reservation 4 days before arrival. This is an automated posting.
Nadiia
2016-03-18T00:00:00Z
We spent almost a month in Maryanne's house. Communication was always fast and smooth. Maryanne and Tina were very kind and helpful! They did everything to make our stay comfortable. The house is lovely! We really enjoyed staying there! It's modern and old at the same time. It's equipped with everything you need for a longer stay. It was also very clean, I didn't meet with a single spider :). The temperature was quite cool by default, so it should be perfect in the summer months as well. The surrounding area is gorgeous. Everyone we met was very kind and helpful. It is a very good base if you want to explore this area.
Daniel
2016-05-03T00:00:00Z
Nous avons passé un séjour très agréable dans la coquette maison de Maryanne. Bien équipée, grandes chambres, tout le confort avec, cerise sur le gâteau, un poële à bois bien appréciable. Bonne communication et réponses très rapides.
Nadine
2017-01-02T00:00:00Z
Small town, nice atmosphere and very relaxing. Cottage is well equipped and comfortable. Will stay again
Sallee
2017-04-04T00:00:00Z
The host was very helpful and made me feel welcome. She responded to my questions very quickly. The cottage is lovely, in a quaint village setting and within walking distance of the boulangerie. The property is well furnished with good size rooms and lovely beds.
Alison
2016-12-09T00:00:00Z
Our stay at Maryanne's lovely home in Vayres was nothing short of amazing! The house is situated in a picturesque village giving us the true French experience, it was fantastically situated to allow for plenty of trips out, close by to the Charente and the Dordogne. We found some fab little restaurants near by - we regretfully left without trying them all! Also - do not forget to visit the local village 'boulangerie' for some fresh bread daily! Our host welcomed us ahead of schedule, she was incredibly accommodating and gave us some great tips on the area! The cottage oozes character and is well equipped for your needs, with a lovely warm living area and kitchen you will feel well at home! Wifi was fantastic - as much as we tried to resist using our phones whilst there nowadays it's near impossible! If you're travelling here in the winter months be sure to take advantage of their great log burning fire and if you're looking for entertainment there was plenty to choose from on the TV! Maryanne thought of everything for our stay, well equipped, cosy and a perfect place to relax, you will feel well and truly rejuvenated we couldn't recommend our stay more! If you're looking for the classic French experience then here you are!
Holly
2016-02-19T00:00:00Z
We had a fantastic stay in Maryanne's gorgeous cottage. It was exactly how she described and the pics lived up to expectation. The cottage had everything you would need to cook up brilliant meals in the kitchen, which we took advantage of. The bedrooms were big and comfortable. The town of Vayres was beautiful and very clean. It was the perfect place to travel to historic sights and neighbouring villages. Maryanne left plenty of brochures of the nearby attractions. Could not fault it. Highly recommend and would definitely go again.
Karen
2016-09-14T00:00:00Z
Хозяин непонятно где мы с ней так и не встретились. Квартира хорошая но есть очень много неприятных деталей... Сначала мы должны были 3 дня сидеть без интернета т.к. он просто отключился и нам посоветовали просто ждать. Потом в подвале когда мы вошли была включенная лампочка и когда мы вошли - она просто лопнула и осыпала осколками голову одного из нас. В одной из комнат не работает отопление, туалеты не закрываются, между туалетами окно (!). И самый большой минус - лживая тварь : уборщица Тина. Мы договорились с хозяйкой что вернемся через неделю и оставили багаж у нее в подвале. Так эта сволочь уборщица наврала что мы оставили все грязное (пусть мы и убирали все даже пол подметали) для нее этого недостаточно. Мы платим 60 евро за уборку но убирать должны сами чтобы все было идеально! а если вы этого не сделаете то получится как у нас, хозяйка не сдержала слова, и не захотела возвращать нам наш багаж.Нам пришлось специально приезжать сюда, платить уборщице дополнительную плату!!!! и только после этого мы получили наш багаж.Точнее то что осталось от него т.к. самое ценное уборщица уже присвоила себе.
Lyubomyr
2016-03-16T00:00:00Z
Typ av rum
Eget hus/egen lgh
---
Typ av boende
Hus
---
Plats för
4
---
Sovrum
Vayres, Limousin, Frankrike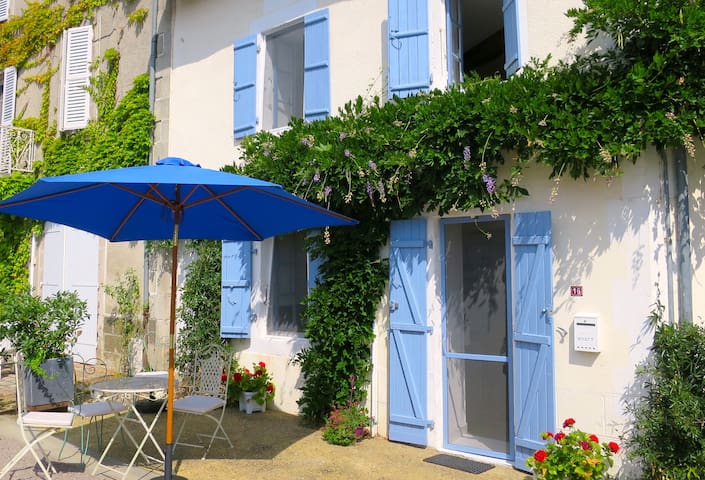 My 6 bedroom house (sleeps up to 14 people) is situated in the Perigord Limousin National Forest and on the Dordogne Haute-Vienne border with its own pool and huge garden. 40 min drive from Limoges Airport or 2 hour drive from Bergerac Airport there's plenty to do for the more active types or you could rather sit and enjoy the peace, tranquility and clean air of the French countryside. Saint Mathieu is a beautiful town with lovely people and a supermarket within walking distance
Typ av rum
Eget hus/egen lgh
---
Typ av boende
Hus
---
Plats för
12
---
Sovrum
Saint-Mathieu, Aquitaine Limousin Poitou-Charentes, Frankrike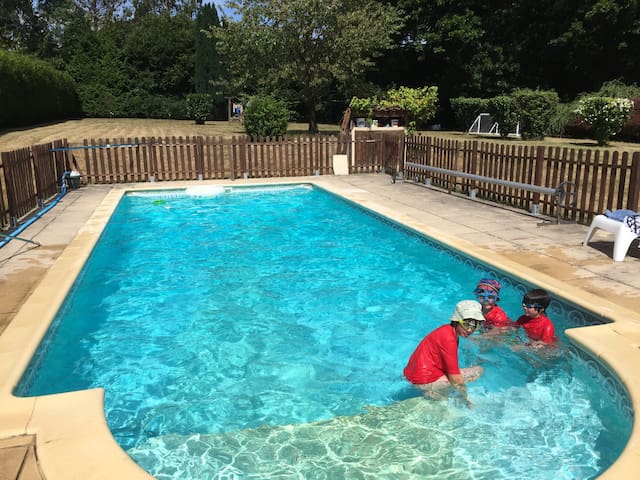 Situated on the Haute Vienne, Dordogne and Charente borders, Cheronnac is ideally located on the doorstep of numerous beautiful lakes, offering swimming, windsurfing, kayaking and fishing.
The house is a large nineteenth century family home with exposed brickwork and wooden beams; oozing local charm and character. It has been lovingly renovated and comprises of four bedrooms each with en suite shower. An upstairs 'Zen Den' offers a tranquil retreat for relaxation, yoga and mediation in a bright and airy space. The kitchen is fully equipped and includes microwave, dishwasher, coffee machine and an indoor eating space for the family, which looks out onto the large, secluded garden and gazebo/dining area. A large and sunny living room provides enough seating for the family as well as space for children to play if desired. The unique layout of the house makes it ideal for large families, couples and multiple families sharing, offering both privacy and communal living spaces. Included in the house are UK television, Wifi and DVD player. A second living room/den area provides Wii console and games, DVD, as well as games and toys for children and teens of all ages. With radiators and a blazing fire for winter and cooling fans for summer, our home is available for year round letting. Christmas and winter lettings are ideal as the fire is warm and cozy on a cold winter nights. 4 nights minimum stay Included in the rental: Welcome pack Children's toys for all ages Wii Consol DVD player Apple TV All bedding and towels Cots and high chairs available on request For winter lettings: Electric Blankets Christmas decorations (a tree can be purchased at an extra cost!) Blankets and throws Initial supply of wood
The house is situated in beautiful farmland and forests on the Charente/Haute Vienne border. Close to the famous Lacs De Haute Charente (average 12 minutes from the house) there is plenty of opportunity for hiking, walking, swimming, rope climbing courses, kayaking and horse riding. We are an outdoor family and spend time at the various lakes, treks and running routes in the area. We enjoy the market towns and shop regularly at the local markets. The historic city of Limoges is on the door step for shopping and museums. Angouleme is about 50 minutes away with great transport links to Paris and Bordeaux.
Nous souhaitons souvent partir dans des endroit calmes et perdus pendant l'été. Nous avons été comblés. La maison est grande, magnifique et parfaitement équipée. Nous avons pu profiter de tout le jardin et des deux terrasses en fonction des heures de la journée et de l'ensoleillement. Grâce au "classeur guide" dans la maison nous avons pu trouver tous les commerces, baignades et visites incontournables. Nous avons passés des vacances de rêves !
Lucie
2016-08-21T00:00:00Z
Logement très agréable et spacieux. Le linge fourni est très appréciable. La décoration est faite avec goût.
stéphane
2016-11-01T00:00:00Z
Typ av rum
Eget hus/egen lgh
---
Typ av boende
Hus
---
Plats för
7
---
Sovrum
Chéronnac, Limousin, Frankrike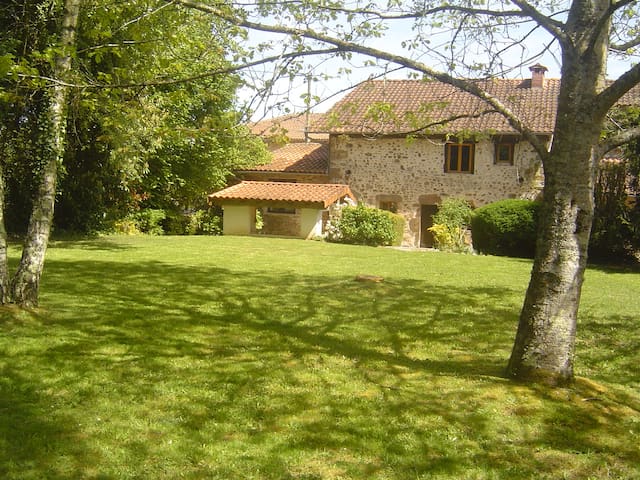 I bought my lovely village house 14 years ago. It was originally an old butchers shop, and is in the village of Les Salles Lavauguyon, in the Perigord Limousin Natural Park, It is less than an hour from Limoges airport and Angouleme TGV station.
I have one bedroom on the first floor with both a double bed and a single bed ,and wash hand basin, adjacent to a bathroom and separate toilet. The bedroom on the second floor has a double bed, wash hand basin and is adjacent to a bathroom with toilet. Both have tea and coffee facilities.
The village is part of the Route de Richard Coeur de Lion,. The church which dates from 11th century has beautifully preserved 12 century frescoes. During the summer there are concerts in the church and usually art exhibitions in the adjoining priory. The numerous walking and biking trails take you past ruined chateax, holy wells and the many old mills on the banks of the nearby Tardoire river. Being on the borders of both the Charante and Dordogne, there is always plenty to do. Every Sunday there are antique markets and on Wednesday there is a very famous local market at Piegut only 20 minutes away. If you feel like cooling off at the beach there are 2 swimming lakes within 15 minutes and the nearest golf course is at La |Preze an easy 15 minutes away. Horse riding is also available. Chassenon boasts some wonderful roman ruins, but if you wish to go further afield Bordeaux and the coast are a comfortable 2 hours away.
We had the most wonderful time staying with Gaye at her lovely home in Les Salles-Lavauguyon. The house has got real character to it and is nice and cosy! The room is really spacious and has a very comfy bed with a lovely big window. There is also a beautiful courtyard and garden for you to enjoy when the sun is shining! Gaye is such a lovely lady and was a brilliant host. She made us feel very welcome and was full of great conversation! We are very happy to have met Gaye as she is what made the trip to France that extra bit special! We would definitely recommend staying with Gaye and hope to return one day. Thank you, Gaye, for a great and memorable holiday :-) x
Emma
2016-06-06T00:00:00Z
Our hostess was absolutely wonderful: she was waiting for us on her doorstep when we arrived and welcomed us with warmth and simplicity. Her house, "l'ancienne boucherie" is full of charm and reflects Gaye's lovely personality. we spent a great evening with her as she prepared a well cooked and delightfully served dinner. We chatted a lot, got to know her and feel we have made a new friend. A splendid experience indeed. We cannot but recommend "l'ancienne boucherie"!
Chantal Jan-Henk
2016-06-02T00:00:00Z
We had a wonderful stay with Gaye. Her home is beautiful and she is a great host. Her house is in a lovely little village in the french countryside. The bedroom was huge - one of the biggest we'd stayed in and we had our own bathroom, the bed was very comfy bed with nice linen etc. We had the use of two bikes which was great - there is a lot to see very near by, including a nice lake with beach and restaurants. She has a lovely outdoor garden, we all ended up sitting around outside chatting and drinking wine into the evening which was a lot of fun. Gaye also provided us with coffee and breakfast which was a treat. Very friendly and accommodating host - 5 stars!
Claire
2014-08-27T00:00:00Z
We have just had a fantastic week's stay with Gaye in Les Salles Lavauguyon. She offered a warm welcome - thinking of everything that might make our stay comfortable. Breakfast was customised according to our tastes; the room was huge, the bed comfortable and we had our own bathroom. She was able to give us lots of advice about places to go, where to shop etc., (especially useful since we visited out of season and few restaurants were open). Most of all the stay was characterised by Gaye's genuinely positive, friendly, helpful, bubbly and warm personality. I have already recommended her to other members of the family, who will hopefully be able to stay with her very soon.
Coral
2015-09-14T00:00:00Z
Vraiment une hôte comme j en ai jamais vu !!!! Une maison superbe et atypique un accueil inoubliable vraiment on ne pouvait espérer mieux !!!!il me tarde déjà notre retour..... merci gaye pour ce merveilleux séjour .
Celine
2015-05-10T00:00:00Z
We had a lovely time at Gaye's house. She is a great host - very warm and welcoming, and offered us a glass of wine after our long drive. She also booked us in to a local restaurant for dinner. Her house is in a very pretty, peaceful spot. When we woke up there had been a power cut, and she still served us a breakfast of fresh pastries - but by candle light. Very romantic! Thank you.
Bryony
2015-08-09T00:00:00Z
This was my baptism to Airbnb. I could not have chosen a better place to stay nor a finer host . I felt at home as soon as i met Gaye and walked in her lovely house . Indeed the bar has been set very high for my future travels . The village is peaceful , my room was huge with handy in room basin and tea / fresh coffee too . Full ensuite bathroom adjacent , perfect ! Gorgeous bed with with beautifully clean , quality linen . I slept soundly throughout my stay . A charming and generous host , we got on well from the outset . I am sure we both enjoyed each others company . Gaye cooked us a fabulous meal , it was a memorable evening , clearly a great cook too . I feel i have found a friend , not just a place to stay .
John
2014-10-10T00:00:00Z
Our only regret was that we did not have more time. Gaye is a delightful host, and the house is a treasure! We enjoyed our stay, and strongly recommend it to all!
Mark
2015-10-12T00:00:00Z
Typ av rum
Eget rum
---
Typ av boende
Hus
---
Plats för
3
---
Sovrum
Les Salles-Lavauguyon, Limousin, Frankrike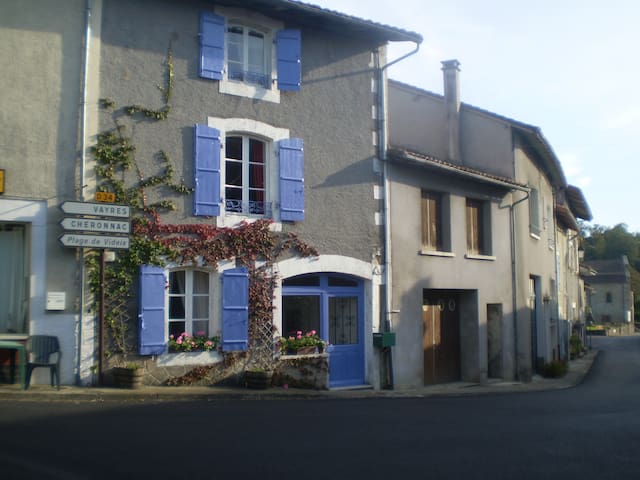 La Grue is a charming 19th century farmhouse with original beams and exposed stone work, beautifully renovated into a 3-bedroomed luxury self-contained Gîte.Three large bedrooms one en suite, lounge, kitchen / dining area and garden with BBQ. You'll love my place because of The outdoor space the isolation, the beautiful scenery in the area. I am are situated at the Charente/ Dordogne/ Haute Vienne borders and normally receive around 2000 hours of sunshine a year on average.
Typ av rum
Eget hus/egen lgh
---
Typ av boende
Hus
---
Plats för
8
---
Sovrum
Chéronnac, Aquitaine Limousin Poitou-Charentes, Frankrike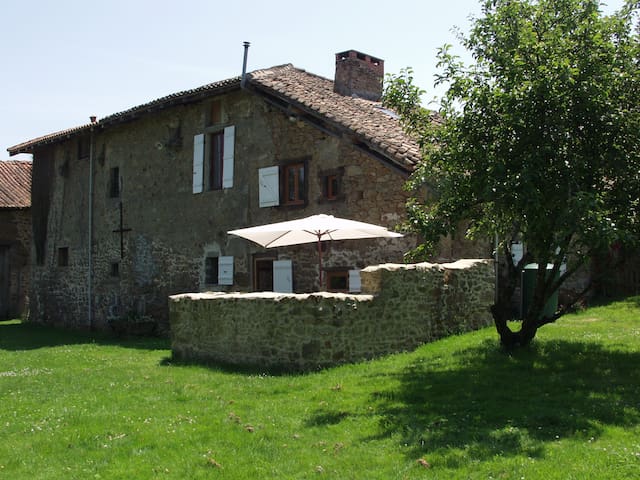 Our place is good for couples, families (with kids), and furry friends (pets).
Typ av rum
Eget hus/egen lgh
---
Typ av boende
Hus
---
Plats för
4
---
Sovrum
Saint-Mathieu, Nouvelle-Aquitaine, Frankrike
Very close to the leisure lakes where swimming, fishing and boat hire is available. 10 minute drive to Rochechouart Chateau. Plenty of cafes and restaurants nearby. We are a 40 minute drive from Limoges Airport and City Centre. You'll love my place because of the outdoor space and rural location, comfy King size bed, the shower / bathroom, well equipped kitchen. A great base to explore this beautiful area in France. My place is good for couples and solo adventurers. Great area for cyclists!
The cottage is a renovated building which still holds a working bread oven. The bedroom and bathroom are on a mezzanine and the staircase is quite steep and not ideal for small children. A couple with baby have already stayed comfortably and we can provide cot and cot bedding if required.
Le Mas is very quiet and is ideal for hikers and cyclists. We are surrounded by fields and there is a working farm so there will be some tractors but very few cars going past the cottage.
We had a super nice stay in Pasha and Rod´s house! Theyre lovely and helpful people and the area is great to do hiking.
matthijs
2017-01-04T00:00:00Z
Nous devions reste 4 jours, cela nous a tellement plus que nous y sommes restés 8 jours. Le gîte est extraordinaire: il est beau, bien agencé. L aménagement intérieur est moderne la décoration est recherchée. Les hôtes ont à cœur de rendre votre séjour inoubliable: panier garnie, boisson fraîche au frigo. Si vous ne parlez pas anglais ce n est pas important , ils apprennent et sont de très bon "élèves ". Allez y les yeux fermés.
Magali
2016-08-21T00:00:00Z
This is a great spot for some R&R (and to get plenty of reading done). Pasha & Rod did a great job of letting us know all the helpful bits & pieces to make the most of our short break. And all the little extras made it feel that bit more special.
Tim
2016-08-28T00:00:00Z
Un havre de paix ! Après une petite semaine dans le gîte de Pasha et Rod, nous sommes bien décidés à revenir ! Le calme et le silence règnent dans ce petit coin de nature. Le gîte est extrêmement confortable et bien équipé. La chambre et la salle de bain ont même un air de suite luxueuse : confort moderne et goût pour des meubles vintage. Le jardin, ombragé, est très bien entretenu et appelle à lézarder avec un bon bouquin. L'ensemble du site est un nid douillet. Pasha et Rod sont adorables et chaleureux. Ils sont plein de petites attentions : panier de bienvenue, légumes du jardin, oeufs frais... Ils sont aussi de bons conseils pour visiter les alentours. Leur gîte est un havre de paix dans lequel nous avons pu nous ressourcer et nous les remercions vivement pour ce séjour. Nous recommandons bien sûr à tous cette location. N'hésitez pas une seconde ! De notre côté nous espérons y revenir bientôt !
Clément
2016-08-07T00:00:00Z
Gîte tout à fait charmant et calme. La salle de bain est super avec grande douche et baignoire encastrée.
Solenne
2016-10-02T00:00:00Z
Rod and Pasha couldn't have been any more welcoming! They were extremely helpful and friendly and we felt completely 'at home'. The gite was beautiful, clean, and well equipped, perfect for a romantic interlude! I particularly enjoyed sitting out in the secluded garden, equally lovely both day and night. It is a fantastic spot for star gazing! The surrounding area is breathtaking and we visited the local lakes for swimming and fishing and enjoyed our trip into town visiting the local art gallery/museum. We couldn't have had a better stay and we'd highly recommend it. Ours was just a short stay but we plan to return and stay longer in future.
Julie
2016-08-02T00:00:00Z
Typ av rum
Eget hus/egen lgh
---
Typ av boende
Hus
---
Plats för
2
---
Sovrum
Videix, Aquitaine Limousin Poitou-Charentes, Frankrike
A wonderful quality gite, uniquely decorated and furnished with antiques and vintage pieces in the heart of the Haute Vienne region of the Limousin countryside. Close to the Charente and Dordogne borders, closer still to the beautiful leisure lakes.
Wonderful quality gite, uniquely decorated and furnished with antiques and vintage pieces in the heart of the Haute Vienne region of the Limousin countryside. Close to the Charente and Dordogne borders, closer still to the leisure lakes where you can go swimming at the beach, hire sail boats, windsurfers, paddle canoes, or even ride horses and of course, plenty of fishing to be had ~ both lake and river. Nestled within the Perigord-Limousin National Park, the countryside is on your doorstep to explore and ramble away to your hearts content; the perfect region for walking, relaxing or cycling with quiet roads & pathways that meander through the countryside.
You will find us nestled in the heart of the tiny tranquil hamlet of La Besse, which forms part of the Videix commune in the Haute Vienne department of the Limousin region, only about 3 kilometres from the Charente border. We are situated within the Perigord-Limousin national park, an area designated for its outstanding beauty, wild life and natural sites; as well as being within this wonderful park we are also on the border of the National Nature Reserve astrobleme Rochechouart-Chassenon. ~ many of the older buildings in this area are made of this special 'meteorite' rock. This is a perfect location for your Limousin holiday.
Le gite est idententique aux photos présentées sur le site, la décoration intérieure est vraiment sympa! Cette endroit est très agréable et Julie très disponible, pour rentre le séjour très agréable. Je recommande cet hébergement.
greg
2016-10-22T00:00:00Z
Typ av rum
Eget hus/egen lgh
---
Typ av boende
Hus
---
Plats för
6
---
Sovrum
Videix, Limousin, Frankrike
Set in a large private garden our fully-equipped holiday cottage comfortably sleeps up to 7 adults in 3 en-suite bedrooms (2 doubles, 1 triple). The spacious kitchen, dining and living area has everything that you need and more.
Our holiday cottage is spacious and well-equipped. It has three en-suite bedrooms and sleeps up to seven adults altogether. Two rooms have double beds and the third bedroom has three single beds. There is a large open plan kitchen, living and dining area equipped with TV (free to air British and French channels), CD player, video player, fridge-freezer, microwave, toaster, coffee machine, washing machine and dishwasher. There are books, toys for the kids, films and games. Two bedrooms and the living room open onto the large, sunny, private garden laid out to lawn and planted with peach trees. There is a south-east facing terrace, shaded by grape vines, roses and kiwis, with garden furniture for outdoor meals - a must in France. The cottage is well- insulated and cozy and is easy to heat with a wood burning stove and back-up electric heaters. We do charge a supplement for electricity and wood in the winter months. Please note that there is a maximum of 7 people for the gite and we cannot accept additional guests.
Les Trois Chênes is in the countryside, surrounded by wild flower meadows and oak and sweet chestnut woods. We are on the edge of a tiny hamlet with just a few houses, but there are several villages and towns within 15 minutes drive where there are shops, supermarkets, banks, chemists etc. We are just 5 minutes drive - or 30 minutes walk along lanes and footpaths - from a swimming lake with beach, bars, play areas and picnic tables. During the summer you can hire canoes, kayaks, boats, bikes and horses for riding from the nautical centre at the lakeside. You can even book a hot air balloon ride. These are normally available in July and August so do check dates.
Thank you to Maelisa and family for making our recent stay so pleasurable. Communication was excellent from start to end. The Gite was even nicer than the pictures suggest, very clean and plenty of space, we had everything to hand, so it felt like home from home. The area was great in terms of location and we were able to enjoy the nearby towns & villages with ease. Olivia loved spending time with Maelisa's children and pets which was an added bonus. We will definitely be back as four days was not enough.
Denise
2015-11-01T00:00:00Z
Hôtes vraiment très gentils avec beaucoup d'attentions (œufs frais, vin à l'arrivée, excellent cake aux carottes par la suite).
Thierry
2016-08-07T00:00:00Z
Très bon gîte, très agréable et spacieux. Les propriétaires sont vraiment affables et aux petits soins tout en sachant rester discrets. Région magnifique. A recommander.
Alexis
2016-08-21T00:00:00Z
The host canceled this reservation 9 days before arrival. This is an automated posting.
Anne
2015-12-20T00:00:00Z
Nous avons été très bien accueilli par un hote toujours disponible pour nous, tant pour la découverte de la région que pour les fonctionnalités de la maison. La maison est pleine de charme au milieu de la campagne limousine. Nous avon passé une tres bonne semaine en famille.
Nicolas
2015-08-08T00:00:00Z
Spacious and we'll equipped accommodation with lovely garden and outside seating,friendly but in intrusive host,welcome booty of bread ,conserve most welcome .would certainly return there .
Christine
2015-09-19T00:00:00Z
Typ av rum
Eget hus/egen lgh
---
Typ av boende
Hus
---
Plats för
7
---
Sovrum
Videix, Limousin, Frankrike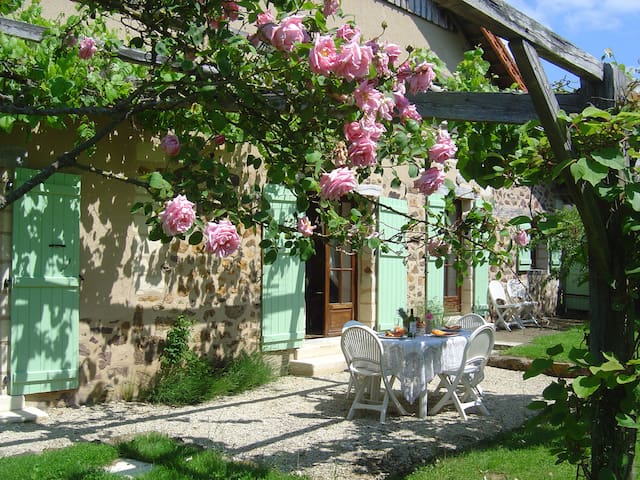 Tastefully designed and decorated Perigord style tower in the Perigord natural park area of the Limousin, South - West France. Ideal for peaceful and romantic breaks.
The Tower is set in the gardens of the owners house with beautiful views from the Juliet balcony of the mezzinine style bedroom Fench doors. Several of our guests have left glowing reviews on Tripadvisor commenting on the views and peacfulness. Being nestled in the 'Perigord natural park' on the Haute Vienne and Dordogne boarder there are palces to visit everyday within easy driving distances on quiet and picturesque roads. An ideal location for walkers and widlife lovers as there's no need to drive to a walking spot - they're right on the door step! Lots of great restaurants are close to hand with supermarket, Boulangeries and Tabac all available in the local Village of Saint Mathieu.
The Limousin area of France is famed for it's lack of traffic, natural beauty and traditional French Life style. Phases such as 'the real France' and 'Timeless' have been used to describe it - neither of which would we disagree with.
Merci pour cet agréable séjour dans votre "tour". Nous avons été très bien accueillis et le logement est très agréable, très tranquille. Un petit coin hors du temps; tout ce qui nous fallait pour recharger les batteries!!!! Bonne continuation à vous!!!!
helene
2016-08-17T00:00:00Z
It was such a pleasure staying with Tim & Denise. On arrival we had a warm welcome and a pleasant chat in which their expertise of enjoying the region provided us with plenty of ideas. The appartment was beyond expectations: clean, comfy and all essentials that can be expected of a home were provided. Our privacy was maintained at all times other than getting fresh eggs!:) But if anything was needed both were always helpful. We visited in July, which can be hot at days. Although the property has plenty of spots to enjoy the sometimes needed shade. Would love to visit again!
Johann
2016-07-23T00:00:00Z
The Tower ist ein wunderbarer Platz für einen ruhigen Urlaub mitten in der Natur. Denise und Tim haben alles Erdenkliche unternommen um uns den Aufenthalt so angenehm wie möglich zu gestalten. Da wir bei Dunkelheit ankamen, hat Tim uns im Nachbarort getroffen um sicher zu stellen, dass wir The Tower finden. Denise und Tim hatten vorher für uns eingekauft. Eine Flasche Wein stand auch bereit. Denise und Tim sind ausgesprochen nette Gastgeber, mit denen man sich wunderbar unterhalten kann. The Tower ist perfekt für zwei Personen, mit einer Küche und Couch im Erdgeschoss, sowie einem Badezimmer mit Dusche. Über eine Treppe gelangt man nach oben in den Schlafbereich, wo ein sehr bequemes Doppelbett steht. Draußen ist ein hübscher Garten, wo wir sogar Ende Dezember in der Sonne sitzen konnten. Vom Haus aus kann man schöne Spaziergänge durch den Wald oder über einsame ländliche Straßen machen.
Anja Maria
2017-01-01T00:00:00Z
Typ av rum
Eget hus/egen lgh
---
Typ av boende
Hus
---
Plats för
2
---
Sovrum
Maisonnais-sur-Tardoire, Limousin, Frankrike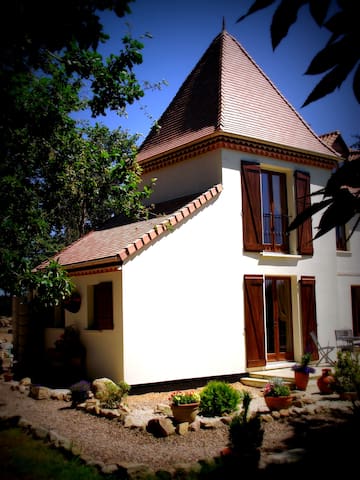 Traditional gite with 1 double bedroom, 1 bedroom with bunk beds, fully equipped kitchen, large lounge with sofa bed, picnic area with gas BBQ. Set in secluded grounds with heated pool, fishing lake, woodland walks and petanque pitch.
Gite has its own area and parking and is located in the same grounds as the owners house - an old water mill, but is quite separate.
Close to the beautiful chateau town of Rochechouart and the haunting memorial village of Oradour Sur Glane.
Typ av rum
Eget hus/egen lgh
---
Typ av boende
Hus
---
Plats för
6
---
Sovrum
Vayres, Limousin, Frankrike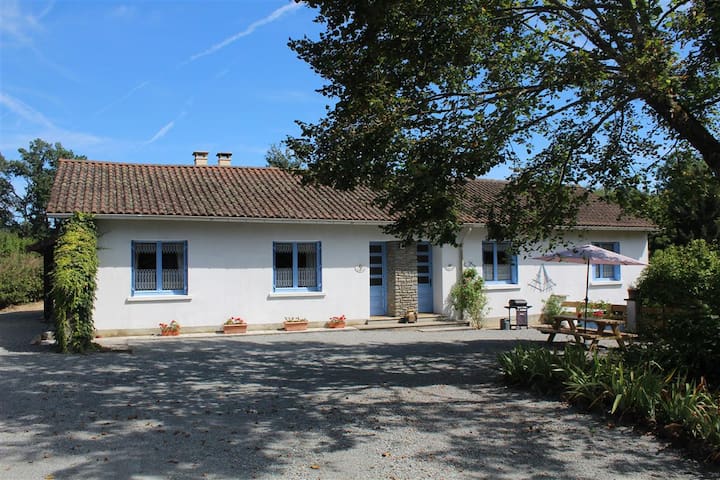 Idyllisches Landhaus mit grossem Garten in der Nähe eines wunderschönen Badesees. Das vollausgestattete Haus liegt mitten im Naturpark Périgord Limousin im touristisch noch nicht so überlaufenen grünen Südwesten Frankreichs.
Unser liebevoll eingerichtetes Ferienhaus ist vollständig eingerichtet, machen Sie sich ein umfassendes Bild auf unserer Homepage (URL HIDDEN)
Im grünen Südwesten Frankreichs in einer leicht hügeligen Landschaft gelegen, die vom Tourismus noch nicht so überlaufen ist. In der Nähe befinden sich mehrere Badesee, einer davon ist nur rund einen Kilometer entfernt.
Typ av rum
Eget hus/egen lgh
---
Typ av boende
Hus
---
Plats för
4
---
Sovrum
Saint-Mathieu, Limousin, Frankrike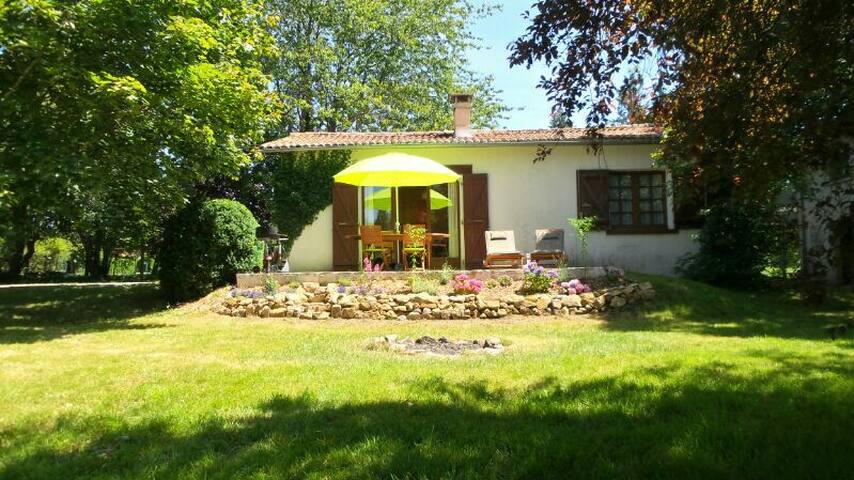 La Vieille Ferme—The Old Farmhouse is our 15th Century home in the quiet hamlet of Bors near Pressignac in the Charente. The beautiful Haute Charente leisure lakes at Videix are just 3 miles away. The house has four double bedrooms and can sleep up to 10 people and is set in private grounds of over an acre with a large heated swimming pool and terraces. The house was renovated in 2016 and is beautifully decorated throughout. It's the perfect place to unwind and relax.
The house sleeps up to 10 people and has three very large double bedrooms with king sized beds and memory foam mattresses.The master bedroom benefits from a beautiful en suite bathroom. The second bedroom can be used either as a king size bed or twin beds. An additional day bed in bedroom 3 extends to offer a fourth king size or two single beds.The fourth bedroom has full size bunk beds La Vieille Ferme is set in over an acre of private grounds with a large heated swimming pool 10m x 5m, summer house, BBQ and terraces and beautiful furniture. We have holidayed in France for the past 12 years and last year took the plunge and bought this beautiful house. In 2016 the house was completely renovated with a new roof, new wiring and a beautiful handmade oak kitchen. During our years of holidaying in France, we have stayed in many beautiful holiday homes, but we have always asked ourselves, 'If this was ours what would we do differently?' As a result we have tried to incorporate the best bits, and added the bits we thought were missing to make La Vieille Ferme the perfect holiday home. Somewhere where you can enjoy precious family time in beautiful, relaxing grounds.
The cities of Angouleme and Limoges with their shops, museums and restaurants are under an hour away. In just over two hours you can be enjoying the beautiful beaches in Royan, or closer to home is Cognac where you can take a tour of the famous Remy Martin distillery. Brantome in the Dordogne and known as the Venice of the Perigord is only an hour away. Acrobranche an adventure park suspended in the trees is a just 15 minutes away, as are the mature fishing lakes at Etang de la Chauffie. The Lacs de Haute Charente are on our door step and offer sailing, canoeing, windsurfing,pony trekking and sandy beaches for sun bathing. La Vallee de Singes - Monkey Valley is just over an hour away and is a brlliant day out for all the family.The area really does have something for everyone.
Typ av rum
Eget hus/egen lgh
---
Typ av boende
Hus
---
Plats för
10
---
Sovrum
Pressignac, Nouvelle-Aquitaine, Frankrike
Beautifully converted stone barn giving comfortable holiday accommodation for 8 in 4 ensuite bedrooms. Free WIFI. Private garden & terrace. Rural setting 2kms from village shops and 5kms from lake with swimming beach
Set in a tiny hamlet of just 5 homes, 2 kms from a small village with supermarket, fuel station, post office, bank, newsagent, 2 bakers, 2 bar/restaurants. 5 kms from leisure lake with swimming beach and snack bar open in the summer.
Très bon accueil de Gail et Chris. Le gîte était décoré pour Noël. Hébergement idéal pour une grande famille ou plusieurs couples, très bien équipé, propre et spacieux. Le gros avantage est que chacune des 4 chambres est équipée d'une salle de douche avec WC. Belles ballades à effectuer dans les environs. Hébergement à recommander.
Patrick
2015-12-27T00:00:00Z
Typ av rum
Eget hus/egen lgh
---
Typ av boende
Hus
---
Plats för
8
---
Sovrum
Saint-Mathieu, Limousin, Frankrike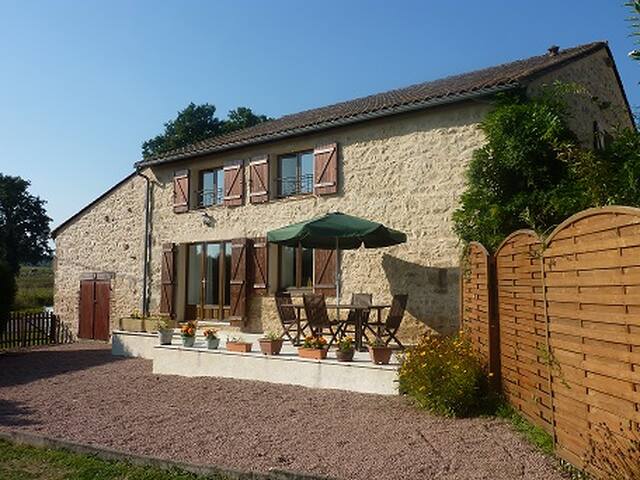 Mon logement est proche de l'étang de Rochechouart, en pleine campagne. Vous apprécierez mon logement pour son calme. Mon logement est parfait pour les couples et les familles (avec enfants).
Typ av rum
Eget hus/egen lgh
---
Typ av boende
Hus
---
Plats för
4
---
Sovrum
Rochechouart, Aquitaine Limousin Poitou-Charentes, Frankrike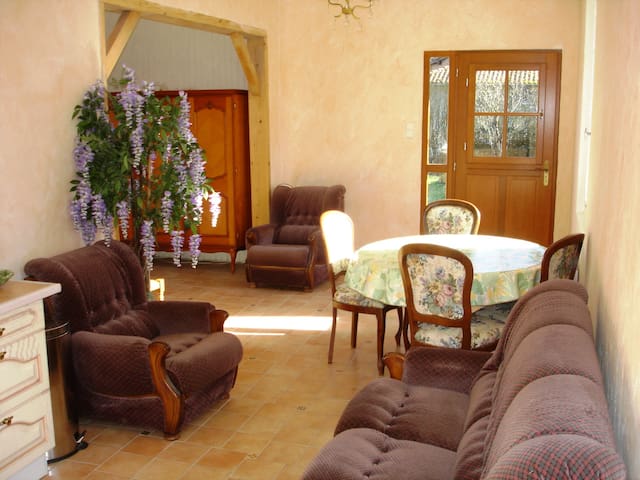 This cottage sits in a quiet hamlet in the Haute Vienne, about 45 minutes from Limoges airport. It has two bedrooms, a bathroom, lounge/diner and fully appointed kitchen. Outside there is a patio and a large private garden-a perfect relaxed getaway.
This recently renovated cottage makes the perfect base from which to explore the Haute Vienne and neighbouring Dordogne. You will find everything you need in this 2 bedroomed property, with fully fitted and equipped kitchen.
La Borderie is a beautiful hamlet set in a quiet corner of the Haute Vienne-the perfect place to get away from it all, switch off and relax.
Le gîte est mignon et bien situé dans un environnememt calme ( sauf lorsque les voisins font la fête...sans prévenir...) Le jardin est très joli et agréable. Les inconvénients sont que la TV est par satellite réglé sur l'Angleterre ( impossible de changer...) il serait souhaitable de l'indiquer ( surtout en période de jeux olympiques) Le livret d'accueil est totalement rédigé en anglais (avec une petite remarque sur les horaires un peu aléatoires des français...) L'on se croirait en Angleterre sauf qu'il manque une théière.. Pensez que vous êtes en France et que vous accueillez des Français qui ne possèdent pas tous la langue de Shakespeare ! Il y a une cafetière électrique que nous avons dû décrasser pour pouvoir l'utiliser... !Ensuite nous en avons utilisé une à poussoir ( toute neuve) que nous avons découverte au fond d'un placard. À notre arrivée, le logement était sale et poussièreux ( toiles d'araignées mouches mortes..) et il n'y a pas d'aspirateur. La salle de douche/toilettes est exiguë et les canalisations très bruyantes (impossible d'être discret). Les tables sont petites: intérieure 60x80 extérieure hexagonale de 80cm. Plats et casseroles en quantité suffisante (mais assiettes bols et couverts: 4 voire 3), gaziniere neuve qui fonctionne très bien. Il faudrait remédier à tout cela et ajouter un lave-linge. Et aussi mettre des prospectus touristiques ( nous avons laissé les nôtres) Cela dit notre séjour fut agréable.
Françoise
2016-08-12T00:00:00Z
Typ av rum
Eget hus/egen lgh
---
Typ av boende
Hus
---
Plats för
4
---
Sovrum
Maisonnais-sur-Tardoire, Limousin, Frankrike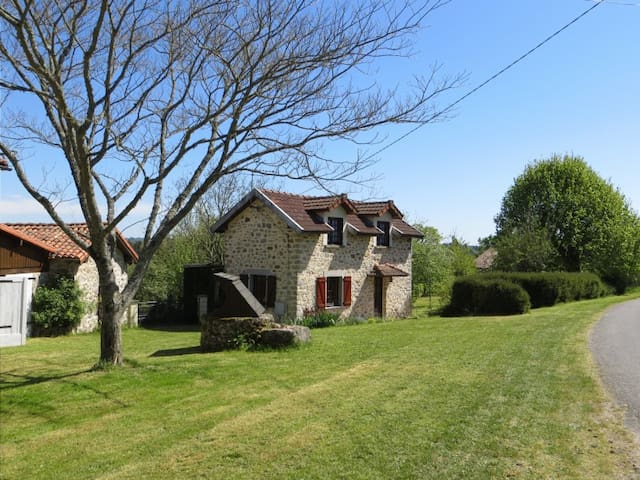 Deep in the heart of rural France, peace and tranquility found, a haven for those looking to reconnect with nature and recharge. Located at the end of a lane, the farm is south facing with direct access to our extensive gardens, fields and forests.
In a scenic rural setting free from passing traffic Neil's gites consists of a recently restored 2 bedroom farm house (sleeps 4 to 6 people, ideal for families - listed here) and a 1 bedroom farm cottage (sleeps 2 to 3 people, ideal for couples), both set in 5 acres of our gardens, meadows and forests. Camping facilities are also available exclusively for those guests who book a gite, so larger parties of 10 to 15 people can be accommodated, contact host for details. In the heart of the Natural Park of Périgord Limousin the property offers direct access to literally hundreds of kilometers of grassy lanes and forest tracks making it an ideal location for nature lovers, walkers, joggers, mountain bikers, horse riding, & wildlife spotting. There are Numerous small lakes and rivers including the nearby recreational lakes of St Estephe, Haute Charente & St Mathieu offering swimming, boating and fishing. In addition there are numerous chateaux, restaurants and beautiful villages in the region well worth visiting. Mountain bike hire can be arranged and free tourist information on these activities and more is provided to our guests. The farmhouse consists of 2 bedrooms with en suite toilet and sinks, fully fitted kitchen with gas cooker, washing machine, micro oven and fridge freezer. A bathroom with bath shower, sink and toilet and a lounge room with television (English freeview channels), dvd player, sofa beds and coffee table with access to the back garden. Outside garden furniture includes; numerous table/benches, 2 dining tables with chairs, barbecue and swings Games equipment provided includes; badminton nets & rackets and boules.
A popular local restaurant is only a 5 minute walk through the forest to the south (ideal for when you've grown tired of cooking) and the beautiful chateau Rocher is 5 minutes walk to the west. Further afield the popular tourist destinations of the Dordogne are on your doorstep, starting with Brantome at 35 mins drive south.
Typ av rum
Eget hus/egen lgh
---
Typ av boende
Hus
---
Plats för
5
---
Sovrum
Saint-Mathieu, Limousin, Frankrike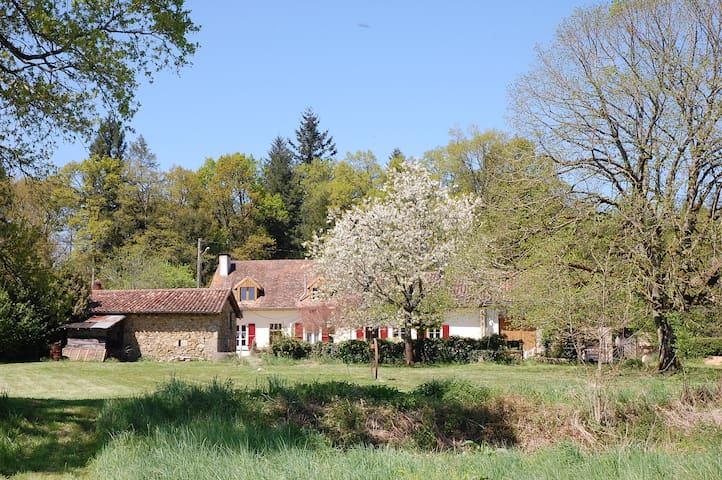 1

–

18

av

59 Uthyrningar av hem
Ange datum för att se full prissättning. Ytterligare avgifter tillkommer. Skatter kan tillkomma.