This place is close to the beach, nightlife, restaurants and dining, family-friendly activities, and great views. You'll love our place because of the neighborhood, the light, and the coziness. This place is good for couples, solo adventurers, business travelers, and families (with kids).
this house is a designer house with really cool furniture with a typical french western style, there is a crazy wooden box in the big room (No AC only Fan) that is the master bedroom, the kids room( 2 single beds) is funny and has a little balcony to observe the life of the village (With AC), there is a terrace where you can rest and have a drink far from the noisy streets
quite neighborhood, Ranwar village is roman catholic and east Indian borough very friendly people
Rosy is very helpful in many ways. Thanks for the wonderful home.
Mike
2017-03-26T00:00:00Z
Beautifully designed bungalow in an incredible part of town- walking distance from great cafes and bars, and the house was charming, smartly designed (the hosts are interior designers!), and nicely sized. There's also a nice terrace to hang out in at night. Only complaint is the lack of AC- only one of the small bedrooms (the hosts' kid's room) had it, leaving the rest of the bungalow very hot and under-ventilated. Communications with the hosts and Rosy were a bit confusing, but overall Rosy was very sweet and the place was a steal for the location!
Sasha
2017-04-03T00:00:00Z
Typ av rum
Eget hus/egen lgh
---
Typ av boende
Hus
---
Plats för
5
---
Sovrum
Mumbai, Maharashtra, Indien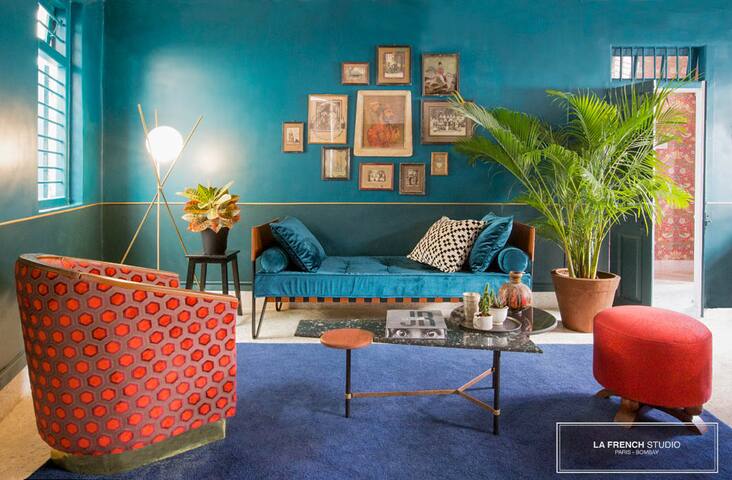 Down a quaint little lane in the bustling suburbs of Mumbai's Brooklyn- Bandra, rests a two floored 1980's building named Julie. Surrounded by lush trees, this corner apartment offers a double bed room w/ wi-fi, study desk, cupboard & a mini balcony.
Loved staying with Ashim, great chats, great place, perfect neighbourhood! He was super friendly, helpful and accommodating, really made me feel at home. Definitely highly recommended
David
2017-02-11T00:00:00Z
Ashim's place is in the trendy area of Bandra. Bandstand is a short walk away and so are many eateries wishing walking distance. Ashim himself is a great and kind host. They are very welcome and so helpful. The place itself is so well decorated and so easy to make yourself at home. They truly open their home to you. Do not hesitate to stay here.
Dalia
2017-03-12T00:00:00Z
Had such a wonderful stay! Easy to locate and felt like I was at home
Merrylin
2017-02-06T00:00:00Z
I would say it was an amazing (URL HIDDEN) hosts both Keshav and Ashim are warm people to stay with. The house is immaculately done and very clean in an upbeat locality with all modern facilities. The host help u out with each detail and make u feel at home away from home. Over all loved my stay with them and shall look forward to coming back again.
Pooja
2017-02-08T00:00:00Z
My stay at Ashim's place was wonderful. He and his roommate have an incredibly well furnished and decorated place located in a very convenient part of Bandra. I'd love to stay here again--highly recommended!
Bharath
2016-07-28T00:00:00Z
I stayed with Ashim and Keshav after a long time, and it was delightful as usual. what i love about their home - calm, soothing, comfortable, spotless, and good energy. what i love about them - warm, welcoming, great to converse with. what i love about the neighbourhood - close to highway (quicker to get in/out of bandra), close to restaurants/cafes/bars, peaceful.
Chaitra
2016-04-29T00:00:00Z
Love the place. Ashim an Keshav are the best hosts. It's clean and have the best location in Bandra. Highly recommended
Trond Egil
2016-11-23T00:00:00Z
I found Ashim's place a day before heading to Mumbai and booked. Ashim and Keshav are great hosts. They provided me with a nice room with a comfortable bed and all the essentials. Pictures don't do justice to their home's design and aesthetics. I really enjoyed talking to them as well. They were friendly and helpful. Overall experience was brilliant. I would always try and stay at their place whenever I'm in Mumbai.
Vivek
2016-09-11T00:00:00Z
Typ av rum
Eget rum
---
Typ av boende
Hus
---
Plats för
2
---
Sovrum
Mumbai, Maharashtra, Indien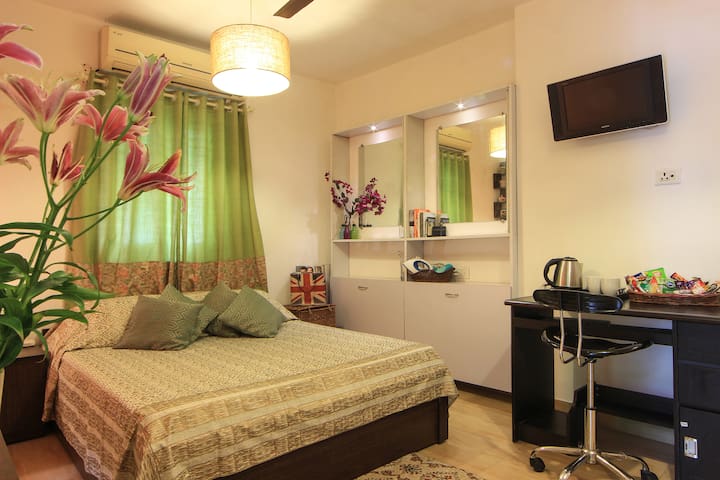 2 Schlafzimmer und Flur KITCHEN, ganz rechts auf dem (MADH island) ERANGAL BEACH Furnished entfernt. HOUSE GIVES um ein Gefühl wie bei GOA bleibt. Haus befindet sich zwischen RÜCKZUG HOTEL AND RESORTS Land in der Nähe DANAPAANI Beach. Kontakt: (Neun Acht zweihundert Strich Nine Six Nine und Three Nine)
2 Schlafzimmer und Flur KITCHEN, ganz rechts auf dem (MADH island) ERANGAL BEACH Furnished entfernt. HAUS IST IN DER STADT UND GIBT EIN LAND SIDE wie ein Aufenthalt in Goa fühlen. Haus befindet sich zwischen RÜCKZUG HOTEL AND RESORTS Land in der Nähe DANAPAANI Beach. Bunglow NAME IST MAHUAA. 142, ERANGAL Dorf neben BONAVENTURE KIRCHE. ITS ZWISCHEN DEM ORT UND RüCKZUG Hotel neben Daana paani STRAND VOR bhati GAON. BUS STOP-ERANGAL DORF. Kontakt Nr. (Neun Acht zweihundert Strich Nine Six Nine und Three Nine)
Es ist eine Bonaventure Kirche in 1575. Daana Pani und Aksa Strand und lokalen Speisen gebaut
As it is, it's difficult to find a last minute booking during Holi in Mumbai. This place was just awesome for our party of four, located right near the beach, very roomy and airy and stocked to make your stay comfortable. The host Mr. Shankar was prompt and courteous. Strongly recommend this place.
Yatin
2017-03-13T00:00:00Z
Lovely place very close to the sea. Mr Shankar is very accommodating and has made this stay enjoyable for us.
Sriram
2017-04-02T00:00:00Z
I was quiet hessitant of booking the place as there were no reviews. I just went up with my gut feeling and let me tell you i was not at all disappointed. The place is a gem, the Mahuaa Bunglow is just 100 mts from Erangal Beach. If you are looking for a getaway, this is the perfect place. Nearby to most of the beaches. The ambience of the place is amazing as well. The property has been properly maintained by Capt Shankar(host). The person is a nice chap and helped us out any possible way.
Manik
2017-03-12T00:00:00Z
Typ av rum
Eget hus/egen lgh
---
Typ av boende
Hus
---
Plats för
4
---
Sovrum
MUMBAI, Maharashtra, Indien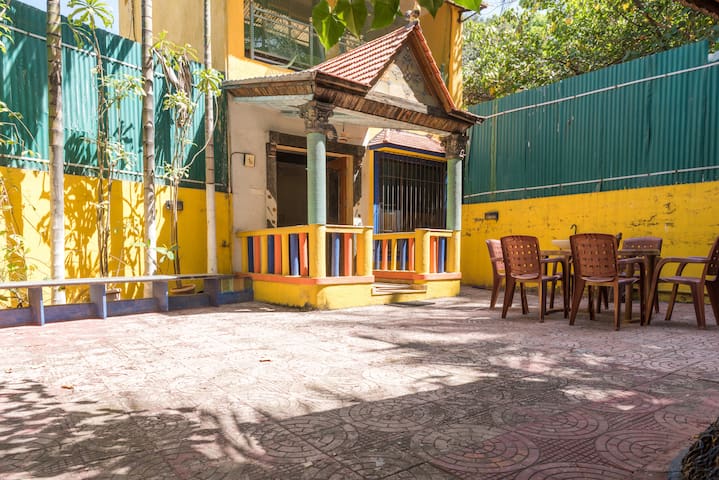 Modern done beach house in the suburbs of (mumbai) a 3 bedroom with 5 bathrooms plasma TVs, hometheatre, bar area, dining area, very large hall, kitchen, microwave...its very close to the beach and situated near shops hotels and restaurants....
Modern done beach house in the suburbs of (URL HIDDEN) a 3 bedroom with 5 bathrooms plasma TVs, hometheatre, bar area, dining area, very large hall, kitchen, microwave...its very close to the beach and situated near shops hotels and restaurants....
Typ av rum
Eget hus/egen lgh
---
Typ av boende
Hus
---
Plats för
10
---
Sovrum
Mumbai, Maharashtra, Indien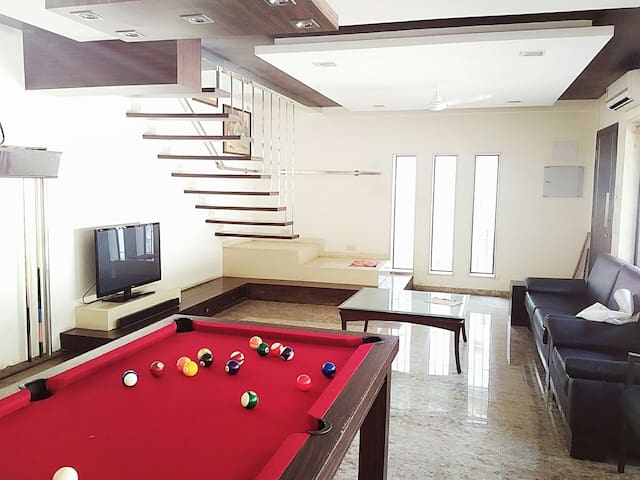 Bandra is a suburb of west Mumbai. It is a posh locality and often called the queen of suburbs. It is best known for shopping, eating or getting a sneak peak of the pleasing Arabian Sea.There a plethora of cafes, restaurants and nightclubs around here.
Peaceful and cozy Studio Apartment at Bandra west, walking distance to Carter road by the sea, it has Ac, tv & Geyser. It has a very homely feel to it. Very quite place with all the necessity around. Close to the airport and railway station as well.
Bandra is a suburb of west Mumbai. It is a posh locality and often called the queen of suburbs. It is home to many Bollywood and cricketing influential personalities such as Shah rukh Khan, Salman Khan and sachin Tendulkar. It is best known for shopping, eating or getting a sneak peak of the pleasing Arabian Sea. This super fascinating and glittering place is always on top of the list when it comes to leisure. Mount mary church is the most celebrated church in Mumbai while linking road is a shoppers paradise. Bandstand is famous amongst the young generation. Bandra is also popular for its graffiti walls. There a plethora of cafes, restaurants and nightclubs around here.
Very nice experience, a real little peace heaven for anyone who needs to take some days off to relax .. Everything is very closed
Camille
2016-10-30T00:00:00Z
Feihaan is an amazing host. Perfect communication. Very recommended. The room is simple, the shower has hot water. The house is located in a quiet alley. The main road has plenty of cafes and restaurants. Would definitely go back!
Pietro
2017-01-14T00:00:00Z
Feihaan was helpful and checked if we were alright a few times throughout our stay. The space is private. The Internet was fast and the room was very clean. It's a perfect space for two people. The area is nice but for people wanting to go to Mumbai a lot, they might have to consider the distances involved. Forget the train, I actually think it's impossible. We caught the local bus a few times, it's quite a ride, fun and a way of experiencing Mumbai. On our last day we asked if you could check out later than the allowed time and Feihaan was perfectly fine with it. He even booked a Uber for us all the to Mumbai as we had our backpacks. Do not hesitate, this is a great area.
Thomas
2017-02-01T00:00:00Z
Highly recommend Feihaan's place for short stays in Bombay/Bandra. Very good value for money given the location.
Kartikeya
2017-01-22T00:00:00Z
Good location - compact accommodation very nice host
Sandra
2017-02-11T00:00:00Z
Feihaan was a gracious and welcoming host, he met us personally and was very helpful, offering recommendations for where to go and even providing us with bottled water. The apartment is clean and cosy, in a quiet location (quietest and darkest room in my whole 2 weeks in India!) in Bandra, nice if you want to see a different side of Mumbai and escape the crowds. It had everything we needed for our short stay.
Emma
2017-03-26T00:00:00Z
Feihaan was a very Nice Houst The apartm It's Small But clean independent in Good area very quite 10 minuts walking For many restsurantes e bars Not far from the airport But the Good point twas the kindles Feihann To help Wht i ask For doing in Mombsy etc Reccomend
jorge
2017-03-24T00:00:00Z
The studio is located in the heart of west Bandra, a cozy and quiet neighbourhood in Bombay. Certainly great value for money in the city! Feihaan is a great host, super quick to reply and makes sure your stay is pleasant. He also gave us nice recommendations for restaurants and places to go in the area.
Gudmundur
2016-09-07T00:00:00Z
Typ av rum
Eget hus/egen lgh
---
Typ av boende
Hus
---
Plats för
2
---
Sovrum
Mumbai, MH, Indien
A two storeyed bungalow in a suburb of Mumbai, guests are welcome to share the house with the family (me). There are many rooms. There's also a terrace if people want to camp out in the open air. Rights of admission reserved with me (owner)
It is a self contained room with its own bathroom, backdoor leading into a garden, storage units and ample space to throw your yoga mats as well. The room is on the ground floor with a nice quiet garden around it. The house itself is inside a gated community with 24 hours security. It is in the corner away from the more noisier part of the community. There is 24 hours running water (unless there's some emergency - pipe burst, municipality cuts down water supply, etc.).
Chembur is in the north east of Mumbai. Once an open, forest covered suburb, it is now a very urbanised neighbourhood. Recent city developments have made it the most accessible suburb in the city with expressways and metro / monorail services connecting it with different parts of the city. The airport is now just 20 (30 minutes for the international terminal) minutes away while the UNESCO World Heritage Site VT Station (now called Chattrapati Shivaji Terminus) is, on account of a new high-speed elevated expressway, just 15 minutes away. There are pubs, cinema halls, international chain coffee shops, pizza delivery joints, Subway, McDonald's and KFC.
Good apartments, friendly hosts. Small transport difficulties in this area, but it has no relation to the room.
Michael
2014-10-23T00:00:00Z
So happy I chose to stay with Anannya (Deb). He's a wonderful host, who is also a fellow traveler (and a great photographer might I add), full of stories and (URL HIDDEN) about said travels and a huge list of golden nuggets all throughout India and parts of Asia. The room is big and has its own toilet and shower, plus a direct exit to the front garden and a lovely terrace on the top floor for relaxing after a day in crazy Mumbai. Bus stop to fort area is literally outside of the complex, a nice hotel where the food is good and reasonably priced and an HSBC bank too. And if it's street food you're after then welcome to heaven, a few blocks away, this suburb of Mumbai lights up and a gazillion stalls, restaurants and anything food related you can imagine comes to life and delights your senses. Super recommended! Thank you Deb for all your help, you're welcome to London and Colombia any time! Bombay would've been much harder without his advice and city knowledge! Just book it! Daniele
Daniele
2014-01-31T00:00:00Z
Annanya is a very nice host, willing to answer all the questions you might have on culture, politics etc. The place although is pretty far away from downtown Mumbai, you feel at home and for sure you will appreciate a calm and peaceful spot away from the noise and traffic.
Quetzalli
2014-05-07T00:00:00Z
I stayed in India for last 3 years and because of my finished house agreement with landlord, I searched the room in Mumbai. Fortunately, Anannya offered me very nice room with reasonable price and thoughtful help. I spent homely time in the room. + acceptable price, big room in shadow(cooler than other place), nice toilet, helpful and kind owner(Anannya), fast wi-fi, kind housekeeper, real indian style - self do laundry, to many dust in the room, too many pictures in the room(private pictures of someone) which made me embarrassed, no soundproof, noisy work in process due to making new toilet to the next room without advance notice. It was fine room with the very reasonable price.
Meehyun & Geondo
2014-05-25T00:00:00Z
We arrived late in the night, Mr Anannya was outside waiting for us. We felt very comfortable in his house and area. If it was not because of train booking we would have stayed longer in his home. Thanks :)
Fred
2013-10-24T00:00:00Z
I enjoyed my stay at Annanya's. He was really prompt with communication and I really appreciated him being flexible with my check in time! The location worked well for me. I thought my room was a bit dusty which I didn't like but otherwise the space is lovely and would have been nice to have a bit more time there.
Francesca
2017-02-06T00:00:00Z
Anannya's Place is where you wan a be, when South Mumbai is to touristic, and Bandra to hip. Chembur is a really nice neighbourhood and as "normal" as it can get in Mumbai. Anannya is a perfect host and and welcomes his guest like family members without infringing upon their private sphere. In him I found a true friend to whom I will definitely return when in this amazing town. His knowledge on Mumbai's special places comes from personal experience making him just the local guide one wishes for.
Tobias
2014-02-16T00:00:00Z
I'm glad I stayed at this place in Mumbai. It's very quiet and just a great atmosphere to be in. You also very easily get into town, so a great place to stay in general. Thanks Anannya for everything and hope to see you some time soon again!
Daniel
2013-11-11T00:00:00Z
Typ av rum
Delat rum
---
Typ av boende
Hus
---
Plats för
2
---
Sovrum
Mumbai, Maharashtra, Indien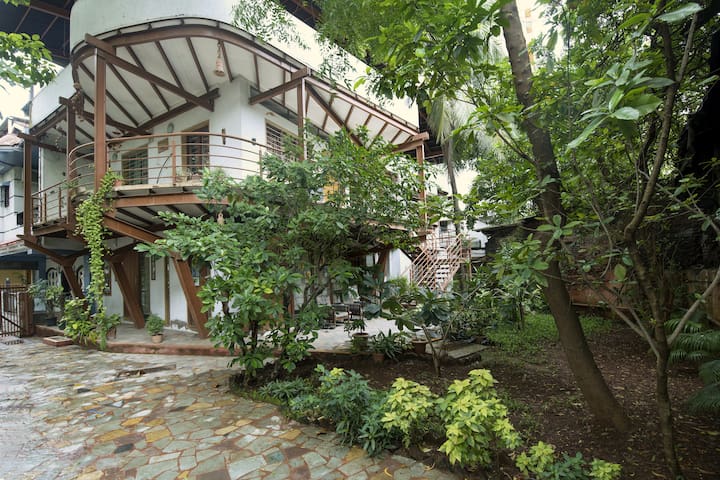 Spacious bedroom with attached bath (extra bed available @ an extra cost).Located in a bustling neighborhood with a local market,coffee shops,gym,pool,parks,theaters,restaurants,metro rail,24/7 public transport -all 2 mins from where we are located.
We the hosts make it unique to begin with.Also the house is big,clean and in the heart on western (website hidden) is extremely well connected by public transport 24 by (website hidden) is surrounded by eateries,pubs,theater, ,mall,beaches,hospital,gym and (website hidden) has a buzz around it while inside its a quiet place with a green terrace,and a beautiful home gym to stay fit.
It buzzes with energy.Cafes,malls,world cuisine,local market is at our door (website hidden) has a great night life alive till (website hidden) is surrounded by beaches.Film and TV shoots happen in the neighborhood. Prithvi theater is right around the corner.Our locality is very safe for women travelers.
We had a very plaisant time at Priya's place. She is very helpful and make you feel very confortable. Amazing Breakfast !!!
Charlotte
2015-05-19T00:00:00Z
Priya was very friendly and welcoming, going out of her way to pick us up from Versova since she was around. Her place is lovely and clean, just as shown in the pictures on the website. We were served a delicious breakfast and tea in the morning. Would love to stay here again on future visits!
Aarsh
2016-05-09T00:00:00Z
Priya and Jai are such people who you will like to hang around with. Awesome !! Informative transparent direct and courteous people. You should they staying them.
Rangan
2016-12-11T00:00:00Z
Staying at Priya's place was great! she helped us with getting familiar to Mumbai's railways station and provided great recommendations and advice. Her maid Reva was very helpful as well. Very nice space as well 10/10
Judy
2015-09-16T00:00:00Z
- Her place is located at a good area for relaxation. - Good welcome from her maid althrough she can speak some English. - Room is clean and neat. For things can do better. The direction to her place is not clear and very difficult for non-indian. The location which she marked in the (SENSITIVE CONTENTS HIDDEN) map is wrong place, please do it correctly.
Kobchai
2015-12-13T00:00:00Z
Priya and Rai were the most welcoming guests. We felt at home the minute we stepped in the door till the minute we left. Their house is amazingly set in a lovely area which has many different food and supply shops in the surrounding regions. Their accommodation was just as it is described, it was spacious, homey and comfortable. We will for sure stay there again in the future!
Nikhil
2016-09-10T00:00:00Z
Priya and Jai made us feel welcome like we were their own family. They took us out for a midnight joyride that could also be termed as a beer-run, but we'll get to that later (optional). It's a quaint setting, with a wonderful balcony that we spent more time in than anywhere else during our short trip to Bombay. We were there for a rather sedate and serious matter, but their amicable demeanour, and friendly involvement in our matters, simplified a lot for us. The room is nice. It has everything one could need for a pleasant stay. Unencumbered, fit with a nice AC that one would require in Bombay's monstrous and humid summers, the accommodation is perfect. We would definitely come back here whenever we plan to visit Bombay next.
Prateek Dale
2015-05-04T00:00:00Z
Priya was a very nice host who gave us all the information we needed before landing in Mumbai (which taxis to use, how much to pay, etc). We also arrived pretty late at night but that wasn't a problem and there was a comfortable bed with clean sheets and towels waiting for us. All in all, very hospitable and nice :)
Tea
2016-11-07T00:00:00Z
Typ av rum
Eget rum
---
Typ av boende
Hus
---
Plats för
2
---
Sovrum
Mumbai, Maharashtra, Indien
A large 300sqft fully furnished private room...with AC,TV,BEDBEDDING,CUPBOARD,DRESSING TABLE,DINNINGTABLE WITH CHAIR,40INCH LED T.V WITH CABLE.. SIDE TABLE...western toilet with24/7 hot and cold water..excellent for solo people,couples,backpackers...homely and safe ...flexible chk in and chk out..without any timing restrictions...located in heart of four bunglow market..walking distance to market and dn nagar and versova metro..mins from international airport..5mins to juhu beach..
Its basically a 300sqft fully furnished luxurious room....private entry and exit...without any timing restrictions, flexible chk in chk out,flexible cancellation policy......close to all public transport...safe and secure location...calm and peaceful...comfortable for 2people..but can accomodate three people also...the room is equipped with Double bed,large 40inch t.v,dinning table with chair,side table and dressing table,1.5t split airconditioner,sofa ,beanbag,induction cooktop with crockery and utensils for cooking,ur own personal fridge for storage,cupboard. ....located in heart of four bunglow market...walking distance to versova and dn nagar metro..15mins to andheri railway station..15mins to western express highway..walking distance to beach and ambani hospital and best bustops...20mins from international airport...best for COUPLES,SOLO TRAVELLERS,BACKPACKERS ....can also accommodate family of four...the room has a spacious patio for the guest to have a cup of coffee or to read books. ...washing machine is provided to wash clothes...suitable for anyone who needs a homely atmosphere...with a budgeted stay...available for short duration stay as well as for few hours
Peaceful and calm with greenery all around...warm and friendly people...secure and safe locality....far away from noise pollution...
Super Service! Pick-up is possible, Rahul answer very fast to eny art of communication, very friendly and help you by any questions and problems! Thanks a lot! Till next time :-)
Vladimir
2016-12-12T00:00:00Z
A single private room big enough for two people in Four Bungalows, Andheri West, Mumbai. Host is a very nice, easy-going friendly person. A Church nearby so the Lord God close by, keeping an eye over the well being. Nice room AC works fine. Big TV Wi-Fi works nicely. Fridge is okay. Bathroom outside the room so one needs to step out of the room each time. Location is near the main market so daily need items are easily available. A fast food restaurant closeby. Autos available at the main gate. Security at the main gate so safe and secure. Negatives: A better cupboard with hangers to put up one's clothes would be nice. Kitchen is common for a few others. Bedsheets could have been cleaned and replaced more often. Could put up a much more lighter and better smelling room freshener just before my visit. Smell is a very important factor for the mood. In all, a good and comfortable place to put up, with not much disturbance from neighbourhood.
Viraj
2017-03-05T00:00:00Z
The stay at Rahul's place was really pleasant. There were 3 of us, the other 2 being my father and uncle. Rahul had been an awesome host, all helpful and welcoming. Amazingly, he got a brand new TV installed on our arrival. The place had all the necessities one can expect. The Wi-Fi was decent. The neighbourhood was nice. When my father likes something, it is 'good'. Would definitely recommend the place to anyone looking for a homely stay at Andheri. Keep up the good work, Rahul. Will surely come to your place again.
Rupankan
2016-10-12T00:00:00Z
Rahul is a good host. Always available on call for any help. Check in was smooth and helped with early check in. Place is good. I will surely stay again at his place.
Pranav
2017-02-08T00:00:00Z
Very nice stay. Rahul is a great host, he offered to pick us up from the airport and he was more than helpful when it comes to any our doubts or problems.
Małgorzata
2017-03-23T00:00:00Z
Rahul is a great host and takes care not just as a host but as a friend also. He took all pain to make my stay comfortable. Would Highly recommend Rahul's place for your stay in Mumbai and I am also looking forward to meet him again as a guest.
Rohit
2017-03-01T00:00:00Z
Great residential locality in the Four Bungalows area of mumbai. Really silent, well furnished and a good host. Helped us to find a nearby cafe which served authentic maharashtrian food. Would definitely recommend to anyone
Srinivas
2017-02-13T00:00:00Z
Le logement de Rahul est spacieux, bien équipé (frigo, bouilloire, vaisselle), avec une petite salle de bains à l'extérieur de la chambre, au rez de chaussée d'une maison donnant sur une impasse privative très calme. La gare d'Andheri West est à 10 mn de rickshaw et l'aéroport à 20 mn en taxi. Pour éviter tout problème à l'arrivée il est préférable de demander à Rahul qu'il vous envoie un taxi qui connaisse précisément son adresse...
Jacques
2017-02-28T00:00:00Z
Typ av rum
Eget rum
---
Typ av boende
Hus
---
Plats för
2
---
Sovrum
Mumbai, Maharashtra, Indien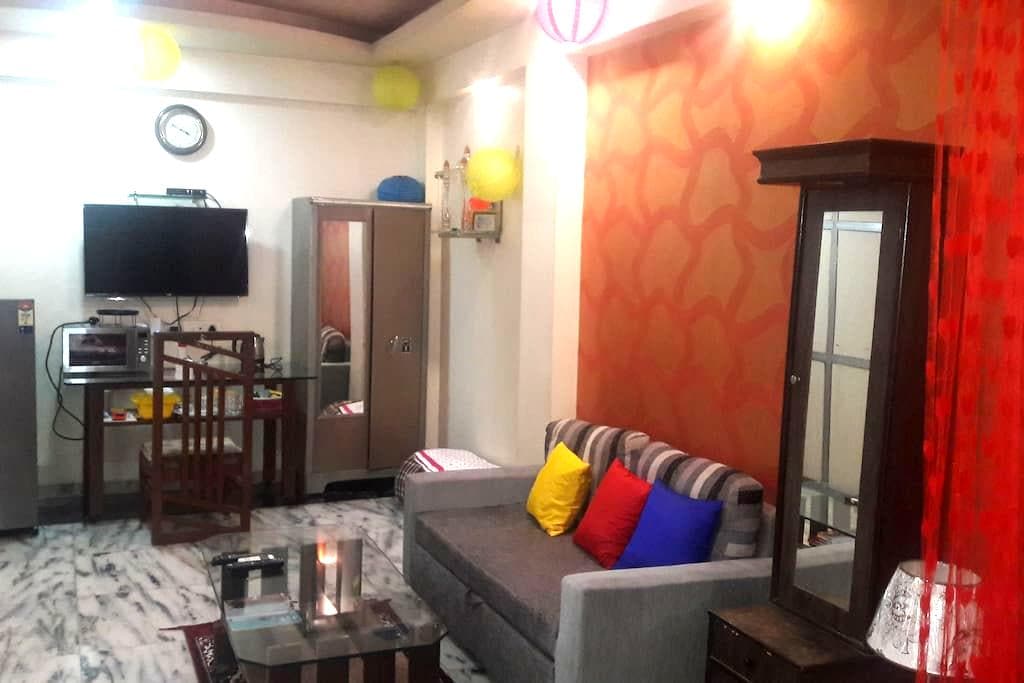 You'll love my place because,It's a clean and cozy studio apartment with a kitchenette.The studio is attached to my work place and enjoys a separate entrance and complete privacy post 7 PM. It is an independent unit with a private gate.Due to its close proximity to the local station and the LBS marg , it has easy access to all the directions of the city. It is a feel good place equipped with all the basic necessities place is good for adventurers,business travelers and couples.
Luxury and privacy of a Hotel room, within a home at a very affordable rate, to add to it the hospitatlity we offer is what makes our guests come back to us! The studio has an Independent entrance and main gate, with an attached bathroom and a kitchenette There is a Kitchen is on the first floor, wherein basic cooking is possible . There are plenty of restaurants in the visciniy that offer free Home delivery. It is an independent unit with a private gate and thus the guests do not have to face the awkwardness of entering a building especially at odd hours.
Hiranandani Gardens at Powai, Mumbai's finest residential township is only 6 Kms from the studio. Powai offers a wide variety of restaurants to suit all pockets , an evening around the Lake and within the township can be pretty enjoyable. It has quite a few Pubs, Cafes and Restaurants and offer Cuisines from all over the world. The closest Malls from here are R city at Ghatkopar and Viviana Mall at Thane.
Kavita was very friendly and very caring. There was an issue with the heater and she ensured that it's fixed ASAP. Also she was there to inform me that there was power issue and it'll be fixed in 5min's. She was also flexible with the checkout time as well. :) Thanks Kavita, had a good stay!!!
Kailash
2017-01-29T00:00:00Z
This is the one of the most comfort place i seen in mumbai city, very close , convenient to reach, no disturbances of city traffic, full privacy... Lots of restaurant s available for home delivery and kavita is super host, she is very helpful to keep my luggage when i reached early even it was occupied by other someone, room is very neat and clean. Interior is designed very tastefully. I have stayed in different hotels in Mumbai in past. But from now onwards this will be my permanent place to stay when ever i visit mumbai, Thumps up Kavita for a wonderful host.
Rijin
2017-02-16T00:00:00Z
The place is great, calm and has good built in facilities
Divya
2017-03-17T00:00:00Z
Kayy's place is quite good and clean with everything you need. If it fits in your budget, I would say go with Kayy's place with your eyes closed.
Jaimin
2017-03-27T00:00:00Z
Had a pleasant stay in kayys .
Tridib
2017-01-02T00:00:00Z
Perfect stay,.Neat and clean place.. On a walkable distance from Bhandup station... Lots of reatraunts nearby... Kavita is a beautiful human being and a wonderful host... She's been very friendly and helpful...lot of Privacy for couple getaway... This is a stay worth every penny spent..
Sheru
2017-01-22T00:00:00Z
Awesome, Very nice room. Location also very good, Rooms are very nicely maintained. Better than 3* hotel rooms, Ac, kettle, fridge,snacks, etc, Toilet is maintained very well, Please include wifi also so it will be useful. It wont cost you much, may be 25-50 rs /day maximum. Thanks for being a very good host. Looking forward to again at your place,
Anil
2017-01-07T00:00:00Z
Kayy is really a good host and she took a lot of care. As shown in the pictures room was very nice and clean. I really appreciate kayy care on housekeeping.
Ajay
2017-01-05T00:00:00Z
Typ av rum
Eget hus/egen lgh
---
Typ av boende
Hus
---
Plats för
3
---
Sovrum
Mumbai, Maharashtra, Indien
Beryline 58, is a lovely East Indian cottage,nestled in the heart of Amboli , Andheri. It has modern conveniences yet retains the character of the old world. Its a perfect home away from home for a family visiting Mumbai or a team of intercity executives on a work visit. We have four work desks that make working out of Beryline, convenient.
The experience of living in a quaint cottage in the heart of Mumbai is unique. It offers peace and solitude, yet instant access to a host of services, transport, shopping, restaurant, hospital and other conveniences that make one's stay pleasurable. The cottage is large enough (1600 sq ft+) to accommodate an extended family of 6-8 people. Since we have one bathroom, we are currently promoting it as ideal for a family of four. We give the entire cottage at a time though the price quoted is per person and increases for every additional person.
Heres' the wiki on Amboli. Amboli is an affluent neighbourhood of Mumbai in the Indian state of Maharashtra, in the Andheri (West) area. Amboli was earlier known as Ambolim. It is located very close to Andheri Station and Jogeshwari. Amboli was primarily inhabited by East Indians (Christian) and Tribal people called waarlis. There were but a handful of houses in and around the village and almost everyone knew the other. Amboli was laden with green fields and numerous Mango and coconut trees. The name Amboli also stemmed from the fact that there was a massive mango orchard(Aam = Mango). The most notable landmark in Andheri is the St. Blaise Church. A Bollywood film studio "Filmalaya" (owned by Mukherjee-Samarth family )is located on Ceaser Road in Amboli. The outdoor area of the studio was sold and a new building "Mayfair Meridian" has come up in its place. Other notable landmarks are the shiv-sena shaka and the Joe n Helen Playground.
I stayed a week at Russell's place in Andheri West. I'm on business, so the first thing I needed to know was whether or not the Wi-Fi was good. You're in luck if you stay here; it's the fastest I've had in India so far, even compared to nice hotels! On top of being good accommodations for the business traveler, this is also a home that is comfortable for families and traveling groups. A big kitchen, spacious living room and two large bedrooms make it plenty big enough to spread out. I felt very comfortable at the apartment, and most of that is due to the attentiveness of Russell himself. He made the stay extra-easy (being my first Airbnb ever) and accommodated my needs above and beyond what I asked for. One note - there is a fair bit of traffic on the main road between the apartment and the airport. In case you are flying or driving around the city for meetings, you will need to monitor the traffic. But you can walk to the Metro very easily, so transit access to the rest of the city is only minutes away. Definitely would stay again!
Kyle
2017-04-04T00:00:00Z
Russel was a truly fantastic host. He really tried to make sure that everything was OK for us and was just a phone call away if we need anything at all. The property is conveniently located near Azad Nagar Metro station, we used this landmark for rickshaws. There are some lovely restaurants within 5 minutes walk and we found some friendly bars too. The place is spacious, well equipped, totally safe and has a really warm feeling about it. The neighbors are super friendly, there is convenience stores nearby. I am really excited about going back to Russell's place sometime soon.
Duncan
2017-02-27T00:00:00Z
My sister and cousins stayed at Russell's place for a week and it was a great experience. Russell's driver picked us up from the airport, poor guy had to make 2 trips because our first 4am flight was cancelled, but he was a great sport about it. Russell met us at the house, and showed us around. He also helped us line up a cook, who was a great help, in basic day to day questions. The home is very safe and the neighbors are great - we were 4 girls staying and never had any issues. Rickshaws are easy to get, and there are some good food joints just down the street. Russell also followed up with us after our stay and was easy to approach and contact with any questions we had. We would definitely recommend Russell and his property to anyone looking for a place to stay in Mumbai!
Anita
2016-01-23T00:00:00Z
Russel hat uns sehr herzlich empfangen und war überaus gastfreundlich. Wir sind mit zwei kleinen Kinder gereist unds wir alle haben uns in dem Cottage außerordentlich wohl gefühlt. Bei unserer Anreise wurden wir von Russel mit kleinen Annehmlichkeiten wie Cornflakes, Schokolade Ost und einigen Getränken versorgt worüber wir uns nach der langen Anreise sehr gefreut haben. Die Unterkunft ist überraschend ruhig gelegen. Die Beschreibung traf absolut zu. Tuk- Tuks warten eine Ecke weiter, Taxen sind überall zu bekommen und die Metro ist auch fußläufig.
Michaela
2016-03-17T00:00:00Z
In the heart of Mumbai, Russell's home is nestled inside a street that offers a spacious, quiet, and tranquil getaway in a bustling city. The home is exactly as described, offers bright lighting, much needed air conditioning that blows ice cold air, it has all the amenities to make you instantly comfortable. As an added value, you'll find a friendly neighbor, Rex, whose open-mind and open-door policy for a chat with a foreigner will make you forget you ever felt homesick that morning. If I didn't know any better, I thought Russell spent his career in hospitality. I had a very late return flight home and Russell's flexibility and willingness to let me to stay several extra hours so I can house my belongings is the epitome of him as a host. Book your next stay here and you won't regret it. Namaste!
Vil
2016-09-14T00:00:00Z
I had a wonderful time staying at this beautiful and extremely clean cottage. The cottage is located in a super convenient location named Amboli which is bustling with street vendors and shops such as pharmacies and the Subway sandwich store. You can literally find any basic items you might need at any hour of day or evening by taking a 3 minute walk from the cottage. Despite the busy and vibrant area that the cottage is in, the cottage is secluded on its own little street and you hardly hear any noise from inside. The cottage itself is super clean, simple, and neat. Actually when I first arrived at the location as Russell was showing me around I remarked that the place looked better in person than in the photos. All in all, I would highly recommend staying at Beryline 58. Russell (the host) is GREAT by the way. He is easy going, kind, friendly and is easily available on phone or (SENSITIVE CONTENTS HIDDEN) to answer any questions during your stay.
Crystal
2016-08-26T00:00:00Z
I had a very enjoyable stay. Russell was incredibly nice and conscientious. He went out of his way to ensure my stay was as pleasant as possible. The apartment is a great size, very clean and has everything you need for apartment style stay in Mumbai. The area is great. I've been in this area many times to visit friends. The metro is close by. Rail station too. There are plenty of Riks just down the road. I'll definitely look to stay again!
Stephen
2017-01-17T00:00:00Z
Russell has been a great hose and Beryline 58 is a great place to stay. We booked last minute as we wanted to get out of our hotel while we were searching for an apartment in Mumbai. We found Russell's place and booked it the night before. Russell was very accommodating, met us at the place the next morning, got us checked in and gave all sorts of recommendations. He then gave us a lift to our next appointment that morning. He was quite responsive to everything we asked during our stay and a great welcome to Mumbai. The place is huge, very nice, has all the amenities and is just a few minutes from all the restaurants and bars of Andheri. It's tucked back away from the street and thus pretty insulated from the noice of the city. A great home away from home and I'd highly recommend staying with Russell.
Mike
2016-07-13T00:00:00Z
Typ av rum
Eget hus/egen lgh
---
Typ av boende
Hus
---
Plats för
4
---
Sovrum
Mumbai, Maharashtra, Indien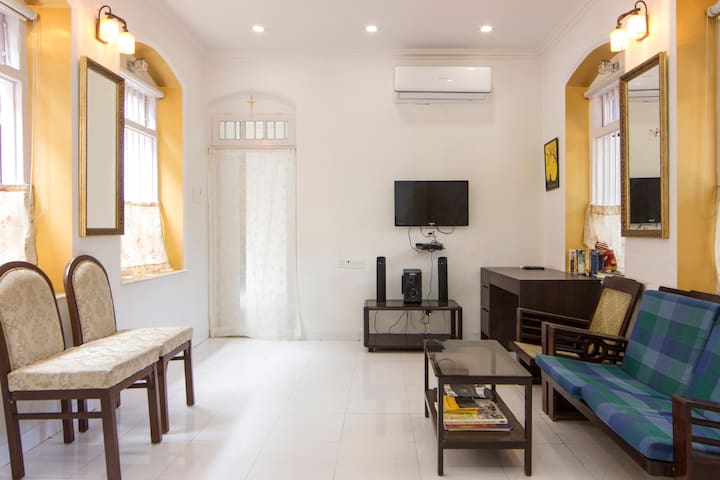 A beautiful, sun-lit, 5-bedroom house in the suburb of Vakola, Santacruz (East).
This newly renovated 2-floored house is constructed with provision for natural light. The 4 mini-bedrooms and a master bedroom can easily accommodate 10 guests. The small bedrooms are 10ft x 6 ft each, whereas the master bedroom is a standard sized room. Each room has its own closet space. 2 large common area lounges can comfortably seat 8-10. Should you require only one of the floors, or a few of the 5 bedrooms, please look at the other listings under my account.
This house is located in Vakola, Santacruz East, which is 2 kms (5 minute drive) from the domestic airport terminal and 5 kms (10 minute drive) from the International terminal. Located in a bylane in a residential area, this is in a safe neighborhood of Mumbai, with a police station just 100 meters away. During the day, the vicinity is usually busy with commuters and traffic, although when in the house, you're completely insulated from the outside world. There are plenty of eating options in the nearby Bandra and BKC neighborhoods, which are a short ride away.
Jay was an amazing host. The house was incredible. The staff took care of us day and night. Everything was better then I could ask for, would highly recommend this stay!
Aman
2015-12-22T00:00:00Z
It's a great experience to stay here in Mumbai for 2 nights. Jay is a warm-hearted and kind guy. The rooms are clean and comfortable! We all felt satisfied!
Bojing
2015-09-16T00:00:00Z
Nous avons passé un très bon séjour au sein de ce logement ! Les chambres sont certes petites mais bien conçues, propres et équipées. Jay est un propriétaire serviable et facilement accessible. Je recommande vivement ce logement ! A proximité de l'aéroport et d'une station de train.
Alissa
2016-02-14T00:00:00Z
Very good experience in Jay's house, it's the first time I am so close to Indian lifestyle. The house is beautiful and Jay is very nice, everything was prepared properly. The house keeper is very helpful, he could help to buy what we need. If there's some clothes hangers and sleepers would be perfect :)
静
2015-12-06T00:00:00Z
This was a very unique house in mumbai. very compact spaces but it is perfect for a group stay as there are lots of small rooms with bathrooms. the 24hr house keeper was very helpful, especially if you are a foreigner in India but you will need someone to help translate. We didn't meet Jay during our stay as everything was handled through the housekeeper but this was fine and jay was very quick to respond to messages. The area is close to a train station and a main road with plenty of auto rickshaws and taxis. A fantastic option to stay in the heart of the city with a group.
Liam
2016-03-01T00:00:00Z
Stayed for a week with group. The host was communicative in setting up and resolving questions that arose. The actual place is managed by others. The cleaner was available at all times though had to be asked to help specifically. Location was a dusty - not as clean as a hotel room would be. One of the 5 shower heads did not work. The location is walkable to the Skywalk and stations, helpful in getting to other locations. WiFi worked well some days not others, expected with traveling but inconvenient.
Sadiya
2016-01-11T00:00:00Z
Typ av rum
Eget hus/egen lgh
---
Typ av boende
Hus
---
Plats för
14
---
Sovrum
Mumbai, Maharashtra, Indien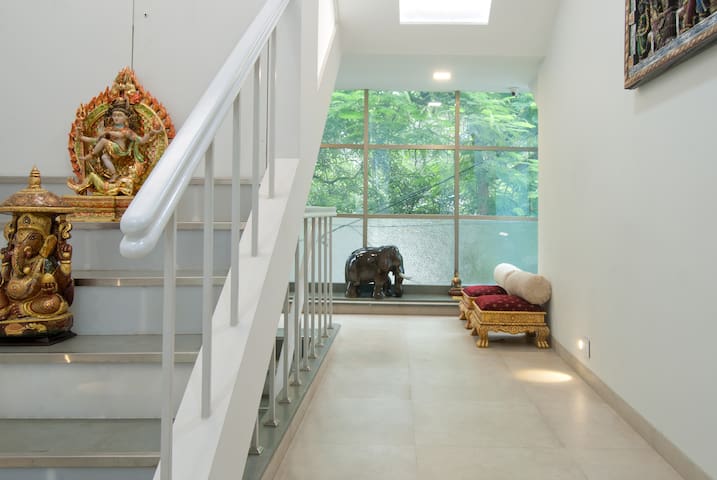 Want a government approved 3 roo(URL HIDDEN)HomeStay in Bungalow in Chembur for accommodating up to 19 of your wedding/ tourist/ family guests / medicals? Would three or four foreign students home-stay in a FRRO registered property? Kitchen is FDA registered.
Hello We are approved by India Tourism (Incredible India), Ministry of Tourism, Government of India and MTDC (Maharashtra State Tourism Development Corporation Ltd.) to operate Bed and Breakfast / Homestay in our bungalow at Chembur, Mumbai. The apartment is on the ground floor of our bungalow. My family and I stay on the first floor! You will find our bungalow useful if: 1.You need to accommodate around 15 guests attending a family function like marriage, thread ceremony / get together. Besides the two bedrooms, here are two sofa beds in living room and 7 mattresses. 2.You are a group of Four to six foreign students on a short study programme in Mumbai. 3.You are foreigners who wish to stay in a home and get a feel of India with Mumbai perspective 4.Relatives of patients who need medical attention in Mumbai and need a home to stay. 5.You are a corporate / institution and need to house your staff / students temporarily in a safe place in Mumbai with excellent connectivity 6.Family tourism. This is a fully furnished two bedrooms with attached bathrooms, Hall with two sofa double beds, Kitchen and dining lobby independent apartment in the ground floor of our villa / bungalow at Chembur, Mumbai. All you need is to get your personal belongings and we will arrange the rest. Breakfast and meals can be ordered by you from a choice of restaurants and cafes. YOU CAN COOK IN OUR WELL EQUIPPED KITCHEN. The PRICING: •The charges for entire ground floor bungalow apartment are Rs. 5500 (around 90 US$) per day for FOUR adults. No charges for two children less than 12 year's age.. The living room can also be converted to a bedroom. ••Rs. 700 (Rs. 800 from 1st April 2017) per extra person per day. Eleven additional guests can be accommodated on the sofa-beds in Living Room and mattresses. •10 % discount applicable if the number of days of stay exceeds six. •Check in time 1000 hrs - check out time 0900 hrs. •Four Foreign students 100 US$ per day (a maximum stay of one month) Facilities offered: 1.Power, water and gas 24 hours. 2.The 2 bedrooms and hall have ACs. All rooms have curtains 3.350 liter refrigerator, 3 burner gas stove and aqua guard in kitchen. 4.Each bathroom has geyser, mirror, mug + bucket and toiletries. 5.Beds and furniture. 6.Marble flooring. 7.Cupboards, chairs and tables. 8.Private parking for three cars and garden. 9.Utensils, mixer, juicer etc 10.Includes house-keeping, electricity, water and gas 11.Free Wifi 12. Minimum two days booking and maximum 19 guests Compliances: 1. We are approved by MTDC AND India Tourism to operate B&B / Homestay 2. Our kitchen for use by our guests is registered with FDA. 3. We are registered with FRRO (for Foreigners) 4. We are registered with the Luxury Tax Department for charging luxury tax on behalf of the Government of Maharashtra) My back ground: I hold a Masters' Degree in Commerce from University of Bombay and also am a Fellow Member of the Institute of Cost and Management Accountants of India, with twenty years of experience in Investment Banking and five years as a Professor (Finance) and reputed Management Institutes. My family consists of my wife, one son and one daughter. Best wishe Kishore Nair (Owner) M.Com, FCMA Laxmi Niwas HomeStay Chembur Mumbai
You can access many restaurants and bars near by. If you chose to cook in the kitchen, the vegetable, mutton, chicken and fish markets and many mom & pop stores (kirana) shops are close by. * Schools, Colleges, bus stops, Sindhi Society Gymkhana, Bombay Presidency Golf Club, Acres Club and market 300 meters to 800 meters
Afterall,it was a nice place.And my host Mr. Kishor was very much helpful to us.And his hospitality was also the best.Iocation is also good.just 5 mins walk from the main road,from where you can get access to every place by bus,taxi or monorail.
ADITYA PRAKASH
2016-10-17T00:00:00Z
Kishore and his family are very welcoming, dedicated and helpful hosts. House is close to the monorail station, we had a lovely few days in Mumbai
Paul
2017-03-05T00:00:00Z
Typ av rum
Eget hus/egen lgh
---
Typ av boende
Hus
---
Plats för
15
---
Sovrum
Mumbai, Maharashtra, Indien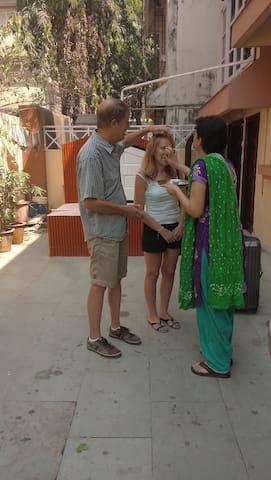 This is a Cozy Studio Apartment 5 Mins walking distance from the Vile Parle Train Station. It's 5-8 mins drive from the Domestic Airport and about 15-20 mins from the International Airport. It is perfect for connecting Flights or Tourists. It has 2 Single Beds, 1 double sofa bed, AC, Wi-Fi & Laptop Table, Fridge, Microwave and Hot Plate with basic kitchen wear. CHECK-IN is@ 11 am & CHECK-OUT is@ 10 am next day Optional: Wifi Enabled, AC Car for pickup/drop-offs Available. Ask for Costs.
Amazing host, even uncle was quite helpful; totally loved staying here!!!
bhooomi
2016-03-15T00:00:00Z
Great place...exactly as seen in the photos. Kinsgley was very helpful and we couldn't have found a better place to stay.
Rijo
2017-03-27T00:00:00Z
Good communication and directions to the location by Kingsley. Peaceful locality and good ambience :)
Phalguni
2017-03-19T00:00:00Z
Kingsley's place was perfectly as described. Very close to the Vile Parle Station, it has a nice ambience and two pet dogs! It gives good value for money and can accommodate two people comfortably. You get a private room for yourself with attached washrooms and no kitchen. But you can get things to eat within walking distance as this place is close to station. I'd recommend you to go for this one for it's ambience, entire place for two people and the two pet dogs!
Yogesh
2017-02-26T00:00:00Z
This location is conveniently located near the Mumbai Airport. My flight was delayed so we did not get to stay in this location. I respect how fast Kingsley was with communication and any questions I had, he responded right away. I would have loved staying in his space and that is why I am leaving a good review.
Zach
2016-11-25T00:00:00Z
First class service! Kingsley answered when my taxi driver called to get directions, he waited for me outside of the home to receive me, then gave access to wifi, and the next day he walked me down the road to catch a rickshaw at 5am! I have already booked a second visit in June. Highly recommended!
Erminia
2016-04-20T00:00:00Z
The room is a private studio with it's own access in a quiet side street very close to Ville Parle railway station.
Matt
2016-03-18T00:00:00Z
Fantastic !!
Naveen
2016-06-18T00:00:00Z
Typ av rum
Eget hus/egen lgh
---
Typ av boende
Hus
---
Plats för
4
---
Sovrum
Mumbai, MH, Indien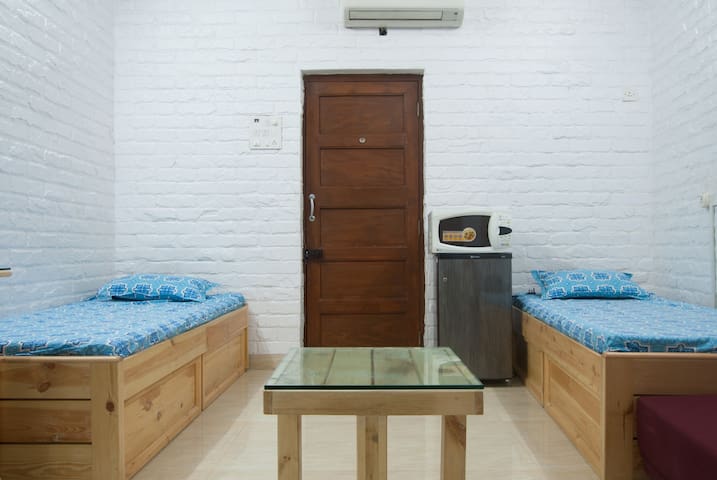 Amazing place to be, beach view a bunglow with a pool.. Very reasonable n a gud place to relax with family. Away from the city..Food can be provided 1000 Veg and 1200 Non Veg buffet..Chicken Mutton fish..
Cozy n relaxing
No one to interfear..
Typ av rum
Eget hus/egen lgh
---
Typ av boende
Hus
---
Plats för
8
---
Sovrum
Mumbai, Maharashtra, Indien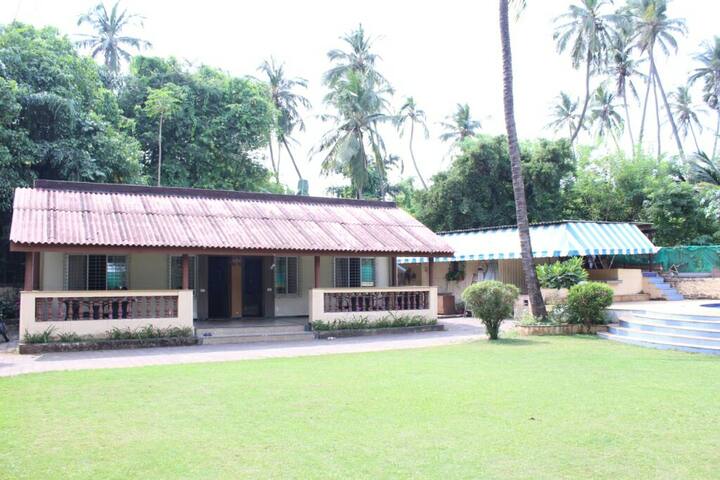 A quiet Place in the suburbs of Mumbai
Typ av rum
Eget rum
---
Typ av boende
Hus
---
Plats för
2
---
Sovrum
Mumbai, Maharashtra, Indien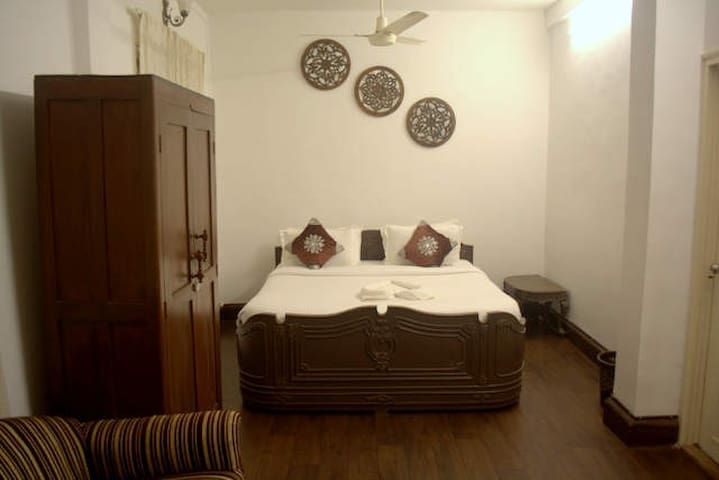 Situated on top of Pali hill, in an ambiance of lush green, cool breeze, birds, natural sunlight, quietude. Home and hub to many "Bollywood Actors" and celebrities and to numerous pubs, restaurants and malls. A large, airy room with attached bath which is walking distance to all the hot spots in Bandra, yet secluded enough for privacy. The sea front & Promenade are a 5 min walk.
The house is fully air conditioned; filled with natural light, contemporary style blended with classic and understated elegance; " a home away from home" welcoming guests from all over the world. The guest room is air-conditioned, private, and comfortable; with an attached bath. The room has parquet wooden flooring, a double bed cum sofa, writing table, wooden closet, computer, and WiFi. Fresh bed and bath linen provided.
Typ av rum
Eget rum
---
Typ av boende
Hus
---
Plats för
2
---
Sovrum
Mumbai, Maharashtra, Indien
Celebrate Bollywood and our city of celluloid dreams in this chic, air-conditioned, serviced studio with its own bath, kitchenette and private entrance!...box office opens on 15th March :-)
The BOLLYWOOD studio is a brand new, private, self-contained, chic designer studio in Chembur. It has air-conditioning, wi-fi, cable TV, secure wardrobes, desk and chair, fold-out sofa, an ottoman, coffee table, and a generous and comfortable queen-size bed! This unique studio has its own entrance, attached bath with hot water, and fully equipped kitchenette with fridge, single induction stove-top, microwave, cookware and diningware. Tea, coffee, milk, snacks and complimentary toiletries form the welcome package. The Bollywood studio is serviced daily, and fresh linen provided every three days. Decorated with cinematic memorabilia, this studio pays tribute to Bollywood - the world's most popular cinema, and pride of the city of Bombay! All of the furniture in this studio is restored, using a distressed wood finish in white, with vintage Bollywood posters and prints.
This is a safe and convenient neighborhood with nearly 15 banks and ATMs on our street alone. For some reason several spas have come up - there are 3 within a two minute walk away. Besides banks and spas there are coffee shops and very good restaurants (North Indian, South Indian, Coastal and Continental), a new wine lounge and lots of shopping options nearby.
Excellent time with the fascinating Mandy and family. Very happy stay. Nothing was too much trouble and everything was as described - recommended!
Ben
2015-12-09T00:00:00Z
Mandy and her neighbours were perfect hosts. We had no trouble at all and Mandy was very supportive during the bookings.
Eshani
2015-11-29T00:00:00Z
We loved our stay at the Bollywood Studio! Mandy was friendly, responsive, considerate, and clear. She checked in to see if we needed any help navigating the area, gave tips on places to eat, and we were glad it worked out to share a meal. The studio is nicely designed. It's a peaceful space maintained nicely by the housekeeper. We liked the neighborhood. It's quiet but still lively with many options within walking distance....ice cream, restaurants, snacks, spas, coffee, supermarkets and more. We traveled easily by auto or taxi to Bandra and South Mumbai. We came to Mumbai looking for a base so we could take care of things at the Consulate. We got so much more out of our time in Mumbai by opting to stay here instead of a hotel. Great experience!
Jennifer
2015-06-04T00:00:00Z
I enjoyed my stay with Mandy! She and her family and staff were all friendly and helpful. This listing was a good mix of having a friendly, thoughtful host as well as some nice amenities one likes to have at a hotel (meal options, laundry, etc). Place was very clean was comfortable. Some guests might not be used to the noise from outside but Mandy offers ear plugs for cheap if you need them. I am also grateful for the reliable wifi- had some issues connecting at first but we figured it out and I was able to stay in touch with everyone back home. Mandy always made herself available and she has thought of everything her guests might need for their stay, like a map of the local area and useful numbers to call. She's very professional and if you get to know her she's an interesting Jane of all trades. This place is a ways from south Mumbai, but that's nothing a taxi or train can't fix. It's a short ride to Juhu/Bandra if that's more your pace.
Erica
2016-02-09T00:00:00Z
The place has a really nice feel, it's clean and properly sorted. Mandy has a very warm personality who delivered interesting conversation about the city. Even the staff seemed to be well spoken in english and greets you with a friendly smile. Location is in the middle of mumbai, so there's access to every part of mumbai. Would def recommend!
Martijn
2015-03-21T00:00:00Z
Staying at Bollywood Studio was a memorable experience. The place is very well maintained, the housekeeping and service staff was so warm and helpful it felt as if we were amongst friends. And the best part is the location, so central and walking distance to all you would need and think of. Mandy is a fantastic host and we would love to come back again.
Apramjit
2015-08-02T00:00:00Z
Thank you Mandy! She was really quick in getting back to me regarding the reservation and was really helpful throughout the entire process. She has a beautiful studio,extremely clean and well kept. The entire vibe of this house was so unlike mumbai( in a good way). Highly recommended!
Nikhil
2015-03-25T00:00:00Z
The host canceled this reservation 8 days before arrival. This is an automated posting.
Ralph
2016-04-14T00:00:00Z
Typ av rum
Eget hus/egen lgh
---
Typ av boende
Hus
---
Plats för
2
---
Sovrum
Mumbai, Maharashtra, Indien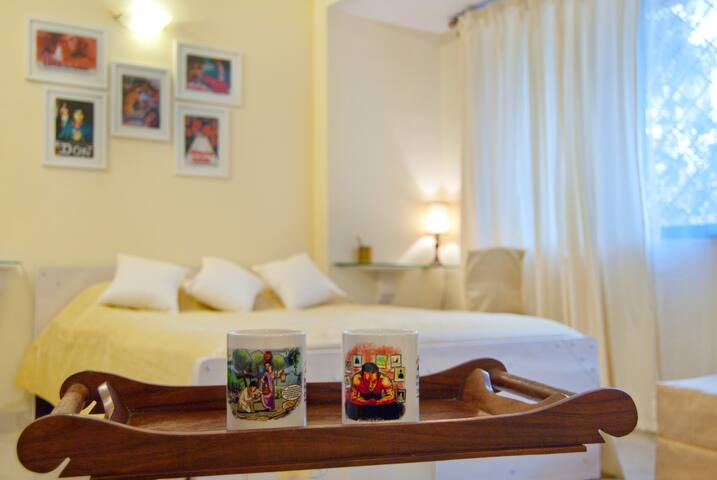 1

–

18

av

96 Uthyrningar av hem
Ange datum för att se full prissättning. Ytterligare avgifter tillkommer. Skatter kan tillkomma.