Přijďte vychutnat hory a znovu s přírodou v době jejich pobytu v krásném 15 'jurtě se spoustou oken obklopené divokou zvěř. Usnout při pohledu na hvězdy skrz kopuli a probudit za zvuku ptáků švitoření. Navržený milovníky jurta, postavený milovníky jurta, pro milovníky jurta.
U zult genieten van een rustige en vredige nacht in een one of a kind yurt kleurrijk ingericht met uw ervaring in het achterhoofd. Dit yurt is licht, helder en warm! Outdoor gebieden voor zitten en genieten van de bossen, kampvuur, waar u kunt genieten van de prachtige sterrenhemel terwijl het roosteren marshmallows. Sanctuary voorzieningen zijn onder andere outdoor labyrint, een tennisbaan, overdekte groep eetgedeelte, groep picknickplaats en een vuurplaats, volleybal, een fitnessruimte, een basketbalveld, en rustige, besloten ontspanning plekken. De gasten kunnen een Reiki-sessie of energiewerk te vragen over een monetaire liefdesoffer basis om de balans, harmonie en welzijn aan het lichaam en geest te herstellen. De yurt is slechts een slaapkamer. De badkamers zijn beschikbaar in de gymzaal een korte wandeling langs het labyrint. Er is een haven Een potje beschikbaar in de buurt bij de yurt. Dit is echt primitieve camping met comfort! De yurt heeft geen elektriciteit. Andere activiteiten in het gebied zijn: raften, varen, vissen, kajakken, mountainbiken, wandelingen en rondleidingen door het gebied, waaronder The Smoky Mountains National Park, Joyce Kilmer Memorial Forest, Cherohala Skyway, de staart van de draak en Fontana Dam. Dit is een ongelooflijk mooi gebied, zeer ongerept en vol avontuur voor de natuurliefhebber, autoliefhebber, motorrijder en avonturier. Dit gebied moet zeker goed, betrouwbaar vervoer. De meeste mensen rijden of een ritje motorfietsen. Er is een pendeldienst vanaf de luchthaven, dat is niet erg duur. Parkeren is mogelijk net buiten de yurt. ** Prijs is inclusief belastingen en schoonmaak kosten!
Přírodní krásy kouřové hory a Nantahala národní lesy je to, co mě zamiloval, nemluvě, mnoho jezer, řek a vodopádů. K dispozici jsou turistické stezky všude, včetně slavného Appalachian Trail, 20 Mile Ranger nádraží, Fontana Dam, Joyce Kilmer pamětní les a Slick Rock, abychom zmínili alespoň některé. Také Tail of the Dragon je jen několik minut! Cesta do Cherohala Skyway a kochat se výhledem dech beroucí!
would stay again.
Brad
2017-02-27T00:00:00Z
Very nice and private place. Great to get away from city life and recharge. The only downside is that the bathroom and bath house is a bit of a walk. But There's a portable toilet right outside. We loved the yurt, very nice and clean.
Maikhanh
2016-11-11T00:00:00Z
The Heart Center was a lovely place to finish up our NC trip. Liz was super responsive before arrival and answered several questions we had. The grounds are beautiful and her dog is hilarious and fun. The yurt itself is beautifully setup and very comfortable - only warning would be to bring layers if going when it is cold out. The yurt has no power or heat and can get very cold at night. There is a nice bathroom setup in the gym (the grounds are a former school) with hot water and amenities, and also a porta-potty right next to the yurt. You can drive right up to the yurt making loading and unloading easy, and there is even a grill / fireplace with a picnic table outside. Liz, her friend Dakota and her hilarious wonderful dog Wya were all super nice and helpful with anything we needed.
Anthony
2017-03-19T00:00:00Z
Heavenly cozy space, surround by the most amazing sounds of nature, on top the host Liz is an wonderful human been, she makes extra sure you feel at home, 100% satisfaction guarantee !!! will go back again!!!
Hector Alfonso
2016-12-26T00:00:00Z
This is truly a retreat with the ideal balance of forest retreat and being close to all the amenities needed. I spent new year's in the yurt - which is even more beautifully decorated and inviting in person - and had a very restorative reiki session with Liz on new year's day. I couldn't have asked for a more peaceful way to start the year, with walks in the woods, a nearby hike to a waterfall, and fires next to the yurt at night. So lovely, I'll surely be back.
Kate
2017-01-01T00:00:00Z
Liz is very helpful and the yurt is so cute and clean! I would stay here again
Kayla
2017-03-21T00:00:00Z
Had a very positive experience during my stay. The yurt is super cute and cozy, and Liz is really wonderful! I received a very relaxing reiki session from Liz during my stay, which I definitely recommend! There's plenty of beautiful things to do and see, the Joyce Kilmer Memorial Forest was my favorite!
Gina
2017-04-04T00:00:00Z
We felt very relaxed at this place. Liz and Felipe made us feel very welcome. Would definitely recommend to anyone.
Joe
2016-11-24T00:00:00Z
Typ av rum
Eget hus/egen lgh
---
Typ av boende
Jurta
---
Plats för
2
---
Sovrum
Robbinsville, North Carolina, USA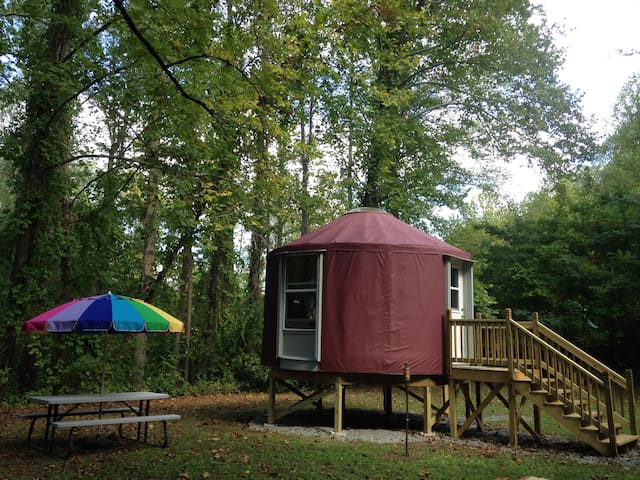 Este é um verdadeiro cabana de madeira muito confortável e espaçoso, com a peculiaridade ea sensação do país - grande loft no andar superior, lareira de pedra, pisos de madeira, tectos catedral, enrole em torno da plataforma. Ele é isolado e rodeado por árvores, mas perto de todas as principais atracções da área! A cabine está bem equipado com roupa de cama / toalhas e mais tudo que você precisa na cozinha para preparar uma refeição. Tudo que você precisa trazer é seus mantimentos e itens pessoais. Impostos e taxas de limpeza estão incluídos no preço!
Este "2010" como novo, costume Log Cabin aninhado em 30 santuário acre cercado por floresta nacional, apresenta um loft espaçoso e privado no andar de cima, quarto andar de baixo, e sala grande com tetos de catedral, lareira de pedra, janelas, portas francesas, pisos de madeira, espaçosas casas de banho, ventiladores de teto e eletrodomésticos. No exterior tem varandas cobertas, deck, churrasqueira e fogueira, mesa de piquenique, cadeiras ao ar livre, e de estrada pavimentada para garagem. As comodidades incluem Santuário labirinto ao ar livre, quadra de tênis, área de alimentação grupo coberto, área para piquenique e fogueira, vôlei, segurança fechado e pacíficas, pontos de relaxamento privadas. Os hóspedes podem solicitar uma sessão de Reiki ou trabalho de energia em uma base oferta de amor, para restabelecer o equilíbrio, harmonia e bem-estar para o corpo e mente. Outras atividades disponíveis na área são: rafting, canoagem, pesca, canoagem, mountain bike, caminhadas e passeios da região, incluindo o Parque Smoky Mountains National, Joyce Kilmer Memorial Forest, Cherohala Skyway, o Rabo do Dragão e Fontana Dam . Esta é uma área incrivelmente bela, muito puro e cheio de aventura para os pilotos amante de natureza, carros e motos e aventureiros. ** Os preços incluem impostos e taxas de limpeza !!
A beleza natural das Montanhas Smoky e as Florestas Nacionais Nantahala é o que fez eu me apaixonar, para não mencionar, os lagos muitos, rios e cachoeiras. Há trilhas para caminhadas em todos os lugares, incluindo o famoso Appalachian Trail, 20 Ranger Station Mile, Fontana Dam, Joyce Kilmer Memoria Floresta e Slick Rock, só para mencionar alguns. Além disso, a Cauda do Dragão está a poucos minutos de distância!
Liz is a wonderful host. We had a great time with a lot to discover via trips as well as on the property itself. Great fun for my young son, I had to promise him that we will come back soon.
Marta
2016-11-10T00:00:00Z
This was a wonderful and perfect destination for our first big family road trip! It is way up at the end of a long winding mountain road on a beautiful plot of land. You can hear nothing but the streams and birds with an occasional plane overhead. The best part (for us) was that we were totally disconnected from both cell service and internet! (internet was available with a 100yd. walk down to the main office, but we avoided it). Liz was very welcoming, kind, thoughtful and attentive host. She offered wonderful suggestions for our daily activities and she would always check in with us. The cabin was clean and comfortable. The water in the cabin was from a fresh mountain stream, so it was as clean and fresh. Our two young kids loved playing in the woods and Liz helped them to feel comfortable with their surroundings. She even offered to take them for an hour at the end of our trip to give my wife and I some down time in the wilderness. It was great! If you are looking to get away from the screens and unplug, this is the perfect place.
John
2015-04-09T00:00:00Z
Liz's cabin was truly amazing! She and Felipe were so accommodating and welcoming. The cabin was spotlessly clean, ready for a cozy fire in the fireplace. The beds and linens were so comfortable, we all slept way more than usual in the mornings! The cabin has all you need for cooking, if you choose to do so. Peace and calm in nature describe this lovely place. Truly a haven in the woods and mountains. Close to Nantahala National Forest, Joyce Kilmer Memorial Forest, Yellow River Falls, which we hiked to on the last day after leaving the cabin. Lake Santeetlah and Fontana Lake are very close for fishing and swimming. Don't miss Tapoco Lodge on the Cheoah River for a delicious meal. The service was fantastic and everything was fresh and fabulous. You can sit by the river. Although internet is available, at the Heart Center, you can plan to truly disconnect here. No cell phone service within miles. Not to worry though, Liz and Felipe have land line easily accessible, if you need it. You won't want to connect though. There is plenty to do, from tennis, volleyball, to a bonfire, or grilling out, playground for the kids right on the property. Or do nothing but enjoy the serene woods. Don't miss the labyrinth by the tennis courts. We will definitely be back again. We want to bring more of my family next time. The downstairs is wheelchair accessible, which is great for one of our family members. Nice to know!
Stephanie
2016-10-02T00:00:00Z
We loved the place and will definitely visit again!
Eunji
2016-08-29T00:00:00Z
Liz made us feel very welcome and comfortable,she has a very strong knowledge of the area and all the attractions around the cabin.I highly recommend this cabin for a weekend retreat and far away from life routine.Since there's no internet connection or line service in the cabin which is perfect way to connect with nature. Thank you Liz for your great hosting :)
Mahmoud
2015-09-15T00:00:00Z
Liz's cabin was absolutely perfect for a quiet weekend getaway. Before arriving, Liz provided incredibly helpful directions. The cabin was beautiful and comfortable. She left a map with recommendations for neat things to see in the area as well. Couldn't have asked for anything more!
Sarah
2016-03-06T00:00:00Z
This was a very nice, well kept cabin. It had everything you could ask for. Liz was very helpful and stopped by several times to make sure everything was ok.
Jeff
2016-06-18T00:00:00Z
It is a gorgeous cabin, extremely comfortable for 4 or 5 people. Immaculately clean and well kept. Bring your DVD's as there is no TV, but the host had a number of good movies I hadn't seen before, so I was content to watch a movie or two. The surrounding area is beautiful and it's convenient to a number of great parks. If you're looking for a quiet place in a beautiful setting, this is it.
Robert
2016-09-28T00:00:00Z
Typ av rum
Eget hus/egen lgh
---
Typ av boende
Stuga
---
Plats för
6
---
Sovrum
Robbinsville, North Carolina, USA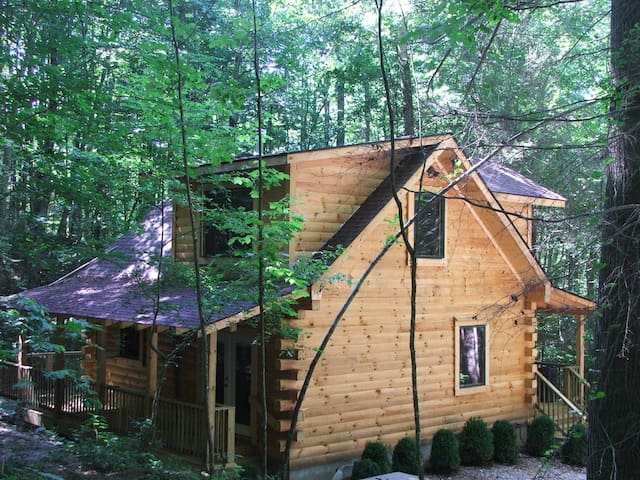 Detta en av ett slag, som ny, vit furu, är 2/2 timmerstuga absolut perfekt på alla sätt! Takhöjden, rock spis, bekväma rum, stora badrum, trägolv, fullt utrustat kök, stora rum med bild fönster, linda runt däck! Stugan är väl utrustad med sängkläder / handdukar och det mesta du behöver i köket för att laga en måltid. Allt du behöver ta med är dina matvaror och personliga tillhörigheter. ** Skatter och avgifter för städning ingår i priset!
Du kommer att njuta av en lugn och fridfull natt i en one of a kind, bekväm och mysig timmerstuga med stora övervåningen loft, nedre sovrum, stora badrum, vardagsrum / matrum med katedralen tak, fläktar, stora fönster som presenterar naturen runt omkring, trägolv , tall köksskåp, och en sten eldstad. Denna stuga är ljus, ljus och varm! Utomhus täckt däck för att sitta och njuta av skogen, firepit område där du kan ta i den magnifika natthimlen medan rostning marshmellows. Sanctuary inkluderar utomhus labyrint, tennisbana, täckt grupp matplats, grupp picknickområde och eldstaden, volleyboll, gated säkerhet och lugn, privat avkoppling fläckar. På begäran kan gäster Reiki session eller energiarbete på en kärleksoffer basis, för att återställa balansen, harmoni och välbefinnande till kropp och själ. Andra aktiviteter som finns i området är: forsränning, båtliv, fiske, paddling, mountainbike, vandringar och utflykter i området, bland annat The Smoky Mountains National Park, Joyce Kilmer Memorial Forest, Cherohala Skyway, Tail of the Dragon och Fontana Dam . Detta är ett otroligt vackert område, mycket ren och full av äventyr för naturälskare, bil- och motorcyklister och äventyrslystna. ** Priset inkluderar skatter och avgifter för städning! Gästerna kan njuta av hela grunderna, labyrinten, picknickområde och tennisbana. I huset, kan de använda vardagsrummet, njuta av en brand när det är lämpligt. Jag tycker om att interagera med alla mina gäster och få dem att känna sig hemma, men jag är också medveten om att tillåta dem att ha sitt privatliv, lugn och avkoppling tid. Detta område kräver definitivt bra, tillförlitliga transporter. De flesta människor kör eller rida motorcyklar. Det finns en shuttle från flygplatsen som inte är fruktansvärt dyrt. Parkering finns precis utanför stugan.
Den naturliga skönheten i Smoky Mountains och Nantahala National skogar är det som gjorde mig kär, för att inte nämna, många sjöar, floder och vattenfall. Det finns vandringsleder överallt, inklusive den berömda Appalachian Trail, 20 Mile Ranger Station, Fontana Dam, Joyce Kilmer Memorial Forest och Slick Rock, bara för att nämna några. Dessutom är Tail of the Dragon bara några minuter! Rida till Cherohala Skyway och njuta av en otrolig utsikt!
Fantastic new house!! Loved the layout, spaciousness, porches. Nice towels. Loved looking at the stars when we got home and Liz was great about checking in to see if we needed anything. Pick up supplies before you go - it's remote - but wonderful! You'll love seeing the stars!
Debora
2016-09-25T00:00:00Z
We had an absolutely lovely experience at this beautiful cabin, and Liz was the most gracious host. The cabin is brand new, has great hearing for the wintry weather plus a great fireplace, and we were able to cook dinner every night in the well-equipped kitchen. There are also great hiking trails just down the road - Liz was a wonderful guide for this as well. Couldn't recommend more highly!
Kate
2016-02-15T00:00:00Z
Our time at Liz's cabin was absolutely perfect! My band new husband and I stayed there for 4 relaxing nights on our honeymoon and it was everything we could've asked for - peaceful and relaxing but lots of adventure nearby! Liz gave us plenty of recommendations on things to do in the area. We went hiking in Smoky Mtn Nat'l Park, whitewater rafting at Nanthala Outdoor Center, and drove along Tail of the Dragon. Wonderful trip, and the Liz is amazing!
Ashlee
2016-06-11T00:00:00Z
Liz is an excellent welcoming host and her cabin was more than we expected it to be, very clean, and spacious enough to hold 4 guests plus kids. The pictures posted here wont do justice for the cabin. Love the secluded cabin and all the things you can do around Smokey mountains! Will come back again.
Aman
2016-11-27T00:00:00Z
It was a great experience staying at Liz's cabin.
Qin
2016-10-11T00:00:00Z
This was an excellent little cabin that will comfortably house two couples in complete privacy. Liz is an awesome host, even running to the store for us to get pizza after we had rode in and we're too tired to ride out. (Keep in mind to get anywhere you must ride the Tail of the Dragon, this will take time and energy. )
Dana
2016-05-02T00:00:00Z
Had another amazing stay at this cabin. Just got back from my second trip and already planning my next. I will only book with Liz when I come up.
Jorgie
2016-11-09T00:00:00Z
The cabin was amazing , we and the kids had a really great time and great memories
Sam
2016-11-25T00:00:00Z
Typ av rum
Eget hus/egen lgh
---
Typ av boende
Stuga
---
Plats för
6
---
Sovrum
Robbinsville, North Carolina, USA
Deals Gap - Airbnb
:
I genomsnitt

5

av

5

stjärnor från

177

gästomdömen
Ange datum för att se full prissättning. Ytterligare avgifter tillkommer. Skatter kan tillkomma.