The host canceled this reservation 4 days before arrival. This is an automated posting.
William
2017-04-04T00:00:00Z
Typ av rum
Eget rum
---
Typ av boende
Hus
---
Plats för
3
---
Sovrum
Plainview, Texas, USA
Cómoda zona 2Dorm home.Nice. Situado en el centro de la ciudad y cerca de Lubbock (45 millas), Amarillo (76 millas), y otros fuera de las ciudades. Tiendas y tiendas de antigüedades cerca. Palo Duro Canyon aproximadamente una hora a Wayland away.Close Bautista.
Shelby was incredibly welcoming and helpful to us, having food prepared for us and offering to pick up anything else we needed. She had. A lovely place that was exactly as described. Backyard was beautiful to enjoy for our night in Plainview!
Erika
2014-07-06T00:00:00Z
Shelby was the perfect hostess. The house is wonderful and exactly as described. Shelby was very hospitable and made everything we needed available to us.
Sarah
2015-11-29T00:00:00Z
We really enjoyed our stay! Shelby's home was perfect for us. Clean and the home was really cute. Will book again! Shelby was also the perfect host!
Jami
2016-08-22T00:00:00Z
We enjoyed our stay. Everything we needed was available. The beds were very comfortable and the back yard was great.
Judy
2017-04-11T00:00:00Z
The host canceled this reservation 74 days before arrival. This is an automated posting.
Ruth
2017-03-06T00:00:00Z
Shelby was very accommodating and the house was very cozy and welcoming! Though be forewarned, the bathroom significantly lacks privacy. Regardless, I would recommend to others and would use again during another visit!
Michelle
2014-12-08T00:00:00Z
We would--and plan to--return!
Tracy
2016-12-05T00:00:00Z
Awesome host! House was very clean and Shelby was helpful for whatever we needed! Definite stay if you need a place.
Justin
2016-04-10T00:00:00Z
Typ av rum
Eget hus/egen lgh
---
Typ av boende
Hus
---
Plats för
5
---
Sovrum
Plainview, Texas, USA
This is my third stay with Dave & Miluska. When I arrived, Dave greeted me outside and refreshed my memory about their place. He made me feel very welcome. Lovely and clean home. Spacious bedroom, excellent bed. Lovely quilt. Plenty of drawer space. Comfortable room for sleeping. Large bathroom with plenty of toiletries, plenty of towels and a wash cloth. Beautiful kitchen with plenty of refrigerator space. I got my needed pet therapy from their new kitten. I had traveled in from the south using I-27 -- very easy to access. As before, I hope that I get to stay here again on my next trip through.
Joe
2015-06-04T00:00:00Z
The room was very nice and clean. We had our own bathroom and also had our very own stocked refrigerator! How great is that!!! We also had a television in our bedroom stocked with a shelf of dvds. It was very homey. We got to meet Dave. He was very friendly and showed us around the house. We even had free and exclusive use of a large living area. This home is in a great neighborhood, less than a block from a very nice park. We did lots of walking there after a long day of driving from Texas. This was very relaxing! Thank you for the great visit!
Mary
2015-06-28T00:00:00Z
Dave was a great host. He truly made me feel at home. He went above and beyond in terms of making amenities available, even giving me ideas for how I can become a better an AirBnB host. Thanks for your hospitality, Dave!
Krystal
2015-03-15T00:00:00Z
What an amazing host! Dave & family are the ideal hosts. The home is huge and all amenities are available and provided as listed. The neighborhood is very quiet and safe. There is also a huge park one block away that is great for a morning jog, walk with your dog, or a picnic. We thoroughly enjoyed our stay. Thanks Dave!
Joni
2015-07-04T00:00:00Z
We really appreciated Dave & Miluska's hospitality. The room and bathroom were very clean and they offered extra toiletries and left water and candies in our room. The room as its own AC wall unit which was awesome. Miluska and her daughter were very sweet and welcoming to our dog Bert also. Definitely the best place to stay in and around Lubbock.
Maria
2015-07-24T00:00:00Z
Very good host, friendly and welcome, despite my late visit. Strongly recommend staying with them.
Oleksii
2015-03-21T00:00:00Z
The hosts were very accommodating and generous! Place was easy to find and comfortable! It was great to have a place we could relax in the middle of the day so kiddo could nap, on top of a comfortable place to sleep. :)
Michelle
2015-03-27T00:00:00Z
My sister and I had a really nice stay, bed was super comfortable, beautiful and clean room in a very nice house in a beautiful quiet area. Dave & Miluska get 5 stars (*****)from me for being such wonderful hosts; very accomodating with our very late arrival from a road trip. Generous as well and even insisted that we have breakfast with them spiced with great conversation before check out. Dave, Miluska and their household exude a warm and nice energy and exceeded expectation with water and chocolate in the room and a very clean bathroom, well stocked with travel sized bathroom supplies. Highly recommended for anyone looking for a comfortable and affordable stay.
Russell
2015-05-16T00:00:00Z
Typ av rum
Eget rum
---
Typ av boende
Hus
---
Plats för
1
---
Sovrum
Plainview, Texas, USA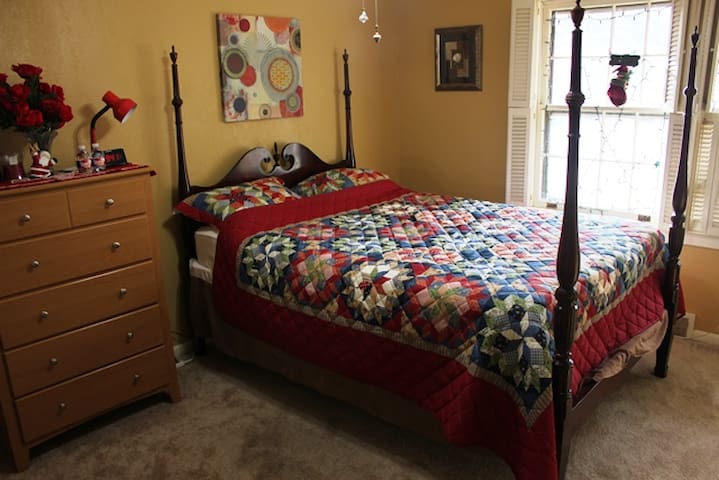 Rebecca was very accommodating. The Rocking R Stables provided every thing we needed for an "at home" feel while we were away from home. Would definitely stay again.
Lauren
2017-03-08T00:00:00Z
Rebecca's place is a cute little farm house very close to everything you need. The house itself is very comfortable and quiet. If you want to cook there is a great stove. Rebecca even got us some farm fresh eggs. If you're looking for a quiet place to stay, this is it. I'll be back.
Elise
2017-03-13T00:00:00Z
Quiet, cozy two bedroom house with all of the amenities. Rebecca was very helpful and flexible with check in and check out times. She was a phone call away and would check in to see if we needed anything regularly. Would definitely recommend to others
Marcus
2017-02-03T00:00:00Z
The host canceled this reservation 7 days before arrival. This is an automated posting.
Lauren
2017-01-29T00:00:00Z
The place was nicely setup...especially the heaters for the rooms. Those were fantastic! The beds were just right and available space was enough for all if us. The added comforts of home ( such as coffee and other items you would expect when staying at a hotel) were a treat...though we were not there long enough to use(but i so would of if we were there longer).
Jamie
2017-03-22T00:00:00Z
Typ av rum
Eget hus/egen lgh
---
Typ av boende
Hus
---
Plats för
4
---
Sovrum
Hereford, Texas, USA
Sleeps 6. Great for corporate events, graduations, weddings and special events. Unit has 2 bedrooms, two baths and a sleeper sofa
Typ av rum
Eget hus/egen lgh
---
Typ av boende
Lägenhet
---
Plats för
4
---
Sovrum
Abernathy, Texas, USA