5 Uthyrningar av lägenheter
Registre de Turisme: 340 HUTCC-DC82 COM ES POT TRICOLET? És un lloc ideal per als amants de la muntanya i per a aquells que busquen tranquil·litat en un entorn privilegiat: el Parc Natural de Montserrat. L'apartament és la primera planta d'una casa còmoda (vivim en el segon pis). El carrer és tranquil i afable, i les muntanyes són espectaculars. Es troba al centre del poble. Trobareu cafeteries, fleques, restaurants, un supermercat, un quiosc, una botiga de tabac, un centre de salut i una farmàcia. EL apartament consta de: 3 dormitoris: - Un amb llit de matrimoni. Té un gran armari i vistes a la muntanya. - Un amb dos llits individuals. Té un gran armari i vistes a la muntanya. - Un amb llit de matrimoni. Disposa d'un calaix i dues finestres que donen al carrer Bruc del Mig. Una àmplia sala d'estar amb una cuina de concepte obert: té tres balcons al carrer principal del poble, un còmode sofà i dues butaques. cuina: Està equipada amb nevera, forn, microones, torradora, cafetera ... i també una rentadora i una planxa. WC: És un lavabo complet distribuït en dos espais: té dos lavabos separats de la resta (wc, bidet i dutxa). Sala de lectura: Allí trobareu informació sobre les activitats que pot fer durant la seva estada (mapes, guies, llibres ...).
QUÈ POT FER AL BRUC? Del Bruc es troba al Parc Natural de Montserrat. És un lloc ideal per fer activitats de muntanya, ja sigui senderisme, ciclisme o l'escalada. rutes de senderisme es poden iniciar des de la porta de la casa, sense necessitat d'un cotxe, ja que estem al costat dels boscos i oliveres. A pocs metres de la casa es troba un forn i un petit supermercat amb products.Also ecològica hi ha alguns cafès, restaurants, quiosc, botiga de tabac, centre de salut i farmàcia. Un passeig pels carrers del Bruc és molt recomanable. Al carrer Bruc del Mig es troba un dels edificis modernistes més emblemàtics de la localitat, Can Cases (ara és l'ajuntament). El centre més antiga del poble, situat al carrer La Parròquia, es compon de les cases més antigues, alguns d'ells són de l'Edat Mitjana. L'església de Santa Maria conserva l'absis i el campanar d'estil romànic. QUÈ POT FER A L'ENTORN? - Collbató (5 km): Les coves del Salnitre. - Monestir de Montserrat (14 km). - Sant Sadurní d'Anoia. àrea de vi i xampany de capital (35 km): es pot visitar el celler de Codorniu entre d'altres caves que el poble té, ja que és reconeguda com la capital xampany. - Barcelona (45 km): es pot visitar Museus, obres mestres de Gaudí, passejar per la Rambla, botigues, restaurants ... - Platges: Bruc és d'una hora lluny de les belles ciutats de Sitges i Vilanova i la Geltrú. Allà podrà gaudir d'algunes de les millors platges i restaurants de la costa. I moltes més activitats!
Notre experience au logement de Laura a été parfaite! Le place est tres spacieuse, bien meublée, propre et moderne. Le lit ainsi que la literie était très confortable. Un detail fort apprécié; la table aux nombreuses brochures dans plusieurs langues! Super! Un séjour parfait, des hôtes chaumantes dans un charmant village!
Lise
2016-09-19T00:00:00Z
We arrived at the property a couple of hours later than expected due to car rental issues. Laura and her sister (Helena) were very generous, accommodating and welcoming, greeting us with big smiles when we arrived. They were quick to give us a thorough tour and to help us settle in. The property is very clean and spacious with every need catered for. Light sleepers will be pleased to hear that blinds fully block out the sun when needed and that you will be assured a good night's sleep as long as the windows are closed (you will be woken up by cockerels in the early hours otherwise). The views are absolutely beautiful with many walks nearby. I would highly recommend the 2hr walk to Montserrat and the 1hr Panoramic circuit in El Bruc which Laura suggested to us. El Bruc is a small village, perfect for some R&R, and has several cafes and restaurants as well as a supermarket and smaller convenience stores. I have to recommend Cal Cobin for the lovely garden and great artesan beer and Vinya Nova (actually in Colbato, a short drive or 1hr walk away) is a must for lunch. There were a couple of weekdays when some bars and restaurants were closed so please bear this in mind however El Bruc is also close to a couple of large towns such as Sitges (good for beaches and shopping) and Esparreguera. Overall, we had a great time staying at Laura's beautiful apartment and were pleased to have met the rest of her lovely family. El Bruc is beautiful and Laura's apartment is perfect for a peaceful break.
Anna
2016-06-24T00:00:00Z
Had a lovely time in Laura's place. The view from the terrace was great and Laura was extremely helpful if I had any questions. Would highly recommend as a nice quiet destination if you want to get out of Barcelona for a few days.
Jon
2016-08-01T00:00:00Z
Laura's place is great! we were welcome by her sister and she came to get us at a near by location as the GPS didn't get the location right! it was just down the the street. She's very organize with all the local information. There is a close local pool for the kids and great local place to eat; Besides to her right is the bakery and to the other side a local bar with great food. Monastery is only 15 Km Away and she's got great view for her place.
Geraldine
2015-08-23T00:00:00Z
Gorgeous apartment in a very sweet little town close to Montserrat. Laura was a fabulous host we had a great time staying here. would highly recommend.
Heidi
2016-06-06T00:00:00Z
Laura's house is a wonderful place to stay, within walking distance of the climbing in Montserrat. A friend and I stayed for four nights and the flat easily has space for up to six people. Would highly recommend. Laura and her whole family were very welcoming, with ideas on where to eat and how to get into the climbing areas. The accommodation is exactly as described.
Jonathan
2016-02-29T00:00:00Z
Todo un exito! Laura y su familia muy amable. El apartamento tiene un punto fino wue es la terraza con vistas al Montserrat. No se puede pedir mas! Encima la hermana de laura nos llevaba en coche a la boda que llegamos tarde. Muchissimos gracias por todo!
Miki
2015-07-06T00:00:00Z
Beautiful and spacious flat in a great location near Montserrat. Laura was very easy to communicate with. Would definitely stay again when we return.
Caitlin
2016-06-02T00:00:00Z
Typ av rum
Eget hus/egen lgh
---
Typ av boende
Lägenhet
---
Plats för
6
---
Sovrum
El Bruc, Catalunya, Spanien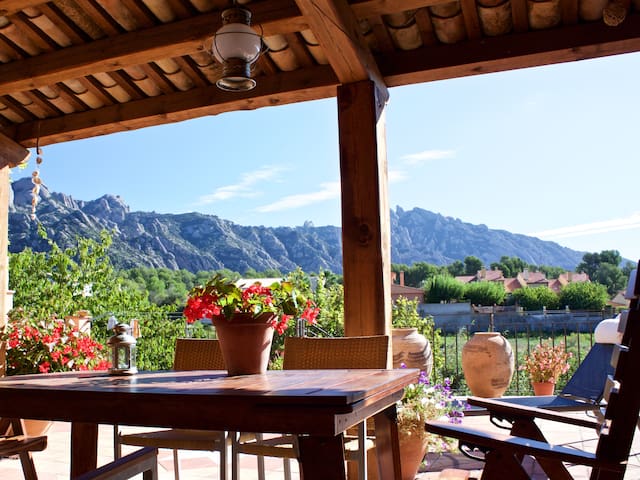 Enjoy the tranquility in the small village of El Bruc - gate to the National Park of Montserrat - a perfect place to stay for hiking and climbing and when visiting Barcelona and the surroundings. Barcelona and the coast is only 25 minutes (42 km) away! After a day in the city, it is really relaxing to go back to El Bruc. Visit interesting sites as the Monastry of Montserrat, The Collbato caves, Parcmoto Castelloli - racing circuit, Penedès wine district etc.
The apartment (65 m2) is located on the first floor, in Ca La Esperança, an old house in the center of the village: One double bedroom with separate beds. One single room. "The balcony room" with a double bed, writing desk and a small balcony. Bed linen and towels are provided. Bathroom with wc, bidet, shower and washing machine Living room with an open kitchen and a terrace (10 m2) where you can enjoy your breakfast. The living room is equipped with an old handmade wooden table and chairs and a comfortable sofa. We have gathered some information such as maps and guidebook.
El Bruc is a small quiet village with a few restaurants and bars, Carlets supermarket, a bakery, a pastisserie, small shops - just a few meters away. There is a public swimming pool with a fantastic view, just 10 minutes walking distance from the apartment. Here you will also find a small bar. Open from June until September. Take a stroll through the old part of the village and visit the local church, Santa Maria, from the eleventh century. El Bruc is located within the premises of the Natural Park of Montserrat, a very popular place for mountain activities, such as hiking, biking and climbing. On Montserrat you will also find the legendary monastry, a very important place for pilgrims. Here you can visit the famous black madonna.
Contact très sympathique et efficace avant le séjour. L'accueil par José sur place était impeccable. Il manque dans les renseignements sur place l'histoire du tambour d'El Bruc, c'est le seul monument dans le village et nous avons trouvé intéressant son histoire.
Esther
2015-10-21T00:00:00Z
une semaine très agréable à 45min de Barcelone avec une superbe vue sur la montagne Montserrat, parking facile, commodités (superettes, boulangerie, 3 restaurants et l'autoroute directe vers Barcelone qu'on entend pas de la maison !!) accessibles et Monika très disponible pour toute information ou problème. le logement est spacieux, propre et bien équipé pour 5 personnes. Bref, merci pour ce bon séjour !
Jacques
2016-08-06T00:00:00Z
Rien a dire.. Village calme et sympathique proche de toutes commodités . La maitresse de maison doit être une bonne cuisinière car il ne manque vraiment rien ! Cuisine pratique et fonctionnelle. Sdb grande , lave linge + lave vaisselle + four etc.. Belle vue montserrat. Bon séjour que je recommande pour éviter la foule barcelonaise!
Loic
2016-08-26T00:00:00Z
The place was really great - located in a very pretty village with gorgeous views of Monserrat! There was EVERYTHING you could need in the house! Josè, Helle's friend met us their with the keys and showed us around the place when we arrived. There were some great maps and books to help us find our way around the mountain which allowed us to go on great walks. I'd definitely stay here again!
Jenny & Tom
2015-08-15T00:00:00Z
Me blei tatt godt imot av Helle's venn Jose i den koselige landsbyen El Bruc. Han var veldig blid og imøtekommende, sjølv om det skorta veldig på engelsken :-) Leiligheten var heilt topp. 3 separate soverom, fint bad og stue, terrasse, og til og med bra wi-fi (noko som pleier å skorte litt på i utlandet). Kort vei til lokal veldig bra restaurant nede i gata. Flott plass å bo, spesielt for turer som tar sikte på vandring i Montserrat, siden det bare er 20 minutt kjøyring til kabelbanen/toget til Montserrat klosteret.
Kurt
2015-09-21T00:00:00Z
Vi besøgte Helle og Stefans dejlige lejlighed i El Bruc i 8 dage. Lejligheden er glimrende. Lys, ren og rummelig, med en altan hvorfra der er en herlig udsigt. Området er dejligt, og byen og dens indbyggere meget venlige og imødekommende. Vi havde lidt problemer med at få sms igennem til José, som skulle tage imod os. Men Helle og Stefan var meget hjælpsomme og klarede hurtigt kommunikationsvanskelighederne. Absolut et sted vi kunne forestille os at besøge igen.
Pia
2016-05-01T00:00:00Z
The apartment is in a charming village close to Montserrat. It's really worth wandering around it. You really need a car. Also, the locals don't speak English, and there is no wifi in the surprisingly good El Bruc restaurants we visited, so you need an offline phrasebook or translator.
Anne
2016-10-15T00:00:00Z
It has been a lovely stay in this flat in El Bruc. The flat was perfect for our family (with 3 little children). Lovely views and neighbours. Good location for Montserrat, and very close to the highway (40 minutes to Barcelona). Only some street noises during the night in the main room, but not in the other rooms. The host and her friend were very helpful, even bringing games for our children! If we come back to Catalonia, probably we will consider to stay in the same place again!
Antonio
2015-08-25T00:00:00Z
Typ av rum
Eget hus/egen lgh
---
Typ av boende
Lägenhet
---
Plats för
5
---
Sovrum
El Bruc, Katalonien, Spanien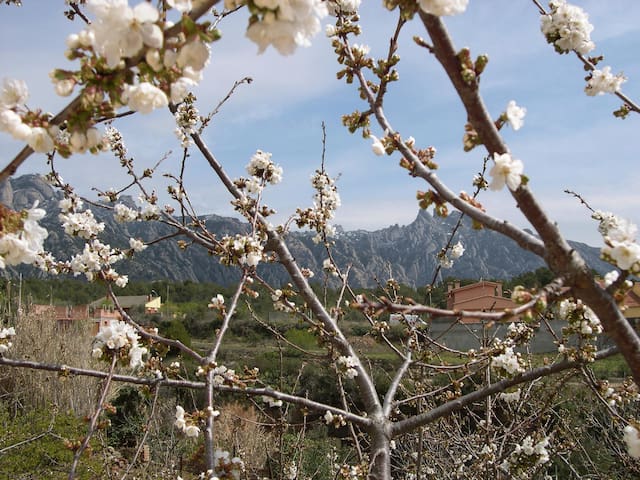 Huis: Onafhankelijke accommodatie voor 4 personen in een huisje die behoren tot een groep van 4 huizen en is omgeven door een indrukwekkende tuin. Binnen het pand is er een vrijstaand huis met een eigen zwembad en in het gebouw van het huisje zijn er 2 self catering plattelandstoerisme lodgments dat het gebruik van een tweede zwembad te delen. Het heeft een barbecue en een eigen buitenruimte. Het is gelegen op een groot landgoed aan de voet van Montserrat, 10-15 minuten van de stad van "El Bruc" en 45 minuten van Barcelona en de stranden van Vilanova en Sitges. De tuin is groot en een van de mooiste van de landelijke huizen in Catalunya, die zelfs een romaanse kapel zelf. Het heeft ook een veranda naast het zwembad, een vijver met eenden en ganzen en een kleine mini-dierentuin met duiven, fazanten, kalkoenen en konijnen. De accommodatie is verdeeld over de 1e verdieping van de boerderij. Bij de ingang zijn de woon- en eetkamer, met een grote open haard. Aan de rechterkant is er een dubbele kamer met een badkamer met bad en douche, waar ook een klein terras met uitzicht op de tuin en de kapel. Aan de linkerkant is er een kamer met 2 eenpersoonsbedden en een badkamer met douche (mogelijkheid om 1 meer extra plaats toe te voegen). Linksonder is de volledig uitgeruste keuken met grote ramen met een prachtig uitzicht. Het huis is voorzien van vloerverwarming.
90 m² Aantal mensen kunnen passen is 4
Typ av rum
Eget hus/egen lgh
---
Typ av boende
Lägenhet
---
Plats för
4
---
Sovrum
El Bruc, CT, Spanien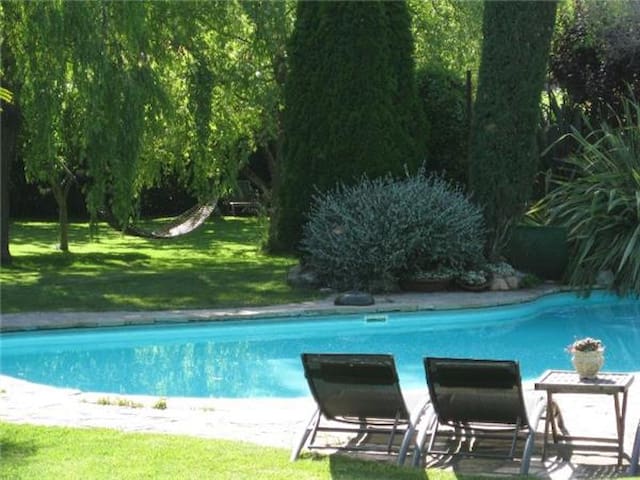 Casa: Alojamiento independiente para 4 personas en una casa de campo que pertenecen a un grupo de 4 casas rodeado de un impresionante jardín. Dentro de la propiedad hay una casa independiente con su propia piscina privada y en la construcción de la casa hay 2 sin cocina lugares de hospedaje de turismo rural que comparten el uso de una segunda piscina. Cuenta con una barbacoa y un espacio privado al aire libre. Se encuentra en una gran finca al pie de Montserrat, 10-15 minutos de la ciudad de "El Bruc" y 45 minutos de Barcelona y las playas de Vilanova y Sitges. El jardín es grande y una de las más bellas de las casas rurales en Cataluña, que tiene incluso una capilla románica en sí. También tiene un porche junto a la piscina, un estanque con patos y gansos y un pequeño mini-zoológico con palomas, faisanes, pavos y conejos. El alojamiento se distribuye en toda la planta baja de la casa. En la entrada hay una pequeña terraza con vistas al jardín y capilla. Una vez que acceder al interior, hay una sala de estar con sofá de cuero y la parte inferior derecha de la cocina. También hay una habitación con una cama doble, un baño con bañera y la parte inferior, una habitación con 2 camas que tiene acceso directo a un patio y jardín espacio privado al aire libre con muebles, presidido por un pozo de piedra.
70 metros cuadrados Número de personas pueden caber en es 4
Typ av rum
Eget hus/egen lgh
---
Typ av boende
Lägenhet
---
Plats för
4
---
Sovrum
El Bruc, CT, Spanien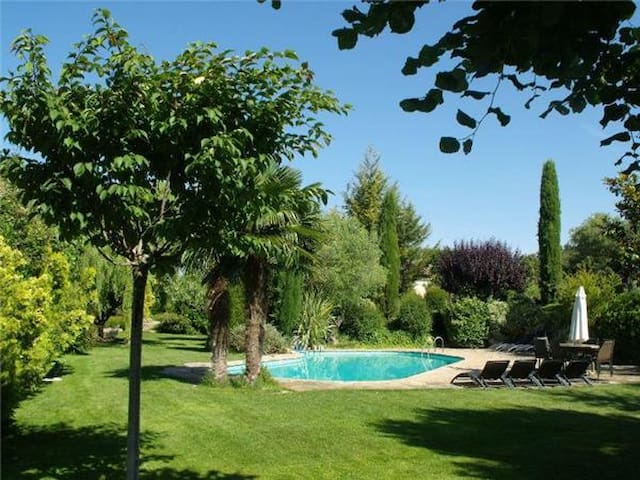 Flat in Can Gomis colony on the outskirts of Monistrol de Montserrat, in the countryside, with swimming pool and parking outdoors. With 2 bedrooms and terrace overlooking the mountain of Montserrat. Environment to relax.
Flat in natural environment in the colony Can Gomis, just outside Monistrol de Montserrat, on the road, 40 kms. of Barcelona, next to the building bus and train station and cable car up the mountain to 3 minutes. Environment marked by the magic mountain of Montserrat, overlooking the mountains and river. Bike trails, running and climbing. communal pool with spring water, as tap water from the floor, and parking outdoors. Ground floor with 2 bedrooms, bathroom with bath and terrace overlooking the mountain of Montserrat. Apartment equipped with TV, refrigerator, washing machine, cooking utensils, dryer, iron, towels and linens. If you are looking quiet (natural landscapes surrounded by the magic mountain, relax in a pool with spring water), but people have easy access to public transportation and Barcelona, this is your place.
Colonia Can Gomis, a small community of neighbors beside the road to Monistrol, but in nature, surrounded by the spiritual atmosphere that emanates the mountain of Montserrat.
Typ av rum
Eget hus/egen lgh
---
Typ av boende
Lägenhet
---
Plats för
4
---
Sovrum
Cataluña, Katalonien, Spanien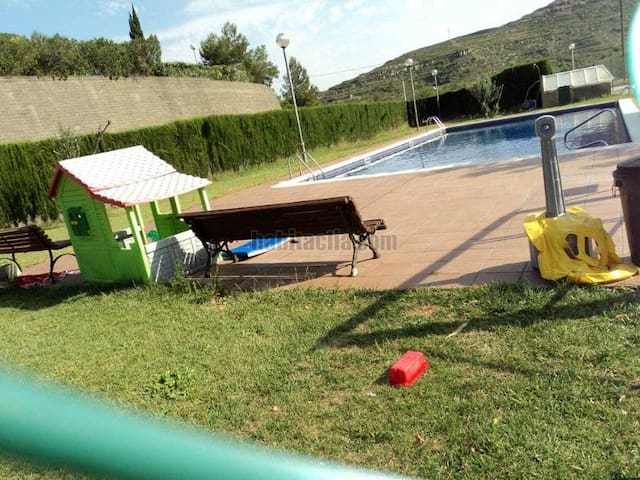 El Bruc - Airbnb
:
I genomsnitt

4.81

av

5

stjärnor från

66

gästomdömen