Eingebettet in der ruhigen Vorort von Glanmire Dieses Zimmer ist gemütlich und hat einen wunderbaren Blick auf unsere reifen bunten Garten.Alle Dienste können zu Fuß erreicht werden (es gibt auch ausreichend kostenlose Parkplätze). Die Bushaltestelle für die Stadt direkt vor der Tür.
Der Raum eignet sich für Einzel- oder Doppel occupancy.Has ein eigenes Bad, direkt nebenan.
Wir sind umgeben von Bäumen und Flüsse hier in Glanmire umgeben, doch alle Leistungen und Annehmlichkeiten ausgestattet, oder vor der Haustür.
Great host and house! I highly recommend! Everybody are friendly :)
Oana
2016-11-24T00:00:00Z
A warm welcome, very comfortable, very clean, very pleasant. I've done Airbnb a few times and this was the best so far. Will stay again, definitely.
Ian
2017-03-10T00:00:00Z
Dearbhla was a lovely host that made me feel very welcome! The location is great as it is right by the bus stop heading into Cork. The house and room were very clean and my room was very cozy. I recommend to any solo travelers passing through Cork!
Meghan
2016-10-30T00:00:00Z
A clean, warm, comfortable room with a friendly welcome. Good breakfast.
Hayden
2016-10-08T00:00:00Z
Nice place not too far from the city and not a hard place to find
Brian
2017-03-19T00:00:00Z
I found it was homely, welcoming and easy going. Thanks Dearbhla
Sally
2017-03-12T00:00:00Z
The host canceled this reservation 15 days before arrival. This is an automated posting.
Maria
2017-03-29T00:00:00Z
Very good
Anthony
2017-01-17T00:00:00Z
Typ av rum
Eget rum
---
Typ av boende
Hus
---
Plats för
2
---
Sovrum
Glanmire, County Cork, Irland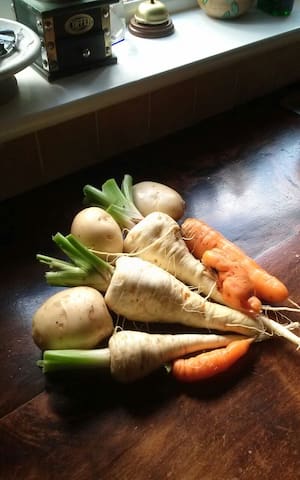 Ma place est bonne pour les couples, les aventuriers solo, peopleWe d'affaires a sont à 20 minutes de Cobh et forums parc animalier, 1 et une heures et demie de Killarney Co Kerry à 20 minutes de cajolerie, à 15 minutes de la ville de Cork. Nous sommes à 5 minutes de l'hôtel Vieanna Woods et 15 minutes de l'hôtel Silver Springs Nous sommes à 5 minutes de 3 écoles communautaires Glanmire collage Brooklodge NS Riverston NS, peut convenir à un enseignant, Notre AiR bnb dispose d'une des caméras de sécurité à l'extérieur donc pas de soucis au sujet de vos voitures ou vélos ........ ECT
I had a great time at Phil's house. She is a friendly easygoing woman who made me feel comfortable from the start. We had a lot of interesting chats and I felt like staying longer. I can thoroughly recommend her place.
Robert
2016-10-27T00:00:00Z
Phil invited us in to her home, having a warm and generous nature she and a great scence of humour made us feel, as one of her family. The rooms where clean and well presented. Breakfast was plentyfull. I would reccommend Phils to everyone who enjoys comfortable feel the true warmth of the Irish. We would definately reccommend staying with phill. Thank you Phil for a wonderful stay. Lesley Tal and Faran
Tal
2016-08-18T00:00:00Z
You will need to read the directions to the house carefully. Parking good outside. You will find Phil a lovely generous spirited and warm person. If driving it is 20mins to the city--- off peak. There is a bus service.
Gerry
2016-11-24T00:00:00Z
Phil y su marido son una pareja muy amable y agradable. Son muy sociables con sus inquilinos. La habitación está bien y la cama es confortable. Nos ofrecía gran variedad de comida para desayunar.
Ismael
2016-06-19T00:00:00Z
We had a wonderful stay. The home is gorgeous, the room is comfortable, and it is very near to a petrol station and bus stop (just a two minute walk). A taxi from town is a bit pricey, maybe twenty five to thirty quid, but the spot is lovely. Phil is so friendly, helpful, and great for a chat. We won't be forgetting her anytime soon!
Megh
2016-09-10T00:00:00Z
Phil was perfect. We couldn't have found a better host. Her friend Mick helped us plan out the rest of our trip with many helpful suggestions. Our favorite stop along our road trip. A nice comfortable room, breakfast, and chats!
Kerri
2016-08-22T00:00:00Z
Phil was a fantastic host. She made me feel right at home as soon as I walked in the door. There was a little confusion getting there as my cab driver took me to an incorrect address but I just called Phil and she directed me to the proper street. She and her partner are so friendly and made me feel like family during my stay. The neighborhood is very quiet as it's out of the city; however, there's a bus stop 2 minutes walk from the house where you can catch a bus and be in Cork city in 25 minutes. Overall I enjoyed my stay. The house/rooms are clean and breakfast is provided each morning, not to mention pleasant company! I would definitely recommend this listing to those who are visiting Cork but prefer not to be in the commotion of the city.
Forrest
2016-07-04T00:00:00Z
Wonderful apt just 10 mins away by car from Cork City Centre. Host was lovely and scons for breakfast were amazing!!
Pablo
2016-07-11T00:00:00Z
Typ av rum
Eget rum
---
Typ av boende
Hus
---
Plats för
2
---
Sovrum
Glanmire, Cork, Irland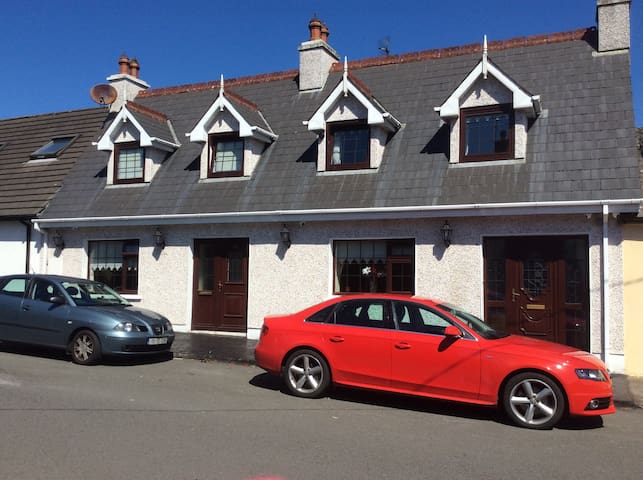 Mi lugar está cerca del aeropuerto, el centro de la ciudad, parques, y excelentes vistas. Te va a encantar mi lugar debido al espacio al aire libre y el vecindario. Mi lugar es bueno para parejas, aventureros en solitario, (URL HIDDEN) negocio son sólo 15 minutos de la marca Si va a visitar cualquiera de los conciertos que son de una hora y media de Killarney y 20 minutos de la gran Cobh y parque natural foros. A sólo 5 minutos de Bosques de Viena Hotel. A sólo 15 minutos de Silver Springs. Nuestra BNB aire acondicionado, TV cc 24 horas
Hay sitios estupendos para comer en Glanmire y algunos bares
Phil was a great hostess and made sure I made my dinner every night!!!!
Orla
2017-01-20T00:00:00Z
Phil was so wonderful! She made us feel instantly at home and made everything very comfortable. Getting into Cork was a quick and easy drive. I would recommend staying with Phil to anyone!!
Cara
2016-08-21T00:00:00Z
If you have a car, or don't mind paying for the bus, then it is not bad of a location. Phil made sure we had breakfast our early morning out with was lovely! The only thing is, is that our bedroom for three was quite small. But if that doesn't bother you the rest is simple and relaxing.
Taylor
2017-03-22T00:00:00Z
Phil was very welcoming and helpful. I only stayed for a few hours but she was a great host for that short time. Close to the airport and very clean and convenient. I wish we got to spend more time with her!
Kelly
2016-09-11T00:00:00Z
Phil is a lovely person, warm and friendly, very clean home, very organized and very thoughtful of others. She really cares.
Emmet
2016-10-04T00:00:00Z
Phil did everything to make me comfortable. I felt like part of the family with in the first night. The bed was snug and warm and everything was top notch! easy access to the bus 5 minutes from her door and the bus an easy 15-20 minutes to Cork. great area for Hikers and bicyclist if you don't feel like going into city.
Beth
2016-08-31T00:00:00Z
Collocazione in zona residenziale tranquilla e comoda per raggiungere in auto (15 minuti) o con mezzi pubblici 30 minuti) la città di Cork. Sistemazione essenziale con servizi igienici condivisi. Host molto gentile disponibile.
Corrado
2016-11-21T00:00:00Z
From the moment I arrived, Phil went beyond what was required of her to ensure my comfort. The neighborhood was pleasant and full of friendly people. I even took her lovely little dog, Max, for a walk one morning. There are good options for food within a couple minutes' walk. The room is perfect--I slept like a baby on the bed and the wifi is fast. Transportation to the city is easy. It is about 20 minutes by bus. The airport is about an hour by bus. There is plenty of parking available if you have your own car. Phil graciously introduced me to her friends and family. They took me under their wing and made sure I had a good time. Her home is always full of life and laughter. Whether it was over tea or at the pub, it was a continual stream of good conversation and stories being shared.
Jessi
2016-07-25T00:00:00Z
Typ av rum
Eget rum
---
Typ av boende
Hus
---
Plats för
3
---
Sovrum
Glanmire, Cork, Irland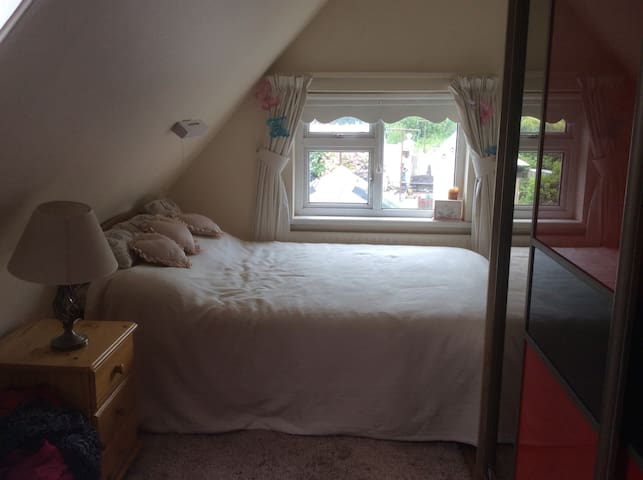 Mi lugar está cerca de grandes vistas, restaurantes y comedor, actividades para la familia, y la vida nocturna. Te va a encantar mi lugar debido a la ubicación, la intimidad, la gente, y las vistas. Mi lugar es bueno para parejas, aventureros en solitario, y viajeros de negocios. Tengo una sola habitación disponible. nuevas hojas frescas se ponen en la cama antes de que llegue a cualquier huésped. Casa está situada junto a la parada de autobús que viaja directamente al centro de la ciudad de Cork.
Nice place to rest your head. Mike was not there but made sure that there was someone there to receive me and assist in his absence.
William
2017-03-18T00:00:00Z
The host canceled this reservation 27 days before arrival. This is an automated posting.
Kelley
2016-08-22T00:00:00Z
Th house is in a very nice area and Mike is a very friendly host.
Liam
2016-09-15T00:00:00Z
Mike welcomed us warmly and shared a beer with us ! He gave me a hurling stick which will probably be my best souvenir from Ireland ! the beds are comfortable and the surroundings nice and quiet. We recommend that place !
Cyril
2016-08-19T00:00:00Z
everything was positive no problems would stay again without hesitation.
BRIAN
2016-10-29T00:00:00Z
The host canceled this reservation 2 days before arrival. This is an automated posting.
Matteo
2017-03-16T00:00:00Z
Nice, quiet house outside of Cork but extremely easy and quick to get there by public bus.
Emma
2016-10-30T00:00:00Z
Tive uma excelente estadia na casa do Mike. Ele foi sempre muito amigável e prestativo. A casa é muito confortável, limpa e fica num bairro excelente. Mas, não é possível chegar ao Centro de Cork andando... todavia tem ônibus (número 221) muito perto e pontualmente a cada 30 minutos. Foi uma estadia confortável e me surpreendeu.
Jota
2016-10-15T00:00:00Z
Typ av rum
Eget rum
---
Typ av boende
Hus
---
Plats för
2
---
Sovrum
Glanmire, Cork, Irland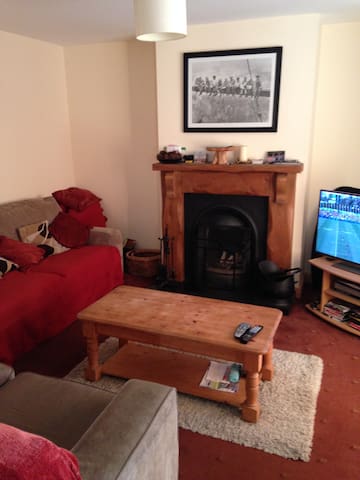 Mijn plaats is dicht bij de luchthaven, het centrum van de stad, en een geweldig uitzicht. U zult genieten van mijn plaats als gevolg van de buitenruimte en het comfortabele bed. Mijn plaats is goed voor koppels, solo avonturiers, en zakelijke reizigers. We zijn 10 minuten van Vianna bossen hotel op 15 minuten van Fota wildpark en Fota hotel.15 minuten van Blarney.we hebben een busdienst elke 20 minuten aan de overkant van de weg,
Zeer rustig en veilig voor u en uw auto beveiligingscamera's op 24 uur per dag en nacht
we had a wonderful time at Phil's apartment. Phil is a lovely host and the room was nice too. when we arrived she served us fresh housemade apple pie and scones. would definitely recommend to stay at her place. thanks for everything Phil!
Victoria
2016-09-25T00:00:00Z
Phil was very warm and welcoming and told us to treat her house as home. She told us where to go in Cork and offered to take us to a hurling club as we were interested in seeing the game. Breakfast was adequate. One main issue was the bathroom as didn't realise that although it stated shared bathroom-that it could be shared with up to 4 other people and was downstairs-not very good in the night -and the toilet upstairs did not have and wash handbasin so not very practical. Overal we had no problem with phil but the room was cluttered with with her personal items and there wasnt even a drawer or wardrobe to put anything in as they were all full s didn't feel the room was very clean.
elaine
2016-09-16T00:00:00Z
An excellent host
Tim
2017-02-01T00:00:00Z
We absolutely had a ball staying here. Phil and Mike are so welcoming and treated us like family. Had a great welcome for us when we arrived and breakfast both mornings was lovely. Tended to our every need. It's is a lovely home and very warm and cosy. Never once did they rush us to leave and we all had lovely chats around the table... At the table no one grows old. Thank you for all the advice on what to do in cork. We will definitely be recommending and hope to come back soon
Ruth
2016-10-31T00:00:00Z
Typ av rum
Eget rum
---
Typ av boende
Hus
---
Plats för
2
---
Sovrum
glanmire , County Cork, Irland
Mein Platz ist in der Nähe eine tolle Aussicht. Sie werden meinen Platz wegen der hohen Decken, die Lage und das Ambiente lieben. Mein Platz ist gut für Paare, Solo-Abenteurer und Geschäftsreisende.
Lovely cottage, minutes from the M8 but nestled in the beautiful countryside, surrounded by trees. Rachael was so welcoming, friendly and helpful. Her directions to the cottage were spot on. The cottage has a special energy and is the perfect place to wind down, switch off and let the energy work it's magic. Lovely to meet you Rachael and thank you for sharing such a lovely space.
Clare
2016-07-05T00:00:00Z
What a lovely place in a beautiful rural setting! Everything was as described and, even in her absence, Rachael made sure that I had everything I needed. Thanks Rachael!
Kevin
2016-06-04T00:00:00Z
Rachael was a lovely host, everything was as described and she was very helpful. She was very pleasant and friendly.
David
2016-08-25T00:00:00Z
Rachael was one of the warmest most inviting hosts we have ever met anywhere!! Prior to our arrival, by complete coincidence we sat beside her at the local restaurant. She text me to see if I had found the cottage and when I saw the lady beside me read my reply we clicked.... Rachael is an amazing lady with an enormous personality. You couldn't help but like her. The cottage was out of the way and a little quirky with the bed in the main room. But we slept like babies and there was a lovely vibe to the place. There is very positive healing energy in this cottage. Go there to sleep well in that fabulous bed and if you need healing it will come. We were on a business trip and woke up to our biggest contract offer ever! Thank you Rachael regards David and Orla
Red Gable
2016-06-11T00:00:00Z
Rachael allowed us to arrive late and made sure we would have easy entry to the private guest quarters. Our bedroom was very spacious and beautifully decorated. The bed was extremely comfortable and cozy- we didn't want to leave the next morning!! :)
Caitlin
2016-10-22T00:00:00Z
Typ av rum
Eget rum
---
Typ av boende
Hus
---
Plats för
2
---
Sovrum
Glanmire, Cork, Irland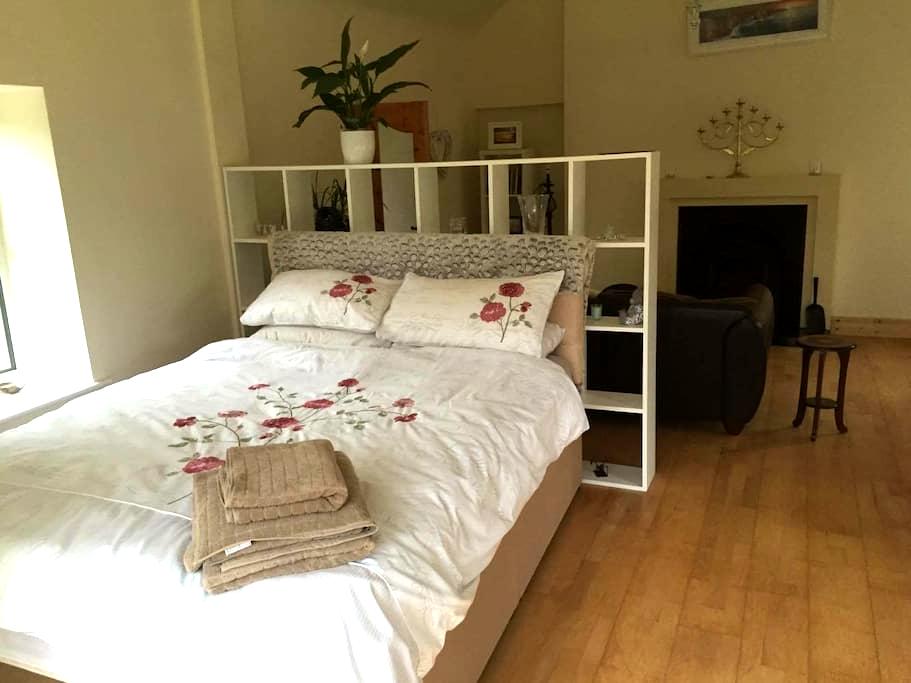 Single room available, in a residential family home. 15 minutes walk to the city centre. Comfortable house. Easy-going and laid-back hosts. Quiet, residential area. Great spot for exploring foodie, historic, beautiful Cork City and a short driving distance to Kinsale, Blarney Castle, Fota, Ballymaloe, Middleton, "Titanic" Cobh etc.
We're in a very central (but quiet and residential) area. We are situated one mile from Patrick Street, which is the main street in Cork - so approx 15 minutes walk from the city centre. There is disc parking available in this area (2 euro disc for 2 hours parking), during business hours - Parking is free at evenings and on Sundays (and bank holidays). Our home is very convenient to everything and Cork is a great base for further exploring. We're fifteen minutes drive from Cork Airport, fifteen minutes drive from the train station and about ten minutes drive from the bus station. We have two spare double bedrooms and a single bedroom available. Neither myself nor my husband smoke. This is a non-smoking house. We do have a dog - very cute and well behaved rough collie (she's 10).
Lefre's home is very cosy and she and her husband are incredibly friendly and always happy to give you some tips or to chat about any subject. I stayed with them for a month and i'm very glad I did. Great host.
Pedro
2016-11-30T00:00:00Z
Everything was really amazing. My experience with them couldn't be better. They are really good hosts and they made me feel like at home. They provided me all the conveniences for doing my staying the best one.
Victor
2015-10-02T00:00:00Z
Lefrey e Eamond son una pareja muy dulce, realmente me hicieron sentir como en casa. La habitación es incluso mejor que en las fotos! Está muy cerca del centro de la ciudad y el vecindario es muy tranquilo. Bubbles es un encanto, es súper tímida, ni te darás cuenta de su presencia. Mi mejor calificación para esta estadía.
Karen
2015-11-22T00:00:00Z
I stayed with Lefre for a recent visit to Cork for a Jazz Festival concert. I had a comfortable bed on a quiet street with free weekend parking outside. Lefre was very friendly wirh a lovely shy dog who was no bother at all. It was an easy walk into town, passing the amazing Quay Co-op for food on the way. A great visit. Thanks Lefre.
Michelle
2013-10-29T00:00:00Z
I'm very glad I trusted the previous reviews, staying with Lefre and Eamonn was a very good choice! I needed a temporary room because I was about to start university in Cork and wanted to look for long-term accommodation on the spot. It was my first time in Cork, so I was very happy to be welcomed so warmly by both of them. I didn't only get a lovely room to stay in and great advise on what to see and where to go, but I also really enjoyed their easy-going and open attitude and great sense of humour. I hope we'll stay in touch... :) The atmosphere in the house is really relaxed and you can tell that they actually enjoy running a private bnb and don't just do it to cash in on the spare rooms they have. You're perfectly accommodated here, whether you are a sociable person or prefer your privacy. Both works very well. And yes, it is clean and it is close to the city centre and the dog really is super cute.
Justyna
2014-09-05T00:00:00Z
Great hospitality and availability to help any needs. Great information about the City and things to do and to see
Michele
2015-05-19T00:00:00Z
Lefre and her partner are very kind and welcoming. The information provided was very detailed and accurate. They have a beautiful shy dog. I didn't spend much time at the place but I recommend it and would definitely stay again at Lefre's.
Juan
2015-06-15T00:00:00Z
Great hosts, great neighborhood, and a very convenient location. Lefre and Eamonn were very nice and helpful!
Francesca
2014-09-07T00:00:00Z
Typ av rum
Eget rum
---
Typ av boende
Hus
---
Plats för
1
---
Sovrum
Cork, Cork, Irland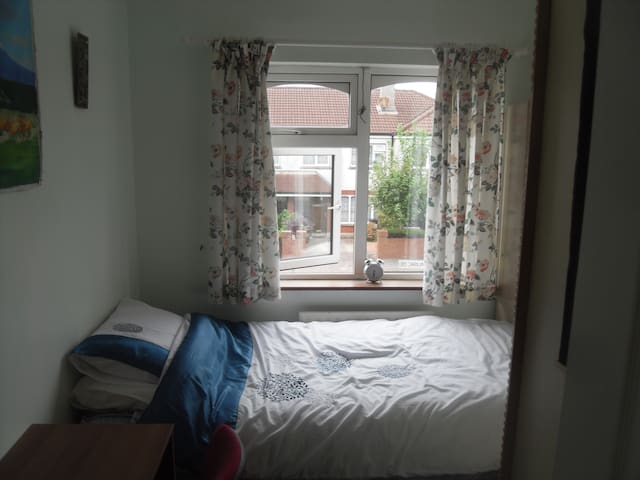 Situated only 10 minutes by car/bus/train from Cork city and Midleton and 15 minutes from historic Cobh, yet quiet and peaceful. It is surrounded by trees and mature garden and is a great space for kids to play and explore. A great base.
Such a beautiful house, so close to Cork city. The house itself has four gorgeous bedrooms, an immaculate kitchen and a lovely open living area. Hannah and David were really helpful and provided us with a great booklet of information that told us everything we needed to know. The house had everything we needed and we were really impressed. Thank you both again!
Liz
2016-11-07T00:00:00Z
Hannah's house very comfortably accommodated our group which was 3 adults and 4 children aged 8, 6, 3 and 5 months. It was a very memorable stay and her home which is perfectly suited to family living was a lovely place for us to base ourselves and visit family and friends in the surrounding area. Cleanliness of the home was excellent and Hannah made us feel extremely welcome- right down to setting the fire in the stove! I can highly recommend this home to other guests. It's a really handy location for visiting the city and is right next to a train station for those who prefer public transport. All in all, a great spot to stay in when visiting Cork with a family.
Clara
2017-03-21T00:00:00Z
Lovely house with lots of space and it has everything you might need during a stay here. Hannah provided instructions on how everything worked in the house and even had some food and drinks in the house for us. It would be perfect house for a holiday with children.
Dennis
2016-05-09T00:00:00Z
We really enjoyed our stay in Hannahs spacious and cozy House. Espacially the kitchen is well equipped with two ovens and a lot of space to cook. The house is not far away from the trainstation- it is easy to visit Cork and Cobh. We really fell in love with Nelly, the little cat.
Jana
2017-01-03T00:00:00Z
The house was immaculate and in a great location. Train to Cork is just a 2 minutes walk and 10 minutes to town. We had a wonderful stay and highly recommend a stay here!
Lisa
2016-05-03T00:00:00Z
Wonderful hosts and perfect family home. Hannah and her family were the most courteous and helpful hosts, leaving us lots of homemade produce and fresh food. The house itself was fantastic. A great selection of rooms and comfy living areas. Great for the family with room and toys for the kids. Handy location for visiting Cork, Fota and Cobh plus surround areas. Would definitely stay again. Thanks!
Benjamin
2016-05-08T00:00:00Z
This home is great for family vacations and rest! Loved it!
Jess
2016-11-03T00:00:00Z
Hannah did everything possible to make us feel welcome and comfortable.
Sandy
2016-06-26T00:00:00Z
Typ av rum
Eget hus/egen lgh
---
Typ av boende
Hus
---
Plats för
8
---
Sovrum
Cork, Cork, Irland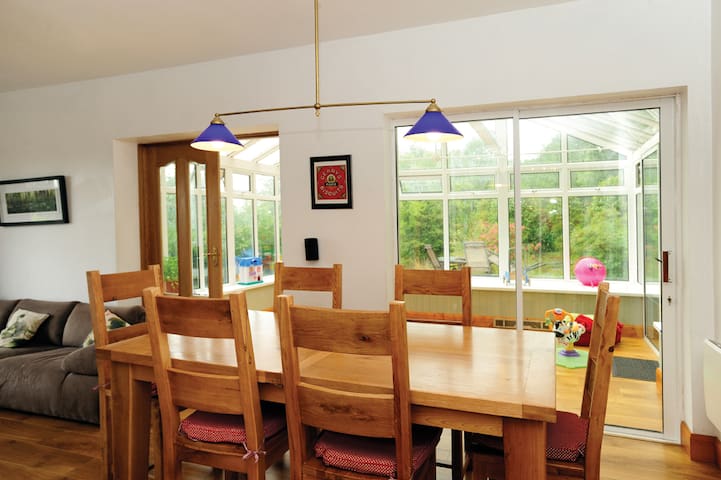 A charming house tastefully refurbished. 3 bedrooms, 2 bathrooms. Fully fitted kitchen with all appliances. South facing garden and bright living area. Dining table with four chairs. Flat screen TV with DVD and Blu ray player in living room. Sofa and 2 arm chairs. Garden has stone slab paving with seating area complete with table and chairs. Full range of tourist information literature available.
We stayed for 2 nights, the apartment was really close to the city centre, so we could walk. Although Tara explained everything really kind and sympathic, we only managed to get warm water in the shower, but not in the kitchen's or bathroom's sink. We found a fully equipped kitchen but unfortunately the washing machine didn't work (which would have been so appreciated as we travelled around the country). In the summit it was a nice stay.
Sandra
2016-08-09T00:00:00Z
Perfectly fitted and spaceful house. A lot of leaflets and local or regional information, close to everything you could enjoy.
marie-Laure
2016-07-23T00:00:00Z
Great experience at Helen's place. She was very flexible with our trip plans, everything was as described and the price was totally fair.
Eugene
2016-06-08T00:00:00Z
Great stay. Thank you!
Grace
2017-04-07T00:00:00Z
The house is in a great location within an easy walk to central Cork. Unfortunately the beds were uncomfortable & the linen disappointing. The lounge suite needs attention. I was surprised that there was no washing machine, but we managed to hand wash. Cork is a great place to visit
Peter
2016-06-10T00:00:00Z
Great place, we loved it!!
Özgü
2017-03-12T00:00:00Z
Great location. We had issues with the odor of urine. Especially in the bathroom/laundry room. Could be cleaner for the price. I didn't like that we were only given 2 full sized towels when 4 of us were staying and when I communicated this to the host, we were expected to pick up our own towels from the laundromat down the road. When I'm on vacation that's the last thing I want to deal with...However the flat served us fine. Again, the location is fantastic.
Amber
2017-03-21T00:00:00Z
The house was exactly as pictured, the location was perfect and collecting the keys was easy. I would stay here again
Dale
2016-08-14T00:00:00Z
Typ av rum
Eget hus/egen lgh
---
Typ av boende
Hus
---
Plats för
4
---
Sovrum
Cork, Cork, Irland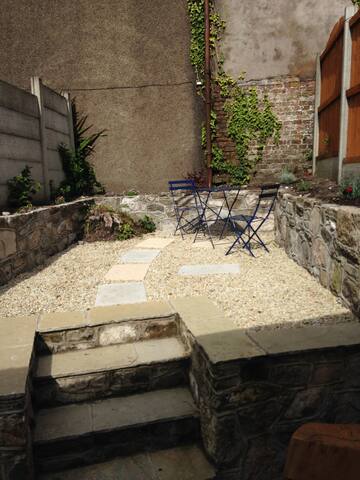 Newly refurbished two bedroom apartment. Two double beds, full linen provided. Fully equipped kitchen, dining space and living area. Located close to ring road allowing great access by car into the city and 5 mins drive from all major roadways. Large green area close by where kids can play and great local amenities. Aldi 5 mins walk. Large private back garden.
This apartment has just undergone a refurbishment so everything is new! Will add more photos soon :) Ground floor entrance leads into living space with couch and TV. Kitchen next door. Two bedrooms upstairs share WC with shower.
Located in Mayfield, north-side of Cork city. Mayfield is considered a mature neighborhood. Lots of amenities close by, shopping centers, several bus routes into the city. Public swimming pool 10 mins walk. Close to Silversprings hotel.
Typ av rum
Eget hus/egen lgh
---
Typ av boende
Hus
---
Plats för
4
---
Sovrum
Cork, County Cork, Irland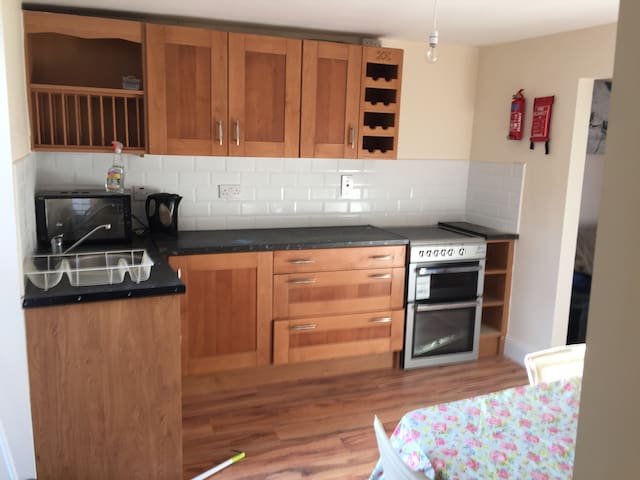 DoubleBed with view on garden, clean house, quiet neighbourhood, free on-street parking. House is middle size, cosy and reasonably equipped. PLEASE CHECK LOCATION : I wish to make it clear the house is 20 minute walk and uphill (very steep) from city or 5 min bus ride. Monthly offer considered with 2 months limit. Contact me for details.
double bed, clothes rail, wardrobe, bedside table, small bookshelf, wall mirror.
quiet, residential, overlooking cork city center, 20 min walk to patrick street, 20 min walk to Apple HQ.
Jeje was an amazing host and made my stay very pleasant. He goes an Extra step to help you with anything. The location is perfect- 15,20 min walk to City center. The bed is comfy and the room is spacious. Everything is clean and tidy. There are lovely benches in front of the house where you can relax and soak up the sun.
Jasna
2016-04-02T00:00:00Z
Thank you guy for all !! Very nice house !! Merci pour tout !! Superbe experience !! Hope to see tou soon
Djiby
2016-07-24T00:00:00Z
Great house in a nice part of town. Easy to commute to the city. The house was warm, very tidy and clean. Jeje made me feel like at home. Spacious room with good natural light in the morning. I would difinitely stay there again.
Mauricio
2016-04-28T00:00:00Z
Jeje's home is well located and well decorated, just 20-25 mins to all amenities by walking. I stayed one week and I feel like at home. If you are planning to visit Cork, I highly reccomend you to stay here. And you can find all necessary equiptments in the kitchen and bathroom. Has a lovely backyard and quiet neighboorhood. It was always clean.
Anil
2016-07-16T00:00:00Z
I stayed about 2 months at Jeje's House and he was friendly and helpful to me!
Noni
2016-11-28T00:00:00Z
Very nice house in a quiet area, 20 minutes walk down to city centre, close to supermarket and take away. If you feel a bit lazy to walk back up the hill there is a bus stopping 2min away or you can take a taxi for only 6€. Very good wifi, plenty of free on street parking, house clean and in good condition and newly renovated. Host very accommodating and helpful, has a lot of good tips for restaurants, pubs, touristic activities ... Would definitely recommend this place, very good value for money. Thanks Jeje!
Pauline
2016-08-31T00:00:00Z
The host canceled this reservation 15 days before arrival. This is an automated posting.
Junghwa
2016-12-30T00:00:00Z
A very cosy home with very attractive features. Also parking on the street in front of house available. Very affordable price. Glad I chose Jejes
Dylan
2016-12-19T00:00:00Z
Typ av rum
Eget rum
---
Typ av boende
Hus
---
Plats för
1
---
Sovrum
Cork, Cork, Irland
Forest behind house. Lovely walks. Amenities 5 mins walk Shop. Restaurant. Chemist. Doctor. Dentist. Dry Cleaners. Bar. Gym. Bus stop to City ten minutes walk.
Typ av rum
Eget rum
---
Typ av boende
Hus
---
Plats för
3
---
Sovrum
Rochestown , County Cork, Irland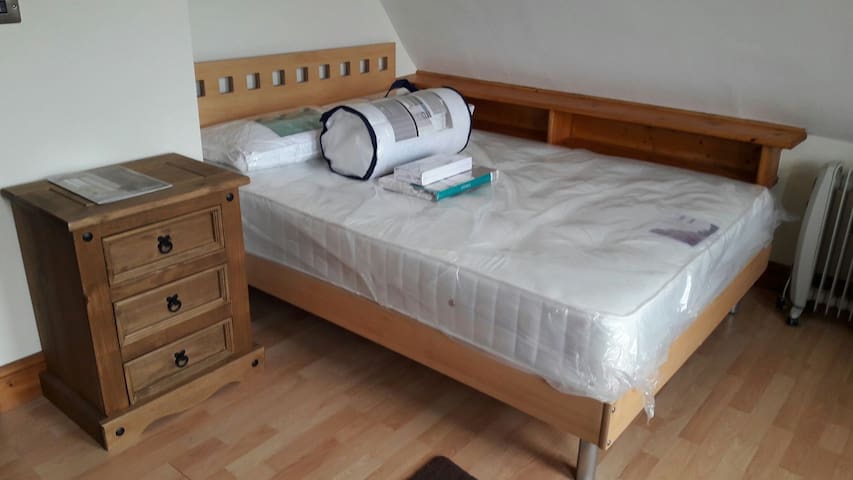 My place is close to the 202 bus stop, as well as local cafes and bars, Sunday market, Blackrock castle, the river, walks. 15 minutes commute to city centre. You'll love my place if you like quirky, old houses with character, also because of its location in Blackrock village, its proximity to the city centre, and to Mahon Point. Blackrock is a quiet neighbourhood, with river and walks. My home is good for solo adventurers, business travellers, and furry friends (pets).
It was OK. I had no problems.
Marek
2017-01-12T00:00:00Z
Susan's house was very characterful and bohemian and the room was comfortable and warm enough for sleeping. The downsides were that the house was quite cold during the day even with the heating on. I also found the place was not as clean as it could have been in some areas. Susan was a genuinely friendly person and a fantastic host who was very obliging in making my short stay as convenient as possible, being flexible with check in and check out times. With a few improvements here and there it will be a perfect place to stay.
Danny
2016-11-20T00:00:00Z
Susan is a very helpful host and is very welcoming.
Anne
2017-01-18T00:00:00Z
Suzy was very welcoming and this was a great place to stay. Thanks, Julia
Julia
2016-11-10T00:00:00Z
Susan and her gorgeous four legged friend, Lily, were truly welcoming to my four legged friend and I. Lovely period house in a beautiful part of Cork city. Lovely room and breakfast chats with Susan. Highly recommended.
Sarah
2016-11-27T00:00:00Z
Susan was a brilliant host. I had trouble finding a local restaurant(my problem) and Susan invited me to join her and her other guest, for an evening meal. We then all had a lovely evening in the local pub. Thanks Susan, much appreciated
Gordon
2016-12-10T00:00:00Z
Susan was great! So helpful, welcoming and friendly.I really enjoyed my trip in Cork thanks to her.
Léo
2017-02-05T00:00:00Z
You have to meet Susan! She is so nice and her home is a sweet home. I passed two days on and I love it. She mades all the things for your confort. For the emplacement, you are in 10min by bus to the centre of the city. If you want to visit Ireland and Cork, go to Susan's home.
Emmanuelle
2016-11-08T00:00:00Z
Typ av rum
Eget rum
---
Typ av boende
Hus
---
Plats för
1
---
Sovrum
Cork, County Cork, Irland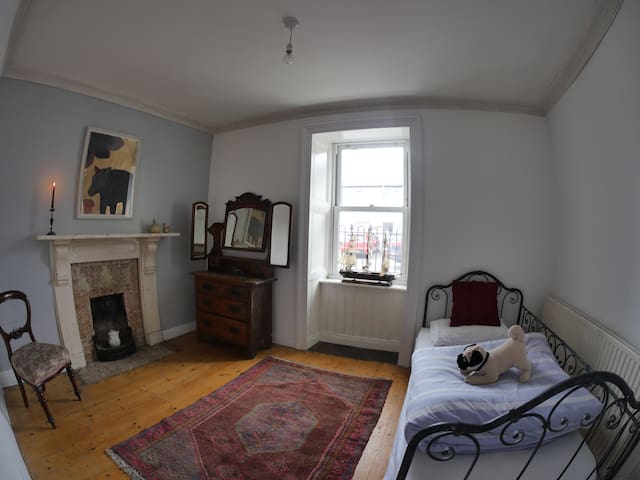 Cosy 2 bedroom house atop Patrick's Hill. Located just 5 mins stroll from the city with all nearby amenities. We have recently bought this cosy city cottage and renovated it to its original charm. It's a stone's throw from the city centre and located beside Patrick's Hill Park which boasts a panoramic view of the entire city! It is located on a quiet, cul de sac terrace which offers private and safe parking to any visitors.
We are a young couple of whom have purchased our first house a few months ago. We have been renovating it ourselves since then and we are finally setting it up on Airbnb. The house is located in a quiet terrace which itself is located adjacent to a large green area with spectacular views of the city. The house is small and cosy but it is really snug. It has a real fireplace at the front of the house which makes the place really toasty when there's a fire lit. Upstairs there are two bedrooms with a double bed in each, both have brand new memory foam mattresses. The front bedroom has views of the city. The kitchen is well equipped with everything one would need for cooking and guests are more than welcome to use the equipment. We have recently fitted a state of the art water filter for purifying the drinking water. The shower is fitted with a similar filter. There is also a washing machine come drier located in the bathroom. There is a very small area out the back which can be used for smokers. The house is extremely homely and is the perfect den for anyone coming to visit Cork - 'a home away from home'.
The property is located on top of the most renowned hill in all of Cork. The views from the top are some of the best in Cork. It is located in a very quiet cul de sac terrace. From exiting the front door of the property to walking to Saint Partrick's bridge (the starting point of the city) is between 5-10 mins walking. There are also great Pubs nearby such as Sin é at the bottom of the hill. This pub has live traditional music every night of the week. The closest street is McCurtain street which has a theatre, lot's of pubs, and places to eat.
Great location.lovely host and close to the city
marion
2017-03-26T00:00:00Z
We were only staying for one night and therefore it was perfect. The house was clean and everything we needed, like towels, were provided!
Helene
2017-02-19T00:00:00Z
Sinéad's cottage was absolutely perfect for a birthday weekend with friends. The place was clean and completely stocked with towels & linens, and so very cute! It was a short walk to town though on a very big hill, so may not be possible for anyone with physical limitations without a car but a good leg workout! Sinéad was so helpful with us for check in, and even stopped by to bring an extra mattress for an extra guest! Overall a wonderful weekend, in a wonderful home with a wonderful host. Highly recommended!
Torey
2017-03-20T00:00:00Z
Typ av rum
Eget hus/egen lgh
---
Typ av boende
Hus
---
Plats för
4
---
Sovrum
Cork, County Cork, Irland
We welcome you to our friendly Cork home for short or long term stays. There is WiFi in the house . This is a double room with a double bed and light breakfast included We can pick up guests from buses coming in from Dublin or from Cork airport. This is if the hours are sociable otherwise you can get a taxi in. Within walking distance you can visit Black Rock Caste, a large shopping center with cinemas and local pubs and restaurants. It is 3 mins walk to the local bus stop, which takes you to the center in 15 minutes.
The host canceled this reservation 25 days before arrival. This is an automated posting.
Gwen
2017-03-22T00:00:00Z
The reservation was canceled 38 days before arrival. This is an automated posting.
Meaghan
2014-05-07T00:00:00Z
Our son is an International Postgrad student at University College Cork. Due to the student housing crisis in Ireland, we turned to AirBnB to find temporary accommodation while he searched for a place to live. Not only did Sandra agree to welcome him into her home, she offered to assist him in finding long term housing. She picked him up from the train station and helped him sort his commute to and from school. The initial agreement was for two weeks, during which time my son was able to find long term student housing. When my son discovered he couldn't move into his housing until the following month, Sandra offered to extend his stay and provide meals so he wouldn't have to couch surf with friends during an intensive course of study. My son feels like he's staying with family and loves the relaxing environment, the food, and the camaraderie within the home. They have been a great source of advice about the area and the housing issues, and his transition to student life has been far less stressful than anticipated. Sandra has given my husband and I peace of mind, knowing our son has someone looking out for him.
Cynthia
2015-09-16T00:00:00Z
Great place with great people !!!
Angelo-Victor
2017-03-19T00:00:00Z
Great company, great food -> I would recommend this place to anyone.
Pawel
2014-06-11T00:00:00Z
Sandra's place is exactly as it is shown in the pictures. The bedroom is large and spacious. A new mattress and carpet was put in just prior to me arriving. The bed is very comfortable! Sandra is very welcoming to her lovely home. It's a twenty minute bus ride into Cork city centre and the bus stop is just a minutes walk away. I would definitely stay here again.
Becky
2017-03-11T00:00:00Z
Our stay at Sandra's was a magnificent experience for us. The room was charming and clean and even though being far from home we felt just like being at home. The surrounding is nice, safe and quiet, ideal for long walks what we enjoy. Simply perfect for us. Our hosts were super friendly, gave us loads of tips and advices. We have enjoyed our stay here and would love to stay in contact as there are just a few people of such big heart as Sandra.
Tomislav
2014-07-02T00:00:00Z
Typ av rum
Eget rum
---
Typ av boende
Hus
---
Plats för
2
---
Sovrum
Cork, Cork, Irland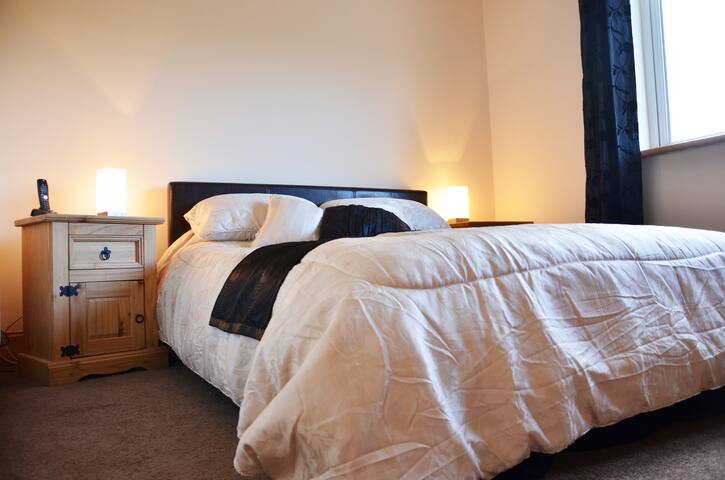 The L shaped double bedroom is 24' x 8' in total and includes wardrobes, bedside lockers, a desk and chairs. (See also our other double room for availability). There is a Bathroom (with bath, separate shower & toiletries) adjoining the Bedroom and shared by guests. A generous self-service breakfast in the large Dining Room is included. We have a child's crib/cot and a folding bed if needed. There's plenty of parking space and the garden and woodland walks are lovely any time of the year!
Our detached house is in a lovely quiet location just inside the Cork City boundary with the countryside on one side and the city on the other. It's just five minutes by car from the city centre and five minutes also from the world famous Blarney Castle. The house looks out over the Irish countryside while at the same time is close to all city centre amenities and popular visitor attractions. There's plenty of parking on the grounds and bus stops are within a short walking distance. We're very proud of our show gardens and woodland walks which guests are free to explore and enjoy.
Declan is a fantastic host. As my wife and I checked in, he offered tea, coffee, and homemade cakes his wife made. Moreover, he drove us to the city centre (10 minute drive) - examples such as this made our stay in Cork a wonderful experience! The house is beautiful and very secluded from outside noise. Also, breakfast was fantastic!
Tim
2017-04-03T00:00:00Z
Declan and Marie were perfect hosts. Extremely helpful with directions and tips for sightseeing in Cork and beyond. The house is amazingly cozy, beautiful garden and to top it all up, the breakfast served in the morning is second to none. I highly recommend staying with them if you want to explore the region.
Chris
2016-12-09T00:00:00Z
Declan is very kind and generous, and welcoming. The house is very clean, situated in a nice, quiet and calm area, just a bit away from city center but not too far. It's a fair mix of city and countryside atmosphere really. We enjoyed very much our stay and can only highly recommend Declan to the Airbnb community. I have not been home in a very long time, but Declan and its home made me feel like at home for a moment. Long-lasting memories really!!
Alexander
2017-04-08T00:00:00Z
I truly recommend the place. Atmosphere in the house is beautiful, tasty, diversified bfast, freshly baked, delicious cakes, Very helpful people, with great tips about sightseeing the Co. Cork, Kerry.
Magda
2016-11-29T00:00:00Z
Declan was a wonderful host. He was able to drive me to and from Cork and Blarney so I didn't have to take the bus. He was really knowledgeable of the area and extremely friendly. His house was beautiful, comfortable, and quiet. I would highly recommend to anyone who wants to stay in Cork.
Tiffany
2017-01-24T00:00:00Z
This is a beautiful house, very nicely and tastefully decorated and well equipped inside. The garden is beautiful with a great view. Everything is clean, works and the hosts are very friendly. Breakfast is very nice and, generally, access to the kitchen is given. It was very relaxing to be there after a hard days work.
Maciej
2017-01-20T00:00:00Z
Declan and Marie are such friendly folks and Very helpful. Their home is lovely and they offered great advice on how to make the most of our short stay. I'm already planning my next trip and will hopefully be able to stay with them again!
Christine
2017-04-01T00:00:00Z
Declan and Marie have a beautiful place, located in a quiet neighbour. The view from the garden is delightful, and the room ideal for rest from a long trip. Declan even waited for me in the bus station, so it was impossible to get lost ! I truly recommend this place !
Pablo
2016-11-15T00:00:00Z
Typ av rum
Eget rum
---
Typ av boende
Hus
---
Plats för
3
---
Sovrum
Cork, County Cork, Irland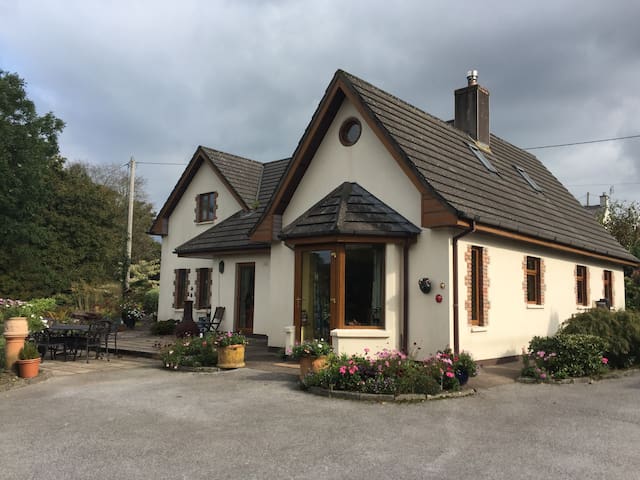 My place is close to the marina, restaurants, and public transport. You'll love my place because of the comfy bed and the relaxing sitting room. You can walk to city centre in 30 mins or walk to lovely Blackrock village in 5 mins
This is a lovely cosy home with plenty of light and a great large bedroom. The bathroom is new and the kitchen has all you would need. The sitting room is very comfortable Please note this property currently does not have wifi
Blackrock is a lovely village on the marina close to Cork city with a bustling market at weekends. It is residential and quiet but close to the action! It has a fantastic restaurent and coffee shop and scenic walks.
I had a lovely stay in Margaret's home. It is very clean, warm, quiet and comfortable in a nice residential location. Margaret is very welcoming. Many thanks
Emma-Jane
2016-11-12T00:00:00Z
Typ av rum
Eget hus/egen lgh
---
Typ av boende
Hus
---
Plats för
2
---
Sovrum
Cork, County Cork, Irland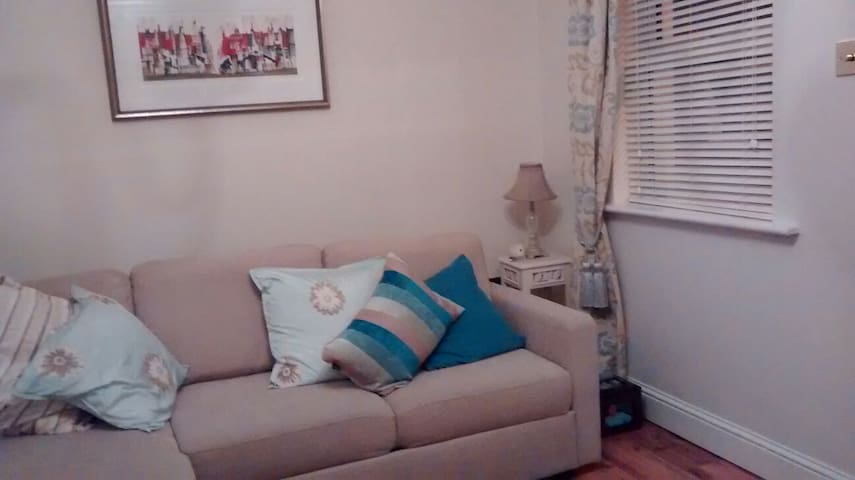 You will have full access to the house, full use of the facilities such as washer and dryer. There are up to 9 single beds with each room having only one bed.
This house is fully fitted, spacious and furnished. It is conveniently located in the south side of Cork city - only 10 minutes away from the city and all its amenities. There is an excellent bus route - bus stop less than one minute away which will take you directly into the city or alternatively to Wilton Shopping Centre. The house is directly across from University College Cork.
Steeped in history, Cork City is fast gaining a reputation as one of Europe's hippest cities. Like Venice, the city is built upon water, and the city centre is built on an island in the River Lee, just upstream of Cork Harbour. The two channels of the River Lee which embrace the city centre are spanned by many bridges, and this gives the city a distinctive continental air. Exploring Cork is an enjoyable, multi-day pursuit. Ring the Shandon Bells in the 300-year-old tower of St. Anne's Church, and marvel at the French Gothic spires of St. Finbarre's Cathedral. You will discover unique shopping and dining options, including the English Market, with its stalls selling foods from all over the world, and numerous pedestrian walkways and sidewalks flanked by smart boutiques and major department stores.
Kieran was a great host. Easy check in and check out; the place was nice n clean n spacious. He also showed us where to eat and where to catch the Euro-cup scene. Sober Lane is a great bar to watch soccer, thanks for your advise Keiran :).
Lucy
2016-06-24T00:00:00Z
Kieran's place was perfect for our stay in Cork. Check-in was a breeze, the location was great, and the amenities were useful. The full kitchen was helpful for our stay. It was plenty of space for two people.
Greg
2016-08-13T00:00:00Z
Anfitrião bastante solícito para fornecer informações. A casa é ampla e muito limpa. Além disso, possui todos os utensílios necessários para o funcionamento da mesma. A localização também é excelente, ficando bastante próxima do centro de Cork. Ficamos muito satisfeitos com a casa.
Penha
2016-06-21T00:00:00Z
A very enjoyable time in cork last weekend. Host very welcoming, clean house in a good location.
Dermot
2016-07-17T00:00:00Z
Kieran was a great host, and the house was exactly what our family of four needed for our visit to Cork. The location was perfect, and beds were comfy. In addition, Kieran had left some fresh eggs and sausages for us to make breakfasts in the morning, and remained just a message away were we to need anything. Thanks! :)
Elizabeth
2016-08-09T00:00:00Z
Kieran was a responsive and welcoming host, and the flat was suitable for a short stay for two people (though there are plenty of bedrooms for larger groups). While the flat wasn't perfectly clean, we were provided with all the amenities, even a HDMI cable for the tv! The washer and dryer were wonderful, and the kitchen was very well-equipped. Kieran also provided a table covered in information on Cork and the surrounding area - very useful!
Marcella
2016-08-29T00:00:00Z
Kieran was very friendly and accommodating and the room was cozy. Would stay again.
William
2016-06-17T00:00:00Z
We had a great time in Cork! Kieran met us to let us into the house and provided a lot of information about what to do and what to see. The place was in a good location, good walking distance to city center and there is a bus stop on the block. The information table gave us all the information we needed about buses and attractions. Kieran was very helpful and in contact with us the whole trip. We would love to come back!
Stacey
2016-07-04T00:00:00Z
Typ av rum
Eget hus/egen lgh
---
Typ av boende
Hus
---
Plats för
8
---
Sovrum
Corcaigh, Corcaigh, Irland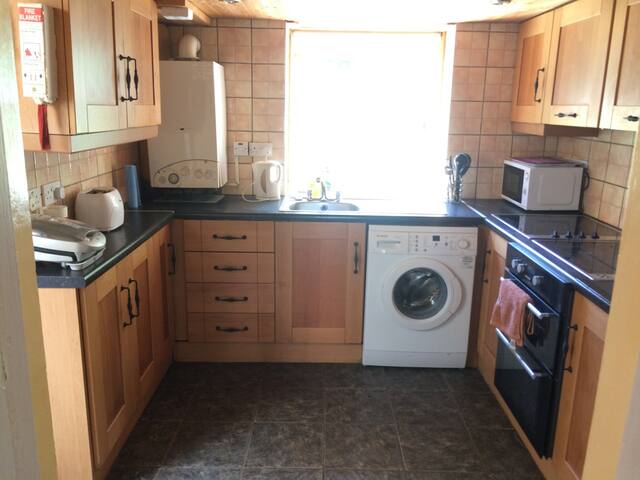 Glanmire - Airbnb
:
I genomsnitt

4.61

av

5

stjärnor från

271

gästomdömen
1

–

18

av

220 Uthyrningar av hem
Ange datum för att se full prissättning. Ytterligare avgifter tillkommer. Skatter kan tillkomma.