Mi lugar está cerca de colegios, estaciones de tren de SEPTA, el arte y la cultura, restaurantes y restaurantes, actividades para la familia. Te va a encantar mi lugar debido a la luz, la cómoda cama, los techos altos en la BR principal. Mi lugar es bueno para parejas, aventureros individuales, y las familias (con niños). Congelador y microondas tanto reparados y reemplazados ahora.
un montón de baños, un menor número de conflictos!
Encantador. unidades transitables o cortas a Keswick Village, Jenkintown, Abington, Elkins Park, del casco Chestnut Hill (y Wissahickon) y Mt. Aireado ... a pie de LA Fitness, Keswick teatro, parques locales ... accionamientos rápidos al Hospital Abington, Hiway teatro, Penn State Abington, Arcadia U., Won Instituto, universidad Salus, Ambler templo ... sólo un paseo de 17 minutos por ferrocarril Temple University campus principal.
Lonnie's home is wonderful. Such a great value considering you're getting 3 bedrooms, three bathrooms, a spacious living room, and a full kitchen. The house was clean, wifi was fantastic, and it's within walking distance to Keswick and public transportation. In addition to the home itself, Lonnie was a wonderful host. He made sure I had everything I needed, answered questions promptly, and was just a genuinely courteous person. Highly recommend!
Justin
2017-01-15T00:00:00Z
Lonnie is a nice guy and his townhouse is very comfortable and nicely furnished. But the place needs refreshing and the freezer and microwave both need repairs. With these improvements this would be a gem of a property. Glenside is a super place.
Frank
2016-12-04T00:00:00Z
Super chill place in the wonderful town of Glenside!
Frank
2016-10-31T00:00:00Z
The host canceled this reservation 71 days before arrival. This is an automated posting.
Wendy
2017-04-10T00:00:00Z
Good spot outside of North Philly in a nice safer neighborhood. Nice quaint place. 3 story townhome. It's about 30 - 40 minutes away from Central Philadelphia. Really a great value and a nice place to be if you're looking to spend time in the area but want a safe place. Only real issue with the location is that the train system runs through the backyard basically. House is well insulated so the noise never disrupted our sleep or anything but definitely surprised us and isn't for extremely light sleepers. Lonnie was very open and accommodating. I'd definitely recommend this place to friends and even rent it again if ever visiting the area again.
Bobby
2017-01-01T00:00:00Z
Typ av rum
Eget hus/egen lgh
---
Typ av boende
Radhus
---
Plats för
4
---
Sovrum
Glenside, Pennsylvania, USA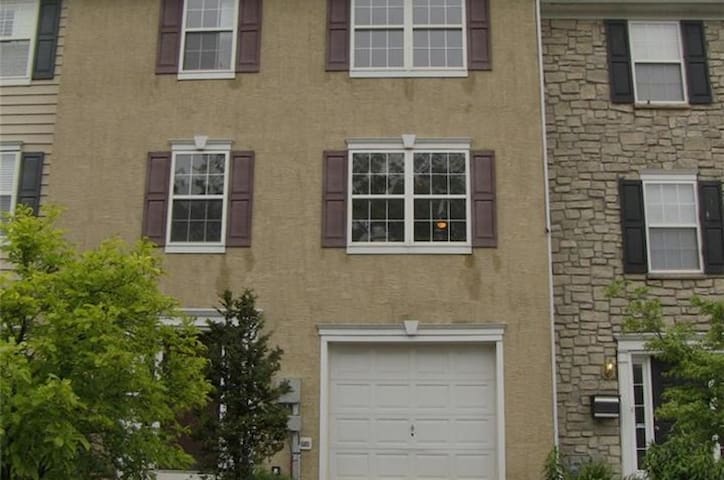 get-a-forma privada preciosa de 1940 está cerca de la Universidad de Arcadia, Teatro Keswick, restaurante, comedor, antigüedades y el senderismo. Capacitar a Filadelfia (1 milla). Bueno para parejas, aventureros en solitario, escritores, viajeros de negocios (Fort Washington corporativas complejas 5 millas). Ideal para el Día de San Valentín o el inicio de ese libro. acceso directo al jardín, chimenea y zona de comedor al aire libre. snacks incluidos. desayuno casero y cenas gourmet dispuestos para la tarifa. Estacionamiento privado. Extra dormitorio / baño privado por un costo adicional.
Estamos ubicados en un tranquilo barrio bueno para caminar; Chestnut Hill con sus pintorescas tiendas y buenos restaurantes es de cinco minutos en coche; Fairmont Park - con innumerables rutas de senderismo grandes para un ciclismo. Reconstruccionista Colegio Rabínico cerca, Seminario Teológico Presbiteriano y la Universidad de Arcadia dentro de cinco millas. A 20 minutos del Parque Nacional de Valley Forge.
Maria was a wonderful host. The room was just as described and very clean.
William
2017-04-08T00:00:00Z
This was more than perfect for my needs. I was in town for a concert at the Keswick, and this is pretty darn close. Plus, Maria is an EXCELLENT host. Trust her on her restaurant recommendations too! So, glad I took both of her recommendations. If/When I am in the area again, I would definitely stay at Maria's.
Nancy
2017-01-27T00:00:00Z
Maria's place was so cute, clean, and full of amenities. Maria greeted us warmly with a plate of fruits and was very accomodating!
Brittany
2017-03-19T00:00:00Z
Very pleasant host and neighborhood. Thank you for taking my request on such short notice!
Patrick
2017-01-23T00:00:00Z
Maria was super friendly and helpful, she made us breakfast in the morning which she didn't have to. The room was nice and clean, neighborhood is nice and quiet, we enjoyed our stay.
Joe
2017-03-26T00:00:00Z
Maria welcomed us to her lovely home with warm hospitality. Our accommodations were comfortable and private. Maria's home is wonderful and in a beautiful neighborhood convenient to the train to downtown Philadelphia. We look forward to staying with her again before too long.
Nancy
2017-02-18T00:00:00Z
Maria's home was beautiful, comfortable, warm and clean. Maria was very accommodating to our later than normal check in. Upon arrival we were warmly greeted and taken to a lovely room. Awaiting us was some wonderful fruit and water. After a long day, it was a nice treat. The next morning we were greeted with delicious coffee and the option for some lite breakfast. We will certainly stay with Maria again the next time we are in the area! Highly recommend!
Dean
2017-01-29T00:00:00Z
Typ av rum
Eget rum
---
Typ av boende
Hus
---
Plats för
2
---
Sovrum
Glenside, Pennsylvania, USA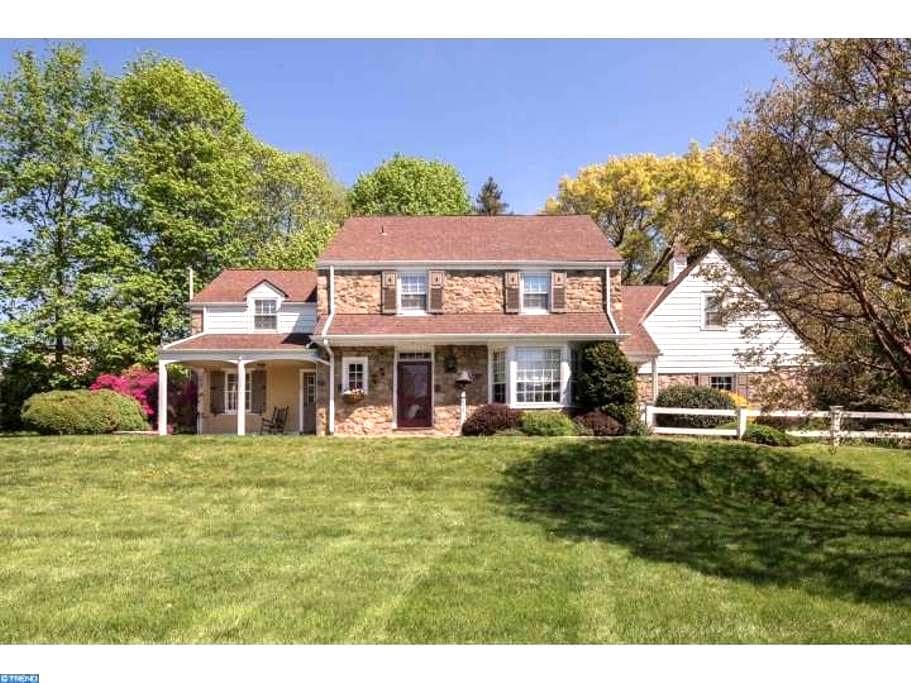 พื้นที่ชั้นใต้ดินขนาดใหญ่ที่มีเตียงขนาดควีนไซส์, พื้นที่นั่งเล่น, โต๊ะเขียนหนังสือ, ห้องอาบน้ำเต็ม, เครื่องชงกาแฟ, สมาร์ททีวีไมโครเวฟและตู้เย็นขนาดเล็ก ในพื้นที่ใกล้เคียงมากและใกล้กับระบบขนส่งสาธารณะ (เช่น Ardsley และเกลนไซด์สถานีรถไฟ)
พาร์ทเมนท์ขนาดใหญ่เช่นห้องนอนห้องใต้ดิน รวมถึงพื้นที่นั่งเล่น, โต๊ะเขียนหนังสือ, เครื่องไมโครเวฟและตู้เย็นขนาดเล็ก
My sister and her husband couldn't be happier with their stay.
Lesya
2015-09-07T00:00:00Z
My stay was very inviting. I was greeted at the door with a cheerful smile. Naomi was very friendly, as well her dog too. The house was very pleasant, and the accommodations were excellent. I ended up being busy with house and job searching, so I unfortunately didn't get to spend much time at the house or with Naomi, but nonetheless, she was always cheerful. She even invited me to a cookout, which I wasn't able to attend. The house and living area was very tidy and pleasant. I would highly recommend Naomi's home to anyone planning to stay in the area.
Timothy
2016-05-31T00:00:00Z
We thoroughally enjoyed our stay and plan to return again after a Keswick Theater show. Naomi was warm and welcoming, full of recommendations for restaurants to go for dinner and general information about the community. We appreciated her thoughtful ways, stocked mini refrigerator, snacks, coffees, teas, etc. Our room was very cozy, the bed was comfortable and all was very clean. We woke up to a delightful breakfast of artesenal bread, cheeses and fruit. Thank you, Naomi, for your hospitality.
Joan
2015-09-21T00:00:00Z
Naomi was a great host and made us feel welcome. Her home is in a lovely, quiet neighborhood convenient to the train station for travel into Philadelphia. Our accommodations were comfortable, clean, and conveniently equipped with fridge, microwave, and keurig. Naomi had generously stocked the fridge with drinks. We would definitely like to stay there again.
Nancy
2016-10-15T00:00:00Z
Great accomadations, Wonderful hostess, great breakfasts and lovely hostess.
Dale
2016-12-15T00:00:00Z
The place is a great quite hideaway to study as always. I like the new TV.
Shawn
2016-01-10T00:00:00Z
As always, a splendid experience in every way! Thanks so much Naomi!
Rich and Julie
2016-06-11T00:00:00Z
Everything about my 4 night stay with Naomi was just wonderful. The room is really spacious with a comfortable bed, sofa and chair. She provided a scrumptious breakfast each morning (thanks for that!), but many amenities are provided in the bedroom as well. And on top of all that, Naomi is delightful and interesting. I'm already trying to book back here for my trip next month. Naomi, thanks!
Rich and Julie
2015-12-11T00:00:00Z
Typ av rum
Eget rum
---
Typ av boende
Hus
---
Plats för
2
---
Sovrum
Glenside, Pennsylvania, USA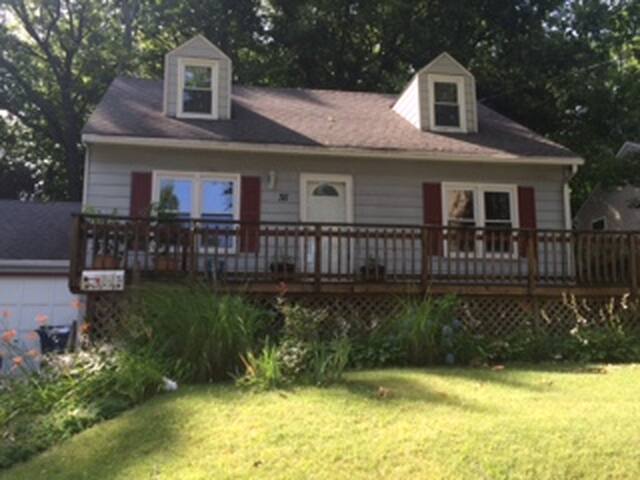 Very pleasant place, comfortable, clean and quiet. The host was friendly and welcoming. Altogether, a very positive stay.
Paul
2016-09-18T00:00:00Z
Patty was a wonderful host! Her house has a great "cottage" feel to it and I felt right at home! Patty provides you with anything you need, including restaurant suggestions and plenty of personal space. I would definitely stay here again!
Amanda
2016-09-29T00:00:00Z
Patty is super nice and her home is very comfortable. It's in a good neighborhood with easy access to the city and surrounding areas (via car or train). She gave us lots of tips regarding things to do, etc. I can highly recommend this Airbnb!
Joey
2016-12-03T00:00:00Z
Patty was a great host. She was very welcoming and even made me some tea upon my arrival! Her home was very clean and beautiful. I had a late flight arrival but Patty still worked with me and communicated often to coordinate plans. The room looks just like the pictures from the listing. Patty also talked about the area and gave me some ideas on where to spend my time while I was in town. She truly went above and beyond to be a great host, and I would definitely book with her again!
Jessica
2016-09-14T00:00:00Z
Patty was extremely nice and accommodating!! I stayed a total of two nights in her home along with a friend, and she made sure that we were confortable in her home the moment we arrived. She even went as far as making us a cup a tea before bed on our first night. Highly recommend!
Brenda
2016-08-30T00:00:00Z
Patty was absolutely awesome. She was very hospitable and flexible with my check in. She had brownies waiting in my room( loved it). offered me the most delicious butter cake ever! Well, I guess I just got lucky with the whole dessert thing. The room was very clean and the bed comfortable. I highly recommend her place if you find yourself around Glenside or Acardia university area. Thanks again patty, It was nice staying at your home.
Liah
2016-07-30T00:00:00Z
Typ av rum
Eget rum
---
Typ av boende
Hus
---
Plats för
2
---
Sovrum
Glenside, Pennsylvania, USA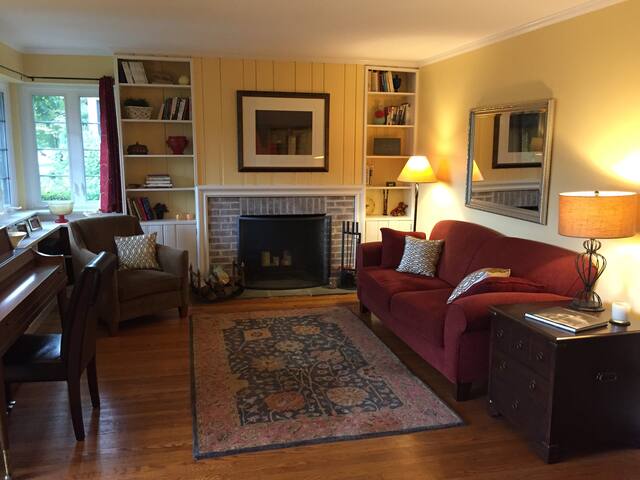 Toda la planta superior de 3 colonial historia a sí mismo. 1 dormitorio de la reina y 1 baño privado completo. Menos de 1/4 milla de la Universidad de Arcadia y 3 cuadras del tren hasta el centro de la ciudad. Menos de 1 milla a pie de Keswick Village. Grande para Arcadia / Penn / Salus verano estado o médicos Junta estudiantes.
Tendrá toda la planta superior de nuestra historia colonial de 3 a sí mismo. El dormitorio principal tiene una cama de matrimonio y el otro dormitorio tiene una completa con espacio para un colchón de aire si es necesario para adaptarse a 4 personas. Baño privado. Perfecto para movimiento en fin de semana en Arcadia, los padres de fin de semana, la convención democrática, becas médico, etc. Puesto que estamos a poca distancia de la Música Teatro Keswick, también es bueno para una estancia de una noche después de un espectáculo en el Keswick Aparcamiento en la calle.
Gran tranquilo suburbio de Filadelfia, con fácil acceso al centro de Filadelfia - 11 millas en coche, a 20-25 minutos en tren. Muy familiar. Grande para visitar la Universidad de Arcadia o pasar la noche después de un concierto en el Teatro de Keswick. Un montón de rutas para correr y / o montar en bicicleta. Keswick Village está a poca distancia y tiene café tiendas, restaurantes y bares. Gran restaurante a menos de 2 manzanas. cafetería y lugar de desayuno / almuerzo en el final de nuestra calle.
We thoroughly enjoyed our stay at Glenside. The neighborhood is quiet, walkable and felt quite safe. It was a short walk to the SEPTA train station, which made it ideal for our exploration of Philadelphia. Kate and her family were very helpful and gave us good tips for getting around, things to do etc. We felt right at home, and loved the quiet privacy of the top floor of Kate's house. The bed was comfy, the towels were fluffy, there were snacks awaiting, and cold water in the mini fridge, what more could you want
Bodee
2016-07-21T00:00:00Z
The host communicated with me very clearly, both ahead of my arrival and during my stay. I was in and out of the house at odd hours. The space was as advertised, and very comfortable for me. I was traveling alone, but their space would suit 2-3 people comfortably. I was there during the last weekend in August, with seasonable temperatures, and the ceiling fan kept the third-floor space cool enough. Temperature may be a concern during a hotter period.
Steve
2015-08-31T00:00:00Z
My husband and I only needed a place to lay our heads and shower while visiting our daughter at college. This is exactly what we got. Quiet and peaceful with no interruptions.
Barbara
2016-10-10T00:00:00Z
Kate's home is a quaint, little home on a quiet street. It's a perfect place to stay if you need access to Arcadia University because it's unbelievably close. She does have a dog, but it was kept in its crate and didn't bother me at all. The rooms are on the third floor, and the hallways are narrow (so be prepared to lug a suitcase up a few flights of stairs and around tight corners). It can get a little warm in the upstairs rooms, but there is a window cooling unit. They provided me with wifi and complementary water bottles, and there was a mini fridge in the room I stayed. There is a faint old house smell, which is to be expected, other than that the rooms are clean and quiet. Kate is a very kind hostess and even made me coffee that morning! Her family is very respectful and kind, and I felt safe in her home.
Kamala
2016-10-19T00:00:00Z
We had a great visit at Kate's place. Water and towels were provided. There's a fridge inside one of the rooms. Everything looks clean. Her husband came out to greet us and offered to help with luggage. Thank you for the stay.
Khanh
2016-10-23T00:00:00Z
Clear and quick communication before and during our stay, Kate and her family were just wonderful! It was the perfect location for attending a show at the Keswick in a great neighborhood!
Kathleen
2015-12-15T00:00:00Z
This was my first time ever using this service and I was really impressed. Kate was a great host and she was very accommodating. I had a hectic schedule and Kate and her family helped me every step of the way. I feel like I made the best choice selecting Kate. I will use this service in the future and hope Kate is available when I do.
Tia
2016-10-15T00:00:00Z
What a perfect stay! Kate and her family were so welcoming, and there was great communication as we arrived much later than anticipated due to traffic. My boyfriend, sister and I shared the two rooms\beds available. The place was clean, comfortable and I'm in safe suburban neighborhood. Arrived and was greeted by Kate's husband and met their love bug of a pup. Fresh towels and waters were in our rooms when we arrived, and just an overall great experience. Would recommend to any travelers through the Metro Philadelphia area. Thanks again!
Meg
2016-05-15T00:00:00Z
Typ av rum
Eget rum
---
Typ av boende
Hus
---
Plats för
3
---
Sovrum
Glenside, Pennsylvania, USA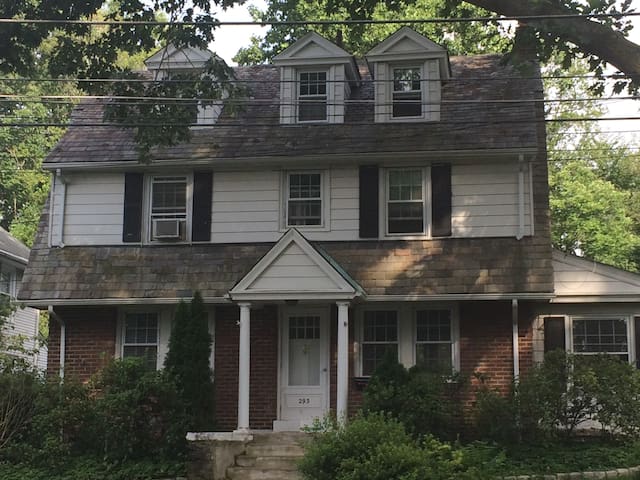 Ileen was super! The neighborhood was peaceful, and the house was super charming. Our group of five attended an artist meet up, and it was nice to take a break from that and enjoy a nice talk on the backyard porch and enjoy the weather. Ileen was very friendly, and even stocked the fridge with some goodies for us. Had a nice time.
Rodrigo
2016-05-09T00:00:00Z
My family had an incredible stay at Ileen and Tom's beautiful stone home. Ileen communicated with us ahead of time to insure our stay would be perfect. Tom and Ileen were kind and friendly, and their home is beautifully decorated and very comfortable. They left fabulous snacks, breakfast food,fresh flowers,and 2 bottles of celebratory champagne in honor of our daughter's wedding. Their home is a perfect place to entertain, and the grounds are lovely! The large hot tub is also a plus!! We highly recommend this property if you are visiting the Philly area. Also right near the train station.
Laurie
2016-06-20T00:00:00Z
Ich habe das Haus für etwas mehr als 1 Monat gemietet. Der Kontakt zu Ileen und Tom war unkompliziert und schnell. Tom hat mich freundlich empfangen und mir das gesamte Haus erklärt, als ich angekommen bin. Darüber hinaus gab es Wasser, Milch, eine Flasche Wein und jede Menge Cerealien, frisches Obst, Brot und und und. Das Haus ist riesengroß. Da ich einen Teil des Aufenthaltes zusammen mit einem Kollegen dort gewohnt habe, haben wir Wert auf Privatsphäre, d.h. neben eigenen Schlafzimmern (logisch) auch separate Bäder. Das hat sehr gut funktioniert, da das Haus über insgesamt 4 Schlafzimmer und 3 Bäder verfügt. Ein Badezimmer ist en suite direkt am Hauptschlafzimmer, ein weiteres teilen sich die drei "Kinderschlafzimmer". Das Hauptschlafzimmer hat ein Kingsize-Bett. Ein Zimmer ein Einzelbett und die beiden anderen jeweils ein Queensize. Alle Schlafzimmer sind im ersten Stock, der sowohl vom Entree (vorderer Eingang überdacht mit Sitzgelegenheiten) als auch von der Küche aus erreichbar ist. Im Erdgeschoß befinden sich dann ein Arbeits-, ein Wohn-, ein Eßzimmer sowie eine große voll ausgestattete Wohnküche mit Spülmaschine, Riesenkühl-Gefrierschrank, Mikrowelle, etc. Da ich alleine bzw. zeitweise zu zweit dort war, reichte das Geschirr und Besteck aus. Wenn man mit einer kompletten Familie dort ist, wird es sportlich, aber Tom und Ileen werden da sicher helfen. Meine Frage nach einem Grill wurde prompt mit einem neuen Webergrill beantwortet. Neben der Küche ist ein Raum mit Waschmaschine und Trockner, sowie das dritte Badezimmer. Praktisch, man muss nicht immer nach oben gehen, wenn man tagsüber mal auf die Toilette muss. An die Küche schließt sich eine große Holzterrasse mit ausreichend Sitzgelegenheiten an. Von dort aus gelangt man auch in den Garten ( viele Vöglen, Eichhörnchen und Kaninchen). Für mich allein war das Haus definitiv zu groß ich habe mich zeitweise etwas verloren dort gefühlt. Wenn man mit einer kompletten Familie dort ist, passt das jedoch sehr gut. Der Speicher und der Keller sind ziemlich unordentlich - braucht man aber i.d.R. ja auch nicht. Das Haus war sauber, wenn auch in Teilen unordentlich und ziemlich mit Möbeln voll gestellt. Wenn man jedoch in einem alten amerikanischen Steinhaus (1906) mit familiären Flair wohnen möchte, ist man hier gut aufgehoben. Ich würde es nicht mehr mieten, was aber überhaupt nichts mit Tom und Ileen zu tun hat. Es ist einfach zu groß! Die Lage - fußläufig zum Septa-Bahnhof (samstags ist dort ein Farmermarkt) ist gut. Die Nachbarschaft ist alteingesessenes Klientel in freistehenden Einfamilienhäusern. Die Gegend ist ruhig, ansprechend und sicher. Philadelphia Downtown ist ca. 20-40 Minuten (je nach Verkehrslage) erreichbar. *** I rented the house for a little more than 1 month. The contact Ileen and Tom was quick and uncomplicated. Tom has received me warmly and told me the whole house when I arrived. In addition, there was water, milk, a bottle of wine and lots of cereal, fresh fruit, bread and so on. The house is huge. Since I have lived a part of the stay with a colleague there, we value privacy, that besides own bedroom (logically)...
Uschi
2016-07-30T00:00:00Z
Tom met us at the Glenside station (we didn't rent a car for this trip ... the train takes you from the airport to the house, basically) and took the time to show us the town, point out the best restaurants, suggest where to shop, and more. At the house he showed us all the ins and outs of this great property. The house is incredible. Three bedrooms, perfect for a traveling family or friends. One king bed, one queen, and one full. All perfectly comfy. Lots of bathroom space for everybody, a big kitchen, and of course the hot tub. You won't run out of stuff to read thanks to their extensive book collection. If the weather is cold, you can curl up next to the fireplace and lose yourself in words. A great stay.
Jason
2016-03-06T00:00:00Z
What a fantastic experience! Tom and Ileen went above and beyond to ensure our ease and comfort. The house was beautiful inside and out, morning coffee together on the porch with the beautiful flowers and quiet neighborhood with my family truly made it a home away from home! The easy walk to the train made city travel convenient plus only 2 stops from my brother's place for his birthday celebration made it perfect!
Renee
2016-06-06T00:00:00Z
We had a wonderful stay at Ileen's place! Ileen was impressively responsive both before and during the stay and provided lots of resources in the house to get oriented, incl. a welcome book with house and neighborhood info, detailed cards for all the kitchen drawer contents, and ready availability by text/phone. She met us at the house on arrival and walked us thru it herself AND left flowers, a cookie/candy tray plus said we could make use of food in the house during our stay. ( Also had a full array of spices and enough cooking items to really cook) The house was an old gracious, rambling wood and stone beauty,as pictured, with 4 bdrms, 3 bathrooms and lots of space downstairs to array our 6 grownups and 1 2 yo. It was flush with architectural and design features and it's filled with wonderful, art, photos, intriguing curiosities and books I'd like to have read - it felt like visiting an old friend's comfortable home. The backyard and deck were a treat, especially for our grand-daughter. We never got to use the hottub. The neighborhood was very nice to walk through, with a nearby (small) park, restaurants and stores nearby, safe and with a neighborhood bar, the Blue Comet, that our adult kids adopted and liked a lot. Great place, wonderful hosts - we'd love to come back any time we have a family crowd.
Arlene
2016-10-01T00:00:00Z
Our host made us feel very welcome - answered all questions prior to our visit and was helpful on our check-in time. The home was very spacious, clean and in a quite, peaceful neighborhood. Though within walking distance to train station, which we didn't use, we never heard the trains. We were in the area for my daughter's wedding and this house allowed us to have a home base. The home has a very large eat-in kitchen which provided us plenty of space to work on all the flowers for the wedding. There was also space for all the bridal party to get their hair and make-up done. The beds were very comfortable and the many bedrooms nice sized bathrooms allowed for many family members to stay at the home. Neighborhood was very nice for walking my dog and the deck and back yard provided a peaceful place to relax the feastivities. Hosts were very warm and responsive. Beautiful home in a peaceful neighborhood close to wedding venue. All in all the home was prefect for our needs and made the out of state wedding much more homey.
Virginia
2016-10-31T00:00:00Z
Typ av rum
Eget hus/egen lgh
---
Typ av boende
Hus
---
Plats för
8
---
Sovrum
Glenside, Pennsylvania, USA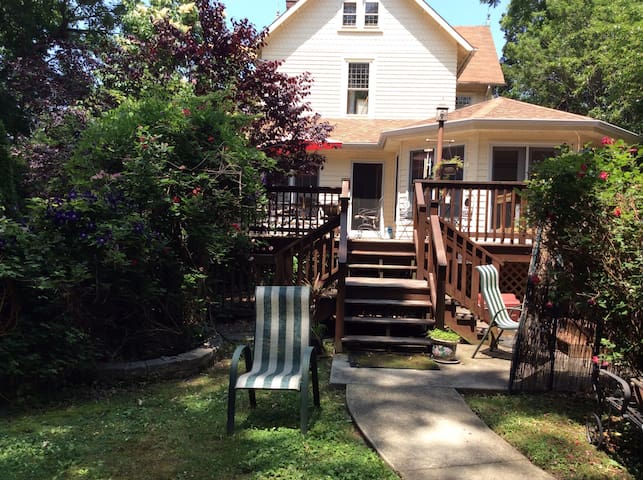 Va a encontrar un hermoso oasis de tranquilidad en un entorno suburbano que todavía está cerca del centro de Filadelfia. Hay un montón de restaurantes y locales de restauración, actividades familiares, y cerca del transporte público Te encantará mi lugar porque es uno de una clase! Soy un artista de paisaje y la bienvenida a todos los huéspedes para disfrutar de todo el edificio y pasar tiempo al aire libre en mis jardines botánicos. Cada esquina tiene un toque artístico - un lugar para llamar a casa en su viaje en un lugar acogedor!
Tanto si regresa después de un viaje de negocios o está viajando a través de la zona, se encuentra un hermoso lugar tranquilo para alojarse en una habitación privada acogedor. La mejor parte de la casa es que está situado en un exuberante jardín botánico de la propiedad la que le animo a todos nuestros huéspedes a disfrutar.
Hay muchos restaurantes y zonas comerciales. Cerca de transporte público. Cerca del centro de la ciudad.
Once again, the best host I've come across. Anyone who is near this area needs to stay with Roberto. The botanical garden is gorgeous and peaceful, the house and room are fantastic, and Roberto is a terrific host. Stay at his place!
Matthew
2016-08-12T00:00:00Z
Perfect 7-night stay in Roberto's home! He is gracious, kind, friendly and accommodating. His home and property are remarkably calming. Access to the kitchen is totally flexible. We shared a few meals as well. Two big bonus points: an espresso machine and fresh eggs from his 6 chickens in their chicken coop...AMAZINGLY delicious. The bedroom is cozy, the twin bed is very comfortable. The bathroom is very clean and the shower has good water pressure. I arrived late on my first night and Roberto was easy to communicate with via text. As soon as we met and shook hands, I knew I was in a good place. Easy access to public transportation. Parking available on property. And a very good grocery store is 1-mile away. Chestnut Hill is 3-miles away. Great strolling town for restaurants, galleries, and live music at night. I highly recommend Roberto's place...he is a man of ease and joie du vivre, which reflects in the warm vibe of his home. A daily stroll on his beautiful property is a must! It's a perfect place to decompress!
James
2016-09-06T00:00:00Z
Roberto was a terrific host. I felt right at home and completely comfortable at his house. He was the friendliest and most accommodating host I've come across. The botanical garden is beautiful and a very peaceful way to end your day. I would highly recommend his place to anyone that is staying in the area.
Matthew
2016-07-30T00:00:00Z
Typ av rum
Eget rum
---
Typ av boende
Hus
---
Plats för
1
---
Sovrum
Glenside, Pennsylvania, USA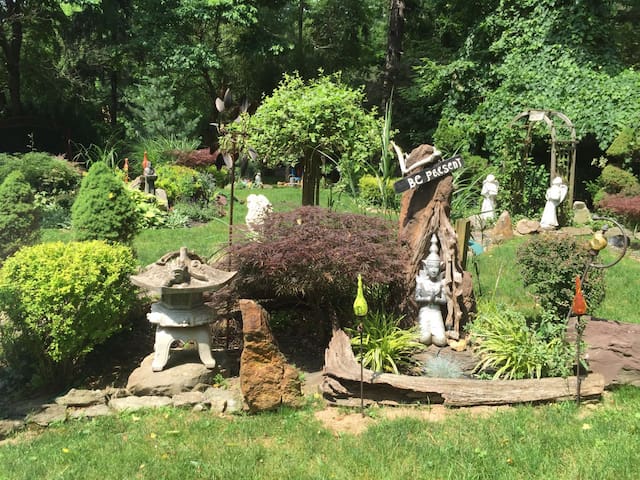 Joe was very welcoming and accommodating. The home is beautiful and in a lovely neighborhood, with plenty of parking. It was a pleasant walk (about a mile) and easy train ride to Center City.
Stephanie
2015-03-29T00:00:00Z
We had a great stay. Joe has a lovely home in a nice neighbourhood. We had no problems getting the direct train into Philadelphia either (20-30 minutes $11 return). The room is spacious and we had private use of the bathroom. Joe is a fantastic host making us feel at home and offering us refreshments. We really enjoyed chatting with Joe too, he's an interesting and nice guy!
Samantha
2016-07-29T00:00:00Z
My stay was great. Joe greeted me and made me feel comfortable right away. He let me know where everything was in town and I was within walking distance to all that I needed. The walk was lovely. The bed was very comfortable. Thanks Joe.
Karen
2016-10-10T00:00:00Z
Joe was a friendly & gracious host. His house was well decorated with an Afro-centric them from his vast traveling. His place was spaious. The bed was omfortable w/ a firm mattess. I enjoyed acess to a pvt. bath & he had a nice eat in kitchen to prepare meals. I would highly recommend staying with him if yo travel on business to this area as I did. Also, his neighbothood is very residental you will feel very safe during you stay there.
Joseph
2016-11-10T00:00:00Z
Joe was a great and welcoming host with a beautiful home. He made our stay easy and comfortable. Also very close to the train into Center City which was convenient. Everything was perfect!
Danielle
2016-09-06T00:00:00Z
We were in town, unfortunately for my father's funeral. and needed a place to stay close to my family. Joe was a great host, and made me welcome and at home. He even let us use his computer and to print out airline boarding passes. The home and bedroom was as advertised and was comfortable. Great location within walking distance of restaurants in Glenside and Glenside train station, where you can take a train directly to Philly.
David
2014-09-27T00:00:00Z
This was a great experience, close to campus and train station. The host was welcoming me even though I arrived 3 a.m. Very clean and comfortable, the description for the place is correct. Full 10 points and more!
Mervi
2015-07-09T00:00:00Z
This was the perfect place for me to stay for the event I was in town for at the old Kenswick theater. Joe is a lovingly caring soul who enjoys people and life; and if you're tune into it, feel it. Thought provoking decor throughout his home that stimulates beautiful spiritual energy, and evokes calming peace. Spacious living room for meditation and yoga. I walked into town and it was maybe 10 minutes or so. Pretty area, so the time went so fast; which is to say I would have liked more time there. Very clean every where here for those wondering and ALL tended to just perfectly.
Wenche
2014-11-21T00:00:00Z
Typ av rum
Eget rum
---
Typ av boende
Hus
---
Plats för
2
---
Sovrum
Glenside, Pennsylvania, USA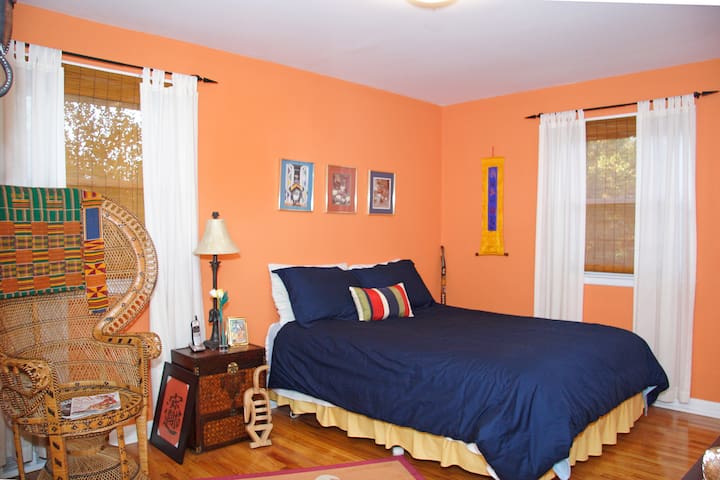 La casa está situada en un barrio seguro y tranquilo de las afueras de Filadelfia, y 10 millas de distancia del museo de arte. Chestnut Hill estación de tren del oeste es de 1,5 milla de distancia, 10 tren pasa por se incluyen los dos días!
Nuestra casa es muy limpio y en un barrio fantástico! Nosotros proporcionamos un desayuno continental y usted será capaz de utilizar utensilios de cocina, según sea necesario. pisos de madera. Nueva cocina. 3 dormitorios-2 con colchones completos y 1 con una reina. El salón tiene una sección plana y televisión de pantalla. El estudio tiene un sofá que es tan grande como una cama doble cuando se sacan los amortiguadores. mesa del comedor se sienta 6, también hay una mesa de bar en el foso que se encuentra 2. interior es hermoso, se abre a los campos de fútbol municipales, gran vista de la noche! También outback tenemos una parrilla con muebles de exterior. Barrio es muy tranquilo-y muy seguro !!
Estamos ubicados en Wyndmoor, Pensilvania. Aproximadamente a 10 millas del centro de la ciudad de Filadelfia. Durante la visita del Papa a sólo unos estaciones de trenes regionales se están ejecutando, estamos a 1,5 millas de distancia de uno que es, Chestnut Hill West. Chestnut Hill es una ciudad hermosa e histórica de Filadelfia conocido por sus calles empedradas, restaurantes increíbles, bares, heladerías y tiendas de ropa / muebles pintorescas.
Typ av rum
Eget hus/egen lgh
---
Typ av boende
Hus
---
Plats för
10
---
Sovrum
Glenside, Pennsylvania, USA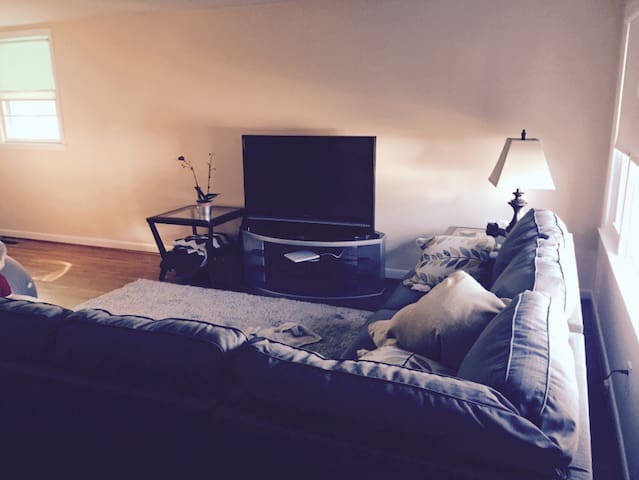 Hermosa casa individual con 3 recámaras, 2.5 baños, L / R, D / R, cocina, sala de sol, Alta y Baja patio con vista panorámica, sótano completo con aleta facil de lavandería, cable e Internet, Cent. C.A. Todos los días incluido servicios de limpieza. Pub acceso Transp. Las solicitudes Negoc.
Typ av rum
Eget hus/egen lgh
---
Typ av boende
Hus
---
Plats för
6
---
Sovrum
Glenside, Pennsylvania, USA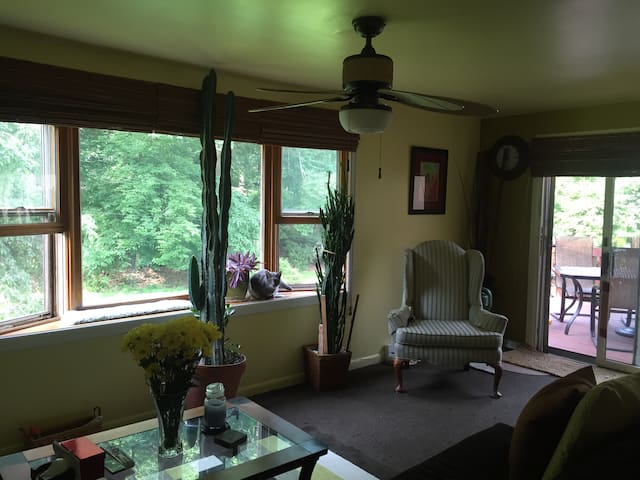 1

–

18

av

300+ Boenden att hyra
Ange datum för att se full prissättning. Ytterligare avgifter tillkommer. Skatter kan tillkomma.