Ange datum för att se full prissättning. Ytterligare avgifter tillkommer. Skatter kan tillkomma.
My place is close to all of the local restaurants. Just a 10 minute drive will place you in the heart of Downtown Monroeville and all of the city's rich history. You'll feel right at home in this Alabama abode. With brand new appliances and furniture, all that is missing are some happy travelers. My place is good for couples, solo adventurers, business travelers, and families (with or without kids).
Typ av rum
Eget hus/egen lgh
---
Typ av boende
Hus
---
Plats för
4
---
Sovrum
2
Monroeville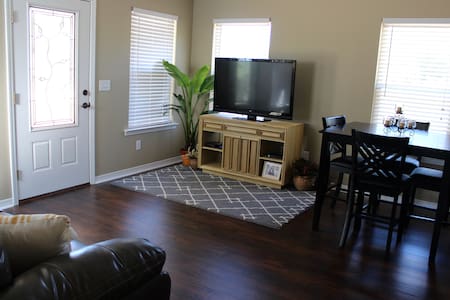 Apartment in my home in the country surrounded by farm land and timber land. This is South Monroe County. It is about 17 miles N. of the Creek Indian Casino. Towns around are Atmore and Monroeville. Close to Claude Kelly State Park. under 12 free. There is one queen size bed in a private room. The couch is not full size but would be good for a small person. One twin air mattress. PLEASE READ...this is an apartment and not bed and breakfast. Bring your eats Walmart and other stores 17 mi. away.
There is an apartment , pool and hot tub. Extra sleeping can be had with twin air mattress and the couch. Not much...I have to work a lot.
It is my home located in a farming area. You have to have a car. I am close to Wind Creek. It is 75 mile to Pensacola and 88 miles to Gulf Shores.
Perfect experience from beginning to end. Great fast communication with Ronald. We stayed several days and enjoyed cooking out on the grill, relaxing in the hot tub and even swimming in the pool. This place is out in the country and let me just say the stars at night were big and bright! We were traveling lightly so it was nice to have the washer/dryer available. Full kitchen with most everything you would need to prepare meals. Highly recommend this charming place in the country. :-)
Michael
April 2016
Ron was a very hospitable and helpful host. The accommodation was better than described - excellent pool and hot tub, spacious ans spotlessly clean accommodation with everything you need for a self-catering retreat in rural Alabama. The location is very rural and quiet, we had a lovely evening sitting in the hot tub and staring at the amazing night sky.
Rick
March 2016
Now here is a man who takes pride in the quality and upkeep of his property! Perfectly comfortable and relaxing stay at Ronald's home. He was nice enough to even drain and fill the hot tub for this party of one!
Megan
March 2016
What a find! Ronald was a warm and welcoming host and we loved the country quiet of his apartment. The hot tub outside was a big bonus that we hadn't spotted on the listing. Shame we were just passing through as could have happily stayed for days.
Ben
April 2016
This place is great! I have stayed here multiple times with the work I do, it is always relaxing, peaceful and clean. Ron is a wonderful host, he has thought of everything, love the washer and dryer! I give it two thumbs up! A GEM!!!
Tamara
July 2016
Great place for a one night stop. Clean, cozy and everything taken care of. The host communicated in a good and timely manner.
Ellen
November 2016
A little Home away from Home, as always a wonderful stay and a wonderful Host! This place is peaceful, clean and relaxing. Easy drive into Atmore.
Tamara
December 2016
Very cozy and scenic setting with a pool. A beautiful country side get away - makes for a quite weekend. Very helpful and welcoming host. Only thing to watch out is take a look at the map to locate the address. (SENSITIVE CONTENTS HIDDEN) maps and TomTom GPS were not very helpful and we had to call the host to locate the place
Venkat
July 2016
Typ av rum
Eget hus/egen lgh
---
Typ av boende
Lägenhet
---
Plats för
4
---
Sovrum
1
Atmore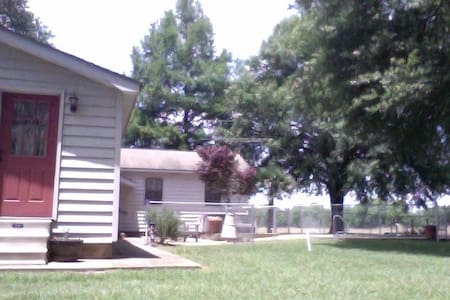 One bedroom with an small kitchen and dining. You have your own private bath area. It is the same location as the other apartment with the same outdoor photo's. Close to the Creek Indian Casino, 2 parks, Monroeville's To Kill a Mocking Bird, kids under 12 years old are free. There is one queen air bed.
The apartment was remodeled in the last months of 2015. There are a lot of new things including the the bathroom. One large room and one small bathroom. PLEASE READ...this is an studio apartment and not bed and breakfast. Bring your eats Walmart and other stores are 17 miles away. You have shared access to the pool and hot tube. There is also a gas and charcoal grill. I'm usually at work.
This is a farming area. Please see my other listing. I do not wish to copy and paste here. You will need an auto. There is no pubic transportation. Large trash container on the west side of the house and it goes out on Thursday.
What a fantastic stay! First of all, despite being relatively compact, the room feels spacious by way of its design, with the fireplace and bookshelves on opposite walls giving the sense of an old living room where you'd expect to see dad in his smoking jacket watching the fire crackle. Which gets to the point - if you're looking to be surrounded by a simpler world than the city's been giving you, you can heal your spirit out here - sing along with the cows, take a walk down a dirt road or along some railroad tracks... get a little lost driving around, you'll just run into more people waving at you from their cars and porches as you drive past. Washer, Dryer, mini-stove, microwave, fridge, ice maker, toaster oven... all packed nicely into one corner and very easy to access. Seriously, I can't say enough about how intelligently-designed this space is - everything feels separated despite being a few inches or feet away. If you need to go shopping, there's a town about 20 minutes up the road. I didn't take advantage of the pool or grilling area, but they're both quite worthy of being put to good use. Ronald himself is awesome - he was always available but I felt private and the 'tranquility' of the area was rarely interrupted, except occasionally seeing him go by on his riding mower. Always friendly when we interacted, he's a professional builder and clearly loves what he does. Cozy bed, nice sheets, lots of pillows - just a comfortable place overall. If you need to get away or want to visit the casino down the road or other nearby attractions, this is absolutely a great place to stay. If you want a little larger place, he also has a 1BR as well. If you found it, book it. You've got the right one :)
Brian
April 2016
Ron's place is perfect for a quiet getaway. I can't wait to go back!!
Gregory W
March 2017
Ron was very accommodating. The apartment is in a beautiful setting and feels very relaxing. Out of the way of busy traffic and towns, you can really unwind. Highly recommend to go off the beaten track to stay here. Excellent.
Alex
April 2016
We had a lovely stay at Ronald's apartment! It was clean, very spacious and had all the appliances we needed including a washing machine and dryer. Ronald is very nice and helpful, he made us feel very welcome. The house is in a very remote, peaceful area which makes it a great getaway, but make sure your satnav takes you down the correct route! Ours tried to take us through a lot of dirt tracks. Overall, perfect!
Em
June 2016
One of those Gems on Air Bnb. Ron was incredibly welcoming, he gave us a bottle of wine and told us all about the area. The pool and Jacuzzi were perfect after a day of driving. The photos don't do the place justice - it's huge! and the bed is super comfy. Highly reccomended
Philip
June 2016
We had a really pleasant stay, even if it was only overnight. The apartment was very clean and comfortable. Ronald was a really gracious host as well.
Ginny
April 2016
Ronald's AirBNB was fantastic! A perfect getaway for an individual or family for a day or a week if you want peace and quiet. Oh, and cows.
Alexander
June 2016
This is a really wonderful little gem of a place out in the country. Ronald has obviously put a lot of heart and soul into fixing this one room apartment up with built in cabinetry, a comfortable bed, nice decorations and all the things you need for a short or long stay. We were super comfortable and enjoyed talking with our host. Highly recommend this place as a great alternatives to a hotel room that would cost almost twice as much and not be nearly as nice. It's located less than 20 minutes from the hotels in Atmore at the Interstate exit.
Brian
May 2016
Typ av rum
Eget hus/egen lgh
---
Typ av boende
Lägenhet
---
Plats för
2
---
Sovrum
1
Atmore
French Country home with private guest suites with kitchenettes and ensuite bath. Private rooms with private or shared baths depending on availability and Aunt Sissy's Cottage, a turn of the centry 2 BR/1BA Farmhouse. Rates are per room at main house. Aunt Sissy's Cottage rates are $150 per night which includes 2 bedrooms and fully furnished cottage with kitchen.
Lush gardens where colorful pecocks roam. Free WI-FI, Laundry facilities
Wind Creek Casino, Movie theater, Bowling alley, Magnolia Branch Recreation Area Quick access to I-65 and direct routes to the beaches
Foster is like your fantasy host: organized, clear, kind, and fantastically thoughtful. From the basket of crackers and water bottles in the room, to the hefting of my bag over uneven flagstone, to a five-star breakfast, he demonstrated professionalism across the board. The home is spacious and charming; the location is unbeatable, and the fruit trees, irresistible.
kathryn
November 2016
Typ av rum
Eget rum
---
Typ av boende
Bed & Breakfast
---
Plats för
4
---
Sovrum
1
Atmore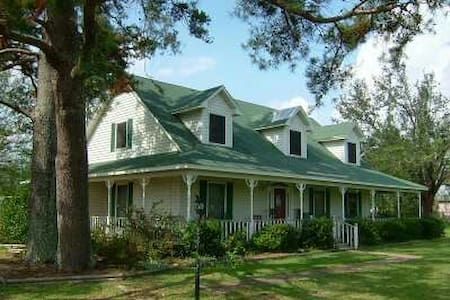 My nice and cute home with king size beds is proudly welcoming her guests.
Typ av rum
Eget hus/egen lgh
---
Typ av boende
Hus
---
Plats för
6
---
Sovrum
3
Vinegar Bend