39 Uthyrningar av lägenheter
Rated by Money magazine as the #4 best place to live in America, 3 mins away from plazas, restaurants, movies, all kind of shops and grocery stores, enjoy the luxury of having everything closer
Professional environment, contemporary decoration, very clean and neat apartment, respectful interaction
Beautiful, quiet, peaceful, safe
Excellent place to stay and a nice community. Would highly recommend
Stuart
2016-12-14T00:00:00Z
Immaculately kept apartment. Just as advertised.
Jeff
2016-12-23T00:00:00Z
Melina was a very good host! She made me feel at home. The home was very clean and comfortable. Also close to restaurants and grocery stores. If you're considering this place, you won't disappointed. I'd definitely recommend!
Asik
2016-10-16T00:00:00Z
The neighborhood is peaceful and secure. The room is really nice, clean and with enough space. It has a big walk in closet. The bathroom is private and very clean, she offered towels. All the house is very clean and in very good condition. I didn't use the kitchen because I prefer to respect that privacy, but it always looks clean. I stayed a week and have the opportunity to talk with Melina a few times. She's a great host, nice and smart woman, very polite and friendly. My first language is spanish and hers too, that make me feel more at home, but she also speaks english. Based on my experience, I highly recommend Melinas place. It was like home away from home! El barrio es tranquilo y seguro. La habitación es muy bonita, limpia y con suficiente espacio. Tiene un gran espacio en el armario. El baño es privado y muy limpio, ella ofrecía toallas. Toda la casa está muy limpia y en muy buenas condiciones. No usé la cocina porque prefiero respetar esa privacidad, pero siempre se ve limpia. Me alojé una semana y tuve la oportunidad de hablar con Melina unas cuantas veces. Ella es una gran anfitrióna, agradable e inteligente mujer, muy educada y amable. Mi primer idioma es el español y el suyo también, lo que me hizo sentir más en casa, pero ella también habla inglés. Basado en mi experiencia, recomiendo encarecidamente este lugar. Fue como estar en casa lejos de mi casa!
Jose
2017-01-04T00:00:00Z
I had a great stay and it was exactly what I wanted. Private, close to the course I attended, kitchen and laundry access... and an excellent host. Thank you sooooo much for opening your home and letting me stay. It was perfect! :)
Rebecca
2016-11-07T00:00:00Z
Typ av rum
Eget rum
---
Typ av boende
Lägenhet
---
Plats för
1
---
Sovrum
Heathrow, Florida, USA
Si necesita una hermosa casa de vacaciones fuera de casa en el céntrico Longwood, Florida, entre Disney World y Daytona Beach con un servicio de conserjería quedarse con nosotros. Los buzos son bienvenidos, echa un vistazo a mi página web adventuretripsflorida.
Pretty awesome place to stay. Area is quiet and safe, our host greeted us outside, gave us a tour and was very accessible. Might just do this every year
Irving
2016-10-16T00:00:00Z
Great place, beautiful. comfortable and spotless!
Sharlene
2017-03-01T00:00:00Z
Laszlo was quite an accomoodative host. We had one extra person and he had no problems in getting an airbag. He had kept the house real clean, along with clean towels and clean bedsheets and it was a very pleasant stay. The house is pretty big and spacious and easily accommodates 5 people. I highly recommend this place
Dhruv
2015-12-29T00:00:00Z
It is a nice house and we feel very good
haobing
2016-01-05T00:00:00Z
This was my first AirBnB experience. Everything was great, from Laszlo's son greeting me on the evening of my arrival to the wonderful clean accomodations and lovely residential area so conveniently located for me. Laszlo was gracious enough to allow me to plug my electric volt in each evening so that I was able to avoid having to buy gas during my stay, something I have never been able to arrange at any commercial motels. I had my own private entrance so it was about as close as you can get to a home away from home. The kitchen area is not elaborate, but was more than adequate for my needs as I only needed a place to keep a few things refrigerated and to make coffee in the mornings. The accomodations were more comfortable, less expensive and more spacious than the large chains I have used on past visits to the area. Because of the privacy and the neighborhood, I especially appreciated that I felt more comfortable leaving my personal belongings each day than I ever have at any other accomodations. Great experience overall. I look forward to staying here again on my next visit.
Gary
2016-05-15T00:00:00Z
Brian
2017-03-27T00:00:00Z
The home was fantastic and included everything we could possibly need! It was a much better than staying in a hotel and had a very personable feeling. I would highly recommend this unit to anyone. We will definitely stay here on the next trip down; thanks Laszlo!
Chris
2016-02-12T00:00:00Z
Beautiful, clean apartment with everything you need. Stovetop, basic cookware, fridge and freezer, wet bar, two giant bedrooms each with their own bathroom and shower. Nice comfy couches. Only negative was the Wi-Fi connection was kinda spotty. Great place for a very fair price and the owner is very nice and accommodating.
Eitan
2017-02-12T00:00:00Z
Typ av rum
Eget hus/egen lgh
---
Typ av boende
Lägenhet
---
Plats för
4
---
Sovrum
Longwood, Florida, USA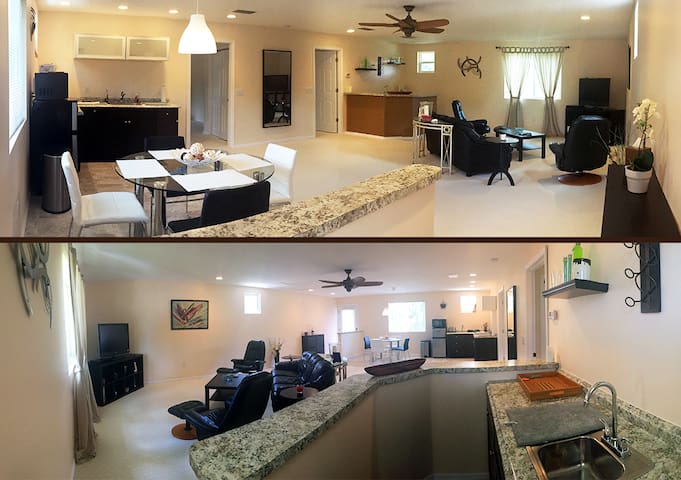 Welcoming, spacious apartment for your Orlando getaway! Plenty of room in your walk-in closet, make yourself at home! Take advantage of a full kitchen. Enjoy the gym and pool! Guests of all backgrounds welcome :)
Located on the second floor of an apartment building near an entrance with an elevator. Queen-size bed. Free Wifi. Kitchen includes stove, oven, microwave, dishwasher, Keurig, fridge. A washer/dryer unit is available in your private bathroom.
The neighborhood is very quiet with a few fast food and nice restaurants. There is a large sports complex with an ice skating rink (we can get you a free 3-day pass). Shopping area 10 minutes away.
Very cosy & comfortable.
Thomas
2017-04-03T00:00:00Z
Trevor, fue excelente anfitrión, excelente estadía, fueron días muy gratos y de mucho compartir de diferentes conversaciones. Excelente habitación y baño muy amplio, fácil acceso, bello edificio con piscina y gimnasio. Cuando volvamos a Orlando, no hay duda de quedarnos de nuevo en nuestro nuevo hogar de Trevor. Mil gracias por todo.
MARBELLA
2017-04-10T00:00:00Z
this place is extremely spacious. you have a private bedroom and bathroom fully separate from the rest of the place (with a lockable door), full walk in closet, even a washer and dryer in your private section. also, trevor communicated well during check in and check out and was flexible with the timing too.
Nicholas
2017-03-31T00:00:00Z
Trevor has an amazing room. Nice queen bed with soft sheets and pillows. Room had a huge walk in closet and iron board just in case. The bathroom is connected and it also has a washer and dryer! Trevor even puts detergent in there! He has fresh towels for me and water in the fridge! We watched movies together and he felt more like a friend then a landlord. The price is amazing but what you get is even better!! I'm afraid if I talk about him too much he won't be available when I want him :) All around awesome stay
Tiffani
2017-03-30T00:00:00Z
The host canceled this reservation the day before arrival. This is an automated posting.
Travis
2017-03-23T00:00:00Z
Typ av rum
Eget rum
---
Typ av boende
Lägenhet
---
Plats för
2
---
Sovrum
Orlando, Florida, USA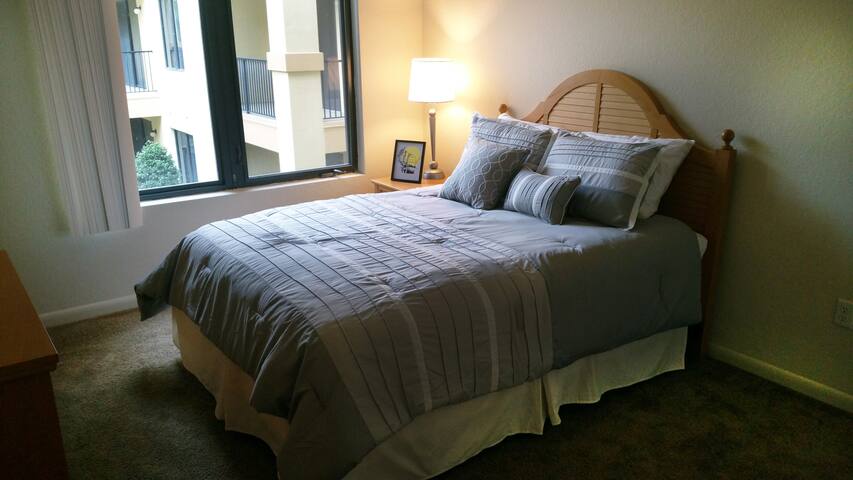 A one bedroom apartment with 1 bathroom. Gated community. Pool and workout facilities. My place is very Near to the downtown area and shopping. The complex has coin operated laundry facilities. You are welcome to cook. Mi Casa es tu casa.
The complex has a private security entrance. All guest must be let in electronically. I have a roll away bed & an air mattress. My unit is on the 3rd floor. There are no elevators. Great way to work out.
My space is close to downtown and the Amway Center, shopping and other fun activities.
Renay approved and responded quickly. She was easy to communicate with and saved us because we needed last minute accommodations. The apartment was extremely clean and decorated nicely. She stayed in communication throughout our stay from time of approval, when we arrived and through checkout. It was a great stay!
Krysten
2017-02-26T00:00:00Z
The home was better than described. They left nothing to chance. This is what (URL HIDDEN) is all about. I would recommend this place to all. It was very clean, accommodating, seamless, you name it they already thought of it. A bigger thank you to the hosts. ;}~
Ritchy
2017-03-10T00:00:00Z
My wife and I enjoyed staying at Renay's. The apt was clean and quiet. Renay was a great host and made herself available for any questions we had. We would definitely stay there again.
Aziz
2017-03-16T00:00:00Z
Renay is awesome, she was available for every question that I had. The apartment have a great location and is very comfortable. My stay was great!
Giselle
2017-03-12T00:00:00Z
It was a cute place , nice location :)
Daylyn
2017-03-05T00:00:00Z
Typ av rum
Eget hus/egen lgh
---
Typ av boende
Lägenhet
---
Plats för
2
---
Sovrum
Orlando, Florida, USA
Quiet Condo Oasis on the north side of Orlando. Private room with private bathroom. Tommy Bahama-styled decor throughout the condo. Gated community with on-duty guard. Resort style pool and water front patio.
Easy I-4 access. Just 10 minutes from Downtown Orlando. 30 minutes to theme parks.
awesome people love the city much love Lycan
Lycan
2016-06-20T00:00:00Z
Elysse was a good host responded fast at the last minute .Her place is worth nice and very clean.Bed was very comfortable and it was in a good area very safe.Thank You Elysse for hosting me at the last minute,I would recommend your to place to anybody.
Brian
2016-06-22T00:00:00Z
Elysse and Leafar were absolutely great! Elysse even waited for us to arrive after midnight due to our late flight - thank you so much Elysse! We loved our stay with them and would definitely due it again!
Dorian
2016-10-09T00:00:00Z
Typ av rum
Eget rum
---
Typ av boende
Lägenhet
---
Plats för
2
---
Sovrum
Orlando, Florida, USA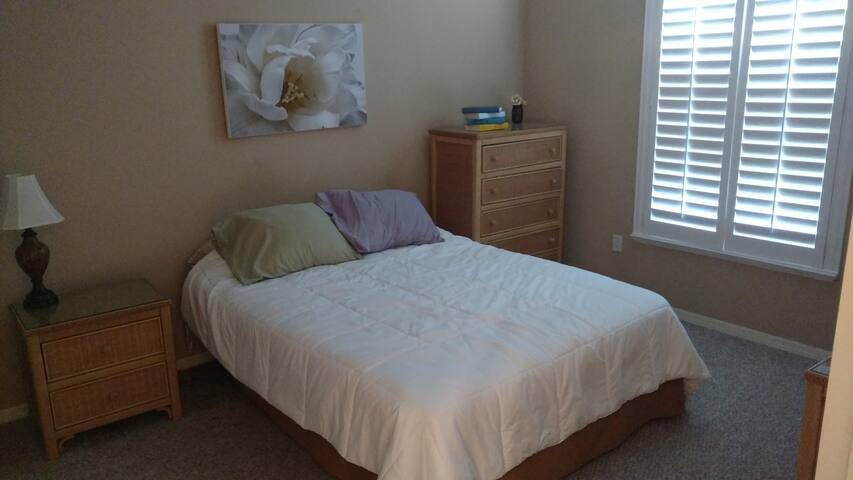 Located in a family friendly neighborhood, this Spacious apartment is 5 minutes from interstate 4. Comfortably fits 2 people, and comes with free parking. The apartment is fully equipped with everything you need to have a comfortable experience. Bedroom comes with a queen size bed, walk in closet, and a bathroom outside of it.
This is a very spacious apartment in a quiet neighborhood.
This neighborhood is quiet and family-friendly. 2 mins drive Chik fil A, Wendy's and 7-Eleven 5 mins drive I-4 E/W 5 mins drive Publix supermarket
Typ av rum
Eget rum
---
Typ av boende
Lägenhet
---
Plats för
2
---
Sovrum
Orlando, Florida, USA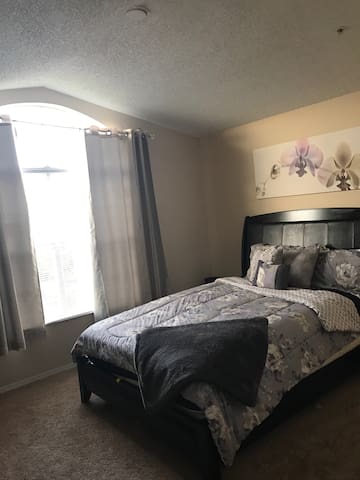 Spacious private room with a full size bed comfortable for two adults. Large smart tv in living room with Netflix and Amazon Prime and kitchen are free to use. Includes access to three pools.
The private bedroom is spacious and is connected to a private bathroom with a bathtub/shower. Linens are provided.
The apartment is minutes to a grocery store, Starbucks, Walmart, Target and other shops. There is a lot nearby! If going to theme parks, we are located: 35-40 minutes to Disney (normal traffic) 35 minutes to OIA airport 30 minutes to Universal Studios (normal traffic) 30 minutes to UCF 15 minutes to Downtown Orlando 15 minutes to Winter Park 10 minutes to Altamonte Springs
Typ av rum
Eget rum
---
Typ av boende
Lägenhet
---
Plats för
2
---
Sovrum
Orlando, Florida, USA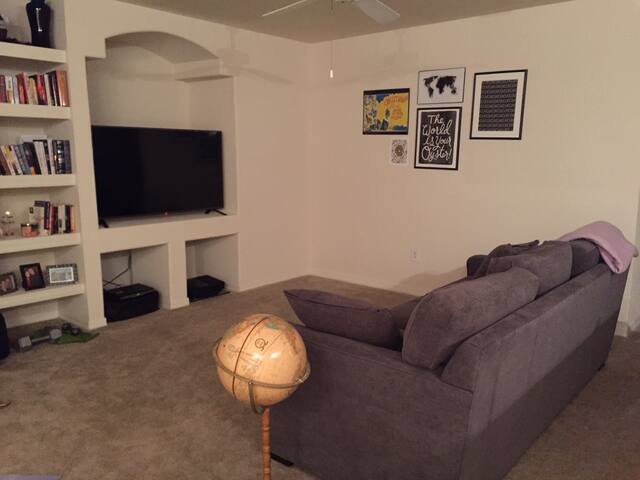 This private bungalow studio apartment has everything to offer and its the perfect spot for a quick getaway to Orlando. Just 10 minutes from the Orlando- Sanford Intl airport, 25 to downtown Orlando, 30 to Daytona and 40 from the attractions.
This newly remodeled chic apartment is a one bedroom & bath studio with beautiful laminate wood flooring. The space provides with kitchen convinces such as a microwave, mini fridge, small George Forman grill, skillet, and coffee maker directly from its custom kitchen island counter. There is a 42' LED TV with cable and HDMI hookup, you can watch from the kitchen bar or from your bed. The bed is a comfy full size - there's also an air mattress provide for guest who request one. This apartment is an extension of the main house but not connected so very private with it's own entrance.
Sanford Florida is located just north of Orlando. It's a small big town with lots of fun things to do including the River walk, fantastic restaurants in downtown Sanford, lots of parks and springs to choose from. There's more to Central Florida then the theme parks!
Great little place to stay. Perfect productively niche for me! Got tons of work done. Yes, it's a lil warm in the bathroom but I just showered and kept the door closed until it was time for bed. Definitely getting saved to my favorites!
Heidi
2016-07-22T00:00:00Z
Javier as a person was great. Great communication skills, quick and clear responses, and very informative. The place was also quite serene and calm, the amenities were more than i expected and i overall rnjotec my stay. Definitely recommend it to anyone.
Markei
2016-07-06T00:00:00Z
Javier did a great job making sure we had what we needed before we arrived. The description is great; room was very clean; fresh sheets and towels. Internet worked well. The neighborhood was a nice one…felt safe.
Carrie
2015-09-01T00:00:00Z
Javier was responsive, his mom was on property and came out the second we arrived although we were late. Room was cute and small. Amenities good. Perfect value, just enough comfort and space for a pre-flight stay. Would prefer 2 real beds however.
Liz
2015-07-11T00:00:00Z
Javier Made me feel very welcome. The room was accurately described on the site. I felt safe in Javier's neighborhood.
Matthew
2015-08-03T00:00:00Z
The place is great! Javier's mom is really kind and they worry a lot to help out with anything needed. It was a great place to stay for a fun weekend in Orlando.
Andrea
2016-07-25T00:00:00Z
A nice, cozy place just as pictured! Check-in and check-out process was a breeze. Will definitely stay again!
Youlee
2017-01-24T00:00:00Z
Nice small place!
Zulema
2017-03-30T00:00:00Z
Typ av rum
Eget hus/egen lgh
---
Typ av boende
Lägenhet
---
Plats för
2
---
Sovrum
Sanford, Florida, USA
Brand new 4th floor 1 bedroom apartment w/hardwood floors, tastefully decorated and stunning pool view. Building has secure electronic keyed entrance and elevator. Quiet and beautifully furnished. Linens, dishes. Everything you need within minutes of Downtown Orlando. Shopping, bars & restaurants within a mile. Home has wireless internet, U-verse Tv, Hulu, Netflix, Amazon Prime.
It's like being in a resort every day!
Typ av rum
Eget hus/egen lgh
---
Typ av boende
Lägenhet
---
Plats för
2
---
Sovrum
Sanford, Florida, USA
My place is close to public transport, the city center, parks, the airport. Sun-rail, Sanford-Orlando Airport, Downtown Sanford and park . You'll love my place because of the location, the people, the ambiance, the outdoors space, and the neighborhood . My place is good for couples, solo adventurers, business travelers, and furry friends (pets).
Typ av rum
Eget rum
---
Typ av boende
Lägenhet
---
Plats för
2
---
Sovrum
Sanford, Florida, USA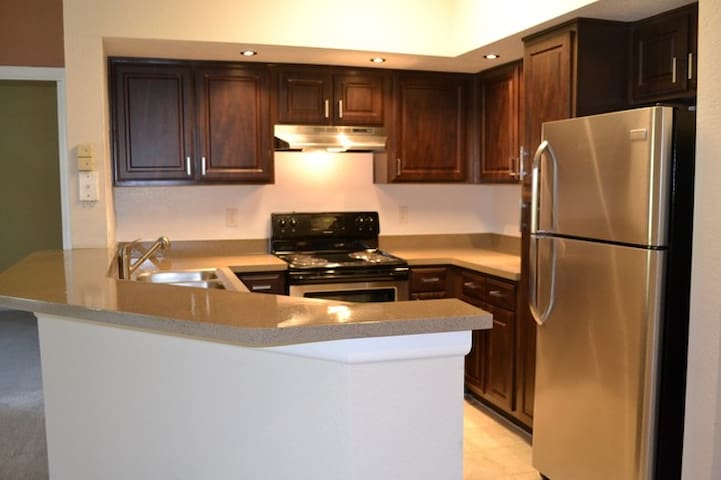 The host canceled this reservation the day before arrival. This is an automated posting.
Dustin
2017-01-16T00:00:00Z
Typ av rum
Eget rum
---
Typ av boende
Lägenhet
---
Plats för
2
---
Sovrum
Lake Mary, Florida, USA
Cute studio Apartment in detached garage located in a quiet neighborhood and a short bike ride to downtown Sanford. **Guests with pets must read below** Nearly 400 sqft, with a fully stocked kitchen, queen bed, flat screen tv with roku and leather couch with coffee table.
As mentioned, the studio is freshly renovated and boasts a comfy queen bed, a flat screen TV, walk in closet, a new kitchen with everything you should need to make a meal, a very nice bathroom with a large shower. For Guests with a child, we can either set up the couch or an air mattress to sleep on. A Winn-Dixie supermarket is within walking distance and we are within ten minutes of a multitude of shopping centers.
The neighborhood is extremely safe, quiet and close to downtown Sanford. Sanford airport is under ten minutes away. We love riding our bikes downtown for dinner and drinks. A bike ride to downtown is about 5-10 minutes while walking takes about 20-30 minutes. There is almost always something going on or something to do downtown.
We enjoyed our stay. The apartment was clean and in a great location close to downtown Sanford.
Brian and Christina
2016-01-25T00:00:00Z
Place was great. ....exactly as advertised. Clean, comfortable , and a few minutes from the sanford airport. Our stay was very short, but this was an outstanding alternative to staying at a budget hotel near the airport. Owners had ever thing set up perfect for seamless, effortless check in and checkout. A+ airbnb experience.
Matt
2015-01-31T00:00:00Z
Very good host. House was very clean and cozy. especially we liked the place. It was very quiet town. If I have chance, I would like to stay here again.
MYEONG JU
2015-05-14T00:00:00Z
I can't say enough about how clean the property was and thoughtful the hosts were. Everything was thought of. From mugs and k cups for coffee to extra shampoo and a hair dryer. It was extremely clean and full of amenities. I would definitely stay here again. We had our privacy, but also had all our questions answered. Quiet street and friendly cat that greeted us back in the drive each night. Great place to stay.
Sara
2016-09-20T00:00:00Z
Everything went smoothly, despite some hiccups on our travel plans. The hosts were flexible and helpful. The place was just what we needed - clean, affordable, and comfortable.
Brent
2015-03-23T00:00:00Z
The room was consistent with the pictures - very clean and well furnished. The kitchen area was well-stocked which was a nice surprise. Wendy and Stefan were very friendly. Downtown Sanford was a bit further away than I expected, but not a problem to get there by bike. It was nice to have a safe place to store my bike overnight.
Heather
2016-03-22T00:00:00Z
Very nice, private, guest house (garage apartment) in a beautiful neighborhood. Did not meet the Host, yet they were very accommodating and made check in easy. Would definitely come back.
Troy
2016-05-09T00:00:00Z
Wendy & Stefan were great hosts and provided all the information needed for a relaxing & private short stay. Accommodating to my early arrival request and biker friendly as I wanted to make sure my Harley was parked out of view from the road. Very cozy and quiet room for someone traveling alone or as a couple. Quiet neighborhood and still close enough to town. I hope to stay there again and would highly recommend them to anyone.
Art
2015-11-09T00:00:00Z
Typ av rum
Eget hus/egen lgh
---
Typ av boende
Lägenhet
---
Plats för
2
---
Sovrum
Sanford, Florida, USA
Cool & comfortable space located in downtown Sanford. Complex is on Lake Monroe (my unit faces parking lot). 23 minutes from Orlando, 35 minutes from New Smyrna/Daytona beaches. Bedroom has a work desk, fullsize closet, and full size bed. Cat in owners bedroom only. Great space to relax & soak sun!
Excellent experience ,she's so nice , friendly , Feel like home ..Awesome ...Love lake Monroe, ... Definitely I recommend it
Millie
2017-04-05T00:00:00Z
Typ av rum
Eget rum
---
Typ av boende
Lägenhet
---
Plats för
2
---
Sovrum
Sanford, Florida, USA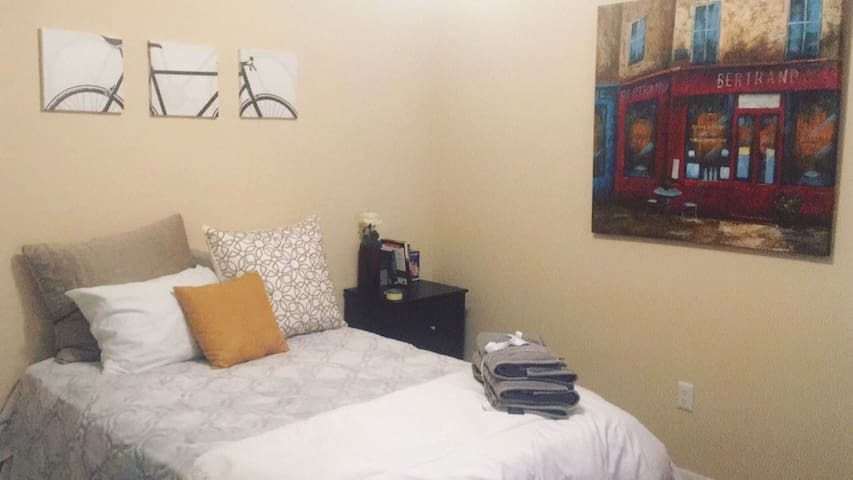 This cozy space is tucked away in a safe, peaceful community in the lap of Uptown Altamonte Springs. It features private entry, queen size bed, full kitchen and bath, private balcony and free parking. Just outside of your gated oasis are local shops, restaurants, outdoor activities and Cranes Roost Park. Perfectly located between theme parks and the beach.
Located on the third floor via stairs, with complimentary parking on the side of your building. Includes laundry access, work desk, walk in closet and breakfast bar. Sleeps two comfortably in a queen size bed.
This is a quiet and safe neighborhood. Located close to The Altamonte Mall, Cranes Roost Park, AMC Theatres, Uptown Altamonte shopping, dining and Whole Foods Market to name a few. Lived in the area for 4 years! We are happy to offer suggestions on the best places to visit.
Everything was perfect
Yamile
2017-03-19T00:00:00Z
It is actually hard for me to rate a stay here as, due to circumstances, we left after two hours and without sleeping here. What I will say is that this is a well appointed and extremely well equipped little flat with a wonderful attention to detail. The little extras the couple leave are beyond expectations. However for us, there were issues. The first part was down to me, I will admit. I did not have my American phone number with me when I made the booking so put in my UK home number. So when we were held up by issues with my brother's plane being late and a long delay at customs, they would not have been able to call me. However my husband tried to call them to let them know what was happening and they did not pick up. This led to us arriving after the couple had, understandably, left the property. They had to come back to us and this was, sadly, a 20 minute journey for them, for which we absolutely apologized. The next thing was that my husband's friends had organized an unexpected bachelor party for him for that night and I was hoping they would be okay with my maid of honour staying the night with me. At the time they said that it was fine. We were a little uncomfortable with the number of times that they told us we had to be quiet while we were staying, but as we did not intend raucous partying we let it go. Then, about twenty minutes later my husband called to see if we had any of my maid of honour's passport details with us. We didn't. They were at my parent's in law's house. We then had texts and phone calls from the couple saying that they were not happy with us being in the apartment without these details. We tried to email a copy of her driving license which she had on her phone to my husband to text to them as her phone could not do this. By this time though, I was very distressed and upset by the tone of voice I had been spoken to in. I felt that the total turn around of attitude was surprising and was no longer comfortable in the property. We decided to leave and try to find a hotel to stay in, as there was no room at our home with wedding guest family there. We contacted the couple and told them we were leaving. They sent us a message that made it clear this would be their preference. We ended the night having to climb a fence with our luggage to get out of the gated community. I wish they had just said they would not be happy with Jac staying while they were at the apartment. I would not have been happy to stay alone but I would have done it. Issues with our plane delays inconvenienced Tri' and Kosta...
Irene
2017-03-26T00:00:00Z
This apartment is absolutely beautifully decorated, relaxing, and exactly what I needed after 12+ hour days working. Tri' was very personable and accommodating and did a wonderful job giving detailed instructions. The bed, the patio, the living room, the kitchen; everything was perfect! Will stay again if available.
Joanna
2017-03-15T00:00:00Z
Typ av rum
Eget hus/egen lgh
---
Typ av boende
Lägenhet
---
Plats för
2
---
Sovrum
Altamonte Springs, Florida, USA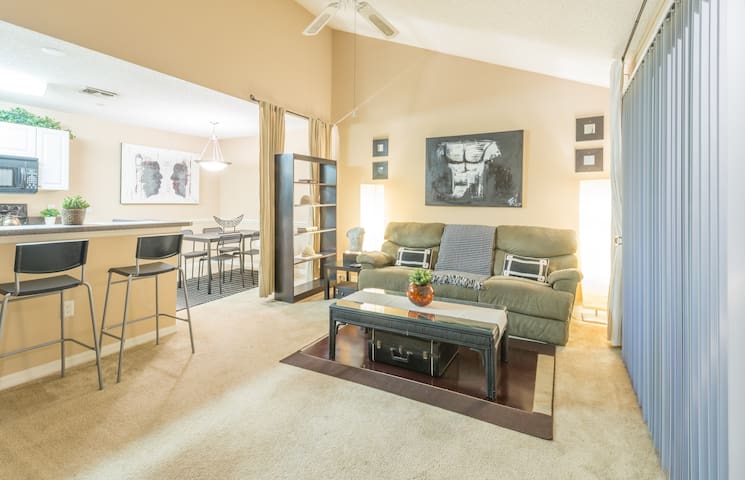 15-20 minutes from Downtown Orlando. 10-15 minutes away from Altamonte Mall. GATED COMMUNITY. 1 Queen Size bed and an air mattress can be provided if requested. Wifi, Netflix, & Cable provided in unit. Community has 2 pools, a small gym, and a Laundromat. Location is near wonderful restaurants, a lake, and easy access to attractions. NOT suitable for pets. NO parties or events.
The neighborhood is peaceful, quiet, and safe. Nearby: Tijuana Flats 444 South Hunt Club Boulevard Apopka, FL Wawa 919 West SR 436 Altamonte Springs, FL Sushi Eat Station 8.70 380 S State Road 434 Ste 1004 Altamonte Springs, FL Chick-fil-A 425 FL-436 Altamonte Springs, FL San Jose's Original Mexican Restaurant 280 S Sr 434 Altamonte Springs, FL Panera Bread 200 S State Road 434 Altamonte Springs, FL Jersey Mike's Subs 851 S. State Rd. 434 Altamonte Springs, FL Tibby's New Orleans Kitchen 494 W State Road 436 Altamonte Springs, FL Outback Steakhouse 990 N State Road 434 Altamonte Springs, FL Chipotle Mexican Grill 400 W State Road 436 Altamonte Springs, FL
Typ av rum
Eget hus/egen lgh
---
Typ av boende
Lägenhet
---
Plats för
3
---
Sovrum
Apopka, Florida, USA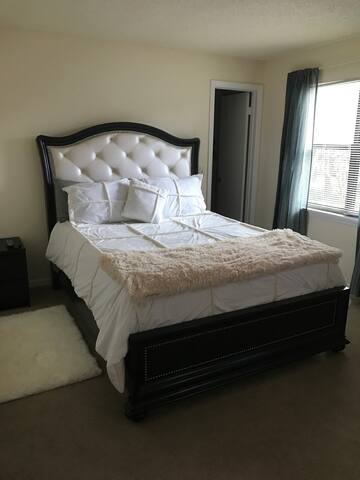 Cozy apartment located 10 mins from Sanford Airport and close to I-4 for easy access to the parks and outlets. Relaxed environment with a full private bathroom and closet. It also counts with pool, jacuzzi and gym. Patio and bedroom with lake view.
Beautiful full size bed, computer desk . Window facing the lake with a spacious full bathroom. Room can hold up to 2 guests.(1 full bed) check in at 3pm and check out 11am.
Safe gated community with nice lake views and swimming pool area. 5 minutes away from Walmart Plaza, Ross, gas station, and restaurants. Also convenient Sun-rail (train) 5 minutes away available for transportation.
My experience here was phenomenal! Not only was the place clean, nice, cozy, but the hosts also went above and beyond by showing me around town. Leo and his wife were amazing, and super nice! They even offered me homemade tacos one night. The view from my room was incredible. So I arrived later than my booked date due to plane cancellations. Leo told me that he was more than happy to refund me for the one night that I didn't end up staying for. Staying at their place was definitely the highlight of my trip to Orlando!
Alan
2016-07-28T00:00:00Z
My experience here was amazing! I felt extremely comfortable during my stay. Leo and his wife were amazing hosts.
Alan
2016-07-30T00:00:00Z
Nice residence in a nice neighborhood.
Don
2017-03-01T00:00:00Z
I enjoyed my stay.
Kenneth
2016-12-09T00:00:00Z
Leo and his wife were very welcoming and kind. They both are very down to earth and are a sweet happy couple. I felt very at home staying with them. The room was nice and cozy. The neighborhood is easy to access and finding their home was pretty simple. I would definitely stay with them again in the future!
Kayla
2015-10-22T00:00:00Z
Leo was great, we had some good conversation and he was very accommodating. He had a couple of bottles of water and a snack waiting, a pleasant surprise.
Wolfgang
2016-12-15T00:00:00Z
A great first Airbnb experience!
Christian
2016-10-09T00:00:00Z
.
Rebecca
2017-02-19T00:00:00Z
Typ av rum
Eget rum
---
Typ av boende
Lägenhet
---
Plats för
1
---
Sovrum
Sanford, Florida, USA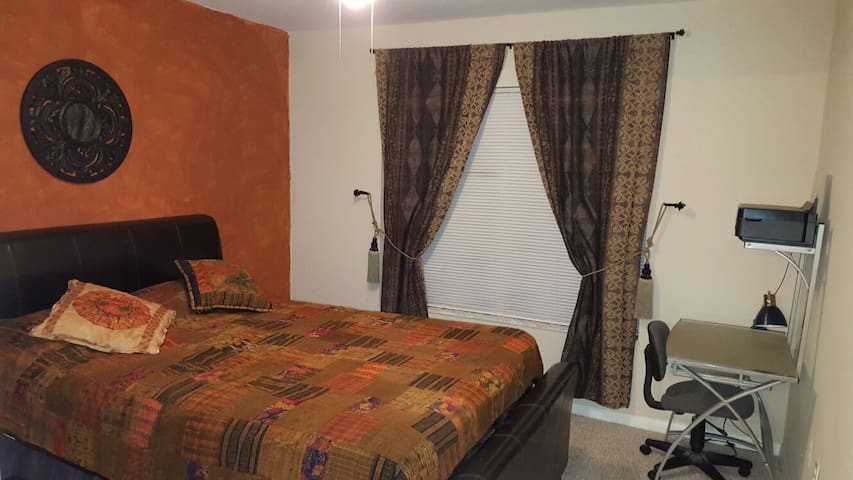 Located in the Sanford and near Lakemary/heathrow - Private bedroom and private bathroom (ensuite) in a beautiful, spacious, sun-filled, 3rd floor 2BR/2BA flat available parking. We're married couple from South Korea and We love helping others experience the best of FL.
HELLO and welcome to my home. The location is 10min from Orlando Sanford Airport and 30min from Orlando International Airport (via toll road 417), 20min downtown, 40min from Daytona beaches(LPGA headquarter), 40min from attraction (Disney World, Universal Studios etc.). very closed Interstate 4 Within a few blocks of my place you'll find mart and convenience store, restaurants. * In total there are 2 BRs / 2 Baths * Spacious design, which means you can have privacy if you want it * High ceilings * washing machine and dryer (in apt) * living room / dinning room YOUR BEDROOM AND BATHROOM (What you're renting) * Large, quiet, bedroom * Queen-sized bed with firm mattress and Euro Top * Premium bedding - high thread-count 100% cotton sheets, fluffy pillows, comforter and 100% cotton towels * Sofa-bed and tea table * Walk-in closet * Private (ensuite) bathroom with shower * Welcome cookies ***For Parties of 3 - can use sofa as bed. FREE PARKING IN ANY APT AREA THE KITCHEN * The kitchen is fully stocked (dishes, glasses, etc) * Stainless steel cookware * range/oven, dishwasher, microwave * Eat-in breakfast nook perfect for 2 Guests have access to their private bedroom and bathroom, and share the living room, dining room, kitchen, and laundry room with us. We enjoy interacting with my guests, and try to be a reliable resource for local info and recommendations. There's a fantastic gym and swimming pool in clubhouse and have free starbucks coffee.
Clean, quite and a perfect place for a Daytona/Orlando stay.
Paul
2017-02-27T00:00:00Z
I like the place it's amazing!! And the Host is superb and so caring!! They gave me a very good, very clean and beautiful room for my stay!! I also recommend my friend to stay over there !! This is the best place to stay!! Thank You Lee and his wife !!!
Bhrantikkumar
2017-03-08T00:00:00Z
Our flight was cancelled at 8:30 pm and we had a reservation with Juhyun at 8:45 pm. He quickly responded and put us up on extremely short notice. He and his wife have the cleanest apartment I have ever been in and the room was perfect for a quick stay over. Thanks for being a gracious host!
Reuben
2017-01-23T00:00:00Z
Great host, good value. If you need a room in Sanford, this is a good choice.
John
2017-03-09T00:00:00Z
This stay was absolutely perfect for me! It was quiet and extremely clean.
Allison
2017-03-14T00:00:00Z
Place was extremely clean! It was a wonderful stay and perfectly close to both Orlando and the airport.
Mason
2017-02-17T00:00:00Z
Nice place. Immaculately clean. Great hosts. Good administration.
Jeff
2017-03-03T00:00:00Z
Words can't explain how delightful and welcomed I was to their home. Juhyun's family made me feel more than welcom, as if I was part of their family. It was a good decision to have picked their home among other. I will recommend this home to all travelers who are seeking comfort,peace and love. Juhyun's home is truly a HOUSE of LOVE.
Jude Joseph
2017-03-27T00:00:00Z
Typ av rum
Eget rum
---
Typ av boende
Lägenhet
---
Plats för
2
---
Sovrum
Sanford, Florida, USA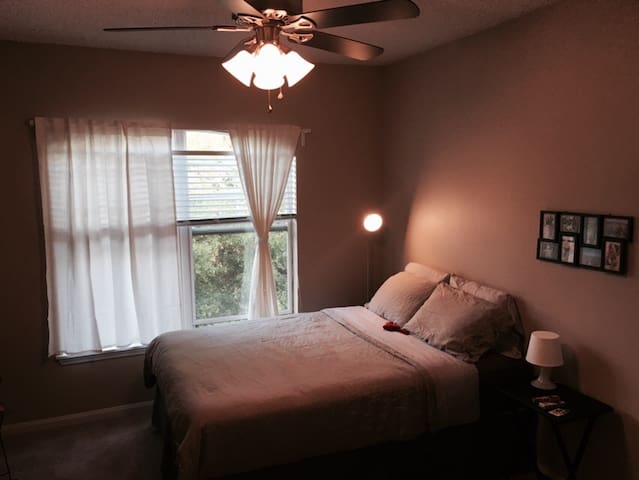 1920's style, on brick paved street with old oak trees and flowering magnolias. Eight hundred and twenty five square feet of quiet privacy. Birds eyes view of flower garden and street scene. Totally self contained, galley with full size stove and ref.
Accommodations consist of a 2 bedroom one bath apartment with private entrance. There is a queen size bed in one bedroom and a queen size bed in the other. Located on the 2nd. floor. Wi-FI available. Guest accommodations are located on the second floor. Owner lives on first floor.
We are situated in a very quiet neighborhood less than a mile away from the marina, River Walk Trail, restaurants, library, banks and public transportation. Orlando/Sanford airport is about 2 miles away.
Firmin's airbnb was excellent for our short trip. It's in a lovely neighborhood with great parks and riverfront. It's convenient to Blue Spring State park. Firmin was a great host and we'd recommend this place to others.
Kim
2016-11-26T00:00:00Z
Host is really good. The house is old but it really likes home. We have own private rooms. Good!
Jinhao
2016-02-12T00:00:00Z
Riverwalk was as described. Space was adequate and location was very good. Firmin was very nice and available on property.
Andrew
2016-01-28T00:00:00Z
Great location!
Kaydee
2017-02-18T00:00:00Z
We had a great time at our stay. The home had our basic needs met and it was easy to walk to downtown. We loved Sanford. Firmin is an involved and attentive host.
Greg
2016-04-05T00:00:00Z
Had a great 4 night stay at Firmin's place, very clean and well kept, lots of space for us. Firmin and his wife were very welcoming and great hosts. Beds were comfortable and proximity to Sanford downtown was plus.
amish
2016-04-09T00:00:00Z
Pictures are not totally accurate. We were surprised that the host lives down stairs. He is pretty strict about noise. Do not expect to listen any music. Perfect if you just want to sleep. Good value
Gilles
2017-01-08T00:00:00Z
We had a nice time staying at Firmin's home. He and his wife were lovely and kind. The house was equipped with all of the furnishings a home would need. It was an older home that had been split into two different apartments. We were staying directly overhead of the home owners for the entirety of our stay so it made us feel a little self conscious about noise levels and being mindful of what time we were returning to the space. We were not aware we wouldn't have the property to ourselves. The home was a little older so the furnishings weren't very modern. The only complaint that we had was that there were fire ants inside of the kitchen and den area. Overall, the home was quiet and had everything we needed at hand.
Eric
2016-02-16T00:00:00Z
Typ av rum
Eget hus/egen lgh
---
Typ av boende
Lägenhet
---
Plats för
4
---
Sovrum
Sanford, Florida, USA