Vi lever gångavstånd till Redondo Pier (nära barer, Cheesecake Factory) och Hermosa Pier. Nära Terranea Resort / Palos Verdes / San Vicente (25 min). För att komma till piren, gå precis utanför porten och gå över gatan och gå vänster ett kvarter tills du ser park / havet och gå ner till bryggan och huvudet kvar att gå till stranden. Det finns gott om bekväm shopping och butiker nära (2 kvarter). Bara gå utanför porten och gå vänster två kvarter till Wholefoods, RiteAid, Smashburger, rent Barre, Panda Express, Skönhet Store, Starbucks, Kirari West Bakery, och 5 minuter till Trader Joe (Riveria Village). Pollys på piren och Tammy är stora frukost platser men närmast är Barneys och de serverar frukost hela dagen. Det är också en säker omgivning och polisstationen ligger i närheten. Nära till bibliotek, UPS lagra, ren Barre.
It was a great overnight stay! Angela went out of her way to make us feel welcome and even got my husband a surprise treat for his birthday. The place was cute and comfortable and close enough to the beach for us to ride bikes and walk. I hope to be able to visit again!
Michelle
2016-07-26T00:00:00Z
Angela was an amazing host! She was so warm and welcoming during our stay. The bungalow was decorated beautifully and was even fully stocked with food/drinks. On Easter Sunday, she left a little surprise basket of snacks and goodies for us to enjoy :) I really could not have asked for a more accommodating and friendly host. Angela really spends the time to get to know her guests and she treats them like friends/family. The backyard space was amazing as well with tiki torches, decorative lighting and a great cozy ambience! Angela really went far above and and beyond. She truly blew away our expectations. I highly recommend staying here!
Ben
2016-03-29T00:00:00Z
Our week long stay in Redondo resembled paradise. Great location (only minutes away via bike or walk to the harbor and International Boardwalk). The apartment is excellent for two people. Angela provides coffee, juice, wine and beer. She has a Roku attached to the TV. There is a refreshing private patio. There are great restaurants and pubs all within walking distance. We had excellent clam chowder at Kincaids, tasty quesadillas at Wildflower Cafe. Great beer and nightlife at Hudsons Pub. Whole Foods and Ocho Mexican are a block away. The beach cities have plenty going on. You can walk, bike or Uber to any place around such as the Naja's (88 taps), Comedy and Magic Club and the Redondo Beach Brewery.
John
2016-08-25T00:00:00Z
Angela goes above and beyond. There were snacks and refreshments already in the fridge...Keurig was awesome! It was nice of her to meet us, she took the time to answer any questions and provided all the great features to her bnb. You can expect a quiet and private rental. You don't get this kind of service even at a nice hotel!
Jonah
2016-06-03T00:00:00Z
Angela's apartment is a true example of hospitality of the owner. The beach house is ideal for two, but we were very comfortable with our 4 y.o. daughter. It is not large, but the amenities that you find are exceptional - very few homes have all that Angela provides. We even had a selection of wines (yes, a selection), let alone snacks, eggs, coffee etc. And the backyard of the beach house is absolutely magical in the evening, with lights and a fireplace. The neighborhood is superb too - Whole Foods 3 min away, beach - 10 min. And free parking too. Angela, thanks a lot for a great stay!
Dmitry
2016-11-05T00:00:00Z
Angela does a great job of making you feel welcome and goes the extra mile to insure you are comfortable and fed. David G.
david
2016-08-03T00:00:00Z
Angela greeted us warmly upon arrival and the guesthouse was so clean and welcoming with water, pop and beer in the fridge and the bikes were ready for us to hit the boardwalk and visit the surrounding beaches area. I will definitely return to Angela's place when I go back to L.A, she was a great host!
Marie-Andrée
2015-09-02T00:00:00Z
Angela is a host sent from heaven! She was extremely gracious in offering beyond her home (which was already better than a hotel). I was shocked to see it stocked with snacks, refreshments, and bath products! The home is beautiful - perfect for two or a one person staycation. I would definitely recommend staying here a couple days as it offers a kitchen and is extremely close to the beach. She remembered the reason for the visit and was truly kind in everything she offered! Thank you Angela!!
Amy
2016-08-19T00:00:00Z
Typ av rum
Eget hus/egen lgh
---
Typ av boende
Bungalow
---
Plats för
2
---
Sovrum
Redondo Beach, Kalifornien, USA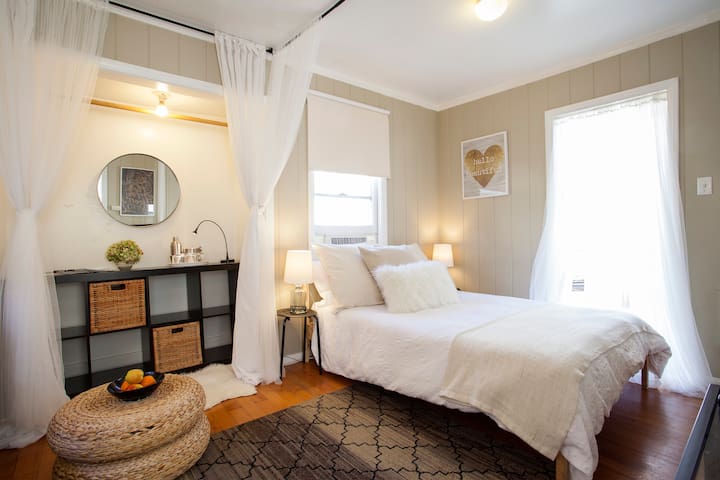 Ett privat rum (full storlek säng, garderob, wifi) och ett badrum för exklusiv användning i en 3bedroom / 2,5 badrum hus. Kök, vardagsrum, en vacker uteplats, plus en med en grill, är också till ditt förfogande. Nära till Manhattan Beach och Hermosa Beach.
Vårt hem är en vacker, bekväm 3 sovrum 2 1/2 bad. Du kommer att ha din egen privata rum med en hög hastighet trådlöst internet, eget badrum och fräscha sängkläder, med tillgång till kök, vardagsrum, en vacker uteplats vett ett citronträd, plus en mindre med en grill, är också till ditt förfogande. Du kan också använda tvättmaskin och torktumlare. OBS: Vi har två katter (för alla gäster som kan vara allergisk). Det finns gratis parkering på Vanderbilt Ln. Barn är mest välkomna - vi har en 5-årig pojke själva. Vi kan erbjuda en resesäng för ditt barn. Vi har inget emot små husdjur, men detta bör komma överens först. Vi ligger inom en 20 minuters cykeltur / 7 min. köra till Manhattan Beach och Hermosa Beach, och en 15 min. köra (5,8 miles) från LAX. Flygplats med buss # 8 ($ 1,50), Uber ($ 14), Flygplatstransfer ($ 16) eller Taxi ($ 31). Det finns omedelbar tillgång till Pacific Coast Highway och stadsbussar. Den bryggor, stränder, affärer, bra restauranger, marina, segling och strängen är bara några minuter bort. Du kan kontakta oss på engelska, spanska, polska, franska och portugisiska. Min make, Maciek, har en privat flygcertifikat så det finns en möjlighet att flyga med honom runt LA (vi älskar att flyga för söndag bruncher till Catalina Island). Vi kan hjälpa till med någon information att betrakta som besöker LA eller andra delar av landet.
Det är ett lugnt område som ligger inom en 40 minuters promenad / 7 minuter med bil till Manhattan Beach och Hermosa Beach. Området har många utomhusaktiviteter, i själva verket vi är mest kända här för volleyboll. Med magnifik Palos Verdes halvön intill finns vandrings- och cykelleder, golf och valskådning. Det finns ett överflöd av hyra butiker i Redondo och Hermosa där man kan hyra kajaker, paddel styrelser, och glöm inte segling ... något vatten relaterade. Det finns massor att göra.
Great stay and great host!!!
Qingwei
2016-02-18T00:00:00Z
We spent one night at Anna and Maciek's house, located not far from the beach, great restaurants and the airport. The room and the private bathroom were clean, very cozy and spacious. The coordination for the check-in went smoothly as they both answered very quickly to m messages and the information they provided were precise and accurate. We wish we could have spoken with Anna more than just a couple of minutes and meet her husband as they both seem to be very nice. It was the perfect stay before flying back to Switzerland!
Virginie
2016-05-21T00:00:00Z
Anna and Maciek were really helpful and polite. The room was super clean and you got a bathroom to yourself. The room was very affordable and I would definitely stay here again in the future!
Oliver
2016-02-22T00:00:00Z
Our stay was great overall--we got very clear instructions for our arrival since no one was home, and our hosts checked in via email to make sure we had made it safely and that things were going well. The space is just as it is pictured, and it was very comfortable and clean. We used the fan provided in our room since it was unusually hot during our stay; guests who may be disturbed by the fan noise (like me) may want to bring ear plugs. It's an ideal location, only a $5 Uber ride to Manhattan Beach. Coffee on the porch under the lemon tree is just lovely. Highly recommended!
Elizabeth
2015-09-08T00:00:00Z
Anna & Maciek's house prbly is my favourite of all time on airbnb!! I like the style of design a lot, and its clean, spacious, has everything you need in kitchen, bathroom(private) and all, its a pity we didnt have chance to meet with Maciek and their lovely son though. The location is near LAX the airport, which was why we chose this place to stay for catch a flight next day, the neighbourhood is quiet, safe, a bus in 3 mins walk to airport is easy to find. I really recommend to stay at Anna & Maciek's house if you are going to LA, cheers!
Ellie
2015-10-24T00:00:00Z
Anna and Maciek place is really great. Easy to park, great room and neighborhood.
Mathilde
2016-02-25T00:00:00Z
Our stay with Ania and Maciek was excellent. The bed was big and comfortable, the room was clean and welcoming, and having our own clean and perfectly functioning bathroom was great. The location was perfect for us, with cool places to hang out in Redondo itself and great places like Venice and Manhattan beach nearby. On top of all that Ania and Maciek are lovely, warm hosts. I highly recommend them.
Julia
2017-01-13T00:00:00Z
It was cozy and comfortable to stay in Under Lemontree. The house has good interior and clean room. We slept really well! Thank you. :)
Heesu
2015-07-07T00:00:00Z
Typ av rum
Eget rum
---
Typ av boende
Hus
---
Plats för
2
---
Sovrum
Redondo Beach, Kalifornien, USA
Zwei Blocks vom Strand entfernt !! Dies ist ein historischer, umgebaut Studio Bungalow in South Redondo Beach.
This Charming Beach Bungalow ist ein historisches Gebäude aus dem Jahr 1917. Aber mit vor kurzem renoviert und modernisiert Strom, Wasser und vieles mehr. Es stellt den ursprünglichen architektonischen Stil der 1920 bis 1950 überwiegend in den Küsten Kalifornien Abschnitte. Das Studio Bungalow befindet sich in South Redondo Beach nur 2 Blocks vom Strand entfernt auf dem gleichen Grundstück wie unser Schöne historische Beach Bungalow # 2 und den Burnham Beach Cottages entfernt. Es ist eine selbststehende Struktur. Ein Mini-Haus sozusagen. In der Hütte finden Sie eine Queen-Size-Bett finden, Kabel-TV, Wi-Fi, Einbauschränke, Schreibtisch Sekretärin, Couch, voll ausgestattete Küche mit in Essecke gebaut, Badezimmer mit Badewanne mit Löwenfüßen und einem Vorgarten, wo können Sie das genießen Sonnenuntergänge gänge~~POS=HEADCOMP. Sie werden mit frischen Handtüchern und Bettwäsche sowie Schaumbad zur Verfügung gestellt werden, um die Wanne in vollen Zügen zu genießen. Genießen Sie LA in einem Strand Oasis- es macht nach LA eine ganz andere Erfahrung kommen. Das verschlafene Strandgemeinschaft hat alles, was man sich wünschen kann. Die Liegenschaft befindet sich nur wenige Schritte zum Meer und Pier mit einer großen Auswahl an Restaurants, gemütliche Cafés, Bars. Die Promenade oder "Strang" wuchert von Palos Verdes nach Santa Monica ... können Sie Surfen, Schwimmen, Volleyball, Wandern, Laufen, Skaten, Radfahren, Wandern und alle Aktivitäten zu genießen, die den Sinn kommen, wenn Sie von Südkalifornien denken. Sie fühlen sich wie Sie sich eine Welt entfernt von jeder großen Stadt, aber Hollywood, Disneyland sind, und alle anderen Websites, die Sie finden möchten leicht zugänglich zu wagen! Wir genießen und ermutigen Gäste zu einem etwas längeren Aufenthalt, um diese schöne Strand-Community in vollen Zügen Entspannung und genießen zu maximieren. Sehen Sie weitere Preise für unsere erstaunliche Rabatte! Auf dem gleichen Grundstück finden Sie unsere Beautiful Historic Beach Bungalow # 2 zu finden. Also, wenn Sie als eine Gruppe von 4 Reisen könnte dies die perfekte Lösung für Sie sein. OUTDOOR Rauchen nur! ABSOLUT KEINE DER BUNGALOW Rauchen in! Andere Dinge zu beachten: - Rabatte gelten für wöchentliche und monatliche Aufenthalte. Siehe Rabatte unter "Weitere Preise". Die Rabatte gelten automatisch, wenn eine ganze Woche oder einen Monat langen Aufenthalt beantragen. GENIESSEN - 2 Blocks von BEACH & Redondo Beach Pier - GROSS FÜR GRUPPEN 4, wenn beide BUNGALOWS buchen. *** Für weitere oder zusätzliche Unterkünfte bitte unsere anderen Liste anzeigen lassen. *** - DESIGNATED HOF VOR BUNGALOW (Hof im Rücken gehört zur 2. Bungalow)
Had a great time in Redondo at Omar's perfect little bungalow. Everything you could want while on vacation was there. The bungalow has a bathroom, kitchen and living area. 5 minute walk to the beach and pier, nice yard in the back, and a touch of culture since it's a historical landmark. Omar provides a binder with interesting facts about the residence (built in the 1920's), things to do, places to eat, grocery stores and the password for the internet. I'll be back and i would recommend for others to stay here.
Michael
2010-07-04T00:00:00Z
this is a wonderful place to stay. sweet and comfortable, it was truly a home away from home. the kitchen was equipped with the necessities and the bathroom had good smelling soaps and fluffy towels. omar is a great host. the next time we come to l.a. we are hoping this bungalow will be available.
Suzette
2010-12-22T00:00:00Z
We had a fantastic experience at this quaint cottage in Redondo Beach. Great value, great host, great area! I recommend this to anyone looking for some downtime in the LA Area. Conveniently located close enough to LAX for easy access, but far enough to avoid the noise of aircraft.
Ryan
2015-08-18T00:00:00Z
my stay at omars place was wonderful. he picked me up from the airport and was very hospitable. it was a block from the beach, walking distance to anything i needed, and was such a relaxing time. i had a ball, and would go back again
Sally
2010-11-10T00:00:00Z
Hands down best value for you buck. this place is so causy, clean and has everything you need. This was my first experience in airbnb and was absolutely amazing. The place, the area, the amenities...everything was perfect. I will be visiting LA more often, this is the place I will be staying in everytime
Wissam
2014-05-03T00:00:00Z
Omar is a gracious host and was very considerate of the special scheduling needs for my stay. Straight up guy!
Xin
2010-11-15T00:00:00Z
Had a great stay. Clean and conveniant to everything. Great recomendations on restaraunts. Thanks
Terry
2011-07-27T00:00:00Z
Omar's property is fantastically chill and comfortable. You will be close to beach and bars and living with everything one needs.
ralph
2013-09-27T00:00:00Z
Typ av rum
Eget hus/egen lgh
---
Typ av boende
Hus
---
Plats för
2
---
Sovrum
Redondo Beach, Kalifornien, USA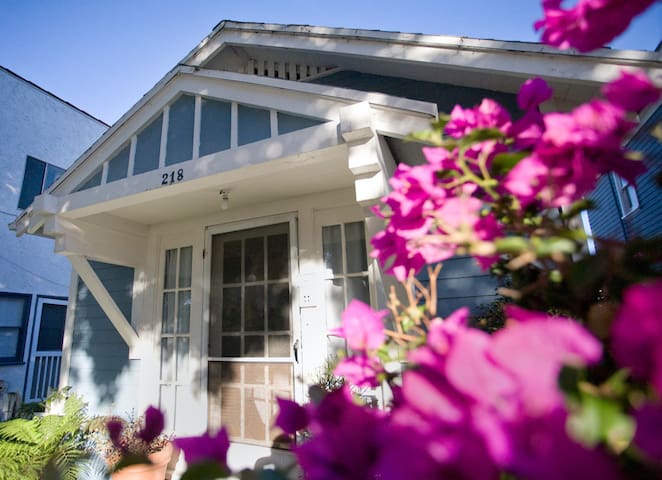 Enjoy the privacy of our Petite guest house with independent access, quiet, with lots of light. private bathroom, kitchenette with appliance and refrigerator spacious closet space, access to laundry room and free Wi-Fi We Speak French, Portuguese, Spanish ,free parking 24/7 on the drive way or street ,also we did added a convenient lap top table and a comfortable chair for those who like to work while enjoying the solitude and privacy of our place We really try to make you experience great
Located at Torrance next to Redondo Beach, Palos verdes , Hermosa beach , Manhattan beach ,Redondo Beach Pier(whale watching and boat fishing ,also where you find the best sea food market (live lobster etc :)Bask kitchen kone coffee and much more The Riviera Village area is well known for restaurants, small stores ,farmer's Market, trader joe's and of course 10 minutes to the great Del Amo shopping mall ,movie theaters, high end stores and restaurants A lot to choose 15 minutes to Hermosa Beach and Manhattan Beach Palos Verdes and 30 minutes to Venice Beach and a just 45 minute drive up the Coast to Malibu or South to long Beach Huntington Beach etc . Take the beach bus from Riviera Village to Hermosa Beach, Manhattan Beach ,30 min to LAX. also a 10 minutes bike ride to Torrance Beach, very clean beach with beautiful views of the Pacific Coast line. If you're on the sand you can see all the beaches up to Santa Monica! 10 minutes walk from EF International Language School. Our Petite guest house can host 2 people comfortable. Very private and cozy with open views. Big Patio area for relaxing, enjoy the ocean breeze and beautiful open views of Palos Verde Hill under the blue sky. Most of all, have fun, enjoy our Sunny home Location ! Great quiet Location (Newly remodeled bathroom LOOKS GREAT )This guest house we believe is as little hidden treasure, added a laptop table and comfortable chair for those who enjoy to work on a quiet place Do not forget to visit the spy store on the intl boardwalk (redondo pier) thank you
Quiet friendly and plain of fresh breeze from the ocean Beautifully Sunny California Very secure Area,farmers market,theaters,Vons,trader joe's,smart&final,etc restaurants etc............ we are very centralized ,but we are on a quite enjoyable area
I feel JP & Eloisa take pride and enjoy hosting. The attention to, and the anticipation of a guest's need is commendable. I enjoyed my stay, and had everything I needed. There was a touch of class. Will definitely stay there again.
Helen
2017-02-17T00:00:00Z
Nice house
子宸
2017-03-29T00:00:00Z
Clean, quiet, great amenities - wish I could have stayed longer!
Yoko
2017-03-26T00:00:00Z
Small, but clean with nice amenities like a snacks and off street parking. I did have some ongoing issues with wifi (difficulty connecting and maintaining service) but this may just have been my devices. The host also met me when I arrived when was appreciated.
Julie
2017-03-19T00:00:00Z
JP & Eloisa's place is a great spot to stay when visiting the beach cities area (Redondo, Hermosa, Manhattan Beaches). They were very helpful when I needed them, but otherwise I had plenty of privacy and space to do my own thing. The tiny guest house had everything I needed: kitchenette stocked with treats and utensils, nice bathroom with all the essentials in case you forgot anything, and a comfortable bed.
Megan
2017-03-07T00:00:00Z
Thank you two for sharing your beautiful place with my wife and I. Our stay was excellent!
James
2017-04-11T00:00:00Z
場所は安全で、静かな場所です。ホストファミリーもフレンドリーで、何も不自由しませんでした。 調味料や調理器具も滞在には充分で、長期にも問題ないでしょう。 お菓子や、コーヒーも自由に飲めるのも嬉しいです。
kono
2017-03-01T00:00:00Z
Great place to stay and the hosts are great at communicating and providing you everything you need!
Jordan
2017-02-12T00:00:00Z
Typ av rum
Eget hus/egen lgh
---
Typ av boende
Hus
---
Plats för
2
---
Sovrum
Torrance, Kalifornien, USA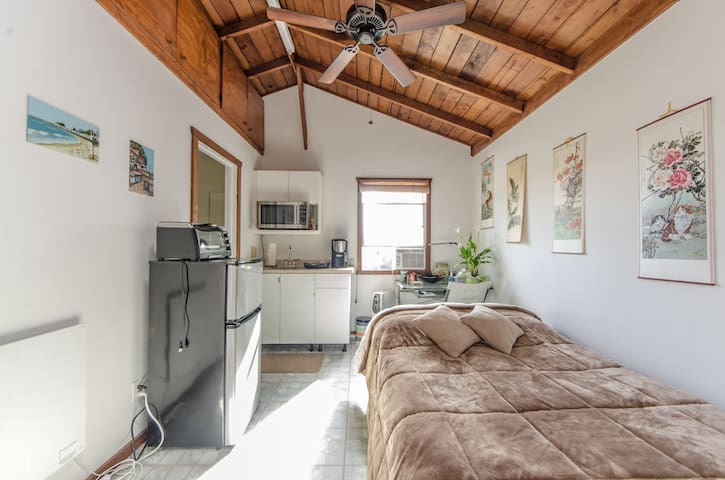 (URL HIDDEN) Ceci est une belle maison d'hôtes de plage et en toute sécurité. Vous aurez tout ce dont vous avez besoin pour une belle visite. Il est propre et à proximité du centre-ville El Segundo et Los Angeles. Disneyland est à 30 miles. Vous pouvez réserver instant, mais s'il vous plaît écrivez-moi avant de réserver si vous avez des animaux afin que nous puissions parler des animaux>. Je fais payer un petit supplément pour le nettoyage si vous avez un animal de compagnie. Je préfère les petits et les animaux non Sheding mais peut discuter. Il est important que je l'ai toujours une maison très propre pour le prochain invité.
Cette maison d'hôtes privée unique situé à El Segundo et près de Manhattan Beach et Santa Monica. Il peut accueillir jusqu'à 4, mais sera confortable et est idéal pour tous ceux qui veulent être près de la plage. L'appartement est situé à El Segundo, avec seulement 3 minutes de la plage. Si vous avez un animal de compagnie, je facturer 100 supplémentaires pour le nettoyage à l'arrivée. la cour arrière ne sont pas disponibles pour une utilisation à moins que vous payez un montant supplémentaire basé sur l'utilisation ou nous travaillons sur quelque chose dans nos e-mails parce que c'est une cour commune avec la maison avant en arrière. Cela inclut jaccuzzi et BQ et des tables. Je préfère dans la cour arrière vous utilisez toujours l'entrée de ruelle et pas d'animaux s'il vous plaît. L'appartement comprend: - Les animaux sont admis mais doivent être petits et animaux non ombrage ou je demande 100 $ par animal pour les frais de nettoyage. S'il vous plaît pas d'animaux qui sont jeunes chiots. - TV à écran plat, un magnétoscope et des films avec le câble, y compris tous les canaux - Lit grand format - salle de bain complète privée et douche (rempli de shampooings, revitalisant et gel douche) - Cuisine complète - Parking à l'arrière plus proche du côté sud de l'allié derrière l'entrée personnelle Porte- rouge à l'appartement de ruelle. - LAX (aéroport): (moins de 10 minutes) - Manhattan Beach (10 minutes): restaurants, boutiques et vie nocturne est à distance de marche - Boardwalk Venise (15 minutes). - Downtown LA (20 minutes) - Hollywood (20 minutes) - 3rd Street Promenade à Santa Monica (20 minutes) Bien qu'il soit à une courte distance de nombreux points chauds, l'appartement se trouve dans un quartier calme et de détente. Belle verdure à l'extérieur avec une table et place pour se détendre. Le quartier est calme et sûr. Il y a beaucoup de restaurants à distance de marche; demander et je vais vous donner des recommandations! Idéal pour les voyages d'une semaine ou par mois. Le parking est à l'arrière et une entrée privée.
Nah an alles und ein 3-Minuten zu Fuß zum Strand. Ich habe im Schuppen stehenden Fahrräder und Baby Stoller, Hochstuhl und Kleinkinderbett, wenn nötig. Bitte beachten Sie, wir in einer schweren Dürre sind, und wir müssen Wasser sparen und sparen also bitte weniger und nur begrenzt Handtücher verwenden.
I loved this little house. I loved being treated like an adult, loved the keys waiting on the table for me. The introvert in me loved never having to meet at a certain place at a certain time. The location was awesome and the neighborhood was quiet and friendly. Very very happy.
Chase
2016-04-23T00:00:00Z
A nice house!It is perfect for two persons!The host provides the stuff we need to cook meals and also for shower!I will live here again if we have chance!
Dylan
2015-04-27T00:00:00Z
Cozy little place where you can feel the cool beach breeze. Very walkable to everything you need. Would highly recommend.
Mark
2016-07-17T00:00:00Z
Carrie's GuestHome was my first airbnb experience. The home, accommodations, and overall experience exceeded my expectations. Carrie and her son defied the warm, welcoming, and protective nature I was searching for from a host, particularly during this specific trip to LA. I have stayed with friends and family in the past and also corporate hotels. Neither left me with the authentic feel for living on my own in LA, as I have been exploring during my transition to relocate. Staying in Carrie's guest home filled this important step for me and I couldn't have imagined a better scenario. I was given my privacy and respected hers as well; however our few exchanges over my week's stay, including our chat prior to my arrival, played a pivotal role in my overall comfort and satisfaction. Carrie is an inspiring and beautiful woman (100% accurate to her profile)! I felt at home in the mornings when I woke up and when I returned at the end of long days out. Knowing Carrie and Tyler were next door or a phone call away if I needed anything left me at ease and added to my retreat. A home away from home is never a true authentic experience without the feeling of having a friend next door. Thank you Carrie and Tyler - I'm grateful for the kind and thoughtful, gracious energy you exuded effortlessly. The bed was unbelievably comfortable and home was immaculately clean. I had convenient parking, a full and remodeled kitchen, comfortable sitting area with pull out couch and television, heat, fans, and screened windows for fresh air... all that I could control myself when I needed one or the other. Plenty of room and storage space in the bedroom and bathroom, and extra towels and linens. The guest home is mini sanctuary with just enough simplicity and tasteful décor combined. I HIGHLY recommend this home and would any other Carrie hosts. I hope to book with Carrie again in the future, and should I use airbnb in another city after this first experience, I'm afraid my standards will be hard to meet!!
Jacqueline
2014-01-17T00:00:00Z
We loved our stay in this comfortable cottage. It was really clean and well-stocked which made us feel at home. The wifi was ideal and the bed incredible! Carrie was fantastic. We'd highly recommended this place!
Richard
2015-05-27T00:00:00Z
Fantastic place to stay with an amazing location.
Daniel
2017-03-12T00:00:00Z
Carrie was an awesome host, welcoming and attentive. The place is beautiful and in a nice neighborhood. Very clean attractive apartment. We did not have time to use the hot tub, but it was on offer and looked very tempting. Great spot, near airport but not so near you can hear any planes. Also walking distance to beach and shops and restaurants.
Robert
2015-04-14T00:00:00Z
Carrie gave clear instructions on how to get into the house since the entrance was in the back ally. The house had everything we needed and was spacious enough for four of us. Lots of necessary instructions were placed all around the house. We enjoyed some relaxing time in her wonderful backyard!
Bharath
2015-08-30T00:00:00Z
Typ av rum
Eget hus/egen lgh
---
Typ av boende
Hus
---
Plats för
4
---
Sovrum
El Segundo, Kalifornien, USA
あなたは海の休暇を持つことができるのに、なぜLAX空港に滞在! 安全な高級NORTHマンハッタンビーチに位置しています。ビーチ、ショップ、ナイトライフ、ヨガ、およびFab食品までの距離を歩きます! 4、無料のガレージ駐車場が眠ります。 *ガレージは中小車に合うことができます*
Endast 1/2 kvarter till stranden. Denna mysiga tillflyktsort ligger i ett exklusivt område i Manhattan Beach för att göra en stor strand semester! 2 beach cruiser "S NYTTA så att du kan kryssning ner strängen till alla stora affärer, restauranger, barer och sevärdheter. 7 minuter till LAX! Parkeringsgarage !! Paraply Boogie styrelser, badlakan och kylare tillhandahålls. Detta berömda stranden samfundet har allt du kan hoppas på. Fastigheten ligger bara några steg till havet och ett stort utbud av restauranger, mysiga kaféer, barer. Steg till strandpromenaden eller "sträng" sprawls från Palos Verdes till Santa Monica ... kan du njuta av surfing, simning, volleyboll, promenader, löpning, skridskoåkning, cykling, vandring och alla aktiviteter som kommer att tänka på när du tänker på södra Kalifornien . Du kommer att känna som om du är en värld bort men ändå ha tillgång till någon stor stad, men Hollywood, Disneyland och alla andra platser du vill våga är lättillgängliga! Gratis parkering i garage atatched hem. Queen säng w / Temper-Pedic madrass topper! * NEW * bäddsoffa. Heltäckningsmatta. Badrum med fåfänga och dusch. Värme Hårtork tillhandahålls. GRATIS hög hastighet wifi Ny platt w / Netflix + HULU + PANDORA Takfläkt Bagagehylla Komplett kök mikrovågsugn + Kurig Rökning var som helst på fastigheten. INGEN tvätt på lokaler. Tvättomat tre block. -Jag Har en annan lista 45 positiva recensioner. !! Nära till Hermosa Beach, El Segundo, Marina Del Rey, Santa Monica, Malibu, Pacific Palisades, El Segundo Disney 35 miles Beverly Hills 15 miles Corporate Housing för: -Raytheon, Boeing, Lockheed Martin, Mattel
Rollerblade eller cykla motorcykelns längs Sand avsnitt som löper längs Manhattan Beach längs kusten, från El Segundo till norr till Hermosa Beach i söder! Gå till YOGA, FoodNetworks "North End cafe, OB Bar, Baja Sharkeez. - 1. 5 miles till Manhattan Beach Pier
Location! What a great view! So close to the water and the beauty that is Manhattan. Charlene laid out easy and friendly directions and even offered us some goodies in the fridge. Our reservation changed from 3 to 4 people fairly last minute and the the space was plenty and she accommodated us accordingly. We did not want to leave! Highly recommend this spot for anyone traveling solo, a simple romantic getaway, or like us, just four friends wanting to hang near the beach!
Emily
2015-07-12T00:00:00Z
Great location check great apt check complimentary beverages check great host the best I've encountered on AirBNB and there are some good ones left clothes in the apartment she reminded me even before I realized it Wow! Will be back if it's available.
Ronald
2015-06-28T00:00:00Z
Charlene's place was everything it was penned up to be. Clean, cozy, and conveniently located close to our favorite restaurants and shops. Oh yeah and super close to the beach. Charlene was prompt in communicating. Would totally recommend staying here-and we plan to again in the future! Thanks!
Jake
2016-06-30T00:00:00Z
The beach house was lovely and Char was so helpful...communication was excellent! It was so nice to have cold drinks waiting for us...and the kids loved the boogie boards. Thank you for a great experience!
Stacey
2015-08-05T00:00:00Z
Fantastic location in north Manhattan Beach. Walked daily to the beach and to various restaurants. Clean unit with everything needed for a comfortable stay.
Michelle
2016-09-06T00:00:00Z
Everything was as described. Location is great for spending time at the beach. The garage was a bonus as one doesn't have to hunt for parking space. Would come again.
Cristian
2015-08-28T00:00:00Z
This is a great location for people that wasn't to get a "local's" feel. The neighbors are cool and you're a walk down to the beach distance. Close to a lot of main areas fun to visit. Charlene was great in communicating with us and we would suggest this spot to others for the value.
Zack
2016-12-18T00:00:00Z
Charlene was very welcoming, the fridge was stocked with a few variety of beverages, very clean apartment. Great location to the beach, extremely comfortable bed. There is a cozy sofa that turns into a bed if needed. I would highly recommend Charlene's apartment.
Andrew
2015-08-02T00:00:00Z
Typ av rum
Eget hus/egen lgh
---
Typ av boende
Lägenhet
---
Plats för
4
---
Sovrum
Manhattan Beach, Kalifornien, USA
Usted se alojará en la frontera de Manhattan y Hermosa BCH. A pie de muchas opciones de tiendas, restaurantes, bares, cafeterías y playa. 15 minutos de LAX. Esto es cierto comodidades del hogar, a medida que experimenta esta bastante acogedora casa de playa de dos dormitorios, camas de matrimonio de lujo y 3 TV.
Sal por la puerta principal y tomar un bloque de paseo de 2 1/2 a la hebra hermoso océano. Se puede caminar hasta el muelle, tiendas, restaurantes e ir al mercado de los granjeros del martes en Manhattan Beach.
We really enjoyed our stay at Pattis! If we had any questions she answered them very quickly. Communicated very well with us on how to get the information to us and even left us notes around the house to help with questions we might have :) She even gave us recommendations on places to eat and see around the area. We were also able to use her bikes to take a ride along the strand. We really enjoyed that! A few blocks from the beach but it was a short walk so it was fine. Really enjoyed staying here and would recommend it to anyone who was looking for a place close to the beach!!
Emily
2016-06-23T00:00:00Z
Typ av rum
Eget hus/egen lgh
---
Typ av boende
Hus
---
Plats för
4
---
Sovrum
Hermosa Beach, Kalifornien, USA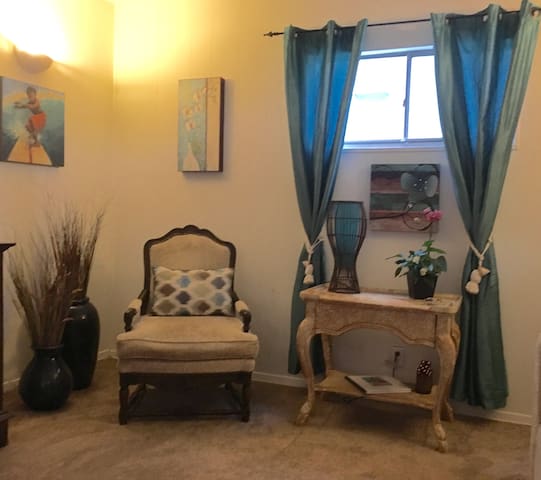 プール、ホットタブ、小さなジムがあり、ビーチコンプレックスでシンプルな1つのベッドルーム1つのバスルームアパート。ハモサビーチ桟橋にビーチや歩行距離から2つのブロック。 この場所は、LAX空港(20分タクシー)への接近のために完全であると、すべてのハモサビーチの観光名所に歩きやすいです。 運転距離: マンハッタンビーチ、レドンドビーチ、パロスバーデスに10-15分。 ヴェネツィア、サンタモニカに30~45分。 45分-1時間ウェストハリウッド、ダウンタウンLAへ。
Typ av rum
Eget hus/egen lgh
---
Typ av boende
Lägenhet
---
Plats för
3
---
Sovrum
Hermosa Beach, Kalifornien, USA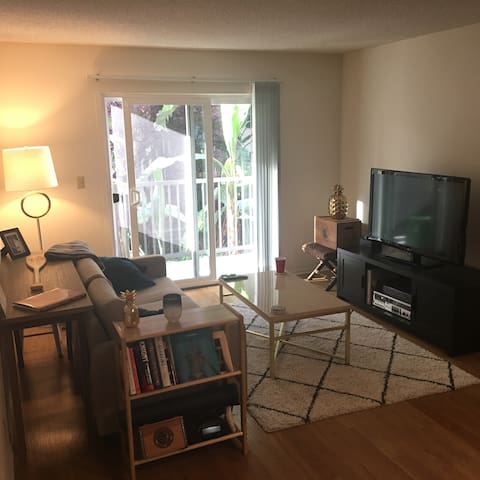 Våre stranden byen bungalow er din boho helligdom på stranden. Bare en 15 minutter gange til Hermosa sentrum butikker, restauranter og livlig brygge! Vi har alt du trenger for å gjøre dette til ditt hjem borte fra hjemmet mens du utforsker stranden byene. Velkommen!
Vårt sted er funky og morsom, strand hytte slått bohem med alle fasiliteter for å gjøre du føler deg hjemme og ønsker for ingenting. Nær sentrum Hermosa hvor stranden og handlingen er, men akkurat langt nok til å være gjemt i et rolig nabolag, og tilbyr det beste fra begge verdener. Bare en 10 minutters spasertur eller 5 minutters sykkeltur, lek og hvile er alltid på fingertuppene!
For å hjelpe deg med dine reiser her er vår Hermosa Beach 2017 arrangementskalender: (Alle arrangementer registrert er under 1 mile og gangavstand fra huset) * Farmers Market - hver fredag 12-4pm hjørnet av Valley Drive & 11th street * 3/13 23. årlige Saint Patricks day parade 11am starter på brygga avenue fører inn til sentrum Hermosa Beach, vert hvert år lørdager før St. Patricks dag. Med live musikk, korps, etc * 3/17 St. Patricks dag * 4/29 - Surf fest 11 am-7pm handling sport leverandører, gratis giveaways, musikk av forskjellige lokale kunstnere plassert på Hermosa bryggen. * 5/5 Cinco de Mayo * 5/6 - Årlig klassisk bil show 10 am-3pm med 48 klassikere fra ulike epoker parkert på Hermosa brygge for offentlig visning. * 5 / mai - Memorial Day Weekend! (Hvert år) ** Fiesta Hermosa ** Kl 10 - 18:00 lørdag - mandag Ideell gøy ... moro for alle aldre. Den hermosa festivalen tar opp 3 blokker rundt hermosa bryggen, stenge ned gatene til funksjonen lokale leverandører: smykker, kunst, klær etc. samt band, mat, barn karneval, uteservering og en aktiv bar scene. (Fiesta hermosa returnerer også: Labor Day weekend) * 6/17 Smackfest 8 am-7pm co-ed volleyballturnering (URL skjult) * 7 / 19-7 / 23 Hermosa Beach åpen og AVP første nasjonale mesterskap 7 am-7pm * 8 / august - HVER søndag i august (Hvert år) *** The Summer Concert serien *** 5 pm-8pm konserter på stranden rett ved siden av bryggen med en annen bandet omtalt hver uke. * 8/19 og 8/26 - Filmer på stranden Starter på 7:30 Film vert på brygga, på stranden to ganger i året i August. * 9 / september-Labor Day Weekend! (Hvert år) ** Fiesta Hermosa ** Kl 10 - 18:00 Labor Day weekend Ideell gøy ... moro for alle aldre. Den hermosa festivalen tar opp 3 blokker rundt hermosa bryggen, stenge ned gatene til funksjonen lokale leverandører: smykker, kunst, klær etc. samt band, mat, barn karneval, uteservering og en aktiv bar scene. (Fiesta hermosa returnerer også: Memorial Day) * 10/31 Halloween Dress opp og traff moloen, eller dra til Hollywood for parade! * 12/25 Xmas * 12/31 nyttårsaften Kom bringe i det nye året og feire på den livlige brygga! Vårt samfunn er fylt med de mest varme og innbydende folk. Rundt her, folk er ivrige etter å hjelpe deg å finne din strand groove og leve den lokale livsstilen. Nyte strandlivet, kom og bli den lokale scenen Takk så meget
Typ av rum
Eget hus/egen lgh
---
Typ av boende
Hus
---
Plats för
5
---
Sovrum
Hermosa Beach, Kalifornien, USA
Plage privée condo à seulement 2 pâtés de maisons de la plage, vue sur l'océan et le cœur des boutiques / vie nocturne. 2 minutes à pied du brin. Profitez d'une unité remolded, cuisine équipée, accès à la plage à vélo, planches boggie, bouteille de vin avec l'enregistrement.
* Je garde le calendrier et les taux à jour, donc si vous voulez réserver le bungalow, cliquez simplement sur le bouton de calendrier. et voir toutes disponibilité. Pas besoin de message me et vérifier d'abord. * Merci! Obtenez un vrai goût de la Californie du Sud plage séjour avec une unité entièrement rénové, vue imprenable sur l'océan et beaucoup de lumière naturelle et brise de l'océan. Condo correspond à 5 confortablement, plus le canapé du salon peut accueillir une autre 1-2 si nécessaire. La chambre principale a un matelas California King Temperpedic avec des couvertures chauffées en hiver. Salle de bains douche a filtre à eau de chlore d'osmose inverse. La propriété est située dans un quartier calme avec une promenade à proximité de toutes les actions. J'ai une cuisine entièrement équipée avec tous les principaux outils / gadgets (Vita-Mix, mélangeur, robot ménager etc .. Vous êtes invités à faire quoi que ce soit dans le réfrigérateur / garde-manger. Je suis dans le secteur alimentaire de sorte que vous pouvez trouver quelques grandes douceurs . Situé à 1 minute à pied des magasins / restaurants / vie nocturne et la plage strand. 100 $ de frais due à l'arrivée et ne sont pas inclus dans le listing (URL HIDDEN) Parking ci-dessous, lisez s'il vous plaît.
ÉPICERIE: Whole Foods, frais et facile, Ralph et Trader Joes sont tous à proximité. J'adore mon quartier! SHOPPING: Trina Turk, Free People, Splendid, Sketchers, True Religion, produits frais et toutes les boutiques de luxe sont situés sur ou autour de Manhattan Beach Blvd. Montez Rosecrans Ave, tournez à gauche sur Sepulveda et prenez la première à droite pour trouver: Anthropologie, BCBG, H & M, MAC, J Crew, Banana Republic, Lulu Lemon et BEBE. distance par rapport à notre marché fermier locale Marcher le mardi de Le quartier est calme la nuit quand vous avez besoin de se reposer et pendant la journée son animée pendant le cours du centre-ville. Nous sommes dans le centre-ville de coeur de Manhattan Beach, à 2 rues de la plage / magasins / restaurants / brin. Sortez et choisissez votre spot de surf. spot de surf El Porto se trouve à 5 minutes à pied. 8 minutes de Hermosa & 10-12mins de LAX. Santa Monica, Venice, Hollywood, Orange County tous à quelques minutes en voiture. 1 1/2 h à San Diego Sea World, Legoland, Santa Barbara et les montagnes Big Bear. South Bay a quelques plages magnifiques, restaurants et boutiques. près de Palos Verdes sentiers de randonnée, Donald Trump golf et Long Beach.
We had a lovely stay! Dee went out of her way to make us welcome. Her apartment is in a great area - very walkable to the beach and restaurants.
Dawn
2015-12-31T00:00:00Z
Came down, from the Bay Area, to stay at Dee's place for my birthday. Let me say, BEST BIRTHDAY YET! And I'm pretty sure it had a lot to do with the comfort of this 1950's bungalow. Myself, and 3 friends were all very comfortable in this two bedroom/two bath. With only being two blocks from the strand and beach, we enjoyed riding our bikes to and from hermosa beach, where we dined and partied! Dee was such a great host leaving us our own loofahs and gum in our rooms upon arrival. She met with us and not only gave us a list of places to go check out, but also places to avoid :) We would most definitely come back...The morning after our return, I woke up to find my boyfriend looking for homes for rent in the area..he loved it that much!
Courtney
2013-10-10T00:00:00Z
Having an entire cottage on a walk street was amazing! The place is super cute and very comfortable. Dee was very professional and responsive. I used to live in Manhattan Beach and you can not beat this location!
Lori
2013-08-19T00:00:00Z
She had me at the photo of the knives! Nothing makes me feel as cozy as a well equipped kitchen. Everything in the description of this place is spot on: it had all the necessary makings of a wonderful stay-cation wonderful for me, husband, 2 yr old daughter, and grandma. We had the space, comfort, ease, and access needed to get that beach vacation vibe we all wanted/needed. Dee couldn't be more lovely, warm, or helpful. We hope to return again, next time bringing grandpa, too!
Jennifer
2013-09-24T00:00:00Z
The location of 416 16th street is great. Simply walk out the front walk and right down to the beach. Easy walking to restaurants, pier. Weather for us was great.
Linda
2013-10-06T00:00:00Z
Dee is a wonderful host with a very nice home. We stayed there Thanksgiving week and from start to finish, we had an excellent experience. Dee is very responsive before, during and after the stay (we thought we had left something behind), quickly answering each inquiry in a friendly, detailed way. Dee's home is a short walk from the beach in a very nice neighborhood with plenty of parking. The kitchen is well appointed (we cooked Thanksgiving Dinner with all the trimmings!), the beach chairs and bike are a nice addition, the rooms are spacious and the beds are comfortable. I think we'll be back!
Jeff & Marlea
2013-12-03T00:00:00Z
The reservation was canceled 26 days before arrival. This is an automated posting.
Laura
2014-01-19T00:00:00Z
Convenient location to the beach, shopping, grocery, the strand.
Pam
2014-07-08T00:00:00Z
Typ av rum
Eget hus/egen lgh
---
Typ av boende
Hus
---
Plats för
4
---
Sovrum
Manhattan Beach, Kalifornien, USA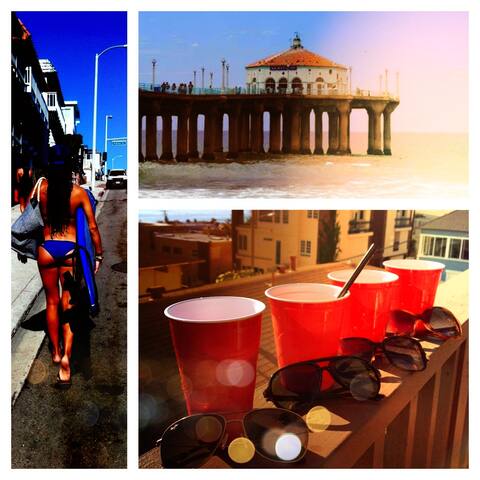 En privat noggrant utformade hus på en av de mest önskade familjen återvändsgränd gator! En stor möjlighet att tillbringa sommaren i en enorm 2000 SQF fullt utrustad huvudsakliga hem med fantastisk havsutsikt! Öppet utrymme genom ut! Alla vardagsrum, matsal, kök och familjerum har havsutsikt samt överdimensionerade taket däck!
Du kommer att förälska sig i den mysiga vardagsrummet med sin 60 tums platt-Internet-TV och tillgång till Netflix. De allra drömmande Sovrummet har sin egen herre badrum med överdimensionerade jacuzzi och klädkammare och en valfri barn säng. Alla rum är på bottenvåningen ans sval under sommaren. Al loving områden är på övervåningen och njuta av den soliga sidan av Kalifornien levande.
Lev ditt zen samtidigt vara nära Trader Joe, von och alla restauranger och butiker i Pier Avenue. Din sommarställe kommer att vara i en återvändsgränd gatan med vänligaste grannar möjligt. Söder om Los Angeles, befinner du dig i söder efter gemenskap intill Manhattan Beach och nära till berömda Palos Verdes. Din strand bara en kort tur ner på gatan är en av de vackraste du hittar längs kusten.
Typ av rum
Eget hus/egen lgh
---
Typ av boende
Hus
---
Plats för
5
---
Sovrum
Hermosa Beach, Kalifornien, USA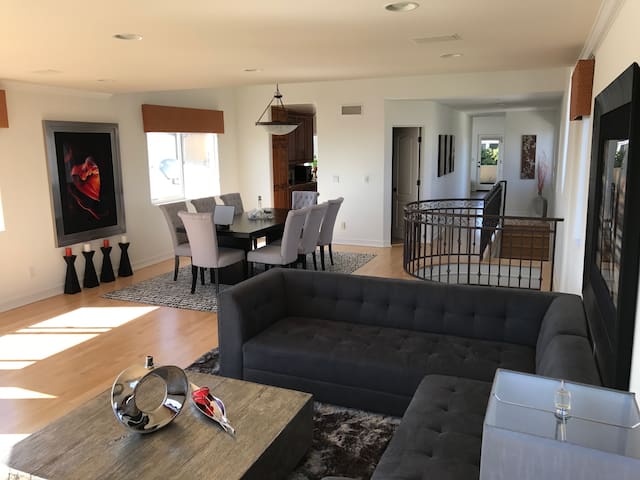 1 Badezimmer mit Schlafzimmer / Bad-Einheit nur 1 Block vom Strand entfernt und 2 Blocks von der Innenstadt von Hermosa Beach. Einer von 9 Einheiten in einer nach oben geneigten original Hermosa Beach Gebäudekomplex, liegt es oben auf und hat einen Blick auf das Meer vor der Haustür. Voll ausgestattete Küche, voll ausgestatteter Küche und Garage. Die Nachbarn sind groß und ruhig. Dies ist ein perfekter Ort in Hermosa einen komfortablen 4. Juli zu genießen nur wenige Blocks entfernt von all dem Rummel.
Der Raum ist ein Full-Schlafzimmer, Bad, eine voll ausgestattete Küche mit allen Holzböden, so dass es bequem jede Sand zu fegen, die Sie mit Ihnen aus dem 1 Block zu Fuß zurückbringen zu und vom Strand entfernt. Es verfügt über eine Liebe Sitz und eine volle Couch im Wohnzimmer voll für eine zusätzliche Person, wenn Sie wählen. Es ist der perfekte Strand-Crash-Pad.
Hermosa Beach ist ein nettes kleines Spaß Strand der Stadt. Die Stimmung ist sehr entspannt und sehr jung zugleich. Zum größten Teil ist das Gebäude ruhig und ruhig, jeder ist Profis. Sie werden nur einen Block vom Strand entfernt sein, die Sie von der Haustür und 1,5 Blocks von der Innenstadt mit Bars und Restaurants zu sehen. Manhattan Beach ist die Straße nach oben und ist ein großer Spaziergang am Strand oder eine schnelle, billige Uber. Wenn Sie sich für gute Restaurants oder das Nachtleben suchen, Hermosa Pier ist der Ort zu gehen. Und dann gibt es den Strand ...
Tim was a great host and a very helpful/nice person. He was very responsive and was available to answer any/all of my questions. The location is FABULOUS and it was great being so close to the beach and a bunch of fun restaurants. If you're planning on staying for longer than a couple days, the kitchen may not be sufficient for more than very basic cooking.
Luvean
2016-07-26T00:00:00Z
Tim has a great apartment. The pictures are accurate, and it's worth mentioning that in addition to being on the top level of the complex, it only has one shared wall, so it's very quiet. The only other listings in this price range seem to be converted garages, attics, and studios. This has to be the best bargain in Hermosa Beach. Tim is also an excellent host, and he provided great information and communication throughout our stay.
Erik
2016-02-29T00:00:00Z
Tims place was great for our needs. Hermosa Beach is a lovely and quaint town. Perfect location steps away from the beach. Tim was very responsive and friendly.
Shannon
2017-02-11T00:00:00Z
Great place and location.
Brittney
2016-05-16T00:00:00Z
Great, spot. Love the location. Easy walking distance to everything. Tim was very gracious and helpful.
Ryan
2016-06-11T00:00:00Z
Tim was an awesome host and his place was as advertised! Great beach crib and the area was also pretty cool with the beach n pier with in walking distance. Tim was very reaponsive and checked in on my stay. I'd definitely stay here again.
flavio
2016-05-24T00:00:00Z
Tim's place was exactly as described. The very short walk to the beach was super convenient and ease of access to all things Hermosa Beach was really appreciated. Tim greeted me upon arrival, giving me the low down on the place, the neighbors and the neighborhood. The bed was super comfortable, the kitchen had all the necessary amenities and the wi-fi worked great. Also, the pressure in the the shower was really strong...always appreciated. Overall a very pleasant, comfortable experience.
Michael
2016-08-13T00:00:00Z
Great location and Tim was great to deal with. The please needs cleaning and updating
Steffen
2017-03-23T00:00:00Z
Typ av rum
Eget hus/egen lgh
---
Typ av boende
Lägenhet
---
Plats för
3
---
Sovrum
Hermosa Beach, Kalifornien, USA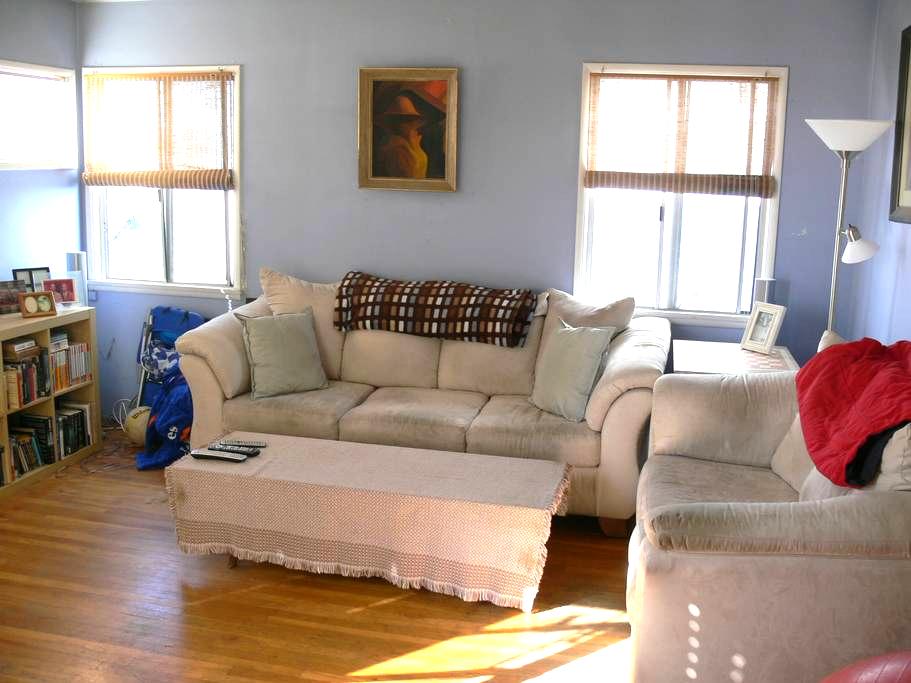 DER RAUM Unsere große, geräumige Suite ist sehr schön eingerichtet. Es verfügt über ein Bad mit Dusche, Kochnische, Queen-Bett, & Beautiful Balkon mit Liegestühlen. Das Hotel liegt im Herzen von Hermosa Beach. Nur wenige Schritte zum Pier, dem Strang und Strand. Bike, Skate, Surf, Boogie-Board, Volleyball, etc ... Auch die Schritte in die Innenstadt Hermosa, Geschäfte, Boutiquen, Yoga-Studios, Restaurants, Unterhaltung, Comedy & Magic Club. Eigener Eingang und Parkmöglichkeiten zur Verfügung. Die Suite verfügt über viele Annehmlichkeiten.
Wir sind in einer tollen Gegend mit wunderbaren Nachbarn. Der Strang, der Strand, Biken, Skaten, Boogie-Boarding, Surfen, dem Pier, Geschäfte, Bars, Restaurants, Unterhaltung, Nachtleben nur wenige Schritte vor der Tür heraus.
Michael was an extraordinary host! "The Beach Suite" was absolutley perfect. It was decorated so nicely with everything you could ever need plus more. Being steps from the beach and the pier was the prime location for anyone looking to enjoy the beach life yet have a nice comfortable and quiet place to return to. The book of recommendations for food and night life was never a let down, everything was delicious! Michael was so accommodating to anything we needed and went above and beyond! We look forward to hopefully returning in the near future! Thank you Michael for an amazing stay!
Katie
2016-08-08T00:00:00Z
Great accommodations and wonderful hosts.
monica
2017-03-18T00:00:00Z
This is a great little getaway. It's so close to the beach you can smell the salty air from the amazing patio. Tons of great restaurants and bars within a couple blocks. The bed was very comfortable. The entire place was very clean and neat. Michael and Angela were so amazing. Very accommodating. I have a big truck so he lent me his parking pass so I could park close to the place for free. I will definitely be back to stay again. Couldn't ask for better service. They are available at all times if anything is needed.
J. Austin
2016-12-12T00:00:00Z
Michael and Angela were amazing hosts! The apartment was just as pictured, and had everything we could possibly need for our short trip. The location in perfect, just minutes from the beach and countless shops and restaurants. Definitely would stay again and recommend to others!
LilyAnn
2017-01-04T00:00:00Z
Beautiful home! Felt like our own. Extremely clean and comfortable. Thank you!
Marta
2017-01-29T00:00:00Z
Exactly as pictured; wonderful location within one block of beach and just a few blocks from pier. We had a wonderful stay. Host was very welcoming.
Hugues
2016-12-27T00:00:00Z
Michael, Your space feels much larger inside that the pictures. Everything is there that 2 people might need to have a great getaway in the heart of Hermosa Beach. Thanks so much for your friendly and welcoming approach to vacation rental!
Ann
2016-08-03T00:00:00Z
I couldn't have more positive things to say about either the Beach Suite or about Michael. The suite is really, really well-appointed. Everything seems new or newly remodeled. The bed is comfortable, the tv is nice, there's a lovely balcony out back where we'd eat breakfast on the lounge chairs and enjoy the sounds of the neighborhood. The location is less than one block from the Strand and about two blocks from the Hermosa Beach pier. And Michael could not have been more gracious. He greeted us personally when we arrived, was easily reachable during our stay, and was a complete gentleman and host. We will certainly stay here the next time we are in Hermosa, and I give this listing my highest recommendation!
Jeff
2016-09-05T00:00:00Z
Typ av rum
Eget hus/egen lgh
---
Typ av boende
Lägenhet
---
Plats för
2
---
Sovrum
Hermosa Beach, Kalifornien, USA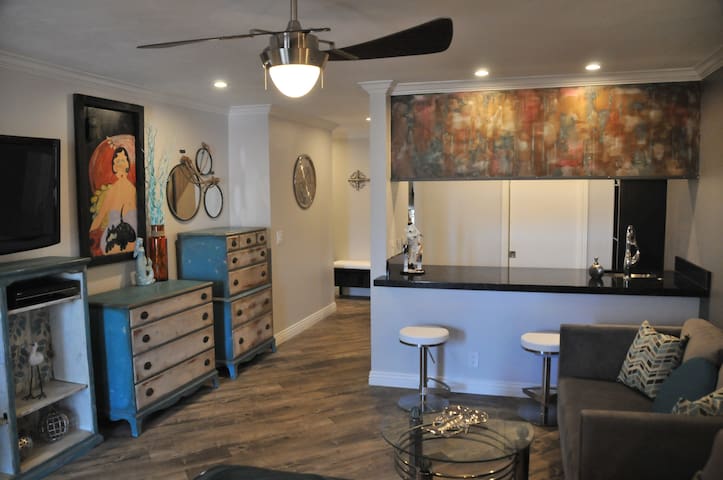 1 min zu Fuß zum Pier, wo Essen und Trinken ist an Ihnen Fingerspitzen. Dies ist eine bequeme 1-Bett, 1Ba, die 4 Schlafplätze, eine erstaunliche aktualisierte Küche mit Granit hat, Parkettböden, Wäsche auf dem Gelände n Garage. Leichte Meerblick. Bewertungen anzeigen!
Die Nähe zu einem Lebensstil kann nur die Reichen leisten.
I would like to thank Carol for making our experience an easy and relaxing one. Carol was nice enough to let us check in early so we could hit the beach and still get a little sun on our white bodies. You really felt like a local here, everything was just a short walk away. We would definitely stay here again!
jeff
2016-04-02T00:00:00Z
You can't ask for a more perfect location. Picture this, you walk out the front door take a left after about 25 yards and you are essentially 30 seconds ( let's say a minute if you walk slowly) from the Hermosa Beach pier. Carol's place is a full one bedroom apartment ( bedroom, large living room and a nice kitchen) plus a garage parking spot in the heart of Hermosa Beach.There reaaly isn't much more to say and you really couldn't ask for anything else. I was coming into the South Bay off of a couple business meetings about an hour or so away and Carol was gracious and prompt in meeting me at the unit. It was a perfect 2 day stay. I hadn' t been to Hermosa Beach in 20 years or so, but I hope to return soon and if I do, I will check the availibility on carol's place first thing.
Philip
2015-10-29T00:00:00Z
The location could not have been better-- steps the down town area and a block to the beach. The bed was really comfortable and overall the apartment was really cute!
Meghan
2015-12-07T00:00:00Z
We (3 persons) stayed in the apartment for 3 nights in October 2015. It is a nice apartment, has a well equipped kitchen. The location is perfect to enjoy beach life in Hermosa. There's no reasonable hotel in Hermosa that is closer to the beach and the pier. However, we can recommend it only for 2 persons or 2 + small child max, certainly not for 4. The cushioning of sleeping sofa is of very poor quality. We experienced a noisy neighborhood. The apartment does not have air-condition, so it gets very hot over the day when the outside temperature is high (not so uncommon in CA). Getting into the apartment was easy. Carol had everything well organized. Overall, nevertheless, a mixed experience.
Sonja
2015-10-12T00:00:00Z
The apartment was great and served our needs with full kitchen, bathroom, private bedroom with sofabed. Most of all it is right next to the pier and beach. Literally right there which my family loved the most. There is no A/C which typically you would not need at a location like this but happened to be very hot on my dates. She'll leave you standing fan though but just check the weather for really hot temperatures. Note* The password for Wi-fi will be on the modem itself and not the one from the Welcome binder.
Preet
2015-09-17T00:00:00Z
The location cannot be beat! We were satisfied with the digs given the value and impromptu booking (we reserved just two days before).
Marissa
2016-07-30T00:00:00Z
Before check-in, we received an email with directions on how to get to the place. Everything was in order and easy to find. The location is perfect. So close to Hermosa Pier and the beach. Walking distance to the beach and great restaurants, but not too close to the craziness. The apartment had everything we needed. It was very comfortable. Carol continued to check in with us to see how things were going and even thought we didn't need anything, seemed very willing to help with anything we needed.
Trish
2016-02-01T00:00:00Z
We had a great time and great place to stay. This was our first Airbnb experience and Carol made it very easy. The apartment was exactly as described, super close to Hermosa Pier, clean, and comfortable. We lucked into this unit last minute and hope to stay there again.
Melissa
2016-07-10T00:00:00Z
Typ av rum
Eget hus/egen lgh
---
Typ av boende
Lägenhet
---
Plats för
4
---
Sovrum
Hermosa Beach, Kalifornien, USA
新しく更新されたビーチハウス.. 3ベッドルーム(4ベッド)と優れた屋外の生活空間を持つ2フルバスルーム!
私たちの近所には、安全で静かで、非常に友好的です。我々は、この浜のコミュニティに住んで大好きです。
Wat een mooi huis. Alles klopte. Marc en Tammy laten je gelijk thuis voelen. Je kon fietsen (zowel volwassene- als kinderfietsen) lenen. Handdoeken voor douche als voor het strand. Allemaal goede en nuttige tips wat je kunt doen en waar wat te halen is.
Arjan
2016-08-22T00:00:00Z
I can't say enough good things about the host and this wonderful place! First off the place was perfect. It is so close to the beach as well as the downtown area. We also were able to take a quick bike ride down to the nearest town. The bikes were provided by her so it was awesome! The place was immaculate and perfect for us. We even grilled out on the back patio one night! Tammy was quick to reply to all our questions and was always close if we needed help. We will definitely be coming back and we highly recommend this place to anyone staying in the area!
SARAH
2016-01-25T00:00:00Z
Thank you Tammy Marc for a wonderful AirBNB experience! Your special touches and thoughtfulness were greatly appreciated and made our stay very enjoyable. All the furnishings and amenities at the cottage were complete and made it easy to cook a meal in the well-furnished kitchen, watch some football and holiday movies, or just hang out and sip some wine by the gas fire pit. And with the beach and Hermosa Pier only walking minutes away, it was easy to walk, run and bike along the Strand or find a nice place to eat or party with friends. Thanks again for all your warm hospitality and a wonderful Hermosa Beach experience. Rosemary, Terry and Dave
David
2015-12-29T00:00:00Z
My family and I had a wonderful time staying at Marc and Tammy's beach house rental. We couldn't recommend it more! It was clean, spacious and very well appointed. We also enjoyed that it was a mere block from the beach and a short walk to Pier Ave and an easy ride to Manhattan Beach. The space is great, especially the outdoor patio, 2nd bathroom/shower, and layout of the rooms. It feels almost brand new. They also have bikes for you to use which means great rides up to MB or down to Redondo. More than anything though was that Marc and Tammy were wonderful hosts and took great care of my sister and family!
Philip
2015-11-15T00:00:00Z
They perfect beach getaway in beautiful Southern California! We had 3 guests and the place for us comfortably, with a master bedroom, a guest bedroom, and a bunk room. There's a nice living room with and kitchen but the killer feature is the back patio, with a propane fire pit and a gas grill. Our favorite night was when we stayed home and BBQed some steaks and hung out around the pit. The location is unbeatable, you are one block from the beach, and if you're unfamiliar with the area I'll tell you that the strip of beaches from Manhattan Beach to Palos Verdes are the best in the state. You can walk to the main drag in Hermosa and find all sorts of nice restaurants, bars, surf shops, etc. We walked to a surf shop and rented boards which we road right out in front. Tammy gives you a parking pass, which is crucial, but nonetheless parking is kind of a drag and you can circle around a few times before finding a spot. The owners are really nice and will give you advice and ideas of things to do or where to eat. Note that the whole area is kind of separated from Los Angeles and the traffic into downtown LA can be a drag. But if you're looking for a beach getaway with plenty of beach and good restaurants, this is your spot.
Toby
2015-10-20T00:00:00Z
We had the most wonderful Hermosa Beach weekend at the Authentic California Beach Cottage! Tammy and Marc were so friendly and attentive, and their cottage is beautiful and clean. It's just a short walk from the beach, and Tammy and Marc have gone out of their way to offer recommendations for the nearby area which made our stay completely relaxing. The backyard fire pit was our favorite part!
Eli
2016-02-21T00:00:00Z
We LOVED this house! Everything was absolutely perfect from start to finish. Tammy and Marc are fantastic - very easy to reach, and so welcoming. The home is recently renovated, and the quintessential beach cottage. They have thought of every detail, from the storage garage with plenty of beach amenities, to the fire pit in the backyard, parking pass, and welcome book highlighting must-visit shops, sites and eateries. We will definitely be back!
Trina
2016-03-26T00:00:00Z
Beautiful 1920's beach cottage that is tastefully updated but still maintains the original details that make the home so charming. The host and hostess were very friendly and were there for anything we needed or question we had regarding the home. The location is on a quite street, one block from the beach. The strand is a few blocks away with many places to eat and shop. The outside patio is so cozy and private with q fire pit to keep you warm on cool nights. There is a pool house that is a separate building that is so adorable and my kids loved to play in there during our stay. We would definitely stay at this home again and we highly recommend!
Allison
2016-06-03T00:00:00Z
Typ av rum
Eget hus/egen lgh
---
Typ av boende
Hus
---
Plats för
6
---
Sovrum
Hermosa Beach, Kalifornien, USA
私たちのビーチハウスのクリーンなラインとモダンな快適さをお楽しみください!家は、ハイエンドの家電製品と仕上げています。キングサイズベッドと2つのベッドルーム、それぞれがあります。プロパンガスグリル、2台の自転車、ビーチチェア、パラソルが含まれて!
ビーチへ徒歩圏内!閉じるストランド、桟橋、ビーチ、レストラン、あなたの休暇を最大限に活用するためにすべてのものに!それはあなたが失望されません、素晴らしいエリアです! あなたのスーツケースを離れて押し込むための超快適キングサイズベッドとクローゼットスペースをたっぷりと二つのベッドルーム。リビングルームには、別の大人2名をスリープ状態に引き出しソファがあります。 55はベライゾンFIOS HDTV、Wi-Fi付きのブルーレイプレーヤー付きLEDスマートテレビでは、Netflixのへのアクティブなサブスクリプションは、あなたが自由のために映画を見て、ビーチでの一日の後にリラックスすることができます含まれています。 (YouTubeやパンドラも利用可能)。 あなたが一台の車を残して、コインパーキングを支払う必要がないことができるように路上駐車場は、我々は1つの滞留駐車パスが含まれます。 私たちの近所には、ビーチコミュニティです。誰もが非常にのんびりとフレンドリーです。静かな通り、私たちは夜に開いて、私たちの窓で海を聞くことができることをそんなに! 私たちは、ストランドと、いくつかのショッピング/ダイニングへの便利なアクセスのために2台の自転車を提供しています。我々はまた、あなたが一台の車の路上駐車のために借りることができる1つの駐車パスを持っています。ハモサビーチは、バスシステムを持っていますが、ほとんどはそうハモサビーチは半径のみ1平方マイルがあるとして、どこでも歩くことになるでしょう! ハモサビーチ桟橋では、多くのレストランやショップがあります、家から歩いてすぐです。桟橋の最後に出て歩くとは、シールやイルカを見ることが起こるかもしれません! 私たちは、すべての質問のために利用できる、私達に連絡することを躊躇しないでください。 ご注意ください: または財産上は禁煙。あなたが喫煙する場合は、通りに出て行かなければなりません。いいえ薬はありません。ない党のレンタル。 ペットポリシーについては、お問い合わせください。 最大宿泊人数:6人 下記の私たちの地域についての一般情報: 1.サンセットマガジン率エルモサトップのビーチ。ゴージャスな夕日毎晩、バレーボール、ビーチにあなたのピクニックを取る、お土産のためのいくつかの貝殻を拾います! 2.レドンドビーチピア、キングハーバーは鮮魚市場、子どもの遊び/ゲームセンター、ショッピング、ボート&ホエールウォッチングツアー、子供のウォーターパークなど多くを持っています。ターゲット、サウスベイギャレリアモールノードストローム、そしてコストコは7-15分以内です。 3.自転車は「ストランド」として知られている私たちのいくつかのマイルの長い遊歩道を、訪問する素晴らしい方法であり、4はレンタルに含まれています!エルモサ桟橋近く3軒のその他の自転車レンタル店があります。 近く行うに興味深く、楽しいことの4ロット:「ヤード」ジムでワークアウトを行います。バレーパーク近くの新しい子供用の遊び場があります。公共テニス、バスケットボールコートが近くにあります。ゴルフ練習場、パー3つのコースをし、ミニチュアゴルフは15分です。壮大ドナルド・トランプナショナルゴルフクラブは20分です。 到着/出発: LAX(ロサンゼルス国際空港)トラフィックに応じて、ちょうど10~20分です。私たちは、あなただけの、空港から約$ 35タクシーやユーバーの車を取るお勧めします。あなたがここにいる一度あなたが必要がある場合、すべての距離を離れて歩いているとあなたは車を必要としません。 車:あなたが車を持っている場合は、1つの駐車パスが含まれている(あなたがストリートメートルを支払う必要はありません)。ロサンゼルス動物園、ゲッティセンター、ハリウッド、マリブ、マジックマウンテン、ユニバーサルスタジオ、ラブレアタールピット、ナッツベリーファーム、ディズニーランド、カリフォルニア・アドベンチャー、シーワールド、サンディエゴ、サンタバーバラ:あなたはから高速道路のドライブになるだろうパームスプリングス。
Säker, tyst, och vänskapliga förbindelser
Genevieve's house was great! The location is perfect, close to restaurants and shops and just a few blocks from the strand + the beach. It had everything we needed, from beach chairs to bikes. I would recommend this rental for sure!
Sofia
2017-02-21T00:00:00Z
Genevieve was a great host. Location was awesome right by the beach. The house was very nice. I would recommend staying here ten times out of ten
Ryan
2017-03-14T00:00:00Z
We had a wonderful week in Hermosa Beach. Genevieve's house is conveniently located to the beach and within walking distance of shops and restaurants. The apartment was clean and had everything we needed and Genevieve was helpful and responsive to the few questions we had during our stay.
Jessica
2017-01-01T00:00:00Z
We had such a great time in Hermosa, largely due to the comfort and convenience of Genevieve's place. Genevieve gave us a tour of the place in great detail upon our arrival and was available for questions. The place is nice and comfortable and the location is super close to the beach. There are four bikes to use and chairs for the beach which we really enjoyed having. Also, the kitchen has plenty of cookware and there is a grill on the patio (we actually never used the grill) . The wifi worked great. The beds were very comfortable and parking was pretty easy.
Justin
2016-12-23T00:00:00Z
We absolutely loved our stay!! Access to the beach was perfect. Lovely location and amenities. Very comfortable beds. We would definitely stay here again on our next trip!!
Kim
2017-03-25T00:00:00Z
Lovely home & hottest. Excellent location & has everything thing you need. Home away from home. highly recommend
Mina
2017-02-13T00:00:00Z
We would definitely return! Location was great and the home is lovely and spacious. It is so thoughtful that you provided bikes and beach chairs. Very close to lots of great restaurants too. Check in and out was a breeze.
Vicki
2017-03-06T00:00:00Z
Great location, bright, clean and modern! Genevieve also helped me get in a little early after a long flight.
Gary
2017-04-03T00:00:00Z
Typ av rum
Eget hus/egen lgh
---
Typ av boende
Hus
---
Plats för
6
---
Sovrum
Hermosa Beach, Kalifornien, USA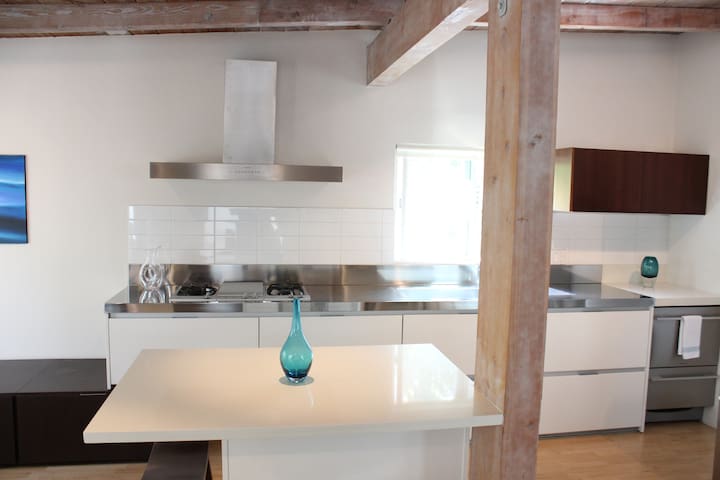 1

–

18

av

300+ Boenden att hyra
Ange datum för att se full prissättning. Ytterligare avgifter tillkommer. Skatter kan tillkomma.