Welcome to the Studio gARTen! Take a relaxing break, surrounded by interesting objets d'art and our wonderful garden.
Welcome to the Studio gARTen! We offer a spacious and stylish studio (55m2) with kitchen, sleeping area, bathroom and patio. Take a relaxing break, surrounded by interesting objets d'art. The location is on a hill between the lakes of Sempach and Baldegg and offers a beautiful view of the Alps. Excellent walking and cycling trails are accessible from the door. Downtown Lucerne can be reached in 20 min. by car or bus. The golf facility "Sempachersee" offers two golf ranges with 18 holes each and belongs to the largest and most beautiful in Switzerland. The studio is very comfortable and well equipped with: - A kitchen with a ceramic hob, microwave, fridge, toaster, kettle, coffee and egg cooker. - One bedroom with a double bed, cupboard, dresser and a desk. A baby cot is available. - Open dining and living room with a sofa bed (150 x 200 cm), dining table, TV, and CD player. A baby cot is also available Bathroom with shower, toilet, sink, washing machine and dryer.. - Free internet Wi-Fi access - Garden terrace with table, chairs and a barbecue. - Private parking The studio is located about 5 km from the motorway E35 / A2 Basel - Gotthard - Lugano Lucerne center can be reached by car in 15 - 20 minutes.
Mark is very nice and welcome person , they have a very nice garden , nice room . I love it very much!
铭
2016-06-11T00:00:00Z
Quel bel endroit nature, calme et paisible ! Des hôtes tout à fait accueillants, avec de petites attentions touchantes. Idéalement situé, à la fois pour bénéficier de la beauté des collines verdoyantes, tout en étant à 25mn du centre de Lucerne. Très bon séjour, à recommander. Francis
fRANCIS
2016-08-06T00:00:00Z
Gerti and Mark were very accommodating and communicated well. The studio was very comfortable and clean. Thank you for making our stay very enjoyable and especially for the gifts we received.
Noelle
2015-02-05T00:00:00Z
The atmosphere and the place is very very good. The studio is very well equipped and has all the required ammenities . Very nice owners Mark and his wife , supportive and helpful . Only drawback 25 min away from the city .
nitesh
2013-05-12T00:00:00Z
We stayed at Mark's studio for 2 nights. The property is located at Hildisrieden Post, which is 25 minutes bus ride from Luzern's main railway station. The place is calm and serene with beautiful view of mountains from the garden and the window. We were picked up by Mark's daughter from Hildisrieden Post bus stop on the day we arrived. She showed us the property and very happily baked the pizza, which we got for our dinner in their oven. On the day we left Mark kindly dropped us back to the bus stop. The property is very well done and its easily the best bnb I have stayed in so far. The host were very helpful in a non intrusive way which made the stay even more enjoyable and it almost felt like staying at home away from home. I would love to go back to Mark's place again and would highly recommend this place to others.
Saurabh Seth
2016-05-31T00:00:00Z
This apartment was beautiful, spacey and clean. Only 15 min drive from Lucerne, the apartment is nicely situated in the country hills just outside of town. As well, within minutes walk is a great restaurant at the centre of the village that was delicious. Lastly, Mark and Gierti were wonderful hosts! They made you immediately feel welcome and at home. Would stay again in a second!
Jay
2014-10-27T00:00:00Z
My wife and I had a lovely time staying at this studio, which overlooks the garden/backyard. Unfortunately, poor weather prevented us from seeing the Alps in the distance but knowing they were there made it special.
Ryan
2016-04-10T00:00:00Z
My fiancee' and I thoroughly enjoyed our stay in the private modern and clean apartment. First we enjoyed a lovely welcome from both Mr and Mrs Walker and then we were able to enjoy, at our leisure, relaxing in the beautiful garden just outside our door! Mr and Mrs Walker have been superb hosts and as a bonus they invited us into their home for an aperitif. As my partner and I were in the middle of re-locating to Luzern, Mr Walker had been more than willing to help us with advice and some translations. He was also very flexible and accommodated our every need which was especially appreciated during our stressful time of relocating. I would recommend anyone to stay here for either business, leisure or in transit. In fact, we would happily stay here again or send our family and friends here for a short break. The apartment is fully equipped with all mod cons and is not far from Luzern by either public transport or car.
Beretta
2013-05-30T00:00:00Z
Typ av rum
Eget hus/egen lgh
---
Typ av boende
Hus
---
Plats för
2
---
Sovrum
Hildisrieden, Luzern, Schweiz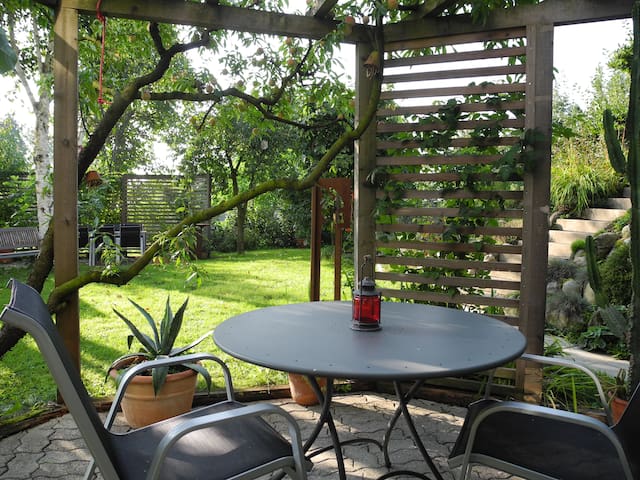 The Room is in a Farmhouse in the nice country side of Luzern, There is a Bus Nr.50/52 to Gromund Busstation from there a 15min walk from the house until late in the night to and from Luzern Pets are welcomed.
A cosy Farmhouse in the green, but still have puplic Transport near by
Amazing Views Shopping in near by Village Hildisrieden.
The host canceled this reservation 39 days before arrival. This is an automated posting.
yunjeong
2016-05-22T00:00:00Z
We spent 2 nights at Reto's house and the experience was very positive. Reto is very nice host and it was a pleasure to spend time with him. The description of the place is accurate and it was relatively easy to find - although (SENSITIVE CONTENTS HIDDEN) showed us a bit different way (partly unpaved as it turned out). What is really nice about the location is the silence. No cars passing by, no loudly people running around, etc.
Joanna and Mirek
2014-09-29T00:00:00Z
Reto was very welcoming and shared a lot of local information with us. The house and room are just as described as well as warm and cozy. The location is idyllic and very charming. Reto and Vladimir are really nice people. Would recommend them highly.
Mignonne
2016-10-15T00:00:00Z
The sight is pretty good .The host is friendly and warm-hearted.
QICHUN
2016-07-18T00:00:00Z
很漂亮的农场,屋子干净舒适,房东很热情
Pengcheng
2016-06-29T00:00:00Z
He is very kindly and friendly person. We could see horses, goats, sheeps, and cows. My friend really liked it. I could feel the nature of Swiss. It was an incredible experience.
상희
2016-07-13T00:00:00Z
The host canceled this reservation 36 days before arrival. This is an automated posting.
Wojciech
2016-08-14T00:00:00Z
Maybe some people would have liked... Ask for more photos! Reto strives
Theo
2016-06-05T00:00:00Z
Typ av rum
Eget rum
---
Typ av boende
Hus
---
Plats för
2
---
Sovrum
Neudorf, Lucerne, Schweiz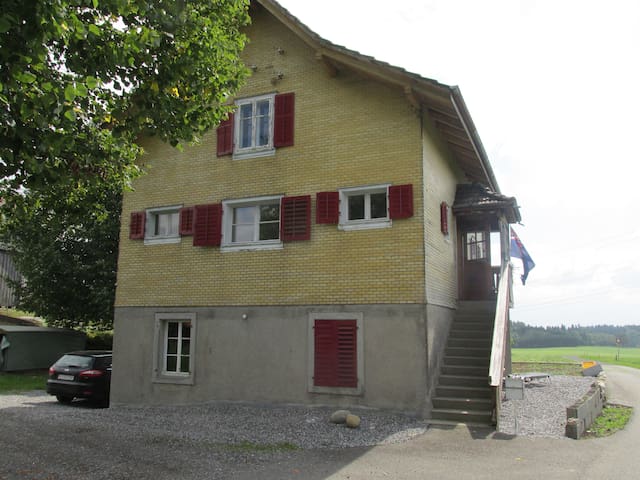 My new house is in a lovely and very quiet area with a beautiful view to the mountains. It's a short walking distance to The Lake of Sempach. Lucerne is only a 10 min-drive away.The house has a fantastic wellness garden with a 7 m Kneipp basin.
My house is situated in the picturesque historic town of Sempach. It is bright and cosy and you can enjoy the fantastic view to the mountains or to the garden from almost every room. It sleeps 1- 2 people and 1 child (2 guest bedrooms are available).
Sempach is perfectly positioned for sightseeing trips throughout Switzerland. Many skiing regions are nearby.
We had an amazing stay at Magna's home for two nights. The house was clean, and it had everything needed for a comfortable stay. She was so kind to us. The view of the mountains from the back window is incredible! Magna was the perfect host, and the house was the perfect place to experience Sempach and Lucerne. I highly recommend this place to anyone who visits Switzerland.
Julie & Jeff
2013-12-30T00:00:00Z
Excellent place. Amazing surroundings.10 mins walk from the nearest bus stop. The house was as beautiful as mentioned by her in the description but the best part of our trip was our dearest host Magda! She was extremely cooperative, caring and loving. She behaved in a motherly way. Albeit our house was 15 mins from the nearest train station and could be easily reached by bus then too she dropped us whenever we needed at the station in the morning so that we didn't get late for our next destination! She took care of us and our comforts at every step. The amenities too provided by her were great. We would recommend this place to everyone who wants to stay home away from home.
navneet
2016-06-06T00:00:00Z
Typ av rum
Eget rum
---
Typ av boende
Hus
---
Plats för
1
---
Sovrum
Sempach, Lucerne, Schweiz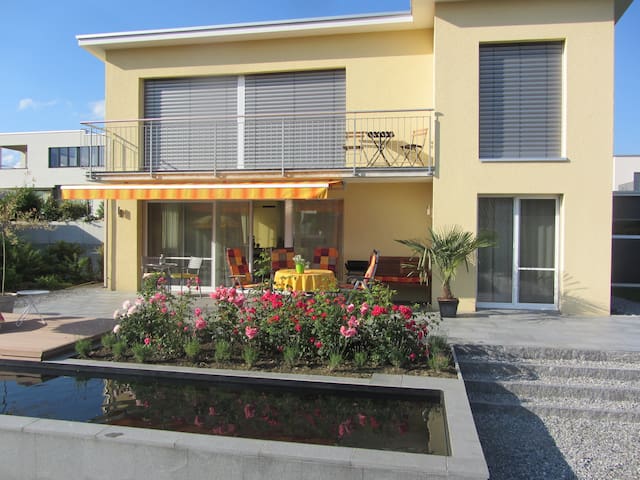 Amazingly close to the lake. Beautiful refurbished Chalet with high comfort. Very quiet, but close to public transportation. Amazing views. Waterski boat in front of the house, for rent available for motorboat license holders
Swimming platform, big garden, pets allowed
There is no direct neighborhood.
Typ av rum
Eget hus/egen lgh
---
Typ av boende
Hus
---
Plats för
8
---
Sovrum
Eich, Luzern, Schweiz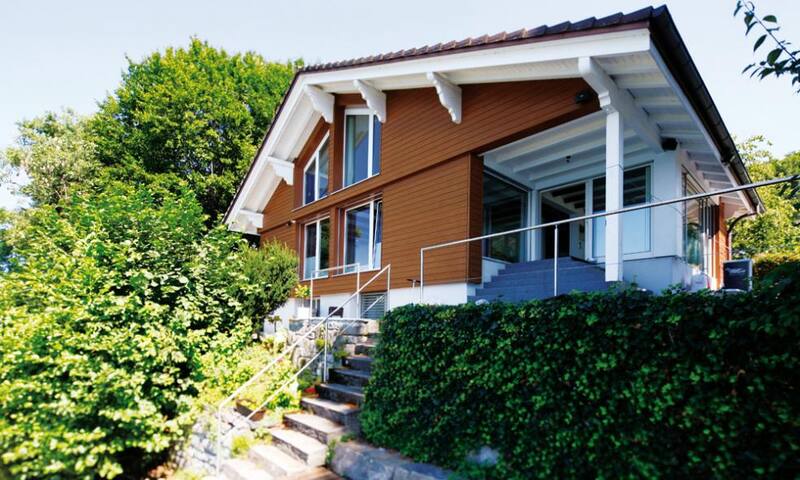 Unser Einfamilienhaus steht auf dem Land neben einem Bauernhof mit Sicht auf den Pilatus (Hausberg von Luzern). Mit dem Bus erreicht man die wunderschöne Stadt Luzern und den Vierwaldstättersee in ca. 20 Minuten.
Typ av rum
Eget rum
---
Typ av boende
Hus
---
Plats för
1
---
Sovrum
Neuenkirch, Luzern, Schweiz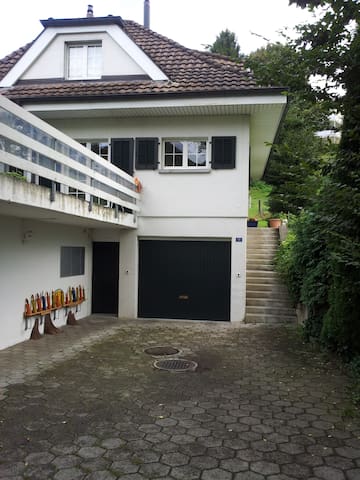 Komfortables Unterkunft, 80m2 gedeckte Gartenterrasse mit Whirlpool und Cheminé. Kleintierpark mit Lama, Zwergziegen, Pferde usw. SPARTIPP: Unser Ferienhaus ist der ideale Ausgangspunkt für Winterferien in der Zentralschweiz.
Grüezi und herzlich willkommen auf unserem Bauernhof mit komplett rollstuhlgängiger Gruppenunterkunft an idyllischer Lage in Rothenburg bei Luzern. Das vor wenigen Jahren renovierte Haus bietet Platz für bis zu 21 Gäste in insgesamt sieben Schlafzimmern (vier 2-Bett-Zimmer, ein 2- bis 3-Bett-Zimmer, ein 3- bis 4-Bett-Zimmer sowie ein 6-Bett-Zimmer mit 3 Kajütenbetten). Das gesamte Haus kommt ohne Schwellen aus und verfügt über einen Treppenlift für elektrische Rollstühle mit einer Traglast von bis zu 250 kg. Jede Etage ist mit modernen Toiletten und Duschen (inkl. Handgriffe und Klappsitze) ausgestattet. Speisesaal und Aufenthaltsraum laden zum gemütlichen Beisammensein ein. Den Gästen stehen ein Fernseher mit DVD und Video und ein Klavier zur Verfügung. Verwöhnen Sie sich mit einem belebenden Bad in unserem 38–40 °C warmen Whirlpool, und geniessen Sie dabei den bezaubernden Ausblick auf unseren angrenzenden Tierpark. Ein 80 m2 grosser, schön eingerichteter gedeckter Gartensitzplatz mit Chemineé, 250 m2 Rasen mit Spielplatz und ein grosszügiges Ess- und Aufenthaltszimmer ermöglichen ein gemütliches Verweilen bei jedem Wetter.
Super gut eingerichtet, sehr ruhig, fantastisches "service", ganz herzige Tieren, super sauber, tolles Spielplatz für die Kinder, sehr angenehmes Jacuzzi, extrem sympathische Familie, geschmackvolle Dekoration, bequeme Betten, praktische Laage, ... Ich konnte weiter Komplimente machen, wir haben den Wochenende sehr genossen! Alles war perfekt. Danke vielmals!
Sandrine
2017-02-05T00:00:00Z
Das Haus ist perfekt ausgestattet für einen Urlaub in größeren Gruppen und speziell für Rollstuhlfahrer. Brent und Lucia sind sehr nett und äußerst bemüht den Urlaub für die Gäste perfekt zu machen.
Nino
2016-01-01T00:00:00Z
War alles gut. Nicht von der Anfahrt durch das Gewerbegebiet erschrecken lassen, das Haus ist hübsch gelegen.
Christoph
2017-03-01T00:00:00Z
房东非常热情,服务非常周到,舒适,干净。有家的感觉!有孩子的游乐天地,有spa,一望无际的草坪!美极了,还会再去。太喜欢了
恩鸣
2017-02-11T00:00:00Z
Es hat mir und meiner Schulklasse sehr gut gefallen! Wir haben uns wohl gefühlt und bei Fragen haben uns Brent und Lucia stets geholfen. Die Lage ist perfekt als Startpunkt für viele Ausflüge und man kann sich in der bestens ausgestatteten Küche wunderbar selbst versorgen, auch mit einer grossen Gruppe von 20 Personen! Der Whirlpool wird vor allem für meine Schüler unvergesslich bleiben :) Danke für die schöne Zeit bei euch, ich komme bestimmt wieder!
Janina
2016-11-25T00:00:00Z
My friends and I stayed at Bauernhaus Panoramablick for three nights. Our stay has been lovely: the house is big, clean and full of comforts. Brent and Lucia, the owners, are very kind and nice. The house is near a farm, surrounded by animals and parks, very quiet and relaxing. I really recommend this house people who want to relax themselves and reach Swiss towns like Bern or Zurich in less than one hour. It's also perfect for groups of people.
Federica
2015-12-08T00:00:00Z
Was für ein Wochenende. Das Haus ist einfach super, Küche super gut eingerichtet, Jaccuzzi draussen im Winter war einfach genial. Lucia und Brent sind sehr freundlich und hilfreich gewesen. Nur zu empfehlen! Bis bald hoffentlich! ;)
Fab
2016-11-13T00:00:00Z
非常好的房东,对我们很周到
周
2017-01-19T00:00:00Z
Typ av rum
Eget hus/egen lgh
---
Typ av boende
Hus
---
Plats för
16
---
Sovrum
Rothenburg, Luzern, Schweiz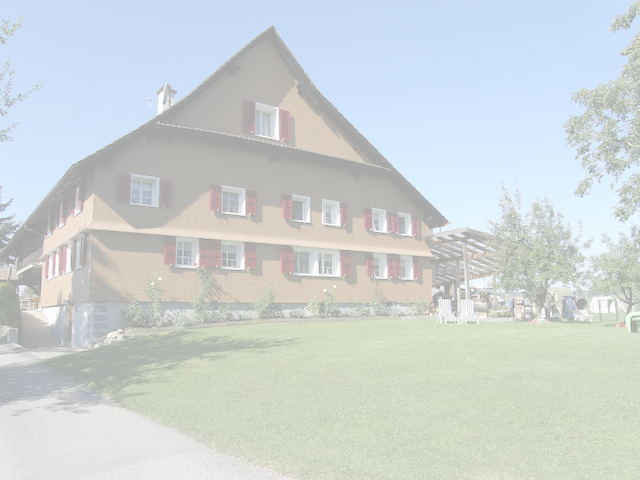 Newly renovated with all modern comforts. This house has amazing views of lake Sempach and a wraparound garden. With a large kitchen, beautiful fireplace and two floors of space it is the perfect place to enjoy Switzerland with those you love. ( parking for up to 4 cars)
Jennifer was an excellent communicator and answered questions quickly and thoroughly. She was friendly and very easy to work with. The house is spacious, very modern, clean, and well-stocked with dishes and cooking supplies. The neighborhood was beautiful - a rural feel while being close to the amenities of town. It is a 10 minute walk to the train station from which you can travel to larger cities. The view from the house is spectacular, overlooking the lake with mountains to the side. Would definitely stay here again if back in the area.
Kim
2016-05-31T00:00:00Z
Great house, stayed there this summer for 50 nights with my wife & 2 kids (13yrs & 8yrs) and it was our best vacation ever because of the host, the house and the town. Jennifer & Regula helped us to the last detail to ensure that our holiday was pleasant and left nothing more to be required. The house is spacious with best views ever, sitting at the table inside, terrace outside or in the garden u will see the lake and mountains. The house design, finishing, furniture, amenities and level of privacy inside and in garden are great. The town is calm which allowed for enjoying the lake, bicycling or just walking around in a healthy environment. Thank u Jennifer.
Fahad
2016-09-06T00:00:00Z
Typ av rum
Eget hus/egen lgh
---
Typ av boende
Hus
---
Plats för
8
---
Sovrum
Nottwil, LU, Schweiz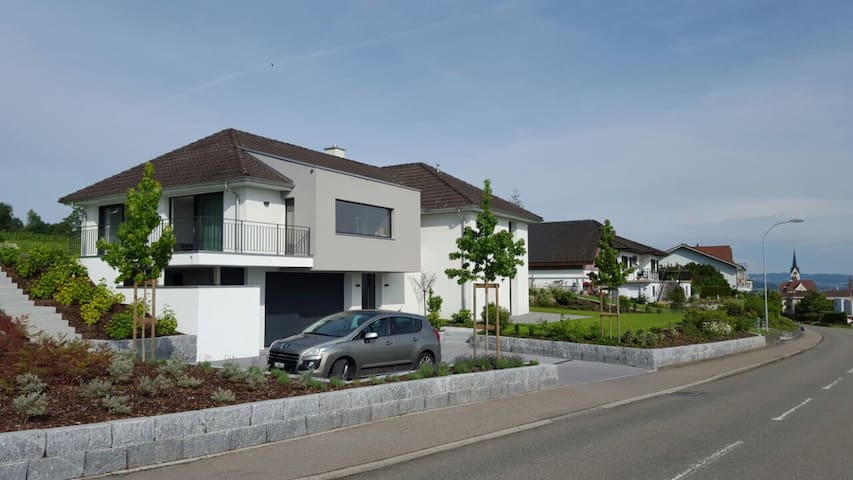 Das Zimmer befindet sich im ersten Stock eines älteren Einfamilienhauses. Die Dusche befindet sich unmittelbar neben dem Zimmer. Die Küche, Garten mit Grill stehen zur Verfügung. 20 Minuten vom HB-Luzern mit ÖV.
Das Haus liegt am Ende einer Sackgasse und ist für die zentrale Lage sehr ruhig. Das Haus wurde sanft renoviert, alle Zimmer haben geölte Eichenparkettböden.
Emmenbrücke ist eine aufstrebende Vorortsgemeinde von Luzern, in unmittelbarer Nähe hat es einen Kinokomplex und gute Speise-Lokalitäten
He is nice host. Pick me up at bus station and drop me a front of centre station for sightseeing. House is calm and peaceful. Lots of towel, every stuff can used to his house. He will be show the his garden, garage and beer bar! enjoy his nice home. Feel like a small hotel :-) Recommand this home!!
Jinseok
2015-07-12T00:00:00Z
The room was as described. Very nice house and organised. Manfred was very friendly and helpful. The access by public transport is super easy. Will recommend it.
Julian
2015-07-09T00:00:00Z
Manfred is a warm and welcoming fellow. He was able to accommodate me at the last minute and made everything very easy to understand. It's a simple 20 minute bus ride from his house to the train station, which you can walk from to see most of the sights. Overall great experience.
Jeoff
2015-08-11T00:00:00Z
Das Haus ist mit viel charme und kreativität eingerichtet. Der Balkon ist toll weil man eine tolle Aussicht hat und der Garten vor dem Haus ist ebenfalls sehr einladend und man kann die Seele darin gut baumeln lassen. Das Zimmer ist geräumig und es gibt genug Ablageflächen. Ich habe mich gut aufgehoben und wohl gefühlt. Manfred war sehr freundlich und hat mir alles gut erklärt. Im Keller gibt es einen Musikkeller welchen man auch anschauen und in absprache sicher auch benutzen kann um mit Freunden zusammenzuhocken. Auf jeden Fall ein lohnenswerter Besuch und jederzeitz Wieder. LG, Artur
Artur
2016-02-23T00:00:00Z
The description is clear and accurate. The house was very clean and tidy. Manfred is an excellent host, contacts with you clearly and fast.
Carlos
2015-04-25T00:00:00Z
Probably the most well-organized airbnb I've ever stayed at. Extremely comfortable and clean bedroom. The house is right around the corner from a bus stop for a bus that will take you to Luzern/Lucerne. There is also a very nice grocery store about a block away. Would highly recommend this place to my friends, and would stay here again if I'm in the area.
Caroline
2015-08-20T00:00:00Z
Manfred ist super Gastgeber. Ich habe die gelegen seiner Frau Isa und Ihn auch nähe kennenlernen – wir haben zusammen Sylwester 2015 gefeiert. Sie sind beide Interessante, sehr Nette und hilfsbereite Mensch. Es war richtig Tool.
Mieczyslaw
2015-01-02T00:00:00Z
manfred 是我遇到过的最好的最热心的也最有意思的客栈老板。包括他的家人,我因为喜欢乡间的风景,他就邀请我到他家住了一晚,还特意开车绕了条风景优美的小路,带我去一个乡间小茶馆喝茶。不得不说我在这里度过了非常愉快的两天。如果没有提前做预订,我会选择至少住一周,他的湖边的房子太漂亮了!风景好,可以徒步,爬山,游泳。公寓也很舒服,干净,温馨,厨房家伙一应俱全,真的是非常好的体验!谢谢你,manfred和你的家人! 译 文 Manfred is the best one that I have ever seen the most enthusiastic and interesting inn boss. Including his family, because I like the scenery of the countryside, he invited me to his house for a night, had to drive around to the scenic road, take me to a little country tea houses. Have to say I had a very pleasant here for two days. If there is no make reservation in advance, I will choose to live at least a week, he of the lake house is so beautiful! The scenery is good, can walk, mountain climbing, swimming. Apartment is very comfortable, clean and warm, the kitchen guy from soup to nuts, really is a very good experience! Manfred, thank you and your family!
apple
2015-08-05T00:00:00Z
Typ av rum
Eget rum
---
Typ av boende
Hus
---
Plats för
1
---
Sovrum
Emmen, Lucerne, Schweiz
Our house is located near Lucerne. By train you are in 7 minutes in the middle of the city of Lucerne. Even with the car one is fast at all the sites around Lucerne. All amenities are available in the house. However, our cat Leo is also be fed in the house and would need during your presence.
Typ av rum
Eget hus/egen lgh
---
Typ av boende
Hus
---
Plats för
9
---
Sovrum
Emmen, Luzern, Schweiz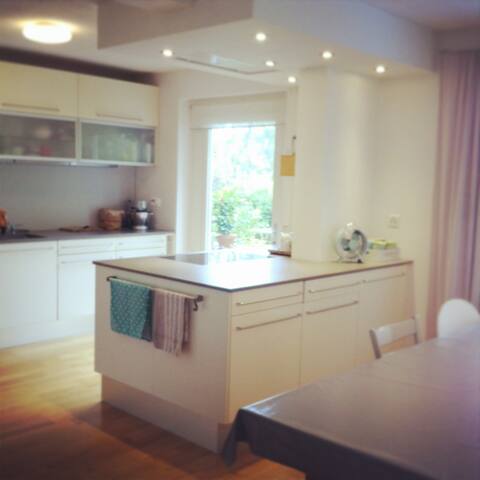 We welcome you to our charming swiss landhouse. Surrounded by the beautifull nature but still only a 10 minutes car ride from Lucerne, it offers the perfect balance for people who not only like to do a city trip, but also like to relax!
You find yourself in a totally remote area with no trafic, nor light pollution. Get your experience in a unique rural farmhouse out in nature but close to the City.
Go for a walk, for a bike ride, a short trip to Luzern, or for a hike to mount Pilatus or just relax in our garden, make a fire and barbecue and enjoy swiss country side.
Our hosts Manu and Petra made us feel very welcome. Their house is so beautiful, that photographs don't do the location justice. This was our second visit as we love the area and the house and Manu and Petra are great hosts.
Karen
2016-05-31T00:00:00Z
Petra und ihr Freund haben uns sehr lieb empfangen und das Frühstück war sehr lecker. Das Zimmer war sauber und wie angekündigt. Es gab sogar Handtücher. Die Lage des sehr alten Bauernhauses ist in Mitten von Feldern und unser Hund hat sich sehr wohlgefühlt. Leider waren im Bad sehr viele Spinnen.
Lena
2015-07-21T00:00:00Z
Wunderbar unkompliziert und natürliche Gastgeber. Sehr ruhige und friedvolle Lage und ein grossartiges Schlafvergnügen inklusive selbstgemachte Naturkost aus dem Garten.
Nina
2015-10-26T00:00:00Z
Merci Petra pour votre hospitalité, et pour nous avoir fait partager un peu de votre vie proche de la nature, dans cette belle maison traditionnelle. La maison n'est pas facile à trouver, mais cela vaut la chandelle. Un bon moment de ressourcement. 5/5 de la part de quelqu'un qui aime la nature et la simplicité.
Laurent
2015-05-24T00:00:00Z
It was a wonderful experience. The view from room was just amazing and so is the host Petra with a smiling face. Would love to visit again
ajith
2015-08-24T00:00:00Z
Petra and Manu made us feel amazing! Their place is located in heaven, with wonderful views of the mountains nearby. They are extremely friendly and well travelled and share their experiences openly. We appreciated our discussions about our travels. The room was cozy and perfectly clean. The breakfast was the best: bio food with a huge bowl of birscher-muesli, great cheese, super tea and fresh-baked bread! We are so happy to recommend Petra and Manu for other AirBnB guests.
Monica
2016-05-07T00:00:00Z
Petra came out to greet us and the room was beautifully done. She also had Swiss chocolates for us!
Snehal
2015-05-20T00:00:00Z
Petra was a great host we arrived late evening she waited up for us and welcomed us warmly. Both Petra and Manuell were happy to chat. Breakfast was very tasty overall great experience thanks.
Graham
2016-06-19T00:00:00Z
Typ av rum
Eget rum
---
Typ av boende
Hus
---
Plats för
2
---
Sovrum
Malters, Luzern, Schweiz
Das Zimmer befindet sich im Hochparterre eines älteren Einfamilienhauses. Die Dusche befindet sich unmittelbar neben dem Zimmer. Die Küche, Garten mit Grill stehen zur Verfügung. 20 Minuten vom HB-Luzern mit ÖV.
Sehr sympathischer Vermieter:-) Sehr ruhige Lage und saubere Unterkunft! Jederzeit gerne wieder!
Myriam
2016-04-28T00:00:00Z
I had a really pleasant journey at Manfred's house. Everything you need is in the house, it was clean and I shared the kitchen with 2 other guests. Moreover the house is well located in Emmen, supermarket and grocery around the corner and not that far away from Lucerne. You can reach the highway in a few minutes. I would highly recommend it to anyone who's searching for a good deal around Lucerne.
Nicolas
2016-05-14T00:00:00Z
Ich wurde von Manfred herzlich begrüsst und es wurde mir kurz alles erklärt. Ich habe mich vom ersten Moment an sehr wohl gefühlt. das Zimmer und das Haus im allgemeinen ist sauber und gepflegt. Es entsprach völlig meinen Erwartungen. Vielen Dank für alles und bis vielleicht ein andermal in Luzern.
Pascal
2016-06-06T00:00:00Z
Typ av rum
Eget rum
---
Typ av boende
Hus
---
Plats för
1
---
Sovrum
Emmen, Luzern, Schweiz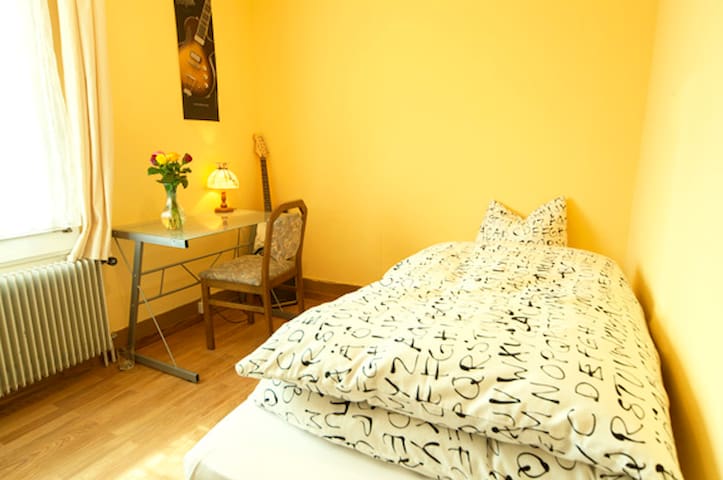 The house is completely in the countryside in a quiet, sunny location. From the nearest bus stop to; Restaurant, village, train station, lake or Paraplegic Centre Nottwil within 5 min. A soccer field (for use) belongs to the property. The surrounding area is ideal for hiking, biking, jogging, swimming, playing football etc. a. The magnificent view of the mountains and the lake will delight you. Accommodation for max. 6 persons Families with children are welcome.
Typ av rum
Eget hus/egen lgh
---
Typ av boende
Hus
---
Plats för
6
---
Sovrum
Nottwil, Luzern, Schweiz

We have a free room on our farm with a lot of different animals. The city Lucerne is only 25 minutes by public transport away. The room is very big and has a 140*200cm bed, a desk, and a big tallboy.
When you are interested, you can visit all our animals: Dog, cat, chicken, pigs and cows. The forest and the river Reuss is only 5 minutes away by walking.
For touring Lucerne, we booked the house for about a weekend. Felix was warm & welcoming ! He even offered to pick me up from the bus-station, but I didn't see his message and had to walk. Felix welcomed us and showed us around. My three yr old kid especially liked the cows and hens ! The house was really big, with an old world charm. The family was nice and the surrounding beautiful. The room was as advertised and the bathroom, which was apparently shared by the family, was clean and perfect. The kitchen was accessible, though in a lower floor & not much used by us. Being slightly handicapped, and with a kid, we particularly found the frequent walking to the bus-station difficult. But Felix was kind enough to offer another ride when we finally returned, even though he himself had a broken hand. Overall, we had a nice time in Felix's place !
Dr Mashuq
2016-06-28T00:00:00Z
Great place, great host. One of my best place in air bnb. Big bed where you can sleep well and the (URL HIDDEN) was so aammmazing! The bread and the milk..everything was home made. We never tasted those kinds of bread before. There were cherrys and fruits at the table all the time. And thanks to Felix and everyone in his family, we really felt like home. Always greeted us with a smile and gave us everything we needed. I definitely want to recommand them anyone who is comming to Switzerland.
Soobum
2016-07-08T00:00:00Z
Staying with Felix and his family was a good experience and we enjoyed our stay with them. What we liked: - Nice, sizeable room - Great breakfast - Nice property and garden - Accommodating hosts - Access to kitchen - Clean bathroom - It's a working farm Things to consider: - If you are after a property in "rural surroundings", this may not be for you. There are several light industry buildings in the vicinity. - The property was hard to find at first, despite the GPS bringing us to within 100 mtr. - A bus service is within walking distance, but a car is very handy, if not a must.
Remko
2016-06-14T00:00:00Z
We had a very nice time here. We travelled with our six months old daughter and that was no problem at all. The first night, felix' mom, who is absolutely lovely, invited us to dinner. The breakfast, which is included, was all delicious organic produce from the farm. The bathroom was always free when we needed it and we could always use the kitchen. Overall a good way to see how a Swiss farmer's family lives and a great base to visit friends in the region. Thank you Felix and family!
m.
2016-08-06T00:00:00Z
Felix was a great host! One of the best Airbnb's I've been. The room, area, family, ... Really nice. I would recommend this to everybody who wants to stay in the area of Luzern.
kristof
2016-05-28T00:00:00Z
We came late at night when Felix wasn't home but his father welcomed us also very politely and friendly.
Nina
2016-09-18T00:00:00Z
Typ av rum
Eget rum
---
Typ av boende
Hus
---
Plats för
2
---
Sovrum
Emmen, Luzern, Schweiz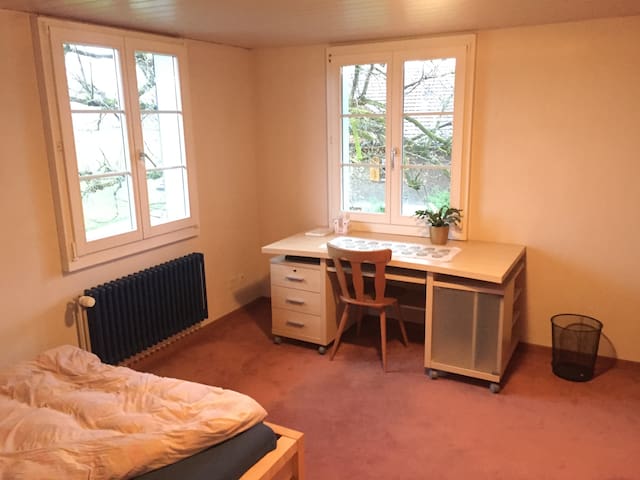 Schöner Bauernhof auf dem Ruswilerberg (Pferde, Katzen, Schweine und Kleintiere). Aussergewöhnliche Aussicht auf das Bergpanorama. Diverse Freizeitmöglichkeiten in der Region: Freibad, Vita-Parcours, Wandern, Velofahren, Sempachersee usw. 25 min. von Luzern, 20 min von Sursee entfernt. Gut geeignet für Personen mit einer temporären Arbeitsstelle in der Region oder Personen, die eine Auszeit möchten. Auf Wunsch mit Frühstück Fr. 8.-.
Typ av rum
Eget rum
---
Typ av boende
Hus
---
Plats för
3
---
Sovrum
Ruswil, Luzern, Schweiz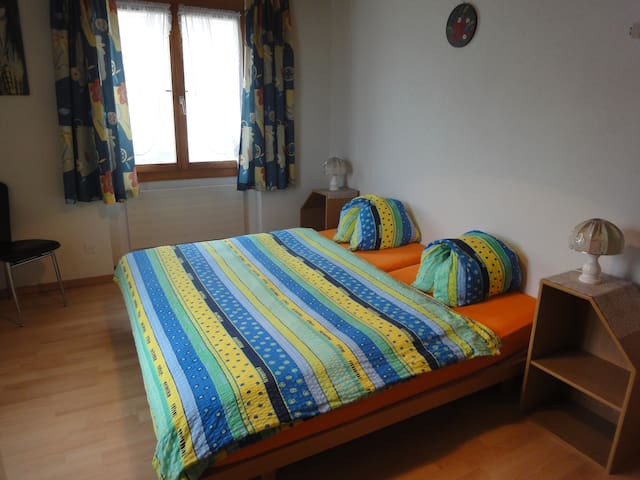 Im Erdgeschoss befindest sich das Gästezimmer mit dem Bad/WC /Küche. Ich bewohne mit meinem Mops Joya den 1. Stock. In der Küche findet man Geschirr, das von den Gästen genutzt werden kann. Einkaufsgeschäft ( Coop) 500 m entfernt. Migros, Denner, Post 5 Min. entfernt. Bushaltestelle 1 Min . Distanz zum Bahnhof ÖV 12 min. In 3 Min. erreicht man den Gütschwald mit schönen Wegen, die auch in die Stadt führen. Der Tischtennistisch freut sich, wenn er benutzt wird. Grillieren erlaubt
The room is 14 m2, bed 1.60 x 2,00 m, 3-door wardrobe. WIFI. sep. Bath / WC next door. Bed linen and towels weekly. Garden you can use. Play Pingpong or Featheball. Grill to use. Small dishes separat for guest to make breakfast.
In allernächste Nähe, 5 Min., ist der Wald mit seinen Teichen. Schöne Wege in die Natur. in 10 min. Fussdistanz das einzigartige Waldschwimmbad frisch saniert. Einkaufsgeschäfte 200 m entfernt (Coop, Avia). Weitere Geschäfte, Bank und Post in 5 min erreichbar. Post- / Bankautomat 1 min. Bus fährt alle 8 min zum Bahnhof. Reisedauer mit ÖV 12 Min.
Typ av rum
Eget rum
---
Typ av boende
Hus
---
Plats för
2
---
Sovrum
Lucerne, Luzern, Schweiz
The near city and spacious Grotto has a kitchen incl. Utensils, a large bed for 2, and W-LAN. A cozy lounge invites you to linger. It is possible directly to obtain milk from the farm. Otherwise no catering is offered.
2 people per night = 80.- Fr. 1 person per night = 40.- Fr. Toilet and shower are located in a separate compartment and are practical.
Shops / Post / doctor / cinema etc. about 15 minutes on foot or 3 minutes away by car.
Das Zimmer war sehr schön, groß und sauber. Die Lage ist ebenfalls sehr schön und angenhm ruhig. Die Gastgeber waren sehr nett.
Sabrina
2016-07-28T00:00:00Z
A great place in a great location. A farm in the country but only 10 minutes from Lucerne and close to the mountains. Iris,Elias and their family are very nice. They do a great job of making you feel at home and offer a nice big room with kitchen and private bath. We recommend very highly.
Andrew
2016-08-06T00:00:00Z
Typ av rum
Eget rum
---
Typ av boende
Hus
---
Plats för
2
---
Sovrum
Emmen, Luzern, Schweiz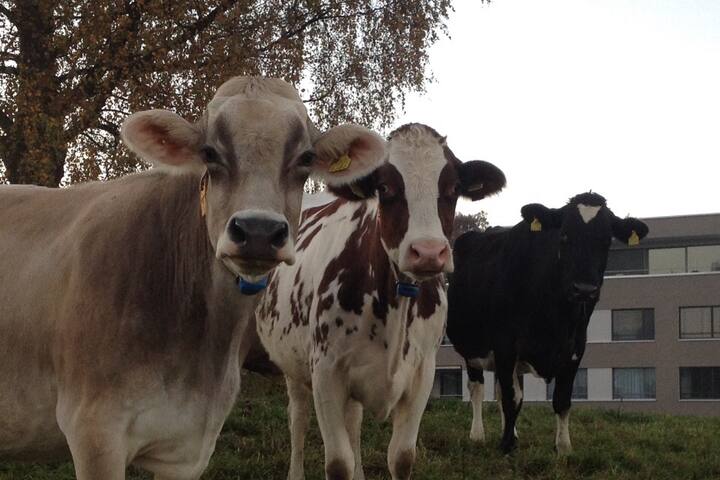 In einem Mehrfamilienhaus im Herzen der Luzerner Altstadt befindet sich das lauschige und ruhige Gartenstudio mit moderner Küche und einem geräumigen Wohn-/Schlafzimmer mit privatem Badezimmer.
Das Gartenstudio steht ganz dem Gast zur Verfügung und hat einen eigenen Eingang. Die Unterkunft ist perfekt gelegen. In nur wenigen Minuten erreicht man Luzerner Sehenswürdigkeiten, wie zum Beispiel die historische Museggmauer welche sich hinter dem Haus befindet oder die berühmte Spreuerbrücke. Trotz der zentralen Lage ist das Studio sehr ruhig und man kann sich bestens erholen. Einkaufs-, Ess-, und Ausgangsmöglichkeiten sind ebenfalls nur wenige Gehminuten entfernt.
My 2-week stay in the studio apartment was very enjoyable. It is well furnished, in impeccable condition and with a modern kitchen and bathroom. In addition, it is located in one of the best areas of Lucerne for easy walking to major attractions, the train station, boat docks, food markets, etc. Also it is on a narrow, essentially pedestrian-only and leafy street, so thus provides great peace even in the heart of the City. Margrit provided me with much helpful information upon my arrival, and assisted me with the use of the laundry facilities elsewhere in the building and provided answers to any questions I had about other matters during my visit. I highly recommend the apartment as a fantastic alternative to a hotel experience, and I would definitely return.
Michael
2016-09-13T00:00:00Z
Lage und Ausstattung der süßen Wohnung sind perfekt. Es fehlt nichts. Wir wurden herzlich empfangen und Gioia war jederzeit für uns zu erreichen. Bei einem nächsten Mal wünschen wir uns besseres Wetter, um die lauschige Terrasse genießen zu können...
Marie
2016-09-18T00:00:00Z
We've been in Lucerna for two days, the house of Margrit and Gioia was perfectly furnished and very well located, I hope to come back there!!!
Giuseppina
2015-09-01T00:00:00Z
Convenient location just outside the city center. Walkable from the train station and on a quite street. Hosts provided us with good information on what to do during our short stay.
Matt
2016-09-14T00:00:00Z
Everything was as expected. Great location, nice and neat unit.
Ivan
2016-11-21T00:00:00Z
Great location, just ideal for short trip to Lucern.
John
2016-11-05T00:00:00Z
We really enjoyed our stay here. The place is really good and has everything you might need, also very relaxing and comfortable! The kitchen is well equipped and big enough to make a nice meal in it. The location is great too, an easy 10min walk from train station and close to everything in the old town of Lucerne.
Kate
2016-10-22T00:00:00Z
Wonderful stay! The apartment is great and it's in the best location! The accommodation is bigger than it looks in the photos and has a nice kitchen and lovely bathroom. The bed is very comfortable. It was spotless and has it's own outside area to sit in. It's in a lovely character building too. The location is what makes it stand out though - it's a 3 minute walk to the heart of the old town (and a supermarket which is very handy). Margrit was lovely and gave us great information for exploring the area. Wifi was fast and the washing facilities handy. I highly recommend this place - and Lucerne!!
Michelle & Bill
2016-06-20T00:00:00Z
Typ av rum
Eget hus/egen lgh
---
Typ av boende
Hus
---
Plats för
2
---
Sovrum
Lucerne, Luzern, Schweiz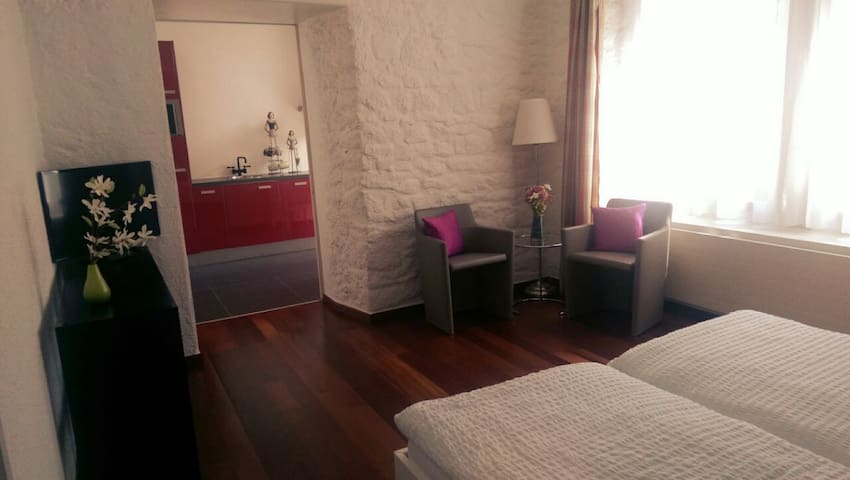 Gästezimmer
Gästezimmer zu vermieten ab einer Woche
Typ av rum
Eget rum
---
Typ av boende
Hus
---
Plats för
2
---
Sovrum
Buttisholz, Luzern, Schweiz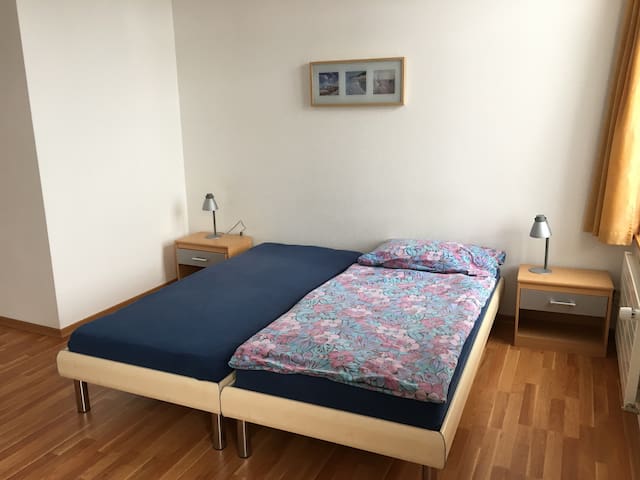 1

–

18

av

75 Uthyrningar av hem
Ange datum för att se full prissättning. Ytterligare avgifter tillkommer. Skatter kan tillkomma.