Great getaway on the road to Yosemite, Kings Canyon National Park and Sequoia National park. Great midway point between Los Angeles and San Francisco. Private detached room, with King size bed adjacent to home. Private entrance to guest room.
Private bed and bath in nice neighborhood. Great access to National Parks.
Quaint Swedish heritage make up Kingsburg. Great downtown and "Mayberry" type feel.
the cheri's Home is fantastic ! and we love it ! the big Bed is wondeful and confortable, we love the relaxing patio. We would like to live in home like Cheri's home. In Addition: The flat is perfect super clean and super accessoriated. In particular we were playing all the night with Monopoly. thanks a lot Cheri
luca
2016-08-06T00:00:00Z
We didn't get to meet but the place was great!
Ken
2016-11-05T00:00:00Z
Quick overnight stay! Nice neighborhood, easy access. Comfortable, private feel. We stayed long enough to know that the next time we visit relatives in Kingsburg we will be sure to check Cheri's availability. Hope we are there long enough next time to enjoy our coffee on the patio.
Liz
2016-10-28T00:00:00Z
I had a great stay at Cheri's place. The room was very private and had it's own bath. It was very nicely designed as well. Has a nice mix of a hipster feel with a central valley homeliness. The bed was incredibly comfortable as well. Definitely one of the best beds I have stayed in through Airbnb. I definitely would highly recommend anyone to stay at Cheri's place after visiting the area.
Daniel
2016-08-17T00:00:00Z
Couldn't have asked for a better place! Everything about this place was wonderful! Cheri was amazing, location was beautiful and for those travelers who forget items don't worry she can read a travelers mind! She has an amazing set up! Loved it! And she also has a book that tells you what places are good to eat and see! Too bad my husband and I didn't see it until after breakfast! This place is way better than any 5 star hotel!
Eva
2016-10-17T00:00:00Z
The guesthouse was exactly as described. A comfortable bed, with many cushions. A very god bathroom and a refrigerator. So everything was just wat we needed. We met Cherie and she and her little dog welcomed us heartily. IT is a great place to stay.
Jan
2016-09-08T00:00:00Z
This has to be the BEST place EVER!! I felt like I was at the Ritz! WAY better than I could have ever imagined!! Unfortunately I didn't get to meet Cheri but I can tell by how amazing her place is, she has to be amazing too! Thank you for such a great nights sleep in your beautiful place!
Kelly
2016-08-31T00:00:00Z
Amazing Room.
Haopeng
2016-09-06T00:00:00Z
Typ av rum
Eget rum
---
Typ av boende
---
Plats för
2
---
Sovrum
Kingsburg, Kalifornien 93631, USA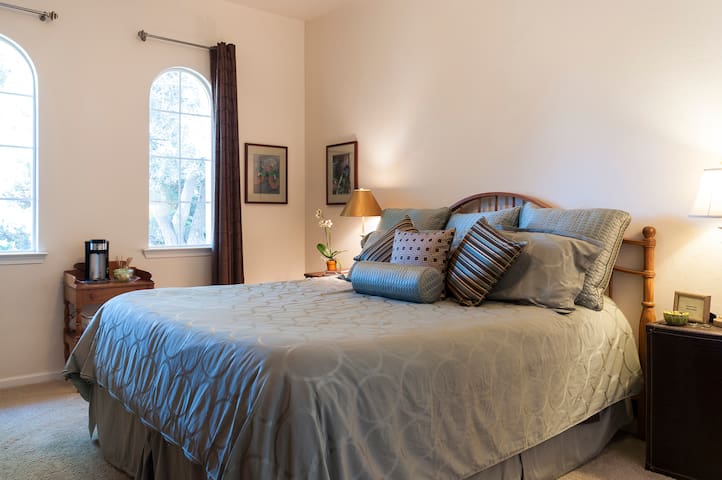 Comfortable room that has 2 twin beds or just one twin.
We have recently built a new home and have had great experience with Airbnb regarding booking in other people's homes, and thought we would open up our home to experience meeting new people around the Country. This room sleeps 2 people (trundle bed) which is 2 twin beds, with new very comfortable mattresses. They will have access to their own bathroom and use of our kitchen as well. During hot summer months, we have a nice built in pool for your pleasure. Our neighborhood is a newly established subdivision and is very safe and in a good part of town. There are plenty of nearby restaurants in our beautiful sweedish town.
My experience was perfect with Jeff and Krista! I couldn't have asked for a better host.
Amanda
2016-08-04T00:00:00Z
My friend and I had an amazing time! Unfortunately we didn't meet Jeff but we felt more then welcome. It's a new and very clean neighborhood! We would definitely come back and recommend to stay with Jeff and Krista! Also - the room and the bathroom were very clean. The bed was amazing.. We are still thinking of the soft bed.
Jessica
2015-08-16T00:00:00Z
Fantastic stay with this wonderful family! Krista, Jeff, and their adorable Boxer Max made me feel so welcome. Lovely, clean new home with a pool and very comfortable bed + private full bath on a quiet cul-de-sac in the farming community of Kingsburg. If you are a runner, you can log some serious miles around the orchards and surrounding roads, which get very little traffic if you are accustomed to city life. The Bonners went above and beyond to accommodate my travel and work schedule and ensure that my stay was comfortable. Cannot say enough good things about these hosts - and their dog :)
Katherine
2016-04-11T00:00:00Z
Staying with Jeff, Krista and the dog Max was amazing. Their home is beautiful and the room very confortable. It was a pity stay there only a night.
Cristina
2015-06-06T00:00:00Z
Krista was out of town but Jeff was a perfect host. My mom, who I was traveling with, took a swim in the pool, relaxed, and had nice conversations with Jeff while I worked poolside on my laptop. We arrived pretty late and Jeff seemed unfazed
Ben
2014-07-14T00:00:00Z
I had a great time. Jeff and Kristas place was perfect, and they were awesome hosts. Made me feel as if I were visiting family. I would definitely stay there again.
Bobby
2017-01-12T00:00:00Z
Krista and Jeff (and Max, the dog!) are lovely. They made us feel very welcome in their home, and we really enjoyed getting to know them. Their home is beautiful, and about a 1 hour drive from Sequoia and Kings Canyon National Parks. After a long day at the park, this felt like a long drive home, but it was well worth it, and we'd definitely stay with them again. We miss them all already...... Thanks so much.
LOUISE
2015-06-02T00:00:00Z
Great Experience, I really recommend Jeff and Krista are super and they really make me feel at home
Giuseppe
2016-02-16T00:00:00Z
Typ av rum
Eget rum
---
Typ av boende
---
Plats för
2
---
Sovrum
Kingsburg, Kalifornien 93631, USA
Our barn is an amazing space. Built in the early 1910's and completely renovated with all the modern conveniences we love. Central a/c and heat, ceiling fans, flat screen tv's, wi fi, fully equipped kitchen. But the best part is all our antiques, collectibles and historic items on the walls. it is an incredible place that will be a treat for you to stay in. Due to the age and delicate nature of those items we have decided to only offer this space to adults (18), sorry no children or pets.
Enjoyable stay in a unique space with welcoming hosts. Beautiful and quiet setting. Comfortable place to work from and come home to.
Heidi
2017-02-17T00:00:00Z
Very well furnished, easily accessible place in pretty farm area
Levin
2016-10-09T00:00:00Z
Love the big brown barn. It's like being in an old western.
David
2017-02-24T00:00:00Z
Awesome spot. Clean and comfy. Hopefully Craig will have us again.
Craig
2016-10-18T00:00:00Z
Craig really knocked it out of the park on this one. From the Antique decor to farm to table fresh picked fruit, Your gonna love it!
James
2016-08-01T00:00:00Z
We loved being in the barn atmosphere. It was a perfect getaway for a couple. Craig and Hope we're hospitable, sincere, and humble.
Nicole
2016-07-10T00:00:00Z
We Loved staying in the barn. It was very charming and Craig is the perfect host. He was so helpful in finding restaurants and he left fresh fruits for us in the fridge. Thanks Craig.
Kathrin
2016-08-13T00:00:00Z
Loved the Big Brown Barn--a truly unique place in rural Kingsburg. It was a great stop on the long drive between LA and Sacramento along Highway 99. Craig and his lovely wife are wonderful hosts. They greeted me when I arrived and made sure I had everything I needed. The Barn has been beautifully restored and converted into a rustic (yet modern) guest house--complete with wifi and air-conditioning. I spent the evening reading in one of the oversized leather club chairs by a window overlooking the couple's estate. I only wish I could have stayed longer!
Tina
2016-08-18T00:00:00Z
Typ av rum
Eget hus/egen lgh
---
Typ av boende
---
Plats för
2
---
Sovrum
Kingsburg, Kalifornien 93631, USA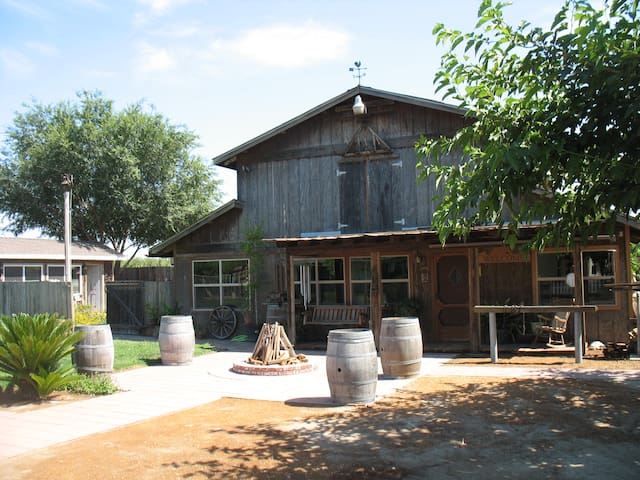 Sophie's Room is an apartment at Jackson Family Organic Farmstay with a queen bed in a separate bedroom, a living room, a kitchenette with a full fridge, microwave, toaster oven, and breakfast items the first day. Check out SUNRISE and SUNSET Rooms also. Enjoy a tour of our organic farm.
We are a place that genuinely values people and we look forward to having you with us as you relax and experience how an organic farm works.
Experience some of California's best country living. Surrounded by orchards on the banks of the King's River, we know you will enjoy the beauty and peace of our land, whether it is listening to the song of the birds or watching the vibrant colors of the sunset fade over the beautiful countryside.
Amazing property in an amazing location. The farm is great and our hosts were very friendly and accommodating, we even got a tour of the farm. The room was great and we really enjoyed using the pool and basketball courts. We would definitely recommend this place. Thanks!
Jake
2016-09-08T00:00:00Z
Rob和Sarah 是非常值得信赖的一对夫妻,在当地很有人缘,是社区的意见领袖!他们的农场临河而建,景色优美,有一个干净漂亮的游泳池!农场里果实累累,各种应季水果随手从树上摘一个直接吃!因为是有机农场,没有农药化肥哦……Rob和Sarah热情的邀请我们一起在他们家晚餐,深入美式乡村生活,超赞!他们的几个孩子也认真有礼貌!教会家庭培养出优秀的孩子!
Erik
2016-08-15T00:00:00Z
This Is oursecond visit to the Farmstay. We came back because we felt welcome & comfortable. The room is scrupulously clean & lovely and it's on a farm! Blessing abounds! Oh, and this time we took a tour & got to invite our grandchildren. So interesting & fun!
Liz
2016-09-15T00:00:00Z
Robert and Sarah were wonderful hosts. They went out of their way to make things better for us. We had more children than there were beds in Sophie's room (Sarah let us know that before accepting the booking, but we wanted to stay there anyways), and they got us a small mattress, blankets and even sleeping bags. There were fresh, off the tree fruits and flowers for us in the room. Robert gave us a very informative tour of the farm, that all of us (not just the kids) really enjoyed. In fact, my son wants to go back to work with Farmer Robert as a WOOFER when he grows up! The property is a good place to go with kids (ours were 5 and 12). It is isolated, but not remote. So, it gives you a farm house experience- open spaces, quiet and peaceful, but it is really close to restaurants and shops. Some farmhouses that we have previously stayed at were only miles away from the city, but it took upto an hour to get there because of bad or winding roads, and that made us reluctant to go back there. This place is very conveniently located off a highway, without the slow, winding roads. On the property, there is a pool, tennis court, hot tub, and a small playground. All that and the really friendly cats and dog on the property, meant that our kids didn't want to leave the property at all. A helpful thing to know- the fridge in the kitchenette is full sized and not a mini refrigerator. We found that really helpful because we had a lot of cold stuff, and our kids did not want to leave the property to eat out:(URL HIDDEN)All in all, a wonderful place to stay(URL HIDDEN)
Preeti
2015-12-01T00:00:00Z
The Jackson Family Farm Stay was an incredible experience. The property is beautiful and the hosts are wonderful. We brought our 1-1/2 and 5 year old daughters and they loved playing with the dogs, collecting eggs, picking fruit, playing in the pool, and being able to roam. The room was great for us because we didn't have to worry about stairs and it had a full size fridge. The room had all the essentials. They had a pak-and-play for the baby and a small cot for the older one. The kitchen had all the necessities and the breakfast food was great
Richard
2016-06-15T00:00:00Z
God can't put better people in our way,they are beautiful people with a big heart,i have an autist kid and he was fascinated with the place,although we only went for business,my kids spend an incredible weekend,they refer to the best weekend ever,thank's to Robert and Sarah for being a good hosts,the peaches are incredibly good, i hope to go back again some day.
Victoria
2016-07-13T00:00:00Z
Typ av rum
Eget hus/egen lgh
---
Typ av boende
---
Plats för
2
---
Sovrum
Kingsburg, Kalifornien 93631, USA
This is the King Bed and is a very comfortable! When the shades are closed you can really sleep in.
We are excited to open up our home to guests who want to experience the Central Valley. We live in Kingsburg, CA. which is a wonderful Swedish town with a lot of history. The nice part about living where we live, is that we are an hour away from the mountains, a little farther to Yosemite and only 2.5 hours from the Coast. We can accommodate up to 4 people. One guest room has a queen size, which is this room, very comfortable bed and the other guest room has a trundle bed. Each room sleeps 2. You would have access to your own guest bathroom and full use of our kitchen. In the warm part of the year, we have a built in swimming pool for you to use as well.
This was our second airbnb stay but it's one we will never forget! Jeff and Krista are such nice people. Their house feels like a real home. We could use the pool, got coffee in the morning and had some interesting talks with the hosts. Krista even gave us tips and advice for our dinner, our hiking in Sequoia,... They are natural born hosts who will do everything to give you a good stay. Everything is super clean, cosy and at ease. We already miss their dog Max :-) We will definitely recommend this place to everybody!
Ellen
2015-07-12T00:00:00Z
It was a great experience !!! Jeff, Krista and Max are very kind with us !! The house si very clean and comfortable . Our best expérience since we have been in America.
Cyrielle
2014-07-23T00:00:00Z
Staying with Jeff and Krista was comfortable and a great value. We got a nice surprise by getting an upgrade to a king bed! Overall they did all they could to ensure a clean and comfortable stay.
jonathan
2017-01-10T00:00:00Z
Jeff & Krista were excellent hosts. We felt very welcome in their home. The property is very nice and the bed in our room was very comfortable :) We were fortunate enough to share dinner with Jeff & Krista, and another airbnb guest in the home, which was lovely. We would love to stay here for the next World Ag Expo!
Claire
2016-02-18T00:00:00Z
Jeff and Krista are wonderful Hosts. They are both very friendly, outgoing, and loving people. I felt very welcomed into their beautiful, clean, and dog-friendly home. The listing description was great and was above the expectations I had. The neighborhood was very nice, as I felt very safe to walk my little Yorkie around the block in the early morning hours. My little Yorkie got along great with Max, their sweet bulldog. I felt so relaxed in their home and I felt like I made some great new friends after I left. Denise Byrd
Denise
2015-11-05T00:00:00Z
Notre court sejour d'une nuit fut agreable. Et malheureusement, Nous n'avions pas eu l'occasion d'echanger beaucoup. La ville est un vrai coup de coeur, c'est trés mignon et cela vaut le détour. le quartier est trés charmant, la maison est propre et grande. Vous aurez également accés à votre propre salle de bain.
Caroline
2014-09-03T00:00:00Z
Our stay here was great! The home is even more beautiful than the photos. Jeff was a great host, and we loved spending time with Max the dog! Highly recommend.
bryan
2016-05-31T00:00:00Z
We were greeted by both Krista and Jeff and shown our room and their lovely home. The neighborhood was a new tract and also very nice. And of course Max(dog) was a delight. Since my husband is older, it would have been nice to have a grab bar in the shower.
Carol
2016-04-27T00:00:00Z
Typ av rum
Eget rum
---
Typ av boende
---
Plats för
2
---
Sovrum
Kingsburg, Kalifornien 93631, USA
Our bungalow is located in the heart of the central valley of California near the Swedish town of Kingsburg. It is a beautifully appointed one bedroom with full kitchen, laundry facilities, surround sound DVD, and wi fi. We look forward to seeing you
Craig greeted us the moment we arrived. The property is immaculate with a nice green lawn that our 2 yr old son adored playing on. Craig gave us a tour of the bungalow and made us feel right at home. We had all the amenities of our own home plus all the stone fruit we could eat-fresh picked nectarines, plums and peaches. The bed was comfortable and we slept great, the AC worked great and we stayed cool. The shower was awesome and the tub good for our son. We were so comfortable. My son loved sitting on the old tractor and exploring the property. They have a neat old Barn that they also Airbnb filled with cool antiques, a big dining table and a little patio that would be perfect for a small event. We had a great time and really enjoyed how warm and easy going the Rowleys were! Thank you!
Katie
2016-06-27T00:00:00Z
Best Airbnb experience so far! Great location, very comfortable, and has everything you need & then some. Craig & Hope go above & beyond. Ask & you shall receive. They greeted me when I arrived, offered me a bottle of wine & made me feel at home the entire time. I definitely plan to return! If you are looking for a place to stay in the Central Valley of California, this is your home away from home. No need to look anywhere else!
Tiffany
2016-01-26T00:00:00Z
Property was exactly what we wanted, something a little bit country and semi-secluded but still close to town and shops. While staying we went to Lemoore, did some fishing and snowboarding in Sequoia National Park. Craig was an excellent Host.
Mike
2017-01-02T00:00:00Z
The bungalow is perfect. Great location, very convenient to visit Sequoia and Kings Canyon National Park. The house is very beautiful and extremely cozy, we enjoyed everything here. Craig is a very wonderful host who offered us detailed helpful suggestions about our trip. He even offered us a fruit basket, and the peaches are sooooo good. We love it. Craig also showed us his excellent barn that will accommodate two people. Highly recommend! Though we only stayed there for two nights, we feel like part of the family! Thank you so much Craig!
Sijie
2016-08-20T00:00:00Z
The house is very nice and completely equipped. Craig is also a very welcoming host who gave us a lot of informations on what to do in the area. On your way out pass by the bravo farm, which is quite close! This is a very nice spot to access the sequoia park. We recommend him highly.
Fred
2017-01-24T00:00:00Z
Dear Craig and Hope, I thank you so much for your kindness. Past six days were wonderful. This place was our second Airbnb, and we didn't expect it to be this good. My wife loved the laundry machine and kitchen utensils. Thanks for the fresh fruit baskets. My wife and daughter loved them. My daughter enjoyed watching lizards and birds in the morning. I strongly recommend this place to people who pass by this area.
Yeong-Cheol
2016-08-12T00:00:00Z
Craig was great with communication. He was also very accommodating towards our schedule. The place was so nice and felt VERY safe! I don't think we even locked our car door while we were there. It was clean and beautifully situated. It fit our needs perfectly. We ate out, so we didn't use the kitchen, but it looked very well stocked. Craig offered us suggestions for restaurants and made himself available if we needed it. We would stay here again in a heartbeat. The bungalow is also in a very beautiful setting.
Laura
2016-11-01T00:00:00Z
Craig, we loved your guest house and hope to visit again sometime soon. We were blessed to enjoy the beauty of the apricot orchard and the surrounding farms. The privacy, quiet, and your welcoming, generous hospitality!
Mickey
2016-02-26T00:00:00Z
Typ av rum
Eget hus/egen lgh
---
Typ av boende
---
Plats för
5
---
Sovrum
Kingsburg, Kalifornien 93631, USA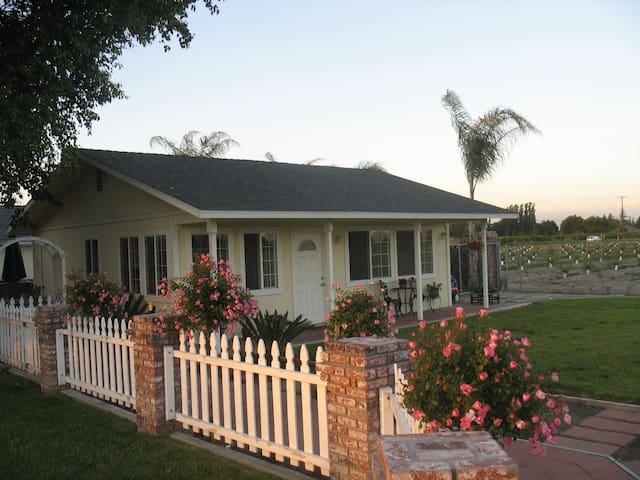 The SUNSET Room is a two-story unit that has two queen beds (one in its own room), full bath, kitchenette w/small fridge, microwave/toaster, breakfast items first day, reading nook, and a balcony overlooking King's River and organic farm. (Check SUNRISE and SOPHIE rooms,too.) Organic farm tour.
We are a place that genuinely values people and we look forward to having you with us as you relax and experience how an organic farm works.
Experience some of California's best country living. Surrounded by orchards on the banks of the Kings River, we know you will enjoy the beauty and peace of our land, whether it is listening to the song of the birds or watching the vibrant colors of the sunset fade over the King's River.
The Jackson Family Farm Stay was a perfect oasis from our typical crowded, urban lifestyle in LA. We initially planned our lodging in proximity to the Sequoia National Forest, but ended up loving the farm so much that we spent much of our time there. We loved everything from the clean, inviting decor to the freshly baked peach muffins and fruit just picked from the orchards in a basket waiting for us upon arrival. Not to mention a very nice fully stocked continental breakfast. We even received a tour of the farm which included getting to see the chickens, goats, and cows up close and even picking fruit from some of the trees. If you are looking for a calming retreat, with a lot to do and explore, including tennis courts, a private pool, and riverfront grassy area tucked under large oak trees- - than this is the place. This was a perfect place for kids too, having a 2 1/2 year old and 8 month old. Even the family dog and cats on the premises were friendly with our children. Thank you again, Jackson family, for sharing your home with us!
Lindsay
2015-08-14T00:00:00Z
This is the best kept secret! The host was right there meeting us. Everyone was very friendly and nice. The place was great! Everything was better than described. Rob, the owner gave us a tour of his ranch. What a visionary man! We enjoyed our stay and would try to come back soon!
andrew
2015-06-24T00:00:00Z
We had a great time at the Jackson Family farm. The appartment (Sunshine room) is really nice, all new, very nicely decorated, clean and perfect for a family of four. We loved the farm tour Robert gave us, enjoyed the animals, pool and tennis court! our boys want to come back every year at least once!!!
Tanya
2015-09-17T00:00:00Z
The farmstay was a beautiful place to spend the weekend. The grounds and cabins were very well kept and the hosts were very friendly! There were great amenities. I was not expecting a tennis court, such a nice pool, or the huge luxurious jacuzzi! The farm dogs and cats were always around and very friendly. I would definitely recommend this stay to anyone interested!
Clinton
2016-10-19T00:00:00Z
We had another great stay at this fabulous cottage. The hosts are very welcoming and have thought of many special touches that make you feel welcome. We will be back again next year.
Stacey
2016-02-16T00:00:00Z
It was wonderful! Lovely accommodations and surroundings. Very welcoming hosts. Great food stocked for breakfast and snacks. This a definitely our go to place for staying in the Fresno area!!!!
Janet
2016-12-04T00:00:00Z
This was our second time and once again it was a wonderful time! We loved how cozy the space was and will definitely visit again soon.
Edelina
2015-02-11T00:00:00Z
A beautiful setting in Kingsburg, the Jackson Family farm is an oasis fit for a family outing or a romantic getaway. The charming chalet includes everything you could possibly desire. In addition there were beautiful flowers, fresh fruit, homemade muffins & treats in the fridge to boot. The grounds are serene, with lovely landscaping. The farm staff was friendly and helpful. The pool was perfect for the warm days. Thank you Jackson Family Farm.
Brandon and Molly
2015-05-14T00:00:00Z
Typ av rum
Eget hus/egen lgh
---
Typ av boende
---
Plats för
4
---
Sovrum
Kingsburg, Kalifornien 93631, USA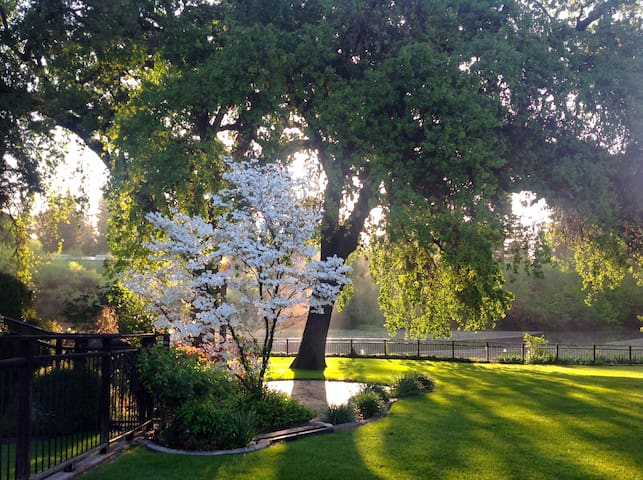 Our home is a relaxing place to be, with vinyards behind and on both sides of us . You can have morning coffee with a light breakfast out on the back courtyard and watch the sunset in the evenings.
We are centrally located.
We are in the Country. Just two miles from main freeway 99
I rated several nice AirBnb-Places 5/5, but this one really stands out and should be rated 10/5, which I can't do. Our hosts clearly enjoy entertaining people, and took *much* time for conversations and advice, they even invited us for dinner when they found the time. Their place is beautifully decorated and very clean, and it is a good base to explore the Sequoia National Park. Even tough they had much trouble with the weather, Dan took the time to show us around the farm. We managed to squeeze some raisins straight from the field into our luggage and will enjoy them the following days! I'm not much of a dog-person, but their dog is nice and peaceful. We toured the Northwest for 3 weeks and stayed on a lot of places (motels, hotels, AirBNB, other Guesthouses...), and as a said, this place really stands out!
Paul
2015-09-20T00:00:00Z
This was the first time I used airbnb and I have to thanks Mary & Dan for making this a great experience. They are great hosts. Very respectful of your space but will enjoy a good conversation if you'd like too. The house, room and bathroom are impeccable! I highly recommend them. Hopefully, we will stay there in the near future. Thanks for everything!
Dario
2016-07-17T00:00:00Z
Dan and Mary are welcoming and fun to talk to.
Carol
2016-02-13T00:00:00Z
Dave and Mary were great. We had a great evening overlooking their vineyard and talking. They are wonderful people and the room was great. Great house in a great location.
Ben
2016-02-16T00:00:00Z
Mary and Dan were fabulous hosts! Their home is beautiful, and the bedroom and bathroom are decorated nicely and have a great feel. When I stayed, I had dinner with my hosts, and we had great conversation over a delicious meal and California red wine. I highly recommend staying with this lovely couple. They're two of the most delightful people I've met in a while. Thanks again, Dan and Mary!!
Anne
2015-06-23T00:00:00Z
Mary and Dan could not have been a more hospitable pair of hosts! The couple takes every opportunity to make the guests' stay comfortable. We truly recommend their home as it is a beautiful and tranquil residence located among peaceful vineyards and trees. The guest bedroom was also welcoming and the bed was beyond comfortable! If you ever have the opportunity to stay with Dan and Mary, do it! You won't regret it.
Amy
2016-06-02T00:00:00Z
Dan and Mary's house is beautiful, tidy and the same as you can see in the pictures. They welcomed us when we first arrived and gave us a tour around the house. Although we only stayed one night because of travel schedule, the whole experience is very relaxing. They are great hosts: friendly and hospitable, the same time respecting our space. We felt very lucky finding it on Airbnb, and will definitely stay again if we visited Sequoia/Kings Canyon in the future.
Wei
2015-06-01T00:00:00Z
Dan & Maria are lovely & caring people who made me feel very welcome. It felt like visiting family. The ranch is a little piece of heaven ... Highly recommended.
Bruno
2015-06-21T00:00:00Z
Typ av rum
Eget rum
---
Typ av boende
---
Plats för
2
---
Sovrum
Kingsburg, Kalifornien 93631, USA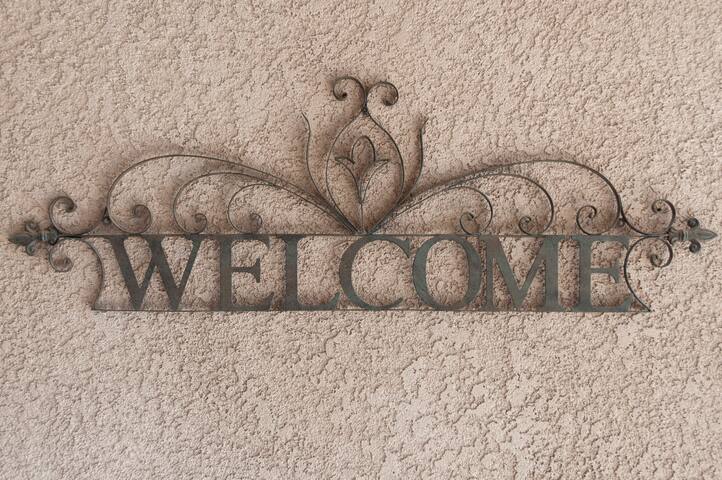 The SUNRISE Room is one of three at the Jackson Family Farmstay (checkout our SUNSET and SOPHIE Rooms). This two-story unit has one queen bed and one twinbed in the same room, full bath, kitchenette, and balcony overlooking the river and organic orchards. Breakfast items in room first day.
We are a place that genuinely values people and we look forward to having you with us as you relax and experience how an organic farm works.
Experience some of California's best country living. Surrounded by orchards on the banks of the Kings River, we know you will enjoy beauty and peace of our land, whether it is listening to the song of the birds or watching the vibrant colors of the sunset fade over the river.
Was a fantastic place to stay (can't wait to come back next year)! Loved playing with Winnie and Hogan (farm dogs). Beautiful grounds to run around in the morning. Very quiet and away from the hustle and bustle of the city life. The room was very clean and well cared for (looked brand new). The fridge was stocked with perfect breakfast foods, fresh fruit, homemade jam, and fresh ground coffee! Hung out in the jacuzzi each night to kick back, and it was fabulous. Felt very safe on the grounds and never locked our door once.
Michael
2016-02-11T00:00:00Z
Our experience on the farm could not have been better. When we arrived, we were greeted with a welcome basket filled with blueberry muffins, granola, oatmeal, and other delicious food; the fridge was stocked with orange juice, milk, and yogurt; and we were told we had free reign to pick oranges, persimmons, and other fruit from the trees outside. Robert came by within minutes of our arrival and gave us the lay of the land, then found us again the next day to make sure our three-year-old had a chance to see the baby chicks up close. Our toddler was simply entranced with the farm's animals--turkeys, chickens, cats, dogs, and more and we spent hours each morning exploring the area around the house before the mist burnt off. Our room was well-appointed, with a luxurious bed that was incredibly comfortable for us and an inflatable mattress set up for our son. They also allowed us to use a separate side room to stash a pack-n-play for our infant son. And we didn't even have a chance to avail ourselves of the pool, the hot tub, or the tennis/basketball court. Overall, we were incredibly happy with our stay and have already recommended this destination to a number of friends and family. If you need a place to get away from the world, this is hard to beat.
tyler
2014-11-12T00:00:00Z
The farm is located right on the King(s)? River. We had some beautiful sunrises, sunsets, neat views over the orchards from our balcony. Robert gave us an extremely interesting and informative tour of his organic farm - our daughter loved petting all the animals that were roaming over the farm, and taking home a few fresh eggs was a real treat! during our stay we visited nearby Sequoia National Park (45 minutes away) and on our way back home we drove across the 46 to Paso Robles and down the 101.
Mike
2015-02-19T00:00:00Z
Nice location and a clean, well-appointed room. Extremely friendly hosts. My family and I had a great time. Would be even better if the river isn't dry. Absolutely recommend visiting this place for a weekend trip.
Vinod Kumar
2015-12-01T00:00:00Z
Breakfast was delicious and rich.
Tali
2016-09-13T00:00:00Z
The Jackson Family farm was so delightful to stay at. Cozy and cute. We had everything we needed, from soaps and such to tons of delicious options for breakfast. We especially loved all the friendly animals that greeted us and followed us around. Would love to come back some time. Thanks!
Desiree
2016-03-29T00:00:00Z
We had a phantastic time on Sarah + Robert's farm. The place is amazing and offers a lot, especially if you are travelling with kids. The apartment is beautiful and includes everything you'll possibly need. But there is much more like the animals on the farm, the orchards, a pool, a tennis court, a play ground and even a hot tub.
Raphael
2016-06-11T00:00:00Z
We loved staying at the Jackson Family farm stay. The location was great for us as we were interested in checking out the Sequoia park and forest, and the sunrise room was very well appointed with everything we could possibly ask for from comfortable beds to snacks and breakfast foods. Additionally, Courtney the property manager was very attentive and helped us with everything we needed. The property was beautiful and we'd love to come back some day!
Josh
2015-01-02T00:00:00Z
Typ av rum
Eget hus/egen lgh
---
Typ av boende
---
Plats för
3
---
Sovrum
Kingsburg, Kalifornien 93631, USA
Ange datum för att se full prissättning. Ytterligare avgifter tillkommer. Skatter kan tillkomma.