98 Uthyrningar av lägenheter
nära den medeltida staden Dinan centrum, är det inom 5 minuters promenad från High Street Jerzual, oundviklig passage, denna lilla asfalterad och kantad med hus med trä sidogata tar dig till den lilla autentiska hamnen i Dinan . Ligger utanför stadsmuren, är parkering underlättas avsevärt med många sittplatser och kostnadsfri parkering. Lägenheten ligger på bottenvåningen i en byggnad av 18th century.
Lägenheten är rökfria men du kan, tid för en cigarett njuta av en paus på bänken på gården. En helt ny tvättomat just öppnat en 5 minuters promenad från lägenheten!
Lätt parkering. Mindre än 5 minuters promenad från centrum, marknaden (marknad på torsdag morgon), terrasser, barer och butiker. platsen är perfekt, du kan både njuta av stadslivet, men för naturälskare i några minuter du har råd med en vacker promenad eller vandring längs Rance genom hamnen. Du har allt här, stor plats att besöka området (Saint Malo, ombord Rance smaragd kust), Dinan och alla dess medeltida rikedom omgiven av natur, grönska och vatten!
Eva est une personne remarquable de gentillesse. Elle a fait tout ce qui est possible pour me rendre service. Son logement correspond parfaitement à la description. Il est idéalement situé pour découvrir la superbe ville de Dinan. Le canapé qui sert de couchage est très confortable. Je recommande son logement et j'y reviendrais bien volontiers.
Catherine
2016-12-11T00:00:00Z
Typ av rum
Eget hus/egen lgh
---
Typ av boende
Lägenhet
---
Plats för
2
---
Sovrum
Dinan, Bretagne, Frankrike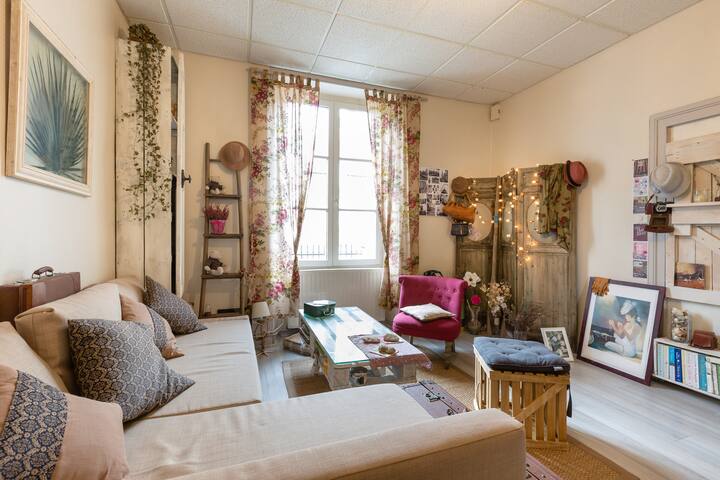 Vous aimerez ma maison car très proche des supermarchés et sur la route pour rejoindre la plage. La maison a un jardin devant et derrière que vous pourrez utiliser. Dinan est à 10 minutes en voiture, si vous n'avez pas de voiture je peux même vous emmener en ville. Il y a plein de place pour vous garer si besoin aussi.
Jolie chambre dans une maison avec un beau jardin. Je vis seule, on partagera ma petite salle de bain ainsi que la cuisine si vous avez besoin.
Quartier résidentiel extrêmement calme avec 2 supermarchés à 5 minutes.
Petit séjour parfait
Julien
2017-03-24T00:00:00Z
Typ av rum
Eget rum
---
Typ av boende
Lägenhet
---
Plats för
2
---
Sovrum
Trélivan, Bretagne, Frankrike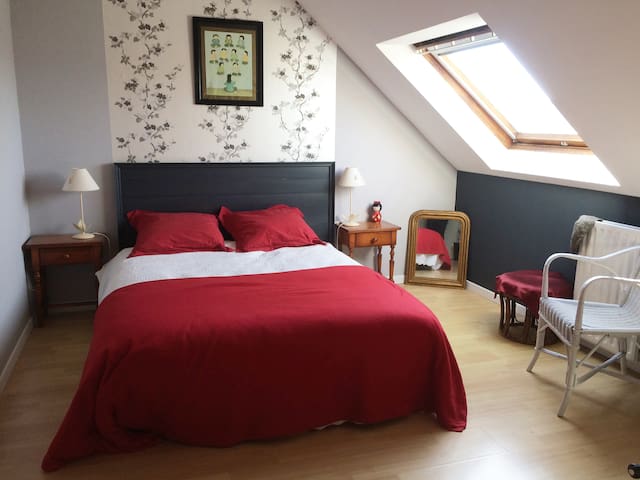 My home is close to the activities suitable for families, public transportation, night life. My accommodation is perfect for couples, solo travelers and business travelers.
Our apartment this situated in the heart of the port of Dinan.
Located below the medieval city of Dinan, the marina offers an ideal setting to discover the Rance. From April to October, cruises and boat trips are numerous from Dinan. The edges of Rance also invite to beautiful walks and various water activities. Admire the Viaduct and the Old Bridge, spanning one behind the other, the quiet Rance Léhon who took it towards the south and the Rance estuary north. And if you need a break, enjoy the view on the terrace of a cafe or restaurant. To find the port of Dinan interactively and original appointment to the House of Rance. To return to the heart of Dinan, do you dare to climb the Rue Jerzual? This paved and steep road, which connects the port Dinan, immerses you in the quaint atmosphere of the Middle Ages. Side story, imagine the scenes of Dinannais trading that brought prosperity to the city, strolling along the banks of the Rance. The port was busy in the eleventh century by traders who were exporting wine, cloth, leather, wood and agricultural products to North Europe, but also Spain and the Americas!
Nous nous sommes vraiment senti comme chez nous ! Le logement est très bien décorer et met à l'aise! Jolie vue sur le port et la rance depuis le salon! Sans mauvaise surprise!
josselin
2017-03-12T00:00:00Z
This is a lovely apartment with a stunning view of the river and port at Dinan. It was very peaceful and easy to park (we visited in November) and just right for a relaxing break but within walking distance of restaurants, bars and the beautiful historical centre of Dinan. This is one of our favourite towns and locations. Aurelien and Cindy were the perfect, generous hosts - and it was like a home away from home. Highly recommended.
Sarah
2016-11-17T00:00:00Z
We had a wonderful time staying at Aurelien & Cindy's place. It's such a cute apartment located in the charming old port. It was quite and peaceful but still close walking distance (albeit steep) to the very charming town. They were great about communication and even came to pick us up from the train station when we arrived! It was a lovely vacation and they are lovely people.
Lanette
2016-12-11T00:00:00Z
Un appartement spacieux , agréable et joliment décoré où l'on se sent bien très rapidement. Chambre très calme et confortable. Le charme du vieux Dinan rentre dans cet endroit à deux pas du centre ville . Aurélien et Cindy sont vraiment sympathiques et accueillants. Merci
lavail
2016-11-06T00:00:00Z
Nous avons passé un excellent séjour chez Cindy et Aurélien, dans leur appartement très accueillant tout comme eux !
Valentine
2016-11-27T00:00:00Z
Très bon séjour sur Dinan, appartement bien situé et décoré avec goût. Ambiance cosy et très sympa !
Johan
2017-01-16T00:00:00Z
Nous avons passé un agréable séjour à Dinan chez Cindy et Aurélien qui sont des hôtes très accueillants. Le logement est très bien situé et toutes les conditions sont réunies pour passer un bon moment. Merci à eux !
Margaux
2017-02-16T00:00:00Z
The host canceled this reservation 4 days before arrival. This is an automated posting.
Gael
2017-01-31T00:00:00Z
Typ av rum
Eget hus/egen lgh
---
Typ av boende
Lägenhet
---
Plats för
2
---
Sovrum
Dinan, Bretagne, Frankrike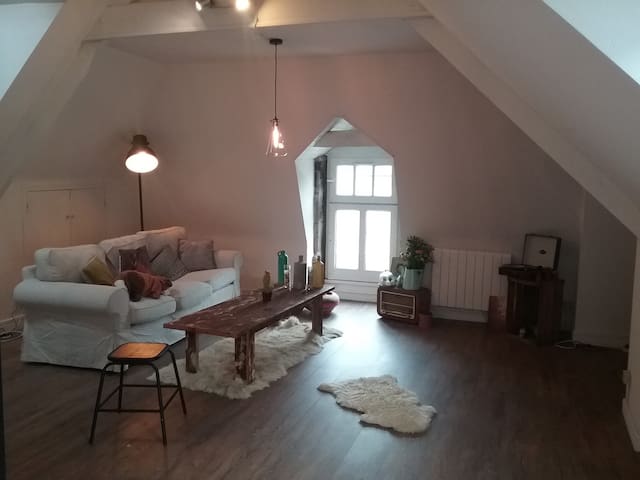 Apartment located in La Vallée de la Rance on the picturesque port in Dinan, Bretagne. 3.5 minute stroll to lovely port side restaurants, a consummate artisan bakery, bars, creperies & the steep but captivating Rue du Petit Fort & Rue du Jerzual which lead to the well preserved medieval old town.
Duplex, top floor, two bedroomed apartment on the bustling port of Dinan which we as a family have enjoyed since our children were months old. This accommodation makes no pretence to be super luxurious, high spec, well appointed or top end however if you are looking for comfortable, clean, cosy, budget accommodation in a lovely location then read on.
Dinan is a relaxing, inspiring & beautiful place to spend some time and a great base to explore Bretagne. On the port itself, there seems like there is always something going on. You can while away hours watching the boats and bustle in one of of the several port side restaurants, creperies & bars. Boat hire, organised boat trips, bicycle hire and canoe hire are all available. Walk up Rue du Petit Fort & Rue du Jerzual into the old town centre and you'll quickly realise it's lined with some seriously talented artists, crafts people and makers who live, work and sell their wares here. Right throughout Dinan there are more than a few excellent & reasonably priced restaurants. Caramel au Beurre Salé - a Bretagne delicacy and dangerously addictive - beware. The locals are warm & welcoming and seem happy to chat about almost anything. Architecturally, the old town is pretty stunning. There's a real bustle about the place. Lively bars and pubs if that's your thing & lots of cool independent shops too. Although there is loads to see and do within Dinan's walls, if you have a vehicle and fancy a trip out, there are many attractions and superb sandy beaches nearby. Bottle nose Dolphins are regular visitors to the Côtes-d'Amor coastline (try beach at Saint-Coulomb - 35km) and organised dolphin watching trips are run from Mont Saint-Michel (50 mins). The Office du Tourisme - located on Rue du Chateau in the old town - are extremely helpful. It is definitely worth checking their website in advance of your visit and especially check the 'Agenda des Fêtes et Manifestations' to see if there is anything that interests you coinciding with your stay.
Un chouette appartement à 2 pas du centre historique de Dinan. Très propre, confortable et parfait pour notre famille. Très bon accueil !
Nathalie
2016-10-28T00:00:00Z
Mit dieser Bewertung denke ich ich einen erlebnisreichen Aufenthalt in der entzückenden Stadt Dinan zurück. Da wir die Unterkunft gebucht haben um einen zentralen Ort für Ausflüge nach Saint Malo und malerische Küsten zu haben, ist uns bei der Buchung entgangen was für eine wunderschöne Stadt Dinan ist. Mir und meiner Freundin hat der Aufenthalt und die Spaziergänge durch Dinan sehr viel Freude bereitet. Geärgert hat uns nur, dass wir nicht einen längeren Aufenthalt eingeplant hatten. Mit der Wohnung waren wir im Großen und Ganzen zufrieden. Diese ist mit dem Auto sehr gut zu erreichen und wir hatten im Dezember/Januar keine Probleme direkt am kleinen Hafen einen Parkplatz zu finden. Wir denken aber, dass das im Sommer etwas spanender wird. Die Wohnung ist über mehrere kleine Treppen zu erreichen, was sich mit großen Koffern umständlich gestalten kann. Die Ausstattung der Wohnung lässt keine Wünsche offen. Lediglich die Kochutensilien haben schon bessere Tage gesehen, was wir dem Besitzer auch mitgeteilt haben. Er hat in Aussicht gestellt, das diese ausgetauscht werden. Nicht so gut fand ich die Matratze im Doppelbett, welche zu dünn war, wodurch ich auf dem Lattenrost lag. Abhilfe habe ich mir geschaffen, indem ich die Matratze von dem Zusätzlichen Gästebett im Wohnzimmer unter die eigentliche Matratze gelegt habe. Begeistert waren wir von der äußerst Geduldigen und hilfsbereiten Gastgeberin vor Ort. Leider hatten wir ein paar Probleme während unseres Aufenthaltes, für die weder wir noch der Besitzer vor Ort etwas konnten, aber die Ansprechpartnerin war immer in kürzester Zeit zur Stelle und hat geduldig nach Lösungen gesucht und. Wir können eine Reise nach Dinan und dieses Arpartment wärmstens empfehlen.
Lukas
2017-01-02T00:00:00Z
Appartement très chouette avec une vue charmante sur la rance et le coteau. Et en prime soleil le matin !
marion
2016-11-01T00:00:00Z
Typ av rum
Eget hus/egen lgh
---
Typ av boende
Lägenhet
---
Plats för
4
---
Sovrum
Dinan, Bretagne, Frankrike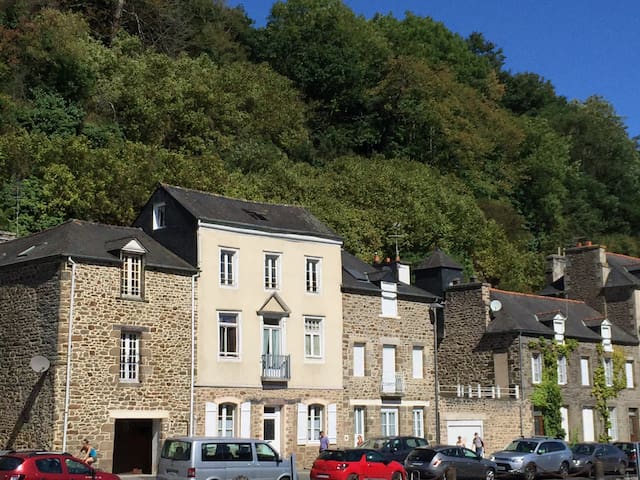 Room with private bathroom in a 50m2 apartment on the first floor of a quiet residence in the center of Dinan. You have free parking in the street of the residence or a private and secure place for long stays.
Located in the heart of downtown. You have access to all amenities. very calm residence.
The calm and proximity to the city center. The room is located 2 min walk to shops, cafes, terraces and restaurants, parks and walks, as well as the weekly market. The parking private and secure is also a plus, although you can park for free in the next street.
Chambre bien située en plein centre de Dinan. Excellente adresse pour le restaurant l'Atypic. Très bon accueil avec le sourire. Merci pour le séjour.
Loic
2017-03-12T00:00:00Z
The apartment is shared between the owner and holidaymaker.
Emma
2017-02-24T00:00:00Z
Местоположение великолепное. Все в шаговой доступности. Florence доброжелательная и гостеприимная хозяйка. Комната находится в двухкомнатной квартире, во второй комнате живет Florence. Проход в комнату через кухню. На кухне не законченный ремонт. Варочная панель не подключена. При отсутствии чайника, разогревали воду для чая в микроволновой печи.
Anton
2016-08-27T00:00:00Z
Hôte très agréable. La chambre est très confortable avec une salle de bain privative. La décoration est faite avec goût. Le logement se situe à proximité du coeur historique de la ville à voir absolument. Très bon séjour je recommande vivement.
Mathilde
2017-03-27T00:00:00Z
Chambre et salle de bain privative tout près du centre. florence nous a très bien accueilli et à été ponctuel avponctuelle avec les horaires proposés. endroit propre, tout s'est bien passé pour notre premier airbnb. Je recommande vivement !
Coralie
2016-08-08T00:00:00Z
La stanza è in una posizione comoda, a 5 minuti dal centro. Il parcheggio lungo la via è gratis, comodo se si arriva prima del check-in come abbiamo fatto noi. La stanza è pulita, ma il wc si trova da un'altra parte, in una saletta di forse 2 mq, piuttosto vetusta e senza finestra. L'appartamento è ancora da finire. Florence è stata molto gentile e disponibile.
Maila
2016-08-23T00:00:00Z
Florence was a great host! She was very welcoming and had great advice about restaurants, bakeries, and places to go. The room was clean, and the location was very convenient just outside of the old city.
Steven
2016-09-21T00:00:00Z
Florence foi muito simpática e receptiva! O quarto era bastante confortável e tinha o próprio chuveiro. O apartamento fica perto do centro histórico de Dinan. Muito recomendável!
Bruno
2016-12-05T00:00:00Z
Typ av rum
Eget rum
---
Typ av boende
Lägenhet
---
Plats för
2
---
Sovrum
Dinan, Bretagne, Frankrike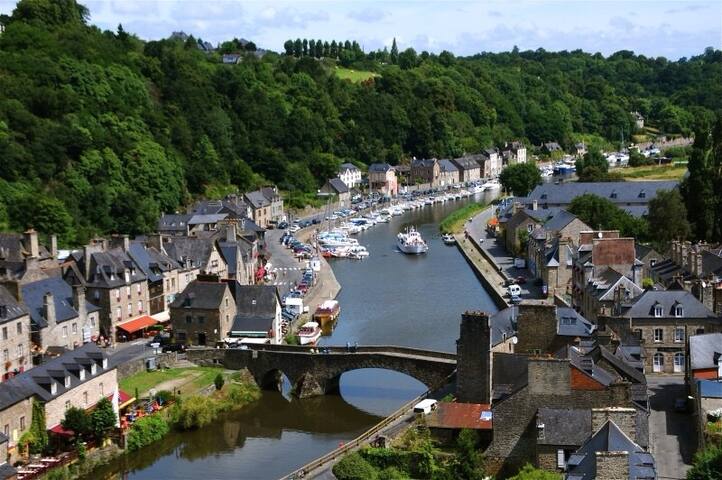 Idéalement placée sur le port , l'appartement "Les Remparts est situé au 1 er étage de la résidence ¨ Au Fil de l 'Eau¨ . Appartement T3 de standing, neuf de 60 M2 entièrement équipé. Accès direct au jardin aménagé (terrasse, pelouse….)
Appartement 1er Etage : ¨Les remparts Appartement de standing neuf de 60 M2 Accès direct au jardin aménagé (terrasse, pelouse….) Une pièce de vie de 30 M2 comprenant : une cuisine entièrement équipée (plaques induction, four pyrolyse, four micro-onde, lave vaisselle, réfrigérateur-congélateur, hotte, cafetière, grille pain, bouilloire, robot …table et chaises un canapé lit convertible (matelas 140x200) Télévision, Lecteur DVD, Chaine Hifi. Wifi, Une salle d'eau tout confort (vasque, douche, sèche cheveux, sèche serviette) Une chambre avec 1 lit de 160x200 Une chambre avec 2 lits de 90x200 Une petite terrasse privative attenante surplombant le jardin Capacité : De 1 à 6 personnes. Lave linge séchant, fer et table à repasser, séchoir inox. Vue exceptionnelle sur le port et les remparts de Dinan Parking privé et gratuit sur place
Idéalement placée sur le port , la résidence ¨ Au Fil de l 'Eau¨est située 12 Rue du Quai tallard à Lanvallay (port de Dinan-Lanvallay). Cette maison de Maitre entièrement réhabilitée en 2015 est composée de 3 appartements entièrement équipés. La résidence ¨ Au fil de l'Eau ¨ pourra vous accueillir en vous faisant bénéficier d'une vue exceptionnelle sur le port et les remparts de Dinan. Vous pourrez également bénéficier d'un parking privé attenant et profiter d'un jardin clos de mur en pierres afin de partager des moments conviviaux. L'accès direct aux chemins de hallage, à la cité médiévale, à la vallée de la Rance et à tous les services vous permettra de profiter au mieux de ce cadre exceptionnel.
Philippe is an excellent host, he was there to greet us and show us around. The listing is very accurate and really doesn't do justice to the lovely apartment which we couldn't fault. It was very clean and easy to maintain. Philippe is very thoughtful and the apartment lacked nothing. The views are superb and there is plenty to do in the local vicinity. The apartment was very secure and quiet. Although there are plenty of restaurants and cafes on the doorstep the location is quiet. We thoroughly recommend Les Remparts.
JIll
2016-06-17T00:00:00Z
Wir hatten eine wundervolle Woche im Juli/August bei Philippe. Dinan ist ein wunderschöner Ort, Philippe ein sehr netter und umsichtiger Gastgeber, der viele Informationen über die Gegende und die Besonderheiten bereit hält. Ein bisschen besseres Wetter hätten wir uns gewünscht, aber das liegt ja nun außerhalb unser allen Einflußmöglichkeiten. Wir würden jederzeit gern wieder bei Philippe buchen.
Bianca
2016-08-07T00:00:00Z
Our stay at Philippe's apartment was a highlight of our trip. If you are thinking of visiting Dinan and the surrounding area, do not hesitate to book this beautiful apartment! Philippe was the perfect host – he greeted us in person and gave us wonderful suggestions about sightseeing in the area. He also kindly left us wine, cider, and juice in the refrigerator. The apartment is recently renovated and beautifully decorated. Everything about it was luxurious – the beds, the bedding, the towels, the shower, and the modern kitchen. We found the apartment to be larger than the pictures depict, and we had plenty of space to relax as a family of four. It has a fantastic view of the canal and ramparts, and we never grew tired of looking out the large windows to enjoy the street life and musicians that gathered to play near the restaurants. In a two-minute walk you can be at the bakery and ready to enter the charming streets of the old city. The parking was also a huge benefit to staying here; you have a parking space in the back garden behind a secure gate. This was a fantastic air bnb experience and we would gladly go back and stay longer. Thank you, Philippe!
jennifer
2015-07-17T00:00:00Z
We spend a fantastic week in Philippe's apartment in Dinan. We were there for the weekend of Fetes des Remparts (3rd weekend of July every second year (even years)) and this is a great event. The apartment is better than described, the location is very easy to drive to with private parking in the garden. This is the 4th time we have spent a week in Dinan and by far the best. There are a good number of restaurants within 100 metres around the port and it is a heart warming 15 minutes walk up rue du Petit Fort and Rue Jerzual to the old medieval town. Philippe was a fantastic host from waving us up the driveway on arrival until opening the gate for us as we left. A La Prochaine Philippe. Regards Terry and Judy
Terry
2016-07-27T00:00:00Z
Philippe met us at the apartment and spent a good deal of time explaining the apartment and the sights in the area. This proved to be invaluable to us. The apartment is probably the nicest we have stayed in with Airbnb. We highly recommend and thank Philippe for his hospitality
Ross
2016-09-29T00:00:00Z
Merci Philippe pour l'accueil chaleureux. La situation de l'appartement est idéale pour découvrir Dinan et la région. L'appartement est très bien équipé et nous avons apprécié d'avoir pu amener notre chien. Merci aussi pour tous les conseils et renseignements sur les alentours.
Michel
2015-08-05T00:00:00Z
Philipe is one of the nicest french people we have meant. He is a very attentive and helpful host. The apartment is immaculate and exactly as described. It is also peaceful at night therefore no problem sleeping. The parking is very secure and the shared garden is good to sit out in. The barbecue covered area at the end of the garden is a nice touch. Dinan is a very pretty place and feels very safe, with lovely, uncrowded sandy beaches nearby, although you do need a car for these. I would definitely recommend Phillipe and his apartment
Carolyn
2016-09-02T00:00:00Z
Philippe was extremely friendly and helpful Apt was really nice
brenda
2015-10-02T00:00:00Z
Typ av rum
Eget hus/egen lgh
---
Typ av boende
Lägenhet
---
Plats för
6
---
Sovrum
Dinan, Bretagne, Frankrike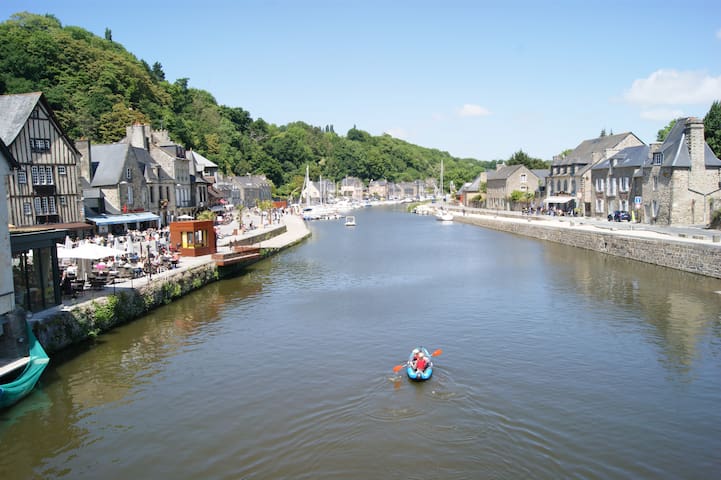 Perfectly placed in the historic heart of Dinan, this beautifully renovated city centre apartment is situated at the top of the famous medieval street, 'The Jerzual'. Dinan's restaurants, shops and historic buildings are just a few steps away. This second floor apartment has one (double) bedroom and a fold-down bed/setee. The stylish kitchen has all new appliances and the apartment is equipped with security doors and smoke and carbon monoxide detectors.
The apartment is at the top of a traffic restricted cobbled street linking the port of Dinan (500 metres away), to the historic town centre. Free 24/7 parking is available about 400metres from the apartment, and you can can load and unload baggage directly in front of the apartment.
Typ av rum
Eget hus/egen lgh
---
Typ av boende
Lägenhet
---
Plats för
4
---
Sovrum
Dinan, Bretagne, Frankrike
Characterful flat in the centre of medieval Léhon. 5 minute walk from heated outdoor swimming pool & boulangerie. Fabulous views over the river Rance. Private, off-road parking.
Characterful flat in the centre of medieval Léhon. 5 minutes walk from heated outdoor swimming pool & boulangerie. Fabulous views over the river Rance. Well-equipped kitchen. Shared outdoor terrace & garden. Private, off-road parking. Our cosy flat "Monet" is tastefully decorated in Bréton style.
Built in 1814, Val Rive is situated in a river valley in the quaint quartier of Léhon on the outskirts of the historic town of Dinan – one of the best-preserved medieval towns in France. Val Rive's setting is very picturesque, overlooking a medieval toll bridge over the Rance from where a cobbled street leads to the 9th century Abbey and ancient ruined Chateau of Léhon. Indeed, Léhon has the status of 'Petite Cité de Caractère' (small town of character) and visitors fall in love with it, returning year after year to this charming village. We are lucky enough to have a wonderful French brasserie "La Marmite" just round the corner for the house and a boulangerie 5 minutes walk away. For those wishing to swim there is a 25m public swimming pool (with waterslide) about 5 minutes walk away in Léhon, and also a tennis club (with four indoor courts and one outdoor court) about 10 minutes walk up the main street to Dinan. Dinan town centre can be reached on foot in about 20 minutes or by car in 5. Riverside paths can take you into the harbour of 'Port de Dinan' or the tranquil Breton countryside – perfect for walking, cycling or taking a picnic. The river flows into the sea at Dinard and St Malo, and these picturesque seaside towns can be reached by boat or bike if you've decided to leave your car at home.
Lovely apartment in a picturesque town - exactly what we were looking for! The flat was very spacious and well equipped. The walk down the river to Dinan was lovely if we wanted to see something new, but the little village of Lehon was perfect for a morning croissant. We loved being next to the Marmite restaurant as well - this was a highlight of the trip.
Eleanor
2016-08-13T00:00:00Z
Magnifique petit appartement. Très confortable et calme, très bien équipé. Il se trouve dans un paysage splendide. Géographiquement très bien placé pour des excursions sur la côte.
Danièle
2016-11-01T00:00:00Z
Beautiful appartment to go for a holiday with all the equipments! Hopefully we can come back again. Kinds regards.
Karo
2016-08-16T00:00:00Z
Typ av rum
Eget hus/egen lgh
---
Typ av boende
Lägenhet
---
Plats för
2
---
Sovrum
Léhon, Bretagne, Frankrike
Ce studio tout confort, situé sur le port de Dinan dans une maison de maître, offre une vue directe sur les bateaux à l'amarrage. Vous résiderez dans l'enceinte historique, proche du centre ville, de ses boutiques et de ses nombreux bons petits restos. Vous aurez facilement accès à la fois à la mythique « Rue du Jerzual », la rue des artistes, qui part du port et au chemin de halage, parcours piétonnier qui longe la Rance. Vous apprécierez l'ambiance cocooning, la luminosité, la localisation ...
Entièrement refait à neuf, cet appartement allie confort moderne avec cachet historique grâce à sa cheminée massive, ses véritables moulures et sa rosace centrale, le tout sous trois mètres de plafond. Idéalement pour un couple ou en solo. Nos amis à quatre pattes sont aussi les bienvenus. Draps de lit et linges de toilette inclus. Le ménage n'est pas inclus et doit être fait avant votre départ. Nous proposons également un forfait ménage facultatif en sus (30e de une à 3 nuits 40e au delà de 3 nuits) Possibilité d'un troisième couchage d'appoint / Nous contacter au préalable... Pas de supplément pour les bébés :)
Julien était vraiment serviable et nous a donné beaucoup d'informations sur Dinan. Il était très gentil et nous a même conduit au supermarché. L'appartement était très propre et il y avait tout ce dont nous avions besoin. L'emplacement était parfait. C'était sur une route tranquille à côté de la rivière. Dix minutes à pied du centre historique.
Rosie
2016-11-26T00:00:00Z
Superbe logement, quartier apaisant et tranquille
Justine
2017-01-01T00:00:00Z
Appartement très bien entretenu, très agréable et dans un endroit superbe.
PIERRE
2016-12-28T00:00:00Z
Sejour agréable, appartement tres propre et bien equipé decoré avec goût et avec une belle petite vue sur l eau.Je recommande
Amandine
2016-12-31T00:00:00Z
L'appartement est vraiment très chaleureux et fonctionnel, en total accord avec les photos. L'hôte c'est aussi montré très disponible. Un séjour parfait!!
Pauline
2016-12-30T00:00:00Z
Julien et Lucile se sont montrés très disponibles pour répondre à nos questions. Ils étaient très flexibles sur l'heure d'arrivée et de départ. Logement agréable, très propre et idéal pour un couple Très belle vue sur le port. Je recommande.
julie
2016-12-24T00:00:00Z
Très bien situé avec vue sur le port. Appartement fonctionnel et bien agencé. Tout est fait pour que le séjour soit agréable !
Alice
2016-12-16T00:00:00Z
Typ av rum
Eget hus/egen lgh
---
Typ av boende
Lägenhet
---
Plats för
2
---
Sovrum
Dinan, Bretagne, Frankrike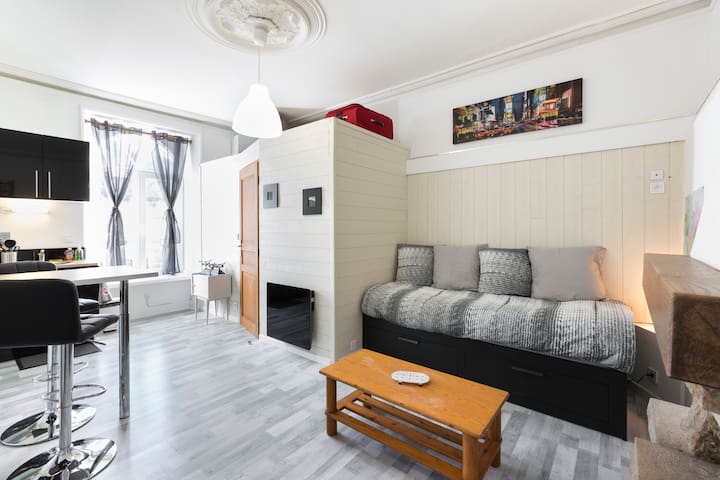 Nice 2 cozy rooms in the historic center. 1st floor of a typical building. Bright and charming. New bedding and sofa bed, bathroom with bath and washing machine, nice square on view balcony. Free parking near the castle and shops 2 pas.Idéal for small families. linen rental available and ready cot availability. For convenience, the rental fee includes the cleaning service after departure.
Très cosy, situé en plein centre de Dinan, petite terrasse agréable. Contact avec la propriétaire très impliquée. Belle décoration, belle salle de bain, propreté. En un mot, super !
Vantoortelboom
2016-08-15T00:00:00Z
Typ av rum
Eget hus/egen lgh
---
Typ av boende
Lägenhet
---
Plats för
4
---
Sovrum
Dinan, Bretagne, Frankrike
Resenär i hjärtat, lägger jag till dig detta studion igen år 2016. Du hittar alla bekvämligheter för din vistelse i Pays de Rance. St Malo / Dinard Det är beläget i centrum av Dinan, nära stadshuset och dörr Brest.
Den har ett sovrum med en säng BZ nio. Ett kök med kylskåp, kokplatta, mikrovågsugn och köksredskap. Badrum med dusch.
Beläget nära stadshuset, är det mycket tyst. Det är två minuters promenad från ett litet snabbköp och restauranger.
C'était super sympa chez Mickael à Dinan!
Julia
2016-06-26T00:00:00Z
studio très pratique et proche du centre de la ville. L'aménagement est sobre et tout à fait adapté pour un séjour de courte durée Quartier très calme Un point faible, il serait intéressant de prévoir une lampe de chevet à coté du lit bz A recommander
thierry
2016-05-09T00:00:00Z
Logement très proche à pied de la cité médiévale, aménagement sobre, idéal pour un court séjour. Nous avons été très bien accueillis par Mickaël.
eric
2016-07-25T00:00:00Z
Everything was fine and the host was very nice:)
Bogumilk
2016-06-23T00:00:00Z
Logement petit mais très bien situé. Accueil très efficace et courtois.
chr
2016-08-01T00:00:00Z
Michaèl est une personne agréable et à notre écoute
Pascal
2016-04-20T00:00:00Z
It was very near the city centre. small cosy room at a quiet street. Mickael recommended us to a really good place to eat. We only stayed over for a night. The only problem we had was there was no prior insturctions or communication so we panic the night before, but in the morning we dropped him a msg and he responded. All was good.
Aline
2016-06-15T00:00:00Z
Disponibilité maximale et host super gentil. Logement pas trop loin du centre ville, de restos... Conseillé vivement.
Emanuela
2016-07-17T00:00:00Z
Typ av rum
Eget hus/egen lgh
---
Typ av boende
Lägenhet
---
Plats för
2
---
Sovrum
Dinan, Bretagne, Frankrike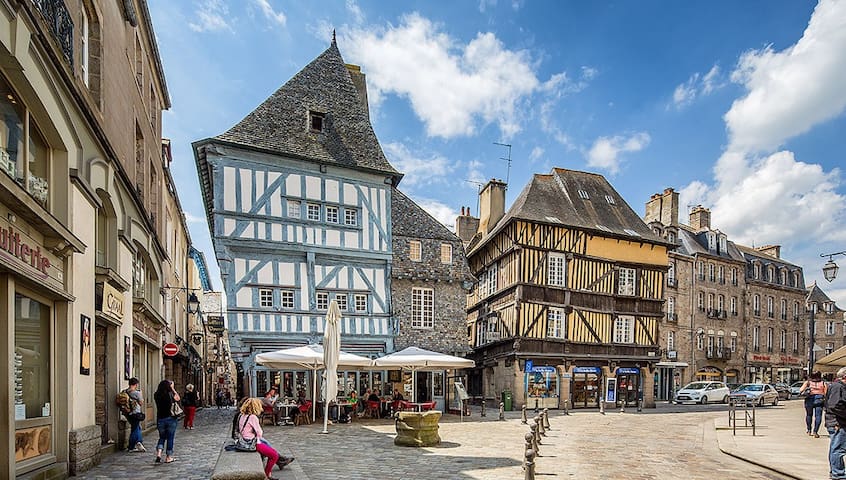 cozy and comfortable apartment, located in the heart of the medieval city. Close to restaurants and tourist attractions of the city.
Our stay in the apartment was so great. The location was perfect just in the center of the old city and the atenttion given was exquisite; very helpful and friendly.
Unai
2016-07-20T00:00:00Z
appartement charmant et propre, très bien situé au coeur du centre historique, avec un grand lit confortable fort apprécié après la journée de marche dans les rues de Dinan! La tante et l'oncle de notre hôte nous ont très bien accueillis, adorables. on recommande sans hésiter!
alexandre
2016-08-14T00:00:00Z
Appartement correspondant à la description, en plein centre de Dinan, il est assez compliqué de se garer à proximité mais des parkings gratuits sont à quelques minutes de marche. Hôte très facile à contacter et réactifs. Nous avons passé en excellent séjour à Dinan qui est une super ville.
corentin
2016-09-09T00:00:00Z
Host was easily accessible (despite living in a time zone many hours removed from France's)-- he emessaged immediately and encouraged telephone contact. The apartment is fresh and airy and the location is absolutely stunning-- everything far exceeded our expectation for this property.
John
2016-10-18T00:00:00Z
Logement très bien situé, au cœur du vieux Dinan. Appartement joliment arrangé, fonctionnel et agréable, parfait pour passer quelques jours à visiter la région.
Nicolas
2016-05-05T00:00:00Z
Nous avons passé un agréable séjour d'une semaine dans l'appartement de Damien : lumineux, refait neuf, lit large et confortable, douche spacieuse, espace cuisine suffisant....les photos représentent bien le lieu, idéalement situé dans un joli quartier du Dinan historique : plongée assurée dans le merveilleux moyen-âge ! Contact facile avec Damien et bel accueil de ses représentants sur place !
Anne
2016-05-01T00:00:00Z
Le propriétaire est quelqu'un de très réactif lorsqu'il s'agit d'avoir une information. Il est très accueillant et à l'écoute de la moindre question.
Catherine
2016-10-13T00:00:00Z
Merci à notre hôte pour ce petit séjour charmant dans cet appartement. Accueil et logement supers et l'emplacement est idéal ! On recommande vivement !
Pauline
2016-08-16T00:00:00Z
Typ av rum
Eget hus/egen lgh
---
Typ av boende
Lägenhet
---
Plats för
2
---
Sovrum
Dinan, Bretagne, Frankrike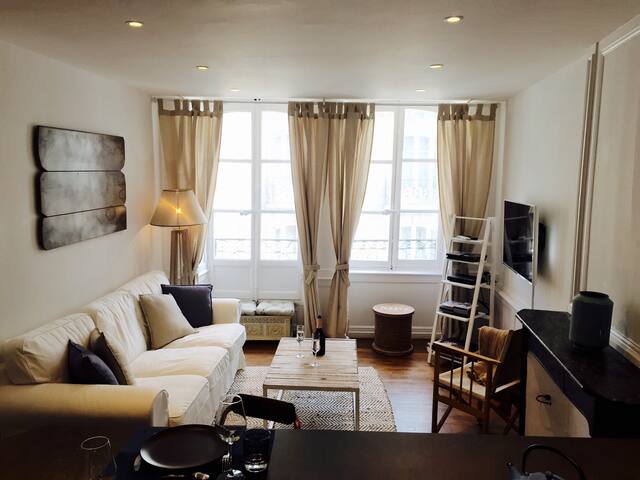 Superbe gîte tout confort à la décoration raffinée située au pied de Dinan , non loin des plages de la côte d'Émeraude (25 mn ) et et mont Saint Michel (40 mn ). Ce duplex est idéalement situé pour flaner sur les bords de Rance et rejoindre Dinan .
Situé sur la commune de Lanvallay , le gîte se trouve à proximité de tous les commerces de proximité et de deux supermarchés .
Nous avons passé un super week-end ! Très bien accueillis par Nathalie qui ferait également un très bon guide touristique. Logement propre, décoration bien choisie, nous n'avons manqué de rien. Merci beaucoup, nous recommanderons le Cosy !
Rudy
2016-05-09T00:00:00Z
Superbe accueil de la part de notre hôte. Appartement en très bon état, agréable à vivre et au calme. A 5-10 minutes de Dinan. Idéal pour un séjour à deux. A recommander chaudement
Philip
2016-09-11T00:00:00Z
Typ av rum
Eget hus/egen lgh
---
Typ av boende
Lägenhet
---
Plats för
4
---
Sovrum
Lanvallay, Bretagne, Frankrike
My home is close to downtown, the harbor, parks, shops, train station, Saint Malo and its surroundings .. Enjoy my apartment for the location, comfort, tranquility. My accommodation is perfect for couples, solo travelers and families (with children). This apartment of 46 sqm is certified 3 keys with Key Holidays.
Ce logement était au delà de mes espérances. Pour une première expérience airbnb, je dois avouer être séduit. Le logement était neuf, très propre et sur équipé notamment pour les enfants en bas âge.. (petite baignoire, siège enfant, lit parapluie. Ces équipements neufs sur place nous ont fait gagner beaucoup de temps et de place dans le coffre de notre véhicule. L'appartement es décoré avec goût, l'accueil est chaleureux, on se sent rapidement chez sois en plein centre historique de Dinan. Le parking sous-terrain est également un très gros avantage. Je recommande
Florent
2016-08-22T00:00:00Z
We were late and they were very understanding.
thomas
2016-10-24T00:00:00Z
Séjour parfait. L'appartement est idéalement situé en plein centre historique de Dinan. Il est sûr, bien agencé et d'une propreté remarquable. Merci à Guylène pour son accueil et sa gentillesse.
Rene
2016-07-30T00:00:00Z
Hôte très sympathique et disponible. Appartement très bien situé, agencé et propre: ne pas hésiter à réserver !
Benjamin
2016-07-31T00:00:00Z
Nous avons passé un agréable séjour dans l'appartement de Guylène. Très bien placé et équipé, idéal pour un week-end à Dinan !
Ophélie
2017-02-19T00:00:00Z
Séjour très agréable, logement très bien situé, très propre, tout neuf. Merci à Guylène pour son accueil et ses petites attentions.
Sandrine
2016-12-18T00:00:00Z
Guylène nous a accueillis avec beaucoup de gentillesse et nous a donné tous les renseignements nécessaires pour nous faciliter le séjour. Nous avons aimé les produits locaux de bienvenue qui nous attendaient à l'arrivée. Nous la remercions aussi pour la souplesse dans les horaires. Appartement très calme bien qu'idéalement situé dans le cœur historique de Dinan, rénové très récemment il est très fonctionnel, bien équipé et décoré avec goût. Salle de bain spacieuse et très agréable. Nous avons beaucoup apprécié le parking couvert mis à disposition.
Françoise
2017-02-12T00:00:00Z
Très agréable séjour dans l'appartement de Guylene. Très bien placé en plein centre historique. Convient parfaitement à un séjour avec bébé grâce à un lit parapluie, une petite baignoire et une chaise haute à disposition. Pour notre part nous étions avec nos 2 jumeaux de 3 mois, c'était parfait.
CHARLOTTE
2017-01-13T00:00:00Z
Typ av rum
Eget hus/egen lgh
---
Typ av boende
Lägenhet
---
Plats för
4
---
Sovrum
Dinan, Bretagne, Frankrike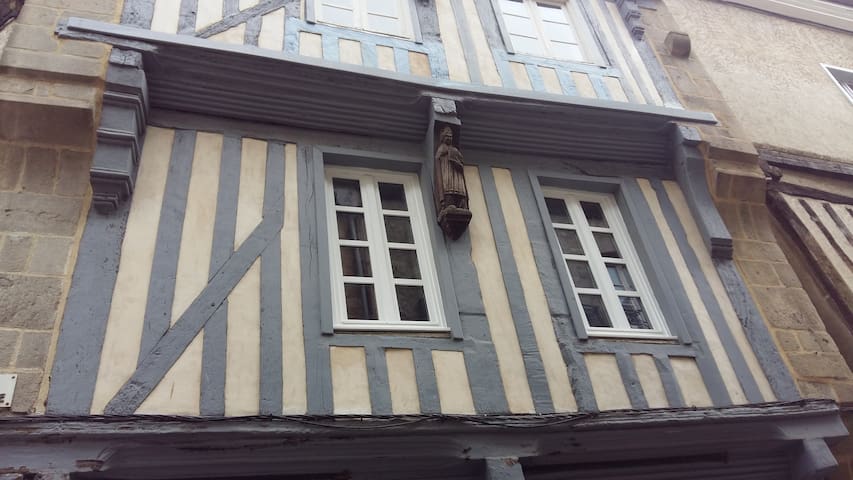 Appartement lumineux avec une vue imprenable sur le port de plaisance de Dinan et La Rance. Rénovation récente, décor raffiné, confortable et bien équipé. Le Loft se trouve au deuxième étage d'un bâtiment historique, au cœur du joli port de plaisance de Dinan. Très bien équipé avec WIFI internet gratuit, TV avec chaînes françaises et anglaises, Une chambre avec un lit grand et mezzanine avec deux lits simples qui conviendrait deux enfants. Canapé lit. Coin cuisine
Typ av rum
Eget hus/egen lgh
---
Typ av boende
Lägenhet
---
Plats för
4
---
Sovrum
Lanvallay, Bretagne, Frankrike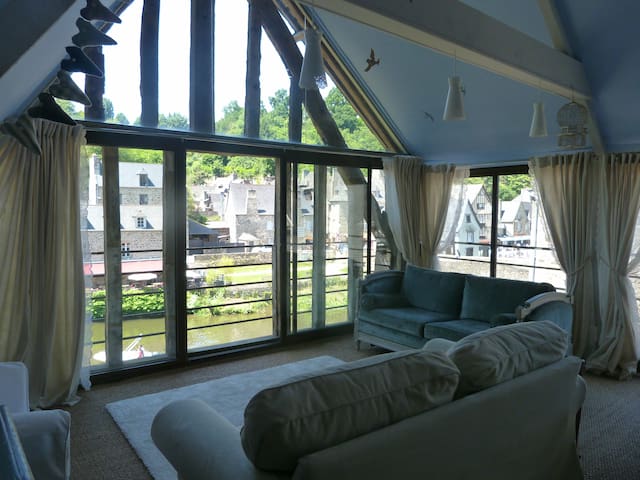 In the centre of town, with all amenities within walking distance, this newly decorated apartment offers a double bedroom, a large living area with an alcove containing a sofa bed that can be curtained off for privacy and a separate kitchen and bathroom. The apartment is approximately 50m2 and is on the second floor with views on to Place du Marchix. Low cost parking is available close by.
Typ av rum
Eget hus/egen lgh
---
Typ av boende
Lägenhet
---
Plats för
4
---
Sovrum
Dinan, Bretagne, Frankrike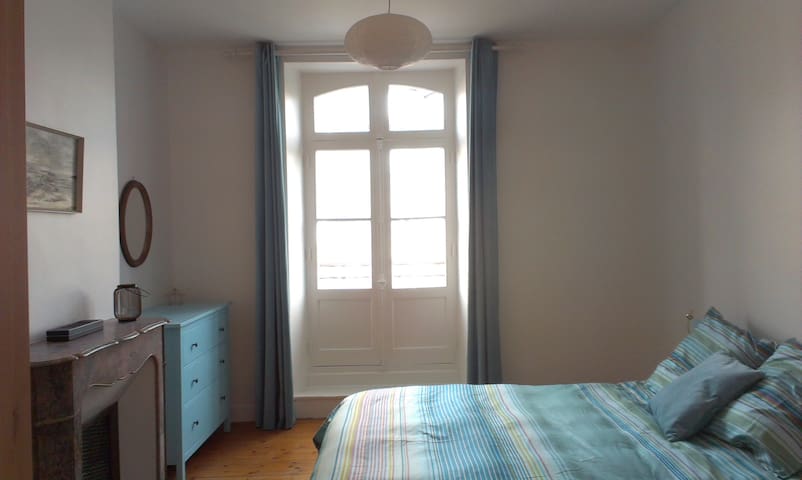 L'appartement (45m2) est situé dans une résidence calme et sécurisée (accès digicode) le long d'un chemin uniquement piétons. Il comprends une chambre disposant d'un lit deux places + 1 lit une place, un salon équipé d'un canapé-lit, une cuisine ouverte et un rez de jardin de 80 m2. L'appartement est situé non loin du Centre-Ville, de la rue du Gerzual, la place Duclos, Château de la Duchesse Anne et du port de Dinan. Le bord de mer est à 15 min en voiture, Dinard à 20min et St Malo à 30 min.
L'appartement est situé dans une résidence sécurisée (digicode), au rez de chaussée. Accès facile. Parking. Calme et loin du bruit de la rue. Proche des commerces.
Le quartier est calme, proche des commerces et du Centre Ville historique. Le bord de mer n'est qu'à quelques kilomètres tout comme Dinard, St Malo, le Cap Fréhel, le Sable d'Or, Erquy, St-Cast, St Jacut de la Mer, Saint Briac (Côte d'Emeraude) etc....
Typ av rum
Eget hus/egen lgh
---
Typ av boende
Lägenhet
---
Plats för
4
---
Sovrum
Dinan, Bretagne, Frankrike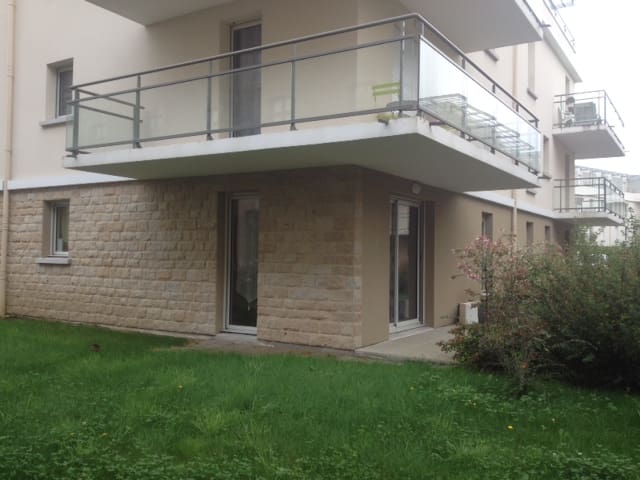 85 m2 duplex in a quiet and pleasant residence in the heart of the medieval city, overlooking the old harbor. Large living room, 2 bedrooms, kitchen with a terrace overlooking the private garden. Baby equipment. Elevator from the garage.
Great apartment. Large, wonderful views and great location! I highly recommend this place. Soaking is awesome!
BERNARD
2016-09-18T00:00:00Z
Soazig went above and beyond. The clothes washer died, and she had a new one installed and running within hours.. The apartment is wonderful - with views of the ramparts of Dinan. We were very comfortable and had a great time in her apartment.
Doug and Katherine
2016-03-27T00:00:00Z
The host canceled this reservation 118 days before arrival. This is an automated posting.
Fabio
2016-03-19T00:00:00Z
hôte très accueillante logement en adéquation avec le descriptif en plein centre ville, très agréable, parfait pour decouvrir Dinan et ses alentours facilité de se garer avec le parking souterrain
camille
2016-07-12T00:00:00Z
Beau logement, bien agencé avec très belle vue sur les remparts et le viaduc de Dinan. Très pratique également d avoir un garage.
ALBERIC
2015-08-23T00:00:00Z
My family loved our stay at Au Jardin Anglais. It is perfectly situated incredibly close to the beautiful medieval centre of Dinan and enjoys great views. Mme Rollando was very friendly and accommodating and I would strongly recommend staying in her lovely apartment.
Dave
2016-05-29T00:00:00Z
Localisation formidable, parfait pour découvrir une ville magnifique à pied. Aucune problème pour trouver l'appart et la femme de Guirec a été très sympathique. Parking souterraine plus que pratique. Vues superbes des fenêtres les 3 côtés et beaucoup de place. Par contre il faut accepter que l'appart lui-même est très démodé... c'est un peu comme rendre visite chez sa grande mère dans les années 80 (personnellement j'adore toujours la moquette aux fleures !!). Compte pas bien cuisiner non plus... mais bon, quelle vue !!
Jodie
2015-07-26T00:00:00Z
We had a great stay at Au Jardin Anglais. Soazig was a great host who answered our messages promptly & was very welcoming. The apartment was very spacious with lovely sunny rooms & very quiet despite it's great location so close to the village. Parking was in an underground lock up garage, very secure & convenient. The apartment was well stocked for self-catering & had lovely views. I highly recommend it for your time in Dinan.
helen
2016-09-30T00:00:00Z
Typ av rum
Eget hus/egen lgh
---
Typ av boende
Lägenhet
---
Plats för
5
---
Sovrum
Dinan, Bretagne, Frankrike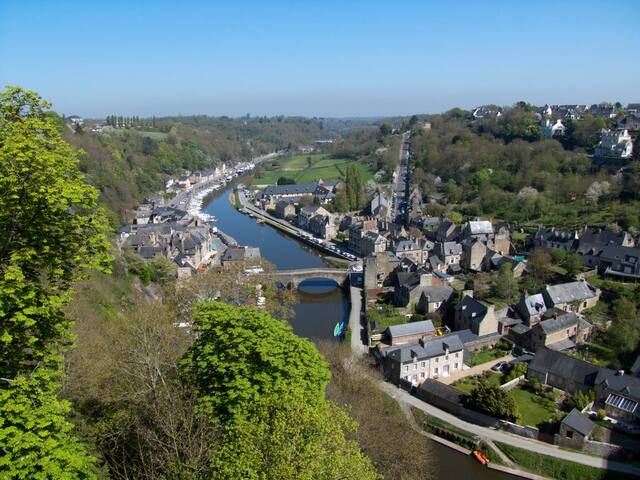 La Landec - Airbnb
:
I genomsnitt

4.3

av

5

stjärnor från

187

gästomdömen