Completely remodeled lake front house at Lake Oconee. House on point lot with expansive views of lake. Spatious open floor plan. Dock and deep water. Open backyard with pool. Close to nearby marina, shops, and restaurants.
Peaceful lakefront retreat. Incredible expansive lake views. House completely remodeled. Large walk in marble master bath with freestanding tub.
Private and peaceful. Dock with deep water. Close to The Village at Harmony crossing and Fish tale marina. Lots of great restaurants nearby.
The listing description is very accurate – it is a gorgeous home, right on the lake, with amazing views. The great room and remodeled master bath are incredible. The pool is perfect for the adults and kids – we spent the majority of our time there. The kitchen is a little small and could use more supplies. But there are good restaurants nearby – we loved Bone Island Grill and Maria's Cantina (right by Publix). Naomi was very responsive to all of our questions (as first-time Airbnb-ers). And the neighbors are really nice – one neighbor noticed that we had 4 kids, but only 3 fishing poles, and let us borrow one of his!
Aileen
2016-07-25T00:00:00Z
We had a wonderful stay! Last minute getaway-Just what we needed! Home and view are fantastic! Naomi has done a great job renovating this lovely lake house thus far (finishing touches in progress) Location is solid. Good restaurants close by and publix grocery is 5 min drive. We rented a pontoon from marina a stone's throw away and loved it! Will definitely return...
Chas
2016-05-14T00:00:00Z
Newly renovated, very nice! Naomi was very responsive and easy to work with. Everything was as advertised.
Scott
2016-04-09T00:00:00Z
Loved the house and the views however, the house had cockroaches and centipedes. The house only had 2 rolls of toilet paper so future guests, you will need to bring some. Additionally there were no paper towels or trash bags. Beds were comfortable but one twin bed had no sheets. The pool was nice and clean. We overall enjoyed the home.
Samantha
2016-08-28T00:00:00Z
While this house is a bit of a work in progress.... What is done is nothing short of spectcular! Those 2 main bathrooms are STUNNING! The 3rd full bathroom needs a little attention but is functional. (I admit the bar may have been set too high with the others though). That pool is hard to get out of and was the highlight of the stay!!! The view is amazing as well. But for those of us who do like to cook on vacation at the lake, the kitchen is dated and there is no outdoor grill. The patio furniture probably needs to be replaced as well. However, none of that would deter us from staying at this house in the future. Unfortunately the guest before us stole her pots and pans, and thats just down right disrespectful in my book. Those folks should be ashamed of themselves. This house can easily sleep 6 adults and 2 kids ( 1 king bed, 2 queen, 2 twin) We rented jet ski's from Wild Watersports (I believe is the name of the place) which was literally less than 1 minute from the house at the Marathon gas station. Quite frankly, we've stayed in several homes at Lake Oconee and this one is probably at the top of our list. The few shortcomings are outweighed by the many enhancements. If Naomi ever put this house on the market, we'd be the first in line to buy it! ENJOY!!!
Trent
2016-06-13T00:00:00Z
This was a great experience. Host is very responsive and promptly replies to any questions. The location is fantastic and the space is unbelievable. The host is doing a top-tier job of renovating the space, the kitchen and upstairs bathroom had yet to be redone, even so, this property was an incredible value.
ryan
2016-09-19T00:00:00Z
Typ av rum
Eget hus/egen lgh
---
Typ av boende
Hus
---
Plats för
8
---
Sovrum
Eatonton, Georgia, USA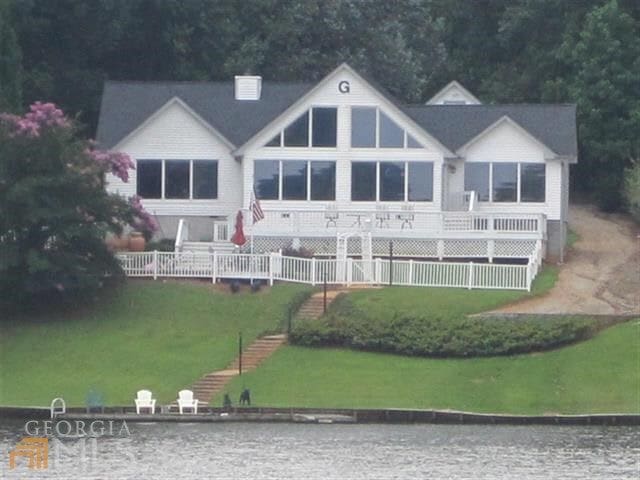 The house is beautiful! It is also a great size and layout - we had room to spread out, but also be together. The neighborhood is lovely. A bonus is being able to walk to the Ritz for treatments at the spa!
Kathryn
2017-04-09T00:00:00Z
Typ av rum
Eget hus/egen lgh
---
Typ av boende
Hus
---
Plats för
16
---
Sovrum
Greensboro, Georgia, USA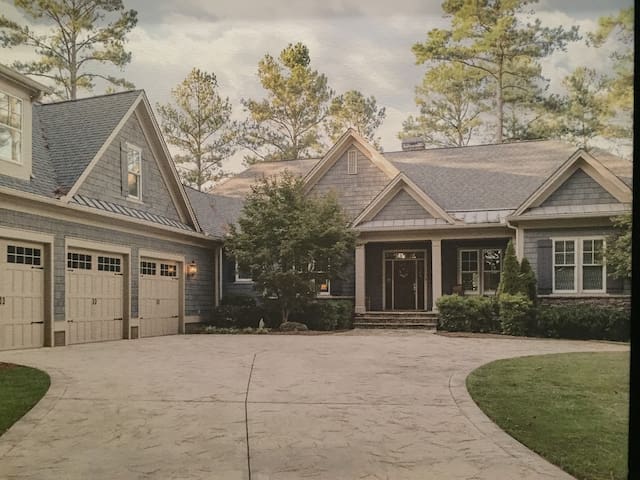 Property is a 2 unit house, rent one side or both (Listed on here as Property A). Water front in secluded cove with Dock for your use. Ample parking out front for vehicles and boat trailers. Boat ramp and convenience store within walking distance of house. Property is located off Rt 44 near Harmony Crossing.
Water front in secluded cove with Dock for your use. Boat ramp and convenience store within walking distance of house. Property is located off Rt 44 near Harmony Crossing. ***BOAT OWNERS*** of course we encourage you to bring your boat, after all its the lake!! Be advised to get your boat back into our cove you will need to go through a tunnel that goes under Rt 44. Unless you have a ski tower you should not have any problems, we have a 21 foot pontoon that easily fits, with Bimini down of course. Near are 3 historic towns, Greensboro, Madison and the closet Eatonton, home of Uncle Remus Museum. All of these towns have antique shops, shopping on the square. There is also within a couple of miles a movie theater, Restaurants, a Publix, and some of the best gulf courses in the southeast. The property offers a large back waterfront yard with ample parking in the front. Attached is a second unit also available for rent, perfect for multi family vacations.
This property was spectacular. The host, Mike, was more than prompt in replying to emails. The house felt like a home. The gas station in the corner had everything you can think of; from rentals to bait to last minute forgotten items. The girls that work there were beyond sweet. Our family cannot wait to visit again.
frances
2016-08-15T00:00:00Z
Really enjoyed our stay. The place was just as described, excellent location, clean and the owner was very prompt to answer any questions we had.
Dalyn
2016-09-25T00:00:00Z
Mike was prompt in responding. The place was clean and well equipped for cooking and a nice relaxing weekend!
Ellen
2016-10-23T00:00:00Z
Jay
2017-04-05T00:00:00Z
Typ av rum
Eget hus/egen lgh
---
Typ av boende
Hus
---
Plats för
6
---
Sovrum
Eatonton, Georgia, USA
Large home set on 1.2ac. Beautiful open plan living/dining/kitchen (900 sq/ft) with living and dining seating for eight. Lake views, private dock, large screened porch with outdoor dining table and lounge with separate BBQ area. Situated 10 minutes from World Class Golf Courses, Ritz Carlton, Lake Oconee Village (Publix), 30 minutes to Milledgeville. Perfect for Masters/Honeymoon/Staycation/Wedding/Graduation. Child friendly with a large crib in the Master bedroom. Perfect family retreat.
Booking numbers are to be strictly adhered too; no extra daytime guests. Large 4 bed (also Crib in Master), 2 bath family home that was completely renovated September-15. 900sqr/ft open plan kitchen/dining/living with an adjoining 400 sq/ft screened porch with Lake views. Private dock with Marina Boat Ramp located two minutes from property. Manicured lawns/garden set on 1.2ac. New luxury bedding throughout. Perfect for a weekend stay-cation, Honeymoon, Wedding guests, Golfing weekend, the Holidays or for exploring and visiting Georgia' premier Lake District. Located 10/15 minutes from world class golf courses including Reynolds and Harbor Club. The Property is ten minutes from the Ritz Carlton, Publix Supermarket (Lake Oconee Village), fifteen minutes from historic Main Street Greensboro and thirty minutes to Milledgeville. A complimentary chilled bottle of champagne is left for each guest as is homemade Jam' and other snacks. Toiletries are also provided. Fishing rods (Tackle Box), games. Complimentary coffee, tea, sugar, sweeteners and coffee mate provided. The house is Handicapped accessible; large four foot ramp from second entry door, first bedroom and bathroom have extra wide three foot doors and openings, clearance in kitchen between counters is four feet and no uneven surfaces in house.
Located on large manicured lots with private docks and Marina Boat ramps within minutes of all our properties. The areas are quite, secluded and all properties offer beautiful views. Shopping and amenities are in easy driving distance. Relaxation and enjoyment are our motto and all amenities for outdoor water sports are available for rental at local area businesses. Our other properties are located fifteen minutes away in Port Armor North if you require further accommodation.
This house was just as advertised. We had 7 people in town for a wedding at this house worked perfect! The house had a bottle of champagne chilled and waiting for us when we got there. The fishing poles were great and we caught plenty of fish! All in all was a great weekend!
AJ
2016-04-17T00:00:00Z
Sam and Victor were great hosts. They provided us so many extras we appreciated. We celebrated with our family Thanksgiving having traveled from TN and FL. The children had space to run and play. We enjoyed the back porch playing cards and games with the kids. There was a sewage smell coming from next door's condos which made it hard to stay out there too long during the day but the mornings smelled like pine on the front porch. We were disappointed to not have the washer and dryer advertised as amenities but we understand things break down and its hard to get a handyman around a holiday. Otherwise we enjoyed the comforts of Sam and Victor's lake house and their hospitality. We would recommend it to others interested in getting away.
Ines
2016-11-27T00:00:00Z
Everything was as stated and Samantha & Victor were great HOSTS - We consider them our New Friends
Richard
2016-05-15T00:00:00Z
Sam and Vic's place was exactly what my group and I needed. We came together in Georgia for a wedding. Rather than stay at an impersonal hotel, we found this listing where my best friends and I could optimize every minute of our short weekend. This house was absolutely perfect—four bedrooms for four couples. When we weren't at the wedding, my friends and I immensely enjoyed the screened-in porch. Even the pollen couldn't stop us! I am very thankful that options like this delightful, little lake house exist. Thanks, Sam!
Stephanie A. H.
2016-03-20T00:00:00Z
My family and I celebrated my Dad's birthday at Sam and Vic's beautiful home. The photos of the house and property are breathtaking and more importantly accurate. The location is great and it's tranquil too. You have easy access easy to the major roads but are not crowded by too many neighbors. There's plenty of space in the home and lots of amenities too. Sam was very responsive before and during my trip and also followed-up with me afterwards. We are looking forward to our next stay!
Jameal
2016-05-23T00:00:00Z
The house was ask described and very nice. It was easy access to hwy 44 yet well away from the road. The lake cove was quiet. Sam was very upfront on rules and details. We found the overall experience to be quite pleasant.
Jeff
2016-06-01T00:00:00Z
We stayed at Sam and Victor's lake house for a business trip as we wanted something a little different than your typical hotel that we are use to. This house did not disappoint! It was the perfect size for us and such a beautiful location on the water. It was convenient to all of the local restaurants and grocery stores which is just what we were looking for! Sam gave instructions in great detail as well as recommendations to local restaurants and she provided all essentials...toiletries, coffee, and awesome homemade jam. We will definitely stay here on our next trip to the lake!!
Carrie
2016-05-27T00:00:00Z
Very friendly and communicative. We stayed here for Masters week and played golf in the Lake Oconee area. Great location for restaurants, golf, and not far off highway 20. Sam was very welcoming and helped us get food in advance. Very clean. Beds very comfortable. Would highly recommend staying here if you want a nice house on the lake with good access to golf courses. TV was old. (90s projection style) AC unit made some noise when turned on. Constructive feedback - would be nice to have wifi in the future.
Brian
2017-04-04T00:00:00Z
Typ av rum
Eget hus/egen lgh
---
Typ av boende
Hus
---
Plats för
8
---
Sovrum
Eatonton, Georgia, USA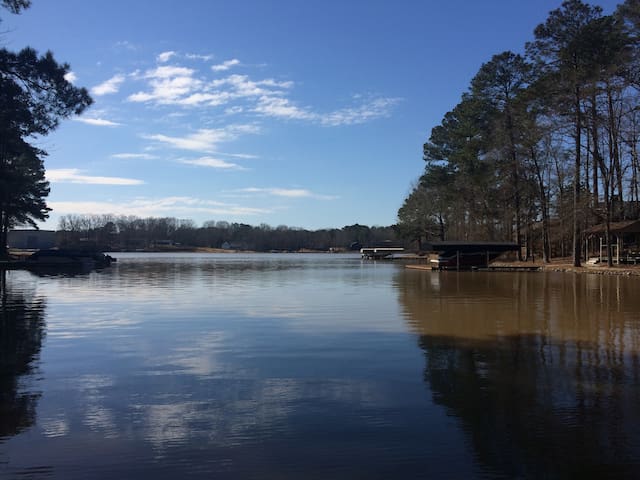 Beautiful large lake front villa located in the exclusive Cuscowilla resort on Lake Oconee. This villa is located both on the water and golf course. It is perfect for entertaining large groups and/or small couples weekend vacations. Each kitchen/bedroom/living room combination can be rented out together or separate. Basement with large kitchen, dining, living, pool/pingpong and movie theater can be added to the reservation. Please contact me for individual and group pricing.
Typ av rum
Eget hus/egen lgh
---
Typ av boende
Hus
---
Plats för
1
---
Sovrum
Eatonton, Georgia, USA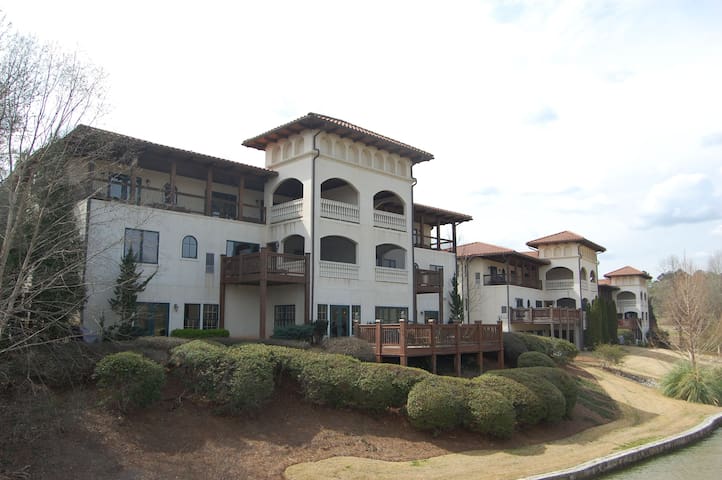 Welcome to Lakeside Serenity- an amazing place to have fun or just relax! You'll love it because of the big views of the lake, comfy beds, the high ceilings, the gourmet kitchen, fishing, kayaking, nature walks, & lake swimming. My place is great for couples, solo adventurers, business travelers, and families!
The large lake views and outdoor play space make Lakeside Serenity the place to be! Whether your looking for an awesome place to truly enjoy nature and relax or just bring friends for a fun experience,this is the place for you.
My family of 7 just finished a short 2 night stay at this lovely lakeside home. The house was a great fit and accommodated us perfectly. The beds were comfortable and the bathrooms were clean. The house exceeded our expectations. Janice response time was very fast to all of my questions before and during my trip. The house is set on a beautiful lake. There are kayaks you can use and a dock you can launch from and even fish on! Pictures don't do the property justice. You will have a great trip if you book this house!
Jules
2017-04-03T00:00:00Z
Typ av rum
Eget hus/egen lgh
---
Typ av boende
Hus
---
Plats för
7
---
Sovrum
Eatonton, Georgia, USA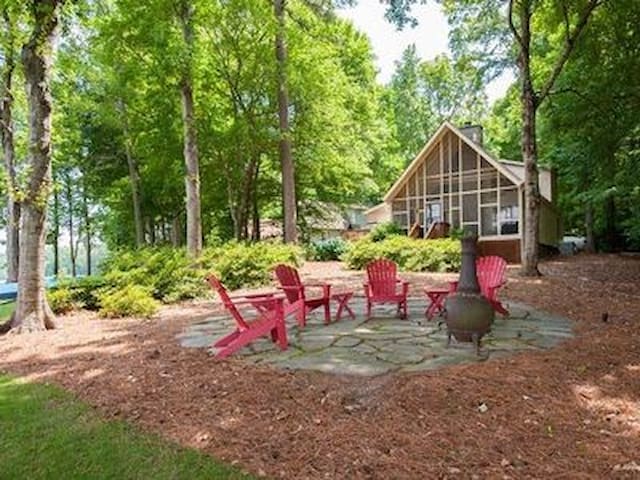 vue sur le lac beatuiful et décor confortable abondent dans cette belle Marina Cove lotissement prise pour une parfaite Lac Oconee Getaway.
Typ av rum
Eget hus/egen lgh
---
Typ av boende
Hus
---
Plats för
6
---
Sovrum
Greensboro, Georgia, USA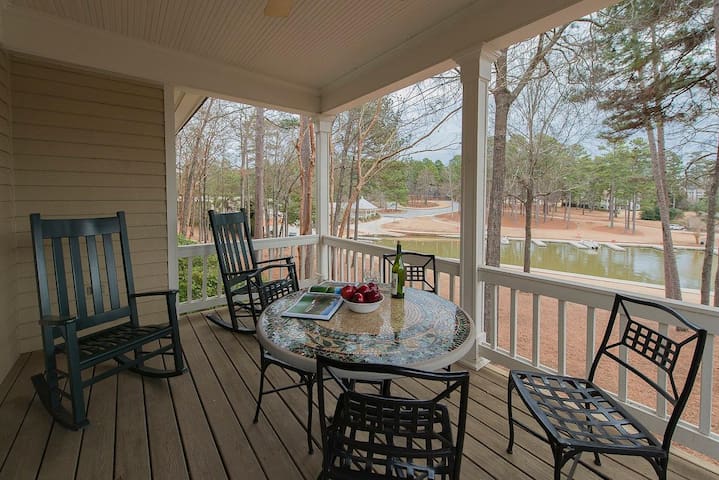 Located on Lake Oconee, this 4,920 sq ft house has 6 beds, 3.5 baths situated on 1.0 acre. The home is perfect for entertaining or enjoying a relaxing weekend. The house has 2 large family rooms, a custom kitchen, a large deck that wraps around back of the house with views of the lake, a screened porch, 2 wood burning fireplaces, a billiard room, and a large dock with plenty of seating on the lake. We are 10 minute drive from the the Ritz Carlton at Lake Oconee & close to area restaurants.
Typ av rum
Eget hus/egen lgh
---
Typ av boende
Hus
---
Plats för
12
---
Sovrum
Lake Oconee, Georgia, USA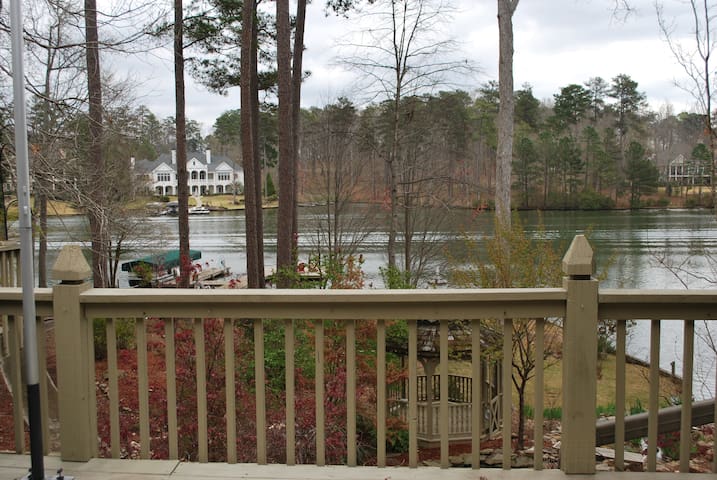 Fantastic house with amazing views and super comfortable!
Bryan
2017-04-09T00:00:00Z
Typ av rum
Eget hus/egen lgh
---
Typ av boende
Hus
---
Plats för
8
---
Sovrum
Greensboro, Georgia, USA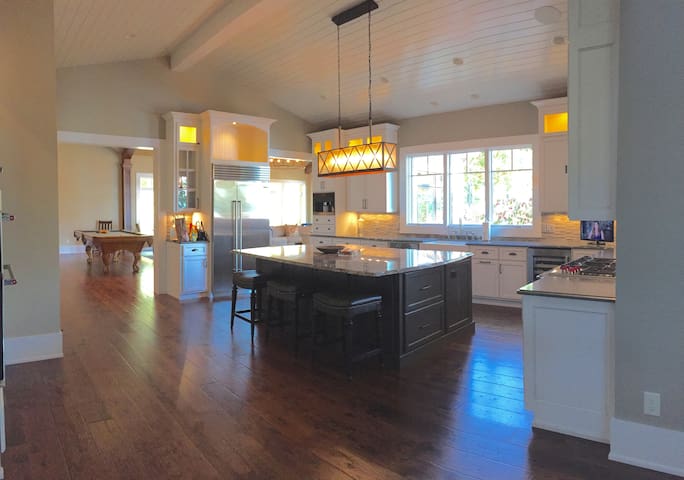 Ceci est une maison massif construit en 2008 avec sept chambres, cinq et un demi-bains, une salle de jeux w / une table de billard neuf pieds, solide table de baby-foot en bois, table de 8 personnes de poker, grill Viking, plusieurs ponts, deux cuisines, deux cheminées , trois salles à manger ..
Sept chambres, cinq et une salle de bains et demi (cinq chambres avec lits king ou queen et deux chambres converties en chambres, chacune avec deux lits queen, cinq salles de bains et un demi-bains) maison située au bord du lac Oconee dans le monde célèbre Plantation de Reynold, à distance de marche du Ritz. Ceci est une maison massif construit en 2008 avec une salle de jeu, y compris un tournoi table de billard neuf pieds, solide table de baby-foot en bois, 8 personne table de poker, grill Viking, x boîte avec le groupe de rock et instruments, plusieurs ponts, belle vue, deux cuisines, deux cheminées, cuisine gastronomique, trois salles à manger et plus encore! Ceci est, une maison non-fumeur luxe. Offres de dernière minute disponibles si nous sont inoccupés. Nous préférons vous donner un accord que de le laisser vide. La maison est la distance du Ritz Carlton et tous leurs équipements de marche. Téléviseurs à écran plasma 60 pouces multiples sont dans la maison. Il y a wifi haut débit et tout ce qu'on attend d'une maison comme ça à offrir. Cette maison devrait louer pour 3000 par nuit mais nous tirer pour une occupation maximale et l'offrir pour une simple fraction de cela. Moyennant un supplément, nous avons un ski Natique wake board bateau tournoi, 70 mph mer Doos, vélos, clubs de golf et plus disponible. Nous pouvons même organiser la pêche privée, la chasse ou les voyages d'équitation. Nounous sont également disponibles sur demande! Reynolds Plantation est mondialement connu pour ses excellents équipements et 99 trous de golf, tous situés 75 miles (une heure) d'Atlanta ou Augusta, Géorgie. Ceci est une destination de choix pour le golf dans le sud-est. Robb Report a choisi Reynolds comme «Best of the Best Community Golf" et une destination de golf haut aux Etats-Unis. Zagat et Condé Nast ont également classé Plantation Reynold comme une destination de golf haut aux Etats-Unis. Nous pouvons réserver vos tees fois à 6 des cours autour de la propriété. En outre, le Ritz-Carlton Lodge est situé à deux miles de la maison. Les clients ont accès aux restaurants du Ritz et un spa complet. Le Spa dispose de 19 salles de soins tranquilles, dont un couple de bains, quatre salles de soins humides et messieurs séparés et dames salons, saunas, hammams et jacuzzis, et un salon de service complet. Nous avons aussi des billets de saison pour les Braves. Les locataires peuvent avoir 2 billets pour tous les jeux qu'ils veux- pendant, avant ou après leur séjour, en fournissant les billets ne sont pas déjà parlé pour. Ils sont des billets à l'ombre près de la plaque de la maison et viennent avec 755 accès et une carte de stationnement.
Cette maison est dans Reynolds Plantation, un terrain de golf que le magazine Forbes a appelé la communauté numéro un de golf dans le monde. Il y a 6 cours et un hôtel Ritz Carlton, sur place. Séjourner dans cette maison, se sent comme séjourner dans un hôtel.
Rick was a great host! We booked a weekend golf trip and the house was better than we expected! We had 11 guests and the house was HUGE, we all had plenty of room and everything you needed was there. Rick helped setup our tee times and was very easy to communicate with. He was quick to respond, even when we had questions while we were at the house. Reynolds Plantation is a must for anyone looking for a golf trip or even a vacation to "check out."
Craig
2015-03-29T00:00:00Z
The host canceled this reservation 11 days before arrival. This is an automated posting.
Elena
2016-11-14T00:00:00Z
Rick and his assistant Sheyla were very helpful in arranging tee times for golf. Also accommodated us by letting us drop off groceries before our check in time. The entire house was VERY clean. Beautiful neighborhood.
Mark
2016-10-29T00:00:00Z
Overall a great experience. The neighborhood and home are both beautiful and easy to access. The host was also very attentive and helpful.
Justin
2016-05-02T00:00:00Z
The house was even better than advertised!!! We had a very large group with kids and everything was perfect. The hosts were very responsive with any questions. I would definitely go back.
Cara
2016-08-14T00:00:00Z
Typ av rum
Eget hus/egen lgh
---
Typ av boende
Hus
---
Plats för
16
---
Sovrum
Greensboro, Georgia, USA
The home is located on the lake at Lake Oconee with a full dock to host your boat. Beds are fantastic and much of the furnishings are new. Brand new deck and fully stocked kitchen. Sunsets are to die (EMAIL HIDDEN)e here to escape and relax.
Feel free to use my dock to store a boat, fish, or just enjoy the beauty of the lake view and the amazing sunsets. There is 12 feet of water in front of my dock.
The area has some great restaurants, a large movie theater, the Ritz Carlton resort complex, great golf, boat rentals, hiking, and the historic town of Madison nearby.
We had an amazing time at the secluded lake house! We had so much fun tanning on the dock and relaxing near the fire pit! The beds were so comfortable! Can't wait to come back:)
Paula
2017-03-11T00:00:00Z
Beautiful home on a beautiful lake. Great location for water sports and to take time to reflect.
Melissa Mason
2017-02-12T00:00:00Z
A great spot with gorgeous views. In a nice quiet cove of the lake, It is a great spot to relax and unwind. We met up with old friends for a weekend to just hang out and this was the perfect spot. Brad was really easy to work with and was very responsive whenever I had questions. I would definitely recommend this spot!
Scott
2017-03-07T00:00:00Z
I stayed at Brad's lake house with my boyfriend and a few other couples for NYE - a meeting place between the states we live in. We all (and our pups) had a great time! The space was big and clean; the view was amazing; and Brad communicates easily and quickly! There's a place near the campfire pit you can hang a hammock like I did if you have one - so beautiful to sit there and look out at the lake. We would definitely go back! Note: you have to drive at least 20 min to do things in town, but the house is a beautiful place to relax and unwind. We didn't get bored and it even rained. I can only imagine how beautiful in the summer months it would be to swim or have a boat rental docked in the backyard!
Jess
2017-01-01T00:00:00Z
Our family had a wonderful time together at Brad's house. It is right on the water and so cute! We especially loved that we were able to bring our dog along. It really made the whole experience extra special. His house is beautiful and the location can't be beat. Also, the beds are soooo comfortable- we all slept so well! He was very responsive too- we asked to stay a little bit later on our last day and he responded quickly and was very accomadating. All in all, a great stay at a great house with a great host. We'll be back!
Annie
2016-11-06T00:00:00Z
Amazing, secluded place to stay! Right on the water with beautiful sunsets. I am definitely planning on returning. It was great to get away but there are shops/restaurants within 10-15miles if you need anything.
Rhakim
2016-10-23T00:00:00Z
Typ av rum
Eget hus/egen lgh
---
Typ av boende
Hus
---
Plats för
6
---
Sovrum
Eatonton, Georgia, USA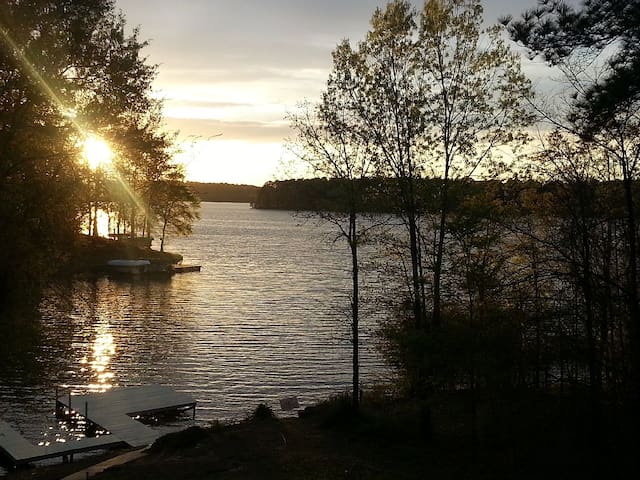 Awesome Golf Cabin inside Cuscowilla Resort!!!
Typ av rum
Eget hus/egen lgh
---
Typ av boende
Hus
---
Plats för
6
---
Sovrum
Lake Oconee, Georgia, USA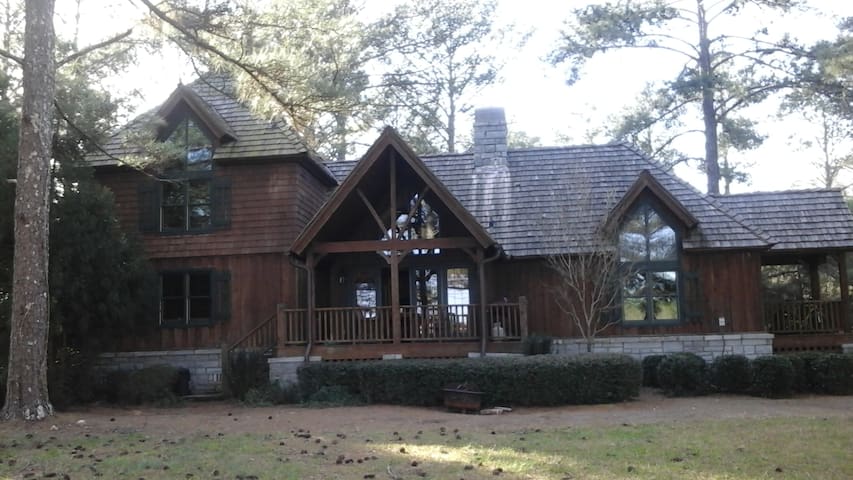 Beautiful, luxurious getaway house on the main lake. We completely remodeled in early 2016. You'll love the new appliances, granite counter tops, & new bedding in this comfortable home. Great destination for couples, families & groups. When you sit on the dock, you can see Reynolds Plantation, Cuscowilla, and Great Waters. Located close to boat launch & marina. House features max dock with full boat slit, jet ski lift, fishing lights, fish cleaning station, gas grill & gas fish cooker.
We had a great time at the Lakefront Getaway (URL HIDDEN) so beautifully updated and super clean. It was so nice and quiet and relaxing and has such a beautiful view. Thanks for a great place to enjoy our vacation:)
Holly
2016-07-17T00:00:00Z
Michele was very organized, responsive and thoughtful. The extras, like water in the fridge and some pastries for breakfast were a very nice touch and much appreciated after a long drive. The home was extremely comfortable and we had everything we needed to enjoy our brief stay. The location on the lake could not be better-great views, and still convenient to restaurants and shopping. If we were headed back to this area we would definately book this home again.
Sarah
2016-08-28T00:00:00Z
We absolutely loved this lake house and would highly recommend it. The location was wonderful - just around the corner from the marina. The recent renovations and décor are perfect. The home was very spacious. The owner went above and beyond to make sure our weekend was amazing, even providing fresh cut flowers for our arrival. She was so nice and definitely is the epitome of southern hospitality. Do yourself a favor and book this property!
Dawn
2016-06-13T00:00:00Z
Very accurate description and a great neighborhood. Our host had everything we needed ready for us. The house was very clean and our host responded quickly to any questions we had. Great experience!
Will
2016-06-27T00:00:00Z
What a memorable weekend we had for my husband's birthday!! Our host Michele went above and beyond what was required. Because our kids were coming from out of town, they had a birthday present delivered directly to the getaway address. Michele was there to not only receive the large, heavy (hard to move) package, but she hid it in a mutually agreed upon spot. Also, I had ordered a balloon bouquet which she picked up for me, set up in the house, even putting one ballon in the mailbox. When we got to the house, my husband felt a warm birthday welcome right away! To top it off, Michele had left a birthday card and treats in the kitchen from her and her husband. The house was beautiful, clean, and comfortable. And the lay out was perfect. I would love to return and would definitely recommend this wonderful get away to anyone.
Nidhi
2016-07-04T00:00:00Z
BEAUTIFUL home! Gorgeous lakefront property. Large windows in the living room allow you to always have a view of the lake. We especially appreciated the flexible check-in and check-out. Excellent communication and response time from host.
Valerie
2016-11-27T00:00:00Z
Typ av rum
Eget hus/egen lgh
---
Typ av boende
Hus
---
Plats för
10
---
Sovrum
Eatonton, Georgia, USA
Ciesz się zachody słońca z tym uroczym, południowy, 5 sypialni w domu nad jeziorem Lake Oconee Reynoldsa. Jest to dom, który jest idealnym miejscem na relaks z rodziną i przyjaciółmi. Dom jest przytulny, z doskonałe połączenie nowych i ponadczasowe meble.
Ciesz się wspaniały Reynolds na Jezioro Oconee społeczności podczas Masters lub innych szczególnych weekendy. Ten nowo urządzony i pomalowany dom jest gotowy do rodziny i przyjaciół. Zadaszone ganki, dok, widoki na jezioro i plaża sprawiają, że nigdy nie chciał opuścić na zewnątrz. W południowej urok jest widoczna przez zawinięcia ganki i radosny wystrój. Odkryty fire pit grillem czyni ten dom to idealne miejsce do obcowania z rodziną i przyjaciółmi. Istnieje również prysznic na zewnątrz co sprawia, że łatwo porządki po dniu spędzonym na słońcu. Wieczorem podkręć Jukebox oraz zagrać w bilard lub obejrzeć film w pokoju rodzinnym.
Nasza społeczność jest wyjątkowa, bo każdy dba o ich domu i okolica obfituje w drzewa, woda, ślady, pól golfowych i restauracji. To jest wspaniałe. Chwili jazdy przez bramy, które chcesz, aby twoje troski udać!
The host canceled this reservation 284 days before arrival. This is an automated posting.
Katie
2016-06-22T00:00:00Z
Beautiful, well appointed home with knock out views of the lake! And it comes w a very helpful manager! We loved this home for its amazing views on the edge of the lake and the two comfortable and accommodating decks that exploited it. The interior had great flow and was beautifully decorated on both floors making it a fun place for entertaining and an indulgent place for relaxing. We would definitely stay here agin. I appreciated the access to the house manager Julie who made herself thoughtfully available when we had questions ab the area.
emily
2016-04-11T00:00:00Z
Great Place for familie & a great view of the lake.
Clint
2017-01-02T00:00:00Z
Typ av rum
Eget hus/egen lgh
---
Typ av boende
Hus
---
Plats för
10
---
Sovrum
Greensboro, Georgia, USA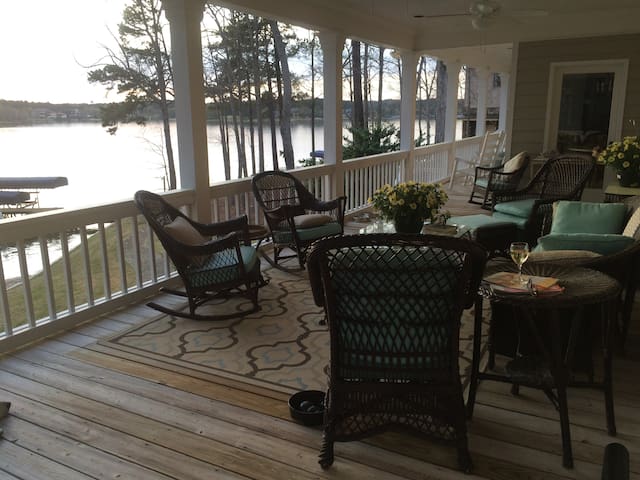 This house was a home to eight of us for the perfect girls weekend. We took advantage of the racquetball court, ping pong table, paddle boards, kayaks, floats, dock, and most of all, the spacious kitchen. It was a clean and comfortable house, and Jessica was a great host. We can't wait to visit again!
Mary
2016-07-18T00:00:00Z
The lake house was exactly as advertised. A luxury home in Reynolds Plantation, on the water, well appointed and very comfortable. Jessica made everything easy and my friends and I had a great day at the Masters and two great nights in this lake house. Would highly recommend to anyone looking for a relaxing stay on Lake Oconee.
Randall
2016-04-07T00:00:00Z
Typ av rum
Eget hus/egen lgh
---
Typ av boende
Hus
---
Plats för
11
---
Sovrum
Greensboro, Georgia, USA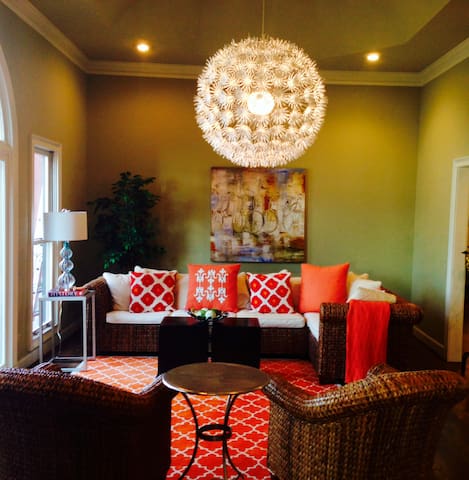 Very simple to say how amazing our experience was: 1) The host went OUT OF HER WAY on Thanksgiving Day to make us feel welcome and accommodated at her home. 2) She saved our holiday after we were double booked at another host's home and had no where else to go with 10 family members. Again, she made time for us on THANKSGIVING DAY. 3) This house is wonderful. We were so beaten down by the letdown of traveling with a family of 10 and having no where to go that we were skeptical of what else might go wrong. But, to our surprise this house was more than we ever expected. They have put the time in to make it very nice. Their renovations are done so well. The house is stocked with thoughtfulness and impeccable taste. It is CLEAN and tastefully decorated. No clutter, beautiful details in the master room and bath, the kitchen has NICE pots and pans and knives and dishes. I have never taken the time to write reviews before. But this experience of being double booked by one host and for another host to go out of her way on a major holiday has shown me it's SO important to acknowledge the ones that value accuracy in their descriptions, add touches to make guests feel welcome, and quickly and clearly communicate expectations as well as provide additional amenities. I am so grateful and would recommend this rental to anyone. NO DOUBT that when we come back to Reynolds we will be renting this spacious and beautiful home.
Beth
2016-11-26T00:00:00Z
In a very nice gated neighborhood with easibly accessible pool(and kids pool), tennis courts, and golf courses. Would highly recommend for a family/friend getaway on the lake!
Mary
2016-09-05T00:00:00Z
Typ av rum
Eget hus/egen lgh
---
Typ av boende
Hus
---
Plats för
8
---
Sovrum
Greensboro, Georgia, USA