Belle chambre privée et très confortable pour passer un très agréable séjour Salle de douche et WC privatifs Entièrement rénovée et décorée avec goût Literie très confortable TV et wifi disponible 5 km de l'aéroport de Bruxelles Sud
Maison respectueuse de la planète. Chauffage et eau chaude avec pellets donc : CO2 = 0 g
I needed to take an early flight from Charleroi Airport so I have decided to slept in Erik´s house. Room was perfectly clean and beautifull. The house was also amazing! In the morning (5 o'clock) Erik took us directly to the Airport (house is located 10 minutes from the airport) I recommend this host and the room!
Klaudia
2015-09-24T00:00:00Z
Erik e sua moglie sono dei perfetti padroni di casa. La loro villa è bellissima e anche la stanza moderna e confortevole. Erik è stato anche molto gentile ad accompagnarci all'aeroporto la mattina presto. Grazie di tutto!
Ivana
2016-02-04T00:00:00Z
The villa of Eric and Camille was exactly what we expected when we saw the pictures on AirBnB. Eric and Camille were very welcoming towards us and we feld at home right away. We certainly recommend this place to anyone who wants to have a private space ánd nice conversations.
Anne Claire
2015-09-14T00:00:00Z
A beautiful room in a large town house. Erik and his wife were very pleasant, welcoming and helpful. Very close to the airport for an early flight would be happy to use again
Thomas
2015-08-26T00:00:00Z
Erik was extremely helpful; he was kind enough to pick us from the airport, though it was late. His place is conveniently located near the airport. The room was very nice and neat. He helped us to get to the station and also gave us information on getting to Brussels. We just stayed for one night, but it was pleasant.
BALAJI
2016-02-02T00:00:00Z
Eric and his wife are very friendly and helpful, he brought us to the airport. The appartment is very good, clean with a good bed and shower. The location is very close to the AirPort.
Roelant
2015-09-22T00:00:00Z
Erik and his wife were incredibly kind, helpful and welcoming. They helped us find a restaurant and made reservations for us upon our arrival and were all-around wonderful hosts! This was our first time with airbnb and we were very pleased.
Piotr
2015-07-01T00:00:00Z
We had a great time there! The room has private toilet and bathroom, the room is original furnished. When we arrived, we were nicely welcomed. In the evening we had nice stay with owners and glass of wine. Truly recomend this place!
Rita
2015-05-18T00:00:00Z
Typ av rum
Eget rum
---
Typ av boende
---
Plats för
2
---
Sovrum
Charleroi, Région wallonne 6040, Belgien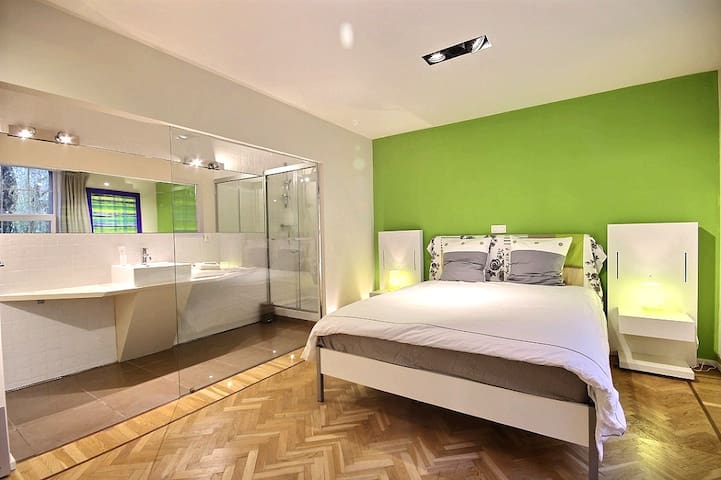 Appartement deuxième étage près de Charleroi Jumet exactement à 5 km de aéroport de Charleroi. A 3 km de la gare de Charleroi. A 600 mètres du centre ville de Jumet. A proximité des magasins, arrêts de bus 2, restaurants, boulangerie... idéal pour une grande famille. 1 chambre avec un lit pour deux personnes. Une autre chambre aussi pour 2 personnes. Une mezzanine idéale pour les enfants avec 2 lits pour 1 personne chaun. wifi gratuit
The flat was fine and good value for money. The host however did not give us enough information about the house - we did not know the house number, the street name or which flat in the building it was. I thought I was meeting the host but instead his mother showed us to the flat, which turned out to be the wrong one. This was rectified and it was okay because everything was made up with towels ready and the flat was clean. The space was excellent and the furniture good but it is obviously a work still in progress as there were some open wires where light bulbs should be. The host definitely needs to put more information on his listing about the flat or communicate better to the visitors when they book to stay. He was however quite good at replying to messages I sent him.
Clare
2016-08-17T00:00:00Z
The apartment was clean and very inviting, and we were welcomed and showed around when we got there. It was a great experience and I would definitely go back!
Joel
2016-05-25T00:00:00Z
Appartement spacieux au 2eme étage d'une grande bâtisse, très bien aménagé et confortable.
Dominique
2016-12-28T00:00:00Z
Good accommodation but more for 4 people than for 5/6 since two beds are located in a loft that is just 50cm below the roof and both of them are too soft and a bit uncomfortable. Moreover, since the house is very close to the airport, it is difficult to sleep after 6am when airplanes start to take off.
Roberto
2016-12-07T00:00:00Z
The house is great and a great value however I received 3 different addresses which was frustrating and I did not get any towels in the room.
Valarie
2016-11-30T00:00:00Z
La descripción del anuncio era correcta, pero parece más grande vista la foto de lo que realmente es. Dificil de contactar debido a que no usaba (SENSITIVE CONTENTS HIDDEN).
Enrique
2016-09-25T00:00:00Z
Very nice place to stay close to CHA airport or Brussels, there is enough room for even like 6 people, so we were 3 and a kid it was pretty spacious. Definitely recommend.
Aleksandar
2016-07-29T00:00:00Z
Bastante bien La direccios nos es la correcta y nos tardamos en encontrar la direccion ya que no contamos con internet es esa zona (no hay senhal) Muy limpio todo!
Marco
2017-01-06T00:00:00Z
Typ av rum
Eget hus/egen lgh
---
Typ av boende
---
Plats för
6
---
Sovrum
Charleroi, Walloon-regionen 6040, Belgien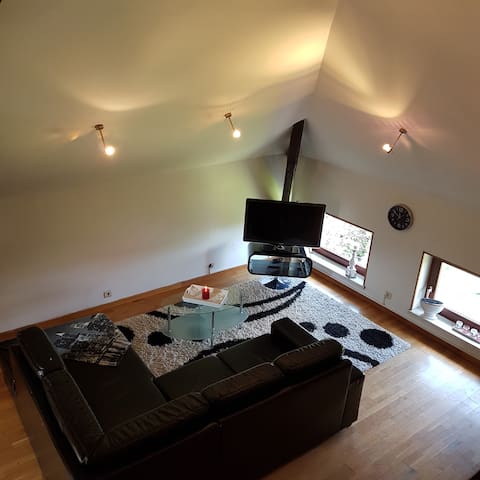 Seul Appart calme au 3eme étage 2 salles de bain A 10 min à pied de la gare de charleroi À 15min from the airport À 50min from brussels A 5min du centre de charleroi Proche des axes routiers Very nice apartment quiet !
Seul appart au dernier étage (3eme) de +/- 90m2 vous n avez pas de voisins,appartement au calme! Accessible via un ascenseur Il dispose de 2 Chambres à coucher avec chacune sa salle de bain (douche+baignoire)et d une tv (une avec un vrai lit pour 2 personnes et l autre avec un vrai lit aussi de 2 personnes La cuisine est toute équipée (frigo américain,four à micro onde,four, lave vaisselle ,machine à café, shaker...) A l entree se trouve un wc Il y a 2 salles de bain (l une avec baignoire et l autre avec douche) Du salon,on a vue sur le jardin via la terrasse Possibilité de garer votre voiture dans la rue ou dans le garage (non payant ) The only one apartment on the floor This apartment is within driving distance to everything Each bedroom for 2 persons has his own bathroom and toilet and television The beds are King size bed (180cmx200) The kitchen has everything to get you started, plus coffee You can park your car in the street or in the garage (free of charge) There is an elevator There are 2 bathrooms (one with shower and the second one with bath)
Possibilité de se garer sans souci (si pas j ai un garage privé au sous sol de l appart ) Quartier très calme entouré d une grande prairie et très sécurisé Restaurants proches à pied ou voiture Périphérique de charleroi a 500m Accès autoroutes à 500m pour toute la belgique, la mer du Nord ,la France, ... A 15 minutes de l aéroport ,su vous y allez en taxi (+/-25 euros) Very quiet place Close to the restaurants (500m) Close to the ring of charleroi (500m) Very quiet and safe area, you can park easily your car in the street or in my safe and closed garage Close to the highways(500m) to brussels, the north sea ,France,germany,the netherlands. ...
A great host, although our stay was a brief one the appartment was comfortable and clean with everything you would would require for you stay. Marie was very welcoming, I would definitely recommend to any prospective guests. Thanks Marie!
Gwyn
2016-06-17T00:00:00Z
Bellissimo appartamento a pochi minuti da Charleroi. Siamo andati in 4 amici e le stanze erano perfette. L'appartamento è completamente accessoriato: la sensazione è quella di vivere nella propria casa. Marie molto gentile e disponibile.
Katia
2016-12-11T00:00:00Z
le logement correspond bien aux photos et a la description , marie est une personne agréable et accueillante .appartement bien situé proche des commerces. bon séjour. viviane.
viviane
2016-01-05T00:00:00Z
Nous avons passé un excellent séjour dans l'appartement spacieux, très clair et très bien équipé (cuisine top!). Les deux chambres sont éloignées l'une de l'autre et dotées de leurs salle de bain/ de douche et wc chacune ce qui est un plus pour la tranquillité de chacun. La décoration est sympathique et chaleureuse à l'image de Marie qui est très disponible pour répondre à toutes demandes. Une adresse vraiment agréable que nous recommandons vivement!
Bernadette
2017-02-18T00:00:00Z
Alles juist zoals Marie het beschreven had, geen enkele tekortkoming te noteren, nette en rustige buurt met vriendelijke mensen. Alles prima in orde. Bij extra vragen kregen we een duidelijk antwoord of oplossing van Marie. Toppie.
Sonja
2016-07-27T00:00:00Z
Tout était nickel ,grand appartement, la propriétaire s'arrange quand il y a des contretemp, rien a redir bon séjour pour ma part. Je recommande !
Julian
2016-05-27T00:00:00Z
The best apartment I've ever been renting. Cozy, clean and beautiful. Marie made the check in/chek out procedure super-easy and even ordered a taxi for me and my friends to the airport for the time we've requested.
Aleksandrs
2016-07-19T00:00:00Z
L'appartement de Marie correspond bien à sa description, nous avons apprécié les grandes pièces, la décoration contemporaine. Il ne manque rien pour passer un bon séjour. Cet appartement est bien situé par rapport au centre de Charleroi (musée, théâtre, restaurant...). Marie a pris du temps pour nous parler des différentes pièces et a répondu à nos questions sur ce que nous pouvions faire ces deux jours. Nous disons merci à Marie. Nicole et Guy
Guy
2016-01-23T00:00:00Z
Typ av rum
Eget hus/egen lgh
---
Typ av boende
---
Plats för
4
---
Sovrum
Charleroi, Région wallonne, Belgien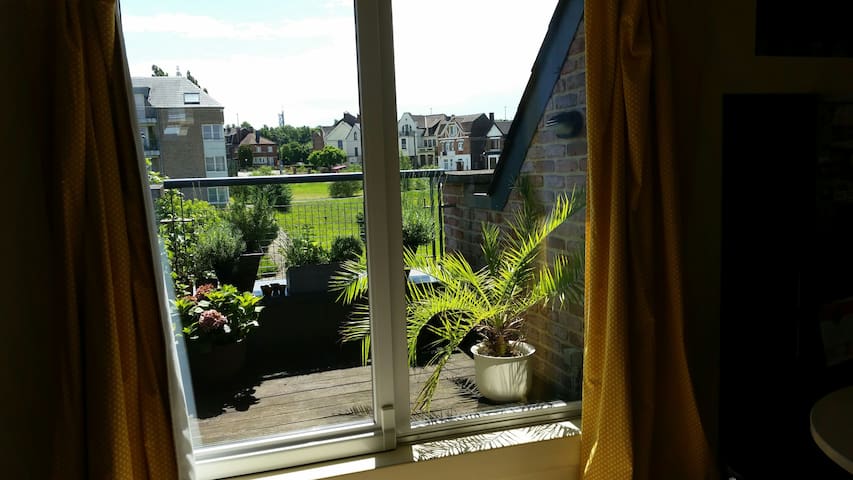 Mon logement est a 12 kilométrés de l'aéroport et les transports publics ils sont jusqu'à 23 heures depuis la gare de charleroi vers mon domicile
L'accueil de Margarita est très simple et chaleureux. Attention pas de double de clés à disposition: c'est une contrainte de devoir appeler pour chaque retour. Bonne expérience dans l'ensemble.
Isabelle
2016-10-12T00:00:00Z
The host canceled this reservation 8 days before arrival. This is an automated posting.
Christian
Typ av rum
Eget rum
---
Typ av boende
---
Plats för
2
---
Sovrum
Charleroi, Wallonie 6030, Belgien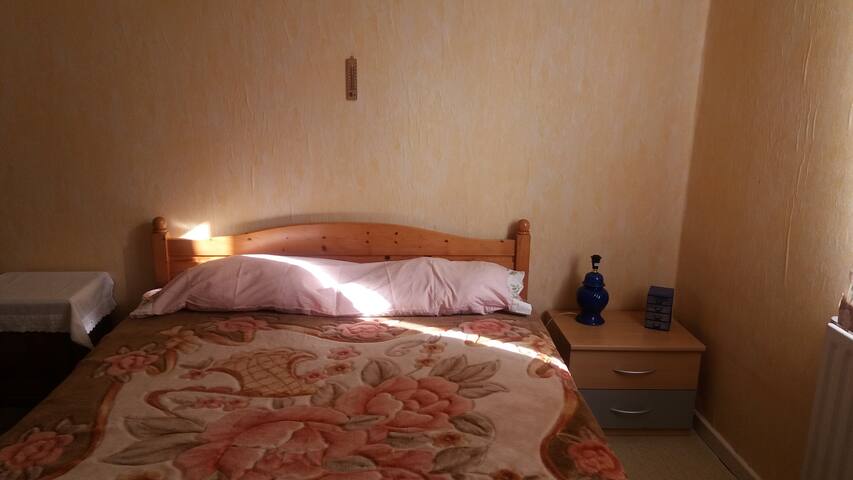 appartement composé d'un salon et salle a manger avec cuisine équipée au 1er étage ,et d'une chambre a coucher au deuxième ,situé dans un quartier calme .
Appartement identique au photos , quelques fils à droite à gauche peuvent gêner certaines personnes pointieuses mais nous non, les hôtes étaient très disponibles et sympathiques.
Kelly
2017-01-02T00:00:00Z
The host canceled this reservation 18 days before arrival. This is an automated posting.
Abderrazzak
Valerie est très accueillante et m'a même montré les alentours à mon arrivée. L'appartement est spacieux et très confortable, seul bémol l'absence de wifi et de télévision mais idéal pour un court séjour!
Céline
2016-06-11T00:00:00Z
Thank you!
Roberto
2016-07-10T00:00:00Z
Bien que le logement ne soit pas neuf il reste tout de même très fonctionnel et très spacieux. La literie est très confortable et la cuisine est très bien équipé, ce qui est très agréable lorsque on aime cuisiner. Hôte accueillant et conciliant car nous sommes arrivés à minuit. Prix très abordable pour la superficie du logement. Merci à vous
Camille
2016-11-13T00:00:00Z
Valérie et son mari nous ont accueillis avec bienveillance et leurs conseils nous ont été précieux. Ils avaient même laissé de délicates attentions. L'appartement était spacieux, la propreté était irréprochable, le quartier calme. Nous n'avons manqué de rien et le couple s'est rendu disponible pour toutes questions. Nous recommandons cette adresse et leur propriétaire. Merci encore !
Clément
2016-12-01T00:00:00Z
H
Almeida
2016-06-18T00:00:00Z
Séjour agréable, et rue très tranquille, très bon accueil et bon dialogue. Appartement soigné.
Teva
2017-02-25T00:00:00Z
Typ av rum
Eget hus/egen lgh
---
Typ av boende
---
Plats för
2
---
Sovrum
Charleroi, Région wallonne 6030, Belgien
Appartement 1er étage près de Charleroi Jumet avec Jardin et parking. A moins de 5 km de l'aéroport de Charleroi. A 3 km de la gare de Charleroi. A 600 mètre du centre ville de Jumet. A proximité des magasins, arrêts de bus 2, restaurants, boulangerie...A 2km de l'autoroute. Idéal pour une grande famille. wifi gratuit
The photos are match on of the place.
Francisco
2016-08-06T00:00:00Z
Omdat we vroeg vlogen vanaf luchthaven Brussel-Charleroi wilden we in de buurt overnachten. Het appartement van Jovanovic is hiervoor super geschikt. De luchthaven is op zo'n kwartier rijden afstand. Omdat we 's ochtends vroeg vertrokken (en 's avonds pas aankwamen) hebben we niets van de omgeving gezien.
Henny
2016-10-24T00:00:00Z
L'hôte a été précis quand à notre arrivée. Le logement manquait cependant d'équipements de base (passoire, torchon, serviette...) L'accueil et la disponibilité de l'hôte n'était pas optimal.
Camille
2017-01-29T00:00:00Z
l'hôte et sa famille furent très disponibles,accueillants.l'appartement était froid heureusement qu''il y avait les radiateur électriques d'appoint L'appartement de taille correcte mais n'était pas propre dans son ensemble.
Marvin
2016-12-26T00:00:00Z
Jovanovic has been a good host. Check in/out was very easy and was also easy to communicate with him. The apartment is spacious and nicely decorated.The beds clean and comfortable. We only stayed one night and found everything we needed to cook dinner at home. It doesn't seem to be much around the neighbourhood but we didn't need to go out so that was not a problem for us.
Antonio
2016-08-12T00:00:00Z
très agreable contact avec Jovanovic, il est très disponibles et gentils, l'appartement conforme aux attentes. Je conseille vivement !
Gemma
2016-07-15T00:00:00Z
Jovanovic was very quick with his communication to us regarding times of arrival etc however when we got there, there was no answer when we knocked on the door. We found the lady in the back garden and she didn't seem to know about our arrival, looking rather embarrassed. She was very friendly though. The flat itself is nicely furnished and very clean. The temperature had become cold the weekend we were there and we found that none of the radiators worked. There was one electric convector heater which we had to move from room to room. The flat was very cold. The kitchen was equipped but very basically with just enough crockery and utensils needed. The shower didn't work at all and the majority of lamps and mirror lights had no bulbs in them. The flat is in a nice area but is directly in the flight path of planes taking off from the airport close by. Seeing the planes flying very low and very loudly at regular intervals over the house was not a problem for us as we love watching aircraft but for people not aware, this could be a problem (especially as they start flying very early in the morning). On the whole .... a very nice flat that needs heating, a working shower, light bulbs and possibly a bit more crockery, cups/mugs, glasses etc in the kitchen (and a kettle for making a cup of tea).
Lorraine
2016-11-03T00:00:00Z
Prima plek voor overnachting. Vriendelijke mensen.
Chris
2016-10-16T00:00:00Z
Typ av rum
Eget hus/egen lgh
---
Typ av boende
---
Plats för
6
---
Sovrum
Charleroi, Région wallonne 6040, Belgien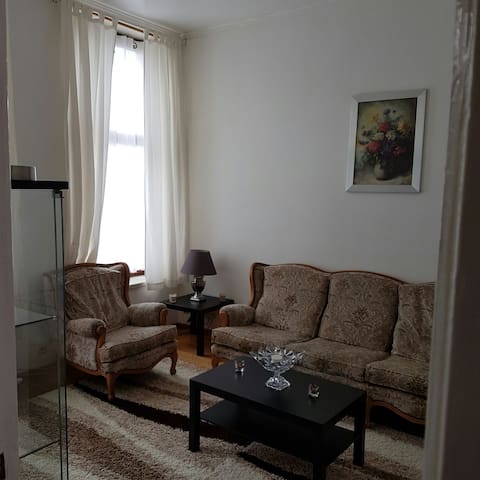 Ask me to rent a fursnished room only 8km far from the airport Brussels South Charleroi . Queen size bed (160x200). You have access to the bathroom, living room and kitchen (micro-waves). If you need transfer from/to the airport, please let me know.
Deborah is a great host. She's really friendly and approachable. It was great talking to her. She's helpful and gave us information we need. The room was cozy and comfortable, we had a great rest there. She even offered us drinks & waffle. It was a great stay, and she is a great host. Will definitely stay at her place again if we are there!
Kyle
2016-03-19T00:00:00Z
It was a really nice experience. The room was nice and cozy. Deborah welcomed us with waffels and offered coffe at the morning. She also picked us up and drop by to the airport .
Marek
2016-04-25T00:00:00Z
Typ av rum
Eget rum
---
Typ av boende
---
Plats för
2
---
Sovrum
Pont-a-Celles, Walloon-regionen 6230, Belgien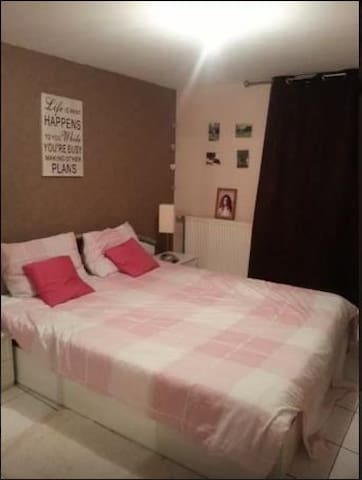 A total of 10 sets of units of the Mediterranean theme of the decoration of the 3 sets of American Pastoral decoration, a princess room, the modern decoration of the 1 sets (modern decoration is a formal room, a room of 90 square meters, two)
Typ av rum
Eget rum
---
Typ av boende
---
Plats för
2
---
Sovrum
沙勒罗瓦, 埃诺省 6041, Belgien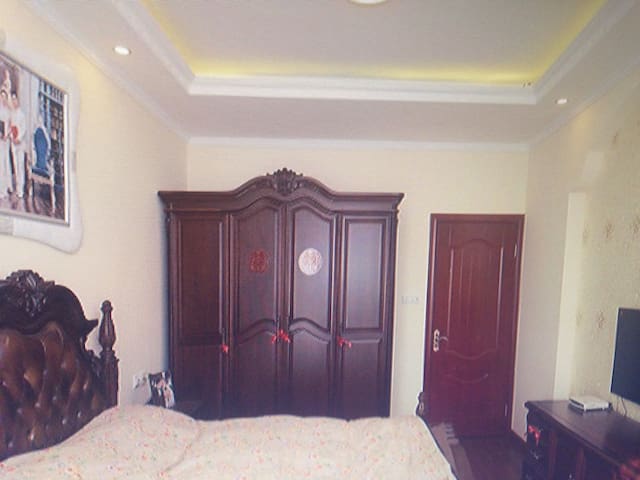 A total of 10 sets of units of the Mediterranean theme of the decoration of the 3 sets of American Pastoral decoration, a princess room, the modern decoration of the 1 sets (modern decoration is a formal room, a room of 90 square meters, two)
Typ av rum
Eget rum
---
Typ av boende
---
Plats för
2
---
Sovrum
沙勒罗瓦, 埃诺省 6041, Belgien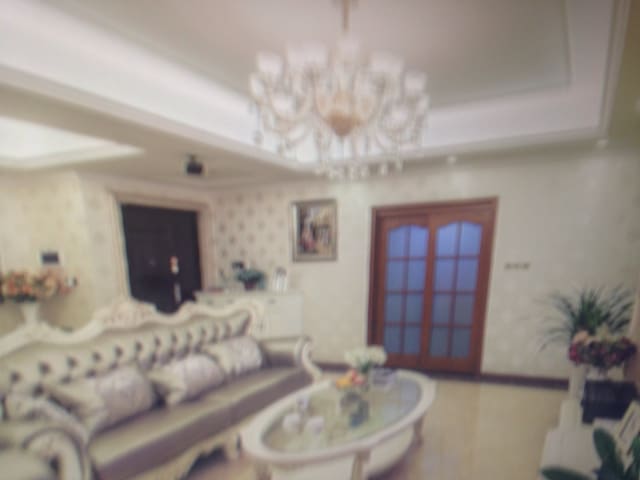 Belle chambre très confortable avec salle-de-bains et toilettes privatives. Elle est située dans une belle demeure restaurée proche de l'aéroport de Bruxelles Sud Charleroi.
De ontvangst was erg hartelijk met een drankje en een versnapering. Prachtige kamer en luxe badkamer met ligbad. Heerlijk rustig. Ontspannen, huiselijke sfeer. Gevoel van thuis. Een aanrader!
Utsav
2016-03-16T00:00:00Z
Ondanks onze late aankomsttijd zijn we zeer gastvrij ontvangen door de gastheer. Prima ruimte in de buurt van vliegveld Charleroi. Helaas hadden we geen tijd om gebruik te maken van het prachtige ligbad..
Eric
2016-04-28T00:00:00Z
Deuxième semaine passée chez Erik et Camille. Rien à signaler, tout se passe très bien. J'y reviendrai, et je recommande.
christian
2016-05-23T00:00:00Z
The stay was was very good. We did not meet Erik but we could meet with Camille, she is a kindly and friendly person. The room was very clean and confortable. I would choose this place to stay in the future :)
Rhonny
2016-09-14T00:00:00Z
Great place to stay close to the airport of Charleroi! Lovely hosts and a very nice and clean house.
Leon
2016-08-15T00:00:00Z
Things I loved: Erik and his partner were incredibly kind and helpful. From giving me a ride my first night to eat at one of their favorite local Italian restaurants, to helping me buy my train ticket to Brugge, to driving me to the airport, I've never felt so well taken are of. The house is old, but mostly remodeled with a great design aesthetic. The house is still being remodeled to some degree so it can feel a little like a work in progress at times, but mostly only in the main hall and around the outside of the property. The room I stayed in was very nice and I was able to meet a couple of other guests in the house. The bed was very comfortable and the room was spacious. Things that need improving: I wasn't able to get good wifi in the part of my room where my bed was. For some reason, it was good in the bathroom, though. The only other thing I didn't like was the shower situation. The bathroom has a tub with a faucet and handheld water sprayer, but no shower curtain. I know the handheld water sprayer is fairly common in Europe, but I much prefer the overhead shower. I hate having to hold those things! Because there was no curtain, I felt I was fighting to not spray water all over the bathroom. I'm not a bath person, so if you are, then this won't bother you! Overall, I really enjoyed Erik's place. It's definitely a good find in a city that doesn't offer much in the way of hospitality. I always felt at home here.
Ryan
2016-12-06T00:00:00Z
Stylish and spacious room. Very nicely decorated bathroom with towels and other stuff. Hosts are very friendly and helpful. House is very close to 2 bus stops to take a bus to Charleroi centre and train station.
Ekaterina
2017-01-30T00:00:00Z
The room was comfortable with a big and luxurious bathroom. The house was decorated with many pieces of art. There was a well-equipped shared kitchen, where we were able to have our own dinner and breakfast. Erik was very friendly and he took us to the airport for a small fee. We enjoyed our stay and we recommend!
Štěpán
2016-05-19T00:00:00Z
Typ av rum
Eget rum
---
Typ av boende
---
Plats för
2
---
Sovrum
Jumet, Région wallonne 6040, Belgien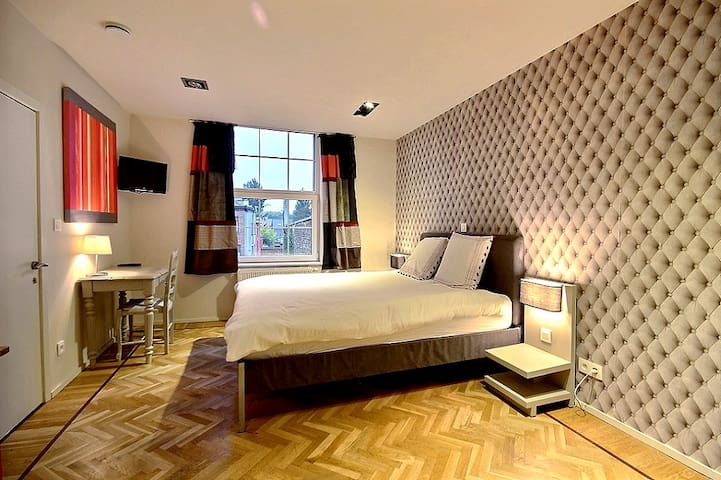 jolie petite chambre dans une villa de 4 chambres très belle villa de caractère dans un endroit calme possibilité de petit déjeuner salle de bain ,super grande terrasse plein sud a - de 15 minutes aéroport, CAT, sonaca,sabca
chambre Equipe d un double lit a Sommier électrique réglable a la tète ou au pied l endroit est très calme, vous serez, a - de 3 minutes des autoroute, toutes direction - de 10 minutes de , aéroport Charleroi air port, caterpillar , sonaca , sabca, thales alenia, a 30 muinute de bruxelles capital
Courcelles aurait vu le jour au lieu-dit "Marais Colau", où l'on découvrit un atelier de pierres et d'outils datant de la préhistoire, bien avant qu'un village gallo-romain s'y développe à la rue de Viesville. Les premiers écrits indiquant l'existence de Courcelles datent de 960. Environ une vingtaine d'années avant l'origine de Gouy-lez-Piéton qui, au centre de cette région industrielle, a su entretenir son orientation rurale. Trazegnies a également une histoire romaine puisqu'on y découvre les traces d'une villa construite entre 268 et 275, mais c'est surtout à une longue lignée de seigneurs – une ancienne famille nobiliaire des Pays-Bas méridionaux - que la commune doit sa renommée. Enfin, Souvret, jadis hameau de la paroisse Saint Lambert de Courcelles, fut déclarée libre sous le Premier Empire avant de connaître un formidable essor grâce aux charbonnages3.
Tres bonne experience, nous avons ete tres bien acceuilli. Je recommande fortement. Si je retourne du cote de Gosselies, cela sera le premier choix!
Jean-Michel
2016-09-11T00:00:00Z
Accueil très chaleureux. Super adresse. Quartier calme.
Mathieu
2015-11-15T00:00:00Z
Excellent accueil d'Aicha et de sa famille. On se sent tout de suite à l'aise. Famille très ouverte et amicale. Emplacement parfait. Très belle maison et très belle chambre avec une excellente literie. Je recommande.
Juliette
2016-10-21T00:00:00Z
Aicha, her husband, and their daughter have received me into their house with great kindness. House is large, garden is huge. The neighbourhood looks a very shabby, but criminality appears to be very low, so no worries. Would totally recommend this host.
Aldo
2016-05-08T00:00:00Z
Accueil vraiment sympa... Belle maison dans un endroit surprenant : ville et campagne
Didier
2016-11-28T00:00:00Z
Hôte très accueillant, discret, et sympathique. A recommander.
Michel
2016-11-29T00:00:00Z
Very friendly hosts! Great communication and everything was arranged perfectly. Merci beaucoup :)
Marske
2016-03-21T00:00:00Z
Aicha is kind lady who gave me a lot of help about pick me up, the trip around brussel. Her husband is also a kind person who did much work to try to communicate with me because he could say French but I could say English only, which brought me quite a lot trouble. In short, the room there is quite clean and comfortable, and the people there is also quite good.
Chengcheng
2016-06-06T00:00:00Z
Typ av rum
Eget rum
---
Typ av boende
---
Plats för
2
---
Sovrum
Courcelles, Région wallonne 6180, Belgien

Ange datum för att se full prissättning. Ytterligare avgifter tillkommer. Skatter kan tillkomma.