Take in true Delta hospitality in this charming cottage located in the heart of Greenwood. Right across the street from Little Red Park, walking distance to downtown, Yazoo River & Yazoo River Trails, this home is ideal for visitors craving a taste of the Delta.
The Northeast Greenwood neighborhood is full tree lined streets, friendly neighbors, and is a wonderful place to run, walk or bike.
Wow! Just WOW!!! Brantley's home is so appealing, comfortable and relaxing. Four of us stayed there while participating in Greenwood's Bikes, Blues & Bayous Cycling event! The check in and check out was absolutely hassle free! I highly recommend you stay here!
Douglas
2016-08-08T00:00:00Z
Charming may be an understatement! Brantley's place is absolutely gorgeous, with beautiful décor and regional flair. The neighborhood was also very nice and quiet, and conveniently located. Brantley was incredibly accommodating and very responsive to any questions I had. My friends and I thoroughly enjoyed our time there, as it was a perfect place to relax and rejuvenate and Brantley included a guide of suggested places to visit in Greenwood. We were so glad we chose this place and will definitely be back!
Treshika
2017-01-02T00:00:00Z
The term "charming" accurately describes this beautifully decorated home, which is full of southern character. It is easy to find in an interesting, quiet neighborhood. Brantley has thoughtfully prepared a detailed description of her home and the surrounding area along with suggestions for dining and local activities. Also, she provides brochures with the added bonus of a surprise to take home. She quickly responded to emails and answered questions before and after we arrived. The beds are comfortable, the kitchen and bath are well-stocked, and the furnishings are delightful. As a native delta girl myself, I promise you will have a dose of southern hospitality at its best if you stay here. It is a hidden gem, which will not remain a secret for long!
Paula
2016-07-15T00:00:00Z
It was an absolute honor to be Brantley's first guests! Our entire experience was great from start to finish. Brantley was very easy to get in touch with and very willing to help us out with suggestions for activities in the area. The house was super easy to find and located in a beautiful part of town. We had no problem getting in and were amazed at how gorgeous the house was (even better than the pictures)! We cooked dinner and spent the evening Netflix bingeing--loved the Apple TV! If it wasn't raining we would have enjoyed the porch with its cute patio lights. In the morning we enjoyed fresh coffee and homemade muscadine jam on English muffins supplied by Brantley. The place was clean, comfortable, and everything you'd hope a southern cottage would be. I highly recommend this place and hope to visit again!
Kait
2016-07-11T00:00:00Z
We had such a great time at brantleys! Her home is so cute. It's about a mile from the alluvian, Viking, antique stores, etc. The home is in a great location and really felt like home! Communication was great and we have nothing negative to report! House was clean, checking in/getting in was hassle free. Bed was comfortable and check out was easy. The instructions left for us when we got there were very informative. Her outdoor cat was adorable! Price per night was reasonable. We overall had a great time!
Rachael
2016-09-05T00:00:00Z
The house was perfect for our trip to visit family! Exactly what we needed, beautifully decorated, and in a great location!
Aryn
2016-09-25T00:00:00Z
This home is a perfect location for everything Greenwood. It is decorated wonderfully and so much more comfortable then staying in a hotel.
Esther
2017-01-08T00:00:00Z
Brantley's home was fantastic and we thoroughly enjoyed our stay. The home was very clean, in a great neighborhood and Brantley was in communication with us the whole time. We would definitely stay there again!
Jason
2016-10-10T00:00:00Z
Typ av rum
Eget hus/egen lgh
---
Typ av boende
Hus
---
Plats för
4
---
Sovrum
Greenwood, Mississippi 38930, USA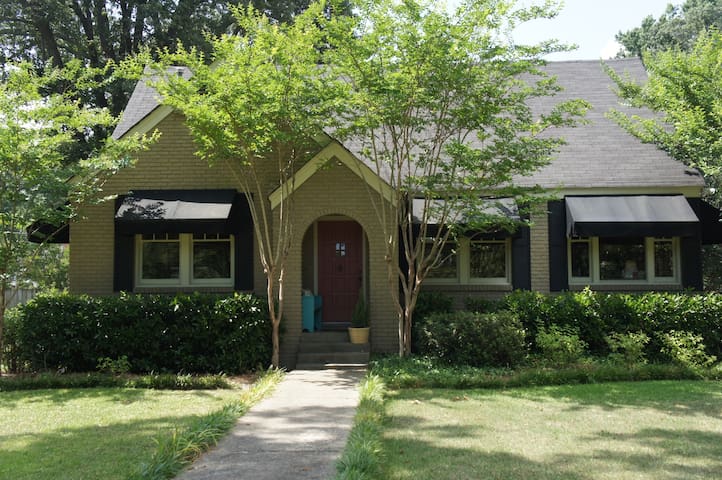 2 bedroom, 2 bath home to share with fellow lovers of travel. Heart of historical downtown: Restaurants, shopping, library, courthouse, groceries, live music, Amtrak stop, and a museum are within a 15 minute walk. Can give great area tips!
This was one of the best AirBnB I've been to. Maybe we've been lucky and Lisa liked us, but she was incredible, welcoming us with a good bottle of wine ! The rooms were absolutely amazing, beautifuly decorated, spotless, and I would have been happy to stay there for a couple of months ! We will be happy to come back probably next year if the place is not crowded with tourists from all over the world...
Florent
2015-05-10T00:00:00Z
Typ av rum
Eget rum
---
Typ av boende
Hus
---
Plats för
4
---
Sovrum
Yazoo City, Mississippi 39194, USA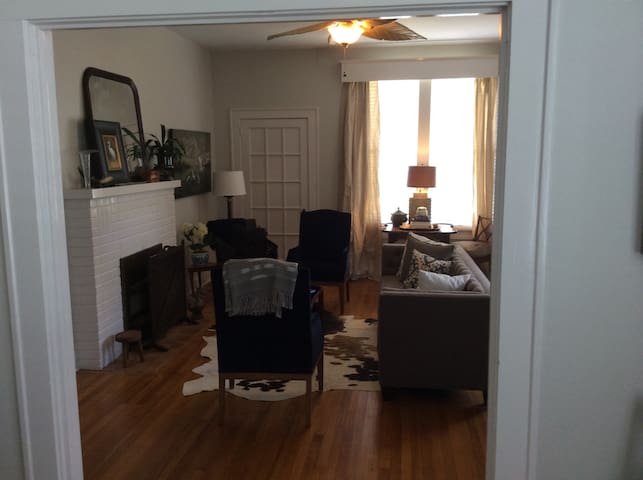 Enjoy your stay in this charming 1920's cottage, located in the historic town of Canton, MS. Canton is famous for it's bi-annual flea market, being the movie capital of the state of MS and for it's Christmas festivities on the historic square.
Historic quaint and charming home in beautiful Canton, MS. Sleeps 8
Beautiful historic charm in a quaint and safe neighborhood.
We were quite amazed at all the space in the Corner house. It was very comfortable and we appreciate the quick response to connecting the wi-fi. The antiques are beautiful. Loved being able to sit on the back porch. Wish we could have had more time to walk around down town. Very easy to find and great communication with Susie and her associates. It is an old house and has the feel of a house well lived in, high ceilings and creaky floors. Loved it!
Linda
2015-04-24T00:00:00Z
This home is beautiful and very well maintained. The antiques within the home are stunning! Susie made sure that we were comfortable & was available if we had any questions. The only problem was that there was only one shower.
Lisa
2016-04-10T00:00:00Z
A delight staying at The Corner House. Suzie was a great host, and the place was as described: charming older home, fully appointed. Much more spacious than I expected. Would be a great option for a larger party. And appreciated the dog-friendly atmosphere. Recommend!
Susan
2016-07-30T00:00:00Z
The house was fantastic, the antiques and space is great. Not too far from the town square which is the reason I chose Canton.
Marty
2015-11-20T00:00:00Z
We stayed at Susie's place over a 3 day weekend while gathering for a family reunion. It was like walking into a turn of the century home except there was air conditioning! Very comfortable and it had that old southern charm. We had 4 people staying and some family gathered there to visit. There was ample room and we had everything we needed. Susie was available but stayed in the background so no privacy issues. Highly recommend the corner house!
Lisa
2015-07-06T00:00:00Z
Beautiful house in a nice area, enjoyed our stay although brief. Lots of charm
Philip
2016-07-30T00:00:00Z
The Corner House is precious. Susie had the air condition on Frozen was easy to contact. Would definitely stay again.
Jenipher
2016-09-27T00:00:00Z
We had a great stay at The Corner House. The house is truly much larger than it appears. The host made us feel welcome with delicious bread and tea.
Drew
2014-12-26T00:00:00Z
Typ av rum
Eget hus/egen lgh
---
Typ av boende
Hus
---
Plats för
6
---
Sovrum
Canton, Mississippi 39046, USA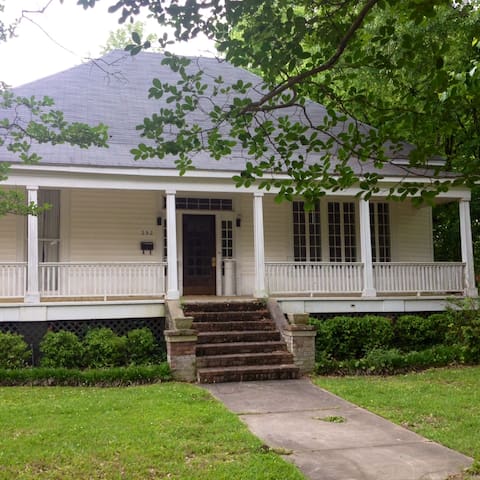 Ange datum för att se full prissättning. Ytterligare avgifter tillkommer. Skatter kan tillkomma.