Agriturismo le Rondini Limena, in the green of the Brenta protected park and 10 minutes' drive from Padua center, we offer private rooms and cozy private apartments for 1 to 6 people with fully equipped kitchen, private parking, air conditioning and wifi included.
is an oasis of green one step from the center and in a strategic position to visit all the major cities of the Veneto (highway to a km, 7 km train station). And when you do not want to move you can just relax on the park looking at the farmyard animals in the shade of trees or stroll on the bank of Brenta that borders the farm. * EN * The "Farm Le Rondini" is surrounded by local trees and orchad, is short distance from Padua. It is situated at easy reach of other important Veneto's attractions (motorway access just 1 Km) We offer sleeping accommodation in single and double rooms and 2 to 5 bed apartments with fully equipped kitchens. All the room have towel and bedding, air conditioner, TV, free wifi, private park.
The place is located 10 minutes from Padua and provides a quit stay. There are a lot of animals which makes it nice for children. We were welcomed by Michela in a very friendly way. Se provided us with more information on travelling for instance on cheap parking places near Padua station.
Vicky
2016-09-04T00:00:00Z
Michela è stata molto gentile e disponibile. L'agriturismo è in posizione favorevole per il centro città e abbiamo trovato molto comodo il parcheggio interno. E' un posto veramente tranquillo, pulito, molto silenzioso. Siamo state molto bene e penso ci torneremo quanto prima. Per non parlare del ping pong, nostra passione, che ci allietato tra una gita e l'altra
Silvia
2015-10-04T00:00:00Z
Il soggiorno è stato davvero piacevole! Michela e tutta la sua famiglia si sono prodigati per ogni mia necessità. Il posto è davvero carino: un'oasi tranquilla ai limiti della grande città. L'appartamento che ho usato è essenziale, ma dotato di tutto e molto pulito. Posto consigliato per chi vuole spendere il giusto e risiedere in un posto tranquillo vicino Padova. Comodissima l'uscita autostradale a pochi minuti di distanza.
Giuseppe
2014-03-01T00:00:00Z
Michaela was a very helpful host. She helped us to get dinner and bus tickets and gave us suggestions for the train. It was a big help for our outing to Venice. The animals were a nice change from the standard hotel environment and the five little kittens were very cute. We stayed in one of the basic rooms and it was adequate for the price, although the mattress is probably ready for an upgrade and the only coffee available came from a vending machine downstairs.
Sean
2014-09-12T00:00:00Z
We only stayed a night, but Michela was very accommodating. The place is easy to miss, especially if you're driving at night so just make sure you pay close attention. But there are lovely fruit trees and animals everywhere. Overall a nice stay.
pam
2014-08-13T00:00:00Z
Typ av rum
Eget hus/egen lgh
---
Typ av boende
Lägenhet
---
Plats för
2
---
Sovrum
Limena, Veneto, Italien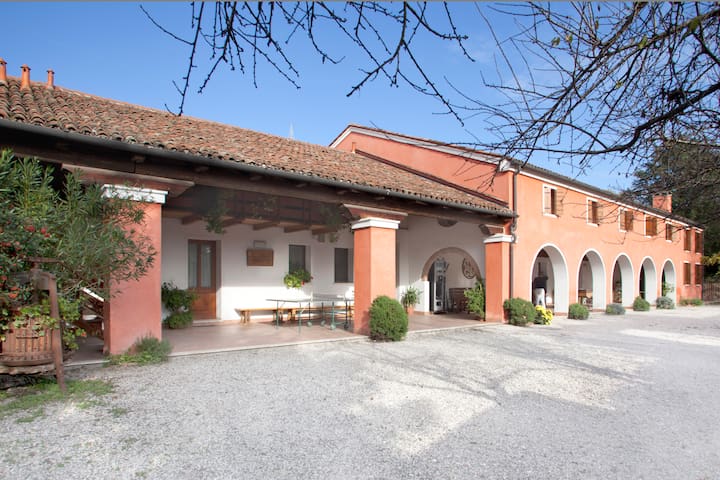 It is located 30Km from Venice, 50km from Verona, 10km from the thermal baths of Abano, 7 Km from Padua center, convenient to highways, 50KM Venice airport, Treviso airport 60Km, 60Km airport of Verona, 100 Km from Bologna airport
The strategic location allows you to be in Venice in 40 minutes, in Padua in 20 minutes, 40 minutes to Verona, Lake Garda and its theme and water parks within 40 minutes. The accommodation sleeps 5 max 6
It 's a quiet place suitable for families with children or to transient guests who stay for a short break to visit Venice, Padua and Verona
Very nice. No problems, excellent. Got the keys even it was late in the night. Apartment was very nice and comfortable. Also free parking.
Thorsten
2014-07-27T00:00:00Z
The flat was at really good location. closed to bus stop, and just 20 euro to get to the flat from PADOVA train station or you can take bus direct to "campodarsego"from PADOVA which is the name of bus stop closed to his flat. super market, nice restaurants and take out pizza house which rarely open until almost midnight are located in 5 to 10 mins walk. Also the beds and bathrooms were nice. And the host Giampaolo was so kind.
Christina
2014-08-03T00:00:00Z
Everything fine !
Aurélien
2016-11-20T00:00:00Z
très bon accueil appartement propre, clair et lumineux, résidence calme, avec un parc pour les enfants pas loin idéalement situé pour visiter Venise
caroline
2014-07-12T00:00:00Z
Everything was great!! Mr. Gallinaro was very helpful and made us feel at home. He gave us all the information we needed, gave directions and even gave us a tour of the area so we would have all our needs met. I would book with him again if we are ever in the area!! He speaks pretty good English which was a big plus!!!
Constance
2014-07-18T00:00:00Z
Typ av rum
Eget hus/egen lgh
---
Typ av boende
Lägenhet
---
Plats för
6
---
Sovrum
Campodarsego, Veneto, Italien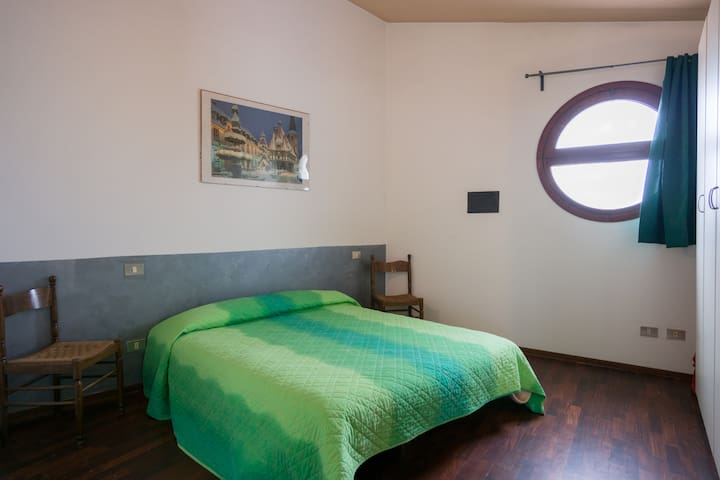 Vrlo svijetao i ugodan stan sa 2 spavaće sobe, 2 kupaonice (sa tuš kabinom i kadom), 2 balkona, 1 otvorena kuhinja i dnevni boravak, 1 ostava i jedna garaža. Pa se nalazi u mirnom naselju u blizini Padove, Venecije, Castelfranco i Treviso.
Stan se nalazi na drugom katu, dostupne putem lifta koji povezuje također u podrum i garaža, to je svijetao, čist i ima svaku uslugu: iz perilice u frižider, stroj za pranje rublja, klima uređaj i grijanje, televizija itd
Tih i stambene, u sredini tri pokrajine posjetiti: zadivljujuće Venecija, Treviso i Padovi. To je u poljoprivrednom i industrijskom području u isto vrijeme, a područje je dobro služio od strane poslovnih i turističkih objekata.
Typ av rum
Eget hus/egen lgh
---
Typ av boende
Lägenhet
---
Plats för
4
---
Sovrum
Campodarsego, Veneto, Italien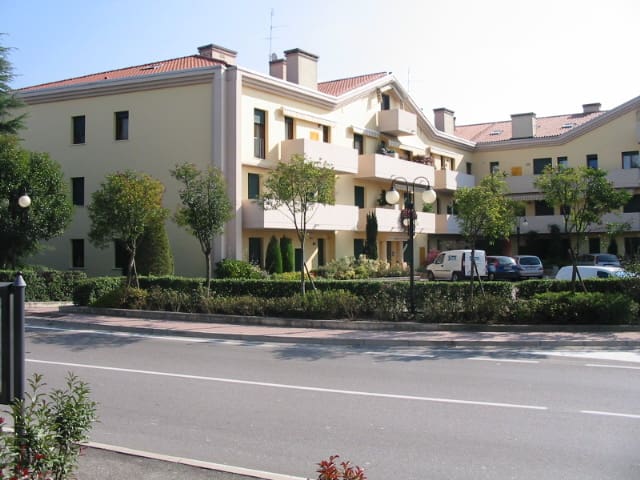 sala central al centre de la ciutat de Pàdua. 7 minuts de distància pels peus a les principals places de la ciutat - és a dir, al mig del centre de la ciutat. L'estació de tren és a 15 minuts en els peus. Venècia és a 27 minuts de distància en tren.
El llit de l'habitació és un llit "queen size" per 1 o 2 persones i és 20 cm més petita que un llit doble normal, el que fa que sigui de 140 cm d'ample.
I would definitely recommend staying in this apartment. Nicola is a great host who helped me find my bearings around Padova, and was very friendly and welcoming. The apartment is clean and spacious, in an ideal location.
Lucy
2016-09-27T00:00:00Z
Nicola è stato un ottimo host, rispettoso e disponibile. La camera è grande e l'appartamento è situato in un'ottima posizione. Che si voglia visitare il centro di Padova o accedere alla stazione, è tutto raggiungibile a piedi nell'ordine dei minuti.
Massimo
2017-02-28T00:00:00Z
Alloggio molto comodo e praticamente vicino al centro storico della città. Nicola è stato molto gentile e disponibile a darmi le informazioni per orientarmi in città e al tempo stesso discreto, facendomi sentire come a casa.
Irene
2016-02-22T00:00:00Z
Room was great, host friendly, stayed an extra night not a problem for host
bobby
2016-05-28T00:00:00Z
Sono stato ben accolto e Nicola si è dimostrato disponibile, presente e affidabile. Il luogo è centrale e adeguato a tutte le esigenze. Grazie Nicola
Roberto
2015-03-12T00:00:00Z
Bella camera e buon appartamento in un 'ottima posizione nei pressi del centro di Padova. Nicola è stato gentilissimo e disponibilissimo nel fornire informazioni sulla città e su come raggiungere i luoghi d'interesse.
Luca
2016-08-05T00:00:00Z
Great experience. Neat and quiet place. And the host, Nicola, is very helpful for travel advice and other matters. Would recommend to friends to stay here.
Valerie
2015-05-27T00:00:00Z
Nicola was very kind, and made our stay in Padua nice. He had a map ready to go when we arrived and tons of information. We stayed a short while but had fun. Great location.
Chris
2016-05-18T00:00:00Z
Typ av rum
Eget rum
---
Typ av boende
Lägenhet
---
Plats för
2
---
Sovrum
Padua, Veneto, Italien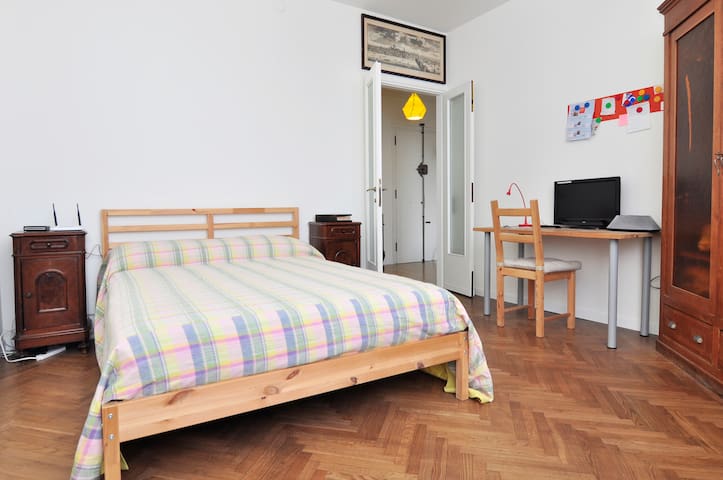 Student / wynajem dziewczyny do pracy lub nauki, duże mieszkanie dzielone z coetanea 300 € miesięcznie, użyteczności wydatki na bok, w Campodarsego, 7 kilometrów od Padwy, dobrze obsługiwany przez transport publiczny i 10 minut. od centrum miasta samochodem. I "współ
Typ av rum
Eget hus/egen lgh
---
Typ av boende
Lägenhet
---
Plats för
2
---
Sovrum
Campodarsego, Veneto, Italien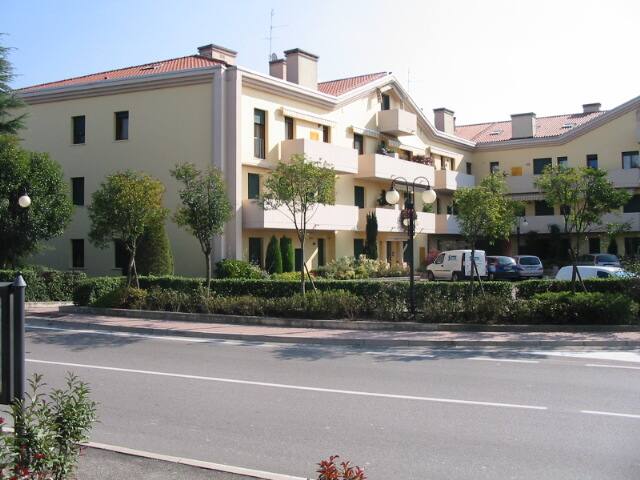 50m luxury apartment, with bedroom, bathroom, living room, sofa, kitchen and balcony; conditioning microwave washing machine TV wifi elevator condominium parking 50 meters all services to reach all Padova
What is unique about my ad? cleaning the availability courtesy and effort that we will do to make your stay enjoyable.
in my neighborhood I like the liveliness and comfort to all services in fact the car I need only rarely convenient to visit anywhere in Padova comfortably and quickly.
Мы останавливались у Андреа на две недели. Мы планировали много путешествовать по ближайшим местам: Венеция, Тревизо, Ферарра, Виченца... Падуя нам давно нравилась и хотелось комфортного отдыха между поездками. Наши ожидания были более, чем оправданы. Андрея для нас приготовил фрукты, воду, сок, печенье и пригласил нас на ужин в ресторан пиццерию, где он работает. Для нас сделали пиццу по нашему индивидуальному заказу и это было очень вкусно! В квартире было всё очень удобно. По вторникам рядом с домом открывается рынок вещевой и продовольственный. Всё такое аппетитное, что мы закупали еду и отправлялись сразу обедать:)) В центр и на вокзал можно доехать за 7-10 минут на трамвае. Большой продовольственный магазин рядом с домом, травай- в двух минутах хотьбы и там большой торговый центр. Очень вкусная джелатерия рядом с остановкой. Мы очень довольны и всем рекомендуем!
Liudmila
2015-04-22T00:00:00Z
The flat is close to the train, the main transportation mean in Padova, around the house, there are supermarket, foodmarket soccorground and also Andrea's pizzaria. Just the WIFI is not working well all the time, hope Andrea can make improvement on this.
tony
2015-05-13T00:00:00Z
I stayed at Andrea's apartment for two months, and my stay in Padua wouldn't have been the same without this place. Andrea is an amazing host and is extremely responsive and reliable. He is also very friendly and represents what I always hope to find in my AirBnB experience. The apartment is outside of the center but it is very easy to get there with the tram. I would recommend the apartment to anyone and hope to go back soon.
Stephen Patrick
2017-04-01T00:00:00Z
Apartment was clean and great, perfect location just off the tram and bus stops and beside the supermarket. Padua train station to ten minutes. Would most definitely go back! Thanks Andrea!!!
Ele
2015-10-11T00:00:00Z
Abbiamo alloggiato per una settimana, coppia con due bimbi piccoli, e Andrea e' stato comprensivo, disponibile, accomodante. L'appartamento e' ideale per una coppia, un po piccolo per una famiglia come noi ma lo sapevamo e Andrea ce lo aveva detto ma siamo stati molto bene. Wifi perfettamente funzionante, supermercato a 50 mt a piedi, tram, etc. Lo consiglio per coppia con auto, visto che ha anche parcheggio privato. Rapporto qualita prezzo eccezionale. Grazie Andrea e Buon Anno 2015!
Alessandro
2014-12-28T00:00:00Z
L'appartamento veramente bello, accogliente. Zona ben servita, vicinissimo al tram. Parcheggio comodissimo. Andrea molto disponibile, e un host fantastico! Mi sono trovata molto bene qui, grazie di tutto!!!
Diana
2016-03-11T00:00:00Z
La seconda volta che vado a suo appartamento è sempre un piacere ...
Ebert
2016-06-08T00:00:00Z
There were many things that Andrea did to make us feel welcome: Met us at the apartment less than 5 minutes from receiving our arrival call, host us for pizza at his restaurant, 1/2 block away, provided a fresh fruit bowl in a very nice presentation, with lots of drink options in the frig and pastries, and had tourist information maps and brochures. The apartment looks great in the pictures, but even better in person. It is very contemporary and clean, looks brand new. The supermarket is right across the street, the tram that connects to town and train is 1/2 block away and the neighborhood felt safe and friendly. We enjoyed walks and discovered outdoor markets, and indoor mall and a gelato stand within a block.
Camilla
2015-06-03T00:00:00Z
Typ av rum
Eget hus/egen lgh
---
Typ av boende
Lägenhet
---
Plats för
2
---
Sovrum
Padua, Veneto, Italien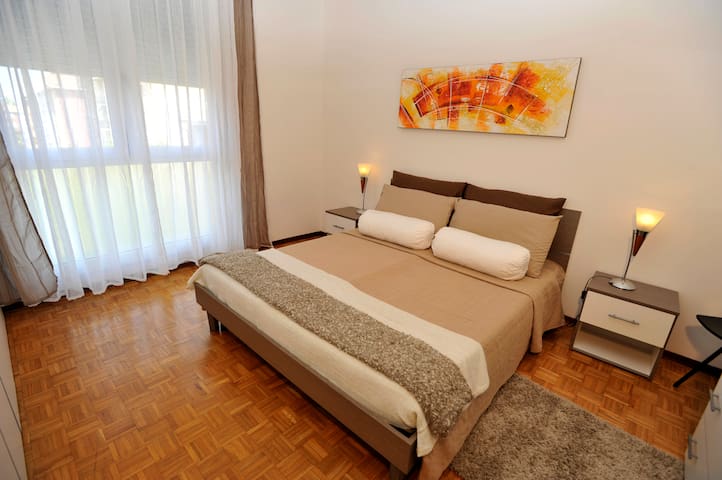 Privatraum
Nur in der Mitte einer der wichtigsten Bereich in der alten "Patavium", die so genannte Savonarola Block "River fließt durch Farben" findet sich um das Jahr 1400 in einem Palast aus gelegen, ursprünglich ein Kloster. Die Wohnung befindet sich im zweiten Stock in einer ruhigen Wohngegend. Die Zimmer sind groß, schön und hell, vollständig mit ein wenig Geschmack und Inspiration eingerichtet. Zur Ausstattung gehören WLAN-Breitband-Internet, Waschmaschine und Wäschetrockner. Nur wenige Minuten zu Fuß und Sie können alle vorgeschlagenen Sehenswürdigkeiten sowie das berühmte Teatro Verdi und, natürlich, viele Kneipen, Bars und typische Restaurants in der Umgebung erreichen. Für Menschen, die täglich Pläne.
Had a great stay at Rachele's. The room and the toilet was airy and spacious. Rachele was also really nice to stay up to help me with my laundry - I have been on the road for a week and this was a huge sigh of relief! The next morning's breakfast that Rachele prepared was also extremely scrumptious, with a variety of food and fruits to enjoy. Overall one of my best experiences on airbnb!
Andre
2015-06-19T00:00:00Z
The room was as you see in the photo. Lovely apartment, close to the centre. Rachele was very prompt in answering messages and was around to answer to questions. Quite noisy outside on one of the nights but maybe there was a party going on. Internet was very good and was vital to our stay.
Julia
2016-09-27T00:00:00Z
The reservation was canceled 7 days before arrival. This is an automated posting.
Giuseppe
2014-11-17T00:00:00Z
Tutto perfetto: centralitá,bellezza dell'appartamento e della stanza,cordialitá di Rachele.
Maria Francesca
2015-09-20T00:00:00Z
Casa molto curata, camera accogliente, pulita e ordinata; la posizione è ottima (15 minuti di cammino per la stazione, 10 minuti per il centro storico); Rachele è stata molto disponibile. Consigliabile!
Daniela
2016-10-07T00:00:00Z
Although light sleepers might be kept awake by the traffic on the cobblestone road right outside the window, the apartment is spacious and Rachele is a very generous and kind host. Convenient location!
Theresa
2014-10-31T00:00:00Z
At first, it was difficult for me to find her flat (the building she lived was very easy to find but I was confused which button to press to call her to open the door), and I think that was the trickiest part of my trip. Rachele is such a lovely woman. She is very kind. Also, the room I stayed in was quite big. It has a double bed, a little sofa, a bedside table and a chest of drawers so you can put your clothes in. She also made me yummy breakfast every morning, which was fabulous. The flat is very big, spacious and so clean. If I go visit Padua agin, I'll definitely chose to stay at her's as long as she can host me ;)
Kim
2016-01-24T00:00:00Z
Our stay with Rachele was wonderful! She's very good with communication through emails and texts, which was useful right up to the minute before we arrived. Once we arrived, her warm smile was very welcoming, especially after a long day of traveling. :-) Her home is beautiful and artful. We especially loved our room, with so much space! The bed was firm, yet cushy, perfect for my aching back and a good night's sleep. Rachele very thoughtfully placed a bottle of water and glasses in our room. Very refreshing, especially since I like to have a glass of water at my bedside. I saved the best for last: the breakfast was phenomenal! Whatever your body needs or craves, whether it be protein, carbohydrates, or caffeine, you will be satisfied. A delicious yogurt, to which I added a distinctly floral-honey and a nutty, oat granola. The hard-boiled eggs gave me the "meat" I needed to get me through a morning of travel, sight-seeing, and walking. The medley of fruit was so colorful, fresh, and juicy sweet, it's making my mouth water as I remember and write this! Caffeine addicts: her espresso is divine: strong and pure. Thank you, Rachele! I can't say enough for creating a wonderful "home" for us.
Elaine
2014-05-15T00:00:00Z
Typ av rum
Eget rum
---
Typ av boende
Lägenhet
---
Plats för
4
---
Sovrum
Padua, Veneto, Italien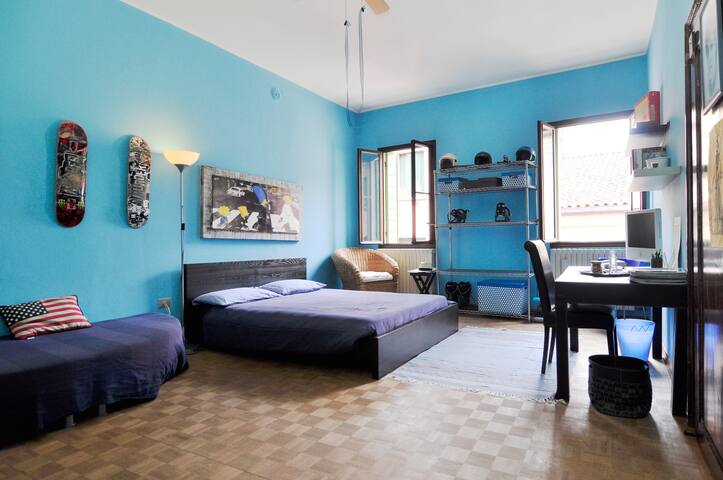 In der Altstadt von Padua, nur 2 Minuten zu Fuß von der Cappella degli Scrovegni, 10 Minuten vom Bahnhof, einem gemütlichen apartament in einem überdachten Fußweg Straße mit einem Schlafsofa zur Verfügung. Padua Stadt ist nur 20 Minuten von Venedig !!
Eine gemütliche Wohnung in einem überdachten Fußweg Straße mit einem Schlafsofa zur Verfügung und ein Gemeinschaftsbad.
Altstadt, einen 2-minütigen Spaziergang von der Scrovegni-Kapelle und 5 Minuten von den wichtigsten Plätzen.
Cristina and Antonio (I think...sorry if i have your name wrong!)are amazing. Really helpful, and great to hang out with. The sofa bed is super comfortable, and they give you privacy almost as if you have your own room. Really recommend staying with them, big thanks to you both!
Andy
2016-04-02T00:00:00Z
Cristina home has a great location go to venice within 30mins and the train cost 4.1€ only. Airport also have bus directly to Padova. Padova is also worth to have alook. Although she provide only sofa but it is very comfortable and have high privacy. Moreover, Christina and her husband are super nice. They also provide breakfast and dinner to me. I had a great time in there.
Yuen Kwan
2016-07-11T00:00:00Z
I loved my stay here. Christina was very welcoming. She would put out a great breakfast and shows you the Italian way of life. Very helpful with ideas of what to do around Padua. If I'm ever back in Italy I will come back.
Heather
2016-12-07T00:00:00Z
Cristina and Antonio were the best hosts! Their place is small but managed to make me feel comfortable and welcome. At any chance they will share meals and good conversations - super bonus for your travel experience. They are both open to share some travel tips, too. The house is nicely located - short walk to the city center, most tourist attractions, and train and bus stations. I have developed a nice friendship with them during my 5-day stay and if I get the chance to go back to Padova I look forward to staying with them again. :)
Jezrel
2017-02-10T00:00:00Z
Tutto impeccabile, dalla posizione in centro, alla pulizia, bagno, colazione, divano-letto. Affascinato dalla passione di Cristina per la cultura orientale e dalle sue fotografie, una persona eccezionale con cui hai davvero piacere a conversare, chiedere info e consigli. Se mi capiterà di tornare nella splendida Padova saprei già dove alloggiare :) Mi sono sentito come a casa, GRAZIE DI CUORE!!!
Francesco
2017-01-30T00:00:00Z
Appartamento caldo, accogliente, pulitissimo. Cristina è un a padrona di casa molto attenta, disponibile, socievole e per nulla invadente. Super consigliato!!!
Giovanni
2017-02-03T00:00:00Z
Deux jours chez Cristina. Je peux vous dire que c'est les meilleurs jours que j'ai passé à Padova dans toute ma vie. Elle et son mari sont hypersympa et chaleureux. Hâte d'y retourner pour les voir. C'est une adresse a conservé soigneusement.
Simo
2017-03-12T00:00:00Z
Cristina and Antonio are very nice hosts. The day I come they cooked dinner for me and every morning there was a nice breakfast for me. They also provided maps and other touristic info, gave suggestions and helped in everything I needed. The flat is nice situated: 10 min walking from the train station and 5 till the city center. Thanks a lot!
Anastasiya
2016-05-26T00:00:00Z
Typ av rum
Delat rum
---
Typ av boende
Lägenhet
---
Plats för
1
---
Sovrum
Padua, Veneto, Italien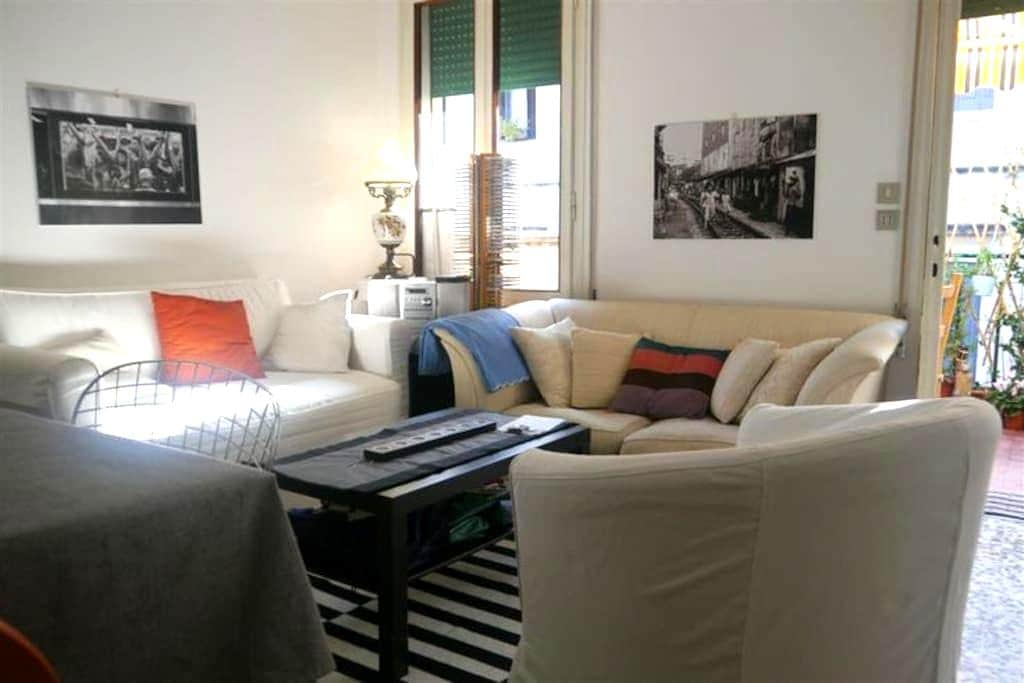 Soukromý pokoj v Padově, jeden blok od vlakového nádraží. Benátky za 25 minut, Bologna, Verona jedna hodina. Chůze do historického centra Padovy. Velký pokoj, Postel, sdílet kuchyň a rodina prostor, WiFi. Váš hostitel je americký cestovatel / fotograf / spisovatel. New Klimatizace v jednotce
Il mio grande appartamento è comodo e non si sente angusti. E 'al secondo piano, senza ascensore. Le camere sono spaziose con un sacco di luce naturale e tende oscuranti per dormire indisturbati. Il letto è molto confortevole ... Le persone osservano sempre che ottengono un grande sonno notti. Si tratta di un bagno in comune ma prendo la maggior parte dei miei docce presso la palestra. Si prega di notare, mi permetto solo due persone alla volta. Questo è il miglior affare a Padova ... si trova letteralmente a piedi a pochi minuti alla stazione ferroviaria, e per la zona centro storico. Lenzuola e asciugamani inclusi. Parcheggio in strada a disposizione, lo spazio non assegnato. Il mio appartamento è molto vicino alla stazione ferroviaria quindi aspettatevi un po 'di rumore fino a circa 10:00. E 'non è affatto male e la maggior parte dei miei ospiti non si accorgono neppure. Di solito, se un ospite rimane più di 3 notti, parto per aa paio di giorni per consentire una misura di privacy. Ma questo non accade tutto il tempo, e dipende la mia pianificazione.
S nádraží jen o blok dál, to vše v severní Itálii je ve snadném cenově vlaku. Milan a Florence jsou méně než dvě hodiny pryč, a Benátky pouhých 25 minut. K dispozici jsou bary a pizzerie v rámci pět minut chůze, a vibrující krásném centru Padovy je 10 minut.
Jay was very nice with us, the apartment is clean and tidy. I recommend his place:)
Anna
2017-04-02T00:00:00Z
It was a nice apartment and Jay was fine host we stayed there for 2 days, one for padau which was nice place, and Venice, it was 15 minutes by train.
Arthur
2016-07-22T00:00:00Z
We loved our stay at Jays place. Roberto, Jays friend, was there to greet us and was most welcoming in showing us tips in Padua and Venice including a restaurant that was perfect. The place was clean and tidy and in a great situation to the train station to day trip into Venice. Recommend staying here and would stay again.
Kelly
2016-05-17T00:00:00Z
Jay's place in Padova was very convenient. It was so close to the train station which made it easy to travel to Venezia and other nearby towns. The room was neat and orderly and Jay was kind and helpful.
Jennifer
2014-04-18T00:00:00Z
Jay was great, kind and very helpful, the apartment is exactly what we needed whist travelling through Italy. It was clean and set up well! Great location if travelling by train and accessible to the freeway by car!
Greg
2015-02-28T00:00:00Z
We voelden ons zeer welkom bij Jay. Hij gaf ons zeer veel informatie over Padua. De kamer was proper, de badkamer kon iets properder maar was zeker niet vuil. Het is een goeie locatie om Padua en Venetië te bezoeken. We raden iedereen aan om bij Jay te verblijven.
Jonathan
2016-07-15T00:00:00Z
Jay is very friendly. He speaks English quite fluently so communication would not be a problem. And the location is very convenient. The best thing is the kitchen is well-equipped. Definitely recommend!
Yu-Chung
2015-05-08T00:00:00Z
We stayed at Jay's appartment for two nights while visiting Padua. The room and the appartment are very nice. Some people might find the traffic noises disturbing because the flat is close to the train station. Jay himself is a really cool guy who gave us tips on what do in Padua and who was overall very friendly and communicative. Would definitely recommend a stay!
Lukas
2017-04-05T00:00:00Z
Typ av rum
Eget rum
---
Typ av boende
Lägenhet
---
Plats för
2
---
Sovrum
Padua, Veneto, Italien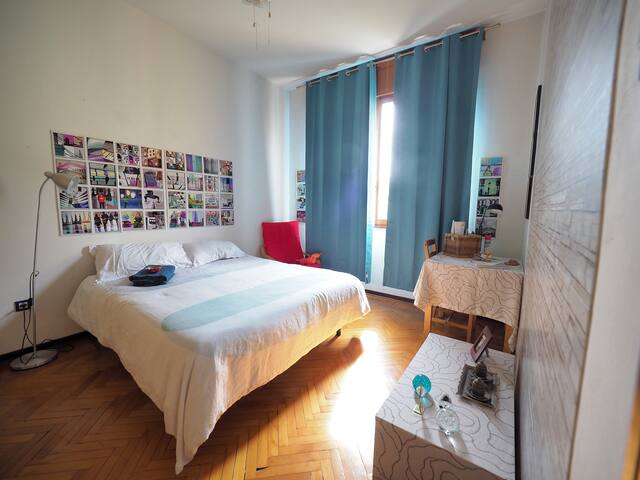 Ekonomickým a přesto velmi útulné a pohodlné ubytování v Padově - město mezi Benátkami a Verony a velmi dobře připojen k italských velkoměst! To se pohodlně vejde 2 a je strategicky umístěn na hlavní městskou určení a atrakcí.
UMÍSTĚNÍ: V bytě je strategicky umístěn pro každého, kdo přijde do Padovy pro různé účely (Leisure / Cestovní ruch, podnikání nebo studie): - 5 minut od dálnice - 3 km od vlakového nádraží - 2 km od PalaFabris - 2 km od Fiera di Padova - 2 km od University of Padova - Několik minut, aby Zona Industriale Oba centrum města a vlakové nádraží jsou dosažitelné autobusem za 10-15minutes. Alternativně (a já silně naznačují), centrum může být dosaženo 45 minut chůze procházející nádherné 4-ha parku Europa a Piovego kanálu. POKOJ: Útulný manželské ložnice se nachází v živé zbarvený 3-pokojový byt, 8-jednotka kondominium. Král-size postelí se mohou ubytovat 2 hosté.
- University of Padova - Fiera di Padova - 4-ha parku Evropa a Crystal Garden - Palafabris - Obchodní centrum / nákupní centrum - Restaurace - rychlé občerstvení centra -Pizza Take-Reklamní předměty - pečivo - Pivo / Pub - Bary - Supermarkety - Samoobslužná prádelna
Sono stata solo una notte ma mi sono trovata benissimo : pulitissimo, accogliente e tranquillo!
elena
2017-03-19T00:00:00Z
Grace is a very good host!! Nice peaceful environment ...40 minutes walk to Padova centrale (old city) much of that along the beatiful river ...
JAN
2016-10-19T00:00:00Z
Grace è molto gentile, accogliente e simpatica. La casa è splendida, pulita e confortevole.
Florinda
2016-07-18T00:00:00Z
Tutto perfetto .. la casa è bellissima, credo il miglior rapporto qualità prezzo trovato sino ad oggi dopo anni che uso Airbnb. Grazie ancora !
Massimiliano
2014-11-12T00:00:00Z
We spent one night at Grace place. It was a very good experience. Grace is very helpful and hospitable as well. Everything was very tidy and prepare for our stay. Hope to see one day in Poland! Anna&Adam
Adam
2016-05-26T00:00:00Z
Nei giorni del mio soggiorno ho studiato per la maggior parte del tempo e trovare un luogo accogliente è stato per me molto importante! Spicca la pulizia e l'ordine della casa, impeccabile! Grazie Grace per la tua ospitalità!
Alessandro
2015-07-31T00:00:00Z
La camera di Grace è molto bella, così come tutto l'appartamento. Grace si impegna moltissimo per fornire agli ospiti tutte le informazioni necessarie per arrivare al posto e poi muoversi verso il centro. Pulizia impeccabile.
Michele
2016-12-09T00:00:00Z
Grace is indeed a true superhost. The complete apartment is cozy and clean as described. She´s also a very lovely person, who you´d enjoy to talk with.
Daniel
2016-05-25T00:00:00Z
Typ av rum
Eget rum
---
Typ av boende
Lägenhet
---
Plats för
2
---
Sovrum
Padua, Veneto, Italien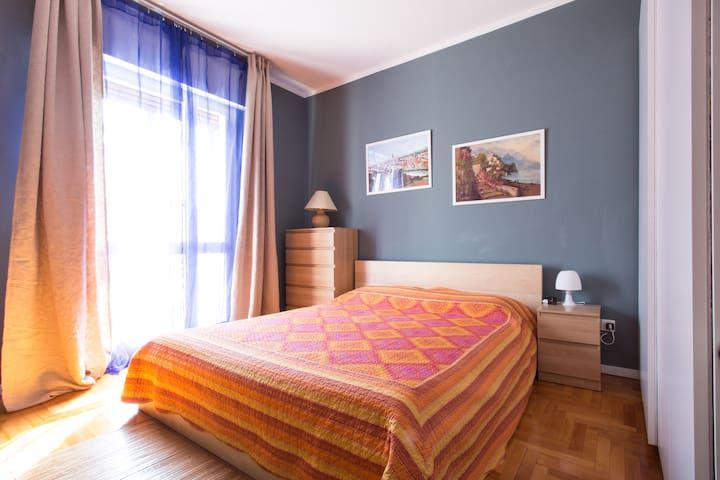 Den mysiga och Luminos Lägenheten är tillgänglig för dig i Padova, känd som "staden St.Antony". Det ligger 10 minuter från centrum, easly nås med spårvagn och buss. Den inbjudande lägenhet kan vara värd 3 personer.
Lägenheten är tveksam av en liten och privata portcullis, det ligger på första våningen. När du går in, kommer du att se att det är mycket vacker, med trägolv som inbjuder gästerna att gå fritt utan skor. I vardagsrummet finns en bäddsoffa och en liten terrass, efter dessa hittar du ett modernt kök. Sovrummet finns en dubbel-säng, en rymlig garderob och två terrasser, en blomstrande ena och den andra används som en sko rack. Sängen rum leder in i en liten studio rum dotated med en stor garderob. Badrummet med fönster är väl utrustade med alla de tjänster och ett badkar.
Den helt kvarter erbjuder alla typer av tjänster: kollektivtrafik (spårvagn och buss) postkontor, bank, kiosk, städning, stormarknader, barer och snabbmat, restauranger (även vegetarisk), frisör, Beauty, apotek.
Alberta s'est bien adaptée à nos horaires d'arrivée et de départ. elle avait bien préparé le logement et nous en a fait la présentation pour qu'on se sente bien chez nous. elle est très accueillante et sympathique. le logement était en tous points conforme à la description et Alberta avait laissé des denrées et boissons permettant de s'y installer confortablement dès notre arrivée.
Yves
2016-07-11T00:00:00Z
Logement très bien situé au premier étage d'une maison individuelle. Appartement spacieux, wifi parfait, très bien équipé (beaucoup mieux que dans le descriptif : sèche cheveux, produits de toilette et de nettoyage, breakfast, nécessaire pour le repas d'arrivée, bureau dans une chambre). Accès routier facile. Tram à 150m pour aller a la gare, ou en ville rapidement. Trés bien placé pour aller à Venise en train (maison/venise, en 90mn). Accueil chaleureux d'Alberta. Nous recommandons vivement ce logement.
Madeleine
2016-09-13T00:00:00Z
Lovely apartment in a family house, fully equipped. Wonderful hosts, absolutely nothing to criticize.
Irene
2017-02-18T00:00:00Z
My friend and I came to Italy from the USA in March. We stayed in Padua 3 nights. The apartment location was very convenient to get to the City historic center by a tram. We bought a tram day-ticket (3.80 euro) each day to be able to go to the City and come back any time we needed and then to go back to explore the City again on the same day. The grocery store was 2 minutes away from the apartment. Everything that we needed for our comfort, cooking, taking showers etc .was available. The communication with Alberta was very easy, since our host responded almost immediately to answer our questions. I would recommend this apartment to anyone. Alberta and her husband were very nice to pick us up at the train station and bring to the apartment. Alberta explained everything by showing us around the apartment. She is very sweet, friendly and responsive. We really enjoyed our stay there a lot. (Irina)
Irina
2017-03-27T00:00:00Z
Great host, very beautiful house. So far the most beautiful we had. 40 min from venice by car. Alberta was always there to help. In the house you will find more that you had expected. The house much more modern, stylish and beautiful than we thought according to the photos. Highly recommended!
Mohamad
2015-08-03T00:00:00Z
Alberta's apartment is cozy, well decorated and furnished, full of little treats for the guests. We enjoyed a lot our stay! It is located so close to the tram and to shops, laundry and supermarket. Alberta and her daughter are really nice people! The experience wad perfect!
Simone
2015-05-09T00:00:00Z
Alberta ci ha accolte con grande cordialità e disponibilità. E' stata attenta a tutte le nostre esigenze e ci ha veramente viziate! La casa è bellissima. Cucina attrezzata alla perfezione, una eccellente colazione, un magnifico pavimento in legno, camere spaziose e comodissime. La casa è inoltre molto ben collegata ed il parcheggio è gratuito e sicuro. Super consigliato!!!
Alessandra
2015-01-23T00:00:00Z
We had a perfect stay. We wish we could stay longer. Alberta and her husband gave us a warm welcome. The apartment is lovely n have everything needed.
Shing ho
2015-07-01T00:00:00Z
Typ av rum
Eget hus/egen lgh
---
Typ av boende
Lägenhet
---
Plats för
4
---
Sovrum
Padua, Veneto, Italien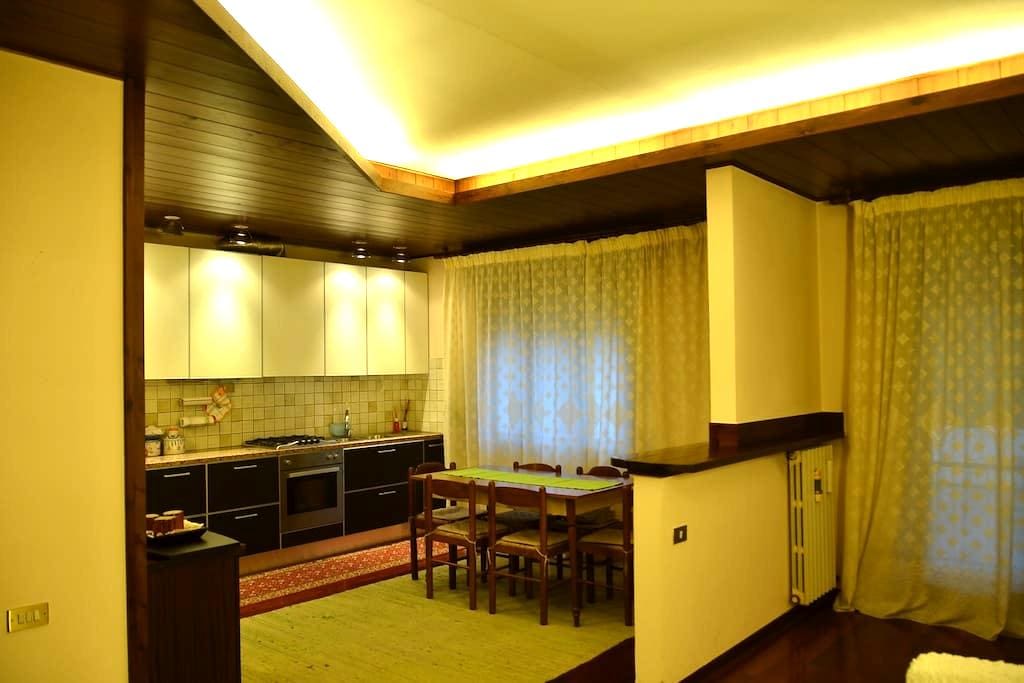 Surrounded by the beautiful ginkgo biloba along the shore of Piovego, you will find yourself in the historical heart of Padua in a comfortable bedroom with a queen and a private bathroom in a bright apartment overlooks the canal.
The room has a single bed and a half, large closet, dresser-desk and adjoining private bathroom.
The Observatory, the walls and the medieval bridges accompany your walks in the surrounding area. The Duomo, the squares with their markets, the University and all the artistic attractions are around the corner and the arcades of the center will repair it for a rainy day.
I totally felt like home. Sofia and Pradeep have been the best hosts ever. The place was just what I wanted: comfortable and well located, in the center and not far from the train and bus station. Ideal for visiting Padova and, from there, other places nearby. I totally recommend it! Fue una gran elección. Sofia y Pradeep fueron unos grandes anfitriones. El alojamiento era exactamente lo que buscaba: cómodo, cálido y bien situado, en pleno centro, en una zona tranquila, y no lejos de las estaciones de tren y bus. Es ideal para visitar Padua y los alrededores. ¡Lo recomiendo totalmente!
Miguel Gabriel
2015-09-05T00:00:00Z
Gentilissima accoglienza da parte di Sofia e Pradeep, che alla mattina preparavano sempre una buona colazione, comprendente thè, marmellate, burro, yogurt, biscotti e non mi ricordo cos'altro. La posizione è centralissima ed io, per le mie esigenze di studio, ero letteralmente ad un tiro di schioppo dalle mie due facoltà di riferimento (Palazzo Liviano e Palazzo Luzzato Dina). La camera è spaziosa e ben arredata ed il letto (ne) ad una piazza e mezza era veramente comodo. Il bagno privato adiacente era bello spazioso e fornito di phon, bagnoschiuma ed asciugacapelli. Sofia, poi, sa mettere a proprio agio l'ospite e un giorno si è parlato per più di mezzora degli argomenti più disparati (archeologia, architettura ecc.). Non c'è che dire, è stata proprio una bella esperienza, da consigliare!
Ashley
2015-11-06T00:00:00Z
Sofia and her husband were wonderful hosts! Our communication beforehand was great and she was very accommodating to making sure she was home when I arrived in the afternoon.
Lori
2015-11-25T00:00:00Z
This is a very comfortable, quiet place, a great base for exploring Padua or areas around Padua. The hosts, Sofia and Pradeep, are friendly, kind, and welcoming. I would definitely recommend this place if you're visiting Padua.
Ben
2015-06-08T00:00:00Z
Sofia is a great host. Her communications are prompt and helpful, and she is a very pleasant person. I appreciated her help in deciding what to see in Padua and where to eat. The location is excellent and air conditioned room is very comfortable with a very nice bathroom.
Cindy
2016-08-03T00:00:00Z
Sofia and her husband were so friendly and hospitable. Communication was great and they provided a nice continental breakfast. The flat is very well located, just a short walk to the Duomo, along the river. The room is warm and comfortable, just right for a cold December vacation to this charming city. Sofia provided wonderful recommendations for food and sights to see. I will stay here again when I return to Padua.
Jennifer
2015-11-29T00:00:00Z
Прекрасное жилье с отличным расположением, и очень приятной хозяйкой. Описание полностью соответствует действительности, уютно, отдельный гостевой санузел, кухня с балконом. Квартира чистая ухоженная. Расположение очень удобное - 5 минут пешком до любой центральной площади.
Артем
2015-10-08T00:00:00Z
Sofia è deliziosa. Rispondeva ai messaggi con celerità e dando tutte le informazioni necessarie. L'appartamento è molto grazioso, la camera accogliente e confortevole e il bagno nuovo e immacolato. Si trova nel cuore di Padova a poche centinaia di metri dal Duomo e dagli altri luoghi di interesse di questa bella città veneta. Ci tornerò sicuramente
Silvia
2015-10-10T00:00:00Z
Typ av rum
Eget rum
---
Typ av boende
Lägenhet
---
Plats för
1
---
Sovrum
Padua, Veneto, Italien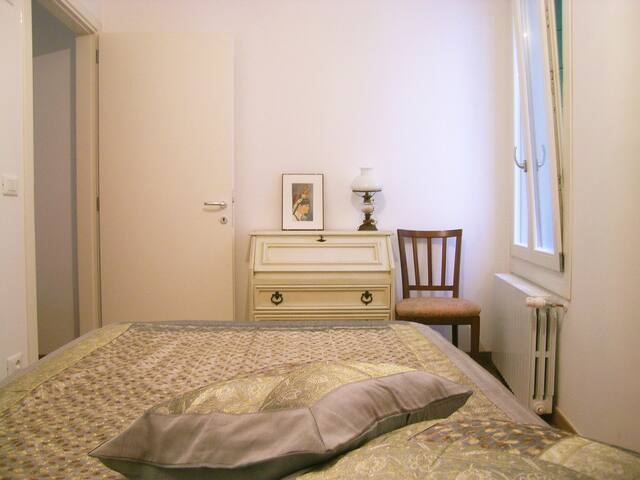 Mé místo je v blízkosti veřejné dopravy, noční život, a do centra města. Tramvaj vás bude stát 1,30 euro a je platný po dobu 75 minut. Chcete-li navštívit Benátky, můžete jet vlakem za pouhých 4,10 Euro každou cestou. Zamilujete si své místo v důsledku umístění a lidí. Mé místo je dobré pro páry a sólo adventurers.Some vás požádal, aby parkoviště, a ano, je možné, a nejlepší ze všech jeho zdarma. Jeden poslední bod :-) Pokud chcete vařit, velký jak dlouho budete sdílet jak se to dělá.
Haha haha, celui-ci m'a fait sourire et la réponse est simple ME :-) que vous n'êtes pas un étranger mais comme moi un compagnon de voyage.
Bill is the best host ever! He picked up us from train station and show every potential thinks to do.He make a really good jokes and was helpfull all visit long. If you plan to visit Venice I recomend you to stay in Padua at Bill apartament and just go to Venic by train (it's takes only 20min).You will save money. I cant imagine better host than Bill.
Mateusz
2017-01-29T00:00:00Z
Bill was very kind and helpful, when we arrived in Padova he picked us up from the central station and he even bought the tram ticket. His apartment is not far from the city centre, 20 min walking an 10 with Tram ( tram station very close to the apartment) and everything was very clean. He gave us all we needed, the city maps, the tram schedule and he also provide for the breakfast. So stay in his place was very nice, highly recommended ;)
Marta
2017-02-19T00:00:00Z
The apartment is cozy, very clean and comfortable. It's near to supermarkets and tram station, but city center isn't far, easily it's possible to go walking. Bill and his friends are very nice. Bill is very helpful and hospitable, we totally recommend this apartment!
Marcelo & Lucia
2017-03-19T00:00:00Z
bill is friendly and helpful.comfortable stay in padova
倩
2016-12-28T00:00:00Z
Staying at Bill's place was great. Reccomended to all that wish to visit Venice , Padova and the surrounding area. Thank you Bill for being a great host.
Ilan
2017-02-15T00:00:00Z
I've nothing to say apart from EVERYTHING HAS BEEN PERFECT! Bill is one of the kindest person I've ever met, really nice and helpful. The apartment is not so close to the city center, but it's very well connected and easy to be found, furthermore you can park your own car for free (free parking almost doesn't exist in Padova). Both the room and the bathrooms were very clean and had everything you need, so I can just recommend this accommodation :)
Lucia
2016-09-13T00:00:00Z
La camera era esattamente come descritto, Bill è stato un ospite esemplare, amichevole, disponibile e mi ha lasciato i miei spazi. Sono venuto per lavoro, se dovessi ricapitare a Padova, sicuramente lo cercherei di nuovo
Alberto
2017-03-03T00:00:00Z
I enjoyed my stay. Bill is a great host and enjoyable to talk to. The rooms were immaculately cleaned, highest standard of cleanest. This is what us females like to find, it makes the stay more enjoyable. I would highly recommend anyone to stay here. Thanks again Bill.
Marina
2016-09-11T00:00:00Z
Typ av rum
Eget rum
---
Typ av boende
Lägenhet
---
Plats för
2
---
Sovrum
Padua, Veneto, Italien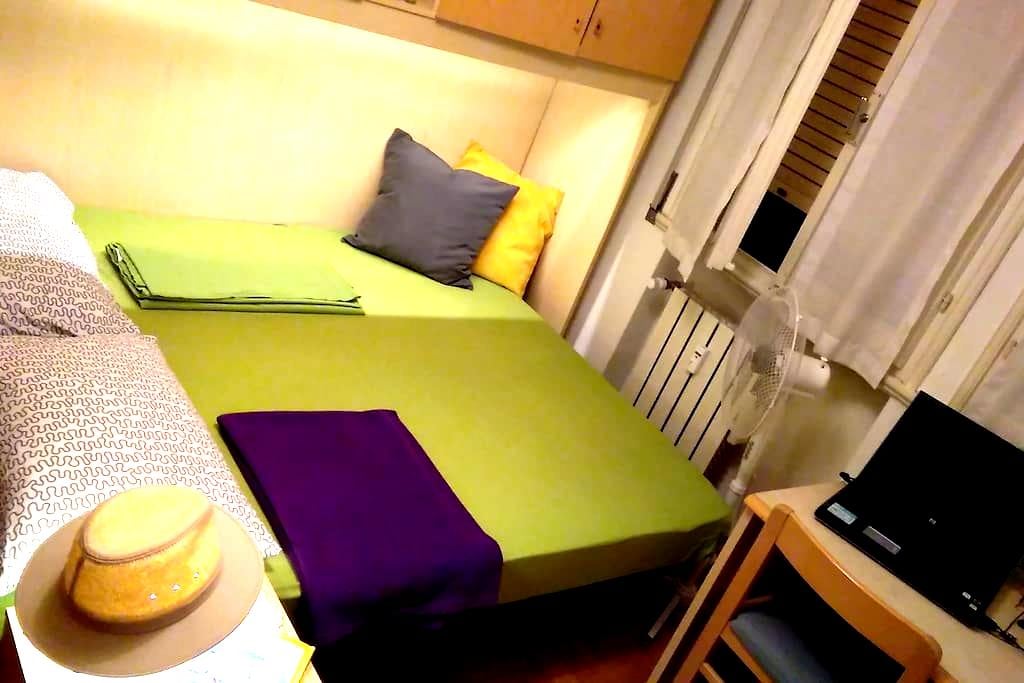 Spacious apartment in the City center 40 meters from the main church of the Duomo square. Large apartment in a luxury residence with large garden in the heart of downtown at 40 meters from the Dome. Ideal for 4 persons, easy access on the ground floor.
Apartment of 90 square meters with 4 beds. 90 square meters, two twin beds 4 pax.
Apartment very central, easy access to the ground floor ideal for families and groups of 4 people (two double beds)
Francesco è stato un ottimo host. Disponibile, preciso e professionale. L'appartamento è molto comodo per gli spostamenti (è in pieno centro) e ben attrezzato al suo interno. Letto matrimoniale decisamente confortevole.
Maya
2017-01-05T00:00:00Z
I'm writing this in English, so everyone can understand: Francesco's apartment is very centrally located. Only a couple of minutes from the main attractions in town and conveniently next door to a parking garage. It has a back and a front entrance, a garden/yard in between. It is very shady, therefore I expect it will be cool in summer. Francesco is very helpful in everything. Tells you about places to go, where to park the car, supplies kitchen things down to coffee and tea to use, plus his WiFi is mobile - very useful. Francesco accommodates any wishes or needs, meets you very flexibly for your arrival. To sum things up: this place is a definite recommendation.
Urs
2017-03-09T00:00:00Z
This is a really nice place to stay. Right in the heart of the city, two steps from the extraordinary Baptistery, and with a lovely garden/private little park, all elegant and very well kept. Totally perfect. Francesco is the perfect host. I will gladly return. Elizabeth
Elizabeth
2017-03-24T00:00:00Z
On arrival after delay on flight and arriving later at night Francesco met us outside of the appartment no problem. The appartment was very clean and very comfortable, also in great location. Coffee and tea on arrival and Francesco recommended places to go for dinner etc. Thoroughly recommend staying here and would do so again if im Padova.
James
2017-01-17T00:00:00Z
El apartamento esta en un barrio antiguo entrañable y muy cerca del casco antiguo, rodeado de un jardín delicioso.
Jose
2016-09-02T00:00:00Z
Die Wohnung war einfach nur perfekt. Mitten im Zentrum von Padua liegt sie ideal für eine Städtereise. Die Ausstattung der Wohnung ist vorbildlich. Francesco ist ein perfekter Gastgeber. Ich würde die Wohnung jederzeit weiterempfehlen.
Jürgen
2016-10-26T00:00:00Z
Hemos estado muy a gusto en casa de Francesco. Todo muy limpio y ordenado. Francisco es amable y responde con rapidez. Buena acogida y disponible.
Ismael
2016-09-28T00:00:00Z
Fantastic location, such a wonderful host - thank you so much!
Natascha
2016-09-03T00:00:00Z
Typ av rum
Eget hus/egen lgh
---
Typ av boende
Lägenhet
---
Plats för
4
---
Sovrum
Padua, Veneto, Italien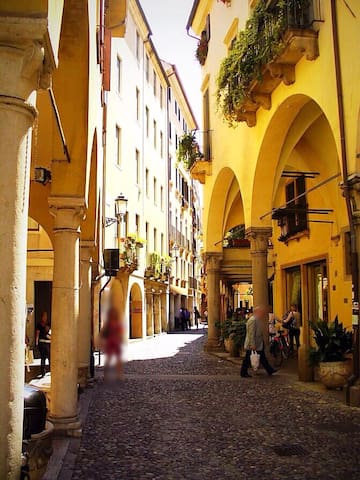 Giorgia 's flat is a comfortable apartment in the center, ideal for those who want to get around the city and Veneto without using the car. A short walk from the train and bus, the apartment is located near the famous Scrovegni Chapel. Bought for our older daughter who is currently studying abroad, the room is simple but in a strategic location. E 'quiet despite being central, sunny, no luxuries but practical, equipped and cheap for what it offers.
The apartment is perfect for those who prefer not to use the car on vacation. Near the old town, a short walk from the train station and bus terminal, allowing guests to enjoy the city and region independently. Practical for those who need to frequently reach hospitals. Every 15 minutes a train to Venice start at a few hundred meters, so many locations and cities of tourist interest, Spa and nature in less than one hour by train or bus. Suitable for 4 persons, well equipped. Two large and bright double bedrooms, bathroom with tub and shower, kitchen. TV stereo washing machine, dryer, oven and microwave available. Active wifi 24 hours. The apartment is on the third floor without acsensore but the stairs are wide and comfortable. To contain the costs of rent we did not put the air conditioning but practical ceiling fans in all rooms of the house. Check-in by appointment ONLY between 14:00 and 19:30. For check in after 19:30 it may incur an extra contribution, especially if unexpected. I will be available and flexible as far as I possibly can
The area is very practical because of its proximity to all that can be useful and pleasant in the city. Many ethnic shops characterize the way, the proximity to the beautiful park of the Arena by the opportunity to enjoy the green and beautiful area equipped for children.
The apartment is very well located in Padova. It's very good to visit Padova and Venezia as well. The apartment was as described and everything was ok.
José Antonio
2016-10-16T00:00:00Z
Appartement situé idéalement entre le gare et le centre historique de la ville. L'extérieur n'est pas engageant, mais l'appartement est correct. Un petit effort de la propriétaire est souhaitable pour le rendre tout à fait accueillant ( en particulier douche et matériel de cuisine) Les chambres sont agréables et les lits confortable. C'est propre
Pierre
2016-04-28T00:00:00Z
Esperienza positiva, appartamento molto comodo da raggiungere e dotato di tutto il necessario.
SIG. CARLO
2016-12-11T00:00:00Z
Nice apartment, well placed near train station and city center. Great comunication with the owners which are so kind!
Kevin
2017-02-28T00:00:00Z
Perfect location close to the station and downtown. Everything is in walking distance. The wonderful mercato in piazza delle erbe everyday except Sunday is wonderful. The hosts provide pretty much everything you need. Communication was easy as was check-in & check-out. We had a great stay in Padova, lovely city with lots to do and explore.
Rhondina
2017-04-10T00:00:00Z
La casa é come viene descritta nell'annuncio. Due ampie stanze e in una posizione veramente comoda e centrale. Non c'é l'aria condizionata ma sono disponibili numerosi ventilatori. Ci siamo trovate bene.
Claudia
2016-07-22T00:00:00Z
The heating was difficult to activate but it was not too cold so we were very comfortable. But the apartment was clean and quiet. And I am in better shape now thanks to the stairs and lack of elevator.
Jon
2016-11-09T00:00:00Z
L'appartamento di Elena è molto accogliente e comodo per la vicinanza alla stazione e al centro, che si raggiunge in 7 Min circa e inoltre molto vicino alla cappella degli Scrovegni nonché alla zona universitaria. Elena si è mostrata da subito disponibile e attenta alle nostre esigenze. Lo consigliamo!
Gabriella
2016-05-02T00:00:00Z
Typ av rum
Eget hus/egen lgh
---
Typ av boende
Lägenhet
---
Plats för
4
---
Sovrum
Padua, Veneto, Italien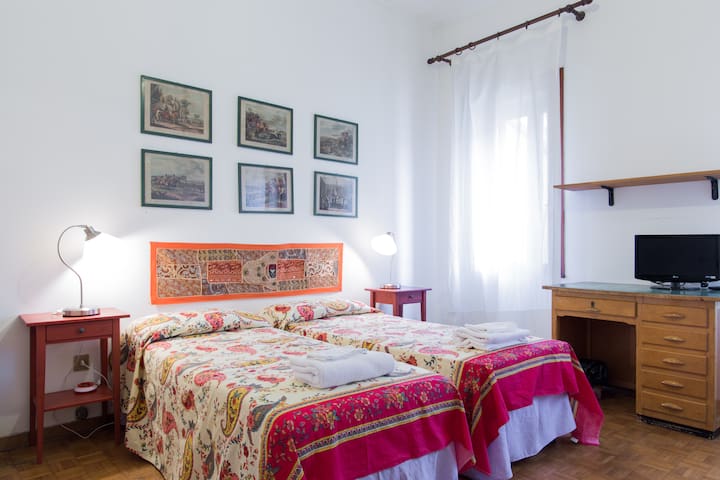 Single room in the quiet setting to 7 m by tram from the city center, close to highways, levees to go running, supermarket. Only one bathroom, wife.
The Room was nice and clean, very close to the tram so it is easy to reach the city center. Anotonia is a nice woman very cheerful and welcoming. I staid for a week and i had a pleasant experience i highly recommend this place
Manar
2016-04-14T00:00:00Z
Antonia è stata gentilissima! Casa accogliente, letto comodissimo, e colazione super! Host consigliatissimo ;)
Alberto
2015-10-22T00:00:00Z
Every thing was perfect. Antonia treat me very well and the house its very comfortable and with easy acces.
Tomas
2015-12-04T00:00:00Z
La casa è in una zona tranquilla e silenziosa, molto ben collegata al centro con il tram. La stanza è piuttosto spaziosa, il Wi-Fi funziona benissimo e il letto è molto comodo. Antonia è una host molto discreta e riservata, ma allo stesso tempo gentile e disponibile. Consigliato assolutamente per chi viaggia per lavoro.
Damiano
2015-11-25T00:00:00Z
Permanenza perfetta, sono stata a casa di Antonia tre notti per impegni all'università: la zona è molto tranquilla e questo mi ha permesso di rilassarmi e di concentrarmi nei miei impegni. Ci siamo messe d'accordo con Antonia per il mio arrivo, ed anche se sono arrivata un po' in anticipo per lei non è stato un problema. Lei come host è molto disponibile e discreta. Casa molto pulita e colazione perfetta!
Beatrice
2016-01-29T00:00:00Z
Ottima accoglienza! Antonia è una persona splendida. La casa è a 10 minuti scarsi di tram dalla stazione quindi comodissima! Consiglio a chiunque di andarci! Non avrei potuto trovare accoglienza migliore :)
Chiara
2015-11-13T00:00:00Z
It was my second time at Antonia's "Stanza privata a Padova", this time unfortunately only for 2 nights as I was visiting the carnival in Venice for a few days. Everything was as smooth and comfortable as before, check-in, check-out and my stay in general. Antonia even "upgraded" the room with a good desk and chair which is always nice to have when traveling with a laptop ... I really enjoyed this addition to the cozy room. Great place, great host! Thank you.
Walter
2016-02-08T00:00:00Z
Great time. Perfect!
lucas
2014-10-26T00:00:00Z
Typ av rum
Eget rum
---
Typ av boende
Lägenhet
---
Plats för
1
---
Sovrum
Padua, Veneto, Italien
¡Bienvenido! El piso está cerca de la parada de la estación de tren, autobús y tranvía. Se puede llegar fácilmente al centro. El barrio está bien servido. El apartamento es cómodo y luminoso. Se recomienda tanto para una sola persona y para parejas o amigos.
La casa se encuentra justo detrás de la estación de tren y autobús y cerca de varias líneas de transporte público. Se puede llegar al centro de la ciudad en 10-15 minutos a pie o en 5 minutos con el tranvía o autobuses. El barrio está bien servido con una gran cantidad de tiendas, pizzerías y restaurante local o etnic. El supermercado está a dos minutos a pie del apartamento. La estación de tren está a cinco minutos a pie y se puede llegar fácilmente a varios principal ciudad: 30 minutos de Venecia, a una hora de Verona y una hora y media de Bolonia. El apartamento ha sido recientemente renovado, por lo que el mobiliario es nuevo. Las habitaciones son muy amplias y luminosas, las zonas comunes son la cocina de planta abierta y sala de estar y el baño. Se encuentra en el último piso del edificio y no hay ascensor. Gracias a su amplia y ventilada terraza, se puede ver una hermosa prospectiva de la ciudad. En la casa hay cuatro personas, somos trabajadores jóvenes, pero sin duda dispuesto a darle un poco de información útil y la curiosidad sobre Padova. Este piso se recomienda tanto para una sola persona y para parejas.
Ci siamo trovati molto bene io e la mia ragazza, sia per la posizione dell'alloggio sia per la disponibilità e la gentilezza degli inquilini!
Riccardo
2017-01-29T00:00:00Z
La habitación muy limpia y ordenada, muy acogedora la casa. Ellos muy agradables, te ayudan para hacer turismo o encontrar las cosas. Estancia muy buena. Repetiría.
Patricia
2017-02-13T00:00:00Z
Davide e os seus amigos foram muito simpáticos. A casa fica muito perto da estação de comboios e é muito agradável, tem um ótimo terraço! O quarto é muito confortável e é possível utilizar a cozinha. Estava tudo muito limpo. Gostamos muito e gostávamos de ter tido mais tempo para conhecer o Davide. Obrigada!
Andreia
2017-03-14T00:00:00Z
Bello soggiorno. Stanza molto pulita e ordinata. Molto bella l'armadio con i libri. Wi-fi molto buono. Hosts attenti e molto simpatici. Prezzo giusto. Eccelente!
Bruno
2017-03-01T00:00:00Z
Posizione molto comoda, attaccata alla stazione quindi comoda per tutti i servizi.
Nadia
2017-03-19T00:00:00Z
Very good value for money! Thank you Davide!
Anna
2017-01-18T00:00:00Z
Sono stata a casa di Davide per due notti. L'accoglienza è stata ottima e puntuale. Casa pulita e con tutto il necessario. Ottima la posizione vicina alla stazione e alla fermata del tram. Nonostante le nostre strade si siano incrociate pochissimo causa orari non compatibili, mi sono sentita a casa. Consiglio vivamente!
Monica
2017-03-18T00:00:00Z
Davide è stato molto disponibile anche nel venire incontro alle nostre esigenze. È stata la nostra prima esperienza su airbnb e direi positiva!
Simona
2017-01-23T00:00:00Z
Typ av rum
Eget rum
---
Typ av boende
Lägenhet
---
Plats för
2
---
Sovrum
Padua, Veneto, Italien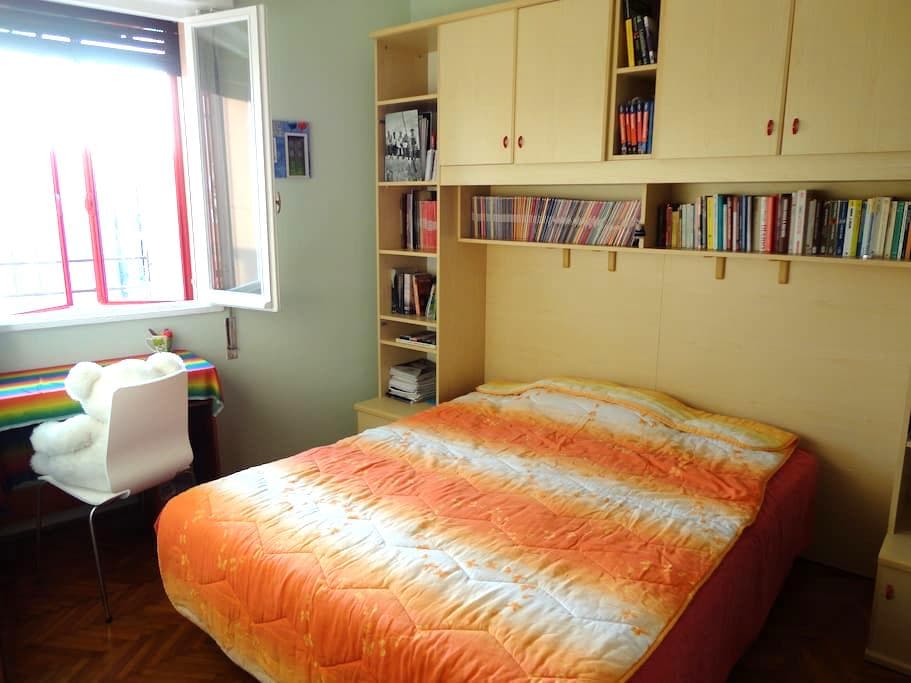 FLATLET mit Küche, Bad, Balkon, TV und allem Komfort
Die Bed and Breakfast Diva House ist die richtige Wahl zu Hause zu fühlen. In einem eleganten Gebäude aus Padua, leicht erkennbar für die farbige, moderne Malerei Majolika, die entlang der Fassade Höhe verläuft, bietet Frau Diva Manzolis Unterkunft im Bed & Breakfast. Die Nähe zum Bahnhof macht es ideal für diejenigen, die für Sightseeing, Business, Messen, Konferenzen in Padua stoppen wollen, oder Krankenhausbesuche. Die Merkmale der Diva Zimmer sind: 2 Einzelbetten Ecke Wohnzimmer mit zwei bequemen Sofas Fernsehen Klimaanlage Kostenlose WLAN-Verbindung Bad mit Bettwäsche inklusive (Handtücher und Bademäntel) Frühstück inbegriffen Das B & B-Diva House befindet sich in Padua. Es ist nur einen kurzen Spaziergang entfernt vom Bahnhof oder mit den öffentlichen Verkehrsmitteln: Bus: nº (Telefonnummer versteckt) Metrobus: Bus Borgomagno (40 m.) Stoppen Für die Anreise mit dem Auto sollte nicht vergessen, dass Diva-Haus einen internen Parkplatz Wohnanlage bietet.
L'host è stata disponibile, il monolocale era confortevole e ben arredato. L'appartamento è vicino al centro raggiungibile con il tram la cui fermata è vicina.
laura
2016-12-10T00:00:00Z
Both Diva and her flat were absolutely charming! The lift worked, the parking was very safe, and our host was accommodating of our late arrival and early departure.
Joni
2016-06-12T00:00:00Z
L'host, una simpatica signora, ci ha accolti e mostrato l'appartamento in ogni suo aspetto e funzione. L'appartamento è sito a poche centinaia di metri dalla stazione di Padova e a poche decine di metri dalle fermate bus e tram vicine. Zona ben servita e tranquilla con facile opportunità di parcheggio gratuito nelle vie antigue.
Alberto
2016-05-30T00:00:00Z
Divaa has an interesting room with all old and new still charm combined to make our stay enjoyable. Parking in the incloser behind the apartment was important to me. Thanks Divaa for your help.
Randy
2015-07-04T00:00:00Z
We felt very comfortable at Divaa's apartment.
Alexander
2016-08-09T00:00:00Z
Diva's flat was easy to find and convenient to access from train station. The room was cosy and clean. Bathroom clean and well lit. Diva was welcoming and we recommend it to others.
Conrad
2016-06-20T00:00:00Z
We used this stop on our vacation to access Venice for 2 days. The space was very comfortable and extremely convenient to the train. The big bonuses for us were having a secure place to park our car and breakfast provided.
Karla
2016-09-09T00:00:00Z
Divaa è una signora molto gentile,disponibile e precisa. Mi sono trovata molto bene! Il quartiere è ben servito di tutto (supermarket, parcheggio auto, ristorante e farmacia). Strategica la posizione.....tranquilla ma a due passi dai mezzi di trasporto. Da provare!
Rosa
2015-12-05T00:00:00Z
Typ av rum
Eget hus/egen lgh
---
Typ av boende
Lägenhet
---
Plats för
3
---
Sovrum
Padua, Veneto, Italien