97 Uthyrningar av lägenheter
A kellemes önellátó nyaralás nyaraló, egy kényelmes, mégis félreeső helyen található, közel a központhoz, a kisváros Duns. Ideális helyen, a szabadtéri sportok vagy felfedezni a skót határon városok, apátságok és a strandok.
Található egy rövid sétára a piactértől az elragadó kisváros Duns a Scottish Borders, házunk egy grúz villában 1,5 hektáros kert gazdag élővilág. A helyi séták az ajtó körül Duns Castle Nature Reserve, golf, a helyi golfpályán, vagy a közvetlen buszjáratok Eyemouth, Berwick-upon-Tweed és Melrose, valamint hozzáférést kínál Határok kerékpárutakat, akkor lehet, hogy nem akar az autó egyáltalán. Alternatív megoldásként a tengerparton Coldingham Bay és St Abbs 20 perc alatt elérhető autóval, sok határvárosok, apátságok és kastélyokban belül is a közelben. A látnivalók az észak Northumberland partjainál és a Cheviot Hills könnyen megközelíthető is, mint például a Szent sziget Lindesfarne. Duns maga gondoskodik az összes napi vásárlási igényeket (beleértve a díjnyertes hentes), valamint kínál ajándék üzletek, éttermek, pubok és kávézók. Ez egy virágzó közösség események, amelyek egész évben. A legközelebbi vasútállomás a Berwick-upon-Tweed. Duns golfpálya városán kívül túl a helyi uszodába. Edinburgh körülbelül egy óra autóval.
The Gardener's Lodge cottage, was astounding, to say the least. After a long drive, the first thing we wanted to do was to have a soak and go to bed. These two parts could be major selling points on their own, the bed was so comfy we had to actually pry ourselves out of it. The Hosts were nothing but amazing, showed us all of the amenities and even had tea, coffee, and a chocolate cake ready for our arrival. Safe to say we would love to visit again and will highly reccommed.
Jamie
2016-06-13T00:00:00Z
What a wonderful place and nice family ! We enjoyed our stay very much and were sad to leave. How wonderful to be greeted with home made cake ! The pictures are very accurate, but the rooms are actually much larger than the pictures suggest. The cottage is lovely, the kitchen well equipped with everything you might need, the beds are comfy, the sitting room is so cozy as we say "gemütlich", not only because of the books, but also the nice lamps. We enjoyed so much sitting at the kitchen table and browsing through the many interesting books, but most of all we liked chatting with Kathi and her family who are very warm and kind hosts. My son loved playing with their children and we all felt very welcomed and at home at the Gardeners Cottage.
Stephan
2015-08-22T00:00:00Z
It was lovely to arrive and be greeted with tea and cake! The accommodation was beautifully done up, secluded and quiet. It was really clean and had everything we wanted, including an extensive array of kitchen implements! The bath is massive and was great for relaxing. It isn't modern, but it's well furnished and really tastefully done up. The flowers were very beautiful too! The ideal retreat and yet so close to the centre of Duns, we walked there easily. When we were in the kitchen, we were aware of Kathi and her family in the garden from time to time, but the cottage wasn't overlooked so it wasn't intrusive. We just wished that we had booked for 3 nights instead of 2, as it would have been lovely to settle for a bit longer.
Sarah
2015-06-17T00:00:00Z
The cottage is lovely and quaint, with a very comfy bed. The kitchen is well resourced and easy to cook in. Eric and Kathi were lovely, and even had a frehsly-baked chocolate cake waiting for us!
Nick
2016-01-10T00:00:00Z
Top accomodatie
Christine
2016-08-11T00:00:00Z
Kathi and her family were lovely! The Gardeners Lodging was perfect, set in a stunning place and was the much needed chill out zone we needed. We were greeted with tea and homemade chocolate cake which was divine and greatly appreciated after a tiring journey. Thank you so much!
Francesca
2016-04-18T00:00:00Z
My friends and I spent a May weekend in Duns for another friend's wedding. Kathi's apartment was perfect. It was convenient and cozy. We arrived on Friday afternoon to meet Kathi and get the keys. She had prepared a delicious chocolate cake which we devoured. The cottage has one bedroom with two beds (and a cot), a living room, and a kitchen. This was just what we needed to relax and get ready for the wedding. The cottage had everything that we needed (hair dryers, appliances, etc.) and suggestions of things to do and restaurants to try. I definitely recommend it!
Myriam
2016-05-23T00:00:00Z
We arrived to a warm welcome from Kathi and Eric. The house and garden are stunning and it is clear they both put a lot of effort into their home. We were able to relax in a very well furnished and comfortable lodging. It has everything you would need, especially the well equipped kitchen. Duns itself, although quiet (perfect for us), is lovely and the Black Bull and Hugo's both do great food and are extremely friendly. I would definitely recommend staying with Kathi and Eric for a relaxing break. To top it off, Kathi made us a chocolate cake which was delicious!
Mathew
2015-11-22T00:00:00Z
Typ av rum
Eget hus/egen lgh
---
Typ av boende
Lägenhet
---
Plats för
4
---
Sovrum
Duns, Storbritannien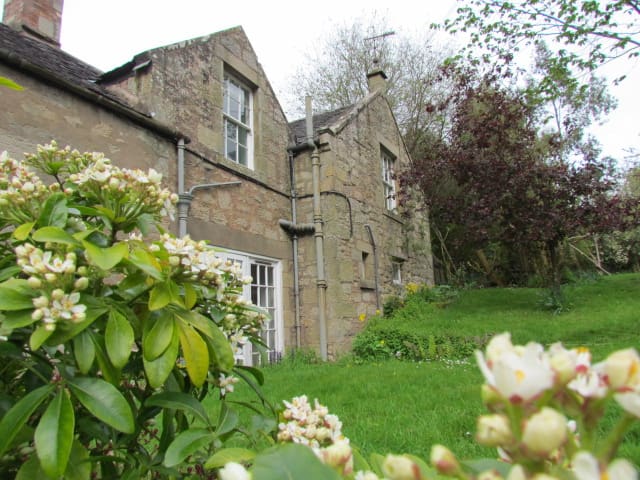 Artist's House is a beautiful modern house with quality contemporary furnishings. Underfloor heating throughout the house ensures an ambient temperature with thermostats in all rooms. All rooms have original artwork on the walls. The house has a patio area for the private use of guests. There is also a shed for storing golf clubs or bicycles.
Fantastic accommodation and great hosts made everything so easy and stress free would defiantly recommend to everyone. Thanks again Yvonne.xx
stephanie
2016-09-14T00:00:00Z
Yvonne was a fantastic host and made us feel extremely welcome even when we arrived at four a clock in the morning (sorry!). The artist house was amazing, clean, tidy and I would urge anybody looking to stay in the area to stay there. Yvonne also left us with milk, tea, coffee, biscuits even shower gel we couldn't have asked for any more thanks again!
James
2016-08-28T00:00:00Z
Typ av rum
Eget hus/egen lgh
---
Typ av boende
Lägenhet
---
Plats för
4
---
Sovrum
Scottish Borders, Skottland, Storbritannien
Located in Borders village of Greenlaw. Beautiful unspoilt countryside 20 mins drive to Berwick and lovely beach at Coldingham. Easy access Northumberland coast and Holy Island. Only 40 min drive into Edinburgh.
Lovely peaceful setting with stunning countryside and walks yet within reach of countless historic homes and sites. Easy access to the beautiful market towns of Kelso Duns and Melrose
The village is quiet and relaxing with a pub bowling club and two shops. There is also a coffee shop restaurant and an excellent butchers. All shopping needs can be found in Duns or further afield in Kelso Galashiels or Berwick where there are the usual large supermarkets
Wij hebben met 4 volwassen personen genoten van de ruime flat. Het is een stijlvolle inrichting, die we heel erg hebben gewaardeerd, zonder dat we ons daar ongemakkelijk bij voelden. Dorp is prettig rustig en Greenlaw ligt heel centraal voor veel diverse bezoeken aan b.v. Kelso, Coldstream, Edinburgh en Holy Island. Hulpvaardigheid (o.a. veel tips) en toegankelijkheid van de directe buren heeft ons verblijf nog aangenamer gemaakt. Zondag naar de kerk naast de flat geweest en werden daar hartelijk ontvangen door de 'locals' en met hen goede tijd doorgebracht.
Joop
2016-08-02T00:00:00Z
Lovely, clean and roomy flat. Views to front straight across to pleasant Town Hall, Park and play area yet its tucked away on quiet side street, in quiet rural town. Good base for Borders exploring. Neighbours who meet and greet are also extremely friendly and helpful. Enjoyed our stay, wish it had been longer!
Ian
2016-07-25T00:00:00Z
Lovely, clean and modern flat. Elizabeth was friendly, helpful and quick to respond to messages. Would definitely recommend and would stay here again.
Sam
2016-07-06T00:00:00Z
If you're looking for a lovely flat in the Scottish Borders countryside for exploring the area, this place is perfect ! Very clean and comfortable. Nice neighbors too.
Teri
2017-04-07T00:00:00Z
Lovely apartment with really nice welcoming neighbours.
Emma
2016-06-20T00:00:00Z
Elizabeth's place was absolutely stunning we had the best stay for our two nights. It was really last minute when we booked but Elizabeth was so quick to reply and have the place ready for us. Thank you so much for sharing your place.
Chloe
2016-08-21T00:00:00Z
Liz was amazing and her neighbours made us feel very welcome offered food late at night when all the shops were closed if was a lovely stay.
diana
2016-09-20T00:00:00Z
A fantastic flat with modern, stylish Scottish feel in a cute and well located village. Liz is a fabulous host with great communications and made our stay really easy from beginning til end. The beds were comfy and the linens snowy white and spotlessly clean. Everything has been thoughtfully provided and the lovely neighbours were on hand if we needed anything at all. We had a fab time exploring Alnwick, Coldingham and Berwick and enjoyed the relaxing atmosphere of Greenlaw too. Totally recommend for a fab Borders break.
Jill
2016-08-16T00:00:00Z
Typ av rum
Eget hus/egen lgh
---
Typ av boende
Lägenhet
---
Plats för
4
---
Sovrum
Greenlaw, Scottish Borders, Storbritannien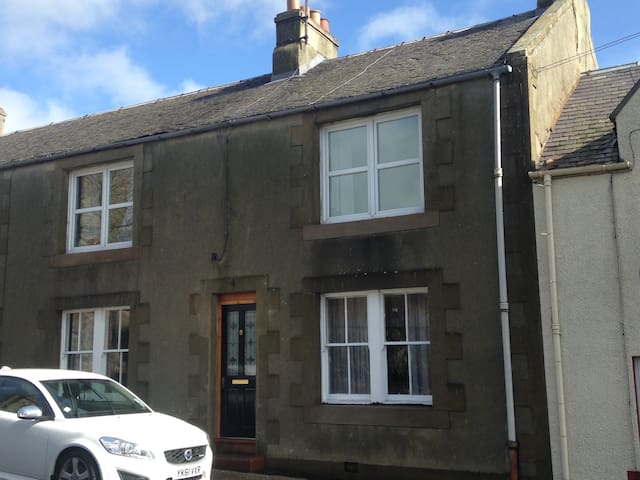 Perfect self catering for all border activities. Secure, indoor storage for cycles, rifles & rods. Full drying facilities for clothing & boots. Fully equipped kitchen. Bathroom with washing machine. Wifi. TV. Twin room and double sofa bed. Shop & pub.
Perfect location for both Eastern coastal (25 miles) and Central Borders (34 miles) activities. Easy drive or train (Tweedbank) to Edinburgh (35 miles). Spacious, warm flat with multi fuel stove - Can be lit each day for your return if required.
Small, friendly, peaceful village location. Well stocked local shop. Food available in village cafe/pub. Gordon Community Woodland at edge of village. Numerous local walks and cycle routes to Greenknowe Tower, Smailholm Tower, Hume Castle and the beautiful Mellerstain House, gardens. Wider exploration offers the Cheviot and Lammermuir ranges for stunning scenery and uninterrupted views of the Scottish Borders. Nearby rivers Tweed, Teviot, Whiteadder and Blackadder offer ample fishing opportunities to suit all budgets. The beautiful town of Kelso (8 miles) offers a varied range of shopping and eating options. Glentress Forest Mountain Biking (West 34 miles) and the Berwickshire coastline (East 25 miles) extend the options to explore and enjoy this corner of the world.
Typ av rum
Eget hus/egen lgh
---
Typ av boende
Lägenhet
---
Plats för
4
---
Sovrum
Scottish Borders, Skottland, Storbritannien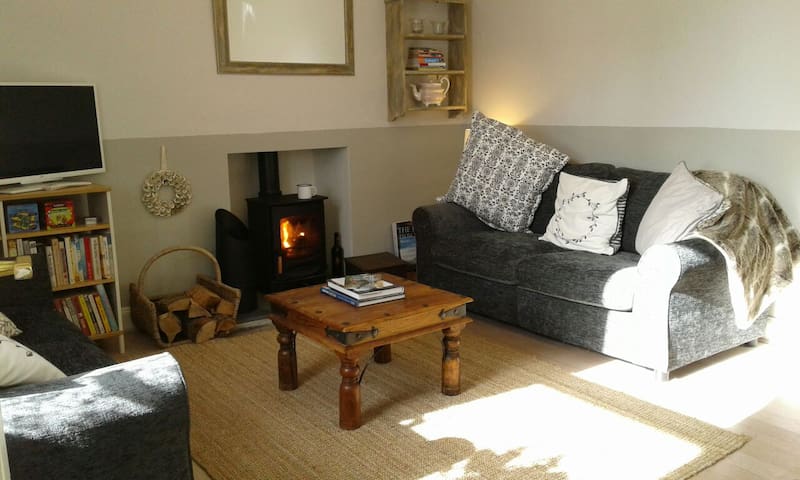 Situated in scenic Scottish Borders with easy access to Edinburgh and Berwick. The apartment is self contained within the main farm with its own entrance, bathroom, kitchen/dining/living room and two bedrooms - one double, one twin with single beds.
Belville farmhouse is a large Victorian stone built house, situated in the glorious Borders countryside with views to the Cheviot hills. There is a working farm close by and in the Spring time you wake up to the sound of bleating lambs! The apartment has been newly renovated to a high standard.
It has lots of scope for rural pursuits including walking, horse riding, and is close to the River Tweed where there are opportunities for fishing. The area is steeped in local history and the annual Common Riding is attracts many riders across the Borders and provides a good spectator attraction. There are a number of good pubs and restaurants within easy reach.
Beautiful property and location, we ended up spending most of our trip in Edinburgh for the Fringe festival so didn't get the chance to make the most of this property, However the rooms were very comfortable and spacious and Joyce was very welcoming. We all had a wonderful and relaxing break here. Thank you
Emily
2015-08-31T00:00:00Z
Un lugar fantastico. Una granja en medio del campo ingles, naturaleza que nos rodeaba por todas partes. Genial. Tranquilidad, Sosiego, ¡ Una maravilla ! Hemos pasado unos dias fántasticos. Joyce un encarnto de persona y de anfitriona, todo perfactamente preparado, nos recibío de maravilla. Muy atenta en todo. Un alojamiento especial, en un entorno muy agradable. Lo recomiendo especialmente para descubrir las abadias cercanas (preciosas), para acceder con facilidad a Edimburgoy Glasgow (estan aproximadamenta a una hora). Una zona con un encanto especial. Recomiendo totalmente el alojamiento.
Jaime
2016-08-08T00:00:00Z
Joyce was an absolutely warm-hearted host and made our stay very pleasant. The breakfast was varied, plentiful and delicious (with fresh tea and coffee, fruits and homemade jam!). Joyce even served us coffee and tea in the afternoon and evening. She was so lovely. All the rooms were newly refurbished with new furniture. The sitting room for the guests was spacious, light and cosy. It even features a fire place and has a fantastic view on the beautiful countryside. The location is quite rural and therefore very quiet. So you can perfectly relax and enjoy your holiday.
Carsten
2014-08-24T00:00:00Z
This place is the best I've ever been since I travelled with airbnb! It's almost a hotel! Joyce was really helpful and the breakfast was fantastic! We'd loved to stay longer and for sure we'll come back! You really feel like home maybe a bit more luxury ;)
Magdalena
2014-08-29T00:00:00Z
Very quiet and peaceful rural location. Handy for visiting Berwick on Tweed and the Scottish border towns.
Richard
2016-09-11T00:00:00Z
Our host Joyce was great and made us feel very at home in our lovely room. The farmhouse was in the middle of nowhere, absolute bliss, we would have liked to stay longer. Breakfast was fabulous, one of the best we've had! We thought it was exceptional value for money.
Zoe
2014-09-12T00:00:00Z
We had a lovely 3 night stay in Coldstream. Everything we needed was catered for, hosts were kind, place clean and comfortable - a great base for a break away, thank you!
Sarah
2016-08-15T00:00:00Z
We lovend being in this appartment in Coldwell THE appartement was very comfortable and cosy for THE four of us. THE appartment was very Well taken care of and Joyce was à great host.
Annechien
2015-07-18T00:00:00Z
Typ av rum
Eget hus/egen lgh
---
Typ av boende
Lägenhet
---
Plats för
4
---
Sovrum
Coldstream, Skottland, Storbritannien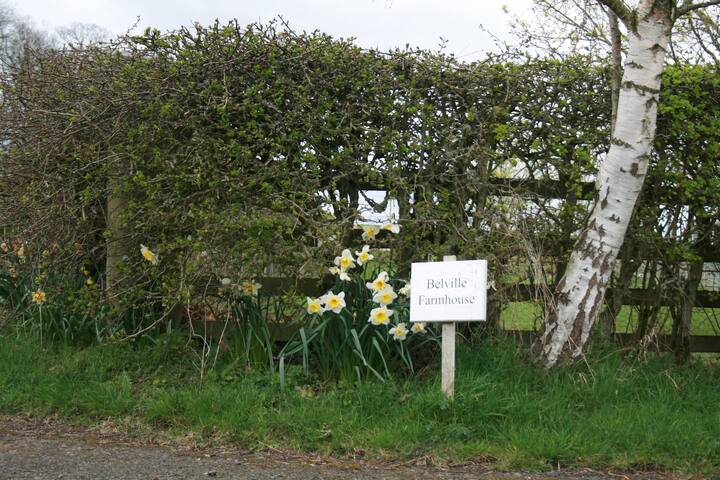 This ground floor one bedroom flat is close to Dunbar Harbour, town amenities and public transport. Just five minutes walk from the train station. A cosy and homely hide-away in the hub of the town, and a very short walk to the high street and the harbour. Spacious kitchen and sitting room are perfect for couples, solo adventurers, or business travellers.
Lucy was a great host! Her place was spotless and incredibly well-equipped. She was always available by phone or text. We had a brief issue with the heat and she worked tirelessly to fix it as quickly as possible. We had a very lovely stay. :)
Kristyn
2017-03-20T00:00:00Z
Gem in the heart of Dunbar Lcvely, spacious and warm apartment in the centre of Dunbar. Authentic feel and beautiful artwork all around the apartment. 2 minutes walk to Harbour and the town centre. Can recommend Umberto's and the Volunteer Arms for delicious food!
Vicky
2017-02-05T00:00:00Z
Unexpectedly spacious and extremely comfortable. Very well equipped and really homely. Entrance off street and up a quiet little close - couldn't fault accommodation or Lucy's contact. Spot on.
Karen
2017-04-03T00:00:00Z
The flat was bigger than we'd expected and a very homely place to explore Dunbar from on our brief visit.
Kathy
2017-03-27T00:00:00Z
This is a cosy home that is beautifully decorated and the perfect place to relax after a day of wandering. Right in the heart of Dunbar in walking distance of the harbour and beach, as well as the shops and restaurants. Great communication with Lucy prior to the visit and wouldn't hesitate to recommend the place to others.
Kevin
2017-03-26T00:00:00Z
A warm and friendly welcome! Lucy did everything she could to make our stay perfect! We fell in love with the flat and Dunbar! Will definitely be back, thanks Lucy!
Antoni
2017-01-06T00:00:00Z
Stunning location and beautiful flat! Dunbar is such a charming seaside village and it was a joy staying here! We will surely be back.
Dillon & Karina
2017-02-16T00:00:00Z
Great central location close to the high street and local amenities, but conveniently tucked away off the street from any noise. Very close to the harbour and sea - fantastic for lovers of a morning beach walk. The accommodation itself is great, fantastic big dinning kitchen, cosy lounge and good sized bedroom. Lucy was a great host, very accommodating to meet me later than previously arranged and couldn't have been more friendly and helpful throughout our stay. Would certainly stay again if we returned to Dunbar.
Scott
2017-01-22T00:00:00Z
Typ av rum
Eget hus/egen lgh
---
Typ av boende
Lägenhet
---
Plats för
2
---
Sovrum
Dunbar, Skottland, Storbritannien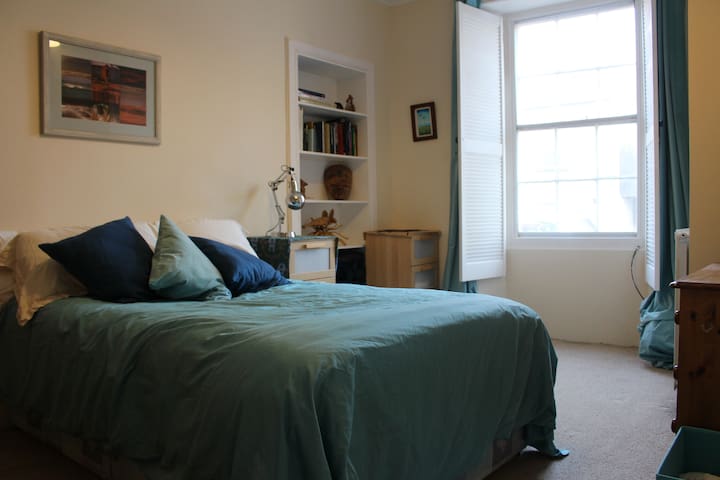 Druk Castle is een monumentaal 17e-eeuws landhuis gelegen in de buurt van het beschermde dorpje Coldingham in de Grenzen van Schotland. Het kasteel is een verborgen parel, omgeven door volgroeide tuinen. Zeer geschikt voor wandelaars, fietsers en natuurliefhebbers.
El apartamento se accede a través de un pasillo común y está situado encima de un tramo de escaleras, en el primer piso del castillo. Hay un aparcamiento delante del castillo de prensa, pero cuidado con los baches de la serpenteante carretera!
OCUPACIONES * Caminar por las rutas costeras impresionantes alrededor de Coldingham, Cabeza y Eyemouth St Abb * Surf en Coldingham Bay o hacer castillos de arena en el oro arena y roca ir-pooling * Bucear o buceo en la reserva marina Cabeza de St Abb * Ir en un viaje en barco desde Eyemouth * Ciclo de la ruta Borders que pasa Castillo Press * Golf en campos de golf de Eyemouth, Duns o Dunbar VISITAR * monumentos históricos en las fronteras, en Berwick-upon-Tweed y Northumberland * El lugar de nacimiento de John Muir y disfrutar de un día en Dunbar * Tomar el tren desde Dunbar al patrimonio de la humanidad * El centro de Edimburgo, a una hora en coche o tomar el tren desde Dunbar * El Centro de Ebba en St Abbs y disfrutar de té, café o almuerzo. Hay un mercado de agricultores local todos los viernes por la mañana y una 'bring-y-comprar' de libros de segunda mano * El pequeño puerto de trabajo en Eyemouth, donde se puede alimentar a las focas con pescado fresco, visite 'Mundial de Barcos' el pequeño museo y comer el mejor pescado y patatas fritas en la zona!
Press Castle, een "poppenhuis kasteel". Fijne, rustige sfeer, mooie omgeving. Uur rijden van Edinburgh (geweldige stad!) Goede bedden, inrichting comfortabel en schoon.
Annemieke
2017-01-03T00:00:00Z
Lovely apartment in a beautiful location. Easy to find and ideal for a family of four. Coldingham just delightful for its beach and easy walk along to St Abbs.
Hannah
2017-04-09T00:00:00Z
Lovely, comfortable and clean apartment in a beautiful part of the world. Gillian was very helpful throughout.
Lucy
2016-10-24T00:00:00Z
Gillian made us feel really welcome. In advance, she had been in touch to help put us in touch with local activities we wanted to do and ensure our kids felt at home. We arrived to find essentials provided - tea, ground coffee, flapjacks, cereals, spring water and a lovely welcome card. The apartment is as described in the listing - really nice, cosy, functional and everything to a very good standard. The kitchen was really well equipped, we weren't left wanting for anything and we felt quickly at home. The apartment is set in large, quiet grounds full of wildlife (even disturbing a deer). We wouldn't hesitate to recommend this apartment to anyone looking for a lovely, peaceful getaway. Already wondering when we can go back!
Steve
2016-06-02T00:00:00Z
Lovely time at Press Castle, beautiful! wonderful grounds that we enjoyed, a great host, attentive and great communication.
Abi
2017-04-04T00:00:00Z
The hosts kept in touch really well and made sure we had all the relevant information to find the property and gain access easily. Everything in the apartment was easy to use, very welcoming, the bedding and towels were very nice. Good to have tea bags, coffee, biscuits, salt & pepper, olive oil, washing up liquid etc. in kitchen. The description of the apartment, including the photos, were accurate. The neighbourhood was as described, very quiet, safe and secluded location, surrounded by woods. Very pleasant cycling on quiet roads to surrounding areas, Coldingham, St Abbs Head etc. Lots of lovely cafes about, really nice facilities at the Visitor Centre at the Nature Reserve at St Abbs, beautiful walk or cycle to the Lighthouse.
ian
2016-09-26T00:00:00Z
Gillian was a fantastic host with great communication throughout! The apartment was lovely with everything we needed and the local area was also lovely, we particularly liked Coldingham bay for the surf & rock pools! Thanks Gillian x
Emma
2016-10-28T00:00:00Z
Gillian was a great host. She was very responsive right from my initial booking enquiry, but once we were installed, she left us to it - perfect! The apartment felt bright and spacious - just right for our family of 4 and it's set in beautiful, peaceful surroundings. Coldingham Bay is absolutely gorgeous. The diversity of the area meant that we were all catered for - both our 7 and 17 year olds had a brilliant time. We had plenty of beach action up and down the coast either side of Coldingham, (impressive range of sealife), as well as a trip to Edinburgh on the train and another to Alnwick with the bookshop and castle. Thank you Gillian.
Jane
2016-08-21T00:00:00Z
Typ av rum
Eget hus/egen lgh
---
Typ av boende
Lägenhet
---
Plats för
4
---
Sovrum
Coldingham, Storbritannien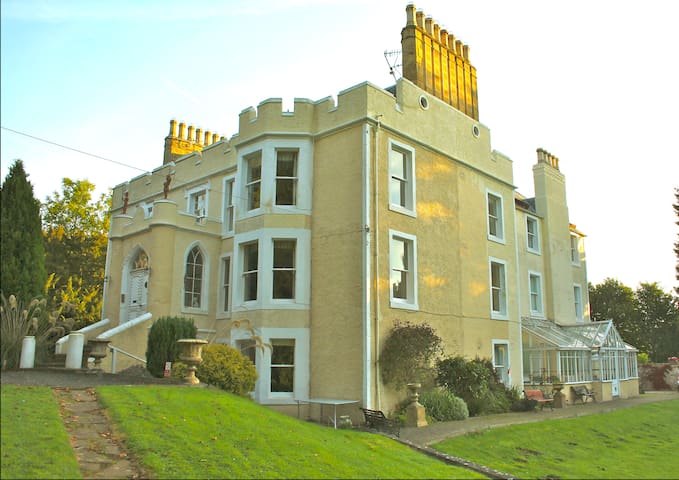 A lovely little apartment in the beautiful village of Gifford. The flat was very clean and well stocked with everything we could need. We had a great time exploring the local villages and countryside. Beth was very helpful as a host and directed to a lovely little Inn with great food in a nearby village. Thanks!
Christopher Marc
2016-07-26T00:00:00Z
It was a incredibly clean, well furnished and a cosy flat in the hearth of small village. Definitely more then expected. Beth was a lovely host, always replied to any queries within a short space of time and was ready to help at any time! Would always recommend.
Bekir
2017-01-02T00:00:00Z
We had a lovely stay in this perfectly formed flat which is in beautiful condition and has everything you need. The host was very helpful both before and during our stay and we hope to be back the same time next year. Location is perfect with a shop and a cafe right across the road.
Amanda
2016-06-03T00:00:00Z
Moc milá a vstřícná rodina.
Martin
2016-08-12T00:00:00Z
Typ av rum
Eget hus/egen lgh
---
Typ av boende
Lägenhet
---
Plats för
2
---
Sovrum
Gifford, Haddington, East Lothian, Scotland, Storbritannien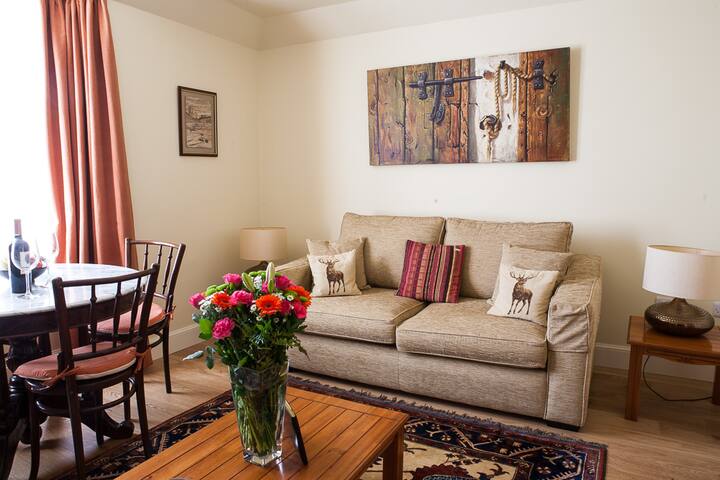 Lovely three bedroom two storey flat with gorgeous sea views from two of the bedrooms. Situated on the High Street, convenient for amenities and 4 mins walk from the train station (Edinburgh in 20 mins). Not suitable for toddlers and sorry no pets.
It's a great place to stay in. Supermarkets are around the corner, there's a nice bakery nearby and u get to wake up to a beautiful sunrise. However the pub below can be quite noisy
Weiling
2016-09-26T00:00:00Z
Lovely flat in a great little town by the coast. Grant the owner made sure everything was in place and all laid out for us. Clean and tidy and it is great for commuting in and out of Edinburgh via the train. Will come back if I am in Edinburgh or Dunbar.
Michael
2016-07-04T00:00:00Z
Fine flat, central location, bit noisy from the pub
Jonathan
2016-09-12T00:00:00Z
We had a fabulous time in Dunbar, visiting the local restaurants and bars and walking in nearby Dunglass. Grant was very helpful and made the visit seamless. I would definitely go back to this lovely flat!
anna
2016-02-21T00:00:00Z
I really raccomanded Grant's appartment. Clean, confortable and the rooms really really cute. Located in central area of Dunbar, nearest everithing ( pub, coffe shop, supermarket, train station, bus stop). Everithing so perfect!
YASMINE
2017-04-10T00:00:00Z
The host canceled this reservation 238 days before arrival. This is an automated posting.
Manuel
2016-12-19T00:00:00Z
Amazing little homely flat in a fantastic location right in the centre of Dunbar. We were all very pleased with the everything about it! Would highly recommend this to everyone!!
Sarah
2017-03-26T00:00:00Z
Great flat, perfect for our needs. Grant was really efficient at getting back to us regarding any enquiries we had and left tea, coffee and milk for our arrival. Would definitely recommend this flat for a short stay in the area.
Anna
2015-09-06T00:00:00Z
Typ av rum
Eget hus/egen lgh
---
Typ av boende
Lägenhet
---
Plats för
4
---
Sovrum
Dunbar, East Lothian, Storbritannien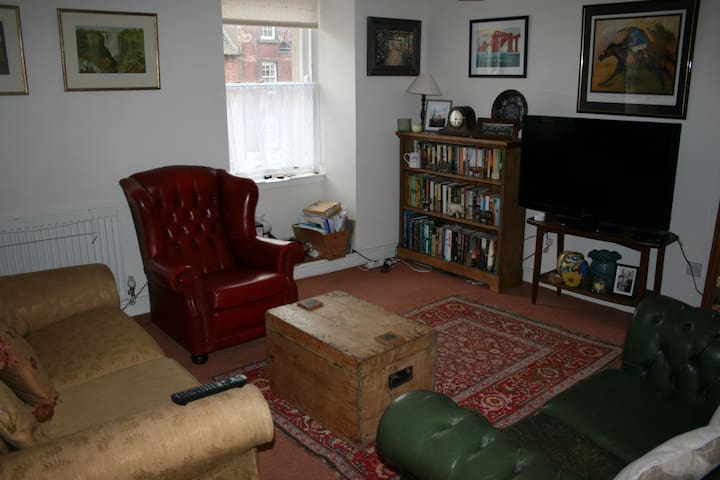 Our flat is on the east beach in Dunbar. It has parking, central heating, television, wifi, two bedrooms (1 double, 2 single beds), two bathrooms and an equipped kitchen. Dunbar offers: sea and Bass rock views and beaches, a castle, a fishing harbour, parks and play areas for children, an excellent swimming pool, two golf courses, and great places to eat and relax. The John Muir Centre is in Dunbar, and the trail starts here and crosses Scotland. Our Dunbar flat is special place to relax and unwind.
An "incredible" view from our front window of the beach, Dunbar, the Firth of Forth and across to Fife.
Great ("incredible") views from our flat over the Forth, the beach and Dunbar. The peace and quiet of Dunbar, lovely walks, one minute to the beach, plenty to do, shops nearby, and lots of super places to visit (Edinburgh is 20 minutes away by train).
The apartment was so clean and nice. Though we only stayed one night .we thoroughly enjoyed it. Ian was such a delightful host and was there to help us with everything. We will definitely come again.
Tony
2017-04-04T00:00:00Z
This is a very comfortable and clean flat. We stayed for one night with our two children. Ian met us at the flat and was very informative about the area. He left a welcome pack of good and was flexible about departure times in the morning. We enjoyed the beautiful views to the sea. The area around the flat is very quiet and peaceful.
Jane
2017-04-08T00:00:00Z
Typ av rum
Eget hus/egen lgh
---
Typ av boende
Lägenhet
---
Plats för
4
---
Sovrum
Dunbar, Skottland, Storbritannien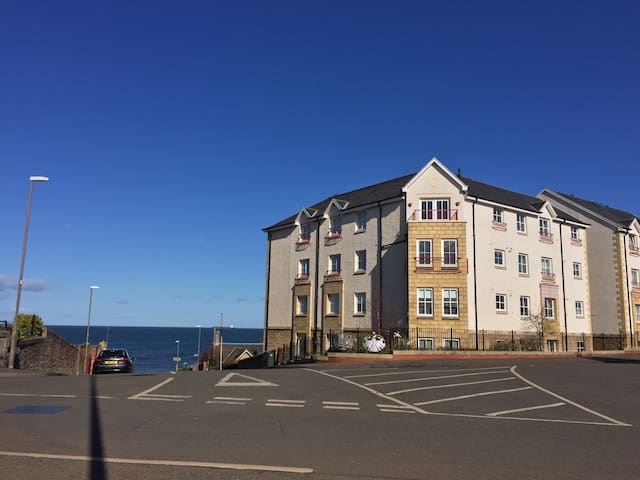 Situated on the High Street of the beautiful seaside town of Dunbar in East Lothian, our two bedroomed apartment is on the second floor of an historic listed building. It has many original features.
Our apartment retains many of the original features of this historic building - attractive cornicing, fully functional window shutters and marble fireplaces. An ideal place to relax.
Dunbar is a wonderful small town with a great community spirit. It is the home of John Muir and there is a small museum about his achievements located on the High Street. There are a number of local shops selling locally grown and caught foodstuffs in addition to supermarkets. A number of cafes bars and restaurants plus hotels within the town. Dunbar has a championship golf course, one of many in the surrounding area. Plenty of outdoor opportunities for guest wishing to see and experience the surrounding area. A wonderful harbour to sit and enjoy the traditional way of life for the fishing community. A place of great historical interest and Tantallon Castle in nearby North Berwick is well worth a visit and to get a wonderful view of the Bass Rock.
I had such a lovely stay in Dunbar! The apartment is beautifully finished, well equipped and clean. It's very spacious with large rooms and high ceilings. It is on the high street so there is some traffic noise but I took earplugs and slept amazingly and I am a light sleeper! Andy met me at the property and was so lovely and welcoming and Jan just sounded such a sweetie when I spoke to her on the phone! They were so accomodating. I wouldnt hesitate to stay again if I find myself back in Dunbar.
Anna
2016-09-23T00:00:00Z
Jan was there to welcome us when we arrived. The apartment was lovely and as described, we especially loved the view of the sea from the kitchen, the high ceilings and windows, and the whirlpool tub. Its on the high street of a lovely little village, with lots of shops and restaurants, grocery stores within walking distance, and close to the train station. Its a quick 20 minute train ride into Edinburgh, and you can even catch a train to London in Dunbar. We'll be back!
Deborah
2016-05-16T00:00:00Z
We loved this apartment. Such a great location - right in the middle of beautiful Dunbar and moments from the beach. You can even see the sea from the kitchen window. The rooms were extremely comfortable and generously sized. Jan was a great hostess and really helpful - lots of communication. We'll definitely be back.
Cal
2015-12-21T00:00:00Z
Jan and Andy were great hosts and made us feel very welcome. Nothing was too much trouble for them. The apartment was exactly like the listing (maybe even better!). The location was good with amenities close by. We would definitely recommend this apartment.
Fiona
2016-05-06T00:00:00Z
What a great flat. Well decorated, spacious and had everything we needed. Little extras such as milk and a few essentials left in the fridge for us on arrival made it a thoroughly enjoyable stay.
Rachel
2016-07-18T00:00:00Z
Nice apartment downtown non-tourist town. Almost everything shuts down at 5pm.
Dan
2016-08-29T00:00:00Z
Jan was good with communication, friendly and welcoming and we found the place easily. The apartment was great, very spacious, light and well equiped. We will definately return if we come back to Dunbar.
Andrew
2016-04-07T00:00:00Z
Really lovely apartment right in the centre of Dunbar. Jan met us there and was very welcoming. The rooms were spacious and clean and despite being an old building was warm. Beds very comfy and our 2 year old particularly loved the boats on the wallpaper! A travel cot was available for us to use which saved on packing. Milk, bread, eggs and a few other items were left for us on arrival in a very well equipped kitchen. Perfect location for going into Edinburgh and exploring the local area.
Martin
2016-10-25T00:00:00Z
Typ av rum
Eget hus/egen lgh
---
Typ av boende
Lägenhet
---
Plats för
4
---
Sovrum
Dunbar, Storbritannien
Sweat couple willing to have a nice chat over tea, very gracious hosts couldn't be kinder. Breakfast was made and buetiful my displayed for us in the morning. The house is wonderfully decorated and with a beautiful garden to see from the room.
Kyle
2016-08-14T00:00:00Z
Had a lovely one night stay here, super friendly, lovely breakfast and a great arty house to be in. Thank you.
Elisabeth
2016-09-11T00:00:00Z
Elizabeth and her husband made me most welcome. They have a beautiful home which is decorated superbly with many interesting works of art and furniture. What a fantastic stay! From the moment I walked into the house I felt at home. The house had everything you could need and I enjoyed the lovely garden. The area is very nice with a few shops, deli and 2 pubs only a few minutes walk away. I would recommend staying here, I hope to be back in the future!
Phil
2016-08-17T00:00:00Z
We had an amazing stay with Elisabeth and Peter in their beautiful home. We loved eveything about it. Gorgeous bedroom, comfy bed, great bathroom, living room, good parking and great breakfast. Lovely hosts we were made to feel very welcome in beautiful surroundings, what more could we ask for. Thank you so much.
kathy
2017-01-01T00:00:00Z
We had a really good breakfast continental with lots of choices, loved the warm croissant. Recommendation for evening meal in Dunbar was good. Lots of pictures and interesting objets to look at
Madelaine
2016-09-19T00:00:00Z
Absolutely fantastic!!! There are not enough starts to give Elizabeth and Peter. Has to be by far the friendliest and most cosy home I have stayed in. The decoration in this house is remarkable you just can't get enough of it. I will definitely be booking you guys again in the future!!!
Leanne
2016-09-09T00:00:00Z
We had a fantastic time at Elisabeths. She was a very welcoming and accommodating hostess. The accomidatoon was superb .
Sam
2016-08-14T00:00:00Z
Not enough star to rate the value for money .Fantastic stay at Elisabeth house . Lovely host , beautiful and comfortable house,the location was perfect ,close to Edimburg and many others wonderful places. I can't describe the breakfast experience .. You have to try it :)) i will definately reccomend this place and return there soon .
silvia
2016-08-30T00:00:00Z
Typ av rum
Eget rum
---
Typ av boende
Lägenhet
---
Plats för
2
---
Sovrum
East Linton, East Lothian, Storbritannien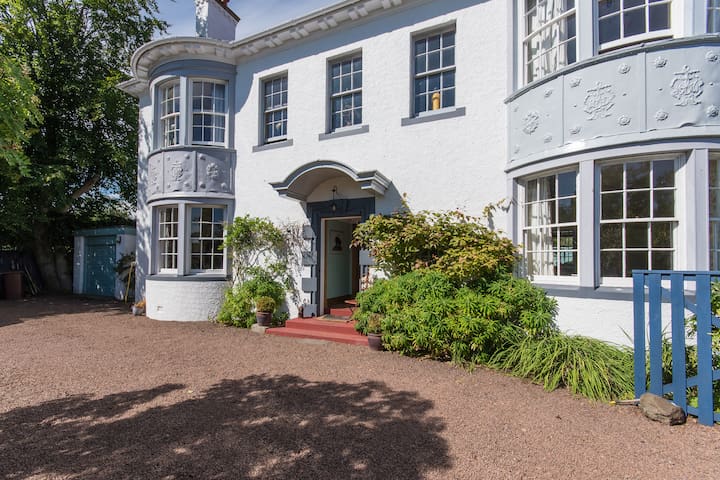 A great base for exploring the Scottish Borders. It is close to Earlston village, and only 10 minutes from the historic Borders towns of Melrose, St Boswells, Jedburgh and Kelso. Edinburgh city centre is less than an hour by train or car. *Great views * Lots of signed countryside walks from the door *Close to good shops, pubs and restaurants *Free wi-fi *Pretty garden *Linen and towels included *Heating and logs included *Dishwasher, washing machine, microwave, oven etc *Peaceful location
The cottage style apartment is ideal for a couple or for a small family or group of friends wanting to explore the Scottish Borders. Steps lead to the garden at the rear, and to the apartment front door. There is a kitchen/dining area, well equipped with everything you need - oven, microwave, toaster, washing machine, dishwasher and fridge freezer. The spacious lounge has a log burning stove and a piano. The single bedroom and shower room are on the first floor and the double bedroom (double bed and single bed) and bathroom with bath are on the second floor. The small garden and patio area are great for relaxing or having a summer BBQ.
The Earlston Walking Group have created some excellent way marked walks locally. There are riverside walks and lots of hills, including the nearby Eildon Hills for the more energetic.
Typ av rum
Eget hus/egen lgh
---
Typ av boende
Lägenhet
---
Plats för
4
---
Sovrum
Scottish Borders, Skottland, Storbritannien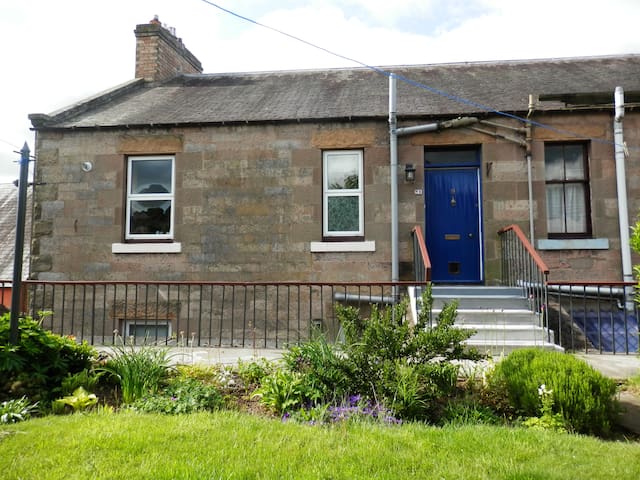 Small self-catering flat for Holiday Lets & short stays. Lower part of period Georgian townhouse, our home, once kitchens servants quarters. Town & country and public transport nearby. Min 5 nights from late spring to early autumn, and easter/xmas.
Min 5 nights during summer and at easter, xmas and new year. The self-catering Garden Flat at Templelands is available for Holiday Lets at £110 a night on a 5 days + 2 free basis (add £20/night during peak season/easter and other holidays) or other short stays. Contact us for a quote. It is the lower 1/3 of a Georgian townhouse, once the kitchens and servants quarters. It now comprises a small cosy flat with 1 double bedroom and 1 twin room, and a galley kitchen + sitting / dining area, furnished mostly in a shabby chic style. Sleeps max 4. The bathroom has a full sized bath and a powerful Mira shower - hot water on demand. The flat has a private entrance, and access to the quiet Templelands garden at the rear with pleasant outlook to sea. The kitchen is modern and well-equipped with hob, dishwasher and washer-drier, but we use the old-fashioned line for wonderfully sea-fresh clothes. The TV is tiny and has a DVD player, and you can enjoy our small collection of obscure films and a smattering of books (and borrow, if you promise to return). Templelands is a 200+ year old property - a pair of townhouses, built in the late Georgian style, with thick and substantial walls and shutters. the elegant ashlar block frontage of the property gives way to the rustic rubble wall of the Garden Flat, The rear is red sandstone rubble wall. Lots of charm and wonky features, reflecting the age and multiple past uses. Watch the gannets fly by from the garden, take breakfast on the patio, which receives the sun from early morning and into the early evening. Perfect sunrises and moonrises straight from the sea, and sunsets a short walk away towards Belhaven. The sea shore and the harbour are 5 mins walk or less. A number of eateries and pubs all within a short walk. No car required. The coast is of international importance for birds and wildlife habitats, a stone's throw from St Abbs, special also for its marine life. Diving, sea fishing, great surfing, walking and increasingly cycling friendly (you can rent kit when you arrive). Also golf, but you probably knew that? Shops include fishmonger, butcher, friendly fruit and veg shop with organic offerings, and other fair trade outlets PLUS an artisan baker cum French patisserie (outstanding quality - runners up as Britain's Best Bakery and a string of other Scottish and UK awards). In season, we may have cut and come again lettuce, artichoke, radicchio and cavolonero from our minuscule veg plot. Railway station just a 3 minute walk away, with Edinburgh 18-25 mins travel time. Connections to villages by bus. Local bike hire. Co-wheels car club.
Unlike clone towns in much of Britain this town has a variety of facilities, though they are are not always well known - even locally - or open when you'd expect so check the times. A high concentration of of very old buildings, mostly listed, line the High Street and Old Town. The working harbour, once the mainstay of the local economy is still busy, though crab and lobster are now more popular today than herring.
The flat was lovely and Ruth and Philip made us feel very welcome. We were met on arrival and given a tour of the flat and (stunning) garden. As well as a fully kitted out flat (and very well kitted out kitchen) there was a gift of fresh fruit, home made marmalade and artisan bread - lovely touches! They were both very responsive to our needs and very friendly when we met them again on our last day. We enjoyed our trip and would happily stay there again, and recommend to our friends. In terms of Dunbar, it is a very nice coastal town, with some nice local beaches and parks - great for young kids. A bit quiet on Sundays with most shops closed but overall a relaxed atmosphere. The flat is really well situated with all amenities close by.
Nichola
2016-06-21T00:00:00Z
A relaxing and pretty flat with everything we needed for a week away from it all. The weather was of course wet and windy but it was easy to get cosy with the old style shutters, throws etc. A lovely welcome with a bottle of wine, delicious cake and little added touches, including the lovely fragrance of real lavender through the flat. We had everything we needed to cook our Christmas Dinner, along with a number of other family meals. Dunbar is a little town with a few shops, mini supermarkets and pubs, and getting into Edinburgh was easy with the station just 5 minutes away. The beach was great for brisk walks and shaking away the cobwebs. Our hosts were attentive but not intrusive, living upstairs, it was possible for them to respond quickly when we got stuck with something. Highly recommended
Charlotte
2016-01-05T00:00:00Z
Typ av rum
Eget hus/egen lgh
---
Typ av boende
Lägenhet
---
Plats för
4
---
Sovrum
Dunbar, Storbritannien
Jim and Ethel would like to welcome you to Alemill Holiday Cottage set in the beautiful Berwickshire countryside. Our aim is to provide peaceful, comfortable, enjoyable self-catering accommodation at great prices near Eyemouth, Scottish Borders.
Open plan Studio with self-catering accommodation for two. Alemill Studio has an attractive decking area including BBQ and garden furniture. Off road parking and secure parking for bikes can be arranged. The Studio is more suitable for a couple or a single guest. In case you require more space we have the Loft upstairs with a separate entrance.
Typ av rum
Eget hus/egen lgh
---
Typ av boende
Lägenhet
---
Plats för
2
---
Sovrum
Scottish Borders, Skottland, Storbritannien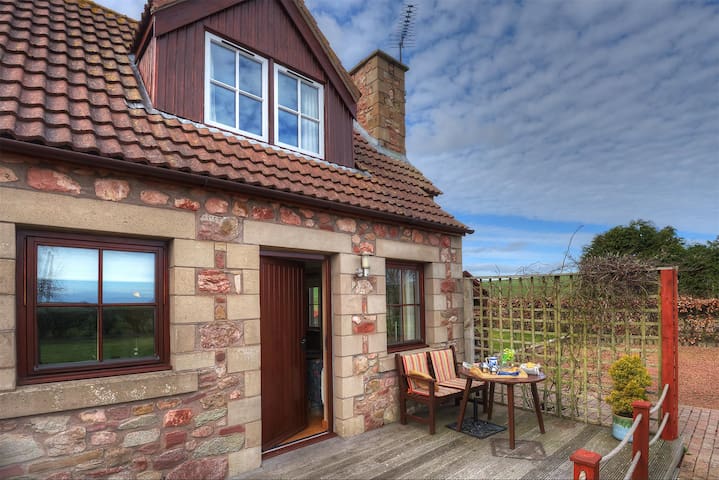 Humbie ist eine kleine unberührte Weiler Dorf in der hügeligen East Lothian Land und verfügt über eine starke Gemeinschaftsgeist, der mit dem neu renovierten Dorfladen / Post und Café gestärkt. Der Shop bietet lokale Produkte und das Café, die auch offene Aussicht serviert gesunde hausgemachte Kochen, Backen und ausgezeichnete Barista Kaffee genießt.
Humbie, obwohl ein kleines Dorf hat eine große Bauerngemeinde mit vielen interessanten Orten in der Nähe einschließlich unserer Kirche zu besuchen und den Humbie Wald. Es gibt einen lokalen Filmclub im Winter im Village Hall.
Nous avons étés très contents de notre séjour ,l'appartement est très confortable et spacieux et l'emplacement très agréable et pratique au dessus du café ,restaurant ,épicerie du village, un endroit joliment décoré de gravures d'artistes locaux. Morag et l'équipe de l'épicerie sont vraiment très accueillantes et adorables !
Karine
2016-08-21T00:00:00Z
The flat was large and airy, very clean and well appointed - we had a really nice stay. Communication with Morag was easy and she made us feel very welcome on arrival, making sure we had all the basic essentials. We really enjoyed the very rural location of the flat - it may not suit everyone but the views are beautiful and we were only 15 minutes drive from the Park and Drive on the East of Edinburgh. All in all it took us less than one hour to get to the centre of town and that was on the extremely busy last weekend of the Edinburgh Festival. The flat is located above a fantastic little cafe/post office/village shop - very handy for a full scottish breakfast on the morning of our departure. The cakes didn't look too shabby either but unfortunately we did not have the time to sample those. This little hub is relatively busy first thing in the morning, with deliveries and customers. As we were sleeping with the windows opened, the noise did wake us up in the morning but it was not too early (7am / 8am) and acted as wake up call as we wanted to set off not too late for our visits. If we had slept with the windows closed, this would not have been a problem at all. I would highly recommend this flat.
Emmanuelle
2016-08-29T00:00:00Z
From very first contact with Morag and Al to our last day at the apartment they made us feel at ease about the whole experience and very much at home through out our stay. The accommodation was amazing, with a washing machine and dishwasher plus all the utensils you would need. It's in a quiet rural location, with a lovely pub/restaurant in the next village 6 miles away. The Humbie Hub shop cafe and post office downstairs did not impact on the apartment at all. The children loved popping downstairs each morning to buy a freshly baked loaf. We were made to feel very much part of the community. Would defiantly come again and can not recommend enough.
Nicky
2015-08-08T00:00:00Z
The property was clean and spacious which was ideal to unwind as a family, a little bit remote in location but in reaching distance to Edinburgh and surrounding beaches and attractions within the hour. The listing is mainly accurate however was let down slightly at check out as it was not flexible and we felt rushed to pack up and leave from 10:15am by Morag and the cleaner buzzing at the door. Basic commodities such as olive oil to cook with and tea bags could be improved too given the remoteness, to avoid time spent shopping during the stay. Wifi was good when it connected but seemed to drop out quite frequently and required signing in again. The fold out bed in the twin room could be improved to a normal single as it was quite unstable and rocky. Otherwise a really enjoyable trip.
Craig
2016-08-06T00:00:00Z
We had a lovely stay in this spacious flat. Morag made us feel very welcome, finding space for our kayaks and recommending good places to eat. The cafe downstairs was a definite bonus for fresh milk and eggs as well as lovely coffee. The surrounding area is beautiful and the views from the large widows in the flat were wonderfully restorative. Thank you! We definitely plan to return.
Liz
2016-06-05T00:00:00Z
Lovely apartment in a quiet, pretty village above a great village shop and cafe. Spacious and bright with fantastic views. Morag a great host and very helpful. Great playground just across the road for children too.
Louise
2016-08-02T00:00:00Z
We will certainly remember our stay in Humbie! Morag made us feel very welcome and the flat was well catered for, very spacious and comfortable with amazing views on the Scottish countryside. The cafe under the accommodation is so homely, with smells of fresh baked bread and a choice of home made cakes and quiches without forgetting a delicious Scottish breakfast on offer! We are so pleased to have chosen these destination and would recommend it to anyone interested in discovering these part of Scotland. Humbie is close to the coast and Edinburgh, and very welcoming. Would definitely come back!
Christel
2015-08-14T00:00:00Z
Can't recommend this place enough. Exactly as described, beautiful views, clean, spacious. The cafe downstairs is delicious and there's a little shop where you can buy gifts or groceries. The surrounding town and people are friendly and helpful. Do take a walk to Humbie church when you're there. Can't wait to go back.
Leah
2017-01-04T00:00:00Z
Typ av rum
Eget hus/egen lgh
---
Typ av boende
Lägenhet
---
Plats för
6
---
Sovrum
East Lothian, Storbritannien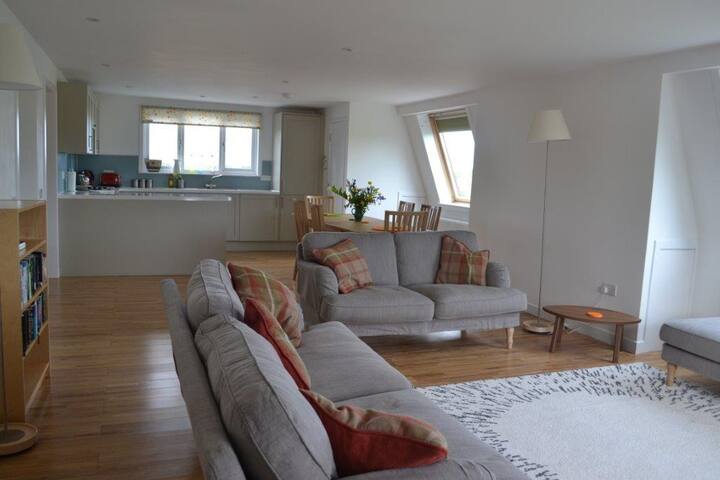 Kelso é uma cidade movimentada, com restaurantes para desfrutar. Uma das mais belas cidades de fronteira que fica ao lado do rio Tweed e é popular com os (URL HIDDEN) ruas da cidade são de paralelepípedos e há muitas lojas interessantes para navegar. Durante os pisos de verão Castelo é uma grande atração turística Kelso Racecourse é conhecida como da Grã-Bretanha mais amigável Racecourse. Se você estiver procurando por um fim de semana romântico relaxante ou uma atividade férias com base, nosso apartamento Kelso lhe dará uma base ideal.
Dois quartos - um duplo e um duplo / casal. AZ cama está disponível. • Casa de banho com chuveiro e aquecedor de toalhas. • sala de estar, sala de jantar com parede TV de tela plana. • Wifi grátis • Cozinha com máquina de lavar louça, forno e fogão, construída em geladeira e freezer. • Máquina de lavar e secar roupas. • Central de aquecimento de gás.
Kelso, com suas ruas de paralelepípedos, é sem dúvida o mais atraente cidade de fronteira. Situado junto à Tweed a cidade é uma Meca para os pescadores. Relaxe inthe cidade e percorrer as lojas tradicionais e boutique. Há uma abundância de bares, cafés e restaurantes para desfrutar. As atrações incluem os pisos majestoso Castelo e Kelso Racecourse. Springwood Park é a casa do Fronteiriça da União Show e hospeda muitos outros eventos, incluindo exposições de cães, as vendas de carneiro e justo pesca. Todos estão a uma curta distância de nossa propriedade.
Lovely and clean. Easily enough room for for adults. Right in the centre and close to everything. Hope to return and use this as a base to visit the area.
Lynn
2017-04-10T00:00:00Z
This 2-bedroom apartment is a perfect base to explore the Scottish Borders. Our stay was only for 2 nights and we didn't want to leave. It's located in the heart of the town square in Kelso so could not be any more central for shops, restaurants, and pubs. Not to mention the wonderful walks along the banks of the River Tweed. We picked up the keys from a coffee shop about 50 yards along the street from the property and had been allowed an early entry time of noon. The apartment is on the 2nd and 3rd floors of the building. The ground floor being a shop (currently empty) and the 1st floor being a hair salon. Entry is by the shared staircase with the salon. There's a tiny vestibule which enters the main lounge area. The main feature of the room are the windows which are almost floor to ceiling and have an amazing outlook onto the town square. There are 2 comfortable sofas around a coffee table and a large wooden dining table and benches in front of the windows. The décor is very nice and everything was spotlessly clean. To the front of the building off the lounge is the modern and well outfitted kitchen. Again, it has a matching window to the lounge overlooking the square. The owner had kindly left a pint of milk in the fridge and tea, coffee, sugar for us. There was also salt, pepper, cooking oil, kitchen roll, cleaning stuff, etc. Another small room that extended under the stairs housed the washing machine and drier, etc. The bedrooms are upstairs along with the bathroom. One bedroom with a King Bed was to the front of the building and a second bed with double bed faced the rear of the property. Both were tastefully decorated and the bedding was crisp and clean. Lots of fluffy white towels were also laid out for our use. We had a baby with us and a travel cot was supplied along with a high chair. The bathroom had a power shower over the bath and was great. It was very hard to find any fault with this holiday rental and the only thing I would have liked was more worktop space in the bathroom to set out toiletries as with 4 adults sharing a bathroom it got a bit congested. That's a very minor issue. Communication with the owner was excellent and we can highly recommend this property.
Tom
2017-03-12T00:00:00Z
Fantastic apartment in the heart of Kelso - perfect for a weekend break or a mid week work base as we used it for. Has everything you need and fresh flowers on the dining table was a lovely homely touch. Thank you we all enjoyed our Kelso stay.
Ruathy
2016-10-27T00:00:00Z
We thoroughly enjoyed our stay. The flat was very nicely decorated and had everything that we needed. The area is great and we really enjoyed the local pub and shops.
Ben
2016-10-02T00:00:00Z
Beautiful apartment, very clean and stylishly decorated, with everything we could need. The location is fantastic, as is the view of the square. We didn't want to leave, and will definitely be looking at trying to book again!
Marie
2016-08-01T00:00:00Z
Lovely location, central to the market square. Felt very much like home from home. Comfortable apartment with all you need. Easy arrangements for collection of keys etc. We felt Kelso was a very friendly town. Lovely coffee shops and enjoyed the Cobbles restaurant twice in three days. Thank you.
marion
2016-07-28T00:00:00Z
Peter was great, turning up to let us in just as we arrived (good old GPS). Laid back showing of the basics of the flat, just the way we like it and being flexible on the departure time. thanks. The flat is lovely, just as pictured and containing everything you would need. Kelso is lovely as well, plenty to see and do (loved the micro pub on the square). Shops, cafes etc and parking near by. Had a couple of great local walks, which was the idea of the visit. I can see why availability is limited - what's not to love...
les
2016-10-25T00:00:00Z
Very cozy, lovely flat. Very enjoyable stay!
Rachael
2017-02-12T00:00:00Z
Typ av rum
Eget hus/egen lgh
---
Typ av boende
Lägenhet
---
Plats för
4
---
Sovrum
Kelso, Skottland, Storbritannien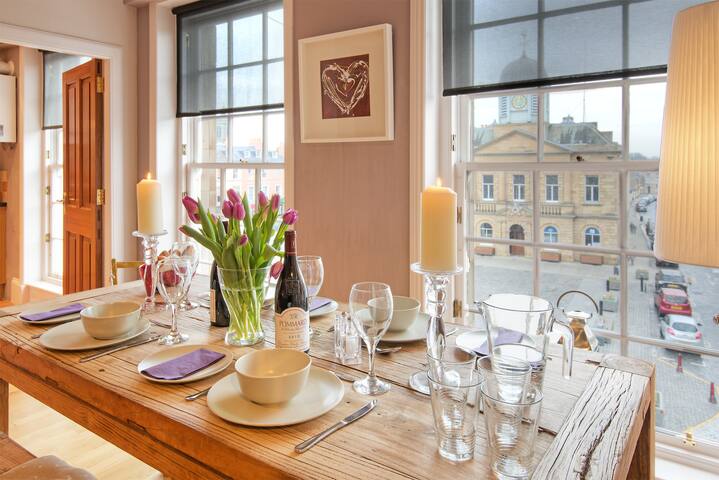 Longformacus - Airbnb
:
I genomsnitt

4.82

av

5

stjärnor från

232

gästomdömen
1

–

18

av

97 Uthyrningar av lägenheter
Ange datum för att se full prissättning. Ytterligare avgifter tillkommer. Skatter kan tillkomma.