Louisville's first permanent Tiny House may be small in stature, but it is huge in value! The studio layout with easy to operate library, Murphy bed optimizes the 448 sq ft footprint, while not compromising comfort.
It's tiny, coming in at just under 450 square feet. But, it has everything you need and then some! 48" LED flat screen TV with cable and Netflix, wireless Internet, washer and dryer, cook and serve ware. Everything you need to feel like you're at home, but better!
Great sense of community!
Loved this little bnb! In an upcoming part of town- was close to almost everything we wanted to do. The tiny house itself was so impressive...and so cozy. Everything you need there- almost didn't want to leave! Emma was very helpful and communicative about any and all questions we had during our stay! Will definitely stay here again! Thanks Emma!
Leah
2015-11-29T00:00:00Z
This was a great place to stay while we were in Louisville! It was quick to get downtown when we needed to, checking in and out was simple, and it was fun to be able to stay in a house that had so much character.
Theda
2016-10-24T00:00:00Z
This was one of the best accommodations I have ever experienced in all of my travels. The home is stunning as you can see from the photos and the details make it memorable. Emma was extremely generous in her offerings and I look forward to talking more with her my next visit to KY. Close proximity to downtown and the highlands. I left feeling extremely inspired, rested, and anxious to return. Thank you for the stay.
Amanda
2015-10-25T00:00:00Z
This apartment was great. Really harming space. Emma was so easy to book with. She responded right away and made everything really easy!
Elinor
2015-12-19T00:00:00Z
We are obsessed with the Derby City Tiny House. This was our first vacation as a new little family (we have 2 month old!) and I couldn't think of a better place for us to stay. We were so close to everything. The Tiny House was perfectly decorated and so much fun. Highly recommend!
Jay
2016-07-04T00:00:00Z
We had a lovely time staying in The Derby City Tiny House. It's just a mile from pretty much any neighborhood you'd like to visit. I was happy to see all of the redevelopment of Smoketown, especially the emphasis on mixed income development. What a great way to invest in a community! The house fit our needs perfectly and we'd highly recommend it to others.
Joey
2017-03-19T00:00:00Z
This Airbnb is a very nice inside. Super clean and comfy (including the Murphy bed!) Very well stocked with amenities and a super clean with bathroom with robes as well. (Nice touch!) However, there are lots of issues I have with the entire property. It's in a clearly run down, impoverished neighborhood. I read some reviews where it mentioned a "transitional neighborhood" however, this is not the case. I have lived in a transitional neighborhood in my hometown for years and I would not describe this as such. In fact, they have build a fence around the entire Airbnb with cameras on every corner. I'm sure some people would consider this "safe" however, I consider this inconsiderate of the neighborhood itself. I literally felt wrong for staying here. They advertise 2 large patios for lounging, but if you you decided to do that, you would be over looking abandoned buildings and government housing. It was just all a little to "white privileged oasis" for my taste. It seems intrusive to this neighborhood and in fact lavish and paranoid. A little "cashing in" on the Airbnb trend in a "cheap" neighborhood. As nice as this space was inside, I could not stay here again with a clear conscience. It just seemed like a money maker to me.
Cali
2016-10-31T00:00:00Z
Emma made us feel at home, before we left our home in the DC area. She's an incredible host. Her home may have "Tiny" in its name, but its huge on amenities and "WOW" power. We live in 3700 sq. foot home but this place knocked our socks off, we loved the murphy bed, shower, claw foot tub, everything about the place... proximity to Downtown, NULU, Market Street, UofL, and the yard is huge. We didn't want to leave. If we buy/build a Tiny home, it will be modeled after this one, for sure. You've gotta check this place out, Emma is the world's best host!
Vince
2016-06-10T00:00:00Z
Typ av rum
Eget hus/egen lgh
---
Typ av boende
Hus
---
Plats för
2
---
Sovrum
Louisville, Kentucky, USA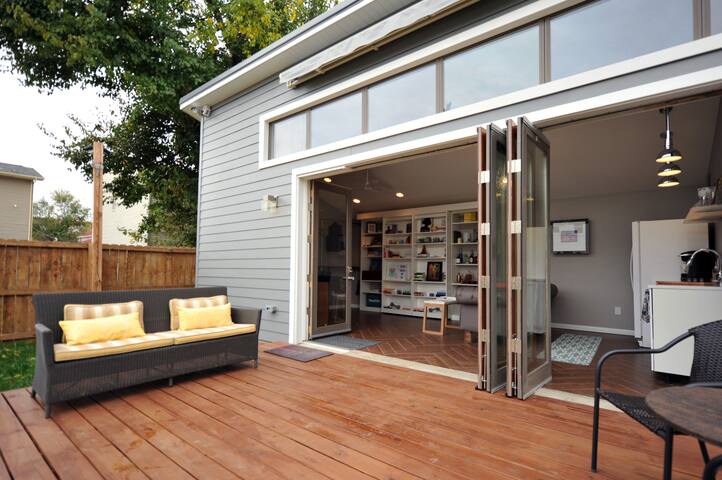 Great Value plus close easy interstate connection! This cozy little gem has a Nice Queen bed, desk, reading chair, room for hanging and shelves in closet along with full sized mirror. IN ROOM coffee/tea service, electric pot,fruit/snack plate complete this offering. The full bath is shared with one other room and is just two steps across the hallway. This is one of three rooms for rent so there's a chance to get to know fellow travelers for a few minutes while you're here.
This is a "cozy" room with lots to offer. A comfy new Queen sized bed, and a desk for "work"; and a reading chair complete this offering. Double drapes create a very dark sleeping environment even after the sun rises! Plenty of shelves and hanging space for unpacking and a bench for your suitcase. The full sized bath is two steps across the hallway and is shared by one other room. There is also another bath on main floor.
Leyton ave is a quiet dead end st. Close to eating and major arteries. Major Shopping malls just 10 minutes drive or bus. 5 minutes or less to interstate access taking you downtown, airport, or out of town in all directions. Woods behind house is major plus...helps people sleep. Also offers a trail through the woods to a little park and Bear Grass Creek. Just about perfect for a quick "Nature Refreshment" before or after work. (Charlie loves to take people to the park!!)
Janice was very hospitable. Great host. Easy to communicate with.
Christina
2016-05-09T00:00:00Z
Excellent. Location was about 15 mins from downtown (abt a 15 dollar uber ride). Janice was very warm and inviting. Her house was very cutely decorated and clean. Highly recommend!
Amit
2016-09-25T00:00:00Z
I was looking for a comfortable stopping-off point for the road trip I just took, and was excited to find Janice's listing. Her rooms are an affordable alternative to staying at a motel. The bed was just right, and I slept like a log and woke up refreshed. Staying here felt more like staying with a friend than staying at a motel. I met other guests and enjoyed visiting with Janice and with Charlie, her charming dog. The shared bath was just across the hall, and there was no problem coordinating use. There was a lot of attention to detail, like providing fruit and a teapot in the room, in addition to breakfast foods in the shared kitchen. I'd definitely stay here again.
Anne
2016-09-21T00:00:00Z
Janice is a very welcoming host. Our room was very nice and comfortable. The breakfast and snack options are tasty! Given the opportunity, we would not hesitate to stay again.
Hannah
2016-07-14T00:00:00Z
This was one of many times I have stayed at Jan's house. I enjoy staying at Jan's, because it is very comfortable and cozy and Jan makes you feel right at home. Thanks for another great stay!
Kay
2016-11-08T00:00:00Z
We had a great stay with Janice! The house is really cozy and our room and the bathroom were very clean. The bed and pillows were very comfortable so we got a good nights sleep. There was everything you needed in the room, if not more (a plate with a few snacks, a manual with recommendations of all kinds, where to find things in the kitchen etc). During our visit it was very humid but the house was always nice and cool. Breakfast was included which is great if you're trying to avoid eating out for every meal. The best thing of course was Janice, she was very nice and accommodating. We not only hit the humidity but rain and thunderstorms for our stay and Janice made sure we had some kind of Kentucky experience before we left. We would definitely recommend staying here.
Katrina
2016-07-09T00:00:00Z
My stay was perfect! I only spent one night but she managed to make me feel right at home when I walked in the door. I loved the room, the bed was so comfy and she had snacks and tea in there for me! She had everything else one would need, super accommodating. It's homes and people like Jan that make AirBnB so awesome. I would highly recommend staying here if you're ever in the Louisville area!
Kelli
2016-05-20T00:00:00Z
Jan was great! Even though I was feeling a little under the weather, she supplied me with tea to get me on the mend. So thankful to have her be my innkeeper!
Adam
2015-02-10T00:00:00Z
Typ av rum
Eget rum
---
Typ av boende
Hus
---
Plats för
2
---
Sovrum
Louisville, Kentucky, USA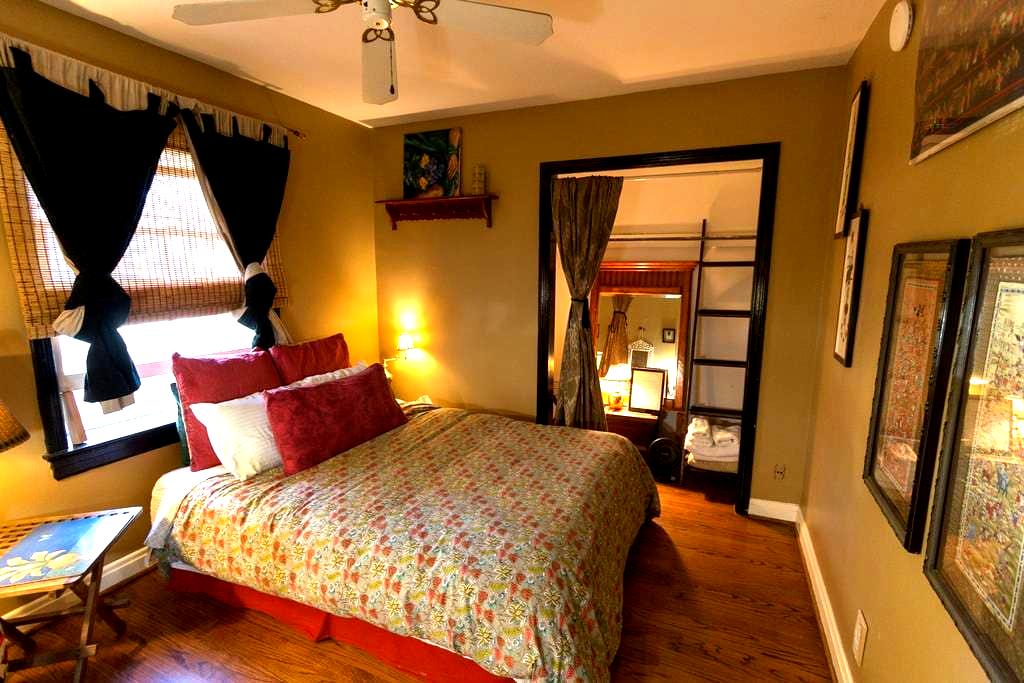 Elegance +ALL Modern Amenities! Award-winning charm, folding in the Sense&Sensibility of 2017 conveniences! Quiet gardens, porches, patios, private parking. This spacious studio suite offers lovely queen canopy bed, fireplace, closets, windowseats, dresser, day bed, desk set, tv/cable/wifi, dining set, laundry, bathroom plus kitchenette! Classic.
Award winning National Historic Landmark gives guests the Best of KENTUCKY hospitality dating back to 1796. Visits by 2 Presidents and 1 outlaw! Enjoy the verandas, porches, pond, woods and gardens at this last remaining former thoroughbred horse farm and manor house in the Louisville area! Home of 4 Kentucky Derby Winners. The studio suite comprises multiple amenities with high ceilings, hardwood floors with queen canopy bed, claw foot tub with signature rain shower surrounded by classic pastoral murals, kitchenette with frig & microwave plus LOTS of storage with 2 closets & 2 huge window seats overlooking the garden. 2 extra twin beds tastefully enfolded as day bed/sofa with trundle. The beautiful fireplace and mantle, dresser, desk, round oak table & chairs compliment the furnishings plus the convenience of high speed internet, laundry facilities, and available gourmet kitchen! Enjoy dining en suite or the formal dining room and the inviting porches, surrounded by green. Make History at The Manor!
Enjoy quiet green surroundings on 3 acres one block from the famous Bardstown Road Corridor with the best dining, shopping and entertainment! This historic oasis offers a total of 9 suites: 5 in The Manor, 3 in the Carriage House and The Garden Suite.
Typ av rum
Eget hus/egen lgh
---
Typ av boende
Hus
---
Plats för
4
---
Sovrum
Louisville, Kentucky, USA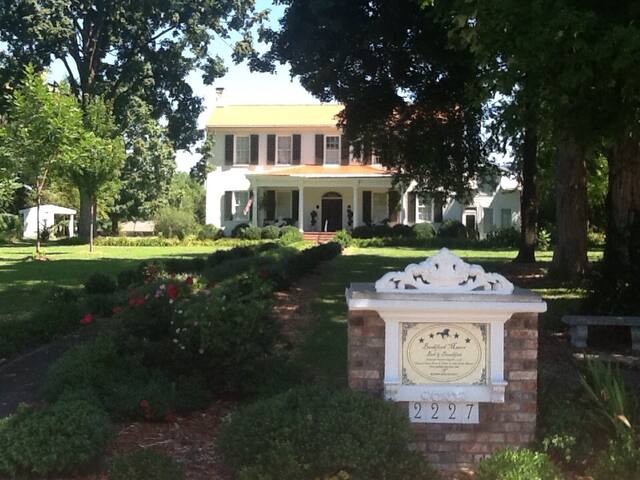 Two bedroom one bathroom house within walking distance from Churchill Downs, UofL, and very close to airport. Can rent out single rooms also if you do not need the entire house. Can also pick you up and take you to airport if you need a ride. Unless you are renting the entire house, or we have discussed otherwise, I will be staying here for the majority of the time. Just a heads up so you are aware of the situation. I have a dog that lives here also. Very friendly, but big.
Very close to Churchill Downs, I can provide a ride to and from the airport, can provide breakfast
Great neighborhood, convenient to any and everything you would need, great huge trees, sidewalks
Typ av rum
Eget hus/egen lgh
---
Typ av boende
Hus
---
Plats för
5
---
Sovrum
Louisville, Kentucky, USA
Our wonderful cottage is in the heart of Louisville, only 5 miles from Downtown Louisville and 5 miles from Waterfront Park. It is a charming space located off Lexington Road within one mile of local restaurants, bars and parks. Home child and pet friendly! Check special services for more information!
This space has hardwood floors, arched doorways, wood paneled ceilings in the kitchen and receives wonderful daytime lighting.
What I love about my neighborhood is how close it is to local fun. Only a half mile in each direction of my house is local restaurants and bars, walking distance to Seneca Park, and beautiful houses surround this quiet cottage.
We had a great stay at Michael's place. Very good location in Louisville. House was clean and Michael was very helpful. Would definitely recommend to anyone.
Tommy
2016-04-26T00:00:00Z
Michael's place is just as described - clean, cozy and in a really cute neighborhood that's close to a lot of attractions. We enjoyed shops and eats on Frankfort Ave, as well as Cherokee park trails - both within a short 5 minute drive. Downtown area within 10 minutes. Beds are comfy, great water pressure and all you need for a great neighborhood stay.
Mary K.
2015-06-29T00:00:00Z
Absolutely love this area and the house and neighborhood was beautiful. Michael's place had everything we needed and and our family felt very at home during our stay. Kids loved the playroom and backyard. Michael was an excellent host and was available to answer any questions. Will definitely stay again on our next trip to Louisville.
Martha
2016-04-05T00:00:00Z
Our family thoroughly enjoyed staying at Michael's St. Mathews cottage! The home had everything we needed. We especially enjoyed the great beds. The cottage is conveniently located to all of the key Louisville attractions, while providing a good neighborhood environment and ample parking (street and driveway). Michael even accommodated our little dog; the property has a fenced in back yard that was perfect for hassle free dog business. Michael was an excellent host with GREAT communication; he responded quickly to all our questions, and was extremely flexible to our arrival and departure times. Another successful and stress free AirBnB experience for us. This cottage is a great property, and everything is as described in the listing. Michaels is excellent host. Would definitely stay at Michael's cottage again, given the opportunity!
Jimmy
2016-01-03T00:00:00Z
Michael's house was even better than pictured! Great neighborhood and easy access to downtown. We were only in town for one night, but we had a very comfortable stay and would definitely return! Thanks again :)
Heather
2016-04-11T00:00:00Z
We had a wonderful time! Michael was very helpful with restaurant recommendations. The house itself is adorable--the girls loved the bunk beds and both king sized beds were extremely comfortable. All in all a great time. The location is perfect--everything was a 10 minute drive away.
Christina
2016-05-31T00:00:00Z
Great home overall with wonderful charm and well situated in a very peaceful area close to everything.
Lucas
2016-07-05T00:00:00Z
This was the perfect home to spend the night before my wedding with my girls! Great location, clean, and terrific host!
Kimberly
2016-12-03T00:00:00Z
Typ av rum
Eget hus/egen lgh
---
Typ av boende
Hus
---
Plats för
6
---
Sovrum
Louisville, Kentucky, USA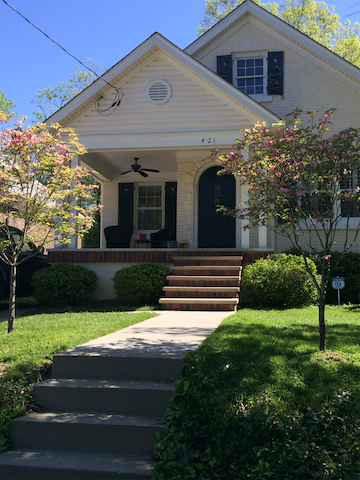 We are new to site but hope you will stay with us! Charming historic shotgun house with 10ft ceilings, located in one of the best neighborhoods near downtown Louisville. Some of the best bars and restaurants in area are within walking distance while city center is only minutes away. Great access to Churchill Downs, Forecastle Festival, Louder Than Life Festival, Bourbon Tours, Yum! Center, etc.
Fully equipt kitchen, laundry, work space with desk, and king size bed with crib available in bedroom for families, while sofa in living room opens to queen size bed. Private alley parking with room for 3 cars.
Located on Frankfort Avenue's popular restaurant district, Clifton is an eclectic and extremely walkable neighborhood. Enjoy the 'hood' with a stroll up the Avenue or hop from bar to restaurant for a night out.
Typ av rum
Eget hus/egen lgh
---
Typ av boende
Hus
---
Plats för
4
---
Sovrum
Louisville, Kentucky, USA
Welcome to Samuel House! Our completely updated turn of the century shotgun house is the perfect place to stay in Louisville and great for entertaining! Located conveniently in the hip and historic Germantown neighborhood, you will enjoy modern amenities and close proximity to the best spots in the city.
Prepare to have your breath taken away as you enter this beautifully renovated historic home! The living area is open, inviting, and spacious. It's perfect for cooking, mingling, and mixing cocktails :) Enjoy lots of natural sunlight from the unique Germantown corner lot. - The open-air kitchen features all new appliances - Two bedrooms - One queen size bed and one full, both with organic cotton bed linens, and hypo-allergenic pillows to ensure a good nights rest - The living room has a new sectional couch with two sections that can be converted to twin beds
The house is a two minutes walk from the best restaurants in Germantown, including Eiderdown, The Post Pizza, Four Pegs, The Pearl, and Goss Avenue Pub.
Typ av rum
Eget hus/egen lgh
---
Typ av boende
Hus
---
Plats för
6
---
Sovrum
Louisville, Kentucky, USA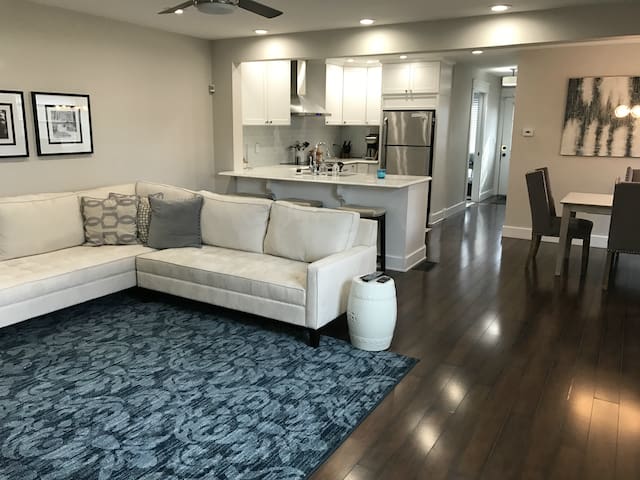 My place is close to Downtown louisville by 4th street live! You'll love my place because of the great location. My place is good for couples, solo adventurers, and business travelers. Wake up each day to breathtaking views of the city! Enhance the mind, body, and soul by immersing yourself in the style and sophistication that the city has to offer. Enrich your quality of life by experiencing the multitude of attractions and hotspots located right at your doorstep. Whether it's the world renowned nightlife, delectable dining, brilliant performing arts, Waterfront Park, 4th Street Live events, Louisville Slugger Field, or the KFC Yum Center, there is truly no end to the pleasures and conveniences that this apartment and Downtown Louisville have to offer!
Nice place. Very clean with new furnishings. Studio apartment with 1 full bath. Nice fitness room downstairs. Guest only entrance that is locked before you can get to elevators which is good.
Michael
2017-01-19T00:00:00Z
Great location! Within walking distance to so many areas.
Mike
2017-02-18T00:00:00Z
We had a very nice stay in Jacki's unit for my first-ever visit to Louisville. The apartment was very clean, tastefully furnished, and convenient to downtown. Building office staff were able to answer all of my questions during business hours (after 9am), and the building security was easy to use once explained to me. I was also grateful for the few wi-fi hotspots in the building because cell reception in the unit could be spotty (building staff offered passwords when asked). The amenities in the full kitchen and bath were very basic (only a few utensils and not even a mug to heat hot water in the microwave; bring your own soap/shampoo), but there were lots of clean towels and extra bed linens, and the mattress in the bed nook was SO comfortable (memory foam, I think)! There were lots of interesting sights and good restaurants nearby and in walking distance. I would stay here again.
Holly
2017-04-01T00:00:00Z
Very good for value, location is perfect
Balázs
2017-03-24T00:00:00Z
We really enjoyed our stay at Nashville's place for our overnight stay in Louisville. The apartment was cozy, clean, and ideally located in downtown!
Allison
2016-12-29T00:00:00Z
It's in the middle of the city, has a gym on the first floor and a working kitchen!
Morgan
2017-03-15T00:00:00Z
This is an extremely basic rental. Bring your own amenities. The wifi is in the lobby.
Andrea
2017-03-05T00:00:00Z
Typ av rum
Eget hus/egen lgh
---
Typ av boende
Hus
---
Plats för
3
---
Sovrum
Louisville, Kentucky, USA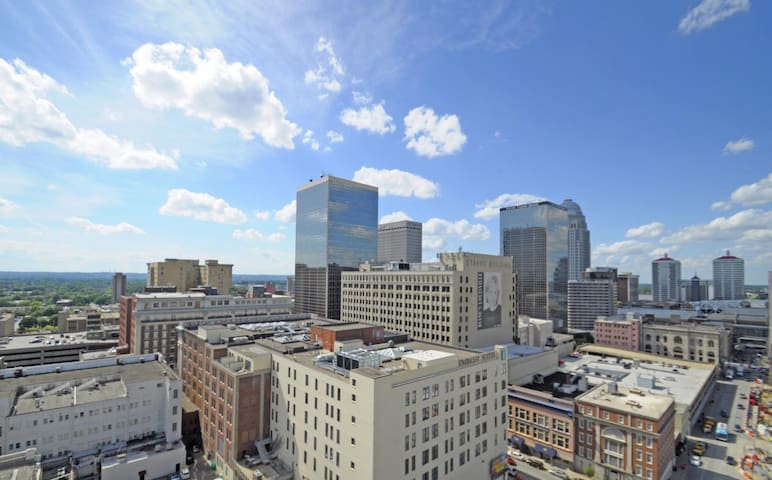 Location, Location !!!! Centrally located, walking distance to grocery stores, coffee shops, Malls, restaurants,bars, minutes to downtown. Close to Churchill Downs.We have 5 bedrooms and 2 full bath. 4 queen size beds plus one full bed .Full futon in study (URL HIDDEN) room with extendable table,full kitchen. WiFi is available.
Quiet,but yet close to everything.
Typ av rum
Eget hus/egen lgh
---
Typ av boende
Hus
---
Plats för
10
---
Sovrum
Louisville, Kentucky, USA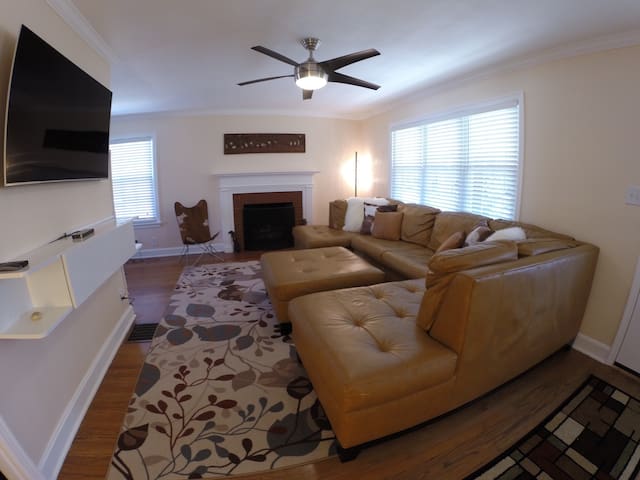 Cozy little shotgun in the heart of Schnitzelburg. My place is a stones throw from Monnik and Checks. It is a short walk to Lydia House, The Post, Eiderdown and even the grocery store! You'll have access to the grill out back as well as an awesome porch to sit on and enjoy the evening. The backyard is great for if you are bringing dogs with you and the brick patio is awesome for cookouts.
Typ av rum
Eget hus/egen lgh
---
Typ av boende
Hus
---
Plats för
7
---
Sovrum
Louisville, Kentucky, USA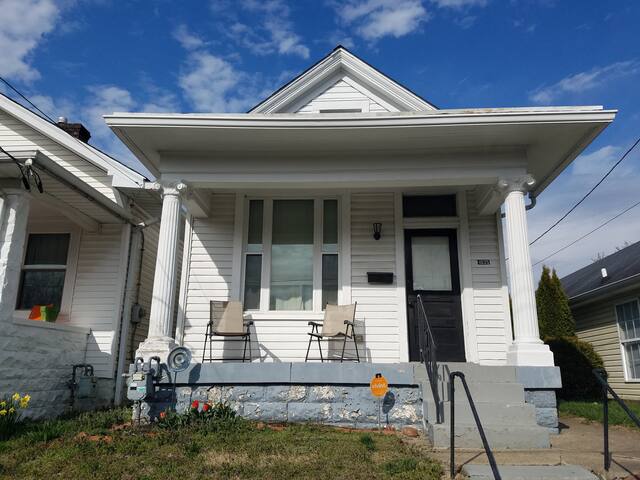 My place is close to the University of Louisville. You'll love my place because of the private space. My place is good for couples, solo adventurers, and business travelers.
It was a fantastic value for a place to get some rest!
Brian
2017-01-21T00:00:00Z
Easy to come and go, comfortable. Ok stay for my brother and I for the price.
Matthew
2017-02-19T00:00:00Z
Excellent stay, great service and comfortable bed.
Howard
2017-01-06T00:00:00Z
Clarence was kind, polite, and extremely responsive. He was very accommodating and flexible with our schedule, and was a fantastic host. If you had a question or needed to reach out to him, he would respond almost immediately. He was very helpful with providing places to visit and tips for our adventures in Louisville. You get more than the value. Great location.
Karina
2017-02-26T00:00:00Z
Clarence was prompt and helpful. Nice place to stay near UofL. Really comfortable stay.
Patrick
2017-03-16T00:00:00Z
Clarence was a great and communicative host. Close to campus andnot too far from other areas of nightlife, you'll be hard pressed to find a better location for the price.
Christopher
2017-03-26T00:00:00Z
Not bad for one-night stay.
Shawn
2017-03-05T00:00:00Z
Clarence was easy to work with as a host. Good location close to lots of food. Nice king size bed, very comfortable.
Kyle
2017-01-11T00:00:00Z
Typ av rum
Eget rum
---
Typ av boende
Hus
---
Plats för
2
---
Sovrum
Louisville, Kentucky, USA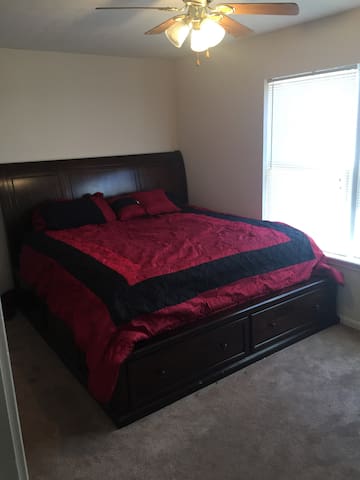 Less than a mile from the entrance to Churchill downs! Quiet and within easy walking distance of the track - and the chance to stay in a quaint adorable tiny home with full amenities! Featured in Louisville Magazine! (URL HIDDEN) *The house is in a residential neighborhood, behind another house which we'll stay in when we have guests.
This house is a tiny house, (yes, like the ones on HGTV but we like to think it's even cooler!). There is a bed in the floor, room for an entire upstairs bedroom area where you can stand completely upright, a full bathroom, a full sized kitchen, and a 6' wide bar window that completely opens onto an outdoor deck for entertaining! We love our cozy little home and love to share it with people! *Featured in Louisville Magazine* (URL HIDDEN)
We are super close to Churchill downs! During summers they have races at the track and you can walk, see some horse racing walk back (or even rope us into a ride if we're around). The neighborhood is pretty quiet, we like our neighbors - most people tend to stay to themselves. There is one bar on our block, but aside from that and the track you'll likely want to take a short drive to a more "hopping" neighborhood, ours is relatively quiet most of the time. We can give plenty of recommendations of our favorite spots! Particular favorites: Restaurants: Feast BBQ (NuLu Neighborhood) Garage Bar (NuLu Neighborhood) Against the Grain (Downtown) Me Gusta (Downtown) Bluegrass Brewing Company (Downtown) Coals Pizza (Highlands Neighborhood) Somewhere Bar/Restaurant - AMAZING brunch and $2 Mimosas! Any restaurant on Bardstown Road (Highlands Neighborhood) Nightclubs: Nowhere Bar (Highlands Neighborhood) Zanzabar (Campus Area) Fourth Street Live (Multiple Bars, Downtown)
Rachel & Felipe were very communicative leading up to mine and my husband's Christmas stay. They were leaving town on the day we arrive, but put us in touch with Rachel, who was also great, in case we needed anything. The house was clean and even decorated for the holiday, which we loved. Would definitely recommend staying here and will likely come back with friends in the future.
Michelle
2016-12-25T00:00:00Z
Rachael & Felipe's tiny house was exactly what we saw online. There were only 2 of us traveling, so it fit our needs perfect. Located within 15 minutes to the KY Expo Center were we spent most of our time. We were in constant communication and lacked for nothing. Thank you for being wonderful hosts.
Courtney
2017-03-12T00:00:00Z
Very great cozy spot.
Jasmine
2017-02-15T00:00:00Z
This house is very cozy. The pictures are very accurate. We had one problem with the a/c. When we arrived at 4pm it was 85 degrees with all a/c units running at full blast, but didn't cool off for 4-6 hours. It wore us out instead of relaxing us after the drive. Rachel mentioned later that it was in the notes, but I never saw that a few months back when booking :/ Might be more ideal to stay at this place in the springtime.
Becca
2016-07-29T00:00:00Z
We had a great time with our first tiny house experience in one of our favorite cities. Rachael and Felipe were very accommodating and made everything easy.
Jon
2016-07-18T00:00:00Z
Rachael and Felipe were so accommodating and so helpful during our stay. My husband and I planned a weekend getaway to Louisville (from Indy). We loved how close we were to so many places! It was a cheap uber drive away to so many fun restaurants and museums! The house itself is adorable! My husband and I have always been intrigued by the tiny lifestyle, and definitely wanted to experience it ourselves! The accommodations were so comfortable that even though we were sightseeing Louisville wanted to come back early to enjoy the house! :) we cannot recommend enough!
Christine
2016-09-26T00:00:00Z
Rachael and Felipe's house is tiny but very comfortable. Our confusions and questions are well-responded, and the neighbor is very kind and helpful.
Yuanyuan
2016-10-21T00:00:00Z
I highly recommend staying at the tiny house. Rachael and Felipe are fantastic hosts. They are attentive and care deeply about your experience at their place. If you are looking for a whole house (albeit tiny) there is no better place to stay. The house is incredibly clean and is one of the coolest I've stayed at. We kept talking about how we would want to live in a tiny house because of it. Don't think twice. If this is the area you need to be in, stay at the tiny house. It will be one of the best Airbnb experiences you've had
Jesse
2016-04-15T00:00:00Z
Typ av rum
Eget hus/egen lgh
---
Typ av boende
Hus
---
Plats för
5
---
Sovrum
Louisville, Kentucky, USA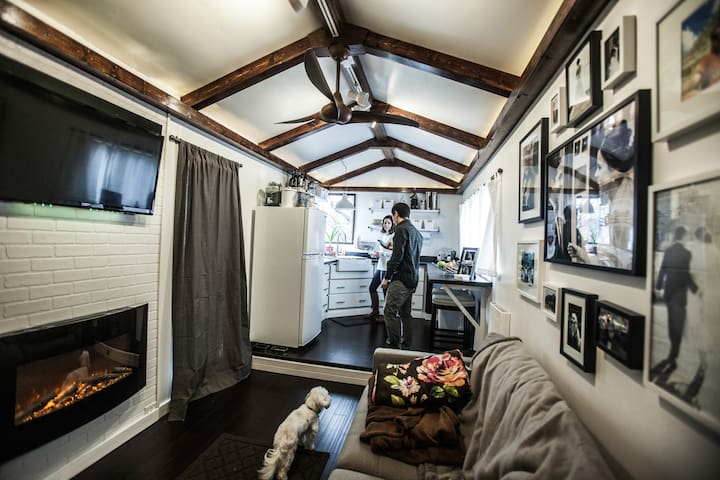 Come stay in a newly renovated, modern shotgun house in the eclectic Germantown neighborhood of Louisville. Two bedrooms and two full baths await you, along with a fully updated kitchen, large living space, and spacious deck and yard. Walk to bars, restaurants, coffee shops, etc! Don't wait, book now!
Sarah was great! She responded promptly and was very friendly. The house was beautiful, clean, and very comfortable! Amazing beds! Louisville is our getaway, so I will def be staying here again!!
Jessica
2016-11-06T00:00:00Z
Sarah was so wonderful with all the added touches to our stay. She definitely made our stay warm and welcoming.
Lisa
2016-09-18T00:00:00Z
Sarah's house is wonderfully renovated and everything is inviting, modern and clean. There was plenty of space for the 4 of us staying there, and the location made it easy to get around the city. I would absolutely recommend Sarah's house to anybody looking to visit Louisville.
Eric
2017-01-16T00:00:00Z
Sarah's place was perfect for our weekend getaway. It was incredibly clean and the perfect size. The home was close to everything. Sarah was wonderful to work with!
Jay
2016-10-16T00:00:00Z
Awesome place! Clean and roomy with all the amenities. Sarah was a great host. Would definitely stay here again on our next trip to Louisville.
Doug
2016-12-31T00:00:00Z
Great location, close to cool things. Roomy, and clean. Stayed during December, and the house was decorated for Christmas, which was fun! Great communication with Sarah! Would highly recommend!
Amber
2016-12-11T00:00:00Z
House was beautiful and as described - maybe even better! :) Sarah was a very responsive host and managed a couple (VERY small) hiccups during our stay. Would recommend and stay again.
Maggie
2016-10-14T00:00:00Z
Sarah made sure we had everything we needed and was a great host.
CAROL
2016-11-26T00:00:00Z
Typ av rum
Eget hus/egen lgh
---
Typ av boende
Hus
---
Plats för
8
---
Sovrum
Louisville, Kentucky, USA
Very clean 6 bedroom, 5 bath, 2 1/2 bath home situated in park like setting. Home sleeps 12 comfortably. There is a hot tub, pool, and putting green. 11.1 miles/22 min away from track. 4 miles, 6 minutes away from famous Barnstable Brown Gala.
Neighborhood is quiet and in a natural setting. It is close to Frankford Avenue which has lots of entertainment/bars/eateries/shops.There is lots of action on this street.
Typ av rum
Eget hus/egen lgh
---
Typ av boende
Hus
---
Plats för
12
---
Sovrum
Louisville, Kentucky, USA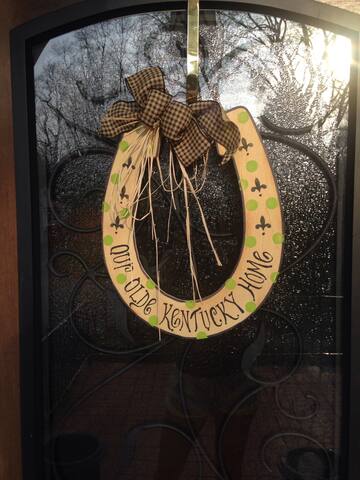 A light and airy, well furnished house with a fenced in backyard. 1400 square feet. The Parklands of Floyds Fork-4 miles way. A great place to bike, canoe, kayak, walk, or run. Churchill Downs-19 miles or a 25 minute drive away. The nightlife on Bardstown Road is about 10 miles away, the drive varies depending on traffic. Downtown, home of Actors Theatre and the Yum Center, is 21 miles away, about a 25 minute drive. Valhalla Golf is 8 miles away.
In a wonderful neighborhood. Most everything is 20 minutes away. I do have a two car garage. Well trained dogs, who are potty trained and don't chew are welcome. No cats please.
A quiet neighborhood. Please respect this.
Typ av rum
Eget hus/egen lgh
---
Typ av boende
Hus
---
Plats för
8
---
Sovrum
Louisville, Kentucky, USA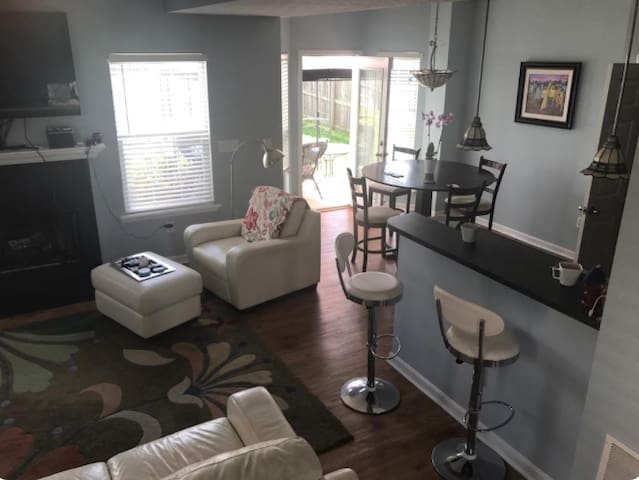 Beautifully renovated 100 year old home in the historic Highland neighborhood. The Highland Magnolia house is 5 miles from downtown in the historic Highlands Neighborhood. It is bound by Cherokee park and Bardstown road. Originally built in 1915, the home has been updated for modern living. The 2nd and 3rd floors are ready for rental. 1st Floor has undergone construction and is currently being furnished, available in June 2017.
The Highland Magnolia house offers 4 large bedrooms, 3 full bathrooms, pull out sofa and a roll away bed. Comfortably sleeping 12-14 people. The 1st floor has 2 bedrooms, 2 full baths an additional completely renovated kitchen and large living area.
In 1912, a streetcar line was extended down Bardstown Road to Douglass Boulevard, where it "looped" around and went back toward downtown. Most houses in Highlands-Douglass were built in the 1920s, as undeveloped land closer to the Original Highlands became nonexistent and the "outer Highlands" became popular. However, due to the great depression, development in the eastern portion of the neighborhood slowed greatly, and would not be completed until 1952. This stopping and starting of development explains the mixture of scattered historical revival and craftsmen houses - typical of the early 20th century - with mid-century ranch-style houses along Valletta, Moyle Hill and Millvale roads in particular. North of Douglass, in portions built in the boom years of the 1920s, the heavily upper-middle class subdivisions were stocked with houses built in Historical Revival styles. Colonial, Tudor, English and Dutch Revival styles are dominant. South of Woodbourne, homes are somewhat more modest brick and frame bungalows
Typ av rum
Eget hus/egen lgh
---
Typ av boende
Hus
---
Plats för
14
---
Sovrum
Louisville, Kentucky, USA
Mid 1800s home - exposed brick, wood floors and high ceilings will have you swimming in warmth and charm as soon as you walk through the door. Open and airy, filled with natural lighting. The master and guest bedroom are very comfortable with brand new King sized and Queen sized beds. Kitchen is fully equipped. In the heart of Butchertown, across the street from Copper and Kings Distillery, Butchertown Grocery restaurant and walking distance to the best restaurants in Nulu!
I recently purchased this home and the plans for the living room are to be an event space for bourbon tastings, cocktail classes and private dinners, although I have not begun doing so at this time. There is not a typical "living room" setup for that reason - I have custom built wood tables in that space instead. Every other room in the house is exactly what you would expect. There is plenty of seating, two comfortable sitting chairs in the dining room and bar stools for seating at the island in the kitchen, but I do not have couches or a common living area with a television. Just want to let you know ahead of time!
2 min walk to Copper and Kings Brandy Distillery 2 min walk to Butchertown Grocery Restaurant and Lola Cocktail Lounge (upstairs of Butchertown Grocery) 15 min drive to the Louisville International Airport 15 min drive to Churchill Downs Racetrack 15 min walk (1 mile drive or uber) to Angel's Envy Bourbon Distillery
The house was, in a word, filthy. The floors had not be swept or cleaned in a very long time. One swipe with a paper towel tuned black. It looks like she hosts events and tastings on the main floors as it isn't set up as a house. Just bench and tables. The sink had dirty stuff in it and stove top was used and left unclean. The bedroom and bathroom floors were also dusty/dirty. We reached out to her about this and her response was "she left in a hurry" and " didn't realize cleaning g was so much work". Never followed through on a refund. Her communication through all this was sad. It took several texts to find out how to get into house. What the wifi password was. Why house was dirty. Wish I could add pictures here so people know. It is sad cause the space is actually kinda charming and cute. For someone who is in the hospitality business and an event planner, she needs some help on using her home as a short term rental. Took the cash quick but didn't want to deal with any issues.
Keith
2017-02-19T00:00:00Z
The host canceled this reservation 112 days before arrival. This is an automated posting.
Mike
2017-01-12T00:00:00Z
Great location
Maggie
2017-03-12T00:00:00Z
Monica's place is awesome! She was very accommodating from the start. We booked on short notice, and she responded very quickly. She was also there to meet us and show us her home. We loved the rustic coziness of her place, and we would definitely stay again! It was also in walking distance to so many great spots in NuLu. A+
Wade
2017-01-15T00:00:00Z
Great place! Great location!
Steve
2017-03-25T00:00:00Z
Gorgeous house, and was exactly what I needed. Easy and relaxing. I just needed a getaway from work for a couple days and Monica was a great host going above and beyond. Best nights sleep I've had in awhile. The bed was ridiculously comfortable.
Jason
2017-03-05T00:00:00Z
Typ av rum
Eget hus/egen lgh
---
Typ av boende
Hus
---
Plats för
4
---
Sovrum
Louisville, Kentucky, USA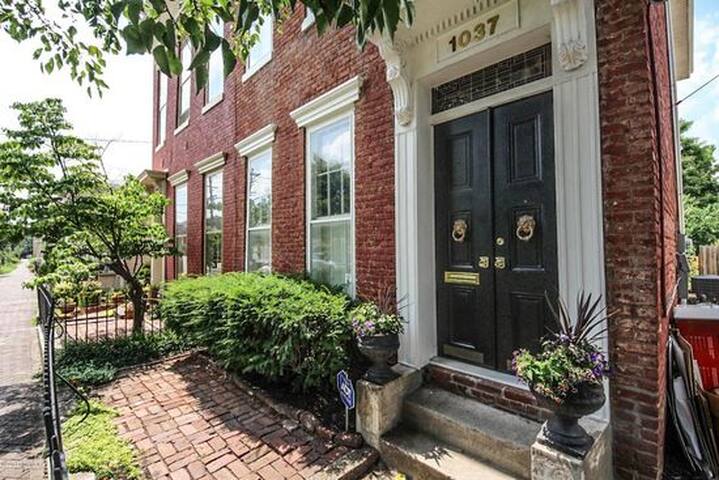 Beautifully renovated ranch located in the highlands only 6 MILES from Churchill Downs. This property has a total for 4300 sqft. 5 bedrooms, 3 bath rooms… King, queen, queen, full.. The main level is 2800 sqft has 3 large bedrooms, 2 bathrooms, living room, sitting room, dining room, big kitchen. Large screened porch for entertaining. Finished basement 1500 SQFT with 2 bedrooms, full bathroom walk in shower, full kitchen/bar area, large family room with 2 TV's and surround sound. Sleeps 8-12
House is located in the very desirable highlands access to best places to eat along with being 5-10 mins from the track
Typ av rum
Eget hus/egen lgh
---
Typ av boende
Hus
---
Plats för
10
---
Sovrum
Louisville, Kentucky, USA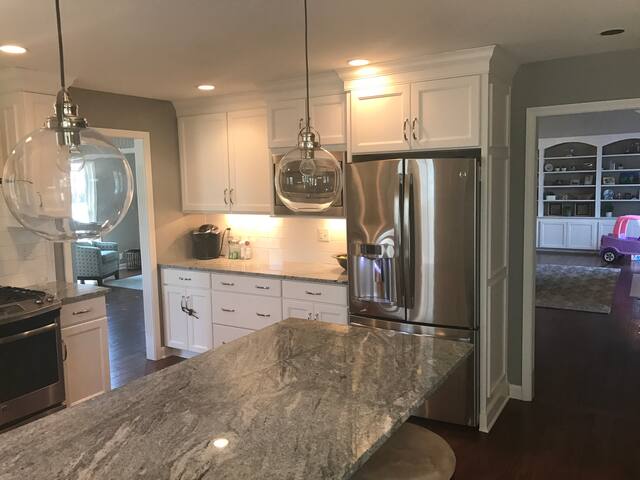 1

–

18

av

300+ Hem att hyra
Ange datum för att se full prissättning. Ytterligare avgifter tillkommer. Skatter kan tillkomma.