177 Uthyrningar av lägenheter
θέση μου είναι κοντά στα μέσα μαζικής μεταφοράς. Θα λατρέψετε τον τόπο μου, λόγω της θέσης. θέση μου είναι καλό για ζευγάρια, επαγγελματίες ταξιδιώτες, οικογένειες (με παιδιά), και τους τετράποδους φίλους (κατοικίδια ζώα).
Typ av rum
Eget hus/egen lgh
---
Typ av boende
Lägenhet
---
Plats för
4
---
Sovrum
Mansheya El-Bakry, Cairo Governorate, Egypten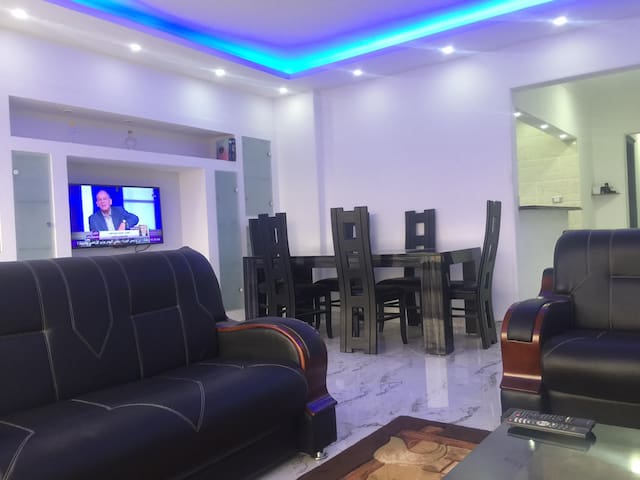 Typ av rum
Eget hus/egen lgh
---
Typ av boende
Lägenhet
---
Plats för
6
---
Sovrum
Mansheya El-Bakry, Cairo Governorate, Egypten
Une maison familiale confortable avec une nouvelle belle chambre à louer, sa proximité de l'aéroport à 20 minutes du centre-ville l'un des meilleurs endroits au Caire
Emplacement Premium, facile d'accès sur une rue principale, au cœur d'Héliopolis, facile à déplacer en ville vers le bas.
la vue est spectaculaire la nuit sur la terrasse, vous voyez la ville d'en haut.
I am a world traveler and this is my second time in Cairo. I honestly think that Yasmine has been the best and most amazing host I have ever had. She is always happy to show you around and to help you, she is kind, super friendly and always willing to teach you about her culture. I was lucky to have her as my host in Cairo. The place is located in one of the best and safest locations in Cairo, close to the Citadel, Khan el-Khalili, and presidential palace among others. In other words, this is the best Airbnb you could ever stay in Cairo!
Nadia
2016-09-21T00:00:00Z
This has been my favorite AirBnB experience ever! Yasmine has excellent and timely communication, which makes this easy. The space is a fantastic room overlooking Cairo (10th floor; big windows with great views) in a family apartment -- so one has both the sense of the big city and the comfort of home. The location is great for walking to the Metro, catching a ride and getting to and from the airport very easily (the airport is quite close). There are many amenities on foot around the apartment too, from coffee to food to groceries. Heliopolis is a neighborhood with many amenities. Yasmine and her family go the extra distance to make a stay here joyful, and are helpful with local knowledge and good cheer.
Michael
2017-01-02T00:00:00Z
Typ av rum
Eget rum
---
Typ av boende
Lägenhet
---
Plats för
2
---
Sovrum
Mansheya El-Bakry, Cairo Governorate, Egypten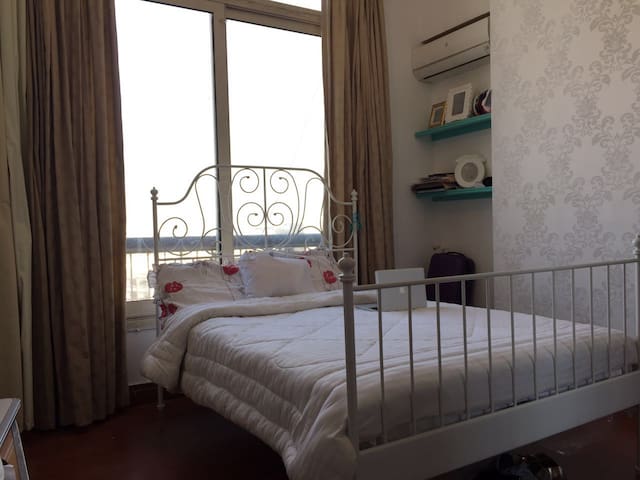 This bright, modern, and spacious penthouse is a traveler's dream! Located in one of Cairo's most beautiful neighborhoods, near the airport, metro, and Uber stand. Some of Cairo's best dining and shopping options are at your doorstep. This apartment features an open floor plan with a modern American kitchen, perfect for cooking, or order in. With 2 bedrooms and 2.5 bathrooms, this location is perfect for couples, solo adventurers, business travelers, and families. Wi-Fi and Netflix!
Fadi, is a awesome guy. Very helpful, very kind and as a person he's adding value to the accomodation. Speaks perfect English, so you don't have any risk of miscommunication. We came with the 3 of us, and we can consider Fadi now as our Egyptian Friend !
Antho
2017-03-23T00:00:00Z
Modern, sophisticated, clean and comfortable. The kitchen, bedroom and living room were amazing. This apartment has all new appliances and furniture. Fadi has taken great care and attention in his furnishing. After taking an uber from the airport I was set up in the apartment and felt at home in minutes. Fadi speaks perfect English (and knows some Irish slang too :)) and told me everything I needed to know about the neighbourhood and how to access the coolest places in Cairo. The pyramids were an easy uber trip. He was very helpful for planning before I arrived and answered my emails quickly which really made a difference. Fadi is an avid diver and we shared some good diving stories. Food and the metro were downstairs. Great location, value and service. I'll be recommending Fadi's place to my friends.
Susie
2017-03-16T00:00:00Z
Fantastic Stay in a Great Location I had the pleasure of staying in Fadi's incredible apartment over the weekend and am very glad I chose his property. Fadi himself is a terrific host, very attentive on email with a lot of insight to share about navigating the area and what to see and do. He answered my questions promptly and went above and beyond my admittedly high expectations. The property itself is very well maintained and close to everything, including the Uber stop and Metro. The pyramids are a short trip away and everything I needed was in reach. The bedrooms are very comfortable and you can witness the owner's attention to detail throughout. Would definitely recommend for anyone seeking a great place to stay in a good location.
George
2017-03-20T00:00:00Z
Last minute booking - so glad I booked Fadi's place! Friendly, really spacious accommodations (more than enough room to host 4, if not more). When I arrived, Fadi was very quick to get me settled, had a fridge stocked full of refreshing bevvies, and provided a quick lay of the land. I hopped in an Uber and just like that - was at the pyramids. Would also make a great home base for a day trip to see the pyramids at Dashur, the outdoor museum at Memphis, and the pyramid and tomb complex at Saqqara. But I digress! Eating at the nearby Tivoli Village market was also great. The room is nicely laid out and the bed was very comfy. Come one, come all!
Anant
2017-03-17T00:00:00Z
The place is just perfect, very spacious, very well equipped, in a really good location, and fadi is just the perfect most welcoming host, we would love to stay at his place again.
Osama
2017-03-31T00:00:00Z
This apartament is all you can dream of and more! The pictures do it justice, but prepare yourself for an even bigger space, with wide openings, well furnished rooms and (my personal favorite) a fully equipped kitchen! Apart from the place itself, Fadi was an excellent host, easy to reach and very helpful during both out stays. Thank you :)
Andra
2017-04-11T00:00:00Z
Typ av rum
Eget hus/egen lgh
---
Typ av boende
Lägenhet
---
Plats för
3
---
Sovrum
Ard el Golf, Cairo Governorate, Egypten
** NOW FREE WiFi CONNECTIVITY ** Fancy Modern 200 sq.m. fully furnished apartment in the elite part of Sheraton Heliopolis one the finest neighborhoods in Cairo. 5 minutes away from the Cairo International Airport. 5 minutes away from Arab Academy of Science and Technology Maritime
This ideally located apartment would satisfy your requirement whether you are coming for business and/or leisure . Situated in the Heliopolis area - 3 min from the Cairo International Airport. 30 min from museums and downtown, 50 min from pyramids. Total living area is 200 m. The apartment is located in the 2nd floor and there is an elevator serving the building. Lots of street parking spots are available
Sheraton Heliopolis area is one the elite areas that will make your stay in Cairo enjoyable. My property is very close to the Airport and accessible to everywhere in Cairo through 2 main highways. The biggest shopping mall in Egypt is just 5 minutes away.
The apartment is spacious, modern and clean. Very close to the airport but in an area that is somewhat undergoing construction. A MiFi is available to use but you have to purchase your own data SIM to have any internet connectivity. All in all a pleasant place and a very helpful and friendly host
Mussab
2016-06-05T00:00:00Z
The host canceled this reservation 12 days before arrival. This is an automated posting.
Jamie
2016-08-05T00:00:00Z
The apartment is beautifully kept and decorated and exactly as the photos describe. The location is excellent with a quiet location near the sun city mall and Cairo airport T1. It is also short drive away from the city centre. The doorman Magdy is friendly and very helpful.
Mena Michael
2016-03-16T00:00:00Z
I had a fantastic stay at this luxury flat in Sheraton, Heliopolis. The housekeeper Dido was the best lady ever and she help me too much. The bedrooms were comfortable and it had a nice power shower. Kitchen was huge and had a lovely American style fridge and good microwave. Location quiet but taxis found it hard to locate sometimes as the numbering of the buildings were not easy. But I will definitely stay here again. Beatrice is a nice lady and a good friend now.
Aisha-Natasha Sonali
2017-01-21T00:00:00Z
Beatrice was an excellent host! Loved her flat. Would definitely stay again.
Rebecca
2016-03-29T00:00:00Z
It was a nice home.
Terrence
2016-05-19T00:00:00Z
The house is exactly as described, although there's still some development in the neighbourhood still, not much of a view and Beatrice was very good to communicate when we arrived to the driver to locate the house from the airport, cleanliness was great as well as the bathrooms and bedrooms. Would have liked a starter pack as to what to see or experience in Cairo most and some basic ingredients in the house for those wishing to cook or even some coffee/tea in the house. But otherwise great stay in a developing area.
Sasha
2017-04-07T00:00:00Z
The Host was accommodating, and responsive.
Mohamed
2016-05-01T00:00:00Z
Typ av rum
Eget hus/egen lgh
---
Typ av boende
Lägenhet
---
Plats för
6
---
Sovrum
Kairo, Cairo Governorate, Egypten
My place is so close to the airport, public transport, restaurants & shops. You'll love it due to its location, safety & liveliness. Suitable for couples, solo travelers, families (with kids), & big groups. If you are my guest on your flight arrival or departure day, I'll drive you (for free) from or to the airport (forget taxi touts & save $). Perfect place for long layovers. I sleep in my own separate room. Sometimes when I travel to hometown, you'll have the whole apartment to yourself.
3 beds in your own private bedroom and a few couches in an open living room. If you are 3 guests or less, you'll take the room all for yourself(yourselves). If you are more than 3 people, extra people will sleep on the couches in the living room.
The part where I live is a clean & lively part of Cairo with many cafes, restaurants, supermarkets, & close to 3 big shopping malls.
This is the perfect place to stay if you get into the airport late or have an early flight-- it's so close to the airport with a very friendly and hospitable host!
Mercedes
2017-01-03T00:00:00Z
Lovely room in Cairo, near airport. Highly recommended for backpackers!
Ming Hao
2017-01-30T00:00:00Z
Hesham is very friendly and good in English. He kindly sent us to the airport as the end of our 4-month journey. Hesham's place is just like the photos. The surrounding is quiet, great option if you wanna stay away from the noisy Cairo city center. Highly recommended ! :))
HUI
2016-12-15T00:00:00Z
This is a great value for its offering. Very close to the Airport metro is fairly close. Restaurants, shops, and markets are within walking distance.
(EMAIL HIDDEN)
2017-01-26T00:00:00Z
I stayed at Hesham's place for a night between flights, and it was great. He was very helpful and friendly, and I would definitely stay there again!
James
2016-10-29T00:00:00Z
We only had 8-10 hours at Cairo airport after we ended our Holyland tour. So instead of sitting at the airport for 10 hours, we chose to reserve this room. Hesham re-arranged his work schedule and personally picked us from airport & dropped us off prior to our flight. Hesham's apartment was the way as shown in the pictures - clean, conveniently located & comfortable. Hesham went above and beyond to make us feel comfortable. His hospitality was great, he even accompanied us to local restaurants & for last minute shopping. His translation to local shopkeepers was great help. My spouse & I felt safe in foreign country & in Hesham's neighborhood. He has our full endorsements and will definitely consider staying at his place on our next visit to Cairo or even on another longer layover.
John
2016-11-11T00:00:00Z
Hesham is a great host and his English is perfect. He did everything possible to make my stay memorable and he is the epitome of true Egyptian hospitality and friendliness. The proximity to the airport was just what I was looking for and general public transport is available in the area. There are all the quick stores needed in very close proximity. Overall I had a fantastic home stay here :) The bed and pillow were quite firm.
Dieter
2016-10-15T00:00:00Z
The Apartment was nice and comfortable. Communications was excellent. I got to know the owner and the least thing i can describe him with that he is so friendly and helpful.
Nazar
2016-11-18T00:00:00Z
Typ av rum
Eget rum
---
Typ av boende
Lägenhet
---
Plats för
5
---
Sovrum
Sheraton Al Matar, Cairo Governorate, Egypten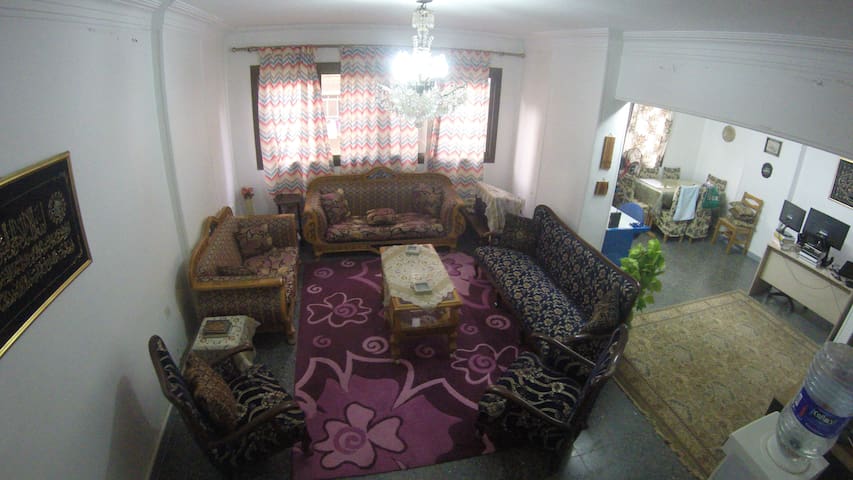 In the heart of the thriving Korba/ Roxy neighborhood, this 2.5 bed 2 bath is fully updated giving you all the comfort and convenience you need during your stay. Perfect for couples, families, and larger groups of people looking for more space.
Nestled in a walking street, and centrally located to shops cafes and restaurants, the building is Heliopolis Style architecture, with arched domes. A beautiful terrace balcony awaits you in the evening to sit back and relax.
The hosts are more than understanding, the place is super clean, I would surely recommend it ...
Maha
2016-08-21T00:00:00Z
The apartment is very memorable - Karim and Martina have done a great job retaining elements of traditional Egyptian architecture and modernizing the place. The loft and the balcony were both the stars of the show. The bathrooms and kitchen were all very clean. The apartment is located in the bustling Korba district. I had a very enjoyable stay here.
Shamir
2016-09-19T00:00:00Z
Excellent from start to finish. Karim was a great host and the space was amazing, very modern and unique. Would definitely stay again.
Michelle
2017-03-08T00:00:00Z
Great place, great hosts!
Nathan
2016-10-23T00:00:00Z
Tolle Wohnung! Zentral! Schön eingerichtet! Lief alles bestens! Gerne kommen wir wieder!
Heike
2017-03-30T00:00:00Z
Typ av rum
Eget hus/egen lgh
---
Typ av boende
Lägenhet
---
Plats för
6
---
Sovrum
Heliopolis, Cairo Governorate, Egypten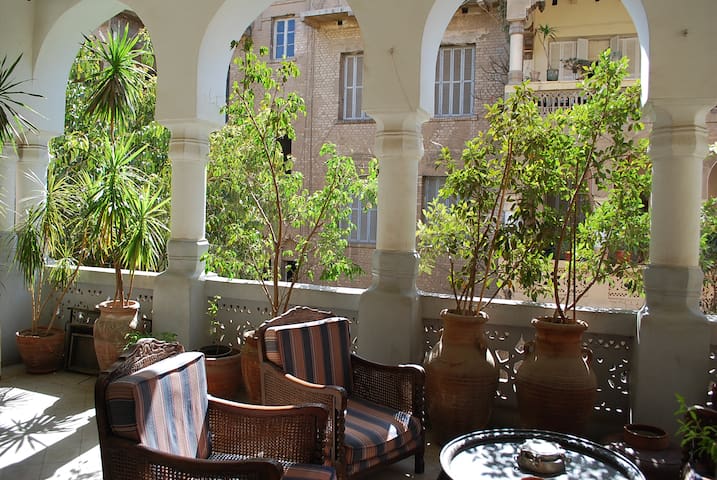 This 300 sqm appartment from beginning of 20th century with high ceilings and arabic charm however modern provides you with comfort and central location. You find many restaurants, cafés and shopping facilites around. All in walking distance.
I booked Daniel's place for friends, they all loved their stay at the apartment. It's spacious, cozy and neat. Daniel's neighbour "Ms. Wahida" was very friendly and helpful. We found everything we needed at the apartment and nearby. I would highly recommend it to anyone visiting Cairo.
nehal
2016-03-12T00:00:00Z
I stayed at Daniel's place for 5 days. The house is very beutiful and spacey, arrived at 11 and left my luggage at his neighbour, who was very kind until the house was being cleaned. There are many restaurants and cafes around and the place is very lively at night, only 5 mins away from the subway if you wanna go to downtown, Maadi..etc Daniel wasn't in Cairo but has been more than helpful and friendly, answered my questions and gave me information I needed. I would definitely stay over again and would recommend to anyone visiting alone, with family or in groups. Oh and the house is supplied with all basic needs like towels, shampoos, mouthwash..etc
mehmet
2015-10-22T00:00:00Z
The apartment was very clean when we arrived. Daniel's neighbor was very nice and helpful as she responded to all our needs and makes our stay very comfortable. The apartment description was accurate. The apartment is in a great location near Roxy and has easy access to all major roads. There are tons of restaurants and a major market nearby. We will stay there again in our next
Ahmed
2016-01-20T00:00:00Z
The house is amazing, old fashion cairo house, huge and we felt really comfortable. We loved the Area was close to metro. Super cozy place and I recommended. Although we didn't met Daniel Wahida was very helpful.
Martha
2016-03-26T00:00:00Z
My experience in Daniel's apartment was perfect. It is an historical building with beautiful high ceilings, spacious and tastefully decorated with mostly antique furniture. The apartment is clean and has everything you need in the kitchen and bathrooms. It is perfectly located in Heliopolis and close to many coffee shops and restaurants. An uber taxi is also easily accessible and is on a relatively quite street. The check in process and communication with Daniel went smoothly and his neighbor met me to give me the key. I would highly recommend this apartment. It is great value for money and is suitable for families, couples or individuals. It was a very comfortable stay and I will definitely stay here again.
Tracy-Lee
2016-03-02T00:00:00Z
The host arranged for his lovely neighbour to meet us and welcome us to the flat. The flat is in a lovely area of Cairo and you can easily access the Salah Salem Road to get downtown. The flat has a lot of charm and I would stay again. Daniel was helpful in negotiating the arrival time. Thank you for leaving water in the fridge this was a useful beacuse we arrived late at night.
Julie
2015-10-18T00:00:00Z
I really enjoyed my stay at Daniel's place in Heliopolis. It is a beautiful historical apartment, clean and comfortable. The apartment has everything I needed and is very spacious with beautiful furniture. It is perfectly located in Korba ..close to many restaurants and coffee shops. It is also an easy location to order an uber taxi but is still on a quite enough street. The apartment is private and the building is clean and quite. It has been the best Airbnb experience I have had and I would definitely come back to this apartment. It is great value for money, clean, well equipped and beautifully furnished. Daniel was also good with communication and arranged for check in and check out with a neighbor. Thanks so much.
Tracy-Lee
2016-02-28T00:00:00Z
This is my second stay at Daniels apartment. I would highly recommend it to others. It is spacious, clean private and great value for money. The check in and communication with Daniel and his neighbour Wahida went smoothly. Thank you so much.
Tracy-Lee
2016-08-06T00:00:00Z
Typ av rum
Eget hus/egen lgh
---
Typ av boende
Lägenhet
---
Plats för
4
---
Sovrum
Cairo Governorate, EG, Cairo Governorate, Egypten
Luxury apartment next to city stars mall. Unit has 3 bedrooms, 2 bathrooms, and dining area. There is also American kitchen equipped with all necessary equipments.
The area and the apartment were very good! The communication with the host was very good, too. He did everything that his guest are feeling comfortable. We would definately recommend this place and come back when we are in Cairo again.
Janina
2016-10-27T00:00:00Z
Omar was a great host! Great location near the shopping street of abbas al akhudd. The building isnt complete so can be a little misleading but once inside the apartment is a great size!
Faisal
2017-03-14T00:00:00Z
This apartment was even better than the photos. Omar was traveling, so his mom was there to let us in and take care of everything we needed. We didn't bring our own towels, soap, or tissue, so she provided some when we asked. You might want to bring your own :). Fantastic apartment!
Linnea
2016-12-28T00:00:00Z
The house is big and the location is great. Near city centre mall. Easily accessible. Provision shop & market nearby. Omar is very accommadating host.
Abdul Rahman
2016-12-27T00:00:00Z
We enjoyed our 3 night stay, the Appartment has a great location, in the middle of everything, some awesome restaurants, coffee shops, it is very quiet, clean, nice AC, comfortable beds, more than enough room for 5 adults. We loved it. Omar's family were awesome.
Ahmed
2016-10-11T00:00:00Z
The Apartment was very clean, comfortable and located close to one of the main street's in Nasr city which has a lot of cafes, restaurants, shops and activities. I recommended it specially at summer time and you need to ask for heating system if you plan to stay at winter season ( No heating available ) Last i would like to thank Omar for his great communication and fast response while the booking
Walid
2017-01-14T00:00:00Z
Excellent place Great Flate Great location Great Host Omar is very helpful person It was a great experience
Ahmed
2016-09-29T00:00:00Z
Amazing Airbnb! Huge place with three bedrooms and 1.5 bathrooms, spacious kitchen and sitting room. Great location close to the biggest mall in Cairo and very safe - far from downtown Cairo, but a tradeoff we were willing to make. From the outside, half the building is unfinished, but the apartment is totally complete and beautiful. The place looks absolutely identical to the pictures posted and you should feel very confident booking this amazing apartment as it was very clean, safe, and a great deal for 6 people. Don't expect a lot of hot water, and bring your own towels and toilet paper - both of which you can buy very close by if necessary. We didn't meet Omar, but the building guard was quite helpful and met us to check in and out. Overall this was a great place to stay and I highly recommend it!
Christine
2016-10-16T00:00:00Z
Typ av rum
Eget hus/egen lgh
---
Typ av boende
Lägenhet
---
Plats för
6
---
Sovrum
Nasr city, Cairo, Egypten
2 sovrum med separat omklädningsrum och privat väg rum 1 vardagsrum 3 bana room 6 luftkonditionering Ultramoderna blandning med gamla möbler Balkong med utsikt över trädgården 9: e våningen se större delen av staden Lämpligt för familjer och par
280 m2
Mycket riktigt och vackra
I would like to thank Rasha for this gem! We loved it! There were many places to walk if you want to grab a bite to eat. The City Stars Mall is about 15-20 minutes away and is walkable as well if you'd like. If we ever come back to Egypt Rasha's place will be our place to stay again without a doubt. Thank you for being a great host!
Aaron
2017-02-24T00:00:00Z
The Home was spacious, comfortable, and the decor is lovely, but I have notes on cleanliness. location is very good there is a supermarket down the building. and you can buy anything you need from the area. the overall value was good, and I would recommend it for 4 guests.
Orwa
2017-03-26T00:00:00Z
The host canceled this reservation 52 days before arrival. This is an automated posting.
Fernanda
2017-01-09T00:00:00Z
Perfect stay. Perfect communication with the landlord. Thank you!
Janina
2016-12-15T00:00:00Z
Is good so much apartment and I am sure I come back again.
Cássia
2017-04-07T00:00:00Z
Rasha's place was incredible. It was by far the nicest Airbnb I have ever stayed in. Communication was great throughout the entire process. I would stay here again would recommend this Airbnb to anyone who is reading this. Thank you Rasha for being a great host and for providing a great apartment!
Ryan
2016-12-05T00:00:00Z
The host canceled this reservation 8 days before arrival. This is an automated posting.
Design4x
2017-01-17T00:00:00Z
We made it very clear that we needed internet over the Xmas period to work. We did this before we arrived and when we got there it didn't work. There was one excuse after another but it didn't work once on 8 nights. We had to buy sim cards but these only work in one room. The showers are also very weak and stay hot for only a minute. If you need wifi and a shower, this might not be the place for you.
Dante
2016-12-29T00:00:00Z
Typ av rum
Eget hus/egen lgh
---
Typ av boende
Lägenhet
---
Plats för
5
---
Sovrum
Nasr City, Cairo Governorate, Egypten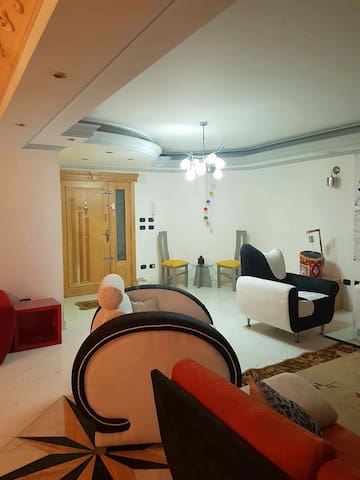 This unique home is located in the heart of Islamic Cairo, adjacent to downtown. It has been tastefully furnished and features stunning panoramic views of Cairo's Mamluk and Ottoman-era minarets. The house is just a couple of minutes walk from al-Hussein and al-Azhar mosques, inviting guests to experience this part of the city in a far more intimate way than tourists typically have the chance to.
The flat has one bedroom with a vintage iron double bed and A/C + heater, a bright living room with a panoramic west-facing view (incredible sunsets!) that can accomodate three people on three futons, a study with a balcony, a small kitchen that has everything you need to cook and make tea+coffee, bathroom, and foyer. It is located three stories up on a cobblestone pedestrian street with stunning views - of the historic monuments and local neighborhood, and panoramic views of the city. The bathroom has a shower but not a bathtub. There is good hot water and water pressure around the clock.
Most buildings in the area were built between the 12th and 14th centuries. The UNESCO heritage site coined an "open-air museum" and centered at al-Muizz street is barely a 2-minute walk from the flat. Al-Hussein mosque, and Khan-el-Khalili market are also in the neighborhood. The area surrounding the flat is not gentrified and just off the beaten path - still full of small businesses, bakeries, fruit and vegetable vendors, and street food stalls.
Natasha is fabulous landlady and she help us to spend extraordinary colored days in Cairo, in a district with real oriental life. Her driver was also unique and approaching. We would come back.
Sonja
2016-10-30T00:00:00Z
Our trip was unfortunately cancelled at the last minute so we did not really go to the flat. However, I am very keen to write this review because of the amazing service & communication we received from the host! Natasha is definitely one of the nicest persons you can deal with. She was very responsive to my messages, open to answer our questions and sent me the flat key with a friend cause she was out of Egypt 2 days beforehand with complete trust in our commitment that we will only use the place for the day we rented it. You do not find that many nice people nowadays!
Mona
2016-09-22T00:00:00Z
Our stay at Natasha's flat was magical. The apartment is beautiful and located in a charming street of the old Cairo. The view is stunning. There are a thousand things to see around. Our arrival and departure were perfectly organized and easy. Natasha is very nice and caring. The only disadvantage of the flat is that the bedroom overlooks a schoolyard. It is very noisy in the morning during the week. But it's a detail as it is really a unique place. Thank you so much Natasha!
Benjamin
2016-12-01T00:00:00Z
I had a fantastic stay. Thanks for everything!
Holger
2016-10-03T00:00:00Z
If you are looking to experience real Cairo, then this is where you should set up base. Tucked away in Islamic Cairo, the flat is 15 min walk from the metro and on the doorstep of historical Cairo. The flat is old but beautifully decorated and spacious. This was a perfect location, close enough to everything we needed, but far enough away to make us feel like locals, not tourists. Natasha is exceedingly helpful and full of detailed information about the area.
Chelsea
2017-02-12T00:00:00Z
My stay in Natasha's place was just what I needed for my long weekend in Cairo. The appartment had everything I needed and the neighbourhood offers an amazing experience into Cairo's more historical parts. I loved it though you have to be okay with a bit noise at night. I slept great though. Natasha was quick in her answers and I didn't find anything unexpected. So a place to recommend!
Frerik
2017-01-24T00:00:00Z
Typ av rum
Eget hus/egen lgh
---
Typ av boende
Lägenhet
---
Plats för
4
---
Sovrum
Kairo, Cairo Governorate, Egypten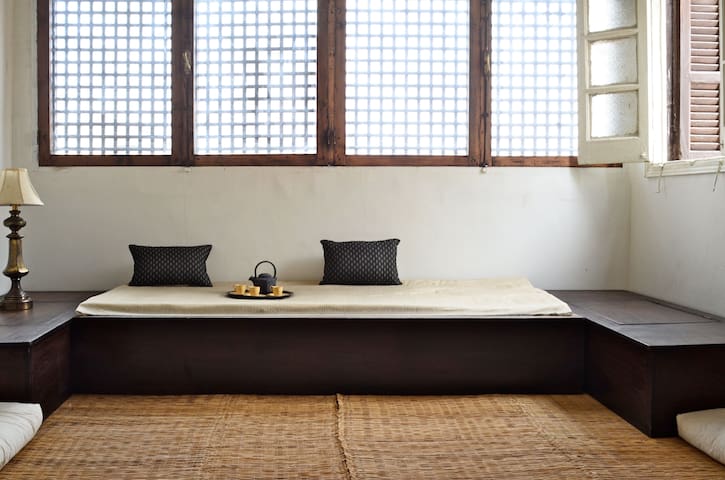 (FOR Ingen enskild MÄN), nära Airport..70 stil Konstnärlig plats omgiven av kollektivtrafik, restauranger mat, köpcentra. Du kommer att älska min plats på grund av platsen, atmosfären och utomhus utrymme.
Säker och tyst
Ett lugnt område
Dalia's apartment is large and spacious with a lot of space. We had the apartment to ourselves and Dalia respected our privacy but was on hand if we needed anything. Dalia provided everything we needed. The location is mostly residential. Not sure about public transport and Uber is easy and cheap in Cairo. There is a little supermarket few shops away.
Julie
2017-04-01T00:00:00Z
Dalia and her mother are very nice and helpful
Kashller
2017-04-07T00:00:00Z
Great location- close to many great shops and restaurants in the Korba. Nice view over Merryland park. Dalia is very helpful. Nice and unique decor inside.
Isaac
2017-02-02T00:00:00Z
Dalia is very nice. The room is beautiful like in the pictures. The location is good.
Kamonwan
2017-04-09T00:00:00Z
Unforgettable experience..the atmosphere was really unique & has it's own style, a big room space for us,the host was really nice & helpful, we almost had the whole apartment for us , the neighbourhood is quiet & very safe area. I totally recommend staying there
Mohammed
2017-01-01T00:00:00Z
The location is amazing, the description is accurate. The host is very nice and helpful. Will stay again on my next trips.
Moody
2017-02-20T00:00:00Z
Typ av rum
Eget rum
---
Typ av boende
Lägenhet
---
Plats för
3
---
Sovrum
Cairo Governorate, Cairo Governorate, Egypten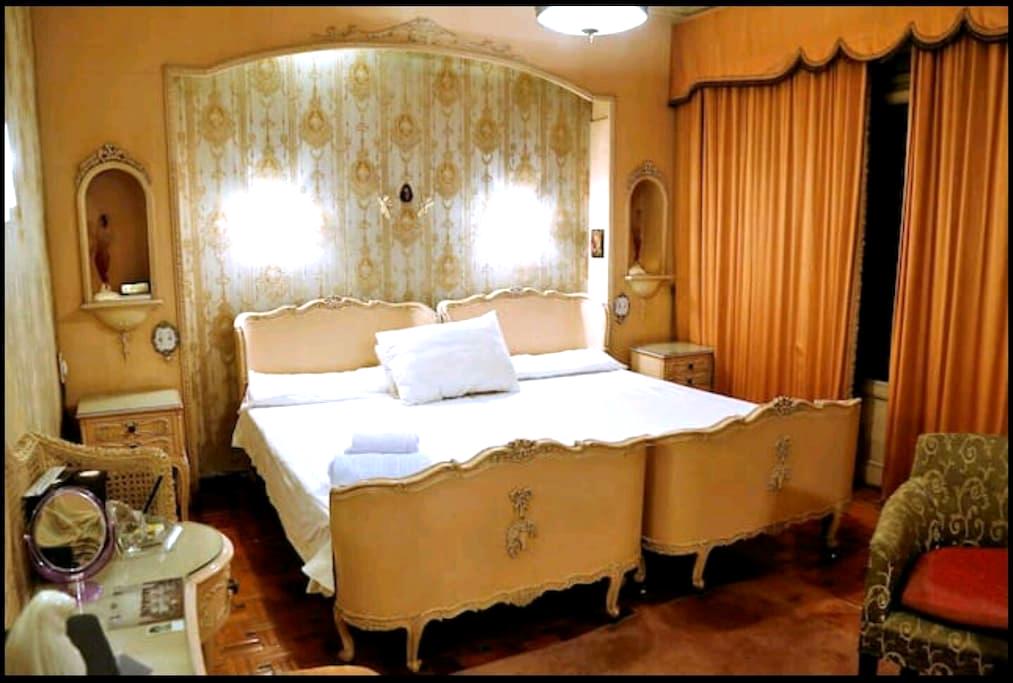 At your disposal a villa with 4 rooms + two bathrooms + kitchen on the Pyramids Plateau to two km from Giza pyramids, garden 130m and well equipped. It can suit a large family or group of tourists
Typ av rum
Eget hus/egen lgh
---
Typ av boende
Lägenhet
---
Plats för
4
---
Sovrum
AZ Zahraa WA Masaken Al Helmeyah, Cairo Governorate, Egypten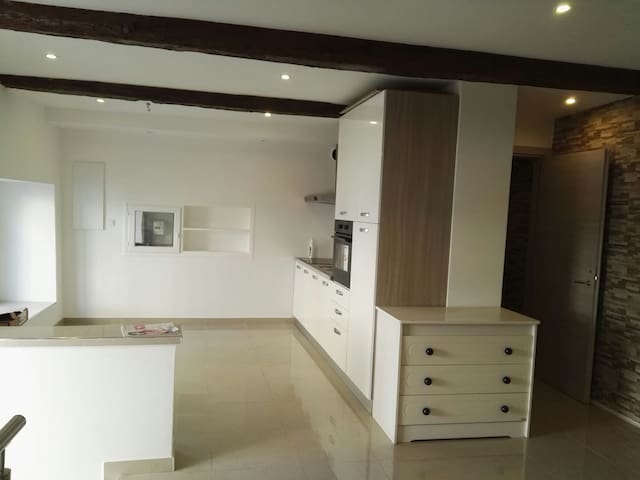 Mit sted er tæt på Kairo tog og metro stationer, Downtown område, restauranter og spisning, natteliv, familievenlige aktiviteter. Du vil elske mit sted på grund af placeringen, da det er 15 minutters gang fra gamle historiske islamiske Cairo "El Moez L'Din allah street", 15 minutter i bil til Salah El Din citadel. Mit sted er godt for par, solo eventyrere, familier (med børn), og store grupper.
Lejligheden ligger i et unikt sted i centrum af Kairo. Det er meget tæt på historiske steder og midtown.
Vores naboer er anstændige og helt. De er indbydende.
Raafats apartment is spacious and cosy. It's a typical Egyptian home with all the facilities you would need. Rafaat was so kind to leave something for breakfast in the fridge and he is very helpful. The place is close to the metro and there is a small supermarket just in front on the building. I will highly recommend this flat if you are into staying in an authentic neighborhood and if you can live with occasional water cuts. That's a general issue not specifically related to the flat.
Merete
2017-04-13T00:00:00Z
Thank for the welcome to Raafat.Suitable for apartment living in a typical residential area of Cairo.
Genya
2017-02-09T00:00:00Z
L'appartement de Rafaat se trouve au centre du Caire près des transports' public et certains commerces. Il est propre, très bien équipé, eau chaude, TV, wifi... les hôtes sont adorables, accueillants, arrangeants et aide beaucoup pour un bon développement du séjour. Nous avons passé un excellent séjour dans cet appartement.
Cynthia
2017-04-09T00:00:00Z
Typ av rum
Eget hus/egen lgh
---
Typ av boende
Lägenhet
---
Plats för
3
---
Sovrum
Al Qbeisi, Cairo Governorate, Egypten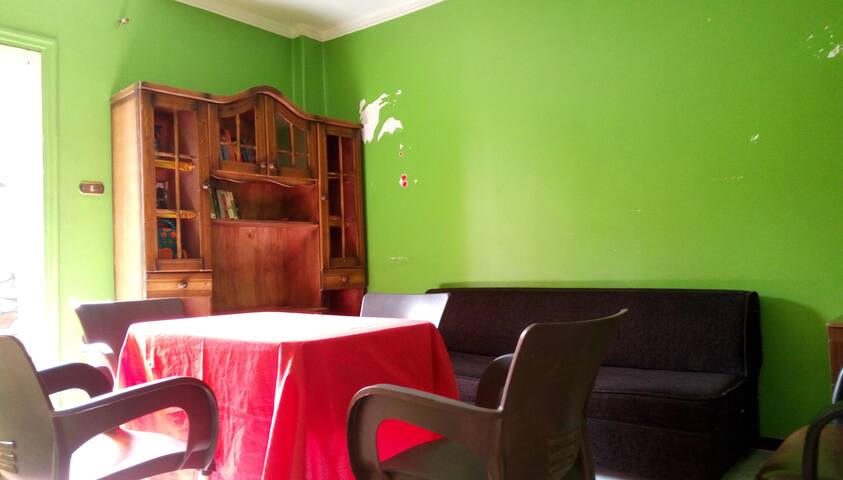 Nice apartment in the first floor good furniture in the middle of Cairo city with a good view and nearby all facilities
Typ av rum
Eget hus/egen lgh
---
Typ av boende
Lägenhet
---
Plats för
4
---
Sovrum
Kairo, Cairo Governorate, Egypten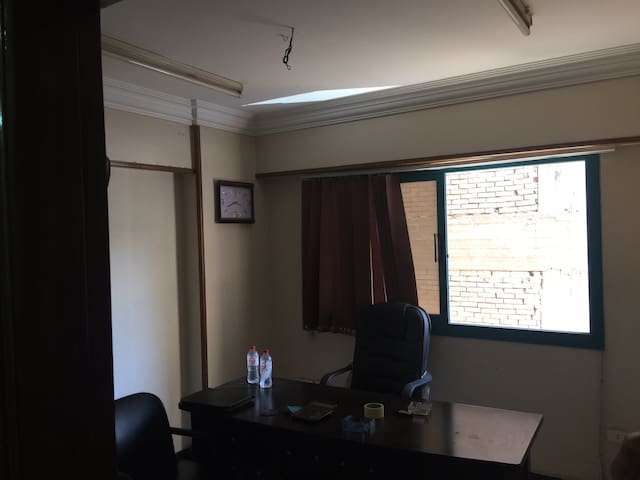 Safe, Clean & Cozy (Penthouse) Studio + Patio & Roof garden. Top 6th floor + elevator. Ceiling Fans & A-C + wi fi Your own bathroom & kitchen hot-water, washing m/c. Tv, fridge & cooking facilities. Easy Access to down-town. 10 minutes from airport.
Bright & Sunny - entire apartment - one bedroom Studio (penthouse) Fresh clean-air & quiet area. Wi Fi + Ceiling fans + air-conditioning. Hot n cold water for bathroom and kitchen *Best stores, restaurants, caffees & supermarkets as well as "dry cleaning & ironing" shops are very close by. And a short walking-distance to Fresh "Fruit & Veg" market. "Cairo -underground- Metro" is near-by which makes it fast & easy way to down town.
Heliopolis, is part of Cairo, a Safe and clean neighbourhood it's one of the best parts of the city (the presidential palace is also in Heliopolis) The Cairo international airport is close, only 10 minutes drive. All kind of the Best Stores are around you. Our building is on the main street and has Security all night.
The host canceled this reservation 19 days before arrival. This is an automated posting.
Pia
2016-01-06T00:00:00Z
This was a very clean nice little apartment. Mohamed was so nice, extremely helpful and very knowledgeable about the history of Egypt as well as the constellations. He was always up for a good conversation. Mohamed went with me the store and even took me shopping at khan el khalili. He was a great host
Linda
2017-03-30T00:00:00Z
Typ av rum
Eget hus/egen lgh
---
Typ av boende
Lägenhet
---
Plats för
1
---
Sovrum
Kairo, Cairo Governorate, Egypten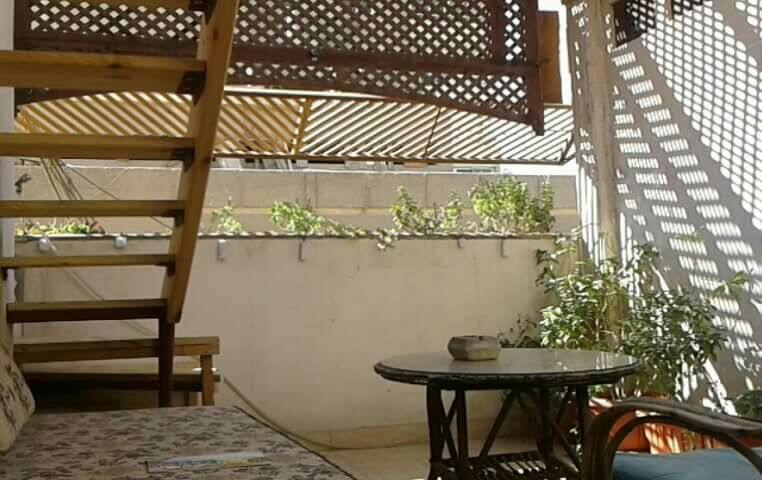 Notre appartement a beaucoup de caractéristiques fantastiques et des lieux de Nerby très populaires. Vous pouvez voir la belle vue sur la ville depuis la terrasse aussi vous pourrez profiter du shopping dans le meilleur centre commercial en Egypte (étoiles de la ville) et nous espérons que vous apprécierez votre séjour. = D
vous pouvez entrer dans l'appartement de la terrasse
en face de la bullding il y a un grand parking et de nombreux magasins de café
The host canceled this reservation 2 days before arrival. This is an automated posting.
Rebecca
2017-03-29T00:00:00Z
Typ av rum
Eget hus/egen lgh
---
Typ av boende
Lägenhet
---
Plats för
7
---
Sovrum
Nasr City, Cairo Governorate, Egypten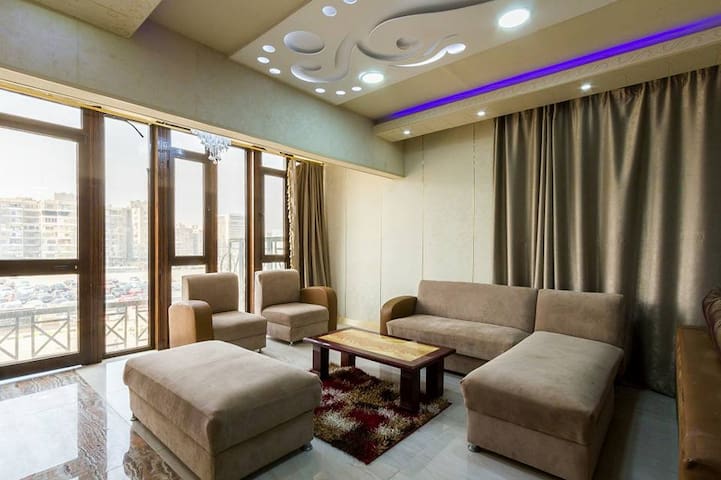 Enjoy FREE local authentic meals! FREE airport rides!
Typ av rum
Eget rum
---
Typ av boende
Lägenhet
---
Plats för
3
---
Sovrum
El-Zaytoun Sharkeya, Cairo Governorate, Egypten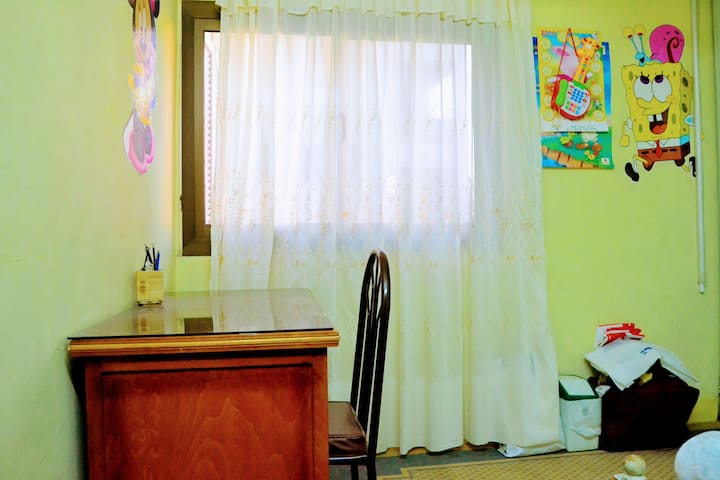 Mansheya El-Bakry - Airbnb
:
I genomsnitt

4.57

av

5

stjärnor från

100

gästomdömen
1

–

18

av

177 Uthyrningar av lägenheter
Ange datum för att se full prissättning. Ytterligare avgifter tillkommer. Skatter kan tillkomma.