The room with independent bathroom is in the woods. From the parking private path through the woods. 2 km from Leonardo da Vinci born home, 30km Florence, 40 Pisa, 50Siena. Quiet, beautiful place, wild animals and amazing landscape. Pickup if possible:12 € Empoli-Home LOCAL WINE, OLIVE OIL, CHEESE DEGUSTATION.
The room is in the woods. From the parking the path through the woods brings you to home. 2 km from Leonardo da Vinci born home, 30 km from Florence, 40 from Pisa, 50 from Siena. Quiet, beautiful place, fool of wild animals and amazing landscape. Ideal for the bike, tracking, the Mountain bike rental on request, clumping area is 10 km from us. Leonardo da Vinci born place just 20 minutes walking from us. BREAKFAST for 2 persons IS INCLUDED. Living room, bathroom, terraces. Leonardo da Vinci born place is just 20 minutes walking from us. From Vinci there's bus to Empoli. From there you can reach any city Living room, bathroom, terraces. From the beginning to the end, but it's depend of them Leonardo da Vinci born place is just 20 minutes walking from us. From Vinci there's bus to Empoli. From there you can reach any city Tourists walk guide to Vinci, Leonardo da Vinci born place, Etruscan tombs, walking. The price. Is 5 €. Car guide to the best nearest outlets. The price is to accordance. If you need I can pick you up at Empoli train station and the price is €12 Living room, bathroom, terraces. From the beginning to the end, but it's depend of them Leonardo da Vinci born place is just 20 minutes walking from us. From Vinci there's bus to Empoli. From there you can reach any city Tourists walk guide to Vinci, Leonardo da Vinci born place, Etruscan tombs by tracking. The price is 25 € per 2 hour tour. Car guide to the best nearest outlets. The price is to accordance. If you need I can pick you up at Empoli train station and the price is €12 Note: Internet sometimes doesn't fast. This connection trouble is about all Vinci's area. But it's work.
Leonardo da Vinci born place is just 20 minutes walking from us.
We had a great time at Tania's place and slept well in the lovely, cosy room in a formerly wine cellar. It's a perfect place for a romantic time in tuscany. The wonderful landscape is made for long walks through the fields of olive trees, woods and over the nice hills to enjoy a spectacular view. For a visit in the early spring we would recommend you to bring some cloth for rainy days, so you can enjoy the nature experience at every atmospheric condition. Tania and her daughter integrated us in their everyday life and gave us helpful advices for nice spots to visit during our vacation.
Josefine
2016-03-30T00:00:00Z
To był wspaniały wieczór, wspaniałe otoczenie i towarzystwo. Tania dała nam wskazówki gdzie dobrze zjeść, co wato zobaczyć. Wrócimy tam następnym razem :) It was a wonderful evening, great surroundings and society. Tania gave us tips where to eat, what it's worth to see. We'll come back next time
Anita
2015-10-08T00:00:00Z
I had a wonderful stay here. The room is charming, I love the quiet, walking in the woods and olive groves; the bed is very comfortable, I slept so well. It is a perfect location to visit nearby towns. I feel I made a new friend - thank you Tania for your hospitality, your sweet dogs Misha and Jimbe - and your delicious homemade foccacia and pizza :) Internet could be faster, but it did always work. I have already recommended this stay to a friend. I hope to visit again!
Kathleen
2015-11-22T00:00:00Z
Really nice, picturesque, quiet place, Hosts were very involved in making my stay comfortable, well-kept, clean B&B with my good recommendation
PIOTR
2016-08-30T00:00:00Z
I have stayed with Tania and her wonderful daughter Arina several times over the last two years. She is a SUPERHOST and her countryside home is great. The little room downstairs is warm when it is cold outside and cool when it is warm, like a little cave. Tania is the reason I decided to start hosting AirBnB guests this summer, at my home in Oregon, USA, and I couldn't be happier with my experience. She is a great role model!!
Donald
2016-11-05T00:00:00Z
We planned to stay one week in Tania's apartment but after two nights we had to leave. It is not comfortable, the bathroom was not as clean as we expected, the drains smelled disgusting and the smell of the dogs was simply everywhere. We can't say anything about Tania's quality as a host, just because she was not there. Her two friends welcomed us and really tried their best to make it a good stay. We are really sorry, but we can't recommend this room.
Lisa
2016-09-10T00:00:00Z
I have a very nice and comfortable stay in Tanya`s house who is a very kind and helpful host. Highly recommended
PIOTR
2016-10-22T00:00:00Z
Great place to be. Tanja and her daughter Arena were very nice to us and gave us good advices where to go in the neighborhood. Thank you for the great start of our holiday!
Kristel
2015-08-22T00:00:00Z
Typ av rum
Eget rum
---
Typ av boende
Bed & Breakfast
---
Plats för
2
---
Sovrum
Vinci, Toscana, Italien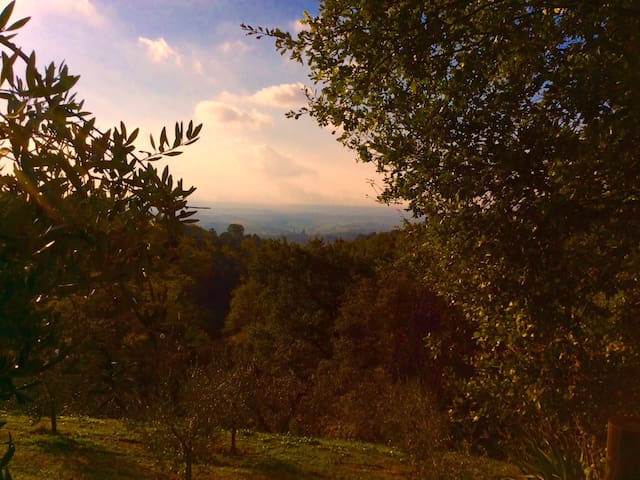 Nuovissimo appartamento panoramico completamente arredato situato nel centro storico di Vinci esattamente di fronte alla chiesa e alla torre del museo Leonardiano.L'appartamento è composto da sala tv con divano letto,cucina moderna,bagno con doccia,camera matrimoniale ed è dotato di tutti i comforts.Comodo,silenzioso e molto accogliente si rivela perfetto per un soggiorno indipendente per chi ama sentirsi a casa anche in viaggio.Parcheggio auto pubblico nella via.Raggiungibili a piedi:Ristoranti (email hidden)seo Leonardiano.Ufficio turistico.Enoteca.Fermata bus.Perfetto anche per chi viaggia senza auto.Nelle vicinanze:aziende agricolegolf clublago pesca sportivatrekkingcinemateatrocentro benessere convenzionato
Ho passato qui i tre giorni di Pasqua con la mia compagna. L'appartamento è davvero molto bello, comodo, pratico, ci siamo sentiti come a casa, con la piacevole differenza che di notte c'è silenzio e la vista è gradevolissima! Francesco è gentile, simpatico e molto disponibile. Premuroso, si è interessato di come stesse procedendo la permanenza e ci ha fornito un sacco di informazioni utili! Lo consiglio vivamente!!
Manuel
2014-04-22T00:00:00Z
We stayed 15 days in the apartment. The apartment is in the city center of Vinci, is comfortable but there are the bells of the cathedral and it's very noisy, you can't sleep really well with the noise or you need plugs. That's the reason that we couldn't relax too much. About Francesco, he didn't come any time and we had problems with him because he didn't answer our messages. Althought, he didn't come when we needed to return the keys of the apartment.
Noemí
2016-08-22T00:00:00Z
What a great choice we made to chose this beautiful apartment in Vinci. The communication with Francesco was super easy to come along with and he took care of our needs instantly and with so much kindness. The apartment is located in the heart of Vinci and has a fabulous standard. We highly recommend that beautiful apartment to stay there and experience the magical flair of Vinci!
Renate
2015-06-28T00:00:00Z
Attico in posizione (URL HIDDEN) pieno centro storico, difronte al museo leonardiano. Francesco è disponibile e cordiale..un'esperienza che sicuramente ripeterò!
Marco
2016-07-25T00:00:00Z
Our accommodation was perfect, right next to the Da Vinci Museum with free parking on the street. Vinci is a quiet village, just what we wanted. Francesco was very supportive and arranged everything. All communication was very clear and friendly. The apartment is also next to the church tower that chimes on the hour, so you will need to adjust to that , but it adds to the atmosphere.
Greg
2014-08-19T00:00:00Z
What can I say. We had a amazing time in Vinci and Tuscany. The apartment was very nice, clean and cozy. Francesco helped us with some issues which we had and everytime when we had some questions he answered them really quick or just called us. Vinci is a really small clean city and we lived opposite to church and Vinci's museum what was great. When you come with car you will not have a problem to find the place only on Saturday when small town prepares some cultural programme for travellers and residents. Vinci was our base camp to setting out to different places. We have been in Florence, Pisa, Livorno, Siena and most beautiful beach in Tuscany called Spiagge Bianche. This holiday was the best ever for us. During our journey back to home we visited also Venice and I would say that we had another lovely, romantic experience there. Grazie Francesco
Adam
2013-08-12T00:00:00Z
Die Wohnung ist zentral gelegen. Mit dem Auto gut erreichbar und Parkmöglichkeiten sind super. Größe und Ausstattung ist für 2 Personen ideal, Wlan wurde angeboten – Empfang gut. Das Auffinden der Wohnung gestaltete sich etwas schwierig – die richtige Adresse in Vinci ist Piazza Leonardo da Vinci 23. Bei offenem Fenster waren die Glocken der direkt gegenüber liegenden Kirche nachts nicht zu überhören...
Clemens
2016-09-17T00:00:00Z
Great flat, great host!
Alexander
2014-06-30T00:00:00Z
Typ av rum
Eget hus/egen lgh
---
Typ av boende
Lägenhet
---
Plats för
2
---
Sovrum
Spicchio-Sovigliana, Toscana, Italien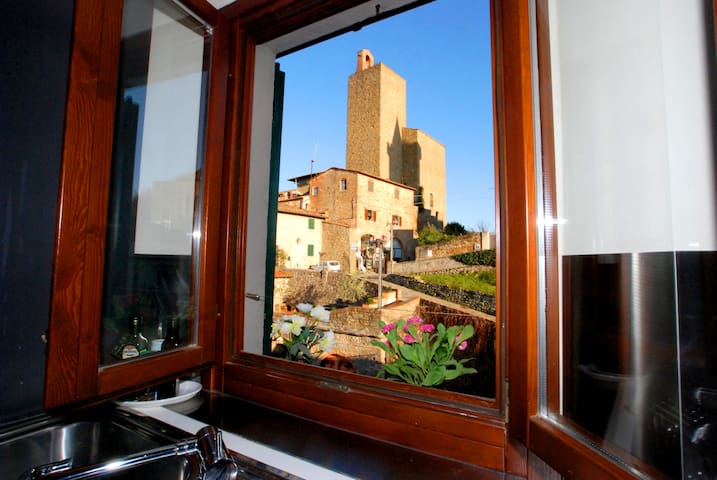 Organic Farmhouse "LA GIOCONDA" is situated in the area of Santa Lucia 2 Km from Vinci and only 200metres from Leonardo da Vinci's native house. It consists in a main country-house and rustic apartments restored. Contact me in order to receive the best offer.
This one -room studio Apartment called GRANAIO has all the necessary equipment to offer comfortable staying in our farmhouse ,it's on first floor and it's composed by : kitchenette,1 double bed,bathroom ,private place in the garden with table and chairs . The garden with barbecue has beautiful view on typical vineyard of Montalbano Chianti docg and olive grove ,all organic production . Wonderful swimmingpool in panoramic location ,parking,laundry , mountain bikes,table tennis and games for children, free of use . In September, guests can join with us in the grape harvest.
Typ av rum
Eget rum
---
Typ av boende
Lägenhet
---
Plats för
2
---
Sovrum
Vinci, Toscana, Italien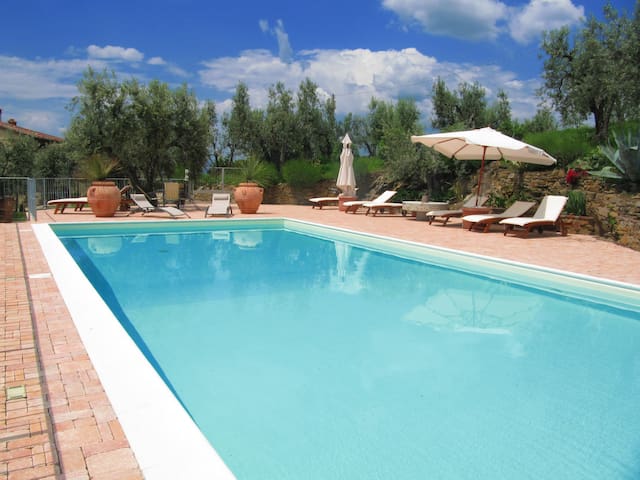 La casa gode di un meraviglioso panorama, ha un grande spazio/terrazza da cui si ammira il paesaggio collinare intorno a Vinci ( Firenze ) dominato da olivi e vigneti, può ospitare fino a 11 pax.
La casa è in una posizione privilegiata, al terminare di una collina, circondata da olivi e vigneti, gode di un bellissimo panorama e di assoluta privacy La casa può alloggiare fino a 11 persone (più un bebè), le stanze sono molto spaziose e piene di luce.
A casa é grande e confortável, com uma linda vista das colinas de Vinci, e um por do sol maravilhoso! A localização é boa para fazer passeios na parte norte e centro da Toscana, perto de Florença, Pisa e Lucca. Laura é uma anfitriã muito atenciosa e prestativa! Passamos grandes momentos na Casa di Marcello!
Cassia
2016-09-21T00:00:00Z
Laura met us in the nearby town square of Vinci and we made a short drive to the world famous hills of Tuscany to stay in her beautiful La Casa di Marcello. When we first arrived, the expansive view took our breath away. You have to see it in person to truly experience the magic of this famous Tuscan tableau. We had one of the best working vacations (we are screenwriters) of our lives staying at La Casa di Marcello. We were living in history. The home was built in the late 19 century by Laura's great grandfather and his brother - but the home has been lovingly refurbished, including modernized kitchen and bathroom amenities. The warm, familial vibe and soul of the Casa saturates every square inch of it. It is an incredibly authentic Tuscan home with fields of olive trees, wild rosemary and an old brick barn right outside the front door. Rows of vineyards line the emerald green hills that surround the property. Every night we were there, we watched the golden Tuscan sun setting on hilltop walled cities and the picturesque snow capped mountains in the distance. It was truly awe inspiring. The kitchen (with a gorgeous wood burning fireplace) is fully equipped with everything you need to make big family Italian meals or a special romantic gourmet dinner for two. Laura gave us a bottle of Casa di Marcello's olive oil and it was the best we have ever tasted. She also left us a bottle of their Chianti - bellissimo! Laura was very sweet, kind and helpful. She was such a gracious host, even being our special guide for a trip to Lucca. We also took daily drives to the ancient walled cities of Sienna, Florence and San Gimiagnano where we had some of the best cheese and local wines. We did not mind being "off the grid" for a week, because it brought us closer together and we got a lot of writing and cooking done. If you need free wifi you just stop into a lovely cafe in Vinci (right across from the Leonardo da Vinci Museum) in the mornings to have the best espresso of your life and check your emails. Then afterwards you can step into a local ceramics shop where you can meet the artist/potter, see his workshop where his wife hand paints every piece and buy some of the most exquisite Italian ceramics you've every seen. Then drive up the hill home and stop into a 'small' farmhouse to see the birthplace of the genius Leonardo da Vinci. We highly recommend staying at La Casa di Marcello. We are definitely returning again every year.
Rebekah
2016-03-09T00:00:00Z
La Casa di Marcello is perfect for family vacation. House is beautiful, very spacious, bedrooms are huge and bathrooms are fully equipped. There was ten of us with infant and it was not crowded for a moment. House exceeded all our expectations. Usually in the photos everything looks better but with La Casa di marcello it was not the case. It was very clean and cozy. The scenery is beautiful as Vinci also. Laura was perfect host! House is in great area, we easily visited Florence, Lucca, Pisa, San Gimignano and chianti. We had a great vacation and everybody is hoping to visit La Casa di Marcello again.
Igra
2016-03-29T00:00:00Z
This guest house in well located in an olive garden on a hillside approx. 5 minutes to city center of Vinci. The view from garden is perfect. You can see the tower of Vinci easily. 4 rooms are all in 2nd floor in the corners of house with almost same size. Kitchen is in entrance floor and enough equipped to use in your stay. Owner Miss Laura is a very kind and helpfull and she is giving enough info when you arrive to house. If you are a family of 7-10 people or if you are group of firends with 4 families, this house is very suitable for your stay. There are 2 separate bathrooms in the 2nd floor. They are equipped with an electric heated hot water system to use everytime. But during our stay, one of them ( small one ) was not working well. My son Genco was looking to find a bicycle in the house but unfortunately there was no. Since we saw hundreds of bicycles in this region, he need to use a bicycle. I think there should be one or two bcycle to enable the guests to use them. Rooms and bathrooms are clean and you can use them without hesitation.
tuba
2015-08-22T00:00:00Z
Accoglienza ottima
Marco
2016-07-13T00:00:00Z
Typ av rum
Eget hus/egen lgh
---
Typ av boende
Hus
---
Plats för
10
---
Sovrum
Vinci, Toscana, Italien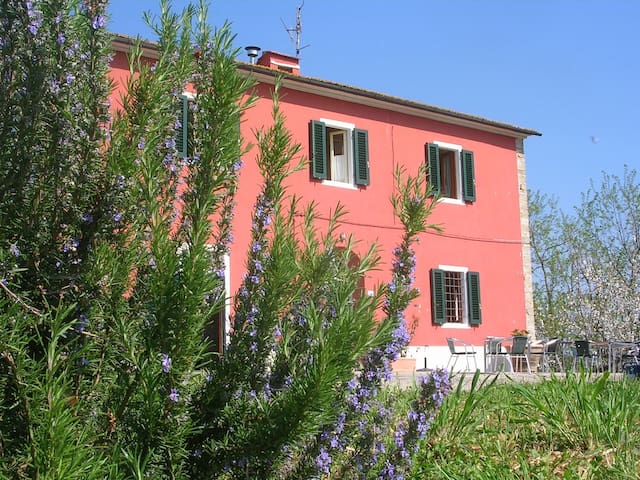 Podere Paola is a villa in the heart of the Tuscan countryside( Vinci). It is composed: large living room, spacious kitchen, dining room, 2 bedrooms (4+3 beds), 2 bathrooms, private garden, parking space. Free wifi.
Podere Paola is used as a holiday home by its owners, so is kept in perfect condition. The kitchen and its appliances have been recently updated. The modern bathrooms are both fully equipped, one with a shower and the other with a bath. The Camera Ulivo (Olive Grove bedroom) has a double bed and two singles. The Camera Cipresso (Cypress tree bedroom) has a double bed and one single. A camp bed is available on request and at no extra charge. The house has central heating. It has free wi-fi 24/7. High chairs, changing mats and other equipment required by families with children are available on request and at no extra charge. Pets are allowed. No smoking is allowed inside the house.
Podere Paola is at the end of a private road and is a 17th century villa with a garden and a barnyard, located on the outskirts of a forest. It is 1km from the nearest village, 10km from the city of Empoli and 5km from the town of Vinci. From Podere Paola it is easy to reach Florence (30 min by car), Pisa (40 min by car), Prato / Pistoia (40 min by car), Livorno (60 min by car) and Siena (90 min by car). Podere Paolo is in the Chianti Montalbano hils and there are many, well stocked wine cellars in the area. Podere Paola is strategically placed for guests interested in mountain biking and Nordic walking. The Pietra Marina swimming pool is 20 min away by car. Podere Paola is a few Km from the Via Francigena.
Podere Paola is beautifully set amongst olive groves where we enjoyed perfect quiet and privacy. On arrival, we were greeted by Corinna and Marco and were shown the house and its workings. The house is obviously a family home, which is full of character and kept very clean too. There were plenty of places to sit inside and the private terrace offered a nice alternative. The bedrooms are beautifully appointed and the beds were comfortable. This was like a home from home with everything we needed. We enjoy cooking and had all the utensils and pots and pans that we needed (including sharp knives, which is quite uncommon in our experience!) We were within reach of many lovely towns and of course Florence, all within an hour's drive from Vitolini. Corinna gave us several family phone numbers, just in case we needed any help and an introduction to a local vineyard for wine tasting. We thoroughly enjoyed our stay at this charming family home. Thank you to the Podere Paola Team!
Anna
2015-10-03T00:00:00Z
On the day before Corinna texted us the directions from Empoli and told us that she would pick us up if we had trouble finding it. When we arrived she and her sister welcomed us and showed us the house. There were an easter surprise and a bottle of fine wine waiting for us on the table. Even though we were only two people she gave us two seperate rooms. The house was in great condition, we had a very pleaseant stay!
Ute
2016-04-04T00:00:00Z
Un grand merci à Corinna pour son très chaleureux accueil. L'endroit est très calme, la maison grande et bien conçue, avec tout le confort nécessaire et agréablement décorée. A l'extérieur une superbe vue sur la campagne. L'hiver la cheminée est certainement un plus. En voiture le village et Vinci sont à quelques minutes. Un grand supermarché à 15mn en voiture.
daniel
2016-01-08T00:00:00Z
The home is beautiful and well equipped for guests. Located in the middle of wine and olive country, it is a quick drive to Florence for a day. The village nearby is small, so activities after the day is done need some planning if you need anything. that evening including eating out. If you have driven any of the small town roads,, you know how narrow they can be. The village here is no exception. The home itself is very comfortable and decorated with taste.Very comfortable bed, excellent water pressure and hot baths were perfect. There was only two of us and the home had room for many more. It would be great for larger families. If we come back, we would stay there again.
William
2015-10-14T00:00:00Z
We enjoyed our stay in your Lovely comfortable family home in a beautiful quiet location , the local walks through woodland and olive groves were great and the views too
Andrew
2015-10-30T00:00:00Z
Corinna and her sister are lovely hosts! Corinna was waiting for us even though we arrived pretty late at the house. Not only that but she even went to the grocery store for us! She was super responsive when we had questions and communication with her was easy and kind. Also her sister was very nice and helpful when we met her. We enjoyed our time in Corinnas lovely childhood home and would definitively stay there again when we come back to Tuscany!
Patrick
2016-10-17T00:00:00Z
Wonderful house; no traffic around, only olive trees and a couple of other farm houses. The beds are really comfortable and the porch outside is just perfect for having lunch under the sun or a glass of wine during the sunset. Corinna and Mario prepared the house to make our stay great, the kitchen is fully prepared and they really made us feel welcome. The location of the house is also perfect for day trips, Florence (I really recomend to park the car in Empoli to take the train), Lucca, Pistoia, Vinci... We really enjoyed our time there and we will definetively repeat if we come back!
Ines
2016-03-25T00:00:00Z
Splendida abitazione;in ogni dettaglio traspaiono la cura e l'attenzione dei proprietari (disponibili e cortesi in ogni situazione)e il desiderio di permettere ai loro ospiti di godere al meglio del soggiorno. Paesaggio indimenticabile.
Massimo
2015-11-29T00:00:00Z
Typ av rum
Eget hus/egen lgh
---
Typ av boende
Hus
---
Plats för
3
---
Sovrum
Vinci, Toscana, Italien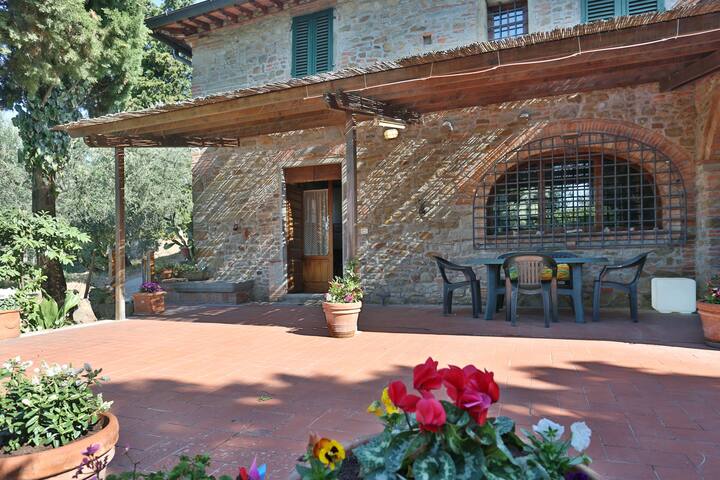 Il mio alloggio è vicino a arte e cultura. Ti piacerà il mio alloggio per questi motivi: la gente, gli spazi esterni e l'atmosfera. Il mio alloggio è adatto a coppie, chi viaggia per lavoro e famiglie (con bambini).
Non ho avuto la possibilità di alloggiare personalmente, ma il mio ragazzo e la coppia di amici che hanno alloggiato hanno fatto commenti molto positivi sulla struttura e la cordialita dei proprietari e mi hanno ribadito più volte "che cosa ti sei persa!" . Quindi conto di tornarci presto!!! Comunicazione facile e disponibili ad accoglierci ad orari a noi convenienti ! Grazie ancora !
Laura
2016-12-04T00:00:00Z
All good!
Kristjan
2017-01-17T00:00:00Z
Typ av rum
Eget hus/egen lgh
---
Typ av boende
Lägenhet
---
Plats för
4
---
Sovrum
Vinci, Toscana, Italien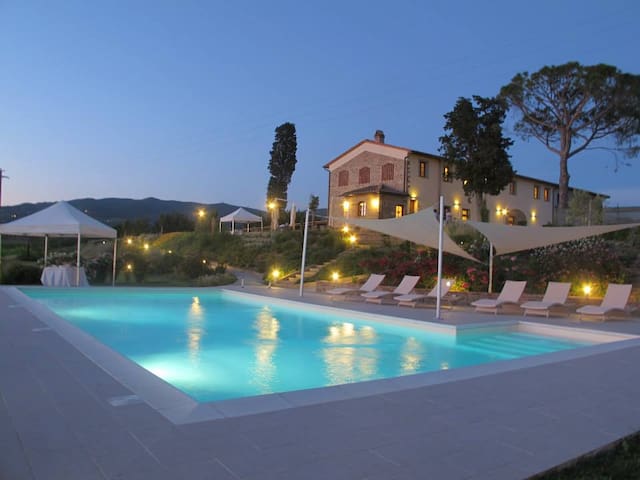 Come and stay in the heart of Tuscany! I have a private room with its own kitchen and bathroom in my house for those seeking a place to stay whilst travelling in Tuscany. A stones throw from the town of Vinci. English owner.
Typ av rum
Eget rum
---
Typ av boende
Hus
---
Plats för
2
---
Sovrum
Vitolini, Toscana, IT, Vinci Firenze, Italien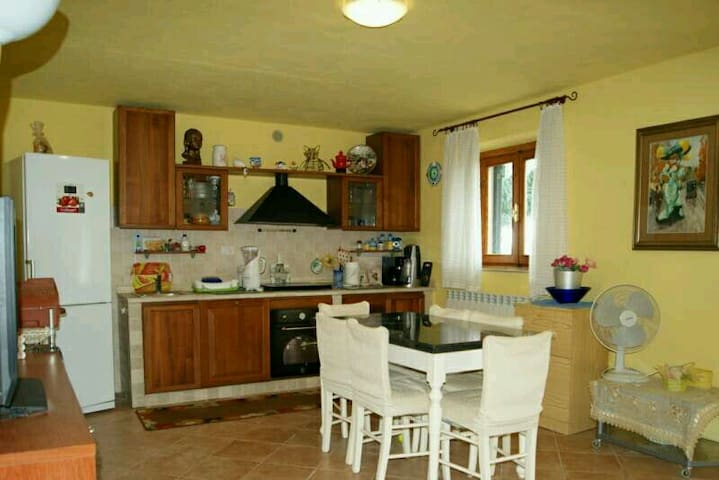 Villa Chiara, un meraviglioso casolare immerso nelle colline vicino a Firenze,grandissima cucina con camino e forno a legna, tre camere matrimoniali, sala da bagno, salone per la lettura, immenso giardino! Graditi anche gli animali!
Villa Chiara, un meraviglioso casolare immerso nelle colline vicino a Firenze,grandissima cucina con camino e forno a legna, tre camere matrimoniali, sala da bagno, salone per la lettura, immenso giardino! Graditi anche gli animali! Villa Chiara , un meraviglioso casolare , arredato in tipico stile rustico toscano, poggia lo sguardo sulle dolci colline di Vinci, il paese di Leonardo da Vinci, vicino a Firenze. L'atmosfera calda delle sue mura vi cullerà l'animo per un soggiorno di evasione dalla quotidianità! Ideale per rilassarsi in coppia o con amici, immergendosi nella campagna , ma allo stesso tempo vicino all'affascinante Firenze, piena di musei e meraviglie di tutti i tipi! Il casolare dispone di tre grandissime camere matrimoniali, sala da bagno con vasca-doccia, salone con divani per la lettura e una meravigliosa cucina con camino a legna , forno a legna e zona divani per rilassarsi. Il tutto immerso in un grande giardino di 7.000 mq , con annessa oliveta e alberi da frutto. Potrete cogliere la frutta di stagione e rilassarvi o prendere il sole all'ombra delle piante! Sono graditi gli animali! A pochi passi dal casolare, troverete il Golf Club Bellosguardo, area footing, piscine coperte ed esterne, lago per pesca sportiva, musei di Leonardo da Vinci, ottimi ristoranti dove poter mangiare una buona Fiorentina, o qualunque altra cosa desideriate. Il casolare sarà TUTTO a vostra completa disposizione!!! Privacy totale! Io sarò sempre reperibile via telefono per qualsiasi esigenza! Da visitare : Le Terme Giusti , Golf Club Bellosguardo, Musei Leonardiani, Casa di Leonardo da Vinci ad Anchiano , test di vini , passeggiate in aperta campagna, piscina esterna immersa nel verde , Firenze, Siena , Pisa, San Gimignano, Monsummano Terme, Chianciano Terme, Bagno Vignoni, Rapolano Terme, Cantina Antinori. Fermata del Bus sotto il casolare, che porta alla stazione dove si può prendere il treno diretto per le affascinanti città di Firenze, Siena, Pisa... Raggiungibili comodamente anche in macchina.
Da visitare : Le Terme Giusti , Golf Club Bellosguardo, Musei Leonardiani, Casa di Leonardo da Vinci ad Anchiano , test di vini , passeggiate in aperta campagna, piscina esterna immersa nel verde .
This stay was an extensive of my previous stay please see my earlier review
Charles
2014-10-09T00:00:00Z
Villa Chiara has the authentic atmosphere of a villa from the beginning of the 1900's, while keeping the modern day convenience. When you step in, the kitchen, the bedrooms with high ceilings and the reading room make you feel like you are stepping back in time. The garden and the olive orchard around it add to the authenticity of the place. The shops are not far away and you can cook fresh food and enjoy reasonably priced meals. When we arrived, there were chocolate croissants, orange juice and a bottle of wine! Chiara and Maria visited us one evening and we talked and learned so much about the villa, the surroundings and each other. Leonardo da Vinci museum is nearby and we visited lots of places, like Cinque Terre, Florence, Pisa and Lucca, Saturnia. Great holiday!
Laurentiu
2015-08-08T00:00:00Z
Una casa fantástica, muy cerca del pueblo, muy bien equipada y con la anfitriona siempre disponible.
Pep
2016-09-30T00:00:00Z
The house is located in a perfect spot for trips in Tuscany. It has plenty of character and provides the guest a real Medieval experience. The Villa and its surrounding garden are very beautiful and spacious. Chiara was extremely helpful, answered all our questions and recommended many places to visit around. We also would like to thank Ms. Ivana for everything she did for us.
Yizhar
2015-07-23T00:00:00Z
I can start by saying that og Villa Chiara is absolutely amazing! We wanted to have a typical Tuscan house and that is exactly what it is. The house is completely private with an incredible view over the vineyards. Very romantic! It is close to Pisa, Livorno and Florence, which was absolutely perfect. Chiara recommended several restaurants and were very helpful. We could contact her when we wanted if we had any questions. The house has no Wi-Fi access, which was quite nice actually. You could really relax completely and just enjoy our vacation. I would recomend everyone to stay with Villa Chiara if you're looking for a truly authentic Tuscan house. If one day we will return to Tuscany, we want to stay at Villa Chiara again. It was an amazing experience! Thank you so much for everything, Chiara!
Matilda
2014-08-15T00:00:00Z
Chiara was wonderful, and Villa Chiara a great spot in a great location very close to "downtown" Vinci. The place is clean, spacious, charming, and comfortable. Vinci is a great quiet little town, and a perfect "Tuscan" experience. Do stay here if you want to relax, enjoy the wines, food and scenery- don't stay here if you want the energy of a thriving town/city- though Florence is just 45 minutes away. When we arrived, there were a few issues that needed to be resolved- Chiara, and her friends, were all over it and worked quickly to address the problems. For those used to the "conveniences" of American touring- be prepared that, as is typical when in many parts of the world, the water pressure/shower is not like "back home" nor is wifi readily available. (in the house that is, a short walk into town and voila)... But that adds to the charm- and helps everyone "slow down" and appreciate the quality of the life lived by those in the rural areas of Italy. If you are thinking of Tuscany- check out this place.. you will enjoy it.
jay
2015-02-23T00:00:00Z
we had a wonderful stay! the location was perfect, near a lovely small village with gelati shops and restaurants, and we easily managed to do day trips to Florence, pisa, lucca and even cinque terra. the house is just lovely and really well equipped. Chiara was really helpful before our stay and during - offering clean towels during the week and advice about places to go for food and shopping etc in the area. beds were comfy and showers hot! the kids loved the board games and the garden was great for hanging out in. the lack of wireless was not a problem as the coop at Empoli (10mins drive away) had good wireless connection, free for 3 hours a day. I fully recommend a stay here. we loved it!
Sarah
2016-09-16T00:00:00Z
La casa de Chiara está situada en una zona tranquila, a dos pasos de Vinci, que tampoco tiene excesivo turismo. Está muy bien para visitar la mitad norte de la Toscana. La casa es amplia y tradicional con un jardín enorme donde cenar, desayunar o relajarse bajo los árboles. Chiara fue muy eficiente y, aunque no llegué a conocerla personalmente, se mostró muy receptiva a ayudarnos con cualquier cosa.
Roberto
2016-08-20T00:00:00Z
Typ av rum
Eget hus/egen lgh
---
Typ av boende
Hus
---
Plats för
6
---
Sovrum
Vinci, Toscana, Italien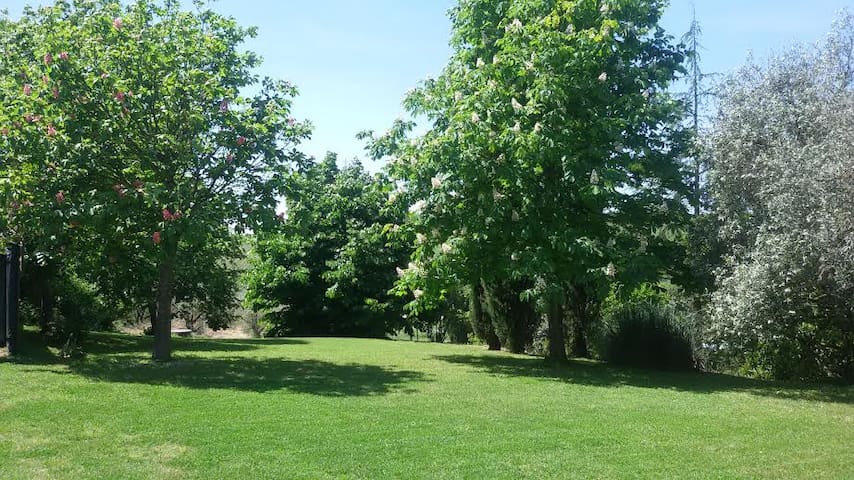 La mia casa pur trovandosi nel cuore della Toscana più bella e verdeggiante è vicino a tutti i servizi di prima necessità: negozio di generi alimentari ben fornito e con ottimi prodotti tipici della tradizione, bar, ufficio postale, banca, trasporto pubblico ecc. Ti piacerà il mio alloggio per il panorama, lo spazio esterno con olivi secolari, vivibile soprattutto nel periodo primaverile-estivo.
Il mio alloggio essendo fornito di ingresso singolo è adatto a coppie, avventurieri solitari e per chi viaggia per lavoro, godendo di una discreta privacy, pur non essendo sperduto nella campagna .
Come già vi ho detto l'appartamento si trova all'interno della migliore zona agreste della Toscana fiorentina, caratterizzata da colline ricoperte da olivi delle migliori varietà per la produzione del migliore olio a livello mondiale. Provare per credere. Senza dimenticare ovviamente il vino Chianti !!! Rimarrete anche affascinati dalla vita del paese con le sue feste e ricorrenze e per la gente tipica di paese toscano.
Typ av rum
Eget hus/egen lgh
---
Typ av boende
Lägenhet
---
Plats för
2
---
Sovrum
Vitolini, Toscana, Italien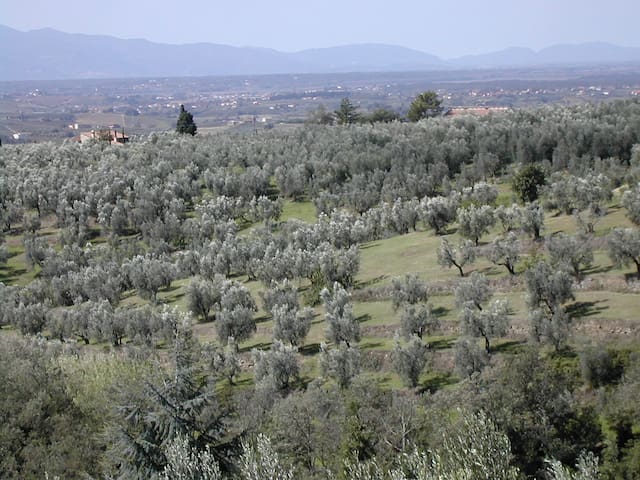 Casa tipica toscana in pieno centro storico a Vinci. Terratetto di circa 50mq con ingresso indipendente con vista sulle colline di uliveti circostanti. Posizione strategica per la visita delle principali città toscane. Facilità di parcheggio ed a 30mt dalla fermata dell'autobus
La casa e' in ottima posizione per visitare Vinci, infatti e' a pochissimi minuti a piedi dal Museo Leonardesco e da negozi e ristoranti. Non abbiamo avuto nessun problema per parcheggiare l'auto a pochi metri dall'ingresso. Il monolocale e' veramente molto spazioso e accogliente, ha una bella vista sulle colline ed dotato di tutto quanto possa servire (ad es. a noi occorreva la TV per non perdere un programma che ci interessava). Se proprio devo trovare una mancanza, non c'e' il forno a microonde, ma questa e' un'esigenza molto personale e di cui ovviamente si puo' fare a meno, essendoci ottimi fornelli a gas. E' stata un'esperienza molto positiva e ringrazio i proprietari, gentilissimi e disponibili.
virginia
2016-02-22T00:00:00Z
Very warm welcome from Adele and Fausto. They made us feel at home and tried to help in every way they could. The location is quiet and perfect to visit the countryside around and to walk to Leonardo Da Vinci birthplace. The flat is very well equipped and the hosts even provides you with some buiscuits, croissants and coffee. More than one usually expect. Gracie Mille Adele and Fausto.
Christian
2016-10-22T00:00:00Z
Ottima accoglienza ed ottima casa, molto carina e ben curata, ed in una posizione molto strategica per visitare il museo di leonardo, accessibile a piedi. Grazie !
David Augusto
2016-04-11T00:00:00Z
The apartment is perfect, very spacious clean and quiet. Fully equipped kitchen and the views are amazing. De Adele is very friendly and courteous.
Manny
2016-10-04T00:00:00Z
Schöne Lage, bestens ausgestattete Küche, bequemes Bett, schönes Bad. Alles sehr liebevoll eingerichtet. Wir waren zu zweit unterwegs, für vier Personen ist dank Schlafsofa auch Platz. Kaffee, Tee, Wasser, Salz, Zucker, Nudeln, ... alles da. Begrüßungskekse auch. Nette Kurzeinweisung in italienisch. Empfehlenswert!
Robert
2016-10-17T00:00:00Z
Ottima accoglienza persone alla mano. La casa accogliente
Betty
2016-09-04T00:00:00Z
L'appartamento è adorabile: curato, comodo, pulitissimo e accessoriato di tutto. Vista dalle finestre sulle colline di Vinci, davvero una gioia per gli occhi. I padroni di casa sono gentilissimi, ci hanno illustrato con cura tutte le comodità e sono sempre stati più che disponibili. Ho soggiornato in occasione della Festa dell'Unicorno e grazie alla posizione centralissima mi sono goduta la manifestazione in totale autonomia. Consigliato al 100%.
Lucrezia
2015-07-26T00:00:00Z
Nous avons aimé le calme du quartier et le confort de l'appartement indépendant avec vue sur les oliviers. Proche à pied du musée du château et du centre.
ELIETTE
2017-04-02T00:00:00Z
Typ av rum
Eget hus/egen lgh
---
Typ av boende
Hus
---
Plats för
2
---
Sovrum
Vinci, Toscana, Italien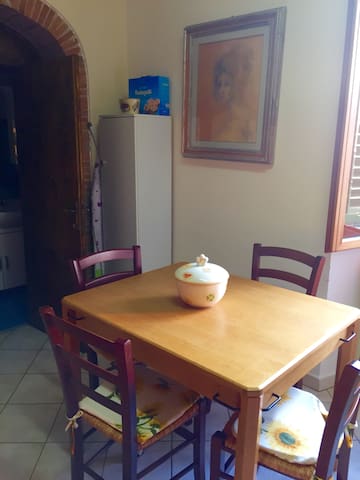 Casetta tranquilla in campagna completamente arredata in zona silenziosa a un km dal centro di Vinci. Molto adatta per un soggiorno indipendente per chi vuole sentirsi a casa anche in viaggio. La fermata bus è a 200mt quindi l'alloggio è adatto anche per chi viaggia senza auto. Visitabili tutte le campagne circostanti con percorsi a piedi. Da visitare il piccolo meraviglioso borgo di Vinci con il museo Leonardiano.
Nela casa ci sono delle scale(v.foto) che collegano i due piani. Camera con cabina armadio, letto matrimoniale e possibilità di letto singolo aggiuntivo. Cucina/Soggiorno con divano letto. Spazio esterno con tavolo dove poter trascorre il tempo, rilassarvi, prendere te/caffè e fare pranzi o cene. Ad accogliervi troverete la bellissima gattina Lola che si adatterà a qualsiasi animale porterete. In cucina troverete tutto l'occorrente per fare un ottima colazione all'italiana con alimenti e bevande bio. Possibilità di fumare all'esterno. Due posti auto privati.
Typ av rum
Eget hus/egen lgh
---
Typ av boende
Lägenhet
---
Plats för
5
---
Sovrum
Vinci, Toscana, Italien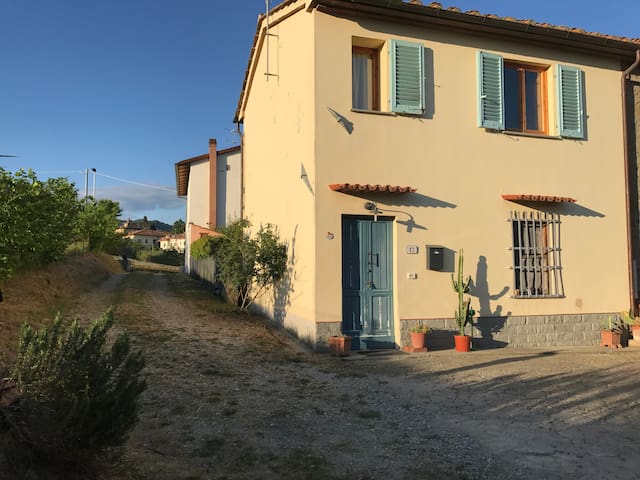 Casa Ripalta è una splendida villetta indipendente di 90 mq con ampio giardino privato di 400 mq. Immersa nel verde a pochi metri dal centro storico di Vinci, il paese di Leonardo, è ideale per il vostro soggiorno nel cuore della Toscana
La Casa apre i battenti dopo una recente ristrutturazione (2013) e vanta di tre camere ampie e luminose : una matrimoniale con bagno privato, una seconda matrimoniale e una terza camera con due divani letto, la quale diventa soggiorno secondo l'uso. La cucina è ampia e ben attrezzata con tutti gli elettrodomestici. Completano la casa il bagno in comune e un vano lavanderia/ripostiglio con ingresso esterno. Arredata secondo uno stile country semplice e ben curato, la Casa assicura il massimo confort, tranquillità e privacy ai suoi ospiti. Il giardino privato è curato e recintato, si sviluppa su due livelli e offre un angolo pranzo riparato e un parcheggio privato con due posti auto.
Zona ideale per gli amanti delle passeggiate nella natura e della mountain bike. da qui partono molti sentieri segnalati che si sviluppano fino sulla cima del Montalbano. Casa Ripalta è situata vicino ad una fermata dell'autobus della linea Vinci -Vitolini - Empoli e a 500 mt dalla fermata principale del paese (piazza della Libertà) Il 12 Luglio 2015 nella zona sportiva adiacente alla casa ha aperto il nuovo Tennis Club.
Amazing place! The house is clean and very cosy. Chiara is answering really fast when you need her! She also let us a box with fruits and welcome gift.
Tana
2016-10-31T00:00:00Z
Siamo i primi Italiani ad aver soggiornato nella bellissima Casa Ripalta, in occasione della Festa dell'Unicorno, quindi che dire... Perfetto. Chiara e prima di lei suo padre ci hanno accolti e messi a nostro agio, ci hanno fatto trovare un ambiente in cui ci siamo subito trovati bene; lei si è tenuta in contatto con noi e si è dimostrata paziente a rispondere alle nostre continue domande, lasciandoci pienamente soddisfatti del nostro soggiorno. La casa è bellissima, come dalle foto, torneremo sicuramente. My english is not so good, so I'll be as short as possible. The Host is perfect, the house is beautiful (like in the photos, even better) and we'll surely come back. If you are undecided whether to come or not, I tell you this: COME, you will not regret it.
Vick
2015-07-26T00:00:00Z
Nous remercions Chiara pour son accueil dans sa belle maison en campagne toscane refaite à neuf. La réalité est encore plus belle que sur les photos qui sont déjà très explicites. Chiara est tout simplement formidable. Les enfants ont adorés votre région et la maison. Que de plus sinon encore une fois vous remerciez chaleureusement. Ciao Patrice and Co
patrice
2015-10-22T00:00:00Z
Precisione, accoglienza ottima, simpatia, disponibilità e posto bellissimo (dintorni e interno della casa). Non si può chiedere di meglio da un Host; Chiara è bravissima, riesce a metterti a tuo agio e si dimostra impeccabile, come sempre. Questa è la seconda volta che siamo suoi ospiti e ripeteremo senza ombra di dubbio l'esperienza. Consigliatissima. For english folks: Chiara and Casa Ripalta are simply amazing, better than photos. That's my second time and let me tell this: There will be a third time, for sure. Excellent.
Vick
2016-07-25T00:00:00Z
THE BEST PLACE IN VINCI! We spent almost two weeks traveling through Italy. This house was the perfect Tuscan House and Chiara was the perfect host. We had 2 adults and 3 children staying and there was more than enough room, extremely clean, and you're out in the country so no city noises. Don't miss the opportunity to stay here!! Thank you Chiara and Phillip for everything!!
James
2016-07-31T00:00:00Z
Chiara is a very caring host and her place is beautiful. Winery, stores and restaurants within walking distance. Also Chiara was very willing to help and answer all our questions.The house has plenty of space and everything you need to have a restful stay. The town is very charming, quiet and everybody is very friendly.
Carla
2016-06-12T00:00:00Z
Chiara è stata una perfetta host. gentilissima e disponibile nel darci tutte le informazioni di cui avevamo bagno. La casa e pulitissima e nuova. L'ambiente esterno splendido, ed è un ottimo punto di partenza per diverse escursioni nella zona!
Debora
2017-02-26T00:00:00Z
Come to Casa Ripalta was the best decision we could made! Chiara, the owner is very friendly person and she had no problem with accomodating us late at night. We really appreciated beautiful, big and clean house, fridge full of great fruit from her father's house and bottle of great wine as a present to our marriage. If you think of reservation of Casa Ripalta, don't wait! We will be back here soon too! ;)
Ivana
2016-09-15T00:00:00Z
Typ av rum
Eget hus/egen lgh
---
Typ av boende
Hus
---
Plats för
7
---
Sovrum
Vinci, Toscana, Italien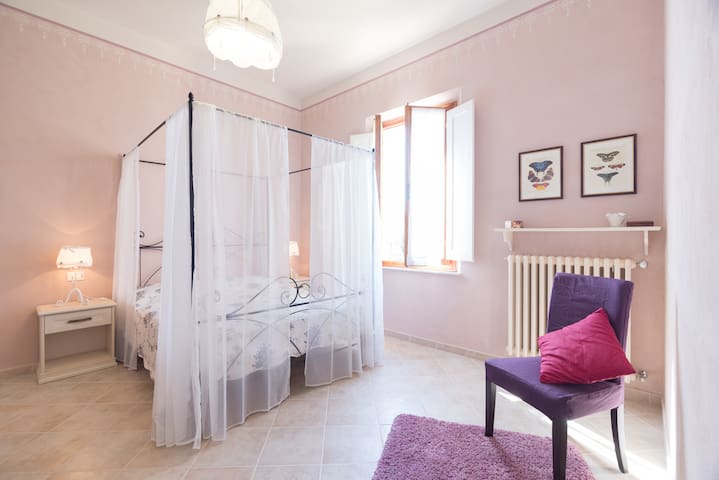 Tenuta di Castra lies on the crest of Montalbano. In a strategic geographical situation between the main towns and artistic places of Tuscany, with railway and motorway just a few miles away and near the airports of Pisa and Florence. In 10 minutes by car you can reach the Montelupo Fiorentino train station with a big free parking anf there you will arrive in Firenze Santa Maria Novella in about 10 minutes and also in other beautiful places
The apartment 'was finished in detail with unique pieces and beamed ceiling. The porch where you can 'dine outdoors, has a unique view over the Arno valley up to glimpse the outline of the island of Gorgona. The pool of 16x12 and 'infinity pool complete with whirlpool. The solarium and 'travertine marble and large. The covered parking is located within the property 'completely fenced to 3 hectares and' served by electric gate. The altitude of 400- meter allows a mild temperature, caressed by the sea wind.
This is our second time at Simona's and as previously experienced everything was top notch! Simona was extremely friendly and helpful. The place itself is amazing and the host Keeps adding new features. We were able to easily visit nearby Italian cities and towns. Highly recommended.
Omar
2016-05-31T00:00:00Z
Simona was the perfect host - always available if we needed her. Simona and her family speaks good english, and are helpful telling what to see, and where to go. Tenuta di Castra is on "the top of Toscany".. we were amazed by the view as we came - and enjoyed every single minute! Everywhere in the are, it is so nice and clean. The apartment has everything you need - and is also very clean and comfortable. There was a nice cold white vine "as a welcome" - just what we needed after many hours in the car. When we made our own cooking, there were basil and oregano outside, which we used. Simona even gave us some succini from her garden - lovely. The area is also perfect for walking and mountain biking. We can highly recommend this place.. you get so much more than you expect.. and it leaves you happy... a true piece of paradise on earth!!!
Hanne
2016-07-23T00:00:00Z
Simone and Gabriele were amazing during our stay. Warm and welcoming from the moment we stepped into to their beautiful place. They answered all our questions and even helped us with train tickets and restaurant reservations. They made our stay perfect!
Nermin
2016-07-30T00:00:00Z
My wife and I stayed at one of Simona's apartments for part of our honeymoon, and we had a wonderful time. The location is phenomenal, incredible view. Very relaxing and quiet. Great central proximity to all Tuscan destinations. Simona was very helpful and responsive and a joy to talk to. Highly recommended!
Kyle
2016-09-08T00:00:00Z
My girlfriend and I had an amazing stay at Simonas bed and breakfast! You can't even imagine how breathtaking the view is until you get there. Simona was a fantastic host and would help us with anything we needed. She gave us awesome recommendations of where to eat and shop groceries. The apartment is completely new and very clean. We will definitely be back!
Cesar
2015-08-31T00:00:00Z
Great place. Fantastic swimmingpool. Herbs in the garden for your use. Easy access to Florence by train. About 20 minutes drive is the trainstation.
Vivian
2016-08-23T00:00:00Z
This is an amazing place to stay with fantastic views and facilities. Simona made us feel extremely welcome from the start, meeting us to direct us to the house and giving us a tour of the pool area and apartment. The pictures do not do these justice! If you're looking for a place to relax, but also be central to surrounding cities then this is an excellent base and location. Simona went above and beyond by informing us of local areas to visit that are not necessarily in the usual guide books. We loved staying at Tenuta di Castra and are already planning our return visit!
aaron
2016-08-28T00:00:00Z
My girlfriend and I had a fantastic stay at Simona's apartment and couldn't recommend it more highly. The location was great with it being within driving distance of Florence, Siena and Pisa. The apartment itself was incredibly clean and well furnished and the pool had a fantastic view of the Tuscan countryside. Simona was a lovely host who made us feel very welcome and I'd certainly stay there again!
Matt
2015-08-16T00:00:00Z
Typ av rum
Eget hus/egen lgh
---
Typ av boende
Lägenhet
---
Plats för
2
---
Sovrum
Capraia E Limite, Toscana, Italien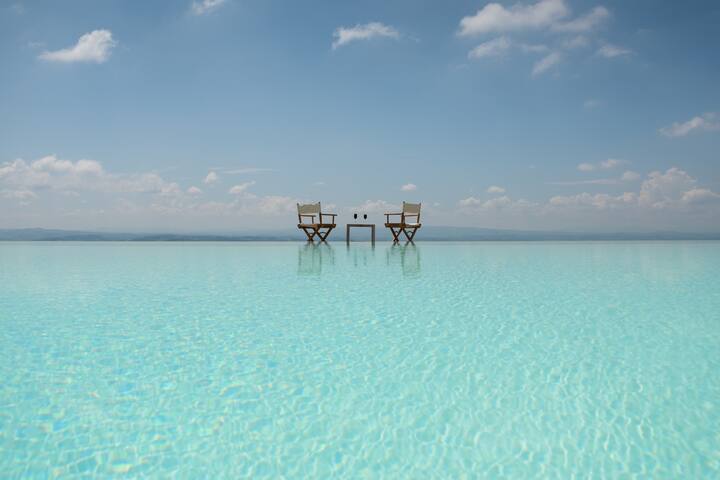 Appartamento ammobiliato in centro storico di vinci a due passi dal museo di Leonardo e dal famoso castello mediovale
Typ av rum
Eget hus/egen lgh
---
Typ av boende
Lägenhet
---
Plats för
4
---
Sovrum
Vinci, Toscana, Italien
Il fienile è una casa ristrutturata con materiali originali cotto travi a vista pietra con tutti i confort necessari per trascorrere una vacanza nella pace e nel relax, circondata da giardino,oliveto e bosco e una caratteristica piazzetta in pietra .
La Posizione del Fienile e' nel centro della Toscana a soli cinque minuti da Vinci (città' natale di "Leonardo da Vinci) In posizione strategica per visitare comodamente tutte le città' D'arte,Firenze,Pisa,Lucca,Siena,Volterra etc. E' possibile percorrere nei dintorni Strade panoramiche percorsi Vinicoli ,Culinari e Culturali,passeggiate, trekking, bird watching, cicloturis-mo, in un contesto naturale (URL HIDDEN) casa " Il Fienile"dimora tipica in pietra è fornita di tutti i confort e Servizi : tv via cavo,internet wi-fi, lettore dvd ,stereo, giardino privato ,parcheggio,attrezzatura cucina, forno a legna ,camino ,barbecue etc. Il Fienile dispone all'esterno di ampia veranda ideale per colazione e barbecue all'aperto , di un ampio giardino privato con 2 zone relax attrezzate con ombrelloni e sdraio , circondato da oliveti , da cui si gode una vista panoramica sulla Campagna Toscana. all'interno dispone di una ampia cucina con camino di una grande sala pranzo con camino con zona relax stereo con divano letto matrimoniale,al piano superiore una ampia camera da letto con vista panoramica sulla campagna ,bagno caratteristico con vasca in pietra,terrazzo adiacente la camera con doccia all'aperto. - La casa " Il Fienile" è ideale per una coppia , o per una famiglia con bambini (oltre alla grande camera Matrimoniale al piano superiore ,nel soggiorno c'è un divano letto per due persone, possiamo fornire in aggiunta due lettini per bambini piccoli da 1 a 4 anni).
La posizione della casa permette ai nostri ospiti di godere la pace e relax della natura circostante ,di vivere la campagna Toscana e scoprire percorsi e itinerari spettacolari nel chianti Montalbano. Il Fienile si raggiunge tramite una piccola strada bianca attraverso il bosco e gli oliveti di circa 1 km .La strada non è asfaltata ,si tratta di una strada storica che fa parte dei percorsi del Montalbano,per questo non sono possibili (URL HIDDEN) percorrenza in auto se si dispone di automobili basse può essere non molto comoda, tuttavia e percorribile da tutti i tipi di auto, vi suggerisco di guidare solo con cautela per il breve percorso che attraversa il bosco.Tuttavia questo garantisce la pace la privacy e il relax che offre la Casa e i dintorni. Se amate la natura, la campagna, il relax, la cucina , Il Fienile vi accoglierà facendovi sentire a casa in Toscana.
Words cannot describe just how incredible the "Barn" is. The "Barn" is an *enormous* space, set on a hillside overlooking the most beautiful landscape in the world, and as private as a deserted island. If you have ever imagined the life-altering peace, serenity and natural beauty you might find in the hills of Tuscany, this perfect retreat is that and more. But before describing the "Barn" in all of its incredible wonderment, my wife and I would be remiss if we did not first tell you about its owners, David and Francesca. They are two of the kindest, sweetest, most wonderful people we have had the pleasure of meeting while in Italy. Upon arriving, David drove up to the main road to escort us down the hillside to the Barn. Upon reaching our destination, he and his lovely wife Francesca gave us a guided tour around the sprawling space, every single tiny little detail of which was meticulously and lovingly appointed in a traditional Tuscan style, along with many amazing little knick-nacks, undoubtedly collected from David and Francesca's journeys together over the years. They treated us to a bottle of Chianti and made sure we knew that they were happy to help us with anything we might need during our stay...and they certainly did! My wife and I were married in their "back yard" (a scenic little knoll overlooking an olive grove with a view spanning the entire countryside!). While we were out in the countryside for our wedding photos, David and Francesca (unprompted by us) coordinated with our vendors and ensured that each of them was able to find the Barn and get setup for our ceremony, including our local chef whom they permitted to cook in their incredible, old-world style brick and terracotta kitchen. We really cannot thank David and Francesca enough for their warm, loving welcome and kind attentiveness and assistance. In the few words we have left to write this post, we'll attempt to tell you about the Barn, though our words cannot do justice to such an eden-like paradise. Warm, rich, terracotta and brick, basking in the sunlight of Tuscany, lying just down an old dirt road on the side of a mountain, overlooking the kind of landscape that inspires utter awe in all mankind, with not a sound to be heard but the local wildlife and crisp breezes rushing through the garden. If ever my wife and I have the opportunity to return to Italy, this is the place we will go. It is the sort of place where you can only feel at peace, at one with the rich earth upon which you stand, soaking up the glorious serenity of pristine nature. I've often thought about what heaven might look and feel like, and I think it must look and feel something like this.
Amanda
2015-09-30T00:00:00Z
Francesca and David did a great job of making us feel welcome. On arrival they greeted us with a bottle of wine, a tour of the barn and they made sure we were happy with everything. They maintained good communication before and during our stay and were available to us at any time we required. They also respected our privacy and we didn't see or hear from them unless at our request. Their recommendations were spot on and we had a very relaxing time in this stunning area of Italy. The accommodation itself was very beautiful and we embraced the calm and quiet location of the barn. We could have easily stayed longer.
Darren
2016-10-29T00:00:00Z
We had a wonderful week in Castra in this beautiful cottage. Francesca and David were wonderful hosts and there was everything in the barn you could possibly need. Francesca and David really have thought of everything! We especially enjoyed cooking on the outdoor wood fire pizza oven. The house is in a beautiful area, surrounded by olive groves and was so quiet and peaceful. We would highly recommend this beautiful cottage for those wanting to explore the Tuscan towns and countryside and for those looking to relax and unwind in a wonderful setting.
Hannah
2015-12-01T00:00:00Z
Francesca and David were wonderful hosts! She brought us to the spurn arcade as we didn't have a car, also took us to the train station! The barn was super with everything you need and hope it to be. It is not walking distance to the town though so really be prepared.The view from the house was gorgeous too. I would highly recommend this place.
linda
2015-06-28T00:00:00Z
Staying at David and Francesca's country house was like a dream. It was so relaxing and the restoration of the house is absolutely amazing! The property is exactly like the pictures... a beautiful sprawling area with fantastic views of the countryside. Not to mention the amazing sunsets each night. David and Francesca immediately made us feel welcome and were always available for any questions. They went above and beyond our expectations. Sharing their knowledge of the area as well as their cooking skills! You will not find a nicer couple or a better place to stay in Tuscany! We cannot wait to go back another time!
Travis & Heather
2014-10-29T00:00:00Z
Francesca and David were lovely hosts and gave us a warm welcome upon our arrival. The house is very well kept and equipped with everything you need to cook your meals. We found the location to be very remote, with a very rustic road, but had spectacular views of the countryside. Unfortunately we didn't realize that there was no indoor shower, which was somewhat inconvenient; however, there was a tub to wash in as well as an outdoor shower. We also found the wifi quite unreliable. Overall, my husband and I had a nice time in Castra and are grateful to have had such kind hospitality.
Alanna
2016-05-09T00:00:00Z
A trip of a lifetime. My partner and I have stayed here once before and always dreamed of coming back - a beautiful place to relax in the Tuscan countryside with incredible views...rolling green hills, olive groves and classic Italian hilltop villages only a short drive away! This time it was a surprise trip for my (URL HIDDEN) get engaged! I can't thank Francesca and David enough for their kindness and support. We received such a warm welcome and the accommodation was fantastic. Highly recommended for couples who are wanting a romantic getaway in the Tuscan hills. We'll be back that's for sure.
Hayden
2016-09-21T00:00:00Z
Francesca and David were very welcoming and had wine waiting for us! They were able to answer any questions we may have. The barn is very romantic and ideal for a couple to stay in. A car and willingness to drive to different towns is a must. We were able to drive to various towns in under an hour and a half each day. I would highly recommend this home to any couple looking for a getaway :)
Whitney
2016-03-06T00:00:00Z
Typ av rum
Eget hus/egen lgh
---
Typ av boende
Hus
---
Plats för
4
---
Sovrum
Castra, Toscana, Italien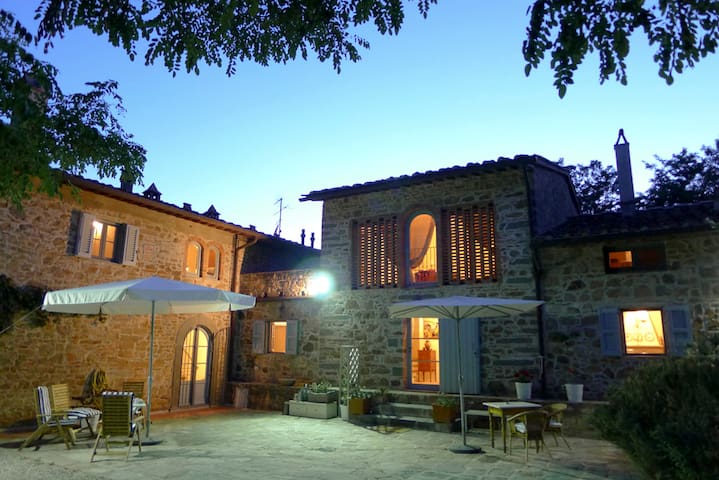 Il mio alloggio è vicino a arte e cultura. Ti piacerà il mio alloggio per questi motivi: gli spazi esterni e la luce. Il mio alloggio è adatto a coppie e famiglie (con bambini).
La casa si trova a pochi minuti di macchina sopra Vinci, poco lontano dalla casa di Leonardo! Una volta arrivati la vista mozzafiato sulle colline toscane viene accompagnata dall'assoluta tranquillità del luogo. La casetta é molto accogliente e circondata da un bel prato e un terrazzino dove godere della vista. Raffaella é gentile e disponibilissima!!! Provare per credere!!!
elena
2016-10-17T00:00:00Z
Typ av rum
Eget hus/egen lgh
---
Typ av boende
Lägenhet
---
Plats för
5
---
Sovrum
Metropolitan City of Florence, Toscana, Italien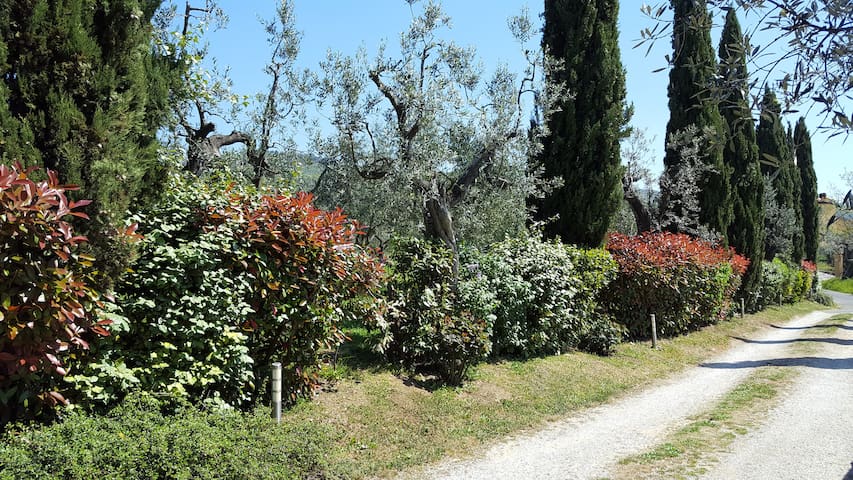 Camera doppia con bagno ad uso privato in casale recentemente ristrutturato sulle colline del Montalbano, a pochi chilometri dalla città natale di Leonardo, Vinci. Offriamo, inclusa nella quota, una colazione all'italiana con prodotti "homemade". E' possibile richiedere una colazione salata con formaggio, affettati, sottoli, uova con un supplemento di 5€ a persona al giorno.
L'aspetto unico di pernottare presso la nostra struttura è la meravigliosa location, nel cuore delle colline del Montalbano dove olivi secolari fanno da padroni.
Ci troviamo nel piccolo borgo di Orbignano, a 5km da Lamporecchio, 5km da Vinci e 8km da San Baronto. Soggiornando presso la nostra struttura potrete godere di tranquillità e pace pur essendo a pochi chilometri dal centro abitato, con negozi, bar, ristoranti e quant'altro possa servirvi.
Our stay was a woderful. Beautiful house in a cozy area. Room with comfortable bed. Viola E Luca are a very nice person who with passion they give tips how the best spend time here. Here you can feel like at home. In the morning, we ate a delicious breakfast .Thank you for everything :)
Ania
2016-03-31T00:00:00Z
The place was amazing! Everything about it was perfect - the bedroom, bathroom, and the views! I would love to come back when I return to Italy.
Rachel
2016-05-19T00:00:00Z
Es war einfach super. Haben den Aufenthalt sehr genossen. In einem gemütlichen Zimmer und einer herrlichen Aussicht auf die ganzen Olivenbäume. Die Aussicht ist einfach nur traumhaft schön. Es hat uns sehr gefallen. Viola und Luca sind sehr herzliche Gastgeber! Zudem kann man auch noch selbstgemachtes Olivenöl bei den beiden erwerben :)
Wiorel
2016-04-15T00:00:00Z
Viola e Luca sono stati sin da prima del nostro arrivo molto gentili, disponibili e pazienti. Ci hanno fatto sentire subito i benvenuti es abbiamo trovato nella loro tenuta a Fornello un posto magnifico con una fantastica vista di colline, uliveti fino alle cime innevate degli appennini. La stanZa era di gran ordine, pulizia e rifinita in ogni dettaglio. Una colaIone abbondante con le torte squisite fatte in casa di Viola e la compagnia di entrambi loro conversando. Un posto che consiglio vivamente. Peccato ci siamo potuti fermare solo due notti. Mi auguro di ritornarci presto, magari d'estate e con quella invitante piscina. Grazie mille ragazzi Da me e da Celeste.
Emanuele
2016-03-25T00:00:00Z
Un posto meraviglioso. Innanzitutto il B&B è ubicato in luogo tranquillo con un panorama suggestivo, infatti è l'ideale per una vacanza rilassante. È ben organizzato, inoltre è nuovo e le camere sono confortevoli. Per non parlare dell'accoglienza. Luca e Viola sono molto gentili e disponibili. Sin da subito si nota la loro passione per questa attività. Grazie. Ritorneremo presto.
Davide
2017-01-15T00:00:00Z
Wonderful location in the countryside of Toscany with a spectacular view. Definitly a drive to get there - but worth it. The room was lovely. Viola and Luca were wonderful hosts - helpful with any questions we had. And the coffee in the morning....mmmm..... Highly recommended!
Sarah
2017-02-23T00:00:00Z
We had a wonderful time in Lucas and violas beautiful house! They were flexible about our time to arrive and prepared a nice breakfast and they gave us good tips for dinner and things to do in the area. Everything was just perfect. Beautiful area for hiking, cycling, vine and just to have a relaxing time! Recommended :)
Josephine
2016-09-20T00:00:00Z
La estacia en Podere Rondinaio fue fantástica. Viola y Luca fueron muy amables y atentos. Te entiendes perfectamente en castellano y facilitan toda la informacion necesaria asi como consejos para comer o realizar turismo por la zona. La zona donde esta ubicada la casa es perfecta para visitar Toscana si vas con coche. Paisajes de ensueño sin la aglomeracion de turistas. Cercana a ciudades com Firenze, Pisa o Lucca. La habitación amplia,limpia, con un baño ideal. Cuenta con aparcamiento, piscina y desayuno incluido. Aconsejo comprar su aceite. Wifi solo en zonas comunes. Calidad/precio imposible de superar.
Karol
2016-04-19T00:00:00Z
Typ av rum
Eget rum
---
Typ av boende
Bed & Breakfast
---
Plats för
2
---
Sovrum
Lamporecchio, Pistoia, Toscana, Italien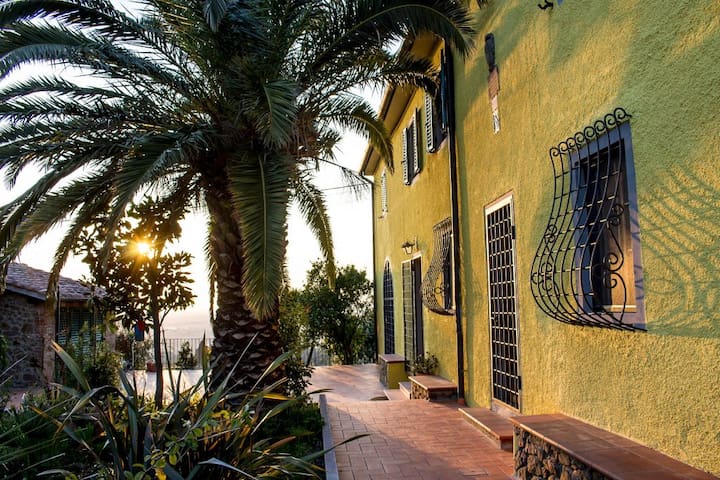 Accogliente residence con appartamenti nei pressi di vinci, paese natale di Leonardo. Gli appartamenti dispongono di spazio esterno attrezzato, piscina in comune, giardino e spazi per prendere il sole e stare all'aria aperta. Sono particolarmente indicati per famiglie, per soggiorni settimanali e weekend
Typ av rum
Eget rum
---
Typ av boende
Lägenhet
---
Plats för
6
---
Sovrum
Valinardi, Toscana, Italien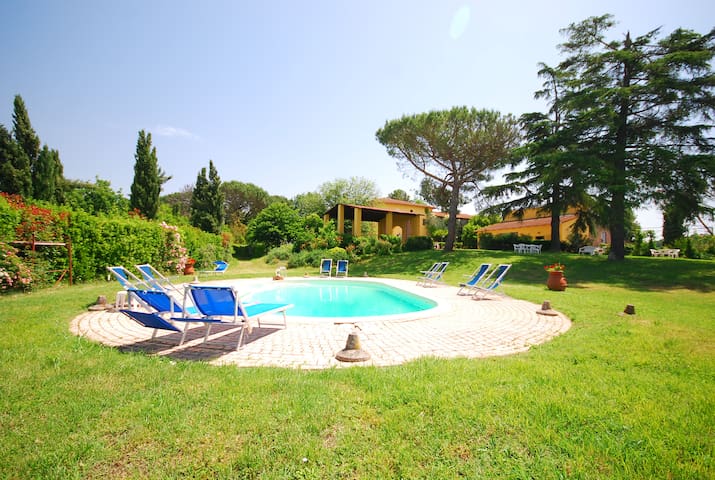 Marcello - Airbnb
:
I genomsnitt

4.81

av

5

stjärnor från

272

gästomdömen