Floor center, not high not low, especially for families with elderly children.
Typ av rum
Eget hus/egen lgh
---
Typ av boende
Lägenhet
---
Plats för
2
---
Sovrum
Maryland Heights, Missouri, USA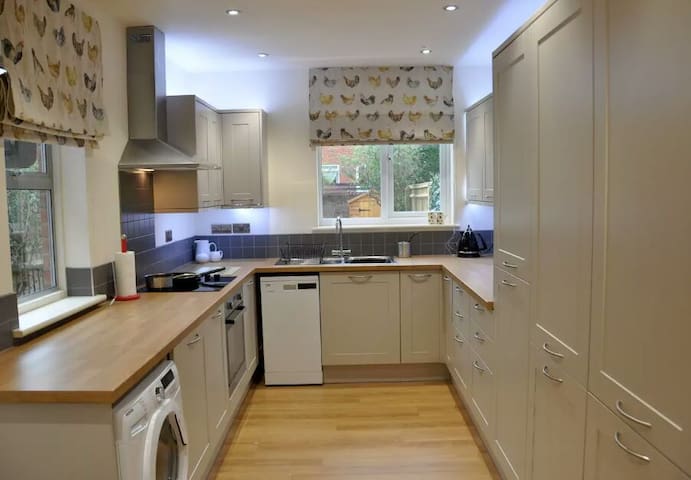 这是位于建筑物的角落复式单位。它在整个巨大的窗户和设计师家具。 96大道分数是优秀的来访可爱圣路易斯! 我们的空间是完全位于所有主要景点之间。您可以轻松地步行到凯旋门,布施体育场,美洲中心(会议中心),史考特,市博物馆,歌剧院,等等。还有一个杂货店,一个街区,许多餐馆,咖啡馆和酒吧,我们会强烈建议。
我们已经无处不在配备了名家设计的家具空间。客厅的中心部分是一个美丽的白色皮革埃姆斯休闲椅和我们从文章格林·弗尔维沙发上。帮助自己的Netflix我们60" 4K电视上! 在厨房里,你会发现一个美丽的大理石和核桃表,也从文章。该桌席2位客人和厨房岛座位额外2.我们有一个戴眼镜,杯子,水壶,平底锅,盘子,餐具,炊具和厨房芝加哥餐具刀储备丰富的厨房。
该社区是成为超级靠近所有旅游景点的最佳组合,但响亮的酒吧仍然1-2个街区外的夜晚。这是在市中心住最可取的区域。主要的杂货店是半个街区最好的评价的餐厅所有的隔壁。还有一个很好的咖啡馆只是在街上。整个地区也是难以置信的安全!
Typ av rum
Eget hus/egen lgh
---
Typ av boende
Lägenhet
---
Plats för
4
---
Sovrum
St. Louis, Missouri, USA
Entrez dans l'histoire et l'architecture de Saint-Louis qui a rendu célèbre dans cette belle maison 1907 entièrement mis à jour. Cette fin du XIXe siècle maison Revival se trouve minutes en voiture du centre-ville, le marché Soulard Farmer, superbe parc Lafayette, et toutes les grandes institutions culturelles de la ville. artisanat original se trouve dans toute la maison, comme des portes en chêne, les garnitures et les carreaux de basketweave dans la salle de bains. Utilisez le jardin d'hiver supplémentaire comme une chambre de rechange ou un bureau.
L'appareil dispose d'appareils flambant neuf qui incluent un côté par côté réfrigérateur, cuisinière à gaz, micro-ondes, lave-vaisselle et d'élimination. L'unité est située au premier étage de cette maison à deux familles.
McKinley Heights est un quartier historique enregistré à Saint-Louis. Il est niché au milieu de plusieurs autres quartiers historiques populaires qui comprennent Benton Park, Lafayette Square, Soulard et Fox Park. Russell Boulevard, que l'unité est située, est l'une des rues les plus célèbres de Saint-Louis, offrant plusieurs des plus belles maisons de la ville, dont le Magic Chef Mansion, le plus grand domaine dans les limites de la ville. (Parfois, ils donnent des visites: (URL HIDDEN)
Typ av rum
Eget hus/egen lgh
---
Typ av boende
Lägenhet
---
Plats för
6
---
Sovrum
St. Louis, Missouri, USA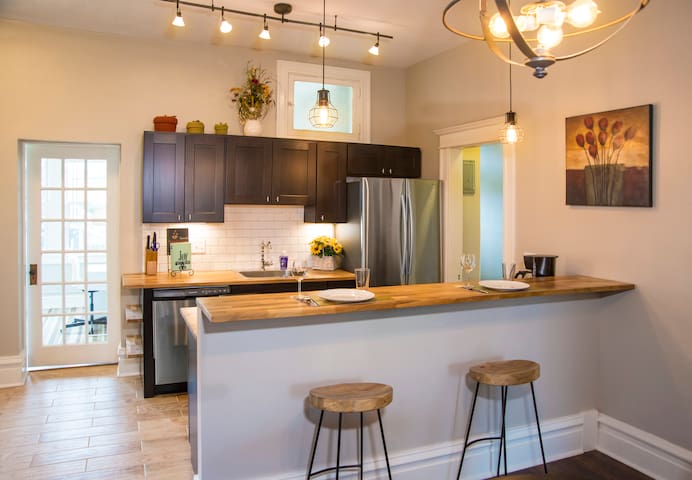 appartement d'une chambre récemment rénové, à seulement 7 miles de l'Arc de Saint-Louis. L'appartement comprend tout neuf, mobilier moderne, les appareils, et le décor, un lit queen size, Wifi et télévision par câble Charte. Être à seulement 2 miles de quartier célèbre de Saint-Louis, la colline et l'un des plus grands parcs urbains de la nation, Forest Park, il y a beaucoup à faire pour rester occupé. Uber est disponible pour un ascenseur ou de Busch Stadium, du centre des congrès, ou nulle part ailleurs votre cœur désire ardemment dans la région métropolitaine de St. Louis.
Cet appartement est situé dans un grand, quartier sûr mais plus vous aider à se sentir en sécurité dans un nouvel environnement, l'appartement propose également un parking hors rue derrière le bâtiment, un système de sécurité, et une lumière avant porche. Êtes-vous une personne de café? Je vous laisse avec une Keurig jumbo et une variété de K-Cups, gratuitement. Il est comme Noël, je sais!
La colline est un quartier au sein de St. Louis, Missouri, situé sur les hauteurs au sud de Forest Park. Italiens, principalement de la Lombardie et la Sicile, et se sont installés dans émigrèrent la région à partir de la fin du 19ème siècle, attirés par des emplois dans les usines à proximité mis en place pour exploiter des gisements d'argile découverts par les immigrants dans les années 1830. Maintenant, le quartier abrite un grand nombre de restaurants italo-américains de renommée locale, des boulangeries, des épiceries, des salons, et deux jardins de jeu de boules.
Typ av rum
Eget hus/egen lgh
---
Typ av boende
Lägenhet
---
Plats för
3
---
Sovrum
St. Louis, Missouri, USA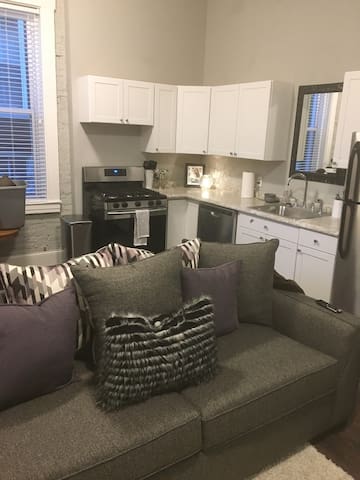 Este amplio apartamento céntrico está situado en el hermoso y muy buscada zona de arboleda de la torre sur. Mi lugar sería grande para alojar cómodamente y parejas, aventureros en solitario, los viajeros de negocios, familias (con niños), y amigos peludos (mascotas). Este apartamento es un lugar perfecto para aquellos que buscan para ver lo que San Luis tiene que ofrecer, ya que se encuentra a una corta distancia de la Central West End, centro de St. Louis, Gran Sur, y la colina.
El espacio es un gran apartamento de 2 dormitorios situado en el segundo piso de un edificio que tiene un total de 4 apartamentos. Los dos dormitorios y el salón tienen hermosos pisos de madera originales; la cocina y el baño tienen suelos de baldosas. Los huéspedes podrán relajarse cómodamente con aire acondicionado central y el calor. Libre, estacionamiento en la calle está disponible justo fuera del edificio de apartamentos. Si no dispone de aparcamiento está disponible en la parte delantera del edificio hay espacios en la parte posterior.
Este apartamento es el lugar perfecto para aquellos interesados en ver muchas partes de St. Louis. Los huéspedes pueden viajar fácilmente a pie a Hartford Coffee Company, restaurantes y bares ubicados en Morganford la calle, y la magnífica Torre Grove Park. Gran Sur, que ofrece una gran variedad de tiendas y restaurantes únicos, es un paseo largo o corto paseo en coche. El Hill ofrece deliciosa cocina italiana auténtica y está situado aproximadamente 1 milla desde el espacio. Además el centro de St. Louis, donde se encuentran el estadio Busch y Scott Trade Center, es un fácil ~ 5 millas en coche del apartamento.
Great location, easy on street parking & comfortable amenities make this a perfect choice to stay at for your St. Louis getaway.
Robert
2017-01-28T00:00:00Z
Craig was quick to get back to me about the listing. Everything in his post was accurate, including pictures. The neighborhood was convenient for everything we wanted to do and seemed safe. The apartment was spacious and well laid out. We enjoyed the Keurig coffee maker, it was a great bonus for our stay. Check in/out was fast and easy due to the lock box on the front door.
Sarah
2016-12-28T00:00:00Z
Great location and cozy setting. I will stay here again when I am in the area.
Matt
2016-12-21T00:00:00Z
We had a wonderful stay in St. Louis at Craig's place! The unit was clean, large, well laid out, close to everything, and offered us everything we needed for our short stay. Parking was easy to find, and checking in and out was a breeze! It was especially great for our small dog Bucky who had plenty of space to run and play, access to a balcony for any short trips outside, and was in a walkable neighborhood close to a beautiful park for doggie walks. We'd definitely stay here again if we were in town!
Shaba
2016-12-26T00:00:00Z
Host really went above and beyond. Beautiful home, stress-free experience. We loved our stay!
Kellyanna
2016-12-22T00:00:00Z
I spent a weekend in St Louis with 2 other friends and we stayed at Craig's place for 2 nights. We had a great time there, the place is in a quiet neighborhood and it is an easy commute to Downtown St Louis. The place itself was nice, clean and comfortable. The code at the entrance makes for a very convenient check-in and check-out. Craig was very responsive before, during and after our visit there. I would definitely recommend Craig's place to anyone seeking a nice apartment while traveling to St Louis and I would gladly book again next time I'm visiting.
Max
2017-04-09T00:00:00Z
Very adequate and a good value.
Ann
2017-03-19T00:00:00Z
We had a great stay! The apartment was clean and comfortable! The beds were awesome. Craig checked on us several times making sure we had everything we needed. There are steep stairs in case you have trouble in this area. Also I didn't take note in the description there is no TV, but we didn't need one anyway. Overall a great little comfortable place!
Beverly
2017-03-08T00:00:00Z
Typ av rum
Eget hus/egen lgh
---
Typ av boende
Lägenhet
---
Plats för
4
---
Sovrum
St. Louis, Missouri, USA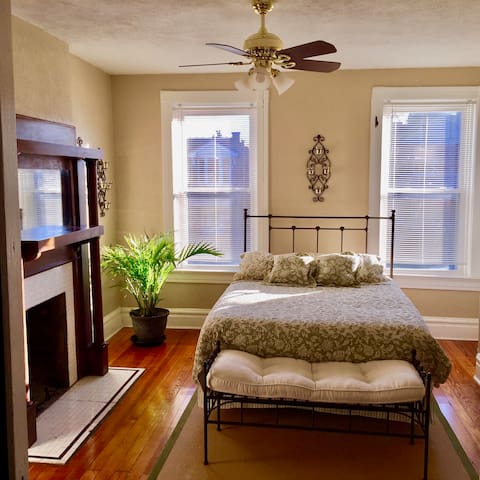 Zwischen zwei wichtigen Autobahnen geben Ihnen einen einfachen Zugang zu überall. Nähe von Einkaufszentren. Eigener Eingang. Schlafzimmer, Wohnzimmer, Esszimmer Küche mit Kühlschrank, Kochplatte und (URL HIDDEN) Dusche. Waschküche mit Waschmaschine /dryer.Lots der Lagerung.
We loved our stay at Gilda's place! Great location & perfect little place. Gilda was a fantastic host.
Hannah
2016-09-05T00:00:00Z
Gilda was very welcoming. The apartment was charming and plenty of amenities provided--even a laptop for guest usage and Roku. The house was in a great neighborhood, and since it was dog-friendly, I walked my dogs around quite a bit. It is a basement apartment though, so I found a bug or two (in summer, to be expected) and the street is very busy, so there's a little noise from that and upstairs. Overall a great value and a very lovely and welcoming place to stay!
Lauren
2016-09-03T00:00:00Z
The apartment was in a great location, very close to Washington University and the highway. The apartment had lots of space and I was able to get work done during the week. Private access was nice and Gilda's granddaughter was very quick to respond with the access information and questions.
Karoline
2016-06-11T00:00:00Z
I loved it,
Fadiyla
2016-04-23T00:00:00Z
Gilda was a lovely host. She was very attentive and caring. We travel to St. Louis a lot to visit family and I think we just found our new favorite spot :)! Thank you Gilda and crew for a warm and hospitable stay. We will definitely be back soon.
Shana
2016-11-28T00:00:00Z
Myself and two of my old college gal pals stayed at Gilda's place for a weekend trip to STL. The place had a code entry which made access much easier to our time schedule. The adorable house was so welcoming, a basement style spot, with 1 bigger bed and 1 smaller. There was a nice living area, a chromebook and roku for use. The decor was beautiful and it was a nice and quiet place to sleep. We didn't do much more than that, but this place was perfect for us. We appreciated the nice stay and affordable price!
Jillian
2016-11-06T00:00:00Z
Gilda had everything we needed. Some snacks and drinks in the fridge. netflix, wifi, the whole 9 yards. She is also pet friendly, Will DEFINITELY stay here next time we pass though st. louis
Camilo
2016-07-11T00:00:00Z
Great spot
Matthew
2016-10-13T00:00:00Z
Typ av rum
Eget hus/egen lgh
---
Typ av boende
Lägenhet
---
Plats för
2
---
Sovrum
St. Louis, Missouri, USA
Nuestro ático se encuentra en el piso 29 en el edificio de gran altura en la esquina extremo que mira hacia el arco (vista de 180 grados). Privacidad- huéspedes de cama / baño y señor de cama / baño son lados opuestos de la APT. Relajación-sienta lo suficientemente alto como para escapar de los ruidos de la ciudad. piscina en la azotea, terraza de observación, sauna están en el pasillo. Actividades-sin fin! a pie o en coche 10-15: Arco de St. Louis, fuegos artificiales, conciertos, vida nocturna, Busch Stadium, estadio de béisbol Village, Bloque Partes, cervecerías, tiendas, casinos, Bar en la azotea
Una hermosa 360 vista de la ciudad desde el piso 29, muy amplia tranquilo y relajante.
Best view in St.Louis. Teryn and Bashar are the perfect hosts. Great communication and good check in.
Silvain
2017-02-21T00:00:00Z
The place is awesome! Unfortunately we arrived late due to bad weather so we never got to meet Teryn & Bashar but the place was really cool. Perfect location, close to everything. The view is unbeatable! the apartment was clean, cozy and decorated really well. They made it suoer easy for ys to check in even late in the night. I would definitely recommend staying here :). This was my first AirBnB stay and I'm really pleased!
Beckie
2016-12-17T00:00:00Z
A really nice place with really friendly hosts
Fraser
2016-08-24T00:00:00Z
Teryn and Bashar were really friendly with us. Their cats were very lovely! We wish the room was less noisy for a 29th floor flat. Hey people, be prepare to pay 12 dollars a night if you want to park your car.
John
2016-09-29T00:00:00Z
Bashar & Teryn were lovely. We enjoyed talking with each of them and the view is truly spectacular. Only our second ever Airbnb experience-just as we expected.
Marcia
2016-09-14T00:00:00Z
Nice host. Great view of the arch
Tai Hing
2016-08-28T00:00:00Z
This was hands-down the ideal AirBnB experience! Not only was the apartment gorgeous and immaculate with a jaw-dropping, panoramic view of the Gateway Arch and Mississippi riverfront (we were lucky enough to witness a stunning double rainbow with a dramatic stormy background & sunset when we arrived!), but Teryn and Bashar are the PERFECT hosts! We were greeted with smiles and warmth like we were old friends and had a great evening of conversation. The guest room (and the entire apartment) is beautifully decorated and the full size guest bed and bedding is extremely comfortable. From extra toiletries and towels in the private bathroom, to brochures on what to do in St. Louis and a stocked mini fridge and candy in the guest room, we had everything we needed and then some! Waking up to an incredible floor to ceiling window view of the arch each morning was really the icing on the cake. Their two beautiful cats with funny personalities (one sits in her own chair like a person) are very friendly and like to be where the people are (I also want to note that although they have two cats, you would never know it. Not a hair in site and zero odor.) We were going in and out because we were attending a conference at the convention center just blocks away (Courthouse, Blues Museum and restaurants also very close), and so it was nice to have our room and bathroom near the front door so we didn't disturb our hosts when we came in late. The riverfront, arch and the baseball park are an easy quick walk - and when the riverfront park is done at the base of the arch (should be done this year), this location is going to be even more amazing. Thank you so much for a wonderful St. Louis experience, Teryn and Bashar!! :)
Amanda
2016-07-18T00:00:00Z
Great location with great host! The 29th floor overlooking the Archway park and the Mississippi River is awesome. There are decent restaurants and pubs within an easy walk and a small fridge is provided. Teryn and Bashar both became my quick friends, good people and make interesting conversation. This IS part of their home but privacy was not an issue, the bathroom is private adjacent to the room. Their cats befriended me quickly also!
Don
2017-03-04T00:00:00Z
Typ av rum
Eget rum
---
Typ av boende
Lägenhet
---
Plats för
4
---
Sovrum
St. Louis, Missouri, USA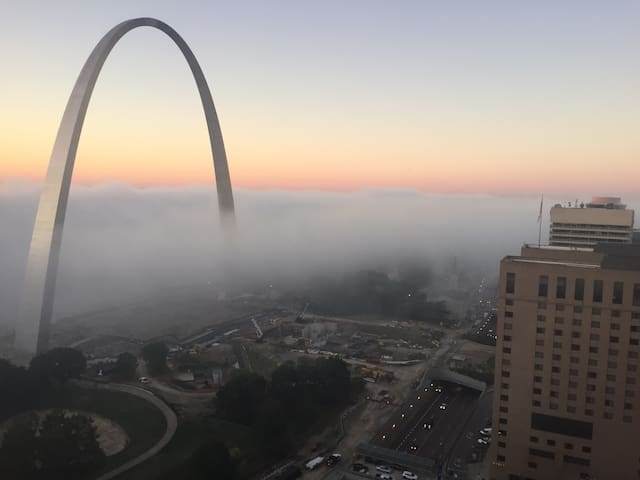 这家酒店位于北部的全国最好的公园 - 森林公园和2个伟大的圣路易斯餐饮和购物区之间 - 德尔马环路和中央西区。一个伟大的地方开始你的圣路易斯地区的勘探和看到圣路易斯从当地角度。这个属性也靠近华盛顿大学和圣路易斯大学,如果你正打算为您的新大学生的访问。
我们的建筑坐落在国家最好的公园仅一英里以北 - 森林公园和德尔玛环路和中央西区之间。我们的建筑是在上端中央西区的边界和北部城市下降街区。我们有我们周围业主自用的邻居和我们的街道一对夫妇的废弃建筑。圣路易斯市确实是一个非常复杂的社会,有很多多样性的收入,种族和民族。这就是为什么我喜欢它。
Typ av rum
Eget hus/egen lgh
---
Typ av boende
Lägenhet
---
Plats för
4
---
Sovrum
St. Louis, Missouri, USA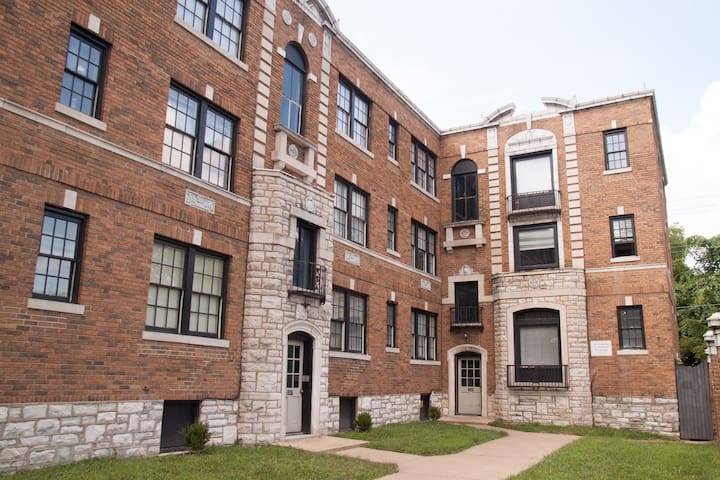 Ouvert moderne loft situé le centre-ville de St. Louis, MO! Ce loft est à quelques minutes de Washington Ave, City Museum, Gateway Arch, Ball Park Village, Zoo St. Louis (Zoo gratuit), et savoureux restaurants comme Imos Pizza et Goody Goody! Ce loft est en dehors d'une communauté fermée et il n'y a pas plus de 10 mn de haute 70, 55, 64, et 44.
Great place to stay, very eye catching place and centrally located. Spacious loft. We never drove more than 15 minutes to anything. Plenty of free street parking and the host was wonderful.
Valya
2017-04-02T00:00:00Z
Loved our stay! Rannetta stayed in great communication with us the entire time. The apartment is hip and spacious and a quick drive to DT St. Louis!
Christine
2017-03-19T00:00:00Z
Perfect location.Maximum cleanliness. Easy parking. City museum less than 3/4 of a mile away. Uber to downtown $8 less than parking.
Ron
2017-04-10T00:00:00Z
Rannetta's place was the perfect place to rent for our conference. We could see the conference center from the building. We brought our bikes and only had a short ride back and forth. There was a safe bike rack inside the parking gate. The apartment was clean and perfect for our needs. We loved having the whole place to ourselves. Rannetta was quick to respond to us every time. We will come back to this airbnb every year if possible!
arica
2017-03-24T00:00:00Z
Rannetta's place was great! close to downtown, secured entry to the building and an overall nice place. Rannetta left us some snacks and breakfast items that we were grateful for. Parking can be a bit limited later in the evening so if you can, try to Uber or walk to downtown which is less than 5 minutes away. I would recommend this place because you can't beat the value or the location. My wife and I will definitely consider staying here again in the future if we are ever back in St. Louis.
Joshua
2017-03-26T00:00:00Z
Rannetta's loft was awesome! It was spacious, clean and in a good location. Even better, Rannetta was a great host. Although we didn't get a chance to meet her, she was unbelievably responsive before, during and after our stay. She made sure we felt at home and we noticed that right away when we walked in the door to find towels laid out and snacks for us to enjoy. I would absolutely stay here again for my next trip to St. Louis. It was perfect for our guy's weekend for the Missouri Valley Conference basketball tournament. Thank you Rannetta!
Chad
2017-03-05T00:00:00Z
Rannetta was an amazing host. When I first struggled to get in the building she was really prompt in responding to my call. Her house was beautiful, I wish i had more time to spend in it. It was an easy (10 minute?) walk to down town.
Samuel
2017-03-11T00:00:00Z
Ranetta is the best. We will be back on our next stay in St. Louis if it's available. Minutes from anywhere you wanna go. A gorgeous facility that she lives in. Very quiet too
Brandon
2017-04-04T00:00:00Z
Typ av rum
Eget hus/egen lgh
---
Typ av boende
Lägenhet
---
Plats för
4
---
Sovrum
St. Louis, Missouri, USA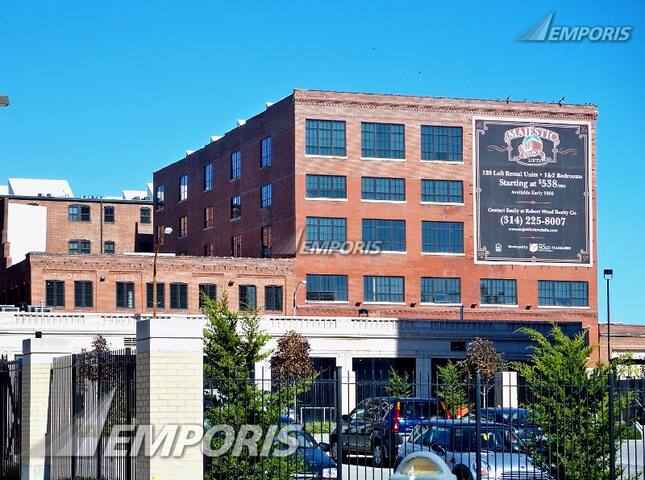 Designer de style loft de luxe avec des briques apparentes, grande cuisine, une chambre confortable et salle de bains ultra propre. Parfait pour 1 à 4 personnes et à moins d'un pâté de maisons de l'avenue Washington où Saint-Louis vient à la vie avec un vaste éventail de clubs, salons, boutiques et restaurants.
Marcher directement sur la porte d'entrée de ce bâtiment sécurisé et le théâtre de renard est juste en face de vous. Regardez à gauche et vous pouvez voir et sentir les choses délicieuses cuisine sur le grill au meilleur Steakhouse. Cet endroit est incroyable! En entrant dans le loft, vous remarquerez immédiatement les plafonds hauts de 14 pieds, ce qui donne l'espace une abondance de lumière, améliorant ainsi son sentiment lumineux et aéré. Chaque espace dans le grenier est entièrement équipé avec tout ce dont vous aurez besoin pour votre séjour, draps frais, ustensiles de cuisine, des condiments et ustensiles de cuisine de base et ustensiles, coin chambre confortable et espace de vie en peluche.
La meilleure steak house est directement à côté. Le théâtre de renard est juste en face de la rue. Vito est un grand bar et se trouve à 5 minutes à pied du loft. D'autres magasins, des restaurants et des bars sont un court trajet en taxi ou à pied vers le bas Lindell. Clubs, bars et salons sont un court trajet en taxi sur l'avenue Washington où vit la meilleure vie nocturne à Saint-Louis.
April was great and beautiful place!
Hui
2017-04-08T00:00:00Z
Aprils was very (URL HIDDEN) was almost stayin at a smaller hotel. She provided me with breakfast also. I plan on using he home again
Opal
2017-04-10T00:00:00Z
Aprils home was as nice as she was. She provide me with everything I needed to prepare a meal. April also left breakfast in the fridge for me and did I mention how beautiful her home was. I definitely plan on reserving Aprils home for my next trip
Opal
2017-04-09T00:00:00Z
Typ av rum
Eget hus/egen lgh
---
Typ av boende
Lägenhet
---
Plats för
4
---
Sovrum
St. Louis, Missouri, USA
Albert Hall ist ein von einer Art Wohnungen Gebäude. Auf der anderen Straßenseite aus dem Festzug, Moonrise Hotel, Regional Arts Commission, U-Bahn, Bus und zu Fuß von der Washington University und dem Forest Park. Mein Platz ist gut für Paare, Solo-Abenteurer und Geschäftsreisende.
Hartholz und Marmorboden, Central Heat / AC, voll ausgestattete Gourmet-Küchen, Müllhexler, Mikrowelle, Elektroherd, Kühlschrank und Geschirrspüler, Privater Parkplatz, Gated Off, aktualisiert Lichtpaket gesamten einschließlich Deckenventilatoren, große Fenster mit szenischen Delmar Schleife Keycard Access System / ADT Pulse Sicherheit in jeder Einheit, Kabel bereit Granit Zähler nach oben, aktualisiert Nickel gebürstet Funktionen und Hardware im gesamten, Out / Indoor-Überwachungskameras, geräumige Grundrisse
Albert Hall ist ein von einer Art Wohnungen Gebäude. Auf der anderen Straßenseite aus dem Festzug, Moonrise Hotel, Regional Arts Commission, U-Bahn, Bus und zu Fuß von der Washington University und dem Forest Park. (URL HIDDEN)
It was a nice experience. The apartment is in a perfect place close to WashU, with many restaurants around. Ron was very friendly and welcoming. My general impression was highly positive. I would certainly come back.
Humberto
2016-10-24T00:00:00Z
Great spot. In the heart of everything.
Ronald
2017-03-31T00:00:00Z
Typ av rum
Eget hus/egen lgh
---
Typ av boende
Lägenhet
---
Plats för
2
---
Sovrum
St. Louis, Missouri, USA
Espacio gigante grande para las familias que quieren estar en el centro de la ciudad, cerca del Arco, World Aquarium, Museo de cera, museo de la ciudad y más. Las vistas de la ciudad. Escuchar el ajetreo de la ciudad con comodidad tranquila.
edificio histórico situado en el centro del distrito de entretenimiento. El edificio se remonta a finales de 1700 con todos los nuevos todo a excepción de las paredes exteriores. Hay una cama tamaño king en el dormitorio principal y 2 tamaño completo plegable sofás-cama en la sala grande.
Aterrizaje de Laclede tiene grandes edificios antiguos, lugares de diversión para comer y conveniente para todo ..
The host was incredible and the room was perfect!!
Alicia
2016-09-25T00:00:00Z
Our stay was wonderful. Great location, great place, great host. Stay here.
Sean
2017-02-20T00:00:00Z
The space was gorgeous!
Chelsea
2017-02-05T00:00:00Z
Great place and location
David
2017-04-05T00:00:00Z
Really enjoyed our stay with Leonard. Electricity was out because of a neighborhood outage, but he was prompt to hook up a generator to give us electricity.
Matt
2017-03-31T00:00:00Z
Nice place. Big, good location, comfortable, clean, owner was friendly and helpful.
Weston
2016-10-02T00:00:00Z
The place was great. Location was nice as well. Leonard was helpful and very prompt and flexible with check in.
Joel
2016-09-17T00:00:00Z
Leonard was a concert helpful host. He gave us detailed descriptions on how to get to the apartment and where to park. He had some recommendations ready for Dinner, Breakfast and activities. We felt very welcomed. The place itself was very clean and organized well. The location is, as far as I can tell, top notch. The Arch, Mississippi River, a small brewery (closed Mondays), and a lot of restaurants are only a few walking minutes away. During the night there was a lot of traffic noise coming from outside. I guess we are a little spoiled coming from a small town and there will always be a trade off between central location and a quiet place. We also had earplugs so it was not a big issue. There were also no window curtains so there is a constant light throughout the night. Overall I highly recommend this place!
Alexander
2016-10-18T00:00:00Z
Typ av rum
Eget hus/egen lgh
---
Typ av boende
Lägenhet
---
Plats för
6
---
Sovrum
St. Louis, Missouri, USA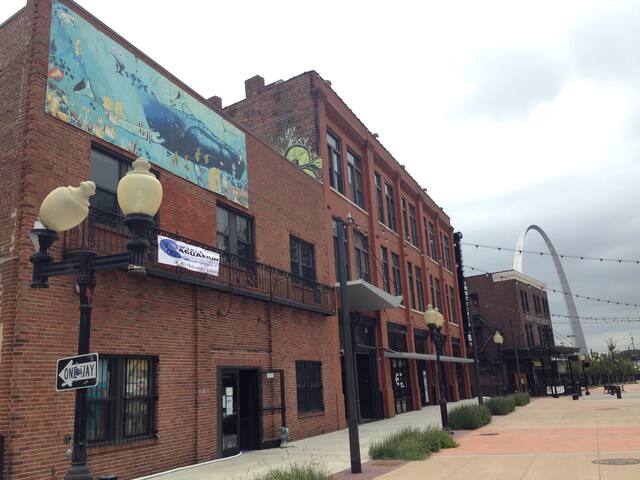 Este apartamento es perfecto para ver un partido de béisbol se encuentra a sólo una cuadra del estadio. Es su encima de uno de los bares más populares de la ciudad. (Bc y aún así tranquila del ángulo) que viene con su propia cocina, una bañera de hidromasaje y un balcón.
Más de 20 pies techos, paredes de ladrillo, vigas de madera. altillo de la ciudad perfecta sentir.
host was super,got back immediately with full answers to any questions,was very polite,helpfull,and professional.couldnt ask for anything more.highly reccomend this as a great plaace to stay to see st louis and or the cardinals.even folks from around st louis should stay here to walk to a game(1 block from stadium).neighborhood good and people in area super friendly!
steve
2016-06-23T00:00:00Z
Beautiful loft! And a very walkable neighbourhood. Angela was very easy to get in touch with, and really went above and beyond as a host. I would highly recommend.
Ian
2016-09-18T00:00:00Z
Great location! Very cool space.
Barbara
2017-03-28T00:00:00Z
Angela was a great host. She communicated the instructions for her place. Very simple and it's an amazing location. We went to a Cards game, Budweiser Tour and the Arch. Would definitely stay again if Angela would have us.
Michael
2016-08-10T00:00:00Z
This was a great place to stay! Angela was very accommodating. The loft was super cute within walking distance of a lot of cool local stuff.
Shannon
2016-05-15T00:00:00Z
Angela was very welcoming and offered great advice to all my questions about the area. The apartment was really nice and in a great location. It felt very safe and close to all the attractions of the city yet not right in the middle of it (which is what we like). We parked at the apartment and walked to most places in the city (10-15 minute walk).
Leigh
2016-08-24T00:00:00Z
Great!
Robin
2016-08-24T00:00:00Z
Great experience overall. Nice place.
John
2016-03-23T00:00:00Z
Typ av rum
Eget hus/egen lgh
---
Typ av boende
Lägenhet
---
Plats för
2
---
Sovrum
St. Louis, Missouri, USA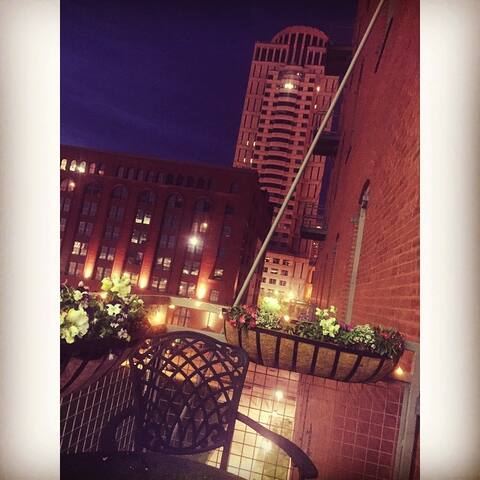 "Tepesi" veya çeşitli mutfakların yakındaki İtalyan restoranlarda yemek keyfini çıkarın "Güney Grand,." Orman Parkı, Kule Grove Park & Missouri Botanik Bahçesi tüm yakın! İnternet modem / router / sert kablolu internet bu daire erişilebilir değildir (sadece wifi erişilebilir)
His place is economical with good access to food options as well as convenience stores peaceful neighborhood and quiet at night time. About a 15 minute drive to downtown st. Louis. Ample space that easily accommodated our party of 3. Oliver was a good host in constant contact.
Damian
2017-02-20T00:00:00Z
Oliver's place was clean and in the perfect spot to enjoy the city!
Nicxavier
2017-03-05T00:00:00Z
Oliver was such a nice guy. Our shower had trouble draining and he was extremely responsive to help us resolve the issue.
Claire
2017-03-14T00:00:00Z
Great stay.
Rod
2017-04-08T00:00:00Z
Oliver's first floor apartment was very cozy and comfortable. It actually looks a lot bigger than in the photos. Great deal for price and location. And the neighborhood seemed very quiet and residential. Great for a relaxed stay.
Hannah
2017-03-27T00:00:00Z
It's a great little place, looking forward to staying there in the future for working in the Stl area
David
2017-03-31T00:00:00Z
Typ av rum
Eget hus/egen lgh
---
Typ av boende
Lägenhet
---
Plats för
4
---
Sovrum
St. Louis, Missouri, USA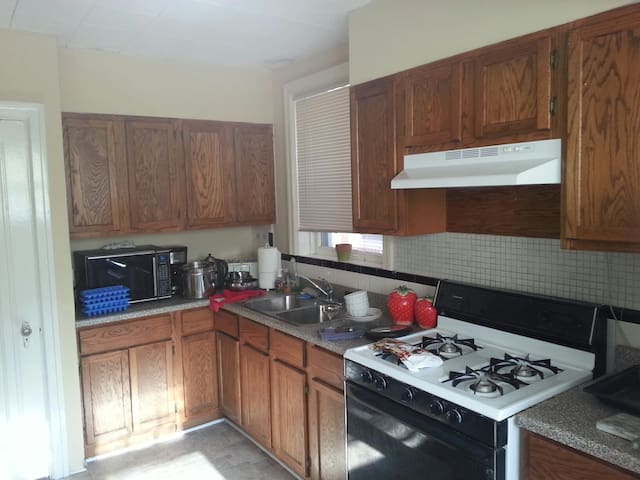 Maryland Heights - Airbnb
:
I genomsnitt

4.88

av

5

stjärnor från

480

gästomdömen
1

–

18

av

300+ Lägenheter att hyra
Ange datum för att se full prissättning. Ytterligare avgifter tillkommer. Skatter kan tillkomma.