Een historisch huis met mooie tuin en wrap around veranda. De kamers zijn mooi ingericht en de gasten genieten van een heerlijk ontbijt. Gelegen nabij het centrum van de stad en dicht bij de trein en bus service. Op de Santa Fe trail en in de buurt wandelen en wandeltocht.
Antieke meubels, badjassen, wifi, wasserette beschikbaar, koelkast en magnetron, extra beschikbaar.
Omgeven door prachtige kerken op drie hoeken, uitzicht op de voet van de Rocky Mountains ligt in het centrum van de stad en op korte loopafstand van restaurants, musea, wandelpaden, theaters en historische wandeltocht maken.
Barbara's place is why we do Airbnb. It was so unique and interesting with a vibe that you simply don't get at those interstate intersection chain hotels. In some respects Barbara's place is a trip back in time but with all the necessities and many unexpected amenities in place. The room we stayed in was clean, comfortable and quiet. I'm not a good sleeper and both my wife and I had a great night's sleep. Barbara is a great hostess and makes you feel immediately at home. Conversation was easy and we found her to be a wealth of information on virtually every aspect of life in the area. Raton itself is not a tourist destination by any stretch but we found everything there to our satisfaction as it relates to an enjoyable overnight stay.
Clark & Paula
2017-03-26T00:00:00Z
I'd ask her ahead of time for more instruction on where house is. It was dark, and had snowed & we could not find her house easily.
Karen
2016-12-22T00:00:00Z
We will never forget Barbara's hospitality and delicious breakfast. Had wonderful conversations with her which both me and my husband enjoyed. Since it is a historic home, the guests share a bathroom, but in our room we had a sink and shower, which was nice. She does have a second restroom downstairs. It was a pleasure to have met Barbara and to have stayed at her Victorian home.
sharon
2016-07-15T00:00:00Z
We enjoyed our stay with Barbara very much. She is a very spirited and joyful soul who loves meeting new people. Her service was well thought out and she was completely available and helpful whenever we needed it. The house and room were very comfortable and we felt very at home there. The town was so cute and downtown shopping was within walking distance of her house. We would have loved to stay longer to enjoy her company and tell stories, but had to go, with promises of seeing her again.
Schelly
2016-07-08T00:00:00Z
Barbara was a wonderful host with a beautiful house. She was flexible on scheduling and very helpful as well. We'd be happy to stay with her again!
Mike
2016-08-14T00:00:00Z
What a charming, positive experience there is to be had at Barbara's B &B! We were quickly made to feel right at home with a slice of homemade lemonade pie and couldn't feel more welcome. The room had everything we could've ever needed. The open windows and hometown atmosphere were not unrecognized. Barbara's peach waffles were absolutely delectable! Will definitely stay here again.
Heather
2016-09-07T00:00:00Z
From lotions and potions and bedding so nice, Delectable peaches enhanced with fresh spice. Waffles and country ham, eggs and oh my! Our own hearts desire is to stay here...we sigh! You'll enjoy this delightful respite and your lovely gracious Air B&B host, Ms Barbara! Her home is a fascinating historic treasure and yet she has provided everything to make it comfy for a modern traveler. Large rooms complete with freshly laundered quilts and bedding, In-room fridge, wifi, tv, microwave, sink, convenient charging outlets, books, brochures describing local history, toiletries, etc Etc. This was perhaps the best run B&B we've ever had the pleasure to visit! We really did want to stay another day or two but we had time constraints and meeting obligations. Darn! Breakfast was another special treat. Barbara served fresh peaches grown in her lovely yard. She even pre-chilled the orange juice glasses! Everything was served in a lovely breakfast room with patriotic linens. Eggs, ham, waffles, coffee. Her thoughtfulness is evident in everything she does, serves, says and even in her careful lovely grooming. It's evident that Barbara is is a very special person running a no-excuses top-notch B&B. Her little Yorkie girl, (URL HIDDEN) adorable. Barbara makes sure Guiness stays downstairs though we would welcome Guiness visiting. Guiness and our Westie dog, Buddy ...became fast playful friends quickly. There's a great fenced in play yard for the pups and a doggie door too. There's everything to love about Barbara's "Heart's Desire." Don't hesitate to book your stay with her but do contemplate staying longer. We wish we had. Guess we'll just have to return! With pleasure.
Angela
2016-07-18T00:00:00Z
Barbara was very friendly and immediately made us feel very welcome. Her house was beautifully decorated with many antiques from her family. Her breakfast was fantastic and she made sure if we had any special needs or requests. She was very helpful with ideas of things to do and places to eat in Raton. I highly recommend a visit to Barbara's Bed & Breakfast!
Jan
2016-09-17T00:00:00Z
Typ av rum
Eget rum
---
Typ av boende
Bed & Breakfast
---
Plats för
2
---
Sovrum
Raton, New Mexico, USA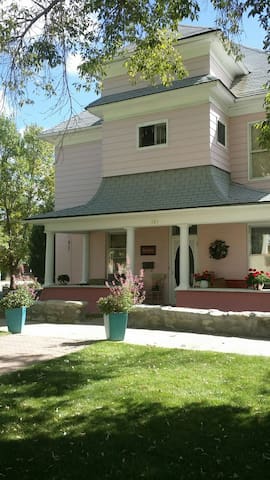 Ven a disfrutar de un pedazo de cielo en el noreste de Nuevo México. ,, Entorno tranquilo maravilloso y tranquilo. Situado a las afueras de Raton - un absoluto de los viejos tiempos joya de la ciudad. Estar listo para segundos de duración atascos de tráfico de coches alrededor de 2-3 horas pico.
Pedazo de Cielo ofrece un montón de aire fresco y sol durante todo el año. La ciudad está a sólo unas pocas millas de distancia por lo que esta zona es especialmente tranquila - a excepción de thumberstorms ocasionales, y los fuegos artificiales durante las fiestas.
Wonderful place.
Utahna
2016-09-19T00:00:00Z
The pool, hot tub & shower were huge! Our girls had a great time swimming/playing in the pool.
Julia
2015-08-29T00:00:00Z
Mimi greeted us as we arrived onto the property. Our stay was short but excellent. What a beautiful property.
Steve
2016-05-15T00:00:00Z
What an interesting, entertaining and comfortable place to spend an evening. The place was very clean and has many activities to keep a family busy. The host was easy to communicate with and was quick to respond to questions. Our family hopes to spend another night there again next year as we make our way to the Colorado mountains.
Nathan
2016-08-04T00:00:00Z
Wonderful location. Quiet NM canyon type of terrain for the many acres behind the house. Staying in a pool house is maybe not the "typical" type of overnight, but it was absolutely awesome for us. A wonderful pool, hot tub, large flat screen TV and fireplace, very convenient kitchen and a gigantic tile shower made this a place we will come back to from now on whenever we are passing through. The owner is very nice and extremely helpful. 5/5 stars all around. Wonderful experience.
Sam
2017-02-22T00:00:00Z
This is the kind of place that makes airbnb special. How else would any of us have the opportunity to stay the night in a massive poolhouse up in the hills of Trinidad, Colorado? And I mean massive - its the size of an airplane hangar. The place comes stocked with pool toys, a big screen, a hot tub with integrated TV (whoa), and sleeping arrangements for far more than the three we had in our group. Mimi is a gracious host and was available when we had questions about the town. We were especially happy to have this amount of space instead of a hotel after getting some bad family news late in the evening. No joke - sitting in the hot tub watching a football game made it a bit better. In short: Rent this place! You won't believe the amount of space you get or the incredible amenities. Mimi's hospitality is icing on the cake.
Tom
2015-08-15T00:00:00Z
Mimi was wonderful, we arrived to an open garage door and a fire started in the fireplace! Presentation was beautiful and everything was as described.
Bobbie
2016-12-20T00:00:00Z
Mimi came out and greeted us the first night we stayed with her. She was very friendly and welcoming. She was very accommodating to our arrival time which went from arriving early one day and arriving fairly late the next. She responded quickly to any question we had prior to our stays.
Sarah
2016-07-26T00:00:00Z
Typ av rum
Eget hus/egen lgh
---
Typ av boende
Annat
---
Plats för
6
---
Sovrum
Raton, New Mexico, USA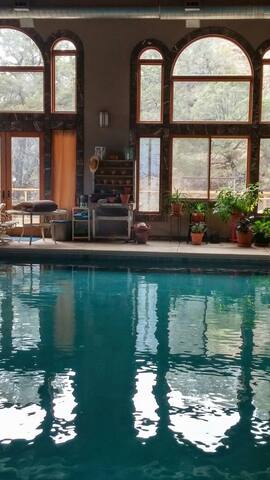 READ FIRST - Adventure in a private ghost town! Not your average listing! Cozy solar-powered cabin tucked into a coal mining ghost town. Experience our wildlife, hike, fossil hunt, explore ruins, tour dispensaries and enjoy life. At 7000ft, all seasons offer new activities. You can easily find out more about Morley by visiting the Pueblo Steel Museum or by searching Wiki. We are always improving the property so come back for new stuff. Currently, we are working on adding bathrooms/showers.
Off-the-grid cabin on the outside, high-tech glamping on the inside. You might have trouble leaving the advanced amenities this solar powered adventure launch pad provides, were it not for the ghost town we've nestled it in. 50' TV and dvd player - TONS of movies. You will have to run to town in order to watch the game (any game). Laptop and USB charging. Propane camping stove and always stocked munchies. Coffee and tea are provided along with soda and water. Huge beanbag bed (double) and a smaller fold up couch-chair-bed (great for dogs or third wheels), we also provide a crazy amount of blankets. Large propane heater fills this small space quickly regardless of outside conditions, small heater can be left on all night to maintain temp. This space is truly meant to provide comfort at night for Morley explorers all year around. We have a biweekly maintained porta john for a bathroom currently. We are currently constructing a shower/bathroom building, but don't expect to use it until at least summer 2017. Tent and truck camping sites are available affordably just ask. Sometimes the weather does not cooperate with our solar setup, so we will totally run a generator at your request. We are working on expanding our power system to include a working lighted fridge, keurig, and instant water heater. Honor Liquor Bar? Yes. Please replace the value that you consume, and leave the price tags on your replacements. (Or tip so we can.)
Our neighbors consist of wild animals such as bears, elk, antelope, coyotes, turkeys, large and small cats and cows/bulls (summer). Be very respectful of them. Near the cabin there are two other storage cabins. We live in an RV on the property except when we are traveling in it. We ask that you stick to our ~80 acres only, boarders will be explained/ shown. If you do meet any of our human ranch neighbors, please be respectful and friendly. Feel free to spread the word about the airbnb if you decide to go to Raton and/or Trinidad. ;) If you see full sized houses at any point, turn around, you're probably on the ranch. No one is allowed on the ranch.
Lots of games and movies! Enjoyed camping out in the little cabin! Hosts were great!
Kamryn
2017-04-01T00:00:00Z
My husband and I stayed in the cabin 1 night and hiked on a guided tour all around the ghost town the next day, everything was covered in snow! The cabin was just as described and Genette went above and beyond making sure we had a good time and that we had everything we needed. We can't express how great the experience was! We will definitely be back! Porta potty for use and no shower. We absolutely loved it!
Bonnie
2017-01-22T00:00:00Z
If you are in the need, or are looking for an easily accessible place with excellent hosts and great history, this is the place. Loved the private tour of the ghost town and hosts are extremely kowledgable and friendly. Had a great movie night with a wonderful hike in the morning!
William
2016-12-29T00:00:00Z
This is a great spot for camping. It is near the highway, so it can be convenient as a stop off, but you don't hear any highway noise and generally feel secluded. Genette was awesome with communication. The cabin is small, but mighty. No frills, but everything you need to lay around. The ghost town hike is worthwhile. Great spot, better folks.
Travis
2017-01-16T00:00:00Z
The cabin was great for a small scenic getaway. Ryan and Genette were super friendly and accommodating. They have tons of knowledge about the history of the surrounding area. I loved hiking with my dog, taking photographs, and enjoying the snowstorm that hit my last day there.
Chris
2017-04-04T00:00:00Z
These guys are amazing! We had such a great time on the tour and the cabin was very comfy! We enjoyed a movie and had an amazing dinner 10 minutes away in town. A hidden gem. This place is going to be huge! The owners have a great vision.
Benjamin
2017-02-12T00:00:00Z
This place is absolutely breathtaking! What an amazing way to escape the hustle and bustle of the city. The town is very secluded zero light pollution so you can see the whole Milky Way. The guided hike is a must Genette and Ryan are so knowledgeable of the towns history. The cabin is the perfect size all the space one needs it's stocked with food and water and most importantly weed! I cannot wait to go back!
Gus
2017-02-15T00:00:00Z
Ever get that feeling like you are exactly where you need to be in life? The cabin was perfect for what I needed it for, convient location, reasonable and very friendly owners and laid back atmosphere. Hospitality is outta this world, wonderful people!
Madisun
2017-02-02T00:00:00Z
Typ av rum
Eget hus/egen lgh
---
Typ av boende
Stuga
---
Plats för
2
---
Sovrum
Trinidad, Colorado, USA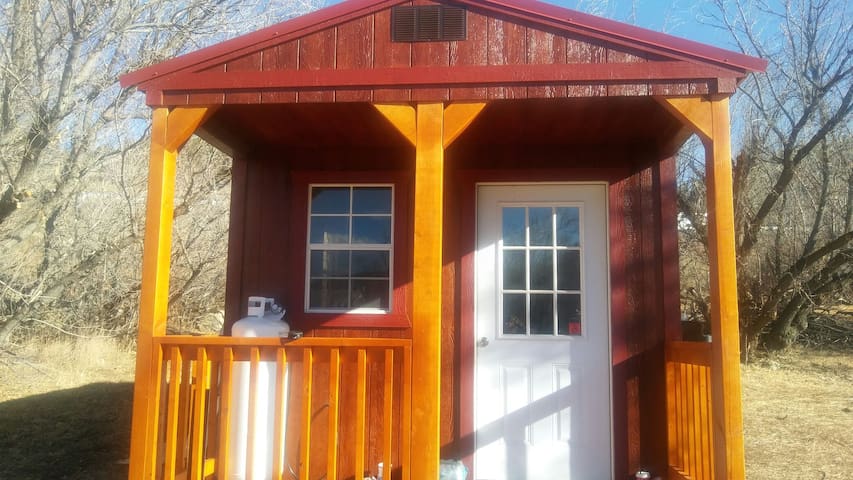 House used for a family of 5 out for a ski trip. Great central location between Angel Fire and Red River. Taos ski valley is about an hour away. There's also a great ski rental shop right across the street in Eagle Nest. House was a quiet retreat in the evenings with nice views of the valley.
Doug
2017-03-19T00:00:00Z
Beautiful home in a convenient location. We walked into eagle nest downtown for shopping and food. Location was great for our family ski trip. Lake is close by and could easily serve as a great home to fish the lake. We watched animals like elk and deer from the front porch in the evening. Night time provided excellent star gazing opportunity
Charles
2017-03-15T00:00:00Z
Typ av rum
Eget hus/egen lgh
---
Typ av boende
Hus
---
Plats för
7
---
Sovrum
Eagle Nest, New Mexico, USA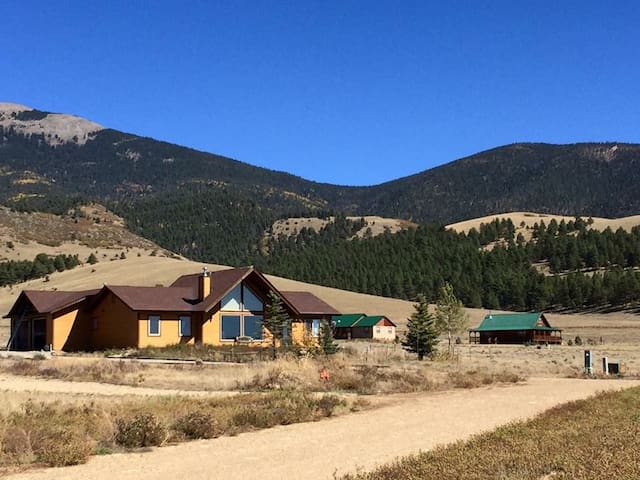 Great time in house and great location to 3 different ski resorts!
Matt
2017-01-01T00:00:00Z
I absolutely love this house!! It was exactly as posted and was perfect for our trip. Beautifully decorated and had all the comforts of home. Will definitely be staying again!
Alison
2016-08-08T00:00:00Z
Matthew's place has so much to offer, we were there at Xmas, so Much snow, so much fun. He even arranged for us to be pulled out of the snow. Place is so tranquil, cozy and well equipped, lots of towels, bath robes, shampoos, conditioners, body lotion and more more more, in the kitchen too, all the basics to cook and more and more, he even treated us to some mas goodis. View is fantastic, Eagle Nest is such a neat little place. We are planning on returning in the summer to enjoy the deck and the lake, it was a little chilly this time around!! Highly highly recommend, DO NOT MISS THAT ONE! You definitely get what you pay for, thank you Matthew and hope you enjoy that smelly French cheese
Cecile
2016-12-28T00:00:00Z
Typ av rum
Eget hus/egen lgh
---
Typ av boende
Hus
---
Plats för
5
---
Sovrum
Eagle Nest, New Mexico, USA
Ange datum för att se full prissättning. Ytterligare avgifter tillkommer. Skatter kan tillkomma.