250 Uthyrningar av lägenheter
My offer is near public transport. You'll love my job because of: the unique character of the interior, a fully equipped kitchen and a comfortable bed. My place is good for a couple, the adventure solo travelers interesach.Od April to August from the windows of my apartment approximately 50 m you will see the stork family life.
Moje mieszkanie, które sama zaprojektowałam i urządziłam jest mieszanką różnych stylów. Kuchnia to styl skandynawski, reszta przestrzeni to taka współczesna bohema z uwzględnieniem klimatów z moich podróży. Obraz " Czterej jeżdźcy Apokalipsy" został przywieziony z Maroka, zdjęcia to fotograficzny zapis wyjazdów na Nordkapp, do Tunezji, Hiszpani, Rumunii, Ukrainy i wielu innych miejsc polonezem i żukiem w ramach rajdów "Złombol" edycje 2013 - 2016
The apartment is located in the southern district of Katowice, directly on the street with medium traffic. the distance of about 50 m grocery store is well stocked. From the window of the apartment is the view of the crow's nest. In the vicinity gym in the air, numerous walking and cycling routes. A good spot to visit Auschwitz Nikiszowiec, Guido Shaft, the new headquarters at the National Polish Radio Symphony and many other extremely attractive places such as gardens Kapias, castle in Pszczyna.
El baño es maravilloso!
Sylvia
2017-04-02T00:00:00Z
Bogustawa and her daughter Magdalena were fantastic. The apartment is the nicest I have stayed in so far. Clean, beautifully decorated, everything you need, comfortable and real bed, unbelievable shower. Magdalena bent over backwards to make sure I had everything. A perfect place. You will not be disappointed.
Douglass
2016-09-28T00:00:00Z
Amazing flat, lovely and helpful host. Great value for the cost and if i'm ever back in Katowice, i'd try to stay here again! Quiet and tucked away, not far from Katowice airport.
Sona
2016-12-12T00:00:00Z
Nice large and comfortable apartment but not close to city centre.
Jessica
2017-03-12T00:00:00Z
Olivia's apartment is very comfortable and there wasn't missing anything. We had a great time and we can highly recommend this place to everyone. :)
Javier
2017-03-03T00:00:00Z
Miłe, klimatyczne miejsce. Widać własna inwencje Gospodyni! Polecam!
Jacek
2016-12-15T00:00:00Z
Pani Bogusława i Oliwia są bardzo otwarte i mili :) A mieszkanie Oliwiji - to poprostu kazka, w każdym drobiazgu czuje się osoba która kocha swiat i ludzie )))) Dziękujemy!!!
Volodymyr
2016-12-10T00:00:00Z
Miejsce cudowne i ciepłe.
Łukasz
2017-02-17T00:00:00Z
Typ av rum
Eget hus/egen lgh
---
Typ av boende
Lägenhet
---
Plats för
2
---
Sovrum
Katowice, śląskie, Polen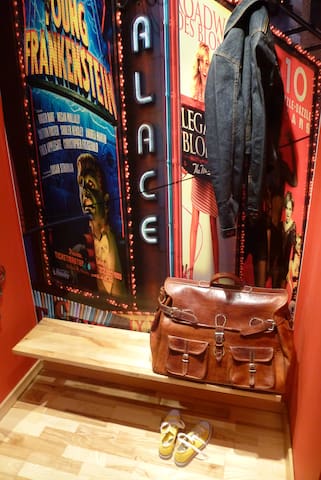 Nowoczesny apartament o powierzchni 37 m2 z prywatną łazienką. W najbliższej okolicy transport miejski, sklepy, siłownia, sale konferencyjne. - 1 min. do Uniwersytetu Slaskiego - 3 min. do Narodowej Orkiestry Symfonicznnej Polskiego Radia, Spodka oraz Miedzynarodowego Centrum Biznesowego - 5 min. do ul. Mariackiej - 8 min. do Galerii Katowickiej i Dworca PKP
Cichy i przytulny apartament z kuchnia i łazienką. Doskonały dla 2 osób ale z łatwościa pomieści 4. W okolicy znajduje się transport miejski, sklepy, restauracje, siłownia, centrum biznesowe i kulturalne.
Blisko do ścisłego centrum, sklepów, kawiarni, centrum biznesowego i kulturalnego. Plac zabaw dla dzieci widoczny z okna. W razie jakichkolwiek pytań zapraszam do kontaktu mailowego bądz telefonicznego: +(PHONE NUMBER HIDDEN)
Razem z chłopakiem jesteśmy bardzo zadowoleni z pobytu w mieszkaniu Bartka. Oferta zgodna z opisem, bardzo czysto i przytulnie. Gospodarz przywitał nas o ustalonej godzinie i udzielił wszelkich informacji. Byliśmy w ciągłym kontakcie. Serdecznie polecam ! :)
Karolina
2016-10-08T00:00:00Z
Super modern apartment. Bartek was very nice and had everything fixed and ready when we arrived.
Christian
2016-10-19T00:00:00Z
A very nice apartment and a great host! The description of the apartment is very accurate. It describes it perfectly:) When we arrived Bartek answered our questions and showed us how to find our way through Katowice. He also had a map there which was super nice:) All over it was a great experience which I can recommend to others!
Adrianna
2016-10-14T00:00:00Z
Okolica rewelacyjna. Gospodarz pierwsza klasa. Jednodniowy wypoczynek rewelacyjny
Mateusz
2016-09-05T00:00:00Z
Foi dos melhores que já estivemos!! Fomos recebidos por anfitrião Bartłomiej Cipold que nos tratou como se fôssemos família. Muito muito obrigada!
Ricardo
2016-10-21T00:00:00Z
Bartłomiej is a super nice guy, communicative and friendly. The apartment is exactly as pictures show. Clean, comfortable and well-kept. Highly recommended.
Kamil
2016-11-17T00:00:00Z
wonderful place to stay with a very friendly host! thanks again
Pablo
2016-11-12T00:00:00Z
Mieszkanie bardzo ładne, wygodne i czyste - widać, że gospodarz dba o komfort swoich gości. Wszystko jest urządzone bardzo praktycznie i nowocześnie, co sprawa, że pobyt w mieszkaniu Bartka jest bardzo przyjemny. Okolica mieszkania jest bardzo spokojna, blisko do miejsc gdzie można coś zjeść oraz zrobić zakupy w razie samodzielnego gotowania. Ogromnym plusem jest to, że mieszkanie znajduje się bardzo blisko Spodka i atrakcji wybudowanych w kompleksie Spodka, warto jest, więc wybrać się tam na spacer lub na koncert do NOSPR. Komunikacja z gospodarzem przebiegała bardzo sprawnie i bez żadnych problemów. Serdecznie polecam!
Paulina
2016-10-22T00:00:00Z
Typ av rum
Eget hus/egen lgh
---
Typ av boende
Lägenhet
---
Plats för
4
---
Sovrum
Katowice, śląskie, Polen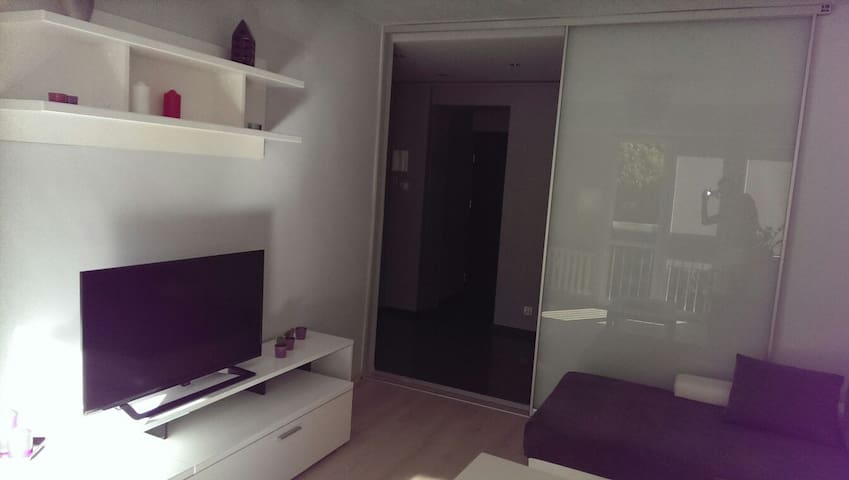 Spacious (35 sqm), sunny room with a huge oriel and lot of plants in a shared, old apartment, perfect for couple or a group of friends. House is located 1 min from the train station, bus station and main square. Exellent communication to festival venues (OFF Festival, Tauron Nowa Muzyka). If you want we can show you around, we know some cool places here. We provide clean linen, WIFI, TV and basically all you may need.
Fantastic location, spacious flat and extremely spacious room in itself, well-furnished with thousands of plants. It felt cosy like at home. I can truly recommend it:)
Alexandra
2016-11-12T00:00:00Z
Great location very close to the station, the host was lovely who let us in at a inappropriate hour. Room was very interesting but could of been cleaner
Jess
2016-07-21T00:00:00Z
Magda and her housemates were wonderful hosts, and her room was as spacious and magnificent as it looks in the photos! Communication was excellent and my check-in was fast and easy. The apartment is conveniently located, with access to public transport, shops, and eateries. Highly recommended for a visit to Katowice.
Angeliki
2016-09-17T00:00:00Z
Magdalena is super nice and helpful. The flat is cute and very clean! Location is perfect !!
Marie
2016-06-25T00:00:00Z
Magda's apartment is a huge space, nicely design, full of plants and perfectly located. All hosts were relaxed and flexible when it comes to the check in and out times. The apartment itself is more like a student house, with a few people living in and the others popping in all day long. I didn't like the fact, that people were smoking inside and the odour of cigarettes could be smelled everywhere. The room was very big, but lacks of shelf or cabinet for guests clothes. It was also clean, but I expected much more in the common spaces, especially the cleaning fee was quite high for a Polish standards.
Pawel
2016-11-09T00:00:00Z
Pleasant and clean apartment, comfortable, with a unique design. It´s very close to the train station. Nice, helpful and welcoming owner. I highly recommend.
Henrieta
2017-03-06T00:00:00Z
Great place to stay in Kattowice. Perfect and cozy location in the city centre. Communication without problem, Magdalena and her (SENSITIVE CONTENTS HIDDEN) were always willing to help. We fully recommend this accommodation. And the adorable young cat becomes our best friend !! Thanks again!
Marion
2016-11-30T00:00:00Z
Quirky city apartment full of life (animals, plants and people). Location was great as it is across the road from a shopping centre, with dining options and a supermarket.
Maddie
2016-10-15T00:00:00Z
Typ av rum
Eget rum
---
Typ av boende
Lägenhet
---
Plats för
2
---
Sovrum
Katowice, śląskie, Polen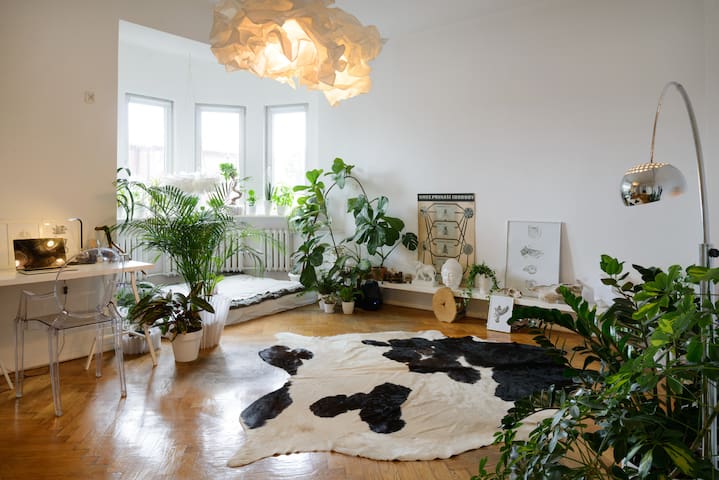 Przestronny apartament zlokalizowany na stylowym poddaszu w zabytkowej kamienicy, w sercu Katowic. Efektowne drewniane belki sprawiają, że apartament jest bardzo przytulny. - 20 m od Rynku i 100 m od Dworca PKP - w pobliżu: Rynek, Strefa Kultury, MCK, Spodek,sklepy, restauracje, komunikacja publiczna, nocne życie oraz rodzinne atrakcje - wyposażona kuchnia - łazienka - szybki internet (światłowód) - winda, klimatyzacja - doskonały na pobyt jednodniowy oraz długoterminowy ZAPRASZAM:)
Apartament 3 Maja 12 znajduje się w samym sercu miasta, zaledwie 20 m od katowickiego Rynku, co czyni go idealnym miejscem
Bardzo przyjemny apartament, polecam
Artur
2016-09-04T00:00:00Z
Mieszkanie w świetnej lokalizacji w centrum miasta, ładnie urządzone i dobrze wyposażone - gorąco polecam.
Agnieszka
2017-02-21T00:00:00Z
By far the best Airbnb I've been to. Location with a heart, and in such a scenic location. Katowice can be quite depressing, but this little gem of an apartment lifts the whole experience off to a different level
Andrea
2017-01-31T00:00:00Z
Everything was amazing. Karolina and August were very accommodating and understanding. Definitely will come back!
Jakub
2016-12-18T00:00:00Z
Po raz drugi (i mam nadzieję nie ostatni) miałem przyjemność gościć u Karoliny :) Gospodarza, apartament i lokalizację oceniam na 10/10 - nie wyobrażam sobie lepszego miejsca na pobyt w Katowicach. Gorąco polecam !
Maciej
2017-03-06T00:00:00Z
Apartament był w idealnym porządku, elastyczne podejście w zameldowaniu i wymeldowaniu. Lokalizacja jest super, blisko wszystkie sklepy i puby. Gorąco polecam!
Dymitr
2017-01-21T00:00:00Z
All in all a good stay at the flat from Karolina and August. We got good information what we can do in Kattowice. The flat was very central and beautyful. All in all: we would like to come back :-)
Benedikt
2016-12-31T00:00:00Z
Thank you for a lovely stay and yours and August's help. I can definitely recommend Karolina's place.
Natalia
2016-10-14T00:00:00Z
Typ av rum
Eget hus/egen lgh
---
Typ av boende
Lägenhet
---
Plats för
4
---
Sovrum
Katowice, śląskie, Polen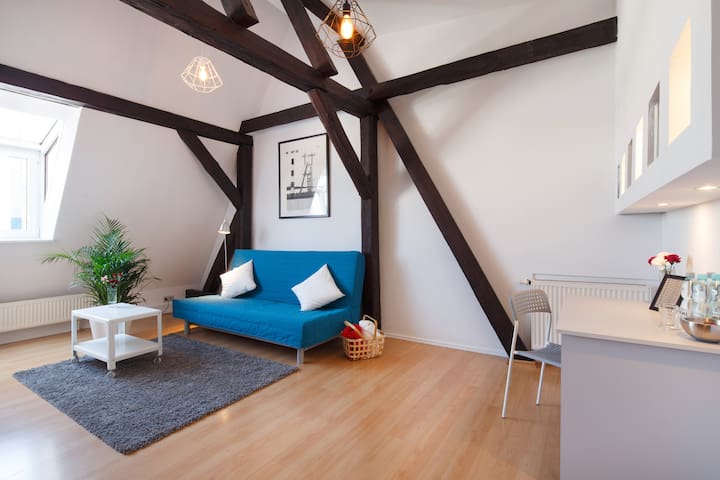 My offer is near restaurants and food, public transport, night life. You'll love my offer due to: the people, the climate, the environment outside the area and light. My place is good for couples and solo adventures.
The apartment is located 2-3 minutes walking from the central train station.
Nice place, everything what is needed is close to this place
Aleksey
2016-09-07T00:00:00Z
great location, cheap, recommend!
Aleksey
2016-09-14T00:00:00Z
Generally perfect location - close to station, shops. Nice interior - neat and clean. Rather a basic furniture perfect for a night or two if you are not looking for luxury. Building is being renovated so it's a construction site at the moment. Main disadvantage - no elevator - 4 floors i think by the stairs. Good contact through Airbnb with Viviana.
Łukasz
2017-02-14T00:00:00Z
Dům procházel rekonstrukcí, jinak na jednodenní přespání to bylo v pohodě.
Petr
2017-04-03T00:00:00Z
Mieszkanie skromne ale schludne, ciepłe mimo chłodu za oknem, kontakt z gospodarzem jedynie przy przekazaniu kluczy bez zarzutów.
Piotr
2017-02-13T00:00:00Z
Casa Carina, essenziale, economica e soprattutto strategica per la posizione, a due passi dalla stazione , dai locali e i principali ristoranti.
Giorgio
2017-03-21T00:00:00Z
Świetna lokalizacja, bezproblemowe przyjęcie. Miło i przyjemnie.
Michał
2017-04-02T00:00:00Z
Viviana's place is good for budget travelling. Keep in mind that there are also other people living in the same flat. Flat itself is clean and in a good condition. Location is very good it's close to the railways station and restaurants. We came here in a short notice but everything went fine because Viviana always answered clearly and fast :) Thank you!
Elisa
2017-03-06T00:00:00Z
Typ av rum
Eget rum
---
Typ av boende
Lägenhet
---
Plats för
2
---
Sovrum
Katowice, śląskie, Polen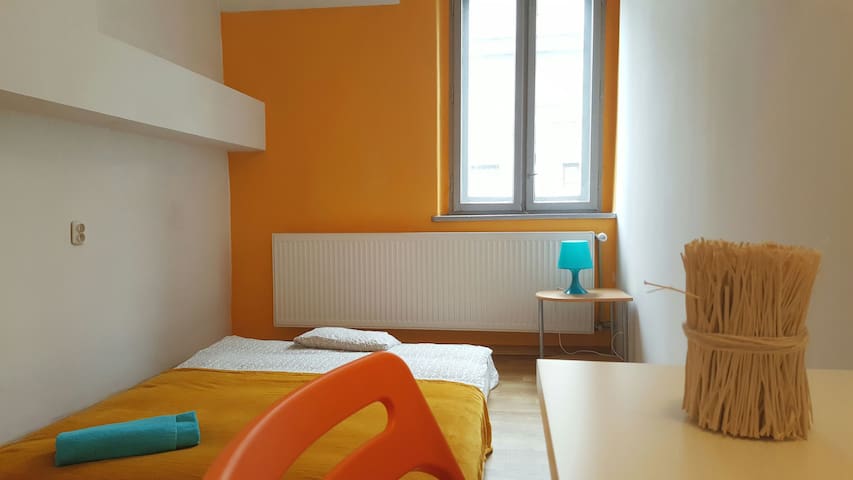 The room with beds even for 4 guests. The apartment is between main railway & bus station and Katowice city center-Rynek. It is only a 2-minute walk to each. Just a few meters from the apartment there are shops, a dinner bar, and bus& tram stops and bus stop to the airport. Main Railway - 60 meters Gallery of Katowice -50 meters Internacional BUS Station - 50meters Stawowa street - 20 meters SPODEK 350 meters
Big ROOM with BIG private balcony with the city center view.
SPODEK, Museum of Silesia, Nikiszowiec, platform with trians to Auschwitz-Birkenau museum, NOSPR etc. buses to Cracow every half hour
Tomasz and his wife was attentive and friendly hosts. The place is located in the heart of Katowice, clean and very reasonably priced. Great value for the money.
Tadas
2017-01-04T00:00:00Z
Świetna lokalizacja i bardzo dobry kontakt z właścicielem po prostu polecam!
Michał
2017-03-04T00:00:00Z
Very easy to find, perfect position. Simply but very comfortable accomodation :-) Thank you!
Kateřina
2017-01-21T00:00:00Z
Bardzo fajne miejsce w centrum Katowic, wszędzie blisko, do tego super balkon z widokiem na miasto, na którym można spędzić miły letni wieczór.
Michał
2017-03-05T00:00:00Z
Very good comunication with Tomasz, central location, we stayed only one night but we had everything we needed, I recommend
Marianna
2017-01-16T00:00:00Z
Przemiły i bezproblemowy gospodarz. Świetny kontakt! Doskonała lokalizacja. Wygodnie i schludnie. Polecam każdemu, kto poszukuje dobrej miejscówki w Katowicach! :)
Marta
2017-01-01T00:00:00Z
Everything was ok. The only issue was that the table suddendly explode on the night (yes, I know that is hard to believe, but was like that), and we need to ckeck now what to do with that. I believe that the table maybe was failed, or something like that, because we was sleeping, and suddendly we heard a noise and the table was broken, and there was nothing over the table that can make that table explode.
Diego
2017-04-05T00:00:00Z
It has a very nice location, perfect for a short stay.
Szilvia
2017-02-10T00:00:00Z
Typ av rum
Eget rum
---
Typ av boende
Lägenhet
---
Plats för
4
---
Sovrum
Katowice, śląskie, Polen
On Korfantego street, fully equipment kitchen (including tea:), iron, towels and bedding. Close to nightlife, public transport, the airport, family-friendly activities, Spodek, Mariacka street, NOSPR, Museum Śląskie, train station, bus station: it is 5-10 minutes walking to market:) You'll love my place because of it is in the centrum but same: it is very quiet neighborhood:) Location is perfect. My place is good for couples, solo adventurers, and business travelers, famielies with 1 kid.
Place is on Korfantego street: main street in Katowice.
Great price, good location.
Mehmet Emin
2017-01-27T00:00:00Z
I really enjoyed staying at Agnieszka's flat. It looks much better (brighter) than on photos. (:
Grażyna
2016-12-15T00:00:00Z
Trudno o lepszą lokalizację, jeżeli komuś zależy na bliskiej odległości do Spodka. Współpraca z Panią Agnieszką to czysta przyjemność. Życzę wszystkim takiego gospodarza. To miejsce będzie moim pierwszym wyborem przy kolejnym wyjeździe do Katowic. :)
Marcin
2017-03-05T00:00:00Z
Great place to stay if you need to be close to the City centre. Maybe not the best for families with small children, but I would recommend it for couples. Agnieszka has been a lovely host. Thank you!
Dominika
2017-02-10T00:00:00Z
Gorąco polecam. Agnieszka jest ciepłą, miłą i uśmiechniętą osobą. Apartament czysty i w świetnej lokalizacji!
Arek
2017-01-31T00:00:00Z
Aga is a very gracious host. She was very helpful in all aspects which made me appreciate Katowice that much more. Her flat is absolutely perfect and felt just like home. I would stay again!
Greg
2016-12-07T00:00:00Z
Great flat with nice and warming welcome, gave us lots of infos ! The whole place is well equiped, more then expected. Clean and comfortable, was exactly what we needed for our stay. Tram at the feet of the building , easy to go in the center. Really happy of this experience.
Lucie
2017-01-22T00:00:00Z
Bardzo dobra lokalizacja, wszędzie blisko na piechotę. Dla wygodnych komfortowy wybór komunikacji miejskiej z i do dworca PKP. Lokum zadbane i posiada wszytskie potrzeby podstawowe. Dobre na krótki jak i dłuższy postuj. Bardzo dobry kontakt z właścicielką. Bezproblemowy :) Bardzo polecam i sama chętnie wrócę do tej lokalizacji
Agnieszka
2017-02-19T00:00:00Z
Typ av rum
Eget hus/egen lgh
---
Typ av boende
Lägenhet
---
Plats för
3
---
Sovrum
Katowice, śląskie, Polen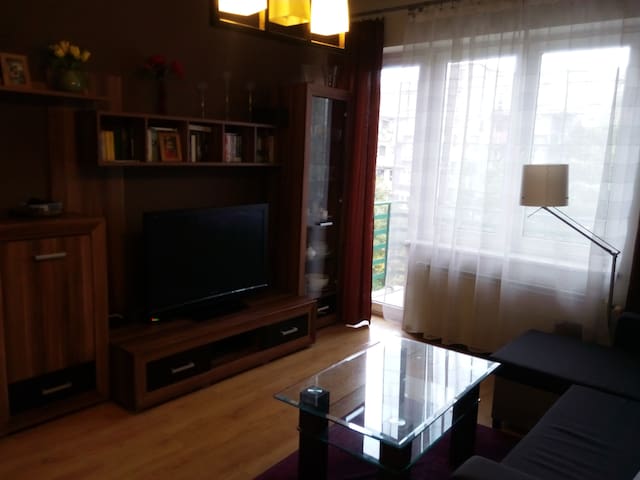 Apartment in the center of Katowice / ul. Mary / close to the railway, you can reach on foot the most important places in Katowice. Guests welcome free yoga classes at my school yoga. The school is located 3 minutes from the apartment.
Samo centrum Katowic /ul. Mariacka/ EN A room in the center of Katowice /ul. Mariacka/, near the train station. You can walk to the most imprortant places in the city. Feel free to join yoga classes for free in my yoga school / 3 minutes walking from my place /
You can reach on foot of the most important places in the center of Katowice
Malgosia's flat is awesome. It's a place full of spiritual calm and we enjoyed it so much.
Markét
2016-09-06T00:00:00Z
Idealna lokalizacja, świetne warunki -w mieszkaniu- bardzo czysto i stylowo :) Małgosia jest naprawdę bardzo pomocnym i przesympatycznym hostem! Polecam z pełna odpowiedzialnością!
Przemyslaw
2016-06-29T00:00:00Z
The apartment was really lovely! If I went there again I'll defitnitley stay there ! Thank you for everything:)
Alessandro
2016-09-05T00:00:00Z
Beautiful and clean room in the central part of Katowice, very friendly and responsible host. I highly recommend! :)
Zuzanna
2016-06-17T00:00:00Z
Wonderful host always smiling and positive made me feel like im home. her place is very central, walking distance to everything. also a wonderful cook (loved the beetroot dish she made) and lets not forget the homemade bread:) the house is very clean and tastefully decorated. i wish i got to stay longer.
Oguz
2016-08-06T00:00:00Z
Małgosia is so friendly and helpful, and her apartment is beautiful, clean, and located in the very center of Katowice. She had great recommendations for things to do and see (the jazz club downstairs, for instance, which was wonderful!), and most things were a pleasant walk away. Perfect place to stay!
Katarzyna
2016-06-25T00:00:00Z
Malgosia was an amazing host - very friendly and positive. recommended us a great vegetarian restaurant nearby and also invited us to her yoga class which was great too :). The apartment was a very pleasant place, great location in the centre of Katowice. The only downside was that we stayed only one night - we are definitely looking forward to come back in the future!
Hana
2016-09-02T00:00:00Z
Małgosia is a sunny and cheerful person, It's so nice to meet person like her when travelling around the world! The room and her appartement release a lot of good vibes! It is clean, comfortable and well located ( in the centre and near the train station!). I really recommend her appartement! Thank you again Małgosia :-) Fernanda
Fernanda
2016-07-27T00:00:00Z
Typ av rum
Eget rum
---
Typ av boende
Lägenhet
---
Plats för
2
---
Sovrum
Katowice, śląskie, Polen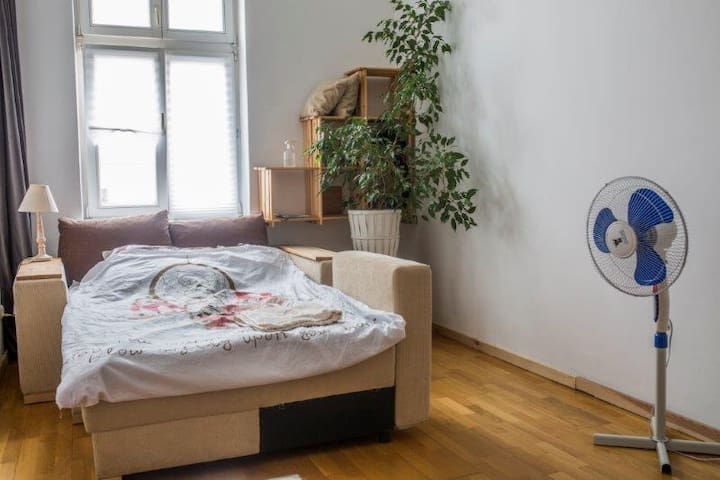 Unique, one-room apartment in the French Park investment earmarked for short-term rental. Furnished to a high standard, it is ideal for the discerning singles, couples or companies looking for an apartment for a short stay in Katowice.
For the arrangement of the interior responsible it was one of the best design offices in Silesia, and was a priority of the highest quality. The apartment with an area of 30 square meters consists of a spacious room with a kitchenette, bathroom and balcony. In the room, acting as living room and bedroom, there was room for a set of holiday and a system of cabinets and shelves. It is also equipped with TV sets. Between the fully equipped and furnished kitchenette and peace also it frees up space for a dining area. An elegant bathroom equipped with a shower. Bright colors in which it is maintained interior adds to its chic, while increasing the whole optically. Large windows in the room, and eastern exposure provides the right amount of natural light. We guarantee that this interior will satisfy even the most demanding!
The apartment is located in a new development French Park with an excellent location in the Valley of the Three Ponds, close to the very center of Katowice, with excellent communications with the rest of the city. Nearby are shopping centers, numerous restaurants, cultural centers and the headquarters of many companies operating in Katowice. The proximity of green areas will appreciate the people who like to relax and activities outdoors. This apartment is a great choice for your stay in Katowice, regardless of the purpose of arrival - check both the business visits, as well as those of a private nature.
Swietna lokalizacja, cicho, bezpiecznie( osiedle chronione) . Mieszkanie jest położone przy pieknym parku , obok trzech stawow, warto udac sie tam na spacer, mieszkanie bardzo nowoczesne i czyste. Godne polecenia kazdemu podrozujacemu , polecam serdecznie i nie moge sie doczekac kolejnego wyjazdu do Katowic:)
Patrycja
2017-03-21T00:00:00Z
Przepiekne mieszkanko, czyste i schludne, w milej okolicy. Pan Piotr to odpowiedzialny i bardzo mily czlowiek ktory sluzy pomoca i wskazowkami nawet dla kogos kto pierwszy raz odwiedza Katowice ;-) polecam!
Michał
2017-03-19T00:00:00Z
Mieszkanie jest absolutnie przepiękne i bardzo wygodne. Wszystko było w jak najlepszym porządku, począwszy od kontaktu z właścicielem, a na czystości mieszkania skończywszy. Do centrum spacerem jest ok. 25min, ale nam to nie przeszkadzało. Okolica jest spokojna, więc spacerowanie było przyjemnością. Polecam każdemu, a jeśli nadarzy się okazja - wrócę z wielką przyjemnością!
Mateusz
2017-02-26T00:00:00Z
Bycie gościem pana Piotra to prawdziwa przyjemność. Bardzo komfortowe i czyste mieszkanie, świetna lokalizacja i dobry kontakt za naprawdę niewygórowaną cenę.
Michał
2017-02-23T00:00:00Z
Nowe mieszkanie w bardzo wysokim standardzie na przyjaznym, strzeżonym osiedlu. Blisko centrum (za taksówkę na dworzec wyszło ok 15-20 zł). Idealne dla jednej osoby lub pary. Gospodarz bardzo pomocny, nie było problemu z zakwaterowaniem pomimo mojego późnego przyjazdu do Katowic. Gorąco polecam!
Justyna
2017-03-04T00:00:00Z
Piękne, czyściutkie, z bardzo miłym właścicielem! Ładny widok z balkonu, piękne oświetlenie i dbałość o najmniejsze szczegóły - tak mogę określić tą lokalizacje. :-) Polecam
Sabina
2017-03-01T00:00:00Z
Mieszkanie pięknie i stylowo urządzone. Czyste i przestronne wnętrze. Wszystko działa jak należy. Z wielką przyjemnością w razie potrzeby zamieszkałabym tam znowu :) Serdecznie polecam!!!
Łukasz
2017-02-19T00:00:00Z
This has been our favorite airbnb experience so far. Everything was perfect. Clean, no noises, amenities and shops were close by. Piotr answered every question we had.
Ian
2017-03-30T00:00:00Z
Typ av rum
Eget hus/egen lgh
---
Typ av boende
Lägenhet
---
Plats för
2
---
Sovrum
Katowice, śląskie, Polen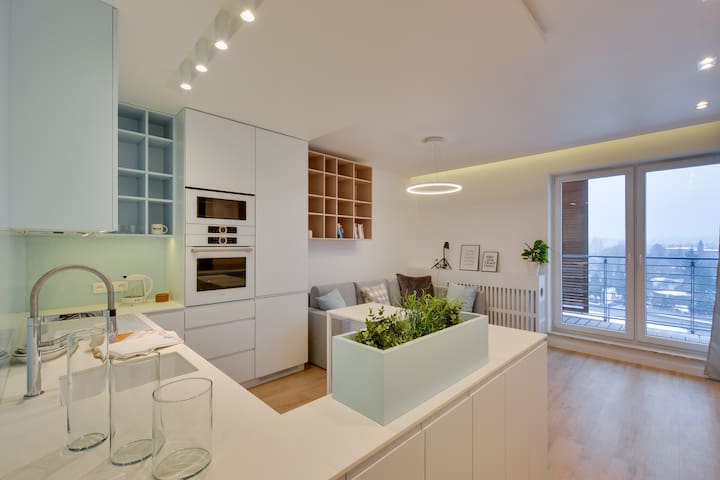 My place is close to nightlife, the city center, and public transport. You'll love my place because of the ambiance and the people. My place is good for couples and solo adventurers.
Very quiet apartment in the city centre. The flat is located between the basement and the ground floor (about a meter below the ground). The entrance to my place is in the backyard (with its own lighting and closing - safe). The place is quite small but cozy and warm.
In the heart of Katowice. No more and no less. For a short visit you won't even use the public transport.
Mówiąc szczerze, jest to piwnica! Pięknych widoków przez okno nie dostrzeżemy. Natomiast lokal jest bardzo ładnie urządzony i posiada wszystkie wymienione udogodnienia. Cisza i spokój to dodatkowe atuty tego miejsca :) Zdecydowanie polecam ze względu na lokalizację oraz cenę dla każdego, który potrzebuje miejsca do noclegu. Kontakt z właścicielem również znakomity! :) Pozdrawiam
Marcin
2017-03-05T00:00:00Z
Bardzo przytulne ciche i czyste miejsce w bardzo dogodnej lokalizacji. Mirek bardzo miły ,podczas mojego krótkiego pobytu dwukrotnie dopytywał czy wszystko ok i czy mógłby jeszcze w czymś pomóc co było miłym dla mnie zaskoczeniem. Do takich miejsc miło się wraca i juz teraz rezerwuje kolejny przyjazd.
Grzegorz
2017-03-27T00:00:00Z
I loved this place! Mirek made sure we had everything we needed and were very comfortable. The apartment is warm and cozy with a very comfortable bed and it is also very clean. We were close to all the pubs and restaurants as well as the shopping center in Katowitce. Would definitely stay here again!
Natalia
2017-02-27T00:00:00Z
Typ av rum
Eget hus/egen lgh
---
Typ av boende
Lägenhet
---
Plats för
2
---
Sovrum
Katowice, śląskie, Polen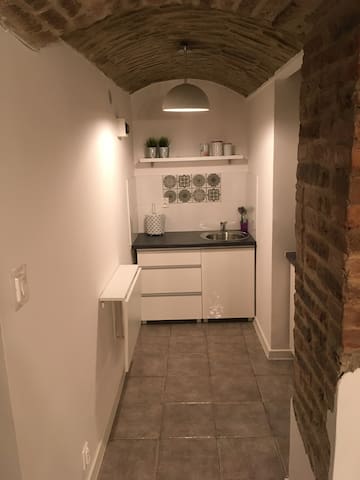 Comfortable apartment with kitchen. For architecture lovers and city lovers, right in the center of Katowice's famous modernist route. Location near main transport, shopping, cultural and nightlife city sites.
Ideal for 2 persons (option with small kids).
Spacious apartment in the best neighborhood in the city center. Nearby park, best restaurants, communication hub, nightlife.
Super!
Karol
2015-10-14T00:00:00Z
Уютная и светлая квартира недалеко от центра города (минут 10-15 пешком). Тихая улица, через дорогу есть мини-маркет «Zabka», чуть подальше магазин побольше. Минутах в пяти от дома есть волшебкое кафе «Krystynka» с отличными завтраками и десертами. На кухне есть все необходимое для самостоятельного приготовления еды, включая, например, гейзерную кофеварку. Blazej очень гостеприимный хозяин, сориентировал по национальной кухне, хорошим местам в городе и экскурсиям.
Elena
2015-03-28T00:00:00Z
The apartment was extremely well located for our purposes, close enough to the centre and yet set in a quiet residential area. Everything was as described, the heating worked well and there was plenty of hot water. The arrival process was easy and straightforward; Blazej speaks good English and was available on the phone to guide us in.
Jonathan
2016-01-02T00:00:00Z
This well equipped and lovely apartment is in an excellent location, just a few minutes walk from the train station, the bus station (where you can get buses to the airport), the shopping centre and various restaurants. And Blazej was the perfect host. Very helpful and friendly. Enjoy! Charles & Gosia.
Charles
2015-06-25T00:00:00Z
Blazej's place is beautiful and in a really great central location. Close to shops which makes things very convenient. Blazej is a great host with good communication, he went above and beyond - even received a parcel for me from Australia! Thanks for having us :)
Louis
2016-11-11T00:00:00Z
We had a great stay in Katowice. Blazej was very helpful and accommodating. The apartment was perfect for us and we would definitely recommend and stay again.
Brandi
2016-05-28T00:00:00Z
Blazej was very kind in letting us into the flat very early in the morning, due to the early arrival of our bus into town! The house was even too big for a single night stay and very bright and clean.
Alessandra
2014-10-05T00:00:00Z
Piękne i przyjemne mieszkanie, czyste i w pełni wyposażone. Mógłbym tam zamieszkać :) Polecam!
Jerzy
2016-04-24T00:00:00Z
Typ av rum
Eget hus/egen lgh
---
Typ av boende
Lägenhet
---
Plats för
2
---
Sovrum
Katowice, śląskie, Polen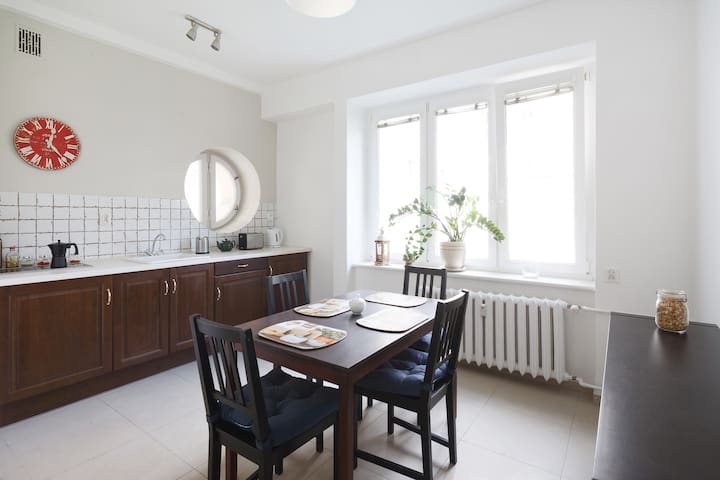 Przytulne duże studio/ apartament (60 m2) na poddaszu z aneksem kuchennym i łazienką. W pobliżu: centrum miasta, dolina 3 stawów, Akademia Muzyczna, Politechnika, Akademia Ekonomiczna,Uniwersytet, sztuka i kultura. Moje miejsce jest dobre dla: pary,przygody solo, podróżujących w interesach oraz rodziny (z dziećmi). Studio jest jednym z dwóch osobnych apartamentów na poddaszu jeden dla Ciebie drugie moje.Piętro niżej znajduje się Centrum Odnowy"Tu Słońce" można skorzystać z łóżek ćwiczących
Przytulnie, swojsko na poddaszu, klimatycznie, brak bezpośrednich sąsiadów umożliwia swobodę, Łazienka z prysznicem i toaleta, aneks kuchenny z kuchenką ceramiczną, czajnik, ozonator do wody, lodówka, kawa , herbaty, cukier, przyprawy Ręczniki, pościel, środki czystości, szampon, żel pod prysznic, suszarka do włosów, deska do prasowania ,żelazko.
Blisko do centrum miasta, blisko do wyjazdu na A4 i główne trasy wylotowe; (Kraków, Wrocław, Warszawa itp) , w okolicy dolina trzech stawów jeziora,plac zabaw, zieleń latem fajne letnie knajpki nad jeziorem, blisko Politechnika, Akademia Muzyczna, Akademia Ekonomiczna, Uniwersytet market Biedronka 30 m Pub kredens 500 m 8 min. Dobra Karma - wegetariańska kuchnia wg.5 przemian 500 m 8 min. Rynek 1,9 km ( 8 min. autem, 18 min. pieszo) Ulica Mariacka (caffe shops, disco, restaurant) 1,2 km, 4 min. autem, 13 min. pieszo NOSPR 1,9 km Lotnisko Pyrzowice (43 km, 45 min.) Dolina Trzech Stawów 5 min.
Mieszkanie ok, jak na zdjęciach, blisko centrum. Polecam.
Kamil
2017-03-06T00:00:00Z
Bardzo fajne mieszkanie polecam.
Monika
2017-03-25T00:00:00Z
Mieszkanie w porzadku, na zywo wydaje sie byc wieksze niz na zdjeciach. Cicha okolica, mily kontakt z wynajmujacym. Polecam!
Gosia
2017-03-26T00:00:00Z
Sympatycznie, wszystko zgodnie z oczekiwaniem - czysto ciepło i spokojnie.
Adam
2017-03-12T00:00:00Z
Mieszkanie takie jak w ofercie i na zdjęciach, dobralokalizacja, bardzo dobry kontakt z gospodarzem, polecam :)
Sławomir
2017-03-16T00:00:00Z
Wszystko ok, polecam:)
Bruno
2017-03-11T00:00:00Z
Bardzo fajne, klimatyczne miejsce, trochę na uboczu ale niesamowicie fajny klimat! Miejsce właśnie do odpoczynku - poddasze z elementami nawiązującymi do różnych religii, zapach kadzidełek w tle, dobra energia.. Idealne miejsce, żeby odpocząć i złapać trochę regeneracji, polecam serdecznie
Magdalena
2017-04-04T00:00:00Z
Typ av rum
Eget hus/egen lgh
---
Typ av boende
Lägenhet
---
Plats för
5
---
Sovrum
Katowice, śląskie, Polen
Nowoczesne mieszkanie typu studio w centrum aglomeracji śląskiej. Lokal w pełni umeblowany. Do dyspozycji gości salon z TV, internet WIFI, w pełni wyposażona kuchnia oraz część sypialniana. W łazience kabina prysznicowa.
Świetne połączenie z całą aglomeracją śląską: - DTŚ - Dworzec PKP 5 min piechotą (podróż pociągiem do centrum Katowic trwa 7 minut, pociągi kursują bardzo często) - Przystanek autobusowy pod blokiem - Supermarket w odległości 2 minut spaceru od budynku
Mieszkanie znajduje się przy trasie średnicowej w Chorzowie obok stadionu piłkarskiego Ruchu Chorzów. Zlokalizowane jest w odległości 2km od Centrum Chorzowa (pieszo ok. 30 minut) i 6km od Centrum Katowic. Do Dworca PKP (Chorzów Miasto / Świętochłowice), PKS oraz Stadionu Śląskiego mamy po 2km (do stacji PKP Chorzów Batory - jedynie 600m). Do Dworca PKP i PKS Katowice Centrum – 8,2 km. Przy tej samej ulicy – przystanek autobusowy, a z niego dogodny dojazd do Centrum oraz portu lotniczego Katowice Pyrzowice oddalonego o 29km. Możliwość dojechania autobusem z numerem 7 lub 23.
everything was perfect, the flat very cozy, Marcin and his mother letteraly wonderful. Thank you very much for the nice staying!!!!!!
Marcello
2016-11-11T00:00:00Z
Marcin jest bardzo gościnny. Mieszkanie jest bardzo wygodnie urządzone i świetne na wyjazd służbowy. Polecam!
Justyna Król
2016-09-07T00:00:00Z
Modern apartment with nice new kitchen and bathroom. Good communication with host. His mother waited for us even though we arrived late. Traffic noise can be heard with open windows, but when closed it's ok. Free parking on the compound. The apartment is near a supermarket which is very convenient.
Rinaldo
2016-08-12T00:00:00Z
Bardzo dziękuję za miły pobyt, gospodarz był niezwykle pomocny, czułem się niemalże jakby ktoś bliski udostępnił mi mieszkanie i był gotowy pomóc gdybym napotkał na jakikolwiek problem. Mieszkanie, które zastałem wysprzątane na błysk, mieści się na ładnym osiedlu. Warunki oceniam na bardzo komfortowe, absolutnie nie ma się do czego przyczepić wręcz odwrotnie. Polecam wszystkim!
Jan
2016-02-11T00:00:00Z
Jesteśmy bardzo zadowoleni z pobytu u p. Marcina. Mieszkanie było zgodne z opisem i ze zdjęciami. Dodatkowo przywitała nas przemiła Mama p. Marcina, którą serdecznie pozdrawiamy :-) Jeżeli szukacie ładnego mieszkania w dobrej lokalizacji i niskiej cenie to z czystym sumieniem polecam.
Mateusz
2016-09-15T00:00:00Z
It was a new and stylish Apartment. Everything was clean and we didnt miss anything. The only bad thing are the noises of the street when the windows are not close.
Kaddi
2016-09-03T00:00:00Z
Perfect apartment!! We enjoy it! Thank you for present)
Valentin
2017-01-10T00:00:00Z
wszystko w/g opisu - żadnych uchybień - polecam
Piotr
2016-12-11T00:00:00Z
Typ av rum
Eget hus/egen lgh
---
Typ av boende
Lägenhet
---
Plats för
2
---
Sovrum
Chorzów, śląskie, Polen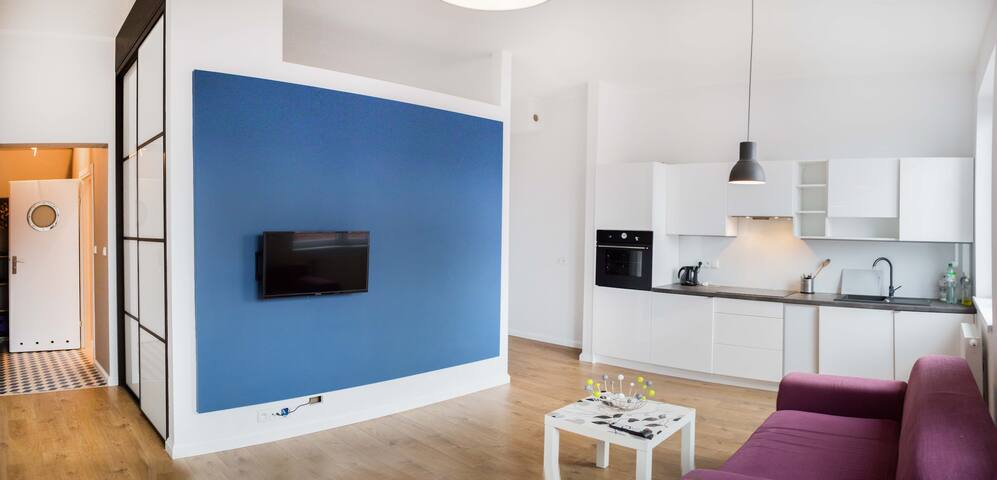 Lägenheten ligger i centrum. 60 kvadratmeter i en skyddad hyreshus. Internet access är tillgänglig, det finns pubar och några restauranger i grannskapet.
Detta är en mycket speciell plats i centrum av Katowice, på ett säkert, skyddad hyreshus. Byggnaden övervakas 24/7, och under dagen finns det en vaktmästare. Tack vare sitt läge på vinden, har lägenheten en unik charm och närhet till den huvudsakliga verksamheten och kulturcentrum, restauranger, pubar garanterar bekvämlighet. Det kommer att bli friska, polska äpplen som en välkommen present :) Det finns en parkeringsplats. Den unika arkitekturen i slutet av artonhundratalet och början av nittonhundratalet, aroud vår plats finns några av de finaste moderna byggnader: skyskrapan från 20-talet av det tjugonde århundradet, industribyggnader, gruvor, som är öppna för allmänheten, och det är allt i "staden trädgårdar". Tack vare det faktum Katowice är omgivet av grönområden, är luften ren, i motsats till den allmänna opinionen :) Järnvägsstationen, busstationen, motorväg A1 och A4 och två flygplatser i närheten.
Detta är den plats i själva centrum - dess några minuters promenad eller köra till någonstans :)
Mieszkanie na żywo zrobiło na mnie jeszcze lepsze wrażenie niż na zdjęciach, doskonała lokalizacja, wygoda i czytość. spędziłam tam wspaniały weekend, będę go bardzo miło wspominać i polecać mieszkanie znajomym!
Natalia
2015-08-24T00:00:00Z
Nice place! The apartment is very well located in the city center, in nice building. The host meet us at the late night, that was very good point.
Yakov Doron
2015-09-09T00:00:00Z
Everything was perfect and absolutely accurate with what we read in the offer! Highly recommend this host! Very kind person!
Daniel
2015-03-07T00:00:00Z
Ottima la comunicazione e l'accoglienza, ottima posizione, appartamento ben attrezzato e confortevole.
francesco
2015-02-20T00:00:00Z
Terrific place to stay on a layover in Iceland. The place is located right in the marina so it's fun to see all the local activity ... boats coming in an out of the harbor and you can walk to the coffee shops. Nice walking trails very close. A well decorated, quaint place with enough supplies to make dinner. And an easy to work with and responsive host. We loved our few days in Iceland.
Kevin
2015-08-20T00:00:00Z
Die Wohnung befindet sich wirklich sehr zentral in Kattowitz, auch meine polnischen Freunde die dort leben waren von der Lage begeistert. Das Gebäude ist auch architektonisch schön. Im Erdgeschoss befindet sich ein Café in dem man frühstücken kann. Die Kommunikation mit Igor und seiner Frau war sehr gut in englischer Sprache möglich. Die Ausstattung der Wohnung entsprach der Beschreibung aber wir hätten uns etwas mehr Geschirr gewünscht und Zucker,Salz,Essig,Öl als Grundausstattung. Alles in allem war die Wohnung TOP....nur die Äpfel zur Begrüßung hat wohl ein anderer gegessen;) Ich würde die Wohnung auf jeden Fall wieder mieten!
Jörg
2015-11-23T00:00:00Z
The flat was very cute, the location is great and the host provided many useful things. I Totally recomend it!!!!
Alexandre
2016-01-05T00:00:00Z
Ich war mit der Wahl unserer Unterkunft in Katowice sehr zufrieden und empfehle diese Wohnung gerne weiter! Die Lage ist perfekt, sehr nah an der Innenstadt und gut zu Fuß (vom Bahnhof/Busbahnhof/Innenstadt) zu erreichen. Alles lebensnotwendige befindet sich in nächster Nähe (Zabka, Restaurants, etc). Die Wohnung war wie beschrieben, sehr sauber und komfortabel. Das einzige Manko: Das zweite Gästezimmer hat keine Tür. Aber wenn man mit Freunden reist, ist das ja eigentlich auch kein Problem.
Isabel
2016-11-12T00:00:00Z
Typ av rum
Eget hus/egen lgh
---
Typ av boende
Lägenhet
---
Plats för
4
---
Sovrum
Katowice, Silesian Voivodeship, Polen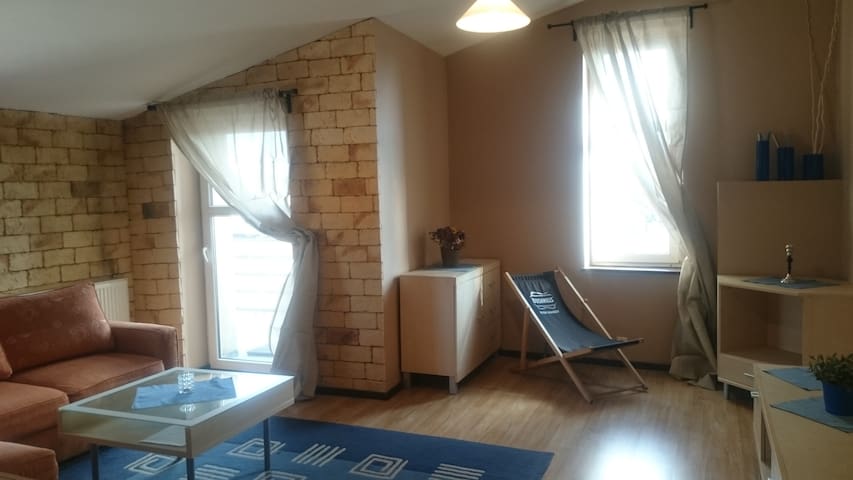 Przytulny apartament (21m2) z pełni wyposażonym aneksem kuchennym w ścisłym centrum miasta położony nieopodal Spodka, Dworca PKS/PKP, sklepów i restauracji. Darmowe WIFI, SmartTV, zmywarka, pralka. Idealny dla 1-2 osób.
Mały przytulny apartament, po remoncie, wszystkie rzeczy nowe. Powierzchnia 21 m2. Budynek monitorowany.
Idealna lokalizacja w samym centrum miasta. Przykładowe odległości: - Spodek - 1000 m - Galeria Katowicka - 250 m - Dworzec PKP - 250 m - Dworzec PKS - 300 m - NOSPR - 1500 m - Filharmonia Śląska - 200 m - Silesia City Center - 3 km
Mieszkanie w sercu Katowic wszędzie blisko, z parkingiem nie było kłopotów. Ogólnie polecam!
Jacek
2016-10-07T00:00:00Z
Everything was great in the apartment, as described and as shown on the pictures, all newly refurbished and fully equiped, very convenient. Damian was really nice and helpful. The location of the apartment is great, next to the main bus station. I had a nice stay and I would come back without a doubt !
Pierre
2016-11-12T00:00:00Z
The apartments were situated in the heart of Katowice. All establishments in a 5-10 min walk. Next to the apartments outer door there were a nice small grocery store. The apartments are small but very cozy and modern. The only issue for us were stairs, it's on the 3rd floor so it was challenging to climb up with our heavy luggage. Damian gave us all information and helped a lot. I asked him to help in case of embassy call to approve our booking and he didn't mind. We've been met by his brother (as far as I understood from Polish, he's not speaking English). Anyway - no problems at all We had no issues during stay and I'd recommend these apartments for a short-mid range stay to meet Katowice.
Vladimir
2016-10-04T00:00:00Z
Wszystko w jak najlepszym porządku! Mieszkanie bardzo ładne, świetnie ulokowane, wygodne, ze wszystkim co potrzeba. Gospodarz elastyczny i komunikatywny. Polecam!
Joanna
2016-10-15T00:00:00Z
Gospodarz bardzo miły i bardzo szybko odpisuje na wiadomości - gdy okazało się, że muszę zmienić rezerwację o jeden dzień, nie było żadnych problemów. Wszędzie blisko - dworzec PKS,PKP, centra handlowe. Mieszkanko czyste i niczego nie brakowało :).
Agnieszka
2016-02-11T00:00:00Z
Damien was really awesome! He picked me up from the airport and dropped me off. He was very friendly and very accommodating for everything. He provided clean sheets and everything I could have needed.
Willie
2016-03-08T00:00:00Z
very central and good flat, you can find everything you need. i recommend.
Allam
2016-07-25T00:00:00Z
Great Flat and situation. We felt very well.
Inigo
2016-09-02T00:00:00Z
Typ av rum
Eget hus/egen lgh
---
Typ av boende
Lägenhet
---
Plats för
2
---
Sovrum
Katowice, śląskie, Polen
Wyjątkowe, dwupokojowe mieszkanie na najnowszym osiedlu 4poryroku w Tychach, przeznaczone na wynajem krótkoterminowy. Urządzone w wysokim standardzie jest idealne dla wymagających klientów lub firmy szukających mieszkania na krótki pobyt w Tychach.
Typ av rum
Eget hus/egen lgh
---
Typ av boende
Lägenhet
---
Plats för
4
---
Sovrum
Tychy, śląskie, Polen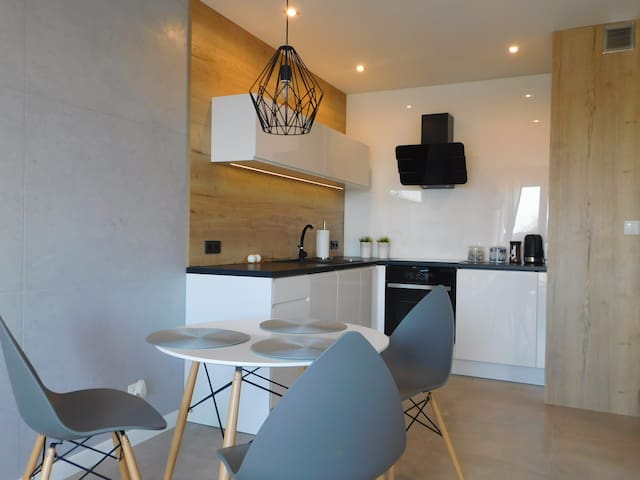 Nice apartment with a big bedroom in a quiet district in Katowice. The city center is 10 minutes by car, 15 minutes by public transport (bus or train). You can also use our bikes to go to the city center or make short trips to the park and the forest nearby. The apartment has a shared kitchen, a toilet and a bathroom.
Super.
Віктор
2017-01-03T00:00:00Z
Anna was lovely. Although there was a bit of confusion over check-in as we were a little earlier than expected, Anna helped us to find our way inside through her associates and arrived shortly after to greet us. She and her husband were very friendly and accommodating. Anna was quick to respond to any queries and her husband gave some good advice on where to visit during our visit to Katowice. We had a lovely stay and would definitely suggest a stay with Anna if you're in the area!
Kate
2016-08-28T00:00:00Z
Spokojna okolica, dobra komunikacja miejska.
Izabela
2017-02-26T00:00:00Z
Bardzo, fajne miejsce. Dużo przestrzeni, sympatyczna jasna kuchnia. Bardzo dobry kontakt i reagowanie na nasze potrzeby. Cicha i spokojna okolica. Polecam.
Emilia
2017-03-12T00:00:00Z
This was my first trip to Poland and I chose the right place to stay. My experience with Anna and her family was amazing. She helped me with booking a taxi, providing guidelines on how to get around and even invited me for dinner. I also met her family and they did everything they could to make me feel at home. They showed me around the city center and recommended places for me to visit. I also learned a lot about classical music from them. All-in-all great experience! The apartment is quite big, clean and located in a quiet neighborhood with spacious rooms. I strongly recommend this place to anyone planning to visit Katowice.
Clement U
2016-09-17T00:00:00Z
Anna était très facile à contacter, elle m'a merveilleusement bien accueilli. Elle m'a donné énormément de conseils sur la ville étant donné que j'étais un étudiant français qui venait d'arriver à Katowice et m'a même aidé à trouver un logement, un club de sport et des solutions pour que je puisse voyager plus aisément les weekend. Je conseille vivement cet appartement si vous voulez avoir un logement chaleureux, propre et surtout un accueil très convivial.
Alex
2016-10-02T00:00:00Z
Чистая просторная комната в 2-х этажном коттедже. В соседних комнатах расположен офис ребят, которые сдают данную комнату. Общие кухня, туалет, ванная комната. Пользоваться можно всем. Мы останавливались на одну ночь и нам все понравилось. Возможно вам повезет повстречать хозяина этого коттеджа. Очень интересный собеседник.
Ivan
2016-09-03T00:00:00Z
Good value for money
Kaspars
2016-10-31T00:00:00Z
Typ av rum
Eget rum
---
Typ av boende
Lägenhet
---
Plats för
4
---
Sovrum
Katowice, śląskie, Polen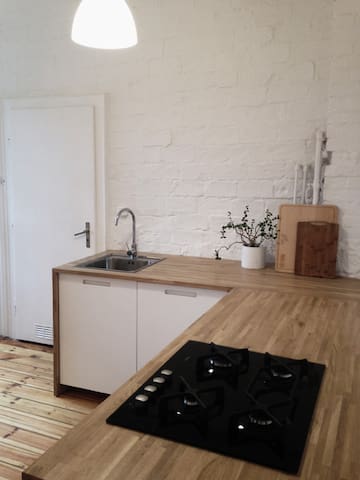 Unique, one-room apartment in the center of Katowice, used for short-term rental. It has a fully equipped kitchenette, ie. Pots, pans, plates, cutlery, refrigerator with freezer, toaster, kettle, etc.
The very center of Katowice 10min to Spodek 3min to the gallery Katowice 3min to the main station On the ground floor of the building: restaurants, shop breaststroke
Bardzo fajne mieszkanie w samym centrum, dobrze wyposażona kuchnia i odnowiona łazienka. Dobry kontakt z właścicielem. Udany pobyt :)
Dominika
2017-03-05T00:00:00Z
Flat is as picture. It is small, but nice. Very near to city center and main railway station.
Marco
2017-03-26T00:00:00Z
Jakub to uczciwy i bardzo przyjazny mężczyzna. Wszystko odbyło sie sprawnie, mieszkanie ponad moich oczekiwań. Jakub nie stwarzał żadnych problemów i z miła chęcią powtórzyłbym pobyt ;) gorąco polecam
Alicja
2017-02-26T00:00:00Z
Typ av rum
Eget hus/egen lgh
---
Typ av boende
Lägenhet
---
Plats för
2
---
Sovrum
Katowice, śląskie, Polen
Mikolow - Airbnb
:
I genomsnitt

4.84

av

5

stjärnor från

505

gästomdömen
1

–

18

av

250 Uthyrningar av lägenheter
Ange datum för att se full prissättning. Ytterligare avgifter tillkommer. Skatter kan tillkomma.