Victoria Drummond Turm wurde als Folly Turm in der viktorianischen Zeit im Jahre 1858 von Victor Drummond Delap als Teil Monasterboice House & demesne gebaut. Der Turm wird als Torheit Turm in Erinnerung an seine verstorbene Mutter Victoria Drummond Delap gebaut angesehen. Kürzlich in einem kleinen bewohnbare Umgebung restauriert und ist jetzt verfügbar für die Vermietung für ausgewählte Monate des Jahres. Eine sehr einzigartige und angenehmer Ort mit einer großen Auswahl an lokalen und historischen Annehmlichkeiten zur Verfügung zu bleiben.
Drummond Turm besteht aus 4 NO. Böden mit einer oberen Dachebene, die Gäste einen weiten Blick auf die umliegende Landschaft genießen können. Das Erdgeschoss besteht aus einer Küche mit Koch- und Waschgelegenheiten. Auf der ersten Etage gibt es ein gemütliches Wohnzimmer mit ausreichend Platz zum Entspannen und fernsehen oder lesen Bücher die umfangreiche Büchersammlung bilden. Die zweite Etage Schlafzimmer ist das letzte der internen Etagen, die mit Bad, Dusche und Waschgelegenheiten aus einem Queen-Size-Bett umfasst. Einer der großen Vorteile wird morgens aufwachen und mit Blick über die Baumwipfel und die unmittelbare Landschaft. In der obersten Etage Ebene ist die externe zinnenDachTerrasse. Es gibt 360-Grad-Blick auf die Umgebung und Raum das schöne Wetter zu genießen. Die Dachterrasse ist beleuchtet, so man den Bereich während nachts zugreifen können in die Sterne zu schauen
R168 - Drummond Tower befindet sich in der Landschaft am Boyne Valley Drive. 5 Minuten von Monasterboice Round Tower & Mellifont Abbey. Newgrange, Dowth, Oldbridge (Schlacht am Boyne) und Slane / Collon Village ist innerhalb von 15 Minuten Fahrt. Drogheda befindet sich in der Nähe mit Einkaufsmöglichkeiten, Restaurants und Bars. Wir würden Monasterboice Inn (5 Minuten Fahrt) mit einer Auswahl an feinen Speisen und Getränke empfehlen
If you are looking for a castle/tower home to be part of your Irish experience or a unique place to stay, this is it. Eanan did an amazing job turning this near 150 year old tower into a modernized home without taking away the look and feel of the tower. The views are incredible from the top. Eanan was always available for any questions and made sure I had a comfortable stay.
Evan
2017-04-03T00:00:00Z
First I would like to mention how cool this airbnb is. Typing the coordinates into a GPS makes it feel more like a treasure hunt, and calling this place a hidden gem would be underselling. Do yourself a favour and book it more than one night. The hills are beautiful and spotted by cows/sheep, and the grounds are absolutely stunning. The study makes you feel super regal and the rooftop terrace is breathtaking. I didn't want to check out!
Sarah
2017-04-05T00:00:00Z
Typ av rum
Eget hus/egen lgh
---
Typ av boende
Slott
---
Plats för
2
---
Sovrum
Drogheda, Louth, Irland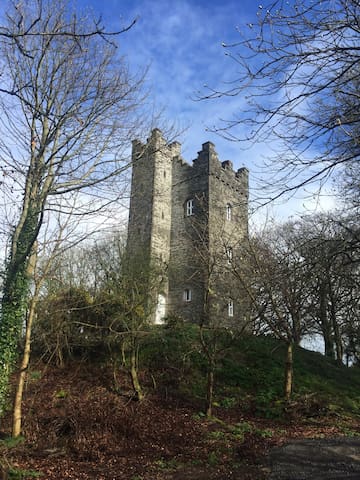 Quirky Neubau Zedernholz Chalet neben meiner Familie zu Hause, in der malerischen Boyne Valley ca. 35 Meilen von Dublin. Nahe der Klosteranlage Monasterboice und dem weltberühmten Denkmal Newgrange.
Das Rookery ist ein Neubau Zedern- Gebäude mit elektrischer Zentralheizung und Holzofen. Es verfügt über ein Schlafzimmer mit Doppelbett und ein Mezzanin mit einem 4-Fuß-Bett und einem Einzelbett. Da es in der Natur ist, müssen Sie Transport dorthin zu gelangen und die Gegend zu erkunden. Es gibt gute Restaurants in der Umgebung und in der benachbarten Stadt Drogheda, 8 km entfernt. Es gibt viele Attraktionen in der Nähe einschließlich Monasterboice Turm und Hochkreuze, Mellifont Abbey und Newgrange, sowie die historischen Bereiche rund um das Boyne Tal.
Wir befinden uns im Tal des Flusses Boyne, in der Nähe zu vielen interessanten und historischen Stätten gelegen, einschließlich: Monasterboice Rundturm und Hochkreuze Newgrange und Bru na Boinne Old Mellifont Abbey Millmount Museum, Drogheda Oldbridge Eigentum und die Schlacht am Boyne Trim Castle Wir sind in der Nähe von Dublin (1 Stunde) und Belfast (1,5 Stunden) und auf der Autobahn Route weiter weg. Galway ist 2.75 Stunden Fahrt, Kilkenny 2 Stunden Cork 3 Stunden und Donegal Stadt 3 Stunden.
Chris's place is in a gorgeous location, really beautiful. It's really well equipped and extremely comfortable. I highly recommend it, and will probably be back very soon.
Sarah
2016-01-25T00:00:00Z
Chris nous a très bien accueillis à The Rockery. Le lieu est très plaisant et bien situé pour visiter les sites historiques alentours (Newgrange, chateau de Trim...). Dublin est accessible. La maison est très agréable, ensoleillée et bien équipée, y compris pour cuisiner (mixer et cuiseur à volaille).
Émilie
2016-08-15T00:00:00Z
We had a amazing experience! chris was very helpful and attentive. The location is perfect, just a few minutes from Dublin. The Rookery is absolutely beautiful! Chris was the perfect host. we sincerely recommend for a pleasant stay in Ireland.
Lucia
2016-03-19T00:00:00Z
The Rookery is a beautiful, comfortable place with everything you could possibly need for your stay. You will not regret your decision to stay here. Chris is a terrific host. Fast and responsive communincator. He is the ultimate host. He went out of his way to help us any way he could....above and beyond, really! Location is terrific, too. Only 30 minutes to Dublin airport.
Garry
2016-09-12T00:00:00Z
We stayed at the Rookery for a wedding we had in the area and we couldn't have been happier with our stay. The Rookery is great and perfectly designed. There is lots of space and everything you can think of is provided. Chris is a friendly and accommodating host, and very willing to help out - even being kind enough to provide us with a some breakfast bits due to our late flight. He provided us with lots of knowledge and insight into the local area as well as Dublin and Belfast which was on our agenda as well. We would definitely recommend Rookery to anyone and hope we can visit again soon.
Georgie
2016-05-28T00:00:00Z
Absolutely stunning accommodation! We loved our stay at The Rookery and Chris was such a great host. Great communication before hand and Chris really did go the extra mile by giving us a lift to the wedding we were attending. Thank you so much Chris!
Hollie
2016-08-01T00:00:00Z
Una casita preciosa! Perfecta para ir con niños, muy acogedora. Chris muy amable.
Natalia
2016-08-08T00:00:00Z
The Rookery was everything we had hoped it would be. Beautiful quiet setting and really straight forward to find and situated in a great location for visiting the area as the house is conveniently located. We arrived at the property several hours later than planned thanks to storm Doris!! We feared that the house would be cold on arrival but, very considerately, Chris had left the heating on for us. We instantly felt welcome and at home. The kitchen was very well equipped - There was even a blender so we were able to make pancakes for breakfast! We would highly recommend the Rookery and will definitely be going back. Thanks again Chris for being a top host.
Jacqueline
2017-02-26T00:00:00Z
Typ av rum
Eget hus/egen lgh
---
Typ av boende
Hus
---
Plats för
4
---
Sovrum
Louth, Louth, Irland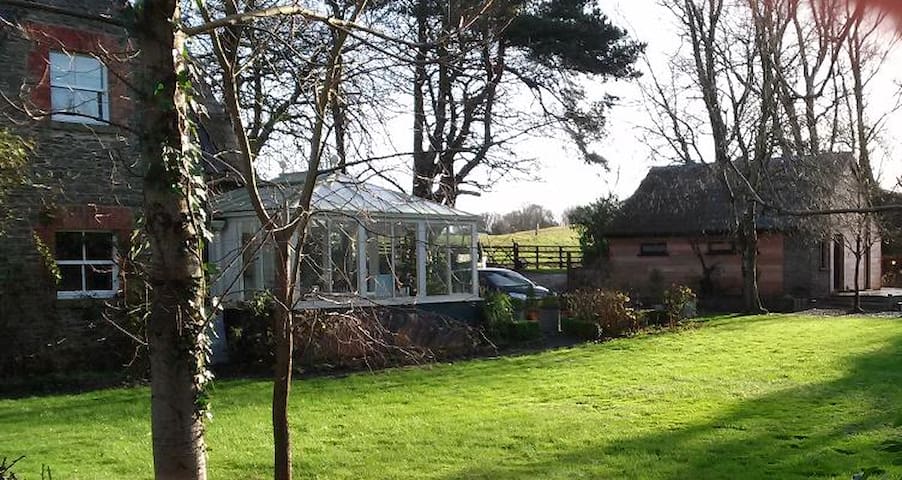 Bienvenido al corazón de Louth! En nuestra puerta es Bhuithe torre redonda y cruces altas. A poca distancia de la colina de Slane, Drogheda, Mellifont, Castlebellingham, Clogherhead, playas, Newgrange, Batalla de Boyne, Millmount, Annagassan Viking Village
Esta es una casa muy bonita, muy auténtico, cálido, acogedor y agradable. La recepción del teléfono no es muy grande en esta zona, pero está bien fuera del edificio
Estamos en el campo, mientras que tener todo en nuestra puerta. Somos muy afortunados de vivir en un lugar tranquilo tan maravilloso. Estamos cerca de muchos buenos restaurantes en Bhuithe, Clogherhead, Annagasson, así como Drogheda. A menudo hay buena música en vivo en Drogheda en los fines de semana.
En mycket trevlig stuga. Mysigt och välordnat. Elma är en mycket trevlig värd som gör allt för att du ska trivas.
Staffan
2016-11-06T00:00:00Z
A wonderful listing. Beautiful surroundings, fabulously kind people and lots of places to explore. I'll definitely be visiting this one again.
Aoife
2016-08-02T00:00:00Z
Barry, Elma, Rowan, Dualta, Noni and Mireya are sweet, kind, helpful, welcoming people! They made me feel like family including me in trying the first produce from their garden! Delicious potatos, turnips and lettuce. Barry was a whiz in writing out directions to my next Airbnb so that I didn't go the wrong way even once! Elma and the children were delightful to visit with as was Mireya. I am so glad I chose their cottage to stay in as it was cozy, cute and comfortable! I would highly recommend this Airbnb!
Julie
2016-07-08T00:00:00Z
Best Airbnb we've ever stayed in! Lovely cottage in beautiful countryside. Elma and Barry are wonderful hosts and will go out of their way to make you feel at home. We ended up having to stay for an extra 3 days, which wasn't a problem as the whole family were very accommodating. We will definitely be back!!
Em
2016-04-26T00:00:00Z
Elma and Barry's cottage is great. The location is lovely, quiet and relaxing. They were very kind and considerate and left us fresh eggs and milk which were great as we were disorganised and forgot to bring breakfast for the following morning. Would definitely stay again. Oh and they have an excellent hand drawn map of the area - really useful!
Katie
2016-09-13T00:00:00Z
Such a wonderful air bnb experience! Our hosts were incredibly hospitable and offered us a delicious lunch alfresco. The location is very convenient to so many interesting sites. The room is beautifully done and we enjoyed playing records on their record player. Elma even brought us a tray of dinner foods to cook when she realized we didn't have anything! We are only disappointed we couldn't stay longer and are hoping for another opportunity to come back :) highly recommend!!!
Padraig&Laura
2016-06-07T00:00:00Z
Beautiful spot for a break away from the crazy city. Little farm cottage with a lot of charm. Very welcoming host. Will no doubt be back for another stay.
Ben (Bernard)
2016-10-02T00:00:00Z
Myself and Nathan had a beautiful stay, Elma and Barry were so warm, welcoming and accommodating. Barry gave us loads of tips about what to see and where to eat, his suggestions were on a hand drawn map they provided which saved us! They informed us that no one was staying there the following day so there was no rush for us to leave which was a god send, we had the most peaceful sleep and really felt like we made the most of our stay. The fact that there's no TV actually adds to the experience and we feel made us closer as a couple! We played cluedo, listened to the record player and drank some wine, heaven!
Lysa
2016-07-04T00:00:00Z
Typ av rum
Eget hus/egen lgh
---
Typ av boende
Stuga
---
Plats för
3
---
Sovrum
Ferney Park, Louth, Irland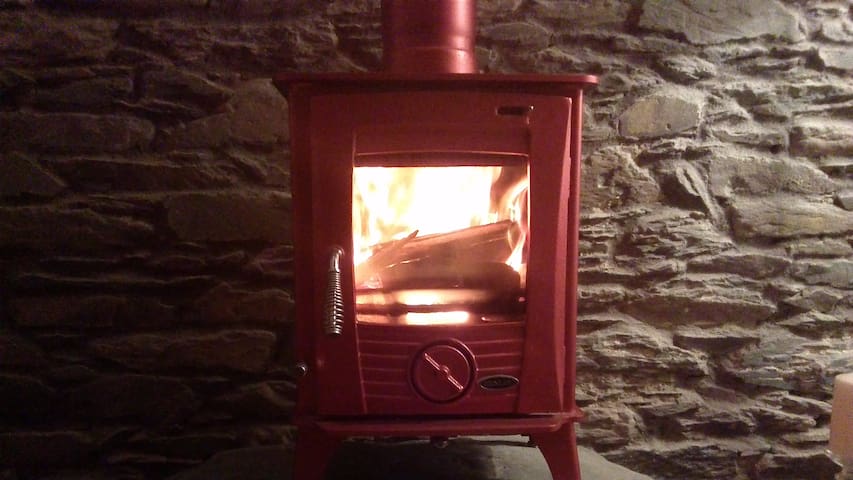 Would you like to visit Newgrange, a stone age burial site older than the pyramids of Giza ?? Would you like to see the Hill of Tara, Slane Castle, Monasterboice round tower, Mellifont Abbey or maybe tour the historic town of Drogheda. Would you like to be collected at the airport, driven in comfort around all the sights in this historic area and fed home cooked food each evening. Generally the area can be all properly seen in 3 days , Newgrange and Knowth on day one, Hill of Tara, Slane castle and the ancient abbey on Slane hill and Monasterboice round tower and Mellifont abbey on day 2 and then the History of Drogheda from 432 when St Patrick arrived to the 1916 rising on day 3 but it is possible to see most of it in 2 days if time is short for you. Almost all of the local historical venues have professional guides to tell the whole story of their historical significance. Each day a packed picnic lunch is provided and evening meals consist of local fish and meat in season (or vegetarian dishes). Cost includes all food, airport collection and delivery and travel to the listed historical venues. Cost is listed per person but there is a 20% discount for children under 12. Cost does not include the entrance fee at each historical site. My recommendation is that you purchase a heritage card for each person. These cost €21 for normal adult or €8 for studentsand children (must show student card when buying) or €55 for a family of two adults and 3 or 4 children. The card is valid for a year and can be bought at the first site we visit, ie Bru na Boinne visitor centre. If you intend to stay in Ireland for a week or two the card will pay for itself quickly since adult entrance to Newgrange is €6 and Mellifont abbey is €3. This cost is mainly to pay for the guide who does a wonderful job of describing far more than my memory would hold. Guests can be collected from airport (or come to house direct) from 10am onwards and checkout is ideally by 11am on day of departure but this can be flexible. The two bedrooms ideally suit 2 adults and one or two children and to provide the best service I am limited to one family staying per visit. This allows me to concentrate on giving you my best service. Linen and towels are also provided. If you wish to come in a rented car parking is available. For your stay you will also have a bathroom exclusively for guests use available to you. Internet broadband and use of PC to check email is also provided. I consider myself to be a good host, I enjoy all forms of cooking and I love to tell people as much as I know about my lovely neighbourhood. I also have a West highland terrier called Harry and he welcomes guests with a friendly bark. My aim is to make you feel as comfortable and relaxed as possible.
Typ av rum
Eget rum
---
Typ av boende
Bed & Breakfast
---
Plats för
4
---
Sovrum
Balgatheran, County Louth, Irland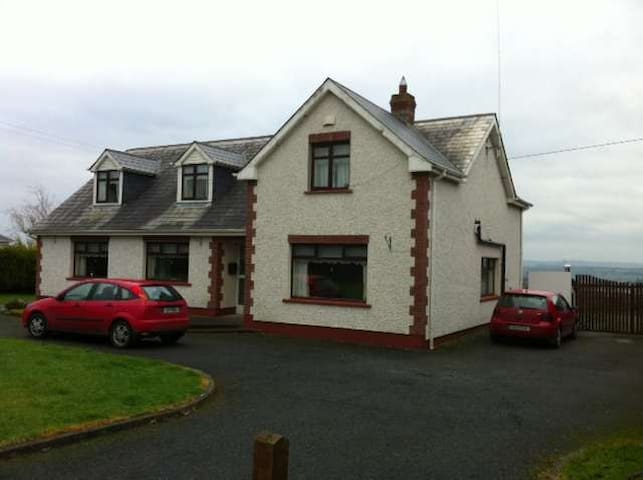 Ange datum för att se full prissättning. Ytterligare avgifter tillkommer. Skatter kan tillkomma.