Our beautiful 52 foot Houseboat will give you the experience of your life. Located on Naples Bay in downtown Naples, you can walk or bicycle to the beach, 5th Ave, Tin City, and most all the attractions Naples has to offer. Only Houseboat in Naples.
This is truly a unique experience. Staying on the water at the dock in Naples Bay, within walking access to the beautiful beaches, Fifth Ave, Third Street, Tin City and much more. Two bicycles are provided. Water taxi comes every hour. Waterfront restaurants within a stone's throw. Boat rentals, jet ski,kayaks, paddleboards, and Segway tours are only a few blocks away. Take a cruise with the Naples Princess and experience the many waterfront homes.
Old Naples is the jewel of Florida. Within walking distance of the Houseboat are some of the nicest homes in Naples with prices ranging up to $80 million in value. Experience Old Naples the unique way.
Walker was a warm, exceptional and caring host who made us feel very much at home on his beautiful boat. He was incredibly helpful with not only suggestions for local restaurants, and places to visit (every one exceptional) but also generously shared his knowledge of the area-something one would never experience when simply staying at a hotel. "Walker's Retreat" is beautifully decorated and extremely comfortable-we consider ourselves very lucky to have stayed onboard. Naples is a beautiful area with very friendly people - we definitely will return!
Dawn
2016-09-27T00:00:00Z
This trip was absolutely perfect! The boat exceeded our expectations! We have never stayed on a boat, so had no idea what to expect and were pleasantly surprised how "homey" it felt. there is NOT ONE THING that should be changed! This will be the best stay you have ever had.. PROMISE! And.... can walk everywhere.. location is exceptional as well
kate
2016-11-09T00:00:00Z
Walker's Retreat is truly an oasis. The time we spent in Naples was perfect. Walker and Kathleen are gracious and knowledgeable hosts. They showed us the best side of Naples. The house boat is a dream, immaculate and beautifully decorated. Several levels of deck space have also been arranged for a comfortable and enjoyable experience. There is no need to look further for a place to stay in Florida. We are already making reservations for next winter. Pat & Rich, Northport, NY
Patricia
2015-03-28T00:00:00Z
Perfect spot for a getaway. We enjoyed 4 amazing nights on the boat. Walker even made a trip to the store before we arrived to accommodate a special request. We can't wait to return.
Deb
2017-04-09T00:00:00Z
We had such a great time staying on Walker's boat. It was perfect for the 2 of us but could have easily fit our 2 adult kids as well. Loved sitting out on the decks and enjoyed the marina view. Great location. Dock's resturant and coffee shop in Cove Inn were both great. Walker is a great host, always available if needed.
Jeff
2016-10-26T00:00:00Z
Walker was a perfect host! The houseboat was very nice and set up with lots of extras that made me feel very welcome. It is docked between two of Naples waterfront restaurants, The Boat House and the Dock. The Cove is a great neighborhood for walking to shops and other favorite high end restaurants like Blue Provence and many more on Third Street. There are two bikes on the boat for a short ride to the beach. This is a different way to enjoy Naples and I highly recommend that you try it. We loved every second of our time on Walker's Retreat.
Gail
2015-01-03T00:00:00Z
Wonderful unique experience staying in Naples on the boat! Walker's boat came with everything we could have wanted and more.
Valerie
2015-08-02T00:00:00Z
FAR BEYOND EXPECTATIONS! Walker's houseboat is great! It was much bigger then we expected it to be. Everything was just perfect. Walker's wife did a very good job decorating the houseboat and make it to a cozy place. The beds were very comfortable, everything was clean - we didn't miss anything. When we arrived Walker had a bottle of sparkling wine, water, drinks and fresh fruits for us. He gave us some very good recommendations for restaurants. The surroundings were very nice and clean as well. It was quiet during the day and the night. There is a great pool in one minute walking distance. In addition Walker had three bicycles, which we could use for free. If coming back to Naples, we will definitely stay there again. Enjoying the sky full of stars on this houseboat was an amazing experience.
Anna
2015-05-30T00:00:00Z
Typ av rum
Eget hus/egen lgh
---
Typ av boende
Hus
---
Plats för
4
---
Sovrum
Naples, Florida, USA
Welcome to our Poolside Cottage and your exclusive private use of the lush rear yard on Willow Lake here in the quiet Lake Park neighborhood of Naples. The only problem you might have may be not wanting to leave once you have visited this tropical paradise.
Welcome to Naples and our Poolside Guest Cottage. Everything you see when you come through the private gate to the separate Poolside Cottage at the rear of our home is yours to enjoy for the duration of your visit with us. The bedroom sitting space is 18' x 13' and the kitchenette and bath are around 10' x 6' each. Total area is 364 sq. ft. Just outside your bedroom door overlooking the Lily Pond and Willow Lake you'll find a table for two to enjoy your morning coffee. You will also find a shaded table and chairs overlooking Willow Lake for breakfast, lunch or dinner and a hammock for reading or just a tropical daydream. In the bedroom there is a Balinese coffee table and two large comfortable Water Hyacinth arm chairs from which to watch the news on the 32" LCD TV or you could just settle in with a good book or maybe just enjoy a casual indoor lunch or dinner. And for nap time or bedtime you can sink into your comfortable California King bed. There is a nice little kitchenette with an under counter refrigerator, large sink, Cuisinart convection-toaster oven, a microwave and a Cuisinart coffee maker along with the usual dishes and silverware to let you eat at home whenever you want. There is no cooktop but just outside the kitchen door there is a gas grill for grilling after a day of shopping or lolling on our sugar sand beaches. The Cottage has a shower bath with a small closet for hanging garments and storage of your luggage pieces during your stay. The TV cabinet has two drawers and two storage baskets for your folded garments with additional storage baskets located under the platform bed.
The Lake Park community is a destination neighborhood so there is very little traffic making it a perfect place to take a quiet walk.
This was our first time in Naples, FL and couldn't have spent it better! Beautiful sightseeing, lots of shops to explore, just a short drive to several beaches (10 minutes tops) and a wide variety of restaurants to choose from, all within a 5 mile radius. Nancy and Richard were very sweet and welcoming and made sure we had everything we needed and more. From bikes, beach towels, toiletries, and breakfast items in the fridge! The accommodations were just as beautiful as the pictures; it really felt like a private paradise. We arrived late afternoon and took advantage of the pool and backyard and kept the same pattern everyday. The cottage was exceptionally decorated with beautiful detailing, works of art (by Richard himself), very comfortable, and relaxing. Surpassed all expectation. Definitely going back very soon!
Naomi
2016-06-01T00:00:00Z
Our hosts were very gracious, helpful and generous not only with our rental, but personally as well. They respected our privacy as if we were the only ones here even though we are in the owner's backyard. The description was accurate and truthfully presented in the ad. The yard is beautifully landscaped with a delightful view of a small lake (lots of interesting ducks and birds to enjoy ) as our backyard view. The pool area is very attractive, just the right size for two people to enjoy the sun and water and only several steps away from our door. The rental is decorated very nicely and is cozy for two people. We love the area that it is located in; close to old Naples and a quick drive to anywhere in the city. We took walks, enjoying the quiet residential neighborhood and of course, delicious restaurants near by. We would recommend this beautiful little bit of paradise....come, enjoy and relax.
Melissa
2016-01-23T00:00:00Z
We could not have had a nicer stay than being a guest at Nancy and Richard's guest cottage. It is quiet, private, comfortable, lovely on all counts, and they are the most gracious of hosts. We loved our stay and wished it could have been longer than even the full week we spent. Truly wonderful!
Victoria
2017-03-04T00:00:00Z
Nancy's cottage is fantastic. The unit and pool are very clean. Location is perfect, short drive to just about everything. Nancy was a fantastic host and left some things in the refrigerator to get us started. Great privacy, very quiet. This is an ideal location for anyone looking for a wonderful place to stay, but not all of the crowds and congestion of the beachfront hotels. Less than 5 minute drive to the largest public beach. Perfect for a couple, romantic getaway or just time to relax.
William
2017-04-09T00:00:00Z
Great place, deserves more than 5 stars! Nancy's a terrific hostess! Pool, gardens & twinkling evening lights provide very relaxing ambiance. Very clean & cozy guest house; bed is comfy. Nancy thoughtfully provided morning coffee, cold refreshments for poolside and bicycles for exploring town!
Curtis
2017-01-28T00:00:00Z
We had a terrific stay with Nancy and Richard. Very welcoming and helpful hosts. Beautiful premises that had been very carefully thought through. Good location - quiet neighbourhood and not to far from everywhere. Beautiful garden that becomes magical at night.
amir
2016-02-29T00:00:00Z
We were looking for a quiet, private retreat and this was exactly the place. Although it was spring break time, we had our own comfortable space to relax and enjoy. The beauty of the pool and garden area enhanced the experience tremendously with water features, blooming plants and trees. At night, lighting made everything look magical. We would certainly love to stay here again if we are ever in Naples.
Miriam
2017-03-25T00:00:00Z
Just an idyllic little spot! Couldn't recommend both the cottage and our host more highly. I will DEFINITELY be back!
Emily
2017-01-05T00:00:00Z
Typ av rum
Eget hus/egen lgh
---
Typ av boende
Hus
---
Plats för
2
---
Sovrum
Naples, Florida, USA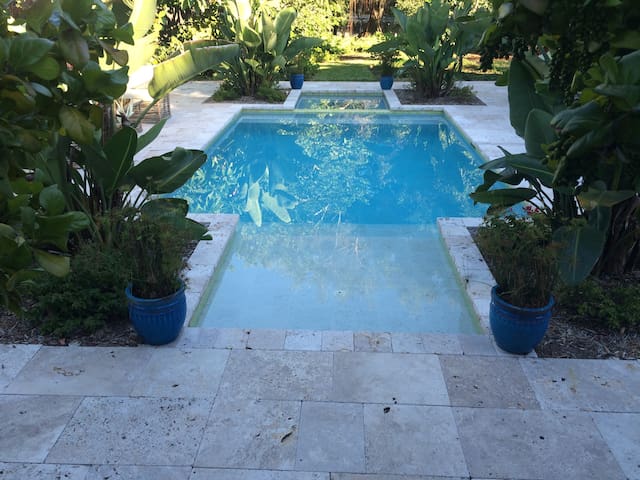 If you're looking for a serene and peaceful home, look no further! Perfect for Conventions at The Naples Grande. Eclectic, elegant interiors with a relaxing pool area in a unique, Midcentury Modern home built in 1957. Features a sweet pool overlooking a lake. Fantastic location right off 41- close to shopping, eateries and the beach. Enjoy coffee, or tea by the pool. Private Bedroom ~ Fabulous Tuft & Needle Queen mattress. Come and enjoy my home!
Perfect getaway for those who like a peaceful, eclectic decor and enjoy a healthy lifestyle. This is a really cool home ~ lots of space and interesting design details. The house is conveniently located right off of US41 and features a sweet pool and patio area. It is a mile or so to the beach, a short drive to Naples Pier, and close to all shopping and dining and outdoor activities that Naples has to offer. **Private Bathroom **Coffee/Tea in the morning My house has a nice setup in that it is divided into different sections - Your private bedroom and PRIVATE bath are away from the host's personal areas. Sleep comfortably on a Tuft & Needle mattress - a fabulous experience, if you've never tried one before. Your bedroom door has a lock on it. Your newly renovated bathroom is also private. I supply towels, soap, shampoo, conditioner, toothpaste, toothbrushes and a blow dryer. Your room comes with a ceiling fan and AC. The photos show all the various amenities such as access to pool, and the common areas of the house.
Just 1 mile from the beach… I have beach chairs and beach towels for you. My house is close to the Waterside Shops, the Naples Philharmonic Center, The Fresh Market and Waterside Shops & a short drive to historic downtown Naples and Mercato. The neighborhood is an original area of Naples that has not changed much over the years. I like the old style Naples homes, and like to think of them as 'historic' in light of the many newer 'communities' that surround us.
Annie är verkligen en superhost och gjorde allt och mer där till för att jag och maken skulle trivas. Vi hann med många givande diskussioner. Underbart vacker interiör, härlig pool att svalka sig i och gott kaffe på morgonen. Vi älskade också hennes gulliga hund Finn. Kan varmt rekommendera en vistelse hos Annie i vackra Naples.
Else
2017-03-02T00:00:00Z
it was perfect... Annie is very friendly and helpfull...;)
Vanessa
2016-11-18T00:00:00Z
Annie was so hospitable and thoughtful. Her place and surroundings are nice and peaceful. Thanks for welcoming us there.
Andres
2017-02-14T00:00:00Z
The house was beatifully clean and tidy. The bed was very good. We slept wonderfully. Annie was very nice helpful en gave us a warm welcome. We would go right back !
Sylvie
2016-11-23T00:00:00Z
Annie made us feel very welcome ta her home & was very accomadating to our requests.
Ken
2016-11-02T00:00:00Z
This was my first airbnb experience and I could not have asked for a better time! Annie was a terrific host and was always available by phone if she wasn't there. The place was spotlessly clean which I soooo appreciate. Nice sheets, (soft) and nice towels. Easy to park my car, easy access to all of Naples, coffee was even great in the morning. Sitting poolside in December was a treat since I came from the northeast. I feel like a have a new friend. Thanks Annie and I now have a new way to travel!
Karen
2016-12-09T00:00:00Z
From our first communication I could tell that Annie was a kind, accommodating host and she delivered on that impression during my stay. She responded quickly to my last minute booking and generously picked me up from the airport for a small additional fee. The home is truly a midcentury oasis and the pool is simply divine. Her taste is so eclectic and cool it's inspiring me to redo my own home! The queen sized bed was extremely comfortable and clean. The room is separate from the rest of the home so you still have your privacy as a guest. Her dog, Finn, was a real treat too! She wasn't kidding when she said he's well behaved. My only regret is that I couldn't stay longer! I will definitely return next time I am in Naples.
Lula
2016-10-11T00:00:00Z
Sehr stylisches und sauberes Apartment in Naples. Bereits das Wohnzimmer und die große Terrasse mit Pool laden zum verweilen ein. Tierfreunde kommen hier voll auf ihre Kosten, denn Annie´s Hund ist super lieb und freut sich über jegliche Streicheleinheiten. Das Schlafzimmer ist mit einem gemütlichen Bett, großem Schrank und Ventilatoren optimal ausgestattet.
David
2017-01-06T00:00:00Z
Typ av rum
Eget rum
---
Typ av boende
Hus
---
Plats för
2
---
Sovrum
Naples, Florida, USA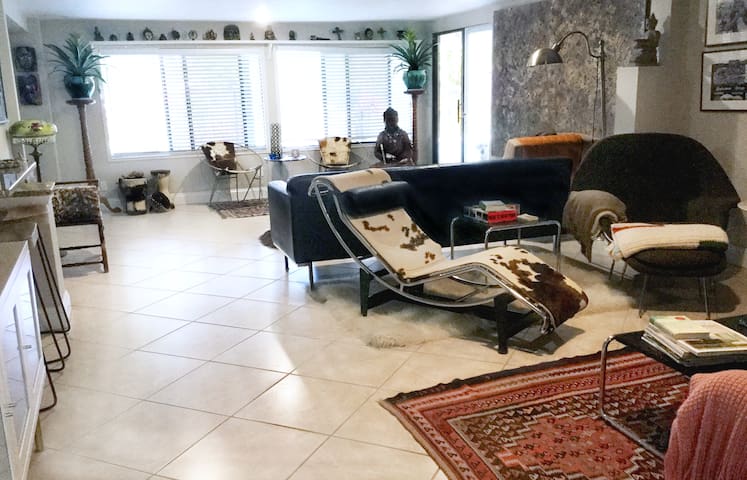 Enjoy this spacious home on a corner lot on your next stay in sunny Naples Florida! Optimally located, this home will maximize your Neapolitan experience. It is located within 3 miles of the beach, down the road from fantastic shopping (Waterside Shops, Coastland Mall, Mercato), fine dining (Lamoraga, USS Nemo), and local attractions (Fifth Avenue, Naples Zoo, Naples Pier). The home is split into two separate dwellings, with the owner occupying the smaller section. Guests enjoy private parking, private entrance, and full, private access to the kitchen, living room, two large bedrooms, bathroom!
This is a "shared" house. Each side has its own bathroom, bedrooms, and AC separated by sliding glass doors. Guest entrance is private in front of the house with its own driveway. Owner entrance is private in back with its own driveway. Kitchen "only" is shared with owner. Living room and dining area for guests only. Owner is rarely in the house from early morning till evening. Lush landscaping, beautiful gardens with outdoor seating, water feature in the backyard, newly constructed deck with seating, tons of orchids and various other plants and flowers, newly renovated kitchen, retro-style/vintage Floridian decor, colorful paintings and walls. Owner owns a cat who will NOT be in the unit, but has lived there previously. Disclosing for allergy purposes. Washer and dryer available on owner's side upon request.
Quiet, family-oriented neighborhood without the hectic feel of a hotel or the restrictions of a gated community. Enjoy your vacation in peace!
This was like staying at a well loved friends house
Rick
2017-02-22T00:00:00Z
Nice gardens for relaxing and meditating. Great selection of books and decor to look at. Easy semi shaded parking Easy to access into the one floor home. A lot easier to get in and out than most condos. Suely has a well equipped kitchen. She has a lot of interesting art decorations. Suely is well informed on the area and very helpful.
Richard
2017-03-25T00:00:00Z
Suely was attentive to all our needs, available whenever we wanted information. She is a lovely host who makes sure her guests feel comfortable.Her attractive and interesting home is a joy to live in. The location is perfect to explore Naples' beaches,lively downtown area, and many nearby restaurants. She supplied everything we need for relaxing vacation.
Lois
2017-02-07T00:00:00Z
Serene and soulful, Suely's place is a quiet & beautiful sanctuary. Comfortable beds, lovely art everywhere, sweet restroom with a handcrafted stone sink and great shower. The kitchen is large, with everything we needed to cook. It felt like we were in the home of an old friend. The living room is a cozy place to relax and the beautifully landscaped patio is a wonderful place to unwind and get some sun, with the gentle sounds of rippling water from her fountain.
Lisa
2017-02-17T00:00:00Z
Suely was a great host. The house was clean and comfortable. Her garden was beautiful. I would recommend having a car or rent bikes because while everything is relatively close it isn't all within walking distance. Overall, a great stay and I would recommend it!
Michele
2017-03-09T00:00:00Z
Very clean and nice house, in quiet neighborhood. Suely was such a wonderful host-so helpful and welcoming. Thanks
Margaret
2017-04-02T00:00:00Z
This home is spacious and was immaculate; beautiful inside and out. It's a real Florida style house, which I enjoyed. Suely is a great host also.
Philip
2017-01-29T00:00:00Z
Suely is very warm and friendly but totally gives you your privacy as well. She has a kind and generous heart. Her home reflects this and it is simple, clean, open and spacious. We'd be happy to stay there again when in Naples. Beaches just down the street.
Claudia
2017-03-15T00:00:00Z
Typ av rum
Eget hus/egen lgh
---
Typ av boende
Hus
---
Plats för
3
---
Sovrum
Naples, Florida, USA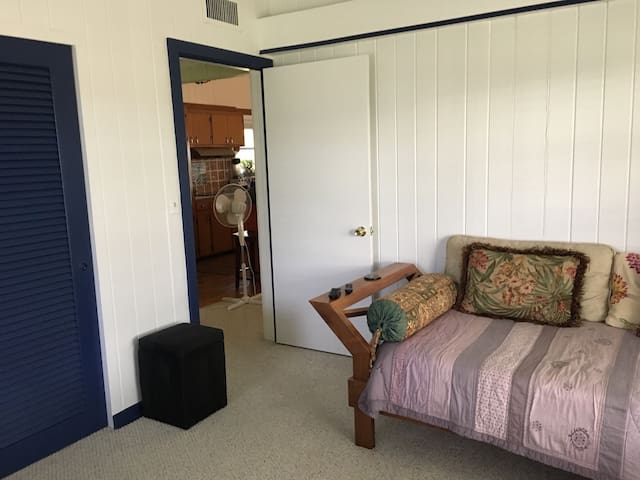 Escape to paradise in this lovely upscale home is walking distance to Naples white sand beaches, Coastland Center Mall, Fleischmann Park, Naples Zoo at Caribbean Gardens, nature Conservancy of Southwest Florida, and a short drive to a plethora of art & culture, restaurants and dining options. Bikes available to explore the local surroundings and head to the beach! 
Two bedroom, 1 full bathroom Guest Suite. Private outdoor lanai for guests overlooking pool area. One bedroom has two queen size beds with door that leads to lanai. 2nd Bedroom has sofa/queen size pullout couch, reading chair, door access to 2nd floor lanai that connects to 2nd bedroom as well. Each bedroom has it's own door to spacious screened in porch overlooking tropical pool area. There is a jack and jill powder room that connects the two rooms with a private bathroom including bathtub and shower. You'll love my home because of the people, the ambiance, the pool area, outdoor garden room, and the light. My place is good for couples, solo adventures, mature adults, and business travelers.
My home is in a quiet, peaceful residential neighborhood on a lovely tree-lined street and close proximity to Naples white sand beaches. There are many fine restaurants with outdoor dining on 5th Avenue, a short car ride from my home. I would recommend the Botanical Gardens and Jungle Larry's Zoo.
Typ av rum
Eget rum
---
Typ av boende
Hus
---
Plats för
6
---
Sovrum
Naples, Florida, USA
Cozy studio w one single bed and pull out double couch in a quiet area steps to the beach. Private entrance off driveway with parking included. Sliding back door entrance to private patio that overlooks garden, bird bath and pool area with golf course in the distance. Walking distance to shops and multiple restaurants both casual or fine dining as well as spa facilities at the Naples Beach Hotel. Perfect place to relax and rejuvenate.
Cute, clean, private, comfortable guest house. Gorgeous pool, garden, & patio area. 5 minute walk to 2 different beaches! Michelle was a responsive, flexible, helpful, knowledgeable & friendly host. Look forward to coming back someday!
Stephanie
2017-02-27T00:00:00Z
Michelle was very helpful and on the day that rained unexpectedly I got offered umbrella and used it by 7 am. Location is superb m, room has everything one may need. 8 minute walk to the beach. Fresh cut floweres, juices teas and fruits were a nice touch as well.
Svetlana
2017-02-24T00:00:00Z
Michelle was a lovely host with a lovely home. It is a cozy and quant as she describes. The pool with the view of the golf course is stunning, especially at sunset. It is very close to several good restaurants as well as the beach. I would recommend to any travelers. Thank you Michelle for your hospitality!
Henry
2017-02-02T00:00:00Z
The host canceled this reservation 2 days before arrival. This is an automated posting.
Robert
2017-02-25T00:00:00Z
Typ av rum
Eget hus/egen lgh
---
Typ av boende
Hus
---
Plats för
3
---
Sovrum
Naples, Florida, USA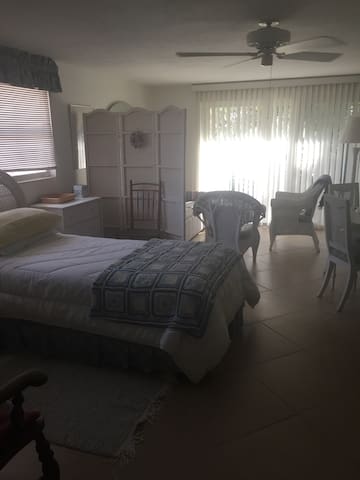 We are close to the beautiful beach here in Naples, the Naples zoo, tons of dining and shopping and be sure to visit 5th Ave for some nightlife. .
Typ av rum
Eget hus/egen lgh
---
Typ av boende
Hus
---
Plats för
12
---
Sovrum
Naples, Florida, USA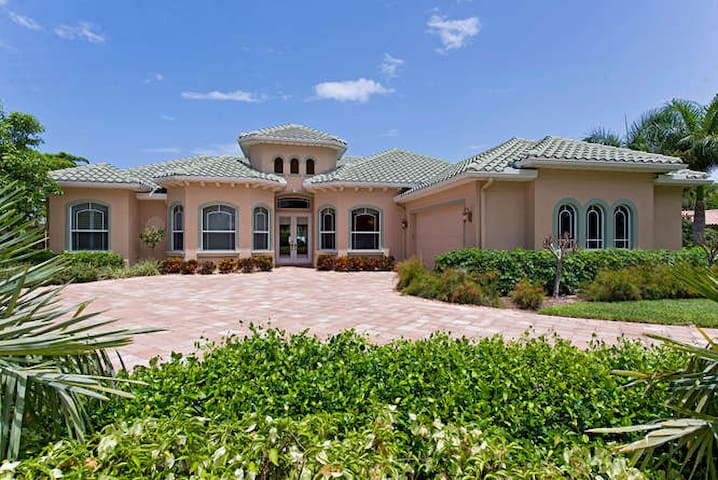 Luxury awaits with a phenomenal location in Naples' Pine Ridge Estates. Centrally located in North Naples within a short walk or drive to everything the Naples has to offer.
Luxurious accommodation and prime location are to be found in this gorgeously appointed carriage house located within a private and gated 1.5 acre estate, featuring lighted tennis court, swimming pool, hot tub, Koi pond, and secret garden. Top of the line new Prana queen mattress, fine Italian linens/towels (Frette and Sferra), onyx wet bar with mini fridge, 48" flat panel TV, cathedral ceiling, large walk in closet, and separate water closet. All of this within walking distance to the Waterside Shops featuring Saks Fifth Avenue, Nordstroms and numerous upscale dining venues. All of this, less than 2 miles to Naples premier beaches make this a vacation opportunity that will not disappoint.
This property is located within the prestigious Pine Ridge Estates, known for its large sprawling homes with acreage in the heart of North Naples. The neighborhood offers seclusion and tranquility while being only minutes from everything Naples has to offer. Enjoy the privacy of this peaceful oasis.
Great stay
CYRIL
2016-12-04T00:00:00Z
Loved every minute @ this beautiful place ; so many elegant & lovely touches plush towels, Italian linens, coffee , candles.But we mostly enjoyed the gorgeous landscaping & serenity. Our lovely host was discreet & respected our request for privacy while addressing our few small needs. Definitely a 5* experience! I predict much popularity & difficulty in booking in the future. Well done elegance in Naples!
Elizabeth
2016-03-20T00:00:00Z
The luxury cottage was a wonderful peaceful and relaxing get away. The location is very central to all of the areas of Naples you would want to go to. The greeting was overwhelming perfect when we arrived. We could not have asked for a better place to stay anywhere in Naples!! Much cozier than a hotel room; you really do feel like you are in your own little hideaway. The pool is spectacular and the grounds are kept very well. Don't miss this wonderful home away from home.
Theresa
2016-02-05T00:00:00Z
Susan is the best host imaginable. The poolside cabana is everything you could ever want. The furnishings are all high end and no expense has been spared. The ambiance of having your morning coffee overlooking the koi pond,pool,spa and tennis court is amazing. The location is close to everything(Beach,Restraunts,Golf) and made getting around very easy We'll be back !!!!!!!
Robert
2016-03-15T00:00:00Z
Just gorgeous! Amazing place, 5 star hotel experience! PERFECT!
Natascia
2016-07-19T00:00:00Z
We loved it! All upscale amenities! The carriage house is beautiful. The grounds are beautiful and private. Perfect for two people! Would definitely recommend! Thanks Susan and Jim!
karen
2017-02-11T00:00:00Z
We didn't get the chance to meet Susan or James, but their caretaker Kevin made us feel right at home. The grounds were a welcome oasis from our busy work schedules. We had a great time exploring Naples and relaxing in the pool. James gave great recommendations and all our requests were accommodated. Neighborhood was great for bike riding! Wish we didn't have to leave.
Anna
2016-07-08T00:00:00Z
We thoroughly enjoyed a week's stay in the Elegant Carriage House which, as the name implies, describes it very well. It was quiet, private, very clean and the grounds with the Koi pond, pool and tennis courts were wonderful. It's close to the beach for great walks on powder white sand and convenient to restaurants, Old Naples and shopping. James and Susan were wonderful hosts!
Mick
2017-02-19T00:00:00Z
Typ av rum
Eget hus/egen lgh
---
Typ av boende
Hus
---
Plats för
2
---
Sovrum
Naples, Florida, USA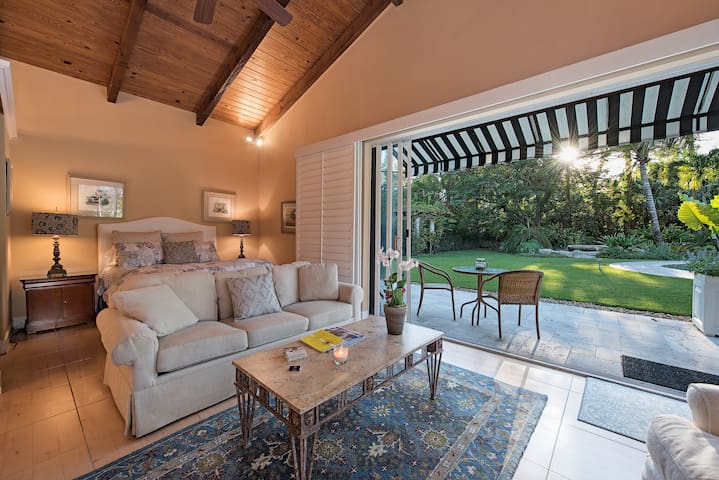 New 2015, contemporary home is only blocks from beautiful beaches, the Naples Zoo, the Conservancy of SWFL, the Greenway boardwalk, Coastland Mall, and 5th Avenue's abundant restaurants and shopping. Some of the many features include; One car garage, screened in back and front patios, reverse osmosis water filters, heated pool, spa, mature vegetation to ensure privacy, grill complete with gas, two bikes, various beach accessories (chairs, towels, etc...), and much more.
Newly renovated home with 3 bedrooms with 3 very comfortable beds and 2 full and luxurious bathrooms. Pet friendly. Completely fenced in back yard. Overlooking the pool and spa there is huge screened in outdoor living space with table for 10, 76" TV, a grill, and seating area with a fire pit. Outdoor seating is available around pool area-including round seating table as well as loungers. There is another very comfortable seating area in the front of the home with a contemporary fire candle. The furnishings are very high end and almost all from Arhaus or equal quality manufacturers. Nothing has been overlooked for guests comfort.
Lake Park is centrally located to everything. I think it's the perfect location. The beach is 10 blocks west and the greenway, zoo and conservancy only a few blocks east. Also, several supermarkets, pharmacies and abundant restaurants surround this quiet, residential area.
The place is great and easily as advertised. What was impressive was the level of detail throughout from fresh bagels in the fridge to brand new beach chairs and cool bikes to ride to the beach. Michelle you are a professional and we thank you for a great stay.
ennio
2016-12-26T00:00:00Z
This is a top-notch and lovely place. The photos do not do it justice; everything in the house is that much better in real-life. The hosts went above and beyond in making the home a true oasis. We've rented Air BnB places in the past, and while they have all been pretty great, this one by far exceeded our previous experiences. The hosts took care to provide little touches for convenience like extra flip flops; Nespresso capsules; children's toys; never-ending supplies of towels, paper towels, toilet paper, and trash bags; soap; chocolates and snacks. Plus, the amenities in the home were superb: a great pool and hot tub; an awesome shower in the master bedroom and a bath tub with jets in the second bathroom; a fully-equipped kitchen with great cookware; a king-size bed and super comfortable other beds. Really, the hosts went above and beyond in making this a lovely experience for us. We have two little daughters, ages 3 & 4, and they did not want to leave. Thank you. We look forward to staying here again. (PS. The hosts are super responsive; they answered all of our questions before we arrived and while we were there).
Jeannine
2017-02-18T00:00:00Z
Michelle was the most gracious host! Always available.. Made us feel right at home with little extras such as bagels for breakfast.. Fruit.. A little souvenir.. There were amazing little personalized notes and touches through out the home.. The home was beyond amazing and we couldn't have imagined a better getaway.. Would highly Highly recommend this home. I would love to say great things about the town but this home was so relaxing and perfect that we never left the home outside of buying groceries. The neighborhood was lovely. The backyard was a private little oasis.. Just an amazing vacation..
Liz
2016-08-16T00:00:00Z
This house is wonderful! Convenient location, tastefully decorated, and the backyard is excellent to sit back and relax in. I would definitely recommend this home and would like to come back!
Megan
2017-01-08T00:00:00Z
The place was as described. It really is a must stay. The place is quite private, with a beautiful pool and hot tub, and a wonderful entertaining area in a semi outdoor setting. Would definitely go back there, and would highly recommend it to everyone.
Ken
2017-03-04T00:00:00Z
This is my first time using Airbnb and I concur with all the previous reviews. This is a good value considering it could comfortably sleep six people and had a private pool and hot tub. Communication was good; Austin was there to meet us at check in even though we were a little late. We had to stay in Florida a couple extra days due to a blizzard back home shutting down the airport. I created an Airbnb account and found this place on short notice. This was a much better deal than the hotels. My wife was awestruck with the interior design and was thrilled to find the espresso machine. My eight year old son spent a lot of time in the pool and hot tub and loved being able to watch soccer in every room of the house. Even from the pool. My favorite feature was the Lanai room, where I could relax and read the paper. Was a great place to unwind in total privacy. There was a pretty good bagel shop within walking distance. I would stay here again and would highly recommend it.
Dylan
2017-03-16T00:00:00Z
Just back from a fabulous week at The House of Rainbows. You will want for nothing in this perfectly equipped home, with literally everything you could possibly think of provided by the owners. The warm pool and hot tub, beautifully set in immaculate and private landscaping played perfectly for the week of idyllic weather we had. All living rooms and bedrooms are beautifully appointed with quality furnishings and linens, the kitchen appliances (lots of refrigeration space!) are all brand new and high end, the natural gas supplied Grill was well used for dinner in the lanai and around the pool. Ample beach supplies perfect for our days at the pristine beaches and gentle gulf waters a short drive away (dolphins at the pier every day we were there), with some great restaurants and all the convenience of large super markets / pharmacies also close by. We challenge you to find anything that isn't provided by owner Michelle who was on hand with son Austin to answer any questions we had. Can't imagine how they could improve on our experience in any way.
Michele
2017-03-26T00:00:00Z
Home was beautiful, central to downtown Naples (we walked or rode bikes every day to downtown). They had nice suprises waiting for us and they seemed to think of everything that someone would want or need. House was very modern, pool are was perfect and beautiful. Host was very accomidating at check-in and check-in later to make sure everything was good.
Samuel
2017-01-05T00:00:00Z
Typ av rum
Eget hus/egen lgh
---
Typ av boende
Hus
---
Plats för
6
---
Sovrum
Naples, Florida, USA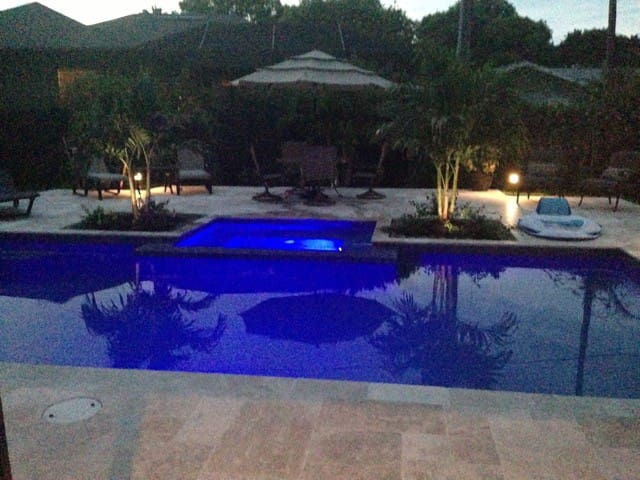 If you want a fun or relaxing experience then you're coming to the right place! Only 1 mile to the beach and walk to the best restaurants and bars a block away! Breakfast of tea or coffee & yogurt with fruit. Enjoy the fruits of my labor with avocados and papayas in season & my antioxidant Moringa tea! SUPERHOST with Airbnb for over a year! There are 2 beach bikes for your enjoyment also! If you can ride a scooter you're welcome to rent mine for a minimal fee. Come & enjoy the Gail Trails!!
THIS IS A 3 BEDROOM 2 BATHROOM HOME IN WHICH ONE BEDROOM IS BEING RENTED OUT. IT HAS A NEW COMFORTABLE DOUBLE BED AND IT'S OWN PRIVATE BATHROOM (PHOTO), IS CENTRALLY LOCATED IN NAPLES AND ONLY 1 MILE TO THE BEACH AND ACROSS THE STREET FROM THE UPSCALE WATERSIDE SHOPS AND 1/2 MILE TO THE NAPLES PHILHARMONIC. I HAVE 2 BEACH BIKES FOR YOUR USE WHILE HERE. YOU CAN WALK OR BIKE TO STORES FOR SHOPPING AND RESTAURANTS FOR EATING. I HAVE GREAT AVOCADO TREES SO IF YOU COME WHEN THEY ARE RIPENING AND READY TO EAT YOU'LL BE IN FOR A TREAT FROM NOVEMBER THRU FEBRUARY. IF YOU NEED A RIDE TO OR FROM THE AIRPORT WE CAN ACCOMMODATE YOU FOR HALF THE PRICE OF A TAXI. COME HAVE FUN AND SUN IN FLORIDA!
The neighborhood is amazingly quiet, yet very close to everything....we are in the middle of Naples and close to the beach!! There are lots of trees here and lush vegetation. You can walk to restaurants just down the street or within 1/2 mile and a wonderful vegetarian restaurant only 1 block away!
Hi, Unfortunately, I came down with the flu and was not able to make the trip. Gail was completely understanding and graciously offered us another night when we were back in town. What a dear! We will look forward to that night in the future! Barry and Charmaine
Charmaine
2015-12-30T00:00:00Z
Within 5 minutes of being at Gail's place Jun mentioned to me that this was her favorite Airbnb place... And we all know if your significant other is happy then things will go much better :) It was the ultimate home away from home. Comfortable bed and perfect temperature in the house. Gail offered us some of her amazing Moringa Tea which does wonders for your health. We also really enjoyed the outdoor seating area behind her house. It was very relaxing = felt like a hotel but without tons of people. I think the most important thing is that we felt comfortable. Gail has a very loving spirit and keeps things relaxed. If you want to chit chat she is happy to talk.. If not she wont try and dominate your time. You can tell that she loves people in general. She recommended an awesome happy hour spot across the street- Brios Tuscan Grill - 3:30-6:30 has great food at the bar for low low prices. We got the burger, Shrimp and Mozzarella / Tomato Salad... S(PHONE NUMBER HIDDEN) good! But if you really want to have fun you should go to Komoon - which is a Sushi Thai fusion place that has live music on Wednesday nights.. Thank you Gail for forcing us on the dance floor!! It was tons of fun. :)
Max
2015-02-26T00:00:00Z
We had a wonderful stay in Gail's home. Gail made us feel home and almost as a part of her family. We had a beautiful room and bathroom, and we enjoyed the rest of the house and the garden. Everything was neat and clean and we were very relaxed during our stay.
Anna Sofie
2015-11-19T00:00:00Z
First experience on Airbnb and it exceeded all my expectations thanks to Gail and her wonderful home. It is close to the beach. The bedroom/bath are quite nice and comfortable. The outside shower is great. Outdoor living areas are super. But, most of all, Gail makes the experience over the top with her worldly knowledge, absolutely top rate personality and ability to adjust to you. Don't hesitate to stay here.
bill
2015-03-05T00:00:00Z
I had a wonderful weekend retreat with Gail filled with friends, sun, sand and hot yoga. Gail has a cozy home in a great location with a beautiful garden.
Tim
2014-10-05T00:00:00Z
Gail is an amazing host : her House is a wonderful sanctuary for happiness and wellbeing. The location is perfect . Near to everything . We actually felt at home and felt Like she Was a friend rather Than simply a Host . She Will also give you all the advice and tips You ll need to Fully enjoy your stay in beautiful Naples.
Karim
2015-04-18T00:00:00Z
I had a wonderful time in Naples and enjoyed staying with Gail in her lovely home. She has a wonderful taste for decor and the home truly makes you feel at home. The grounds are Florida at its best. Very private and quiet. The neighborhood likewise was very quiet and peaceful. The bed and bath for guests is over the top, so clean and comfortable, to say the least. The location is central to everything. When you leave, your one thought is when can I return? Thank you, Gail!
George
2015-11-16T00:00:00Z
Gail has created a beautiful and interesting home. But better than the home is Gail herself. Gail brings you right into her life. Expect a lot of activity and maybe other guests. Staying with Gail is an experience, not just a bedroom.
robert
2014-01-14T00:00:00Z
Typ av rum
Eget rum
---
Typ av boende
Hus
---
Plats för
2
---
Sovrum
Naples, Florida, USA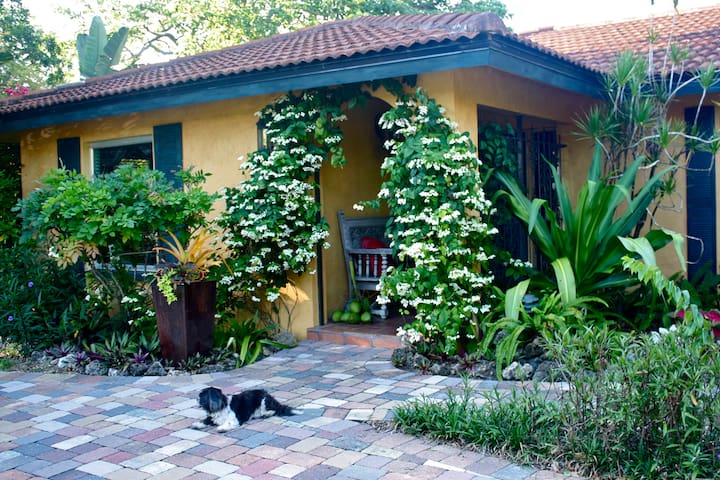 Enjoy Florida sun on the edge of your private swimming pool with friends and family. An amazing family retreat to escape cold winters in our luxurious home away from home.
Our family felt so welcomed and this home has every possible amenity imaginable. Whenever we had a question our responses were promptly answered via text. Katie's home is the gold standard of what AirBnB represents! This home exceeded all expectations; I can't sing this listing enough praises. The location is central to everything one could want in Naples: The Zoo, The Waterpark, Shopping, The beach, etc.. This truly is 5 Star Listing.
Lindsay
2016-04-11T00:00:00Z
Pictures don't do this house justice, it's Absolutely Beautiful. We had a great time at Katie's house, when we arrived we had a very thoughtful and yummy welcome package from Katie, the house was so clean and smelled wonderful. The kitchen is complete with high end appliances and any other additional appliance you can think of or need, a spice drawer with all kind of spices and herbs for cooking. The bedrooms are very pretty with comfortable beds and covers. They had everything we needed from a crib and high chair for our baby, to all kind of toys for our older kids and lots of board games for kids and adults. The pool was great and the whole backyard was lots of fun, we had a BBQ on the grill and the kids played in the playground. The location of this house is great, close to everything and neighborhood is very nice. Katie really outdid herself on having everything we could possibly need. Communication with Katie was great, she promptly answered to all of our questions and she was always attentive to our needs, she even gave me a list of places to go and special restaurants. This truly is a five star listing and we can't wait to be back.
Stefanie
2016-07-22T00:00:00Z
Truthfully, the other reviewers were spot on. This house was absolutely perfect. No complaints whatsoever. We stayed for a week with our 3 children. They were in paradise to say the least. The privacy bushes around the yard were a major plus. Complete seclusion. More than enough room inside the home with all of the perks one would not expect. We are accustomed to Ritz Carlton / JW Marriott type properties and Katie's place far surpassed our expectations. I would give this place 5 stars. Honestly, there is not one thing we did not like...central to beach, zoo, grocery store, etc. the neighborhood was also super quiet, which we absolutely loved. The modern decor made us feel like we were in our own home, only 1,600 miles further south. Well done Katie.
Chad
2016-09-01T00:00:00Z
nice house and good service from Katie.
Ola
2016-02-18T00:00:00Z
The house is perfectly set out for a young family. I didn't think the house could live up to the photographs on here but when we arrived it surpassed all of our expectations - then all the extras - the items Katie left for us to use was just the icing on the cake. It meant we weren't rushing to the shop to get urgent supplies (not that it was an issue my husband has loved his daily run to the bagel shop and Publix is awesome!). Katie has a great eye for interiors - the little touches make it feel so homely. It really has been such a relaxing week for us and we've enjoyed exploring the area.
Joanna
2016-08-01T00:00:00Z
We had a wonderful time at Katie's house. We have a two year old son and he loved playing with all of the toys and swimming in the pool. The location of the house of great and we were able to walk to the zoo, park and mall. It was our first time in Naples- we will be back!
Lynn
2016-03-24T00:00:00Z
This house was in a nice quiet neighborhood, convenient to the beach and shopping. It was clean, comfortable and as pictured. We especially liked the little touches- crisp linens, nice towels, and comfortable beds. Katie was an excellent host and even came by to bring us extra linens.
Colleen
2017-04-13T00:00:00Z
Wonderful property with superb layout and convenience
Reanen
2017-02-02T00:00:00Z
Typ av rum
Eget hus/egen lgh
---
Typ av boende
Hus
---
Plats för
8
---
Sovrum
Naples, Florida, USA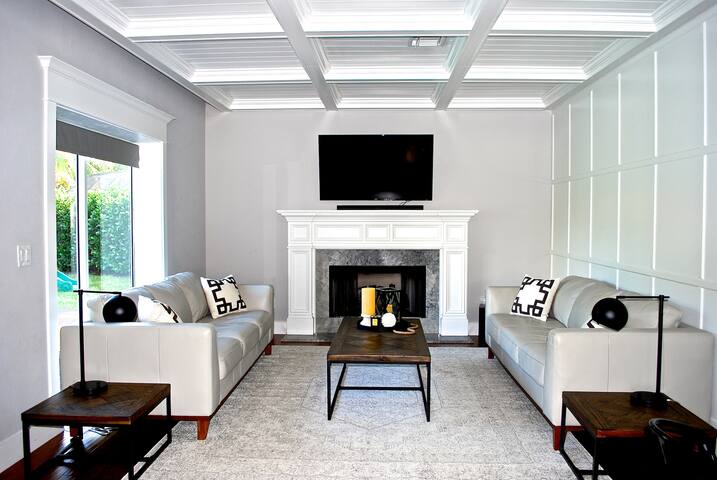 Conveniently located in the heart of Naples, we are close to family-friendly activities, nightlife, public transport, the airport, and the city center. Only 1.5 miles from its most beautiful pristine beaches, this state-of-the-art SmartHome is the epitome of contemporary design and modern living. Soaring 9 & 10 foot ceilings expand the light, bright spaces. A completely-fenced rear marble patio provides a quiet space for alfresco dining or relaxation around the 40' heated pool
We also rent through VRBO where we have a FIVE-STAR rating. Your welcome to check our listing there to read the reviews. (Listing #499429)
The house is located in a small single-family neighborhood (not gated). It is quiet and very secure, with very friendly neighbors. Although a car makes things more convenient, you can easily walk to grocery stores and nearby restaurants--the beach too.
We love Arthur as a host and love this home! My husband and I were looking for a home to book during a home renovation project and were looking for a "perfect" listing for us for our staycation. This home checked off all the boxes for us: dog-friendly, pool, fenced-in back yard both for privacy and our pup to be off leash, as well as a home that was beautifully designed. Both arrival and the home introduction were wonderful and Arthur made us feel very welcome and quite special! He welcomed us in to show us around and gave us a quick tour of everything. This house is state-of-the-art as noted, so we were able to personalize everything to our liking from the shades, lighting, even the shower all with a touch of a button. Many of the home's features are similar to our own (like key pad entry and smart thermostat), so it was very easy for us to operate and made us feel right at home. My husband and I have lived in the area our entire lives, have family in Naples and visit Naples on a weekly basis, so we knew that this home was in a very central location in the city and close to everything. Grocery stores, beach access, restaurants, even my family's homes are only a few miles away–my husband even brought his bike to go down to the beach just as he does back home. The house is well stocked with everything one would need when staying in a rental home. I was able to work, cook our food, do laundry and even clean just as I would in my own home. These essentials added a great level of comfort, plus with Arthur's hosting it's just something that is truly priceless to us. We plan to be regular guests of Arthur's and this home and look forward to booking again in the near future! Thank you again for an amazing experience, Arthur!
Malika
2016-08-12T00:00:00Z
Highly recommended for everyone. A place of comfort and modern luxury
Mark
2016-12-30T00:00:00Z
Maison sophistiquée au goût du jour. Exceptionnelle. Propriétaire courtois et avenant, soucieux du bien-être des voyageurs. Efforts remarquables pour satisfaire. Expérience AirBNB exceptionnelle. Nous avons déjà recommandé Arthur et sa résidence à des connaissances. Nous souhaitons y séjourner de nouveau dans l'avenir.
Yves
2016-08-01T00:00:00Z
We spent 7 days of our holiday at Arthur's house. It was all just magnificent. Not only the perfectly equipped modern house but also the pool and the yard made the time unforgettable. We'd love to come back again. Jacek
Jacek
2016-10-27T00:00:00Z
Loved it. Everything was even better than expected.
Daniel
2016-08-16T00:00:00Z
Arthur and his home made for an amazing vacation.
Frank
2016-10-14T00:00:00Z
This was a perfect vacation. The home was the most beautiful house I've ever stayed in - complete with everything we needed, a beautiful pool, gorgeous state of the art amenities... I simply can't say enough about the place. In a word - perfect.
Jim
2016-10-02T00:00:00Z
The host canceled this reservation 50 days before arrival. This is an automated posting.
Nancy
2016-09-21T00:00:00Z
Typ av rum
Eget hus/egen lgh
---
Typ av boende
Hus
---
Plats för
5
---
Sovrum
Naples, Florida, USA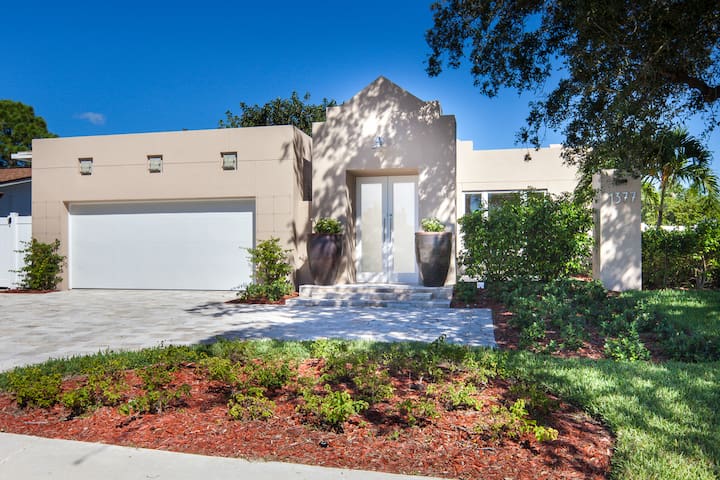 You will absolutely love this location in the heart of Naples. I welcome you to join me as my guest here.
The house is an open format. The kitchen is open to the living room and the living room opens out onto the porch which overlooks the outside deck and garden. Overall it has a great feel to the space. The guest has access to everything in the house. It comes fully equipped with all the comforts of home. I will be as available as my guests need me to be. I will be present during your stay and am happy to assist with making your stay as great as possible. I have lived in Naples all my life so I an definitely make recommendations on where to go and things to do. The Lake Park neighborhood is one of the best in Naples. It is a very family oriented neighborhood. Close proximity to the beach, downtown, shopping and restaurants makes it very convenient.
The Lake Park neighborhood is one of the best in Naples. It is a very family oriented neighborhood. Close proximity to the beach, downtown, shopping and restaurants makes it very convenient.
Greg is a friendly host and answered really quickly to my messages (I booked the room the day before arriving). Everything was clean and easy. I recommend this place
Stephanie
2014-10-07T00:00:00Z
We had a great time there! Everything was perfect!
Anne
2014-10-01T00:00:00Z
We had a very enjoyable couple of days stay with Greg and Jessamine. The house was in a quiet side street and we were able to find local places for breakfast and lunch very nearby. We spent both days at the beach, in easy walking distance. Both were excellent hosts, friendly and welcoming and full of great local information.
Simon
2014-11-13T00:00:00Z
Greg and his wife Jasemin were great hosts. Their house is wonderful and it fits perfectly into Naples. It was all very clean and nicely decorated. Our room was perfect for us: a big bed and a tv. Furthermore Greg always took some time to talk to us and make our stay good. He had very good information on the region. Thanks Greg and Jasemin! We really recommend staying at your house and would do it again!
Gina
2014-09-09T00:00:00Z
Greg is a great host. He was extremely flexible given I did not know exactly when I would be in Naples due to the nature of the trip. He is a very nice outgoing guy who really wants his guests to be comfortable. The room is located in a very nice small house 1 mile from the restaurants and shopping of Old Naples. The beach is also 1 mile away. Bottom line it is a great location. If I need to come back to Naples for 1 day or 1 week I would stay with Greg again.
Robert M.
2014-05-19T00:00:00Z
This place is just amazing; the neighbourhood is very safe and Greg was very friendly with us, giving us many suggestions on where to go and what to see. The house is conveniently located for everything you need, downtown is just 1 mile away, as is the nearest beach. We highly recommend Greg as an host, and his house for a trip in Naples, FL!
La
2014-07-23T00:00:00Z
Greg's place was clean, tidy, and well equipped. He provided a hair dryer and many toiletries. Greg was pleasant and personable and helped us find the kinds of restaurants we were looking for. His place is a short drive to downtown and about 10 blocks from the beach. The price was right. Highly recommend it!
Macy
2014-12-09T00:00:00Z
Very accomodating couple, got there earlier than anticipated and it was no problem, very clean house and true to advertise, close to beach and downtown.
Edgardo
2014-09-14T00:00:00Z
Typ av rum
Eget rum
---
Typ av boende
Hus
---
Plats för
2
---
Sovrum
Naples, Florida, USA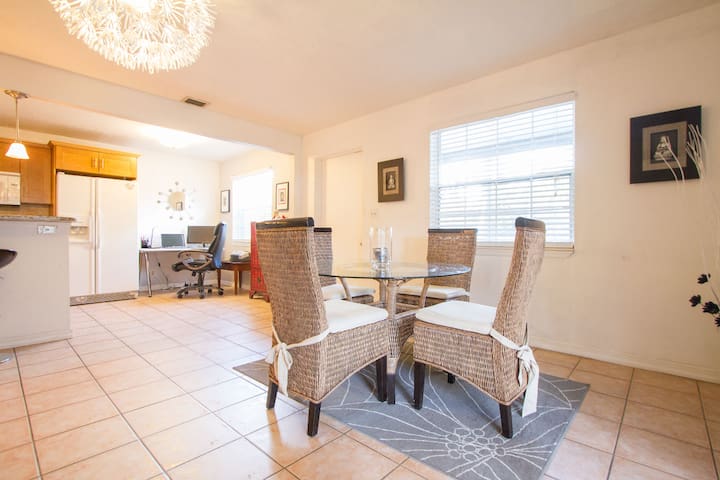 My place is close to Seagate and Clam Pass Beaches, South Street Bar & Grill, downtown Naples, North Naples, nightlife, family-friendly activities. You'll love my place because of the neighborhood, comfy bed, work space, the proximity to the beaches and all that Naples has to offer. My place is good for couples, solo adventurers, business travelers, and furry friends (pets). Also wifi, washer/dryer, and cable are included. Also, if you need transportation and I am in town, I am an Uber driver.
The space is private and quiet. It is also conveniently located near anything you could need or want to see during your stay.
Very nice quiet neighborhood.
Convenient, everything you need, but the decor is unappealing, as is the yard and access.
Linda
2017-01-15T00:00:00Z
Drew was friendly and accommodating. The unit is its own separate efficiency/cottage- which is nice. Quite and comfortable. A little outdated- but I guess it all depends what your used to. Totally fine for me- I would stay here again
James
2017-01-26T00:00:00Z
Drew place is ideal for solo travelers that wish to enjoy the quietness of the place while having everything close by (restaurants, bars, etc). Also, the cottage has everything you need to prepare your own meal, work a little and sleep very comfortably. I would definitely recommend Drew and his place if you are looking for an accommodation in Naples!
Paolo
2017-04-05T00:00:00Z
I loved being able to cycle to the beach. 10 minutes to the boardwalk. This is a place lived in by fairly young guys. It's a nice neighbourhood, but as a middle aged woman I didn't feel totally safe at night
Sally-Anne
2017-02-21T00:00:00Z
Drew's place has to be one of my favorite air bnb's. Quaint and comfortable, private, close to everything you could want or need (pizza and sushi a 2 minute walk away! Plus the beach!) easy, easy parking and a super comfortable bed. Drew is polite and attentive as well. I'd highly reccomend his place! Thanks again, Drew!
Laura
2017-03-07T00:00:00Z
ur stay at Air BNB had a very homey and private feel. Drew was very welcoming and willing to help, responding to messaging about close beaches and favorable restaurants. The beach was about a 15 minute drive, along with a convenient 8 minute drive to an outdoor mall with a variety or stores and restaurants like blue martini. The space was well accommodated with towels, sheets and a great air conditioner. Though the refrigerator is provided there was continual condensation that may have been a result of a crack in the back. We did have to clean upon arrival to the room  because of dirty floors and because the bathroom needed additional attending. Otherwise we enjoyed our stay for the price that we paid, nice and affordable place for 1-2 people and great accommodations for my Lab or other pet owners. 
Miguel A.
2017-03-25T00:00:00Z
Comfy bed, quaint cottage, private separate pad, great value for Naples
William
2017-03-19T00:00:00Z
Great location. Great communication. Everything I needed. Neighborhood felt quiet and safe. I felt comfortable coming and going whenever I needed.
margaret
2016-12-13T00:00:00Z
Typ av rum
Eget rum
---
Typ av boende
Hus
---
Plats för
2
---
Sovrum
Naples, Florida, USA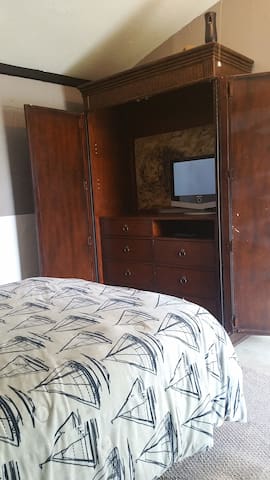 Bermuda Cottage is close to 5th Avenue in Downtown Naples (10 minutes walking). 9 minutes to the beach.. You'll love the cottage because of its proximity to the beach, restaurants and the neighborhood. It is also really cozy!. My place is perfect for couples, solo adventurers, and business travelers. It has recently been renovated, and has a really lovely garden and patio area with swimming pool and fire pit! Pool "Floaties" and beach chairs and umbrella available also!
Bermuda Cottage is located in a beautiful neighborhood, with a library across the street, a Starbucks 5 minutes walking, and 10 minutes walking to downtown Naples, and beautiful 5th Avenue, with many restaurants, bars and superior shopping! There is an amazing supermarket five minutes walking, filled with a variety of wonderful selections and wine!
Bermuda Cottage is located in the older, more historical part of Naples...many beautiful Banyan trees, older homes, and wonderful to take a bicycle ride through.
Our stay was absolutely wonderful, relaxing, such a quaint cottage and a huge thank you to Peter for taking the plunge in renting out his home to make people like myself enjoy Naples that little bit more. My son of 5 years also had a wonderful time ... he is currently in swim classes and he took his first plunge also in the swimming pool and started jumping in all by himself, he was very proud. He also lost his first tooth here so Peter Im sorry but your home has now become very sentimental for us. Great location, easy access to everything, clean and quiet at the same time, love the small British accents. P.S. love your mango tree OMG I am hooked on Mangos now, never knew they tasted so good. A Huge thank you to Fiona who met us there and showed us around and was very attentive to us and checked on us all the time.
Christine
2016-07-05T00:00:00Z
Fabulous stay!!! We felt right at home from the moment we walked in. The location couldn't be better; beautiful neighborhood, 3 minute bike ride to the beach (bikes included), minutes from downtown Naples, restaurants & shops. We loved the privacy of the backyard pool and the delicious mangoes from the mango tree in the yard. The hosts were so gracious, made sure that we had everything we needed and quickly responded to any questions we had. Everything was perfect!
Christopher
2016-07-24T00:00:00Z
The Bermuda Cottage was the perfect setting for the most wonderful week-long vacation in Naples. The house is absolutely gorgeous, clean, comfortable, great location, and has everything you need to have the best time (including those amazing mangoes). Thank you so much, Peter for letting us enjoy your Bermuda cottage! A big thanks to Fiona for making all the necessary arrangements. We look so much forward to our return next year!
Gabriela
2016-08-08T00:00:00Z
Très bien accueilli par notre hôte, très attentif à nos éventuelles demandede et à notre bien-être. Le cottage est conforme aux photos et aux descriptions et bien agréable .l'emplacement est idéal, calme et beau Belle plage . Tout y est !
Nathalie
2016-08-24T00:00:00Z
Typ av rum
Eget hus/egen lgh
---
Typ av boende
Hus
---
Plats för
4
---
Sovrum
Naples, Florida, USA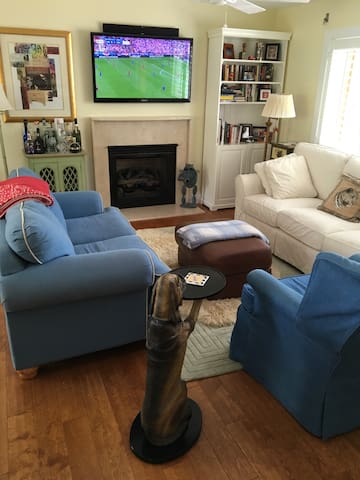 Our home is close to EVERYTHING - Especially the BEACH (Clam Pass is just over one mile away) ! You can stay here with just a bike and easily get around. There are many walkable restaurants, bars and shopping...You can easily walk to Waterside Shops which has so much to offer! We have put so much detail into our guest room (all furnishings and linens are new) and you will feel so comfortable and right at home with our family!
Our guest suite offers a new, queen sized bed with a cool-gel foam mattress and 600 thread count linens. There is a small adjustable seat which folds flat for a toddler bed. We have a flat screen smart tv, mini-fridge, microwave, coffee pot and much more! This suite was designed and furnished for the sole purpose of making our friends and family feel comfortable and welcome in our home. We look forward to helping you enjoy all of the beauty that Naples offers and are happy to help you plan your itinerary with great suggestions and advice!
Our neighborhood is lovely, quiet and filled with truly nice and friendly people who are often out with their dogs or riding bikes. Within just walking distance, you can have a variety of restaurants, bars, a bike rental spot, shopping and much more! Within a bike ride you could get over to the beach and venture out to even more dining and shopping spots! If you have a car, you can see much more of Naples and nearby other cities like Marco Island or some of the islands.
Michelle's place is a wonderful and clean studio! It was calm and I was able to focus on my job interview, which I was here for. Hopefully next time I can just relax :) both Michelle and Dennis are really sweet and Dennis even gave me a beach chair and towel so I could check out the beach. Thank you so much and all the best!
Danko
2017-04-07T00:00:00Z
Typ av rum
Eget rum
---
Typ av boende
Hus
---
Plats för
2
---
Sovrum
Naples, Florida, USA
Experience the Olde Naples lifestyle at the 9th Ave Beach House! Tucked conveniently into Naples' most desirable downtown neighborhood, the home is walking distance to almost all that Olde Naples has to offer - including the famous white sand beach! An oversized private pool and hot tub and modern interior finishes make this an ideal Naples vacation home.
The elevated second floor living space has an open kitchen, living room, dining room, sitting area, two bedrooms and two bathrooms. Vaulted ceilings let in plenty of light and the home has been recently remodeled and decorated in a modern yet classic and tasteful Florida style. A third bedroom suite is located on the ground floor, accessible from the covered lanai and pool area, offering another bedroom with sitting area, kitchenette and full bathroom. The large swimming pool is complete with a hot tub and the 2-story screen enclosure gives the lanai an extra spacious feel. Bedroom Details: Master Bedroom - Located on second floor main level, Queen size bed, en suite bath with tub and glass enclosed shower Second Bedroom - Located on second floor main level, Full size bed, bath with shower accessible from hall outside the bedroom Third Bedroom - Located on ground level, accessible only from the lanai. Access to the main house is through the lanai and up an exterior staircase. Third bedroom suite has a Queen size bed, kitchenette, sitting area and en suite bath with shower.
The beach is within walking distance (7 blocks) along with Cambier Park, Naples Bay, and multiple shopping and dining areas! The home is just 4 blocks south of 5th Ave S, home to an abundance of restaurants and shops, and about 7 blocks from the 3rd Street South shopping and dining district, which is located adjacent to the newly refurbished Naples Pier. Cambier Park, a 12 acre property with tennis and bocce courts, a softball field, a playground and a bandshell for music and movies is just 2 blocks away.
Typ av rum
Eget hus/egen lgh
---
Typ av boende
Hus
---
Plats för
6
---
Sovrum
Naples, Florida, USA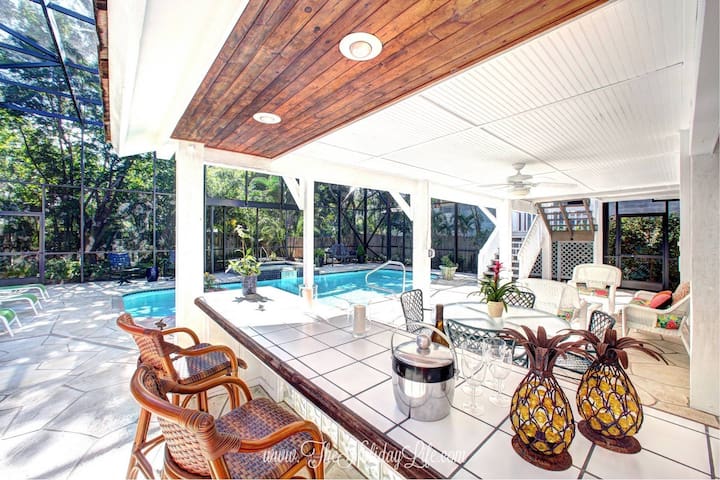 Outstanding house, short walk to beach and 3rd St. dining, 4 bikes to use
Typ av rum
Eget hus/egen lgh
---
Typ av boende
Hus
---
Plats för
7
---
Sovrum
Naples, Florida, USA