WALK!! EVERYWHERE! Our cozy 2 bedroom, 2 bath upstairs apartment is just 4 blocks from the beach, 3 blocks from Pacific City-( our new beautiful entertainment center with over a hundred great shops, restaurants and bars), and 6 or 7 blocks from downtown H.B. Main Street and the pier with many surf shops and more restaurants and bars. We are also across the street from a park with basketball hoops and a nice kids area.
Come enjoy the beautiful So. California beaches and all the area has to offer. Huntington Beach is famous for great surfing and is known as "Surf City". It has one of the longest piers on the West Coast. Our beautiful 940 sq ft apt. has a locked, private entrance from the alley. We also have one off-street parking spot for you. You enter into the downstairs patio with seating for 8 and a charcoal BBQ. Head upstairs to the front door and small deck. You will be stocked with plenty of beach towels, a few beach chairs and plenty of books to enjoy. Although we don't offer a hot breakfast the kitchen is well stocked for any cooking you want to do. The kitchen has a dishwasher, microwave, coffee maker, and Ninja blender and food processor. We also furnish eggs, milk, some cereal, and home baked breakfast goodies in the freezer as well as lots of coffee and tea! The flat is situated in Old Town Huntington Beach. The neighborhood is a combination of old original beach bungalows and newer million dollar homes. It is very quiet- especially compared to the rowdy downtown area, but still walking distance to all the fun!! We have boogie boards, beach chairs, and everything you need for a fun BBQ. Please NO PARTIES. We live on the premises- and we have neighbors that we respect and like - a lot! And they don't like loud!!!! You are close to many So. California attractions such as: Disneyland - 22 miles Long Beach Aquarium - 16 miles Knotts Berry Farm - 13 miles Los Angeles airport - 38 miles Orange Co John Wayne airport - 10 miles San Diego - 81 miles Come and enjoy!!!
Typ av rum
Eget hus/egen lgh
---
Typ av boende
Lägenhet
---
Plats för
6
---
Sovrum
Huntington Beach, Kalifornien, USA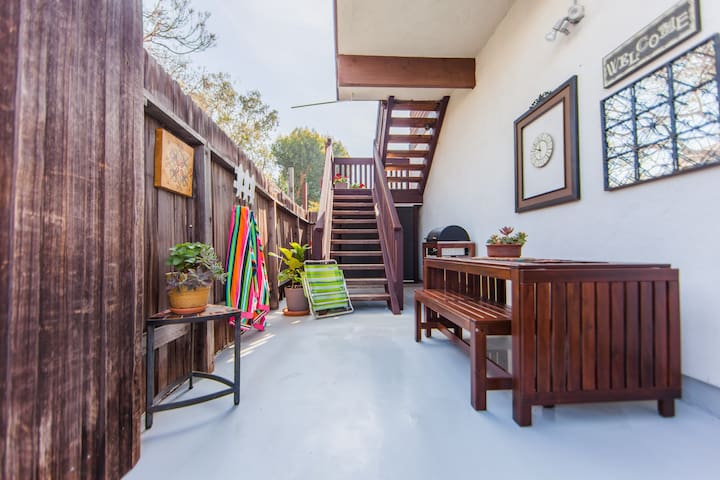 Private bedroom with two full sized beds and private bath in a fully furnished 2 bedroom apartment located near beaches, mountains and canyons (no LA/OC/beach traffic). Five minute walk to the Irvine Spectrum Mall with 160+ stores. Relax and unwind in this community that offers first class amenities: pools, tennis, gyms, club rooms, coffee shops, bar, dry cleaning, salons, park, walking track, fountains, plenty of palm trees and a private grocery/convenience store that delivers.
This private room features two full size beds, with a 12' mirrored closet. The room accommodates 4 adults. You have a very large private bathroom. The bedroom has a full dresser, 2 lamps, a chair, small breakfast stuff and half a walk-in closet with hangers for your clothes. There is high-speed wifi internet throughout the apartment. Families welcome - we also offer a pack and play baby bed if needed. No pets. We have a 1.5 year old daughter. She is well behaved and a lot of fun, if she cries we bring her into our bedroom or outside. This apartment is ideally situated less than a half hour from world-famous tourist attractions: Disneyland, California Adventure, Angels Stadium, Irvine Business District, golf courses and John Wayne Airport. Enjoy the arts and incredible dinning in Laguna Beach; attend live shows at the Verizon Amphitheater. Welcome to Irvine CA 2015 "24/7 Wall St." ranked Irvine the "The Safest City in America".
The city of Irvine is a very safe, friendly, high scale atmosphere. The luxury apartment community is multicultural resort style living This community has been voted one of the Best Apartments in Orange County. It has the look/feel and amenities of a first class resort. The community is located within a 5 minutes walking distance of the Irvine Spectrum, a world class shopping mall with movie theaters, comedy club, hundreds of retailers, exceptional dining restaurants, food courts and kid's friendly activities (Ferris wheel and kids train) Also you can visit the Marketplace center within 15 min walk, which includes Chase Bank, Wells Fargo, Rite Aid, Whole Foods and many other retailers. So everything you need during your stay is within walking distance
Love the place and love the host. The room and bathroom is secluded, and feels like your own place. Super clean, super comfy. Zoraida was accommodating, had water ready, tea, breakfast. Very comforting. Zoraida's husband was polite, friendly, and even offered my mum some cooked chicken that they bought. I will be contacting them again if I head back to OC.
Samara
2016-09-29T00:00:00Z
Our stay was great. Although we were in class all day & half the night it was good to come home to a quiet nice place. Zoraida was a perfect hostess & went out of her way to make us feel at home
Pat
2017-01-22T00:00:00Z
It was a very wonderful experience
Elizabeth
2016-10-23T00:00:00Z
Zoraida was very sweet and welcoming host.
Brian
2016-10-13T00:00:00Z
Zoraida's place was very clean and welcoming, and her little daughter was absolutely precious. The only negative impression I got was the atmosphere – while Zoraida mostly stayed out of our way after we checked in, we could easily hear some tense conversations between her and her husband, and the two of them also played a movie very loudly (the TV was on the other side of our bedroom wall) as we were trying to go to sleep. The apartment itself was very nice and Zoraida herself was nothing but helpful, but the overall energy of the night was a little uncomfortable.
Amy
2016-11-14T00:00:00Z
We had a great stay, me and my two sons stayed there for a basketball tournament and some sight seeing. Zoraida and her husband were excellent hosts. They were very helpful with ideas for things to do, and had some great conversations. It was very easy to get the room reserved even at the last minute like we did. The bedroom and private bathroom was perfect for us and was spotless clean. Everything was exactly as they said it would be and again it was all very clean. This was my first time using Airbnb and I loved it and will definitely stay here again.
Vance
2016-08-01T00:00:00Z
My wife and I experience our first stay with Airbnb at Zoraida's. We went to see the last concert at Irvine Meadows and had 1/2 of the house to ourselves to come and go as we pleased. It was very close to shopping, restaurants, and the venue. After the introductions were out of the way we never saw Zoraida again. It was like we were the only ones there which was nice. Worth a recommendation.
Steve
2016-10-31T00:00:00Z
I'm host was wonderful. Thank you!
Hai
2016-10-30T00:00:00Z
Typ av rum
Eget rum
---
Typ av boende
Lägenhet
---
Plats för
4
---
Sovrum
Irvine, Kalifornien, USA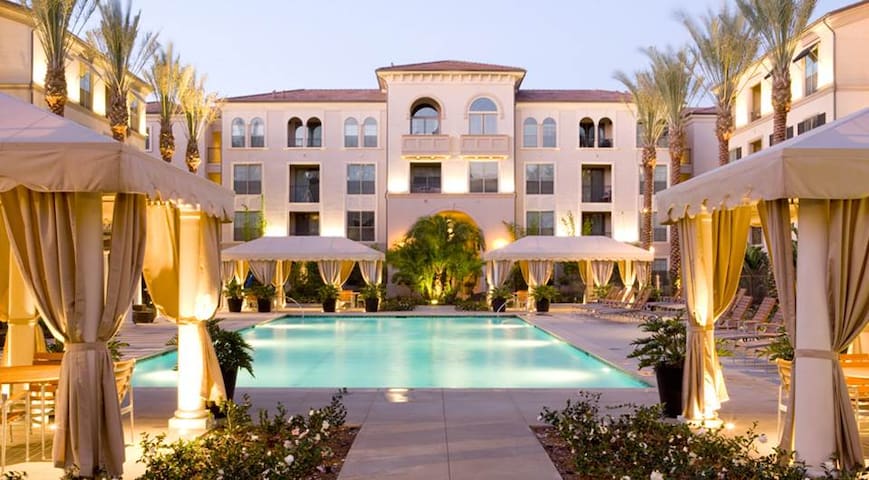 Stay at our place here in Downtown Santa Ana! Right in the heart of the up-and-coming Arts District, in one of Santa Ana's historical buildings. Its a cozy, well-kept studio, with plenty of space, awesome TV, and bike for use (if your feeling adventurous!). Its right across the street from some of Santa Ana's most lively bars, cafe's, and local eateries, and only two blocks away from 4th Street Market. Its definitely an awesome downtown experience, give it a go!
The studio is upstairs (2nd floor), with no neighbors above or below, so noise will never be an issue. The room place also comes with a queen-sized memory foam bed/mattress, and a nice 4k tv with amazing surround sound for movie nights. My bike is also available on the wall-rack, and is open for your use (unless I take it for the weekend -- in which case I'll make sure to let you know!)
The neighborhood is quite lively. It has a very Brooklyn-esque lifestyle. Some of the coolest bars, coffee shops, cafes, and restaurants are either across the street, or within two blocks (so all walking-distance!).
Typ av rum
Eget hus/egen lgh
---
Typ av boende
Lägenhet
---
Plats för
2
---
Sovrum
Santa Ana, Kalifornien, USA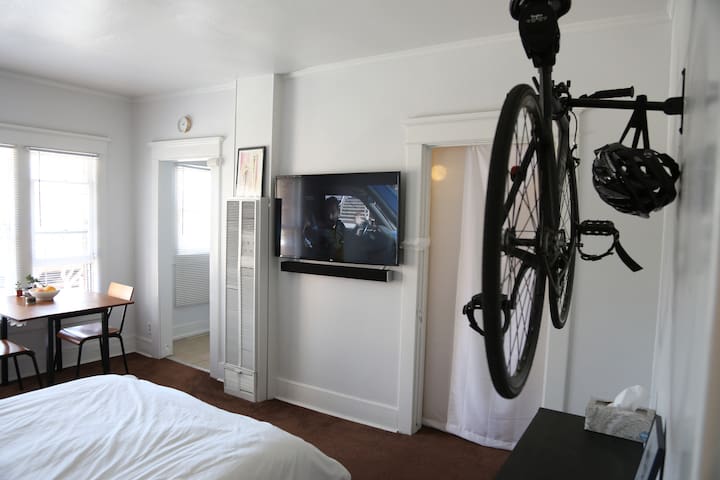 Upper unit of the charming, rustic oceanfront duplex we live in, right on the sand in Newport Beach. Absolute best location on the Balboa Peninsula, across the street from the supermarket and tons of bars & restaurants. Surf the waves and soak up the sun!
It is a rustic little beach house with old Newport's charming style. Small space -- bedroom, bathroom, living room, dining area and kitchen. Ocean view from all the front windows and comes with free surfboard rentals. It also has a private laundry room with washer and dryer. Please note that our homes are old Newport / rustic homes built in the 1960s -- our location is absolutely unbeatable, but please don't expect modern/luxury accommodations.
We think that Newport beach is one of the best places to live in the world, and we happen to live in the best part of Newport Beach. You won't want to leave!
Great location. Walked to beach, pier, restaurants and bars. Owner offered usage of his patio, but we chose to enjoy a glass of wine on the beach.
Susan
2017-02-26T00:00:00Z
The views are breath taking. I'd love to visit again.
Mike
2016-12-04T00:00:00Z
Mike's place was a pleasant stay. We loved how easy he was to communicate with. We would text him throughout our stay and he would always respond within minutes. This made our stay that much better. Since this was our first time booking with airbnb, we didn't know what to expect. I would say the place itself was a little outdated and not what we expected. However we had everything we needed and a great location. Thanks Mike for hosting!
Florence
2017-03-15T00:00:00Z
Thanks Mike for providing us with a clean and safe place to stay so close to the beach!
Sally
2017-02-20T00:00:00Z
This area of Newport is my favourite location in the world and I'm so glad I got to stay at this house which is right on the beach and right in front of the beachfront bike path which I love so much. Thanks so much Mike for hosting me. I loved the place and had a great stay.
Natalia
2017-02-08T00:00:00Z
This is a great place if you're looking for something on the beach! Very clean and quaint. I love that it's close to some wonderful restaurants serving great food. The only slight negative feedback I have is this place does get cold during this time of year especially with the windows slightly open ( I'm sure is great for summer time). The cool air felt great in the afternoon but got really chilly at night.
Gino
2016-12-16T00:00:00Z
Amazing location! You can see the ocean from the window but you have the upstairs studio, not the downstairs. It's beautiful to sit on Mike's patio and watch the sunrise. You're also so close to local bars and restaurants. We had a blast! The couch is comfortable to sleep on as well. It was cool that there was a blender, microwave and kitchen.
Nicole
2017-03-05T00:00:00Z
I liked the house. Mike responded quick and the place was ready for us when we arrived. The location was beautiful. The only issue I had was the sleeping place. The bed was small for 2 people.
Tina
2016-05-20T00:00:00Z
Typ av rum
Eget hus/egen lgh
---
Typ av boende
Lägenhet
---
Plats för
3
---
Sovrum
Newport Beach, Kalifornien, USA
Fall asleep to the sound of the waves and wake up to pure tranquility in an oceanfront 2 bed/1 bath studio, perched above miles of sandy coastline in the quaint town of Laguna Beach. Enjoy a short walk to the beach, restaurants, and shopping!
Step out onto the shared deck for breathtaking sunsets over the Pacific... Situated on prime oceanfront property near the heart of Laguna Beach, you'll experience peace and ultimate relaxation with breathtaking ocean views and miles of sandy beaches in a fully furnished and well appointed beach cottage. Walking distance to Laguna Beach Village where you'll find the main beach—famous for it's white lifeguard tower, amazing restaurants, dozens of shops, art galleries and endless entertainment at your fingertips. This bright and charming 1 bedroom, 1 bathroom unit was designed with a spacious layout oriented to take advantage of the unobstructed ocean views through the oversized windows and french doors and opens up to the shared deck. With a comfortable queen-size bed and a full-size futon, it's the perfect size to sleep up to 3 people comfortably. The bedroom is just off the living area is separated by an open doorway, adding a touch privacy and coziness. The bedroom area includes a mirrored dresser and closet space. Enjoy having a fresh cup of coffee in the morning without leaving the comfort of your room in the tiled open common room which is complete with a glass dining table for 4, a sitting area with a coffee table, and a flat screen TV. The tiled seating area is flooded with light from the oversized window where you can enjoy amazing panoramic views of the ocean. With exceptional views, an amazing location in the heart of Laguna Beach, a spacious layout, a flat screen TV and WiFi, you'll have everything you need to relax and enjoy true beachfront living at it's best. Known for its pristine waters and preserved park-like waterfronts, Laguna Beach offers more than just a quiet beach getaway. Explore over 20 different sandy beaches, each unique with tide pools and secluded private coves. Feel the stress melt away as you get back to nature and experience untouched beauty. But that's not all this idyllic coastal city offers… Art lovers will adore this city's rich culture, kept alive today by dozens of art galleries, several art museums, and plenty of art festivals including phenomenal live art performances at Pageant of the Masters. Please note: * The unit comes with a mini fridge and a standard coffee maker. There is no kitchen. * The adjacent beach access at Oak St and Mountain Rd is being rehabilitated by the city of Laguna Beach. The constructions will take place from December 2016- June 2017 and may cause a disturbance. An alternate beach access is located at Cress or Brooks St to the north. * The property is being staked this week for planning commission approval. * Smoking is not allowed! * Pets are not allowed!
1.4 miles to Heisler Park. 3.5 miles to Crystal Point Park 1 mile to Laguna Beach Trolley Walking distance to Nick's Laguna Beach, Wahoo's Fish Tacos, Banzai Bowls,Selanne Steak Tavern Ralphs & Whole Foods nearby
Amazing location and great apartment. We loved being able to walk to all the great shops and restaurants and the view is exceptional. Had a wonderful weekend here!
Alison
2017-01-01T00:00:00Z
This place was killer.
Grant
2017-01-27T00:00:00Z
This studio is in a wonderful location in Laguna Beach! That was the best part of staying here:-) Beautiful view, right on the ocean, and easy to walk to everything!
Janell
2016-11-11T00:00:00Z
The location can't be beat! I would absolutely stay here again. Thank you for the amazing experience!
Lauren
2016-08-17T00:00:00Z
We got everything we bargained for! This place was incredible and the pictures listed accurately depicted what we could expect. Communication was excellent and expedient! This team really has it together. There were only two negatives to the entire experience and the owner/host is not responsible for either. They answered our every question and fulfilled our every request!
Candi
2016-08-04T00:00:00Z
The location, deck, dolphins frolicking, and the sunsets were amazing. Thank you, we'll be back!
rich
2016-03-27T00:00:00Z
Whats not to like being right on the beach in Laguna. The electronic lock was perfect, no keys to cary to the sand. I love the area, been there many times. Get up early walk to town grab a coffee and snack and enjoy the sunrise. Lots of great shops and the gelato place hidden inside the walk in mall was great. A short trip south to the Montage beach area is another treat. We slept all night listening to the ocean after a perfect sunset. SoCal at its finest.
william
2016-09-26T00:00:00Z
If you want to be on the water, with the ocean crashing just below your deck, and a view of forever...and you don't mind a minimal room...this place is perfect. The room has a tiny bathroom with a great shower right off the sleeping area. The living area is all glass with a panoramic view. There is a couch that folds out into a bed, a glass dining table with four chairs, a mini-fridge and a coffee maker. There is a huge TV, but why would you watch it with the ocean outside your door? No microwave in case you were wondering. The unit is one of three on that deck level (with two floors above). The other two units pass by this unit to exit. The deck is huge with two nice plastic adirondack chairs to sit and sip your wine and behold the Pacific. We stayed on a cold night in January. The owner had extra blankets brought over and there is a small space heater that worked fine. Again, this place is about being right on the water. Everything else is a detail. (Speaking of details, they have Folgers coffee and Lipton tea there, so, if you have more sophisticated tastes, bring something with you. Also there is a great espresso shop across the Coast Hwy, Koffee Klatch, I think it was called.)
David
2017-01-24T00:00:00Z
Typ av rum
Eget hus/egen lgh
---
Typ av boende
Lägenhet
---
Plats för
3
---
Sovrum
Laguna Beach, Kalifornien, USA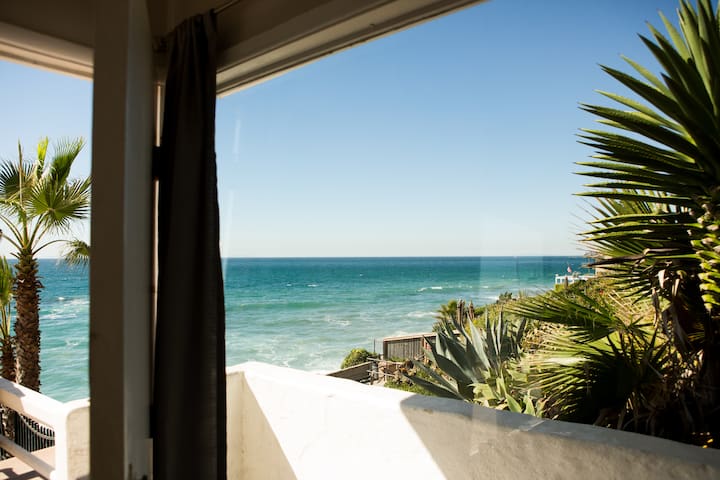 Ultra upgraded accommodations. Close to beaches, restaurants and shopping. Gourmet kitchen and very nice living room with patio including BBQ. Living room and bedroom include 50" 4K TVs. Hiking and mountain bike trails close by along with an amazing sports park and other recreations.
Robby is very inviting, and knows how to make any guest feel comfortable and at home. The place is really as nice as the pictures. Book your stay here for a good night's sleep with more upscale, fine furnishings.
Gary
2017-02-09T00:00:00Z
Robby is a good dude and his place is very nice. Worked great to stay the night close to my meeting venue instead of fighting the traffic. Would stay again in the future.
TJ
2017-01-17T00:00:00Z
We stayed for 2 nights with my husband. Robby is a very nice guy and host. His apartment is well kept and furnished tastefully,makes you feel like at home. We had an access to the kitchen and shared bathroom. He also have a dog that will be excited to meet you. There is a plenty of parking.Overall, nice and positive experience. Thank you Robby for sharing your house with us!
Tatsiana
2016-12-02T00:00:00Z
Robby is a great host. I had so much fun staying at his place for a week
Paras
2017-02-02T00:00:00Z
I arrived to a very clean and well-decorated place. I gave Robby advance notice about my arrival and received an immediate response, and an invitation to dinner! Everything was advertised and pictured and the trip was smooth. Small warning: He has a very excitable, friendly dog. When I arrived, the dog was happy to welcome me. If you have a fear of dogs I would recommend telling Robby about it in advance.
Victor
2017-01-15T00:00:00Z
This was the second time I stayed at Robby's. I'll stay again when I'm back in the area overnight.
TJ
2017-02-14T00:00:00Z
Robby is very friendly host. His place is very clean and he walked me through everything at the time of check-in. Rooms is well decorated. I had a good sleep. Nice location. I am not that much into dogs, but this is a great place also for Dog lovers.
Bobby
2017-02-08T00:00:00Z
Everything other reviewers have said positively was exactly how Robby, his space, and dog were. There was no issue with one bathroom, and for the most part it felt like we were staying alone at his place. Bed was very comfy!
Kellee
2017-03-05T00:00:00Z
Typ av rum
Eget rum
---
Typ av boende
Lägenhet
---
Plats för
2
---
Sovrum
Lake Forest, Kalifornien, USA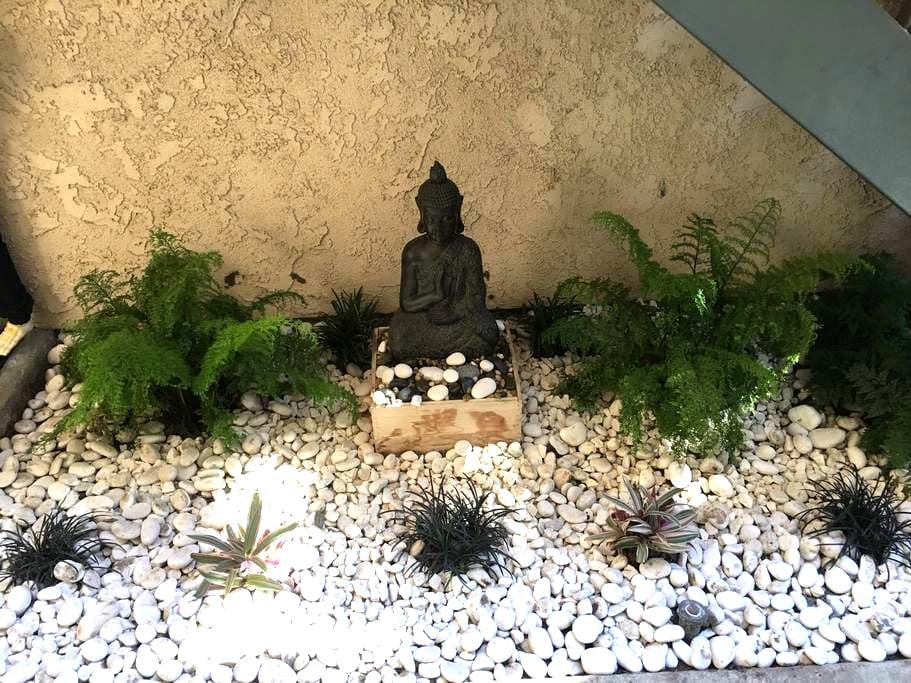 Come experience resort style luxury in our master suite with private bathroom, TV with Netflix and snacks. Enjoy free parking, wifi, sparkling pool, spa, exercise room etc. close to Disney, Angels stadium, Anaheim convention center, Hollywood, knotts berry farm and Huntington Beach. Small friendly lovable well behaved dog on premises.
Shopping, attractions, central location, friendly beautiful surroundings Disneyland, Santa Ana airport, Huntington Beach, Anaheim Convention Center, Honda Center, Knottsberry farm, main place mall, the outlets at orange, Hollywood and more!
Angela was an excellent host and made the extra effort. She was accommodating when I had weird check in and check out times. The bedroom and bathroom were absolutely immaculate. And she made breakfast for me.
Arman
2016-11-22T00:00:00Z
This was a great place for my daughter and I to stay while visiting Disney, it is very close. Angela's hospitality makes it so comfy and convenient by getting back with you right away, meeting you at the gate to show you in, and making you breakfast.
Crystal
2016-10-19T00:00:00Z
When I was looking for a place to stay in Anaheim I came across this listing. At first I thought it was to good to be true. The pictures seemed like they were taken from the internet. So I check where it was located on the AirBnb map and on (SENSITIVE CONTENTS HIDDEN)Maps. I matched both map locations and I was surprised that this listing was legit. So I booked it. When I arrived at the location I was so mesmerized how beautiful the apartment complex was. So I get a tour of the vicinity and yes there are cabanas with TVs, a pool, a weight room (gym) and a parking garage. The moment I step into the apartment I was just jaw dropping of how big and spacious. Angela shows me the room I'm staying in and I looked amazing. Snacks available with a breakfast menu. Wifi available and Netflix to watch for free. If I had to come back to Anaheim or SoCal region I would definitely reserve this place again. I enjoyed every minute of my stay and I would recommend anyone that goes to Anaheim or SoCal region to stay in Angelas place. I 110% enjoyed the hospitality and generosity from Angela and her family.
Guillermo
2016-10-10T00:00:00Z
She and her husband are so kind person. Good communication, comfortable room, clean bathroom, moreover, my friend and I could choose our morning depend on our preference. It's the first time I use Airbnb and it was a good memory. Their please is good for going Disney land
萌
2016-11-26T00:00:00Z
We had an amazing stay with Angela and her family. It was the perfect place for a quick trip to Disneyland! Angela was very accommodating and very friendly. Would definitely stay here again!
Dannielle
2016-10-23T00:00:00Z
It was a short stay but an enjoyable one. Angela was very kind and helpful.
John
2017-02-17T00:00:00Z
Angela is very friendly and accommodating! My friend and I were on a bit of an odd time schedule and Angela allowed us to drop off our bags early while she prepared the room. Angela and her family are great company -- outgoing, open to conversation, gave us great suggestions on things to do during the weekend, and at the same time was very respectful of our space and privacy. The room was very clean and comfortable. Bathroom is connected to the room which is a plus. The place is close to Disney -- not walkable, but it is only about a 10 min drive. Free and convenient parking, lovely apartment. Didn't have time to check out the pool/jacuzzi/workout room but Angela offered to show us around and said we were free to use it as we pleased. Central location to many towns along the coast of CA if you're looking to hop around and visit different places. We made it to Huntington, Venice, Los Angeles, Laguna and back to Anaheim all in one day! Would definitely stay here again!
Olivia
2017-02-12T00:00:00Z
This was my first Airbnb experience and I only stayed one night. Modern apartment complex. Stayed in what appears to be a 3 bedroom apartment. Husband, wife, baby, and dog stay in a separate rooms across the big living room so there's good space separation to keep noise away from each other. Super nice and friendly family. Sleep is most important to me and I slept really good. Didn't hear any baby crying or dog barking. Clean towels, linens, Netflix on TV. Very hospital family, competitively priced, and I would consider staying here again.
Michael
2016-09-28T00:00:00Z
Typ av rum
Eget rum
---
Typ av boende
Lägenhet
---
Plats för
3
---
Sovrum
Anaheim, Kalifornien, USA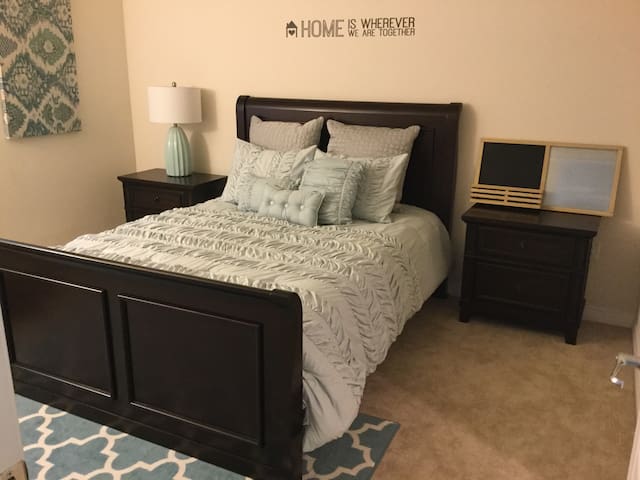 This beautiful 2 bedroom Apartment has two Master bedrooms each with their own bathroom, laundry room, and access to patio. Close to airport (SNA), great shopping (South Coast Plaza), Entertainment (Segerstrom Center), Restaurants, and Beaches.
Mater Bed with Queen size Bed with storage space and private bathroom, laundry room, full kitchen, fire place, patio, and wifi Barber Service Available Upon Request
1.5 miles away from SNA airport Walking Distances from South Coast Palza Shopping Mall Walking distance from CVS (pharmacy) Various Restaurants/Bars within walking distance -(Mastro's Steakhouse, TGIFidays, Bufallo Wild Wings, etc). Across the street from the Segerstrom Center 10 minutes from Newport Beach. 20 minutes from Huntington Beach 20 minutes from Laguna Beach 39 miles from LAX 45 minutes from Hollywood
I can't even begin to explain how amazing these two are! When we first got there they gave us a tour and their vibe was so cool to be around. They are super chill, fun, and their hospitality was just a bonus :) the room is perfect, it's own bathroom which they have supplied with things you wouldn't even think of needing but they have you covered lol It was my 22nd birthday weekend and they were the perfect people to be around! Even talked over wine to celebrate :) we just wish we could've spent more time with them!! 2 days wasn't enough. I can't wait to come back, this will be my first stop!
Melissa
2016-05-25T00:00:00Z
The host canceled this reservation 20 days before arrival. This is an automated posting.
Jazmine
2017-02-23T00:00:00Z
Stayed there twice! Very happy at Gerome and Picoyla's. They are great people. Very clean and accommodating.
Justine
2017-01-10T00:00:00Z
We had such an amazing and comfortable stay here. Gerome and his wife were very accommodating and thoughtful hosts. We would stay here again in a heart beat!!
Ben and Lucy
2017-02-27T00:00:00Z
The directions were perfect. Its hard to see how this apartment is laid out till you arrive and see. Its not as large as (SENSITIVE CONTENTS HIDDEN) maps shows it. His building is very close to the front gate and the workout building and swimming pool.
Harvey
2016-01-10T00:00:00Z
Gerome and Piquoia are kind and lovely. The room is clean and modern ,got everything u needed. I love to sit at the balcony. The complex for the apartment is very big ! fitness, movie theatre, pool etc. Would stay here again.
Beau
2016-01-23T00:00:00Z
Excellent host, very accommodating. Highly recommend, will stay there again.
Domitros
2015-11-18T00:00:00Z
The room is very nice and the host has supplied very good service during my stay. Nice neighbourhood also
Allan
2016-03-04T00:00:00Z
Typ av rum
Eget rum
---
Typ av boende
Lägenhet
---
Plats för
2
---
Sovrum
Costa Mesa, Kalifornien, USA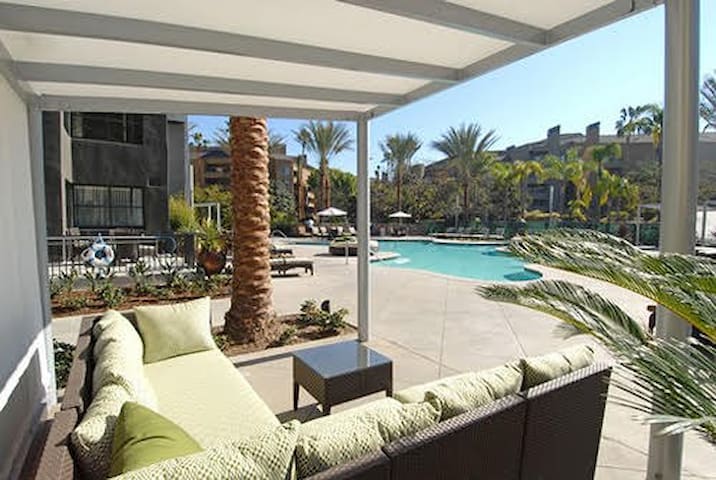 My place is close to restaurants and dining. Downtown Fullerton is a 10 minute drive. Disneyland is 15 minutes away. Love my place because of the Queen size memory mattress, pool, gym. My place is good for couples, solo adventurers, and business travelers. Let us know what you would like and we will try to accommodate.
Space includes a Queen size memory foam mattress and a private bathroom. You will have access to living room with cable TV includes HBO, Showtime, Cinemax with kodi entertainment system and Time Warner digital cable.
Great stay! We arrived very late, but they were very accomidating! King bed was super comfortable and bathroom included towels and shampoo.
Min
2017-03-23T00:00:00Z
Clean place with easy access to lots of restaurants as well as the Fullerton campus. Very comfy bed with Netflix and a full movie selection. Hosts were very welcoming and friendly!
Kevin
2017-04-01T00:00:00Z
Best accommodations. Very clean, quiet, beautiful view, and fast response time (even at 2am). We were so relaxed we actually extended our check out. If we didn't have to get back to kids and work we would have stayed longer. If you are a couple just wanting to relax for the weekend, it's perfect. We will be back. Everything was great.
Clara
2017-03-29T00:00:00Z
Nice comfy bed provided after a day spent at Disneyland, it's only a 15 minute drive. Slight trouble finding parking because the two apartment buildings are identical with the same parking space numbering.
Emma
2017-03-31T00:00:00Z
Such a great experience at this AirBNB! To start, the bed is HUGE and very comfortable; the room includes its own bathroom with a great shower; and the balcony is great for stepping out and getting some fresh air. Access to their kitchen meant I could save money by cooking. As for the host, they were friendly and personable, and also gave me plenty of space to myself. Oh, and did I mention this place has access to a pool and hot tub? Definitely one of the better locations I've stayed in, and highly recommended!
Aaron
2017-03-08T00:00:00Z
Typ av rum
Eget rum
---
Typ av boende
Lägenhet
---
Plats för
1
---
Sovrum
Fullerton, Kalifornien, USA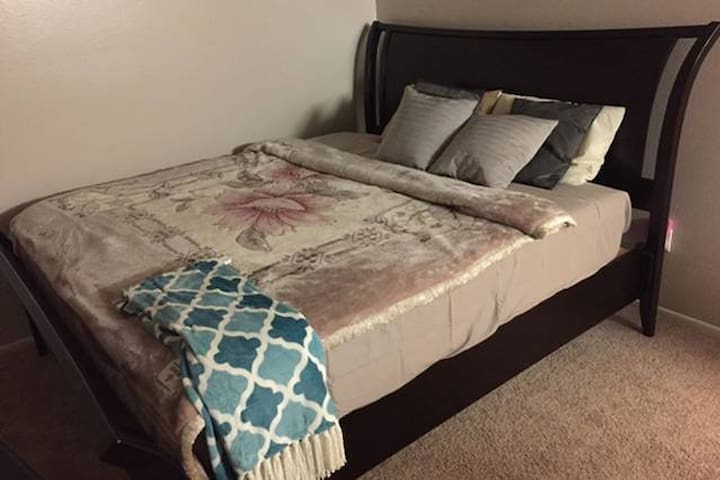 Two rooms, 2 beds for 4 guests, whether you are family of 4, or two couples, Your kids or your guests will have theirs own room, You and your guests will occupy entire place for a price of private room. Our place is aprox. 3 miles or 12min drive to Disneyland, Anaheim Convention Center, 8min to Angle stadium, Honda center, 25min to Newport beach, Huntington beach and walking distance to The outlet at Orange, 1 hr to LAX, 2hrs to San Diego Zoo,.. .totally private.
Two rooms separated from Unit #B, room #1 has a quen bed with 40" smart TV, room #2 has a full bed with 32" smart TV, free Netflix movies, free WIFI internet, Blu-ray player. Wall unit AC, Central air heater for two rooms. One assigned parking in the carport. Keys are in the lockbox for self check in 24 hrs. The apartment is well lit until 3am for late check in or back home late. Relax in the patio,totally private, you will enjoy your stay, no one will ever bother you, just you and your guests...
Most of the neighbors are catholic families, quiet, polite and respectful. There should not be any problems.
Nice stay with reasonable price. The place enjoys a good privacy, perfect for families with kids.
qianli
2016-09-03T00:00:00Z
Super logement,trés propre, Troy est tres serviable et donne de bons conseils, des boissons ,eau, soda et meme bieres et des soupes étaient à notre disposition. Wifi super aussi , Je reviendrais .
guillaume
2016-08-07T00:00:00Z
My friends and I had a great one week stay at Troy's place. He was kind and accommodating to us. The rooms were clean and comfortable. The bathroom looked newly remodeled. Troy provided us with plenty of water and drinks for the week which was convenient. We felt safe at the neighborhood and there is a 7-11 within walking distance from Troy's place. We had everything we needed for a comfortable stay. We recommend staying at Troy's place and will gladly come back on our next visit!
Anastasia
2016-07-30T00:00:00Z
Everything was very clean. A perfect place to spend the night. I'd never meet Troy but he told me how to do to get in the house.
Andrea
2016-06-08T00:00:00Z
Very quite and welcoming place. Troy made it a very pleasant experience.
Katrina
2016-05-14T00:00:00Z
The place was very nice. Rooms were adequate, and the bathroom had nice hot water. The instructions given to find the place were somewhat confusing; Troy made himself available to help.
Josh
2016-11-01T00:00:00Z
My fiancé and I really enjoyed staying at Troy's place. Like other review say he leaves sodas and waters in the fridge, he also had some cup of noodles in case one gets hungry. This was both, my fiancé and I's, first time using AirBNB and we both were wowed by our host. We had a great time and greatly appreciated the opportunity to stay at his place. The neighborhood was quite and safe. We would stay here again in a heartbeat.
Samantha
2016-10-07T00:00:00Z
Troy's place is very nice and cozy. Everything that's included is as described in his description. It's very well located and has a fantastic outlet shopping mall (The Outlets at Orange) located just half a mile away from the property. It's easily less than a 10 minute drive to Honda Center or Angel Stadium as well. The only thing was that there was a slight crack in the window that allowed the smells from the bin outside to drift into the room - this was quite unpleasant but Troy has been notified and he is going to fix it up before the next guest checks in. On another note, Troy also left us a fridge full of cold water and soda too!
Joey
2016-10-07T00:00:00Z
Typ av rum
Eget hus/egen lgh
---
Typ av boende
Lägenhet
---
Plats för
4
---
Sovrum
Garden Grove, Kalifornien, USA
This roomy two bedroom unit is located in the heart of Orange. Walk a few blocks to the Orange Circle, coffee shops, restaurants, antique shops, Chapman University and public library. Enjoy a full kitchen and super comfy living space.
The space is perfect for 2 people or 2 couples. It's cute, roomy, comfy. 2 bedrooms each with queen sized bed (previous reviews mentioned bed that was too soft and sinking in but has been replaced with new bed) The kitchen is equipped for cooking - it has filtered drinking water, a refrigerator, a full 4-burner gas stove and oven, microwave oven, a toaster and a coffee maker. As well as pots and pans, utensils, basic spices, paper towels, etc. There is a dining area that accommodates 4 comfortably. The bath is equipped with clean towels, toilet paper, hair dryer. Please bring your own bath soap and shampoo.
The neighborhood is great, short walk to the circle and central to everything OC - Beaches, Disneyland, etc. The triplex is next to another triplex so there are a lot of cars but very friendly neighbors.
We enjoyed our stay in Bobi's place. It does give you a "home away from home" experience and you have everything you need. The place is very spacious and there is nothing to complain about. The neighbors are very friendly and some are nice enough to stop to say hi when my baby plays in the yard. Location is also good. A short drive to Disneyland.
Siang Leng
2016-06-07T00:00:00Z
We had a great stay at Bobi's bungalow. The perfect alternative to the Disney-focused hotels. Great location (especially to Old Towne Orange - charming shops, cafes, restaurants) and a quick drive to Disneyland if that's where you are headed. Our family of three wouldn't hesitate to stay their again. Safe, cozy, and clean. Thanks Bobi!
Brendan
2016-04-14T00:00:00Z
Bobi's place is perfect for a family needing a 'base' while in Orange. It is clean and spacious with a space to park off street, cooking facilities and laundry facilities. We were really happy with our stay, and are looking forward to staying again in the future.
Shannon
2016-12-24T00:00:00Z
Bobi was great about communicating prior to arrival- she also accommodated my friend who wanted to bring in welcoming surprises for our arrival. The place was very clean, well cared for, and perfectly located. We would definitely stay there again.
J
2016-10-23T00:00:00Z
Bobi was great. The home was perfect and compfortable.
Dee
2017-02-19T00:00:00Z
强烈推荐!安静、极干净、很温馨的住处,房东很友好,帮助我们很多,耐心的回答我说问题!下次我会更有经验,希望再次入住!
Hui
2016-05-09T00:00:00Z
Bobi's place is so conveniently located. It was an easy walk to Orange Circle and all the good restaurants and cute shops. It was a short Uber ride to Disneyland and really convenient to visiting colleges in Orange County. We had a great stay.
Sally
2017-03-24T00:00:00Z
这是一套独立房屋,两室两厅一卫,可做饭,周边环境类似小镇,干净清新。购物洗衣都较方便。门口有一个私人停车位,离橙县奥莱、迪士尼都很近。适合慢节奏的旅游者。
扬凯
2017-02-03T00:00:00Z
Typ av rum
Eget hus/egen lgh
---
Typ av boende
Lägenhet
---
Plats för
4
---
Sovrum
Orange, Kalifornien, USA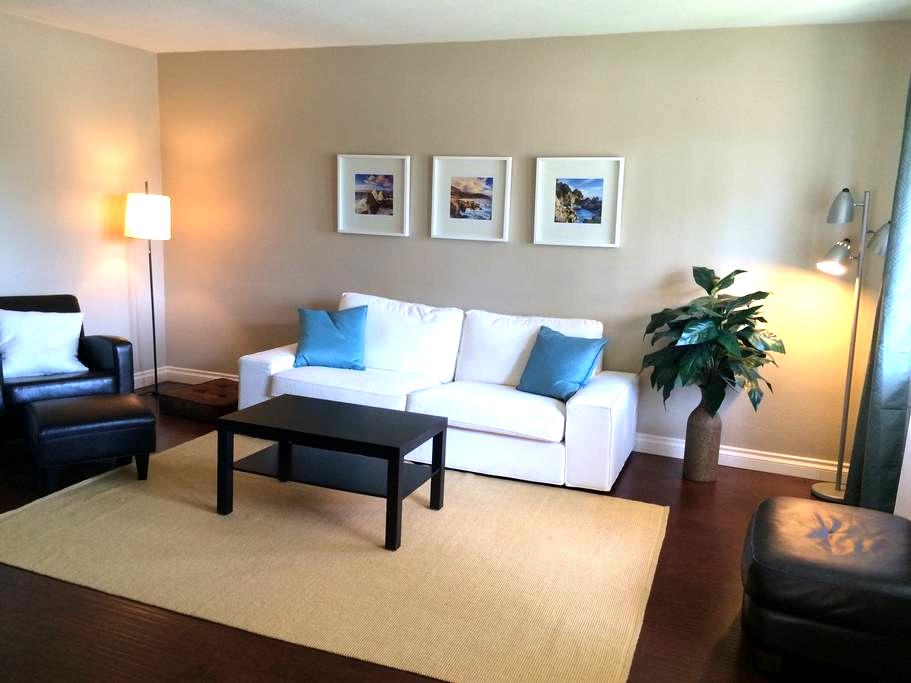 Brand New apartment furnished 65inch and 55inch smart curved tv's! Netflix, Wifi, Cable, Salt Water Pool, Spa, Outdoor TV's, Horseshoe Pits, BBQ, Office lounge with option Mac or PC with printer, Wifi at pool, Gym, Fire Pit. Restaurants, Bowling, Bars, Movies across the Street! Close to SNA airport.
Walking distance to shops, restaurants, Costco, In & Out, movie theater, bowling, night life and much more. 5 miles from SNA Airport "John Wayne". 10 minute drive to Newport and Corona Del Mar Beach. 20 minutes from Laguna Beach. 15 Minute drive to Disney Land and Anahiem Stadium.
The central location within it's own escape across the street to hang out.
We were so thankful that Lance accommodated us on short notice. It was a very nice place to stay in a great location. He was a great host. It was a great way to celebrate the New Year!
Scott
2017-01-02T00:00:00Z
I stayed here for 7 nights. The apartment was exactly as described. I loved the 2 large televisions and the kitchen which was stocked with plenty of cooking essentials. The location was fantastic and close to shops, cinema and restaurants. All within walking distance. The host was only a text away and replied to any of my queries within minutes. Overall a great choice and I definitely recommend.
Courtney
2016-12-27T00:00:00Z
Great location, comfortable place, as described.
Jaime
2017-02-16T00:00:00Z
easy check - in , a 10 minute walk to The district where you have everything you need .
Emre
2017-02-19T00:00:00Z
This is my second time staying at lance's place. And it was perfect as always. The apartment and the apartment complex is perfect for a long stay or even just a day or 2.
Adriano
2016-10-10T00:00:00Z
The apartment is really nice and comfortable. Yet, the location is kind of not what I was expecting. So it will be nice if you have a car to drive around.
Vincent
2016-08-30T00:00:00Z
This place is perfect if you're traveling for business and want to be close to everything in Irvine. It's a big space and great value. Really felt like home. Would definitely stay again!
Sarena
2017-03-19T00:00:00Z
Five stars!
jamie
2017-01-06T00:00:00Z
Typ av rum
Eget hus/egen lgh
---
Typ av boende
Lägenhet
---
Plats för
4
---
Sovrum
Tustin, Kalifornien, USA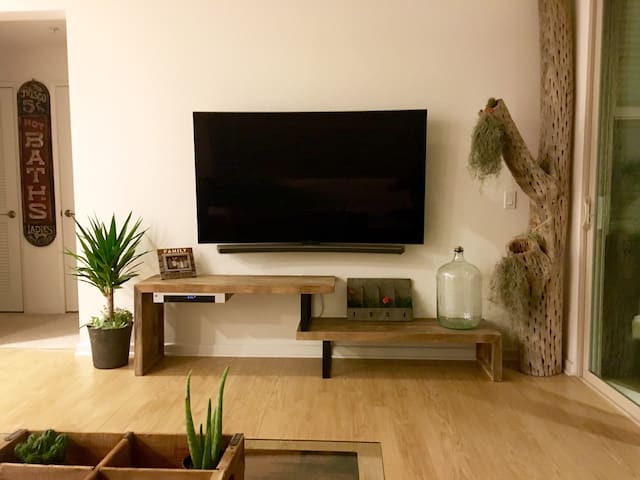 6 minutes to beautiful downtown Laguna Beach. Lush garden with neighborhood park and hiking trails. Private apartment attached to home. Furnished in the style of an European Boutique Hotel with linens and stocked kitchen. Bus to Laguna Beach picks up at the corner. Quiet neighborhood. Parking. Guests from all backgrounds are welcome.
Typ av rum
Eget hus/egen lgh
---
Typ av boende
Lägenhet
---
Plats för
2
---
Sovrum
Aliso Viejo, Kalifornien, USA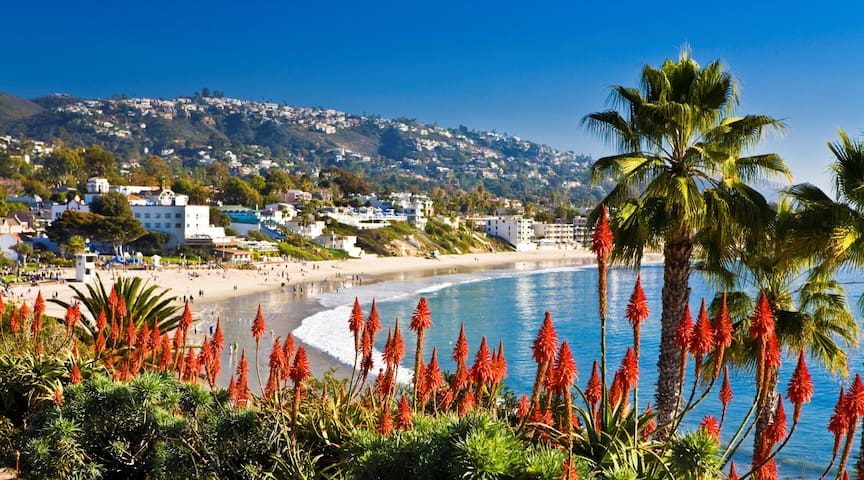 My place is close to the beach, parks, restaurants and dining, and great views. You'll love my place because of the outdoors space, the light, and the neighborhood. My place is good for couples and solo adventurers.
Jordan was a great host. The place was clean and the sleeping quarters were quite big and very much suited our needs. He was personable and very accommodating. I recommend staying at his pad!
Greg
2016-08-14T00:00:00Z
Jordan was very nice and super fast at responding to me with any questions or concerns I had. The room was exactly as pictured and his pad was very nice overall. Very clean. Very quiet. Parking was, however, a real pain most of the time. Overall a really good experience! I would stay with Jordan again.
Tyler
2016-09-05T00:00:00Z
We had a terrific time at Jordans. He was very clear and prompt with his responses. We felt right at home and definitely a place we would recommend
Henry
2016-07-26T00:00:00Z
Typ av rum
Eget rum
---
Typ av boende
Lägenhet
---
Plats för
2
---
Sovrum
Huntington Beach, Kalifornien, USA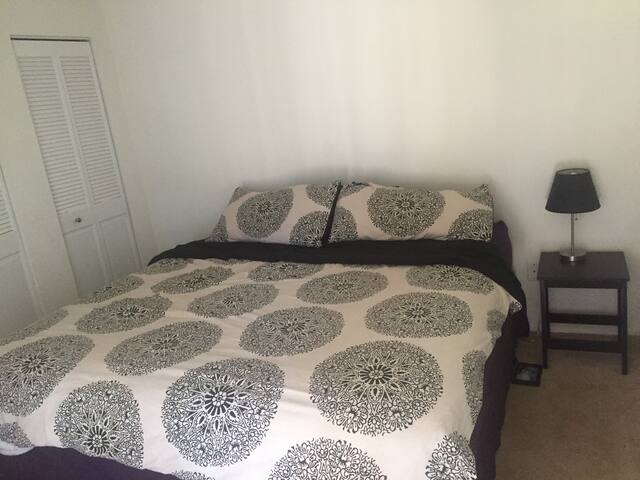 The Condo is close to entertainment locations, shopping to include the new " Source" Mall and Hotel complex (scheduled to open in the Summer Date (TBD) and access to freeways for travel. Knott's Berry Farm is 1.9 Miles away and Disneyland is 7 miles both within 15 min. Beaches are within 30 -45 min away, and Hollywood is 27.3 miles away. Large Private Community Pool with first come first serve Cabanas and BBQ Grills available.
Curb Parking on a first come first serve basis. Security and Patrol car are always on the premises provided by HOA.
New home in a new community. Address not on (iPhone) maps yet but it is on (SENSITIVE CONTENTS HIDDEN) Maps & Waze. Parking is on the curb on first come first serve basis. Home has modern decor & David was very communicative & replied really quickly to all our questions. Location was convenient for the event we were going to in Santa Ana & Disneyland. The only thing is the cleanliness of the bathrooms & some parts of the floor as well. But it was also convenient that there were 3 bathrooms. Overall, nice place to stay at! Check in & out was easy. Just the cleanliness of the bathrooms is why we docked some stars.
Jamel
2017-02-19T00:00:00Z
David was awesome and the place was great!
Alex
2017-03-19T00:00:00Z
David's place was great. Perfect location; only minutes from Disney, Beaches, tons of restaurants...basically anything you could want. Condo was clean and stocked with anything you could need. The only thing I was disappointed in was there wasn't a closet or dresser to put our clothes in. Other than that it was amazing and David is so helpful and an awesome host! Definitely would recommend.
Sarah
2017-03-14T00:00:00Z
Recently built condo in a great location. Very clean and everything as described. The host responds very quickly to meet your needs. Would definitely recommend to a friend or family member.
Ellie
2017-01-31T00:00:00Z
Amazing place close to shopping centers and Disneyland. David was super helpful and a great host. Definitely recommend staying here.
Raul Jr
2017-02-26T00:00:00Z
The host canceled this reservation 9 days before arrival. This is an automated posting.
Sara
2017-02-02T00:00:00Z
This place is beautiful, comfortable, clean, and all around amazing. Plenty of space for living. I will stay here everytime from now on if it's possible.
John
2017-03-26T00:00:00Z
Amazing place! absolutely gorgeous interior design, comfort and chill level literally 110%! So spacious! the kitchen is great! the Living room is dope! theres a balcony! 3 spacious bedrooms! tons of bathrooms! huge TV's all around for entertainment! David was awesome and I will def stay again! $$ Price was unbeatable :)
Sherwin
2017-01-23T00:00:00Z
Typ av rum
Eget hus/egen lgh
---
Typ av boende
Lägenhet
---
Plats för
6
---
Sovrum
Buena Park, Kalifornien, USA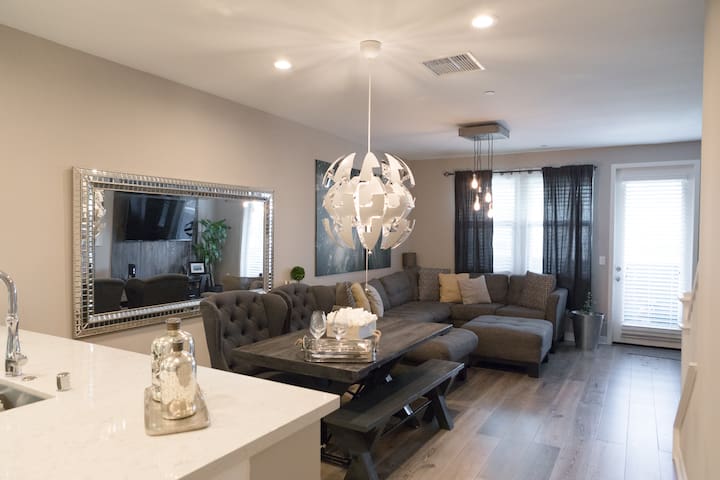 This bright, minimalistic apartment has everything you need to feel right at home. It is located right downtown and is within walking distance to restaurants and shopping. The beach is also about a 15-minute walk away and we are two blocks from Del Mar St. You won't need a car as you can walk everywhere or hop on a train to go up or down the coast.
Growing up in Southern California, no further than a couple of blocks from the beach has truly made my love for the ocean and people like no other. I tried to think of everything I would want if I were away from home and I am always adding new touches as I think of things. I love having happy guests so please let me know if you need anything during your stay.
The apartment is located downtown and literally within walking distance to everything. Walk out the door and you have your choice of over 20 different restaurants and retail stores to choose from (two of our favorites are right next to our apartment). Starbucks and Bear Coast Coffee (our favorite) are a few blocks away and the beach and pier are down the hill. On Sundays there is a farmers market that is lots of fun too!
What a beautiful apartment in the lovely town of San Clemente! The space was very comfortable and easy to stay at with all the things you need for a wonderful visit to SoCal. Apartment is clean with new comfortable amenities. The hosts are very easy going and attentive to all the need of their guest.
Bryan
2015-10-13T00:00:00Z
Great place, and great hosts! They were super friendly and helpful, though we didn't need much as the place was pretty much perfect. This is exactly what you'd hope the place to be if you're looking for a nice, clean apartment in San Clemente near the beach and in town. We'd definitely stay again.
Yuval
2015-12-29T00:00:00Z
This was our second stay at this apartment and it continued to exceed expectations. The location is perfect, host service is top notch and apartment is clean, comfy and as advertised. We will be back!!
Melissa
2016-11-11T00:00:00Z
Great place - good location - great hostess
David
2016-04-12T00:00:00Z
Tolle Wohnung mit super Ausstattung Der Strand ist in 15-20min zu fuß zu erreichen.
Sebastian
2016-07-28T00:00:00Z
Lovely place! We enjoyed our stay, the accommodation, the washing facilities and all the helpful it's and pieces available for us to use. Perfect location and love the bar across the road. HIGHLY RECOMMENDED!
Rebecca
2016-06-03T00:00:00Z
Apartment was in a great location - so convenient!
Jean
2016-05-25T00:00:00Z
The neighborhood and the apartment were fantastic and Melanie and Manny were super accommodating and easy to work with. Only wish I could have stayed a little longer and enjoyed the area.
Jaysen
2015-06-10T00:00:00Z
Typ av rum
Eget hus/egen lgh
---
Typ av boende
Lägenhet
---
Plats för
2
---
Sovrum
San Clemente, Kalifornien, USA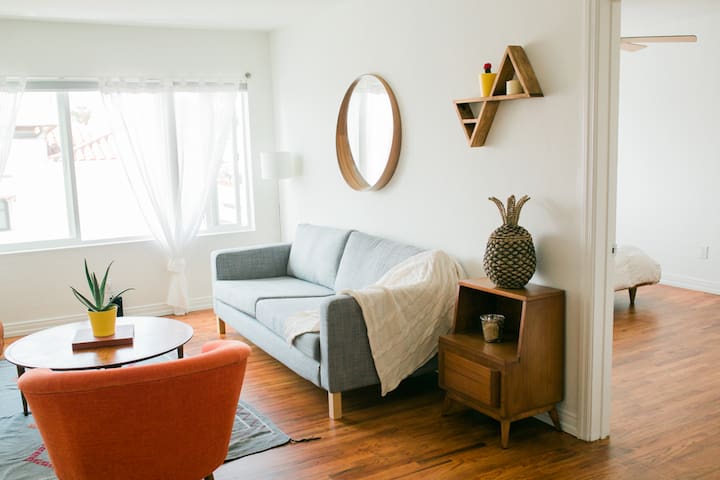 We have a huge and comfortable sofa bed in the living room with a connected bathroom. Perfect for a night rest. The place is close to Freeway I-5 and I-405, Laguna Hills Mall, Laguna Beach. 1 hour to San Diego and 1 hour to LA. You'll love my place because of The neighborhood is green, safe, and quiet. Our room and bed is comfortable and spacious. And you will feel like home staying with us. My place is good for solo adventurers, and business travelers.
Perfect for guests who just need a place to crash for one or two nights. The sofabed is amazingly big and comfortable. Though it is located in the common space, it is totally quiet and private after 10pm.
The neighborhood is quiet, safe, and green. There are a gym and a pool with spa that you can use.
Great place, I highly recommend it.
Bob
2016-05-18T00:00:00Z
Great stay. Excellent hosts.
Andy
2016-10-01T00:00:00Z
I really enjoy staying here. I will stay here as often as it is available during the times I need. Super clean. Ly even had some treats waiting for me.
Andrea
2016-10-21T00:00:00Z
Excellent host. Very accommodating and respectful. Very thankful to have met them.
Avery
2016-08-27T00:00:00Z
Lee and Viv were awesome! I got in pretty late and they made accommodations for me to get in the unit because they were not home. When I finally met them they were super excited about making me feel welcome. The neighbor was great, the couch was big and comfortable and the place was really clean. I had a great stay!
sarah
2016-10-04T00:00:00Z
The room was 28$ and the hosts were offering me food to eat constantly. As far as the amenities go, you obviously get what you pay for but it was the attitude of the hosts that made it special. You could tell they didn't have much because they are just student just trying to make it, but they would give you as a stranger half of it at the drop of a hat.
Patrick
2016-10-08T00:00:00Z
Thank you! Awesome time!
Dimitri
2017-02-23T00:00:00Z
Ly+Ve are kind hearted and generous. They treat guests no less than their friends or even family members. Will go out of the way to make sure you are comfortable. I will highly recommend staying at this place. I have joined Airbnb fan club after staying with Ly+Ve.
Viren
2016-10-14T00:00:00Z
Typ av rum
Delat rum
---
Typ av boende
Lägenhet
---
Plats för
2
---
Sovrum
Laguna Hills, Kalifornien, USA
Vackert inredda ett sovrum, ett badrum studio med fullt utrustat kök och havsutsikt. Uteplats med grill och jacuzzi.
We loved our stay in the studio! The place was beautifully decorated and very clean. Bridgett and Hilary were both so friendly and helpful . Do try the restaurants that they suggest! So good! The location is really convenient, with easy access to San Clemente, Dana point area and countless beaches. I would definitely stay in the studio again!
amy
2016-07-21T00:00:00Z
Bridgett's home was very comfortable and extremely well-equipped with all the creature comforts of home! The location was great with some fantastic restaurants and grocery stores within walking distance. Communicating with Bridgett from start to finish was also very easy. I would highly recommend this lovely studio!!!
Sonia
2016-05-25T00:00:00Z
Fantastic stay. Were in town to visit friends and Bridgett's place was perfect. Everything we needed and so charming, comfortable, and warm. Beautiful garden, beautiful view, lovely furnishings. Half mile walk to a ton of eating options and movie theater. Quick drive to a bunch of beautiful beaches. And Bridgett was super responsive with recommendations and to answer questions. Hope we get to come back again.
Ashley
2016-11-08T00:00:00Z
Very cute & private place! Definitely would stay again if ever in the area!
Morgan
2016-11-13T00:00:00Z
It was a wonderful stay! Our host was very friendly with us, and helped us enjoy our time in California over our honeymoon! Sad to say we were sick and they were sick, but even though with that we all made it through and had a great time! So glad we got to stay in this home, and we'll be going back for years to come, as long as they are offering it.
Connor
2016-10-17T00:00:00Z
The studio is really super and really quiet. Bridgett help us to find a solution for our son. Everything was fine
david et nathalie
2016-08-12T00:00:00Z
Our stay was wonderful! They thought of everything! Better than a hotel by far!
Camille
2016-08-27T00:00:00Z
Bridgett was an awesome host. She gave us recommendation on where to eat and what there was to do around the area. We felt very welcome in her cute studio. The studio was very clean and very close to everything. We wish we could have stayed longer.
Cristina
2016-06-30T00:00:00Z
Typ av rum
Eget hus/egen lgh
---
Typ av boende
Lägenhet
---
Plats för
2
---
Sovrum
Dana Point, Kalifornien, USA
1

–

18

av

300+ Lägenheter att hyra
Ange datum för att se full prissättning. Ytterligare avgifter tillkommer. Skatter kan tillkomma.