Fantastic rest in a cozy room overlooking the fjord, glacier and mountains. 40 min to Bergen center, airport. Free internet, washing machine.
Typ av rum
Eget rum
---
Typ av boende
Hus
---
Plats för
2
---
Sovrum
Os, Hordaland, Norge
Huset ligger fint til ved en liten fjord bare 30 minutters kjøring fra Bergen sentrum. Utsikten mot havet er fantastisk fra hagen og viktigste stue. Nyoppusset i en Scandiavian design stil. Store og komfortable senger. Fotballmål og basketball net i hagen. God fjellvandring landskapet i nærheten. Nær fjorden og en offentlig tilgang til sjøen. Mulig å leie en 21 fot daycruiser "Yamarin 650" med 150 hk motor (ekstra kostnad 800 NOK / dag)
Typ av rum
Eget hus/egen lgh
---
Typ av boende
Hus
---
Plats för
6
---
Sovrum
Os, Hordaland, Norge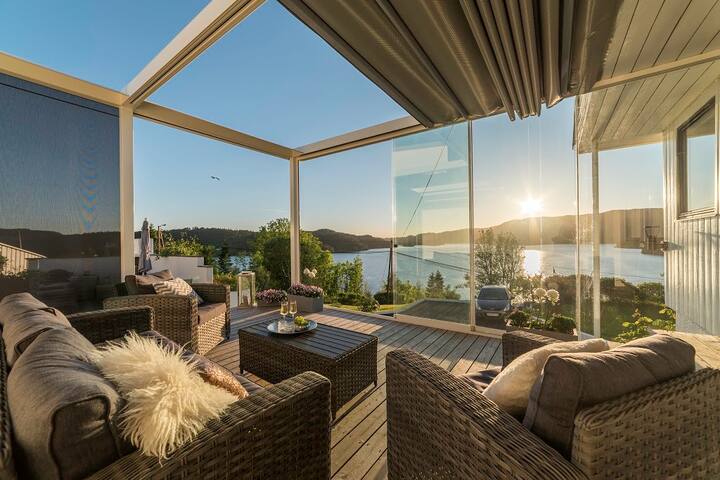 casa práctico y moderno en una zona tranquila, con poca distancia de transporte público. 3 min. caminar hasta cerca del mar con una pequeña zona de playa y posibilidades de pesca. 3 km hasta la ciudad de Os, a unos 30 minutos en coche a la ciudad de Bergen. Cocina totalmente equipada. Lavadora y secadora también está disponible en una sala de lavado separado. Dos baños, uno de ellos con bañera. sala de televisión con gran Smart-TV, Playstation y Apple TV. sala de estar adyacente a la Kicthen. Gran balcón (40m2 +) con dos barbacoas.
De reciente construcción (febrero 2016). Un dormitorio principal (20m2) con un walk-in closet-y cuatro habitaciones más pequeñas (10-12 m2).
Typ av rum
Eget hus/egen lgh
---
Typ av boende
Hus
---
Plats för
10
---
Sovrum
Os, Hordaland, Norge
Herkkupala matkailijoille halu jotain ainutlaatuista ja ulos valtavirran turistiansoista. Sijaitsee maatilalla vuonossa ympäröi puisto ja upeat näkymät snowcapped vuoret. Kaksi huonetta annamme pois, ovat erillisiä ja villa
Herkkupala matkailijoille halu jotain ainutlaatuista ja valtavirran ulkopuolella turistiansoista, Villa Moldegaard on vuono-Norja parhaimmillaan. Huvila sijaitsee suuri yksityinen puisto vanhoja tammia ja beeche puita, jossa on oma uima-allas ja näkymät yksi Norjan kauneimmista vuonot. Tilalla Estate on suuri, useita pieniä rantoja, ja monia vaellusreittejä voi ottaa läpi forrests ja läheisille vuorille. Kaksi huonetta annamme pois, ovat erillään huvila oma sisäänkäynti. Hotellin huoneet ovat hotelli-vakiona kylpyhuoneet ja kauniisti antiikkihuonekaluja. Kaapeli-tv, internet, kahvia ja teetä Jokaisessa huoneessa. Käyttö uima-allas, sauna ja poreallas tulee varata tiettyinä aikoina päivästä. Ateriat; aamiainen voidaan tarjoilla huoneisiin pyynnöstä. Myös viehättävä motelli / majatalo lähellä (10 minuutin kävelymatka), jossa aamiainen, lounas ja päivällinen voidaan saada. Ravintolassa Solstrand Hotel (äänestettiin Norjan paras hotelli 2014 ja 2015 Travllers Choice) on noin 15 minuutin kävelymatka ja tarjoaa myös aamiaisen, lounaan ja illallisen. On enemmän ravintoloita ja kahviloita kylässä Os joka on noin 25 minuutin kävelymatka, ja siellä on mukava vuono-rantakadulle voit kävellä sinne. Noin 40 minuutin ajomatkan etelään Bergen keskustaan autolla, bussilla numero 600 vie sinut sinne ja takaisin useita kertoja tunnissa. Verkkosivu: (URL HIDDEN) Nähdä enemmän Moldegaard klikkaa linkkiä: (URL HIDDEN)
(URL HIDDEN) - (URL HIDDEN) - (URL HIDDEN) - (URL HIDDEN)
John's property is amazing! The location is a short 5-minute drive to the center of Osøyro, the grounds are beautiful and the majestic views of the North Sea/Bjørnafjorden are gorgeous. The room itself was good sized, clean, tastefully-decorated, had plenty of storage space and satellite TV, and was privately located on a separate wing away from the main living room of the house. The bathroom was well-stocked, had heated floors, and provided plenty of hot water. There was plenty of parking space for our rental car as well. Unfortunately, as we spent most of our short time there hiking and climbing around the area, we didn't get much time to spend with John himself. He was gracious enough to wait for us, let us in and show us around, despite us arriving in the middle of Constitution Day festivities! His family (and dog) were extremely friendly and helpful, and we felt like we were simply living with extended family members! Would definitely staying at John's home for anybody wanting a romantic getaway or a simply a comfortable place to stay in the area! Thanks for everything John!
Kevin
2013-05-21T00:00:00Z
The highlight to our trip to beautiful Norway was Moldegaard! John and his wife were fantastic hosts. Our room was cozy and everything we needed. The floors were heated! The property surrounding the house is just lovely! We enjoyed a day hiking around the fjord, over the river and through the woods, literally! Everytime we rounded the corner to come down to the house we felt honored to be staying, and totally refreshed when we left. Thank you John and Christine!
Carmen
2012-09-05T00:00:00Z
The place itself is absolutely amazing. Beautiful nature, nice house, amazing view and adorable dog made our stay there marvelous. Many thanks to Christine for helping us with any question! I'd like to recommend this place to anyone who's tired of big cities and shows respect to the nature.
Yuriy
2013-05-14T00:00:00Z
Nous avons passé un agréable moment, Synnove est très accueillante, l'endroit est calme et très charmant.
Xavier
2016-08-25T00:00:00Z
If you are looking for a glitzy chain hotel, this is not the place. If you are looking for a quaint bed and breakfast in an idyllic setting, this is the place to go. The rooms were quite clean, comfortable and charming. The grounds of the estate were breathtaking, with a beautiful view of a fjord and Bergan is only a short drive away. John and his wife were very gracious and inviting hosts. The only negative was not planning a longer stay.
Bob
2012-08-25T00:00:00Z
I was in Oslo with my sister for her daughter's wedding. We had a few days afterwards to go and see some of the rest of the country. When I saw that there was an operating equestrian centre on the Moldegaard property, I knew this was the place for us because my sister is crazy about horses. I booked the rooms but told her nothing about it. Needless to say she was a more than a bit surprised and delighted. But beyond that, the villa was simply amazing. The pictures online simply can't do justice to the beauty of the place. The astounding view... the elegant rooms... the history... the grounds... Words fail to describe. And then there's John. He is exactly what he says he is and could not be a better host. A beautiful place to stay not far from the hustle and bustle of Bergen. Yet easily accessible by car. I highly recommend Villa Modegaard. Cheers, ian
Ian
2012-08-16T00:00:00Z
John was the perfect host, he even picked us up from the bus station and dropped us off, and he was most friendly. He took the time to talk to us about the area and Norway in general, and let us borrow bikes so we could ride around to the forest and to the village. He told us about all the walks we could go on and about the killer whales sighted in the fjord! It is the most majestic area, so stunningly beautiful. Our rooms were warm, cosy and perfectly comfortable, with complimentary coffee and tea and a fridge. I was only sad we couldn't stay longer! I would recommend a hire car to folks staying there too, if it is an option, just so you can explore the west even more! I've wanted to visit Norway since I was a little girl, and this kept the fantasy alive. Thank you, John.
Angela
2013-04-15T00:00:00Z
Jeg havde en overnatning i forbindelse med møder i Bergen. Jeg kan kun anbefale stedet, og vil anvende stedet igen hvis det er muligt.
Ole
2013-05-24T00:00:00Z
Typ av rum
Eget rum
---
Typ av boende
Hus
---
Plats för
4
---
Sovrum
Os, Hordaland, Norge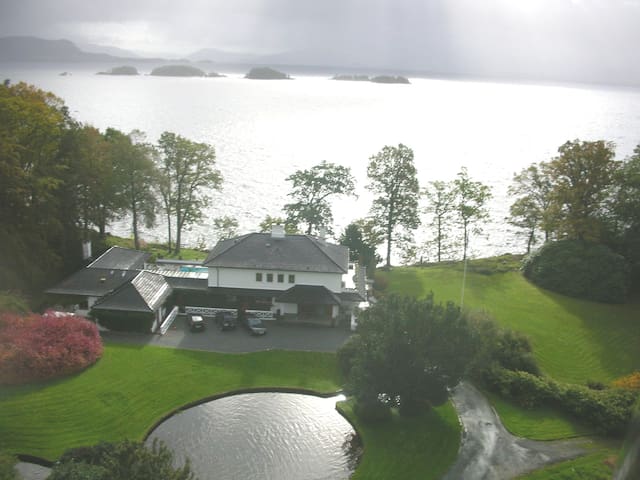 Nice house with beautiful view over the fjords, mountains and glacier. The house is located in a very quiet neighborhood, with several good hiking areas nearby. Short walk to grocery shop, shopping centre and swimmingpool. The house is located 30 minute driving from Bergen airport Flesland. Sometimes I can meet the guests on arrival, and pick up at the airport or the train station, just send a request. Bus stop is only 10 minutes walk from the house, the bus go directly to Bergen.
Typ av rum
Eget rum
---
Typ av boende
Hus
---
Plats för
2
---
Sovrum
Bergen, Hordaland, Norge
Countryside situated house close sea and mountains in the municipality of Os 3 mil south of Bergen. Suitable for both large and small families looking for a rural getaway with proximity to town and country.
Typ av rum
Eget hus/egen lgh
---
Typ av boende
Hus
---
Plats för
9
---
Sovrum
Os, Hordaland, Norge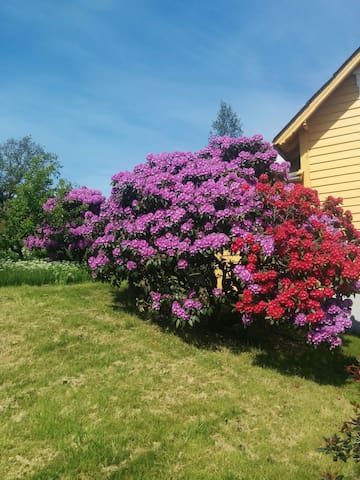 Magnificent place Vinnes only one hour and fifteen min drive from centre of Bergen, with a panorama view at the Bjørnefjorden fjord. The whole house is refurbished in 2016, including the living room with panorama view and the well equipped kitchen. The boat harbor, playground, little football court and walking areas are just minutes away and you drive to the shop in less than 10 minutes. A boat and a canoe are available free of charge. The place is also excellent for business purposes.
The most amazing thing about the house is the panorama view from the living room. The house is ca 140 sqm, and it was completely renovated in 2015 and 2016. The close distance to the fjord gives many opportunities - you can easily go fishing and canoing. Furthermore you have easy access to the mountains with a variety of paths to walk - only a few minutes away by car. If you need a place for business meetings like strategy meetings, the place is also convenient for this. The place is ca one hour and 15 minutes away from Bergen and the airport.
The village Vinnes is a beautiful place with a lot of space and wonderful fjords and nature around. It is very quiet and peaceful and the neighbours are very nice. There also is a shop with home made pastries ca 600-700 meters away from the house - open Saturday and Sunday in the summer season. There is a playground 100 meters from the house.
Very nice house!! Very relaxed. Just like in the pictures. Very clean and fulltime equipes. The owners are very nice people, very helpfull.
Ger
2017-01-06T00:00:00Z
Place was beautiful, fire place set up for our arrival, nice bottle of wine and chocolates waiting and key safe at the front of the property made it all really easy! Would recommend !
Kathleen
2017-01-25T00:00:00Z
Typ av rum
Eget hus/egen lgh
---
Typ av boende
Hus
---
Plats för
13
---
Sovrum
Fusa, Hordaland, Norge
32 km to Bergen city centre
Typ av rum
Eget hus/egen lgh
---
Typ av boende
Hus
---
Plats för
12
---
Sovrum
Hagavik, Hordaland, Norge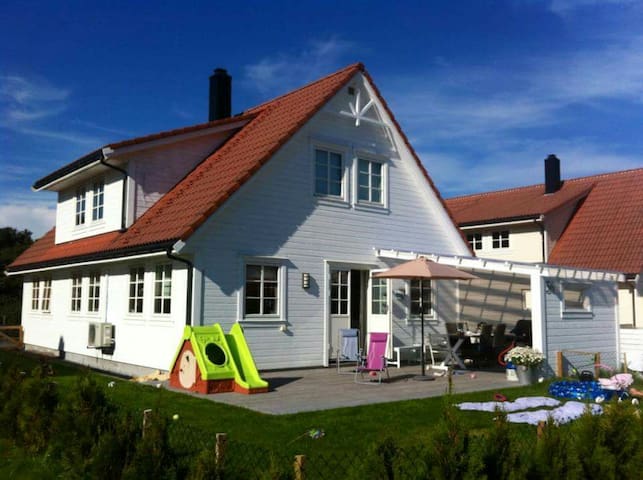 Fantastisk beliggenhed i et helt bugt
The cabin is in a !ovely location. The inclusion of the boat made it very special, though unfortunately it was too wet to enjoy this. We lit a fire which made it very cosy.
Helen
2016-08-14T00:00:00Z
Dette var et flott sted å tilbringe et par høstferiedager. Tord hadde latt båten bli liggende på vannet litt lenger enn vanlig, etter ønske fra oss, slik at det var mulighet for å fiske litt. Hytta var enkel standard, veldig sjarmerende og koselig helt nede ved sjøen. Tord svarte på våre henvendelser innen rimelig tid og var veldig opptatt av at vi skulle få det fint under oppholdet vårt. Ungene på 6 og 8 år hadde det veldig fint både inne i hytta og ute på bryggekanten. Vi var alle svært fornøyd med oppholdet og vi vil nok trolig forsøke å benytte sjansen til å besøke dette stedet igjen på et senere tidspunkt.
Stig
2016-10-16T00:00:00Z
The cabin was exactly what we were looking for. The place was clean, quiet and in a beautiful location. Tord was a great host and I'd highly recommend this location if you're looking for a relaxing retreat.
Jeffrey
2016-08-22T00:00:00Z
Ist was just perfect.
Thomas
2016-08-19T00:00:00Z
Beds and place were clean. Really beautiful spot and boat was a fun.
Kevin
2016-09-01T00:00:00Z
Tord's cabin is in one word fantastic! The location on Nord Strøno is wonderful and for us the best kept secret of Norway. We enjoyed the cabin which is a typical beach/harbour house and the boat was a great way to explore the beautiful waters around Strøno. We caught our own fish for dinner. We stayed for 6 nights with a family of 5 (3 children) and the cabin was well equipped for our stay. We also visited the city of Bergen 2 times which is easy to reach by car.
Gertjan
2016-08-08T00:00:00Z
Thank you Tord for sharing your fantastic cabin with us. Everything was as you described and we fully enjoyed seeing the scenery of Nordstrøno by boat. The cabin was comfortable, warm, and had amazing views. We found the neighbors to be very friendly as well. We would definitely come back in the future.
John
2016-09-12T00:00:00Z
Superhyggelig lille hytte af ældre dato. Men med romantisk og landlig charme der fik os til at føle os rigtig godt tilpas. Hytten er ren og velholdt. Køkkenet er lille, men der er det man har behov for. Der er gode madrasser i sengene og man sover fortrineligt. Især kan nævnes "Master Beedroom". Man slår øjnene op og ser ud over vandet og den lille bådbro. Hytten ligger blandt andre små fiskerhuse, men alligevel ganske ugeneret og utrolig fredfyldt. Vi kommer meget gerne tilbage.
Jonna
2016-06-23T00:00:00Z
Typ av rum
Eget hus/egen lgh
---
Typ av boende
Hus
---
Plats för
5
---
Sovrum
Strøno, Hordaland, Norge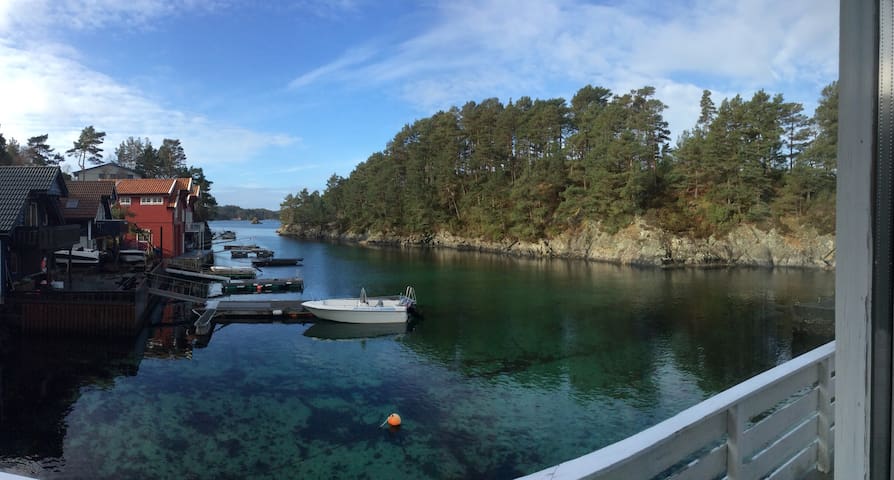 Vicino a Bergen, vicino al al mare. Gran parte della Norvegia a portata di mano. La nostra bella villa vi aspetta. Ampia cucina per cucinare i pasti gourmet, bagno bobble per il relax o sera tardi intorno camino esterno. Questa può essere la vostra vacanza da sogno in Norvegia tra le montagne e fiordi.
La nostra villa è di nuova costruzione, ha una dimensione di 240 mq ed è adatto sia per le famiglie con bambini o coppia di amici che vogliono un sacco di spazio in un ambiente piacevole. La villa dispone di 2 balconi, una grande veranda e una grande terrazza in giardino con salotto all'aperto e un camino esterno. La posizione della nostra villa offre molte opportunità di sperimentare un sacco di Norvegia. Abbiamo attrazioni come le rovine Lysekloster e la barca alla villa di Ole Bull pochi minuti di distanza. Se si vuole vivere la città di Bergen con il mercato del pesce, Bryggen e Fløyen, è a 30 minuti di distanza con auto.
Il quartiere in cui viviamo è una tranquilla, accogliente zona nuova famiglia con grandi case. Ci sono diversi campi da gioco, una piccola pista ciclabile per bambini e molte persone simpatiche e amichevoli. Si tratta di un breve tratto per andare al mare per la pesca o il nuoto. Proprio dietro la casa si ha la foresta con un sacco di passeggiate.
Typ av rum
Eget hus/egen lgh
---
Typ av boende
Hus
---
Plats för
9
---
Sovrum
Os, Hordaland, Norge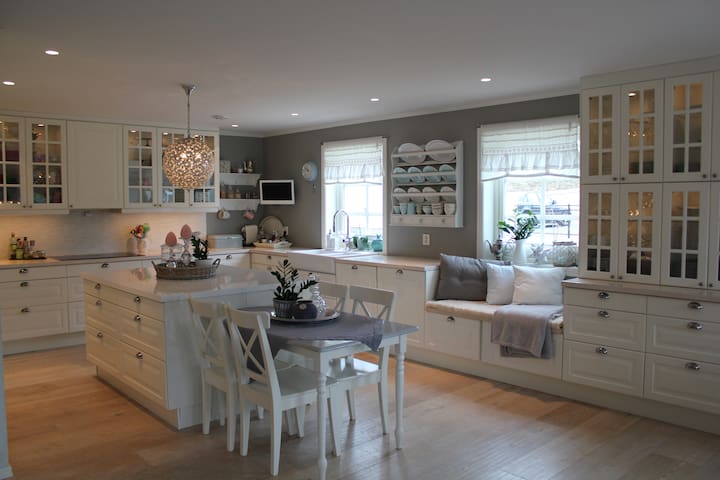 Underbar familj hem ligger 8 km från Os och Halhjem färjan, 5 minuter från huvudvägen (E39) från Bergen till Stavanger Tyst, säker, mysiga, grönt och familjevänligt område med en spektakulär utsikt över bergen och Bjørnefjord. En 10 minuters promenad wll ta dig till närmaste lanthandel. I OS hittar du ett par supermarkds och shoppingcenter. Huset Tvåvåningshus. Bottenvåningen: två sovrum, båda med en dubbelsäng, ett badrum, stor hall med en ingång till den nedre terrassen och gräsmatta. Extra rum som används som kontor. Öppna trappor som leder till vardagsrum / matrum. Vardagsrummet är mycket ljus med stora fönster mot söder med spektakulär utsikt över fjorden och bergen. Ingången till övervåningen terrassen där man kan sitta i hammoc och njuta av den fantastiska utsikten Kök med alla bekvämligheter inkl combi kyl / frys, diskmaskin, ugn och mikrovågsugn.
Janet var en super värd. Hon var informativ och hjälpsam, vilket gjorde vår vistelse lättare. Huset var modernt och hade en vacker utsikt. Kan starkt rekommendera Janets boende för dem som vill komma ut till naturen, men nära till Bergen. Boendet passar perfekt till familj eller ett större sällskap.
Kalle
2016-03-09T00:00:00Z
Perfect House for a relaxing vacation with high privacy and beautiful View on fjord
Matthias
2016-08-20T00:00:00Z
Jeg bodde der ikke selv men de jeg reserverte boligen til var super fornøyde. Janet var veldig imøtekommende.
Mariken
2014-06-09T00:00:00Z
Une belle et grande maison au fond d'un fjord magnifique. Une vue splendide.
VALERY
2016-08-10T00:00:00Z
Our host made us feel at home by kindly answering to all our questions/doubts, providing us with all kind of useful information not only about how to reach the house but also recommending & giving us helpful explanations about the most interesting places to visit or how to arrive at them. She was also as kind & flexible as to adapt to our needs about the arrival & departure time, what allowed us to make the most of our holidays and provided us with all the bath stuff. The house described in the advertisement matched perfectly the house we found. Actually, we were searching for the best available accommodation and definitely, the house fulfilled all our expectations. It's nicely furnished, well distributed & lighted, warm, cosy and clean. The house is placed in a quite & peaceful neighbourhood in a nice suburb area.
Fran
2014-08-24T00:00:00Z
when we come to the flat ,we think we will spend super vacation here . in fact ,we made it .that is just because the flat and its environment .the flat is very nice with amazing view . we love it very much .for sure we recommend the flat to people who want to enjoy a happy time in bergen.thanks janet .
lock
2014-07-02T00:00:00Z
Nice location. Nice house.
Andrey and Nadya
2015-10-22T00:00:00Z
Typ av rum
Eget hus/egen lgh
---
Typ av boende
Hus
---
Plats för
5
---
Sovrum
Os, Hordaland, Norge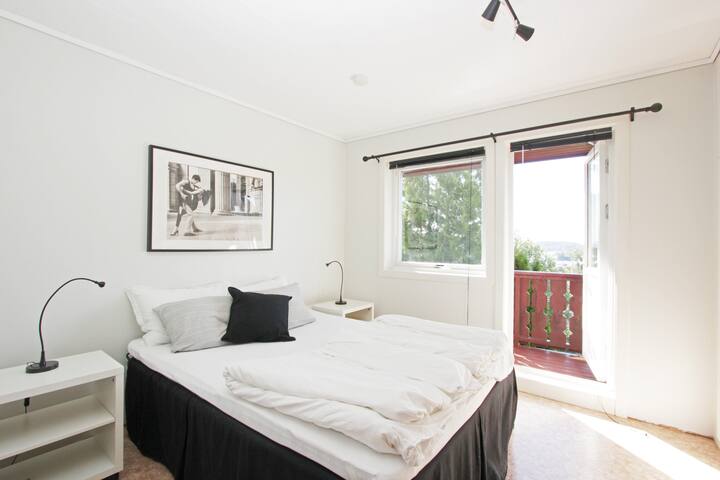 Cosy and calm with glacier/fjord view 29 km south of Bergen. Short walk to the fjord and Os towncentre with shops and restaurants. Close to several tourist attractions as Ole Bull House, fjord crossing to Baroniet/Rosendal, several hiking areas. 5 Minutes walk to Unesco's World Heritage museum of Oselvar (building of the famous small boat of wood) The area is very silent with now through traffic.
A very nice spring/summer house. 3 Bedrooms, kitchen with direct access to terrasse. Living room with great view to the fjord both, also great view from the tv area and the dining table. Door from living room to barbecue area. A shortcut takes you direct to the community centre with several restaurants by the river; Sushi, Pizza, À la carte, snack-bar, several pub's and more There is multiple walkways along the cost. 20 minutes walk will take you to the garden of the (famous) Solstrand Hotel
Gardens, beach, farms are close to the property
John is very nice, explaining everything clearly and providing everything we need. The place is just fantastic, very spacious and with great terraces. If the weather is good, you will enjoy stunning fjord views both inside and outside the house. The surrounding area is also nice, very quite and relaxing. Definitely recommended!!
Boyi
2016-08-17T00:00:00Z
Fabulous house with amazing views. Had a fantastic weeks stay in John's beautiful home . John was very friendly and helpful and was waiting for us to arrive to hand over keys and demonstrate how things work. Area really nice, some lovely local walks and within walking distance of shops / restaurants. Would definitely recommend.
Jane
2016-09-04T00:00:00Z
un très bel accueil de la part de nos hôtes, de plus en français, ce qui est très agréable. Un appartement charmant et spacieux, très bien équipé. A recommander sans hésitation.
Mario
2016-07-16T00:00:00Z
We really enjoyed our stay. The place is very well located ( short ride to Bergen) with a fantastic view. John is very friendly and helpful.
Ali
2016-08-22T00:00:00Z
Nice and central house 20 min from Bergen, with sea view :) Our second time here.
Jan
2017-03-19T00:00:00Z
Typ av rum
Eget hus/egen lgh
---
Typ av boende
Hus
---
Plats för
5
---
Sovrum
Hordaland, Hordaland, Norge
Gran vista, cerca de la parada de autobús y un centro comunitario, jardín, bosque, zona blindada.
zona tranquila en las afueras de Bergen. De fácil acceso en coche y autobús. 7 minutos del supermercado más cercano. correspondencia frecuente de autobuses.
barrio tranquilo. Jardín para ser disfrutado.
Følte meg nesten som hjemme :o)
Katinka
2016-08-08T00:00:00Z
Easy check-in and out, it was a quick visit but went well! Jacob had coffee and tea available for us as well which was really nice. Everything worked well (Wifi and the kitchen). I'd stay again if in the area.
Sammy
2016-08-22T00:00:00Z
Really good value for money here but the facilities weren't as clean as I would have liked. There were no instructions regarding the kitchen either and we ended up burning our food. Pans of grease were sat around the kitchen. Apart from that, the bedroom was very clean and had everything you would need.
Sarah
2016-09-04T00:00:00Z
Ole Jacob er en god representant for Airbnb. Fikk et koselig soverom med vakkert utsikt. Ole Jacob er en gjestfri mann, som yter det lille ekstra for gjestene!
Katinka
2016-08-09T00:00:00Z
Had a great stay in a gorgeous location. Close to Os and the fjord.
Scott
2017-01-03T00:00:00Z
Wonderful, wish I could stay longer. He is the perfect host.
Saikat
2016-08-28T00:00:00Z
It was our second night in Jacob´s perfect home, because everything was so wonderful that we decided to stay 1 night more. For more information see our previous review please.
Jana
2016-08-16T00:00:00Z
We arrived last minute -literally- at Jacob, but he still managed to prepare the room for us and was very friendly! The room was exactly like the description on Airbnb, so no complaints at all. We were Jacob very gratefull for still hosting us.
Stijn
2016-08-31T00:00:00Z
Typ av rum
Eget rum
---
Typ av boende
Hus
---
Plats för
2
---
Sovrum
Os, Hordaland, Norge
Rekommender varmt boende hos Tone med familj. Vi var två (URL HIDDEN) bodde där i två nätter. Underbara värdar, tillmötets i allt. Fanns allt vad vi behövde i kök, badrum mm. Hjälpte oss med körning till tåget och andra ställen. Bor gärna där igen. Rent o fint och bra sängar.
Britt
2016-05-16T00:00:00Z
It was a pleasure to stay at Tone's home! The appartment is new and was very clean! Tone and her family are really frendly and ready to help us. The location is about 30 min far from bergen and there's a big and nice garden where you can have breakfast or lunch/dinner. I suggest to try!
Manuela
2015-08-23T00:00:00Z
She came to pick us up at Bergen railway station. She even helped us carry our heavy luggage. The listing description was very accurate. The neighborhood is very scenic and peaceful. People are very good around the place. One of the best places to stay if you want a peaceful and scenic environment.
Nikhil
2015-09-11T00:00:00Z
Very well maintained space in a nice location. Would recommend to others visiting Bergen. My kid enjoyed the trampoline in Tone's front yard. The brochure was very informative and had everything we needed to know.
Mayur
2016-08-27T00:00:00Z
Tone var veldig behjelpelig i forkant av oppholdet, og da vi kom til leiligheten, ble vi møtt av ferdig oppredde senger og oppredd babyseng til sønnen vår. Veldig koselig. Vi følte oss veldig godt mottatt, og da sønnen vår sleit med å få sove første natta fordi han var forkjøla, hadde hun både gode råd og et smart triks som kunne hjelpe. Fantastisk! Leiligheten var både ren og ryddig, lekkert bad og kjøkkenet var velutstyrt. Jammen var det en kaffemaskin der også! vi fikk lov til å bruke hagen deres fritt. (Og Bergen/Os viste seg fra sin beste side med sol hele oppholdet). Det kunne ikke bli bedre! Tone og familien var et særdeles trivelig vertskap. Tusen takk for oss!
Martine
2016-09-18T00:00:00Z
Tone was very friendly and accommodating. She offered to fetch us at the airport when we first arrived and introduced us to her wonderful family and Trixie, her very enthusiastic dog. The apartment was exactly as shown in the pictures. Clean, new and comfortable. We were even allowed to play with the trampoline and use the facilities in her backyard. Tone and her husband even went the extra mile to drive us to several places we wanted to go as the public transportation there was infrequent, and even went hiking with us. We felt very welcomed and had a very pleasant stay with Tone and her family. I would definitely recommend this apartment to those who love nature and want to explore Bergen!
Siti Noor Jannah
2016-06-06T00:00:00Z
Tone and her family are very nice and helpful hosts. We loved our stay in this cozy apartment and it's actually much better than on photos. We definitely will stay here again.
Nikolay
2016-08-13T00:00:00Z
The neighbour is very quite, it matched perfect according to what we were looking for, staying at Tuna´s home was fantastic, she and her husband support us with every our questions, I can definitely recommend this place.
Sandra
2016-07-12T00:00:00Z
Typ av rum
Eget hus/egen lgh
---
Typ av boende
Hus
---
Plats för
4
---
Sovrum
Os, Hordaland, Norge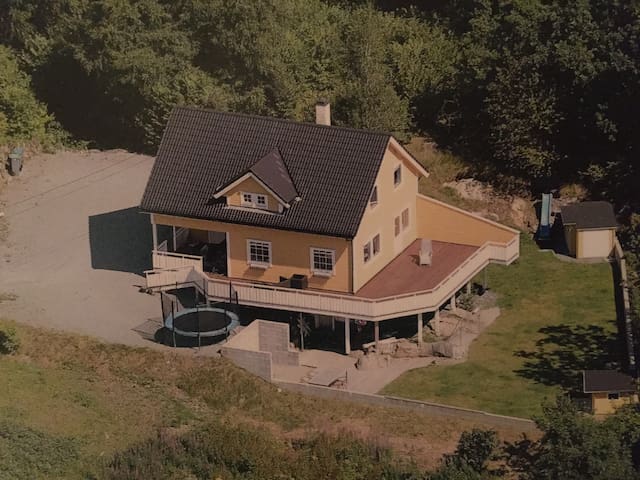 Sonnig, geräumig und ruhig gelegenes Haus. Nur 30 Autominuten südlich von Bergen. Schöner Garten und Terrasse mit fantastischem Blick auf die norwegische Landschaft. Ein kurzer Spaziergang oder mit dem Auto zum Strand. Lokale Bäckerei 10 Minuten zu Fuß entfernt.
Ruhig und friedlich mit einer schönen Aussicht. Wandermöglichkeiten und Strände in der Nähe.
Ruhe und ruhigen Nachbarschaft. Familien mit rundum Kindern.
Nice house with a beautiful location. Spacious and brand new kitchen!
Magnus
2016-07-25T00:00:00Z
It was bad due to cleanless
Saad
2016-08-13T00:00:00Z
Typ av rum
Eget hus/egen lgh
---
Typ av boende
Hus
---
Plats för
9
---
Sovrum
Os, Hordaland, Norge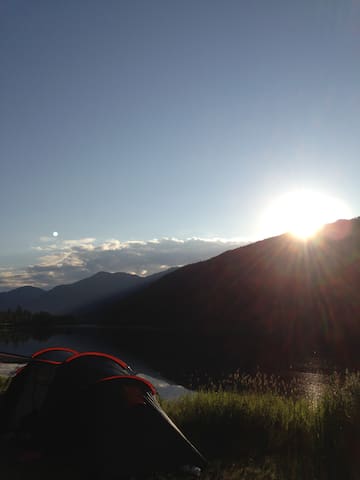 Our comfirtable house is located right outside Bergen. Short walk to public transport that will easily take you to the city center. You will have acsess to your own private bathroom as well as private entrance.
Typ av rum
Eget rum
---
Typ av boende
Hus
---
Plats för
2
---
Sovrum
Syfteland, Hordaland, Norge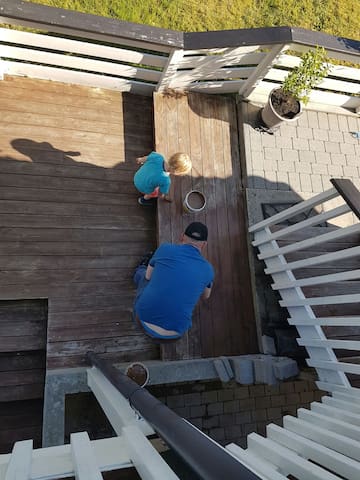 Osøyro - Airbnb
:
I genomsnitt

4.56

av

5

stjärnor från

93

gästomdömen