Munty Cottage is a converted barn providing a two bed roomed holiday let. One bedroom has a king size bed and the other bedroom has twin beds. Making this ideal for a family or two couples. The cottage has central heating throughout and a wood burner in the living room. It has an enclosed patio area, private parking and access to 3/4 acre of natural grounds.
Munty Cottage was first made available as a holiday let in March 2016. As I travel a lot for work, I felt it was time to move out and let this wonderful little cottage be enjoyed by others. I have spent the last 6 months refurbishing the cottage, and with all the travelling I do, it has given me an understanding of what I would expect in a holiday rental.
Locally there are a few pubs and a village shop, but you are in the countryside ideal for walkers or exploring the coast lines
Typ av rum
Eget hus/egen lgh
---
Typ av boende
Semesterboende
---
Plats för
4
---
Sovrum
Churchstanton, England, Storbritannien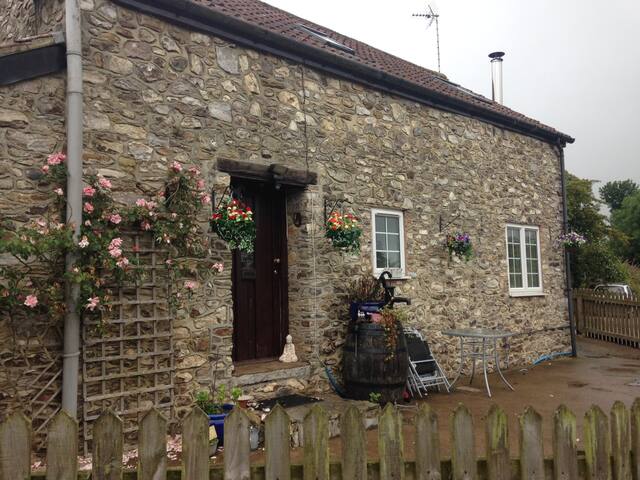 Modern,self-catering studio in countryside location within easy access to town/transport links. Furnished to a v. high standard, with lovely little extras, outdoor patio space, all set within a lovely smallholding. Genuine listing from a Superhost!
Perfect for exploring the Blackdown Hills, the Quantocks, Jurassic Coast and surrounding areas, The Holt is a small but perfectly formed contemporary studio attached to a lovely barn conversion in Churchinford. The listing states 4 - please note that it will accommodate 2 adults very comfortably, 2 adults and 2 small children comfortably if you are not planning to be indoors all day. It will not accommodate 4 adults. It provides everything one might need for long weekend/short break or holiday. The Holt is fully furnished - big fluffy fluffy towels and bedlinen are provided, shampoo/conditioner and shower gel are provided and there is also a hairdryer. . There is an Elfin kitchen area which offers a sink, fridge (with small freezer compartment), double hob and microwave and storage space for food. It has kettle/toaster and basic kitchen cooking equipment, crockery and utensils for 4. It has a double sofa, TV/DVD player and a desk in a living area, a wonderful en-suite bathroom with walk-in shower and there is a wardrobe with plenty of clothes storage. The king size sleeping area is on a mezzanine so not suitable for people that do not like sleeping at heights, have limited mobility or are large framed as the area is under the roof. There is also a double sofa bed which is 'sleep ready' in seconds. There is underfloor heating, plenty of hot water and unlimited wireless included. The Holt is only available as self-catering. Fresh eggs are available on site.
Churchinford is a glorious rural village at the heart of the Blackdowns. The village has a fabulous community shop which supplies everything one might need - food, drink, papers, fresh local produce. It also has a great local pub serving food and local beers. Both shop and pub are within walking distance. Although rural you can get to Taunton in 15 minutes for some town life (and the M5) and the A303/A30 is 3 minutes away. South coast (Lyme Regis) is a half hour car trip and the beautiful beaches of North Devon under an hour - perfectly placed for all sorts of exploring! Or you can just walk out of the front door and you're on a lovely walk or adventure. The Holt is also a perfect stopover for those travelling with their families to Cornwall and want to break up their journey.
The Holt is tiny but utterly charming, and my three boys and I had a great time staying there. It's beautifully done out, everything you need is there, there is plenty of helpful local info, everything in the place is clearly labelled or suitable instructions are easily accessed and the welcome folder tells you all you need to know and much more. Very peaceful, very pretty indeed, and with the option of buying fresh eggs from the hens in the morning - perfect. Kirby is absolutely lovely, very helpful and approachable, and runs it all very smoothly. I would thoroughly recommend a stay here.
Ali
2015-08-18T00:00:00Z
very friendly welcome...great location with an easy walk to the village..clean and well equipped
eileen
2016-02-21T00:00:00Z
We have just spent a couple of nights over Easter at Kirby's place and she was a great host; The Holt was bright and welcoming and when we arrived access to the key was hassle-free. Even though we chose the wettest stormiest weekend possible to go away it didn't matter as the accommodation was well equipped and cosy with the rain lashing down outside. There is a great use of the space in The Holt and the 3 of us (adults) even though we had not intended to be inside for so much of the time loved being inside. As other reviewers have commented great shower too!
mel
2016-03-30T00:00:00Z
The Holt is a lovely little studio / barn conversion, perfect for a country getaway. It is small, but there is lots of outside space and you're in the middle of lots of fields and nature. The studio was decorated to a high standard and came with lots of very useful and high quality amenities (no need to bring your own shower gel or shampoo, for example). You could even buy freshly laid eggs from Kirby's chickens - just place whatever you feel is the right amount in the honesty box. Kirby was a great host, introducing herself when she got home from work and showing us where everything was (although we were already pretty settled by then, drinking Prosecco outside in the sun!) If you're looking for a quiet place to get away and relax for a couple of nights then you can't go far wrong. We paid close to £84 per night before Airbnb fees, which was a little on the expensive side, but we had a lovely time and would not hesitate in recommending The Holt. Tip 1: The bed up on the mezzanine, whilst it has a comfy mattress, was a a bit cramped and got hot. The pullout sofa at ground level was actually surprisingly comfortable when topped with an extra duvet and we slept better on the second night. Tip 2: Don't eat the local pub. The food was bad. Do go there for drinks though, they have some lovely ales and ciders.
Brad
2016-07-31T00:00:00Z
The Holt was wonderful! It was clean, comfortable and quiet. We had everything we needed and the whole scenery around us was lovely. Kirby, the host, was clear, available with information and tips, and always with a big smile on her face. We would definitely recommend staying here.
Raphael
2015-08-10T00:00:00Z
Had a wonderful experience staying in your beautiful property in such a magical place. Thank you for all the advice and suggestions on where to go to enjoy our time and get the most out of our holiday. The Holt had everything we needed from cooking to comfort providing a secluded central location to explore the AONB and surrounding areas with ease. Kirby was a fantastic host and made us feel very welcome, check in was a breeze and anything we needed was on hand. The neighbours were a pleasure too (the sheep).
Chris
2015-08-03T00:00:00Z
We arrived at 7 ish and were warmly welcomed. We asked where nearest shop was to buy a simple dinner and milk. Kirby kindly popped back to her house and returned with a homemade sauce, pasta and milk saving us a trip out in the cold (and more importantly, meant we could snuggle down to watch Strictly!!) Lovely snug studio, amazing power shower and lots of extras like shampoo, conditioner etc. DVDs to watch and a great selection of books which was a great addition. Thank you so much Kirby
Heloise
2016-10-23T00:00:00Z
We were made very welcome by Kirby. The Holt is in a very quiet rural location on the Devon/Someset border on the outskirts of a lovely village. It is a very well equipped and homely space, perfect for a stop-over or short stay. Breakfast outside in the sun would be a highlight. No hesitation in recommending this lovely spot.
Mary
2015-06-22T00:00:00Z
Typ av rum
Eget hus/egen lgh
---
Typ av boende
Annat
---
Plats för
4
---
Sovrum
Churchinford, Storbritannien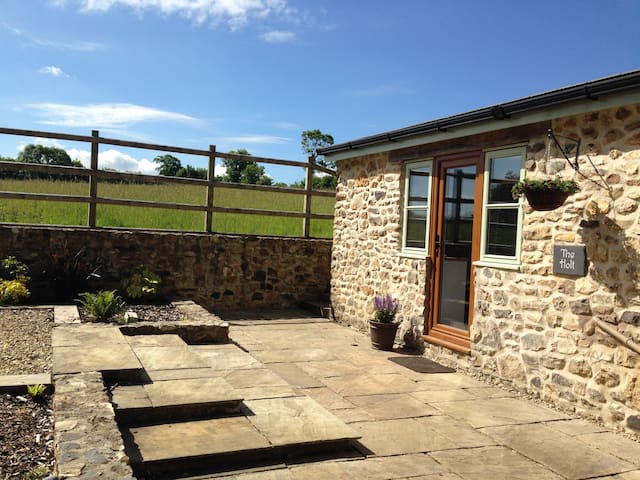 A luxurious, spacious cottage situated in an Area of Outstanding Natural Beauty on the Somerset / Devon border. Rural and private, the cottage is perfect for walkers, cyclists, families and even quite large parties of guests looking to unwind.
Butterlaw is a spacious and well-appointed home that offers the space and environment to completely unwind. From its rural location on the Devon/Somerset border, in an Area of Outstanding Natural Beauty and Scientific Natural Interest, the cottage guarantees stunning views, peace and quiet, and an escape from the orange glow of urbanisation. It is a place to 'get away from it all' and enjoy walking, bicycling and nature and to relax by the roaring woodburner or watch the ever-changing landscape from the window seat in the garden room. The cottage has plenty of facilities inside and out including croquet, table tennis and a wide selection of toys, games, books and DVDs. There is a good WIFI connection and a land line for incoming calls. Animal lovers will be very happy here - you can fuss ponies, pet Kune Kune pigs, cuddle guinea pigs and spot wildlife.
From its rural location on the Devon/Somerset border, in an Area of Outstanding Natural Beauty and Scientific Natural Interest, the cottage guarantees stunning views, peace and quiet, and an escape from the orange glow of urbanisation.
This place is wonderful for a peaceful stay in the country. So much light, lovely views, warm and cosy, beautifully decorated, fantastic kitchen, friendly animals and kind host. What more can one ask?
Barbara
2017-01-09T00:00:00Z
The cottage retreat is in a beautiful spot and is high quality accommodation, perfect for a large group looking to relax and be self sufficient. Andrew and Sophie were great hosts and we had everything we needed for our stay. We will be back! :)
Keir
2017-03-25T00:00:00Z
The host canceled this reservation 100 days before arrival. This is an automated posting.
Emily
2017-01-18T00:00:00Z
A really wonderful stay! Butterlaw Cottage was perfect for our group break, with a big open plan shared space, lovely bedrooms and a relaxed feel. In addition to the lovely cottage, the location is secluded with a big garden and beautiful views. We loved the visits from the animals! Not only was our dog welcome in the cottage, we had cuddles with the resident dogs and pigs (we miss them). So many lovely walks nearby, once there with all you need, you can put the car keys away. We all highly recommend this cottage and Andrew and family are wonderful hosts, we'd love to go back.
Eloise
2016-04-04T00:00:00Z
The cottage was an ideal place for the five of us to stay for a few days over last weekend. It's a stylish, comfortable and well-equipped space in a lovely remote location. We loved waking up and watching the pigs in the morning. We were made very welcome too (thank you Stanley)!
Richard
2015-12-13T00:00:00Z
We had a fantastic time at Butterlaw Cottage. The cottage is decorated to high standard and was really cosy and comfortable. Our babies / toddlers loved all the animals and one even got to feed and ride on one of the pigs. We would definitely return. Thank you Andrew and your family for such a lovely and memorable weekend.
Sue
2016-10-17T00:00:00Z
Typ av rum
Eget hus/egen lgh
---
Typ av boende
Hus
---
Plats för
8
---
Sovrum
Somerset, Storbritannien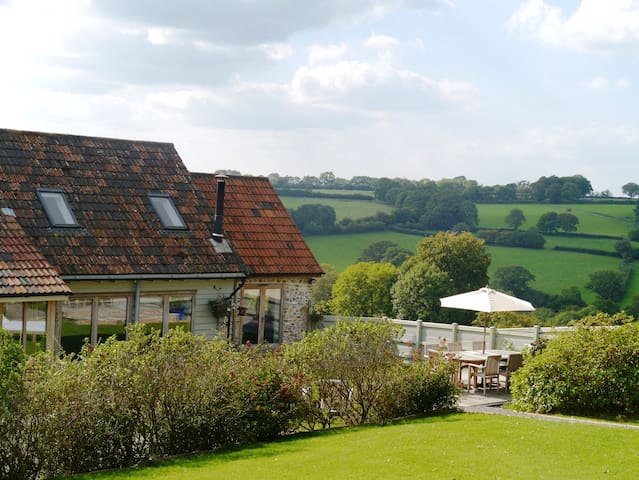 A pretty cottage at the heart of the Blackdown hills in an area of outstanding beauty. The cottage sleeps 4 comfortably and has views over the Blackdown hills. It sits in 10 acres of farmland but is only 300m from the local pub. Please look up The Cottage at Ford Barton website for more pictures and video.
We wanted to make the cottage warm and welcoming but smart and modern, too. We hope we have provided everything you might need to make your stay comfortable and enjoyable. The bed in the master bedroom can be split into 2 x 3ft beds if required.
The Blackdown Hills is an Area of Outstanding Natural Beauty and has been recognised in the Press as one of the wildest parts of Britain. Cider, award winning ice-cream, local ale and cheese are all local specialities.
Beautiful stone-built two story cottage set in exquisite & idyllic country gardens. Loads of room. Everything you could need. Remarkable also because of its high quality fit out and cleanliness. Very welcoming hosts - they put an Aussie flag out for us so we didn't miss the place. Sally & John are perfect hosts. They recommended the Half Moon pub for dinner - a great choice. Would return in a flash if we could.
Lisa
2016-08-18T00:00:00Z
Had a fantastic time. Kids really enjoyed the space to run around & use the trampoline. Place was fantastic and had everything we could need & more. Sally & John couldn't have been more helpful or friendly. A lovey place and hope to come back again sometime. Thanks for having us!!!
David
2016-08-14T00:00:00Z
We absolutely loved our stay at Sally's cottage. If you want to stay somewhere peaceful & homely then this is the place for you. The cottage is very sweet village which has a village shop which has everything you need in. The pictures are a true representation to how the cottage looks except its actually better in real life. The beds were very comfortable. All the linen and towels smells freshly washed and have a really nice clean smell which is lovely. We really enjoyed getting food in and having BBQ's and sitting in the garden enjoying our evenings. The cottages views are lovely and it is so quiet and tranquil. I would 100% recommend this cottage to anyone. We thoroughly enjoyed our stay and hope to come back one day! Sally and her husband are really lovely people and made great hosts! Thank you!! :)
Liv
2016-08-30T00:00:00Z
The Accommodation was really lovely. Beautiful building with excellent decor and facilities. The whole experience was lovely, peaceful and tranquil, just the way we like it. Our hosts Sally & John were welcoming and informative re places to eat in the area. Two lovely friendly people. We recommend staying here, we will be passing this onto friends and family. We will be back. We thoroughly enjoyed the stay and were sorry to leave.
Anne
2016-08-26T00:00:00Z
Had a wonderful stay at this lovely cottage. The hosts were really friendly and helpful. The beautiful location in the English countryside made this stay very pleasant for us. We would recommend this cottage to anyone!
Jelle
2016-08-08T00:00:00Z
We are a family of four, children aged 2 and 5. Sally's place was perfect in every way as it was both comfortable and nicely decorated with all mod cons. We stayed for 6 days and the cottage is well located for beaches, we mostly went to Lyme Regis and also accessible if you fancy a day out to Wookey hole. Sally and her husband were very helpful and friendly. Overall I can honestly say this was one of the nicest place we stayed in of all our West Country holidays.
charles
2016-08-01T00:00:00Z
Sally made us most welcome from the very moment of arrival. We had a marvelous time at Ford Barton and cannot recommend it enough. The house was splendid and so comfortable to stay in. We left relaxed and re-energised. The children loved it ( especially the enormous trampoline) and they slept like logs, having tremendous lie-ins. There was everything there that we needed, and when I remarked that maybe a parasol would be good by the table outside ( as it was the most glorious of sunny weekends), one arrived immediately! That is what you call service. The extended family that we bumped into over the weekend were gracious and friendly, not at all obtrusive as we went about our days. We would stay here again in an instant and would really like to thank the Milnes family for a real treat.
tony
2016-06-01T00:00:00Z
The host canceled this reservation 86 days before arrival. This is an automated posting.
James
2016-10-02T00:00:00Z
Typ av rum
Eget hus/egen lgh
---
Typ av boende
Hus
---
Plats för
4
---
Sovrum
Churchinford, Storbritannien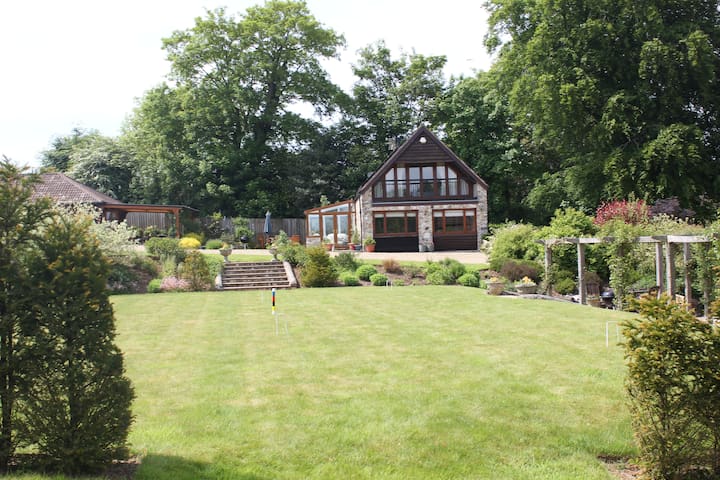 This bedroom is situated in the east wing of our historic listed Somersetshire long house on a working sheep farm which has been in the Sparks family for four generations . The bedroom can sleep up to four persons , two in the lovely hand made oak king bed and another 2 extra single if required . A dedicated kitchen is suitable for either self catering , or you can request our continental breakfast pack at £5 per person . There is a further two bedrooms available , lovely local walks
Lovely room with vaulted ceilings , views over the Yarty Valley , enough space for another single bed as a option .
Typ av rum
Eget rum
---
Typ av boende
Hus
---
Plats för
4
---
Sovrum
Otterford, somerset, Storbritannien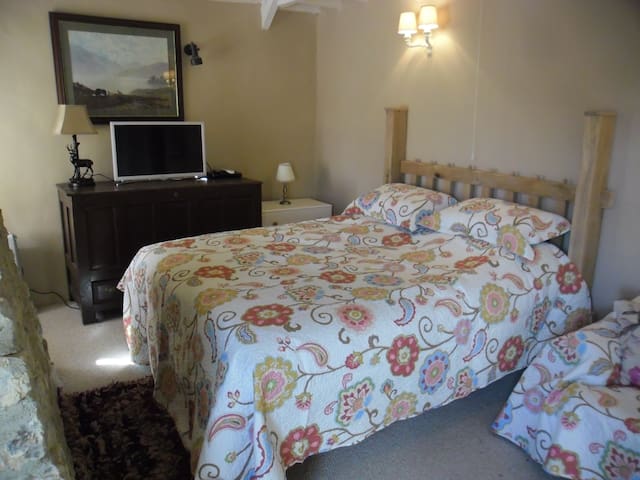 A lovely private annex to our 16th century thatched mill house in rural Somerset. Two minutes walk to the Somerset gastro pub of the year, located on the bank of a river and in 3 acres of private grounds in an Area of Outstanding Natural Beauty. Lovely local footpaths, close to the south Dorset and Devon coasts and just off the A303. You'll love the homely, peaceful countryside location with a traditional country pub on the doorstep! Perfect for a relaxing and romantic weekend break.
A completely private and quiet one bedroomed annex with ensuite bathroom and its own entrance. The annex is adjacent to our 16th century mill house, which is on the banks of the river Yarty and in 3 acres of private grounds and gardens, in beautiful and peaceful countryside. The annex comprises a fully furnished bedroom with king-sized bed, and adjoining private ensuite bathroom with a walk-in shower. Within the Annex there are tea & coffee making facilities, English breakfast tea, herbal teas and freshly ground filter coffee, together with a small fridge containing local organic milk and yoghurt, home-made granola, a selection of cereals, fresh fruit and juice for your breakfast. As part of your stay please feel free to spend time in the outdoor veg garden and seating area which is on the riverbank - a stunning spot for a morning coffee! A charcoal BBQ is also available for your own use for a summer's evening BBQ in the veg garden on the banks of the river.. The annex also has it's own Smart TV, DVD collection and selection of books including local guidebooks, walking routes and maps.
Set in Bishopswood, a beautiful traditional Somerset village in the Blackdown Hills, an Area of Outstanding Natural Beauty. Enjoy the homemade cider and snuggle up by an open log fire at our local pub, 2 minutes walk from the Annex. Peaceful countryside and lovely local country walks on the doorstep. Only twenty minutes from the Jurassic World Heritage Coast and Lyme Regis, with coastal walks, traditional fishing villages and stunning beaches.
Lexi provided everything that was needed for the overnight stay. Lovely touches like a dinky jar of jelly beans. Beautiful and peaceful location. great to be able to sit in the garden. Excellent pub nearby.
Janet
2016-09-02T00:00:00Z
Perfect stay as described.. Outstanding Pub close by!
David
2016-12-18T00:00:00Z
What an amazing little gem of a place to stay. The perfect resting place after some stunning walking during the day and a truly fantastic meal at The Candlelight Pub which is only a few minutes walk away. The local Otter Ale is also worth a try. I couldn't recommend a stay at Adam and Lexi's place highly enough. Lovely people, very comfortable accommodation, extremely peaceful and a perfect local pub. What more could you ask for? Ahhh Jelly Beans... They even left us some of those as well - Perfect - We'll definitely be back!!!
David
2016-09-29T00:00:00Z
It was lovely, very cosy and cute and clean. Lexi was very helpful giving me lots of tips and recommendations beforehand. would definitely recommend for a peaceful relaxing getaway! thank you
Elizabeth
2016-10-09T00:00:00Z
Had a great stay, Lexi was very welcoming and the annex was ideal for a short break in the countryside. We had good meals at the Candlelight Inn and at the Fountain in Brankscombe. We visited Exmoor and Beer and also enjoyed a visit to the Willow Farm near Taunton. Lots of nice touches In the annex and a comfy bed.
Jayne
2017-03-19T00:00:00Z
A wonderful one night stay. The Annex was a delight, very restful and exactly as described. It's proximity to the Candlelight Inn meant that we could combine a very short stay with a lovely meal out - an ideal combination! The location is beautiful, and Lexi was very welcoming, yet unobtrusive. Thank you, if ever we are in the area again, we would love to return.
Debbie
2016-12-10T00:00:00Z
Had a wonderful stay at Lexi's. Absolutely stunning little place, beautifully decorated and some little extras too making you feel very welcome, just what we needed after a long day of traveling. Would recommend to anyone. Would definitely come back if visiting the area again.
Joanna
2016-09-18T00:00:00Z
A super annex - just as described by Lexi. Pub next door was great too!
Steve
2017-02-12T00:00:00Z
Typ av rum
Eget hus/egen lgh
---
Typ av boende
Lägenhet
---
Plats för
2
---
Sovrum
Bishopswood, England, Storbritannien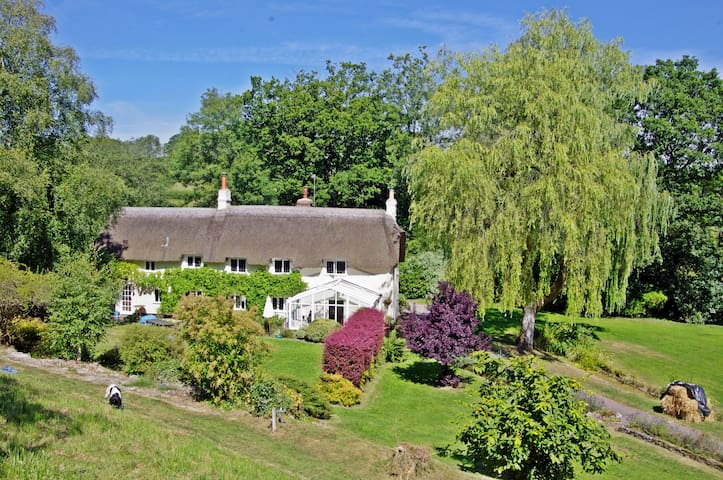 We are delighted to welcome you to Culmhead House. We offer bed and breakfast in our dining room and are a family run B and B run in 'our home.' If you are looking for something different to the normal hotel accommodation please try us for a night's stay or long weekend.
You can stay in one of our apartments with it's own sitting room and kitchen . 10 acres to wander in and enjoy our gardens. 10 minutes from A303 and M5
We are surrounded by woodland and fields.
Beautiful property in an equally beautiful location, Susan made us feel more than welcome.
Thomas
2015-07-29T00:00:00Z
I was continuously applauded by my clan (9 of us taking the anazing 3rd floor) for having found Culmhead House. Must say it was one of the few places we've stayed where photos and descriptions underplayed the reality. Our hosts were typically English (we have lived in Australia since childhood), very polite and accommodating but that reserve melted by the end of our 3 day stay. We thank them for a truly wonderful stay in the countryside close to where my father lived. Patrick
Patrick
2016-08-18T00:00:00Z
The host was very friendly, welcoming and accommodating.
sian
2016-04-15T00:00:00Z
It is such an amazing accomodation. Me and my friends really enjoyed our stay. The appartments were big and very nice and especially the breakfast was delicious. Also the places were recommended by the hosts were stunning. Thanks again for your hospitality welcome :)
Carina
2015-05-25T00:00:00Z
We had a wonderful stay in the Mimosa suite of Culmhead House, the grounds were beautiful and surrounded by woodlands which we were inevitably lost in! We were particularly pleased to roam freely & the House was in a perfect location to explore further afield should you wish. There was a fantastic cooked & continental breakfast each morning where we whittled away the time. Taunton is about a 15 min drive away where you an grab some lunch. I would certainly recommend Culmhead House to anyone looking for a break from the hustle and bustle of life. Thank you!
Manjit
2014-08-26T00:00:00Z
Very pleasant stay, excellent and very accommodating hosts. Beautiful grounds in peaceful surroundings.
laura
2016-05-02T00:00:00Z
Typ av rum
Eget hus/egen lgh
---
Typ av boende
Bed & Breakfast
---
Plats för
12
---
Sovrum
Taunton, England, Storbritannien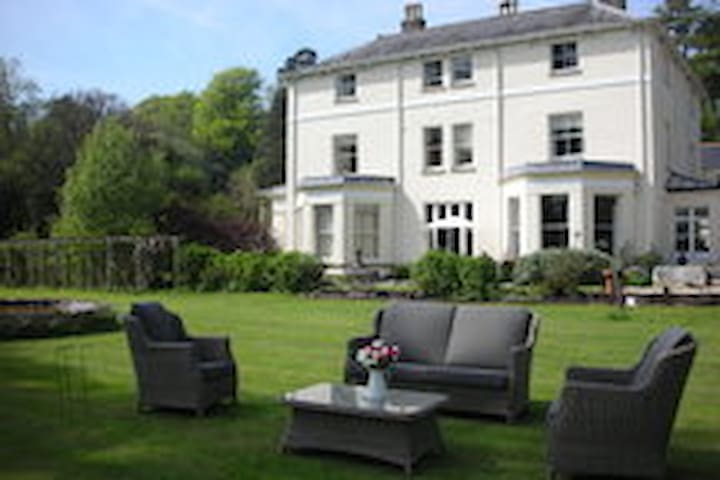 Overlooking the beautiful Otter Valley in the heart of the Blackdown Hills, AONB. Otter Rise is a pretty, detached cottage with large, private gardens. Tastefully finished to a high standard, the cosy accommodation is accessible for wheelchairs.
Otter Rise is the perfect escape for couples for a romantic break or for families with children. Well behaved dogs are very welcome, but please keep them on a lead or under close control as we are surrounded by sheep. We are happy to provide a travel cot with bedding and a high chair for the small people for no extra charge. The accommodation has 4 steps up to the front door, but once inside everything is all on one level and easily accessible for those with mobility issues. Guests have sole use of the mostly level, lawned garden area which is enclosed by hedging and a low wall.
Many of our friends have called Otter Rise a 'little piece of heaven' and everyone who comes to stay loves on the peace and tranquility of the area. Anne's family have lived here for over 40 years and we absolutely love the friendliness of the people, the beautiful walks along the river, through the woods or exploring the ancient, hidden lanes; we love a visit to the nearby beaches and fossil hunting along thr Jurassic Coast. Seatown is a particular favourite, which may have something to do with the pub that is right on the beach and serves excellent food, and what can beat buying the freshest fish straight from the boats on the slipway at Beer? We have our own favourite restaurants and pubs nearby, most of which welcome dogs. A list of these is in the cottage, please feel free to add your favourites too. When you've had enough of all this fresh air and country goodness, 30 minutes to an hour will see you in the heart of the big towns and cities of Plymouth, Exeter, Taunton or Yeovil with plenty of bright lights, shops, theatres and cinemas or, closer to home are numerous small towns with unique, quirky shops to explore.
Beautiful cottage tucked away. Not far to drive to the local beaches and towns. The host was very welcoming on our arrival. The cottage was lovely, spacious, clean, with everything you need for a holiday away. Loved the little touches such as the bread, jam and cake left in the cottage on our arrival. All tasted amazing. I would definitely recommend to friends and family and would love to return again someday soon. Thank you for a relaxing couple of nights away.
Sara
2016-11-13T00:00:00Z
Fantastic place to stay with lovely views. Really warm welcome from Anne who was very helpful, thank you very much. Recommend this place to everyone. Very accommodating to our 2 yr old daughter
Colin
2017-02-09T00:00:00Z
Samuel
2017-02-11T00:00:00Z
Anne gave us a very warm welcome with a tour of the bungalow and some very generous home made goodies. The bungalow was warm and cosy and immaculately decorated and furnished to a high standard. The bathrooms particularly were lovely. The kitchen was well stocked with utensils and there was everything that we needed including a basket full of logs for a wood burner. It was a very peaceful location and a really spectacular view of the surrounding countryside. Very highly recommend.
Jane
2016-04-04T00:00:00Z
Anne was fantastic at keeping in touch and accommodating our various requirements ( including providing a new sofa bed to accommodate us all!). The house was fantastic - just as described and we even managed to sit out in the garden between showers. Everyone enjoyed the welcome pack - the marmalade was delicious. My only regret is that we couldn't stay longer to make full use of the house and explore the surrounding area. We would love to come back another time if Anne will have us!
Ruth
2016-06-27T00:00:00Z
Lovely place, and set in a beautiful location. Anne was a perfect host!
Donovan
2016-08-07T00:00:00Z
We had a lovely two night stay. The accommodation was spacious and cosy and spotlessly clean. There were toys and games for children and a stand for the sink and Childs toilet seat. Everything had been thought of! The location was great - fantastic views and in easy reach of Lyme Regis which was the reason for our trip. Anne gave us lots of useful local information. The cakes and bread were delicious. We hope to visit again one day !
Laura
2016-05-02T00:00:00Z
Such a warm welcome, even though Anne couldn't greet us in person on the day of our arrival! Delicious home made goodies and personal notes awaited us, all of which were very much appreciated. With everything on one level the cottage was perfect for Mum and I. Otter Rise is a beautiful, wonderfully equipped, real home from home, with the most amazing views. We both wished our stay could have been longer, but without a doubt we'll be back!
Sue
2016-07-06T00:00:00Z
Typ av rum
Eget hus/egen lgh
---
Typ av boende
Bungalow
---
Plats för
4
---
Sovrum
Upottery, Storbritannien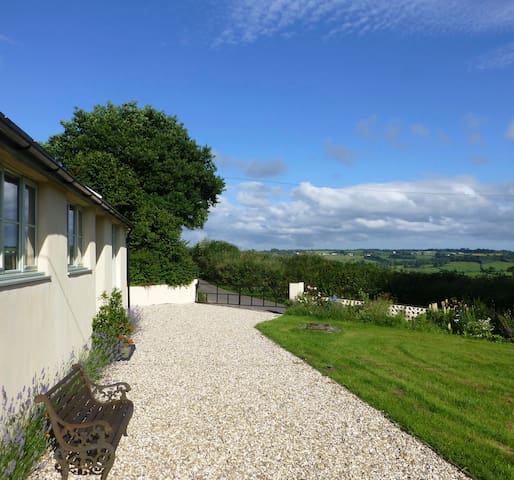 Doppa tårna i landsbygds 1950-talet med en vistelse i vår bekväma, helrenoverade, airfloat husvagn. Ställ in i sin egen privata trädgård med grillplats, utomhus eldstaden och matbord. Samla ägg färskt från kycklingarna och glöm inte att klappa grisarna!
This is a really unusual caravan that we imported from the States a few years ago and have tastefully restored. We moved on to our land in it 3 years ago - now its the home of my daughter though she is away for a while so I'm taking advantage! It is a vintage ( 1957) Airfloat - a rival to the more common 'Airstream'. 1957 was their 25th year of production so all their trailers made that year were anodised in GOLD!! It has a large (for a caravan) bedroom at one end with shower and basin but it has a dividing door and also a double sofabed at the other end if you need to sleep kids - or have had a row! The toilet is a short,OUTSIDE walk away and we also have another, larger shower available. PLEASE NOTE From June - September it is offered on a 2 nightly basis . Book for 3 nights and recieve a complimentary £5.00 beer token to use in our local pub 'the York inn' as a thank you and a 50 p voucher to spend in the local farm shop...I know! woo! Book for 4 or 5 days and get the 5th or 6 th day for free,-contact me and I 'll adjust the price. 20% discount if you book for 7 nights - the price will be automatically be adjusted by airbnb . On one or 2 Sunday's each month our local banger racing stadium in Smeatharpe hosts a demolition derby or banger racing. Depending on which way the wind is blowing sometimes you can hear the cars. Not one of my guests has ever complained about this - some even go to the races, but I always feel bad about the disruption to our normally tranquil setting - so I have decided on race days to knock £10 off the price of your stay - . Look out for those discounted days! Children aged 5 and under are free so don't include them in the booking - but do tell me in a message!
Vi är rätt på gränsen mellan Somerset / Devon / Dorset i ett område av utstående naturlig skönhet så kallade Blackdown kullar. Vi är rätt på toppen av kullen så det kan vara lite vindpinade på vintern men du får vackra himmel om dess tydliga. Läget är mycket lugnt, men inte så avlägset att du inte kan få tillgång till en butik inom 10 minuter .... och våra mobiler fungerar mestadels! Taunton, Honiton, Wellington och Chard är alla 8 miles från oss. Lyme Regis och Bridport 20 miles, Exeter 25 miles och Bristol 50 miles.
It was like going to visit an old friend. The set-up is very cool and Claire & G made us feel very welcome throughout our stay. We will definitely return.
Kevin
2015-10-30T00:00:00Z
What a lovely place to stay? Location is beautiful and caravan and amenities fantastic. Host was very friendly, showed us round and made sure we were happy with everything. Bread, milk, eggs and butter left in fridge aswell as mince pies and irish cream as it was christmas......a lovely touch. All in all a lovely stay and we wish we had booked more than one night. We definitely hope to go back :-)
Kelly
2014-12-21T00:00:00Z
Fantastic host, great communication, warm welcome, fantastic place to stay
Lotte
2016-05-22T00:00:00Z
We had an amazing stay in Clare & G's caravan. Totally relaxed & friendly with everything you need. We wish we could have stayed longer. Our daughter absolutely adored the dogs, pigs, piglets & chickens. My husband & I totally loved the quirkiness of everything & have already recommended it to all of our friends. Thank you, Clare & G, for being wonderful hosts.
Lisa
2015-09-21T00:00:00Z
Even in the depths of winter, the caravan kept us cosy and as well accommodated as any hotel room would! Clare was an amazing host and went out of her way to make our stay a memorable one. Great views, restful atmosphere, will definitely be recommending the caravan to friends.
Jess
2014-12-15T00:00:00Z
We had a really wonderful week here, Clare has created a very special space in a lovely part of the world. A terrific holiday, Clare made us really welcome. People with children and couples would enjoy this place - easy reach of lots of interesting places we went to Stonehenge and the beach at Lyme Regis on several days. The surrounding countryside is lovely. Hanging around outside the caravan was great too, we had fires on a couple of nights.
Neal
2015-08-01T00:00:00Z
Thank you so much to Claire for the lovely warm welcome and fantastically equipped caravan. It was great fun to stay in, the beds were really comfortable and the outside area was lovely to spend time in on a sunny day! It was a shame that we couldn't have stayed longer. Will definitely be back!
Kate
2016-04-04T00:00:00Z
What a wonderful place! The Airfloat is amazing....definitely cosy & very cool too, the attention to detail is second to none. We were made to feel very welcome but also left to our own devices & enjoyed our stay enormously...I just wish we'd had longer! A return visit is already being planned! Thank you Clare & Gee.
Helen
2014-10-12T00:00:00Z
Typ av rum
Eget hus/egen lgh
---
Typ av boende
Husbil/husvagn
---
Plats för
4
---
Sovrum
churchinford, somerset, Storbritannien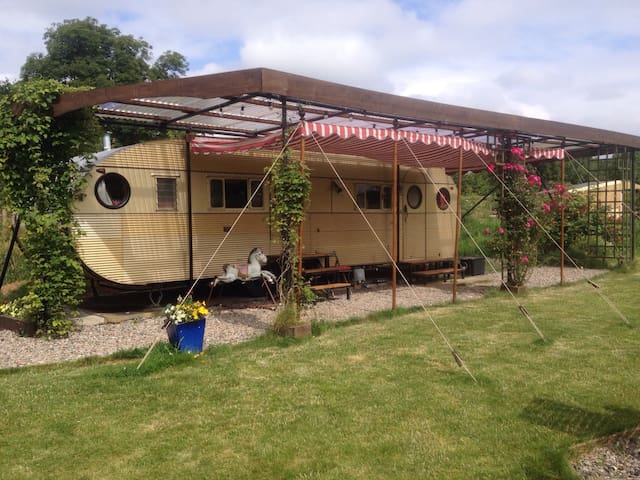 This bedroom is situated in the east wing of our historic listed Somersetshire long house on a working sheep farm which has been in the Sparks family for four generations . The bedroom can sleep up to four persons in single beds or use the super king double bed option . A dedicated kitchen is suitable either for self catering or you can request our continental breakfast pack at £5 per person . There are a further two bedrooms available . Lovely walks and wildlife .
Typ av rum
Eget rum
---
Typ av boende
Hus
---
Plats för
4
---
Sovrum
otterford, England, Storbritannien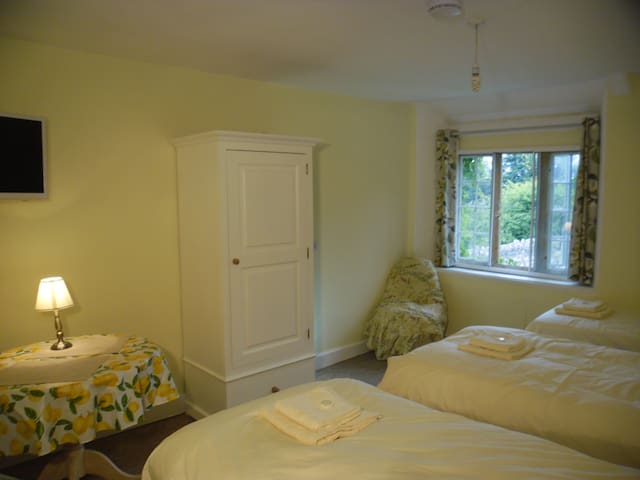 Surrounded by traditional farm and woodland, we've enjoyed living in peaceful tranquility at Coburns Barn for the past 24 years. As smallholders, we run a small flock of Jacob sheep and our visitors often enjoy feeding the ewes, or watching the Spring lambing. Youngsters love bottle-feeding young lambs if given the chance. We can easily accommodate 6 people in our 3 bedrooms, but we don't book more than one group at a time, so your group won't need to share a bathroom with another group.
Our place is: peace and quiet, close to sheep, horses and cows, Blackdown Hills (AONB) villages, tranquil rural public footpaths, fields and woods. There's plenty of fresh air and solitude, no passing traffic - over 400 metres from the nearest quiet countryside lane. The outlook is over our paddock and the ancient traditionally laid hedgerow field boundaries. Coburns Barn is good for couples, solo travellers and families.
The Candlelight Inn at Bishopswood and The Flintlock Inn at Marsh are 2 superb village pubs, both offering excellent food and drink, within a mile of Coburns Barn.
Typ av rum
Eget rum
---
Typ av boende
Bed & Breakfast
---
Plats för
6
---
Sovrum
Bishopswood, England, Storbritannien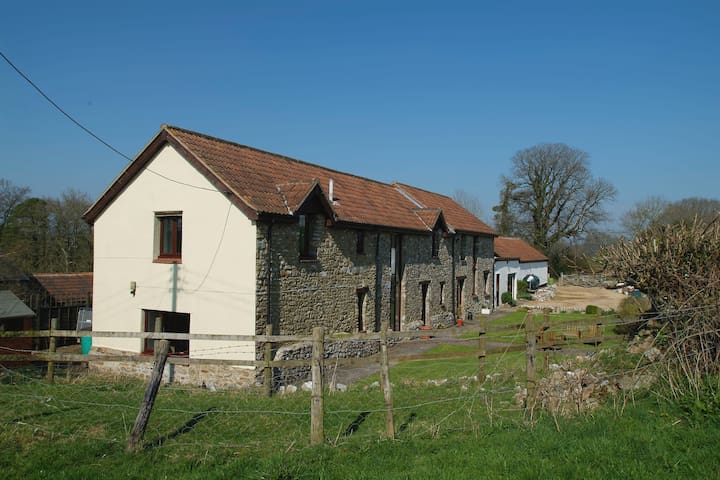 A simply magical country home in a stunning part of england ,country inn next door serving home cooked food its delicious and caters to vegetarians also! No more than an hour from the coast of Devon or dorset or wales!! Taunton 8 miles Exeter ,Bath,
The host canceled this reservation 30 days before arrival. This is an automated posting.
Bridget
2017-03-17T00:00:00Z
Typ av rum
Eget rum
---
Typ av boende
Hus
---
Plats för
2
---
Sovrum
Taunton, England, Storbritannien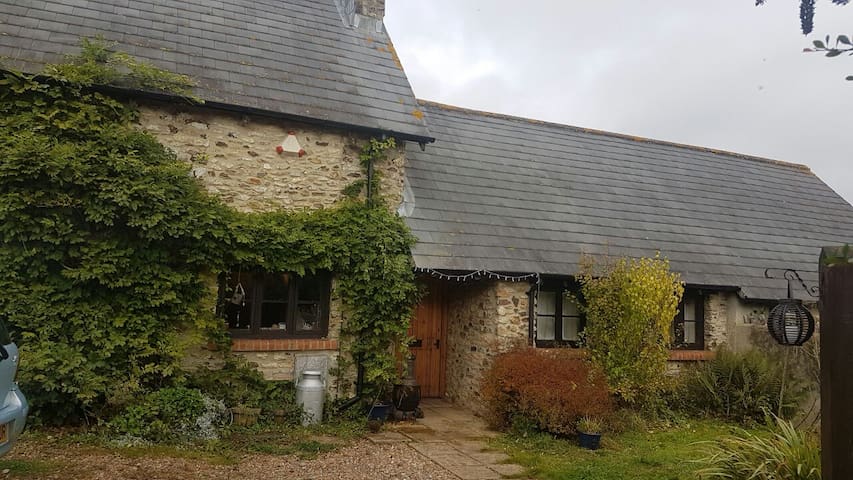 Hoemoor bungalow is overlooking our working Dairy, beef farm and Otter Valley views,in the beautiful Blackdown hills on the Devon/Somerset border. Hoemoor sleeps 4 in a double and 2 single beds,has its own garden.views and wildlife from every window
we stayed here 2 nights and I can definitely say that we had an amazing time!! Pauline and her husband are lovely people who are genuinely interested in making sure you have a good time. I would love to have the opportunity to visit this place again in summer if possible.
Julio
2015-05-25T00:00:00Z
Typ av rum
Eget hus/egen lgh
---
Typ av boende
Hus
---
Plats för
4
---
Sovrum
HONITON, Devon, Storbritannien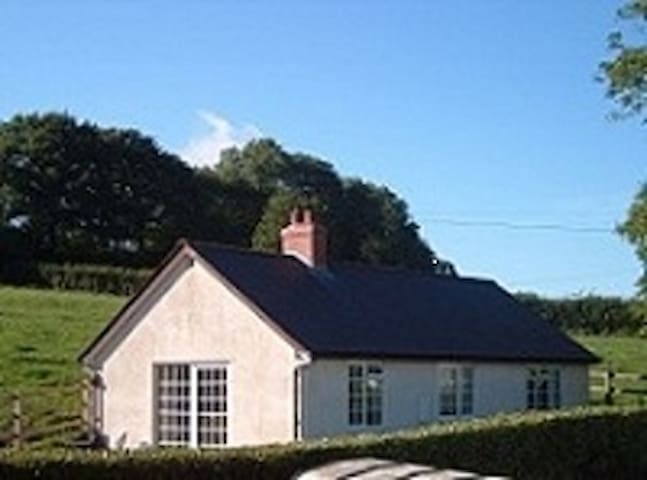 This Barn has been carefully and tastefully converted to provide a very comfortable and self-contained, open-plan accommodation . Now available as a cosy holiday home, a huge log burning stove, central heating and a pool, May-Sep. It is Self Catering
Tiphayes Farm is set on the edge of the Blackdown Hills near to the Devon / Somerset border in an area of outstanding natural beauty. The village of Upottery is about a mile and a half away and has a lovely country Pub serving excellent food. Honiton, the nearest town, is about 7 miles away to the South West, where you will find an interesting variety of independent shops as well as the usual supermarkets. The house which is an original Thatched Devon Longhouse dating from the 15th century, is set in traditional farmland of small enclosures mostly with the ancient hedges still intact. We are also adjacent to a large woodland and the whole area is a haven for a wonderfully wide variety of wildlife. The position of the property, well away from other farms and overlooking the beautiful Otter Valley, makes this a most tranquil and relaxing setting for your holiday. The house has a Barn attached at the Eastern end which would have originally been the main animal enclosure on the Farm and is suspected to be even older than the house, perhaps the original early dwelling on the site. This Barn has been carefully and tastefully converted to provide a very comfortable and self-contained, open-plan accommodation which is now available as a cosy holiday home. There is a huge log burning stove as well as central heating which creates a lovely warm atmosphere. If cuddling up on a massive comfy sofa in front of an open fire is your thing, this is the place. There is an enclosed heated swimming pool just across the garden, the pool is heated and in use between May and September. Well behaved dogs are welcome (up to two) and there are miles of wonderful walks in the area full details provided with a "Pooch Pack" on arrival. WI-FI Broadband is also available free of charge. Weekly bookings from Friday or Saturday are preferred but we remain as flexible as possible especially out of season. The Barn is Self Catering.
I love this area and have lived here for over thirty years. The position of Tiphayes allows very easy access to the beautiful Jurassic coastline, Beer and Branscombe are particular favourite coastal villages with great walks and superb Pubs. Both Exmoor and Dartmoor are an easy drive away and can be explored offering some stunning countryside walks. There are lots of great restaurants and local Pub/Restaurants within a short drive and most allow dogs.
Roger, made this a wonderful experience for us from start to finish, and we would highly recommend staying at his lovely barn.
William
2016-09-30T00:00:00Z
We stayed for 3 nights, Roger gave us a quick tour and left us to it. Roger made a book of useful information containing local attractions and walks which was a nice touch. We had a great time and really enjoyed our stay. Would recommend this to others. You won't be disappointed.
Christopher
2016-03-01T00:00:00Z
We had a fantastic time at the barn!! Roger was so friendly and even left us some fresh food items to make the stay even more comfortable. The barn itself is even nicer than the photos, so spacious and comfortable, we loved it! We took quite a lot of food with us and were very happy to find the kitchen so well equipped. I will recommend this place to all of my family and friends!! Roger gave us some great local tips and the location itself was so peaceful yet not too far from civilisation! Many Thanks Roger we hope to come again!
Emma
2015-02-17T00:00:00Z
The Barn was incredible, clean, cozy, well equipped. The baby gate was a great added touch to keep the dog down in the kitchen at night! The views were spectacular! The added suggestions of what to do made it the perfect get away! The walk from Beer to Branscombe on the Jurassic Coast was stunning and has the wag factor from The dog, thank you! The pub suggestions were spot on, especially after finding out The York Inn had a Pie menu!! Incredible! Roger could not of been a better host. There on the end of the phone if needed. The complimentary logs were well received and made the evenings very cozy. It is obvious Roger loves the area and knows it like the back of his hand. Thank you so much for your hospitality, it made the getaway perfect. We definitely want to come back to try some other walks (and more Otter Ale and Pies).
Ben-Jamin
2017-01-05T00:00:00Z
The Barn is a fantastic place to stay - very well converted and very comfortable. The location is great - beautiful views and very quiet. Roger was the perfect host, he gave us some suggestions and left us to it. My partner and I especially enjoyed the walk from Beer to Branscombe and lunch at The Pig. We would have loved to stay here a lot longer.
Rob
2017-03-28T00:00:00Z
You can be confident that your stay at Tiphayes will be relaxing and peaceful. The accommodation is private and spacious. The facilities are excellent. Roger is charming, helpful and friendly. Ultimately he is what made our stay so enjoyable and effortless. Roger provides a really useful folder with information. Best recommendation therein is to visit Beer then walk from there to Branscombe.
Nick
2017-03-18T00:00:00Z
Great cottage to stay at , very comfortable ,everything you could possibly need ,very good host ...Roger
Carol
2017-03-06T00:00:00Z
My partner and I had the most enjoyable stay in Roger's converted barn in Honiton. All the small details were taken care of which meant that we could relax and enjoy our break. We were so happy there that we extended our stay by 2 nights. Immaculately kept and wonderful space which we look forward to returning to and heartily recommend to others. The host, Roger, was helpful and kind. Thank you so much Roger, thank you AirBnB.
Maja
2015-01-26T00:00:00Z
Typ av rum
Eget hus/egen lgh
---
Typ av boende
Annat
---
Plats för
2
---
Sovrum
Honiton, England, Storbritannien
Come and stay in our Woodland Yurt. Relax and unwind, with everything already set up you need just turn up and stay. Set in it's own woodland glade it offers: •Full double bed •Double futon •Wood burner •Outdoor seating area with fire pit •Cooking facilities Modern shared Bathroom facilities located just a 30 second walk away
Typ av rum
Eget hus/egen lgh
---
Typ av boende
Jurta
---
Plats för
4
---
Sovrum
Devon, England, Storbritannien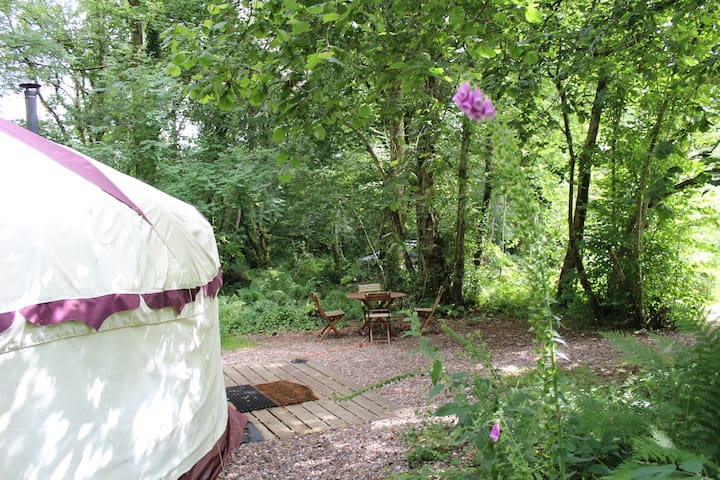 The bedroom is situated in the east wing of our historic listed Somersetshire Farm House on a working sheep farm which has been in the Sparks family for four generations . The bedroom can sleep up to four persons in single beds or use the super king double option . A dedicated kitchen is suitable either for self catering or you can request our continental pack at £5 per person . There are a further two more bedrooms available , lovely local walks , The A303 is nearby , M5 seven miles .
There is a dedicated bnb kitchen , so can self cater if required . Each bedroom can sleep 3 persons , please enquire about prices .
Lovely working sheep farm on the slopes of the Yarty Valley on the Blackdown Hills of Somerset . Lovely walks and wild life , 35 minute by car to the beach . Local village shop and pub .
A hidden gem in the Blackstone Hills. Lovely old farmhouse with self contained guest flat on first floor. Big comfy rooms and lots of generous extras. Matthew was very helpful and welcoming.
Wendy
2016-07-10T00:00:00Z
Typ av rum
Eget rum
---
Typ av boende
Hus
---
Plats för
4
---
Sovrum
Otterford, Storbritannien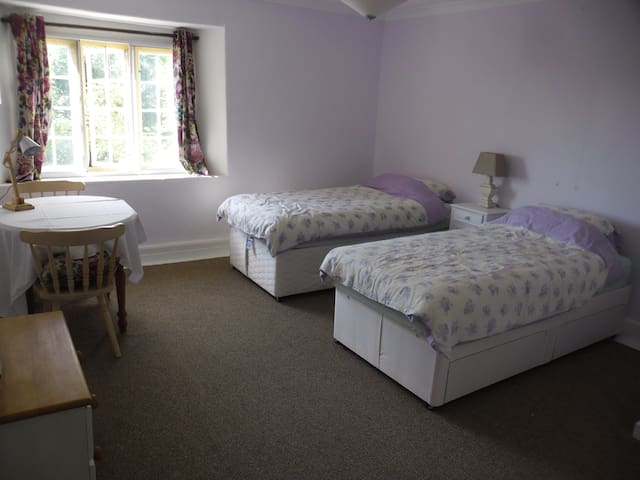 Single room with shared bathroom. A lovely little room With tea and coffee making facilities, TV and free Wifi. A view over the garden and up the hill.
A lovely fresh single room, with a bathroom just a door away.
We live in a little Hamlet with only 15 houses in our lane with super views around us. We love the fact that you can go for some great walks from the door step.
Typ av rum
Eget rum
---
Typ av boende
Bed & Breakfast
---
Plats för
1
---
Sovrum
Chard, Storbritannien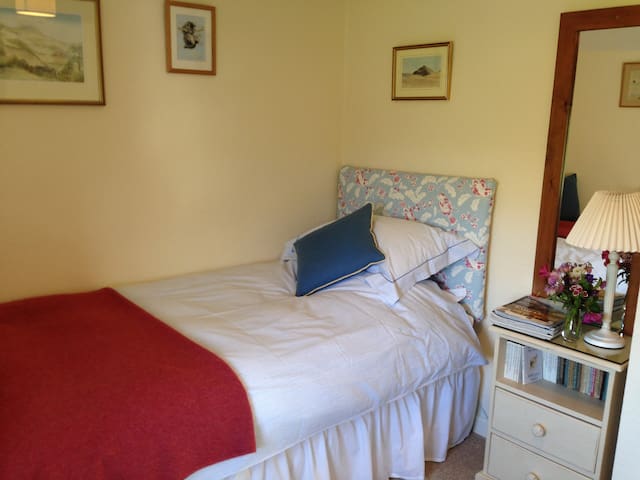 Come and stay in our lovely caravan, Bluebell..built in the early 1980's, she boasts sparkling cut glass mirrors, stainless steel trim & a log burner. Bluebell sleeps up to four people & all bedding is provided. There is a cooker, fridge and all other kitchen essentials. Modern bathroom facilities are located a short walk away. There is a radio with ipod dock, a TV, games, & books. You'll find an OS map plus binoculars and should you wish to take a picnic out there is a picnic hamper available.
Welcomed by friends because hosts were away at a wedding for the day. Made to feel really welcome, nothing was too much trouble, helped me get to the caravan (i'm on crutches) by giving me a lift in the golf buggy. Caravan is really beautiful, lots of little touches and ornaments. Bedding was fresh and clean. Took us a while to find the bed cushions (in the cupboard) which added to the adventure. Kids absolutely loved it. Showers were brilliant, hot and decent water pressure. Definitely will be booking again!! Thank you.
Holly
2016-07-10T00:00:00Z
Typ av rum
Eget rum
---
Typ av boende
Annat
---
Plats för
4
---
Sovrum
Devon, Storbritannien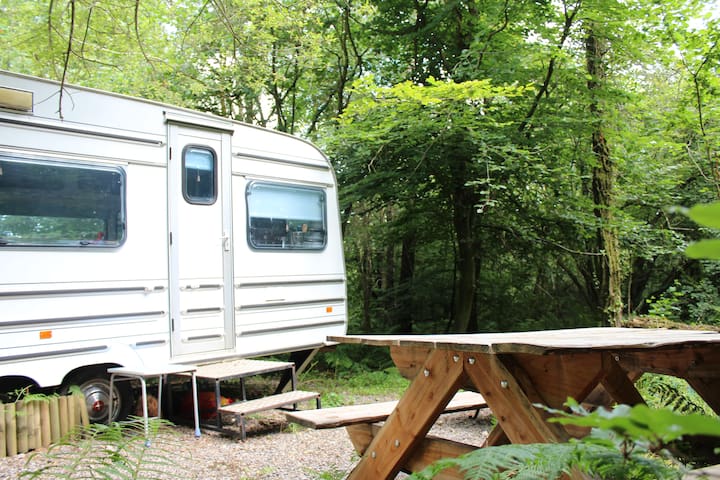 Ange datum för att se full prissättning. Ytterligare avgifter tillkommer. Skatter kan tillkomma.