Stone house of 60m² renovated. On the ground floor lounge kitchen area with a wood stove opening onto a terrace to the west. unobstructed view of the countryside. A open space floor bedroom / shower room. closed toilet. Perfect for weekend green.
The house is located in the countryside of Charente Limousine in a green pond. hilly and very quiet, ideal for a family or friends. The house is equipped with the necessary to cook and a brazier for evenings on the terrace. The two levels communicate via an open staircase. Sheets and towels provided.
The small house is located in a very isolated environment; lots of hiking trails nearby (path Mandrake). Ponds, views, highest point of Poitou-Charentes nearby site Monts de Blond, Oradour sur Glane ....
JE RECOMMANDE.... PARFAIT
FRANCK
2016-11-22T00:00:00Z
Très agréable petite maison, au calme dans la campagne. Nathalie est disponible et arrangeante. Je recommande pour se mettre qqs jours au vert!
Camille
2016-07-11T00:00:00Z
Great place to stay! Fantastic region! Good to relax, walk, etc. We recommend la petite maison!
Wouter
2016-07-31T00:00:00Z
Petite maison correspond parfaitement à ce quoi on s'attend d'après les photos et descriptifs, à l'intérieur tout est très propre et fonctionnel. Le cadre est superbe et très calme. Nathalie est souple et disponible. Rien à redire, nous avons passé un très agréable séjour. Merci !
Hélène
2016-08-22T00:00:00Z
The host canceled this reservation 4 days before arrival. This is an automated posting.
Chadi
2017-04-10T00:00:00Z
Très agréable séjour chez Nathalie et Léon, super petite maison très bien rénovée, on s'y sent bien. Le cadre est top et l'accueil de nos hôtes très chaleureux ! Le coin est également très joli. Bref, on recommande !!!
Annabelle
2016-11-01T00:00:00Z
Nous avons bien aimé passer quelques jours dans la petite maison. Tout était bien dedans et dehors. Nathalie nous a aidé de trouver un supermarché quand tout était fermé pendants les jours de fête en Août. C'était très gentille.
Petra
2016-08-18T00:00:00Z
Accueil de l'hôte très sympathique, facilité d'heure d'arrivée. Maison bien isolée (1 seul voisin). Petit tour du propriétaire, comme à la maison. Si l'on cherche la tranquillité de la campagne, c'est ici.
Jennifer
2016-05-15T00:00:00Z
Typ av rum
Eget hus/egen lgh
---
Typ av boende
Hus
---
Plats för
4
---
Sovrum
Saint-Christophe, Aquitaine Limousin Poitou-Charentes, Frankrike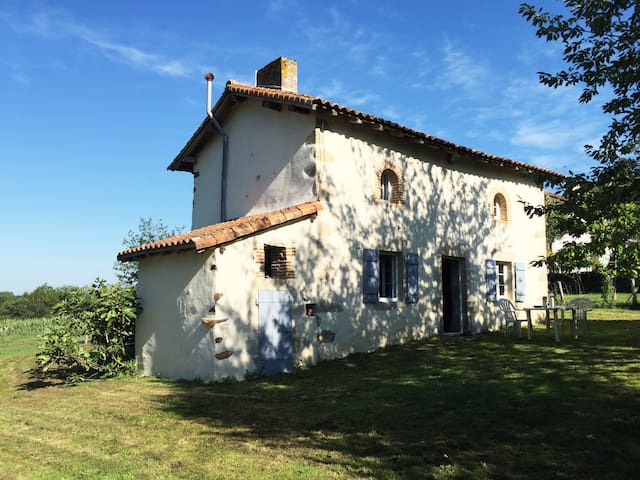 Michelle and Richard made us feel very welcome, and we had a lovely few days staying in their apartment, which was very comfortable and well located. Brigueuil is gorgeous and fun to explore. It has a bread-shop, great butchers (selling lasagnes, pies etc), tabac and co-op shop (with very friendly owners). There are also some nice, well-marked walks to do from the village in the surrounding woodlands. Thanks to Richard I managed to fish in his lake, and (with 20 years fishing experience) it was a little slice of paradise. Full of quality fish, and very quiet and scenic. I'd love to come back. For those who want to relax at home in the evening, these is a good DVD library to work through. St Junien is only 10 minutes away, so all the shops etc are very close to hand.
Nick
2015-07-10T00:00:00Z
Michelle was a great host. Very friendly and helpful. The apartment was excellent, very well equipped with a modern hob and oven and Sky TV. Little touches like milk and tea and coffee were very nice and much appreciated. The house is in a great location in a small peaceful village with amenities but with a lovely rural feel.
Karol
2015-06-12T00:00:00Z
A simple, charming self-contained apartment in a characterful Limousin village. Michelle and Richard are friendly hosts, and the apartment has everything needed for a relaxing stay. Brigueuil itself has a bakery, butchers and a welcoming bar, whilst St Junien is only a few miles away with all of the supermarkets, restaurants etc. that you might need. A beautiful part of France. Recommended.
Joel
2013-03-23T00:00:00Z
Fabulous,spacious,well equipped apartment in small medieval village which was well located to visit many sights in the area. Very comfortable bed and lounge suite to relax in and great to have English speaking TV channels. Everything was just perfect for us. Thanks Michelle for a lovely stay.
Grahame and Gretchen
2013-09-08T00:00:00Z
We are stay 3 days and it was perfect. The appartement is spacious and clean. For the French tourist, the tv is in english. Michelle and his husband are friendly and helpful. I recommend you this appartement
Florian
2013-05-11T00:00:00Z
Typ av rum
Eget hus/egen lgh
---
Typ av boende
Lägenhet
---
Plats för
2
---
Sovrum
Brigueuil, Poitou-Charentes, Frankrike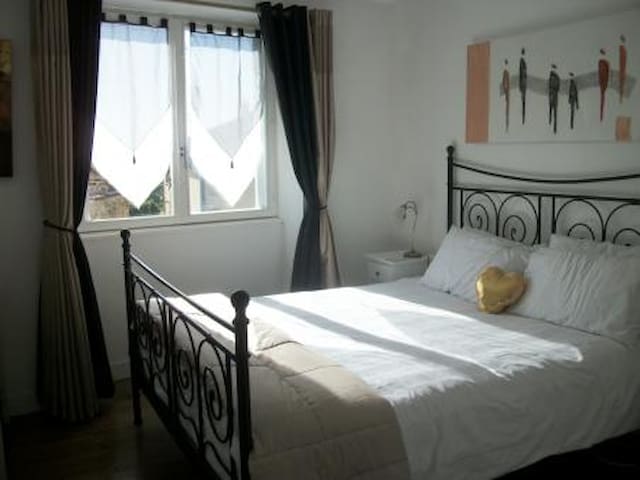 Magnifiquement restauré, pierre, moulin de la rivière dans la campagne vallonnée de la frontière Charentes / Limousin, entouré de champs et de bois. Cheminées, éléments d'époque, mais tout le confort moderne. Petite piscine, des jardins magnifiques, des hamacs. Peace & tranquilty
Un magnifiquement restauré, moulin à eau tranquille située dans la campagne vallonnée de la frontière Charentes / Limousin, Moulin de Marousse est sur une rivière et entourée de champs et de bois. Cette charmante propriété en pierre bénéficie d'éléments d'époque, des cheminées ouvertes, un jardin clos et un jardin supplémentaire prairie avec vue sur la vallée. Il a une petite piscine remplie de nos propres frais de printemps de l'eau, des terrasses, Nous avons la télévision par satellite, WiFi, lave-vaisselle et lave-linge. Tous les draps et serviettes sont fournis. Que vous soyez un couple à la recherche d'une escapade romantique, un groupe d'amis ou en famille avec des enfants en vacances avec d'autres, le Moulin est l'environnement parfait pour le farniente manger, boire, marcher et jouer à des jeux avec vos proches toute l'année.
Typ av rum
Eget hus/egen lgh
---
Typ av boende
Hus
---
Plats för
9
---
Sovrum
Saint-Christophe, Aquitaine-Limousin-Poitou-Charentes, Frankrike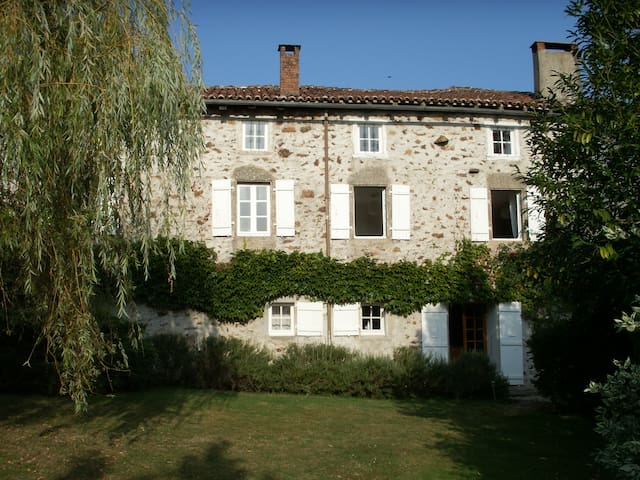 Two double bedrooms, one bedroom with four beds (4 beds 90 euro). Each room has a private bathroom. Breakfast served in small corners of the furnished house bistro. Large garden and heated swimming pool for guests
The tariffs for individual rooms: double room + breakfast for two persons = EUR 50.00 Room 4 places + breakfast for 4 persons = € 90.00
Very quiet corner of the countryside but close to shopping and many places to visit
Cesura nous a accueilli les bras ouverts avec son accent d Italie .! dans sa maison au calme ou la piscine a fait un grand bien a nos enfants après la route . bref très bon rapport qualité prix
patrick
2016-08-07T00:00:00Z
Nice place , warm welcoming, very available and willing to help their guests.Paulo and Alessandra, made our stay very easy. We arrived very late 12.pm) they were lovely about it, the kids wanted to use to pool under the rain they opened it, we did not want to go out again for dinner and even with a very short notice(1h) they fixed it for us , the price was a bit high (15 EUR pp)but the pasta was good. Thank you and buon proseguimento.muscas family
Siri Sant Kaur
2015-08-16T00:00:00Z
Excellent moment. Accueil chaleureux de la part de Paolo et de son épouse. Nous avons apprécié -surtout les enfants- le moment de détente dans la piscine après plusieurs heures de route. A refaire sans hésiter !!!!!!
Borie
2016-07-23T00:00:00Z
Lovely welcome by lovely couple, despite our late arrival. Great quality beds as you don't often get this! VERY spacious accommodation with en suites. Delicious coffee & breakfast. Impressed by the extras the grounds offer. If you have young kids, there's swing ball and a swimming pool and lots of room to run around. Fabulous home, guests and experience, HIGHLY recommend!
Nicole
2015-07-25T00:00:00Z
Accueil agréable. Chambre rustique.
caroline
2016-08-11T00:00:00Z
Cesura and his wife made their best to adapt my specific request (they add one more bed in the bedroom for one more child). They welcomed us very warmly and made us feel very confortable inside the house and outside : the swimming pool, garden, animals were so nice for the children ! We enjoyed a nice pique nique in the garden and had a gorgeous breakfast with a nice chat with Cesura and his wife. A WONDERFUL place ! I wish I could have stayed more time !
Aude
2016-07-30T00:00:00Z
Hôtes très accueillant et disponibles. Petit déjeuner copieux, nous avions l'impression d'être dans la famille.
Philippe et Véronique
2016-07-16T00:00:00Z
Excellent rapport qualite prix. Piscine, croissants frais au petit dejeuner, tres gentil accueil de l'hote.
Marina
2015-08-07T00:00:00Z
Typ av rum
Eget rum
---
Typ av boende
Bed & Breakfast
---
Plats för
8
---
Sovrum
Saulgond, Poitou-Charentes, Frankrike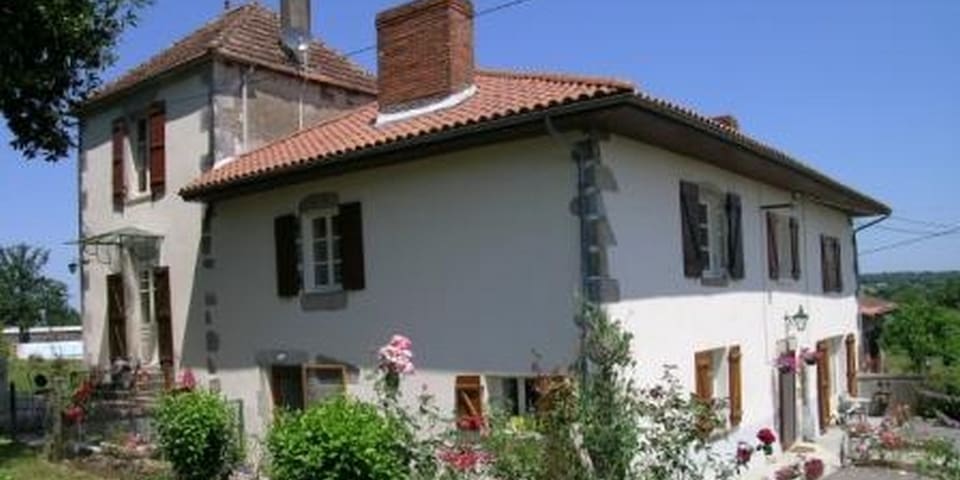 A large double bedroom and a single bed and ensuite bathroom, living room with sofa bed for 1 pers. , Kitchen with dishwasher, washing machine and microwave. euro 585/465 week in common with heated pool Old dairy Gite
Cesura et sa femme étaient trés sympathique pendant notre visite d'une semaine. Il y avait pas mal de mouche et comme il faisait chaud, difficile d'ouvre des fenêtre. La piscine était super agréable. La Vielle Ferme est bien loin de tout. Difficile à utiliser nos téléphones; donc important d'emmener des bons livres! Si vous cherchez un endroit calme, c'était parfait!
Ruth
2016-08-20T00:00:00Z
Un très bon accueil de Paolo et sa femme, deux personnes tres sympathiques on se sent comme à la maison, le jardin et la piscine pour nous seuls bref un très bon séjour
SABRINA
2016-08-07T00:00:00Z
Gîte tranquille et perdu à la campagne mais c'est ce que nous cherchions. Un peu sombre mais puisqu'il faisait beau nous avons passé beaucoup de temps à visiter la région ou dehors sur la pelouse ou à la piscine. Il faut penser à apporter ses draps et ses serviettes.
Elise
2016-08-14T00:00:00Z
Paolo war sehr freundlich und hat uns gut aufgenommen. Besonders hervorzuheben ist seine Hilfsbereitschaft! Am besten hat uns der Pool gefallen, der sehr gut gepflegt war. Wir haben die Tage genossen mit Ausflügen, Ausspannen und auch mit Radln. Vielen Dank!
Helmut
2015-08-22T00:00:00Z
Typ av rum
Eget hus/egen lgh
---
Typ av boende
Hus
---
Plats för
4
---
Sovrum
Saulgond, Poitou-Charentes, Frankrike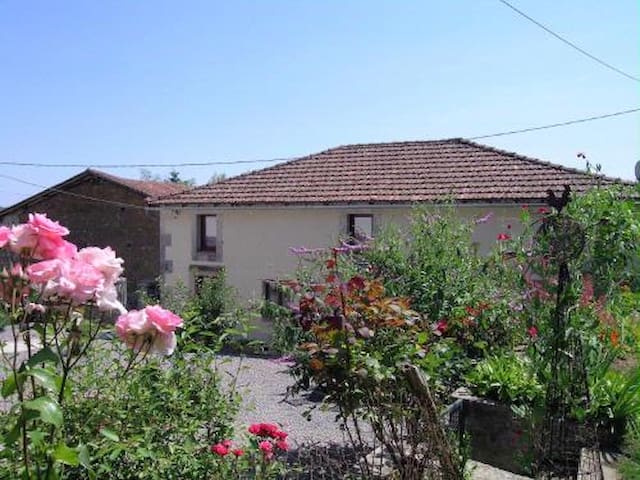 Grand séjour, cuisine équipée :lave-linge, lave-vaisselle, réfrigérateur, congélateur ;four, deux chambres avec deux salles de bains. 1 superking ,2 lits simples ,2 canape lits Jardin équipé , BBQ Piscine chauffee en commune avec Smokehouse Gite
chalet rénové avec toutes les comfortes: salle à manger, salon, cuisine équipée, deux chambres avec salles de bains complètes salle
Séjour au vert en pleine campagne de la Charente. Superbe accueil par ce très charmant couple italien. Le jardin, la piscine et la maison ont été très agréables. Exactement ce que nous cherchions.
Benoît
2015-07-14T00:00:00Z
nous partions à une cérémonie donc tout à été très vite et visiblement gros problème personnel
Pascale
2016-05-10T00:00:00Z
Accueil sympathique et convivial dans un environnement calme.
Martine
2016-08-13T00:00:00Z
Really quaint pretty gite. Absolutely ideal for a family with two children as the gite has 2 bedrooms with 2 bathrooms. The hosts were very friendly. We would definitely stay again. Thank you
Lisa
2015-08-01T00:00:00Z
Typ av rum
Eget hus/egen lgh
---
Typ av boende
Hus
---
Plats för
6
---
Sovrum
Saulgond, Poitou-Charentes, Frankrike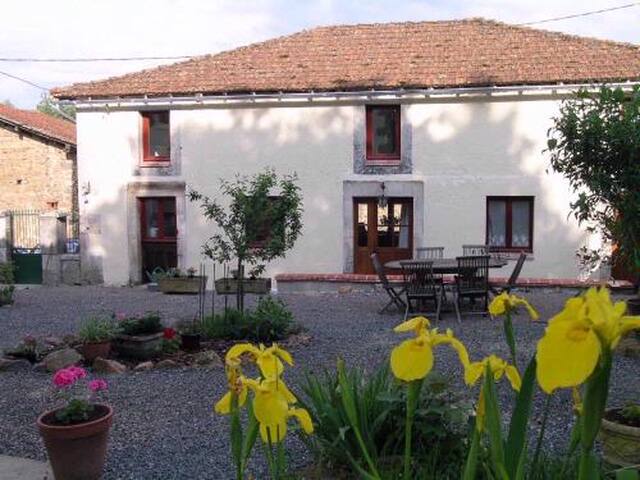 Ange datum för att se full prissättning. Ytterligare avgifter tillkommer. Skatter kan tillkomma.