We have to forgive a nice, cozy detached attic with two rooms. In the one there is a large double bed and in the other two single beds. There are 2 bathrooms (shower and bath) are available which are newly renovated. Both are located one level deeper. Wi-Fi can be used free of charge. The house is located in a beautiful residential area and provides a quick bus links to the city and the exhibition center (by taxi 15 min.).
On the property a parking spot is given.
Typ av rum
Eget rum
---
Typ av boende
Hus
---
Plats för
4
---
Sovrum
Pattensen, Niedersachsen, Tyskland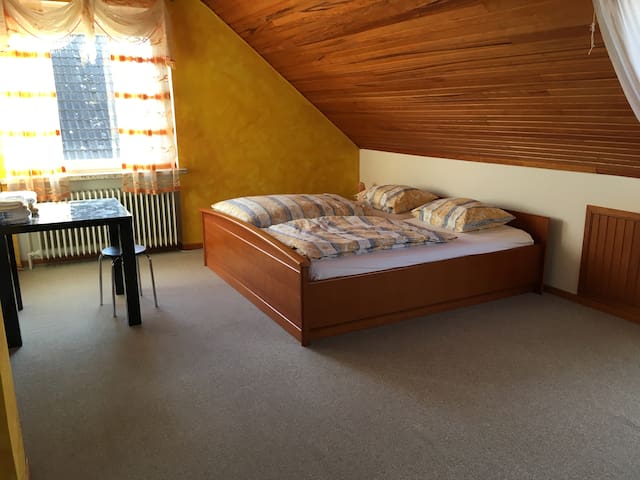 My house is near Hannover Messe.Direkt over the Calenberger shopping center (food, clothing, drugstore and restaurant, gas station) .Direkte bus connection to Hannover and Hannover Messe.Fahrzeit with public transport about 20 Minuten.Mit car significantly less .. you'll love my accommodation for close to a shopping center and the bus stop, the spaciousness and the balcony , My accommodation is good for couples, solo adventurer and Business Travellers.
My accommodation includes a fully equipped kitchen, a large living-dining area where you also sleep werdet.Ausserdem it also offers a balcony facing south ist.Kaffee there are free and at your fingertips: -) ... Also can you Fi is wireless and television over Satellit..Die super transport links are also unable to verachten.Ich look forward to your visit
It was clean and we slept also very well
Matthias
2017-03-24T00:00:00Z
Jennifer is a nice host, the communication was really efficient and the flat perfect. I would highly recommend this place !
Nicolas
2017-03-21T00:00:00Z
Die Wohnung war sehr schön und sauber. Kommunikation hat in Verbindung mit Check-In und Check-Out super funktioniert. Allgemein ist die Unterkunft für Raucher geeignet. Der Geruch in der Wohnung kann für Andere zwar als störend empfunden werden, wir als Nichtraucher haben uns aber auch wohl gefühlt. :)
Niklas
2017-03-23T00:00:00Z
Typ av rum
Eget hus/egen lgh
---
Typ av boende
Lägenhet
---
Plats för
3
---
Sovrum
Pattensen, Niedersachsen, Tyskland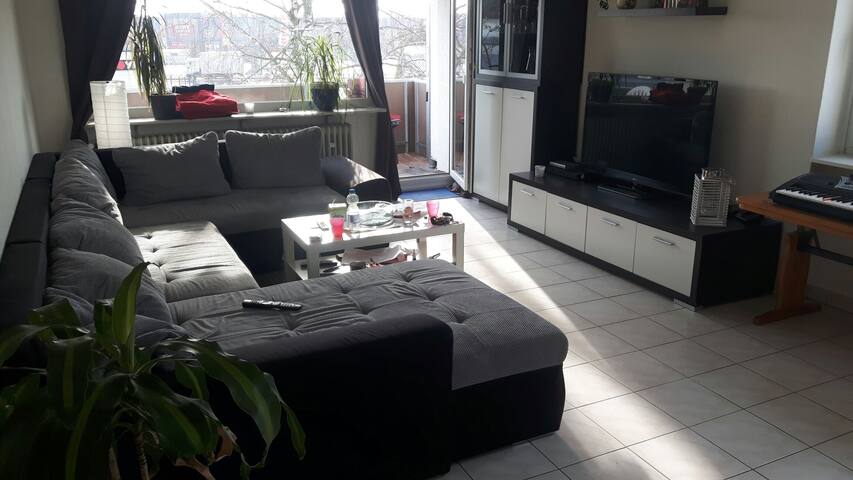 Private room in our private house. An amazing place to rest for everyone who want avoid all the city and traffic noise in the night.
Private room near to the Hanover exhibition grounds (15 by car or 20 minutes Directly min.. By bus) Only 15 min. away from Hanover City by train or 30 minutes. by car. -------------------------------------------------- ----- Our accommodation is very suitable for couples, solo travelers adventurers and business travelers. At the Hannover Messe is not far away and easily reached via the bus goes directly to the fairground, 20 minutes by bus or you drive there in 15 minutes. The Hanover city center can be reached with an S-bahn in 15 minutes.
Typ av rum
Eget rum
---
Typ av boende
Bed & Breakfast
---
Plats för
4
---
Sovrum
Pattensen, Niedersachsen, Tyskland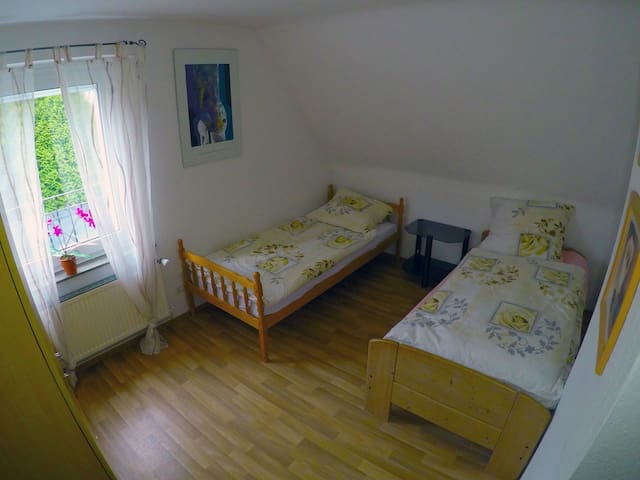 Ancienne ferme accueillante avec le standard moderne, 2 lits doubles (boîte 1x ressort, galerie 1x lit), couloir cheminée avec une grande table de ferme, multimédia salon spacieux (écran / projecteur), l'utilisation du jardin, cuisine bar, parking facile.
Tolles Haus in Messenähe (10 min mit dem eigenen Auto). Bestens ausgestattet für den Messeaufenthalt. Sehr geschmackvoll eingerichtet. Absolut gemütlich. Sehr freundliche Gastgeberin, absolut toller und einfacher Kontakt. Kümmert sich bestens um Ihre Gäste. Jederzeit gerne wieder :)
Andreas
2016-03-18T00:00:00Z
Alles hat gut geklappt. Vielen Dank.
Margita
2016-09-30T00:00:00Z
The house is as described, comfortable and clean. Located in a beautiful environment, it is few minutes from Pattensen's center and 10 minutes drive from the Hannover Messe. B.Tina was welcoming and willing to make our stay pleasant. Unfortunately, the internet did not work.
Gregoire
2016-05-01T00:00:00Z
We are pleased with the accommodation. Very close to the place where we do the business and everything was negotiable. Very nice, decorated with taste.
Nebojsa
2015-06-10T00:00:00Z
Alles zu unserer vollsten Zufriedenheit !!!
Oke
2016-02-04T00:00:00Z
Bettina ist sehr nett und hat uns herzlich empfangen. Das haus ist wunderschön und ist sehr groß! Die Lage ist traumhaft und ruhig, dennoch sehr gute Anbindung an Autobahn, Stadt (Hannover) und Messe. Ein nächstes Mal gibt's bestimmt!!
Artur
2016-03-12T00:00:00Z
B.Tina ist super nett und total unkompliziert. Das Haus ist sehr Interessant eingerichtet. An die steilen Treppen muss man sich erst gewöhnen, war aber für uns und unseren Sohn 9 Jahre kein Problem. Super tolle Radwege direkt vor der Haustüre. Es hat uns sehr gut gefallen und wir würden gerne wieder kommen. Viele Grüße Joachim
Joachim
2016-08-21T00:00:00Z
Everything was ok but the internet acces is not working and of course this is very annoying when coming from a foreign country for professional purpose...
Matthieu
2015-11-11T00:00:00Z
Typ av rum
Eget hus/egen lgh
---
Typ av boende
Hus
---
Plats för
3
---
Sovrum
Pattensen, Niedersachsen, Tyskland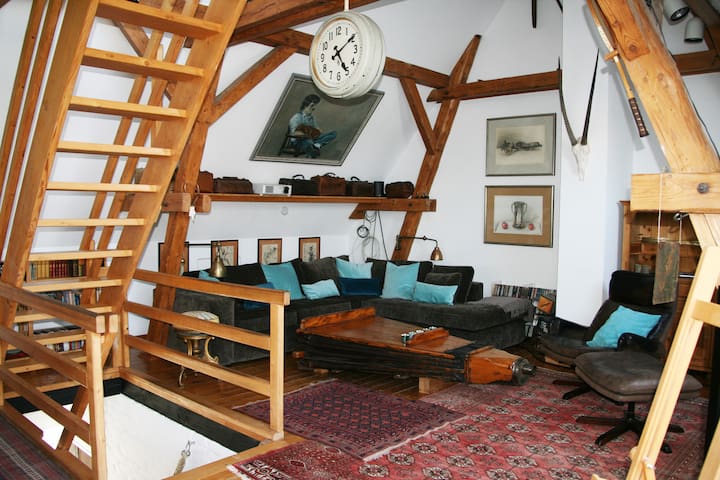 Estamos dejando que nuestro ático con un sofá de 1,40 m durante las ferias en Hannover. El recinto ferial está a 10 km. Se puede llegar fácilmente en autobús o en coche. Cuarto de baño compartido y común de acceso a la casa, el desayuno servido.
El estudio está situado en el último piso de una vivienda unifamiliar. El sofá-cama tiene una anchura de 1,40 m. La claraboya se puede desmayarse o puede ser despertada por el sol. Después de conseguir nuestros huéspedes disfrutan de un delicioso desayuno.
El pueblo está situado en el borde de las colinas no muy lejos de la Marienburg, el castillo de cuento de hadas del último rey de Hannover-británica.
Ich war kurzfristig zwei Tage geschäftlich in Hannover. Norman und Inga sind sehr nett und haben das kurzfristig ermöglicht. Wirklich entspannte und sehr freundliche Familie, Unterkunft ist sehr gut, habe dort gut geschlafen und würde jeder Zeit wieder kommen. Frühstücksangebot ist cool und ein echtes Plus im Vergleich zu anderen Angeboten.
Jan Harm Christian
2016-03-18T00:00:00Z
We have spent one night at Normans place and it was great. The location was perfect, it took us only about 15 minutes to get to the fairgrounds. They even invited us for a beer and we had a nice talk in the evening. And in the morning Norman prepared us a perfect breakfast. Many thanks again !
Šimon
2015-05-15T00:00:00Z
Es wa alles stimmig und zum wohlfühlen, gerne wieder.
Beate
2016-09-25T00:00:00Z
Inga and Norman are wonderful hosts, giving a warm welcome in a modern House. The room and bed is nice, spacious bathroom with shower. The best is breakfast, Norman fixes a fantastic meal with fresh egg and bread rolls. Thank you for your hospitality.
Stefan
2016-04-30T00:00:00Z
As I was on a business trip, I didn't have much time to spend with the family. However, I felt welcome from the moment I arrived. Norman and Inga and their 2 kids are lovely and really made me feel at home. The accommodation was comfortable, and I had no problem sharing the amenities with the family. The town is quiet and pastoral with some restaurants in walking distance. For those going to the city, own transportation is an advantage. Highly recommended!
Stanley
2015-06-12T00:00:00Z
Sehr freundliche und familiäre Gastgeber, gerne wieder.
Frank & Lin
2015-04-18T00:00:00Z
Excellent accueil et une famille adorable et très agréable faisant beaucoup d'efforts pour parler français. La maison est très bien et chaleureuse. La chambre assez grande. Pour ceux qui veulent aller sur les salons de Hanovre, c'est l'emplacement idéal! Quartier pavillonnaire très calme et cosy. Merci encore à mes hôtes !
Xavier
2016-11-17T00:00:00Z
Typ av rum
Eget rum
---
Typ av boende
Bed & Breakfast
---
Plats för
2
---
Sovrum
Pattensen, Niedersachsen, Tyskland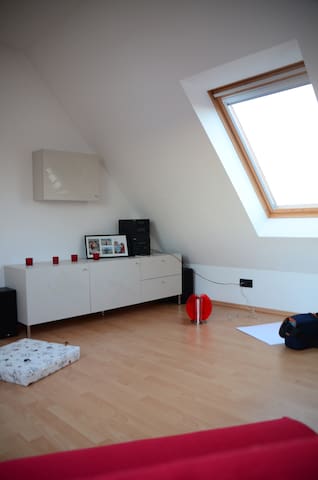 L'appartement est à Pattensen. Circa 15 km du centre de Hanovre. Vous pouvez conduire avec le bus direktly. Il ist splitet dans 2 grandes chambres, 1 salle normale, une chambre pour la nourriture, une cuisine et une sdb.
Haben kurzen Zwischenstop auf länger Fährt eingelegt und super geschlafen.
Stephan
2016-08-31T00:00:00Z
Leider konnte ich nicht selbst bei Davia übernachten, aber die Kommunikation im Vorfeld war super nett und ich würde jederzeit wieder bei ihr buchen!
Lisa
2016-09-30T00:00:00Z
Typ av rum
Eget hus/egen lgh
---
Typ av boende
Lägenhet
---
Plats för
5
---
Sovrum
Pattensen, Niedersachsen, Tyskland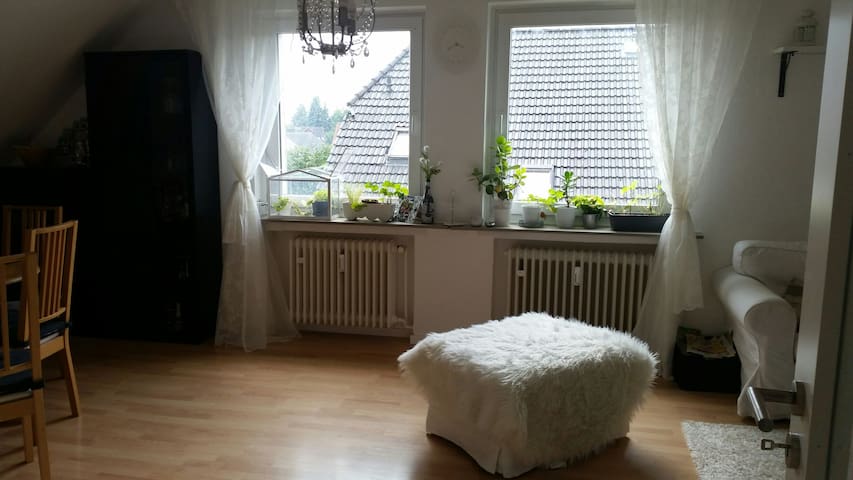 Möbeliertes room in a house for rent. The additional costs and Wi-Fi are included. to accomplish everything quickly quiet location, whether by bus or car (Messe Laatzen, Hannover city, Langenhagen Airport ...)
Sehr netter und offener Empfang von Sylivia und Holger, ein gemütlicher Rückzugsort mit allen was dazu gehört. Die anderen Mitglieder der Familie waren alle sehr nett und zuvor kommend. Alles im allen sehr zu empfehlen.
Andreas
2016-11-18T00:00:00Z
Zu den Gastgebern: Wow, die nettesten Gastgeber bisher. Als ich die Bushalte Stelle von der Messe zur Unterkunft nicht finden konnte nach einem anstrengenden Messetag, stand mir Silvia und ihr Mann Holger hilfsbereit telefonisch zur Seite und haben mir geholfen. Direkt hat Silvia gefragt ob ich bereits gegessen habe und hat mir daraufhin Sandwiches vorbereitet und Bier kalt gestellt!! Super :) Als ich ankam hat sich der erste Eindruck bestätigt, die zwei sind sehr offen, freundlich und haben mir zum Abendessen Gesellschaft geleistet. Zur Lage: Die Busfahrt ist zwar nicht sehr kurz, die Anbindung ist aber sehr gut gelegen. Aus der Messe raus zum Bahnhof (Achtung, richtige Seite) an die Bushaltestelle, an der richtigen Station wieder aussteigen und zwei Minuten zur Unterkunft laufen. Perfekt für einen Messebesucher. Zur Unterkunft: Die Unterkunft war sehr sauber und gemütlich. Die Bilder sind nicht sehr schmeichelhaft, in wirklichkeit sieht es viel besser aus! Wasser und Bier stand im Zimmerbereit und wurde mir wie gesagt auch schon bei Ankunft gereicht :). Wenn ich wieder auf die Messe gehe werde ich definitiv wieder anfragen! Vielen Dank
Konstantin
2016-03-18T00:00:00Z
Alles war sehr sauber und zuvor kommend. Mit alle Hausbewohner hatte immer viel Spaß und wir haben uns gut verstanden. Ich kann die beiden nur empfehlen. Euch ein schönen Urlaub in Dänemark. VG Andreas
Andreas
2016-04-30T00:00:00Z
Amazing host ! The room, bed, bathroom everything are very clean. There is water, beer, chocolate inside the room plus towel in the bathroom. The place is in a very quiet neighborhood. It took me 5 mins to go to the nearest bus which has a direct bus to the expo CeBIT center. Silvia and her husband are very kind people as well. Definitely come again next year for CeBIT
Eledra
2016-03-18T00:00:00Z
Typ av rum
Eget rum
---
Typ av boende
Hus
---
Plats för
2
---
Sovrum
Pattensen, Niedersachsen, Tyskland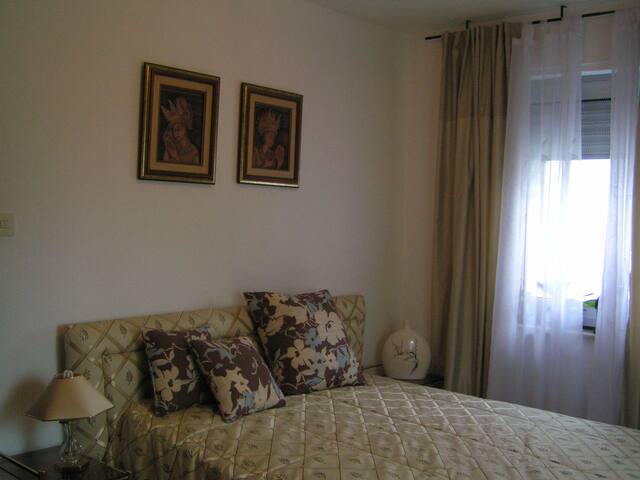 Our half-timbered house is located in the quiet old town of Pattensen. The rooms offered are in the 1st floor. Pattensen is right on the B3 and has a very good connection to the public transport network. (Hanover: 30 min, fair: 25 min., Airport Langenhagen. 30 min.). A large shopping center leaves no wish unfulfilled. Restaurants and pubs are within walking distance. We offer a full breakfast and are always open wishes.
Marion's house is in the very center of Pattensen, everything's less than 10 minutes by foot. Ideal for visiting Hannover, especially the CeBIT exhibition (the exhibition site is cca. 15 minutes by car). Marion and her husband are lovely, the village is quiet, the house was nice and convenient. Absolutely recommended, for families or business visitors to Hannover.
Gábor
2017-03-24T00:00:00Z
Typ av rum
Eget rum
---
Typ av boende
Bed & Breakfast
---
Plats för
3
---
Sovrum
Pattensen, Lower Saxony, Tyskland
Икс
Typ av rum
Eget hus/egen lgh
---
Typ av boende
Lägenhet
---
Plats för
2
---
Sovrum
Pattensen, Niedersachsen, Tyskland
We have two free-standing room on the first floor of our house. In the one there is a double bed which is suitable for couples and in the other is a single bed. The bathroom is located on the same floor. The trade fair is easily reached by car or by bus. Distance to the bus stop is 5 minutes. Restaurants and bars are within walking distance.
Pattensen is a beautiful little town with an excellent old town. There are many bars, restaurants, bakeries, numerous shops.
Typ av rum
Eget rum
---
Typ av boende
Radhus
---
Plats för
3
---
Sovrum
Pattensen, Niedersachsen, Tyskland
与客厅(2-3人),吉隆坡公寓。厨房和卫生间位于一座公寓楼,在一个安静的住宅区的独立入口的2楼。的总线连接汉诺威和商品交易市场是步行几分钟内约5到达。
Simple but cosy, owners very friendly, careful and helpful. maybe the internet connection could be a bit better, mostly for guests on business trips, and the parling is bit complicated, but nothing was unsolved... so 9,5 out of 10. Thanks again a lot!
imrich
2016-11-18T00:00:00Z
Typ av rum
Eget hus/egen lgh
---
Typ av boende
Hus
---
Plats för
2
---
Sovrum
Pattensen, Niedersachsen, Tyskland
1 habitación tranquila en la planta superior con una cama doble. Las habitaciones son sencillas pero limpias. Cuarto de baño compartido (posiblemente con huéspedes) está disponible en la misma planta. WiFi incluido Nevera incluidos (posiblemente compartido con otros huéspedes) No se completa la cocina Sin TV Servicio Messeshuttle posible por una tarifa!
La habitación está limpia, tranquila y funcional. En la habitación hay un lavabo privado. Podría ser posible que el baño tiene que ser compartido con otros huéspedes. WLAN está disponible de forma gratuita de TV no está disponible. Tiempo de conducción a Hannover y Messe en unos 15 - 20 minutos en coche / taxi. dirección: 30982 Hüpede
Muy tranquila y rendido
Der Kontakt im Vorfeld war sehr gut. Vor Ort fanden wir alles so vor wie beschrieben. Es ist wirklich nur einen Katzensprung zum Messegelände, und war für uns somit die ideale Ausgangsposition. Die von der Gastgeberin empfohlene Pizzeria war sehr lecker. Wenn wir wieder in die Gegend kommen, bleiben wir wieder bei den beiden!
Simone
2016-11-19T00:00:00Z
We were received with extreme warmth and hospitality. We had reached later than planned but Florian was awake to help us with our luggage and made us feel at home. He was very polite and courteous.
Pranav
2016-05-01T00:00:00Z
Typ av rum
Eget rum
---
Typ av boende
Lägenhet
---
Plats för
2
---
Sovrum
Pattensen, Niedersachsen, Tyskland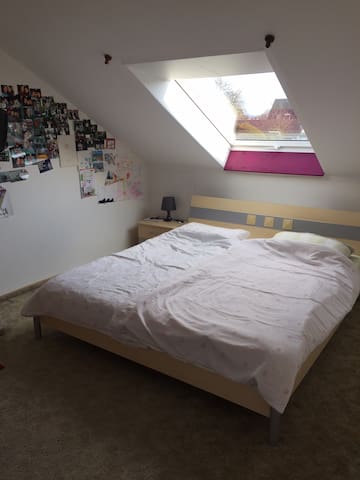 Die großzügig geschnittene Wohnung "Auszeit" mit ihrer ca. 30m² sonnigen Terrasse und Gartenzugang befindet sich im EG eines kleinen Dreifamilienhauses in ruhiger, Zentrums naher Lage von Nordstemmen, zwischen Hannover, Hildesheim und Hameln.
Zum Schlafen stehen zwei Schlafzimmer mit je einem Doppelbett (1,80x2,00m und 1,60x200) sowie eine Schlafcouch für 2 Personen zur verfügung. Auf wunsch kann noch ein Gäste oder Kinderbett in einem Schlafzimmer zugestellt werden. Die Wohnung verfügt über ein eigenes Tageslichtbad mit Bade- und Duschmöglichkeit. Die zum Wohnzimmer offene Küche besitzt zum Kochen die notwendigen Utensilien und Geräte die kaum einen Wunsch offen lassen. Selbst bei schlechtem Wetter läßt sich in dem geräumigen Wohn-Esszimmer mit seinem großen Esstisch und echtem Kamin vom Frühstück, über einen Spielenachmittag, bis zum gemütlichen beisammensein am Abend ein schöner Tag verbringen. Das Wohnzimmer sowie die beiden Schlafzimmer verfügen jeweils über einen eigenen zugang zu der Terrasse, von der es auch hinunter zu dem kleinen Garten geht.
Nordstemmen befindet sich geographisch zwischen Harz, Solling, Weserbergland und dem Deister, im dreieck zwischen den Städten Hannover Hildesheim und Hameln. Die Region eignet sich sehr gut zum Wandern, Fahrradfahren sowie für ausgiebige Motorradtouren. Die Städte laden genauso zum gemütlichen Bummeln wie zum Powershopen ein. In unmittelbarer nähe befindet sich das Welfenschloss Marienburg und der Freizeitpark Rastiland. Nordstemmens Infrastruktur ist gut ausgebaut. Es gibt zahlreiche Einkausläden wie Rewe Aldi, Lidl etc, Cafes, Restaurants, Imbisse und Eisdielen die zum Schlemmen einladen.
Hosting perfect! Premises very large, very clean, comfortable and definitely worth every penny spent.
Gusts
2016-10-26T00:00:00Z
Amazingly clean - exceptionally tidy and organised - a real pleasure to stay in.....and on top of that a very hospitable host. Even provided a fridge with various goodies and breakfast!!!! A whole new standard for Air B&B!! Highly recommended. We will certainly be back!
Jakob
2016-12-29T00:00:00Z
Alles war super, der Kontakt sehr nett.
Axel
2016-12-12T00:00:00Z
Nous avons fait une halte chez Lydia et Bernd car leur maison était sur notre trajet pour nous rendre au Danemark. Tout était parfait. La maison était très confortable et notre hôte Bernd vraiment très accueillant et serviable. Il nous a d'ailleurs réservé un restaurant grec où nous avons bien mangé pour un prix très correct et où le personnel était également très sympathique. Nous avons regretté de ne pas rester un peu plus longtemps.
Jean-Michel
2016-08-07T00:00:00Z
Great experience in Hanover area. The hosts Lydia and Berns were very helpful and welcoming since we arrived. They provided us many information to organize our stay in the region. The house is amazing, best we stayed in Germany! big, comfortable, with all you need to spend a memorable time. Confortable beds, very well provide kitchen to prepar all kind of meals, a beatifull terrace with leisure furnitures to enjoy outside and a big living room. Internet works perfect and the location is perfect to visit all the area within distance. we highly recommend to everyone! thanks Lidya and Berns for your kindness.
Gonzalo
2016-07-20T00:00:00Z
Lydia and Bernd made us feel welcome from the start and the flat is stunning. We could not have wished for a better place to spend five nights with my parents-in-law, ourselves (including two kids). There was even a sand pit and slide in the garden, as well as a lovely play mat for the baby, and a secure space for our bike and trailer.
Imke
2016-08-02T00:00:00Z
Ich kann die Wohnung sehr empfehlen. Alle meine Erwartungen sind überschritten! Die Wohnung ist sehr gemütlich, geschmackvoll eingerichtet, sauber und mit allem was man braucht ausgestattet. Wir haben uns wie Zuhause gefühlt. Lydia und Bernd sind total freundlich und hilfsbereit! Herzlichen Dank für so schöne Tage!
Iuliia
2016-10-19T00:00:00Z
Wir waren sehr zufrieden mit eurer Unterkunft. Es war sehr sauber und es wurde an alles gedacht: Handtücher, Bettwäsche, Essen und Getränke obwohl dies gar im Preis enthalten gewesen ist. Die Wohnung ist sehr geschmack- und liebevoll eingerichtet, es ist alles da was man braucht und sogar noch mehr. Wir kommen gern wieder!
Julia
2017-01-02T00:00:00Z
Typ av rum
Eget hus/egen lgh
---
Typ av boende
Lägenhet
---
Plats för
6
---
Sovrum
Nordstemmen, Niedersachsen, Tyskland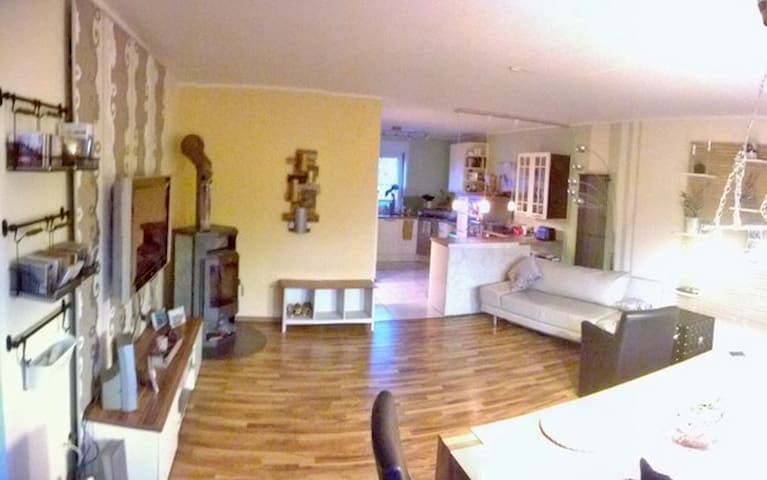 Gemütliche Wohnung,2 Schlafräume mit 4 Einzelbetten. Offene Küche, Aufenthaltsraum und Bad. In ruhiger Lage mit schöner Aussicht. Fernseher , schnelles Internet vorhanden. Mit dem Pkw 20 Min zur Hann. Messe. 3 km zur Marienburg. 18 km nach Hildesheim
Ruhige , gemütliche Wohnung im Erdgeschoss. Wohn-Schlafraum mit 2 Einzelbetten und offener Küche , voll ausgestattet. Schlafraum mit 2 Einzelbetten. Aufenthaltsraum und Bad mit Dusche.
Unser Ort liegt im Leinebergland . Zum Messegelände Hannover sind es mit dem Pkw ca. 20 Min. Sehr gut zu erreichen. Das Welfenschloss Marienburg liegt 3 km entfernt. Gutes Quartier für Geschäftsreisen , Messebesucher und Handwerker Motorradfahrer , Biker und Urlauber zwischen Harz und Weserbergland sind herzlich willkommen.
House was exactly as described in offer. Host was very frienly and helpful. Place was clean, specious and quiet. We feal like at home. To city Hanover was 20 minutes driving. That host is 100% worth to recommend. Thank You Reinhard&Helgard.
Dariusz
2016-10-29T00:00:00Z
Thanks for accommodation, Apartment is a beautiful, large and clean. I warmly recommend.
Ivan
2015-11-10T00:00:00Z
Reinhard und Helgard sind ein sehr nettes älteres Pärchen, welches und sehr lieb mit offenen Armen empfangen hat. Die Einliegerwohnung im EG ist geräumig, sehr sauber, in der vorhandenen Küche kann man kochen, es ist ein Kühlschrank vorhanden. Begeistert waren wir auch vom stilvollen Bad, sehr toll gemacht. Hinten raus hat man einen tollen Blick in Reinhards geschmackvollen Garten. In der Nähe ist eine Gaststätte (50m), man kann aber auch zum 3km entfernten Griechen essen fahren, hat sehr gut geschmeckt! Außerdem fährt man nur rund 20min bis zur Messe, ohne jeglichen Stau, besser als in der City zu schlafen!!! Auch ist es in der Nacht ruhig, sodass man sich vom stressigen Messetag gut erholen kann. Für die Kids sind auch Brett- und Kartenspiele vorhanden...Wir bedanken uns nochmal recht herzlich bei euch, wir kommen wieder!
Torsten
2015-06-15T00:00:00Z
This house is located very quiet and peaceful area. Beautiful garden and nice view from main bed room. I really enjoyed and felt like my home.
Moon
2016-07-14T00:00:00Z
Ich kann nur sagen, alles so wie es sein soll, sehr freundlich, hilfsbereit einfach klasse. Die Wohnung nett eingerichtet und sauber!! Die Ruhe auf dem Land haben wir genossen, sehr vorteilhaft um nach Hannover zu kommen. (Messe) Werde auf jeden Fall diese Unterkunft weiterempfehlen.
Mireille
2015-11-09T00:00:00Z
房东非常友善热情,房屋设备很齐备。就在一个公交站边上,非常好找。
Xun
2016-02-13T00:00:00Z
Warm-hearted couple are very friendly and prepared wonderful accommodation for us. Great open country view from the bedroom. Love this peaceful town with meticulous views, I 'd like to come visit again if I have a chance!
YJ
2015-04-17T00:00:00Z
Et fantastisk sted med fantastiske verter. Flott service. Nydelig hage, stille og rolig. Deilig å trekke seg tilbake til etter besøk i storbyen. God plass. Alt var egentlig helt perfekt. Anbefales sterkt. Herlig lite tettsted.
Hege
2016-06-22T00:00:00Z
Typ av rum
Eget hus/egen lgh
---
Typ av boende
Hus
---
Plats för
4
---
Sovrum
Nordstemmen, Niedersachsen, Tyskland
Welcome to Nordstemmen! The beautiful & freshly renovated guesthouse with 100 m² includes 4,5 bedrooms, a fully equipped kitchen, a bathroom with a spacious shower and a rain shower as well as a guest WC. The bedroom is the fourth of overall 4,5 bedrooms, is 20 m² and has a Boxspring bed (180 x 200 cm), consisting of two single beds, a wardrobe, a small desk and a bench. There are persiennes for darkening the room. Free wifi and a TV set with satellite connection are also available. The kitchen, bathroom and guest WC will be common areas. Each bedroom is individually lockable so that your private things and valuables are inaccessible to others. The modern and fully equipped kitchen you will find everything that you need for a relaxed cooking evening or a quick breakfast. The equipment includes an oven, a big fridge with freezer compartment, an inbuilt microwave, a dishwasher as well as a kettle, a toaster and a coffee maker. The new bathroom and the big rain shower invites you to relax. There's a hairdryer and I can also provide shower utensils. The small but nice guest WC has enough space for a small sink with a mirror so that you can easily blow-dry your hair in here, too. Bed linens and towels are included in the price. There's a washing machine and an ironing board with a steam iron are also ready for you to use. There are free parking possibilities directly in front of the accommodation. The guesthouse can be booked completely - prices and availability on request.
The guesthouse is located on the 1st floor of a two-family house in a play street in the beautiful city of Nordstemmen. There's everything you need for a nice stay: bakery, supermarket, bank, doctors and a lot more - there are also many trip possibilities. It's only 25 Minutes to the exhibition site in Hanover and only 12 Minutes to Hildesheim. The station with free parking lot is only 3 minutes away.
Gudrun hat uns super freundlich empfangen und uns alles gezeigt. Es war alles vorhanden, was man sich wünschen kann. Eine schöne voll ausgestattete Küche, ein modernes Bad. Ein Gäste-WC, damit man sich nicht in die Quere kommt. Das Zimmer ist sehr modern und doch gemütlich eingerichtet. Hier erwartete uns auch ein Obstkorb und eine Flasche Wasser, die wir nicht nutzten, da wir den ganzen Tag unterwegs waren. Vom Bett hat aus hat man einen wunderbaren Blick auf Schloss Marienburg zu der man auch zu Fuß laufen kann. Wunderschön! Auch bei Problemen mit der Heizung wurde uns vom Sohn sofort geholfen und diese behoben. Alles ist mit Liebe zum Detail dekoriert. Dieses Appartement eignet sich wunderbar, wenn man die Gegend rund um Hannover erkunden möchte. Klare Empfehlung und nochmal ein riesen Dankeschön an Gudrun!
Marcel
2017-02-20T00:00:00Z
Typ av rum
Eget rum
---
Typ av boende
Lägenhet
---
Plats för
2
---
Sovrum
Nordstemmen, Niedersachsen, Tyskland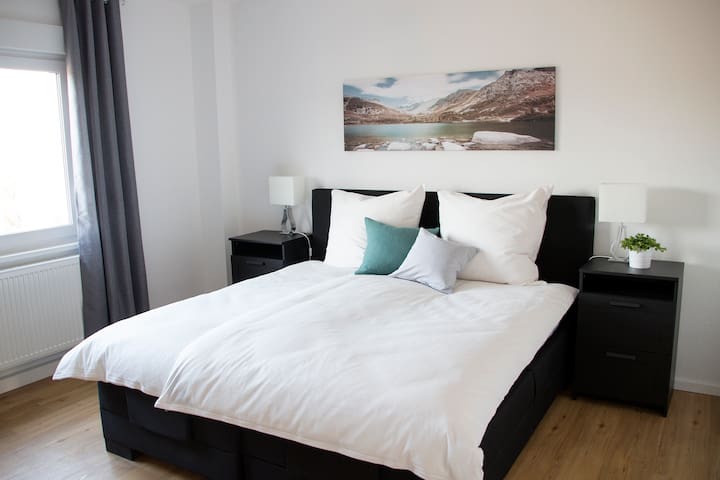 Этот 25м2 номер расположен на отдельном этаже на чердаке. Существует 1,80 м двуспальная кровать в комнате, так что есть место для двух человек. В ванной комнате один этаж ниже. Выставка очень быстро и легко добраться от отеля, будь то на машине или автобусе. Автобусная остановка в 2 минуты езды
Very nice and quite place, straight bus connection to CEBIT (every 30 minutes). Host family is very pleasant and friendly. City itself has beautiful castle in 7 km way.
Mariya
2017-03-23T00:00:00Z
It was quick night after cebit show. The location is great for people who want to visit Cebit.
kady
2017-03-24T00:00:00Z
Alles war super. Die Gastgeber sind sehr freundlich und man fühlt sich direkt wohl.
Christian
2017-03-21T00:00:00Z
Typ av rum
Eget rum
---
Typ av boende
Hus
---
Plats för
2
---
Sovrum
Pattensen, NDS, Tyskland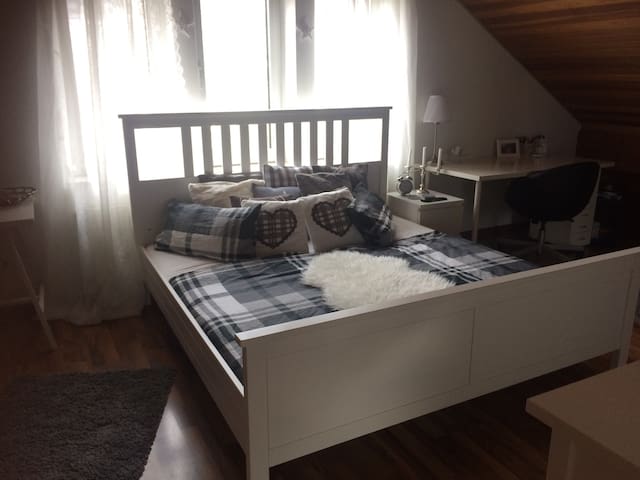 Gemütlich eingerichtetes ruhiges und großes Wohn.-Schlafzimmer mit einen Doppelbett 1,80x2,00 cm sowie einem zusätzlichem Schlafraum für eine Person mit einem Einzelbett 90x200 cm (einfache Kategorie) Für die Gäste (max.3) steht eine Küche mit Kühlschrank, Herd, Kaffeemaschine, Mikrowelle, Toaster, Wasserkocher und Geschirr zur Verfügung. Die Küche kann kurzfristig (nach Absprache) durch weitere Gäste benutzt werden. Sowie ein separates WC-Duschbad. Bettwäsche und Handtücher sind inklusive.
liegt etwa 4 km vom Schloss Marienburg und etwa 16 Autominuten vom Messegelände Hannover entfernt in der Ortschaft Barnten mit ca. 1000 Einwohnern. 11 Fahrminuten mit der S-Bahn zum Messegelände Hannover und 10 Fahrminuten zum Hauptbahnhof Hildesheim. Die Vermietung erfolgt grundsätzlich an Einzelpersonen, Familien oder an Menschen die in einem direkten Kontakt stehen (Arbeitskollegen, Freunde, etc.). So ist gewährleistet, dass man die Räumlichkeiten zur alleinigen Benutzung hat. Bitte beachten Sie auch mein Inserat" Leise Wohnen auf dem Land"
Einkaufsmöglichkeiten und Restaurants sind in ca. 4 km Entfernung in den Ortschaften Sarstedt und Nordstemmen. Im Ort ist ein Steakrestaurant mit Öffnungszeiten von Mittwoch bis Sonntag ab 17.00 Uhr vorhanden. Vom 01.05. bis 15.09.2016 sollte man das Freibad unterhalb der Marienburg in Nordstemmen besuchen.
Volker ist sehr aufgeschlossen und man kommt mit Ihm schnell ins Gespräch. Er ist hilfsbereit und umsichitig. Die Unterkunft ist großartig hergerichtet. Hier wurde scheinbar an alles gedacht. Das Zimmer war riesig, sauber und ließ keine Wünsche offen. Diese Unterkunft kann man ruhigen Gewissens weiterempfehlen.
Michael
2016-08-15T00:00:00Z
Sehr netter und unkomplizierter Empfang! Es war alles sauber und geräumig und man hat sich rundum wohl gefühlt. Volker ist sehr nett und spontan. Jederzeit gerne wieder.
Justin
2016-08-26T00:00:00Z
Volker hat mich freundlich begrüsst, die Unterkunft ist wie beschrieben und komplett ausgestattet. Sehr zu empfehlen.
Georg
2016-11-22T00:00:00Z
Liebe Volker ,danke für alle,sie sind eine sehr nette familien und es lohnt sich wenn man jedes mal zum ferien wieder zu ihnen kommt .ich danke dir
Neda
2016-09-21T00:00:00Z
I had my own apartment, with kitchen and toilet. a extremely clean, warm a very big place! with all facilities. I felt like going back home after a long day :D Volker is such an funny and amazing person. He left food and drinks for me and I had all what I needed, even a stationary bike for exercise! If you are looking for a clean, relax, independent place to be, I really recommend this place! You will feel like coming back to Hannover as I am thinking about it too :)
Silvia
2016-03-19T00:00:00Z
Großzügige Einrichtung, fühlte mich sehr willkommen, wunderbare dörfliche Idylle.
Joscha
2016-04-30T00:00:00Z
Ein Traum. Ich war über 2 1/2 Wochen bei Volker und habe mich vom ersten moment wie daheim gefühlt. Volker ist sehr freundlich, hilfsbereit und zuvorkommend. Vielen DANK Volker ! Gruß Maximilian
Maximilian
2016-10-26T00:00:00Z
Great place, great host, thanks!
Marko
2017-03-24T00:00:00Z
Typ av rum
Eget hus/egen lgh
---
Typ av boende
Lägenhet
---
Plats för
3
---
Sovrum
Nordstemmen, Niedersachsen, Tyskland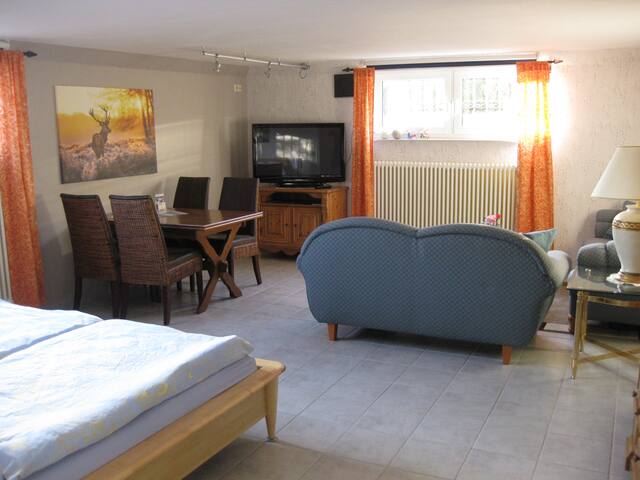 Lille hyggeligt værelse til baghaven ud (rolig og afslappet) i den populære Student-distriktet i den nordlige by. her alt er central, bybus, metro, universitetet og mange butikker og high-speed Internet og WiFi. Innnenstadtlage !!!
Morgenmad kan for 9,50 € per dag bookes (mod betaling). nærheden er der også en stor bageri, hvor man allerede i 6.90 € er at få stor morgenbuffet.
Royal Gardens, parker, Leibniz University, Downtown, mange supermarkeder, mange restauranter, mange caféer, mange banker, ... Den særlige attraktion i umiddelbar Kvarter: de klatring bjergbestigning øvelser (stor erfaring)
Die Beschreibung der Wohnung war genau und sachgerecht. Die Gastgeberin ist sehr freundlich und hilfsbereit. Indem liegt die Wohnung in einem ruhigenStudentenviertel, indem alles fußläufig erreichbar ist. In die Innenstadt bin ich nur eine Viertelstunde gelaufen. Sehr empfehlenswert.
Andreas
2015-02-20T00:00:00Z
It was very easy to find Manizh's apartment, very kind welcome. I slept very well, though for extremely light sleepers I'd recommend taking a eye mask or earplugs with you.
Ronja
2017-02-11T00:00:00Z
Atte
2017-03-31T00:00:00Z
Sie hat mich freundlich begrüßt, mir die Schlüssel übergeben und alles Nötige gezeigt.
Martin
2015-11-11T00:00:00Z
Vorbildliche Gastgeberin. Sehr ruhig. Sehr sauber. Sehr zentral. Alle positiven Attribute treffen hier zu!
Dominic
2015-10-24T00:00:00Z
Had a warm welcome with a cup of tea and chatted a little bit. Really liked the apartment. And the bed was very soft :D
Jelmer
2015-03-30T00:00:00Z
Alles prima - prima, kleines Zimmer, und eine ganz nette Gastgeberin. Gerne wieder.
Thomas
2014-11-15T00:00:00Z
Manizh is a very kind and helpful host. She helped and gave us all information she knows. Thanks for making our stay a good time! The room is not very big, but comfortably enough and clean. Location is quite good, you'll find subway station, restaurants and supermarkets within minutes. By the way, if you stay in here, you'll definitely won't miss Herrenhausen Garden. It is only 15 minutes walk from Manizh's flat.
Kun-chi
2015-03-21T00:00:00Z
Typ av rum
Eget rum
---
Typ av boende
Lägenhet
---
Plats för
1
---
Sovrum
Hannover, Lower Saxony, Tyskland
1

–

18

av

300+ Boenden att hyra
Ange datum för att se full prissättning. Ytterligare avgifter tillkommer. Skatter kan tillkomma.