Ange ditt incheckningsdatum i formatet åååå-mm-dag
Ange ditt utcheckningsdatum i formatet åååå-mm-dag
Boenden du kan boka utan att vänta på värdens godkännande.
Ange datum för att se full prissättning. Ytterligare avgifter tillkommer. Skatter kan tillkomma.
I juli och augusti kan du prova ett av de här högt rankade boendena i alla prisklasser för att få en lokal bild av Sonoma. Med 24 timmars incheckning, direktbokning och lokalt vin och snacks kan du luta dig tillbaka och njuta av resan.
One bedroom with an small kitchen and dining. You have your own private bath area. It is the same location as the other apartment with the same outdoor photo's. Close to the Creek Indian Casino, 2 parks, Monroeville's To Kill a Mocking Bird, kids under 12 years old are free. There is one queen air bed.
The apartment was remodeled in the last months of 2015. There are a lot of new things including the the bathroom. One large room and one small bathroom. PLEASE READ...this is an studio apartment and not bed and breakfast. Bring your eats Walmart and other stores are 17 miles away. You have shared access to the pool and hot tube. There is also a gas and charcoal grill. I'm usually at work.
This is a farming area. Please see my other listing. I do not wish to copy and paste here. You will need an auto. There is no pubic transportation. Large trash container on the west side of the house and it goes out on Thursday.
Everything was great. I just needed a place to stay for the night. Half the price of a hotel and a much nicer place to stay.
Jim
November 2016
Ronald had a perfect place for us to stay. He was a great host and all went really good. He has done some amazing work and wood work to the place. Very talented man!
Gail
August 2016
We had a really pleasant stay, even if it was only overnight. The apartment was very clean and comfortable. Ronald was a really gracious host as well.
Ginny
April 2016
One of those Gems on Air Bnb. Ron was incredibly welcoming, he gave us a bottle of wine and told us all about the area. The pool and Jacuzzi were perfect after a day of driving. The photos don't do the place justice - it's huge! and the bed is super comfy. Highly reccomended
Philip
June 2016
We had a lovely stay at Ronald's apartment! It was clean, very spacious and had all the appliances we needed including a washing machine and dryer. Ronald is very nice and helpful, he made us feel very welcome. The house is in a very remote, peaceful area which makes it a great getaway, but make sure your satnav takes you down the correct route! Ours tried to take us through a lot of dirt tracks. Overall, perfect!
Em
June 2016
Cannot say enough good things about this place and Ronald. The pictures do not do it justice at all. First of all, the drive out there is amazing. So much space and beauty. Then, when you get there it's just as beautiful, if not more! Ronald was there to greet me when I arrived and showed me where everything was. He is so, so sweet. It rained most of the time I was there, which made the already-cozy little haven even cozier. It's very spacious and has everything you need. A great electric fireplace, stove, microwave, toaster, pots and pans, washer/dryer, tv/DVD player, etc. I could go on. I went for a getaway by myself to get ready for the new year, and everything about this place exceeded every expectation I had. I will DEFINITELY be going back!
Natalie
January 2017
The studio apartment is a lovely little haven in the country. It is spotlessly clean and tastefully decorated. The grounds are peaceful, I wish we could have stayed longer. Ronald is a wonderful host.
Emma
May 2016
The Studio Apartment in the Country was exactly what I needed. I went for quiet and solitude, and it was perfect. I had everything I needed, the studio was exceptionally clean, and as a host, Ronald maintained a nice balance between friendly conversation and assistance with the outdoor amenities (hot tub and fire pit) and respect for the solitude I came for. If you're looking to get away from the hustle and bustle, this is the perfect place.
Jessica
December 2016
Typ av rum
Eget hus/egen lgh
---
Typ av fastighet
---
Plats för
2
---
Sovrum
1
Atmore
Apartment in my home in the country surrounded by farm land and timber land. This is South Monroe County. It is about 17 miles N. of the Creek Indian Casino. Towns around are Atmore and Monroeville. Close to Claude Kelly State Park. under 12 free. There is one queen size bed in a private room. The couch is not full size but would be good for a small person. One twin air mattress. PLEASE READ...this is an apartment and not bed and breakfast. Bring your eats Walmart and other stores 17 mi. away.
There is an apartment , pool and hot tub. Extra sleeping can be had with twin air mattress and the couch. Not much...I have to work a lot.
It is my home located in a farming area. You have to have a car. I am close to Wind Creek. It is 75 mile to Pensacola and 88 miles to Gulf Shores.
Ron really made us feel at home. He showed us the pool area and hot tub, and was readily available if needed. The apartment is a nice, quiet place along the backroads in Atmore. This was a nice change of pace for both of us after staying in busy cities our last few trips. The apartment itself has a homey feel to it, not too big or small. Perfect for a couple or a small family. I would definitely recommend staying at Ron's if you need to get away from it all for a few days or weeks :).
Christopher
July 2015
The host was very polite and hospitable. The private apartment has a kitchen, full bathroom, bedroom and living room: all were very clean. A pool and hot tub are just outside. The country setting was peaceful, quiet, and comfortable. Sunsets and sunrises were unforgettable! Several towns are a short drive away. Pensacola, FL is a little over an hour away. Absolutely great!
Bradley
September 2015
Ronald's place was absolutely brilliant! He describes it as "no frills" but this is my no means an accurate description - everything is immaculately clean, most things appear brand new and the bed is super comfy! We are going back to stay for my birthday because we had such a relaxing time :) thanks, Ron!
Jennifer
February 2016
The listing was 100% accurate. Ronald was there to greet us when we arrived and was around to answer questions when we needed him. The apartment was clean, roomy and stocked with everything you could need. The pool and hot tub were also clean. He takes great care of his property.
Jason
September 2015
Ronald's house is a very nice, clean and well organized place. Very cozy. We just loved the starred sky and non-urban neighborhood. Ronald is a very accessible and polite host. We really felt like home there.
Ricardo
October 2015
This is our second time that we stayed at Ronald's in Frisco City area and once again our stay was great. We had a hot water issue when we arrived Friday evening, but I sent Tonald a text and he responded immediately and within ten minutes we had hot water. No other problems the rest of our stay
Bob
November 2015
Very easy to communicate with and great hospitality! All you need from a fully stocked kitchen to dvds and games to the pool and hot tub(our faves)!! A beautiful, quiet get-away! We will definitely be back!
Melanie
October 2016
Ronald's place is absolutely adorable! It was the perfect weekend getaway. If you like peaceful mornings and resort quality stay please book with Ron. He is very hospitable, I'm already making plans to visit again. The jacuzzi is to die for!! We bbq'd and everything! ! I can't wait to visit again! The decor was very cute, a lot of thought and planning went into the simple country home.
Catherine
March 2016
Typ av rum
Eget hus/egen lgh
---
Typ av fastighet
---
Plats för
4
---
Sovrum
1
Atmore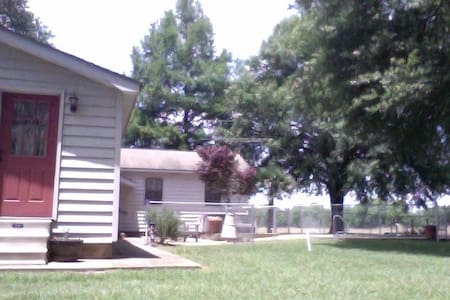 The Brundidge is an elegant 98- year old manor nestled on 4.2 acres which features a grand entranceway; modern kitchen; beautiful sunroom; four bedrooms; three and one half bathrooms; five fireplaces; a third level entertainment room; and a Koi pond.
More information about The Brundidge on Bruner is available at http://stallworthstudios.com/. Guests have access to all common areas. The owners are available on the premises at all times during guest stays.
Despite the internet and cable outage, it is worth noting that the mobile service is poor as well. Otherwise, the house is an absolute treat. Very nice accommodations and the host couldn't have been more welcoming.
aaron
September 2016
I rented the entire facility for two days for my wedding. This included four bedrooms, the loft and living space downstairs. The owners provided additional staff for my special day, kept the day running smoothly and made my family feel at home. Altogether, ten people stayed overnight and 50+ attended the wedding. We hosted a luncheon shower, dinner reception and brunch the next morning before people departed and there was lots of seating and space for all. The Brundige is lovely and spacious. The interior is well decorated and will make you feel like you're at home. There are both antique and contemporary touches throughout the home. I would recommend this location for retreats, weddings, girls' weekends, couples getaways, reunions, showers and parties. The owners will meet with you and help you make the day a success. They also work with local vendors. You can screen movies upstairs. There's wifi and cable tv. I highly rate the venue without reservation.
Calaya
August 2016
Typ av rum
Eget hus/egen lgh
---
Typ av fastighet
---
Plats för
8
---
Sovrum
4
Evergreen
This is a great home that has just been completely remodeled from top to bottom. It is cozy, comfortable and convenient to everything in town. Two bedrooms one bath, wifi, complete kitchen and laundry facilities.
You will have the house all to yourselves. It will be your own private space while you are there - but we are easy to contact should you need assistance. As our guests, you will have access to the whole house during your stay. The hosts are available at anytime by phone or text.
Brewton, Alabama is a small town in South Alabama. The people here are welcoming and treat you like family. Summers are hot and winters are mild. Relax, eat and shop downtown or take a day trip to Pensacola (1 hour away), Mobile (1 hour and a half away) or Montgomery (1 hour and a half away). The Gulf Coast beaches are also a nice day trip and are located between 1 and 2 hours away depending on the beach you choose to explore. You will need a private vehicle to get around in Brewton, Alabama This is a great home to enjoy small town life, yet it's only a short drive to the white sands of the Florida Gulf Coast or larger cities including Pensacola, Florida; Mobile, Alabama or Montgomery, Alabama.
We really enjoyed stating at Cavin's house - it was the perfect place for our family of 5. The location was great, the house was very clean and fully stocked, and Cabin was flexible with our check-in time. Thanks so much!
Theo
July 2016
Great stay. Beautiful home. Friendly hosts.
Melissa
December 2016
Typ av rum
Eget hus/egen lgh
---
Typ av fastighet
---
Plats för
4
---
Sovrum
2
Brewton
French Country home with private guest suites with kitchenettes and ensuite bath. Private rooms with private or shared baths depending on availability and Aunt Sissy's Cottage, a turn of the centry 2 BR/1BA Farmhouse. Rates are per room at main house. Aunt Sissy's Cottage rates are $150 per night which includes 2 bedrooms and fully furnished cottage with kitchen.
Lush gardens where colorful pecocks roam. Free WI-FI, Laundry facilities
Wind Creek Casino, Movie theater, Bowling alley, Magnolia Branch Recreation Area Quick access to I-65 and direct routes to the beaches
Foster is like your fantasy host: organized, clear, kind, and fantastically thoughtful. From the basket of crackers and water bottles in the room, to the hefting of my bag over uneven flagstone, to a five-star breakfast, he demonstrated professionalism across the board. The home is spacious and charming; the location is unbeatable, and the fruit trees, irresistible.
kathryn
November 2016
Typ av rum
Eget rum
---
Typ av fastighet
---
Plats för
4
---
Sovrum
1
Atmore