Situated on a hilltop in Porvorim,enchanting view of the valley beneath where mother nature rescues you from the city duress and stress.The jungle in the valley serves as a home for different species of migratory birds singing to welcome dawn and say goodbye to dusk.Literally 5 mins from NH17 yet peace and tranquil as if hidden in the rainforest of Dandeilly.Centrally located hence easy to commute to the happening beaches in the North and truly pristine and picturesque beaches of South Goa.
My bedroom is facing the hilly forest and houses a variety of species of migrating birds,it also houses India's national bird 'Peacock'. We have a nice big swimming pool which is also surrounded by the hills. The room has an attached bathroom with western toilet. Window faces the pool nd the breathtaking view of the forest and valley below.
My building stands on one of the highest hills in Porvorim and to add to it my flat is on the 4th floor (there is a lift dont worry),hence its very breezy nd cool even during summer.Approx 3 minutes away from NH17 my apartment is centrally located hence convenient and economical to travel to location in South nd North Goa.Panjim bridge is 10 to 15mins by bike/car,Panjim marine drive/City approx 20mins.The Mall de Goa, O' Coqueiro restaurant(Charles Shobraj fame), The Holy Family church, Post office, Cuts and Colours Beauty Parlour, Monginis cake shop, Simonas cake shop and JMJ hospital are within a distance of 3/5 minutes by car and 10min walking distance.
She is very sweet and accommodating. Made us feel at home
Gaurav
2017-02-28T00:00:00Z
Loretta's place is in a good location. Quiet but still central. Good distance to all the beaches but far enough from all the tourists. Just 10 mins from Mall De Goa, for the odd shopping or catching a movie. We were out most of the time so it was perfect place to just come back and wind down. Loretta is a good host. She wasn't around so we had the whole house to ourselves. But she would call everyday to make sure everything was alright.
Joe
2017-01-05T00:00:00Z
amazing romantic place....with a nice view and great interior...loved it
a k
2017-01-18T00:00:00Z
This was my very first experience with AirBnB and trust me, it was simply awesome. Staying at this place is one of the best experiences I have ever had. Host was very welcoming, answered all my questions and excellent with communication. Welcomed me with a cup of coffee and snacks. Beautiful apartment. Quiet, neat and clean. Awesome view from the balcony. Cold weather. Besides, they had everything I needed. If I ever come back to Goa, I'm surely gonna stay here. I felt like I'm living in my own house. Highly recommended. Go for it.
Pranav
2017-02-06T00:00:00Z
The host canceled this reservation 68 days before arrival. This is an automated posting.
Akshita
2016-10-23T00:00:00Z
Typ av rum
Eget rum
---
Typ av boende
Lägenhet
---
Plats för
2
---
Sovrum
North Goa, Goa, Indien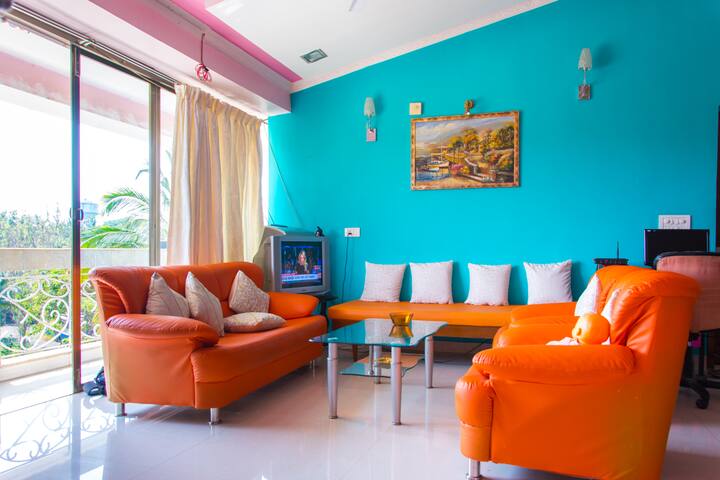 You'll love my place because of its wide open views of paddy fields out your bedroom and the living area. Each room has balconies to sit out and take in this view. There is also a complex common pool available for your use. And the typical Goan neighbourhood is mostly quiet, with winding roads to take walks on past varied types of houses, old and new. It's also located centrally, within easy driving distance to Panjim (7kms) and Candolim beach (8kms), Mapusa(7km).
The apartment is part of a small 3 building complex, and is on the 2nd floor with lift access. Your private room is part of a 2-bedroom, 2 bathroom, 2nd-floor apartment (neighbouring Porvorim) in North Goa, that can accommodate two adults comfortably, and you will be sharing the flat with me. I use the 2nd bedroom. Your bedroom has an attached bathroom, and it's own balcony to enjoy the view. It's always interesting to slow down and watch the goings on happening sometimes out in the fields. Pre-Monsoon to post you'll get to see the planting to harvest. The rest of the year there's mostly domestic animals and birds interacting with the fields.
This is a residential neighbourhood, with bakeries and eateries 5-10 mins away. You have Chogm Road 10-15 mins away which is filled with many options to eat out. Yoga lessons and pottery classes are available close-by as well as talks and movie-screenings to attend (open house every Thursday) at the architecturally interesting Design Centre. Book yourself a massage at the Waterleaf Salon and Spa, a 10 minute drive or a 30-min walk away.
Typ av rum
Eget rum
---
Typ av boende
Lägenhet
---
Plats för
2
---
Sovrum
Aradi Socorro, Goa, Indien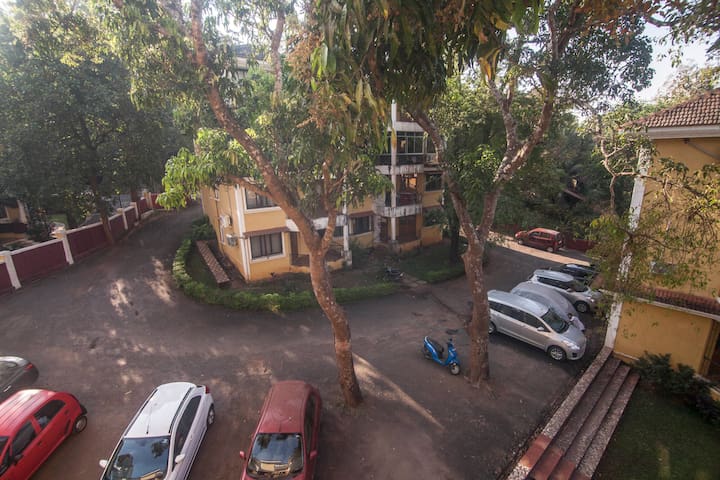 In the heart of North Goa, lies this extremely tasteful and fully furnished service apartment. The apartment's central location, peaceful surroundings and wonderful layout make it the ideal place to stay when you are in Goa. The apartment is only 10 minutes away from the pristine beaches of North Goa (Calangute, Baga and Candolim) as well as 10 minutes from the capital city of Panjim. The service apartment provides the comforts and the amenities of a hotel, with the space and warmth of a fully furnished home. Daily house keeping and cleaning facilities facilities are provided. The well stocked kitchen - with a fully stocked fridge, cooking stove, oven, microwave, coffee machine, toaster and utensils will ensure that your can do as you please while on holiday. I promise you a wonderful stay and will ensure that your Goa holiday is memorable. Most of my guests are repeat clients which is testimony to the fact that they have enjoyed their previous stays at the apartment. To summarise, why should you stay at the service apartment? 1. It is fabulously located in the heritage village of Sangolda - between Panjim, the beaches of North Goa and the party places 2. The apartment is very well furnished with all modern amenities 3. There are numerous restaurants, convenient stories in the vicinity 4. It is fully serviced with housekeeping facilities on a daily basis. Although an apartment, the facilities are at par with a hotel 5. You can be rest assured that what you see on the site is what you get. I give you my word. 6. As the passionate Goan and owner I will go out of my way to make you have a comfortable stay and ensure that you return when you visit Goa next Important: I have only received wonderful reviews from all the guests who have stayed at my apartment. I, however got 1 review stating that my apartment's bedroom is 30 feet from a highway!! This is entirely incorrect - the apartment overlooks an orchard/ valley with no highway in sight. I contacted my guest and he has mixed up my review with another one. He was travelling for 3 months and had stayed in many many places - unfortunately we cannot have the same corrected once it is posted
I stayed at Shaun's apartment in September 2013 and this place is as good as home.I will highly recommend the apartment to anybody going to GOA. The location of the apartment is very good and all major beaches are close by. The furnishings are top class - super wooden furniture, beds. The bathrooms are very clean and the fully loaded kitchen is perfect to cook food. The apartment was a good base and centrally located to the main places and beaches. I hired a scooter for about INR 300 per day to get around - an excellent way of seeing Goa. I would definitely stay here again - surrounded by nature with lots of exotic plants and bird watching, I even spotted the odd monkey. Thank you Shaun, am already planning to visit again next year.
Cheryl
2013-10-01T00:00:00Z
Shaun a été un hôte très sympathique et disponible pour la préparation du séjour. Étant à Londres quand j'étais à Goa, il s'est assuré que son assistant, Sudarshan, serait là pour faciliter les choses et a même appelé depuis Londres pour être sûr que tout se passait bien. L'appartement correspond aux photos: il est propre, vaste et dispose du nécessaire. Il fait face à la végétation et donne sur une très agréable petite piscine. L'immeuble est bien connecté à d'importantes routes de Goa ce qui permet de se déplacer facilement et de rejoindre en 20/30 minutes les plages ou l'intérieur goanais.
marielle
2015-09-29T00:00:00Z
Thank you Shaun! Your apartment was very cozy . It was clean and maintained very well. The support staff was very helpful too!
Abhi
2013-02-11T00:00:00Z
A very quiet place, little away (15 mins) from the to the beaches. The apartment was big and very clean and comfortable (we were 2 adults and 2 kids). The staff make you feel at home. A very clean swimming pool that the kids enjoyed. Overall the 4 nights we spent here was fantastic. We would sure recommend this place to someone who wants a relaxed vacation.
srivats
2015-09-22T00:00:00Z
You definitely get much more than what you see on the website. Th apartment was super spacious and extremely well done ! Staff was quite helpful Didn't try the food though. will definitely come back for stay next time around !
Manvi
2016-03-30T00:00:00Z
Shaun's apartment is by far the best way I've ever had to stay while in Goa. The apartment was neat, tidy and extremely beautiful. The neighbourhood is peaceful and extremely safe. Our needs were attended to by a very cooperative and polite staff. We had a great time and would love to stay there whenever we go to Goa again.
Prakash
2015-01-27T00:00:00Z
Shaun is a 'super host' - responsive, caring and available at all times. The apartment is exactly as portrayed on his property page. Thanks to the comfort of this spacious apartment and Shaun's support I had a wonderful stay in Goa. The complex (a hotel) in which the apartment is situated comes equipped with a congierce&housekeeping team (they helped with scooter rental and taxis, etc) and swimming pool, along with restaurants close by.
Young
2013-03-18T00:00:00Z
We were there for new year. Thanks very much Shaun for very good welcome. This is chic apartment with huge kitchen with all necessary, very big and cozy rooms, two bathrooms. The clean and beautiful territory with service and security. And point Shaun is very friendly and cool guy host. But only one exception: somebody like it somebody no, this is faraway from noisy and crowded places, parties and beaches, but this is easily decided by bike or by car. I would like stay there one mor time
Ирина
2015-01-07T00:00:00Z
Typ av rum
Eget hus/egen lgh
---
Typ av boende
Lägenhet
---
Plats för
2
---
Sovrum
Penha de França, Goa, Indien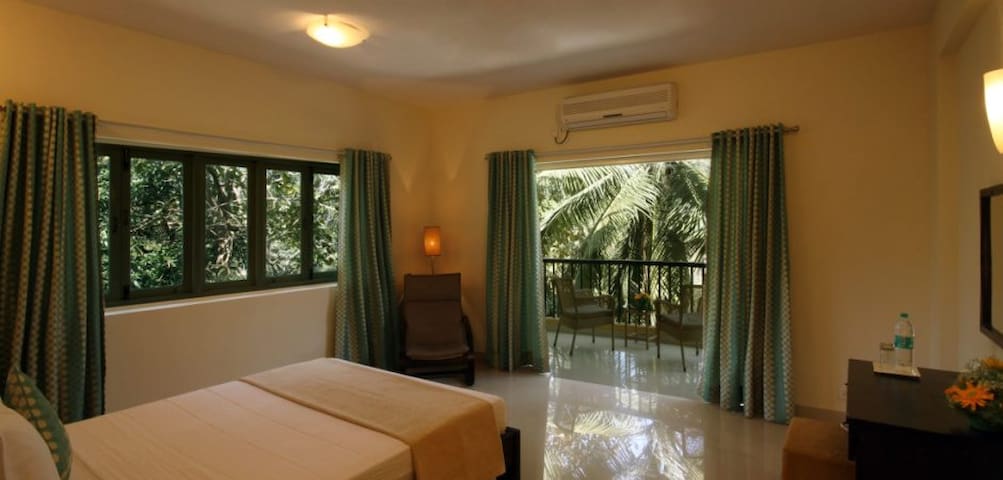 2 BHK spacious apartment, attached bathrooms, open and functional kitchen, large balconies. 10 mins from Panjim, 20 mins from party beaches, Candolim / Baga / Anjuna. Calm, soothing and green environs, with a swimming pool.
Located on the 3rd floor its airy, sunny and happy, Non-air conditioned, with it being simple, aesthetic and functional. Perfect for a group of 4 people to chill and relax. Wake up to a rejuvenating environment, to the sounds of nature, with birds chirping outside your window. The Succorro valley view from the master bedroom would be perfect for yoga and meditation and will complement your morning coffee. We prefer airbnb guests with a good rating.
Its calm, quiet and green. The apartment is an extremely peaceful place to spend the day in, with coffee and a book. It is very near popular joints, yet tucked away.
The moment we entered John's place we felt right at home. It's a lovely two bedroom apartment located in a serene and quiet neighborhood, just about 20 min away from Baga or Calangute. The house is well equipped to ensure that you have a comfortable stay. The kitchen has all the necessary equipment to cook simple meals. John also made sure basic ingredients like sugar, salt and tea bags were stocked in the kitchen. The best part of the house was the balcony overlooking a valley of trees. I spent my mornings sipping on my tea, staring at the sea of clouds and listening to the chirping of birds! The swimming pool located within the campus is refreshing! The water unlike that in resorts is fresh and the pool itself is surrounded by trees, making it all the more relaxing. John has been a wonderful host. He was always there to ensure you have a lovely stay not only at his place but also in Goa. If you are a foodie do check with him on the places that are a must eat at in Goa. Thanks again, John, for hosting us and for everything else! We'll be back soon :)
Neha
2016-02-01T00:00:00Z
We had a wonderful stay at John's apartment. Exactly as shown in the photos, with an incredible view on either side. Despite the busy holiday season, John was very attentive to ensuring our comfort. Looking forward to visiting again.
Pranay
2016-01-03T00:00:00Z
John's apartment is exactly as beautiful as shown in the pictures. Waking up to such an exceptional view was a treat to our eyes. The apartment is extremely spacious and very peaceful. John was a great host, he made sure we had the essentials like coffee, sugar etc. for our stay. He was always available on the phone and very welcoming. The caretaker Ali also helped us when we needed vehicles during our stay. I definitely recommend John's apartment for a peaceful stay.
Meet
2015-06-29T00:00:00Z
John's apartment is bright, breezy, and beautifully decorated- with simple touches that make your stay special :) It's a fantastic place to gaze out to the trees- where we watched many a lightning storms! Bilquis the cleaner is a truly lovely lady and went out of her way to help us on our month long stay here such as helping hire us motorbikes, getting a local simcard etc. John is at hand for anything questions you have and is a kind, genuine person who takes great care of his home here. It is a special place out of the way from tourism, in a lovely area. We would come back in an instant :)
Becky
2015-03-28T00:00:00Z
To wake up in this breezy and naturally lit apartment in the morning was a joy over my 2-day break in Goa. Away from the hustle and noise of the city, with the sights of a green and lush valley, and the sound of birds, I couldn't have asked for more. Also, John was a warm and helpful host. He made sure I had snacks and food ready to get me started and he connected me with a local cab driver, which is critical in Goa, since the distances are far (given the traffic). Cabs can be a rip off in Goa, and thus this sort of help is essential indeed. So if you're not looking to stay where the beach bums rest, and are pleased to have a spacious home for a restful night's sleep, this is your pad. Don't forget to carry your green tea/coffee (brew of preference) to sip at while you watch the evening lights fade behind the trees. Thank you John.
Neha
2015-01-10T00:00:00Z
Apartment is clean, Swimming pool well maintained. Location is serene and peaceful, and no disturbance at all. House was comfortable for four. Stunning view for Balcony and bedroom. We felt price is a bit high, but if u want such a view, you can go for it. Thanks, John and Agnello has taken care of everything for us.
masood
2016-02-16T00:00:00Z
A very clean apartment with a very cheerful and compassionate care taker. The surroundings are peaceful and the beds are comfortable. Thanks John for a great experience!
Manalsu
2016-02-29T00:00:00Z
We stayed at John's place for two days and we absolutely enjoyed the place. The place is located at a very quiet neighborhood with great Valley views. The apartment has 2 bedrooms with 1 bedroom having a low lying bed which was enjoyable. John ensured we had the necessary rations like bread, milk, tea, coffee stored in the apartment. The caretaker Ali helped us get scooters on rent while Bilquis helped in the maintenance of the apartment. We face some problems with wifi, but looks to be a one off case. John was always available on phone and message and proactively offered help when needed. Overall this was a great place to stay and i wont hesitate to come back.
Srikanth
2015-06-15T00:00:00Z
Typ av rum
Eget hus/egen lgh
---
Typ av boende
Lägenhet
---
Plats för
4
---
Sovrum
Penha de França, Goa, Indien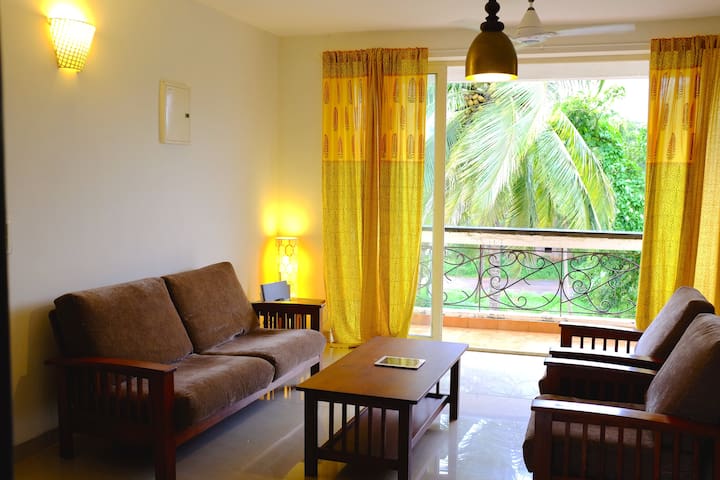 Quiet and surrounded by greenery our penthouse is located in the lush green valley of porvorim and is fully quipped with all modern furniture and equipments..its located very conveniently close to all major supermarkets and restaurant's.
This penthouse is very spacious and has its own private terrace and a attic seat out .It has a power backup inverter to deal with all the power shutdowns. Its fully furnished with all the modern amenities. our kitchen is fully equipped with a double door fridge ,induction cooker, coffee maker, basic utensils, cutleries and crockeries All our bedrooms are fitted with AC The penthouse has a living and dining area with all the the modern furniture including a 32" LED TV It has 2 bathroom/toilet one of which is attached to the bedroom and other is common. Our house also comes with a dedicated covered private parking for your vehicle or taxi that you rent
The neighborhood is very quiet and surrounded by greenery. Its located very close to all the multi cuisine as well as local joints aprox 300m from chogm road. calangut and candolim beach is a 15minit drive from our place The multiplex mall Mall de Goa is 5 minits away drive our place Panjim city is 6 km and 15 minits drive from our place Airport is approximately 30km and 45minit drive from our place
It was a wonderful experience staying in this part of Goa. The house was spacious, clean and beautiful.
Aastha
2017-03-20T00:00:00Z
место полностью соответствует фотографиям. тихое спокойное, вдали от шумных тусовок. если валяться на пляже - не ваше, то место подходит как "база" для путешествий по Гоа. просторно и вполне комфортно.
Alisa
2017-03-17T00:00:00Z
Chinmay is a great host! We loved our stay. He is really humble. Chinmay allowed us for early check-in and sometime extra for check out. His apartment is equidistant from far away beaches in north and south goa so that you can plan your trip to extreme north for a day and extreme south for the other which helped us a lot. He made sure that we are comfortable in his well-setup apartment. If you're in Goa, you must stay there because it is peaceful, beautiful and on top of all, plenty of stores/super markets are available at a walking distance (with friends or bae ;)). Thanks, Chinmay!
Tushar
2017-02-12T00:00:00Z
Good place and a good experience!
Arun
2017-02-18T00:00:00Z
This place is near porvorim but far from calangute beach,the amenities needs to be more good .
Abhishek
2016-11-29T00:00:00Z
I owe this to all prospective clients but mostly, Chinmaya. This was my first visit to Goa and this city breeds a gentle warmth, maybe it was the smile on the faces when they explain to you where Vagator beach is. Soothing. Chinmaya's pent house was perfect. Expect all that you can and it'll still surprise you. It is at a perfect distance to triangulate the distance between the railways, airport and beaches. The beautiful woodwork and the design will take you aback, so would the new appliances. Elegantly royal. Chinmaya has been the kindest host for me. From taking calls at midnight asking for directions- to providing with all necessary contact details for Goa( scooty, food delivery, house keeping) -to promptly replying to my juvenile queries- to letting me move my luggage to another flat of his after my train got late for the extra hours. He was kind and gracious. I would come again. Highly recommended.
Akhil
2016-08-15T00:00:00Z
The place was nice, clean and well equipped all facilities we got as per airbnb page.
rohit
2016-10-15T00:00:00Z
Our stay was very comfortable. Thank you!
Grace
2016-10-05T00:00:00Z
Typ av rum
Eget hus/egen lgh
---
Typ av boende
Lägenhet
---
Plats för
6
---
Sovrum
Penha de França, Goa, Indien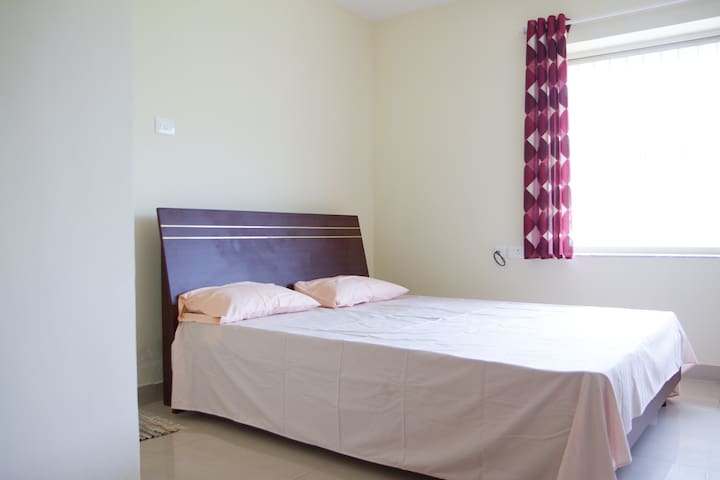 The villa is in a up market residential area and close to the mall, hypermarket, restaurants and dining. The beach is about 20 minutes away. You'll love my place because of the comfy bed, the kitchen, the coziness, the high ceilings, and spacious interiors. My place is good for couples, business travelers, families (with kids), and big groups.
My Villa has 5 bedrooms, a fully functional kitchen, spacious interiors, large balconies and a garden. The entire property is fenced. The bungalow has all modern house appliances including a washing machine, a voltage inverter (protection against power shutdown), a DVD player, Lcd Tv , solar system for hot water, etc. The Villa is cleaned everyday and fresh linen and towels is provided every 3 days. It is located 2 minutes off the National highway NH 17 and all places of tourist attraction can be accessed easily.
Recommended for families looking for a possibility of having a peaceful vacation in the shady gardens with comfortable Goan climate. Mall de Goa is a 5 min walk away and Delfino's hypermarket is also in the vacinity. As we are located in Porvorim, there are alot of popular restaurants around like O'Coqueiro, Copper Leaf, Navtara, etc. ATMs, petrol pumps, general stores, etc. are close by.
Loved the place. Shankar is great host. He knew exact locations to guide us to. He helped us a lot and made our trip really enjoyable.
prat
2017-03-13T00:00:00Z
Shankar was very helpful. He helped us arrange the cab to go around the city. There were some issues with the bathrooms which he helped fix it for us . Two rooms do not have air conditioners. The rest was good . There is no wifi in the home .
Ramya
2017-01-21T00:00:00Z
Shankar was very friendly. Kitchen was fully equipped which helped us cook ourself as per our taste. my family felt very comfortable staying there. Especially kids enjoyed without any sort of restrictions. Only suggestion would be to have a helper 24/7. Property is very good and spacious.
Anantharam
2016-12-23T00:00:00Z
Going with groups have to contact shankar for easy checkin and
Surya
2016-12-26T00:00:00Z
Typ av rum
Eget hus/egen lgh
---
Typ av boende
Lägenhet
---
Plats för
12
---
Sovrum
North Goa, Goa, Indien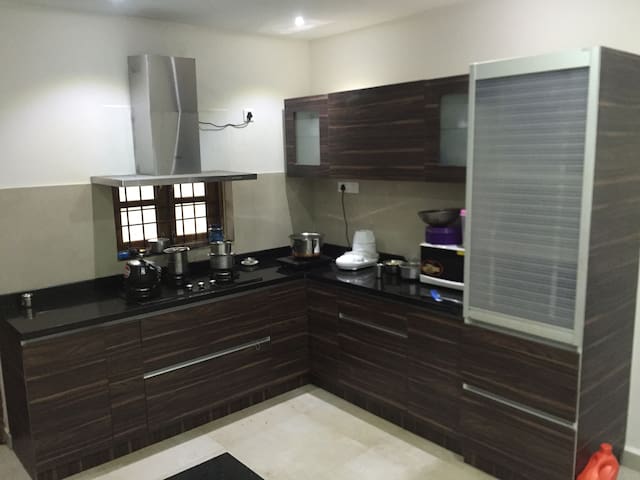 Duplex Apartment, 1 bedroom, drawing and dining and servant room and kitchen on ground floor. 2 bedrooms and lobby on 1st floor. Four Balconies overlooking Mandovi River and Arabian Sea.... very near to Candolim beach... Fully furnished with all facilities including housekeeping. . You'll love my place because of Its a beautiful villa with exquisite location... My place is good for couples, solo adventurers, business travelers, and families (with kids).
The Vila is a beautiful one. Its a part of a very beautiful society whihc looks straight out of a Roman film set. I would love to come back to this place. And you have a beautiful view of the river and the Casino boats from your balcony. The house is specious and very thoughtfully done with attention paid to smaller details which make the stay very comfortable. Its super value for money. Even the staff is very courteous and helpful. The house is cleaned almost everyday. The location is very convenitently placed. The society has a beautiful pool with special partition for kids. The owners are extremely cooperative and very welcoming. It made my 4 day trip feel like a week long trip.
Nisheeth
2017-03-13T00:00:00Z
Typ av rum
Eget hus/egen lgh
---
Typ av boende
Lägenhet
---
Plats för
8
---
Sovrum
North Goa, Goa, Indien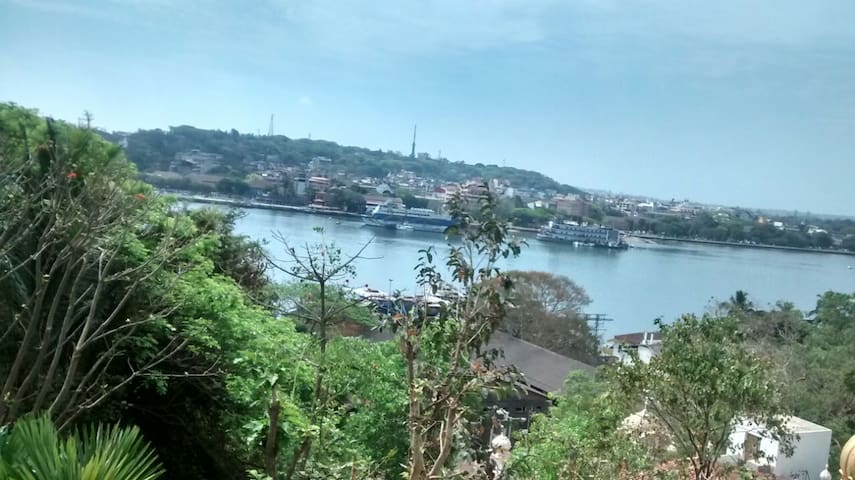 Mother's Nest, a calm and Quiet home stay available at North Goa. Ideal for people who would love to live with serene peace in a homely environment. Located at the heart of North Goa, equidistant from all major tourist spots. Experience the warmth of living in your own Vacation house in Goa. Individual Rooms or Complete Serviced Apartment for groups is also available.
Typ av rum
Eget rum
---
Typ av boende
Lägenhet
---
Plats för
2
---
Sovrum
Penha de França, Goa, Indien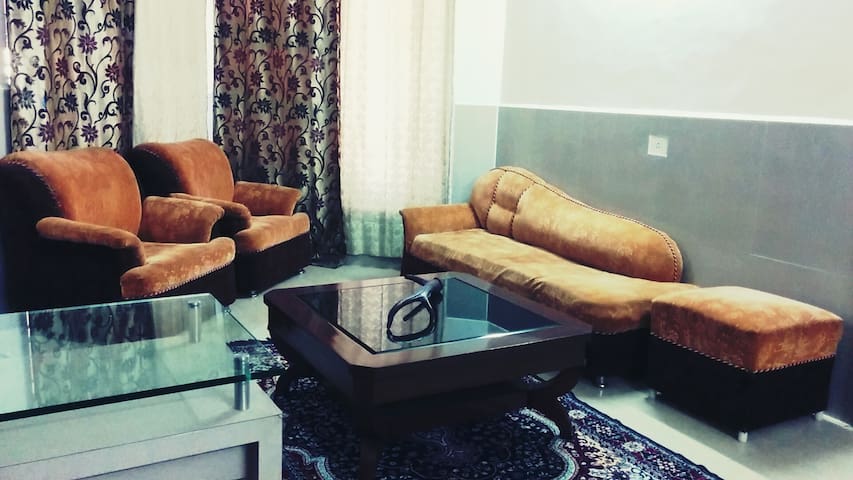 Если вы считаете, Северный Гоа как круг, то мое место является центром окружности с 7 км от случаться Анджуна и Бага, 6 км от Капитолия, Панаджи на одной стороне и в 5 км от Mapusa на другой стороне. Самый клуб происходит LPK ближайший клуб к моему месту. Вы можете начать вечеринки на моем месте, а затем отправиться на пляжи и клубы. Лучшее место, чтобы после того, как крах партии.
Perfect stay, nice flat with good food good vibes and good wifi. Gourish help me to discover Goa, with long bike trip, party on the beach. Highly recommended :)
Girard
2016-12-25T00:00:00Z
He is a cool host, I will definitely recommend him.
Jai
2016-12-26T00:00:00Z
The host canceled this reservation the day before arrival. This is an automated posting.
SIDDHARTH
2017-01-01T00:00:00Z
Typ av rum
Delat rum
---
Typ av boende
Lägenhet
---
Plats för
2
---
Sovrum
Bardez, Goa, Indien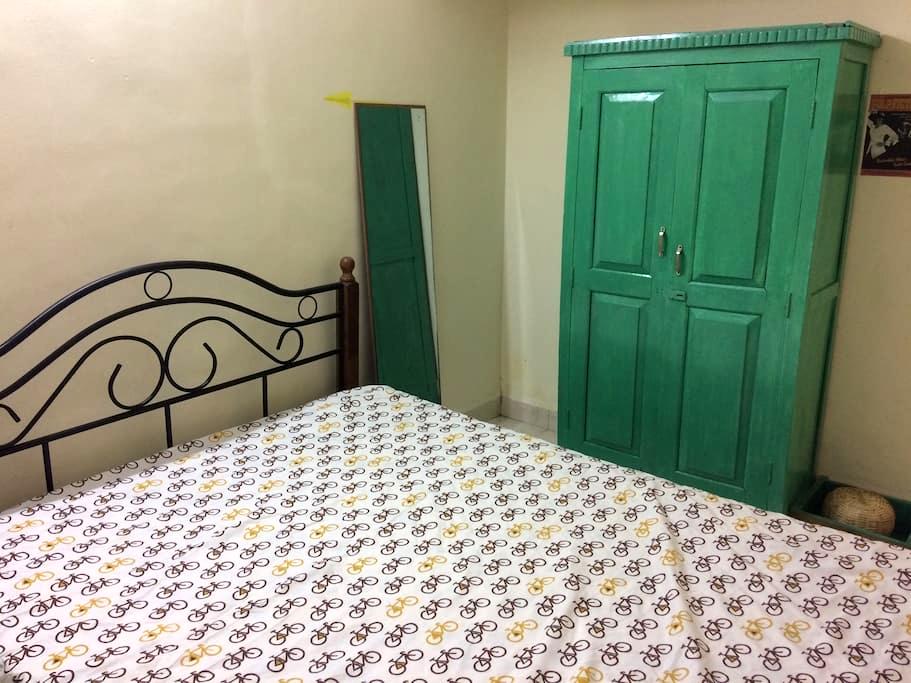 Nice apartment bit far from beaches in north goa you have to have your own vehicle. Friendly and helpful owner , caretaker is worst don't expect any service from him.
SAIKAT
2016-06-07T00:00:00Z
The host canceled this reservation 9 days before arrival. This is an automated posting.
Shaswat
2016-12-14T00:00:00Z
Typ av rum
Eget hus/egen lgh
---
Typ av boende
Lägenhet
---
Plats för
15
---
Sovrum
SANGOLDA, Porvorim , Goa, Indien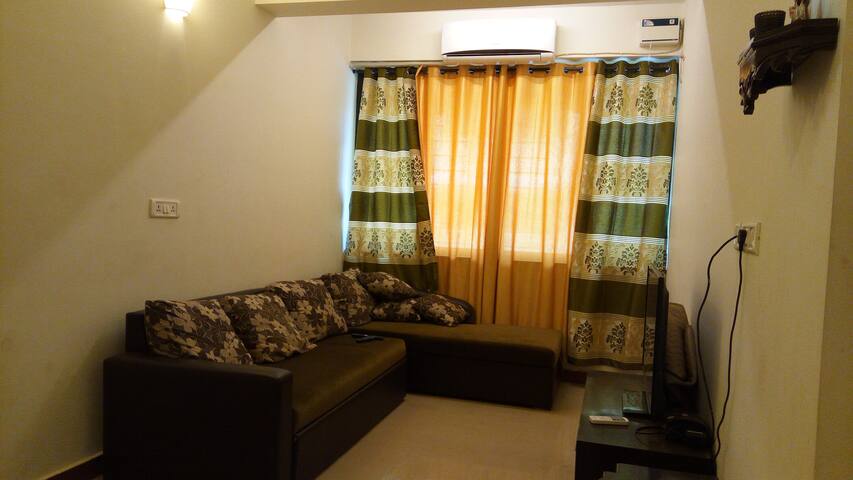 This place is capital and at the center of GOA. All the tourist spots and beach at equal distant. It is very safe and in residential area, away from the insecurity and harassment of tourist which is seen at public placesVery quite and Peaceful place, calm is worth it with ample parking space and twenty four hour security.
My property is prime residential area in the heart of Goa, near the capital city Panjim. The property has large living room and is fully furnished consists of sofa, adjoining to it we have balcony, which is very well ventilated the house also is quite airy and well ventilated. We have two bedrooms with both the bedrooms having A/C, consisting of two queen size beds attached toiled bathroom. Bathroom consist of western toilet hot and cold water showers available with wash basin and mirror(URL HIDDEN)Kitchen has granite work top and the kitchen is fully equipped with a large fridge, crockery, cutlery, cooking utensils,washing machine and gas stove.
The neighbour hood is quite and peaceful place and is fully residential area with 24 hours security available for the premises. It is central place to all the tourist beaches -Calangute beach -12 kms, Miramar beach - 9 kms shopping mall 1 km. Old Goa church -11km. Airport 35 kms one hour drive
The host canceled this reservation 23 days before arrival. This is an automated posting.
Anees
2016-09-20T00:00:00Z
Flat was very nice in a calm locality
Sourabh
2016-07-06T00:00:00Z
The host canceled this reservation 3 days before arrival. This is an automated posting.
Sam
2016-10-05T00:00:00Z
Very nice stay. Host was very help full and guide us for many local things.
Kuldeep
2016-09-05T00:00:00Z
Typ av rum
Eget hus/egen lgh
---
Typ av boende
Lägenhet
---
Plats för
4
---
Sovrum
Penha de França, Goa, Indien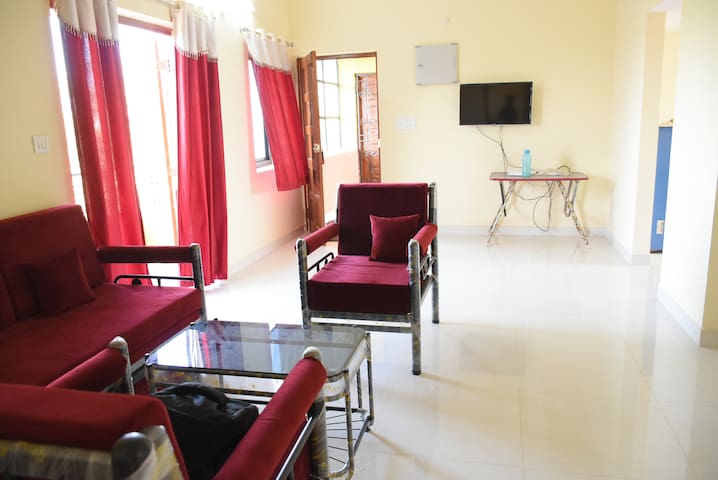 We live in Mumbai and are Avid Travellers Globally as also domestically , and have experienced the warmth and goodness of many hosts and so, it is our endeavor to reciprocate to others in our beautiful home which we bought in Goa . We too enjoy living at our home in Prudential Paradise and are truely excited to have you over and hope that you have a Memorable, Pleasant and Comfortable stay. Please enjoy the warmth and feel free to make yourself at home.
A spacious and very well maintained 2 bedroom fully furnished apartment located in a serene locality just off National Highway 17 with greenery all around. Facilities available inside our home •Clean & comfortable Beds with two Pillows in each room, Clean Bed sheets and Cover sheets along with, Bath Towels and hand Towels. •A cupboard with a key to keep your clothes and personal belongings. •A semi automatic washing machine to wash your clothes , towels etc. (You will need to carry your washing detergent) •Balcony area to dry your clothes on Hangers on a clothes Rod and a clothes stand. •A Kitchen with a Fridge, Micro wave, Hot Pot for only hot water, a Toaster, a Blender/ Mixer , cooking vessels , For non stick please use the non stick spoons , Crockery and Cutlery in the cabinets above and below in the Kitchen and an Iron if required. •The Kitchen has a mesh window which should be used . So one glass window can be pushed behind the other and the Mesh in the front alongside. •Please carry your own Mineral water which is available at a local store close by. There is normally 24 hours water supply , However we request you to kindly ensure that water is not wasted by keeping taps open unnecessarily. In case of a leakage from Taps or Flush , kindly bring it to our notice immediately.
It is located in a serene locality just off National Highway 17 with greenery all around. 2 minutes away from a State of The Art International Sports Complex Tivim Railway station 5 minutes away Mapusa market 1.5 Kms, approx 5 minute drive Airport 40 Kms Panjim 12 Kms, approx 20 minute drive Close proximity to schools, colleges (St Xavier's), Vrindavan Hospital Places of worship including the famous Shree Hanuman Temple and Saint Jerome's Church built in 1594 A.D by the Portuguese. Hotels, Restaurants, Cafes, Entertainment 0.5- 1 Km and beyond The party hub of North Goa (Calangute, Baga, Anjuna and Morjim) is 10 -12 Kms away, between 15-20 minutes drive from this project. About Mapusa Mapusa is a small town forming the hub of North Goa. Its location makes it the meeting point of all routes in the Bardez Taluka. Mapusa's main claim to fame is its famous Friday market. People from all over Goa come here to buy and sell their wares on Friday. Apart from regular items, you will get plants, Goan chorizos, fresh or dried seafood and many more artisanal crafts.
Typ av rum
Eget hus/egen lgh
---
Typ av boende
Lägenhet
---
Plats för
4
---
Sovrum
Mapusa, Goa, Indien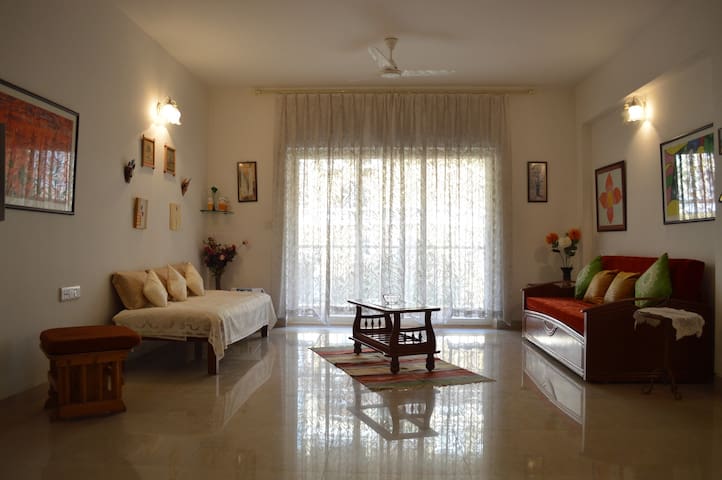 The front living room, kitchen and bedroom is 800sq.ft. My bedrooms are facing the hilly forest which has a variety of species of migrating birds. We have a nice big swimming pool which is also surrounded by the hills. The highway, Roman Catholic church, the biggest shopping mall/multiplex in goa, Panjim city is 5 to 10 minutes away. The room has an attached bathroom with western toilet. Also a balcony facing the pool and forest. The kitchen has an oven, fridge and 4 stove gas burners.
Only for couples. Besides natural sunshine my place is very well lit. Lots of land breeze. The guest has access to the entire apartment. There is a king size bed, wardrobe and attached bathroom and western toilet. Balcony in the living room.
There are no building in front or behind my place. Besides it is very scenic. Serene and calm would be apt to describe the place.
We stayed at Loretta's place for 2 weeks, we rented a room. The flat is very cozy and clean with all convenient facilities. The location of the place is a bit far from the beaches but peaceful atmosphere and quietness away form main roads make up for that and if you have a bike it's not a problem at all. The view from the windows is amazing. The location of the flat is in continent reach of all major highways which allows you to discover remote places of Goa easily. Loretta is a very friendly lady and a great host. She helped us with all problems that we had, gave us lots of useful recommendation of good places to eat out. Overall she was very helpful and we're really grateful for that. We highly recommend Loretta's place for everyone
Andrey
2016-05-18T00:00:00Z
This was by far the best stay I've had during a vacation. I think the place looks even better in person than in pictures. Loretta made us feel very welcome right from the time of our arrival. She has been a wonderful host throughout the vacation. All the amenities listed were provided. The place was extremely clean. The bathroom is very well maintained. The pool is beautiful. You can catch a sight of misty hills early in the morning. The balcony has a really good view I would definitely recommend this place for a great stay. Its totally worth it!
Rohit
2016-08-19T00:00:00Z
Lorreta is a great host. She made us feel welcomed and made sure we had everything we needed at our disposal. She helped us with recommendations for dineouts and party places and those were spot on. The room is located in a quiet and peaceful location, yet not too far from the mainstream Goan places. All in all we had a nice time and will recommend it for any future guests.
Jagmeet
2016-11-12T00:00:00Z
Loretta is a warm, generous and caring person who goes above and beyond to make your stay at her home as pleasant as possible. We were particularly appreciative of the room in which we were staying, which has a series of glass doors that can be opened up, exposing one entire side of the room to the balcony which overlooks the hills and the pool below. It is a great place to do yoga, or to sit and journal overlooking the green, while birds fly overhead and the sound of music can sometimes be heard in the air. If you are looking for an AirBnB outside of the touristy sections of Goa, a place where you can get to know the real local culture of the are guided by a hostess who goes the extra mile to show it to you, this is a great choice!
Linda Kay
2016-12-07T00:00:00Z
Great location; a lovely balance between green, forested expanses and urban Goan life. The place has been done up with a lot of love. Loretta goes out of her way to make you feel comfortable - it's like staying at mom's - house rules included!
Joel
2016-08-24T00:00:00Z
A good, decent place to live in. Exactly same as shown in the pictures. However host was not available. When we entered the apartment we found that the toilet flush was broken and it couldn't be fixed in 4 days.
Ankur
2017-01-23T00:00:00Z
A beautifully and caringly maintained flat in the heart of goa. The morning views from the bedroom balcony is as if you are in the forest,but you are in the heart of the city. We lived everything in the house and great kitchen with all that you require to make your favourite chorice or fresh fish fry.
Andrew
2016-06-05T00:00:00Z
Loretta should be a genius host. She is the kindest, friendliest, most generous, helpful, caring and welcoming person. Staying with her and sharing her home was a great experience. The apartment looks exactly like in the pictures. It is on the top (4th) floor of an apartment building surrounded by trees with balconies on both sides and the guest bedroom and bath opening up to a lush forest. Yet it's only minutes away from the NH17 highway with easy connection north and south. The road to the southern beaches Candolim, Calangute, Baga is also just minutes away. There is also a woman coming in to clean every morning and really good wifi. The pool I pretty much had to myself. A stay with Loretta is hghly recommended, especially if you are a solo woman as you feel right at home with her.
irina
2016-11-25T00:00:00Z
Typ av rum
Eget hus/egen lgh
---
Typ av boende
Lägenhet
---
Plats för
2
---
Sovrum
Penha de França, Goa, Indien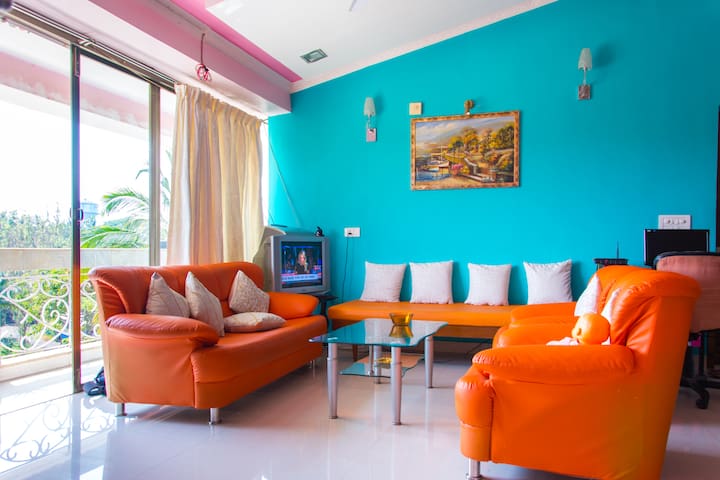 Our apartment is very conveniently located in between Baga/ Calangute and Panjim City, both being an approx 10 minute drive. You are just a short distance from the beach, off shore casinos, great shopping, nightclubs, bars and restaurants. The rate also includes a breakfast pack (tea/coffee bread cereals milk etc)
The fully equipped kitchenette has all the culinary requirements for those with a flair for cooking, a microwave, cooking range, toaster, food processor, kettle, refrigerator and a range of crockery and cutlery. The apartment complex has a common swimming pool, reception, 24-hour help desk, back-up generator, 24-hour security and an elevator fitted with an automatic rescue device. Apartment Facilities: Air-Conditioned Apartments Swimming Pool TV Generator Elevator fitted with automatic rescue device Restaurants within walking distance
Sangolda the heritage village of Goa, is ideally suited for both business and leisure travelers. Located just 3 kms from the busy capital Panjim and approx 5 minute drive to the noisy Calangute/Baga area.
It was a wonderful experience for us. The caretaker Lucian was very helpful with all our requests and he was very cordial and professional. Nester was very cordial too..The house was well maintained and clean when we arrived and Lucian showed us around. We would love to visit again. Thanks a lot Nester and Lucian
Sanjay
2017-01-16T00:00:00Z
Everything as described , Nester and his associates try hard to meet all your needs. A prior notice for arranging vehicle for rent would be helpful if you need one as this place is on the way to panjim when you start from calungute/ Baga..not many players in this area . They provided basic breakfast at the time we woke up around 11 ish which was awesome. Also we had the pool all for us which we loved . Overall a quiet / private / decent stay .Thanks.
Bala
2017-02-27T00:00:00Z
Surya Sangolda Apprtments hosted by Nester, Lucian and team is a great place to stay for families and bachelors. Lucian was friendly and helpful. He was there to attend our every call and needs. The whole apartment standout for its exceptional cleanliness and hospitality. Pool cleanliness is outstanding. They have fair good options for home delivery. They serve normal bread butter breakfast. They have all kitchen facilities if you can cook well. Location is at a fair distance to prominent locations. There is an excellent restaurant called copper leaf at walkable distance. Every required shops and amenities are a 5 minutes drive. They provide rent a bike service too
Rahul
2017-01-08T00:00:00Z
It is a great place to stay with a good balcony view and comfortable apartment. The staff is very cooperating and You will never feel that there can be a problem. I loved it. 5 stars!
Devansh
2016-10-11T00:00:00Z
A great place to live at the center of Goa. Tucked away nicely from the chaos of Baga & Calungate. Markets are nearby. Room was clean, secured & airy.
Anirudh
2016-09-25T00:00:00Z
The host was extremely helpful in all ways possible. They helped me source appropriate transport and a sim card, which is rather difficult for a foreigner. In summary, they were extremely patient and kind. Furthermore, Nester checked-up on me twice during my stay to make sure that everything was working well and if I had any concerns.
willem
2016-08-11T00:00:00Z
Amazing place. A total package of property situated at a good location and quite a cosy full furnished property with all the basic amenities available beforehand that one could barely readily ask for.
Ruchira
2016-07-06T00:00:00Z
This was our first visit to Goa and we couldn't have asked for a better host and a place to stay. Nester was a wonderful to speak to, always available whenever we needed any guidance. Transport and food were easily accessible and the service was top notch. Can't wait to come and stay here again.
Aditya
2016-09-22T00:00:00Z
Typ av rum
Eget hus/egen lgh
---
Typ av boende
Lägenhet
---
Plats för
3
---
Sovrum
Penha de França, Goa, Indien
My place is good for couples, solo adventurers, business travelers, and families (with kids).
It was a very well furnished 1bhk house. No problems during checkin or checkout. It was over all a good place to stay.
Pradeep
2017-01-30T00:00:00Z
Typ av rum
Eget rum
---
Typ av boende
Lägenhet
---
Plats för
2
---
Sovrum
Penha de França, Goa, Indien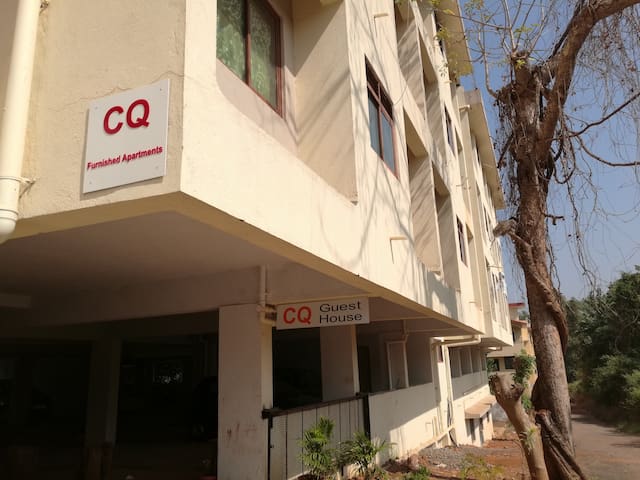 Atithi Devo Bhava. Located in the heart of Mapusa city. 5 mins walking from main bus and taxi stand. 10 mins walking from the famous Mapusa market. Embodying the spirit of AirBnB, its the perfect flat for travellers and explorers who will spend maximum time enjoying the beautiful sights, scenes and sounds of Goa and come back for a good night's sleep. I thank all my guests for helping me achieve the coveted SuperHost title.
People visit Goa from all over the world to create memories and hence all efforts will be made to ensure that guests have a memorable and an enjoyable stay. The hallmark of my flat is that I keep it clean myself so guests will not have any problems regarding cleanliness. Daily cleaning if required has to be requested. The most unique thing is the location. All north Goa destinations are closest from this main city. The flat itself is very simplistic with no frills. But comfort and convenience guaranteed. I've got two new Blue Star air conditioners installed in the bedrooms. Cooling by the experts. :) I have ensured the apartment is business ready but amenities like iron, hairdryer, etc will be provided to non-business guests on request. Guests will be offered fresh blankets, soap, toothpaste, shampoo, mosquito mats, etc. but in order to control costs and offer guests ultra affordable rates, guests need to carry their own towels.
The neighborhood is very calm and peaceful. The shops below the building have goldsmiths so lot of two wheelers might be parked during peak hours. Plenty of grocery shops, eatery joints and restaurants close by.
Just like the title suggests, this place is really affordable and amazingly clean. It was like a steal deal to find this place right in mapusa. Hats off to he host Sahil for keeping the flat so clean. Even the WiFi was pretty fast and free. Sahil has been very friendly and helped us a lot by suggesting awesome places to visit in Goa. He was available whenever we needed him. Even though the flat is in the city itself, the surroundings are pretty quiet. Perfect for a relaxed trip. There was continuous water supply and amazing ventilation in the flat. Most famous beaches like Baga, Calangute and Vagator are within 20 minutes from the flat. We had first thought it would be a bit far from the beaches but then realised and Sahil explained to us how much we saved on taxi fare, easily around 1-2 thousand. We easily got bikes on rent from the Mapusa taxi stand which is hardly a 5 minute walk. On check out, like a cherry on the cake, Sahil gave us a lovely surprise. All in all the best experience of home stay so far. Its so much cheaper and better compared to staying in a hotel. I would definitely recommend his place and would love to be back here again.
Kavir
2017-03-25T00:00:00Z
Very friendly host and quiet surroundings. The room was well maintained and neatly kept. The bedrooms were spacious. We were a group of bachelors and had a pleasant stay
Arjun
2017-02-26T00:00:00Z
Hey this place was perfectly located an easy to find...the flat is very clean ... The host made the check in an out very convenient... Place is very well located to hunt restaurant...the place is very spacious an very quite neighbourhood... The stay gives u very homely an positive feeling... Wish to stay every time when we come to Goa... Best home stay till today...
Arjun
2017-03-21T00:00:00Z
This was my second Goa trip and the first AirBnB booking. I would like to highlight few of the following things: 1. The Host - The first and the foremost highlight of my trip! One of the amazing person with brilliant personality. Very friendly and helpful host. Available 24/7. I would definitely recommend the place. 2. The Room - The room matches the description above. The room is very spacious and clean with all the basic amenities. It is equipped with good speed wi-fi. All the things in the room are properly labelled for full understanding. At this price, the room is a steal if we are travelling in a group. 3. Proximity - The room is located at very well connected place. All the shops and market is at walkable distance. 4. Overall - Would love to come back again! PS: The guests get a good surprise in the end from host! Thanks Sahil... we loved it!
Krishna
2017-03-19T00:00:00Z
The best location, super clean and spacious apartment. Sahil is a wonderful person, because he has lived in Goa all his life, he knows Goa in and out and can be asked for many suggestions. Your stay is going to be wonderful:)
Rasika
2017-03-23T00:00:00Z
The place is very nice and the hospitality is the best. I suggest anyone who wants to stay in North Goa, just search this and if it is available then your trip will be much more enjoyable.
Aditya
2017-04-09T00:00:00Z
Awesome place to live. As specified in app it is simply the best clean and spacious flat. The flat is located very close to Mapusa Bus Stand and Market. From bus stand and market flat is hardly 5 min away by walking. Flat is very good for stay of family of 4 to 5 people and friends. Kitchen is also there if any one want to cook. All the famous beach of goa is located within 10 kilometer from the location of Flat. I can say that the flat is simply BEST. and also Value for money. I want to thank Sahil for putting all the necessary things in the flat.
BHAVESH
2017-03-01T00:00:00Z
The most amazing and hospitable host who ensured the most comfortable stay experience for us. The cleanliness was just too good, he even ensured hand sanitizers for his guests which itself shows his concern and effort to keep the house clean. He took care of the nitty gritty of things even the electrical connections were labelled for our convenience to know which switch to use when.. Clean water supply in the house, basic cutlery ensured, good ventilation and very courteous host.. thanks sahil for the most pleasant stay !
Kanishka
2017-02-27T00:00:00Z
Typ av rum
Eget hus/egen lgh
---
Typ av boende
Lägenhet
---
Plats för
15
---
Sovrum
Mapusa, Goa, Indien
My 3BHK in Goa is where you would like to come back and getaway from all the hustle bustle yet still be in an environment close to the heart of the city.
Check-in was flexible and we had no problem communicating with the host. It was a nice and silent neighbourhood.
Sakar
2016-12-28T00:00:00Z
Typ av rum
Eget hus/egen lgh
---
Typ av boende
Lägenhet
---
Plats för
6
---
Sovrum
Penha de França, Goa, Indien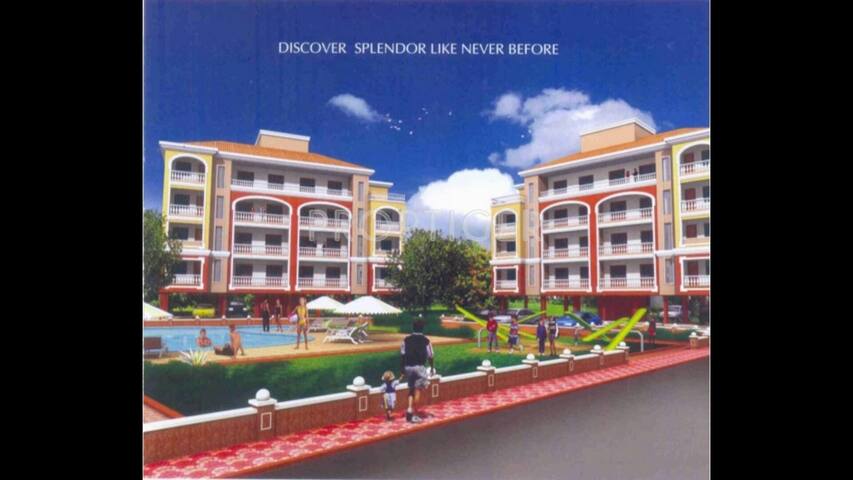 Наш чрезвычайно роскошный квартира посуточно находится в 10 минутах езды от пляжа Калангут. С балконов открывается вид на красивый бассейн или пышные зеленые из тикового дерева. Исключительный сервис, безопасность и роскошь по доступной цене, что делает нас идеальным
Suites теперь PASSE во время курортах квартиры взяли на себя. Это просторное 1BHK квартира, расположенная в Sangolda обещает вам лучшее из роскоши наряду с затворничества, как вы установили свой собственный темп столь необходимый vacay. Полностью меблирована и оборудована, в каждом из 6 квартир хорошо подготовлена к вашему приезду. В спальне есть кондиционер с ванной комнатой и прикрепленным патио. Этот балкон, где вы можете лаундж, как вы наслаждаться тихой едой с видом на резидентную бассейн и леса. Это само по себе вместе со случайной птицей песня дает вам идеальное место, чтобы разбудить до. Вы можете быть уверены, чтобы найти двуспальная кровать, туалетный столик и шкаф тоже в комнате среди других предметов первой необходимости. В гостиной находится просторная и обеденная зона дополнительно присутствует. Эти самостоятельно обслуживали пребывания укрыты в современном здании, построенном среди кластера лакомство тика деревьев. Каждый из 6 квартир составляет 103 квадратных метров в районе и уединенный друг от друга. Они были построены, чтобы быть свежим и интерьеры современно спроектированы и оборудованы. Помимо бассейна собственность также предлагает достаточно места для парковки и 24-часовая охрана. 24 часа прием к вашим услугам в любое время и поможет в организации такси, прокат автомобиля или велосипеда. Персонал многоязычная дружелюбный и, не колеблясь, чтобы предложить вам предложения о должны увидеть места для посещения вокруг. Сервис Главная доставка еды доступна для этого местоположения из нескольких близлежащих кафе и закусочных. Обслуживание, безопасность и роскошь по доступной цене, что делает этот регион идеальным местом для пар, ищущих тихий отдых. Кроме того, установка причудливой наследия деревни Sangolda добавляет к интимным очарованием и является идеальным отдых пребывание в Гоа. Его старые португальские дома и пышная зелень делает хорошее место, чтобы исследовать менее известных сторону Гоа. Все в одном - это место является идеальным сочетанием, в бюджете роскоши и комфорта. Возьмите отпуск и остаться здесь своего рода мирного тропического отдыха вы можете найти только в Гоа.
Sangolda может обеспечить вам конфиденциальность и закрытие, но это не так далеко от всех действий либо. Porvorim едва в 2 минутах ходьбы в то время как Калангут, Бага со всеми своими пляжами, водными видами спорта и торговых площадей находится в нескольких минутах 10 минут езды. Вы также можете совершить путешествие вниз в нашу столицу Панаджи, который находится в 15 минутах езды. Мульти-кухни ресторанов, магазины, спа-центры и банкоматы могут быть найдены неподалеку от этого места.
This is the lovely quiet place where you can have relaxing and enjoyable time, but it's quite far from the beach (the nearest one is located in 6km away). So you can have a short trips to the other villages if you want to lay on the beach or watch the sunset and enjoy the silence again coming back. The grocery stores and the mall in a reasonable walking distance.
Alexander
2016-12-07T00:00:00Z
The place was centrally located and was near to some fine eating joints and mall de Goa. The property was very nicely maintained by the owmer & caretaker at reception and he was quite a gentleman,( sorry can't recall names since I'm bad at that) he arranged a brand new scooty at a very competitive price alongwith the airport drop. Overall I will rate my experience as awesome, will surely stay only here whenever I plan to come back. Rhys is a wonderful host he did not take time to consider our late check-out request since we wanted to utilise the last day because of late flight.
Harmeet
2016-09-12T00:00:00Z
The location, the furnishings and above all else the attentiveness of the staff made our stay a pleasure. Everything in the place worked as advertised and we wanted for nothing during our stay. A very light continental breakfast is provided but there are plenty of excellent restaurants and bakeries within walking distance. Hope to stay in Rhys' flat on my next visit and want to thank staff member, Lucian, for going above and beyond for us during our one week stay.
Sethu
2016-10-12T00:00:00Z
Good accommodation with all the amenities as told
Kiran Srinivas
2016-08-16T00:00:00Z
Stayed at Rhys' service apartments for 7-nights. The staff were friendly and accommodating with scooter rentals and taxis. The apartment is centrally located to several beaches and markets, including a shopping mall and movie theater. If you like to cook and prefer grocery stores with dedicated meat and seafood department, visit Delfino's market. The complex pool is quiet, which is a plus. For the value, location, and service, I would recommend staying here. It's like a Holiday Inn Express.
Stephen
2016-12-23T00:00:00Z
Typ av rum
Eget hus/egen lgh
---
Typ av boende
Lägenhet
---
Plats för
2
---
Sovrum
Sangolda, Goa, Indien