Ange datum för att se full prissättning. Ytterligare avgifter tillkommer. Skatter kan tillkomma.
7 Annonser
· Campo Ligure
7 Annonser
· Campo Ligure
I juli och augusti kan du prova ett av de här högt rankade boendena i alla prisklasser för att få en lokal bild av Sonoma. Med 24 timmars incheckning, direktbokning och lokalt vin och snacks kan du luta dig tillbaka och njuta av resan.
Super cute apartment. Parking close and short walk to river for my kids and dog to play. Host was great with communication. I would stay there again.
PASCHA
August 2015
Ernesto was a wonderful host. He was very welcoming and even made a reservation for us at the local restaurant. He also offered us a bottle of Proseco as a welcome gift! The apartment was very clean and charming. Campo Ligure is a cute town to stop in overnight, and this apartment is centrally located.
Diana
May 2015
A fantastic stay throughly recommend. This is a perfect place to stop for a night on the way down to the coast or up to the mountains. Very close to genova and the highway but you are in the middle of the hills in a beautiful village. The hosts are excellent and the accomodation faultless. Very clean, modern, all the comforts you need and great breakfast thrown in too. The village is great for a wander and a couple of beers in the square and we ate at a great restaurant as recommended. Will definitely be back. Thank you.
Steve
September 2014
The Apartment in Campo Ligure was nice. It's a small apartment in the heart of the town, ideal of 2 people and is fully furnished. Enrico was a very helpful and friendly host who always answered our questions quickly and gave good suggestions of places to visit and places to eat. The town is characterful and the people were very friendly, which made our stay enjoyable.
Ruwantha and Amisha
August 2016
The apartment is ideally located in the centre of the tiny but very pretty villiage of Campo Ligure. We were met as we arrived and shown to the apartment which was clean and very comfortable. We stopped in Campo Ligure for just one night while driving from Tuscany to Lake Orta. We drove up to Praglia on the afternoon of our arrival and walked to Punta Martin on the recommendation of Enrico which was a great idea. It was a great choice for a stop over on our journey. Thanks Enrico and Sara
Tom
September 2015
Great stay, very comfortable apartment, comfortable bed. Had everything we needed, easy access - just off the main street to shops and restaurants in the lovely little town. Very quiet, fire place heated up the apartment for the whole night which was lovely. the host was very friendly and helpful, he recommended a great little restaurant across the street and was on hand to help us at any time.
Clair
April 2016
È stato un piacere soggiornare presso di voi, abbiamo trovato gentilezza e cortesia. La casa è molto accogliente.
cristina
September 2016
Typ av rum
Eget hus/egen lgh
---
Typ av fastighet
---
Plats för
4
---
Sovrum
1
Campo Ligure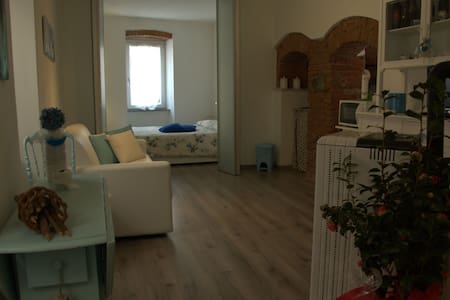 Questo nuovissimo Loft è stato progettato per offrire agli ospiti un soggiorno totalmente improntato al rispetto ambientale: si è scelto infatti di creare ambienti essenziali e luminosi, realizzati in legno di betulla proveniente da fonti sostenibili
Il Loft si compone di un ampio open space con cucina attrezzata, zona pranzo, living con letto matrimoniale e due letti singoli, bagno privato. Prenotando la vostra vacanza da "Nonno Toni" vi metterete direttamente in contatto con noi, che saremo lieti di accogliervi e di rispondere personalmente a tutte le vostre richieste. Questo perché desideriamo che i nostri ospiti godano della propria privacy ed autonomia, ma senza rinunciare ad un servizio efficiente e quotidiano.
Situato al terzo piano di un antico edificio, in una delle più antiche Vie del Borgo, il cosiddetto "Carruggiu Snestru" (dal dialetto Vicolo Sinistro) Parcheggio pubblico in loco disponibile. A circa 700 m. dalla stazione ferroviaria Il LOFT si trova al terzo piano, no ascensore.
Da nonno Toni c'è tutto quello che serve per trascorrere alcuni giorni in completo relax e sentirsi in famiglia. Appartamento pulito e molto ampio nel centro storico. Speriamo di riuscire a rivedervi presto. Un saluto particolare alla oli.... Bravi ragazzi.
Giuseppe
May 2016
Typ av rum
Eget hus/egen lgh
---
Typ av fastighet
---
Plats för
4
---
Sovrum
0
Campo Ligure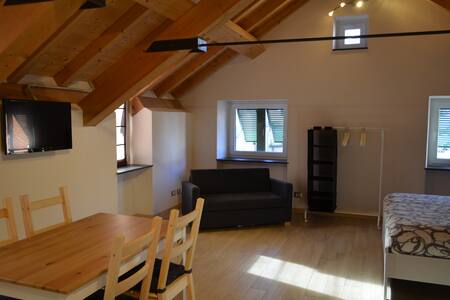 In questa casa ho trovato un'accoglienza calorosa , il posto è tranquillo, situato in punto dove raggiungi il mare se vuoi o la montagna se vuoi,ottima pulizia,colazione naturale, ci tornerò presto
Susi
August 2016
Super accueil!! Logement propre avec salle de bain privative. Andrea a mis en place des lits supplémentaire pour mes enfants et a été de très bonne compagnie avec nous. Nous avons même eu la chance de gouter au Tiramisu de la "Mama": parfait!!
Cynelle
August 2016
Alles Bestens Danke
Tamara
August 2016
Ottima ospitalita' è simpatia in questo Borgo caratteristico, grazie di cuore per l'accoglienza
Daniele
July 2016
Fue una muy buena experiencia gracias por su simpatía y amabilidad
Veronica
August 2016
Very beautiful place in a small town very wonderfull. Our host was very friendly. The breakfast was excellent. A nice place close to Genova.
Matthieu
August 2015
Andrea è stato di una cortesia e di una disponibilità assoluta. Sotto ogni punto di vista, dall'accoglienza alla sistemazione, il soggiorno è stato perfetto. La camera è bella e pulita con un bel bagno. Ricca anche la colazione offerta. Consigliatissimo!
fabrizio
August 2015
L'accoglienza è stata perfetta. La Mamma di Andrea, Olga, è molto premurosa e disponibile. La descrizione della stanza e del posto corrispondono alla realtà. La casa è rinnovata bene. Complimenti ad Andrea per il lavoro effettuato!
Clara
September 2015
Typ av rum
Eget rum
---
Typ av fastighet
---
Plats för
2
---
Sovrum
1
Rossiglione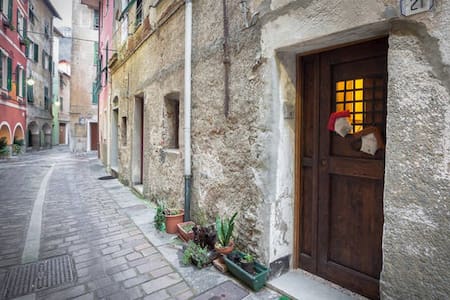 Host and the family are lovely, Felt like home, cool breeze from the window, and I was pleased with the bathroom and enjoyed the lovely breakfast.
Noviyanti
July 2016
Fantastic place and great host.
Henrique
August 2016
De Paso por Italia nos hemos encontrado la casa de Andrea!!! nos recibió su madre con los brazos abiertos, la casa y la habitación es de lo mejor que hemos encontrado, desde el primer momento nos sentimos como en casa y el trato por la madre a sido espectácular. XD el desayuno es lo mejor!!!! no sabíamos por donde empezar y queríamos probar de todo. seguro volveremos pero más días!!!! muchas gracias por todo.
Sayaline
August 2016
Simple and clean room in a nice village. It was nice to stay
Lucas
May 2016
It`s a really small village a little away, but in half an hour you are in Genova., and the special spirit there is great. We had a warm welcome and the room was great. I`d like to come back during sommer just to relaxe and see national parks with the great nature around. Thanks a lot
Benjamin
October 2015
Very nice house/room in Rossiglione. We were very well received by Andrea's mom at night and Andrea the following day. The room is nice and comfortable and the home made breakfast is amazing. I totally recommend this place and I would definitely come back if I had a chance.
Lucas
October 2015
Andrea, thank you very much for the warm welcome! I was really amazed by this great, almost 200 years old !!! - and just renovated house. Andrea has "golden" hands. I adore the smell of wood and the sense of peace the house is giving. This is undoubtedly a great deal for the money! The dining room at the last floor is great ... and there are more wonderful things still to be completed on the mansard - this will be great when finished ... unless Andrea decides to keep it private :) The village of Rossiglione is so lovely - a great place for relax and retreat. I only regret i have so less time to spend around. There is un UNECSO protected ancient forest, you should visit, they say :).
Martin
August 2015
Nous avons été très bien accueilli . Les deux chambres que nous avons occupé étaient très propres et bien aménagées avec deux jolies salles de bain . Notre hôte a été très sympathique , nous a offert un rafraîchissement à notre arrivée . Le petit déjeuner était copieux et joliment présenté . Notre hôte a été très disponibl(URL HIDDEN)
sylvaine
August 2015
Typ av rum
Eget rum
---
Typ av fastighet
---
Plats för
2
---
Sovrum
1
Rossiglione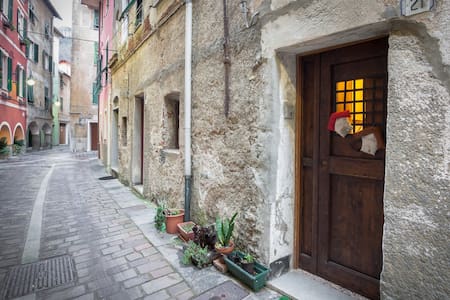 We offer a big home, vintage style but completely renewed up to 7 people, in Rossiglione - a small typical Ligurian village in the Appennino area (mountains) 30 km from Genoa and the sea. Milan is 120 km far away and the shopping paradise - the outlet village in Serravalle - around 40 km along the way to Milan. Our home is on the ground floor with two terraces and a garden in common with other apartments and parking. Wi-fi free. Washing machine. Welcome breakfast. No final cleaning fee.
Our home is with indipendent entrance on the ground floor, completely renovated in 2014, with two terraces and a garden in common with other apartments and free parking. We also offer free wi-fi and no final cleaning fee. You will find a big kitchen equipped with stove, fridge, dishes, moka, kettle and pots and a terrace, 3 bedrooms (1 double room, 1 tween and 1 single room), 1 bathroom with shower, 1 living room with double sofa bed and access to a huge terrace. Our facilities: - free wi-fi connection - bath towels and bed linen - TV (digital – only Italian channels) - washing mashine (detergent available) - welcome breakfast (coffee, tea, milk, jam, biscuits, mineral water) - welcome kit (soap / shampoo) and hairdryer - cloth slippers - for your dog: mat and bowls - free outdoor parking For babies: cot available free of charge. For any help my parents will be at your disposal on request. Free parking in the garden and access to the garden. The access to the home by car is from the main street SP 456. At check-in and check-out or on request/need of the guests. My father speaks some English and he will be happy to help you.
On foot: market at 200 m, bakery at 150 m and other food stores in 200/300 m. By car: the nearest restaurant is at km 1,5 and others in the area. Pizzeria at km 1. It's also possible take away. Rossiglione is a small village 30 km away from Genoa, from the sea and 36 km from the Outlet Village. You can enjoy the typical non-touristic atmosphere of Liguria, the bar in the main square with old people playing cards, order a private home dinner, discover the woods, rivers and nature in the surroundings or reach the seaside in 30 minutes. Rossiglione - railways station (Genoa - Acqui Terme) at 1,5 km from our home. We can provide transfer to/from the railway station in Rossiglione free of charge during day time. We suggest to reach our home by car. Linen and towels included. Breakfast is on your own. We offer coffee, moka, kettle, tea, milk, mineral water, jam, biscuits and some typcal sweet. We do not ask for a final cleaning fee. We kindly ask you to leave the apartment at the best. Thank you.
Marina was easy to communicate with and her parents were very accommodating during our stay. The house was very clean, spacious, had all of the modern conveniences, and parking was on the property. If anyone is looking for this type of accommodation in this area, I would certainly recommend considering Marina's.
Michael
March 2016
This is a lovely home and Marina's father is wonderful, he really looks after you. Everything is described well, it's a private compound and parking is safe. We really recommend this place.
Gavin
October 2015
Sometimes a host doesn't need to be there in person to deliver a perfect Airbnb experience. But Marina was there for us (on email and mobile phone) even before our arrival. The house is full of nice details and extras you don't expect to find in a rental apartment (slippers, nutella, beer... just to name a few). Silvio - Marina's father - is one of the kindest persons we met the entire trip. Always available, and extremely polite, didn't let us go before showing is bicycle memorabilia and sharing is road trip to Portugal back in 1994 :) Thank you so much Silvio for everything! Thank you Marina for all the care!
Pedro
September 2015
very nice house mixed with retro articles and new modern styles. The father of Marina is very kind, available to help us. We had very relaxed stay, and we will come back for sure our next stay.
Hirokazu
February 2016
All was perfect. Large for 5 people, very well equiped and very quiete appartment, excellent wellcome from Marina's father. We strongly recommand this appartment and will stay again here with great pleasure. Alain and the family
Alain
August 2016
The Apartment is exactly how it looks at the pictures ❤ We didnt see Marina (she was at work) but her Dad is absolutly lovely, he even helped us with ordering a Pizza at the delivery Service. we just stayed one night but the next time defently longer
Michael
November 2016
Todo muy acogedor y limpio, con el detalle de dejar agua y desayuno. Muy agradables.
Eva
July 2016
Positiv: Tolle und schön eingerichtete Wohnung! Negativ: - Der Gastgeber Marina war leider allerdings gar nicht da, sondern nur ihr Vater, der kein "Auf Wiedersehen" zu uns sagte! - Wir dachten eigentlich, dass wir ein Frühstück zubereitet bekommen, da wir von "AirbnB" davon ausgegangen sind, dass wie bei jedem B&B ein Frühstück bekommen. Allerdings stand auf der Hausordnung nur "Help yourself". D.h. man musste Tisch selbst decken und alles selbst machen. Vor allem war der Gastgeber total verägert, dass wir das Geschirr nicht abgespült haben und weggeräumt. Das war keine böse Absicht, aber wir dachten wirklich, dass wir das wenigstens nicht machen müssen! Es stand auch nicht in der Hausordnung, dass wir das machen sollen! Das Preis-Leistungs-Verhältnis ist dadurch viel zu teuer meiner Meinung nach! - Unser Kind verletzte sich an den herausstehenden Metallschienenverbindungen des herausziehbaren Sofas beim Aufstehen. - Für mich als Allergiker und Asthmatiker war die Wohnung nicht geeignet muss ich leider sagen. Vielleicht liegt es am alten Haus. Ich hatte Dauerschnupfen und musste mein Asthma-Spray mehrmals benützen. Das war am Tag vorher und am Tag hinterher nicht der Fall. - Gastgeber verlangte hinterher noch 40 Euro Entschädigung, weil wir nicht abgespült haben und weil ein Blutfleck (von der Verletzung unseres Kindes) auf die Bettwäsche durch das Plaster gekommen ist. Und weil es noch nach 22 Uhr Krach aus unserer Wohnung kam. Das tut uns leid, aber es kann nun einmal vorkommen, dass Kinder nicht schlafen können. Es ist wohl ein sehr hellhöriges Haus und es gibt Nachbar-Wohnungen. Nie wieder! (Das war unsere erste negative Erfahrungen in unserem Leben und wir waren bisher bestimmt bei ca. 20-30 BnB's auf der Welt!
Christine
September 2016
Typ av rum
Eget hus/egen lgh
---
Typ av fastighet
---
Plats för
7
---
Sovrum
3
Rossiglione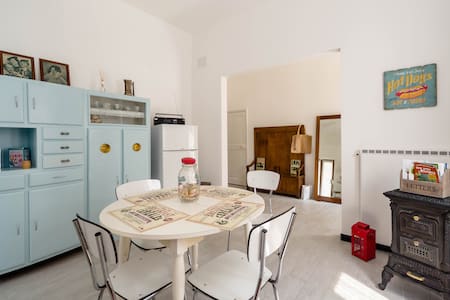 Very friendly and helpful, even brought us clean towels in the middle of the week.
Bas
August 2016
Typ av rum
Eget hus/egen lgh
---
Typ av fastighet
---
Plats för
5
---
Sovrum
2
Rossiglione