109 Uthyrningar av lägenheter
We had a really nice stay, everything was exactly as described. Our bed was super comfortable, the room was really beautiful. Our hosts were friendly, even though we've arrived at night time, late for 12 hours from expected time. Rick provided us with maps and let us borrow his binoculars to Yellowstone. A lovely home in a very peaceful location, surrounded with very beautiful views. It's only 1 hour driving from the park and there's a river if you desided to do fishing or rafting. Definitely would love to stay here again in the future.
Nurik
2016-08-11T00:00:00Z
Rick's River Run house is amazing! The home itself is very cozy with comfortable sleeping accommodations. The view is stunning and the plethora of wildlife is spectacular! Rick is one of the most friendly intelligent people you could have for a host! If you get a chance to stay with Rick don't pass up the opportunity!
Cletus
2016-10-28T00:00:00Z
Typ av rum
Eget rum
---
Typ av boende
Lägenhet
---
Plats för
4
---
Sovrum
Livingston, Montana, USA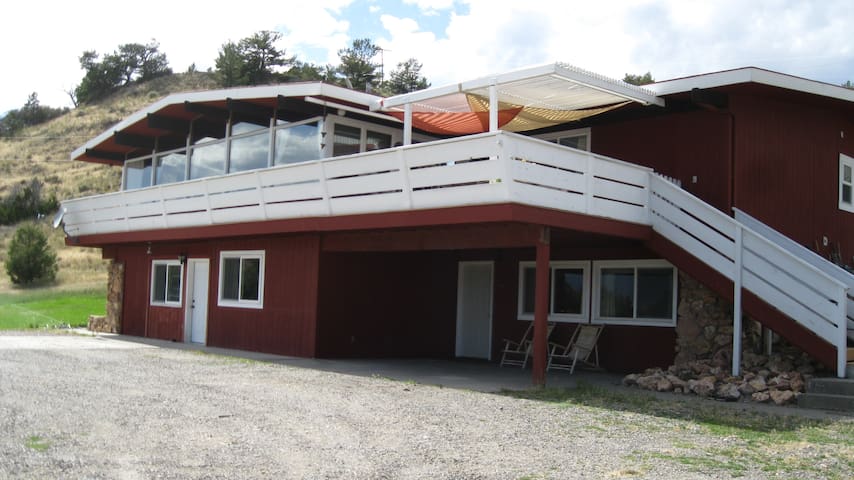 Cappi & Eric were immaculate hosts, and their space was everything promised, and more! Could not be in a better location, right in the heart of the activity of downtown Livingston, and the flat was historic, charming, and very cozy. Two nights was far too short of a time for us to stay, but we thoroughly enjoyed it. Cappi was so gracious in making us feel welcome, and even went so far as to offer her help when our car broke down. We didn't feel like guests, we felt like long time neighbors or friends. I truly hope we can come back and stay sometime soon, as there is not a better spot to be in the area. It is rare that a host actually improves the quality of an experience, and Cappi certainly did that for us. We will definitely be staying here again, and I would strongly urge anyone considering this space to go ahead and book it. Cheers!
Tyler
2015-08-26T00:00:00Z
This was amazing. We could live here. It was very clean and well stocked. The kitchen was amazing. The bed was was so comfortable it was hard to get up in the morning. I would highly recommended to stay in this place.
Misty
2015-07-01T00:00:00Z
This wonderful loft is the place to stay if you are going to Yellowstone from the North entrance like I did.The building dates from the 1800's but the remodel is brand new. Everything is thought of, from the completely stocked kitchen to the Aveeda products in the (URL HIDDEN) is a huge deck off the living area with a view of the mountains and a big screen TV.The big high bed in the sunlit bedroom is the most comfortable sleep I've ever had. There's a cool microbrewery downstairs and a great Mexican cafe next door.This place is a must stay!
David
2015-09-21T00:00:00Z
Clean and comfortable! Everything is excellent!
Xinhui
2016-08-03T00:00:00Z
This place is great! An hour from Yellowstone! A small downtown with everything you'd need within walking distance! Beautiful scenery and fishing everywhere! Never met the hosts but they let me know they were accessible if needed. Perfect week stay for r&r
Graham
2015-10-31T00:00:00Z
Had an amazing time at the Brewery Flats! Amazing location and an incredible home. We spent the evening on their fabulous patio under the stars with some great friends. Cappi and Eric were very communicative and accommodating and let us know everything we needed to. I would highly recommend staying here.
Grant
2015-09-15T00:00:00Z
The rental was absolutely amazing. Conveniently located downtown with just steps away from anything I needed. Capi & Eric were just a call away & they made me feel very very welcome. There's not one thing I would've changed.
Nate
2015-06-10T00:00:00Z
Probably the nicest rental flat in Livingston, this interior-designed jewel will make you feel at home from the moment you step inside. Superb kitchen with all amenities, large dining area, very comfortable living room with plenty of light and huge terrace facing Livingston Peak. Cappi & Eric are superb hosts, incredibly responsive and welcoming. Communication was always easy and pleasant. Overall 6 stars to this Brewery Flat experience.
Federico
2016-09-25T00:00:00Z
Typ av rum
Eget hus/egen lgh
---
Typ av boende
Lägenhet
---
Plats för
5
---
Sovrum
Livingston, Montana, USA
Awesome view, comfortable sleeping arrangements and great location.
Melissa
2016-06-26T00:00:00Z
David met us right on time outside the home, welcomed us into the place and gave us a quick tour.
Steve
2016-08-08T00:00:00Z
Had a great time, and will stay again when in the area. Awesome view, friendly hosts, what more can you ask?
Bryan
2015-07-27T00:00:00Z
David went out of his way to make us feel welcomed. Would recommend to anyone wanting to stay in the area.
Matthew
2016-08-05T00:00:00Z
Felt very welcome. Great host. Beautiful view.
Colleen
2016-07-04T00:00:00Z
Typ av rum
Eget hus/egen lgh
---
Typ av boende
Lägenhet
---
Plats för
4
---
Sovrum
Livingston, Montana, USA

location minimum Jour 2. Mystic Mountain Retreat est perché au sommet prestigieux quartier High Ground de Livingston et est un endroit idéal pour la détente ou d'aventure. Hébergement vues comprennent plusieurs chaînes de montagnes et la rivière Yellowstone! Voir cette vidéo Montana: (URL HIDDEN)
location minimum Jour 2. Mystic Mountain Retreat est perché au sommet prestigieux quartier High Ground de Livingston et est un endroit idéal pour la détente ou d'aventure. Les logements sont à l'étage inférieur d'une maison à deux niveaux. De la salle de séjour sont vues à travers 100 de arpents dont plusieurs chaînes de montagnes et la rivière Yellowstone avec des vues majestueuses et panoramiques qui étendent toujours. Ce 1150 logement sq ft offre campagne isolée vivant mais seulement un mile du centre-ville. Complet avec des fournitures de cuisine, salon chaleureux et confortable avec quatre fenêtres de vue, cuisinière à gaz naturel, lit king size, + doubles lits superposés, 2 placards, des livres, des vidéos et des jeux, TV par câble / Internet, et salon extérieur. Livingston a été classé parmi les 10 marchés aux États-Unis et abrite plusieurs célèbres stars de cinéma. Découvrez les paysages et le charme qui a fait le centre-ville Livingston l'emplacement des films tels que couper le souffle "A River Runs Through It» et le «Horse Whisperer» et était à l'origine de la passerelle vers le parc de Yellowstone. Downtown Livingston est le meilleur avant-poste pour des explorations à Yellowstone Country, le Far West à sa Civilisés Best, offrant une cuisine raffinée, des galeries d'art, des boutiques, des bars avec beaucoup de musique une salle de cinéma pittoresque, la petitesse et de vues ont été comparés à Jackson Hole au 2/3 du coût. Mystic Mountain Retreat est situé à 1 mile des magasins, des restaurants, des antiquités, galeries d'art et de la musique en direct, à 10 minutes de la randonnée et de divertissement à Pine Creek Lodge / restaurant et encore 20 minutes à Chico Hot Springs. Parc national de Yellowstone est un lecteur de 50 mile à travers la belle vallée de Paradise à Mammoth Hot Springs. Bozeman est seulement 23 miles et l'aéroport est à 35 miles à l'ouest. Billings est de 110 miles à l'est. Attractions: Yellowstone Park: Connu comme la ville Gateway, Livingston est à 60 minutes de l'entrée nord du parc de Yellowstone. Pêche à la mouche: (URL HIDDEN) fournit des guides sur les meilleures zones de pêche à la mouche autour de Livingston. 'The Livingston House' est situé à quelques pâtés de maisons de la rivière Yellowstone. Guides: (URL HIDDEN) Ski: Si vous aimez le ski ou le montagne de neige, nous avons accès à 3 régions de ski: Big Sky, (URL HIDDEN) (40 min en voiture) Bridger Bowl: (URL HIDDEN) (20 min en voiture) Bohart (de cross-country): (URL HIDDEN) (20 min en voiture) Pour plus d'infos sur les activités de plein air dans ce domaine s'il vous plaît visitez: (URL HIDDEN) 2016 EVENTS FUN & Community Calendar etc: MERCREDIS Livingston Farmers Market à Miles Park, Livingston, MT 59047 (carte) 4: 30-7: 30pm (URL HIDDEN) joue en direct (URL HIDDEN) randonnée en plein air & Live Music / Resturant (URL HIDDEN) Outdoor Live Music Ranch
Nice house
Liu
2016-07-29T00:00:00Z
景色は最高! 連日、外に設置してあるバーベキューコンロでステーキを焼いたり、ソーセージを焼き、美しい景色の中で、ビールを飲みました! 最高に素晴らしかった!
Kenji
2016-08-08T00:00:00Z
The host canceled this reservation 12 days before arrival. This is an automated posting.
Teresa
2016-08-21T00:00:00Z
Typ av rum
Eget hus/egen lgh
---
Typ av boende
Lägenhet
---
Plats för
5
---
Sovrum
Livingston, Montana, USA
My place is close to Yellowstone Park, Chico Hot Springs, restaurants and dining, family-friendly activities, great views.
This property is fairly new and furnished with lazy boy furniture (5 recliners in the living area). The kitchen is fully equipped. The master bedroom has a queen sized bed, the second bedroom has a queen sized and a full sized bed. I believe you would find the 1200 square foot villa very comfortable for your stay
The views in Paradise Valley are breathtaking! The villa is within walking distance to a bakery-restaurant, fly fishing shop, post office, Episcopal Church, small general store and the Yellowstone River.
Great communication before arrival which made for a very stress free check in. Loved the homeliness of the villa and all of the very clear instructions. Could not have been better. Amazing location in Montana, about half an hour from north entrance to ynp.
Hilary
2016-10-04T00:00:00Z
This was our first time using Airbnb so I was a bit nervous as to what we might get. We will definitely use Airbnb again! Bernie was extremely professional, communicated in advance, gave suggestions as to area activities, and was able to accommodate a last minute early check in. The villa was immaculate and in a great location. We also met the house keeper and she was very friendly and also extremely helpful. The villa had all amenities and Bernie thought of everything. We want to go back to Yellowstone in the future and will definitely try to book here again.
Sandra
2016-07-23T00:00:00Z
Avalon Villa really was like a little bit of paradise. The house was perfect for us, two couples, plenty of room, very clean and very comfortable. Bernie's communication was excellent. Emigrant was around 45 mins from Yellowstone's north entrance and we visited the park twice, once in the sunlight and once in the snow! We highly recommend this airbnb, it is a lovely place to stay.
Ann
2016-09-14T00:00:00Z
She was very quick to respond and welcome us. A fantastic location to explore Chico and Yellowstone
Sylvia
2016-10-23T00:00:00Z
The room is very big and warm for us, we all have a nice stay!
Shuo
2016-08-06T00:00:00Z
Amazing views! This apartment is perfect for a getaway. We went to visit Yellowstone National Park and it was very convenient. There is a grocery store about 20mins away. Bernadette gave us great tips, she is amazing!
Josie
2017-02-19T00:00:00Z
Bernie has a nice place, very spacious and comfortable. The area around is very beautiful too - great bbq place and chico hot springs nearby. Highly recommend to anyone visiting yellowstone or bozeman.
VIVEK
2016-09-08T00:00:00Z
Bernadette was the best host that one could ask for and her townhome is close to everything you could possibly want to do in Montana. Theres mountains in all directions and its a perfect location if you plan to visit Yellowstone. She kept in contact with us throughout our stay and gave us great suggestions for our visit. A very nice person and we will certainly recommend her.
Robert
2016-12-28T00:00:00Z
Typ av rum
Eget hus/egen lgh
---
Typ av boende
Lägenhet
---
Plats för
6
---
Sovrum
Emigrant, Montana, USA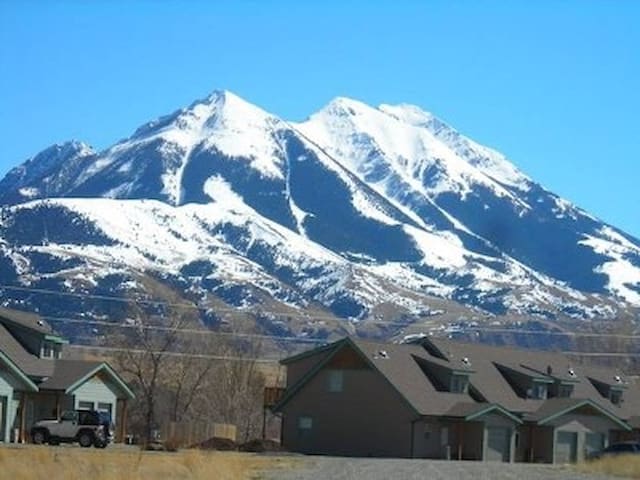 My place is close to parks and the airport. You'll love my place because of the comfy bed and the coziness. My place is good for couples, solo adventurers, business travelers, and families (with kids). Each has a private new remodeled bathroom and new bedding.
Any of my rooms are perfect for writers, photographers and the lovers of serenity and tranquility...you will see wildlife all around: elks, eagles, different type of birds, Canadian geese and closer to the park, sweet bears...and also the bisons....
Carmen is very good. And she waited for us till the midnight in order to give us keys. The room is clean.
Daisy
2016-09-14T00:00:00Z
I had the pleasure to chat with Carmen and the other person living there. Both lovely and interesting persons. I felt very welcomed and as a solo traveler is was nice to share my day around the table with them and other guests.
vera
2016-09-04T00:00:00Z
Typ av rum
Eget rum
---
Typ av boende
Lägenhet
---
Plats för
2
---
Sovrum
Emigrant, Montana, USA
Quartier historique ancien centre-ville de crémerie appartement transformé est à distance de marche du centre-ville, Cooper Park, MSU, restaurants, boutiques, art et culture. Les récentes rénovations apparient caractère historique avec une touche moderne. Venez découvrir Big Sky Country avec nous!
Le appartement au deuxième étage a une torche victorienne avec une touche contemporaine. Il est astucieusement décorée et contient une cuisine entièrement équipée, un bar unique pour manger ou se divertir et d'un lit queen matelas en mousse à mémoire. Des vélos sont disponibles sur demande.
Nous aimons les grands parcs à proximité, faire du vélo de la ville à nos itinéraires favoris autour de la ville, la marche des restaurants du centre-ville fabuleuse et profiter de la culture vivante et active de Bozeman. Cafés, épicerie locale op co, marché fermier et galeries d'art se trouvent dans un rayon de 10 blocs. Yellowstone Park, Bridger Bowl et Big Sky Station de ski sont tous à 15 à 90 min en voiture de Bozeman.
Perfect place to stay for a weekend of skiing around the Bozeman area! The space is roomy for a couple and equipped with a fully functioning kitchen, which was great for making breakfast before hitting the slopes. Definitely recommend this spot to other travelers!
Pamela
2017-03-08T00:00:00Z
Jaime was great! She went the extra mile to communicate with me and provide me with the best stay possible. Apartment is super cute and you can tell she has put herself into the decorating! I loved all the quirky but chic things! I'm sad I didn't have enough time to get to use the bar. Apartment is in residential neighborhood and was close to downtown and amenities.
Brigitte
2016-10-17T00:00:00Z
Really cute apartment in a great neighborhoods close to downtown. Jamie was quick to respond and made sure I had everything I needed. Would definitely stay again!
April
2016-09-26T00:00:00Z
My fiancé and I stayed here at the end of February/beginning of March while visiting MSU for a potential graduate program. It snowed while we were in town! We are not used to that sort of weather coming from Davis, CA. Jaime's apartment is warm, comfortable, bright and elegant; a perfect home-away-from-home. The apartment is cozy, dry and efficiently heated. It was important for us to find a place to stay in a neighborhood that we're interested in possibly living in. Staying at 7th and W. Curtiss Street allowed us to gain a better perspective of Bozeman- my fiancé and I felt like locals instead of tourists. We were able to walk everywhere from the apartment: 4 minutes to the Co-op Market for a bag of great coffee (from Ghost Town Coffee Roasters) and granola with milk (from a local Demeter-certified dairy). 10 minute walk to MSU campus, 15 minutes to Blackbird restaurant, Lockhorn Cidery, etc. Not too many other people were walking around when it was cold and snowy though. Maybe we looked like tourists after all. Jaime offered her services as a pastry chef, so of course I commissioned her to bake a surprise pie for my fiancé's birthday. An excellent idea! The gorgeous pie was resting on the countertop awaiting our arrival. Jaime has some serious baking chops. Honestly, this was the BEST pie we've ever eaten. Thank you Jaime for crafting such a nice birthday treat! One thing we didn't anticipate was that the air in Bozeman is dry. My fiancé and I boiled water for tea and took showers to breathe in a bit of steam before going to bed, which really helped. The apartment is open and spacious, although the bathroom is pretty tight. There are lots of places to relax and watch the snow drift past the window. The neighborhood is mellow and the house is well-insulated with great thick windows and walls to keep everything quiet. The platform bed is supportive and comfortable, with extra blankets to keep toes extra toasty. Also, Jaime will donate whatever food is left in the fridge/freezer after check out. I felt good knowing that the bacon, ice cream and coffee we didn't finish during our stay would not go to waste. This is a special apartment for a trip to Bozeman. Jaime is a wonderful and considerate host. I'm sure we'll stay here again!
Stacey
2017-03-01T00:00:00Z
Lovely place. Jaime was the perfect host and I would recommend this place to anyone traveling through the area! Thanks for making my stay so enjoyable.
Taylor
2017-01-01T00:00:00Z
Warm, cozy, delightful, and perfect for a weekend trip to Bozeman. Jaime is a fabulous, responsive and kind host. What a gem this place was for a fun three days of ice climbing in Hyalite.
Jennifer
2017-03-05T00:00:00Z
Awesome stay at a very cute historic home in Bozeman. Very comfortable and has lots of charm, I am jealous! Thanks for everything!
Greg
2016-12-26T00:00:00Z
Jaime place is the perfect getaway. Tucked into a residential neighborhood, it is within walking distance from Main Street. Was welcomed to a very clean, eclectic, apartment with great amenities. Bed was super comfortable! Would definitely recommend. Neighbors are super friendly as well.
Kelsey
2017-02-19T00:00:00Z
Typ av rum
Eget hus/egen lgh
---
Typ av boende
Lägenhet
---
Plats för
2
---
Sovrum
Bozeman, Montana, USA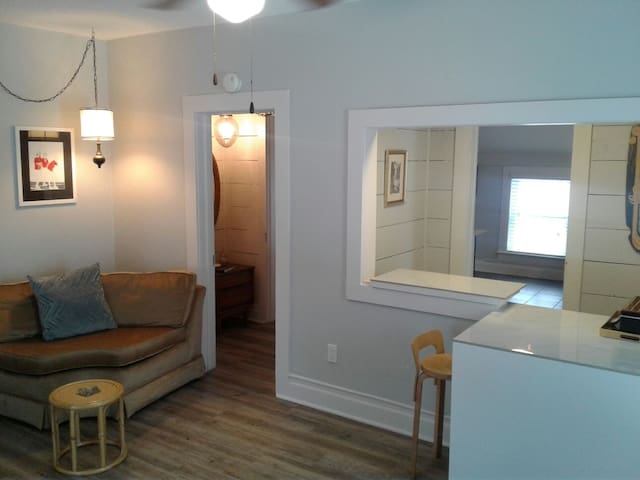 En sød in-law lejlighed knyttet til vores gård på 26 smukke acres af hest græs med udsigt over dalen! Vi er beliggende 10 miles fra downtown Bozeman og 13 miles fra lufthavnen. Vi har heste, hunde, katte og høns på ejendommen for dig dyreelskere, og vi glæder os over dine (velopdragen) hunde og heste! Vores lejlighed kan huse op til 4 personer (en dronning og en comfy trille seng), men er ideel til en enkelt, par eller en familie med 1 eller 2 små børn.
Had an amazing stay! Very quiet, out of the way place. No distractions at all, they have horses, chickens, and dogs. They left us snacks and very good organic coffee/creamer! Comfy bed as well.
Angela
2017-02-26T00:00:00Z
The view was mesmerizing, and the setting overall was peaceful and beautiful.
john
2017-04-02T00:00:00Z
I had a great stay! The apartment was clean and comfortable. I loved the views and the animals :)
Amanda
2017-04-09T00:00:00Z
This place was cozy and beautiful. Stayed here traveling- good location. Great place I could bring my dogs and Arnica was very helpful. My only critique would be how I thought the place was separate from the house- although we did have our own entrance, we shared a wall downstairs where we could hear people on the other side. Other than that everything was clean and welcoming :)
Chelsea
2017-03-19T00:00:00Z
What a great place! I stayed one night, but it was a great night of sleep. The apartment is tastefully decorated in Montana/Western chic. There's a coffe pot, granola bars and other little snacks, and tea. The bathroom is on the ground level and the apartment is up one flight of stairs, so maybe not ideal for those with mobility issues or young children, but was not a concern at all for me or my pup. The apartment is also attached but separate from the main house, so completely private and perfect. Her dogs are also super sweet and the view is a great thing to wake up to. Thanks again, Arnica!
Jessica
2017-03-18T00:00:00Z
Absolutely perfect place to stay for a couple nights on my cross-country tour. Cozy, attached In-law unit above garage. Lovely views from the upstairs windows.
Chrissy
2017-03-31T00:00:00Z
10/10
Dylan
2017-03-05T00:00:00Z
Great views
Mark
2017-03-10T00:00:00Z
Typ av rum
Eget hus/egen lgh
---
Typ av boende
Lägenhet
---
Plats för
4
---
Sovrum
Bozeman, Montana, USA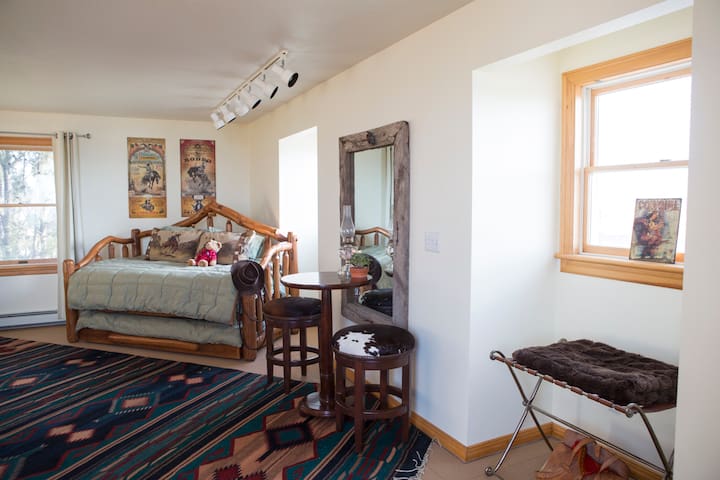 Un joyau historique coloré, smack dab au milieu du MSU et le centre-ville de Bozeman. La maison est située dans le quartier de côté sud historique, à quelques pâtés de Main St., des restaurants, des pubs, des parcs et du vélo / sentiers pédestres. Animaux acceptés!
Obtenez Après Certains Fun Quest Apartment est un sous-sol inférieur jour de niveau avec une grande sensation ouverte et remplie de lumière! L'appartement est un régal visuel qui respire le caractère et la chaleur avec des murs colorés, carrelage mosaïque, planchers de bois franc, et œuvres d'art originales. La chambre principale a un lit queen et beaucoup d'espace de rangement. La cuisine est bien équipée avec cuisine à l'esprit. Une île bloc de boucher est parfait pour un dîner décontracté pour deux. L'appartement dispose d'un chargement frontal laveuse / sécheuse, draps, serviettes de bain et des articles de toilette sont fournis.
Ce quartier est calme et convivial. Les habitants apprécient la marche, le vélo et le jogging autour de la ville. Les blocs environnants ont certaines des plus belles maisons historiques de Bozeman. Le sentier linéaire, à quelques pâtés est une bouée de sauvetage animé de la rue Main, le Farmers Market, Emerson Cultural Center, la bibliothèque et points au-delà. A 30 minutes vous permet d'obtenir l'accès à des rivières et des cours d'eau pour flotter et pêcher. Bridger Bowl se trouve à 20 minutes en voiture au nord tandis que Big Sky est situé à une heure et demie au sud pour le ski incroyable en hiver. Yellowstone Park est à 90 minutes - une excursion d'une journée réalisable toute l'année!
The apartment is great and the location near the University was perfect. Vicki is a wonderful host.
Jeanne
2016-10-02T00:00:00Z
Great place with all up to date amenities walking distance to MSU and town. If your going to MSU a perfect place to stay. We will be staying here again when we come back to Bozeman.
Tina and
2016-09-20T00:00:00Z
Great little get away! Quiet and comfortable and great location. Would definitely stay again!
Brianna
2016-10-09T00:00:00Z
Staying in Bozeman with Vicki as our house hostess, was amazing! It was our first Airbnb and our first time in Montana. I really recommend anyone who is looking to stay in Bozeman to book her. You would be close to every local place around town. New places and old places that you perhaps might know from back home. We did a lot of those when we need it food and such. Vicki & Rob are amazing they were home doing leaf cleaning since it was the fall season. They told us cool local places to go to during our stay and we did a few. But you properly will spend most of the time exploring Bozeman and their hiking trails, forest, mountains and museums... recommend by Bayron & Julianna
Bayron
2016-10-22T00:00:00Z
The perfect spot in Bozeman. Rob and Vicki were the best hosts. They made sure we got settled in and were so accommodating, friendly, and personable. This spot has everything you need. I loved the little touches of this place that made us feel right at home. They have all the kitchen essentials, even down to ziploc bags, so you can pack up some sandwiches to take down by the river! Rob let us know to help ourselves to the sparkling water and beer (a delicious local IPA) left for us in the fridge. They also supplied condiments such as mustard, mayo, etc. Every inch of this place was also impeccably clean. The hosts even left a list of the best local spots to eat at! Such a nice, thoughtful touch and the places we tried on that list did not disappoint! The drive to downtown is only five minutes away and walking is less than twenty. It really is in the perfect location not to mention it's one of the most adorable houses I've ever seen. My husband and I really appreciated the hospitality of the hosts - it was by far our best airbnb experience and we will definitely be returning. Don't think twice about booking this place. Thanks again Rob and Vicki!
zachary
2017-03-31T00:00:00Z
LOVED it!! Vicki was so helpful and welcoming. The place was absolutely adorable and had everything a person could need. It was our first time in Montana, and the location was perfect. So many things to do nearby (and close to Yellowstone!). Would definitely love to come back.
Morgan
2016-09-06T00:00:00Z
A cute, cozy, modern and clean apartment!! We enjoyed our stay and would stay here in the future. The house is also situated in a safe and very cool neighborhood.
Joan
2016-08-28T00:00:00Z
We had very accommodating hosts as weather affected our arrival/departure plans. Home was clean neat and kitchen well stocked. Enjoyed two fabulous winter weeks with easy access to town of Bozeman and quick drive to ski slopes. I expect to come back and will reccomend to friends. :)
Kristine
2016-12-30T00:00:00Z
Typ av rum
Eget hus/egen lgh
---
Typ av boende
Lägenhet
---
Plats för
2
---
Sovrum
Bozeman, Montana, USA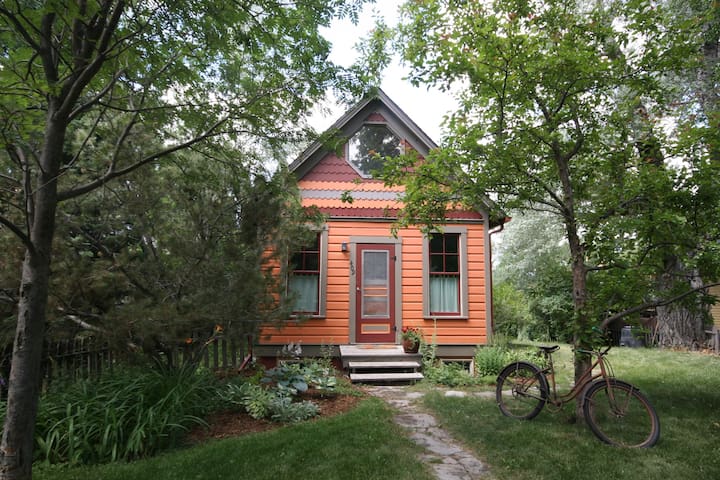 A brand new Big Sky Town Center studio apartment with 1 queen bed. Top floor brand new. Kitchenette, off street uncovered parking, close to the shuttle to the ski hill and steps from the restaurants and bars.
The shuttle stop is only a block away and takes you right to the Big Sky resort base. The no pets rule is strict due to building rules.
Loved the location of this place! Great home base for a weekend on the hill, it is right by the shuttle.
Tricia
2017-02-06T00:00:00Z
We really enjoyed our stay! Very clean and comfortable place (especially bed) and host was great with communication. Great location: walking distance from numberous restaurants, coffee shops, stores, and ski rentals. Would definitely return.
Lightsey
2017-01-30T00:00:00Z
Great place. Close to everything. Not far to the slopes. Lots of awesome places to eat. Tidy and comfortable place to stay.
Jarrad
2017-02-19T00:00:00Z
Enjoyable small apartment, in great location.
arnaz
2017-02-23T00:00:00Z
Overall great place. Right in "downtown" Big Sky but compared to a Breckinridge or South Tahoe the downtown is lacking, but building. Glad I had rental car so I could drive to the mountain each day, the shuttle only ran once an hour. The unit itself was very new and clean. Only comment is that shared an adjourning door (that's locked) to another part of the unit. Wasn't sure if the owners were there or other renters but you can definitely hear what is going on in the other side. So if you want complete privacy maybe not the place but overall a fantastic place I would recommend for the single traveler or couple.
Jay
2017-02-03T00:00:00Z
I had a great stay. Tiffany's studio was the perfect spot for my quick stay in Big Sky. The location was great and the studio very nice.
Brenda
2017-02-08T00:00:00Z
Good place to stay. The house was clean and close to ski shop and cinema.
Fikri
2017-04-02T00:00:00Z
Typ av rum
Eget hus/egen lgh
---
Typ av boende
Lägenhet
---
Plats för
2
---
Sovrum
Gallatin Gateway, Montana, USA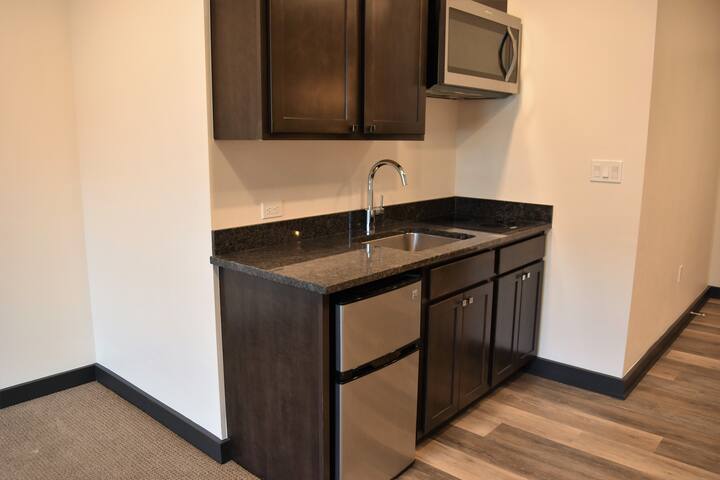 "Beautifully Wild" Park Hotel Suites -One block walk into Yellowstone -Main Street Gardiner -MT close to many restaurants and shops. -Comfy queen beds, equipped kitchens, dining table, wifi-cable, barbecue grill -Campfire pit in new yard with covered veranda porch to share -Penthouse suite has large deck looking into park -All suites new & historical are newly restored, cozy amenities -Furry animals come visit -10% off Rafting, horseback, barbecue with neighbor -Established 2017
-We are one block from Yellowstone Park, -Comfy and cozy -(PHONE NUMBER HIDDEN) suites have 2 queen beds in open area with dining table/chairs, a kitchen nook, and bathroom with rock showers. 250 pn -101/102 main floor historical suite has 2 separate bedrooms with bathrooms attached, kitchen and livingroom with 2 sofas; 275 pn -201 historical suite is a bunk bed suite with additional queen bed and sofa, kitchen with dining, bathroom with tub/shower. 275 pn -202 historical suite has 1 queen bed, with kitchen, 2 seater snack bar, and bathroom with rock shower. 225 pn -301 is the Penthouse suite on 3rd floor, same width as Rock building with 40' private exterior deck attached looking over and out into Yellowstone Park. Has 2 queen beds at opposite ends of suite, sofa couch, floor space, with kitchen and dining in between, 1 bathroom with rock shower. 325 pn. -campfire at night in town -animal visitors -stern & foster queen beds -600 count sheets -special message pillows -can walk to most shops and restaurants -views into Yellowstone park -watch wild animals -front covered elevated rock porch to sit outdoors
-Very conveniently located on a quieter Main Street so close to all services. -2 laundromats located next door and on next block. -the rafting, horse and barbecue professionals are neighbors -can see the mountains from everywhere -small town
A couple of blocks from the Roosevelt Arch, this place is the perfect place to stay if you are looking to experience Yellowstone. The room was gorgeous, with everything you need and Tami was more than accommodating with making sure I was set with everything I needed. She even gave me some tips before I went hiking in the park and made sure I plenty of coffee to wake up early so I could see the wolves and bears out at dawn.
Stephen
2017-04-09T00:00:00Z
Typ av rum
Eget rum
---
Typ av boende
Lägenhet
---
Plats för
4
---
Sovrum
Gardiner, Montana, USA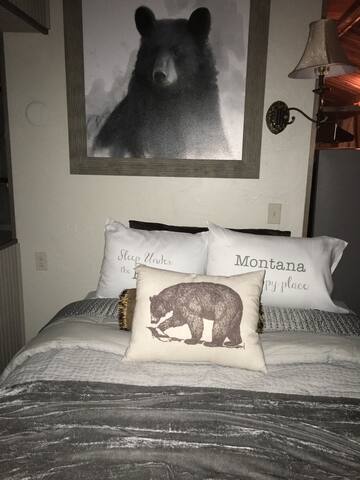 Bienvenue à Bozeman MT où le ski, la pêche, la randonnée, et le parc national de Yellowstone sont à portée de main. Et si vous restez à Bozeman alors pourquoi ne pas rester étapes de l'endroit où tout le buzz qui se passe. Nos 2 chambres 1 salle de bain appartement est situé à 3 pâtés de maisons du centre-ville. Nous sommes à quelques pas des restaurants, des boutiques, des cafés, des théâtres et une vie nocturne animée.
Nous savons, après une longue journée de Voyage, il est agréable de se promener dans le lieu du séjour et ont les mêmes commodités que vous faites à la maison. Nous voyageons beaucoup et nous avons gardé cela à l'esprit lors de la préparation de votre espace. Nous avons inclus des denrées de base dans la cuisine (sel, poivre, huile, café, thé, sucre) où vous trouverez également une cuisine bien équipée pour préparer les repas. Les deux lits sont neufs et ont les draps et des couvertures confortables. Vous trouverez une étagère de livre dans l'une des chambres. Si vous vous trouvez fini avec le livre que vous avez apporté sentir libre de faire un échange de livre ou tout simplement profiter des livres qui sont là. Lave-linge / sèche-linge est gratuit pour que vous utilisez. vous aider également à la lessive qui est là. La télévision est une télévision intelligente de sorte que vous êtes en mesure de se connecter à votre propre hulu ou des comptes Netflix. Nous avons également fourni une collection de films éclectiques que pour répondre à tous les besoins de film mordus!
Lors de la visite Bozeman il n'y a vraiment pas de meilleur endroit pour rester alors en plein cœur du centre-ville. Votre appartement se trouve à 3 pâtés de maisons du centre de la ville. Il y a tellement de bons restaurants, des boutiques, des galeries d'art, boutiques de café, la beauté et la vie nocturne juste autour du coin de votre emplacement sur la rue Main. Neuf blocs dans l'autre sens vous donne accès à la navette qui vous mènera directement à la zone de ski à Bridger Bowl. Vous trouverez également un grand parc situé juste à un pâté de maisons. Que vous soyez ici pour le ski, la randonnée, la pêche, ou visitez Yellowstone, vous trouverez notre emplacement d'une superficie de base idéal pour tout votre plaisir!
The location of Downtown Digs is PERFECT! So convenient and the apartment is a great, clean and welcoming space. The apartment was equipped with everything we could have needed, and Jade and Tommy were a great help. We will definitely be back and recommend this place to anyone searching for welcoming hosts in the heart of Bozeman!
Karly
2017-03-13T00:00:00Z
Tommy and Jade offer a terrific place to stay, a few blocks from Main Street in Bozeman where everything is happening. Their place was clean, comfortable, and had everything we needed. From a coffee maker to pots and pans, Tommy and Jade provided a great efficiency that was just right for us. They even added some great local coffee which was a wonderful treat! For a great place to stay that has everything thing you need, you can't go wrong with "Downtown Digs!"
Suzanne
2017-03-07T00:00:00Z
Was in town for a college visit at MSU. Jade's place had easy access to downtown, MSU, and outdoor activities. Jade gave great recommendations for downtown restaurants and even lets us use their snow shoes for some outdoor fun. If our daughter decides to attend MSU, we will be back. Thanks.
Joe
2017-02-26T00:00:00Z
Amazing place located right near downtown! Great location, near all the bars and restaurants! Great host! Had a fun time staying!
Harsh
2017-03-01T00:00:00Z
Typ av rum
Eget hus/egen lgh
---
Typ av boende
Lägenhet
---
Plats för
4
---
Sovrum
Bozeman, Montana, USA
This beautiful, newly-built one bedroom plus den apartment is three blocks North of Main Street in downtown Bozeman. Hardwood floors, top-end kitchen and beautiful furnishings make this a special place for your stay. Three day minimum stay.
In the heart of Bozeman, this apartment can be your home away from home to visit friends, family, hike, bike, ski and enjoy the friendly outdoor lifestyle of Bozeman. The apartment has one bedroom with a high-end Queen-sized bed. The den has a sofa which folds down to make a bed suitable for one person. A recent guest commented: "Our stay at Leslie's apt (really much more than an apt!) was special. Her brand new place is beautifully designed and furnished...with a complete and modern kitchen, delightful bathroom and even a big screen TV. The front porch is a great place for down time. The location is perfect. We were lucky to happen upon Leslie's place." Walk two blocks and you're at Dave's Sushi. Walk three blocks and you're on Main Street, filled with restaurants, coffee shops and stores. Walk to Burke Park, north of Main Street, and have a glorious in-town hike. Drive 10 miles north to the "M" trail, Drinking Horse Trail, or south to South Cottonwood and other trails. About a 20 minute drive to a great ski area - Bridger Bowl and about a 50 minute drive to Big Sky. Have a wonderful time!
The apartment is in a custom home on a beautiful, tree-lined street across from Beall Park. It is three blocks from Main Street in downtown Bozeman. You can walk to local hiking and biking trails, enjoy the many good restaurants and interesting shops. Bridger Bowl Ski Area is 20 minutes away. Bozeman is a great place from which to access Yellowstone and Grand Teton National Parks, as well as Big Sky Resort. This can be your home away from home while in Bozeman.
Absoluely fabulous house, location, and quality of accommodations!
NINA
2017-03-07T00:00:00Z
My family loved staying at Leslie's apartment and being walking distance from Main Street. The house is clean, modern, bright and comfortable. Absolutely a "wow" place!
Erin
2016-11-13T00:00:00Z
Staying at Leslie's home exceeded my expectations. I stayed for eight nights, and I did not want to leave. My son is a student at MSU, and we enjoyed several evenings "at home" catching up and enjoying life. The kitchen and living area was comfortable and very livable. Plenty of light and high ceilings gives a spacious feel for this modern Bozeman home. Walking a few blocks to shop in downtown Bozeman, enjoy restaurants, and yoga! I was so happy to come back to Leslie's home after a day out exploring Bozeman and surrounding areas. I am hopeful when my travels take me back to Bozeman that Leslie's house is available for me to stay.
Teresa
2016-11-02T00:00:00Z
The "wow" in the title is no exaggeration. It's what we said the moment we walked in the door. The place is spacious, luxuriously appointed, and almost criminally comfortable. There were plenty of small touches that made us feel right at home. Although it's only a few minutes walk from almost every Bozeman restaurant worth speaking about, we wanted a place where we could prepare our own meals, and the kitchen was great for that--modern appliances, well furnished with everything we needed, and plenty of room to work. The place was cool and comfortable even though we were there on some of the hottest days of the summer, and at the same time we got the sense it would be nice and cozy in the winter. The neighborhood was quiet, and we never had a problem parking on the street. We definitely plan to stay again.
M.H.
2016-08-01T00:00:00Z
Leslie's apartment was fantastic. I wish we had a kitchen that nice in our apartment! It's a great location in Bozeman, an easy walk to downtown. And it stayed nice and cool during a pretty hot week.
Jeff
2016-07-23T00:00:00Z
everything about our stay was perfect. the home was spotless and spacious. close to town and quiet. we will definitely return to this beautiful home.
Peter
2016-01-02T00:00:00Z
Leslie's house was amazing on all levels! Very comfortable, clean, and beautiful. Walkable to downtown. I am already planning my next trip to Bozeman, and plan to stay there again.
Lilian
2016-10-10T00:00:00Z
Leslie's place surpassed expectations from descriptions and photos. I don't think there are any bad neighborhoods in Bozeman but this was wonderful.
Victoria
2015-09-13T00:00:00Z
Typ av rum
Eget hus/egen lgh
---
Typ av boende
Lägenhet
---
Plats för
3
---
Sovrum
Bozeman, Mt, USA
Nueva lista Ago el año 2016! El apartamento está cerca de restaurantes y de comedor, actividades para la familia, incluyendo los parques de atracciones, cervecerías artesanales, cafeterías, mercados de agricultores, muy rápido viaje al aeropuerto y Bridger Bowl. barrio muy tranquila, a sólo 3/4 de milla de los restaurantes y tiendas en la calle principal y 3/4 de milla de las tiendas de artesanía y restaurantes en el nuevo Distrito fábrica de conservas. Situado en el centro para hacer llegar al aeropuerto, Bridger Bowl, o un campus fácil. Lavadora y secadora
El apartamento pies cuadrados 1100 fue completamente remodelado en 2014, por lo que todos los electrodomésticos y muebles son nuevos. Seis ventanas en el apartamento proporcionan gran luz y el flujo de aire. cómoda cama de matrimonio en el dormitorio principal, y un nuevo futón de tamaño completo en la sala de estar.
El barrio de Midtown se encuentra el centro de todo - el centro, tiendas en el 19, West Valley, el campus, y el camino a Bridger. También estamos en un barrio cerrado y en un callejón sin salida, por lo que la ubicación es muy tranquilo y perfecto para familias.
Great location, extremely easy to work with. Value AirBNB
Yuval
2016-12-14T00:00:00Z
Shannon was very responsive at all times. The location was perfect for our trip to MSU and very close to any and all amenities. The apartment is very spacious and would be ideal for an extended stay.
David
2016-08-24T00:00:00Z
This was a great place to stay. Shannon was very helpful and accommodating. The apartment was just as we expected, and the location worked very well for us. It was a great first Airbnb experience!
Elli
2017-01-31T00:00:00Z
Shannon was great she made are arrival seamless. Location was easy to find and tucked away from the busy streets which was nice. The place was just what we were hoping for. An open area where we could be together as a family to prepare meals and visit. It was nice to be able to find a place where the whole family could be together (four-legged fur family). The place was just awesome and a nice open walk area near by for the dogs, we would most definitely stay here again.
Kimberely
2016-11-26T00:00:00Z
Shannon was a great host and her place was nice. Her place was spacious and a great set-up for a trip to Bozeman!
Brendan
2016-12-09T00:00:00Z
Shannon's place was great and exactly what I was hoping for. Very spacious and check in was as easy as can be. If I find myself in need of a place in Bozeman again, I will certainly be looking here first!
Chad
2016-11-29T00:00:00Z
Shannon was great -- we were renting at the very last minute, she had everything all set up for us, made it very very easy.
Della
2016-09-01T00:00:00Z
I enjoyed my stay at Shannon's apartment. It's spacious, clean and has all the amenities you will need. It's also in a good location to explore Bozeman!
Christopher
2016-10-01T00:00:00Z
Typ av rum
Eget hus/egen lgh
---
Typ av boende
Lägenhet
---
Plats för
4
---
Sovrum
Bozeman, Montana, USA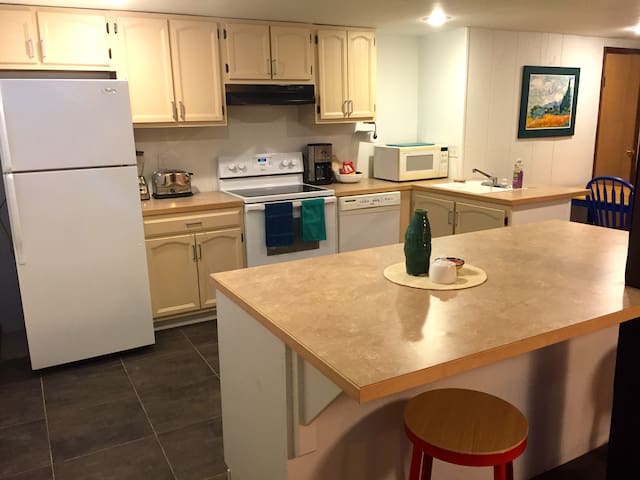 Este encantador segunda santuário estúdio história é cheia de luz e calor, com janelas panorâmicas, uma copa, um encantador pátio e churrasqueira ao ar livre logo abaixo. Excelente localização! com fácil acesso ao centro da cidade a poucas quadras e acesso imediato às estradas que conduzem ao deserto, esqui e caminhadas. Treehouse no verão, ninho aconchegante no inverno.
O Colburn Casa está incluído no Registro Nacional de Lugares Históricos. A antiga garagem foi convertida em um apartamento de casa de carro em 1991 e o estúdio está localizado no segundo andar, uma composição de pisos de madeira, lã tapetes orientais, um teto arejados e arte original. Aconchegante, limpo, autenticamente quente, nós convidamos você para desfrutar deste espaço enquanto você tirar proveito de grande recreação ao ar livre da área. Você terá acesso a um café / chá (local, orgânico) de manhã set-up, um frigorífico para lanches, um forno de microondas para o aquecimento e um grill ao ar livre para cozinhar. Vamos fornecer-lhe com um pequeno-almoço saudável orgânica: granola, iogurte, frutas, bem como uma garrafa de vinho para depois de sua caminhada ou viagem de esqui (quando a sua estadia durante mais de 3 dias.) Se você está planejando uma visita durante o verão e início do outono do grande cedro vedado pátio, será em flor com baldes de flores, recantos sombreados pitorescas e momentos de pleno sol também. Bem vinda!
Uma vizinhança amigável em uma rua tranquila alinhada com árvores maduras apenas a 5 quarteirões do centro histórico de Bozeman. Você vai ter um verdadeiro sabor da vida local em nossa pitoresca e animada cidade de Big Sky. Os vizinhos são simpáticos, para a terra, cooperativa e solidária. Estamos apenas a 5 minutos do Community Food Co-op em operação desde 1971, uma variedade de cafés, padarias e restaurantes, que vão desde a preços acessíveis autêntica buffet East Indian uma quadra, para o animado restaurante de tapas e sushi bar local, (Dave's- é notório) apenas mais alguns quarteirões em direção ao centro. Temos também fácil acesso às rodovias de saída que rapidamente levá-lo para nossas belas montanhas e rios, onde você vai encontrar algumas das melhores caminhadas do mundo, pesca com mosca e esqui em todas as direções. Para os entusiastas da arte, temos uma comunidade de arte bem estabelecido, o centro do qual está localizado a uma curta distância do Centro Cultural Emerson. O campus da Universidade Estadual de Montana está a poucos minutos de carro e uma caminhada de vinte minutos ao sul. O bairro maior: O estúdio tem uma localização central para as principais áreas de esqui, como Bridger Bowl, onde os moradores tendem a ir e Big Sky Resort e Moonlight Basin, uma estância de destino de esqui de renome mundial conhecido por alguns dos maiores esqui na América. esqui cross country mais sua coisa? Há seis áreas de esqui cross country no bairro mais abundância de trilhas, com mais de 350 polegadas de neve por ano. Agradável! Pescaria? fita azul pesca recreativa. Pense do filme Nada É Para Sempre. O Gallatin, o Madison, o Yellowstone, o Missouri todos de fácil acesso. Parque Nacional de Yellowstone, o primeiro do país, apenas acima da estrada um pedaço. Caminhar é abundante, o acesso à montanha abundante em todas as direções. Tanto para ver, tanta coisa para fazer. Achamos que você pode precisar de permanecer por algum tempo!
Great place! Not far from all the happenings of Main street, without the noise. Although we didn't get to meet her, Allison was great about communicating with us and making sure we had everything we needed.
Courtney
2016-09-06T00:00:00Z
What a cozy hideaway right off of Main Street Bozeman! Allison's loft was exactly what we needed to make our weekend trip perfectly restful. The space was well-appointed and full of light, and she made us feel right at home with a fridge stocked with homemade granola, local coffee, fruit, wine, and plenty of filtered water. Highly recommend!
whitney
2016-05-25T00:00:00Z
The studio was cozy and just like the pictures, with beautiful artwork on the walls. Allison stocked the unit with healthy and fresh makings for breakfast. She was very easy to communicate with and very accomodating. The location was quiet but still only a few minutes away from downtown. Staying here made our first stay in Bozeman perfect.
Donna
2017-03-12T00:00:00Z
Great location, good communication, clean and priced well. Do note that if you are a tall person sleeping bed is short. Was nice to have tea and coffee for morning offerings.... location is just a very short walk to my favorite organic food source the Co-Op... must stop before a day of skiing!
Erin
2017-02-27T00:00:00Z
The studio and the entire setting was wonderful. The amenities and décor in the studio were very well done. The neighborhood location and the easy walking distance to downtown Bozeman made our stay very enjoyable. The only asterisk is the bedding, which was a futon which can be challenging for two (2) people, especially if tall and/or large. We did meet Joanne who was very hospitable. We strongly recommend the Colburn House studio and the Bozeman area!
William
2016-09-08T00:00:00Z
We loved staying at the bright, beautiful, clean and cozy Colburn house. We'll be staying again! Thanks so much, Allison!
Joslin
2016-11-27T00:00:00Z
Beautiful home, beautiful experience. The studio was clean, creatively decorated, welcoming, and within walking distance of downtown. Allison left lots of little extras to make the trip special. Neighborhood was charming. Allison was quick to help in any way. Would most definitely return!
Tanya
2016-07-23T00:00:00Z
Stayed at Allison's place for a few days in August whilst settling my daughter in at Montana State University. The apartment was beautiful, very well equipped and in a convenient spot just a few minutes walk from town. We were very comfortable and Allison was a very considerate host. Would not hesitate to stay again.
Lorraine
2016-08-24T00:00:00Z
Typ av rum
Eget hus/egen lgh
---
Typ av boende
Lägenhet
---
Plats för
2
---
Sovrum
Bozeman, Montana, USA
Layne Loft is a great place to stay if you are in Bozeman for a couple of days or even a couple of weeks. Curt could not have been more gracious and accommodating, the space itself is tastefully done and offers a quiet, peaceful space not far from town and right on the route to Bridger Bowl or Bohart Ranch. I especially loved the distant sound of the train going by at night and the easy access to the Meat Shoppe or Wild Crumb right around the corner. I am looking forward to visiting Layne Loft again.
Sherry
2016-02-13T00:00:00Z
This was such a great place to stay, very clean and spacious and Curt was very accommodating and quick to respond. Thanks!
Noah
2016-09-06T00:00:00Z
I wouldn't even consider staying anywhere anywhere else in Bozeman. Curt has clearly put a lot of love into his loft; it's one of the coziest spaces I've ever been in. Super clean, well furnished, modern, homey, and in a great neighborhood. Easy walk to Main Street and great coffee shops. Couldn't ask for a better place to crash!
Gabe
2016-05-17T00:00:00Z
Curt and the Layne Loft were awesome. New, clean and modern. Great place to stay in Bozeman. Close to downtown and all it has to offer.
Nauset Rental (Kent, Nicole, Devin
2015-10-16T00:00:00Z
I had an amazing time staying in the Layne Loft. The pictures do not do the space justice. It is very clean with new appliances and a very nice bathroom with washer and dryer. I will definitely be staying with Curt next time I am in Bozeman.
Elisabeth
2016-05-05T00:00:00Z
Curt was a great host. He was available by phone or text if I needed him. The Loft was cozy and located close to town. I will definitely visit again!
Judy
2016-03-10T00:00:00Z
The Layne Loft was a wonderful place to stay. It provided privacy, as well as comfort. The loft is quite spacious with an extremely comfortable bed. It was wonderful to be able to do laundry in between weeks of camping, just be sure to plan enough time, as the washer and dryer do take a while to complete cycles. Other than that, I would say the loft was perfect for our stay and I would definitely rent again if I am back in Bozeman!
Jenna
2016-07-18T00:00:00Z
Curt was readily available by text, flexible about arrival time, and his wife provided a fine orientation when I arrived. The place is great with a dryer, kitchen, nice bathroom, and living space which all came in handy for a couple of days of hiking in April with a friend who was staying at a nearby hotel. A reasonable price made this quick trip affordable.
Erin aka "Pink"
2016-04-26T00:00:00Z
Typ av rum
Eget hus/egen lgh
---
Typ av boende
Lägenhet
---
Plats för
2
---
Sovrum
Bozeman, Montana, USA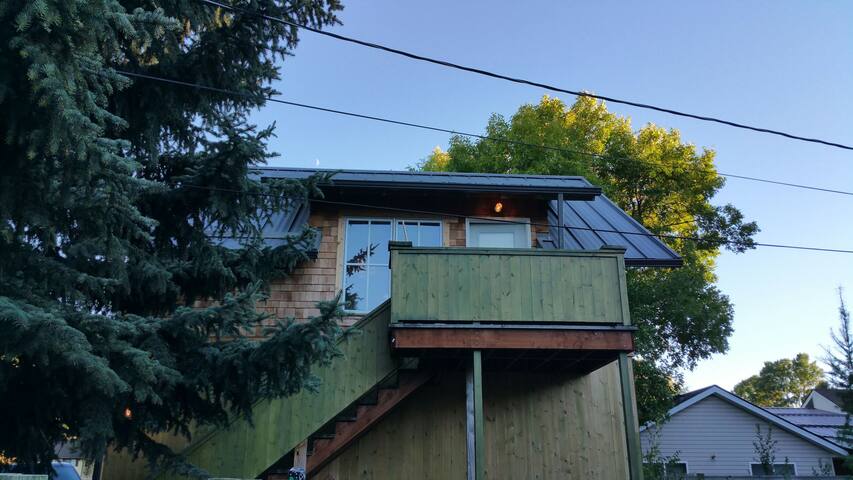 Pray - Airbnb
:
I genomsnitt

4.91

av

5

stjärnor från

345

gästomdömen