80 Uthyrningar av lägenheter
Light and quiet apartment with balcony overlooking the church. Within a few minutes you are in the street and on the Grote Markt. With beautiful bathroom and cozy sitting area. Kitchen with appliances. Ideal for a city trip. You have everything within walking distance and close to Central Station.
Quiet and still in the center. Fine sunny terrace overlooking the church.
In town, yet quiet. Restaurants, cafes, shops, supermarkets nearby.
Typ av rum
Eget hus/egen lgh
---
Typ av boende
Lägenhet
---
Plats för
2
---
Sovrum
Breda, NB, Nederländerna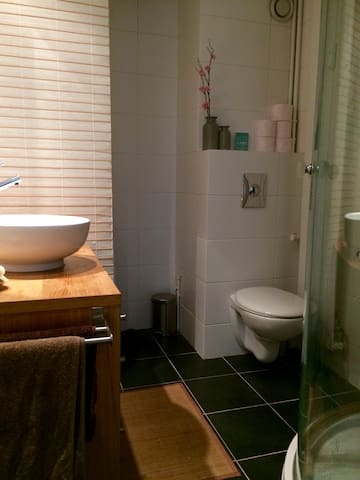 The room is in my appartment which is on the first floor. The room is all yours, the rest of the appartment will be shared with me. From the appartment it is just a 3 min walk to the city centre. I would love to welcome you and make your stay an unforgettable one.
Heel gezellig! We konden alleen nergens een prullenbakje vinden, maar dat kan ook aan ons liggen, verder helemaal voorzien
Wessel
2017-03-31T00:00:00Z
Jenny was very friendly and welcomed me with a smile. The room is big and comfortable. It's also super central. Would recommend it to anyone!
Dp
2017-04-07T00:00:00Z
Jenny is een fijne gastvrouw. We hebben gezellig gesproken toen ik aankwam en heb een heerlijk plekje gehad om me weer op te laden.
Hendrik
2017-04-02T00:00:00Z
Was een fijne verblijf. Ik voelde me heel welkom. Bed was fijn, en het was schoon. zeker aan te raden.
Saroj
2017-03-25T00:00:00Z
Jenny's Home and Jenny are the best. if you are in breda this is the place for you. close to everywhere, just a walking distance. this house it self has everything you need and a great bath. also the room has a porch of its own. i really recommend jenny's place.
Shlomo
2017-02-12T00:00:00Z
Typ av rum
Eget rum
---
Typ av boende
Lägenhet
---
Plats för
2
---
Sovrum
Breda, Noord-Brabant, Nederländerna
Cosy apartment and very close to the City centre.
Very nice, cosy, and warm apartment in a quit neighbourhood. Ideal for a city trip, work or just if you are in need for a room in Breda.
Very quit neighbourhood next to the city centre. Also a supermarket is right next door and everything is within walking distance.
Typ av rum
Eget hus/egen lgh
---
Typ av boende
Lägenhet
---
Plats för
4
---
Sovrum
Breda, Noord-Brabant, Nederländerna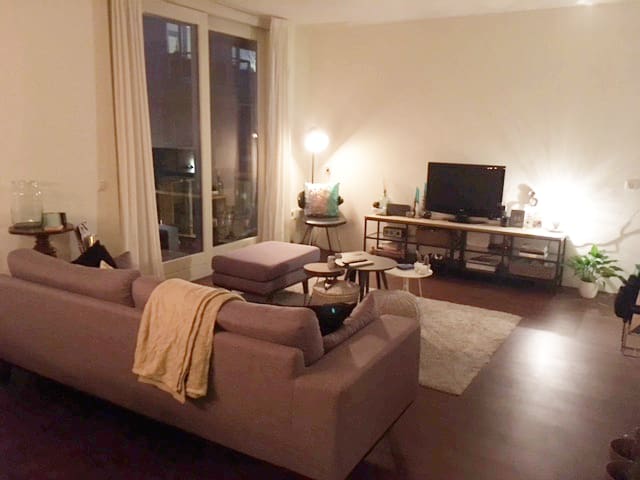 Nice room (14m2) near City center of Breda, Train station, Casino and cinema's. Bus stop in front! Everything you need is nearby, shops, pubs, restaurants. You can use the kitchen if you want. Shared bathroom and toilet.
Fijne ruime kamer (14m2) met eenpersoonsbed.
Het is 2 minuten lopen naar het Valkenberg park waar diverse zomer concerten gehouden worden (Palm Parkies, Breda Barst), 5 minuten lopen naar de Grote Markt van Breda. Vraag me gerust naar goede cafe's, restaurants en winkels. Holland Casino en 2 bioscopen binnen 5 minuten loopafstand. Chasseveld 5 minuten lopen met diverse activiteiten (kermis, concerten, festivals).
De advertentie van Robbert zei niets teveel: een goede ruime kamer in het hartje van Breda en - voor mij belangrijk - écht op zeer korte loopafstand van het Chassé-theater. Robbert is een goede gastheer die met je meedenkt en zich niet opdringt. Ik was erg blij met zijn flexibiliteit, vooral omdat mijn programma op het laatste moment werd veranderd. Zeker aan te raden voor een volgende keer!
Marjon
2016-06-06T00:00:00Z
Een leuke ervaring om bij Robbert een nachtje te verblijven. Te meer omdat we gedeelde interesses hadden in muziek en vooral reizen. Daardoor ontstond een boeiend gesprek. Het verblijf was prima voor mij om even tot rust te komen en later de binnenstad in te trekken. Peter
Peter P.
2016-05-29T00:00:00Z
Kreeg 's morgens reeds de sleutel en kon mijn bagage inleveren.
Tineke
2016-01-13T00:00:00Z
Really nice place to stay. A lot of space, quiet, near to the center and the central station. Best place to stay if you want to know Breda! Also Robbert is very nice and gentle, made me feel as it was my room. He gave me a lot of tips about the city and around of it. I strongly recommend.
Ana Paula
2016-02-02T00:00:00Z
Neighbourhood was lovely. Robbert was really helpful, easy to communicate with, quick response to questions and helpful information, nice place to stay in, would definitely recommend, thank you.
Andrius
2015-08-25T00:00:00Z
It was really close to the center of the city. Site was everything. Room was really, super clean.
SangWeon
2016-08-23T00:00:00Z
quiet, private and clean; nice neighbourhood too+++
Ingrid
2015-11-06T00:00:00Z
A great host, very friendly guy. Clear communication.
Jacolette
2016-01-17T00:00:00Z
Typ av rum
Eget rum
---
Typ av boende
Lägenhet
---
Plats för
1
---
Sovrum
Breda, Noord-Brabant, Nederländerna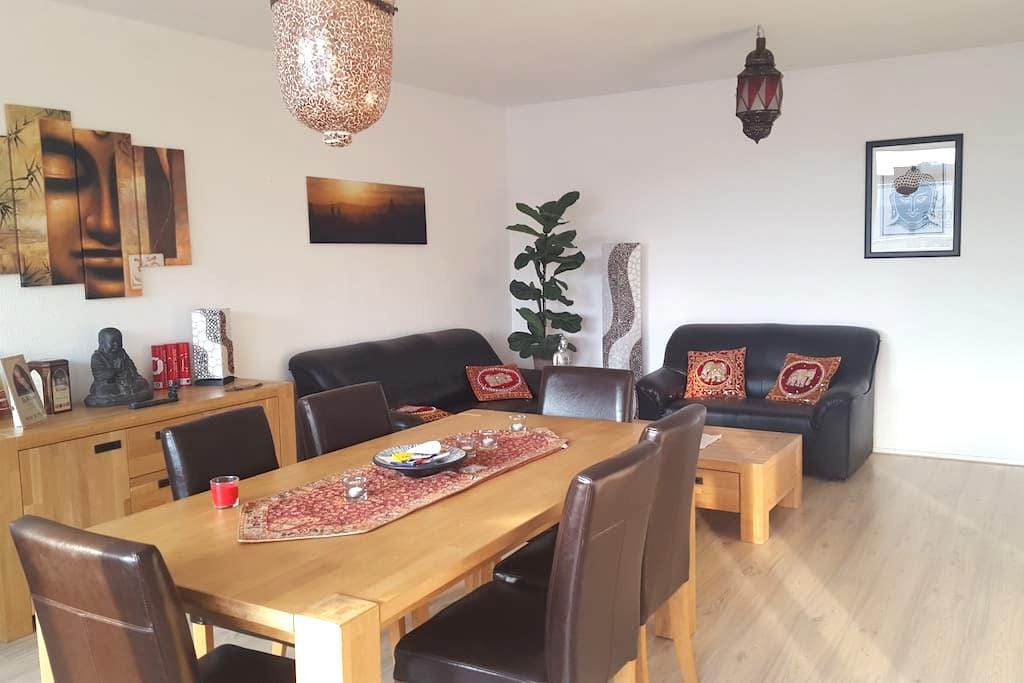 Deze privékamer bevat een tweepersoons bed (140 cm), groot bureau, kapstokken, spiegel en vuilbakje. Er kan ook gebruik gemaakt worden van zowel een gedeelde nieuwe keuken als een nieuwe badkamer. Bushalte om de hoek: binnen 5 minuten naar het centrum en 10 minuten naar centraal station. De stad kan je ook binnen 20 minuten te voet bereiken. Oude stadsfiets (2) ook beschikbaar voor je! Op de hoek: supermarkt, bakker, sportschool en brasserie. Voor de deur voldoende parkeergelegenheid (gratis).
De privékamer heeft een oppervlakte van circa 12 m2 en is gelegen in een appartement die zich bevindt op de 4e (bovenste) etage. Er is geen lift aanwezig. Kamer bevat een tweepersoonsbed (140cm), spiegel, kapstokken, vuilbakje en een groot bureau. Gehele kamer is in maart 2017 vernieuwd, alle overige faciliteiten zijn ook recent verbouwd.
第一次住这么好的民宿,房东人很nice,开车接送,做咖啡,详细介绍家里器具的使用方法,让我异国他乡感觉到很大的温暖,我很推荐这个民宿
几几
2016-08-19T00:00:00Z
Alwin was een perfecte gastheer. Het appartement is zeer ruim, kraaknet en mooi ingericht op amper 10 minuutjes met de fiets van het centrum van Breda. Een aanrader.
Hedwig
2016-09-25T00:00:00Z
Nicest Airbnb hosts ever---both were such friendly and easy people. Spacious room with a brand new bed. Alwin is so on top of answering emails about logistics and so thoughtful, even offered to pick me up from central station when I got there (they gave me a ride back and came into the station to help me buy my tickets. She even talked to the train attendant on my behalf when I was changed wrongly and even offered to reimburse me-tells you what awesome people they are!). Apartment is newly renovated and very clean. Hung out with Alwin in the evening when he made me dinner and by the end of the night, felt like we were old friends. Both are easy to converse with and I hope to stay in contact! They're really helpful when planning your trip to breda. About 35 minutes walk to train station so not nearby but nice safe area that's right by two grocery stores and a bakery. Have me a nice americano cup in the morning
Tam
2016-07-11T00:00:00Z
Alles gewoonweg top
Enzo
2016-06-15T00:00:00Z
Alwin and his girlfriend are very welcoming, Alwin picked me up at the station when I arrived and I had everything available to lack nothing. Moreover, the apartment is very clean and beautiful!
Alice
2016-10-10T00:00:00Z
One of the best places I have ever stayed. The house was huge and all the details were very curated. The room was spacious and neat. Alwin was kind and helpful and he offered a bicycle for free and a coffee in the morning.
Mattia
2016-08-05T00:00:00Z
Gezellig jonge man, relaxt. Direct antwoord op berichtjes, goeie afspraken mee te maken en een erg mooi en verzorgde kamer en huis.
Monique
2016-09-18T00:00:00Z
it was the best experience on airbnb so far. Very clean, bright and spacious apartment. Great communication. Fast wifi. I could use bike for free as well :) free espresso
ARA
2016-06-17T00:00:00Z
Typ av rum
Eget rum
---
Typ av boende
Lägenhet
---
Plats för
2
---
Sovrum
Breda, Noord-Brabant, Nederländerna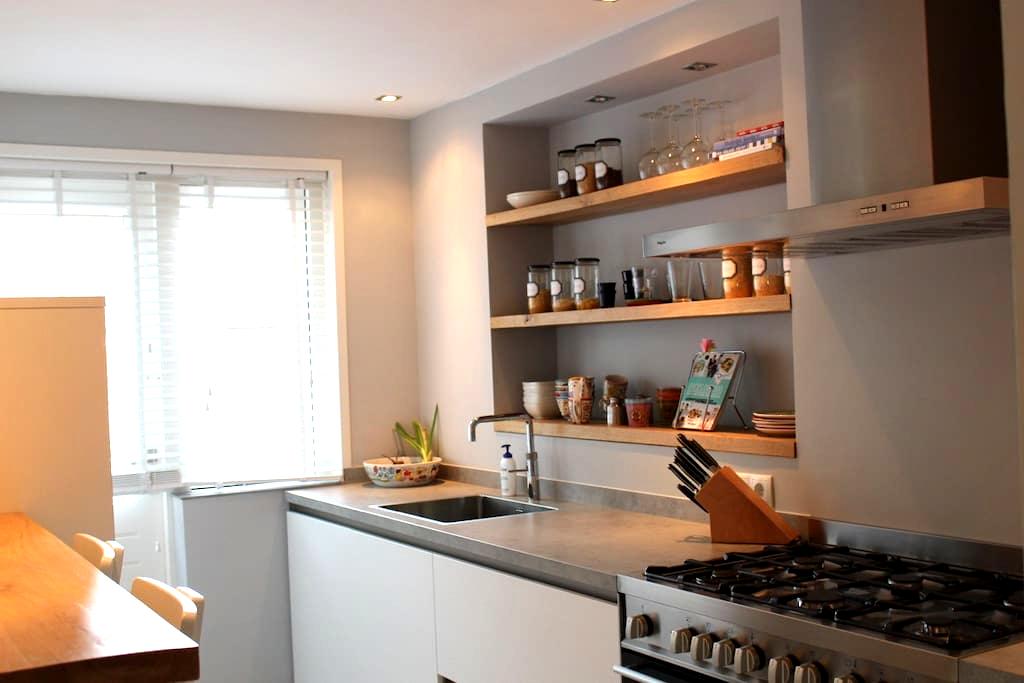 My room is located in the heart of bustling Burgundian Ginneken. Fantastic view (main street), restaurants and eateries, nightlife, downtown, housing and clothing stores, museums, chaise theater, cinema, casino and Forest. You'll love my place because of the location, the people, the atmosphere, and the roof terrace. It features a rooftop terrace with BBQ. Free parking and bus 3 min. Walking distance. My room is suitable for couples, friends, solo adventurers and business travelers.
Beautiful living room, overlooking the Ginnekenmarkt. Many hangouts
Along the Ginnekenmarkt are many bars and restaurants with summer terraces. are on the other side and shops.
Randy is een prima gastheer. Voorlichting en uitleg optimaal. Volgend bezoek wordt weer Randy.
Rudolf
2016-11-14T00:00:00Z
We hebben genoten van het comfort ! We waren goed ontvangen! Ginneken is echt gezellig. Ik zal dit adres aanbevelen !
Axelle
2016-07-25T00:00:00Z
Mooi en schoon appartement. Fijne restaurants op loopafstand. Koelkast rijkelijk gevuld. Een fijn dakterras. Een hartelijk welkom met een fles wijn en stroopwafels voor bij de koffie. In een woord geweldig. Wij komen zeker terug.
Toon
2016-11-28T00:00:00Z
Mooi, gezellig en rustig appartement in een erg fijne buurt in Breda! Randay is een uitstekende host, die uitblinkt in een piekfijne communicatie, zodat je verblijf zonder enige zorgen kan verlopen!
Maarten
2016-08-01T00:00:00Z
Leuk appartementje in een heel gezellige buurt! Nieuw interieur, proper appartement en geen lawaai van de straat. Randy is zeer vriendelijk en behulpzaam. Aanrader!
Lynn
2016-11-08T00:00:00Z
I have just returned home after a two week stay at Randy' apartment in Ginneken, Breda and can say that it was a treat. It is everything that you expect from a good AirBnB and more. The neighbourhood has everything that you need: restaurants close by, a choice of supermarkets to walk to, cool places to have a drink, and a woodlands area nearby to go for a run. The apartment has all the amenities and the neighbour upstairs is very quiet! Randy was very helpful. He was there to meet me when I finally arrived via London and Amsterdam, he had a welcome gift ready and explained how everything works. I was there for a while he even remembered to check in and ask how things are going. I would recommend his place to everyone.
Waldo
2016-10-12T00:00:00Z
Randy's apartment has everything you need, including lots of light, a nice living space, a fully equipped kitchen, a balcony (with a grill!), fast internet, great TV and sound system. The apartment is right in the center of a neighborhood of Breda surrounded by bars and restaurants and nice places to walk, and is easily accessible to the central shopping district and train station. Randy was extremely nice and accommodating and made the check-in process and our stay completely seamless. I would highly recommend this apartment for anybody who would like to visit Breda.
Sam
2016-08-19T00:00:00Z
Wat een heerlijk appartement, precies zoals beschreven! Alles in de buurt, parkeren geen probleem en ondanks de gezelligheid op straat heb ik heerlijk kunnen slapen. Prima uitvalsbasis ook als je in de omgeving moet zijn, je zit zo op de snelweg. Dankjewel Paddy en Randy, ik kom zeker nog een keer terug!
Katja
2016-09-16T00:00:00Z
Typ av rum
Eget hus/egen lgh
---
Typ av boende
Lägenhet
---
Plats för
2
---
Sovrum
Breda, Noord-Brabant, Nederländerna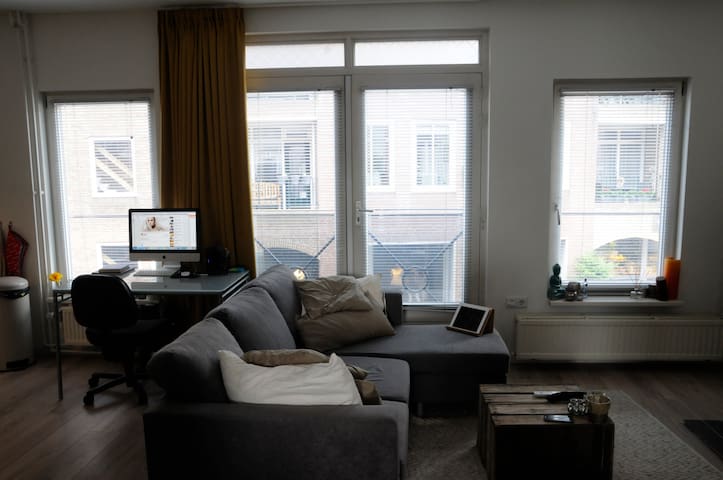 Slechts 5 minuten met de bus om in het centrum van Breda te komen
Typ av rum
Eget hus/egen lgh
---
Typ av boende
Lägenhet
---
Plats för
2
---
Sovrum
Breda, Noord-Brabant, Nederländerna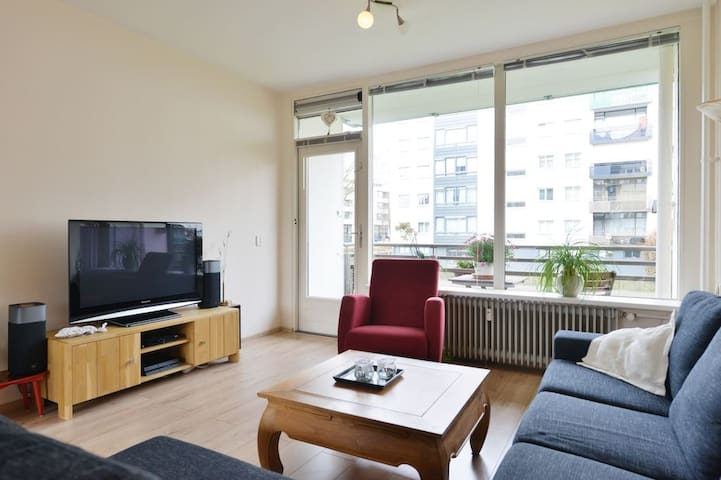 Het sfeervolle huisje staat achter in onze tuin aan de rand van het centrum van Breda. In het Huisje vind u alles wat u nodig heeft om een comfortabel verblijf te hebben zoals een heerlijk goed bed, keuken, livingroom, badkamer, terras,aparte ingang
Het Huisje is ongeveer 6 mtr x 6 meter en u slaapt op de vide die te bereiken is met een trap. Het Huisje heeft een complete keuken zoals gasfornuis, oven, nespresso apparaat, waterkoker enz. Het Huisje is geïsoleerd en heeft een vloerverwarming. U heeft een aparte badkamer en onder de vide een livingroom met een bank en schommelstoel. Buiten heeft u een terras van 6 x 4 meter waar een bank staat en verse bloemen!
Het Huisje staat in een van mooiste wijken van Breda. De huizen zijn zowel herenhuizen als villa's. Om de hoek loopt de mooie Ginnekenweg met aparte winkeltjes, restaurantjes, biologische supermarkt, AH enz.
Was an awesome experience. The host Jolande is lovely and is answering all questions and needs. Also the free bikes was good help to come easy and quick to all spots in the city. The cottage and all around look was very clean. And is very reccomandable. Thx. For the great experience.
Marin
2016-08-30T00:00:00Z
We've stayed at "Het Huisje" for two weeks in May and we were truly amazed by the greetings and multiple services from Jolande who is keeping a very clean and charming place. The apartment is within a calm and good-looking neighborhood, few steps from the Centrum with all kind of activities to do. We really enjoyed our stay in Breda and we are already planning to come back at Jolande and Fred's place. Marie Ange & Jean Pierre – France 13610
Fanny
2016-05-23T00:00:00Z
Heel goed ontvangen bij Jolande. Last minute nog geboekt en dit was helemaal geen probleem. Zeer lieve, warme en spontane vrouw. Heel leuk en gezellig huisje. Leuk ingericht, alles erop en eraan, heel proper, fietsen ter beschikking, dicht tegen het centrum en een verzorgd ontbijtje (door een misverstandje was dit eigenlijk niet in onze prijs voorzien, maar ze heeft er toch haar uiterste best voor gedaan om ons alsnog een heerlijk ontbijtje te bezorgen). Heel leuke tijd gehad. Zelfs een kleine rondleiding gekregen door de stad.
Vicky
2015-04-08T00:00:00Z
Heerlijk geslapen, gegeten en in combinatie met de fietsen was je zo in het centrum van Breda! Zeker een aanrader voor iedereen!
Tim
2016-06-05T00:00:00Z
This is a beautiful garden cottage with everything provided that's needed for two people. Jolande is a great host! The location is excellent close to town and supermarket. Plus there are bikes that come with the cottage. So all round a great place!
Axel
2015-06-18T00:00:00Z
As first time users of an Airbnb, we could not have been more delighted to enjoy Jolande's delightful gardenhouse for our 8 day stay in Breda, Netherlands. Jolande was an exceptional host and the comfortable accommodation was well appointed, tucked away in a beautiful, unique setting, and perfect for our needs in terms of location and facilities. The presentation of the gardenhouse was immaculate and we were very comfortable during our visit. We enjoyed very kind and helpful advice from Jolande in respect of places to visit in Breda and her recommendations were excellent. Also the use of the bicycles supplied with the accommodation enhanced our enjoyment of our stay - this was a fabulous extra feature to the actual accommodation and we used the bicycles each day to visit various areas and to just enjoy being in the "picture postcard" areas of this lovely City. Jolande communicated with us in excellent English with us during the lead up to our stay and of course, while were there. This was very much appreciated and made our planning so much easier. She even printed off recommendations for our train travel onwards from Breda! Very much appreciated. We can therefore wholeheartedly and highly recommend, both host and accommodation.
Shona
2015-07-28T00:00:00Z
Jolande and her Family are warm and perfect hosts. The Garden Cottage is located in a beautiful, quite and central Part of Breda. The entire accommodation is bright, tastefully furnished and clean. We had perfect days there and hope to come back soon.
Andreas
2015-07-11T00:00:00Z
We zijn zeer gastvrij ontvangen door Jolande. Ze neemt de tijd om alles te vertellen over Breda en vraagt wat je graag wil doen / zien zodat ze je daarover kan vertellen. Het huisje is super. Zeer sfeervol. Alles is aanwezig. Lekker bed. Goede douche. Echt heel compleet. Zeer schoon en netjes. Genoeg privacy. De fietsen zijn echt top. We hebben de auto het hele weekend niet gebruikt. Op de fiets is alles zo binnen handbereik. Breda is gezellig en de wijk waar het huisje in ligt is mooi, rustig en vlakbij alles wat je van Breda wilt zien. Een echte aanrader!
Laura
2015-09-21T00:00:00Z
Typ av rum
Eget hus/egen lgh
---
Typ av boende
Lägenhet
---
Plats för
2
---
Sovrum
Breda, Noord-Brabant, Nederländerna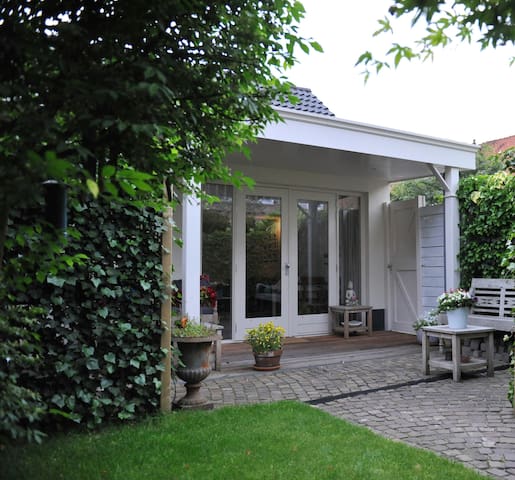 Located 10 mins by bike from the City Centre of old "Nassau"- town Breda a room is available for rent. The room is located in my private home and completely furnished with a desk and 1 person bed. Bus stop is right in front of the door. Check in time is flexible
The Room is a room with a bed and a desk to work/study. During the stay you are not allowed to smoke in the room, i have a balcony for that. I dont use the room apart from friends staying every once in a while.
The building is completey re-done in 2011, but its a complex orignally built in 1970, approximately 10 minutes walking distance you will find a mall with 3 supermarkets and various other stores
He explained everything that I had to know and was available for all informations needed
Jean
2016-12-04T00:00:00Z
Martijn gaf mij direct een goed welkom. Echt een gastheer met belangstelling waarom ik in Breda was. Zelfs lag er een handdoek klaar en alles ziet er goed verzorgd uit.
Peter
2016-12-24T00:00:00Z
Second week at Martijn. He has things organized and well looked after. Next week third week.
Stephan
2017-03-23T00:00:00Z
Great experience:) thank you Martijn and see you soon!
Gabriela
2017-02-06T00:00:00Z
Martijn is really organised and tidy. Communication was super easy although he has to work all day as we wrote messages all the time. He is really kind and does everything to let you feel welcome and have a nice stay. I will definitely come back if I need to stay at airbnb again.
Chiara
2017-01-12T00:00:00Z
First stay with Martijn. He's a nice guy and is ready to help in any way. He has a nice apartment.
Stephan
2017-03-16T00:00:00Z
Excellent location, very quiet neighborhood, the house is very organized and nice, Martijn is an excellent person and friendly.
Ana Yulieth
2017-03-06T00:00:00Z
Prima overnachtingsplek, goede communicatie door gastheer. Heldere afspraken. Fijn verblijf gehad.
Marina
2017-04-05T00:00:00Z
Typ av rum
Eget rum
---
Typ av boende
Lägenhet
---
Plats för
1
---
Sovrum
Breda, Noord-Brabant, Nederländerna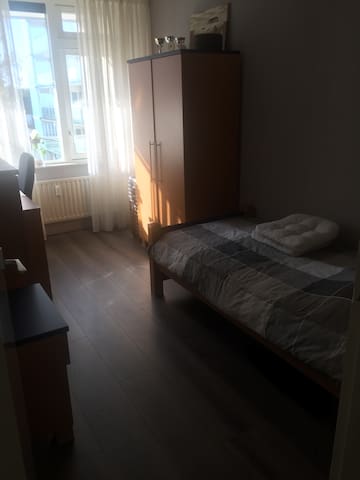 Mijn ruimte is vlakbij het stadscentrum, parken en restaurants en eetgelegenheden. Je zult genieten van mijn plek vanwege de locatie, de buitenruimte en de sfeer. Mijn ruimte is geschikt voor stellen, solo-avonturiers en zakelijke reizigers.
Een ruimtelijk appartement met hoge ramen, een goede keuken en een prettig tuintje staat te wachten op jou! In de woonkamer vind je een grote bank met kussentjes en lekkere dekentjes voor als je een avondje thuis wilt blijven. In de keuken vind je alle kook spulletjes die je nodig hebt om een lekkere maaltijd in elkaar te zetten. De supermarkt is op 5 minuten lopen afstand voor als je iets nodig hebt. Het stadscentrum is op 6 minuten afstand op de fiets. In het stadscentrum vind je veel winkeltjes en lekkere restaurants. Geniet van het mooie Breda terwijl je in ons gezellige appartement verblijft.
Across the street is a nice greek restaurant, which we love. You can walk in and a have a nice meal or you can take your food to go. In the city center there is on the Havermarkt a nice place thats called the Suikerkist. If you like a nice gin tonic and a proper meal, this is the place to be. If you like a fancy dinner with some real good wines there is this little place on the grote markt. It's called "Pinot", and it is our favourite wine and dine restaurant. Every Saturday there is a fresh market just about 500m from the apartment. You can get fresh fruits and vegetables, your weekly fish, fresh cheese and a lots more. If you like to of out and have a nice lunch there is this place called Hemels on the Wilhelmina straat 23. Its our favourite spot for a good lunch.
Typ av rum
Eget hus/egen lgh
---
Typ av boende
Lägenhet
---
Plats för
2
---
Sovrum
Breda, Noord-Brabant, Nederländerna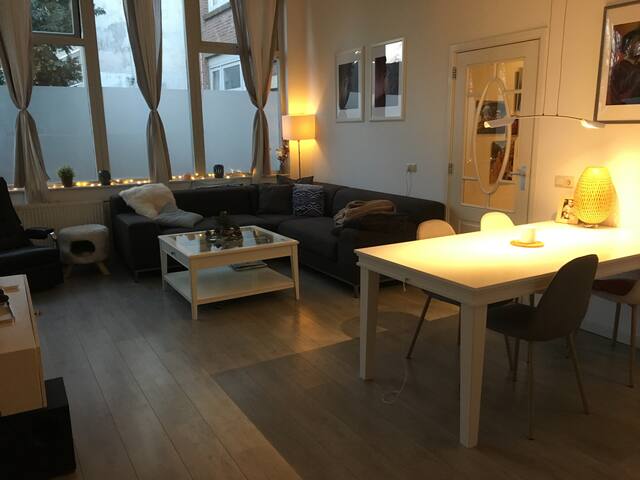 My place is a nice light two room apartment with a balcony right next to the central park. A parking place is available and the city center is stone trow away. You'll love my place because of the light, nice kitchen and the comfy bed. My place is good for couples, solo adventurers, and business travelers. Smoking is not allowed, but possible on the balcony.
I stayed at Jan's place for a longer period in the summer. The apartment was exactly what the photos and the description promised: a clean, bright, 1-bedroom apartment in the center of Breda. The building is right next to a very nice park where sometimes events take place. Everything is within walking distance: restaurants, shops, de Grote Markt, the train station. Jan was very welcoming and answered all my questions. I had absolutely no problem during my stay here and enjoyed it a lot!
Aglaia
2016-08-01T00:00:00Z
Typ av rum
Eget hus/egen lgh
---
Typ av boende
Lägenhet
---
Plats för
2
---
Sovrum
Breda, Noord-Brabant, Nederländerna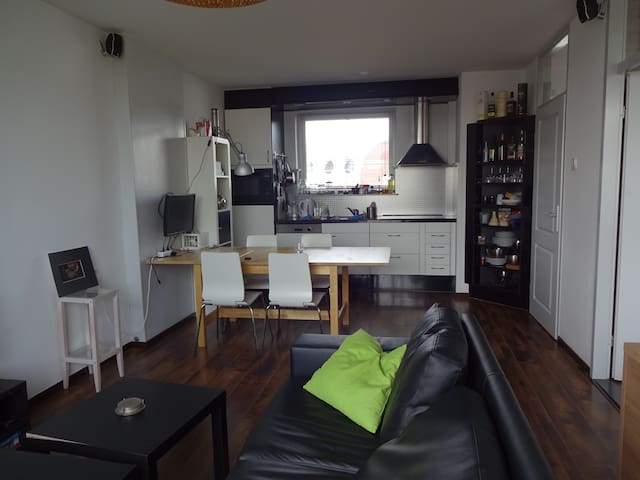 A nice and cute vintage style apartment. The apartment includes a bedroom with one double bed, bathroom with a shower, kitchen and a living room. Wifi free. Pets allowed. 10 minutes walk to the city centre or just a few minutes by bike.
The house is divided in three apartments and you will find the apartment on the first floor. The entrance of the house is shared with the residents who live on the ground floor and the second floor. Occasionally you will run into each other, but normally you will barely see them. Both friendly and peaceful people. Everything in the house you can use like it's your own house, the washing machine, dryer, kitchen supplies and so on. Don't have a coffee machine, only instant coffee.
As you can see on the map, the apartment is nicely situated. A small 5 minute walk to the University NHTV. To the city centre you walk approximately 10 minutes. To the train station it's a 15 minute walk. Or by bus a couple of minutes. You can also use my bike, it's a grey Gazelle racing bike, standing in the front yard. If you want to do your grocery shopping, you can go to Brabantpark. It's a little further than the NHTV, just a few minutes straight ahead from there and you will immediatly see it across the street/passing the crossroads.
Bente's appartement is ontzettend leuk ingericht. We voelden ons er direct thuis. Het is ongeveer tien minuten lopen naar het centrum, prima te doen dus. We hebben fijn contact gehad met Bente over ons verblijf. Leuke host!
Kim
2017-03-12T00:00:00Z
Warm little place ideal for a short stay. Thanks to Bente and her friend for the hospitality and help.
Laurent
2017-03-06T00:00:00Z
Very well equipped apartement. Everything you would want in your own house is present. Bente or her friend will make sure your stay is good.
Dagmar
2017-02-17T00:00:00Z
We spent a nice journey in bente's apartment. In an old house, She made a cozy home with nice objects, few money and a lot of good taste. Unfortunately we didn't meet her but I think that she's a nice person with a good way of life. When you go there you're in her life place like if a friend lend you his apartment. So I recommend this spot but If you can't understand that spirit then Pass your way and book a room to Hilton hotel. The apartment is in a very quiet street. You can hear the birds at wake up. Julien & Mirjam
Julien
2017-02-24T00:00:00Z
Typ av rum
Eget hus/egen lgh
---
Typ av boende
Lägenhet
---
Plats för
2
---
Sovrum
Breda, Noord-Brabant, Nederländerna
Apartment with the best view of Breda! located in the city center. Restaurants / shops and pubs: 3 min walk Drive / park: 8/10 min walk - Rain shower with towels, shower gel and shampoo. - Spacious kitchen with oven, hob and washing machine. - Queen bed with clean linens - Smart TV with Netflix, Youtube etc. - Wifi
Breda Center
Typ av rum
Eget hus/egen lgh
---
Typ av boende
Lägenhet
---
Plats för
2
---
Sovrum
Breda, Noord-Brabant, Nederländerna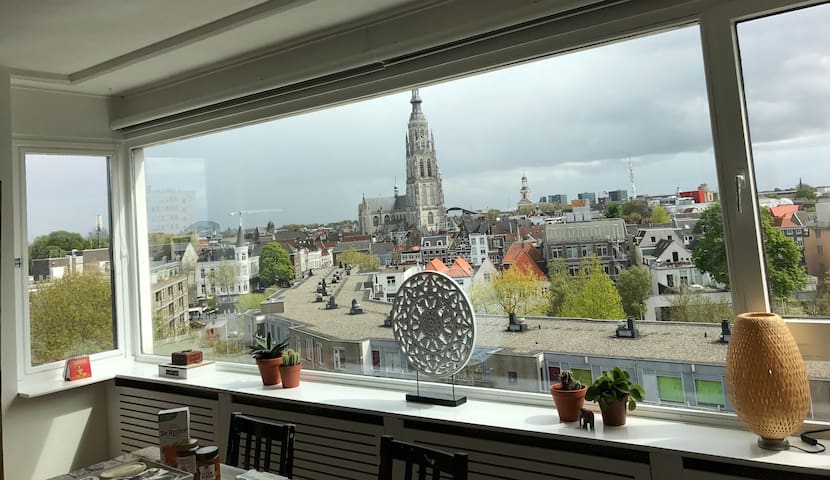 Kamer a 30 m2 volledig gemeubileerd inclusief televisie, draadloze muziek installatie, licht en muziek werkt middels voice command (alexa). Centraal gelegen midden in het centrum, maar niet in de drukte. In het huis is aanwezig, een heerlijk balkon waar overdag volop zon is, een luxe keuken, woonkamer/eetkamer, ligbad, vaatwasser, wasmachine en droger en een goed onderhouden privé plein met een prachtige stadstuin tuin.
Typ av rum
Eget rum
---
Typ av boende
Lägenhet
---
Plats för
1
---
Sovrum
Breda, Noord-Brabant, Nederländerna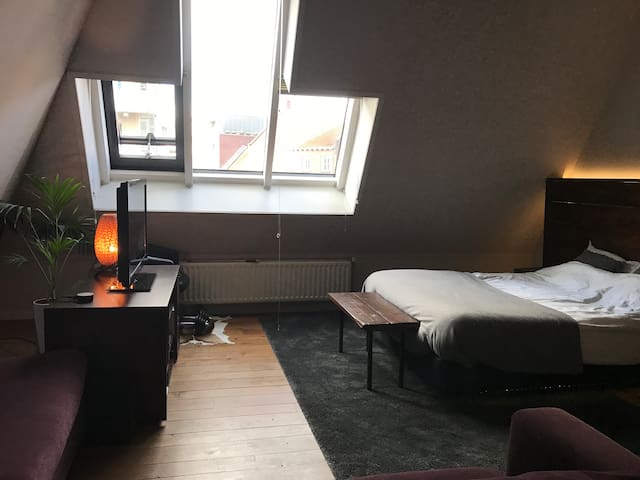 A tastefully decorated apartment in the nicest shopping street in the center of Breda. The apartment is fully equipped. It features a spacious living room with fireplace and extra toilet, an open dining / kitchen with a cozy dining table. A bathroom with a shower, bath and toilet. A bedroom with access to a roof terrace.
In Veemarktstraat (winkelste Breda street) is this beautiful, cozy apartment of about 100m2. The apartment is located on the first floor and the apartment is spread over three floors. There is no lift! On the first floor is the spacious living room with high ceiling and fireplace located. There is also a hall and a separate toilet on this floor. From the first floor you get to the second floor. On the second floor overlooking the shopping there is the dining room with open kitchen. On this floor is the bathroom, including bath, separate shower, sink and toilet. From the dining room you can take the stairs to the loft where the bedroom is located. In the bedroom there are sliding doors to the roof. From the sheltered roof terrace you have a view of the street and the gardens at the back of the house. If more than two people will stay a second berth will be created by means of a (large) Aerobed in the living room. This bed is provided with full linens. The Cattle Market State cozy street in the city of Breda where are sixty specialty shops; These are mainly small businesses. Besides numerous shops, you will find in these shopping sandwich shops, restaurants and confectioneries. Valkenberg park is 300 meters away from the apartment. This is a very sociable and lively park. 10 minutes walk from Central Station Breda, 2 minutes walk from (large) bus Vlaszak
The apartment is in the Veemarkstraat in the center of Breda. This is a nice street with unique shops and eateries. There are no nightlife in the street (300 meters away from Grand Place).
Outstanding and charming house, very spacious and warming. Ideally placed in the heart of town. Cold beers and Limoncello waiting in the fridge! (although I did not use them... yet nice touch...).
Matteo
2016-02-15T00:00:00Z
Het gezellige appartement ligt heel centraal, vlakbij de Grote Markt, winkels en uitgaansgelegenheden. Parkeergelegenheid om de hoek. 's Nachts is de straat rustig en de verhuurder reageert snel op vragen.
Cres
2015-10-05T00:00:00Z
1 nacht gebruik gemaakt van deze hippe woning. Van alle gemakken voorzien en echt op 1 minuut wandelen vanaf de grote markt van Breda. Een echte aanrader dus voor een nachtje verblijven in deze mooie stad. Ook het contact met Viktor de verhuurder verliep goed. Alles was helder en bij vragen kreeg je snel antwoord terug.
Sharon
2015-02-18T00:00:00Z
Heel fijn huis in het centrum van Breda! Wij hebben genoten.
Dorith
2015-10-12T00:00:00Z
Een absolute aanrader! Communicatie voorafgaand aan het verblijf was perfect: reactie via de mail duurde nooit langer dan een uurtje. Viktor's woning is absoluut fantastisch: alles is aanwezig voor een fijn verblijf. Je voelt je meteen thuis door de gezellige inrichting, daarnaast is de locatie perfect voor een bezoek aan de stad, je loopt de deur uit en staat vrijwel meteen op de Grote Markt. Dankjewel Viktor!
Linda
2015-02-17T00:00:00Z
Superbe séjour à Bréda ! L'appartement est très bien situé dans le cœur du centre-ville (restaurants, bars, magasins à proximité), cependant le logement est situé dans une rue piétonne très calme ce qui est très appréciable. Le logement est décoré avec goût et on s'y sent vite très à l'aise. L'accueil par la mère de la propriétaire fut très sympathique et les propriétaires ont laissé à notre disposition des bières et du Limoncello, petite attention très agréable. En bref, nous recommandons vivement cet appartement aux voyageurs qui souhaitent découvrir la charmante ville de Bréda.
Anaïs
2016-02-27T00:00:00Z
Typ av rum
Eget hus/egen lgh
---
Typ av boende
Lägenhet
---
Plats för
4
---
Sovrum
Breda, Noord-Brabant, Nederländerna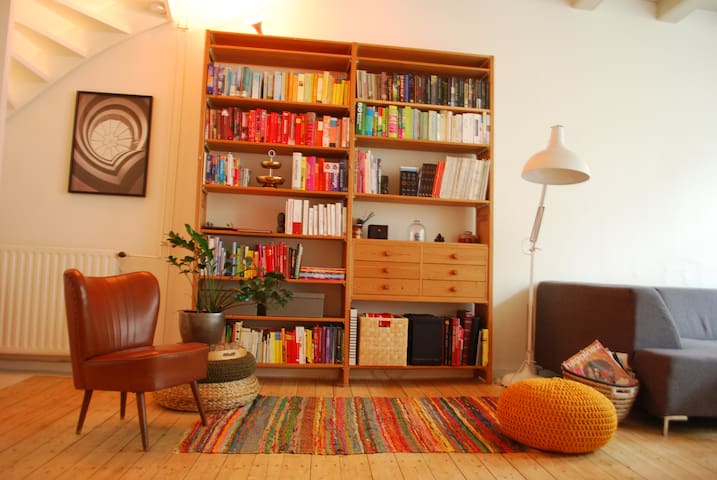 Big appartment (80m3), nearby centrum Breda. Two bedrooms, a kitchen a bathroom with a shower and a bath. Big windows, kitchen with oven and dishwasher. Wifi, tv and free parking. Above the supermarket and a busstation 1 min walk.
Ruim appartement, mooi uitzicht. Wij hadden OV-fietsen waardoor we overal makkelijk kwamen. Afstemming met eigenaar was goed! Goed verblijf gehad.
Ingrid
2017-02-25T00:00:00Z
The host canceled this reservation 127 days before arrival. This is an automated posting.
Pascal
2016-10-22T00:00:00Z
Beschrijving klopte met de werkeleijkheid. Een ruim appartement op de bovenste etage van het appartementen complex. Door de vele ramen, was er veel licht en kan je fijn naar buiten kijken. Ook Robbert was een goeie host, hij heeft het appartement schoon achtergelaten en heeft ons tips gegeven over leuke plekken in Breda. Zeker aan aanrader!
Sander
2016-12-04T00:00:00Z
Goeie plek om carnaval te gaan vieren.
Annemieke
2017-02-26T00:00:00Z
Typ av rum
Eget hus/egen lgh
---
Typ av boende
Lägenhet
---
Plats för
4
---
Sovrum
Breda, Noord-Brabant, Nederländerna
Det är en modern lägenhet i centrala Breda, är allt inom gångavstånd, tänk på stora marknaden, hamnen, snabbköp och alla andra bekvämligheter. Här är du också utrustade TV är försedd med en Playstation, Wi-Fi, diskmaskin, mikrovågsugn och allt som behövs för modern bekvämlighet och komfort.
Det finns också möjlighet att hyra en säker privat parkering på värde under vistelsen, det är upp till den i källaren av komplexet med direkt tillgång.
Området är lugnt för en stadsdel i mitt i stadens centrum, och med två minuter promenad till hamnen där surrande gemytlighet.
Aangenaam verblijf. Appartement is van alle gemakken voorzien. Lovel is een erg vriendelijke gastheer die erg de moeite heeft gedaan het ons naar de zin te maken: bij aankomst troffen wij een volle ijskast aan om ons trainingskamp zo goed mogelijk te maken! Absoluut een aanrader voor verblijf in Breda.
Jacob
2017-02-07T00:00:00Z
Super netjes appartement, goede communicatie met verhuurder, stond wijn klaar, ontbijt en in de keuken lag alles wat je nodig had. Super tijd gehad met nieuwjaar dankzij Lovel.
Iris
2017-01-01T00:00:00Z
Lovel is een super enthousiaste gastheer en toen de stoepen met ijs bedekt waren toen we aankwamen in Breda is hij ons zelfs van het station op komen halen met de auto. Echt super-service. Hele enthousiaste ontvangst, goede uitleg over de ruimte en alles waar we gebruik van konden maken. Het appartement is geriefelijk en ruim met een heerlijke badkamer met een ruim bad en een lekkere douche.
Lilian
2017-01-08T00:00:00Z
Het appartement is netjes en van alles voorzien. Het ligt op loopafstand van de stad. Goed ontvangst van de verhuurder.
Kim
2017-04-02T00:00:00Z
Lovel was erg duidelijk in de communicatie. Ook de aankomst had hij top verzorgd. Hij had boodschappen voor ons gedaan en een leuke extra verrassing. De slaapkamer was prima en het bed was goed, net als de locatie (5 min van het centrum). Alles bij elkaar top!
Mats
2017-01-06T00:00:00Z
Hello good afternoon I want you to know that I loved staying in this house she is wonderful beautiful super clean and I felt super at home total facility of chekin the owners are super attentive super recommend thanks for everything and for the attention best Claudia and Rúben
Claudia
2017-03-13T00:00:00Z
Geweldig appartement, met enorm vriendelijke eigenaar, dichtbij de stad en heerlijk ruim.
Mirjam
2017-02-27T00:00:00Z
Goed verblijf gehad. Heel goede ontvangst, Lovel had zelfs al boodschappen gedaan voor ons. Appartement zelf is prima in orde en het centrum van Breda is maar enkele honderden meters lopen. Wij hebben kortom een topverblijf gehad.
Gerben
2017-02-13T00:00:00Z
Typ av rum
Eget hus/egen lgh
---
Typ av boende
Lägenhet
---
Plats för
4
---
Sovrum
Breda, Noord-Brabant, Nederländerna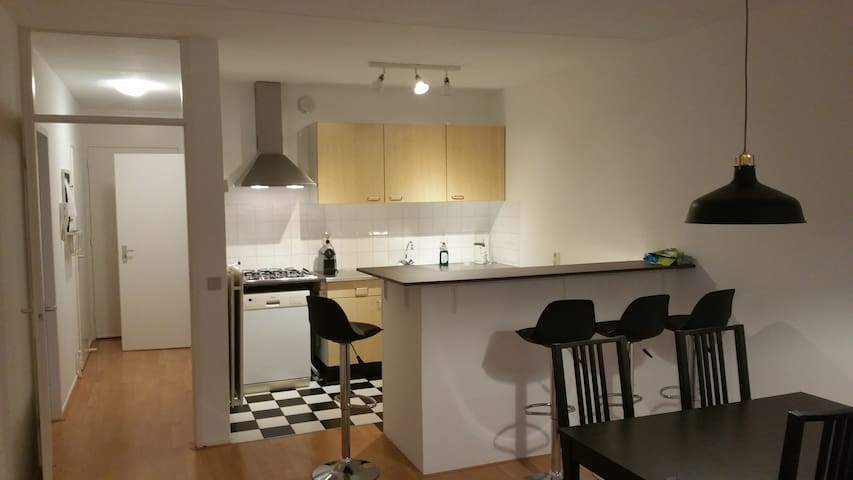 A hidden gem, invisible from the street, and surrounded by 2600 m2 of green garden: this is the authentic city farm "Huize Druivelaar", built in 1902. The over a century old vinery will be your entrance to your private getaway.
Verscholen achter de huizen, onzichtbaar vanaf de straat, verschijnt de oude boerderij 'Huize Druivelaar' uit 1902. Geheel met groen omgeven en in alle rust omhuld met enkel de geluiden van vogels en het geritsel van bladeren. Graag verwelkomen wij u in ons gastenverblijf. Wij zijn Brenda en Florian van Roekel en wonen sinds september 2014 op deze unieke locatie in Breda en willen dit graag met u delen. De ruim honderd jaar oude authentieke en unieke druivenkas vormt uw entree naar het gastenverblijf. Het gastenverblijf heeft een zorgvuldig uitgekozen inrichting en is voorzien van alle gemakken zoals een luxe badkamer met douche en bad, een royale slaapkamer met televisie, internet, koffie en thee gelegenheid en privé terras in de druivenkas. Het gastenverblijf ademt een sfeer van luxe met een hint naar moderne industriële details en hedendaags Scandinavisch design. Ook heeft u toegang tot de eigen stadstuin van 2600m2 waar u kunt plukken van frambozen, Japanse wijnbessen, bramen, kruisbessen en appels. Hier kunt u heerlijk ontspannen en aan de drukte van de stad ontsnappen. Mocht u juist de gezellige sfeer van Breda willen proeven dan bent u hier al binnen 10 minuten fietsen. De St. Annastraat in Breda heeft bijvoorbeeld bijzondere biologische eettentjes en unieke winkels. Ook kunnen wij voor u mooie fietsroutes uitstippelen zodat u het oude Mastbos kunt leren kennen. Bent u opzoek naar cultuur dan ben u met een afstand van 30 min rijden in het Textielmuseum of De Pont in Tilburg. We zitten goed georiënteerd op de snelweg en dus is ook een dagje Antwerpen vanaf 'Huize Druivelaar' gemakkelijk te doen.
'Huize Druivelaar' bevindt zich aan de Haagweg, een oude straat in Princenhage. De oude dorpskern is nog goed zichtbaar en hier zijn lekkere restaurantje en lunchrooms te vinden. Mocht u hier op zondag zijn dan is het leuk om een biertje te drinken in het Bierreclame Museum.
Brenda and Florian were both friendly and very helpful. The apartment was very clean and had a coffee maker and a small fridge. To drive in the inner city Brenda & Florian had given us 2 bikes. We can recommend the apartment.
Stephan
2016-03-30T00:00:00Z
Een aanrader! Je komt er helemaal tot rust in een mooi, gezellige, pas gerenoveerde accommodatie. Piekfijn in orde. Hartelijke gastvrouw. Absolute rust en privacy. En goed gelegen.
Gudrun
2016-01-09T00:00:00Z
Het gastenverblijf van Brenda en Florian is echt een aanrader als je de gezellige stad Breda wilt bezoeken, maar ook tot rust wil komen. We hebben veel gebruik gemaakt van de fietsen. Het is echt maar een klein stukje naar de stad. In de stad heb je genoeg tentjes om te ontbijten en die al in de ochtend open gaan, daarom hebben we een keuken ook niet echt gemist. Wij komen graag in de zomer een keer terug. Dan is de tuin en de kas in de bloei en is het denk ik ook meer aangenaam om in de druivenkas te gaan zitten. Dat was nu nog een beetje te fris. Als laatste moet het prachtige interieur nog even benoemd worden. Het is een prachtig verblijf.
Marieke
2017-02-19T00:00:00Z
Voor ons was dit plekje perfect. Overnachten in een prachtkamer met een terras in een druivenkas vonden wij echt magisch! En dan ook nog eens zulke attente eigenaren. Aan alles was gedacht! En de styling was voor ook nog eens tot in de perfectie uitgewerkt. Wij komen graag nog eens terug!
Liza
2016-08-29T00:00:00Z
Absolutely wonderful place to stay. Comfortable, stylish and very calm. The garden is truly amazing. Definitely one of the best places I've ever been with Airbnb.
Anton
2016-06-20T00:00:00Z
We loved staying here! What a beautiful home and such a lovely ambiance! Brenda provided very clear directions on getting to the apartment and met us upon our arrival. She showed us around the apartment when we checked in and made us feel home strait away. The bathroom was something! A very nice big rain shower and a very comfortable bath. The house was very nice and guiet and perfect to relax and enjoy the beautiful envoirement and the big garden around the house. We even could pick apples from the trees! There was a good coffee machine in the room and a very good bakery around the corner. Breda is a good location to visit! There are a lot of nice shops and in the evening you can have a good diner in the lovely city centre. The place was tidy, modern and cosy. I would certainly recommend to a friend! Thank you for the nice stay Brenda and Florian, hope to come back very soon!
Denise
2015-11-02T00:00:00Z
Wat een bijzondere plek. Met smaak en aandacht ingericht een verzorgt. Brenda en Florian laten je thuisvoelen. De locatie is ideaal voor een gezellige citytrip Breda en omgeving. Wij raden jullie met veel plezier aan!
Margriet
2016-08-03T00:00:00Z
We hebben een heerlijk weekend gehad in Huize Druivelaar. Brenda en Florian waren er zelf niet, maar we werden hartelijk ontvangen door Brenda's moeder. De kamer en badkamer waren heel mooi ingericht, met oog voor detail. En alles was spic en span. Je hebt hier voldoende privacy. Het was ook erg fijn dat er twee fietsen voor ons beschikbaar waren. Binnen 10 minuten waren we daarmee in het centrum. We hebben genoten!
Kim
2016-10-16T00:00:00Z
Typ av rum
Eget hus/egen lgh
---
Typ av boende
Lägenhet
---
Plats för
2
---
Sovrum
Breda, Noord-Brabant, Nederländerna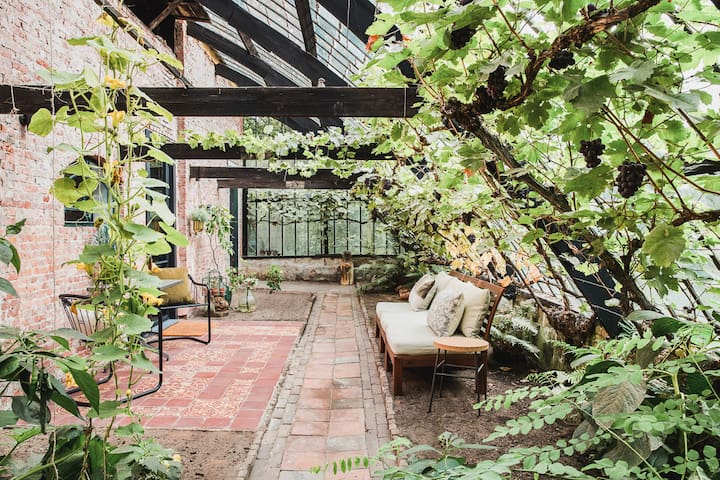 Prinsenbeek - Airbnb
:
I genomsnitt

4.7

av

5

stjärnor från

234

gästomdömen
1

–

18

av

80 Uthyrningar av lägenheter
Ange datum för att se full prissättning. Ytterligare avgifter tillkommer. Skatter kan tillkomma.