Accogliente casale di campagna circondata dalle suggestive montagne dei Lepini. A pochi passi dal centro di Prossedi orientata a sud con ampio giardino e terrazzo che si affacciano sulla valle del fiume amaseno. A pochi minuti di macchina dal mare.
La casa ha 2 entrate indipendenti è strutturata su 2 livelli con 3 camere da letto, un bagno con box doccia, cucina, un suggestivo salone con caminetto, terrazzo con vista sulla valle amaseno e giardino.
Dalla casa è possibile raggiungere a piedi il centro storico del paese, la piazza principale "Umberto I" le chiese di Sant' Agata e San Nicola, 2 ristoranti, 2 bar, 2 alimentari, una pizzeria, ed un forno. A qualche kilometro dalla casa è possibile raggiungere la montagna di prossedi o il fiume amaseno.
Gianpiero's house was great for our stay. It had everything you would want and was very clean and tidy. The views from the house were lovely, especially in the morning when you could see the mists coming into the valley. We would recommend staying here!
Marjah
2016-07-20T00:00:00Z
L'accoglienza è stata impeccabile, il luogo e la casa perfettamente corripondenti alle attese
Ugo
2016-08-05T00:00:00Z
Eccellente
Alberto
2016-12-23T00:00:00Z
Ottimo come il soggiorno precedente. Gianpiero è gentilissimo e disponibile, essere suoi ospiti e stata un'esperienza positiva.
Alberto
2017-01-03T00:00:00Z
An amazing place to (EMAIL HIDDEN)munication was great and the house was clean with country charm.
Paul
2016-08-20T00:00:00Z
Gianpiero è stato gentilissimo. Casa pulita, spaziosa e dotata di tutte le comodita'. Siamo usciti per cenare e poichè siamo capitati di lunedi tutti i ristoranti in paese erano chiusi. L'host si è prodigato per trovarci un ristorante e ci ha prenotato un tavolo in un posto li vicino dove abbiamo mangiato benissimo. Abbiamo fatto una piacevole colazione sul terrazzino con una splendida vista e godendoci la tranquillità del posto. Ideale per una sosta rigenerante! Grazie Gianpiero e a presto.
katia
2016-08-09T00:00:00Z
We stayed for a week at Gianpiero's place for a research project. We had a wonderful stay in this spacious, comfortable house on the outskirts of Prossedi, which was perfectly located for our field trips in the surrounding mountains and hills. The house was bigger than I expected: it has 2 floors, one with a large kitchen and living room, and one with 3 bedrooms and bathroom. We had ample space to set up our field office (the house has fast wifi) but also relax after work. The best thing though was the terrace which boasts a great view over the Amaseno valley. We cooked at home every night and had dinner on the terrace. Gianpiero was flexible and didn't mind at all when we arrived late because of heavy traffic. He brought a friend upon our arrival to translate in case we didn't speak Italian. The house was clean and well-kept, and there were home-made cookies and biological tomatoes. I'd certainly stay here again and recommend Gianpiero as a lovely host!
Wieke
2016-07-31T00:00:00Z
We loved Gianpiero's place- the view is magnificent and the house is lovely and very comfortable. We also loved the food from the restaurant Gianpiero recommended- super close to the house and delicious. We left wishing we could have stayed for longer!!
Jessica
2016-08-22T00:00:00Z
Typ av rum
Eget hus/egen lgh
---
Typ av boende
Hus
---
Plats för
8
---
Sovrum
Prossedi, Lazio, Italien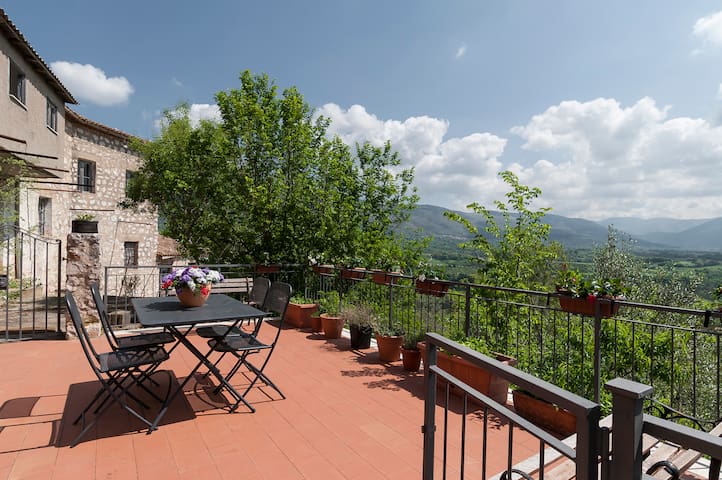 Modern style house pool ideal for couples who love to relax. Composed of living room and bedroom kitchen bathroom and room with walk-in closet. Cured in every detail, with led light effects .
Finestre che affacciano sulla piscina e sul giardino
Zona ben collegata . Supermercato a 100 mt, mare a 900 mt , centro abitato 3 km.
Bellissimo appartamento, propietari accoglienti, ad un km circa dalla splendida spiaggia di Terracina, in un posto molto tranquillo e facilmente raggiungibile, tutti i servizi molto vicini bar, tabaccheria, supermercati, banca. Se andate da quelle parti consigliatissimo. Beautiful apartment, friendly owners, very closest to the amazing Terracina beach. Very quiet and easily accessible, location, All services... bars, tobacconists, supermarkets, banks are very close. Highly recommended.
lorenzo
2016-10-23T00:00:00Z
Christian kam uns am McDonalds (kann man definitiv nicht verfehlen) abholen, von da ging es keine 2 Minuten zum Haus. Dieses ist ganz so wie erwartet, modern und doch gemütlich eingerichtet. Das absolute Highlight ist natürlich der Pool, der abends mit Kerzenschein noch schöner zu benutzen ist. Wir wurden mit einer eisgekühlten Flasche leckerem Wein empfangen. Christian hat auf unsere Bitte hin für uns nochmal Nachschub organisiert. Auch der Checkout war sehr entspannt, alles so wie man es sich wünscht! Keine 2Minuten zu Fuss ist ein Einkaufsladen wo man alles nötige kriegt, an der Hauptstrasse gibt es mehrere Shoppingmöglichkeiten und auch das Meer ist sehr nahe. Das Beste ist, dass es Sandstrand hat mit wirklich wenig Leuten, wovon kaum Touristen da waren. wir hatten einen rundum perfekten Aufenthalt! Vielen Dank!
Tamara
2015-07-23T00:00:00Z
Very nice stay! Our host was welcoming, flexible (we had very early check out) and always ready to help (gave us great tips for amazing day trip excursions nearby). The house and pool are just like in the pictures. Perfect for a romantic gate away. Very convenient location as there is a supermarket in front of the house although 15-20 min walk from the beach. Would definitely recommend it!
stéphanie
2016-05-09T00:00:00Z
Nous avons passé un excellent séjour chez Christian et Alessandra. Ils sont très gentils et avenants, l'endroit est super et calme et la piscine est top. Le romantisme est au rendez - vous!
Dorian
2015-08-03T00:00:00Z
My boyfriend and I stayed here for 5 days and absolutely loved it!! Christian was really helpful and lovely, he picked us up from the station, offered to take us wherever we wanted during the week, took us for coffee, brought us some local cheeses and had some nice wine ready for when we arrived. Whenever we wanted to ask him something he was always quick to respond. The apartment was stunning! And the pool and garden with outdoor lounger and beautiful sweet smelling flowers- seriously heavenly! The bed was comfy, the apartment had everything we needed, good kitchen and bathroom all clean, modern and stylish. Christian even made sure he changed the channels on the TV so my boyfriend could watch the football at home. Also just outside the gate is a perfect shop with everything we needed and a restaurant where breakfast( coffee and a pastry) is only €3. On top of that it is only a 15 min walk to the beach. Absolutely blissful!!
ceri
2016-06-25T00:00:00Z
a very beautiful little house, christian build on his own!! it was absolutely clean and lovely arranged. we saw that they put a lot of affort in building and designing the house. christian and alessandra went for a sightseeingtour with us....for visiting the old town of terracina! this tour also included some pizza and mojitos for us and our hosts ;) we had a lot of fun this evening and we are very happy for meeting so warm-hearted people as christian and alessandra are
Frank
2015-06-15T00:00:00Z
Avevamo bisogno di giorni di relax e la "casa romantica" è stata un' ottima scelta. Casa accogliente, pulita e dotata di tutti i confort e Host davvero disponibile e prodigo di consigli sui vari luoghi da visitare. Piscina e giardino ben curati e presenza di led e candele che di sera contribuiscono a creare un' atmosfera davvero romantica. Esperienza da ripetere!!!!!!!
Roberto
2015-07-26T00:00:00Z
We had a wonderful holiday visiting family. There were so many of us that this was the perfect place for my husband and I to stay. It was close to town, and the beach and the grocery was just outside the gate. I will certainly request to stay here when we return.
Karen
2016-09-06T00:00:00Z
Typ av rum
Eget hus/egen lgh
---
Typ av boende
Hus
---
Plats för
4
---
Sovrum
Terracina, Lazio, Italien
Leaning against the ancient walls of the city, a few steps away from the Duomo, the House is made of two spacious rooms, one of which within a late-roman watch-tower. In what was once the vaulted passage of the sentinels on duty in the watch-tower, room has been made for a small kitchen and a short corridor leading to the iron and wood staircase to the private garden.
Leaning against the ancient walls of the city, a few steps away from the Duomo, the House is made of two spacious rooms, one of which within a late roman watch-tower. In what was once the vaulted passage of the sentinels on duty in the watch-tower, room has been made for a small kitchen and a short corridor leading to the iron and wood staircase to the private garden. In the very middle of the old town, at the end of one of its ancient streets, a small flight of stairs, in marble worn out by time, takes you to Casa della Torre. The soldiers on guard duty in late roman and Medieval Terracina used the tower, integral part of the fortified city walls, as shelter; the window still has a view over the valley lying below. The second access to the house is from the private garden, lying at the foot of the ancient walls that still surround the old city. The entrance door opens onto the spacious living room, the heart of the house. A three-seat sofa and an armchair, the fireplace and the dining corner with the table and its seats welcome the guest. The Turkish carpets, the wooden floor, the pieces of old furniture and the red curtains all contribute to make the room warm and cosy. A vaulted passage marked by a brick arch, with old decorations painted in fresco, takes you to the Tower where is one of the two bedrooms, furnished with two double beds (cm. 140x200) plus an old escritoire of inlaid wood and an armchair with nice voluted armrests. In the living room, the mezzanine, with its original balustrade/bookshelf, makes room for the second bedroom, furnished with a double bed (cm. 140x200), and its bathroom with washbasin, bidet, wc and shower. The small kitchen is equipped with a refrigerator, a gas kitchen, an electric oven and a dishwasher. A second bathroom, twin to the one on the mezzanine, completes the house. From the house, an original iron and wood staircase takes you down to a spacious private garden with orange and lemon trees, served by a small brick house with a kitchenette and the washing machine. The house is with autonomous heating.
The Duomo of San Cesareo, the Capitolium, Nerva's Arch, a walk over the ancient walls, the magnificent square with the façade of the Duomo and the ruins of a roman theatre, are just a few of the many beauties to be seen in the Old Town.
Our stay in Terracina was unforgettable. The area is very quiet and a great spot to go back to after a long day at the beach. The home is very spacious and unlike any other home we have stayed at before. Giorgio is very responsive and the house is kept very clean. Highly recommend! We hope to visit again soon!
Marianna
2016-07-25T00:00:00Z
Мы провели 5 незабываемых дней в прекрасном уголке исторического центра г. Терричина - в Casa della Torre! Нас ждал светлый и просторный дом! Атмосфера дома и самого района, в котором он расположен, позволяет забыть о суете больших городов и окунуться в очарование средневековья... Море и пляжи Террачина просто великолепны! Giorgio всегда готов помочь, в любой ситуации. Спасибо за незабываемый отдых!!!
Olga
2016-08-20T00:00:00Z
Nous avons passé un séjour inoubliable à la Casa della Torre, un petit coin de paradis ou le temps semble s'être arrêtè pour profiter de la dolce vita italienne. La maison à beaucoup de charme, elle est décorée avec gout et a tout le confort dont on peut espérer. Elle est agréable à vivre et le jardin est un vrai bonheur. elle est située au cœur de la vieille ville et c'est un plaisir de flâner dans les ruelles piétonnes avec de magnifiques vestiges qui s'animent le soir avec des expos de peintures ou des concerts de jazz . Le tempio di Giove Anxur est une visite incontournable et de belles plages sont accessibles facilement à pied. Nous avons eu le plaisir de faire la connaissance de Giorgio, un hôte remarquable qui a su nous faire découvrir et apprécier Terracina et l'Italie. Un beau souvenir.
Véronique
2016-08-15T00:00:00Z
Casa della Torre, is a beautifully furnished place in the heart of the historical center of Terracina. The neighborhood is very nice, lively but not noisy and the little pretty garden behind the house added up to our fantastic time in Terracina very nicely! Giorgio was the perfect host right from the beginning! It felt more like he was a friend looking after us, to make our time in his house the best possible! He always responded to my mails immediately and was always very helpful. Thank you so much for that Giorgio! We enjoyed the time in casa della torre so much, we are already planning when to come next!!!
Annette
2016-08-07T00:00:00Z
A very nice host, and a very nice place. Thank you! The apartment was super and really special, right in the middle og the old city. Great surroundings, very central, and yet no noise. Giorgio was extremely helpful both when we ordered, and during our stay. he was quickly available when we had questions. Everything regarding the stay went very smooth! The whole package was really worth it, we can highly recommend this place, and the host.
Lars
2016-09-11T00:00:00Z
Casa della Torre is a hidden gem right in the heart of the old town in Terracina. The apartment is spacious, steeped in history and perfectly situated just off the main square in the old town. The private garden at the back of the apartment has wonderful views and we made great use of this extra space during the early evenings. The beach is just a ten minute walk away and the main streets and piazza's of modern Terracina are also easily accessible within a couple of minutes walking distance. Giorgio ensured that everything was organised for us and he kept in touch consistently to see if we needed anything. During our stay, there was a small amount of temporary disruption to the train service back into Rome. When it was time for us to travel back to Rome to catch our flight Giorgio was enormously helpful to us in establishing that the trains were back running on schedule as normal. We would wholeheartedly recommend Giorgio, Casa della Torre and Terracina to anyone looking to explore this beautiful part of Italy.
David
2016-08-26T00:00:00Z
A fantastic apartment in the heart of the old town of Terracina . Surrounded by great restaurants . We were the 4th time in Terracina and this was by far the nicest apartment . Greetings , Selvi and Daniel
Daniel
2016-08-02T00:00:00Z
Hi Giorgio! We had a wonderful time in Casa della Torre! The old town is a gem
Eivind Ellestad
2016-07-20T00:00:00Z
Typ av rum
Eget hus/egen lgh
---
Typ av boende
Hus
---
Plats för
4
---
Sovrum
Terracina, Lazio, Italien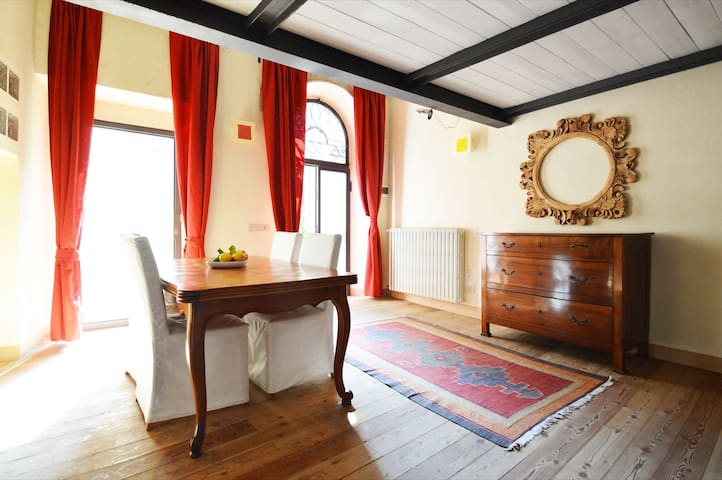 If you are looking for a little 'relaxation in beautiful Sermoneta, "La Chicca" is the one for you. Composed of living room with fireplace on bioethanol, kitchen (ground floor), double bedroom, bathroom and a room with bunk bed (upstairs), restored cave with Jacuzzi, shower and toilet (basement)
The cave with the hot tub and the location: central and quiet at the same time
Tutto alla grande! Francesca premurosa e gentilissima ci ha fatto sentire come a casa. Ci ha accolti con la buonissima crostata e consigliato i luoghi da visitare e quelli nei quali mangiare. Sermoneta da vedere assolutamente. E La Chicca è una casa ancora più bella e confortevole di come appare nelle immagini. Soggiorno perfetto! A presto!
Alessio
2016-12-26T00:00:00Z
La casa è deliziosa, centrale e dotata di tutto l'essenziale. Portatevi solo l'asciugacapelli. Francesca è una persona gentilissima, disponibilissima e ci ha consigliato e guidato per il paese. Consigliatissimo.
Silvia
2017-02-05T00:00:00Z
Siamo stati in questa bellissima casa un sabato e una domenica. Francesca è gentilissima, ci ha fatto trovare casa pulitissima, una crostata e il caffè. Casa è magnifica, romantica e pulitissima. Tutta in pietra, il piano terra ha una vasca idromassaggio e una doccia,. Francesca ci ha fatto trovare all'arrivo le candele accese e la vasca pronta. Un weekend da sogno. Torneremo sicuramente.
Pietro
2016-10-16T00:00:00Z
Ciao Francesca, La permanenza nella splendida e romantica Sermoneta è andata benissimo....grazie della tua gentilezza e i consigli che ci hai (URL HIDDEN) casa pulita ordinata nn chiedevo di meglio x San Valentino soprattutto la immensa vasca con l idromassaggio che ti coccola le giornate. Grazie Fra e Gianni
Francesca
2016-02-14T00:00:00Z
L'accoglienza è stata davvero bellissima..caminetto acceso, candele in tutta la casa e la vasca era già pronta per il bagno. Chicca è stata molto disponibile e ci ha fatto fare anche un giro veloce al centro di Sermoneta per mostrarci bar e ristoranti. La casa è ancora più bella delle foto, c'è davvero tutto l'occorrente e la vasca nella grotta è meravigliosa! Essendo posizionata proprio al centro del borgo è raro sentire il passaggio delle macchine e di notte è molto silenzioso, ma di giorno i rumori si avvertono particolarmente (campane della chiesa, bambini che giocano, passanti e vicini di casa). Quindi il consiglio è di evitare di dormire troppo ed uscire a visitare Sermoneta, che è un paese caratteristico e pieno di vita!
Ilaria
2016-05-08T00:00:00Z
Una casa bellissima, le foto non rendono merito alla grotta che dal vivo e molto più bella e la vasca e grandissima. Francesca e una persona davvero gentile e disponibile e Sermoneta e davvero fantastica. Consigliamo tutti di passare almeno una volta in questo angolo di paradiso. Con affetto Silvia
Silvia
2016-07-17T00:00:00Z
L'appartamento si ripartisce su tre piani ed è molto comodo, perché prossimo ai parcheggi principali del paese e, al contempo, a pochissimi metri dalle principali attrazioni del centro storico. Ideale per quattro persone, ha una zona notte distinta da quella giorno, mentre il piano sotterraneo, con la vasca idromassaggio, è un piccolo ninfeo. Un plauso particolare merita la proprietaria, Francesca, di squisita gentilezza ed estremamente disponibile. Consiglio fortemente la sua struttura per piacevoli soggiorni, sia tra amici, sia in coppia.
Salvatore
2016-09-05T00:00:00Z
Francesca è stata una persona molto disponibile con me, aiutandomi in ogni modo a poter stare nella casa nel migliore confort possibile! La casa è assolutamente un gioiello! Come già letto in precedenti commenti, le foto non rendono bene la magia della casa e la sua atmosfera unica! Grazie!
Daniele
2016-11-05T00:00:00Z
Typ av rum
Eget hus/egen lgh
---
Typ av boende
Hus
---
Plats för
4
---
Sovrum
Sermoneta, Lazio, Italien
Gracious detached house, newly built, with a large garden around, fenced, parking repaired. The house is located in via Morgazzano and is 4 km from the 'Fossanova Abbey and 15km from Terracina. E 'it is hidden among the olive trees and fruit trees and surrounded by aromatic plants.
In the garden it is arranged an area for barbecues and there are loungers for sunbathing. And 'the place to escape the city and gather in moments of healthy relaxation, immersed in the scents and colors of nature. The house can accommodate up to three people as it has a loft with a double and a single bed in the room. The kitchen is equipped with all you need for self-catering, but there is the possibility to book a meal on arrival or find spending. The bathroom is spacious and comfortable with a shower. There is a wardrobe for clothes and a wood stove to warm the winter.
An excellent restaurant is located within walking distance, and various services such as pharmacy, supermarket, bar, hairdresser are located in Sonnino Scalo, reachable on foot.
Typ av rum
Eget hus/egen lgh
---
Typ av boende
Hus
---
Plats för
3
---
Sovrum
Sonnino, Lazio, Italien
Lovely house on two floors, with garden and terraces with panoramic views on agro Pontino, in the historical center of Sermoneta.
The house is on three levels. In the lower part there is the rooftop garden where you can dine in the shade of several trees of orange and mandarin. The garden is also equipped with barbecue. On the main floor is the kitchen stocked with every utensil, the dining room with a table for 6-12 people, the living room with LCD TV 42 "next to the wood burning fireplace and a small bathroom of SERVING. From the dining room you are accessed via a spiral staircase in the bedroom: the bedroom, with double bed and eventual single bed / cot is equipped with a large private terrace with views of the bell tower of the Cathedral of Sermoneta, the district Torre new and the Pontine plain. In the sunniest days it is very well observed the profile of the cape of San Felice Circeo and the Pontine islands. Also on the upper floor is the master bathroom with a large shower.
I cannot express enough how much we loved staying in Sara's lovely home in the beautiful village of Sermoneta and how highly we recommend this special place to other visitors wanting to find a home-from-home and a little piece of paradise. My partner Mike and I and our two dogs were fortunate enough to have 6 weeks staying at Sara's for a mix of work and holiday, and now we are back in the UK we miss everything about our stay so much. Huge thanks to Sara for her incredible helpfulness, kindness and warm hospitality, and also to her parents Adele and Marcello. Sara was so patient with our many questions in advance of our trip, and it was lovely to meet with her, her little dogs and many of her family members once we arrived - a lovely family who made us feel very welcome, with home baking and chats in the garden to see their tiny tortoises waking up from winter sleeps as the sun started to warm. The apartment is really stunning with the most beautiful view over the village rooftops, across olive groves on the hillside and then out across the plain towards the sea in the distance. You can see all this beauty from an amazing balcony off the bedroom and a sweet garden off the kitchen. Everything in the house is very clean, comfortable and well-appointed and it is a lovely stone building - one of so many beautiful buildings in this quite unique Medieval village of little narrow streets, orange trees and churches. We loved walking out of our own home there and across the little piazza where we got to know more and more people to greet. The village has all you need to feel happy: a lovely warm community, a little bar, some good restaurants, a little supermarket, even a Friday pizza night at the village bakery. Sermoneta is a great place to relax as it is very peaceful - there are few car-width roads inside the village and you need to park just outside and walk in. There are lovely rural hills to walk all around, several bustling towns on the plain, the beach within about 40 minutes drive and Rome just an hour away from Sermoneta door-to-door by car/bus and train. We have been back in the UK a week now but certainly a piece of my heart has stayed behind in Sermoneta. Thank you Sara for everything.
Polly
2017-02-21T00:00:00Z
It was just fantastic! It was definitely our best stays at airbnb so far! Sermoneta is just charming and beautifull, even not far away from the sea (40 minutes). In agost there is a cultural festival going on, so its nice to come at this time of the year. The house "Sermoneta Home Made" of Sara is very big and beautifull, nice big bedroom, a lot of light, a huge terrace with view at Sermoneta and the valley and sea; a perfectly equpped kitchen, washing machine...everything you might need you will find! There is a another beautiful terrace stepping out of the kitchen and a lovely garden, where you can have breakfast or (URL HIDDEN) magic! They left us a lot of food when we arrived (coffee, milk, juice, biscuits, olive oil, beer) and the fridge was already cool! That's a real service! Everything was tip top clean. Sara was really nice and helpful, perfect service! We really would like to come back!!! Thanks, Sara and family!
Miguel Ángel
2016-08-06T00:00:00Z
Location, cleanliness, presentation and comfort we're perfect. A special home in a special place. Couldn't recommend the house and Sara highly enough.
Holly
2017-02-28T00:00:00Z
L'host ci ha messagiato e ci é venuto a premiere appena arrivati nella piazza del paese vicino alla casa. Ci ha (URL HIDDEN) a casa e ci ha spiegato i servizi disponibili
Fabrizio
2016-07-29T00:00:00Z
Sara's place is a real find. Right in the centro storico of Sermoneta and super comfortable, clean and spacious. Lovely and quiet too. Highly recommended
Catherine
2017-03-04T00:00:00Z
En la casa de la familia Torelli hemos disfrutado de unas vacaciones especiales e inolvidables. El pueblo de Sermoneta es verdaderamente un escenario de película (prácticamente intacto desde el S.XIII). Te encantará pasear pausadamente por sus calles empedradas, perderte entre su intrincado laberinto de callejuelas y rincones, visitar sus recoletas iglesias, su soberbio Castillo Caetani y disfrutar apaciblemente de un ambiente rural: comprar el pan, tomarte el aperitivo o un café en alguno de sus bares... La zona en la que nos encontramos encierra un enorme atractivo cultural, donde se pueden visitar otros pueblos medievales (Bassiano, Norma, Sezze) y destacados monumentos (abadías de Valvisciolo y de Fossanova, jardines de NInfa...), y algunas de las mejores playas del litoral Tirreno (Sabaudia, San Felice Circeo...). Asimismo, es posible realizar excursiones de un día a Roma o incluso a Nápoles (poco más de dos horas por la autopista) En lo que respecta a la casa, ésta se encontraba limpísima y perfectamente equipada con toda suerte de electrodomésticos. Se trata de una antigua edificación medieval perfectamente reconstruída y dotada de todas las comodidades. La decoración se ha llevado a cabo con un excelente gusto de acuerdo a un estilo tradicional. Cuenta con un espacioso jardín con césped, diversas plantas y árboles frutales (granado, limonero...), incluso una barbacoa a disposición de los inquilinos. Un espacio romántico y lleno de encanto para abandonarse a la lectura e incluso comer o cenar al aire libre. Los propietarios: Marcello, Adele y su hija Sara habitan la vivienda contígua; son personas encantadoras que han estado en todo momento a nuestra disposición para atendernos y proporcionarnos todo aquello que necesitáramos. Nos dejaron incluso leche y alimentos para poder desayunar al día siguiente ¡¡ y una deliciosa tarta de frutos del bosque !! Conozco bastante bien Italia; es un hermoso país cargado de historia, arte, cultura, pero si tuviera que destacar algo sería precisamente la tranquilidad. Esta comarca del Lazio, a pesar de encontrarse a una hora de Roma aproximadamente, penas es conocida por el turismo internacional, por lo que se encuentra en un estado absolutamente puro. No encontrarás rebaños de turistas cámara en ristre ni gente ruidosa; tan solo calma, tranquilidad, gente hospitalaria que te hará sentir como en tu propia casa, aire puro, luz, alimentos de primera calidad...¡¡ puro sabor mediterráneo !! Si te apetece disfrutar de unas vacaciones inolvidables, no lo dudes, Sermoneta no te dejara indiferente. Y volverás...
Pedro
2016-08-31T00:00:00Z
Typ av rum
Eget hus/egen lgh
---
Typ av boende
Hus
---
Plats för
3
---
Sovrum
Sermoneta, Lazio, Italien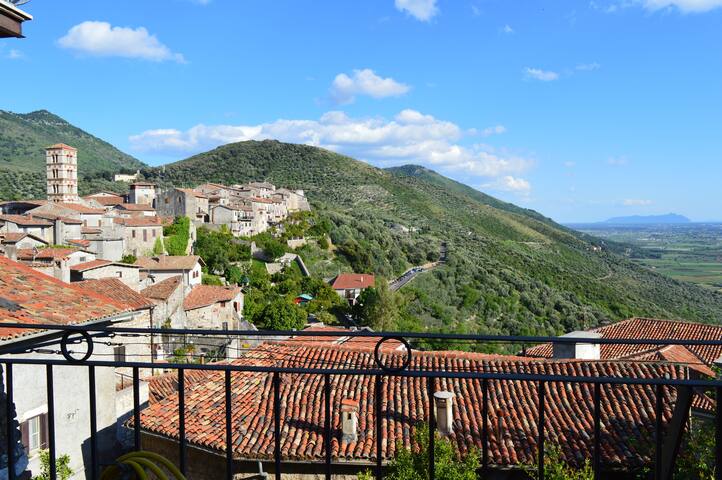 Se trata de una casa en el centro de Italia una hora de Roma ya una hora de Nápoles, ideal para viajes largos. Si va a viajar por todo el mundo y que desea visitar Italia, esta es la mejor casa-precio y la calidad del servicio. En un antiguo pueblo hemos restaurado una antigua casa con la filosofía de la reutilización. Estamos a 12 minutos del mar, a una hora de Roma y Nápoles. La habitación es espaciosa y tranquila y tiene un cuarto de baño cómodo. Desde la cocina se puede ver las islas Pontinas y Ischia.
En una vieja casa en un pequeño pueblo medieval a tan sólo con el número 7 .... ... Ella y yo, decidimos alojar a los viajeros. El lugar está lleno de serenidad en un clima templado todo el año, cerca del mar y lugares ricos en historia, arte y mitos legendarios. Queríamos un lugar especial, y luego se trabajó duro, inspirado en la idea de la reutilización ecológica y el respeto del hogar. Día tras día hemos resuelto todo y ahora la casa está lista. Tenemos más de 50 años y he viajado lo suficiente para saber lo que es necesario para los que viajan. Aquí, usted no encontrará un equipo especial de lujo, pero buena comida, camas confortables, aire limpio y la cálida bienvenida. El nuestro no es un hotel disfrazado de puertas abiertas. Nuestra casa es una manera simple y barata de descubrir y admirar el antiguo centro de Italia. Sabemos que nuestro territorio, y si quieres podemos ser su guía en Roma y Nápoles, pero hay muchas otras cosas que le podemos mostrar cercana: Gaeta, Terracina, Sperlonga, todo por aquí está salpicada de castillos, tumbas y villas romanas más bella del mundo. Ven a vernos, si pasa aquí!
La casa en el número 7 es el lugar ideal para un descanso de la belleza. Nuestra casa en el número 7, está en el centro de una pequeña ciudad medieval, a diez minutos del mar. Cerca de las montañas en un parque natural regional, nuestra casa se puede llegar en tren desde Roma o Nápoles, en sólo una hora. Esta casa está situada en un pequeño pueblo asentado en un espolón de las montañas Ausoni. El pueblo era una fortaleza construida en el siglo XI para la defensa y el control de la Vía Apia (Regina Viarum). En estas costas habitado la Lestrigoni, según la leyenda. Incluso Ulises pasó por aquí en sus viajes a Ithaca. Muy cerca se encuentra el Circeo, donde la maga Circe intentó encarcelarlo convertir sus marineros en cerdos. Todo alrededor de los romanos más potente, construido hermosas casas cerca del mar. La gran Cicerón (Cicerón) eligió este lugar para su entierro. Alrededor de la naturaleza todavía es inaccesible y conserva los bosques y cultivos de olivos. En uno de estos valles cerca de una antigua ermita que fue evacuado Moravia durante la última guerra; donde escribió "La Ciociara" que se hizo famosa película con Anna Magnani. ¡Te veo allí! ¡Ven y visítanos!
Super séjour chez Ernestina et Marcello qui sont vraiment des hôtes très attentifs et aidants ! Ils nous ont très bien renseignés sur la région (Marcello est un puit de savoir!) et ont grandement facilité notre séjour. La gare et les bus sont accessibles en quelques minutes à pied mais les horaires des bus très (URL HIDDEN) au retour gare aux escaliers ! :) Nous recommandons grandement cette chambre, tout y est fait pour faciliter la vie du voyageur sans intrusion néanmoins. Parfait!
Hélène
2016-08-07T00:00:00Z
La prima esperienza di viaggio tramite Airbnb non poteva andare meglio: Ernestina e Marcello sono degli ottimi padroni di casa, molto simpatici e alla mano. Durante il nostro soggiorno non ci hanno fatto mancare nulla e ci hanno dato ottimi consigli su alcuni posti da visitare nei dintorni. Il paese in cui si trova l'alloggio è piccolo e tranquillo e si trova a circa 15-20 minuti dal mare. Il panorama che si scorge da lì è molto più bello rispetto alle foto ma soprattutto, di notte, si riescono a vedere le stelle!!
Valentina
2016-08-01T00:00:00Z
Ernestina e Marcello sono stati degli ottimi padroni di casa, ci hanno riservato un'accoglienza calorosa e hanno provveduto a soddisfare ogni nostra necessità. Inoltre ci hanno dato utili informazioni e suggerimenti per il nostro soggiorno. L'abitazione si trova a Monte San Biagio, un luogo caratteristico che si contraddistingue per lo spettacolare panorama che inquadra: mare, lago e vegetazione. Il borgo è in una posizione strategica, a metà strada tra le bellissime località marittime di Terracina e Sperlonga e a pochi minuti dal mare. Grazie all'ottima collocazione siamo riusciti facilmente a raggiungere anche Gaeta, Formia e San Felice Circeo. La stanza a noi riservata è proprio come nelle foto e, come il resto della casa, conserva il carattere delle abitazioni tipiche della zona, con stupende travi a vista e pavimento in cotto. Molto comodo il bagno a nostro esclusivo utilizzo, ordinato e pulito come tutti gli ambienti dell'appartamento. Dalla cucina, nella quale ci è stata offerta un'ottima colazione (memorabile la torta della mamma di Ernestina!), è possibile ammirare degli scorci mozzafiato del territorio sottostante. Il nostro soggiorno è stato molto piacevole e speriamo di poter essere di nuovo ospiti di Ernestina e Marcello che ci hanno conquistato per la loro simpatia, cordialità e spontaneità.
Francesco
2015-08-23T00:00:00Z
Our stay was Monte San Biagio and La Case al Numero 7 was splendid. Even though we made the booking at a very short notice, Ernestina was so nice to pick us up at the station. Marchello and Ernestina were very sweet hearted and helpful. We had a great time with them and Marchello told us interesting histories in the region and gave us good tips on where to go. The room was clean and cozy, the old house has been renovated into a very interesting and nice place and it has a great view. If you are feeling exhausted after being in Rom or looking for a place to fully relax, here is the right place to go. A small but beautiful and peaceful town with great hosts.
MOOZI
2016-04-15T00:00:00Z
Typ av rum
Eget rum
---
Typ av boende
Hus
---
Plats för
3
---
Sovrum
Monte San Biagio, Lazio, Italien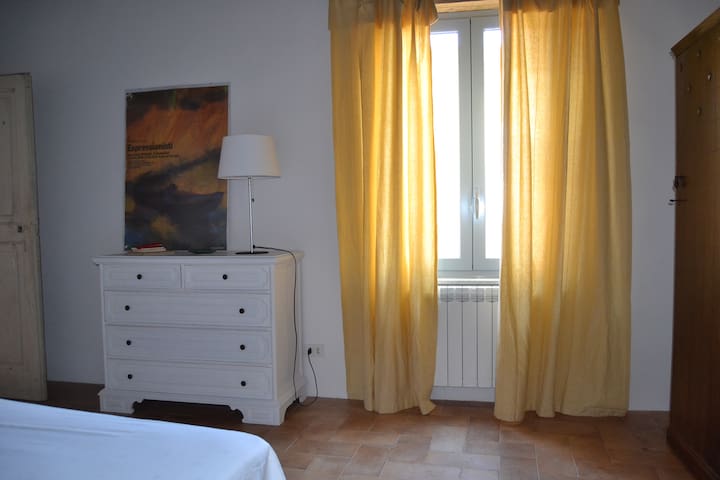 La casa è molto luminosa e generalmente sempre fresca, anche nelle giornate più calde. Il panorama è davvero incredibile! Nelle giornate limpide è possibile vedere le isole pontine e persino Ischia e Capri. Da tutte le finestre della casa si gode un'ottima vista sul mare.
Typ av rum
Eget hus/egen lgh
---
Typ av boende
Hus
---
Plats för
6
---
Sovrum
Terracina, Lazio, Italien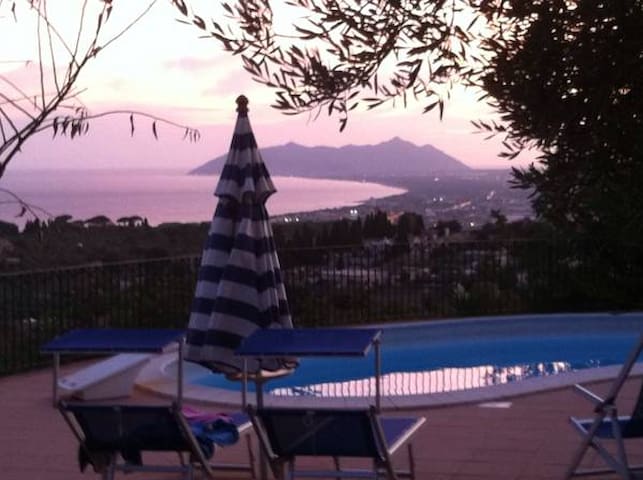 Potrete soggiornare all'interno di una splendida villetta unifamiliare con un meraviglioso giardino, in una stanza matrimoniale spaziosa con parquet, bagno privato, wi-fi, parcheggio interno, colazione in terrazza, reception h24.
Il nostro alloggio e' a due passi dal mare di Sabaudia e del Circeo, a 90 km da Roma e 200 da Napoli, immerso nel verde del Parco Nazionale del Circeo.
La nostra soluzione è resa unica dalla vicinanza del mare e del Parco Nazionale del Circeo.
La casa si trova in ottima posizione.L´accoglienza è stata ottima. Lo consiglio vivamente.
Paolo
2016-08-22T00:00:00Z
Typ av rum
Eget rum
---
Typ av boende
Hus
---
Plats för
2
---
Sovrum
Borgo Vodice, Lazio, Italien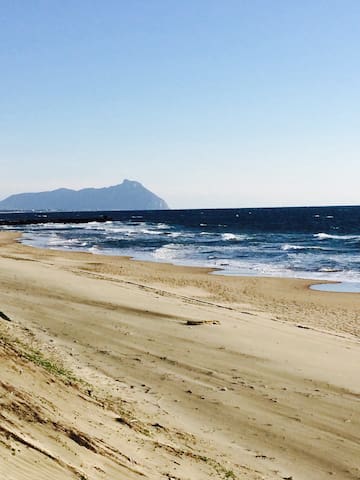 Vackert hus på landet 2 km från havet strategiskt läge nära vackra badorter, Terracina, San Felice, Sabaudia, Circeo National Park
AMBI utomhus
lugnet
Typ av rum
Eget hus/egen lgh
---
Typ av boende
Hus
---
Plats för
5
---
Sovrum
Borgo Hermada, Lazio, Italien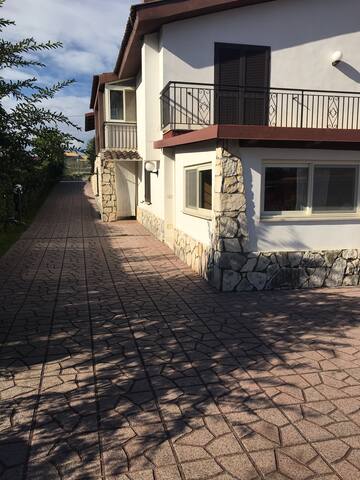 Recently renowed historical house.Live an unique experience relaxing in the heart of the old town.The house has everything you may need,it is unique in its style and it is the perfect base to explore the town and its beautiful mountain.
The house has been recently been renowed. It is located in the heart of the town. It is built on three levels,very bright thanks to great exposition to the sun.From the top floor you can enjoy an absolutely stunning view of the mountain area. It is the perfect base to chill, enjoy good food and explore by walk the unique little town of Carpineto.
Location, historical beauty and the charm of the house will make your stay memorable. Parking is available walking distance from the house. The house is located in the heart of the historical town. It is within walking distance from the famous "Palazzo Pecci",where Pope Leo XIII was born.The Church of San Leone Magno(XIX century) is close to.There are many other churches that can be visited too,all walking distance from the house. The best thing tough,it is to walk through the caracteristic small alleys and admire the beautiful old buildings of the town and get stoked with the unique view of the mountain and valley that suddenly can appear in front of your eyes. The two main part of the old town are connected by the pretty central square, Piazza Regina Margherita.From there you can keep exploring the old town,reaching the highest part of it,where the stunning Reggia Dei Volsci,with annexed museum,is.The experience would not be completed without a visit to one of the traditional shop,trattorias,restaurants where you will be delightful by the unique taste of our traditional products.
Siamo stati 4 giorni sotto capodanno. La casa è meravigliosa e accogliente, ristrutturata con cura e gusto senza intaccare l'aspetto originale; dormire con dei soffitti in legno non capita tutti i giorni! L'accoglienza di Annamaria e del marito Mario è stata fantastica; oltre ad averci fatto trovare delle ciambelle squisite, tipiche del paese, e una bottiglia del loro vino, sono stati delle ottime guide sia sulle curiosità e nozioni storiche del paese sia ad indicarci i sentieri più suggestivi delle montagne circostanti. Carpineto è il posto perfetto per staccare dalla vita di tutti i giorni e godersi la pace di un antico borgo italiano. Un vero e proprio gioiello lontano dal turismo di massa. Noi non volevamo andarcene e di sicuro torneremo!
Alessandra
2017-01-03T00:00:00Z
A wonderful but short experience at a really cozy house. Unfortunately I left early because of a shortage of time, but I hope to return later this year definitely! Anna-Maria is very helpful and kind and her son Michele communicates perfectly in English. Carpineto Romano is a nice, cozy, quiet en nostalgic town near a mountain, which I could unfortunately not visit this time. To summarize: wonderful place! Thank you so much!
Kilian
2017-01-06T00:00:00Z
Un incanto del passato. Casa tipica degli antichi borghi italiani, si respira l'atmosfera di tempi andati con un tocco di colore e cura dei particolari. Atmosfera unica, dormire in questa casa sarà un ricordo indimenticabile del vostre vacanze.
Francesca
2016-08-30T00:00:00Z
Splendido soggiorno in una splendida casa, ristrutturata e arredata con gusto, pulita e accogliente. Il tutto arricchito dalla cortesia e la disponibilità di Anna Maria. Magnifica Carpineto, un caratteristico borghetto e una montagna tutti da scoprire. Torneremo presto sicuramente!
serena
2016-04-18T00:00:00Z
I was staying in this house for a month and it was absolutely amazing! The house is really nice and comfy, very similar to the photos. And the host, Anna Maria + her family are wonderful people! Generous and helpful. I can definitely recommend this place, it is beautiful!! Very unique. Lisa
lisa emilia
2016-10-07T00:00:00Z
Ottima accoglienza, anche più di quanto ci si potesse aspettare. Anna Maria è stata gentilissima. Casetta graziosa e pulitissima, in un borgo tranquillo e pacifico poco lontano da Roma. A presto.
Claudia
2016-08-04T00:00:00Z
Soggiorno incredibile. Ci siamo recati a carpineto per una manifestazione motociclistica. L'accoglienza di Anna Maria è stata devvero cordiale e disponibile, casa in ottima posizione e fedele a quanto scritto sull'annuncio. Consiglio vivamente a chiunque debba fermarsi in questo ridente paesino di soggiornare in questa casa. Esperienza da ripetere assolutamente.
Lorenzo
2016-06-20T00:00:00Z
Ho soggiornato nell'appartamento della signora Anna Maria per (purtroppo!) una sola notte. Dire che mi sono sentito a casa è dire poco. L'accoglienza è stata eccezionale, ho ricevuto moltissime informazioni sull'appartamento e sulle cose da fare a Carpineto. La casa si presenta in ottime condizioni, nel cuore del centro storico, dove mi sono sentito trasportato nel passato. La dislocazione su tre piani con i suoi dettagli di legno e tempi antichi rappresenta il massimo dell'autenticità che un turista può ricercare. Soggiornare a Carpineto in una casa del genere è un pò come immergersi nel passato ed allo stesso tempo essere in grado di usufruire della posizione montana (dal paese si possono fare bellissime passeggiate sull'Appennino) e raggiungere le più belle spiagge laziali. Grazie ancora e ci vediamo in futuro! Dario
Dario
2016-08-26T00:00:00Z
Typ av rum
Eget hus/egen lgh
---
Typ av boende
Hus
---
Plats för
6
---
Sovrum
Carpineto Romano, Lazio, Italien
Vi tilbyder dig en dejlig gæstfrihed i adskillige små stenhuse. I hjertet af Italien, mellem Rom og Napoli, i nærheden af smukke havet af Circeo bjerget, den gamle Fienili er 18. århundredes smukt restaurerede mølle lagre.
Fienile Vietnam Dette stenhus er perfekt til et par, op til tre venner eller en familie med op til to børn. Det er en stor hems med højt til loftet, en dobbeltseng, og mulighed for at tilføje en eller to ekstra senge til børnene. Køkkenet er selvstændig og på toilettet er privat. I Fienili er sammensat af flere stenhuse i forskellige størrelser, der kan være vært for din familie og venner, op til 25 personer. I nærheden af smukke havet af Sabaudia og Circeo bjerget, halvvejs mellem Rom og Napoli (både 1 time med tog), den gamle Fienili - 18. århundredes smukt restaurerede mølle lagre - tilbyder dig en dejlig gæstfrihed. Du vil slappe af i vores grønne haver, omgivet af oliventræer i en fascinerende sydlandsk stemning. De landladies, der bor i hovedbygningen, er avaible at forsikre du får det bedste ud af dit ophold i dette land af arkæologiske skatte, naturlige skønhed og rigeste historie. En hyggelig lille swimmingpool på en panoramisk terrasse og åbne rum og haven til at slappe af og spise sammen vil gøre dit ophold endnu mere behageligt.
Denne region har så meget at byde på. Mange små romerske og middelalderlige landsbyer i de nærliggende bakker og nogle smukke arkæologiske steder. En 20 minutters køretur vil tage dig til de fantastiske hvide sandstrande i Circeo, og på 20 minutter kan du besøge Terracina med sin dejlige fiskerhus restauranter. Glem ikke, at dette er landet med mozzarella di bufala, olivenolie og så mange andre lækre specialiteter! Sundt mad her er et must.
Un véritable havre de paix ou il fait bon venir se ressourcer.En pleine campagne italienne , avec la magnifique plage de Sabaudia à 20mn en voiture.Nous avons adoré notre séjour au calme chez Novella et Antonia .Un endroit paisible, au calme, chaque logement a été refait avec amour.Les espaces extérieurs sont partagés ce qui est genial car on peut profiter pleinement de toute la proprieté ! La piscine avec une vue sur la campagne est un petit (URL HIDDEN) vous voulez deconnecter (pas de wifi et c'est tant mieux) alors FONCEZ !!! On en revient ressourcer et des souvenirs plein la tête.Merci :)
Hémy
2016-08-14T00:00:00Z
Nous avons été parfaitement accueillis et Novella a répondu à toutes nos questions et nos attentes. A refaire sans hésiter dans une région peu connue mais qui mérite amplement d'être visitée tant pour la beauté de certains sites comme Ninfa ou Sermoneta ou des villes comme Latona pour son architecture, Gaeta et Terracina. Et qu'est-ce qu'on mange bien en Italie pour des prix bien plus intéressants qu'en Belgique!
Gilles
2016-07-31T00:00:00Z
Novella was their to welcome us and despite out lack of Italian we were able to communicate. Our daughters had their own room, which was very handy, and as our room was booked for the weekend, we broke up our stay by going to Rome for the weekend. Novella recommended we go by train, which is only 10 mins away, is €5 each way and takes 55 mins - so convenient and you can easily do day trips. I Fieneli has a lovely location away from the hustle and bustle and its just up the hillside, so has great views and some wonderful sunsets. Its easy to get to as 5 mins from the the nearest main road and 5 mins to the nearest supermarket. Really lovely beaches at Sabudia (30 mins), San Felice Circeo (25 mins) and Terracina (20 mins) and we found a lovely hilltop village called Sermoneta (40 mins), which we went to one night for dinner. I Fienili also has a small jaccuzi / pool, that is great to cool off in on a hot day. Novella was very helpful and recommended local places to see and restaurants to eat at as well as booking our restaurant in Rome as my mobile wouldn't seem to connect to the restaurants number!!
Greg
2016-09-01T00:00:00Z
Un accueil très chaleureux et des hôtes réellement à l'écoute. La maison a beaucoup de charme : rénovation réussie en conservant l'âme de cette ancienne bâtisse, du calme et un logement confortable. La vue sur la campagne est magnifique. Nous avons passé un excellent séjour à Capocroce.
Francois
2015-07-28T00:00:00Z
Typ av rum
Eget hus/egen lgh
---
Typ av boende
Hus
---
Plats för
4
---
Sovrum
Capocroce, Sonnino (LT), Lazio, Italien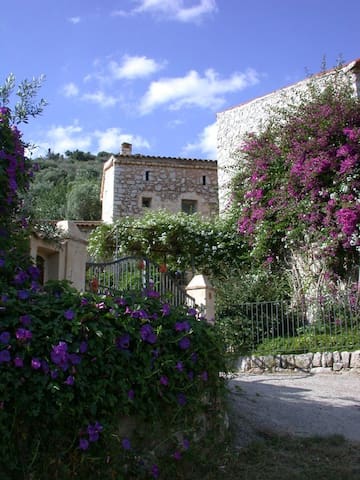 Time travel back to the middle ages in this renovated house, located in an old monastery from the 14th century. Giuliano di Roma, a small, centrally located village with no cars, is about an hour outside of Rome. The house is 2 stories with relaxing courtyard & views of the lush green valley. Charming balcony for romantic breakfasts in the mountain's shadow. Enjoy the beautiful sandy beaches nearby (Sabaudia, Sderlonga, Terracina, Gaeta) or take a short ferry trip to the exquisite Ponza island.
Typ av rum
Eget hus/egen lgh
---
Typ av boende
Hus
---
Plats för
4
---
Sovrum
Giuliano di Roma, Lazio, Italien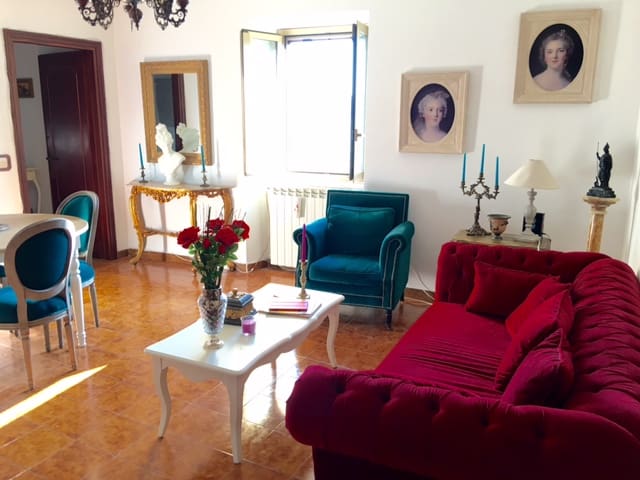 Accogliente casa di campagna,dotata di parcheggio privato. Luminoso e spazioso. A breve distanza da Terracina, Sabaudia e San Felice Circeo.
È indipendente e con parcheggio Patio esterno
La località è a poco più di 10 km da Sabaudia e Terracina..nonché vicina al Circeo. La sua posizione la rende strategicamente posizionata per tutte quelle persone che vogliono conoscere i maggiori punti d'interesse culturale come l'Abbazia di Fossanova,il Castello di San Martino, Priverno ecc..
The host canceled this reservation 4 days before arrival. This is an automated posting.
Paolo
2016-08-23T00:00:00Z
Massima disponibilità e accoglienza. Laura e Tina di squisita gentilezza. Ambiente famigliare. Hanno accolto senza nessun problema anche la nostra dobermann. Consigliamo a chi soggiorna con cani che siano ben socializzati in quanto nel cortile sono presenti altri cani. Il cortile è chiuso e sicuro. Essendo in campagna la zona è tranquilla e molto poco trafficata.
Alessia
2016-08-26T00:00:00Z
Typ av rum
Eget hus/egen lgh
---
Typ av boende
Hus
---
Plats för
5
---
Sovrum
Lazio, Lazio, Italien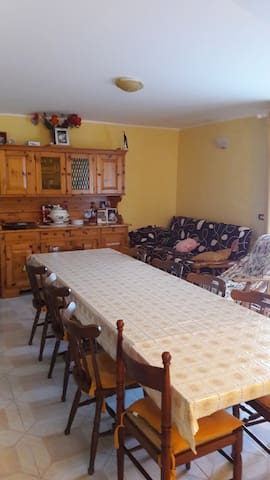 Das Haus befindet sich im historischen Zentrum von Castro dei Volsci entfernt. Typisches Dorf in den Hügeln in Ciociaria 100 km von Rom und Neapel; in der Landschaft des Sacco-Tal, zwischen den Bergen und atemberaubenden Aussichten. Eine gut erhaltene mittelalterliche Dorf, bestehend aus engen Gassen und verwinkelten, gepflastert Ziegel, die Ansichten des entzückenden und malerischen bieten. Das Land ist Teil der schönsten Dörfer Italiens von 2016. Im Sommer organisieren sie Feste und die Weihnachtszeit die Lebenden Krippe.
Das Haus ist auf einer Etage, ca. 110 qm und es gibt nur drei Schritte, die die Veranda innen teilen. E 'besteht aus zwei Schlafzimmer, beide Doppel mit der Möglichkeit eines zusätzlichen Einzelbett. Sie sind sehr einfach eingerichtet, im Landhausstil, sowohl ausgestattet, Kleiderschrank, Nachttische, Couchtisch. Es gibt ein Bad mit Dusche, eine Küche, ein Esszimmer und eine Eingangshalle. Die Küche ist ausgestattet mit Geschirr, Gläser und Besteck sowie Töpfe, Pfannen und Geschirr. Im Haus gibt es auch Bettwäsche und Handtücher für die Betten und Badezimmer; Ich bin Haartrockner inbegriffen, Bügeleisen und Bügelbrett.
Das Haus befindet sich im historischen Zentrum, wo man nicht mit den Maschinen zugreifen können, sondern nur zu Fuß. Da innerhalb eines Landes, ist es ein Einfamilienhaus, in der Nähe zu anderen unabhängigen Häusern, die sehr angenehme und charmante Agglomeration bilden. Trotz der Unfähigkeit, mit dem Auto ist das Parken in unmittelbarer Nähe und bequem zu erreichen.
Typ av rum
Eget hus/egen lgh
---
Typ av boende
Hus
---
Plats för
4
---
Sovrum
Castro dei Volsci, Lazio, Italien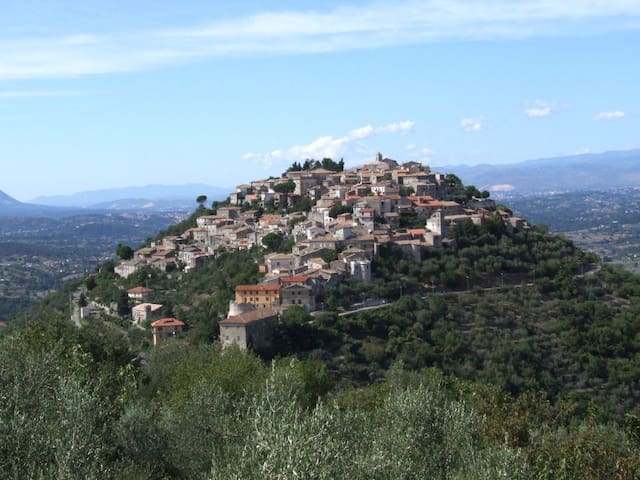 Located 10 km from the railway station of Sezze Romano ( 40 minutes from Rome ) , at 5 minutes from the oasis of Valentine to the Lakes Gricilli (zolfa water lake with Jacuzzi equipped with Sun umbrellas and deckchairs), 19 km away from the sea and just minutes from the municipalities affected by the Lepine mountains , we find this little house with all amenities, barbecue , water well zolfa , large garden with large pergola that can spend the day outdoors. Allowed small dogs .
Alloggio composto da due camere da letto, soggiorno con termocamino, TV,comodo divano letto matrimoniale, ampio tavolo antico per pranzare comodamente all'interno mentre all'esterno troviamo altri tavoli e sedie da giardino per passare piacevoli giornate all'aria aperta.
Giacinto and his Wife gave us a very warm welcome. The property is located in a very nice and quiet location. Well linked by main roads to Latina city - and seaside(15mins) and Frosinone. They were very helpful giving us information and directions. Will definitely recommend to anyone who would like to enjoy the Italian countryside with amazing hosts.
marcelo
2015-12-14T00:00:00Z
Typ av rum
Eget hus/egen lgh
---
Typ av boende
Hus
---
Plats för
6
---
Sovrum
Sezze Scalo, Lazio, Italien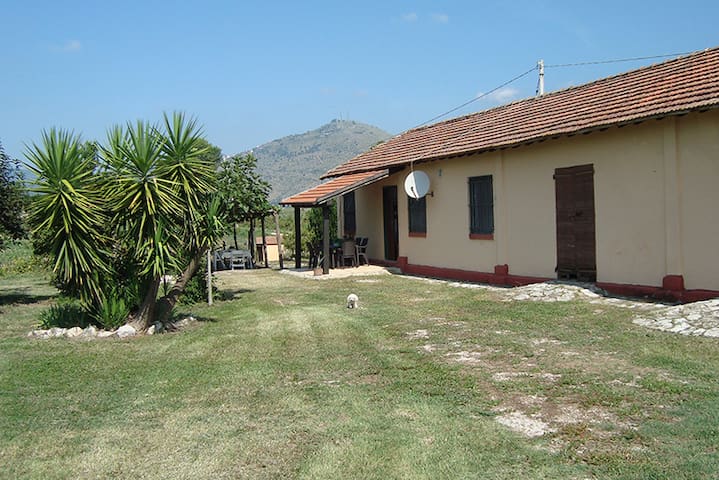 Situato in una posizione tranquilla e strategica, questo indipendente in pietra-casa ha un vero e proprio feeling con la natura. La spiaggia più vicina al 15 'in auto, facile e ben collegato. Godetevi il sole, la spiaggia, le montagne e la storia di sorprendenti borghi medievali, in pace!
Soluzione ideale per famiglie e coppie, la casa comprende: - 1 camera da letto matrimoniale (fino a 3 persone) - 1 bagno con doccia e lavatrice - 1 cucina, dotata di tutti gli utensili - 1 soggiorno - 1 40mq terrazza con lettini - Zona chill-out esterno - Parcheggio Pochi chilometri dalle spiagge principali: Terracina, Sabaudia, San Felice Circeo, Sperlonga. Pochi chilometri dai principali punti di interesse: Priverno-Fossanova Abbazia, Castello di San Martino, giardini di Ninfa, Sermoneta.
La Natura, la tranquillità e il relax del rientro a casa è il tratto distintivo di questo alloggio, ma anche la disponibilità delle migliori attrazioni storiche, paesaggistiche, culinarie ed intrattenitive della zona a soli pochi km! Terracina, Sabaudia, San Felice Circeo, Sperlonga, Sermoneta...
Accoglienza molto cordiale, siamo rimasti a conversare fino a tardi che vecchia amici.
Alessio
2016-08-20T00:00:00Z
La casa Blazenka è meraviglioso !! Perfetto per chi ha bisogno di riposare e trovare la pace. Lontano dal tumulto di turisti, ma vicino spiagge eccellenti !! Siamo stati molto ben accolti !!! Nota 10! The Blazenka house is wonderful !! Perfect for those who need to rest and find peace. Far from the tumult of tourists, but near excellent beaches !! We were very well received !!! Grade 10!
Gabriel
2016-07-10T00:00:00Z
Vorrei ringraziare tantissimo Blaženka e sua zia per l'ospitalità, tutto perfetto e carinissimo! Gentilissime e sempre a disposizione! Soggiorno molto piacevole anche se, purtroppo, sono rimasto solo un giorno. Colazione abbondante e servita con cura. Piacevolissima la chiacchierata con Blaženka davanti ad un ottimo té :) Alla prossima!
Felice
2016-07-24T00:00:00Z
STUPENDISSIMO piccolo paradiso! Casa in campagna arredata in stile moderno / antico. Blazenka ha dimonstrato un buon gusto arredando il suo piccolo regno. Noi eravamo soddisfatti al MASSIMO! La casa era pulita e ben arredata (cucina stile americano, grande TV, grande frigorifero, doccia superba e larghissima, anche un Toaster ed una macchina di caffe per caffe americano / tedesco erano presenti). Abbiamo goduti tutti un bellissimo periodo che, molto triste, dovevamo lasciare dopo due settimane. Ne eravamo davvero molto molto triste lasciarlo. Mia moglie e le mie figlie, persino i nostri cani appena arrivati, ci sentivamo subito a nostro agio. Come aver entrato la nostra casa di weekend. Insomma: Bellissima casa, SIMPATICHISSIMA Blazenka! E vero che le foto non esprimano del tutto la intera bellezza, il fascino e la comodita del luogo. Specialmente la grande terrazza con i lettini ed un ombrellone, che abbiamo goduti molte volte. Immagino bene che in terrazza ci si possino dare delle bellissime serate di autunno con un bel BBQ e dei amici. Chissa, forse ritorneremo giusto per un BBQ ;) Noi, questo e certo, diamo 10 punti e lodi! PER-FE-TTO! Auguri Blazenka! ============================================================= Perfektes kleines Paradies! das Landhaus ist in einem modernen / antiken Stil eingerichtet. Blazenka hat eine schöne und geschmackvolle Einrichtung für Ihr kleines Reich erschaffen. Wir waren sehr sehr erfreut darüber, das Haus war sauber und gut ausgestattet (Küche im amerikanischen Stil, großer TV, großer Kühlschrank, Dusche breit und groß, sogar ein Toaster und eine Kaffeemaschine für amerikanischen Kaffee, oder auch deutschen) waren anwesend. Wir genossen hier alle eine sehr schöne Zeit und waren sehr traurig das wir nach zwei Wochen diese Paradies wieder verlassen mussten. Wir waren wirklich sehr traurig. Meine Frau und meine Töchter, auch unsere beiden Hunde, wir haben uns bei der Ankunft sofort sehr wohl gefühlt, als ob wir in unser Wochenendhaus wären. Kurz gesagt...: Ein schönes Haus, ein eine schöne Gegend und eine extrem sympatische Gastgeberin Blazenka! Es ist wahr, dass die Bilder nicht wirklich die ganze Schönheit, Charme und Komfort des Hauses zum Ausdruck bringen. Vor allem die große Terrasse mit Liegestühlen und einem Sonnenschirm haben wir viele Male genossen. Nun, ich denke, dass man auf der Terrasse mit einem guten Holzkohle-Grill und seinen Freunden sehr schöne und entspannte Herbstabende verbringen könnte. Wer weiß, vielleicht kommen wir wieder nur für einen netten Grillabend (oder auch zwei oder drei?) ;) Wir geben mit Liebe 10 Punkte und das Lob PER-FEKT! Glückwunsch Blazenka!
Alessandro
2015-08-08T00:00:00Z
Bien sur tous rapport, coin tranquille pour une bonne détente, maison très agréable, hôte très gentilles et accueillante que dire de plus nous avons passez un très bon séjour, les enfants ont appréciés A recommander
frederic
2015-08-22T00:00:00Z
Amazing stay. Super friendly and helpful Blaženka provided full support during the arrival. Her aunty, who also lives at the property is astonishingly nice. Can't remember when was the last time I felt more welcoming. The apartment is very clean, nicely decorated, plus there's a specious terrace. Just a wonderful stay! I'd recommend it to all!
Ivan
2016-08-19T00:00:00Z
Siamo stati ospiti una notte da Blazenka e la sua famiglia, davvero molto gentili e ospitali, si vede che sono felici di ospitare persone nuove in casa! Disponibilissima a darci consigli, informazioni, e flessibile nell'orario di arrivo e partenza.. :) Ci siamo trovati benissimo, il posto è molto carino, vicino al mare ma immerso nella tranquillità... Consigliato a tutti :)
Anastasia
2016-08-29T00:00:00Z
Blazenka è un ospite delizioso. Si vede che le fa piacere ospitare persone in casa e che trattarle bene è quasi una missione. Sono arrivato la sera tardi e nonostante credo fosse stanca mi ha accolto sorridendo ed è rimasta a fare una chiacchiere. La mattina presto era già ad nattendermi con una ricca e buona colazione, servita in giardino su un tavolo elegantemete apparecchiato. La casa è una elegante casa di campagna, molto fresca e pulita. Sono stato molto bene e sicuramente tornerò.
Andrea
2016-07-25T00:00:00Z
Typ av rum
Eget rum
---
Typ av boende
Hus
---
Plats för
3
---
Sovrum
Sonnino, Lazio, Italien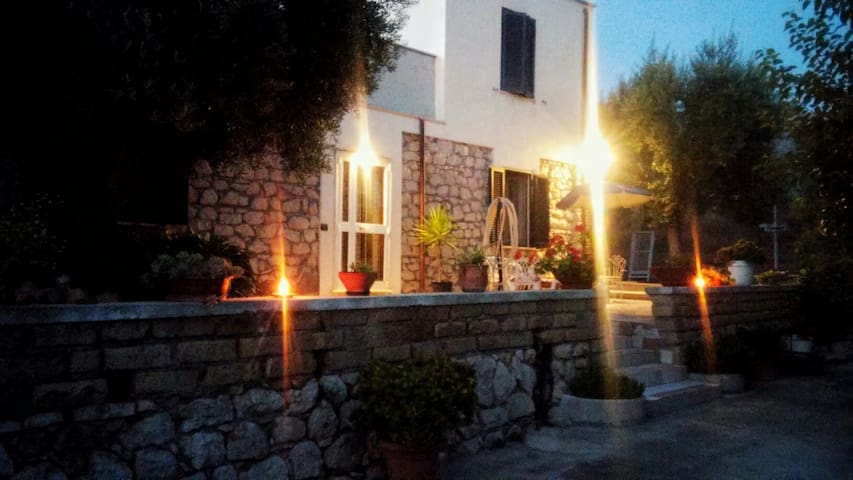 Located in the heart of Lepini Mountains, in between Rome and Naples, few km away from Sabaudia and Terracina beaches, our country house is the perfect location for your relaxing vacation . Situata nel cuore dei monti Lepini, a metà strada tra Roma e Napoli,a pochi km dalle spiagge di Sabaudia e Terracina,la nostra casa di campagna è la location ideale per una vacanza di pieno e relax.
Located in the heart of Lepini Mountains, in between Rome and Naples, few km away from Sabaudia and Terracina beaches, our country house is the perfect location for your relaxing vacation . Located in the heart of Lepini Mountains, in between Rome and Naples, few km away from Sabaudia and Terracina beaches, our country house is the perfect location for your relaxing vacation . Domus Cota is 100 squared meters one storey house, sorrounded by a garden, ovelooking our vineyard and olive grove, with a full equipped barbecue area, and private parking. House is composed by 2 cozy double bedrooms, 2 bathrooms with confortable showers and a spacious living room with sofa bed and a modern equipped kitchen with oven and fridge. Domus Cocta has a strategic position for a relaxing countryside stay, close by to culture and seaside: 100 km south of Rome and 200 km north of Naples, both cities are reachable by car, driving along the A1 highway (we are half an hour from the turn off at Frosinone) or better by train from the local stations, Sezze Romano or Fossanova , which are 15 minutes drive away. Seaside is 30 km away: the Terracina and Circeo National Park natural reserve and the beautiful beaches are just 30 minutes drive away. If you have time, just 20 km south of Terracina, you have the chance to visit Sperlonga with his picturesque landscapes. For an alternative itinerary do not forget to visit the beauty of our territory: Fossanova abbey and its medieval village. The historical Sermoneta, Caetani castle, the stunning Ninfa Gardens and Valvisciolo Abbey. The pretty Roccagorga and Maenza villages
Tipical italian countryside, quiet and full of olive trees and vineyards.
hermoso lugar, rodeado de un viñedo, mucho verde y montañas, la casa es igual o mejor de lo que se ve en las fotos totalmente nueva con todo lo necesario. jacopo y su familia muy amables y siempre dispuestos a ayudar, queda cerca del castillo de sermoneta, castello san martino y tantos otros lugares, tmb es sencillo llegar al mar, sin dudas volveria, es un lugar para recomendar... muchas gracias!
Dario
2016-09-11T00:00:00Z
Typ av rum
Eget hus/egen lgh
---
Typ av boende
Hus
---
Plats för
5
---
Sovrum
Provincia di Latina, Lazio, Italien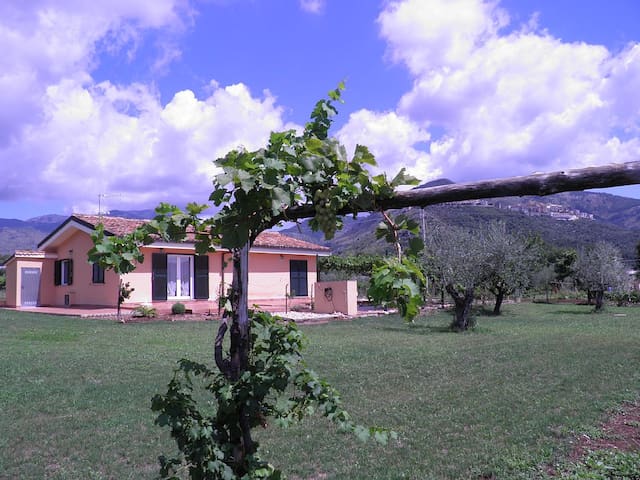 Priverno - Airbnb
:
I genomsnitt

4.74

av

5

stjärnor från

123

gästomdömen