128 Uthyrningar av lägenheter
Our newly renovated guest suite is located on a quiet cul-de-sac 5 blocks from the north end of campus, about a five minute walk to Pattee Library and 15 minute walk to downtown. This is the perfect place for the solo traveler or couples. The space includes a private entrance, one bedroom with work space including wireless printer and wifi, large living area including a high top table with two chairs and a full bathroom.
The suite: The bedroom has a full size bed and includes all linens, blankets, pillows, dresser and a walk in closet. The living area has a very comfortable couch but a full size air mattress is also available if needed/ preferred. Also included are bath towels and basic toiletries. Please note, there is not a full kitchen in our unit but you will have a small refrigerator, microwave and Keurig. About the area: Upon arrival, you will find a guide to the greater State College/ PSU area that includes information on things from restaurants/ bars to local hiking areas and popular areas on campus. Getting around: While we are located within walking distance to so many areas of Penn State's campus and downtown State College, you may prefer alternative methods of transportation. Below is a list of some alternative options: There is a CATA bus stop (local bus) 50 yards from the house. CATA offers an excellent APP that shows run times and stops in real time for all local buses. Taxi companies include Handy Delivery and AAA Taxi and of course, UBER is also available. We live in the house so you may hear our footsteps or the pitter patter of our labrador puppy, Addy. We make every effort to keep the impact on your stay to a minimum. Please don't hesitate to reach out to us if you have any questions about the space, things to do or just a chat! Parking: There is off street parking available for one vehicle. There is no on street parking so please plan accordingly if you will have more than one vehicle. Feel free to contact us for information on additional parking options.
It was amazing, and our stay was completely awesome.
Bader
2017-03-14T00:00:00Z
Accommodations exactly as described. Spacious and clean, it was exactly what I was looking for. Thanks!
Joshua
2017-03-24T00:00:00Z
I was in State College for a conference. The location is 10 minutes by car to the Penn Stater Conference Center. It's in a nice, quiet neighborhood with parking! I walked to campus through a nice tree-lined neighborhood and into town for some drinks! The accommodations were very comfortable. It was a nice place to chill out after a bunch of workshops. Plus, you can't really beat the price. Highly recommended.
Megan
2017-04-02T00:00:00Z
Adam and Julia's place was clean, quiet, convenient, and perfect for a low-key State College stay. They were very responsive and friendly, too!
Rob
2017-04-05T00:00:00Z
Great place to stay in State College for a weekend. Extremely close to campus and downtown. The house was very clean and well kept. Adam and Julia were great communicators and made sure we had everything and anything we needed to make our stay as comfortable as possible. First time staying with them and definitely not our last!
Matt
2017-03-19T00:00:00Z
Super great weekend getaway! Everything you could ever need!!!
Melissa
2017-04-09T00:00:00Z
Stayed here for business travel with family in town (a 4 year old and 18mo old). Excellent location, great on demand (apple TV) entertainment for the kids.
Payal
2017-03-30T00:00:00Z
We had a nice stay at Adam & Julia's home. It was clean, comfortable, and close to campus.
Caroline
2017-03-26T00:00:00Z
Typ av rum
Eget hus/egen lgh
---
Typ av boende
Lägenhet
---
Plats för
3
---
Sovrum
State College, Pennsylvania, USA
Close to Beaver Stadium, the University Park Airport and all that Happy Valley has to offer, this two bedroom, with pull-out futon, kitchen, living room with cable TV and Internet provides everything you need for your stay in Happy Valley.
Quiet and tranquil space with walking trail to park, 2 miles from University Park airport, 4 miles from Penn State, and 6 miles from Victorian Bellefonte. Our apartment space has 2 bedrooms (both queen) plus queen futon, 1 handicapped bath with shower, full kitchen, large living area with TV, covered patio for meals with a view. The hosts live above this space so you will see us from time to time. Full kitchen with refrigerator, gas stove, dishes, pots and pans, bedding, and towels and cable TV and Internet. We will plan to be on the property when you arrive. If we are not able to, we will leave you a note on the door. Our neighborhood is a quiet, country setting with easy access to State College, Bellefonte, the University Park Airport and a park with walking trails, disc golf, and kid space. Currently, there is no public transportation, other than taxi service. However we are only 2 miles from the University Park Airport, where you can rent a car. Jimmy Johns Pizza does deliver.
Our neighborhood is a quiet, country setting with easy access to State College and Bellefonte. Walking access to the Berne Airport Park that has a little something for every age: playground, walking trail, disc golf, pickle ball and tennis courts.
Peggy and Bill's home is lovely. They are very gracious hosts- lots of details taken care of. Peggy's homemade bread was awesome. We've stayed here a number of times and love it. The downstairs apartment is always very clean and neat. The beds are very comfortable and two couples have plenty of room to spread out. We spent Sunday morning on the patio enjoying the tranquil scenery - a welcome respite after a full day tailgating.
John
2016-09-19T00:00:00Z
My family and one other family (each with a child under 1 year old) stayed here for Blue and White weekend. While the house is in a great country setting in Bellefonte, it is also a very quick drive to Beaver Stadium and campus. It was very comfortable with enough room for the kids to crawl around (though not child-proofed...not that we were expecting it to be). The placement of the two bedrooms was great for travel with small children. If one kid cried in one bedroom, then the other bedroom was far enough away to not wake up the other child. Our daughter loved watching a tractor go by in the field next to the house. This was a great place to stay to introduce two future Penn Staters to Happy Valley.
Kristen
2016-04-17T00:00:00Z
Peg and Bill were excellent hosts! They made us feel very welcome, even had a cinnamon coffee cake made for us and were helpful in answering any of our questions we had for them about the area. There is plenty of room for two couples or larger families in a home that is fully equipped with everything you could need. We look forward to our next stay here in the future. The outdoor patio is excellent to just sit outside and relax in a quiet area.
Kelly
2015-09-21T00:00:00Z
Excelent place, quiet and everything as indicated. Peggy and Bill are the perfect hosts.
Ernesto
2016-07-16T00:00:00Z
I am a frequent guest at Peggy's house, and that won't be changing anytime soon! Perfect house, amazing location.
Anthony
2016-10-03T00:00:00Z
Quick drive to downtown state college. Hosts were extremely friendly, but respected our privacy. Spacious basement apartment with separate entrance kitchen, etc.
Conor
2014-11-16T00:00:00Z
Peggy and her husband were excellent hosts! House was beautiful and is even nicer than the listing describes. Great location. I definitely plan on staying here again!
Anthony
2015-11-22T00:00:00Z
The apartment was even better than advertised. It had plenty of room for two couples who were up for a football weekend. The two bedrooms gave privacy, and you easily could sleep two additional guests on the futon in the living room. It was a very quiet and relaxing respite after a day of tailgating and the excitement of the game. The accommodations were very clean, and it comes with a beautiful mountain view. Peggy and Bill were super hosts. They made it very easy with arrangements before our stay as well as greeting us upon arrival. The coffee & teas, cold bottles of water in the refrigerator and fresh muffins were an extra treat. We'll definitely be returning for another stay.
John
2014-11-02T00:00:00Z
Typ av rum
Eget hus/egen lgh
---
Typ av boende
Lägenhet
---
Plats för
4
---
Sovrum
Bellefonte, Pennsylvania, USA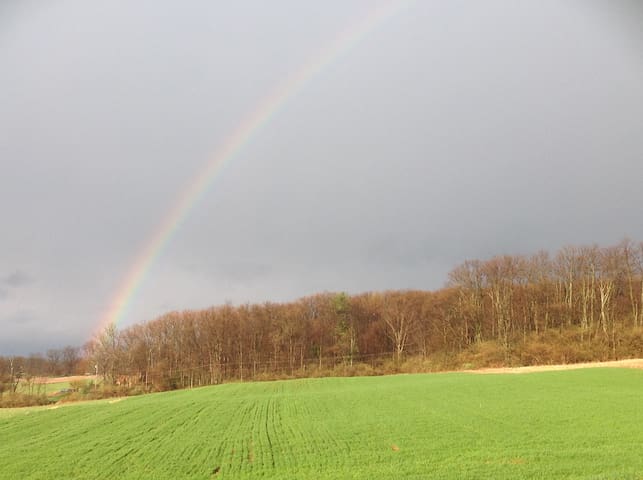 Virtural тур предоставляется по запросу. Мое место рядом с Penn State University, (Beaver Stadium и Bryce Jordan Center 3mi.) Mt. Посмотреть гольф-клуб, Tussey Mt. Ski Area, Rothrock Государственный лесной и исторический Boalsburg Village (1mi.) .. Вы будете любить свое место из-за удобное расположение, но частная полевое с полными удобствами и близких к центрам деятельности для Happy Valley. Мое место хорошо для пар, сольных авантюристов и деловых путешественников.
Этот коттедж полностью меблированы и доступны для выходных событий, или, возможно, короткий срок аренды в межсезонье. Пожалуйста, свяжитесь со мной для деталей.
Typ av rum
Eget hus/egen lgh
---
Typ av boende
Lägenhet
---
Plats för
2
---
Sovrum
Boalsburg, Pennsylvania, USA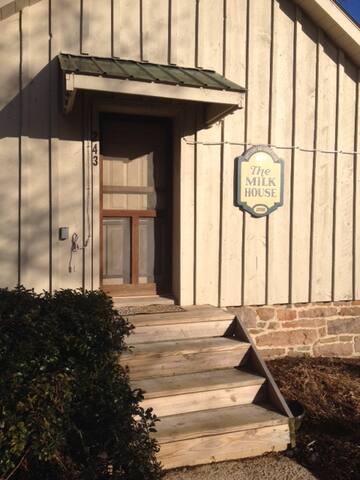 Stop what you are doing and go stay here! And if your travel plans don't include Hollidaysburg, PA, you could consider revising your travel plans! :) Seriously, this is what Airbnb at its best is all about. The space is private, well-appointed and unbelievably cute. After many days on the road, it was a delight to come 'home' to an exceedingly comfortable bed, a beautifully decorated space, and a variety of amenities including a Keurig with coffee and tea, and some goodies in the mini fridge. We had a great time chatting with our hosts and playing outside with their dog. Everything was perfect, and though it was merely a quick one-night stay, we wish it had been longer.
Maia
2016-08-24T00:00:00Z
The host canceled this reservation 3 days before arrival. This is an automated posting.
Barry
2016-09-30T00:00:00Z
Sweet little place to stay & wonderful hosts
Katharine
2016-11-13T00:00:00Z
Definitely a cozy place! In addition to the AC, there's also a ceiling fan, which was great for the summer evenings. The little fridge/freezer combo with a microwave and dishes was very convenient. The bed was soft and springy. Host provides excellent directions for finding the location.
Jennifer
2016-08-21T00:00:00Z
We loved it so much that we ended extending our stay .
Tami
2016-08-19T00:00:00Z
This place was cute and cozy! Perfect stop on the way back to Pittsburgh after a concert in state college. Coffee, bottled water and snacks were a nice bonus.
Douglas
2016-10-01T00:00:00Z
We absolutely Love this private Room !! It is beautiful!!!design in such a cozy comfortable and unique way . Very nice neighborhood with old fashioned home made cooking restaurants. Even though it is quite and surrounded with trees it is close to everything. You get both country side and excess to the city . Lora And Don are very nice friendly and respect privacy.
Tami
2016-08-18T00:00:00Z
The host was great to show us everything about the place. The stay was just what we needed. Quaint, clean, well appointed space with breakfast bars, coffee, tv, microwave and fridge. This is the perfect 'close to Penn State' place to stay.
Melinda
2016-10-23T00:00:00Z
Typ av rum
Eget rum
---
Typ av boende
Lägenhet
---
Plats för
2
---
Sovrum
HollidAysburg , Pennsylvania, USA
Our listing is for 1 private room (pictured) in a 2 bedroom apartment in a safe and beautiful neighborhood, perfect for couples, solo adventurers, business travelers, or families with kids. We are a friendly couple working at Penn State and love meeting new people from all walks of life. We also have a very friendly 2 yr old cat who will mostly be kept inside our room and will not cause any disturbance to our guests. Since we will be using the 2nd bedroom, we will be available during your stay.
You are more than welcome to use the TV, Kitchen, Dining area, Silverware, utensils etc. You can also help yourself by making coffee, that's placed in the kitchen. We also request to clean up the dishes and area after usage. We live very close to the CATA bus stop, there are around 3 bus stops next to Vairo Village. There are many buses that takes you to the Beaver Stadium and it is a better idea to take the bus than the car due to the parking situation.
Noel was wonderful! So easy to communicate with and went above and beyond to work with us on check in. Her home was clean and welcoming. It was the perfect temperature for sleeping and the bed was comfy. Would definitely recommend and would definitely stay again!
Renee
2016-11-06T00:00:00Z
Noel was very communicative and made every effort to accommodate our arrival time, and was a pleasant host. If you are looking for a simple room for a place to stay at night, it fits the bill. It is also fairly close to the highway if that matters.
David
2016-11-01T00:00:00Z
Noel's place is an excellent value and just as advertised. Excellent communication and comfort, and she and her husband are very kind people. A++++++ top AirBNBers.
Peter
2016-11-19T00:00:00Z
It was a great quiet experience. The room was looked just like the pictures and the bed was comfortable too! Overall great stay, Noel was very welcoming and friendly!
Cole
2016-11-05T00:00:00Z
The apartment was nice, in a quiet area, and we especially loved the two friendly cats. We had some trouble finding it, since the building says 215 on the street side and 217 on the other side. Make sure to get in touch beforehand and plan parking. This is a great place to stay, close to campus, with a nice shower and amenities. We'd be happy to stay there again!
Claire
2016-11-26T00:00:00Z
I really loved Noel and his wife's hospitality and kindness. I also loved their sweet cats' welcoming. They are so friendly. I also want to say that their apartment was clean and nice to stay during my stay.
Yumi
2017-03-18T00:00:00Z
Noel was very gracious and accommodated our late arrival. Bedroom and bathroom were clean and comfortable. Noel provided information on local restaurants and stores which we found very helpful. The location was very convenient to Penn State University, just as advertised.
Lisa
2017-01-08T00:00:00Z
Noel an Anjana are great! The place is nice, clean, and very comfortable :)
Mariama
2017-01-26T00:00:00Z
Typ av rum
Eget rum
---
Typ av boende
Lägenhet
---
Plats för
2
---
Sovrum
State College, Pennsylvania, USA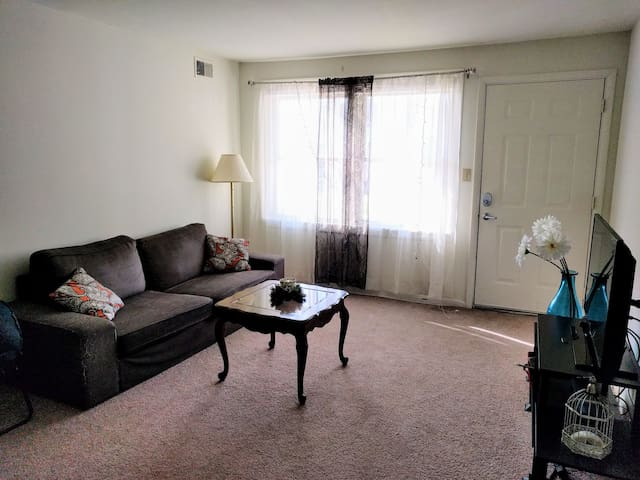 Cerca del hospital Geisinger-Lewistown y sólo 30 millas a State College, apartamento a través de una oficina tiene fácil acceso a la Ruta 322. Varios de comida rápida y agradable establecimientos de comida a poca / distancia de conducción fácil. un pequeño centro comercial y tiendas cercanas
El apartamento está en el segundo piso de una mitad de una casa doble. Hay una oficina en el primer piso y la escalera exterior de los apartamentos privados. Trasera 505 está a la izquierda después de haber subido los escalones. Totalmente amueblado, pequeña cocina en la cocina, dormitorio, baño, sala de estar.
A poca distancia de la comida rápida, un poco más lejos de buenos restaurantes. En la calle principal entre Lewistown y Burnham. Puede llegar a pie al hospital, fácil acceso a la Ruta 322.
We stayed at the apartment while visiting family for the holidays. We really enjoyed our stay. The apartment was clean and Chris was very responsive to our questions.
Kathy
2016-12-25T00:00:00Z
No frills but a clean and convenient location of you're passing through. Good friendly host too.
Matthew
2016-08-02T00:00:00Z
Chris was very helpful and communicated in advance with helpful info. The apartment was clean and tidy. And the bedroom was very spacious. Located near the highway and near many restaurants, it's in a great location.
Lauren
2016-08-08T00:00:00Z
Quaint apartment located in a quiet area. Excellent communication between the owner and myself. Would recommend to anyone!
Rachael
2016-11-06T00:00:00Z
Wonderful place to stay. This place was very convenient for anyone needing to stay overnights near the Geisinger - Lewistown hospital.
Desiree
2017-02-10T00:00:00Z
This is a wonderful location for what I needed. It's located on a very busy street which tends to get loud at times, but was well worth the price!
Desiree
2017-03-03T00:00:00Z
Our stay here was short . We only slept there and had no personal interaction with the owner.
Barbara
2017-02-12T00:00:00Z
This apt perfectly suited my needs. I wasn't looking for something upscale and pricey, but basic and simple. I couldn't have asked for a better place to stay and Chris has been beyond helpful and accommodating! Would definitely recommend this apt and Chris!
Desiree
2017-02-18T00:00:00Z
Typ av rum
Eget hus/egen lgh
---
Typ av boende
Lägenhet
---
Plats för
3
---
Sovrum
Lewistown, Pennsylvania, USA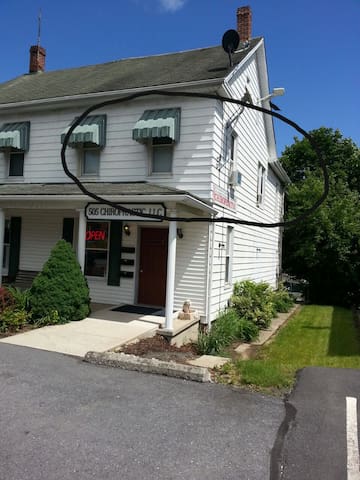 What could be better than a nice and cheap apartment right in Downtown?! Our listing is for one comfortable queen size airbed. Our place is 30 seconds from Penn State University and 1 minute from the bus station. It is also very close to restaurants and dining and nightlife. You'll love it because of the outdoors space and the nice neighborhood. It's perfect for Penn State football/hockey games!
Cristina is great. Excellent communication and instructions all the way through. Her and Gav had to leave last minute yet still allowed me to stay at their place. It was comfortable and as described. Thanks Cristina.
Jesse
2017-02-23T00:00:00Z
Nice clean place. Cristina is so kind clever girl. Enjoy being with them. Thanks.
Maggie
2017-03-15T00:00:00Z
the apartment was just as described, Cristina and Gavin were very friendly and easy-going. A pleasant stay.
Mike
2017-03-25T00:00:00Z
Cristina and Gavin are a beautiful couple who are wonderful hosts. Their place is tastefully decorated, and it is right in the downtown. It is definitely worth the price and the ambience of the hosts make it worth to stay for more than a day. The place is much better than it looks in the pictures.
Vrushti
2017-02-14T00:00:00Z
Perfect place, really cheap price. Cristina and her husband Gavin are really nice. I strongly recommend this place for single traveler.
Jerry
2017-02-18T00:00:00Z
Great place to stay. Christina and Gavin are so welcoming into their home. We had our first airbnb experience here and it was great. The location is great since it is right downtown they are truly great people . I have no complaints and I wish I could give them 10 stars for all of their ratings. If you are interested in checking them out don't consider anywhere else because this is the place for you wether it's is by yourself or a couple looking to enjoy state college this is a great home and people. Hope you enjoy.
David
2017-02-26T00:00:00Z
Good stay - Cristina was very polite and helpful.
Jack
2017-03-05T00:00:00Z
Cristina and Gavin are so friendly and helpful, and their place is super nice. I'd love to stay with them again:)
Lei
2017-02-04T00:00:00Z
Typ av rum
Delat rum
---
Typ av boende
Lägenhet
---
Plats för
2
---
Sovrum
State College, Pennsylvania, USA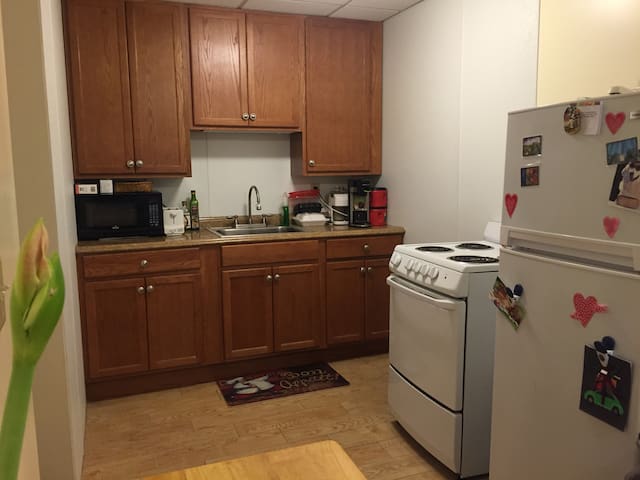 Spacious, private apartment, 1 mile from downtown, campus, Beaver Stadium, and more. On bus route. Lots of art & culture, hiking & outdoor activities, shopping & theaters a short drive away. Non-football or event weeknights: $125.00/night and weekends: $150.00/night. Football, graduation, and other special event nights/weekends: $350.00/night. Each room sleeps a maximum of 2 people. We're open to special requests and can be flexible -- if you have a particular need, let's talk!
A separate entrance will take you to this hidden gem with 2 private bedrooms, each with a comfortable queen-sized bed. Linens and towels (and coffee & tea!) provided for each guest. Living room, full kitchen (oven, fridge, microwave, toaster, coffeemaker, dishes, utensils, pots & pans included), and a bathroom equipped with a shower are all yours as well.
This is a beautiful, tree-lined street, walkable, bike-ridable, and on a bus route.
Jen was a terrific host and communicator. She also enhanced the stay by providing a bowl of fresh laid eggs and fruit.
Craig
2017-03-26T00:00:00Z
Fresh eggs laid by family hens were a nice treat.
mary
2017-04-02T00:00:00Z
房间还不错,性价比高,离市中心稍远
wenyun
2017-02-05T00:00:00Z
Very close to campus and downtown state college. Easy access down the street to the local bus line. And a short drive to beaver stadium. Very friendly and accommodating. We really enjoyed our weekend!
Brigid
2016-11-06T00:00:00Z
This cozy apartment was exactly what we were hoping for during our weekend in State College! The two bedrooms were large and comfortably slept 4 adults. Very clean and stocked with dishes, utensils, and linens upon arrival. Perfect location, only a few minutes drive to downtown State College and Beaver Stadium in a charming, quiet neighborhood. Hosts were easy to contact and communicate with, and left clear instructions that made check-in and check-out simple and hassle-free. Would absolutely book again!
Jessica
2016-11-27T00:00:00Z
Jenn was a great host. Easy to move in and out. Everything you need is there. Clean and comfortable space.
John
2017-03-07T00:00:00Z
Typ av rum
Eget hus/egen lgh
---
Typ av boende
Lägenhet
---
Plats för
4
---
Sovrum
State College, Pennsylvania, USA
Beautiful studio. Maximum of two guests. Full kitchen, private entrance, private bath. Free parking for one car. No smoking, no pets, no parties. Free wi-fi. Washer/Dryer in main house. Can walk to Penn State. Next to shopping plaza. Great location!
Actually an add on to our quaint little house, everything is spanking new.
Quiet yet close to shops, restaurants, parks, etc
Really nice place. The apartment is is a independent unit, great privacy and quiet neighborhood. Desmond keeps this place clean and tidy. Fruits, drinks and shower things are provided, very helpful for a rush travel. This stay my best aribnb experience. Will definitely choose here on my next visit.
Kenan
2015-11-03T00:00:00Z
When I arrived, my host was very welcoming. I found the accommodations lovely, cozy and warm. The location is quiet and very convenient.
David
2016-04-07T00:00:00Z
Desmond Folayan is so kind and prepared well breakfast for us, the room is very clean, comfortable and decorated. it's close to the supermarket and bus stop, it's very convenient to visit state college, a wonderful and beautiful town.
bateer
2015-10-16T00:00:00Z
I thoroughly enjoyed my stay! The "apartment" was spacious, clean, cozy and very comfortable. It was indeed close to everything! Emma and Desmond are just lovely! I would definitely recommend staying here if you visit State College.
Cheryl
2016-02-06T00:00:00Z
The room was clean, and exactly as expected. Emma was very good at communicating via email. I would have liked it to be closer to college Ave.
Leslie
2016-04-03T00:00:00Z
Now I know why her listing is hard to come by. Emma was an amazing host! She was very accommodating and the space was very welcoming. We didn't have a place to stay the next night but she even tried to help us find one when she didn't have too. I am thankful that I was able to meet such an amazing host with Airbnb. I would rent from her again in an instant!
Ruby
2016-09-16T00:00:00Z
Very nice studio and convenient to everything. Emma has made it very easy to check in and out at your leisure. The bed is very comfortable and the room cozy considering it snowed while I was there.
Barry
2016-04-09T00:00:00Z
We were there for a Penn State football game. Very convenient location. The room was immaculate. High standard to detail and very well done. I would recommend this to anyone who wants a comfortable place to stay with the convenience of a private room and kitchen and easy access to the university. My compliments to Desmond.
kristen
2015-11-01T00:00:00Z
Typ av rum
Eget hus/egen lgh
---
Typ av boende
Lägenhet
---
Plats för
2
---
Sovrum
State College, Pennsylvania, USA
这不只是一个房间。阅读上市。价格包括税。 私人入口;街边停车位。你一定会喜欢您的隐私和空间,同时参观。 我们欢迎夫妇,独奏冒险家,及商务旅客。 5分钟到圣弗朗西斯大学,1分钟万吨谢孝衍,15分钟到阿尔图纳,45分钟到州立学院和75分钟匹兹堡。 石润ATV公园,太子Gallitzin国家公园,宾夕法尼亚州立大学阿尔图纳和蓝色旋钮滑雪场在1/2小时的车程。
我的价格含税费。你有你自己的空间,舒适的包括客厅,卧室,浴室和设备齐全的厨房。
我们的主要道路,并在一个非常安静的街区。我们是一家"培训友好"镇;因此列车爱好者热爱我们的区域。一些网站的访问,同时在该地区:马蹄曲线,柠檬府(阿勒格尼波蒂奇铁路),王子Gallitzin国家公园,约翰斯敦斜面和洪水博物馆,剧院米什勒阿尔图纳,PA
Visit to Mary's house is fairly tale. It is straight out of a fairly book. House gives a very warm feeling, has pretty much every thing in place and done very tastefully and cleanliness is everywhere. It was a wonderful experience to spend a day with Family in this house.
SUNIL
2016-09-18T00:00:00Z
Mary's place was even nicer than described. Easy to find. Ample parking. Beautifully decorated outside and inside. Clean as a whistle and comfortable throughout. Easy to access the private accommodations. Very comfortable Queen sized bed. Comfortable couch and cable TV in living room. The kitchen had enough supplies so that I was able to heat up leftovers and wash the dishes with the amenities provided. Quiet area but easy to access nearby stores and restaurants. We stayed in the area to attend an event. We decided to go to two nearby attractions:Prince Gallitzin Park and the famous Horseshoe Curve after our stay. Mary was very accommodating, pleasant and a delight to meet. We had the chance to meet her husband also as we were leaving and they both treated us like family. We would gladly stay here again in the future.
Barb
2016-10-16T00:00:00Z
This was a wonderful space - a spacious bedroom and comfortable bed plus a whole living room space. Mary was in touch with me prior to my arrival and made sure I had the code to get in. The off street parking area was roomy. Mary was very welcoming and I enjoyed my short stay.
Richard & Cathy
2016-11-17T00:00:00Z
Typ av rum
Eget hus/egen lgh
---
Typ av boende
Lägenhet
---
Plats för
2
---
Sovrum
Cresson, Pennsylvania, USA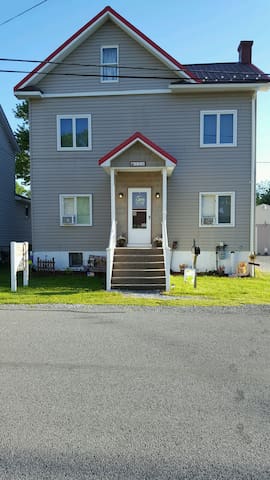 Beautiful location and lovely accommodation. Very clean, large and airy and every need thought of and supplied if needed. We had a lovely stay.
Rob Estella
2016-10-23T00:00:00Z
We had such a supporting and caring experience with them as we struggled through flight delays. Thank you guys for being you! Truly incredible hosts.
Andrea
2016-01-17T00:00:00Z
My husband and I were a bit apprehensive about this process but Lori and Anthony eased our kinds and were wonderful!! They answered our (many) questions, were extremely attentive and very welcoming, all while taking care of a brand new baby. We cannot wait to come back to their property. We were so inspired by the simplicity and beauty of the design of the home. I am pretty sure that was the most comfortable bed I have ever stayed in and ALL of the snacks delicious and complimentary items were well thought out. Great going you guys:)
Kelly
2016-04-05T00:00:00Z
My boyfriend and I decided to do a spontaneous trip to State College and we found Anthony and Lori's listing. We were so happy with it! Their place was super clean and cozy. It was the perfect amount of space for us and the secluded location was very quiet and relaxing. Lori and Anthony are very friendly and welcoming. We will definitely be back!
Kristin
2017-02-19T00:00:00Z
Lori and Anthony were most welcoming. Their e-mails and texts, preceded their warm welcome upon our arrival. The apt. was as described and shown via their link, and it was perfect for us. The apt. was quiet, clean, the bed was very comfortable. They made every effort to make our stay feel like we were home. Without hesitation, we will return. Thank you, Lori and Anthony!!
Catherine
2016-04-17T00:00:00Z
My wife and I were traveling for business over the weekend and booked Anthony & Lori's loft for our two night stay. We were extremely satisfied with the experience from beginning to end! The room was clean and spacious, inviting and cozy. Lori's communication before and during the stay was so reassuring in knowing that we were in good hands. I had mentioned to her in an email earlier that this was also our 6th anniversary and when we got there she had a bag of truffles along with a note wishing us a happy anniversary. A very kind and thoughtful surprise! On the way home after checking out we both talked about how much we loved our experience and the environment of their room. If you are looking for lodging in the State College area you should book this one! I know we will next time!
Jeffrey
2016-05-30T00:00:00Z
So impressed with all the small details and treats... Way better than a hotel... Would definately come back again!
Michael
2016-05-23T00:00:00Z
As before, my stay was excellent. It feels like home away from home. Many thanks to Lori and Anthony for allowing me to stay at their wonderful apartment.
Catherine
2016-07-17T00:00:00Z
Typ av rum
Eget hus/egen lgh
---
Typ av boende
Lägenhet
---
Plats för
3
---
Sovrum
Pennsylvania Furnace, Pennsylvania, USA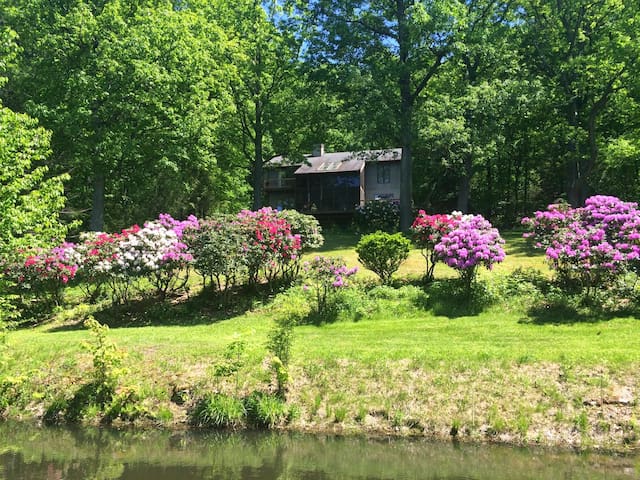 金宾馆是客人是商务或休闲的区域短期租住私人楼宇的替代品。欧陆式早餐。
可用停车充沛 游乐场为孩子们在围栏码 交通便利,靠近约翰斯敦和Somerset景点
Great host. Very responsive to questions. Small but very clean and quaint guest home. I would highly recommend. Continental breakfast was a nice touch. Thank you!
bill
2017-04-02T00:00:00Z
Typ av rum
Eget hus/egen lgh
---
Typ av boende
Lägenhet
---
Plats för
6
---
Sovrum
Johnstown, Pennsylvania, USA
My place is close to Downtown Chambersburg. You'll love my place because of the location. It is only a short distance from Caledonia State park and the Gettysburg Battle Field. My place is good for couples, solo adventurers, and business travelers.
Jordan and his apartment were great! He was very friendly and accommodating. He waited up for us even though we came in late both nights, even coming out to help us locate the apt when we first arrived. The room was very spacious and clean. The bed was comfortable and the private bathroom was a great plus. Perfect stay for our trip to Uprise Festival. Would definitely stay again.
Mark
2016-09-18T00:00:00Z
Clean, straightforward, and inexpensive. I would certainly stay here again.
Mark
2016-07-10T00:00:00Z
Jordan was very welcoming. He went out for the evening and he invited us to use his place freely, which we did.
Erwin
2016-08-13T00:00:00Z
Jordan is friendly and accommodating. The apartment was very clean and the bedroom roomy. There's a refillable Keurig cup for making your own coffee and a kettle for tea, so we were able to make our own coffee and tea. He offered the password to his internet so I could check messages on my laptop. We were interested in having a quick night's sleep on a several day journey so we were in and out quickly and it was just what we were looking for!
Vicki
2016-06-29T00:00:00Z
He was accessible staying up when we arrived after dinner. Interesting to talk to & made us feel welcome. Locating the apartment building was difficult & we did not know the apartment number.
Barbara
2016-08-07T00:00:00Z
Jordan was amazing!!! Stay here!! It is a nice clean quiet and safe environment!!!
Matthew
2016-08-28T00:00:00Z
This listing is for a private room in a two bedroom apartment with a full bathroom (shower) across the hall. Use of kitchen privileges and TV/Internet. I was working in the Chambersburg area and Jordan's location was perfect. Easy parking. Jordan was there to greet me and offer any suggestions about the area. The room was just what any traveler needs: comfy bed, work desk, small fan. The Keuring brewer in the kitchen is a plus. I recommend this listing!
Tim
2016-06-11T00:00:00Z
We loved and enjoyed our stay at Jordon's place. It's affordable and clean, awesome experience and we will definitely stay with him again if we ever come back to the area. He treated us like their friends and making sure we have everything that we needed.
Eugene
2016-06-24T00:00:00Z
Typ av rum
Eget rum
---
Typ av boende
Lägenhet
---
Plats för
2
---
Sovrum
Chambersburg, Pennsylvania, USA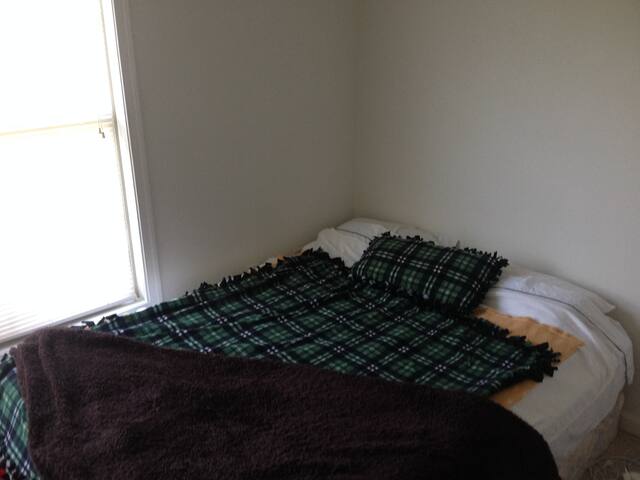 It is a 2 bedroom apartment. 1 room will be available for the weekend. Bathroom will be shared with another person (male). The space in the room is enough for two people and so is the bed.
It is exactly opposite to campus and next to a great Italian restaurant. It has various other exciting restaurants and shops in a 5 minute radius (walk) plus an art gallery under it.
Typ av rum
Eget rum
---
Typ av boende
Lägenhet
---
Plats för
2
---
Sovrum
State College, Pennsylvania, USA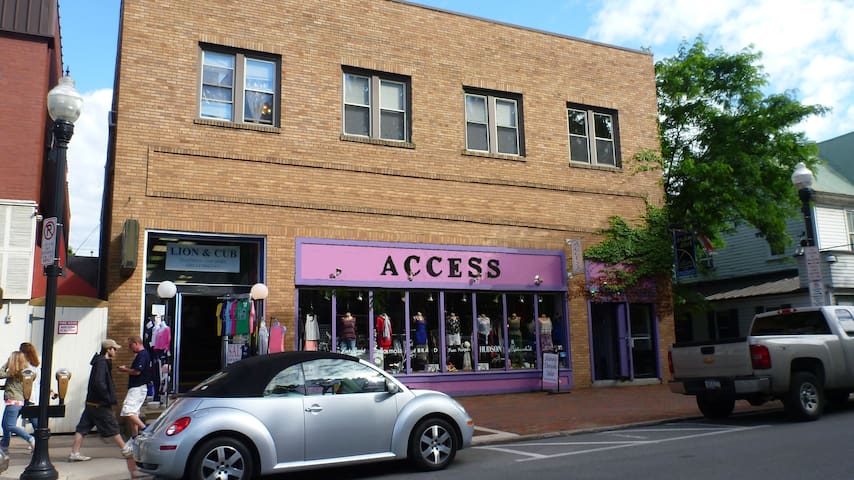 Charming 2 bedroom apartment attached to a Victorian home in the downtown historic Shippensburg. Private entrance and sitting porch. A 10 minute walk to Shippensburg University and 5 minute walk to local pubs, shops and restaurants.
Two bedroom apartment with 2 double beds and futon couch. Living room, breakfast nook and eat-in kitchen. The futon couch can easily fit 2 children but will be a little snug for 2 adults.
Great old building, Chelsea was a great communicator and her place is a rare find in an area without many AirBnB's.
Michael
2016-08-15T00:00:00Z
This was place fantastic! The moment we walked into the place, we could tell that Chelsea goes the extra mile to make your stay the best stay possible. There are two great bedrooms, a wonderful kitchen and a very cozy living room that complete the setting. I would highly recommend!
Tod
2016-06-10T00:00:00Z
Chelsea's place was perfect for our family of four. Lots of room and conveniently located to restaurants. Easy parking right outside the door. And it was just a quick hop over to Gettysburg in the morning. We'd recommend it without hesitation.
Lynne
2016-06-16T00:00:00Z
Very cute space. Tastefully decorated and comfy. The beds were good and it was very quite. The owners dogs were only heard a time or two. We didn't get to see her as she was away with work, but she was easy to communicate with and had made arrangements to have any needs taken care of. The kitchen was very functional even if not very large. It has the basics .. nothing fancy - but we cooked all our meals here with no issues. There is a cute little table to eat in the kitchen and a nice little nook overlooking the street that would seat 4 easily. There's a table on the porch overlooking the little side yard as well. Overall it was a very restful stay - her place is perfectly positioned to see some of the historical sites in Gettysburg and the surrounding areas. Or go over to Kings Gap for a hike through some really gorgeous country with spectacular views. We would stay again.
Ken
2017-04-02T00:00:00Z
Great little apartment (frankly, nicely surprised at the apartment being bigger than it looked to me in the pics) that more than adequately accommodated our brief stay. Everything was neat and clean, and communication was fantastic....highly recommend!
Ben
2016-12-27T00:00:00Z
My husband and I had a great stay in Shippensburg. The house was charming and comfortable. It had the idiosyncrasies you expect in an older Victorian house, such as shower temperature that fluctuates when someone else uses water. But that's part of the charm. We enjoyed being in the heart of town. We never did see our host dogs, and only heard them for short moments. We very much enjoyed the classic movie decor throughout the apartment, especially the Christmas bedroom. Glad we found this gem.
Gerri
2017-03-05T00:00:00Z
Chelsea's place is quaint and comfortable. We enjoyed being there.
Brandi
2016-09-11T00:00:00Z
Very clean and cozy place
joseph
2016-01-07T00:00:00Z
Typ av rum
Eget hus/egen lgh
---
Typ av boende
Lägenhet
---
Plats för
6
---
Sovrum
Shippensburg, Pennsylvania, USA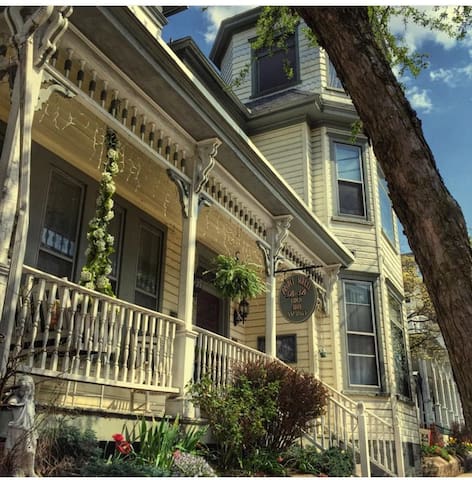 Walking distance to the Bryce Jordan Center, downtown SC, PSU campus, and grocery store. The apartment is all yours! The kitchen, bathroom and bedroom are fully furnished with everything you could need. Wifi, cable with HBO and off street parking also available. The apartment is on the first floor so it is wheelchair accessible. Discount available for week/month long stay. Available for summer sublet!
This apartment is in a safe and beautiful neighborhood, perfect for couples, solo adventurers, business travellers, or families with kids. You are more than welcome to use the TV, cookware, microwave, utensils etc. I ask that you clean up the dishes and area after use. I don't have a couch in the living room but there is a small reading chair and work desk. There is a flat screen TV in the living room and bedroom.
Typ av rum
Eget hus/egen lgh
---
Typ av boende
Lägenhet
---
Plats för
4
---
Sovrum
State College, Pennsylvania, USA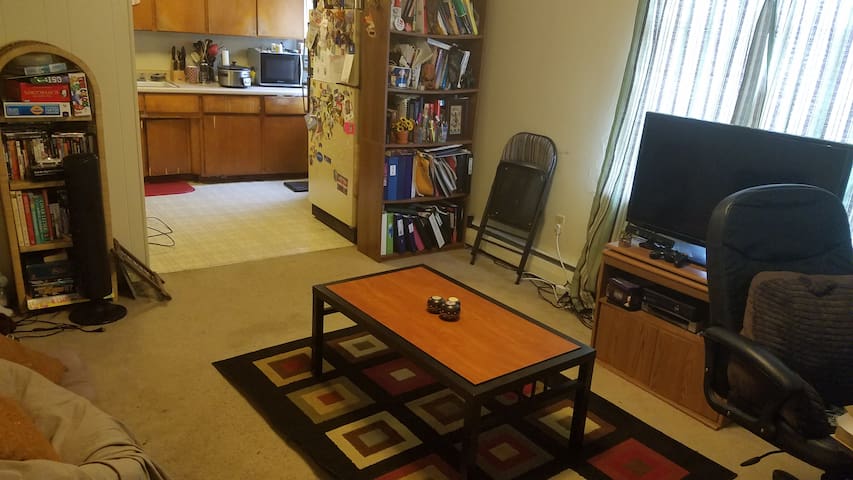 Historic 1-bedroom apartment located in the center of downtown State College--just blocks from the Penn State campus! Off-street, covered parking is included and a full-sized bed comfortably accommodates two. Flexible, 24-hour checkin/checkout.
My apartment is one of 15 located in a historic brick building near downtown State College. The building houses mainly graduate students and professionals (no undergraduates). The apartment features french doors leading into the living room and four large windows that bring in lots of natural light; there are also opaque blinds if you want to sleep in ;) Much of the apartment has hardwood flooring. While I only have a love seat and a recliner, there is plenty of space for an air mattress or cot if you wanted to bring one. I also have a private library of around 150 books; please feel free to look through them during your stay!
The apartment is centrally located, just two blocks from downtown, and a 10-15 minute walk to campus. Bars, dozens of restaurants, a grocery store, and several coffee shops are all within walking distance. There is also a laundromat just across the street if you need one.
Connie replied quickly and told me exactly how to get into her apartment. It was clean, well kept and I enjoyed staying there. It was nice to have a parking space too, anyone who has been the State College knows that sometimes parking can be an issue. I would recommend this place to anyone who needs a reasonably priced place in State College.
Dane
2015-12-13T00:00:00Z
Exactly as described with easy access and promised available covered parking spot. Key was easy to locate and the apt was clean and ready with fresh sheets and towels. Location was great for our needs. Warm and cozy. We also appreciated the WiFi login.
Jessica
2015-10-03T00:00:00Z
The apartment was great! In town to visit friends, it was right downtown and close to where we needed to go. Covered parking was great, and her apartment was clean and cozy.
Jordan
2015-11-27T00:00:00Z
Cute, comfortable and clean are exactly how I would describe Connie's place! The fresh towels and soap were a nice touch. The entire space was very clean, the parking was perfect -- just what we needed for a quick stop in State College. Connie was very flexible with check in and check out and remained in touch throughout our stay. She even had the place ready for us earlier than expected! One note - the A/C unit only cools the space to an extent. We were comfortable but I can imagine it would be hot in the apartment throughout the June-August season. Nothing that Connie can change about this - it is an older building and she provides the A/C unit for guest use - just something to be aware of if you book during the summer. Thank you, Connie, for a lovely stay!
Liz
2016-05-31T00:00:00Z
State College may not be a big tourist destination, at least not until the football season. So, it makes sense there are few options for lodging, outside of the standard hotel/motel. But if you want to stay central (and avoid the hotel prices), this is a good option. Upside: location - walkable to campus and the "downtown;" bed was comfortable; price is great; clean Downside: the pictures make it look better than it is - it's a college apartment; and while the apartment was clean, the bathtub was not (benefit of the doubt here, perhaps the tub is permanently stained, badly...either way, it's slightly disconcerting); the kitchen is probably too limited to do much cooking. And completely outside of Connie's control (but worth mentioning for a competent review) is the dingy building this unit is located in - with the halls smelling of smoke, both tobacco and weed (but you can't smell either once within the unit). Connie was attentive and flexible on timing of arrival and departure.
Micah
2014-03-17T00:00:00Z
This is an awesome apartment. It was ideal for my son and I to stay. It is tastefully appointed. The apartment is in the Historic District off Pugh Street in State College, PA. It is right in the middle of downtown State College, PA. This apartment is very close to all downtown locations - restaurants, bars, pubs, Berkey Creamery, etc.
Anil
2014-07-09T00:00:00Z
I always stay at Connie's airbnb whenever I'm visiting State College. Her place is clean, comfortable and in a great location downtown!
Aisling
2015-06-18T00:00:00Z
Connie's apartment was extraordinary clean and spectacular! It was everything she said it was! It's in a fantastic location! Within walking distance of everything and more that you could want to do in State College! She was a fantastic, and extremely well prepared host! Thanks!
Aileen
2016-02-07T00:00:00Z
Typ av rum
Eget hus/egen lgh
---
Typ av boende
Lägenhet
---
Plats för
2
---
Sovrum
State College, Pennsylvania, USA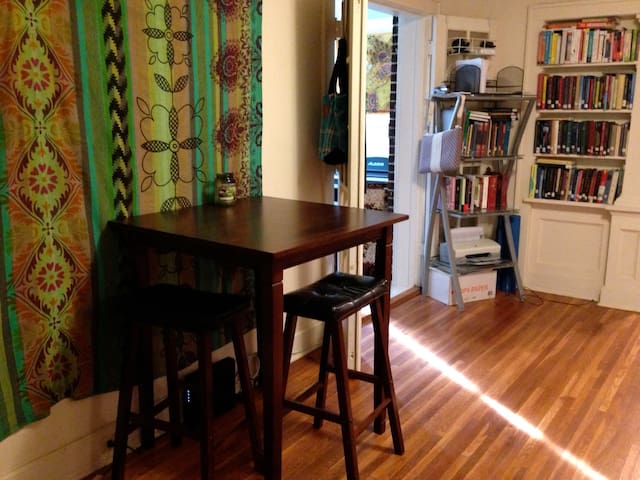 Enjoy an entire private third floor renovated apartment in a Civil War era building right in downtown Chambersburg. Spacious apartment with four bedrooms (two furnished), hardwood floors, full kitchen, on site laundry (coin operated), individually controlled heat and A/C, internet, TV, and all the comforts of home. Lock box for easy self-checking.
IMPORTANT: A valid, unexpired photo ID is required for check in. The ID must match the name on the reservation. A copy of the ID will be made. Prior issues with Airbnb have taught us that there can be no exceptions to this policy. No ID, no accommodation.
Typ av rum
Eget hus/egen lgh
---
Typ av boende
Lägenhet
---
Plats för
4
---
Sovrum
Chambersburg, Pennsylvania, USA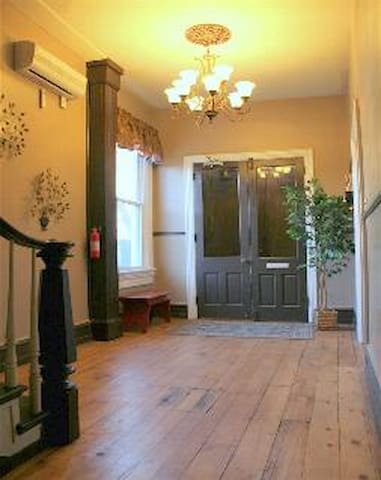 1

–

18

av

128 Uthyrningar av lägenheter
Ange datum för att se full prissättning. Ytterligare avgifter tillkommer. Skatter kan tillkomma.