10 Uthyrningar av lägenheter
My place is close to Everglades National Park, Key Largo, . You'll love my place because of the sunsets in the Redlands and close proximity to many attractions.
Comfortable and cozy country living.
Living in an agriculture area provides many places to attain fresh fruit. Winery near home to enjoy wines made from the local fruits.
Our hosts was wonderful and so very friendly and helpful with directions and recommendations on places to eat. They were very flexible when it came to us having to extend our stay. The cottage was very neat and clean, very welcoming for weary travelers. I wish I could have spent more time there, and plan on staying with them again!
Debbie
2016-08-13T00:00:00Z
Angela's place was great. It was located amongst a ton of farms and nurseries. There was plenty to explore around the neighborhood and our first night there she brought us carrots to feed her horses! We had brought our dog along and she made us feel very comfortable with having him there. Everything we needed was there, even extra toiletries in case we forgot anything. Her location was great and we were able to visit the Everglades, Coral Castle, The Fruit and Spice Park, and Miami easily in the few days that we visited.
David
2016-12-17T00:00:00Z
Angela was the best host! She was kind enough to make the Cottage available to us late in the evening as we had to attend a wedding! We were so please with the cleanliness and homeliness of the space. Angela went above and beyond for us with a delicious Omlette in the morning and just being to make our stay pleasant! She even sent us home with delicious Mangos! We will be back! Thank you!
Shanik
2016-08-01T00:00:00Z
Typ av rum
Eget rum
---
Typ av boende
Lägenhet
---
Plats för
2
---
Sovrum
Homestead, Florida 33031, USA
This beautiful 1,100 sq ft, 2-bedroom condo is available in an elegant, resort-style community in E. Mesa. This is a fully furnished unit with a well equipped kitchen all cookware is included as are the dishwasher, microwave, garbage disposal and ice-maker. The dining area (with table linens, dinnerware and flatware) seats four to six, The master suite has a king bed (including bed linens) and a huge walk in closet, the guest room has 2 twin beds (linens included).
Typ av rum
Eget hus/egen lgh
---
Typ av boende
Lägenhet
---
Plats för
1
---
Sovrum
Homestead, Florida 33031, USA
Very comfortable apartment with all the extras you will need. You will enjoy our ever green avocado grove, nice, lovely peaceful place where you will fall in love with nature. You also can enjoy fruits from our organic orchard (in season).
You will enjoy of our ever green avocado grove, nice, lovely peaceful place where you will fall in love with nature. Private. You have the entire apartment for you and your family. There is no sharing. Comfortable three beds and two very comfortable sleeping sofas. All warmly decorated with a beach theme and very well-lit apartment.
Secure and private, quiet rural nice neighborhood. Located close to top destinations, including, Everglades Nat'l' park, Florida Keys, Biscayne National Park and Nascar Miami Speedway. Schnebly's winery, beaches
Ninfa met me the day i got there with a fruit basket and was very welcoming. Ninfa and Noah are very nice people and left me alone as well, unless I needed something they were very unobtrusive.
Ryan
2017-01-02T00:00:00Z
The room is clean and nice and spacious for 5 - 6 people.
Hejun
2016-01-05T00:00:00Z
Ninfa & Noah are warm, welcoming people. They are experts at little attentions, like giving you a taste of the fruits that are growing around the area. The apartment is cozy, just perfect to ease off after a long day of touring and visiting. Ninfa and Noah are ready to answer every question you have about the area; do not hesitate to take them up on their recommendations: the fruit and spice park was a great experience! The mamey shakes were pretty awesome, too! If you are looking into doing a little bit of everything the State of Florida (especially the south end) has to offer, this is the perfect spot to go around and do it all: a little Miami Beach action, the Everglades, the Keys, t's all conveniently nearby. Furthermore, the location allows you to go around the toll-free routes very easily. You just have to be a little more adventurous and be willing to spend just a little more time on the road. Thank you! We shall definitely return!
David
2015-03-14T00:00:00Z
We enjoyed two lovely nights in Noah and Ninfa' apartment. It is very comfy, clean and well equipped. It is also very well situated close to the alligators farms and the Everglades Park's entrance. Noah and Ninfa welcomed us nicely and even offered us fruits grown in their garden. We recommend their place.
Ludivine
2016-05-29T00:00:00Z
L'accueil de Noah et Ninfa a été excellent. Ils nous ont très bien conseillé sur les choses à visiter autour. La maison est idéalement située pour visiter les everglades et les keys. Nous avons trouvé la maison très propre, assez grance pour 5, avec l'essentiel à disposition, ainsi que le wifi. Pas de lave-vaisselle, mais ce n'est pas vraiment un problème. L'environnement est très calme, le supermarché à 5 minutes en voiture.
Didier
2016-04-27T00:00:00Z
Nice comfortable place very centrally located. Mere minutes to the winery/brewery the best nightlife in the area. Close to the Krome avenue nurseries and fruit stands. Very close to the Fruit and Spice Park. Super close to the Everglades. The entire apartment looked so nice with a seashore theme. Nice comfy bed. Kitchen. Wifi. TV. I totally recommend staying here.
Jason
2017-02-01T00:00:00Z
Great Appartment in the middle of the nature. Very clean and equipped with everything we needed. Ninfa was a great and very kind host and helped us planning our next day trip. She also gave us fresh fruit when we showed up. Highly recommended place to stay!
Florian
2014-11-08T00:00:00Z
It's a wonderful place to stay and makes you feel at home.
Chia Pang
2015-01-03T00:00:00Z
Typ av rum
Eget hus/egen lgh
---
Typ av boende
Lägenhet
---
Plats för
6
---
Sovrum
Homestead, Florida 33030, USA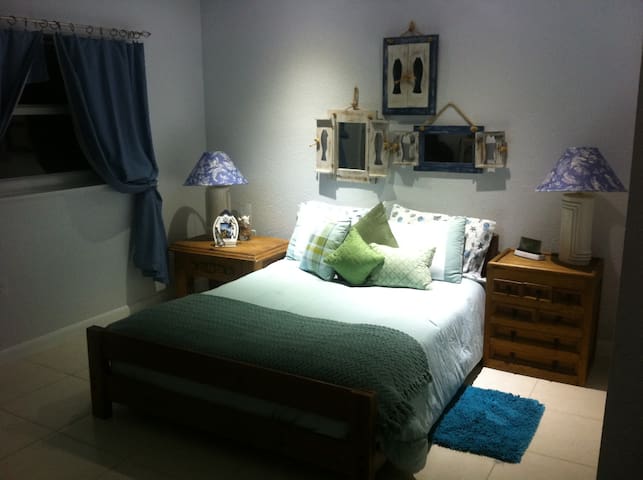 My place is close to parks. You'll love our place because of the comfy bed and the coziness. The room is good for couples and solo adventurers. We are 5 Minutes walk to Coral Castle and 5 Minutes away from the main HWY to South Beach and other main attractions Miami has to offer. 25 Minutes Drive to the Everglades national Park.
The Private Room Is very spacious, access to the closet and Draw Space, Including your own safe. Also a big comfy chair in the room
The neighborhood is a quiet and safe working class area located in a gated community . The Main attraction is Coral Castle which was made by hand by one man. Also the area is know for some of the Best BBQ in the Country. We have Schnebly Redland's Winery & Brewery which is only 7 Minutes away
Our Stay was amazing would definitely book again . They were nicest people ever , made me and mom feel right at home . 5 star service very close to highways and good food . Most comfortable bed I ever slept in .thank you guys again for everything
Allison
2017-01-10T00:00:00Z
Our stay with Randall and Ricky was perfect! We were super appreciative with their flexibility for our arrival as our plans changed the day of arrival. The room and apartment were so charming - I loved all of the Christmas decor! We were taken care of from start to finish, with recommendations on local restaurants and tips for our remaining travels. I would highly recommend staying with these wonderful gentlemen - you won't regret it!
Leah
2016-12-22T00:00:00Z
I'd recommend Randall's place, the room is super cosy with a comfy bed, and it's close to Everglades NP and good places to eat.
Sanne
2016-11-21T00:00:00Z
Perfect stay. Randall is a great host and made our stay nice
Thomas
2017-02-14T00:00:00Z
Très bel appartement. Les hôtes sont très gentils et agréables. Je recommande.
Amélie
2017-02-13T00:00:00Z
These guys were amazing ... check in was easy and Randall was very responsive and I felt at home the minute I saw the room. Cozy place after a long day at the !!!!
Jaswanthi
2016-12-14T00:00:00Z
I had such a great experience staying at Randall and Ricky's place. Their communication with me before I got there was amazing. I felt very welcome in their home. The hosts were a wealth of information and had many great recommendations for food and activities in the area. The room that I stayed in, the Travel Room, was gorgeous, and honestly it was the most comfortable bed I have ever slept in. The location was perfect, it was equidistant to both the Keys, and South Beach. My only regret is that I did not have enough time that I could have spent with the hosts. I highly recommend staying here! I know I will be back.
Christopher
2016-11-07T00:00:00Z
Randall was pleasant and welcomed us inside his home. The bed was very comfortable. We came for the Homestead Speedway Sprint Cup Nascar Champ - Randall's place is conveniently located from the track. Thanks Randall!
Lily
2016-11-21T00:00:00Z
Typ av rum
Eget rum
---
Typ av boende
Lägenhet
---
Plats för
2
---
Sovrum
Homestead, Florida, USA
Close to the Keys and two major parks. A hop on the turnpike to great shopping in more upscale areas and about 45 minutes to Coral Gables, and Coconut Grove. Close to shopping and plenty of eateries, though you can always cook at home.
Typ av rum
Eget hus/egen lgh
---
Typ av boende
Lägenhet
---
Plats för
3
---
Sovrum
Homestead, Florida 33033, USA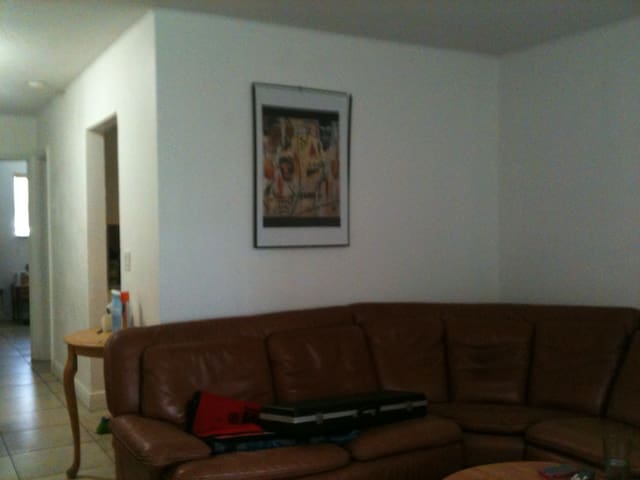 My place is good for couples, solo adventurers, business travellers, and families (with kids).
Typ av rum
Eget hus/egen lgh
---
Typ av boende
Lägenhet
---
Plats för
5
---
Sovrum
Florida City, Florida, USA
Halfway between Miami and the Florida Keys, 20 minutes from the racetrack, this quiet apartment sits on a fenced acre in the Redlands. Lush and tropical, it's a true escape from city life. A great place to come home to after Fl. adventures!
Located in the Andersons' Corner historic part of the Redlands, this quaint private apartment sits behind the big house on a fenced private acre. A comfortable fit for 2 people, arrangements can be made for up to 5 with the pull out sleeper sofa in the living room and a provided folding bed. There's a separate bedroom, bathroom, kitchen and all housewares to make this your home away from home while you explore Miami, the Everglades & the Florida Keys.
This is a great place to go for an early morning walk or run. If you ride bikes, the scenery is beautiful and diverse as well. You can rent horses nearby. If you come in the winter, the famous Knaus Berry Farm is walking distance. Pick up some delicious hot sticky buns & pick fresh strawberries.
We spent two days exploring Florida keys but because it is expensive to stay there, we looked for a place in Homestead where it was accessible to Florida Keys. Helen's house was perfect for our trip! It was spacious, clean and quiet. Helen is a wonderful and generous host. We thoroughly enjoyed our stay and highly recommend fellow travelers to consider staying here. The house is also accessible to the Everglades and perfect for exploring these areas. We would certainly consider staying here again :)
Janice
2016-01-06T00:00:00Z
Larry and Helen were wonderful hosts! Upon arriving to Homestead, they were very accomodating and welcoming. Larry gave us a tour and even shared some favorites of things to do in the area. The rental itself is a seperate home behind their home (mother-in-law suite). It was perfect for my fiancé and I's almost week-long stay. The kitchen was well-equipped for cooking, and Larry provides us with yummy breakfast items for our stay. The bed is queen-sized and very comfy, making it difficult to get up some days! The bathroom is connected to the bedroom, and has a standard sized shower. The most beautiful and priceless part about this rental is the view and sunsets. This area is located in between groves of lushes tropical trees. If you want a place to melt away your stress, this is it. Be sure to bring a camera and take pictures around sunset time. Thank you, Larry, for making our stay unforgettable. Your kindness and hosting was unlike any other. PS- we got engaged on this trip! :-)
Mariana
2016-07-25T00:00:00Z
Très belle habitation personne très accueillantes et a l'écoute nous avons passez 2 semaines superbes dans l'habitation très belle maison très beau jardin possibilité de garer la voiture en toute sécurité dans le jardin je recommande vivement cette maison
djamel
2015-03-24T00:00:00Z
Hosts were very nice. Just as advertised. Quiet area and good location for explorations of National Park
Mark
2017-01-30T00:00:00Z
Das "Private & Safe Redland Apartment" von Helen und Larry war für sechs Nächte unser Zuhause. Die Unterkunft war sauber, bequem und entsprach der Beschreibung. Hervorzuheben ist vor allem die gute Lage, die es uns ermöglichte sowohl Miami als auch den Everglades Nationalpark sowie die Keys zu erkunden. Die Gastgeber, Helen und Larry, sind nett und zuvorkommend. Auch die Kommunikation im Vorfeld war glasklar und vor allem schnell. A short summary in English: The "Private & Safe Redland Apartment" was a clean and comfortable home for six nights. It is well located in order to explore Miami, the Everglades and the Keys. Helen and Larry, not to forget their two cute dogs, are friendly and obliging hosts. We particularly appreciated the breakfast starter kit provided by Helen.
Benedikt
2015-06-15T00:00:00Z
This is a wonderful cottage right in the middle of the Redlands. We've stayed many places and this is the best place ever. The cottage is delightful and the Big screen TV with NetFlix movies was a real treat. Larry and Helen are awesome hosts and we felt very much at home during our ustay. Within very easy driving distance we found many wonderful restaurants, especially Black Point and Pollo Tropical. Everglades National Park and Biscayne National Park were two of our favorite places to visit. Helen also made it possible for us to purchase fresh organic produce without ever leaving our yard. We were there for one month and hated to leave. If you are looking for a great place to stay we highly recommend this place and the two awesome people who run it. Thanks Helen and Larry for a wonderful vacation.
Terry
2017-03-02T00:00:00Z
The host canceled this reservation 35 days before arrival. This is an automated posting.
Harvey
Helen et Larry ont été très accueillants et ont tout fait pour que nous nous sentions bien dans l'appartement. Celui-ci était parfaitement conforme à la description et très fonctionnel. Les hôtes étaient toujours disponibles et prêts à apporter leur aide, que ce soit pour le fonctionnement des machines (clim, machine à laver) ou pour nous donner des conseils touristiques. Nous avons même eu la surprise de recevoir quelques petites attentions de leur part. Je recommande vivement cet appartement pour un séjour en Floride !
Romain
2016-01-08T00:00:00Z
Typ av rum
Eget hus/egen lgh
---
Typ av boende
Lägenhet
---
Plats för
5
---
Sovrum
Homestead, Florida 33031, USA
Welcome to the Serenity of a true Homestead, Florida! Guests are welcomed by an exclusive private bedroom with inclusive walk-in Closet and private bathroom for you and your partner to enjoy the perfect getaway. We enjoy all-natural products in household products to minimize chemical usage for your health!
The entire household is 100% maintained and cleaned with completely natural and eco-friendly plant based products being a big plus for people with heavy allergies. Spa specialist which can provide relaxing facial with exfoliation, cleansing, and full mask treatment with cold and hot towels also done with natural plant based products for sensitive skin.
-The entire neighborhood has cameras scattered throughout to ensure security -Between 1-3 security guards present every night -Gym access within the community with several treadmills, full leg workout region and upper body area to maximize your gains and fitness while on vacation -Pool access with many lounging chairs so that you can enjoy a morning tan or soak of Vitamin-D in the South Florida Sun!
Maribel was a WONDERFUL host! Her and her son made sure we had everything we needed to make our stay comfortable. The room is very relaxing. I also love that she cleans everything with natural products. The location is also great because there are tons of places to eat at. The only thing is that if you plan on staying here, make sure that you get the directions from Maribel because the gps does tend take you to the wrong area. My hubby and I would definitely stay here again!
Ileana
2016-12-27T00:00:00Z
Maribel was a WONDERFUL host! Her and her son made sure we had everything we needed to make our stay comfortable. The room is very relaxing. I also love that she cleans everything with natural products. The location is also great because there are tons of places to eat at. The only thing is that if you plan on staying here, make sure that you get the directions from Maribel because the gps does tend take you to the wrong area. My hubby and I would definitely stay here again!
Ileana
2016-12-27T00:00:00Z
Maribel's place was just what we needed, a clean easy space to stay. It is just as pictured with a bed and full bathroom. She provided soap, shampoo and toothpaste as well. Thankfully, they held a parking place as the apartment complex is very busy. Her son was also very welcoming and a great translator. We enjoyed our stay and it was clean and a great price. Thanks!
Laura
2017-02-16T00:00:00Z
Maribel's place is awesome. Great location and very safe and secure. Maribel and Eduardo were the best hosts I could have asked for!
Brian
2017-03-06T00:00:00Z
It was a little bit tricky to find the appartment, but the stay at Maribels house was very nice and comfortabel. Thank you Maribel!
Lydia
2017-01-11T00:00:00Z
Thanks maribel and Eduardo Our stay was very good . Both of you were very hospitable and provided a very clean room for our 3 night stay. The whole wheat bread and fresh fruit were great to have in the morning including that wonderful Cuban coffee! Thanks again to both of you! Paul and Deb
Paul
2017-02-20T00:00:00Z
Place was good and comfortable. Maribel was communicative and made us feel at home. It's a new construction. Bathroom was clean and all the provisions were there. Though was not very comfortable with response time for call/sms. We messaged before starting for her place and took nearly an hour drive reaching @ 10:40 am. After reaching her building tried reaching her mobile with no luck. Suddenly got message that can check in only by 12 pm. Though were able to sort the problem and she was accommodating on my suggestion to leave our luggage and come back late in evening. I would recommend the place. Maribel is a good host and place is clean and well maintained.
Vikrant
2017-01-03T00:00:00Z
Typ av rum
Eget rum
---
Typ av boende
Lägenhet
---
Plats för
2
---
Sovrum
Naranja, Florida 33032, USA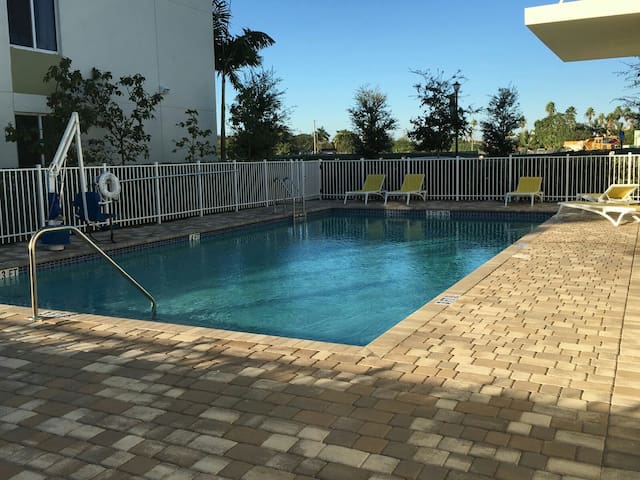 Cozy private place. No sharing with others. This is a 500 Sq. Ft. Apt/ Efficiency/ studio. Private Entrance.Enjoy a nicely sparkling clean place. Keep nice a cool always. Ceiling fans, running , fresh scent and fresh flowers. Just relax. Executive welcome, traveling to the keys welcome, traveling to south beach welcome. Best suited for 1 or 2 adults.
You will have 2 separate spaces, the master bedroom, and you cozy Living Room to watch Tv.
Offers walking sidewalks, clubhouse, nice outside nature walk. Community planned
This location was clean, affordable, and had all the amenities needed for a comfortable stay while in South Florida. I highly recommend staying here if you're visiting Miami, Homestead, or just need a quiet place to relax for a few days.
Jerome
2017-03-05T00:00:00Z
Typ av rum
Eget hus/egen lgh
---
Typ av boende
Lägenhet
---
Plats för
2
---
Sovrum
Homestead, Florida 33032, USA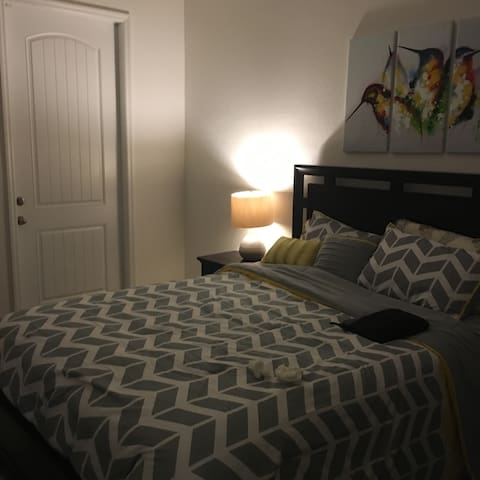 Quiet beautiful neighborhood near Turnpike exit 6& US-1 public transportation, shopping, Walmart, Homestead Beach and Homestead Hospital. Very clean, off-street parking, total privacy, outside smoking area, washer, dryer, Clubhouse, pool, gym and security.
Linda is the kindest most helpful hostess. Her home is gorgeous, quiet and relaxing. Everything is new, modern and clean. Its close to highways for drivers and has a bus stop nearby. I needed a stay last min and she graciously obliged. I got super lucky and will try to stay here whenever im in metro Miami.
Helena
2017-03-03T00:00:00Z
Linda has a great personality making you feel welcome and comfortable. Her home is spacious and lovely. I enjoyed staying at her house and enjoyed her personality.
Eva
2016-10-03T00:00:00Z
The house is absolutely as described. A plus for the kitchen which is well furnished, with a big fridge to store your goods. The location is perfect to stay in between Everglades and Miami. It is in a quiet neighborhood... I did not meet Linda who was away at the time for Christmas, but we had very good communication before, during and after my stay, she is a charming funny life-loving person! Thanks again for everything!
Sophie
2016-12-28T00:00:00Z
Linda is an upbeat and friendly host. Though I didn't get to meet with her, she welcomed me warmly over the phone and patiently gave clear instructions to find the house and everything else.
Susan
2017-02-21T00:00:00Z
Linda was excellent. Super friendly, accessible and even helped me out with some last minute travel changes. Very glad I stayed!
Sam
2017-02-18T00:00:00Z
This was a very comfortable home, exactly as advertised, and Linda is a really wonderful, warm, and generous host. She will go out of her way to make you feel like family. I highly recommend.
Jason
2017-01-09T00:00:00Z
Linda was very accommodating for my stay. She allowed me to check in at 2am and made me feel welcome. The room is clean and private with lots of sunlight. I would definitely stay again. Thx Linda!
Brandi
2016-11-29T00:00:00Z
Linda's house is amazing and I can stay calm and enjoy with her dog and friend. Even though I didn't enough time to see with Linda, her hospitality made me satisfied a lot!! Please come to Japan for your next vacation! I'm wating with a cup of tea.
Eriko
2017-02-09T00:00:00Z
Typ av rum
Eget rum
---
Typ av boende
Lägenhet
---
Plats för
1
---
Sovrum
Homestead, Florida 33032, USA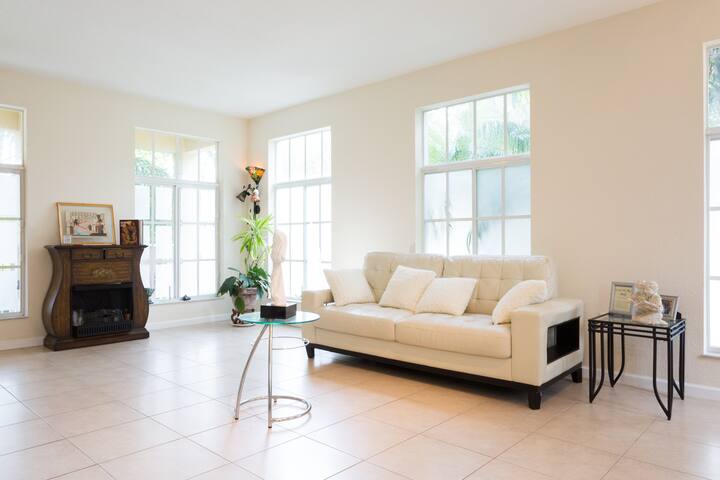 1

–

10

av

10 Uthyrningar av lägenheter
Ange datum för att se full prissättning. Ytterligare avgifter tillkommer. Skatter kan tillkomma.